HOME | US Navy - ships | US Navy - air units | USMC - air units | International Navies | Weapon Systems | Special Reports
Royal Swedish Navy - Svenska Marinen
Visby class Corvette

08/22
Units:
K31
HSwMS Visby
K32
HSwMS Helsingborg
K33
HSwMS Härnösand
K34
HSwMS Nyköping
K35
HSwMS Karlstad
K36
HSwMS Uddevalla (cancelled)
Specifications:
Displacement: 640 tons
Length: 72.7 m (239 feet)
Beam: 10.4 m (34 ft)
Draft: 2.4 m (7.9 ft)
Speed: 35+ knots (65+ km/h)
Range: 2500 NM (4600 km) at 15 knots (28 km/h)
Complement: 43

Propulsion:
Combined Diesel or Gas (CODOG)
4 x Vericor TF50A gas turbines (16 MW, total)
2 x MTU Friedrichshafen 16 V 2000 N90 diesel engines (2.6 MW, total)
2 x Kamewa 125SII steerable Waterjets

Armament:
1 x Bofors 57/L70 Mk.3 gun
8 x RBS 15 anti-ship missiles (SSM)
2 x

400 mm torpedo launchers

for Torped 45 or Torped 47 SLWT Lightweight Torpedo
127mm ASW rocket launchers
Mines + depth charges

Systems:
Saab 9LV Mk.3E CETRIS combat management system
Saab Sea GIRAFFE AMB 3D PESA surveillance radar
Saab Ceros 200 fire control radar system
Condor CS-3701 tactical radar surveillance system
GDC Hull-mounted sonar
Hydroscience Technologies towed array sonar system
GDC variable depth sonar
Rheinmetall TKWA/MASS (Multi Ammunition Softkill System) decoys

Aviation:
flight deck / no hangar

The hull is constructed with a sandwich design consisting of a PVC core with a carbon fibre and vinyl laminate. There are multiple advantages to using composite materials in ship hulls. Good conductivity and surface flatness means a low radar signature, while good heat insulation lowers the infrared signature and increases survivability in case of fire. The composite sandwich used is also non-magnetic, which lowers the magnetic signature. Composites are also very strong for their relative weight, and less weight means a higher top speed and better maneuverability. The composite weighs roughly 50% less than the equivalent strength steel.

Visby's angular tumblehome design reduces its radar signature. Jan Nilsson, one of the designers, told BBC News Online: "We are able to reduce the radar cross-section by 99%. That doesn't mean it's 99% invisible, it means that we have reduced its detection range." The 57 mm cannon barrel can be folded into the turret to reduce its cross-section. There are plans for additional improvements in this area, especially for the deck rails and masts.

In January 2021 Saab and the Swedish Defense Materiel Administration (FMV) signed a contract for the product definition phase for the mid-life upgrade for the five Visby corvettes. The MLU will include the installation of surface-to-air missiles and the implementation of upgraded anti-ship missiles and anti-submarine torpedoes. The MLU aims to keep the Visby corvettes operationally relevant beyond 2040.
class images

for more images go to the individual ship's page

K31 HSwMS Visby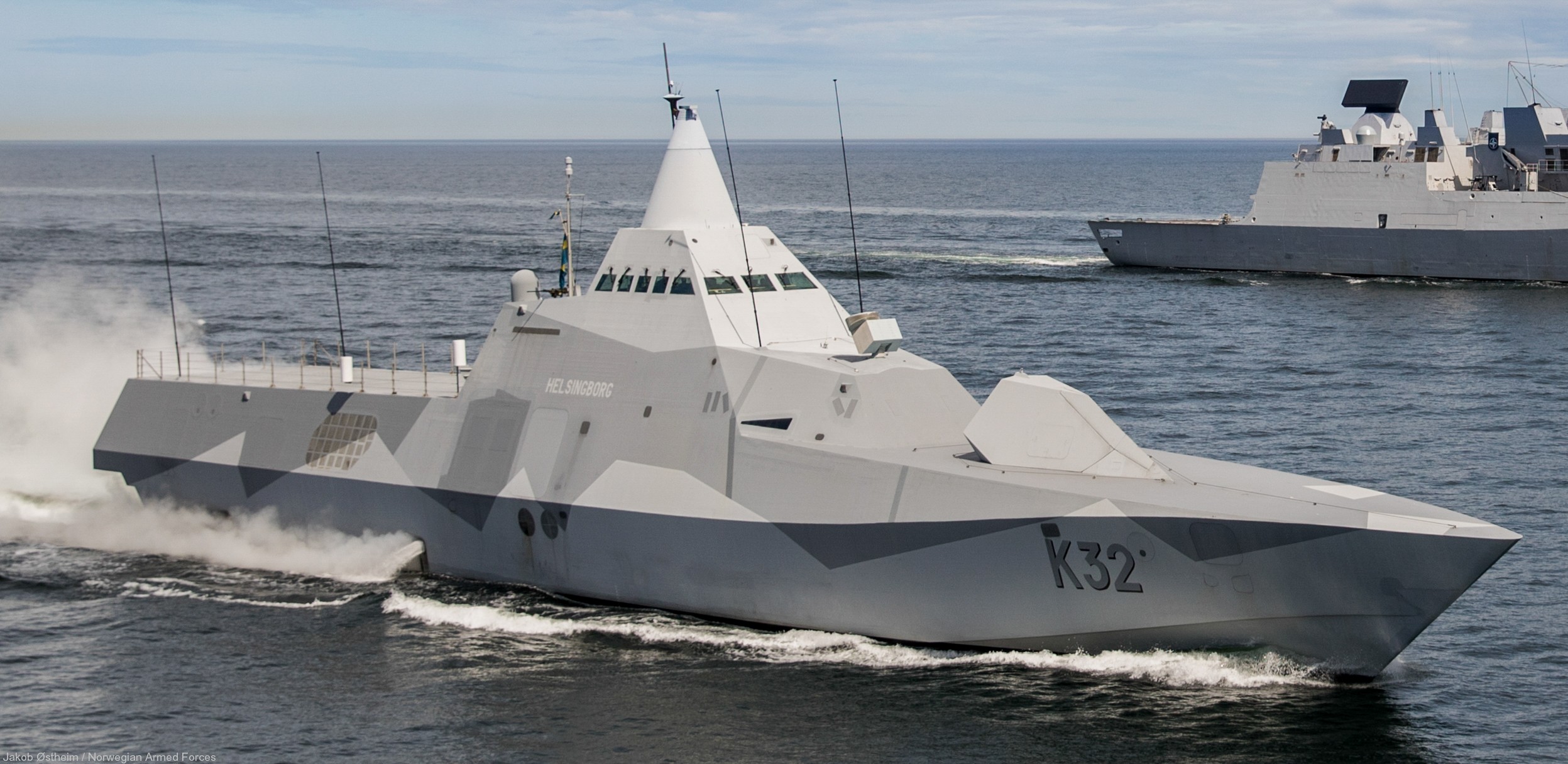 K32 HSwMS Helsingborg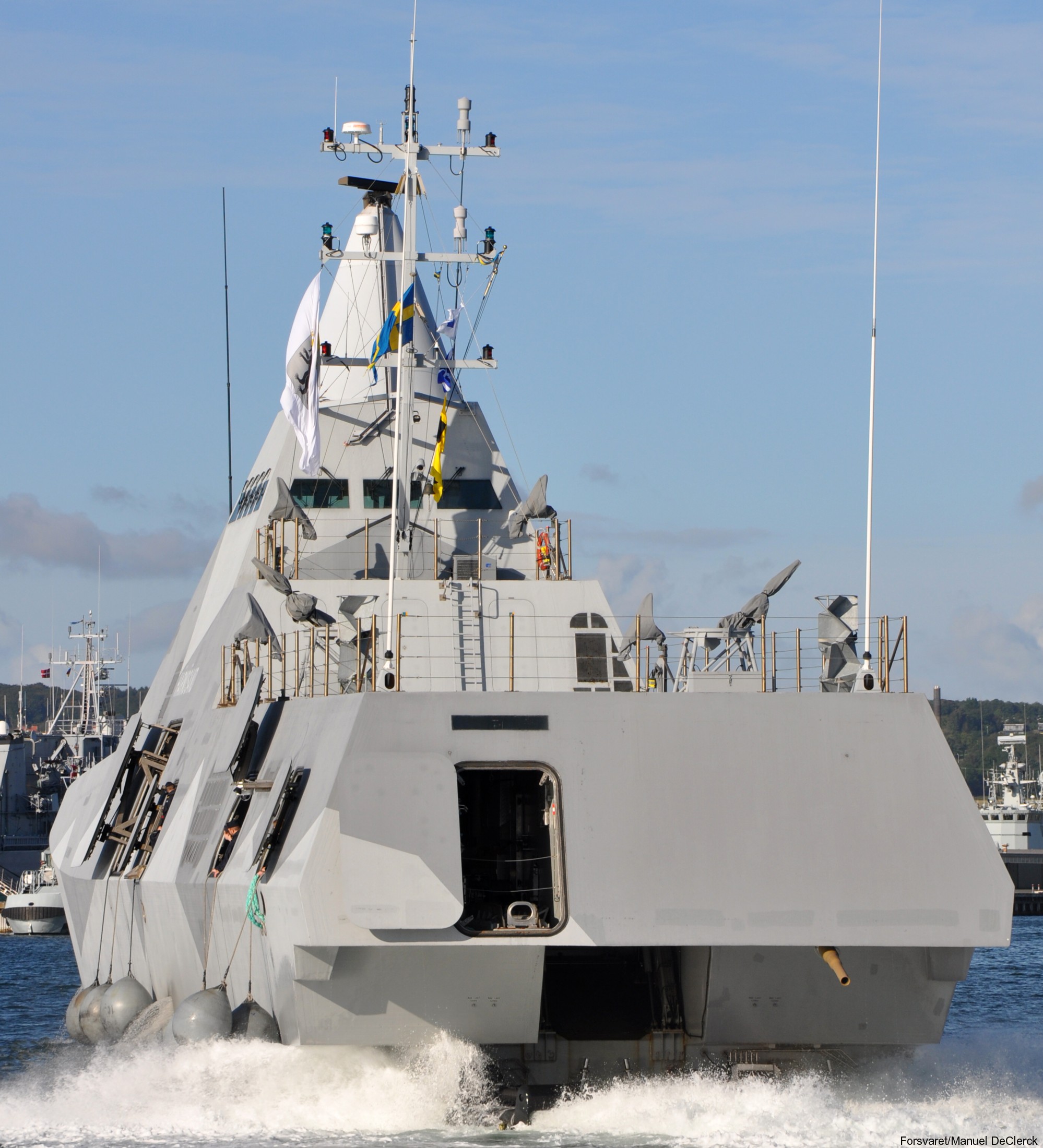 K33 HSwMS Härnösand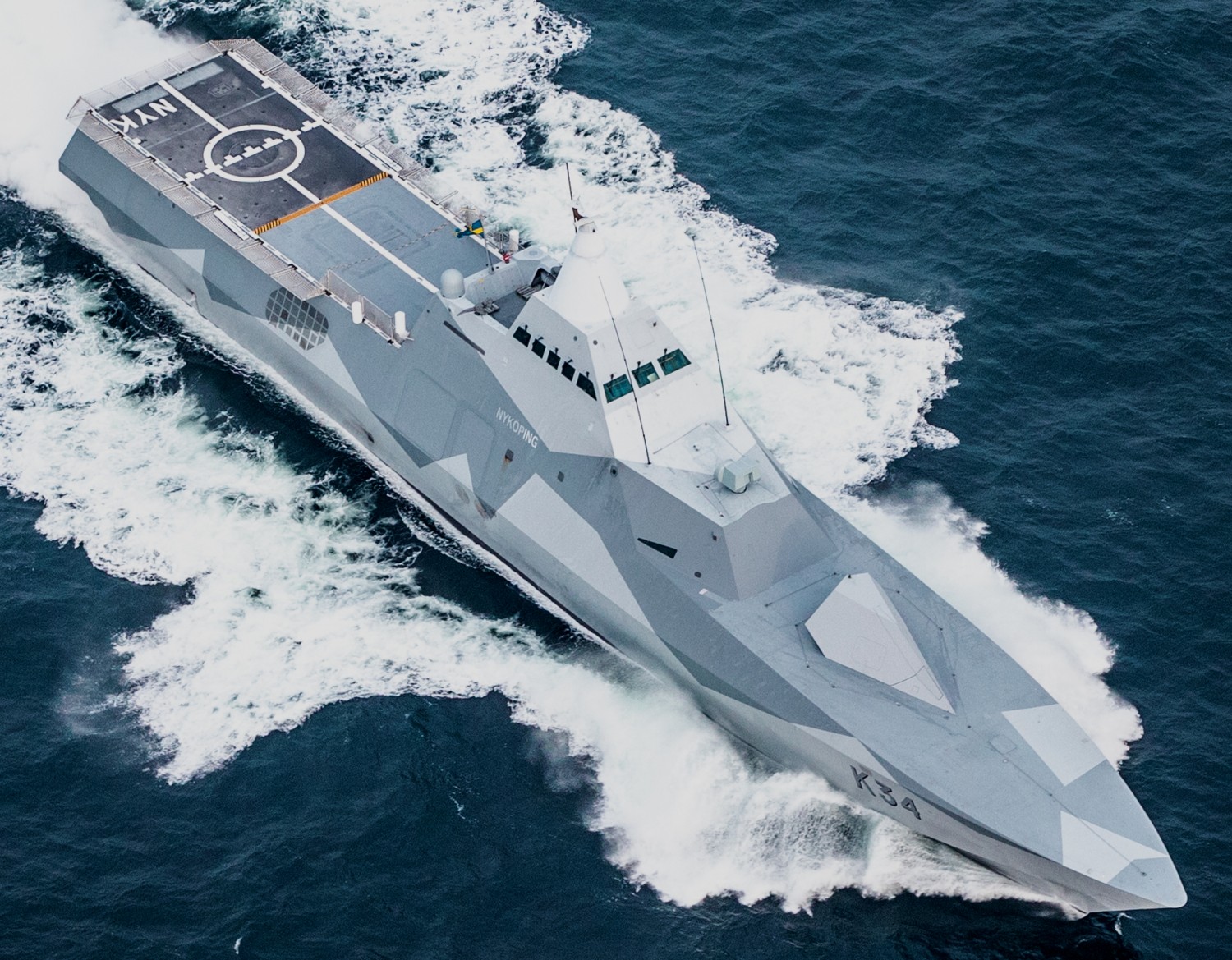 K34 HSwMS Nyköping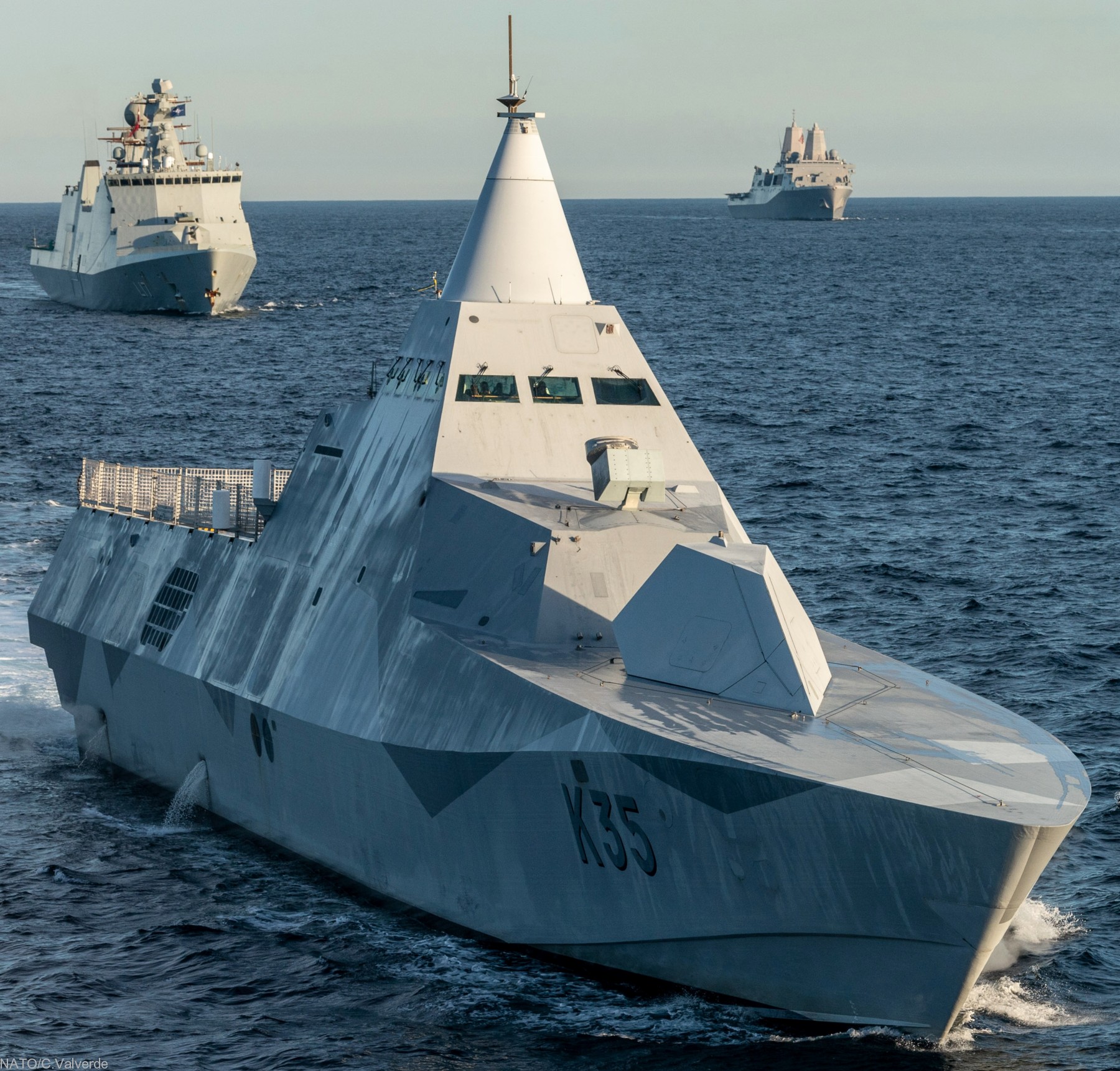 K35 HSwMS Karlstad



ARMAMENT + DETAILS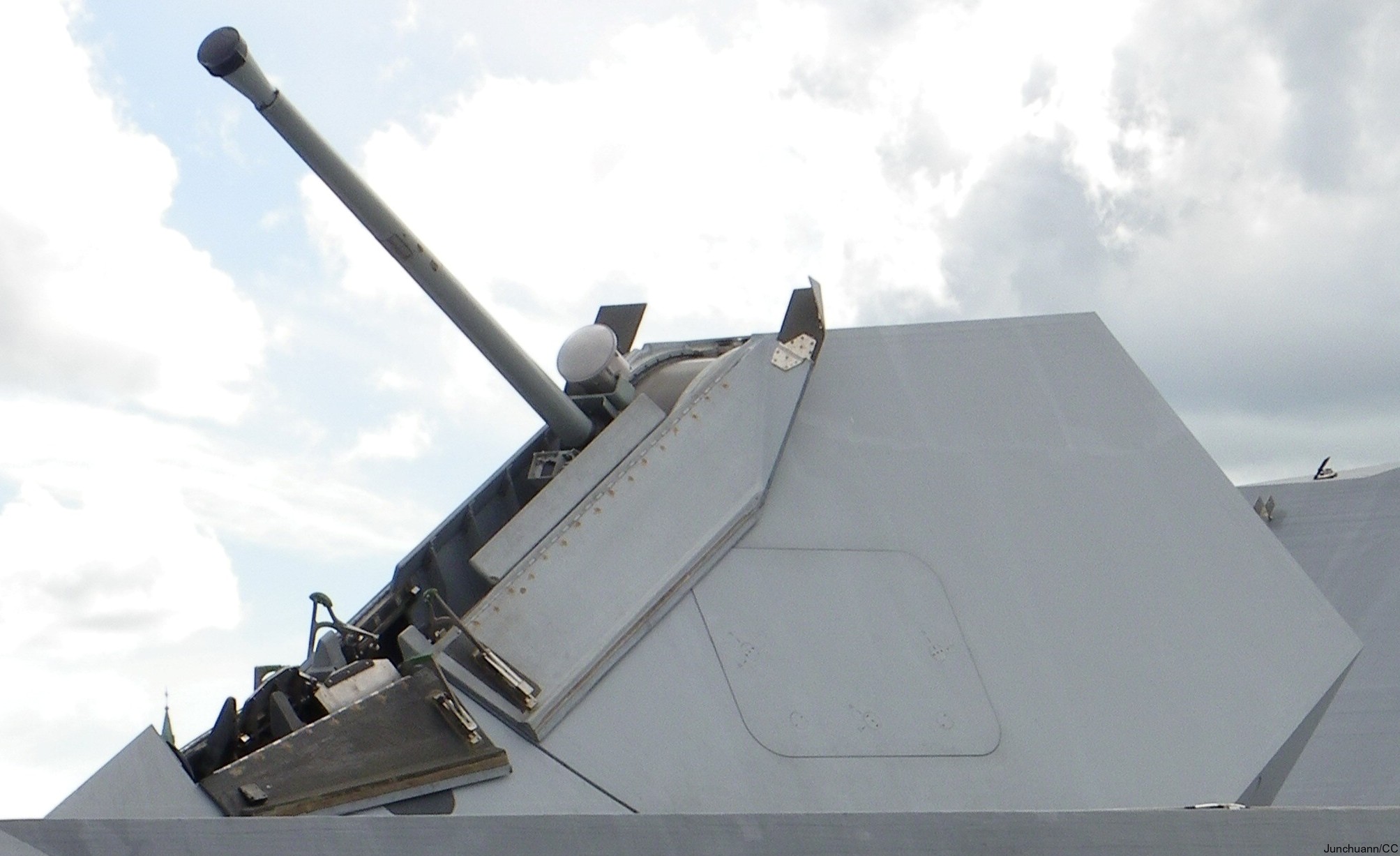 Bofors Mk.3 57mm/L70 gun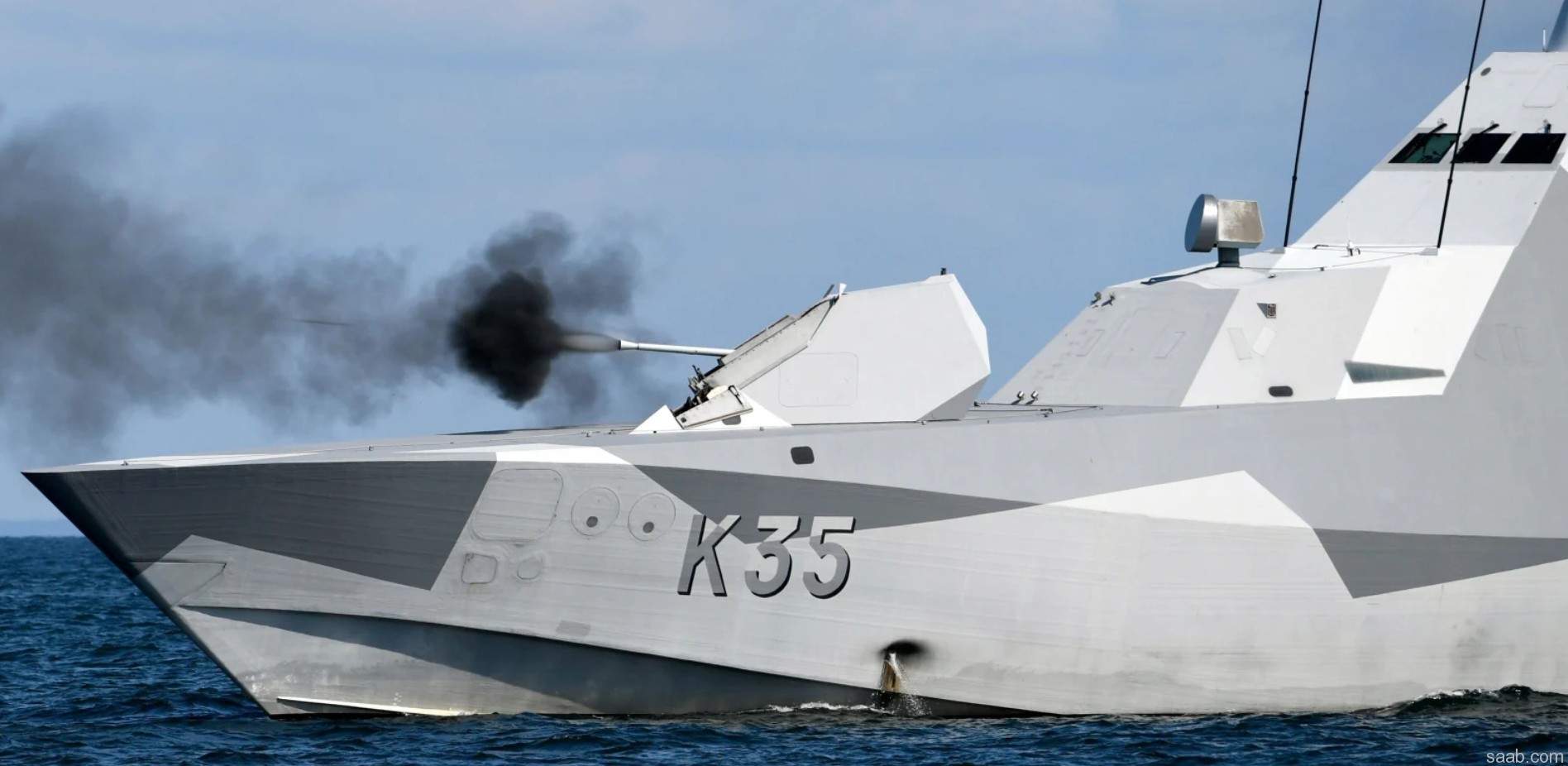 Bofors Mk.3 57mm/L70 gun




Bofors Mk.3 57mm/L70 gun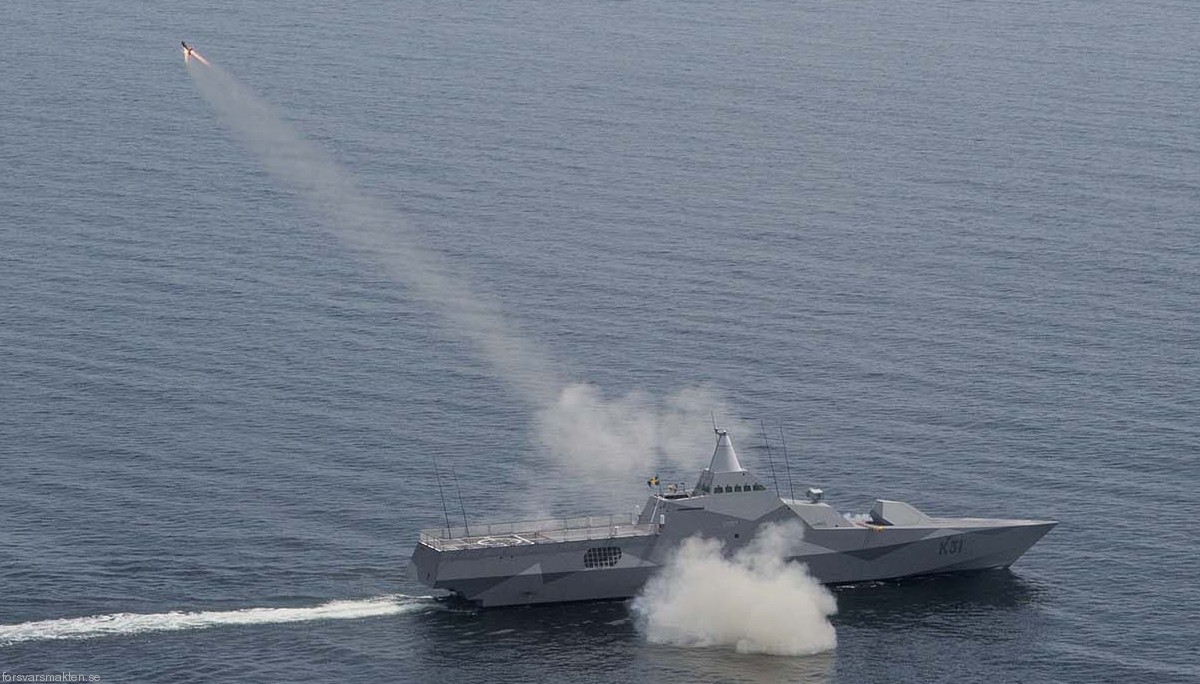 firing an RBS 15 anti-ship missile (SSM)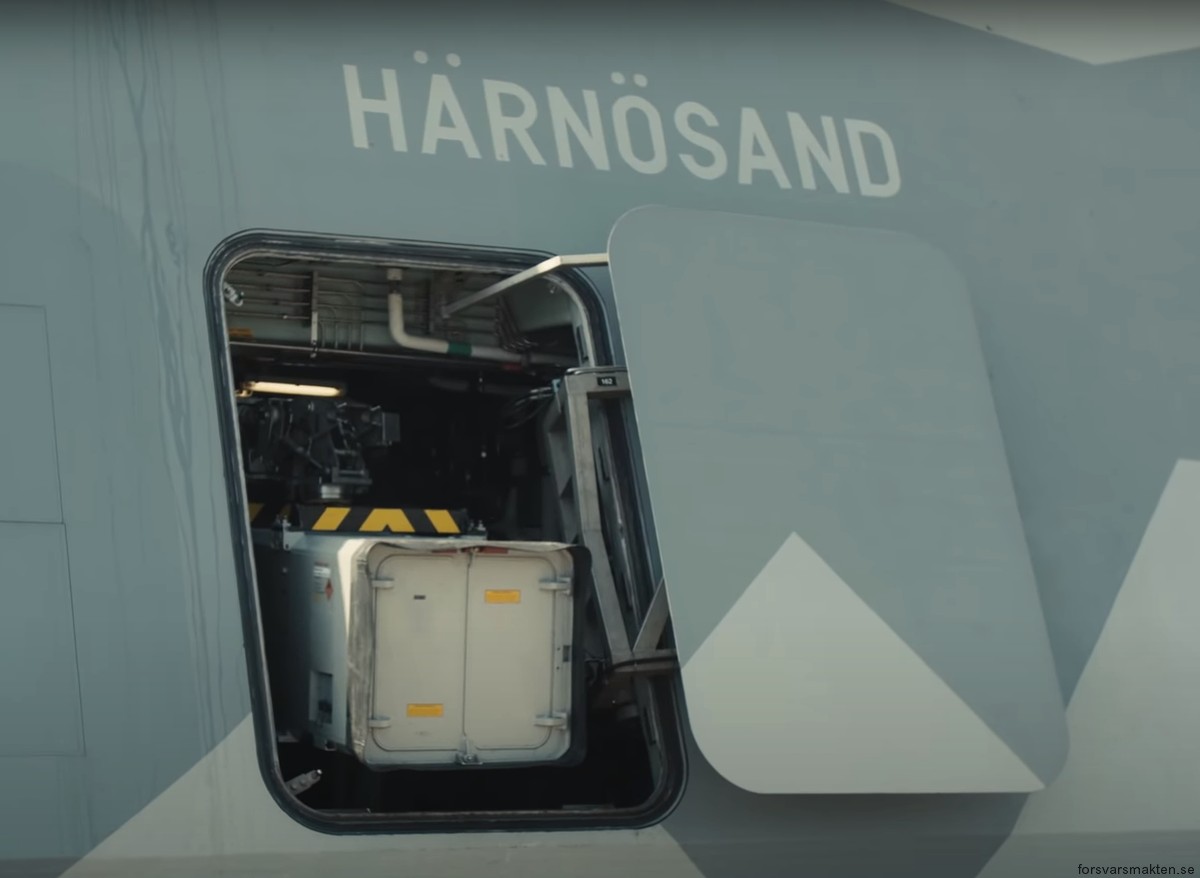 launching canister for RBS 15 SSM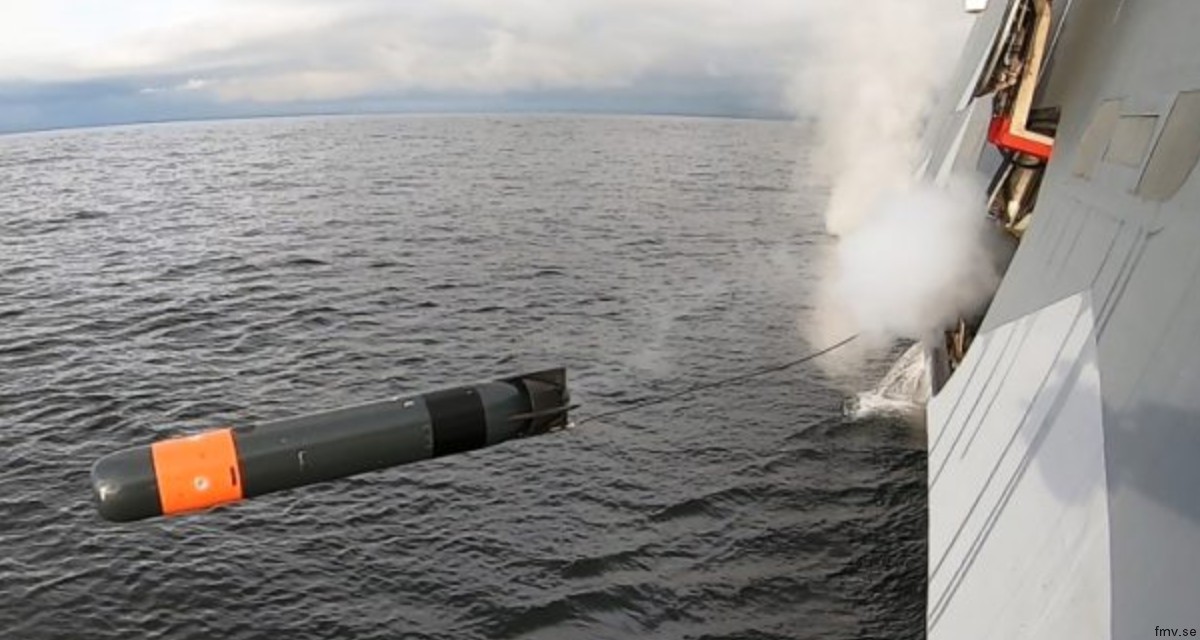 new Saab Torped 47 Lightweight Torpedo (SLWT)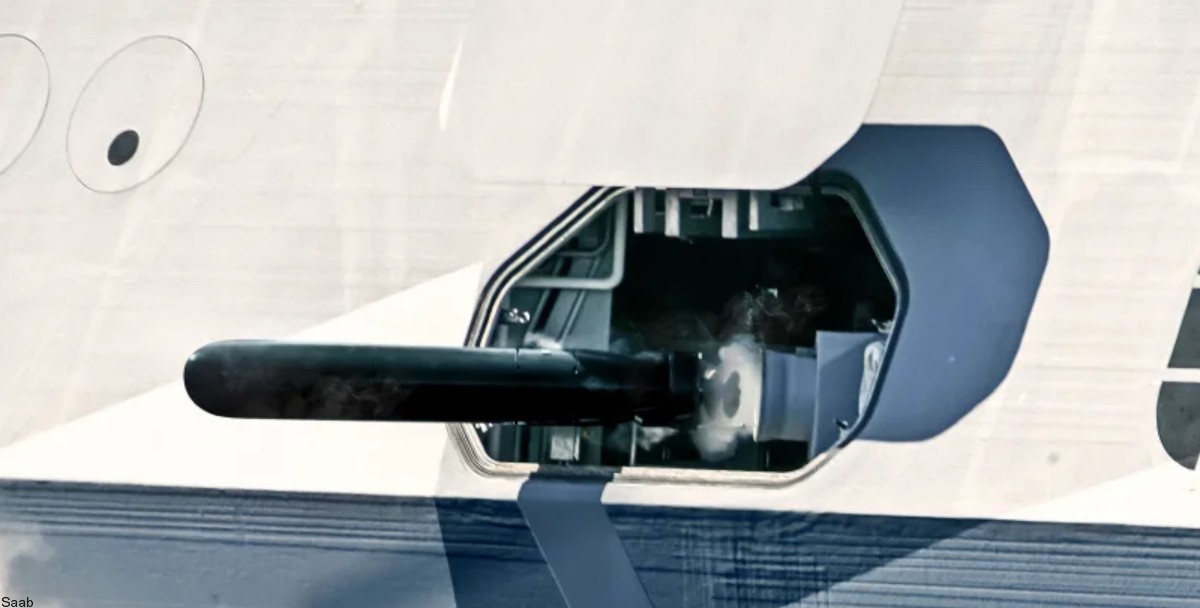 new Saab Torped 47 Lightweight Torpedo (SLWT)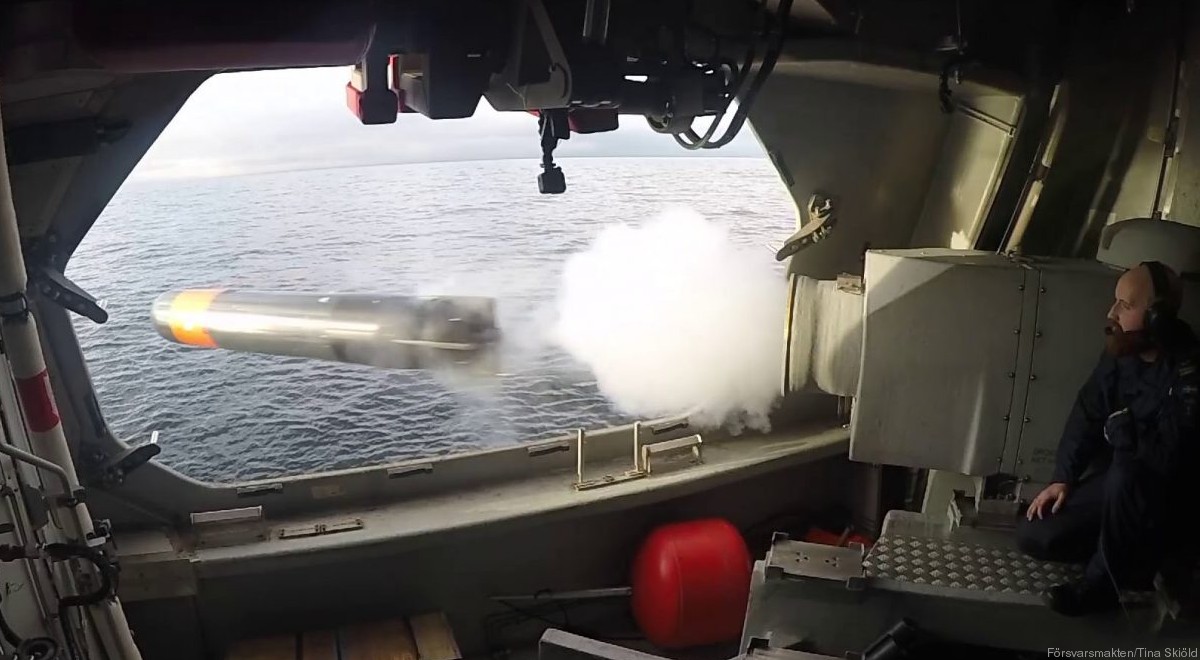 a Torped 45 lightweight torpedo was launched from the integrated 400mm launcher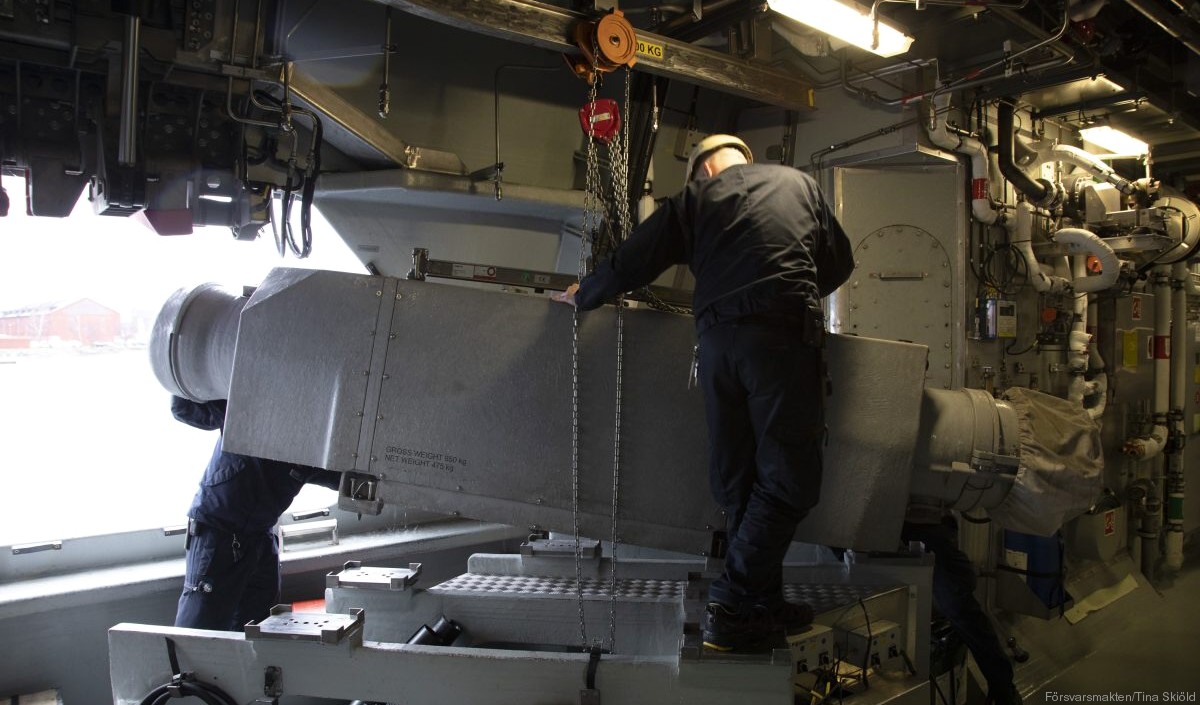 400mm torpedo launcher for Torped 45 and Torped 47 lightweight torpedoes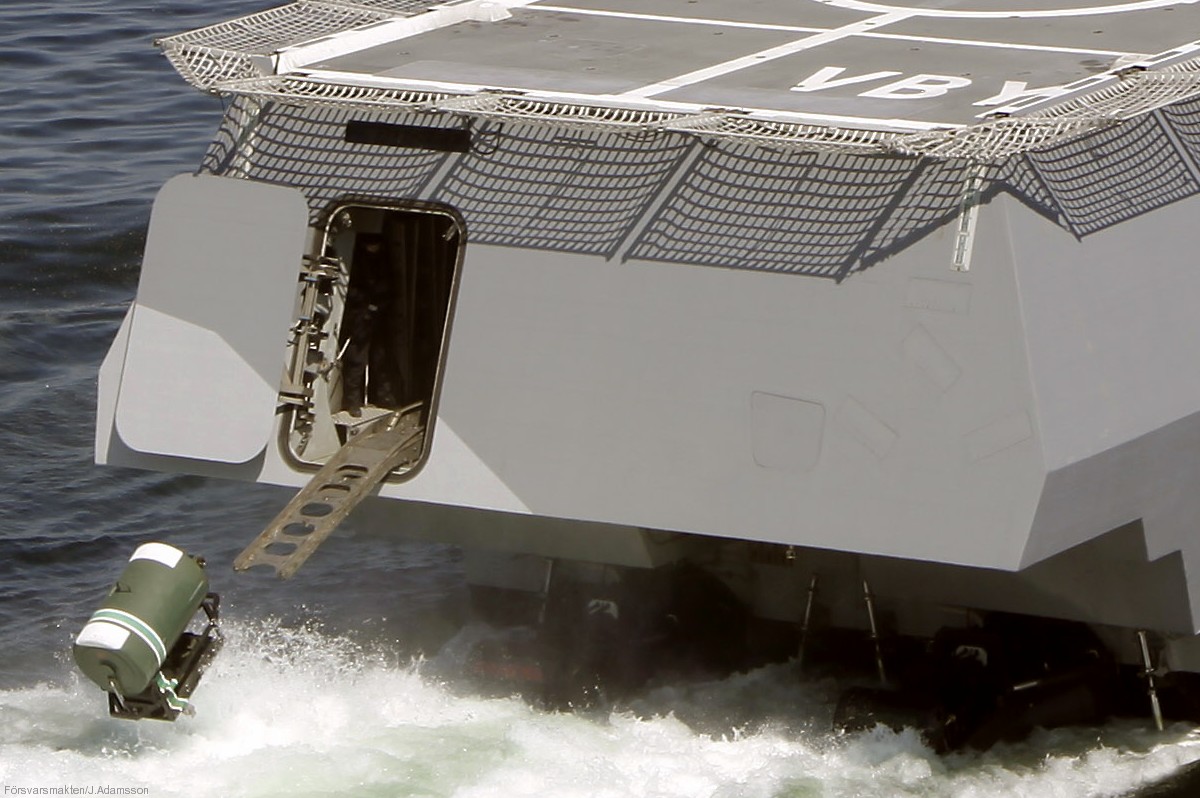 a depth-charge was dropped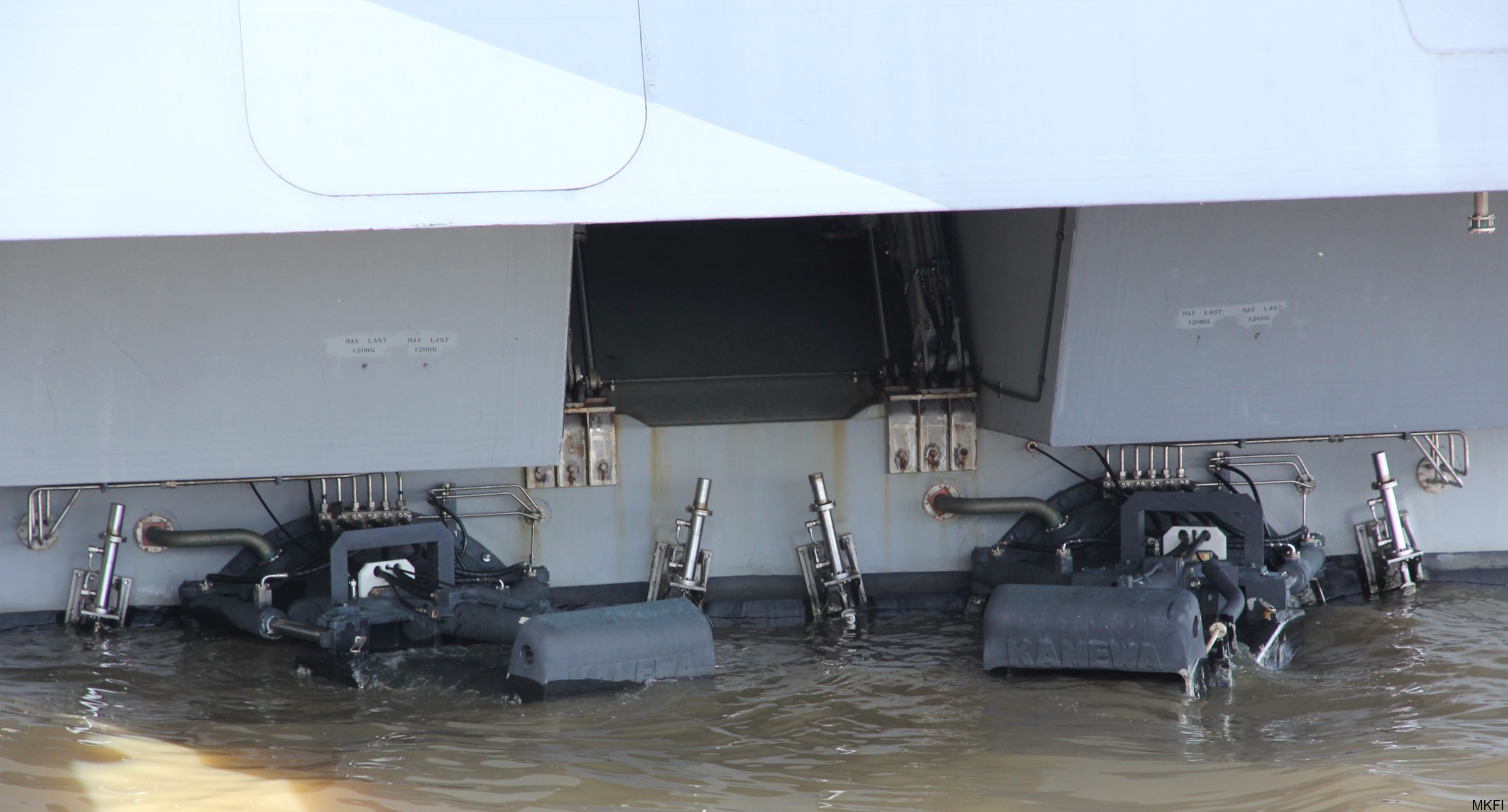 2 x Kamewa 125SII steerable Waterjets

|
seaforces.org
|
Swedish Navy start page
|