HMS Duncan is the sixth and last of the Type 45 or Daring-class air-defence destroyers built for the Royal Navy. Duncan is named after Adam Duncan, 1st Viscount Duncan (1 July 1731 - 4 August 1804), who defeated the Dutch fleet at the Battle of Camperdown on 11 October 1797.


On 2 March 2015, Duncan left HMNB Portsmouth on her maiden deployment to the Mediterranean and Middle East. On 7 July 2015, Duncan joined up with the U.S. Navy Carrier Strike Group Twelve to strike the Islamic State of Iraq and the Levant.

In April 2016, HMS Duncan was one of several Royal Navy ships exercising with the French Navy in Exercise Griffin Strike. In October 2016, Duncan, escorted by the frigate HMS Richmond, was dispatched by the Ministry of Defence to intercept and "man-mark" a fleet of Russian Navy vessels, including their flagship Admiral Kuznetsov, which were passing through the English Channel on their way to Syria. In November, while sailing off the coast of England, Duncan suffered a total propulsion failure and was towed back to Plymouth.

Duncan sailed from Portsmouth in June 2017 to assume the role of flagship of NATO Standing Maritime Naval Group 2 (SNMG2), operating in the Black Sea and the Mediterranean. Duncan was due to be relieved in September 2017 by HMS Ocean on her final deployment, however Ocean was redeployed to the Caribbean to provide relief to British Overseas Territories in the region in the wake of Hurricane Irma. Duncan was instead relieved by HMS Diamond which was berthed in Gibraltar en-route to the Gulf to relieve HMS Monmouth. Duncan returned to Portsmouth on 22 September 2017.


On January 8, 2018 she deployed to the Mediterranean to take over as Flagship to NATO's Standing Maritime Group 2 (SNMG-2).

2018 port visits were in: Malaga, Spain / Constanta, Romania / Varna, Bulgaria / Istanbul, Turkey / Souda Bay, Greece / Catania, Italy / Bar, Montenegro / Augusta, Italy / Trieste, Italy / Split, Croatia;

Current commanding officer is Commander Eleanor STACK.
Ship's & technical data:
Builder:
BAE Systems, (various shipyards) UK

Laid down:
January 26, 2007

Launched:
October 11, 2010

Commissioned:
September 26, 2013

Homeport:
HMNB Portsmouth, Hampshire

Motto:
SECUNDIS DUBUSQUE RECTUS
(upright in prosperity and peril)
Displacement:
8500 tons

Lenght:
152,4 meters (500 feet)

Beam:
21,2 m (69 ft 7 in)

Draft:
7,4 m (24 ft 3 in)

Speed:
30+ knots (56+ km/h)

Range:
7000+ NM (13000+ km) at 18 knots (33 km/h)

Crew:
190


Propulsion:
Integrated Electric Propulsion (IEP)
2 x Converteam electric motors (20 MW/27000 shp, each)
2 x Rolls-Royce WR-21 gas turbines (21,5 MW/28800 shp, each)
2 x Wärtsilä 12V200 diesel generators (2 MW/2700 shp, each)

2 shafts, 2 propellers
Armament:
Sea Viper (PAAMS) air defense system:
1 x
48-cell Sylver A50 Vertical Launching System (VLS)
for a combination of 48

Aster 15 short range missiles
Aster 30 medium range missiles
2 x
Mk.141 quad missile laucher
for up to 8 x
RGM-84 Harpoon SSM
1 x
BAE Mark 8 4.5 inch (113mm) gun
2 x
DS30M Mark 2 - 30mm machine guns
2 x
M134 six-barreled machine guns (minigun)
2 x
Mk.15 Phalanx CIWS
Aviaton:
large flight deck and hangar for 1-2 helicopters (2 x Lynx or Wildcat / 1 x Merlin)

>> for more technical data and details go to the
Daring / Type 45 class destroyer
site <<

walk around images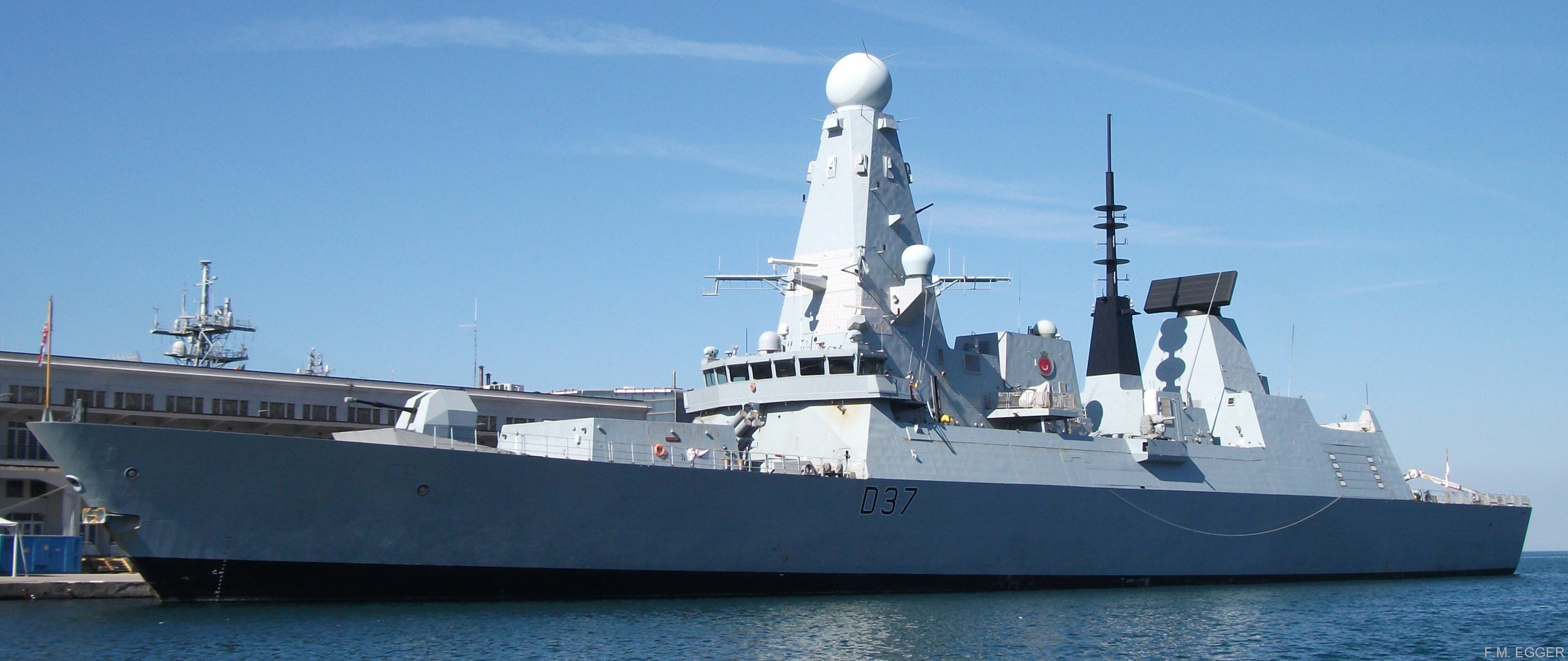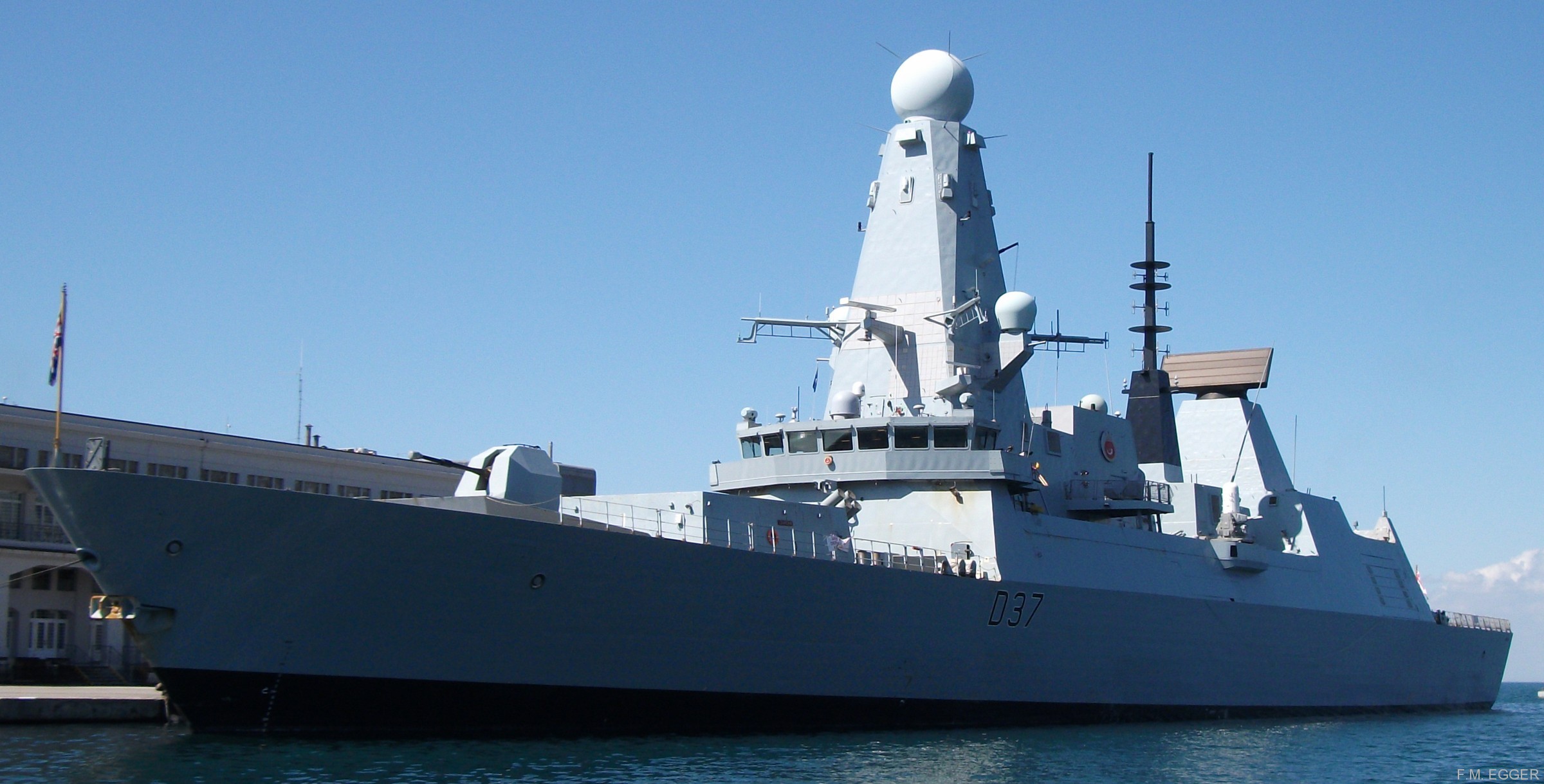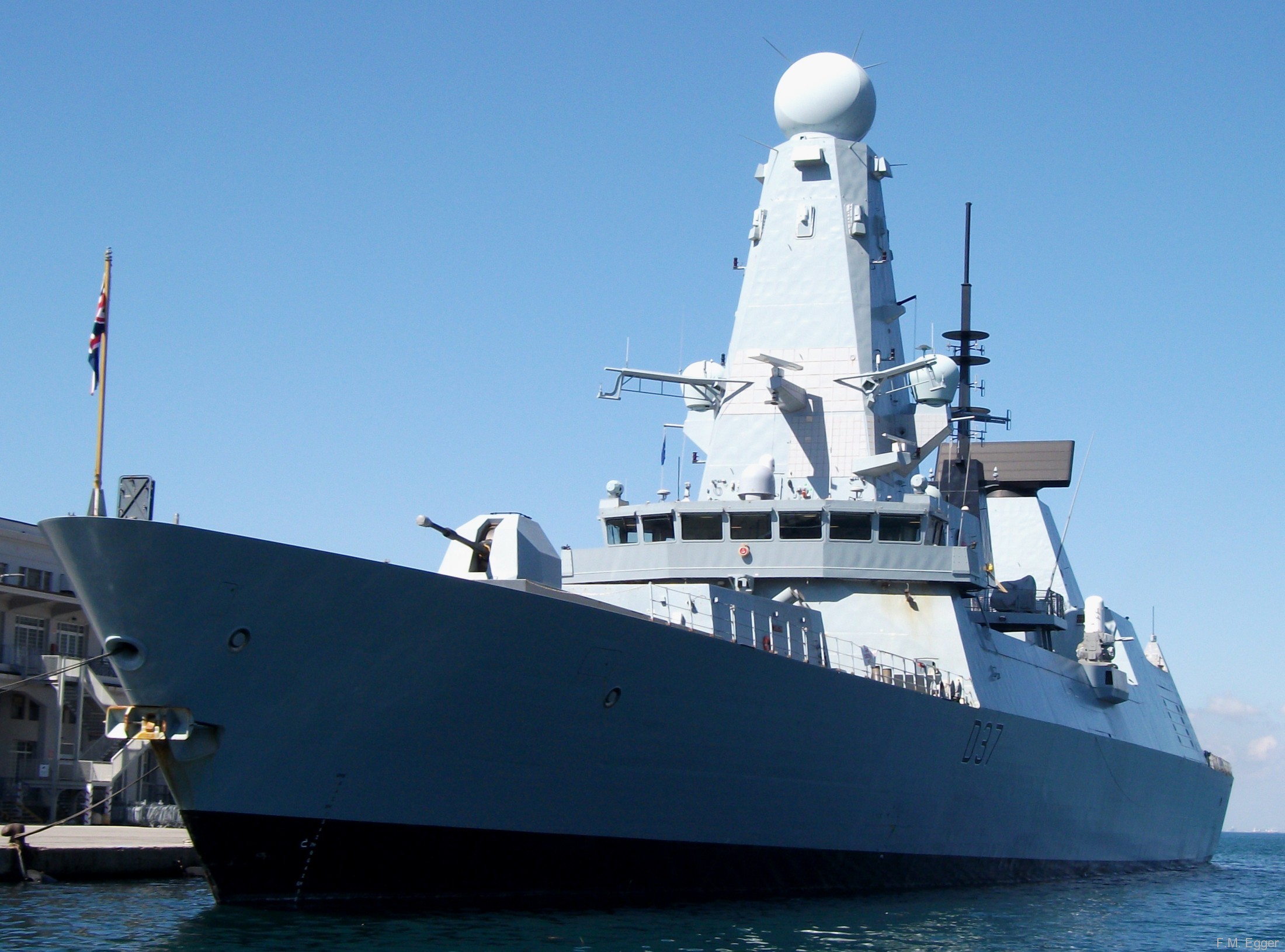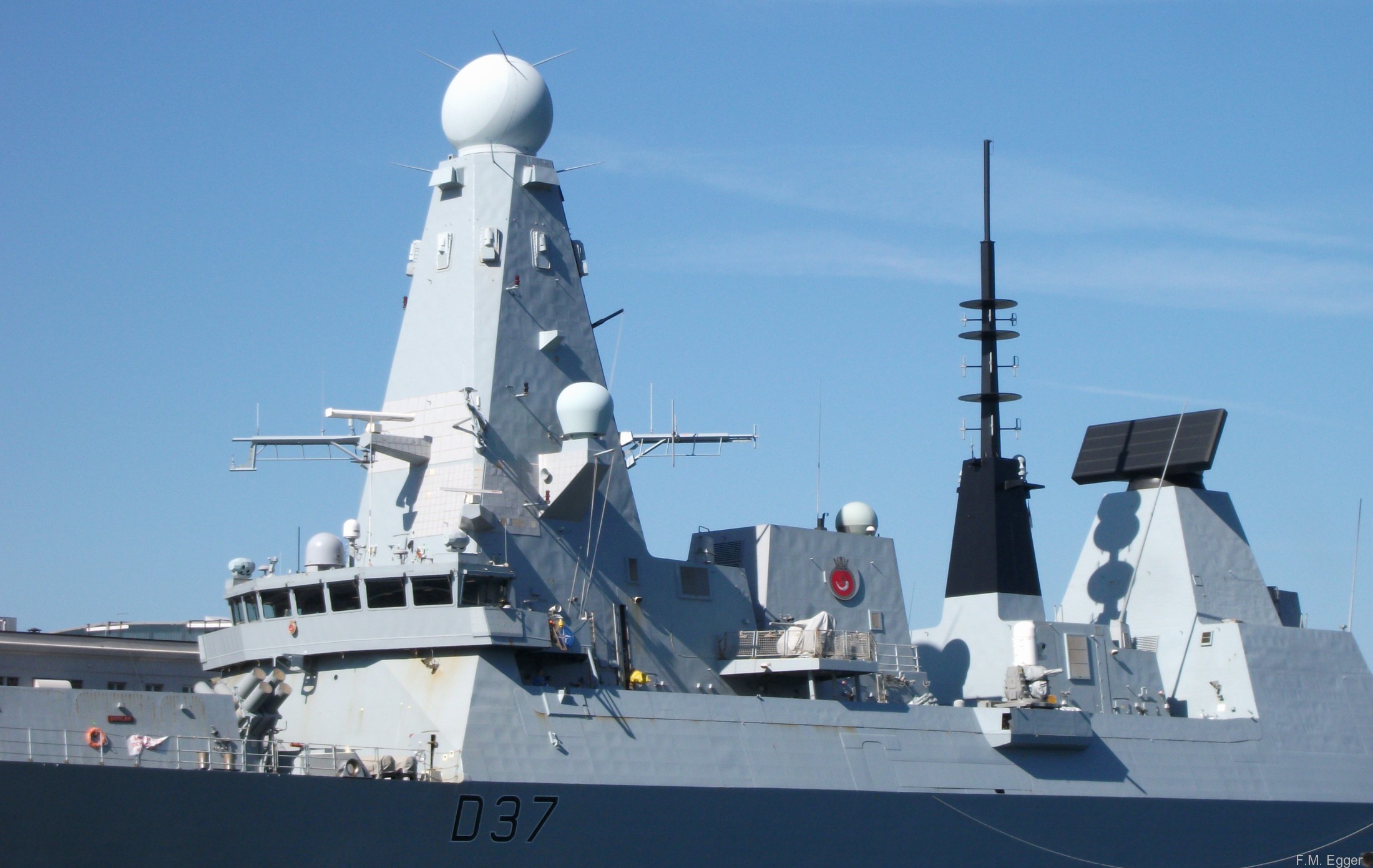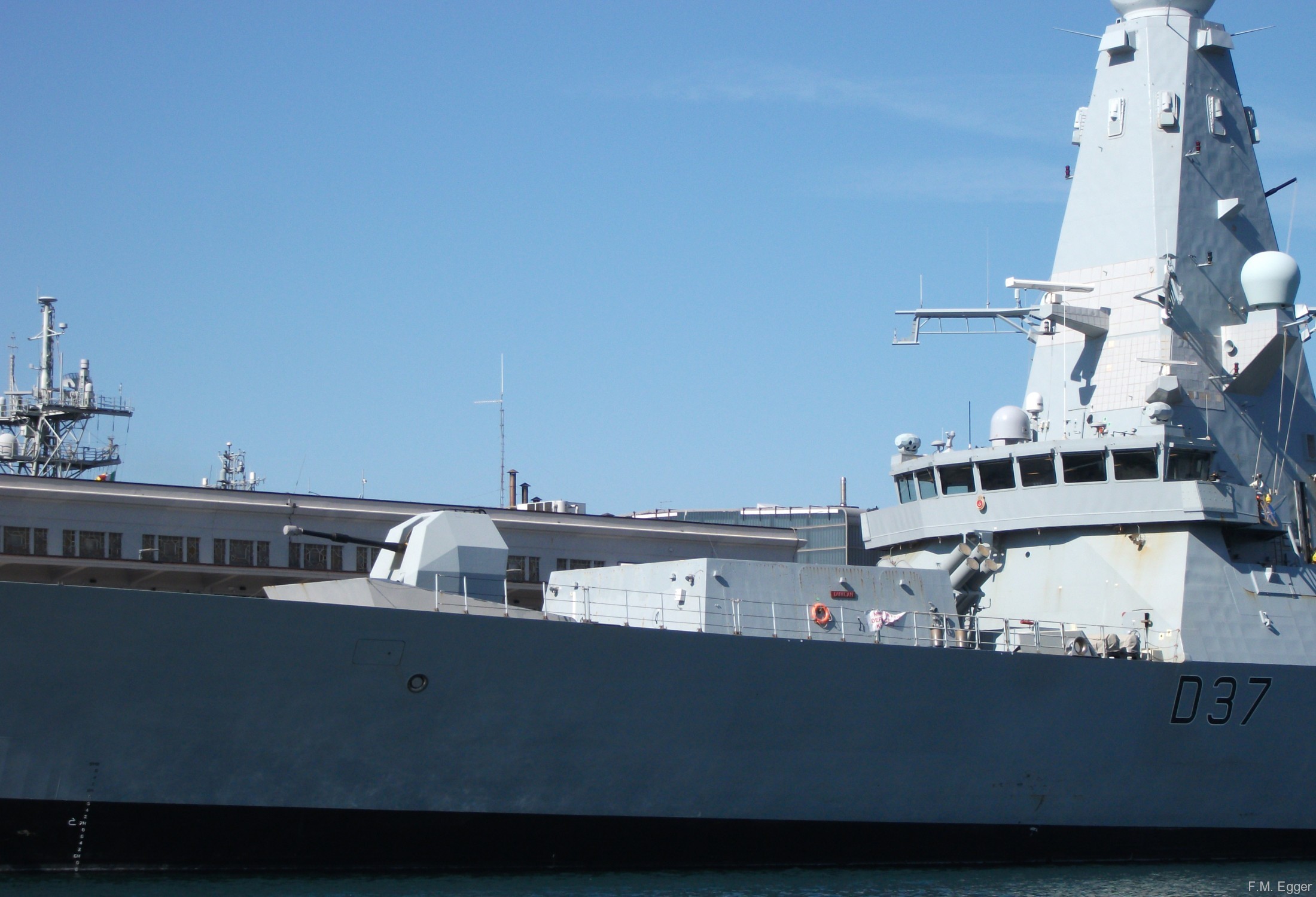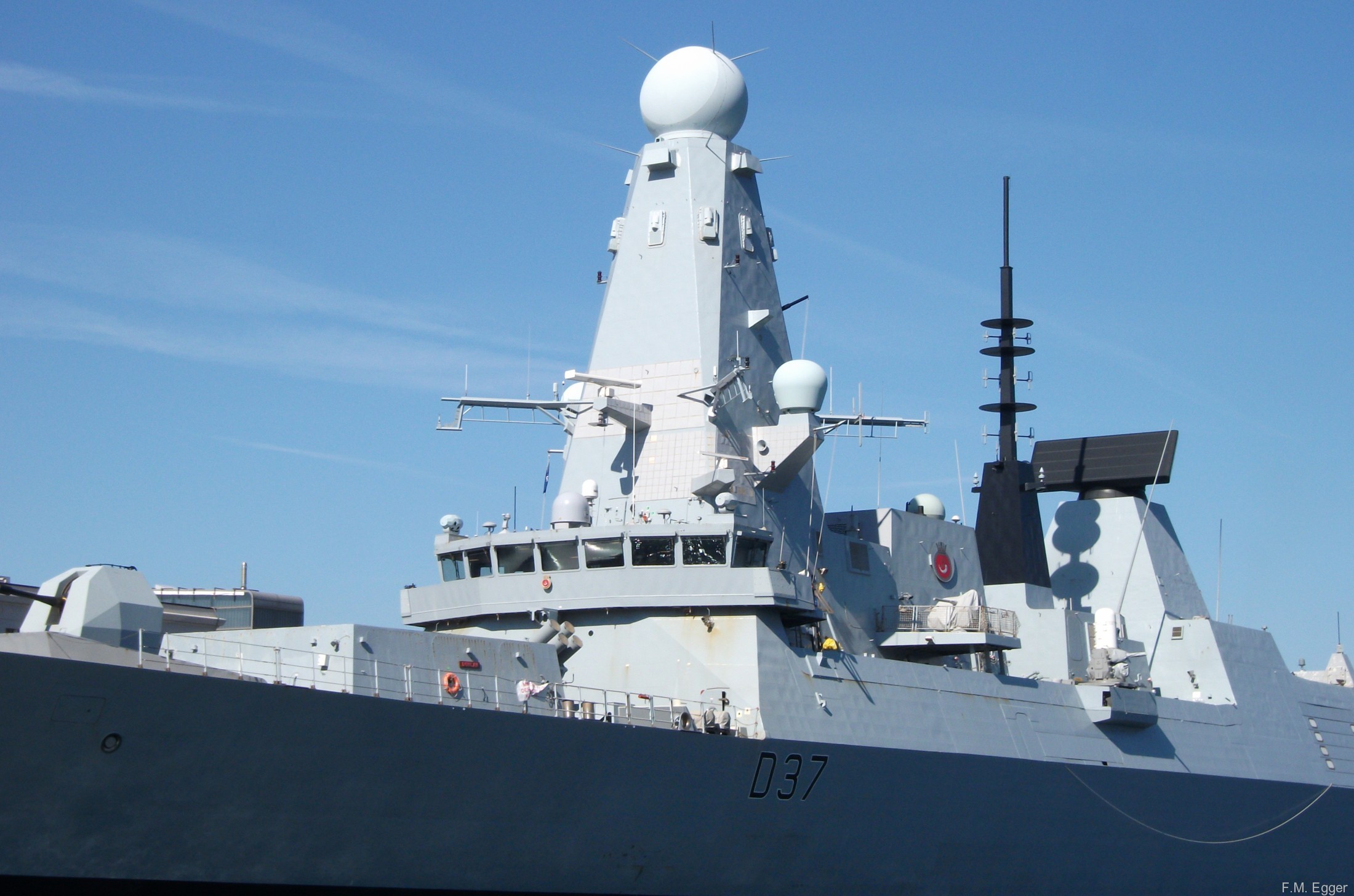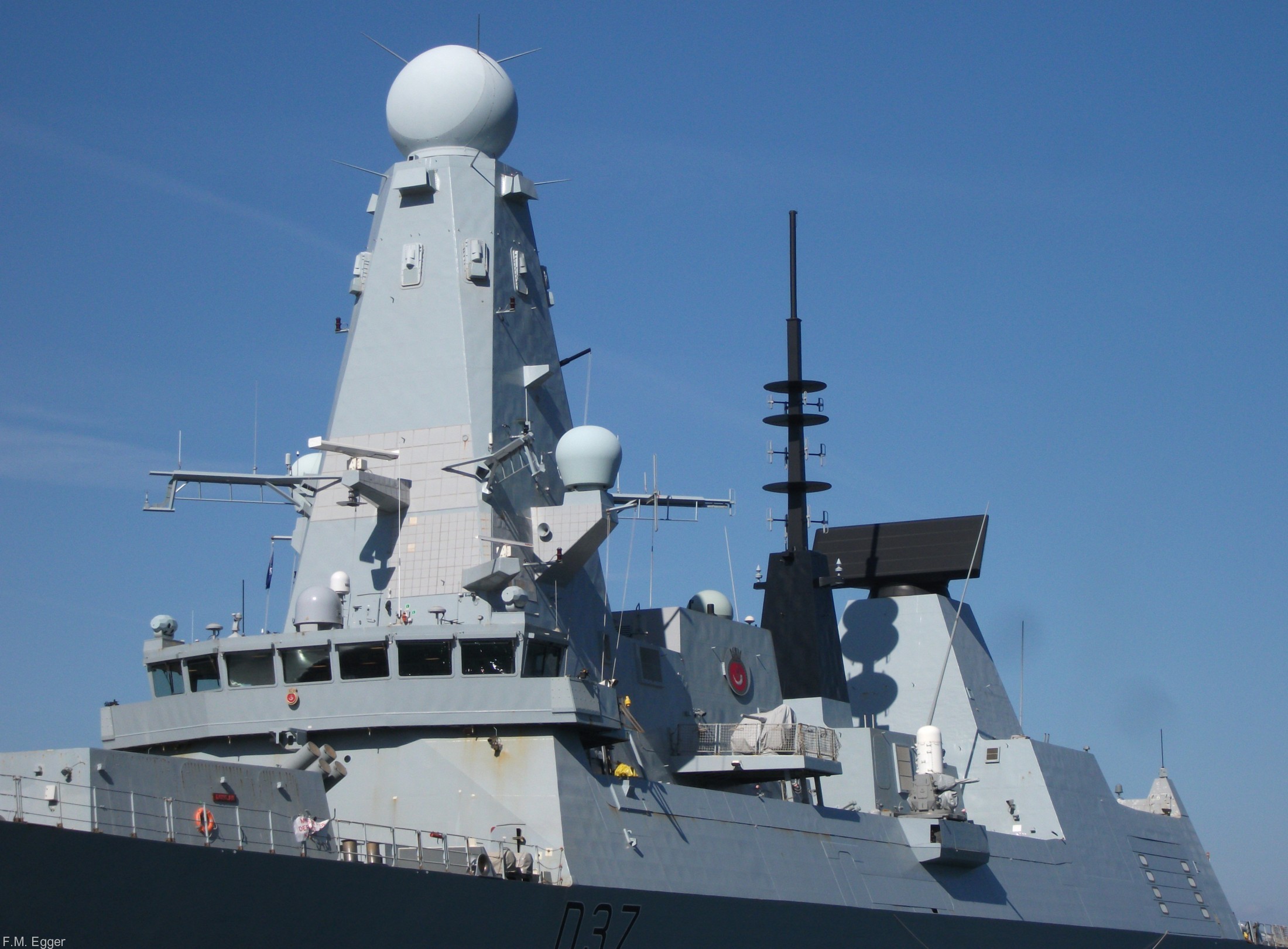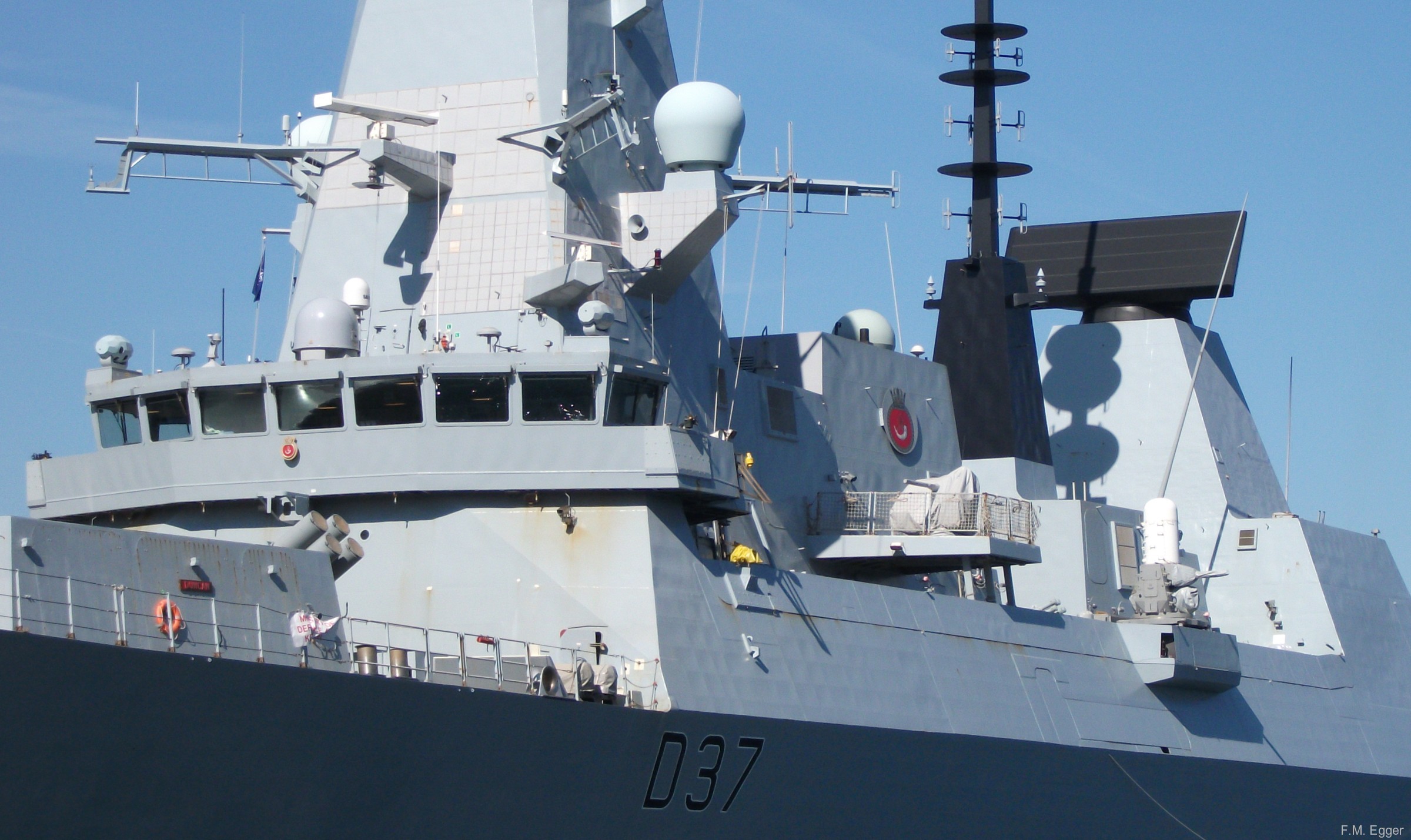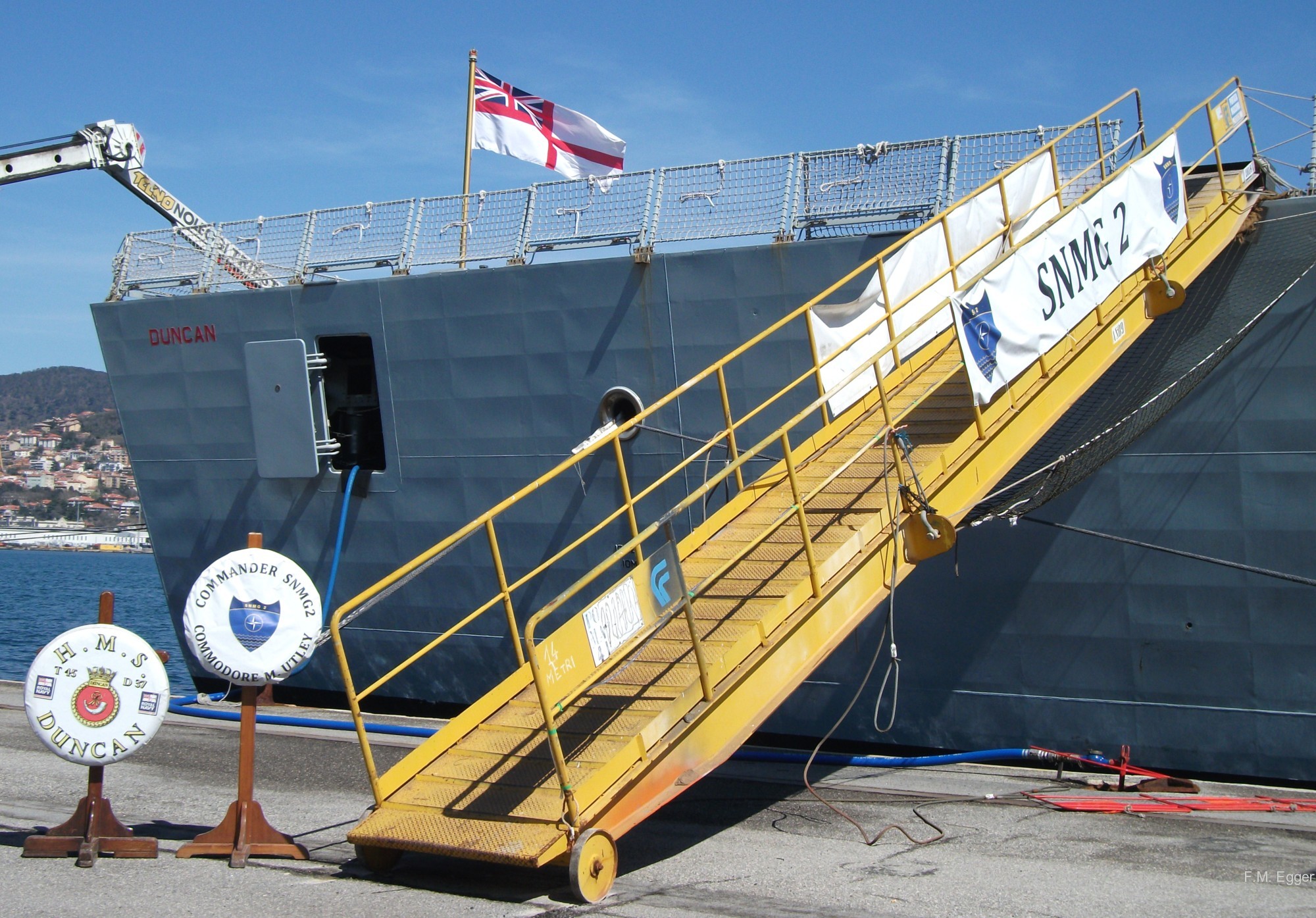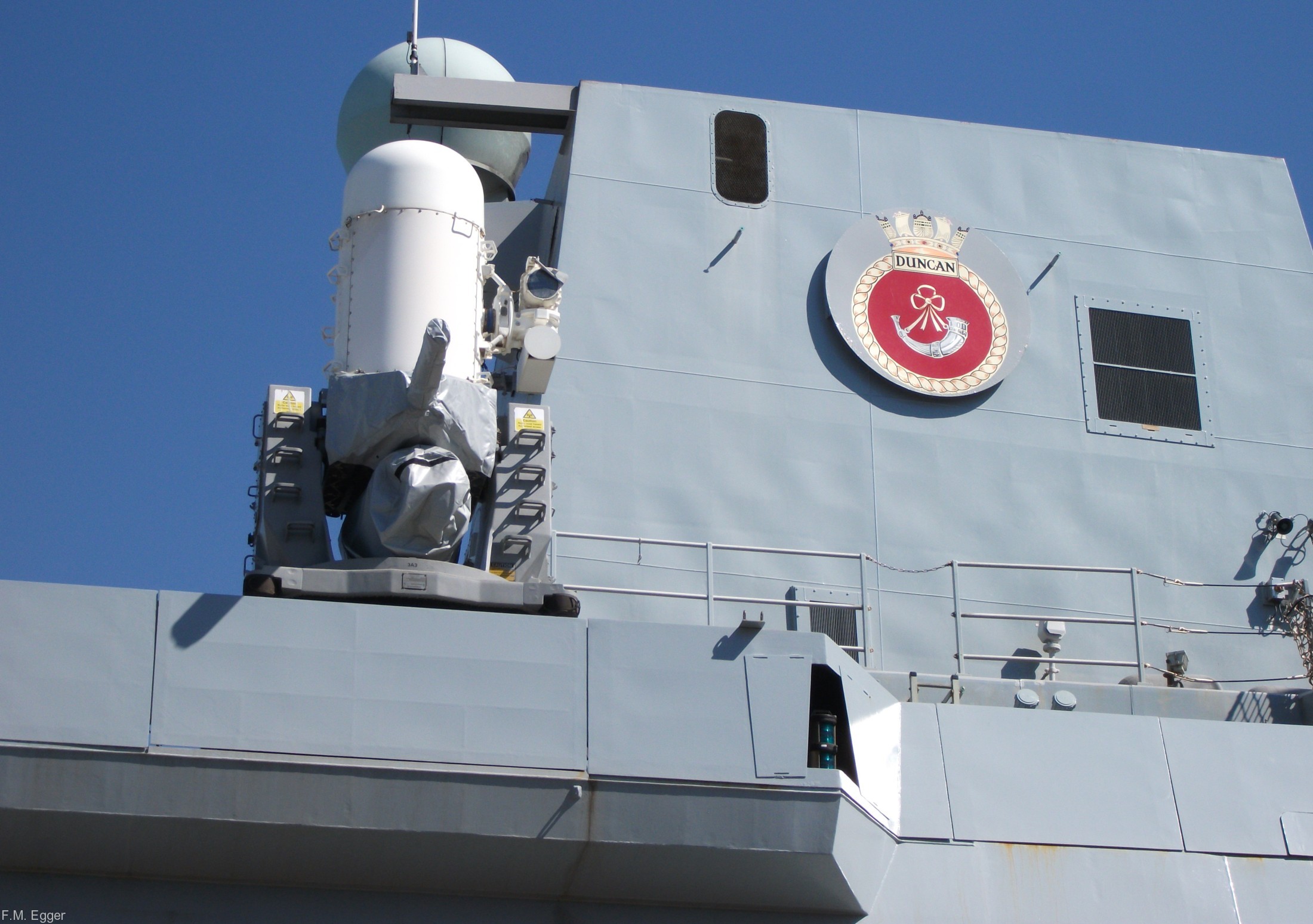 Mk.15 Phalanx CIWS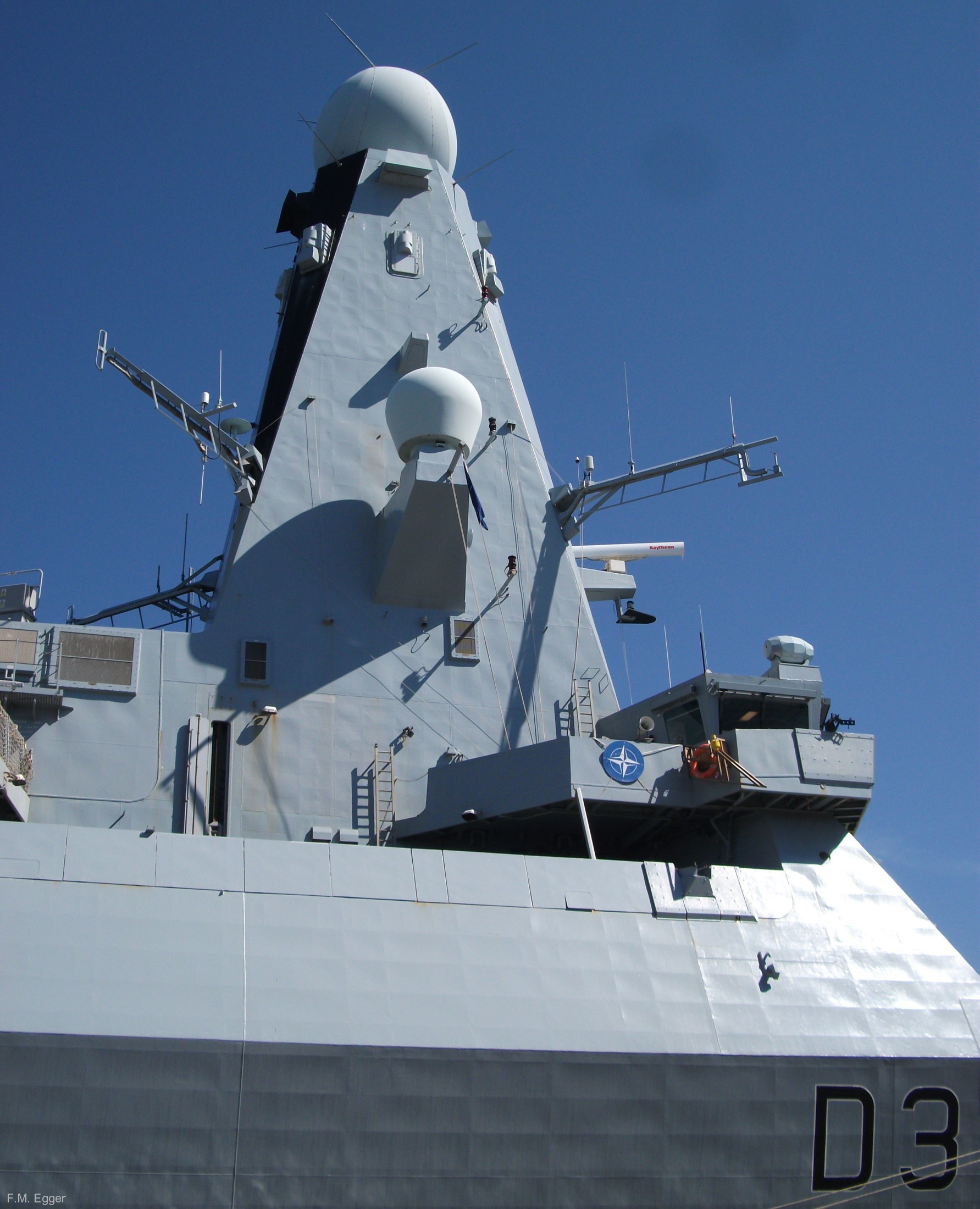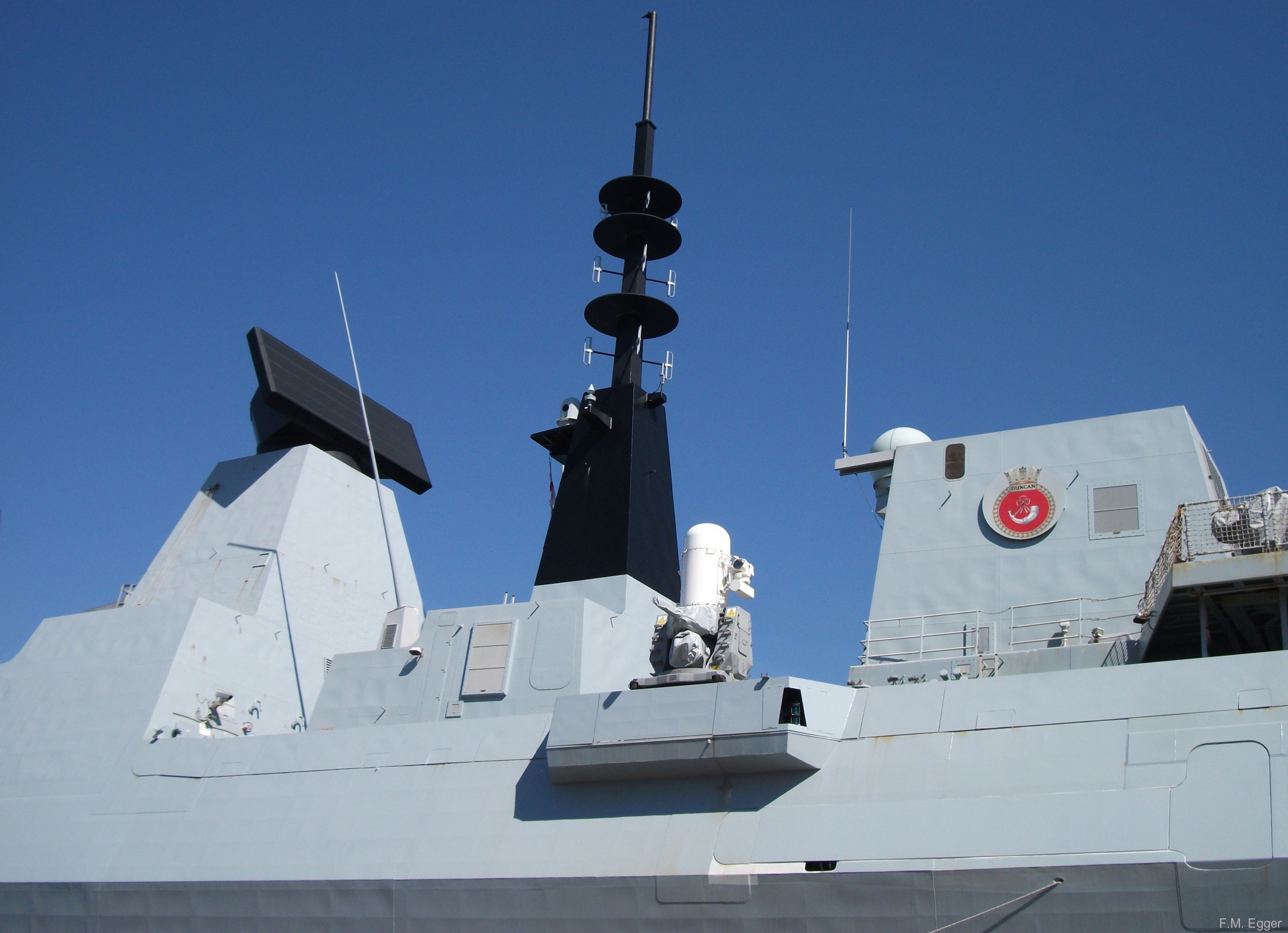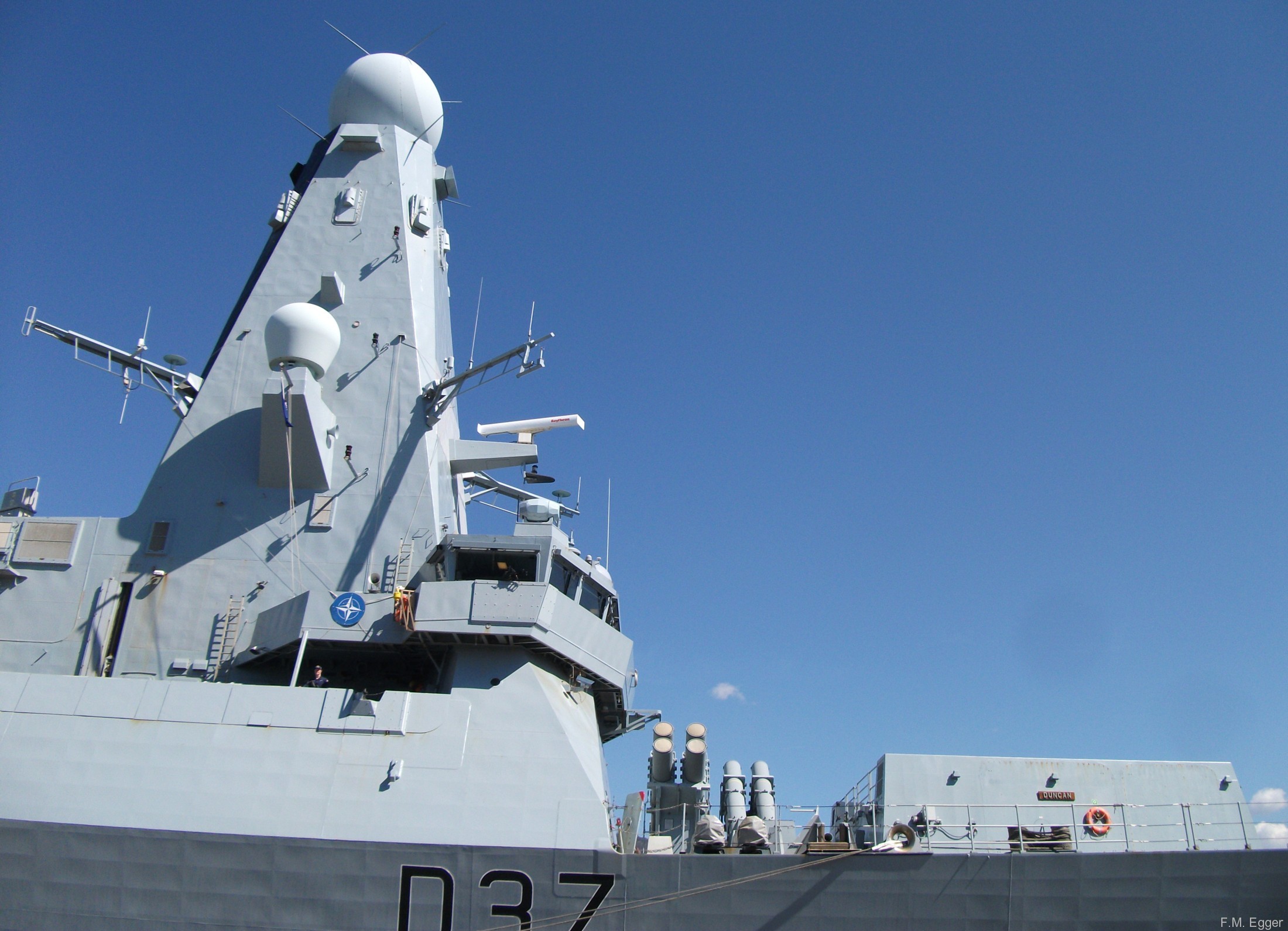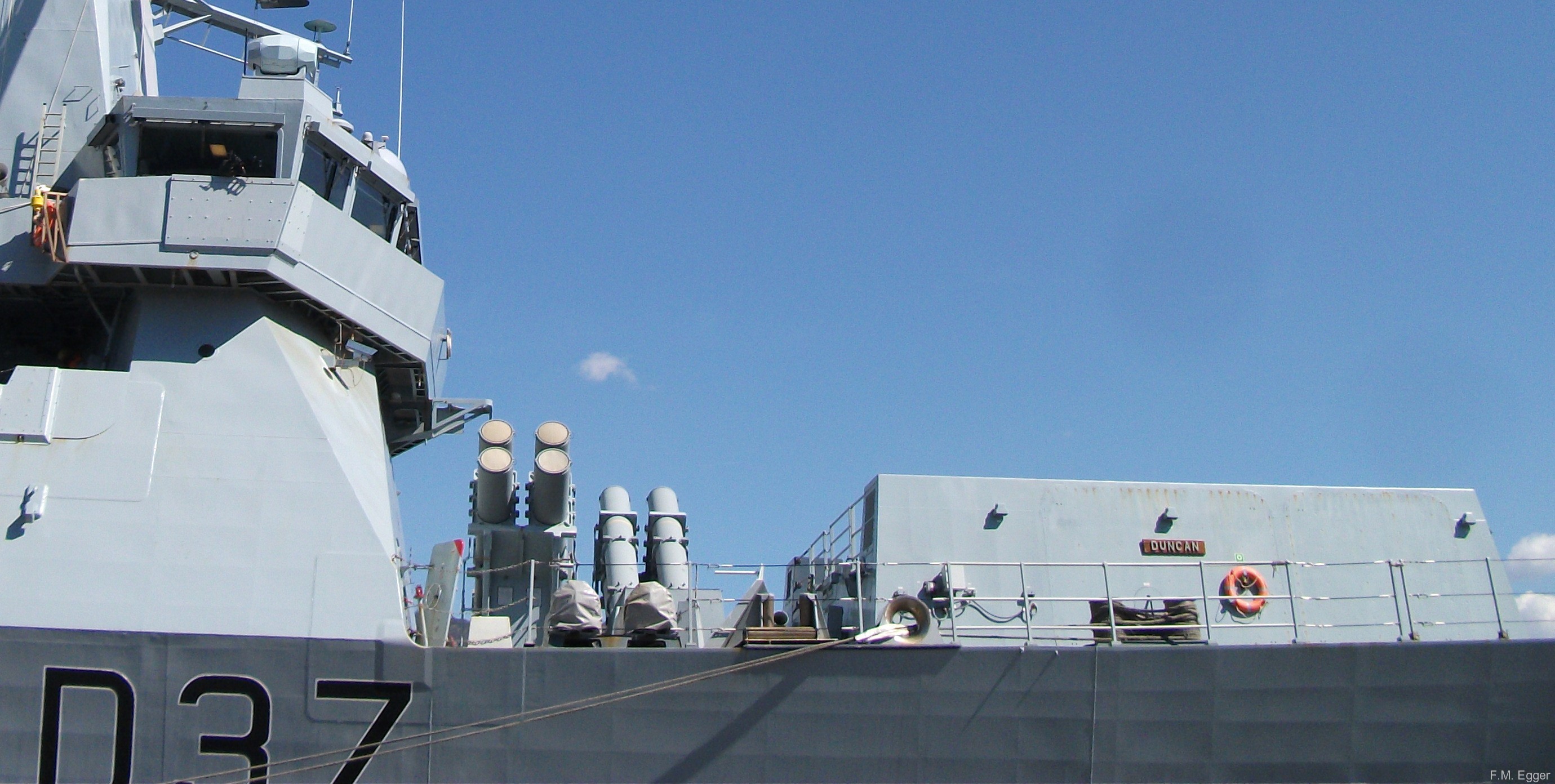 Mk.141 octuple Harpoon SSM launcher and 48-cell Sylver A-50 VLS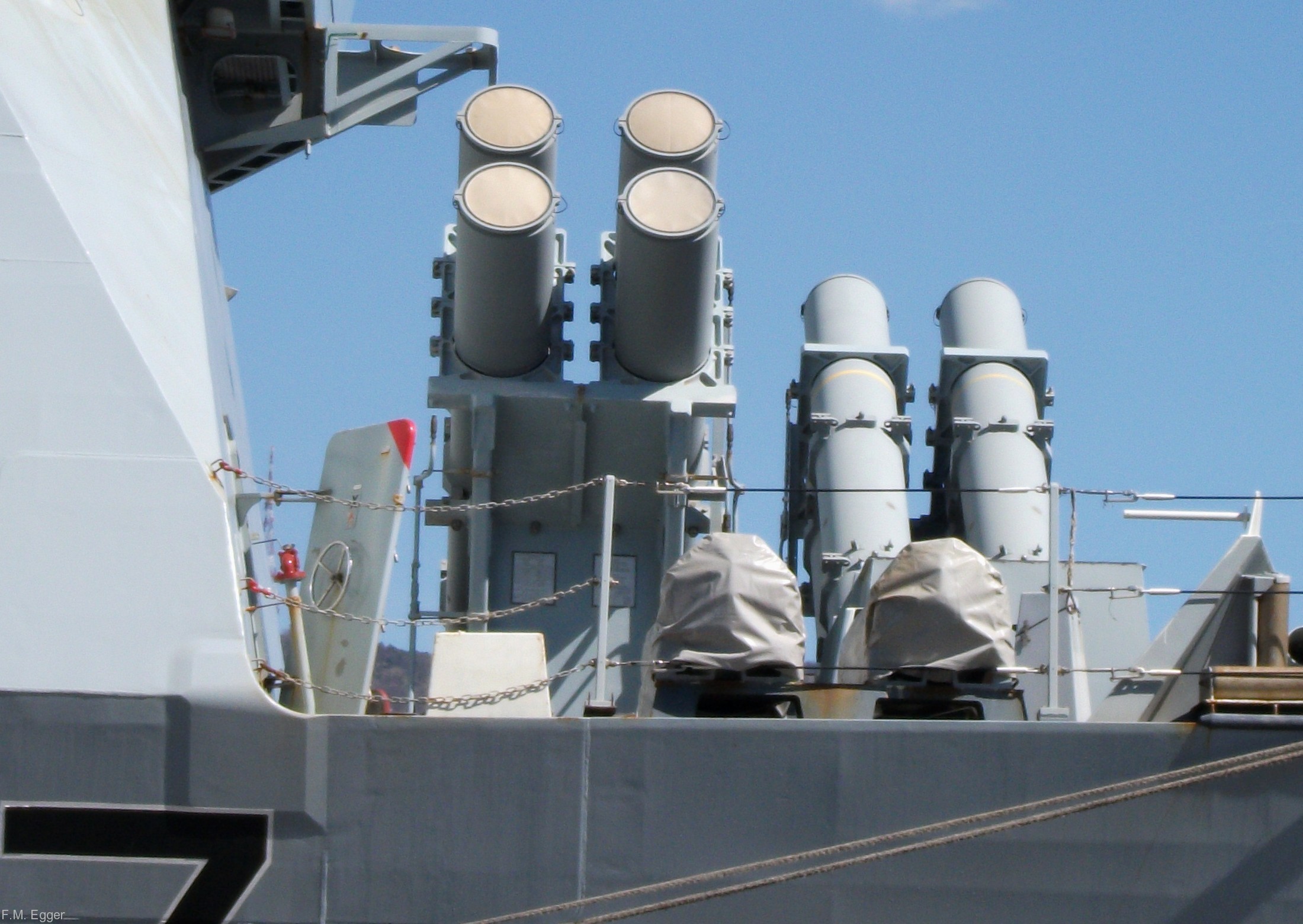 Mk.141 octuple launcher for RGM-84 Harpoon SSM



Mk.141 octuple Harpoon SSM launcher and 48-cell Sylver A-50 VLS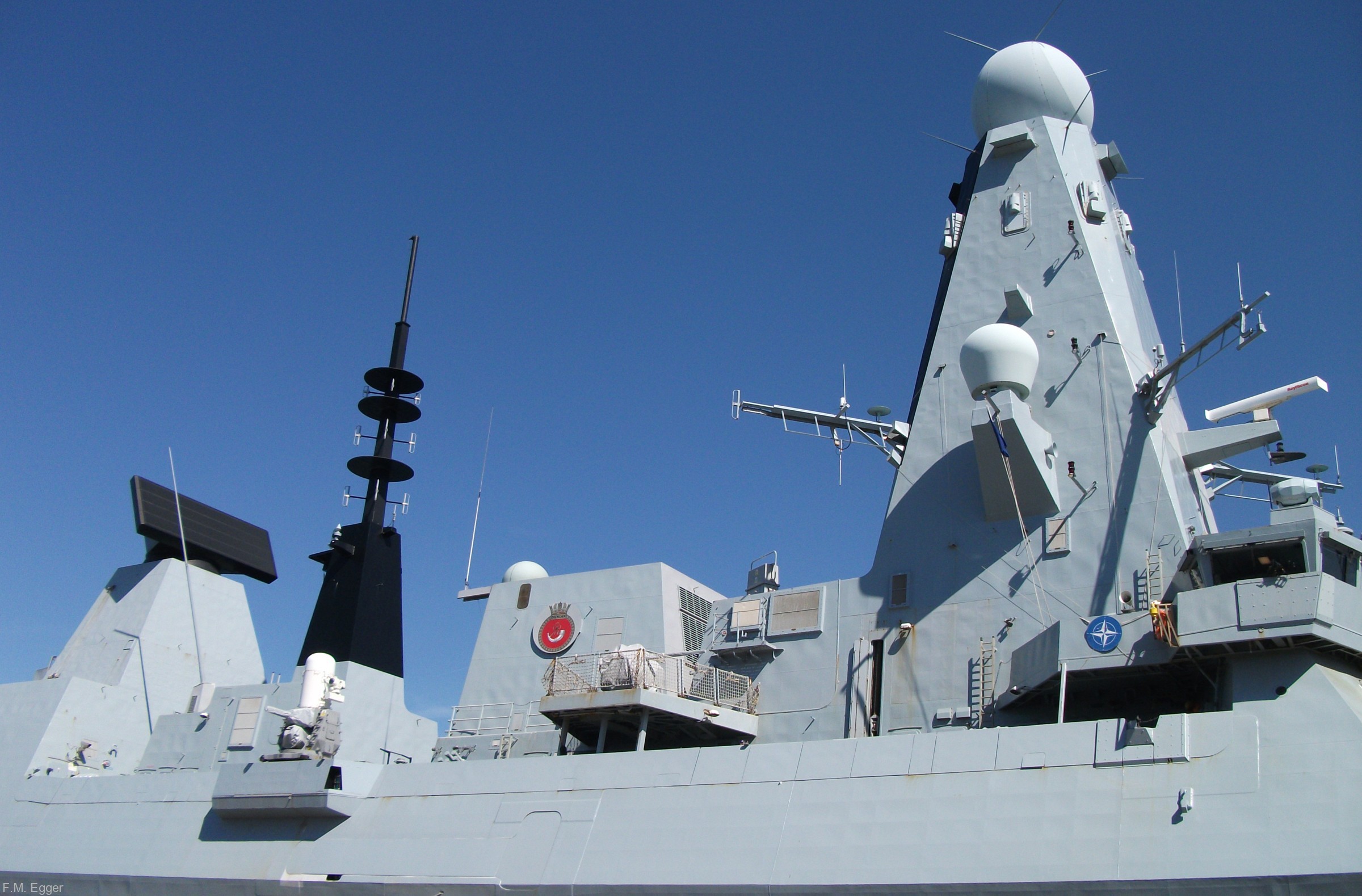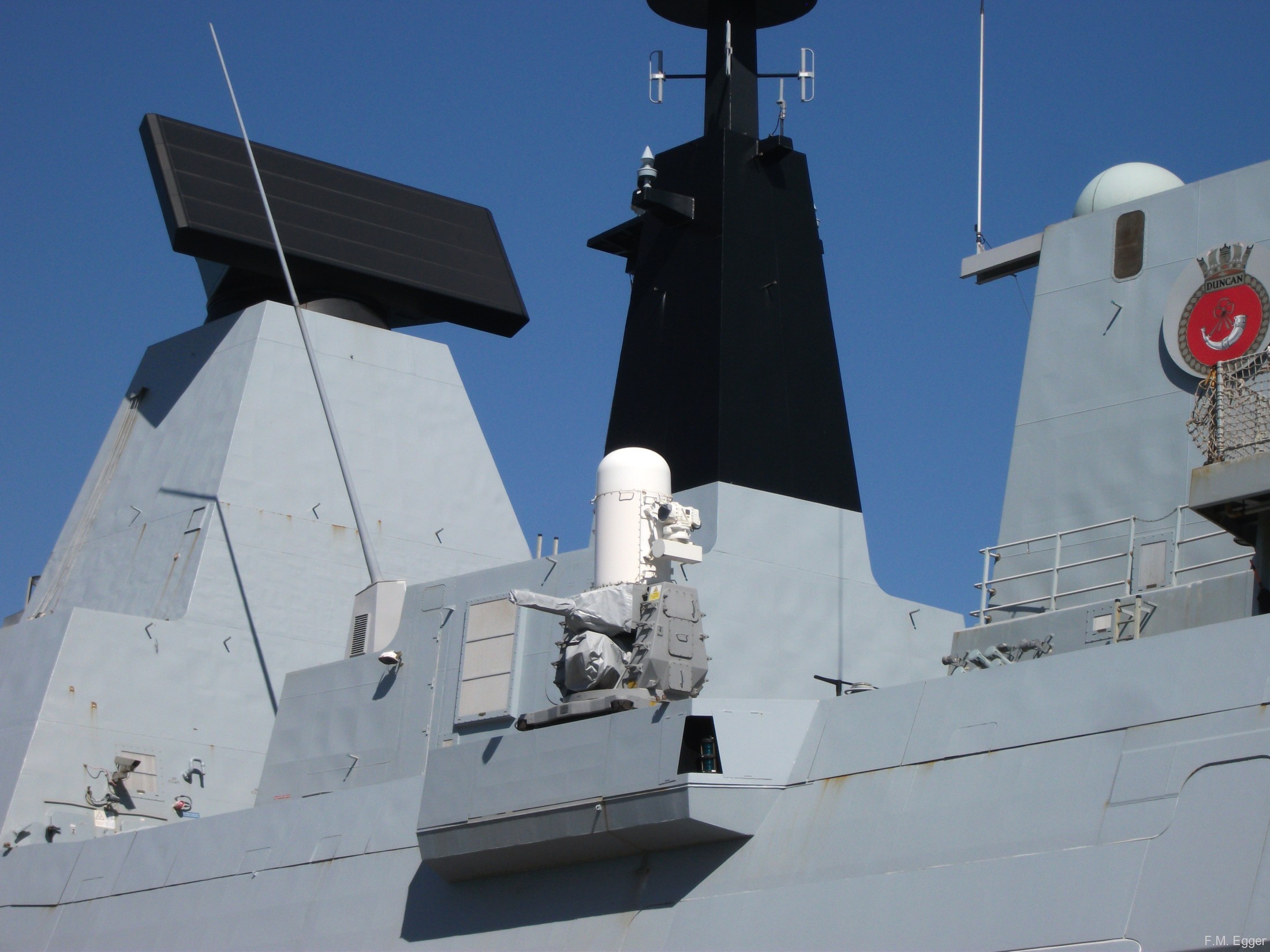 S1850M 3-D air surveillance radar (Type 1046) and Mk.15 Phalanx CIWS



BAE Mark 8 4.5 inches (113mm) gun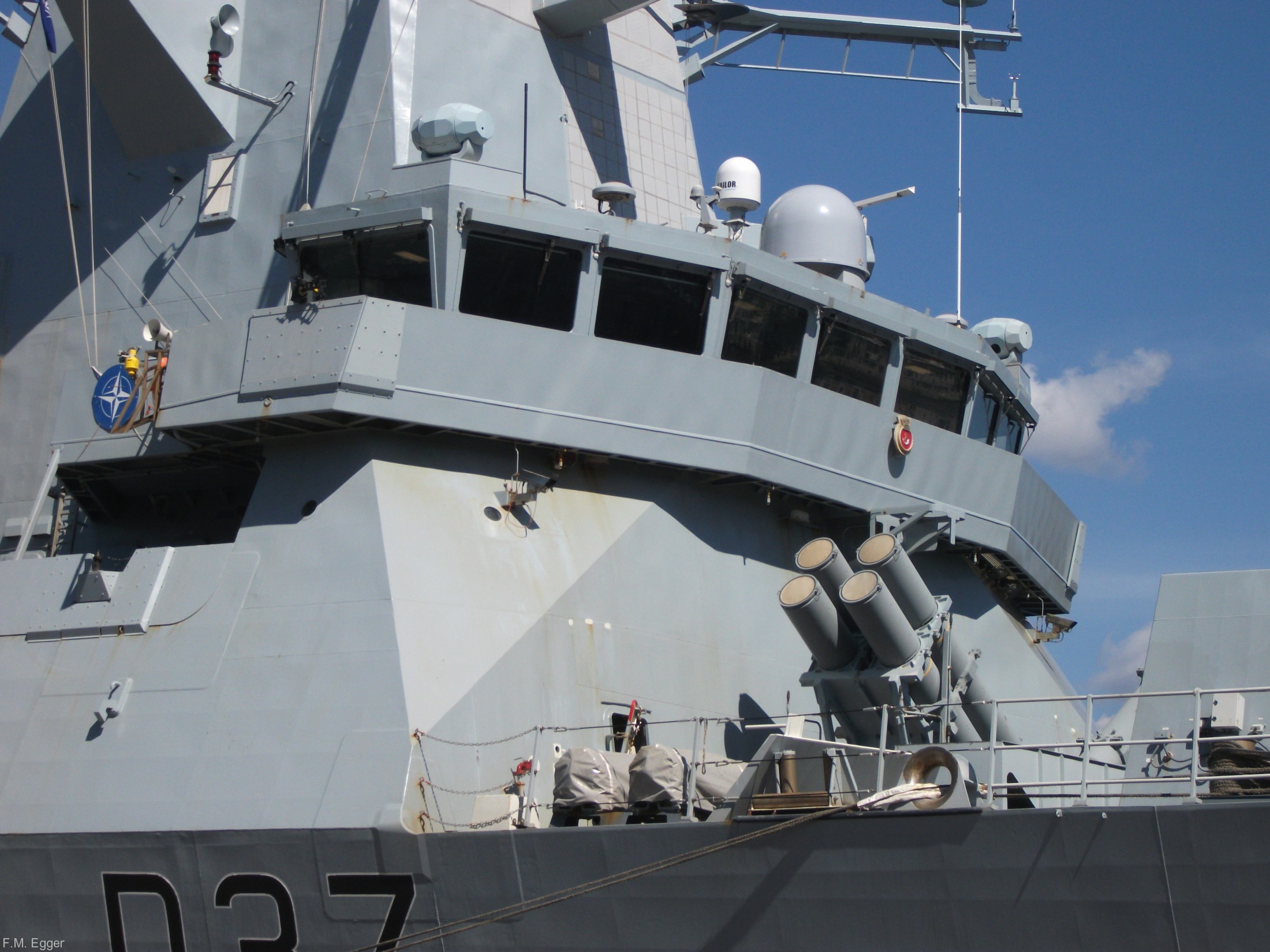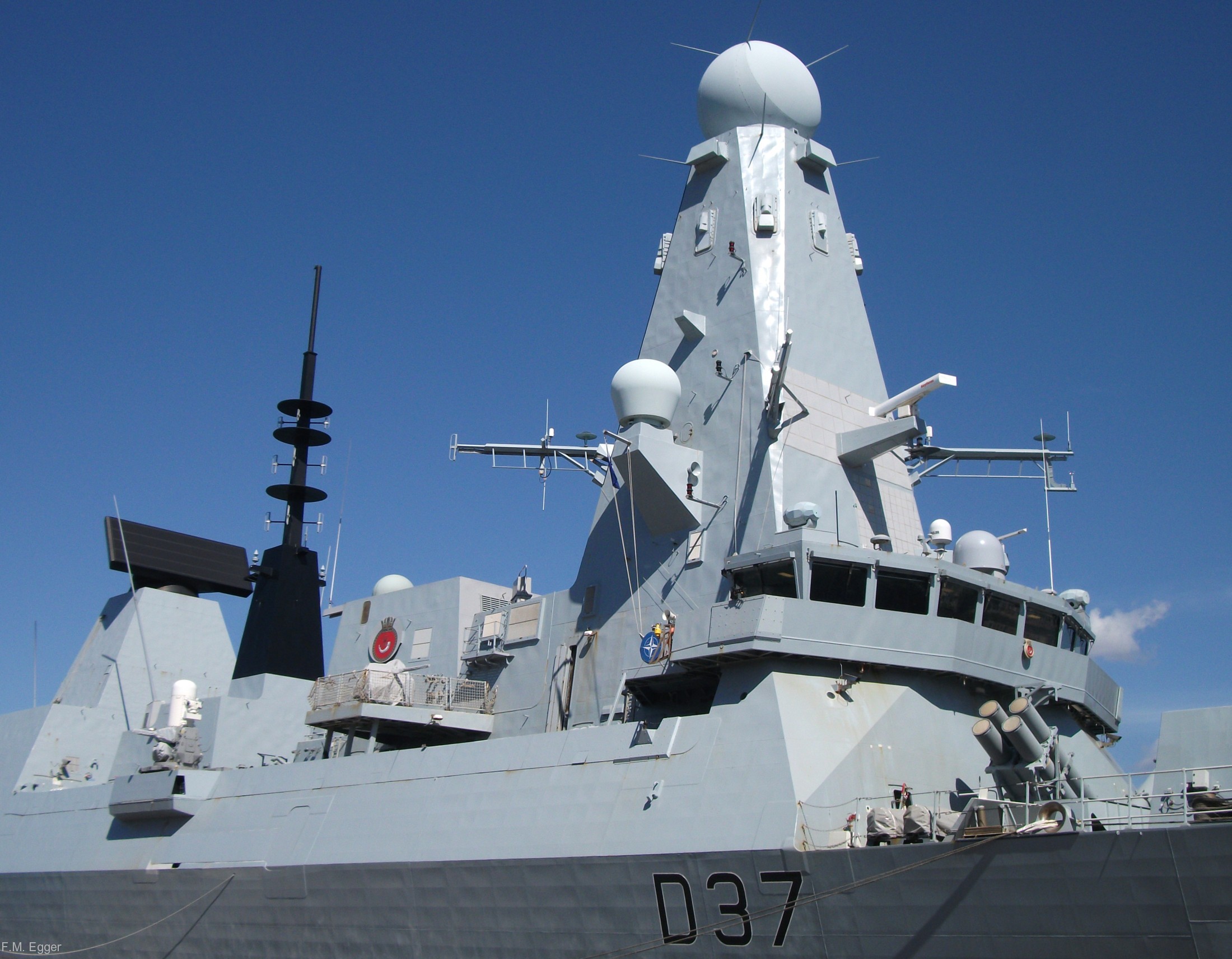 main mast with SAMPSON multi-functional dual-face active electronically scanned array radar (AESA) (the 'ball')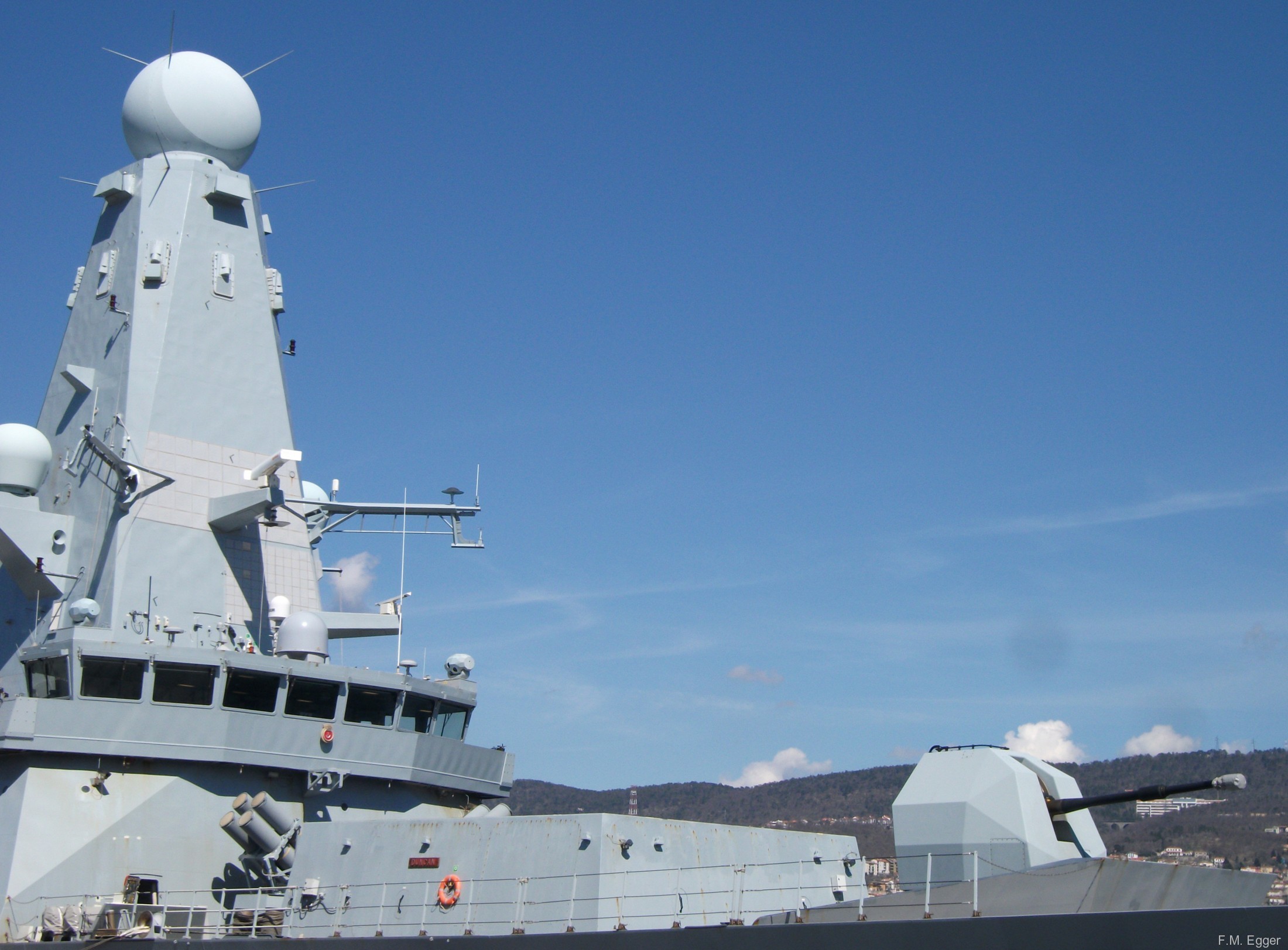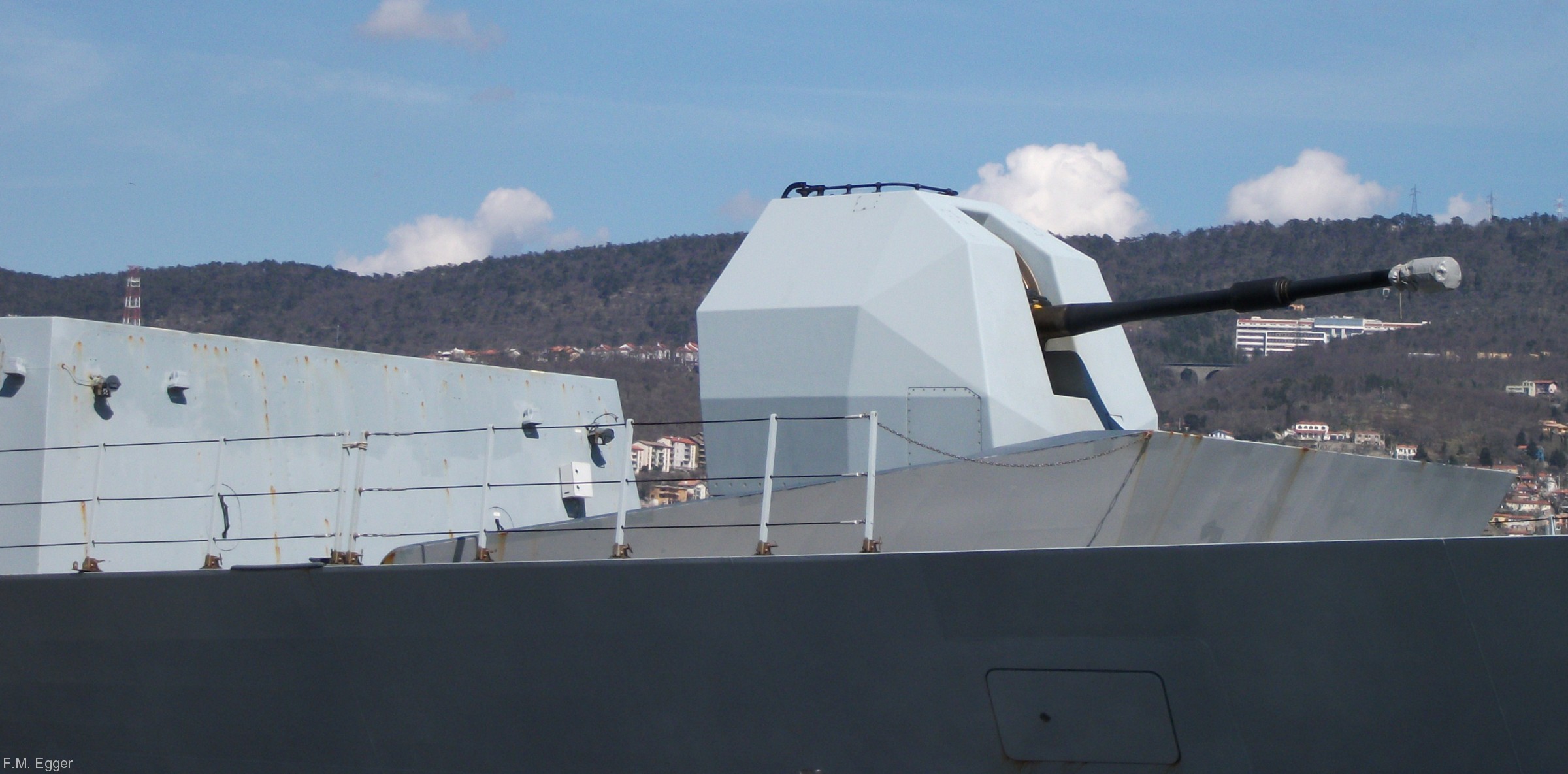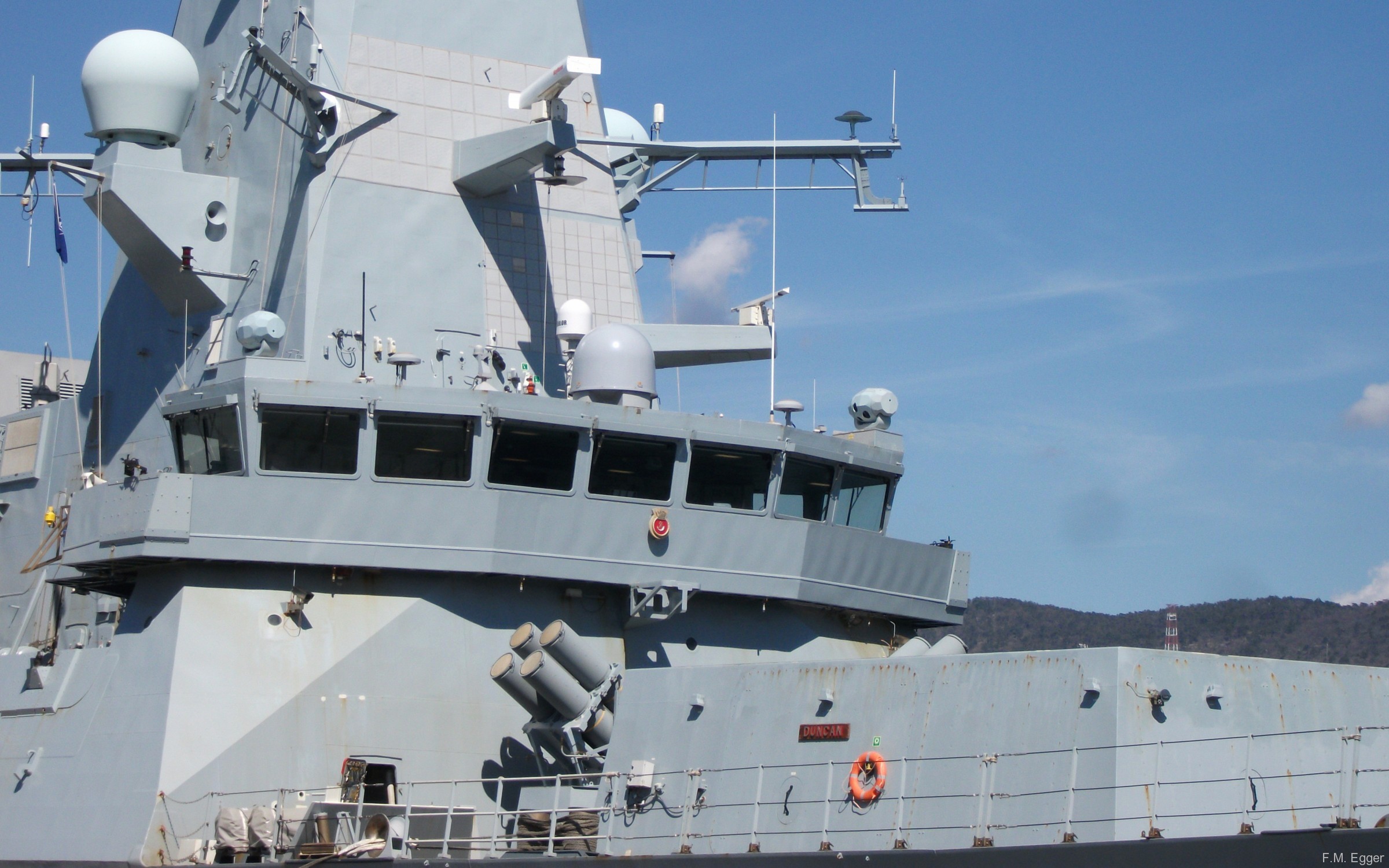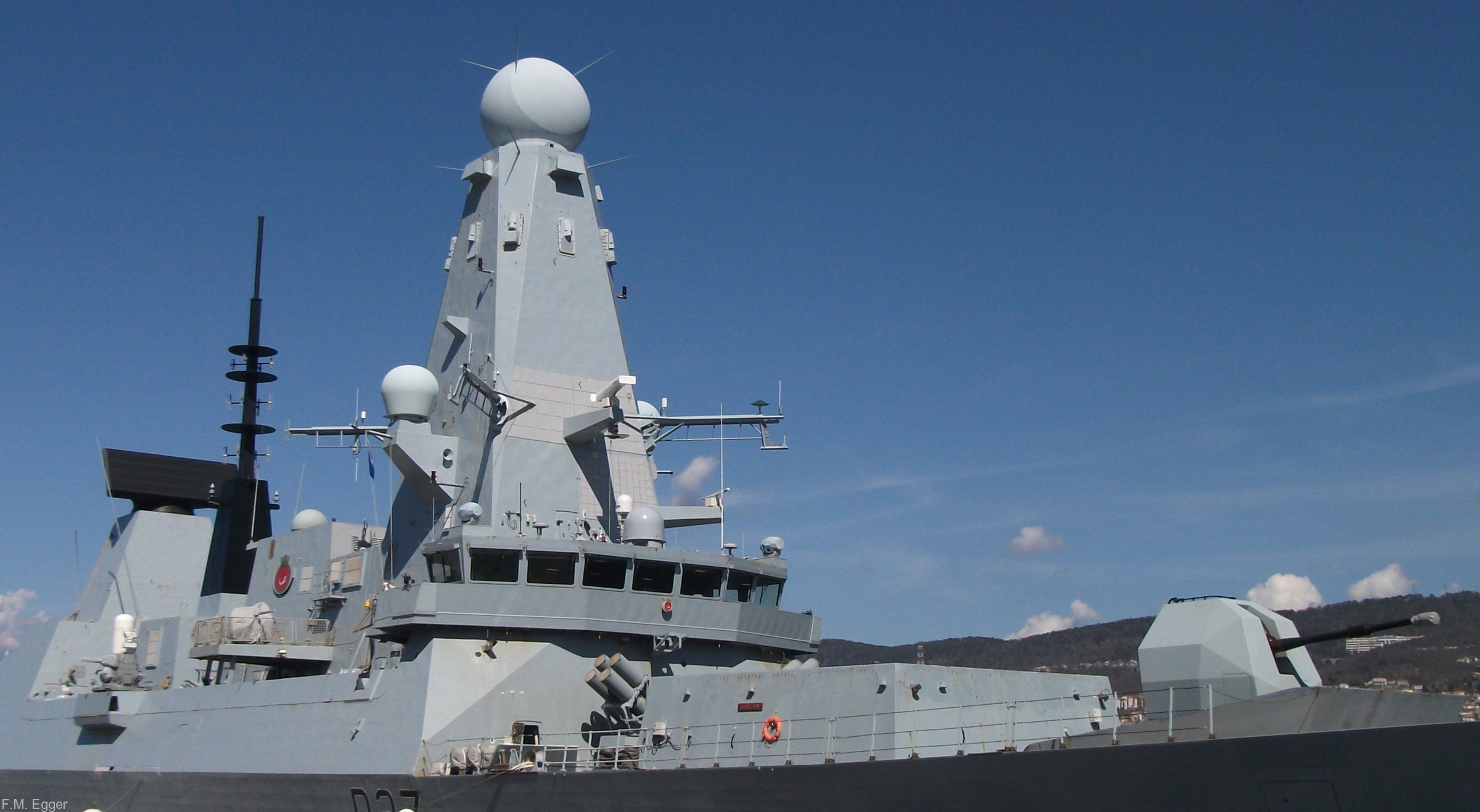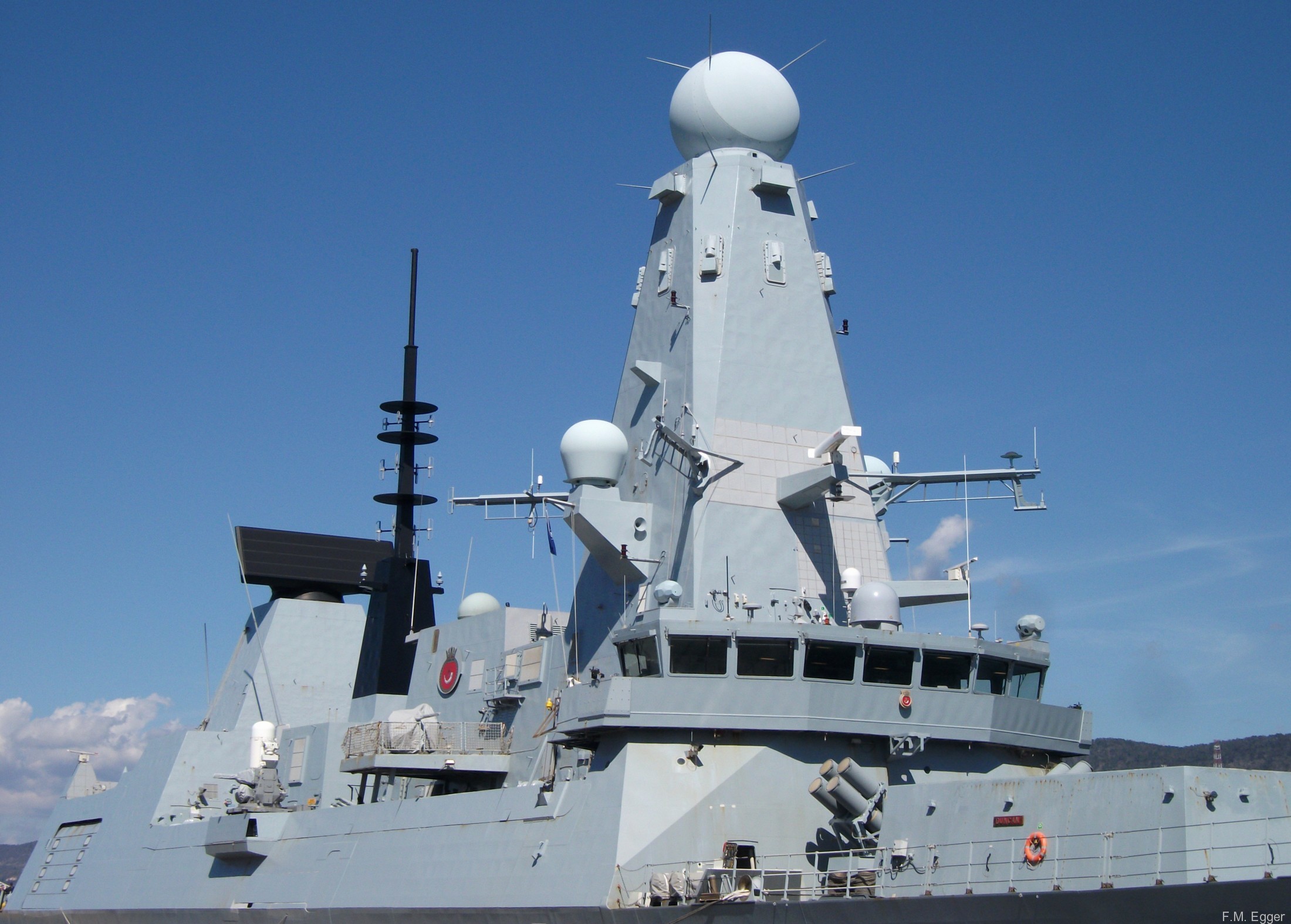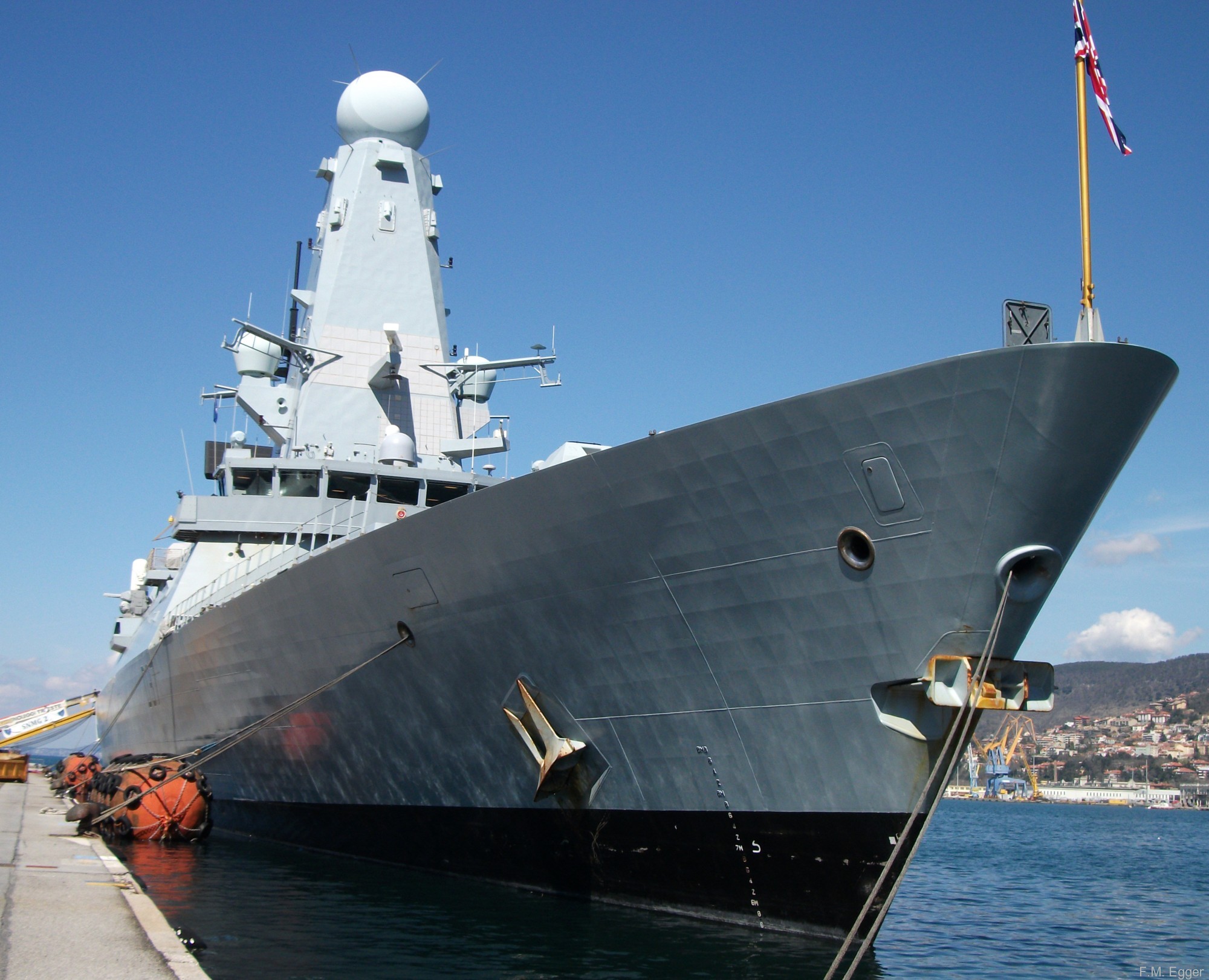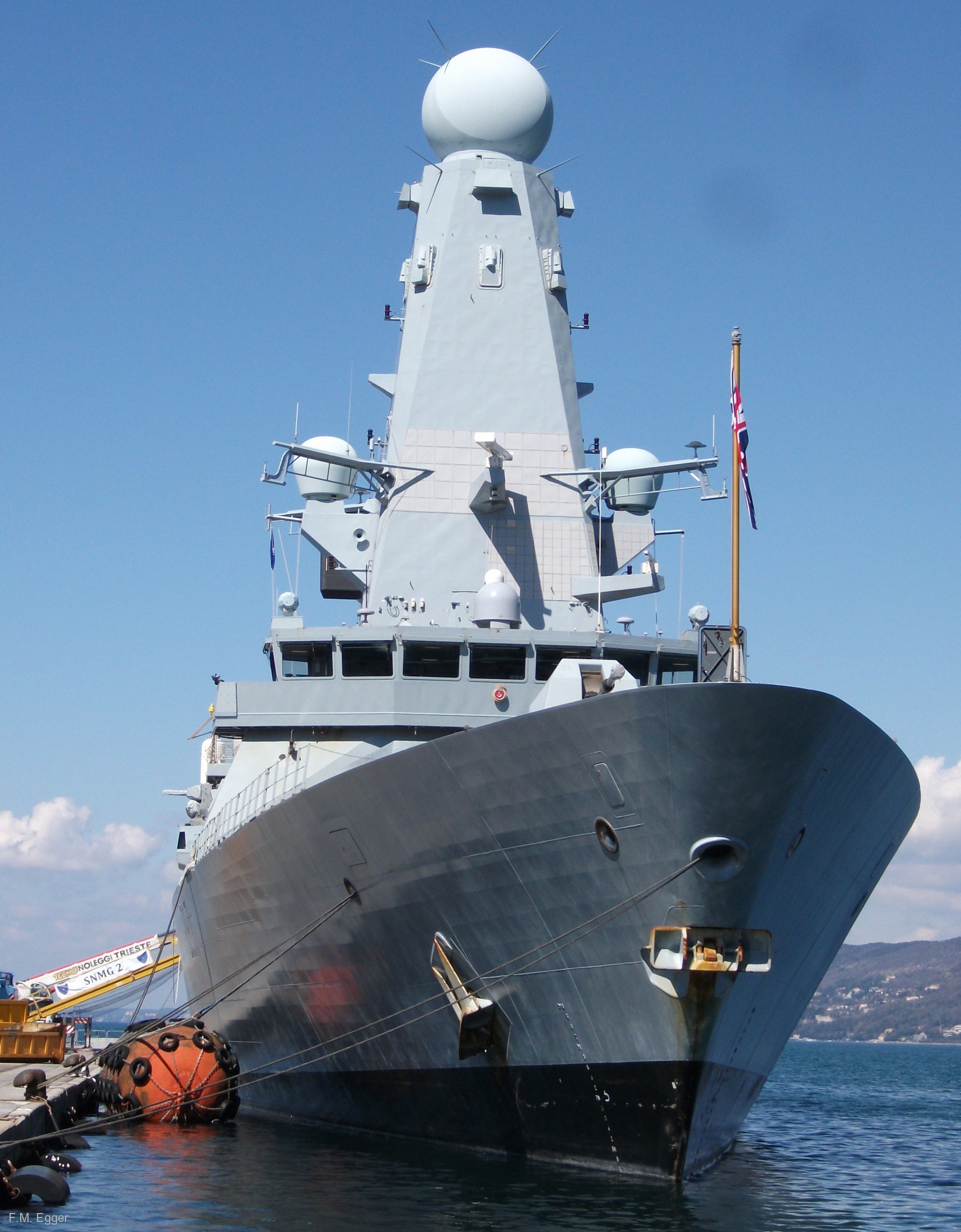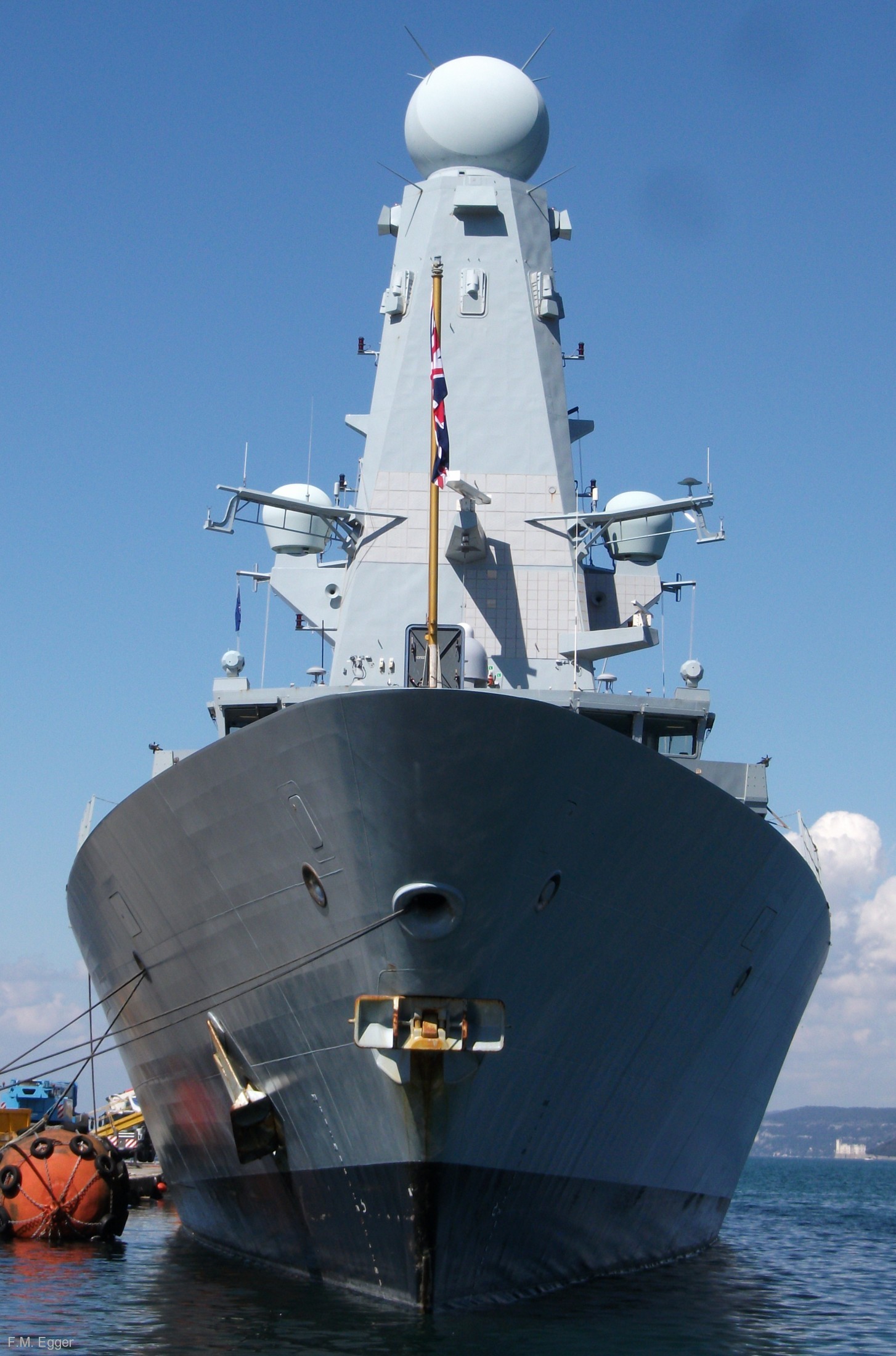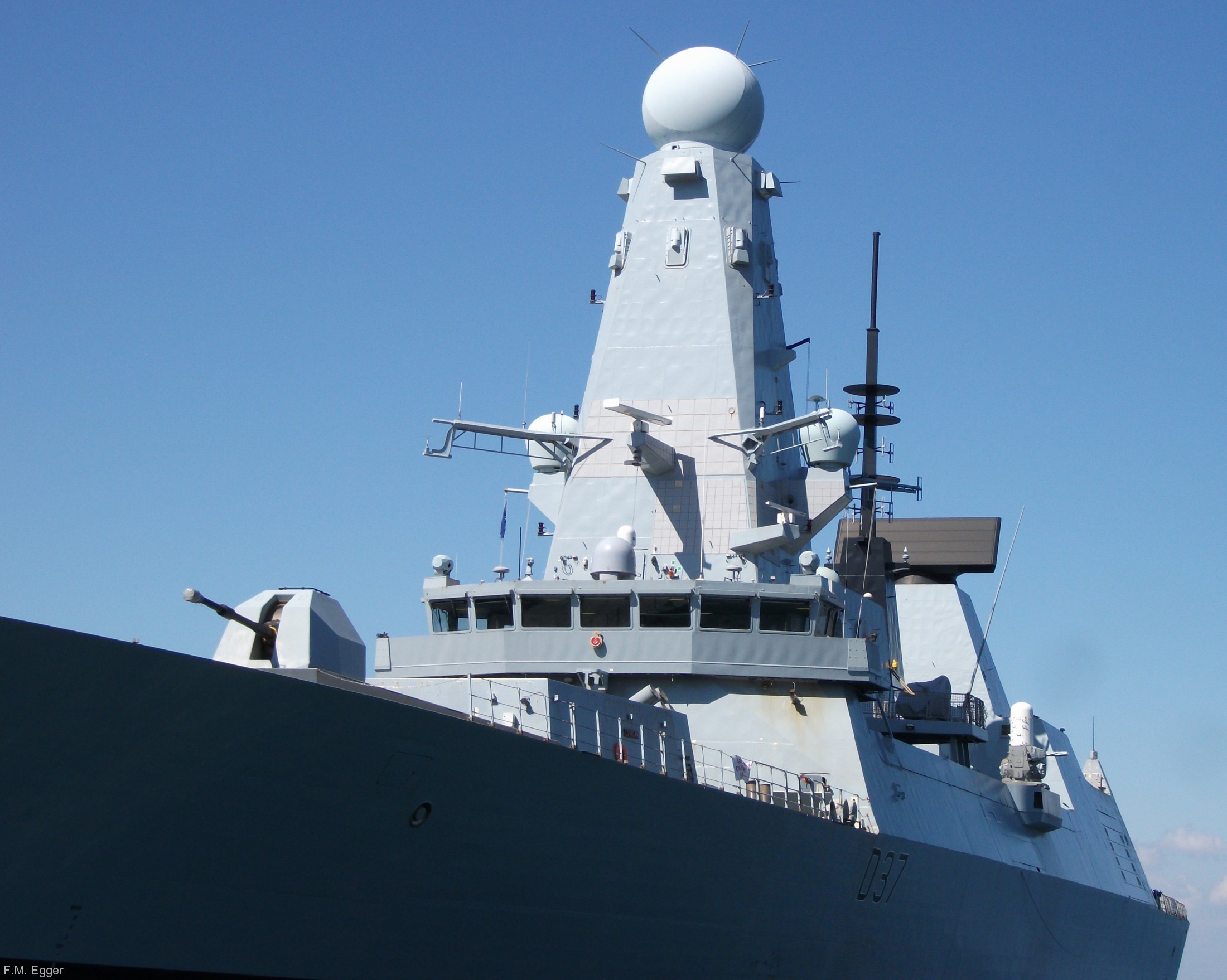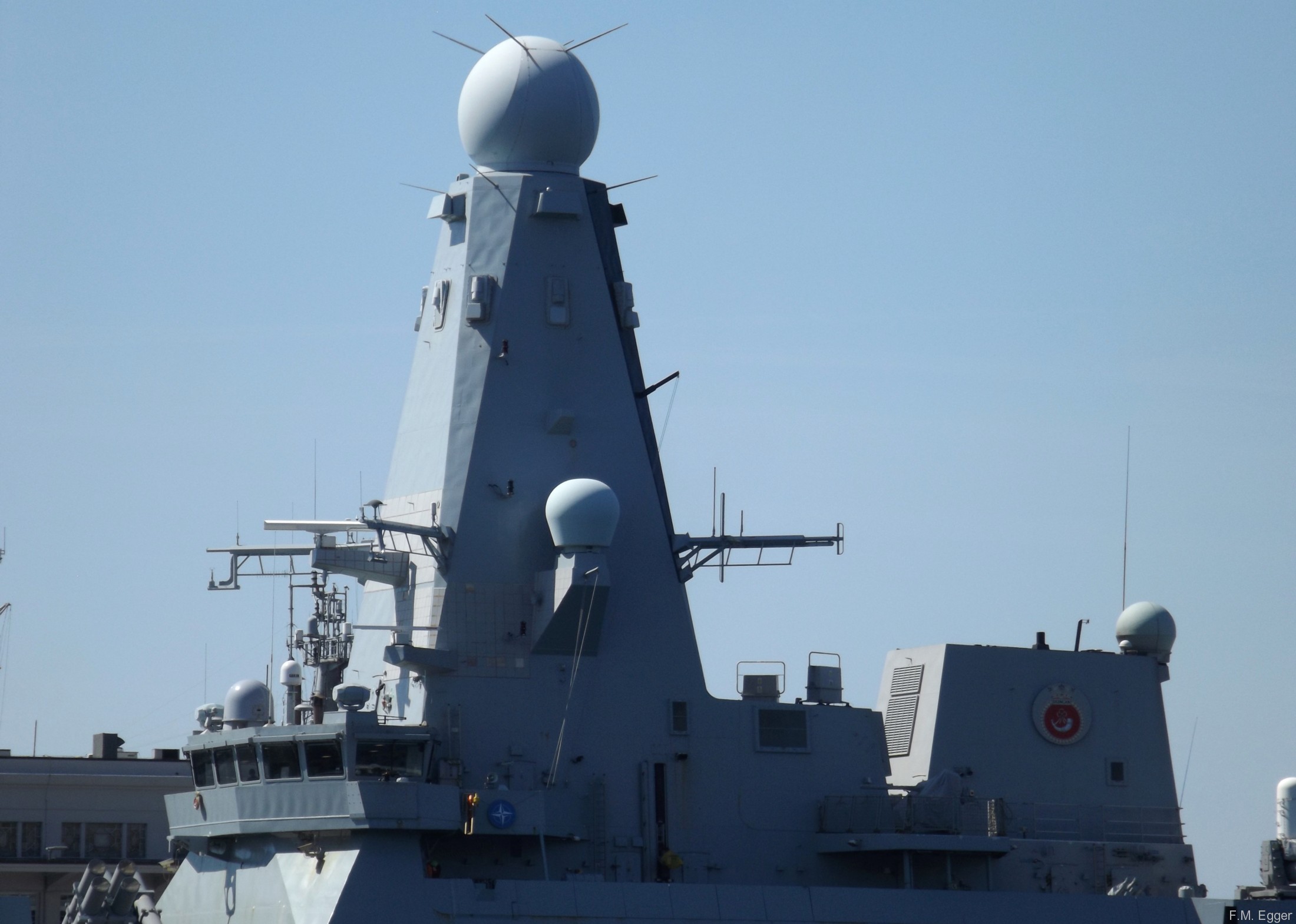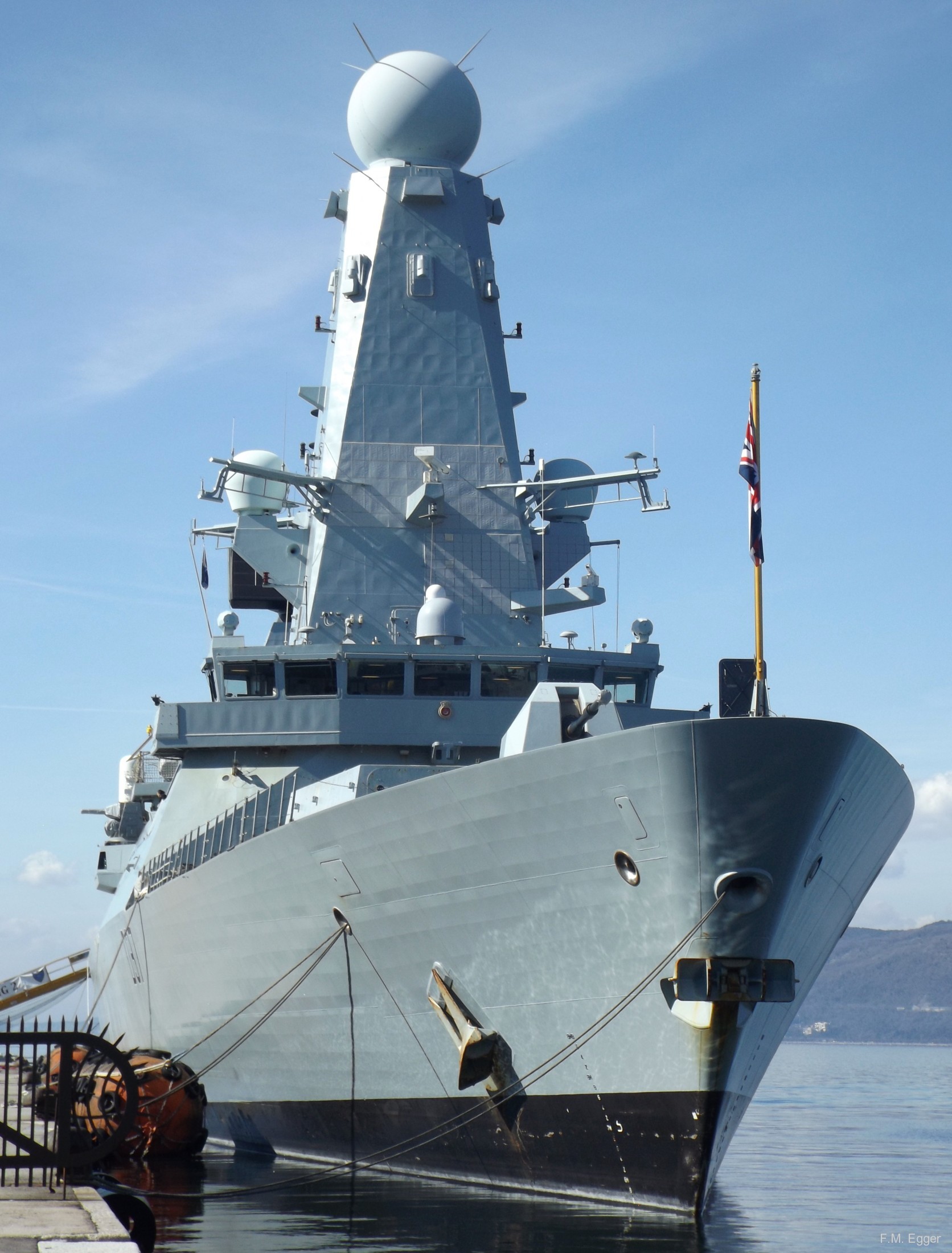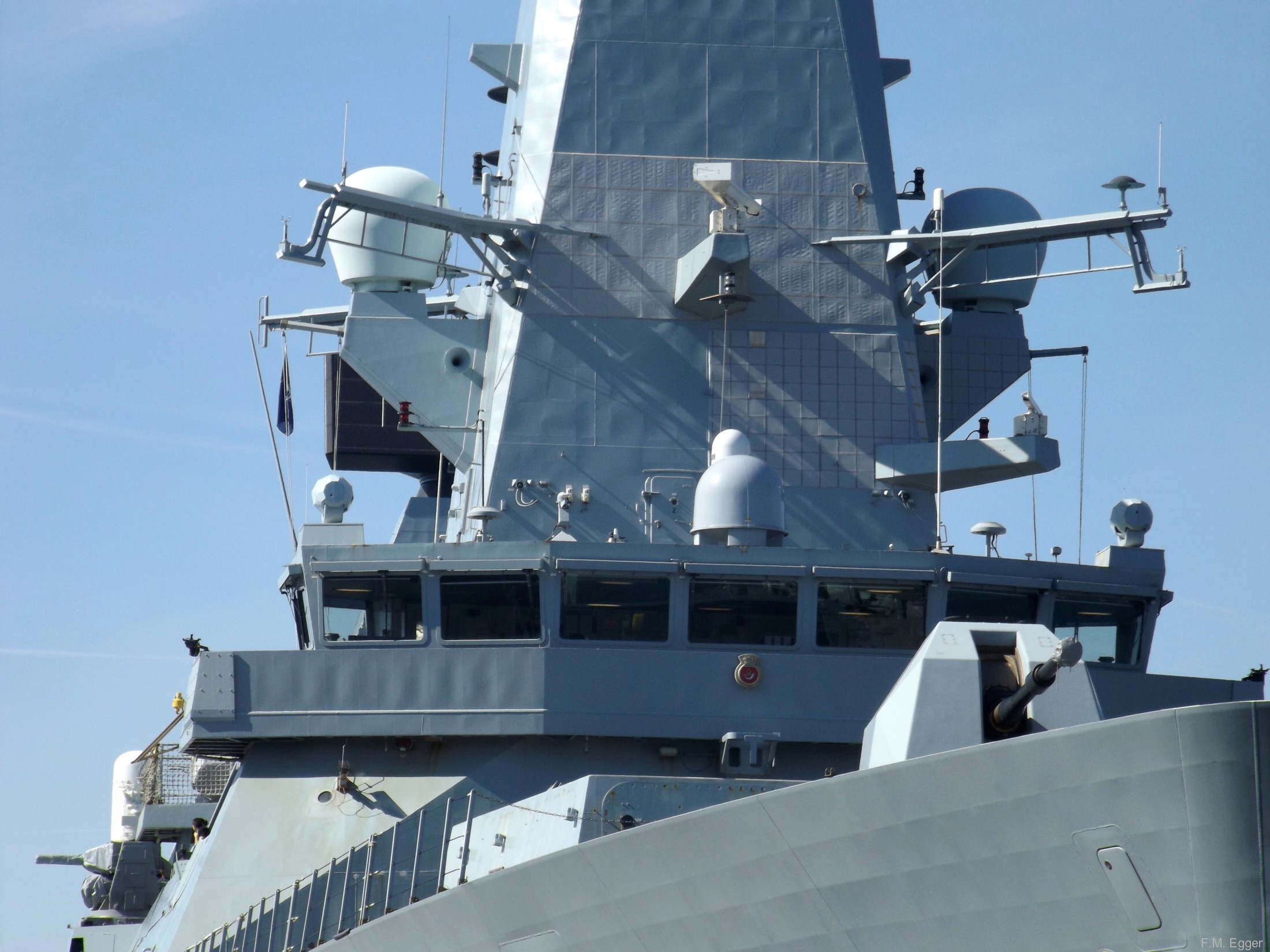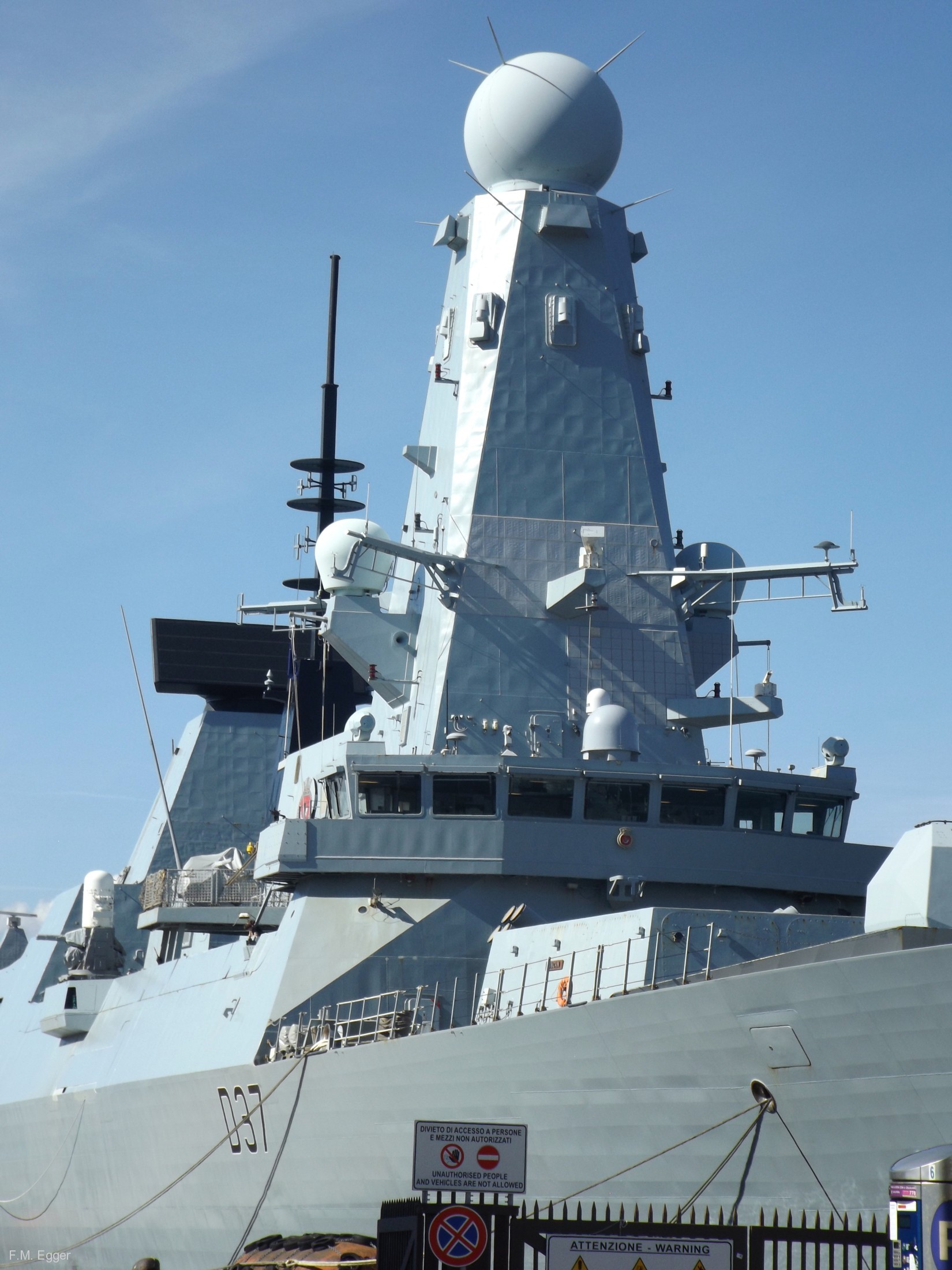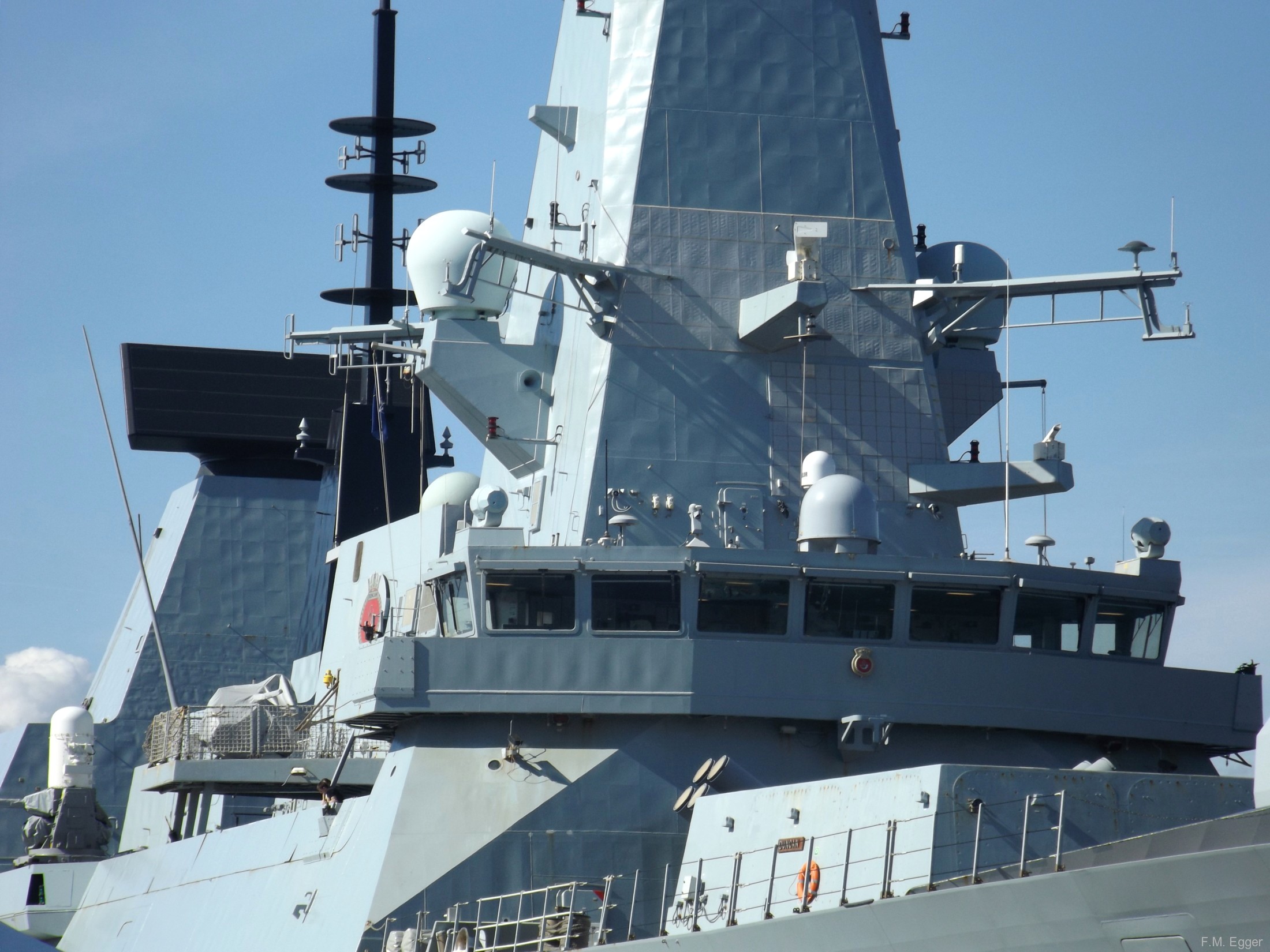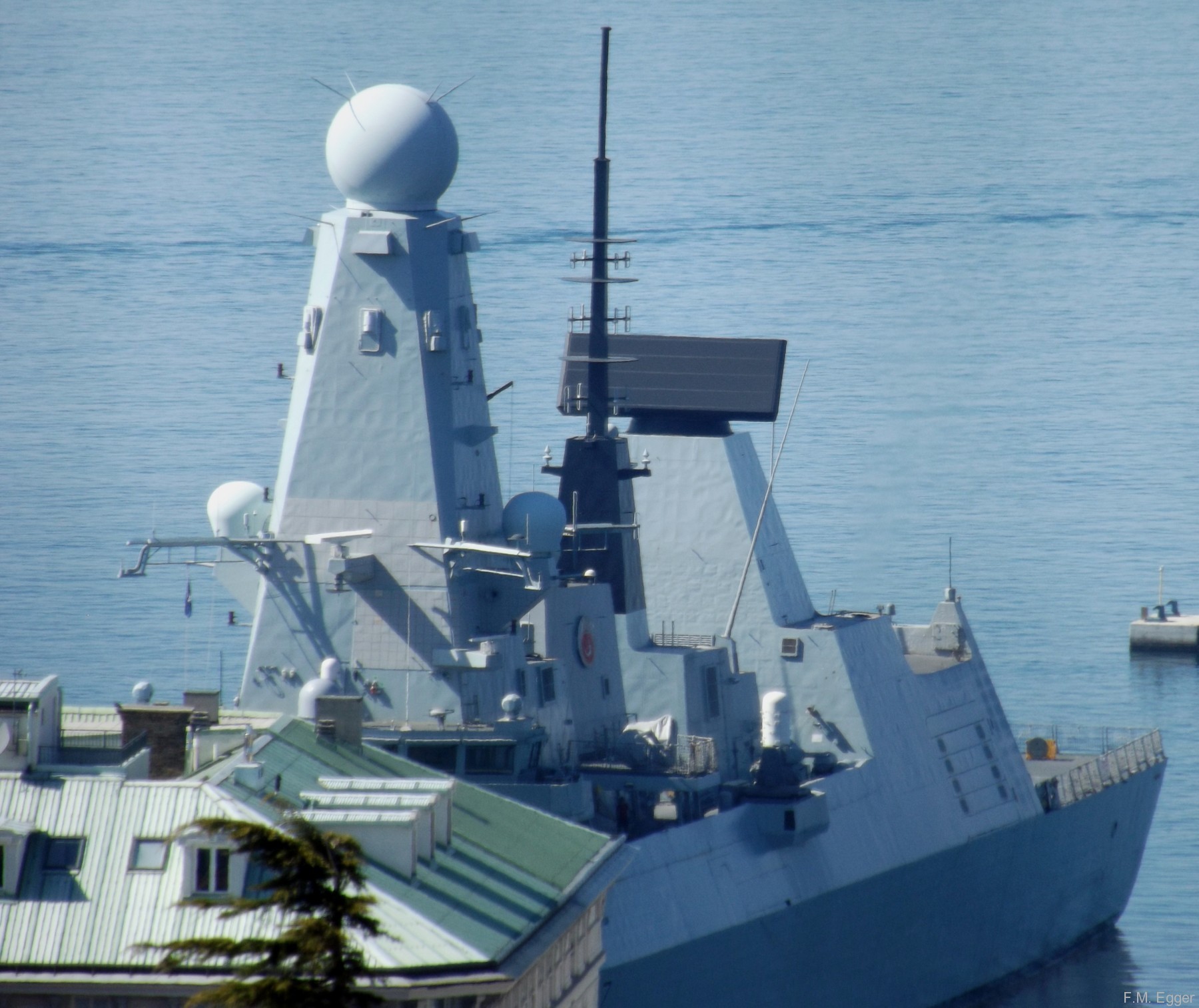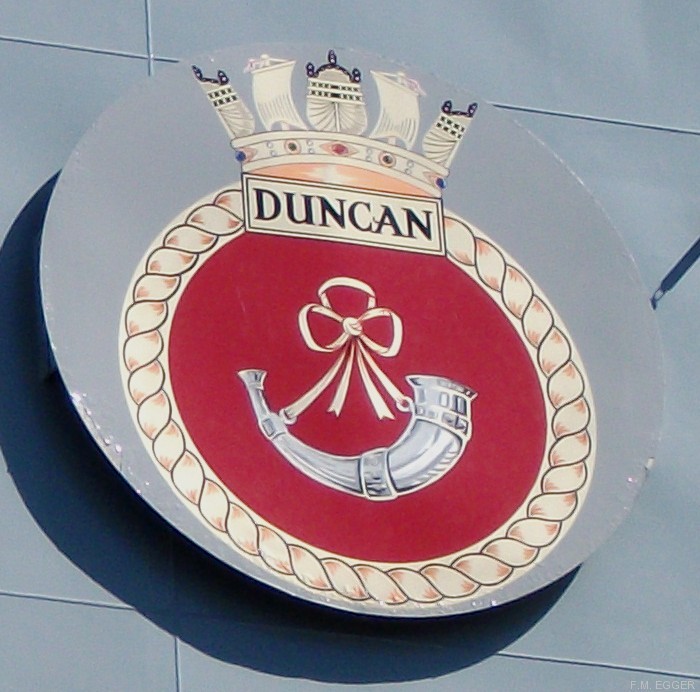 Royal Navy + NATO images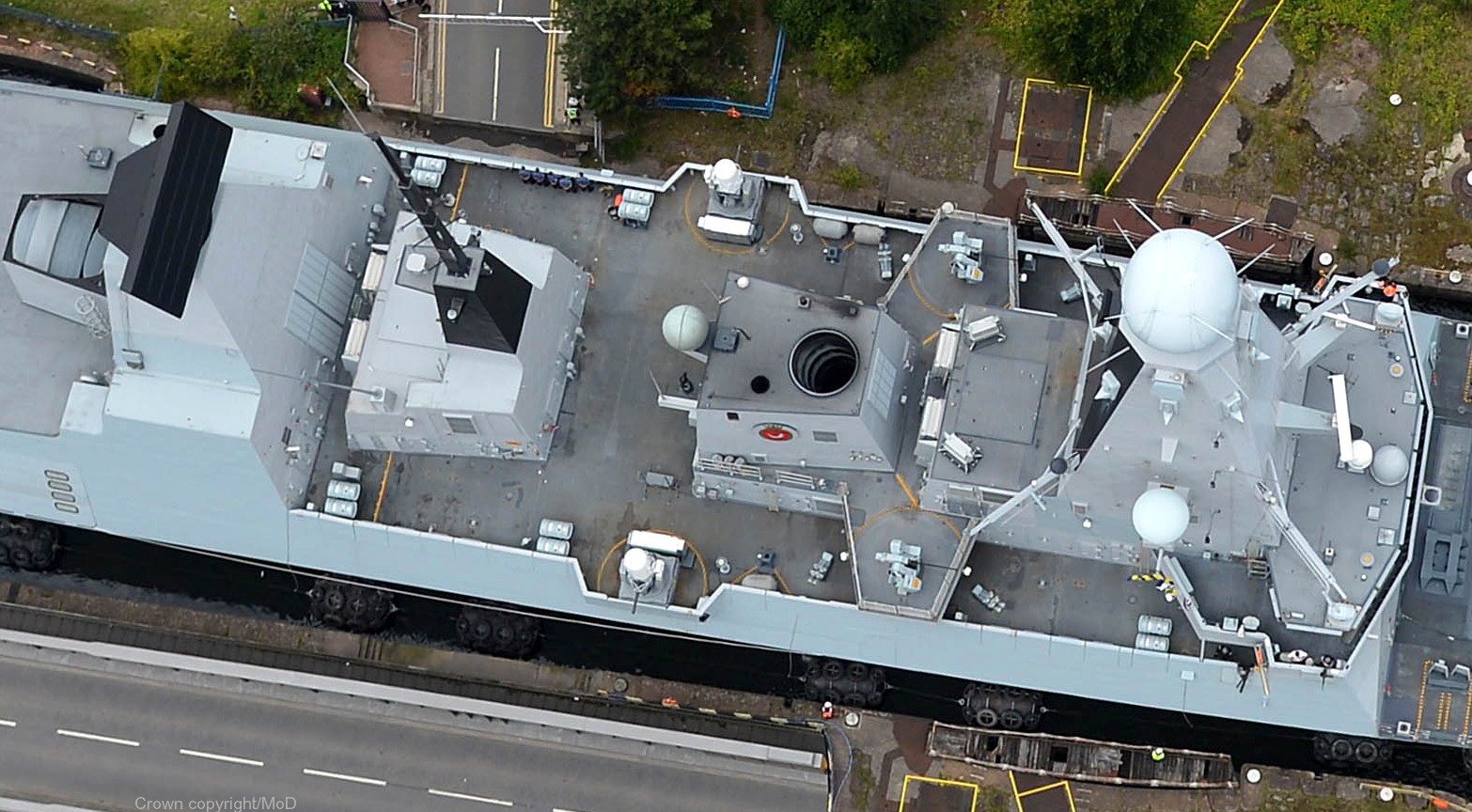 2 x Mk.15 Phalanx CIWS and 2 x Oerlikon DS30B 30mm machine gun systems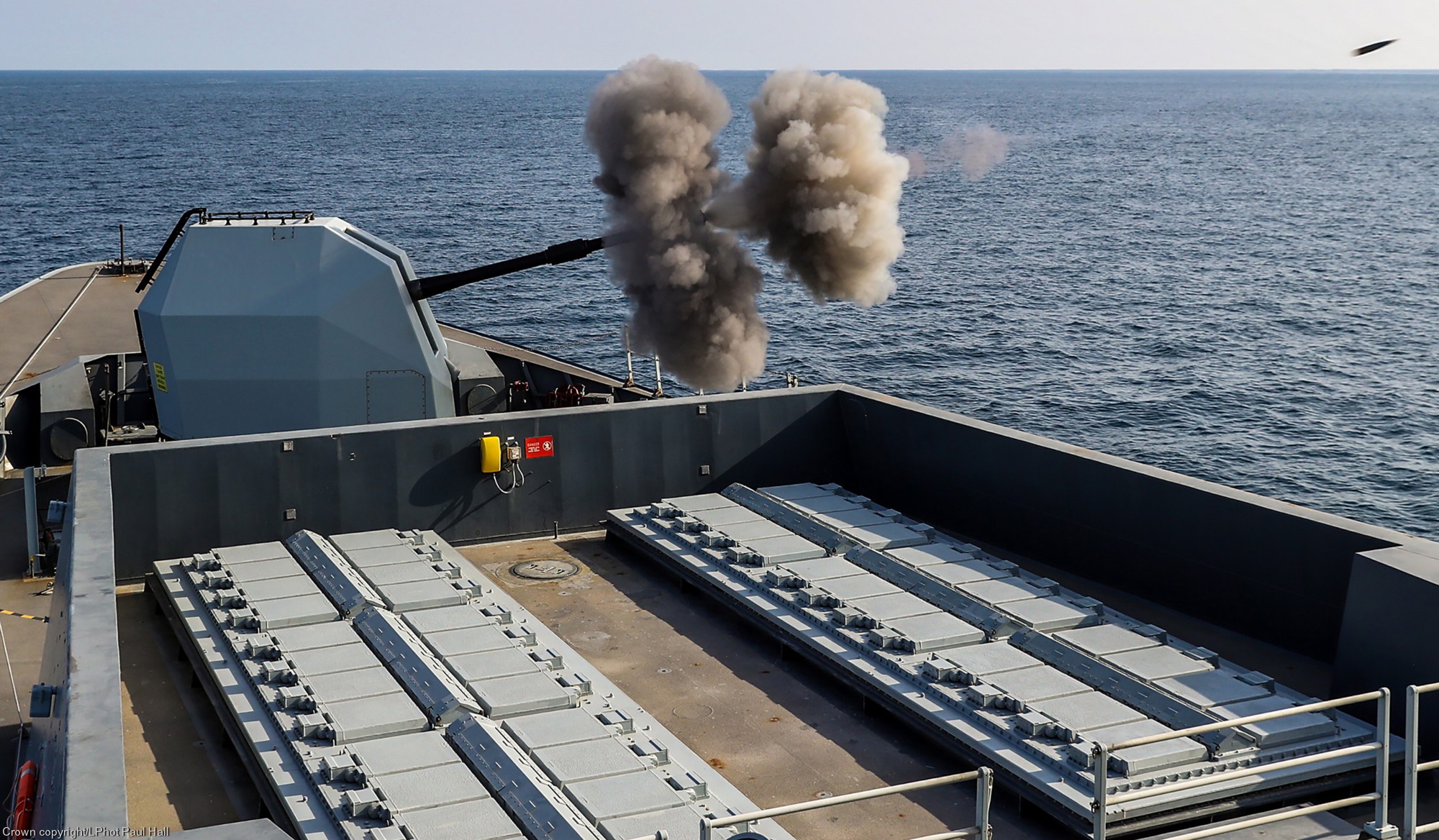 BAE Mark 8 gun and Sylver A50 48-cell vertical launching system (VLS)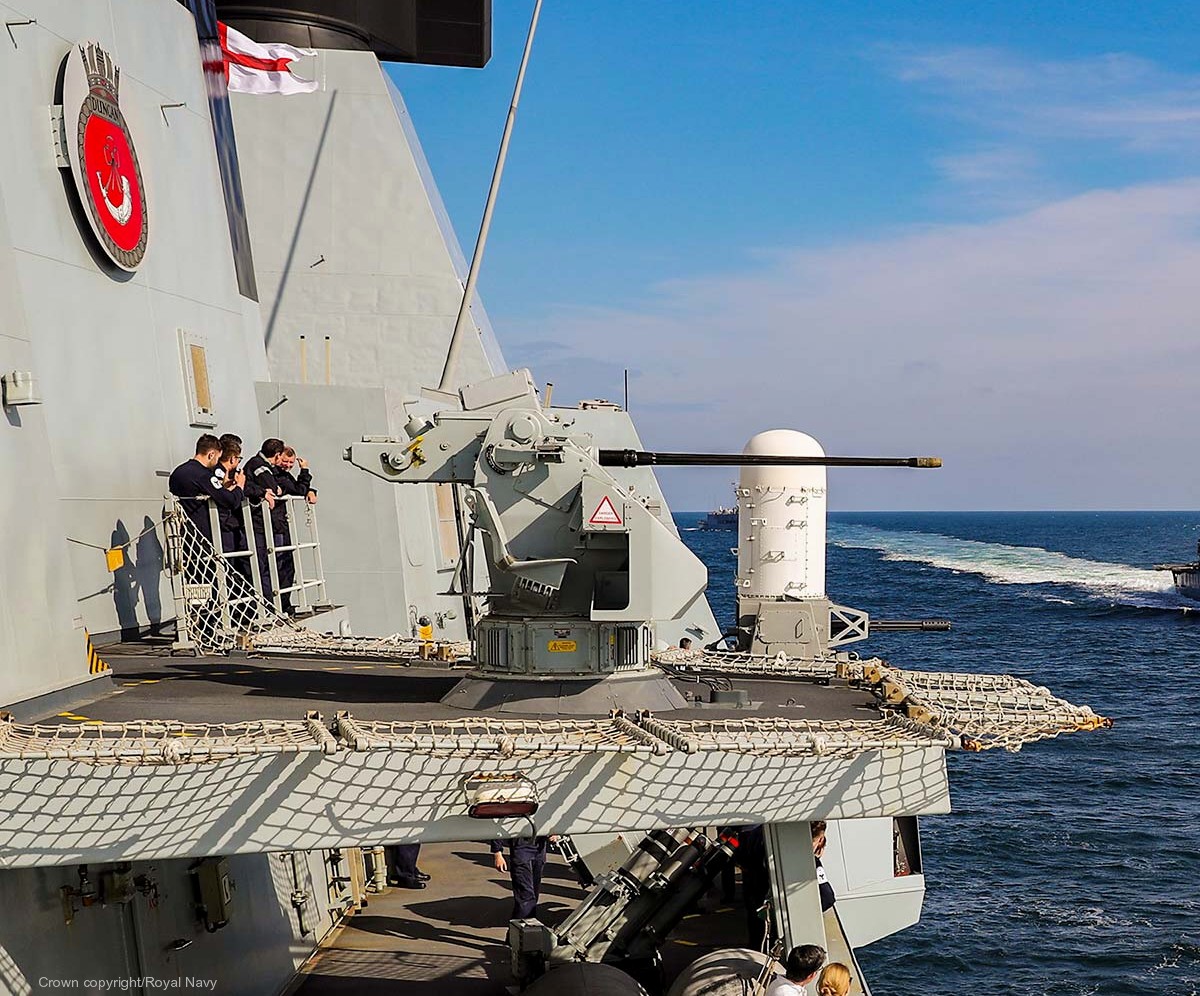 Oerlikon DS30B 30mm machine gun system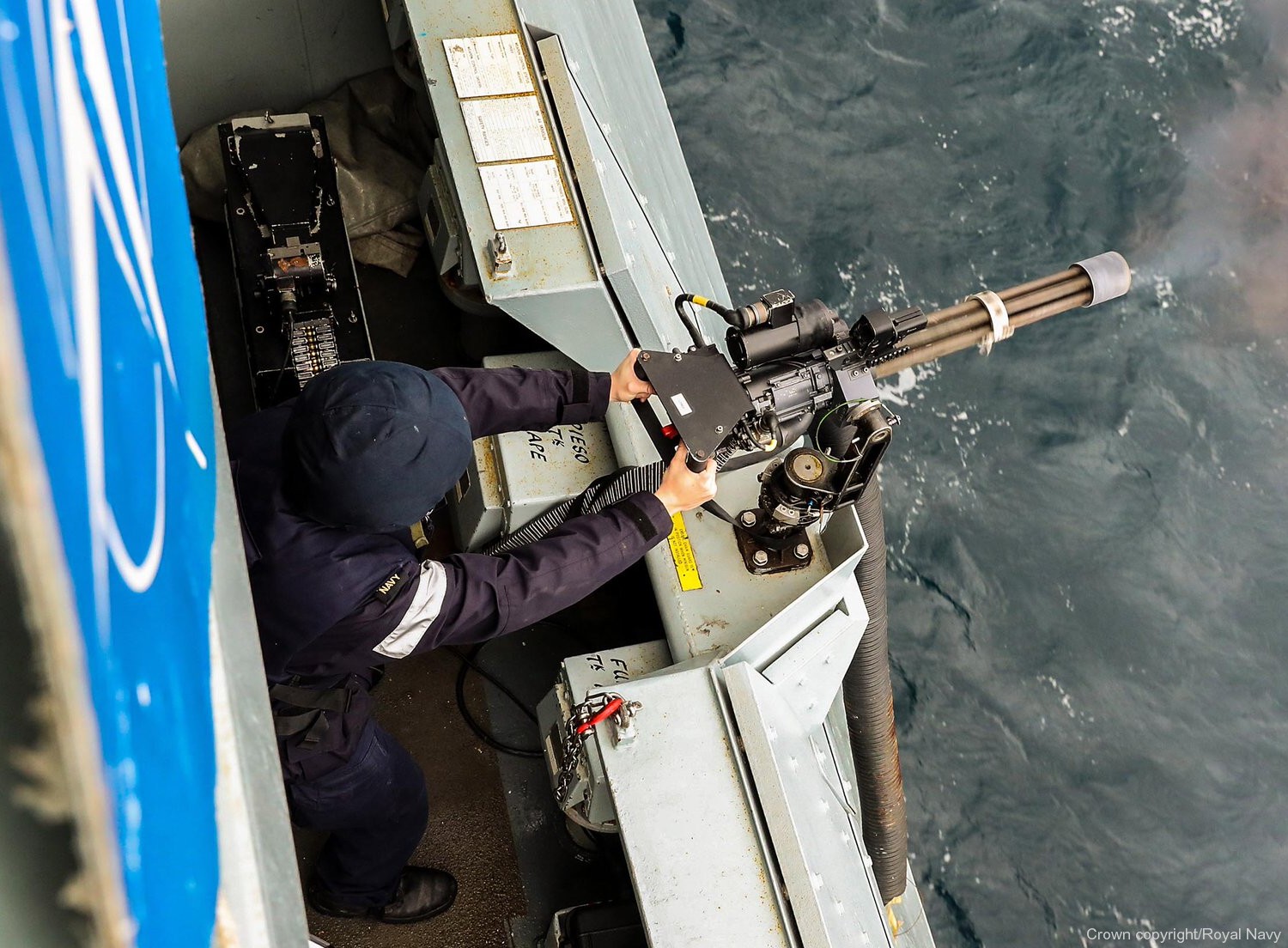 M134 7.62mm six-barreled machine gun (minigun)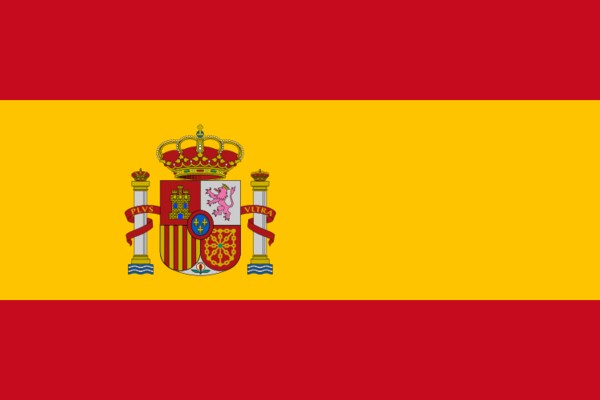 ESPS Victoria (F 82)

Santa Maria class Guided Missile Frigate - Spanish Navy
Builder:
Bazan Shipbuilding, Cartagena, Spain
Laid down: August 16, 1983
Launched: July 23, 1986
Commissioned: November 11, 1987
Homeport: Rota, Cadiz

Displacement: 4240 tons (full load)
Lenght: 138,8 meters (455 feet 5 inches)
Beam: 14,3 m (46 ft 11 in)
Draft: 8,6 m (28 ft 3 in)
Speed: 30 knots (56 km/h)
Crew: 212

Propulsion:
2 x General Electric LM2500-30 gas turbines
(41000 shp / 31 MW) - 1 shaft, 1 propeller

Armament:
1 x Mk.13 missile launcher

for a mix of 40
RIM-66 Standard SM-1MR SAM missiles
and/or
RGM-84 Harpoon SSM missiles
1 x
Oto-Melara 76/62 DP gun
(3 inches / 76mm / 62-caliber)

2 x
Mk.32 triple torpedo tubes
for
Mk.46 torpedoes
Aviation:
flight deck and hangar for up to 2 helicopters
(Sikorsky SH-60 Seahawk Lamps III)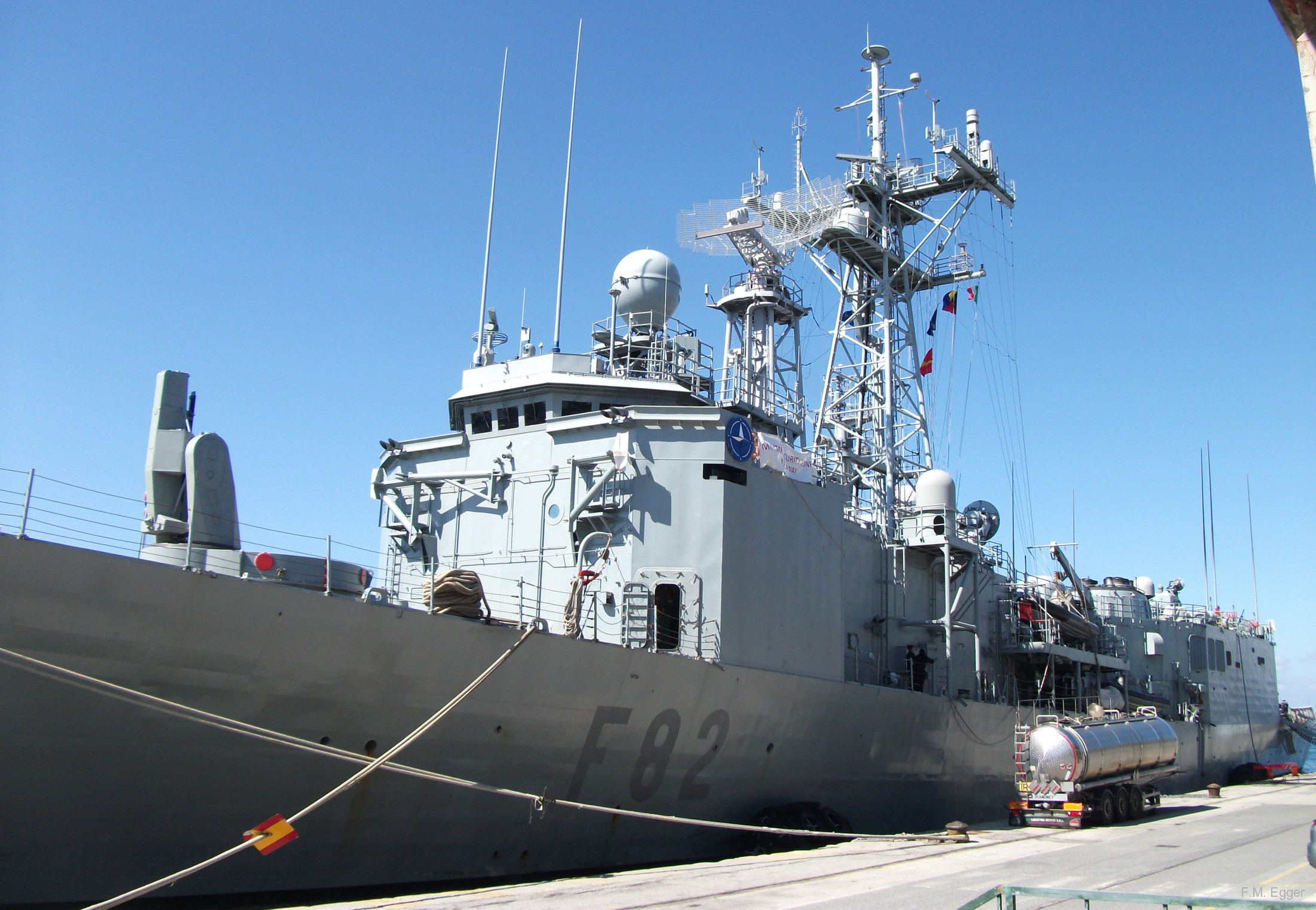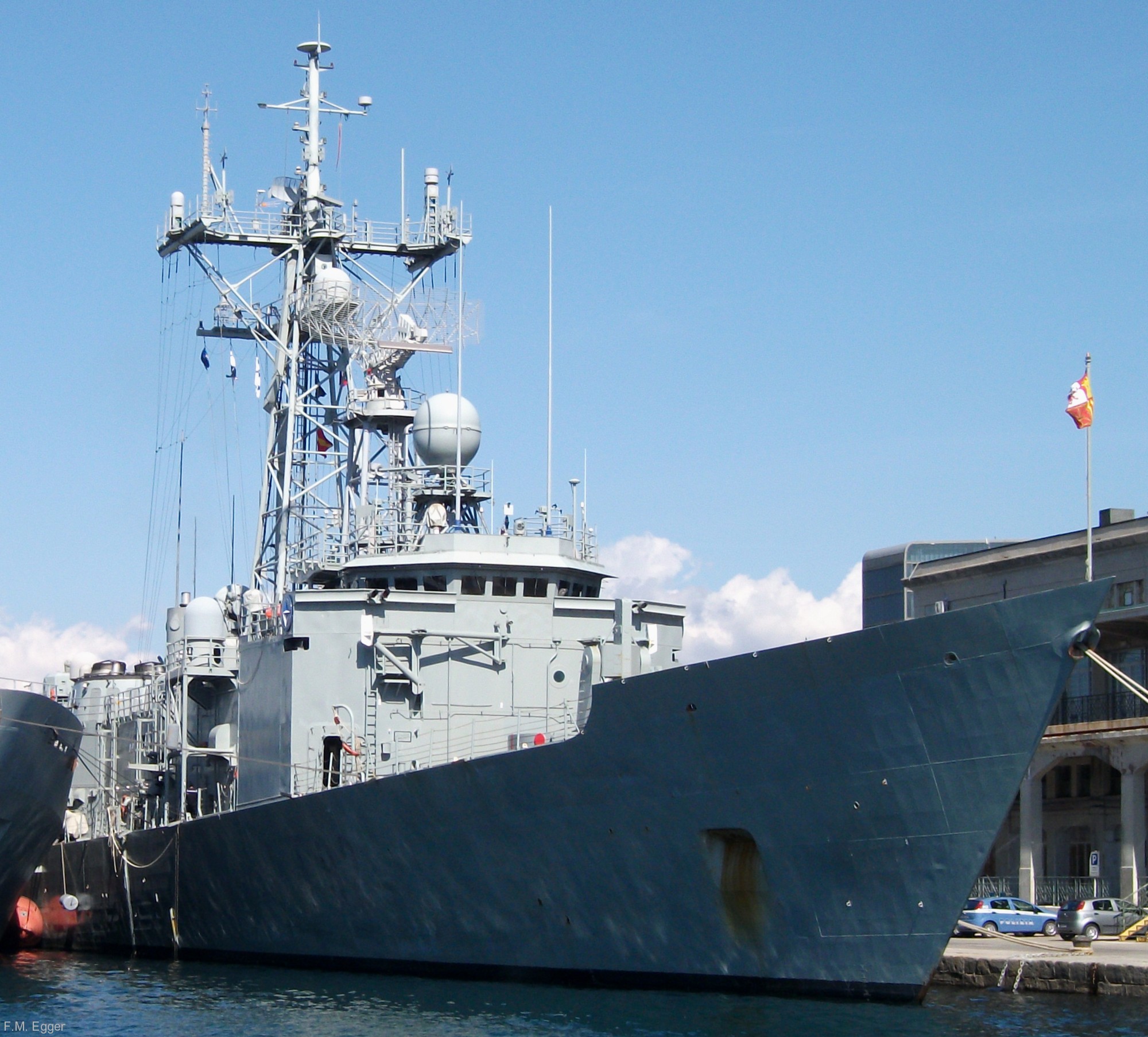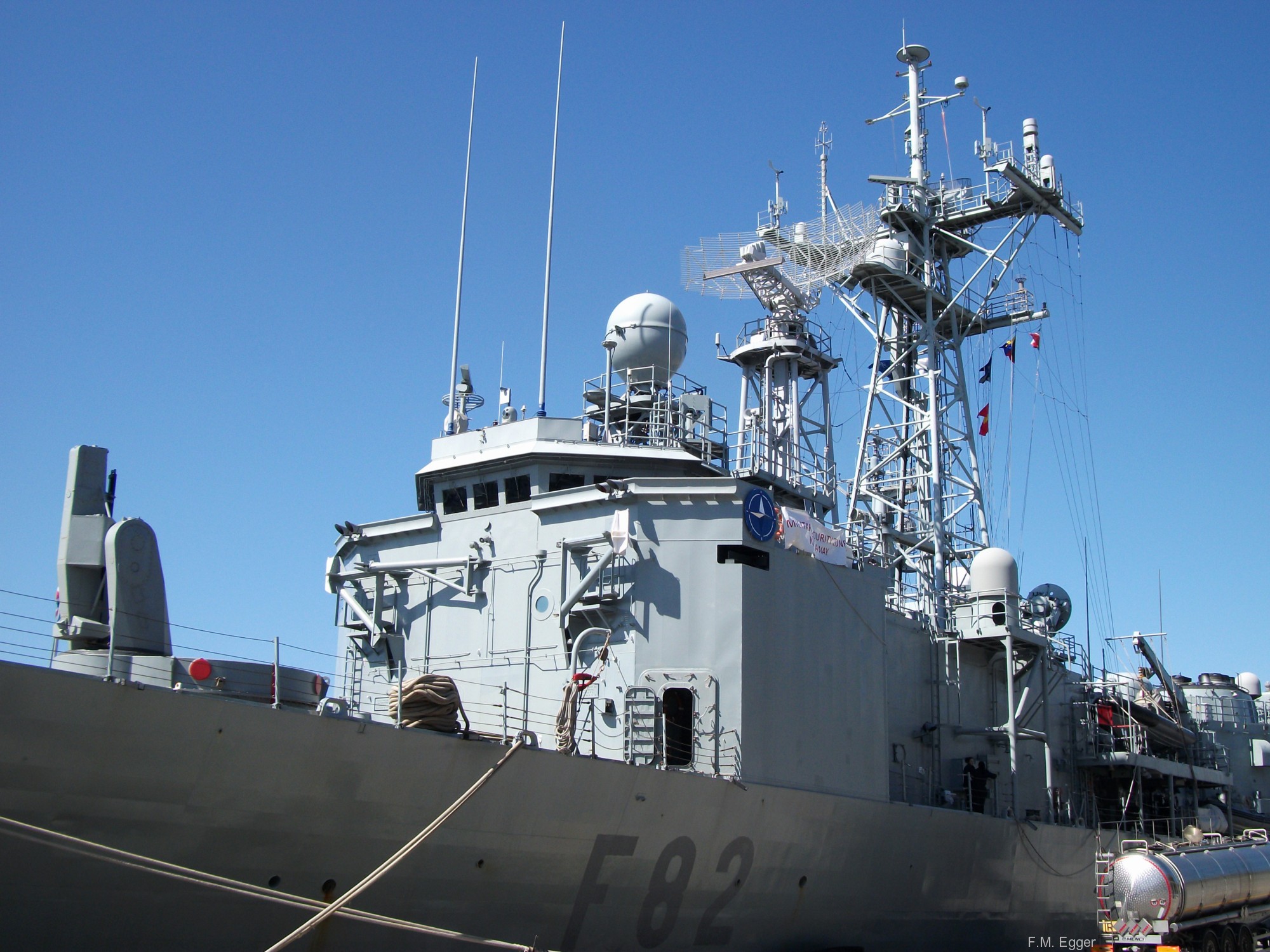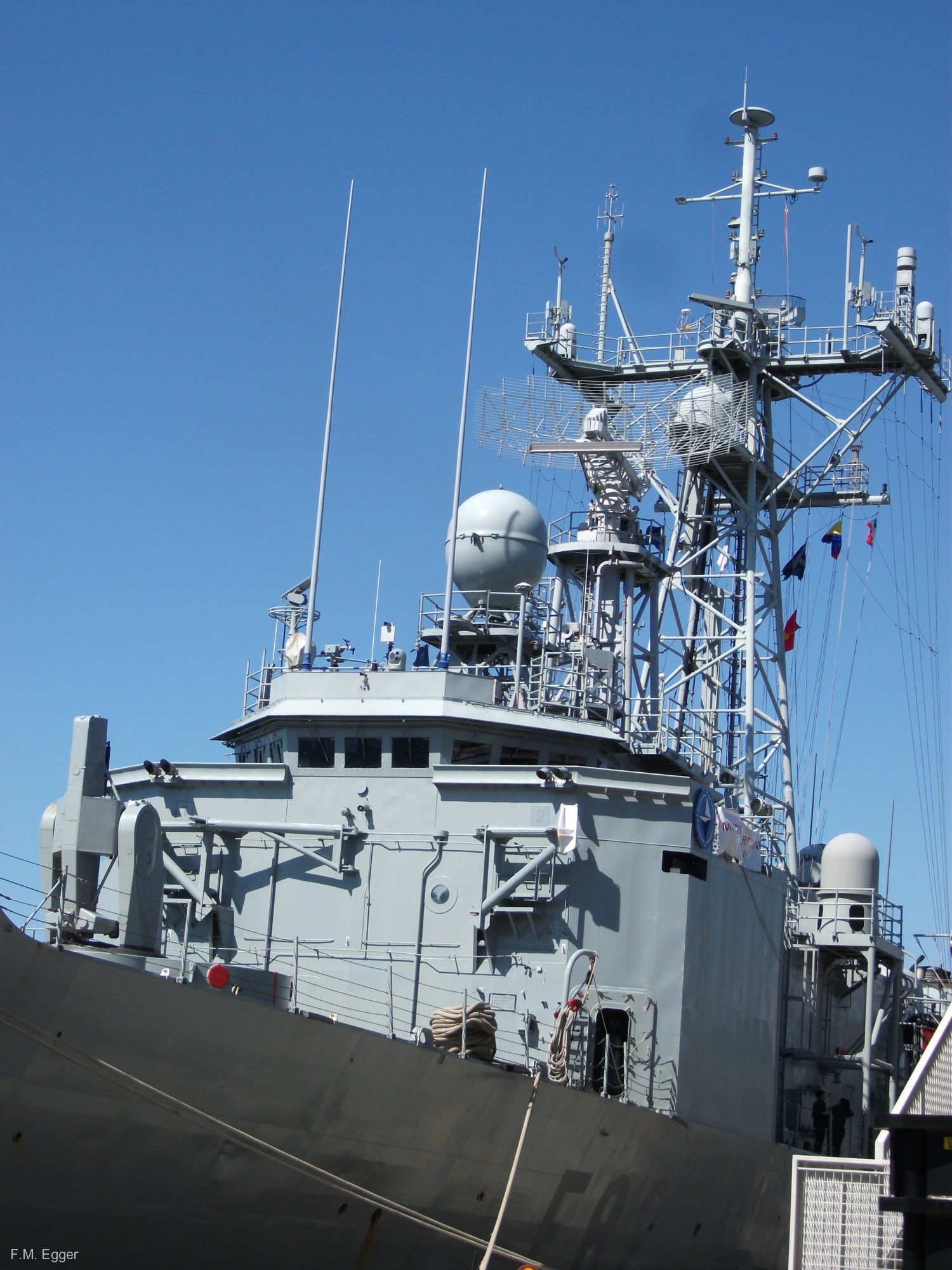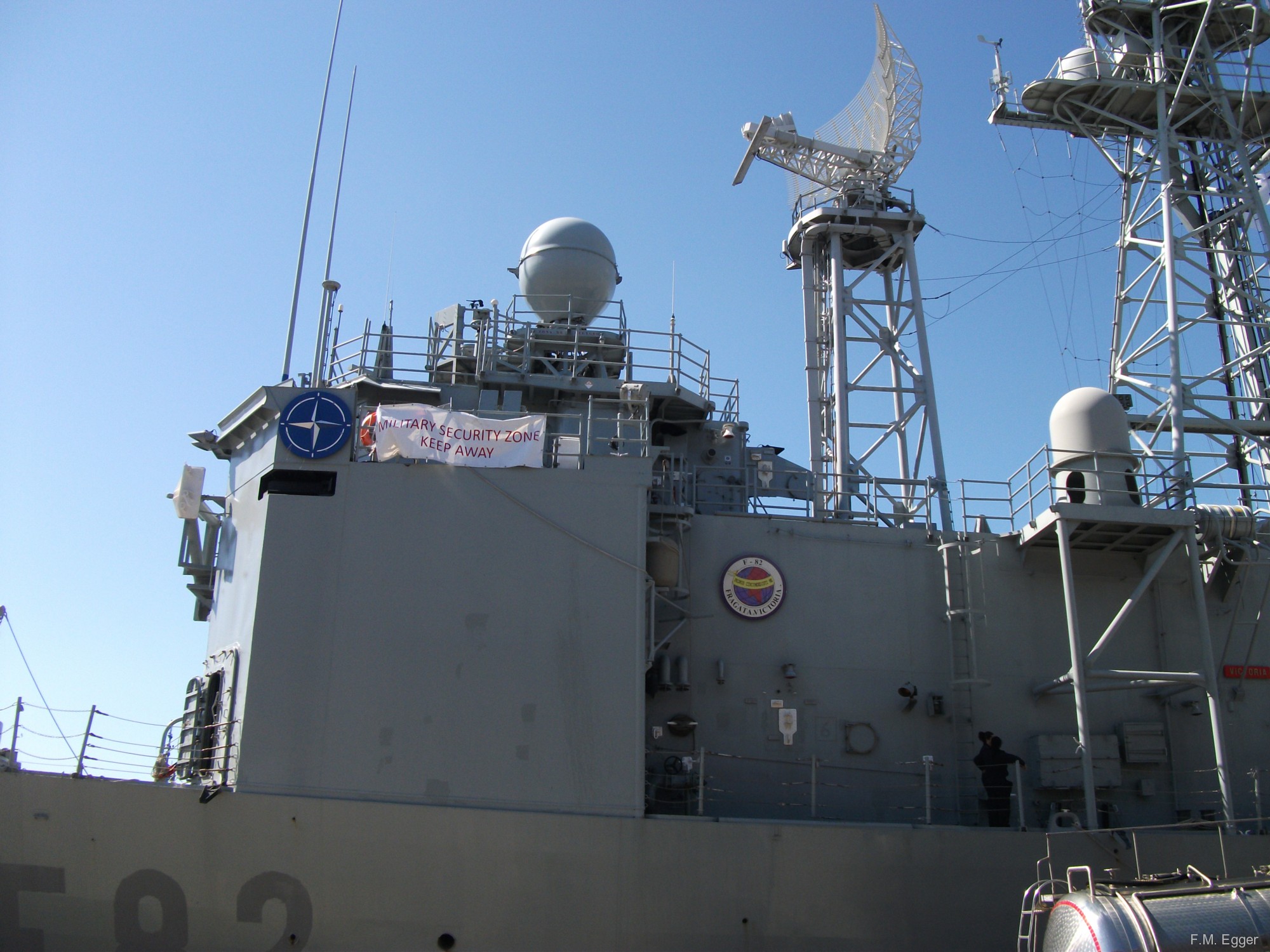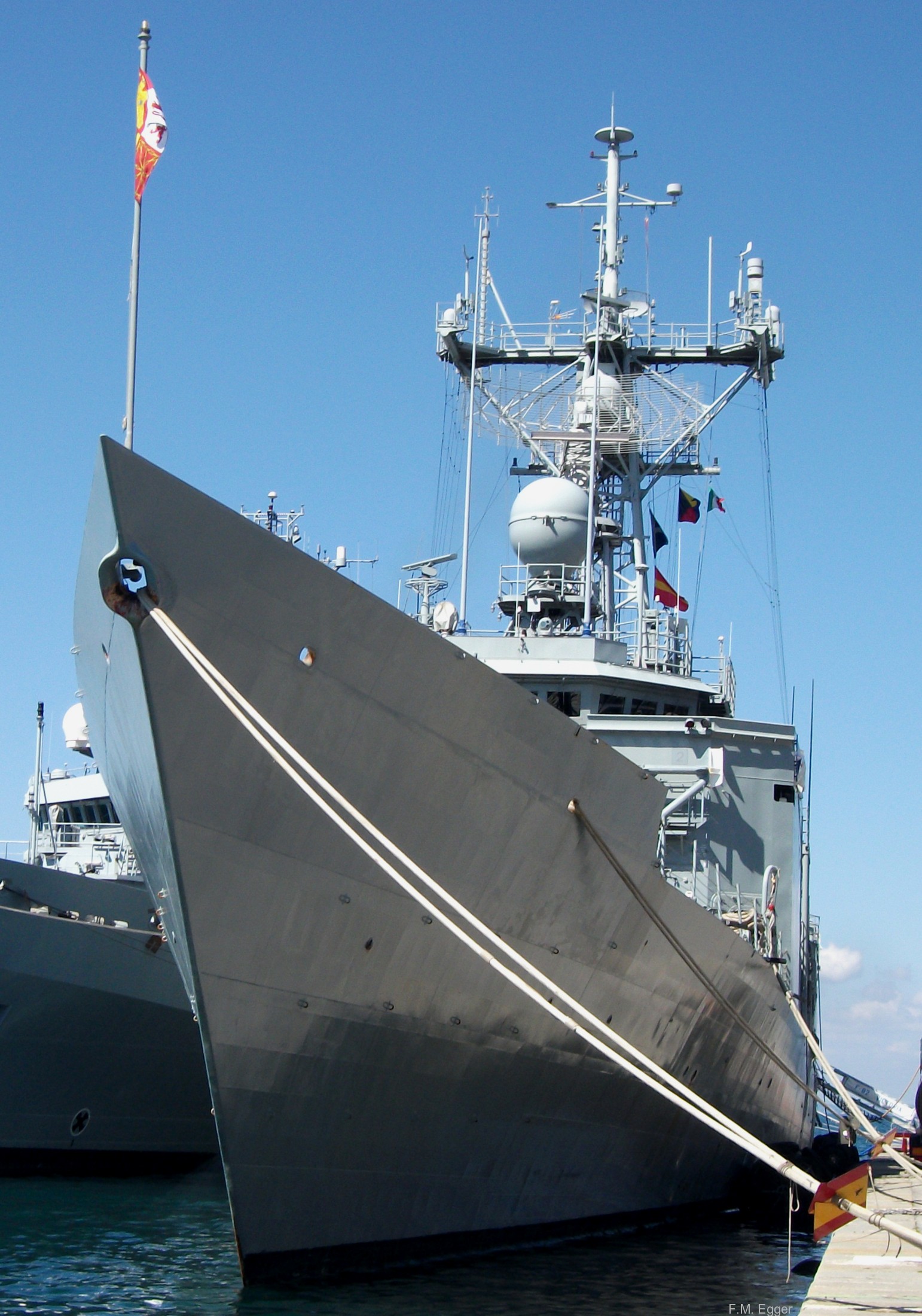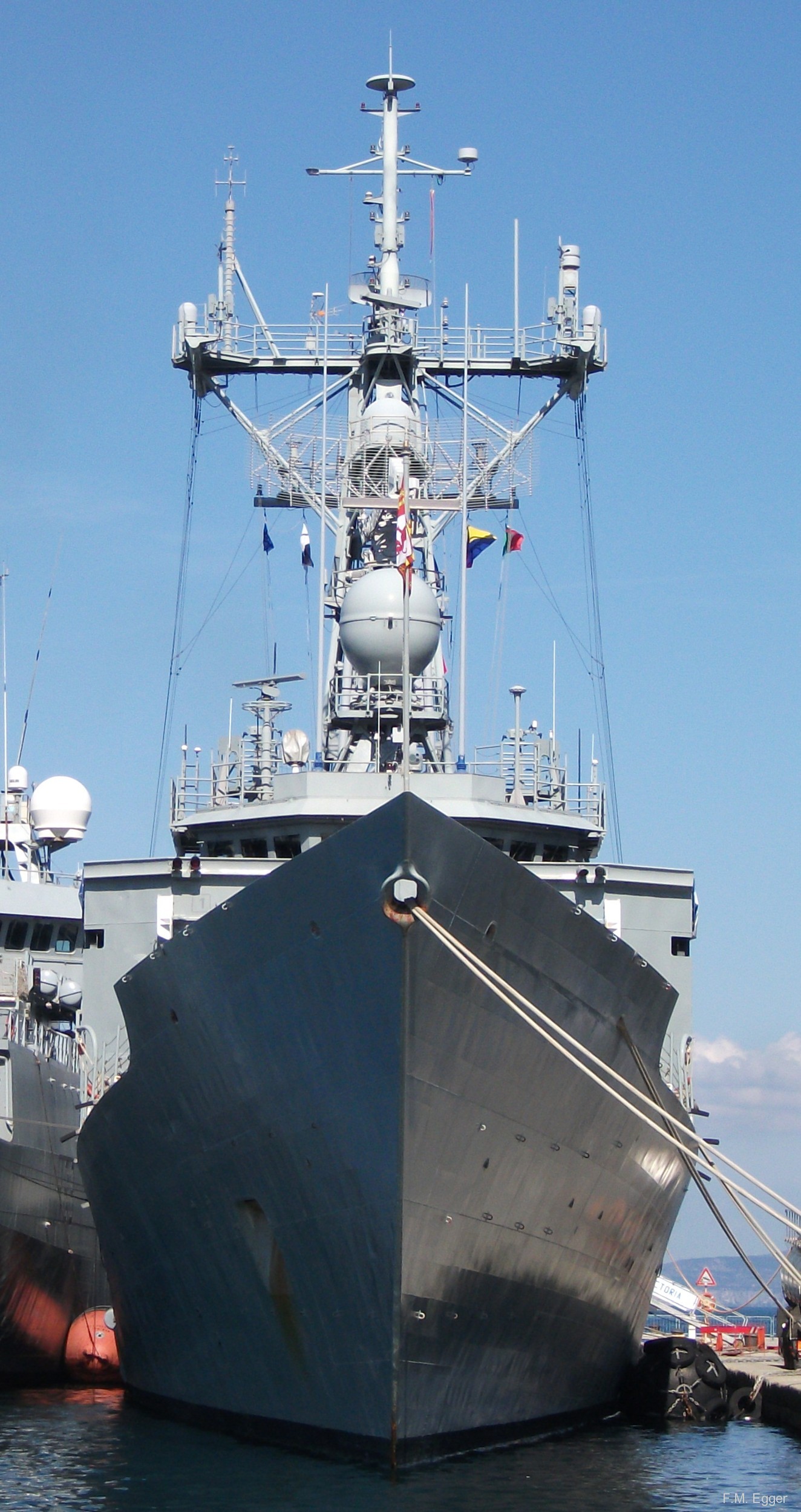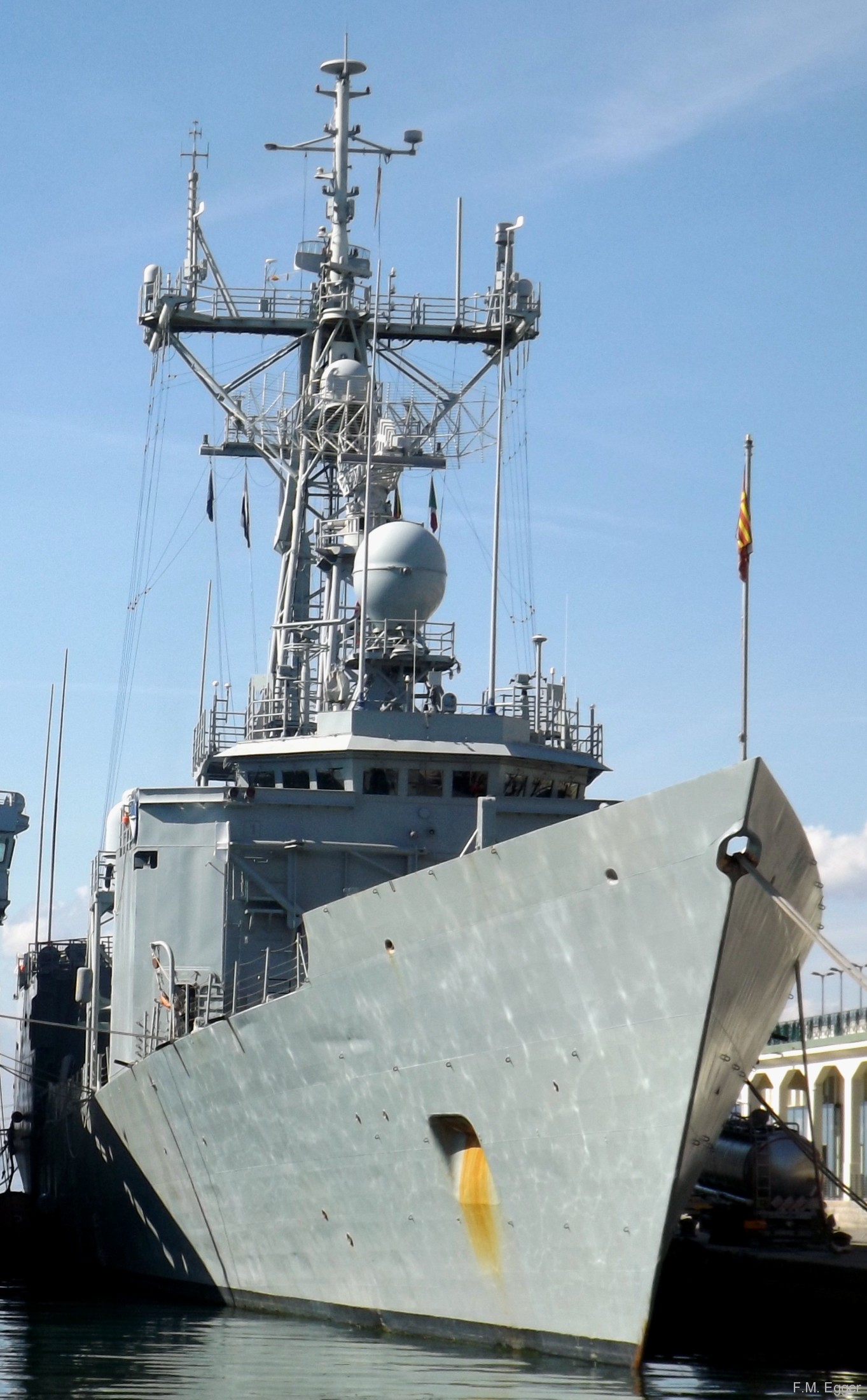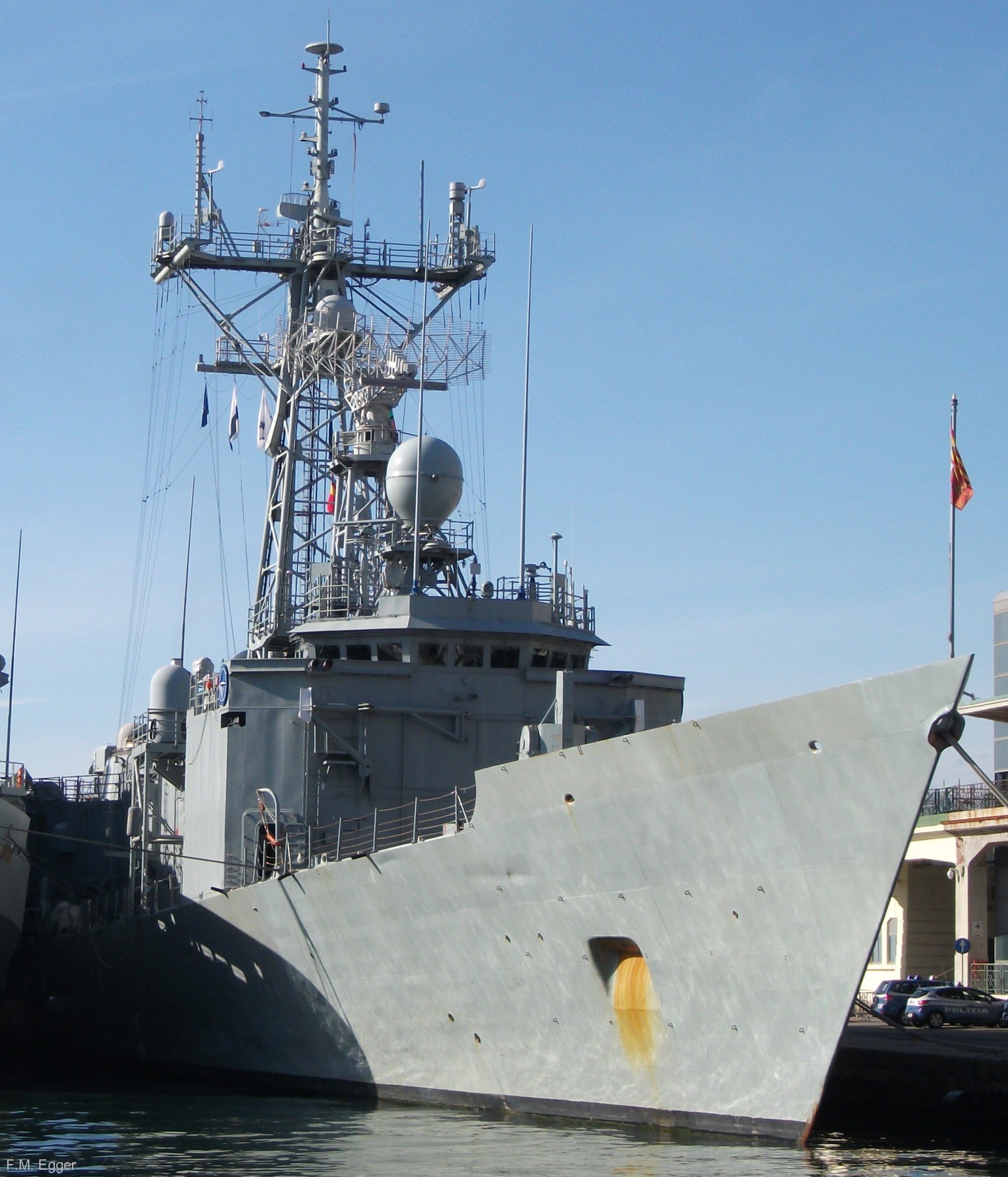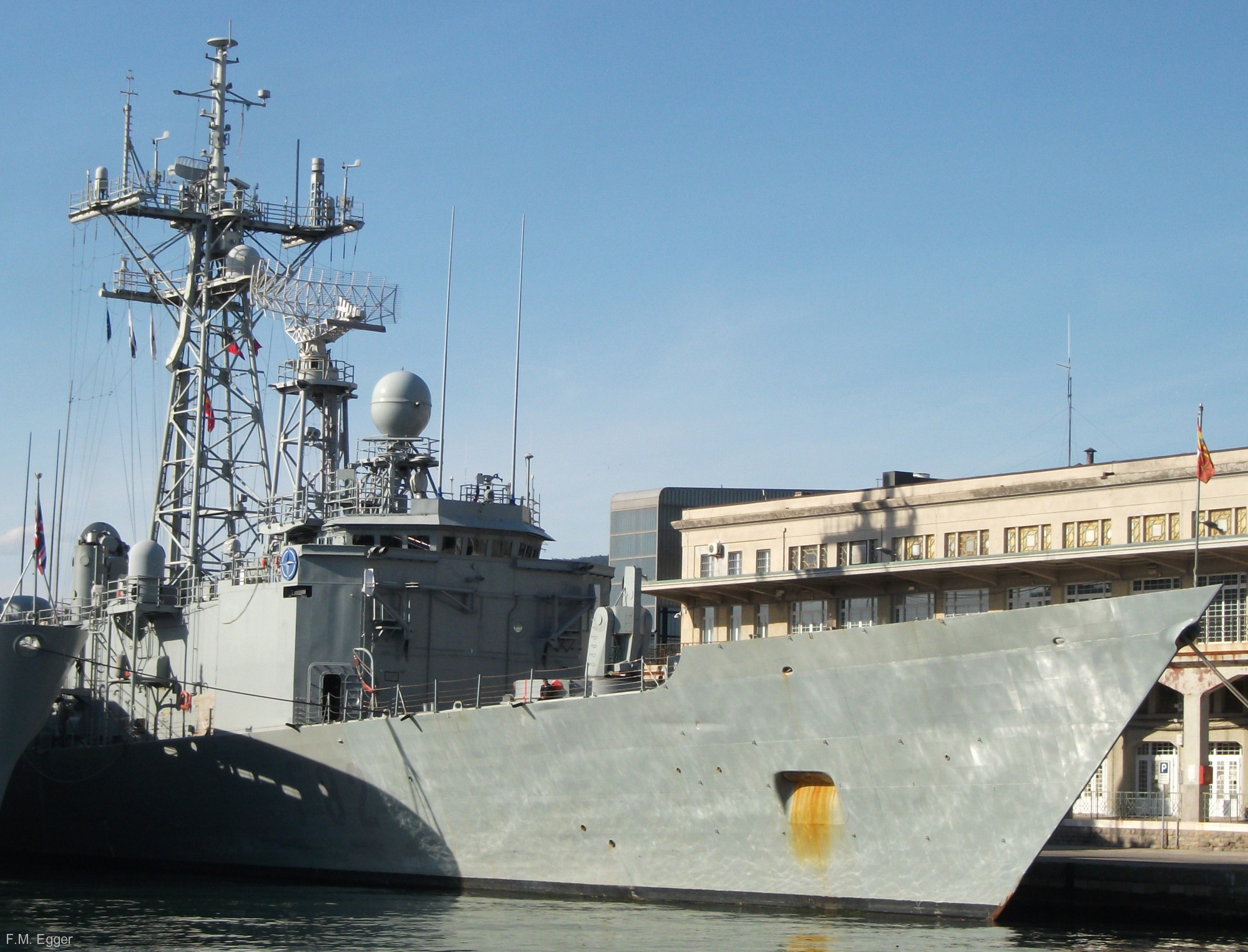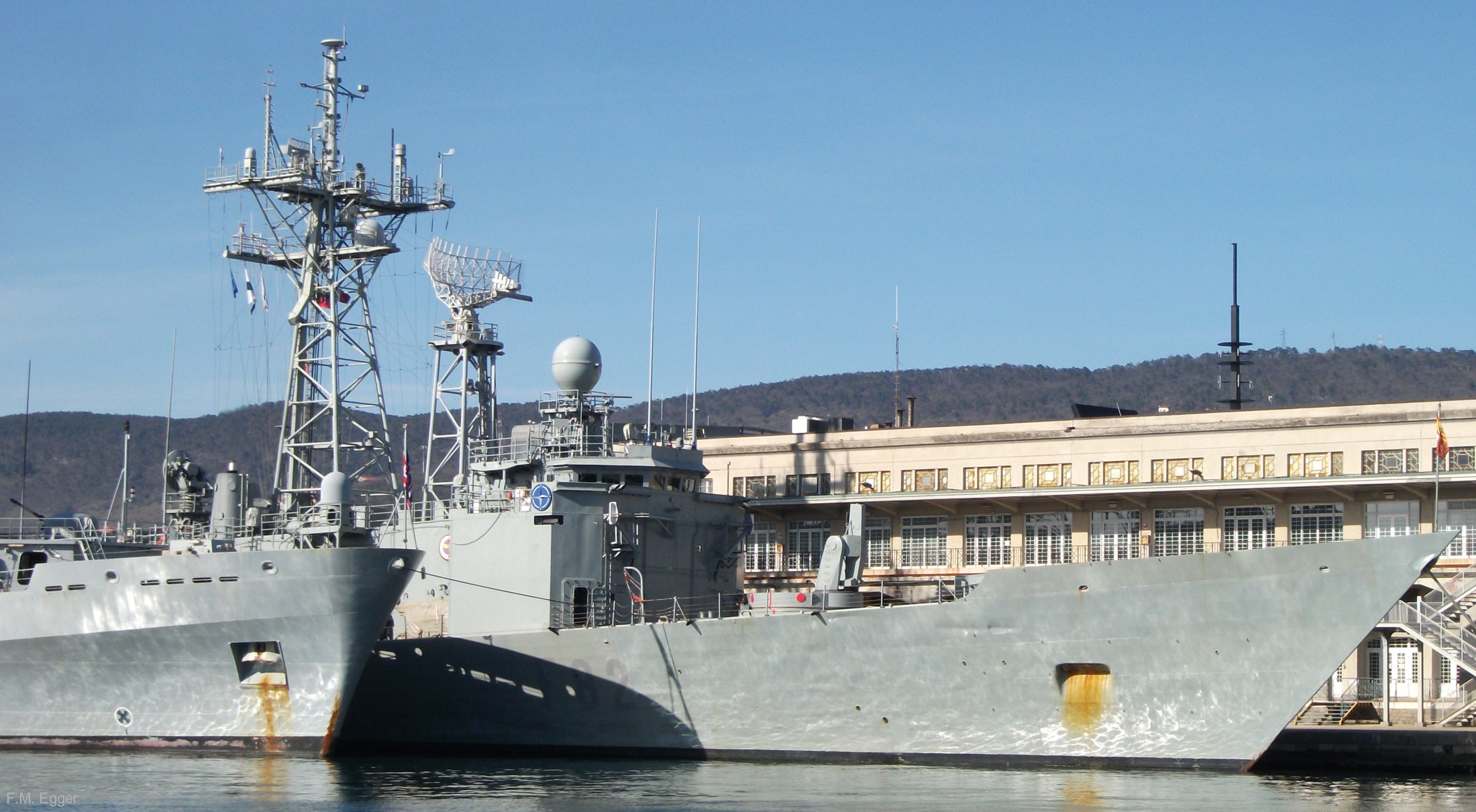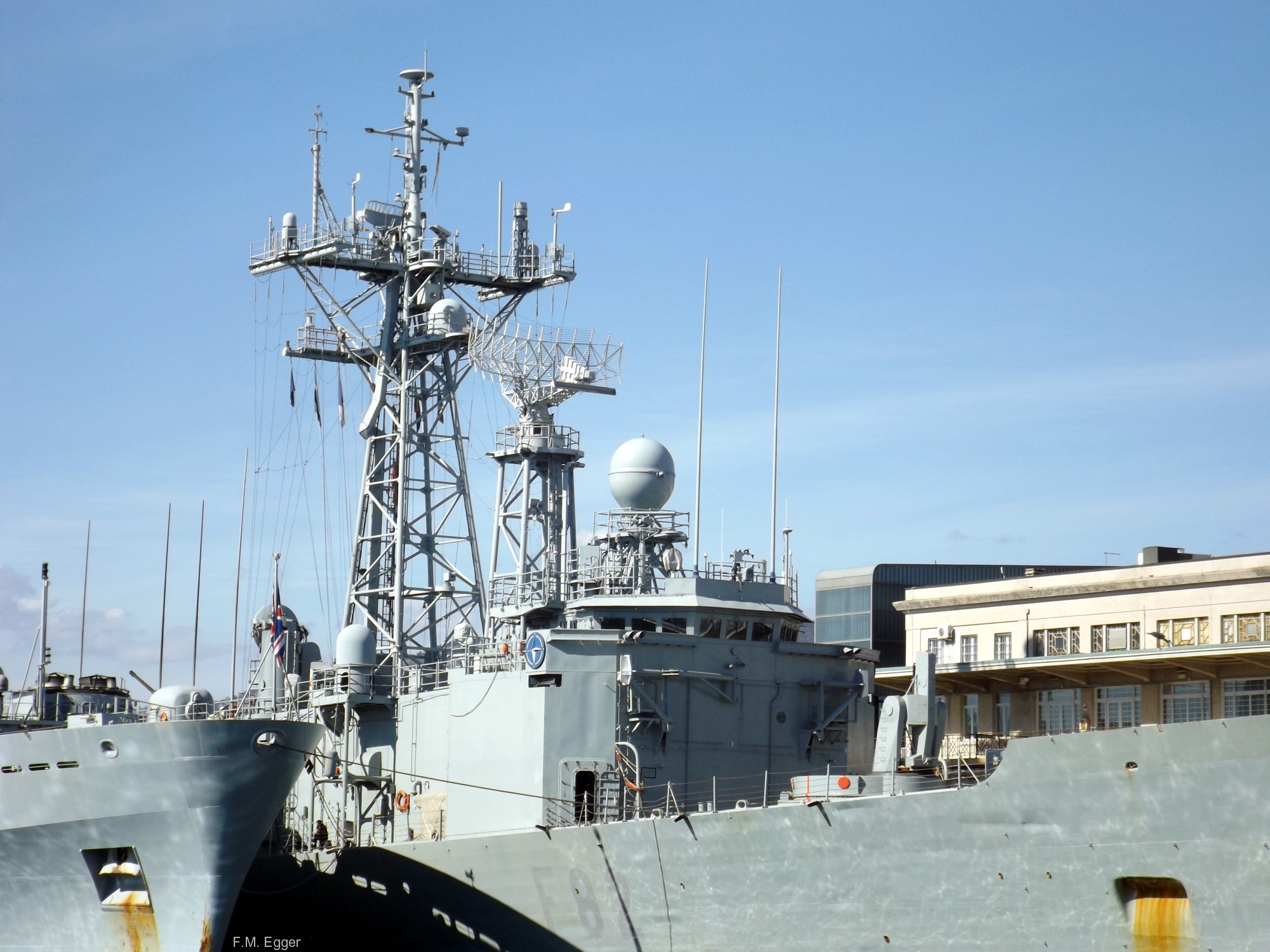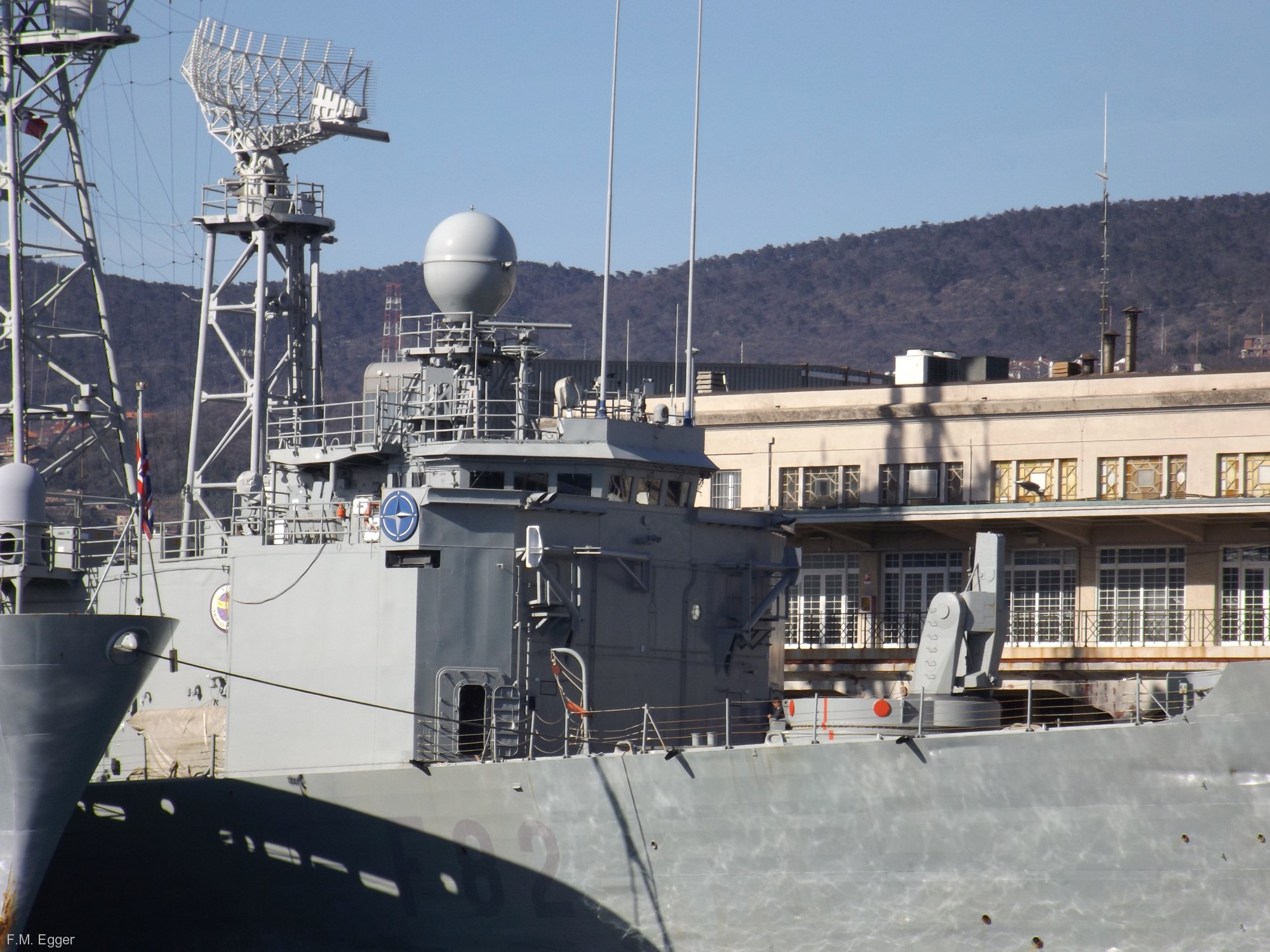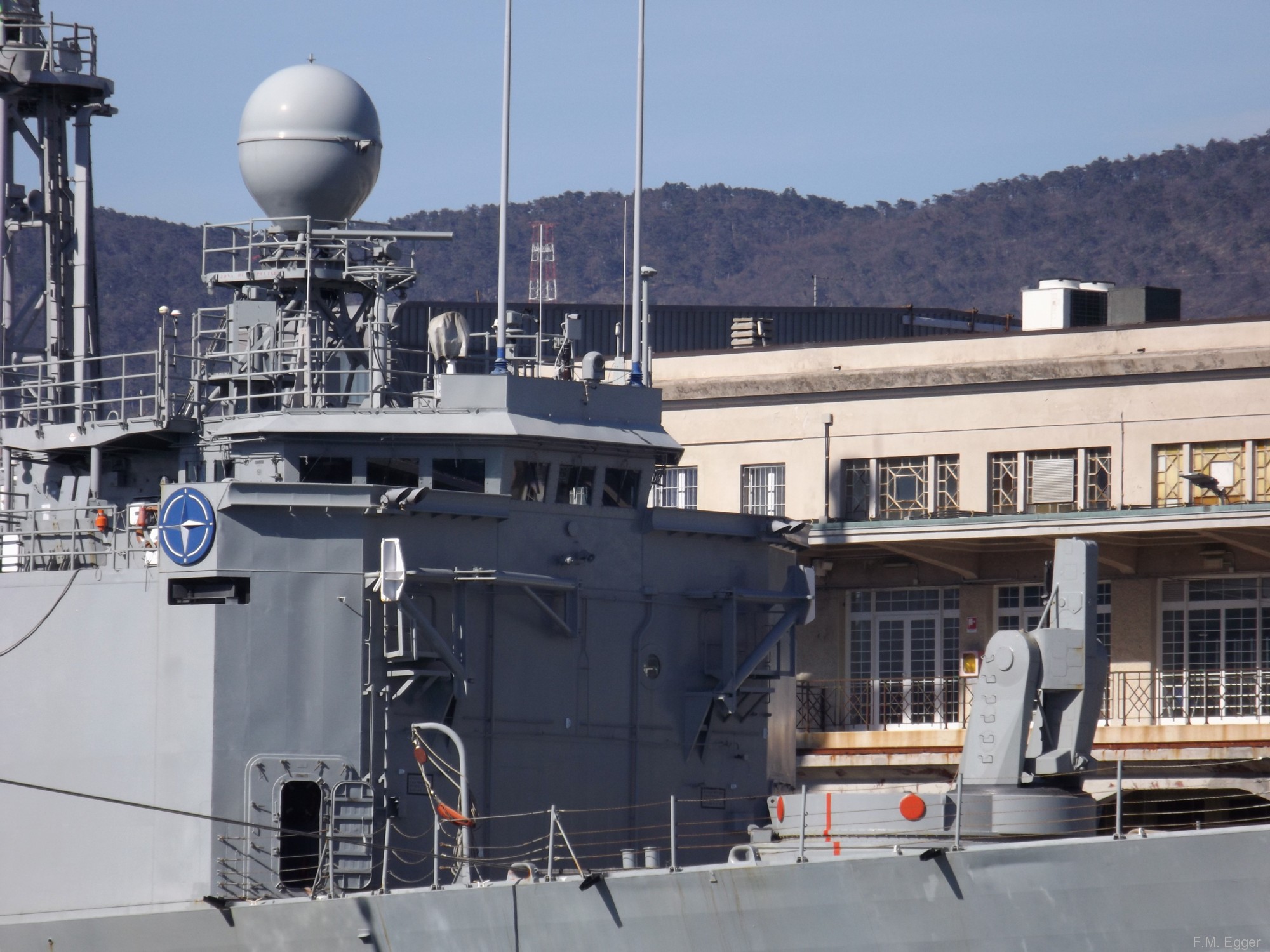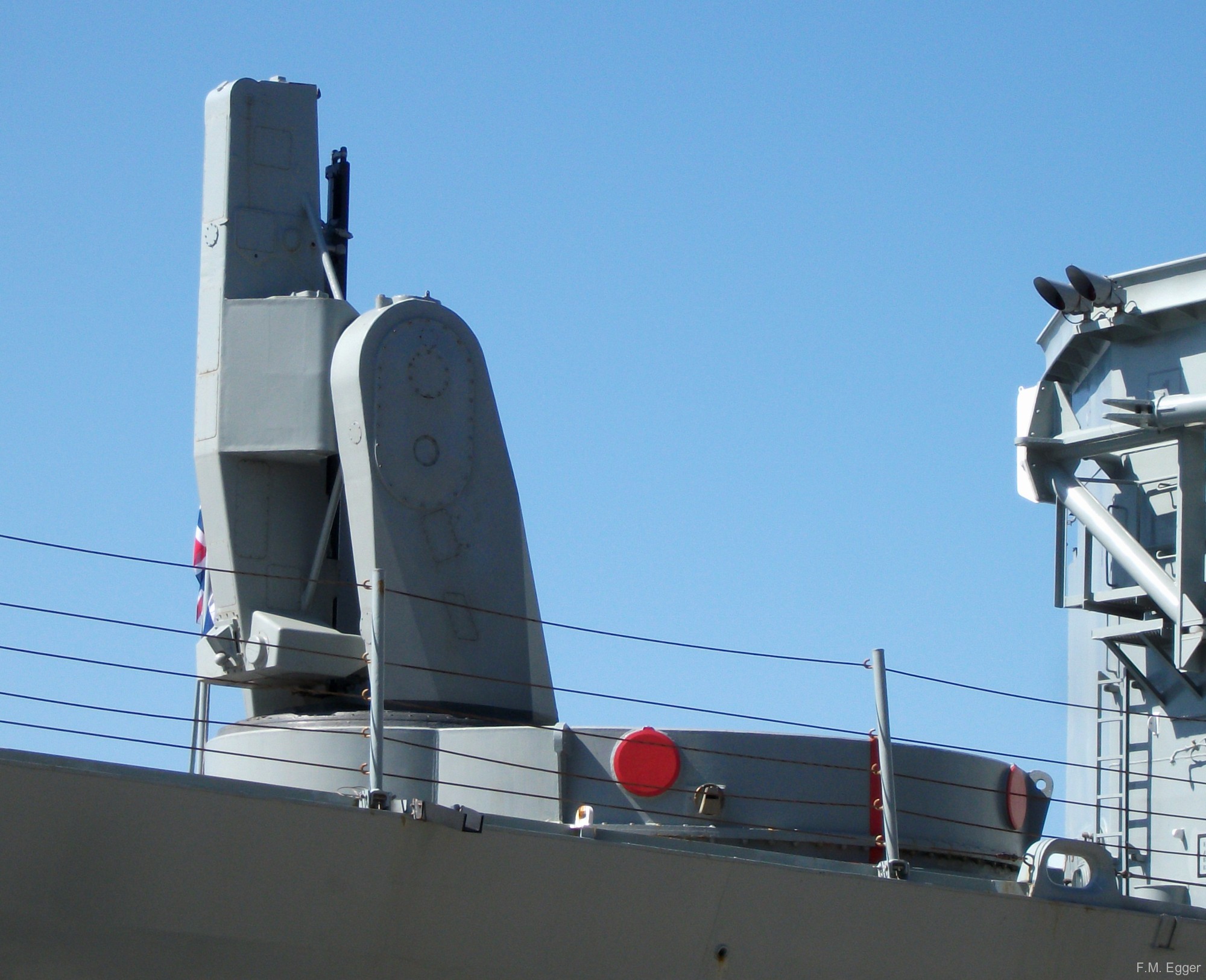 Mk.13 single arm missile launcher for up to 40 RIM-66 Standard Missiles SM-1MR SAM's or RGM-84 Harpoon SSM's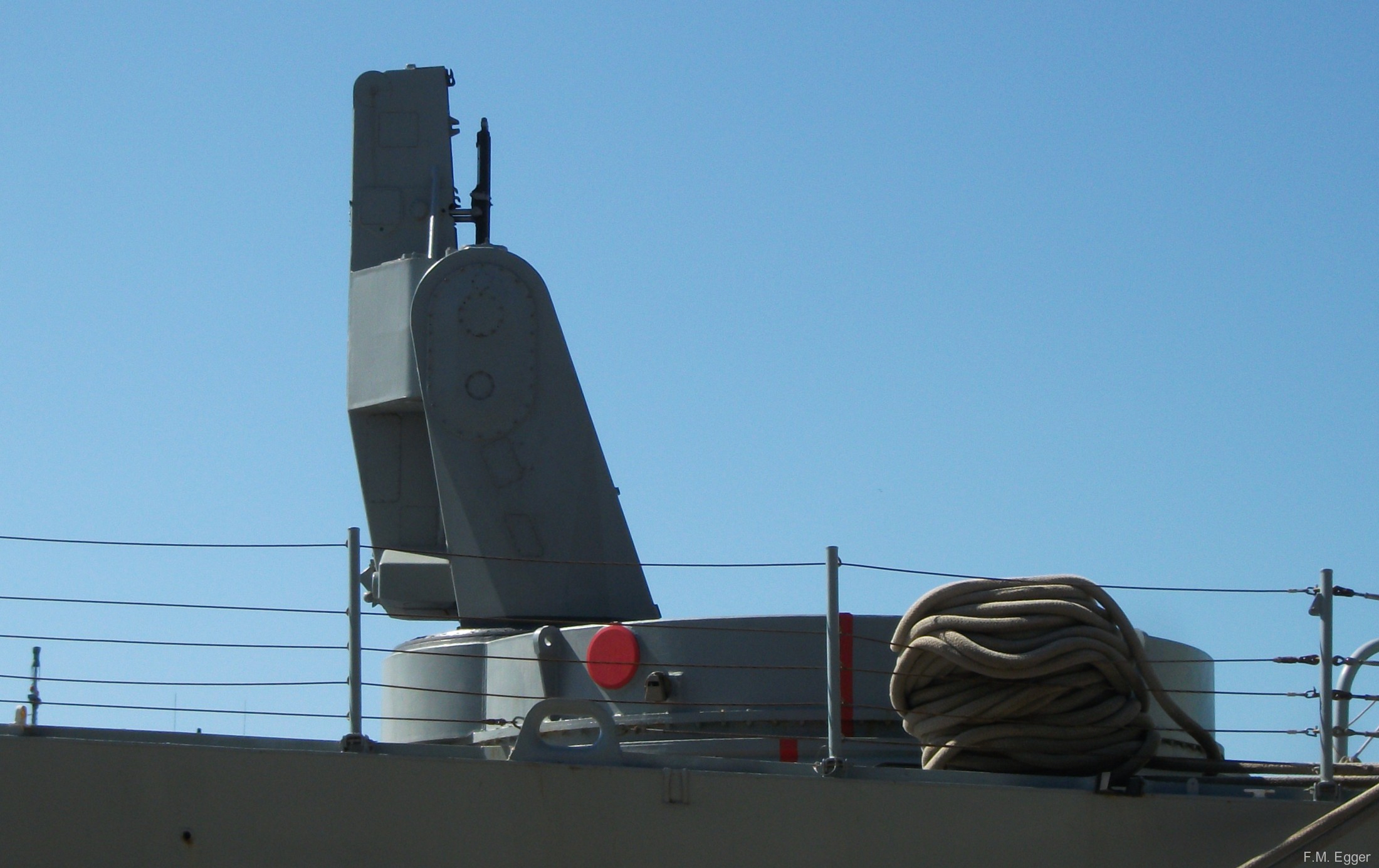 Mk.13 single arm missile launcher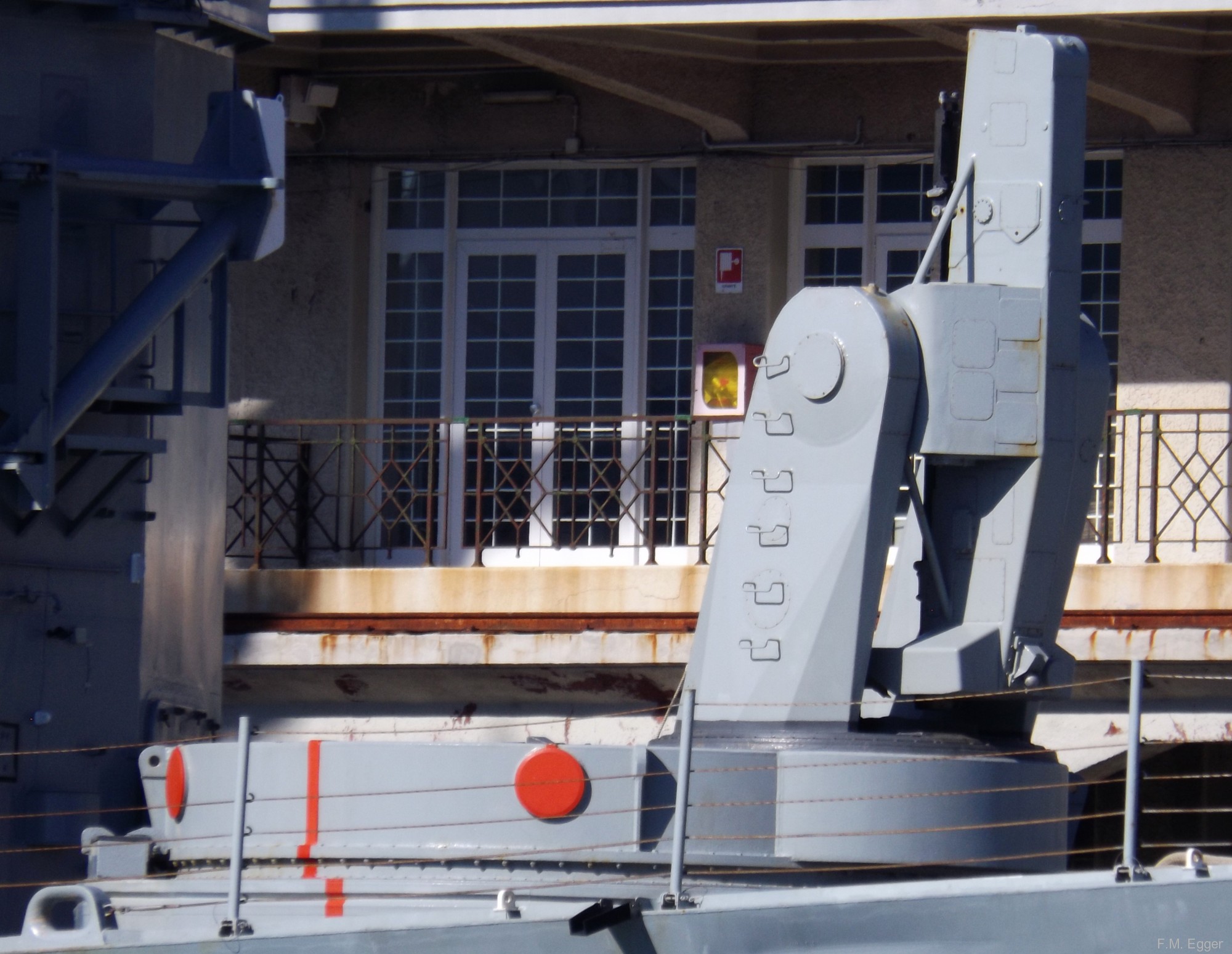 Mk.13 single arm missile launcher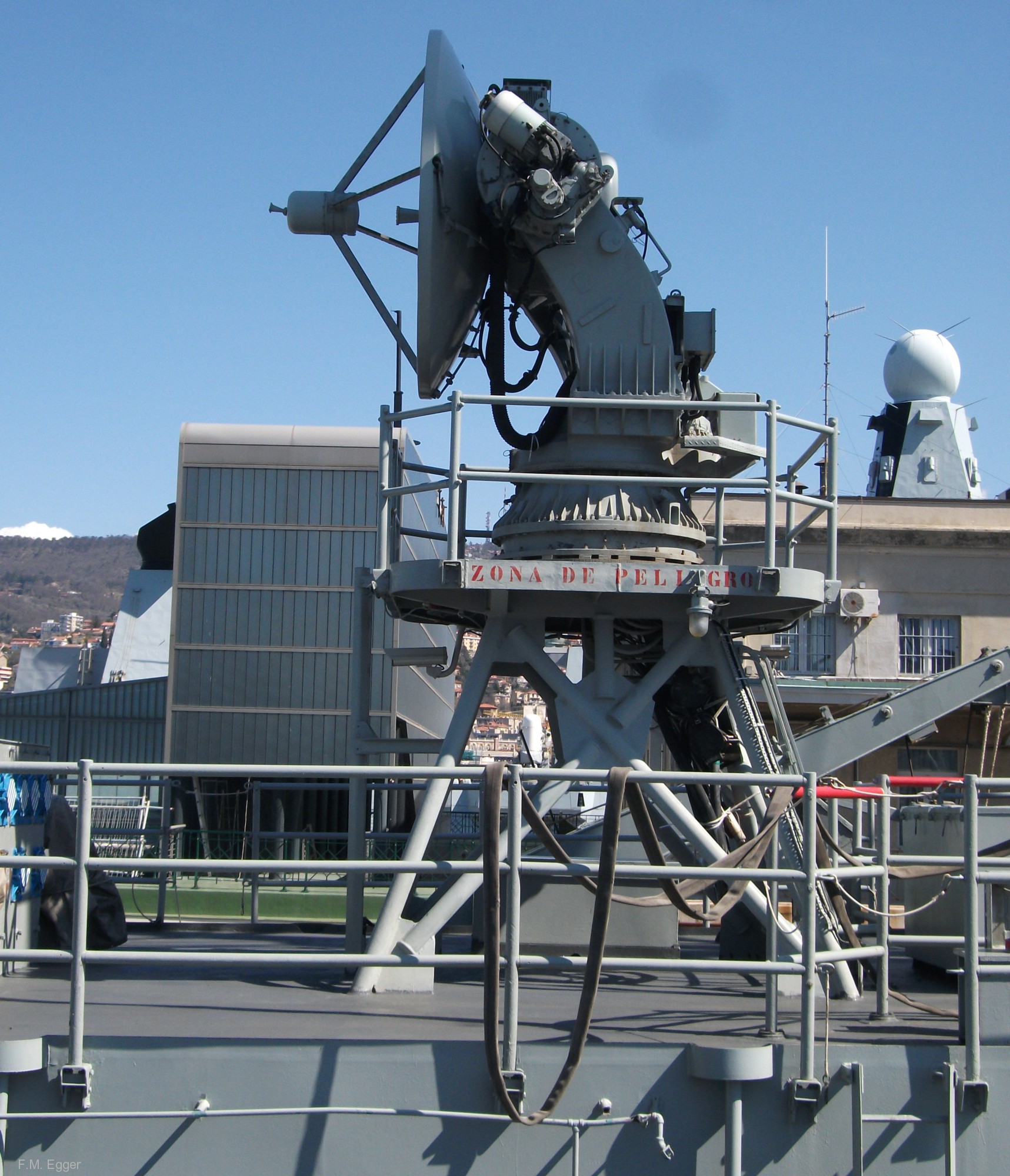 AN/SPG-60 Separate Target Illumination Radar (STIR) fire control radar



Oto-Melara 76/62 DP gun (3" / 76mm / 62-caliber)

Standing NATO Maritime Group 2 (SNMG-2)
Standing NATO Maritime Group 2 (SNMG2) is a multinational, integrated standing maritime Immediate Reaction Force - made up of vessels from various allied nations, training and operating together as a single team - that is permanently available to NATO to perform a wide range of tasks, from participating in exercises to crisis response and real world operational missions. Usually the Force is employed in the Mediterranean area but, as required, will be available anywhere NATO requires it to deploy.

SNMG2 carries out a continuous programme of operational training and conducts port visits to know and get known in many ports in and out of the Mediterranean, in NATO and non-NATO nations. These include ports in nations that are part of the Partnership for Peace, Mediterranean Dialogue and the Istanbul Cooperation Initiative programmes.

Composition of the Force varies as naval units are provided by NATO contributing nations on a rotational basis while Command of the Force rotates among them. Nations normally contributing to the group include Canada, Germany, Greece, Italy, The Netherlands, Spain, Turkey, United Kingdom and United States. Other NATO nations have also occasionally contributed.

The composition of SNMG2 varies depending on the current contributions of nations, but generally consists of 4-8 destroyers, frigates, corvettes or patrol vessels and one oiler or support ship. Command of the force rotates in one year intervals among participating countries.

The commander of SNMG2 until 2013 reported to the Commander of Allied Maritime Command Naples, one of the two component commands of Allied Joint Force Command Naples.

SNMG2 is a component of the NATO Response Force (NRF).

History:
Standing Naval Force Mediterranean (STANAVFORMED) was activated on 30 April 1992, in Naples, Italy. STANAVFORMED was the successor to the NATO Naval On-Call Force Mediterranean (NAVOCFORMED) - which had been periodically activated for more than 20 years.

During the 1990s, STANAVFORMED was heavily involved in Operation Sharp Guard, the maritime embargo in the Adriatic Sea.
On 6 October 2001, STANAVFORMED deployed to the Eastern Mediterranean in support of Operation Active Endeavour, NATO's maritime contribution to the fight against terrorism. Although Task Force Endeavour is now made up of dedicated assets, the two SNMGs routinely "surge" to provide additional assets to the operation. When not directly supporting operations, the force conducts a rigorous plan of exercises, maneuvers and port visits.

The Standing NATO Maritime Group 2 (SNMG2) assumed the current denomination on 1 January 2005, when new names and missions were allocated to NATO's maritime Immediate Reaction Forces, to make them part of the NRF. When not required for specific NRF tasks, the NATO Standing Naval Groups will be carrying out the same activities as they have been doing under their old names.

Operations:
On 11 July 1992 the Force was directed to deploy to the Ionian Sea to be prepared for possible future operations, with reference to a NATO Ministerial decision to assist the monitoring of compliance with United Nations resolutions 713 and 757. The North Atlantic Council decided on 15 July 1992 that NATO monitoring operations were to commence at 0800 local time on 16 July, when the first units of STANAVFORMED entered the Adriatic Sea to begin participating in NATO's Operation Maritime Monitor. The Force was temporarily relieved by STANAVFORLANT in this operation on 9-26 September, to conduct the change of command, complete ship turnovers and conduct Force work-ups. From 22 November 1992 to 15 June 1993 the force participated in Operation Maritime Guard which was the NATO contribution towards the enforcement of the UN embargoes on the Former Yugoslavia. The operation was conducted in coordination with the WEU Operation Sharp Fence.

On 15 June 1993 these two operations were merged in the combined NATO/WEU Operation Sharp Guard. Part of the Force visited the port of Haifa, from 16-22 November 1993. STANAVFORMED continued to conduct embargo enforcement operations until 18 June 1996, when the UN arms embargo against the Former Yugoslavia was terminated. Since then, STANAVFORMED remained ready to resume Sharp Guard operations at short notice, should UN sanctions be re-established, until all embargoes were terminated on 1 October 1996. From 22 November 1992 - when enforcement operations began - to 18 June 1996, NATO and WEU Forces challenged over 70,000 vessels. Of these, over 7,000 were boarded and inspected or diverted to a port for inspection. After the UN authorized enforcement actions in April 1993 no ship was able to break the maritime embargoes.

STANAVFORMED deployed to the Adriatic Sea on 14 October 1998 as part of NATO's preparations for possible operations in the Federal Republic of Yugoslavia. Following the signature of agreements under which the Federal Republic of Yugoslavia committed to comply with requests from the international community, the Force was eventually authorised to resume normal duties. Because of the renewed violence in Kosovo, the North Atlantic Council decided, on 20 January 1999, to take measures to increase the capability of NATO forces to conduct air operations against the Federal Republic of Yugoslavia. Among these measures, STANAVFORMED was ordered to deploy to the Adriatic Sea to increase Alliance presence in the area and provide evidence of NATO's resolve. With termination of the air operation Allied Force, on 20 June 1999, STANAVFORMED returned to its normal peacetime duties, whilst remaining ready to support continuing NATO's operations.

Following the North Atlantic Council's decision on implementation of Article 5 of the Washington Treaty as a consequence of the 11 September 2001 attacks against the United States, STANAVFORMED was withdrawn from exercise Destined Glory 2001 on 6 October 2001 and deployed to the Eastern Mediterranean to conduct Operation Active Endeavour, NATO's maritime contribution to the fight against terrorism. Since then STANAVFORMED and later SNMG2 participated in and supported Operation Active Endeavour whenever required.

At request of the United Nations SNMG2 was deployed by NATO off Somali coast to conduct Operation Allied Provider, to deter, defend and protect World Food Program (WFP) vessels against the threat of piracy and armed robbery, thereby allowing WFP to fulfil its mission of providing humanitarian aid.

Current Commander of SNMG-2 is Commodore Mike UTLEY, Royal Navy.




As of April 2018, the flotilla consists of:


HMS Duncan (D 37) - Royal Navy - Flagship
ESPS Victoria (F 82) - Spanish Navy
FGS Bayern (F 217) - German Navy
HS Daniolos (P 68) - Hellenic Navy
HS Armatolos (P 18) - Hellenic Navy
TCG Koycegiz (P 1202) - Turkish Navy
ALS Butrinti (P 134) - Albanian Naval Force



sources & resources: Royal Navy, NATO MARCOM, wikipedia