HOME | US Navy - ships | US Navy - air units | USMC - air units | International Navies | Weapon Systems | Special Reports
<![if !supportEmptyParas]> <![endif]>
<![if !supportEmptyParas]> <![endif]>
Italian Navy / Marina Militare Italiana

Paolo Thaon di Revel class Offshore Patrol Vessel (OPV)

(Pattugliatore Polivalente d'Altura / PPA = Multipurpose Offshore Patrol Vessel)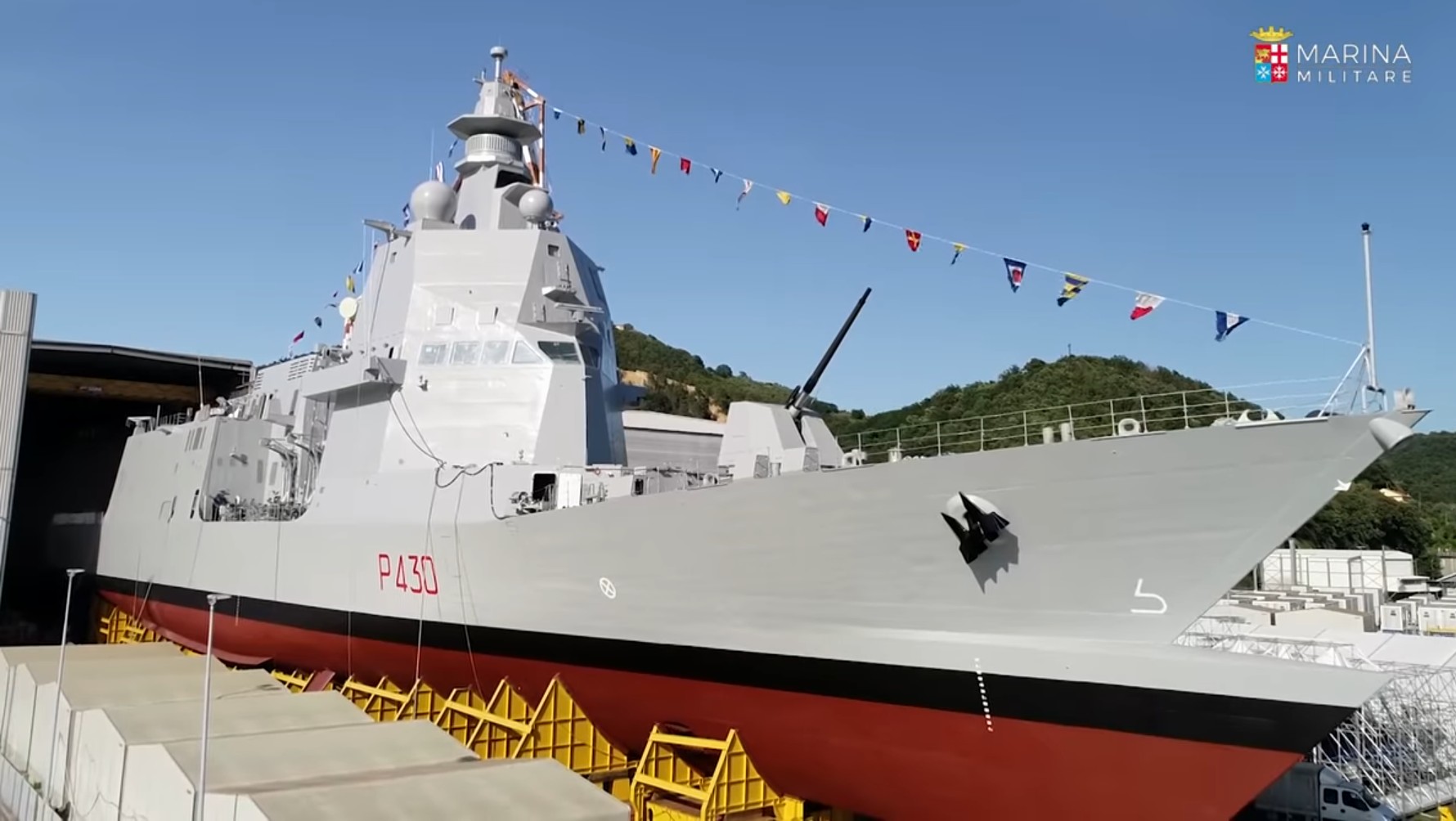 10
/22
Ship
s:

P 430 ITS Paolo Thaon di Revel (2022)
P 431 ITS Francesco Morosini (2022)
P 432 ITS Raimondo Montecuccoli (2023?)
P 433 ITS Marcantonio Colonna (2024?)


P 434

ITS Giovanni delle Bande Nere (2024?)
P 435

ITS Ruggiero di Lauria (2025?)
P 436

ITS Domenico Millelire (2026?)

Specifications:
Length:
143 meters (469 feet 2 inches) overall / 133m (436 ft 4 in) LPP
Beam: 16.5 meters (54 ft 2 in)
Draft: 5 m (16.5 ft) / depth: 10.5 meters (34 ft 5 in)
Displacement: PPA Full: 6270 tons / PPA Light+: 5880 tons / PPA Light: 5830 tons full load)
Speed: 31.6 knots (58.5 km/h) max. (CODAG); 27 knots (50 km/h) on gas turbine; 25 knots (46 km/h) on main diesels only
Range: 5000 NM (9300 km) at 15 knots (28 km/h)
Complement: PPA Full: 120 / PPA Light+ and Light: 90 > + aircrew (24 for 2 helos); accommodation for up to 200


Propulsion:
CODAG (Combined Diesel and Gas)
1 x
General Electric-Avio LM2500+G4 gas turbine (43000 hp / 32 MW)
2 x MTU 20V 8000 M91L diesel engines (13000 hp / 10 MW, each)
4 x MAN 12V175D-MEM diesel engine generators (2200 hp / 1.64 MW, each)

- P-430 to 432


4 x Isotta Fraschini 16V170C2ME diesel engine generators (2100 hp / 1.6 MW, each)

- from P-433 >


2 x electric engines (1810 hp / 1.35 MW)
2

shafts,

2
controllable-pitch propellers, 1 bow thruster
Armament:
Aviation:

flight deck (25.5 x 16.5 meters / 83 feet 8 in x 54 ft 2 in) and hangar for 1 x EH-101 or 2 x SH90 helicopters

Systems:
ALL:

Leonardo-Finmeccanica naval cockpit
Leonardo SADOC Mk.4 Command Management System (CMS)
Leonardo SAAM-ESD Anti-Air Warfare System
Leonardo SPS-732 LPI air and ground surveillance radar
Leonardo navigation radar, X/Ka dual band radar
Leonardo static IRST (InfraRed Search and Track)
Leonardo next generation IFF sensors with circular antenna
Leonardo Diver Detection Sonar
Leonardo Fire Control System, ADT NG NA30S Mk.2
dual-band SATCOM antenna
tri-band SATCOM antenna

PPA Full:

Leonardo AESA 3D Dual Band Radar, C and X-band radar
Leonardo ATAS (Active Towed Array Sonar), VDS sonar
Leonardo Black Snake anti-torpedo towed array sonar system (TASS)
Leonardo Underwater Telephone
Leonardo Bathy Thermograph Unit

PPA Light+:

Leonardo AESA 3D Dual Band Radar, only C-band radar

PPA Light:

Leonardo AESA 3D Dual Band Radar, only X-band radar


Electronic warfare & device:
ECM/ESM: Elettronica-ELT ZEUS System:
RESM (Radar Electronic Support Counter-Measure), RECM (Radar Electronic Counter-Measure) and CESM (Communication ESM)
2 x SITEP MS-424 Long Range Acoustic Device (Long Range Acoustic System)


Boats + equipment:
stern ramp for RHIB over 11 meters (36 ft)

2 x 15 meters (49 ft) RHIB on side davits
1 x 20 tons crane for movement of containers
up to 5 ISO1C containers under the flight deck and up to 8 containers amidships
<![if !supportEmptyParas]> <![endif]>
The Paolo Thaon di Revel class (also known as PPA for "Pattugliatore Polivalente d'Altura") is a class of multipurpose offshore ships built by Fincantieri for the Italian Navy.

It is planned to replace four Soldati class light patrol frigates and eight Minerva class corvettes between 2021/2035. As part of the 2014 Naval Law, a total of sixteen ships are planned and as of 2019 seven vessels have been financed with three more on option.
The class, designed with a high level of modularity and automation, will be delivered in a full, a light+ and a light configuration in terms of different sensors and equipments embarked and can perform multiple functions, ranging from patrol with sea rescue capacity to civil protection operations and, in its most highly equipped version, first line fighting vessel.
According to RID, the Italian Navy ordered the new MBDA TESEO MK/2E heavy-duty missile (TESEO "EVO"), a long-range anti-ship missile with also strategic land attack capability. The missile will have a new terminal "head" with dual RF seeker (Radio Frequency) and, presumably, date the need to even attack ground targets, IIR (Imaging IR). Compared to the predecessor OTOMAT/TESEO, the TESEO "EVO" MK/2E has a double range or more than 360 km. Former OTOMAT is accredited for a range of action of more than 180 km.
source: wikipedia
class images

for more images go to the individual ship-site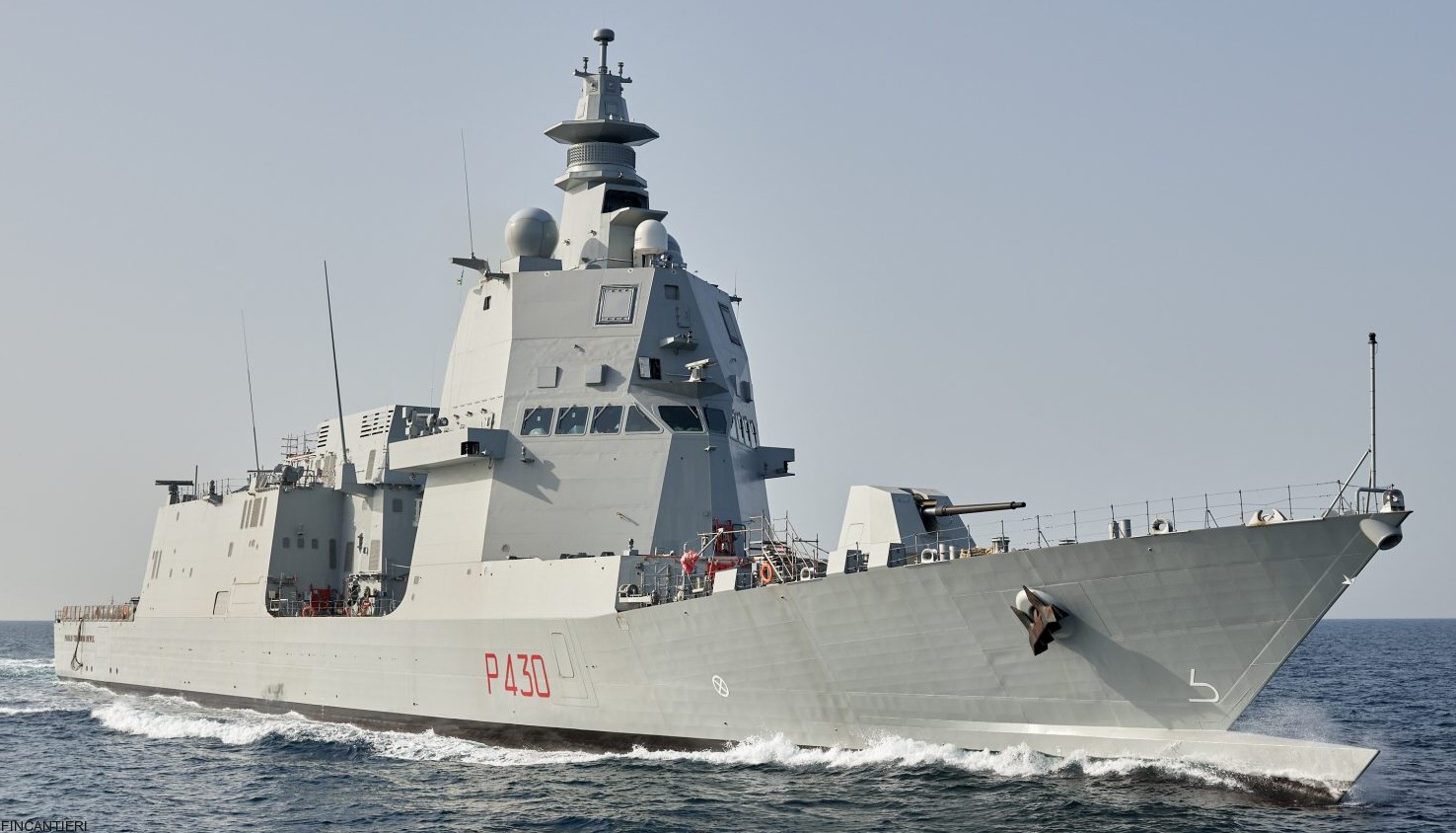 P 430 ITS Paolo Thaon di Revel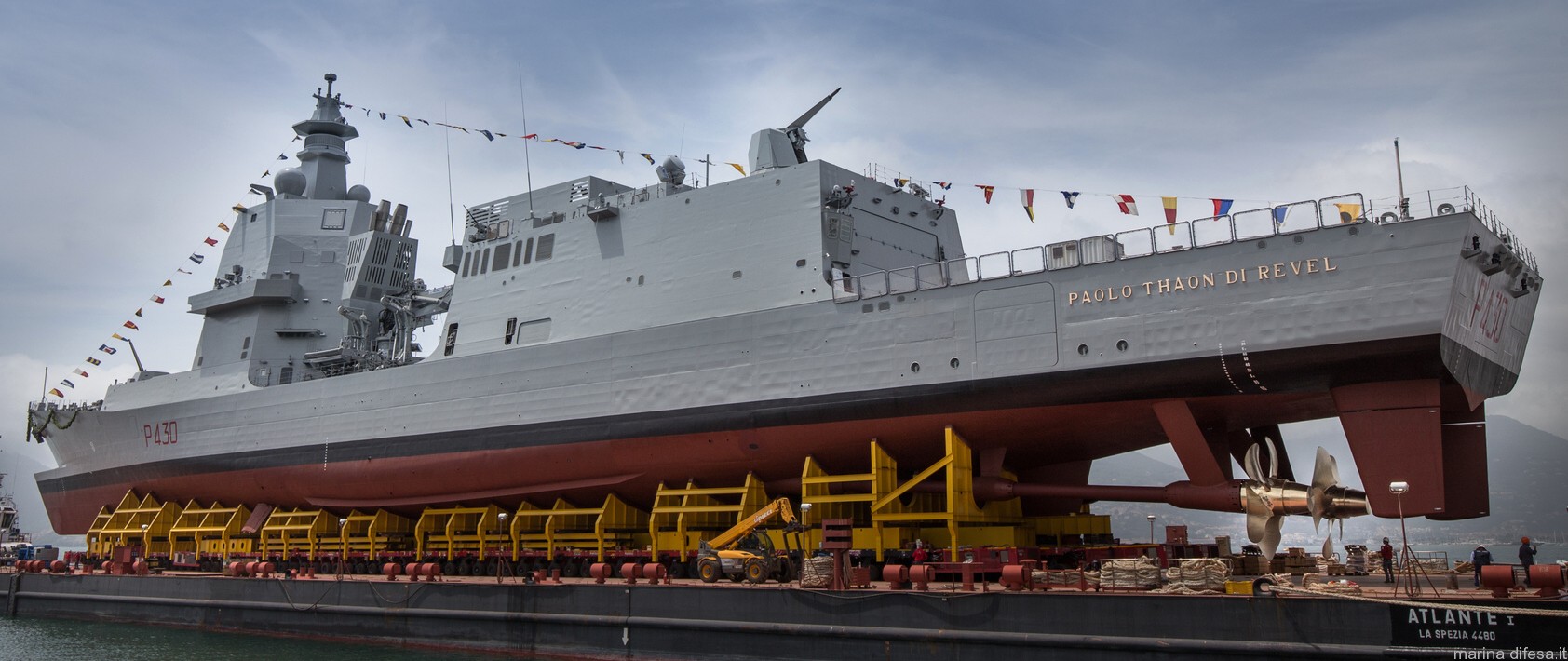 P 430 ITS Paolo Thaon di Revel
P 431 ITS Francesco Morosini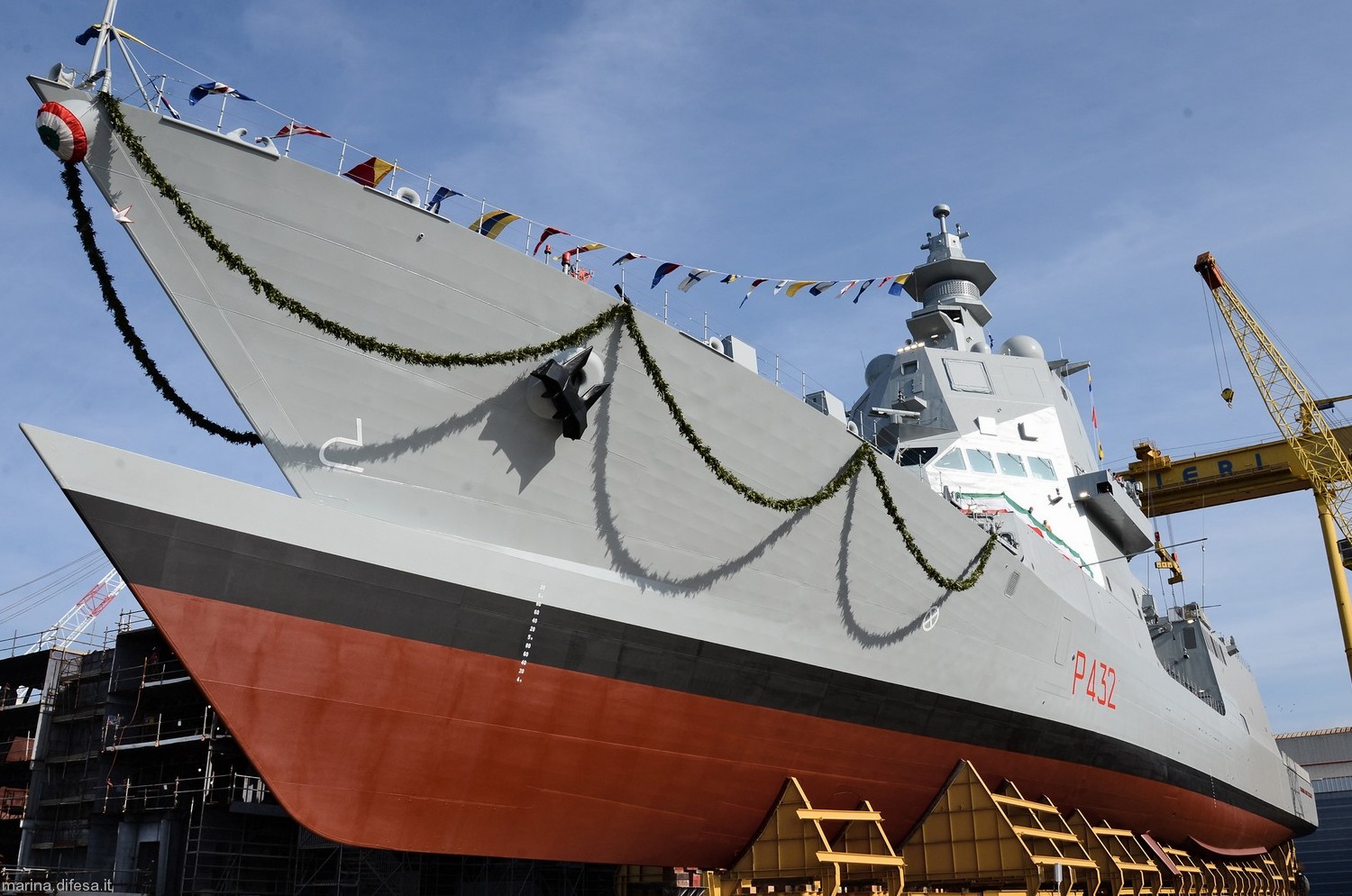 P 432 ITS Raimondo Montecuccoli




P 434 ITS Giovanni delle Bande Nere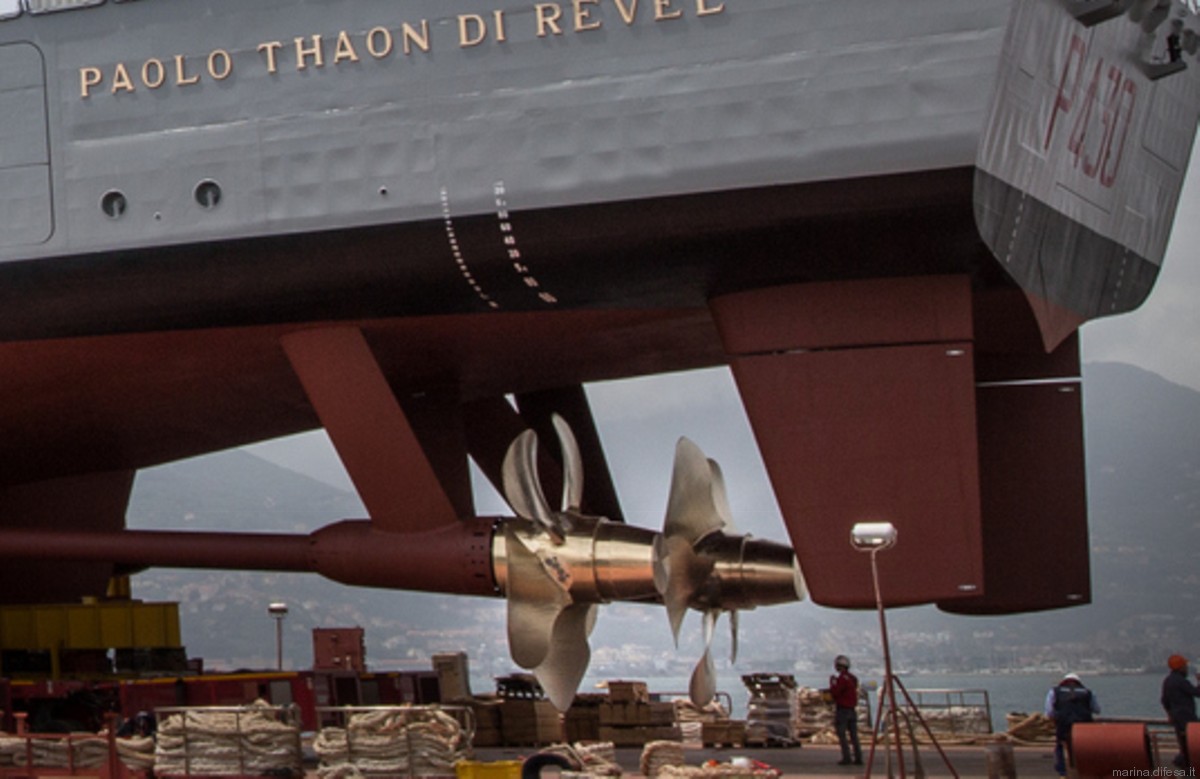 twin propellers

<![if !supportEmptyParas]> <![endif]>
|
seaforces.org
|
Italian Navy start page
|