Type, class: Amphibious Transport Dock (LPD); San Antonio class
Builder:
Huntington Ingalls Industries, Ingalls Operations, Pascagoula, Mississippi, USA
STATUS:
Awarded: December 19, 2016
Laid down: October 13, 2017
Launched: March 28, 2020
Commissioned: July 30, 2022
IN SERVICE
Homeport: Naval Station Norfolk, Virginia
Namesake: City of Fort Lauderdale, Florida
Ships Motto:
TOGETHER WE FIGHT
Technical Data: see: INFO > San Antonio class Amphibious Transport Dock - LPD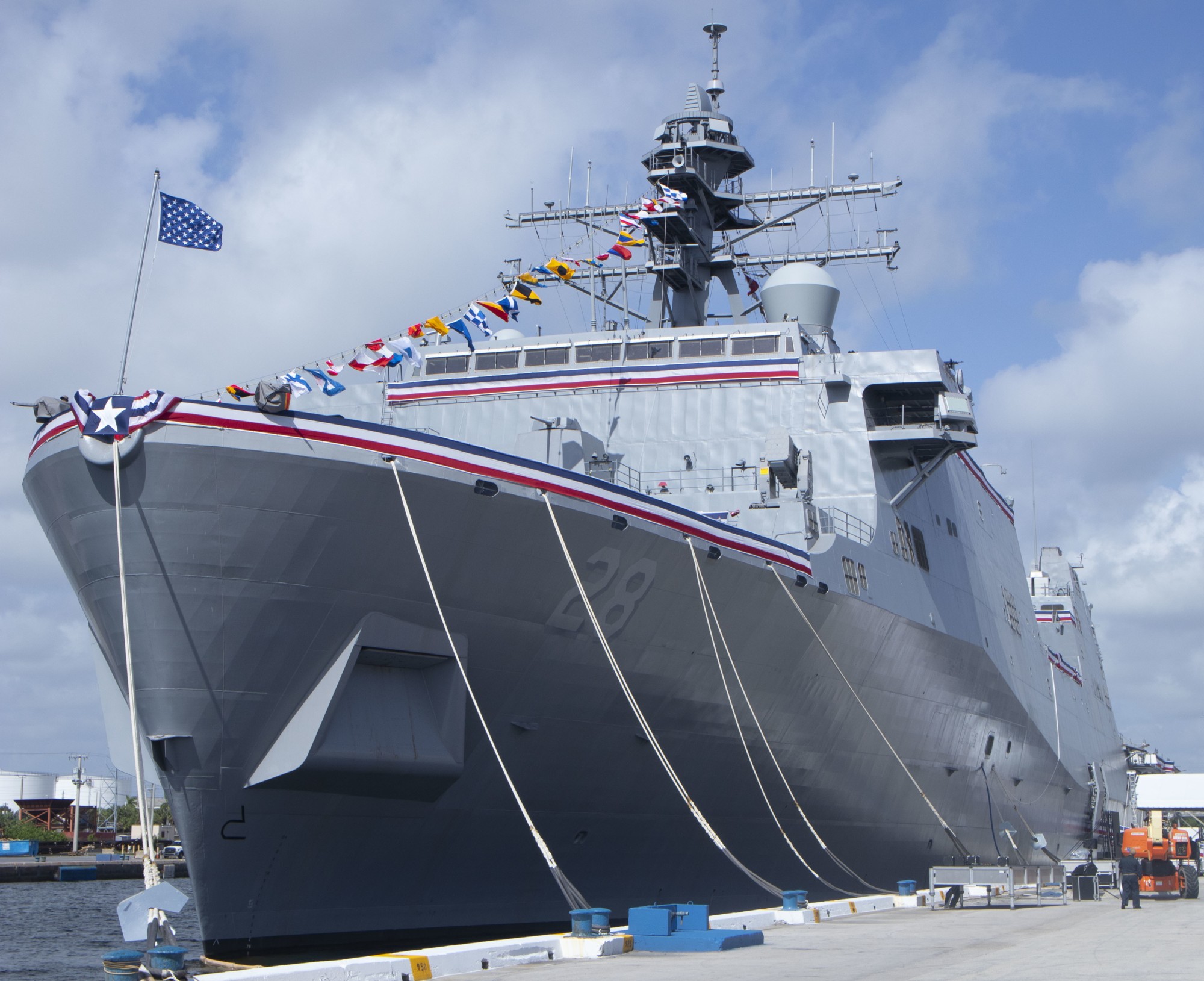 prepared for her commissioning - Fort Lauderdale, Florida - July 28, 2022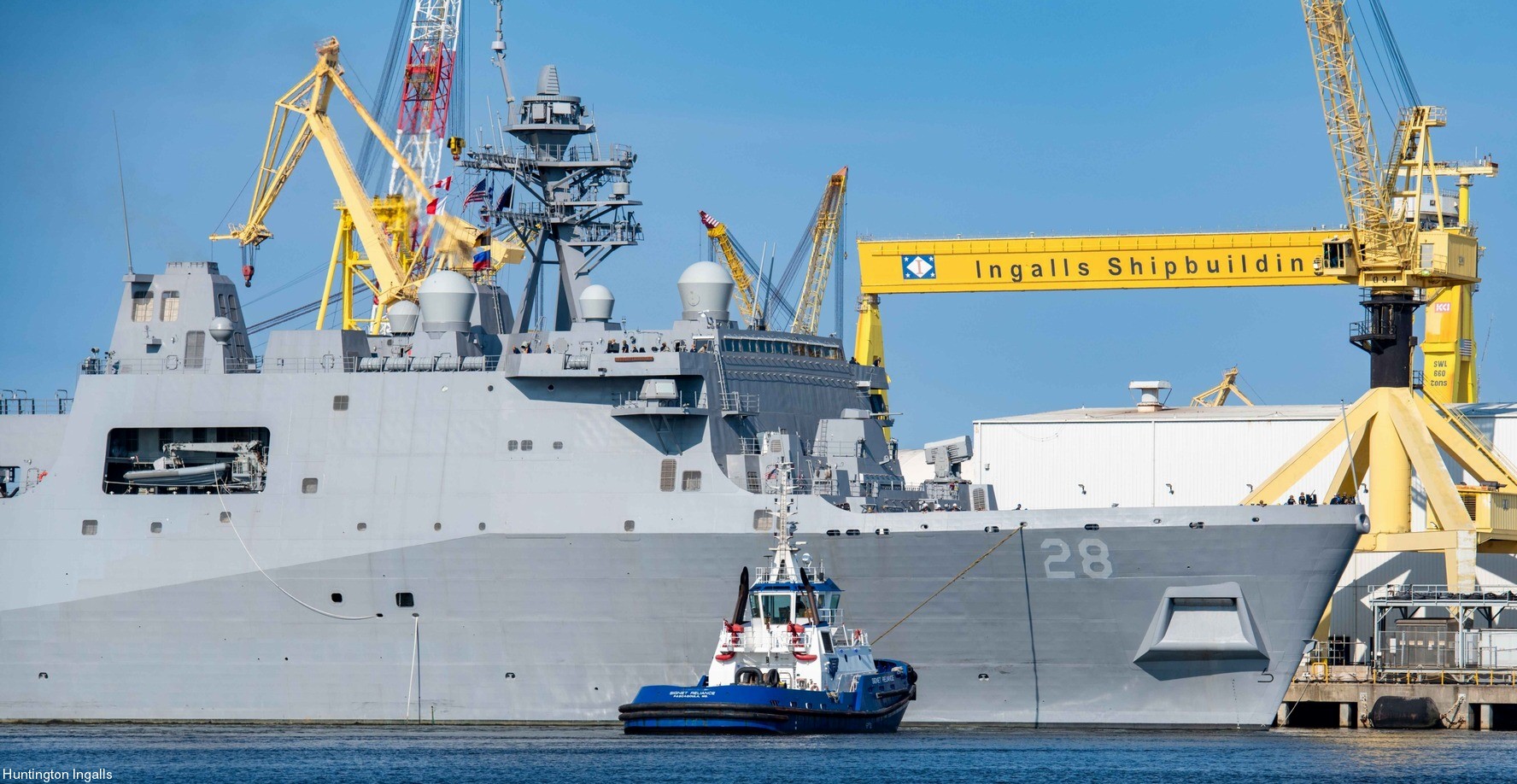 Pascagoula, Mississippi - July 2022




Pascagoula, Mississippi - July 2022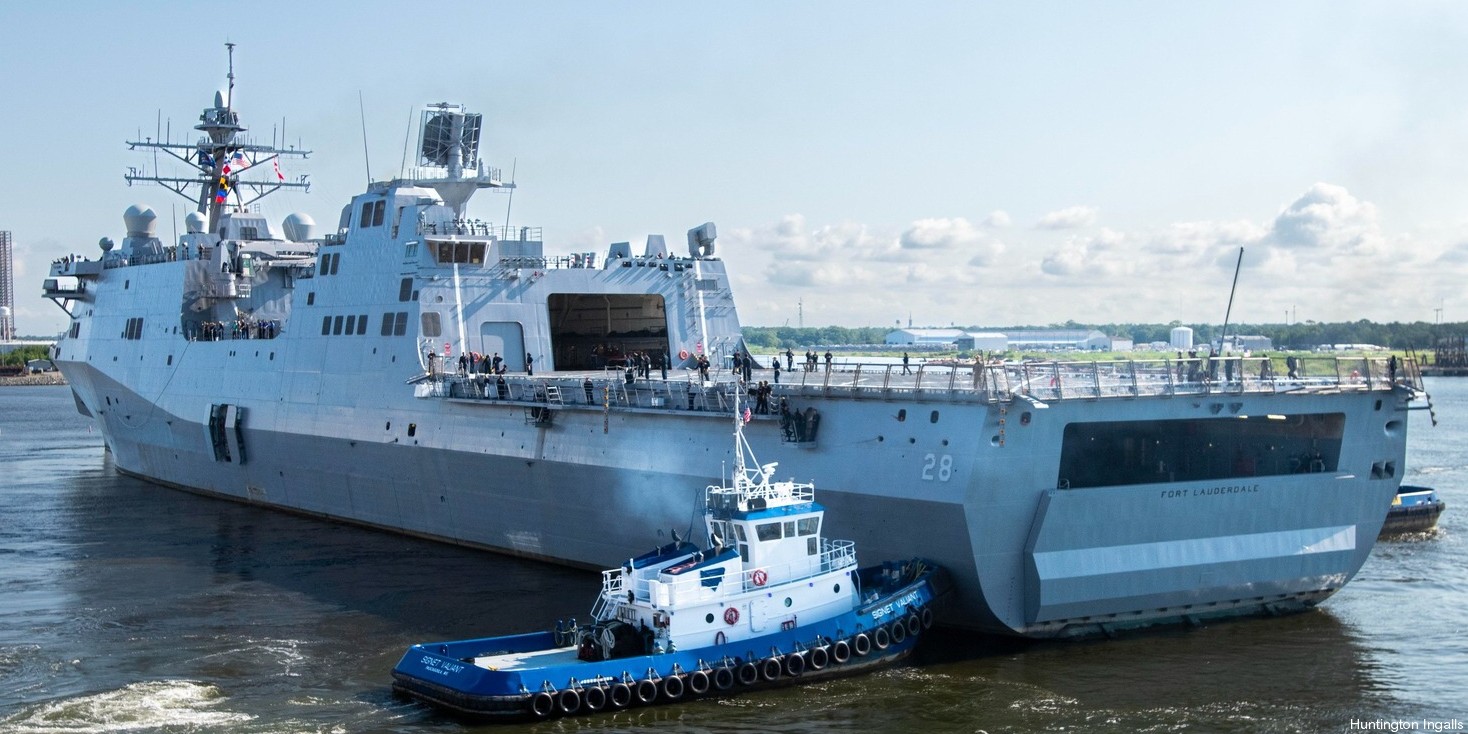 Pascagoula, Mississippi - July 2022




Pascagoula, Mississippi - July 2022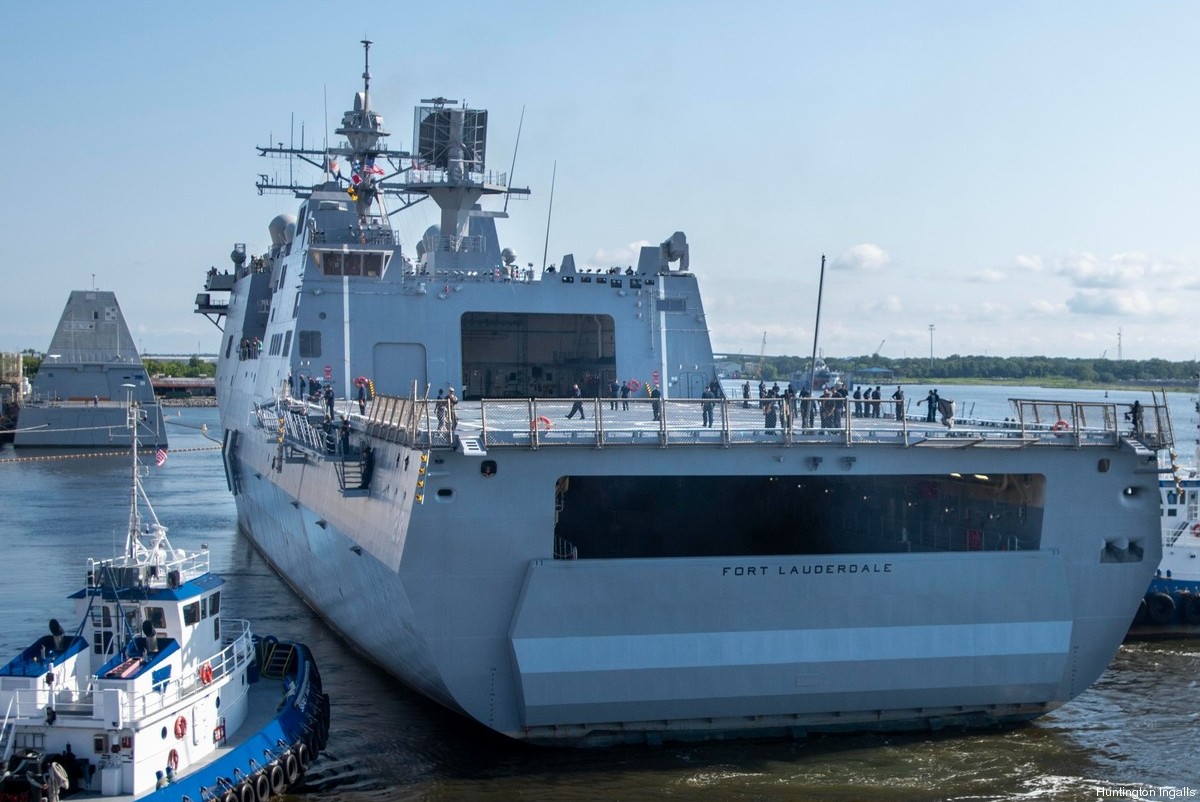 Pascagoula, Mississippi - July 2022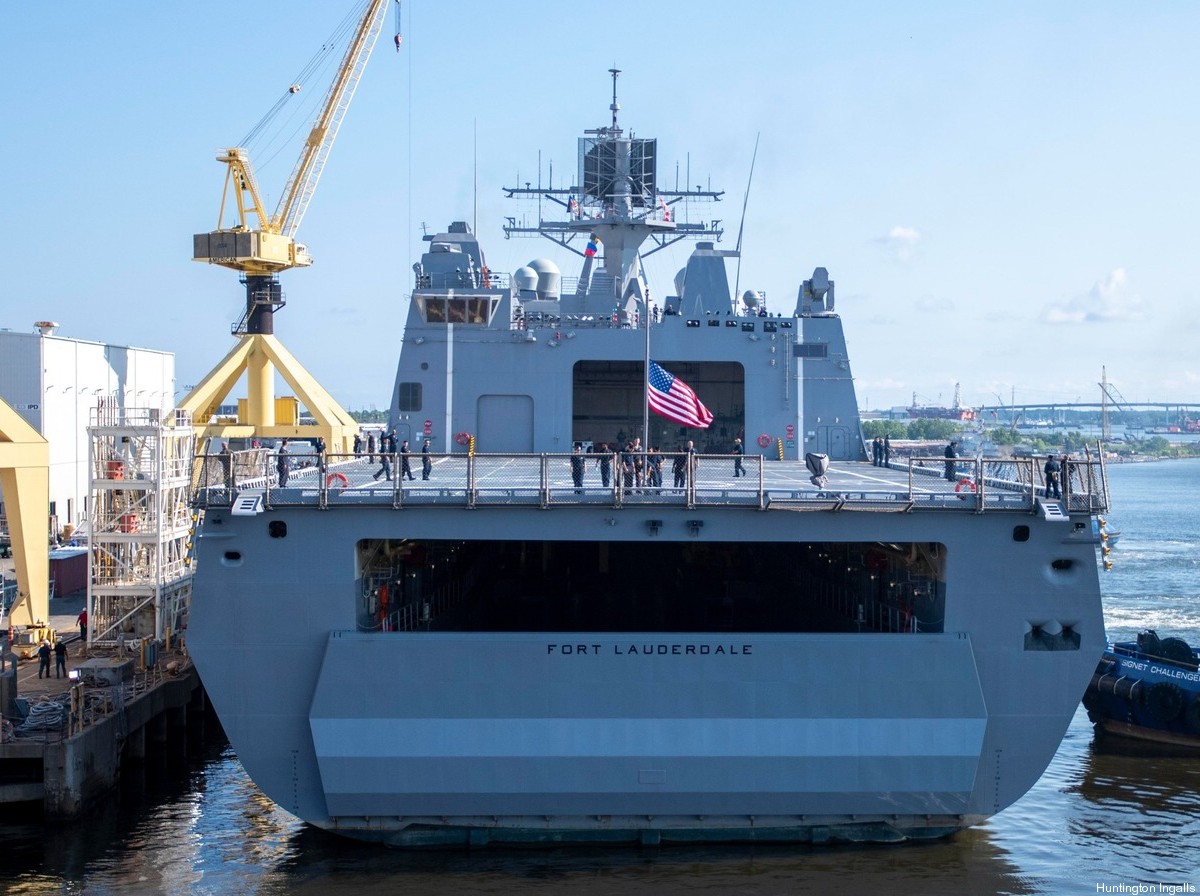 Pascagoula, Mississippi - July 2022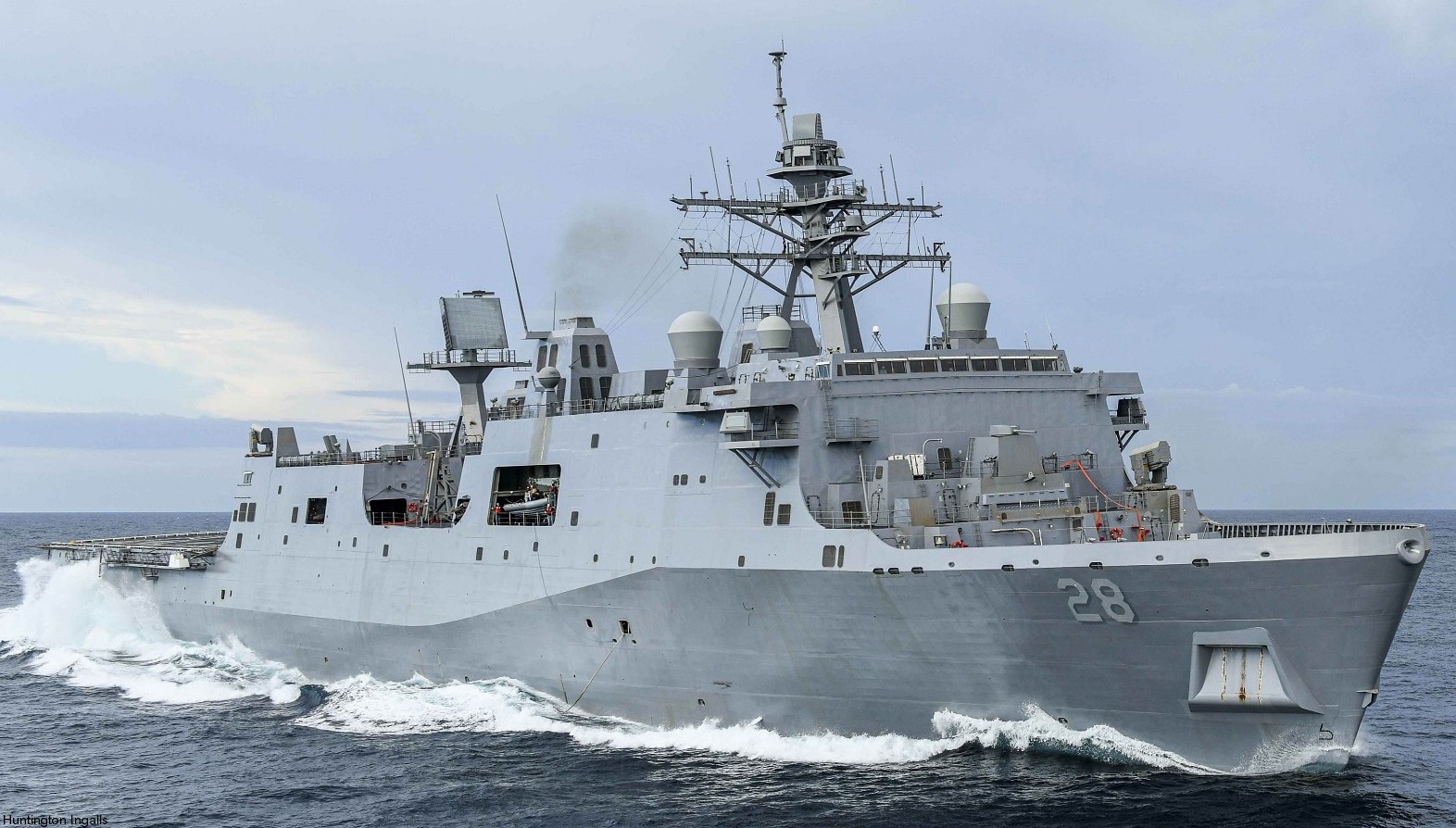 trials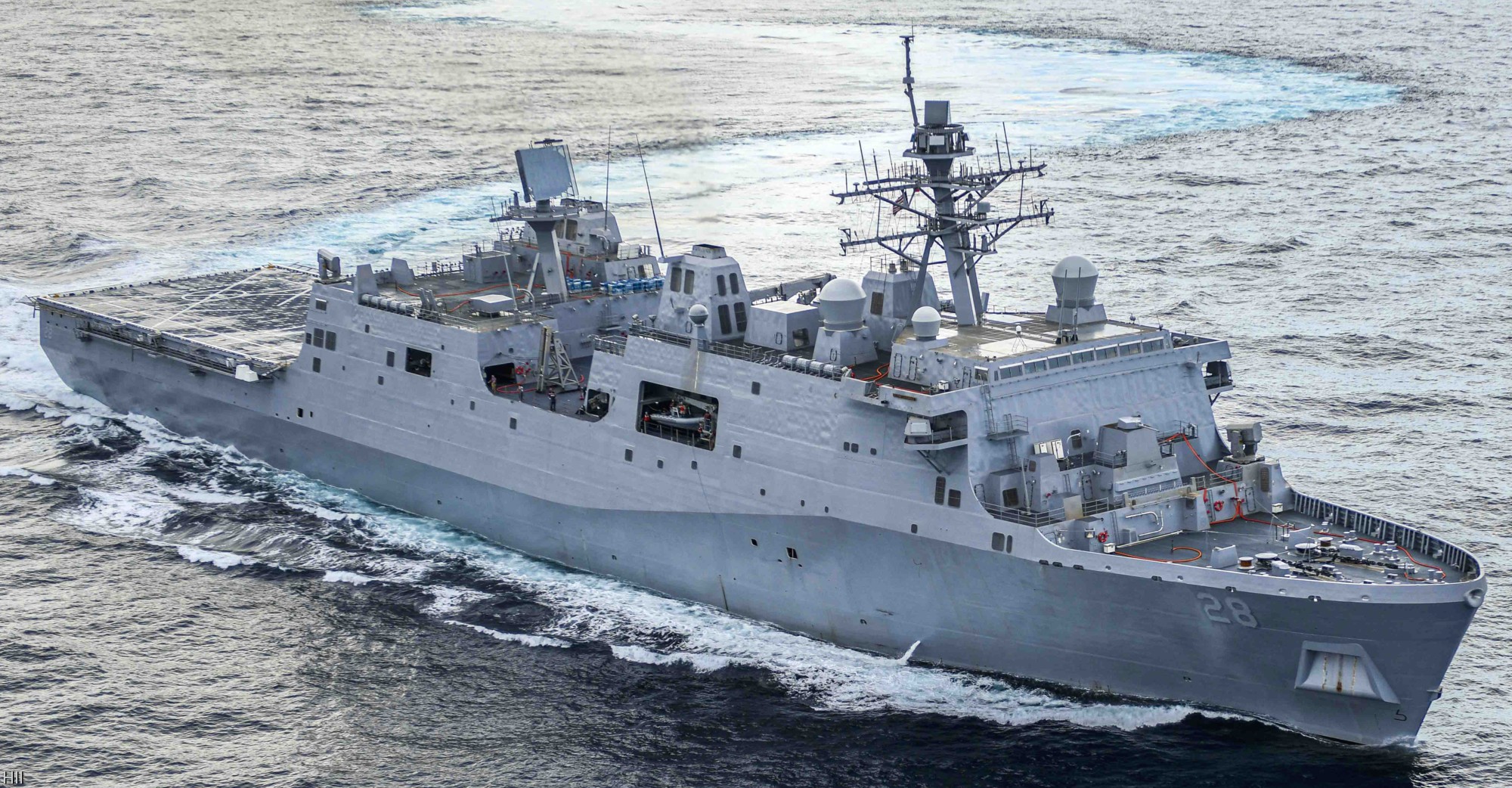 trials




Pascagoula, Mississippi - January 2022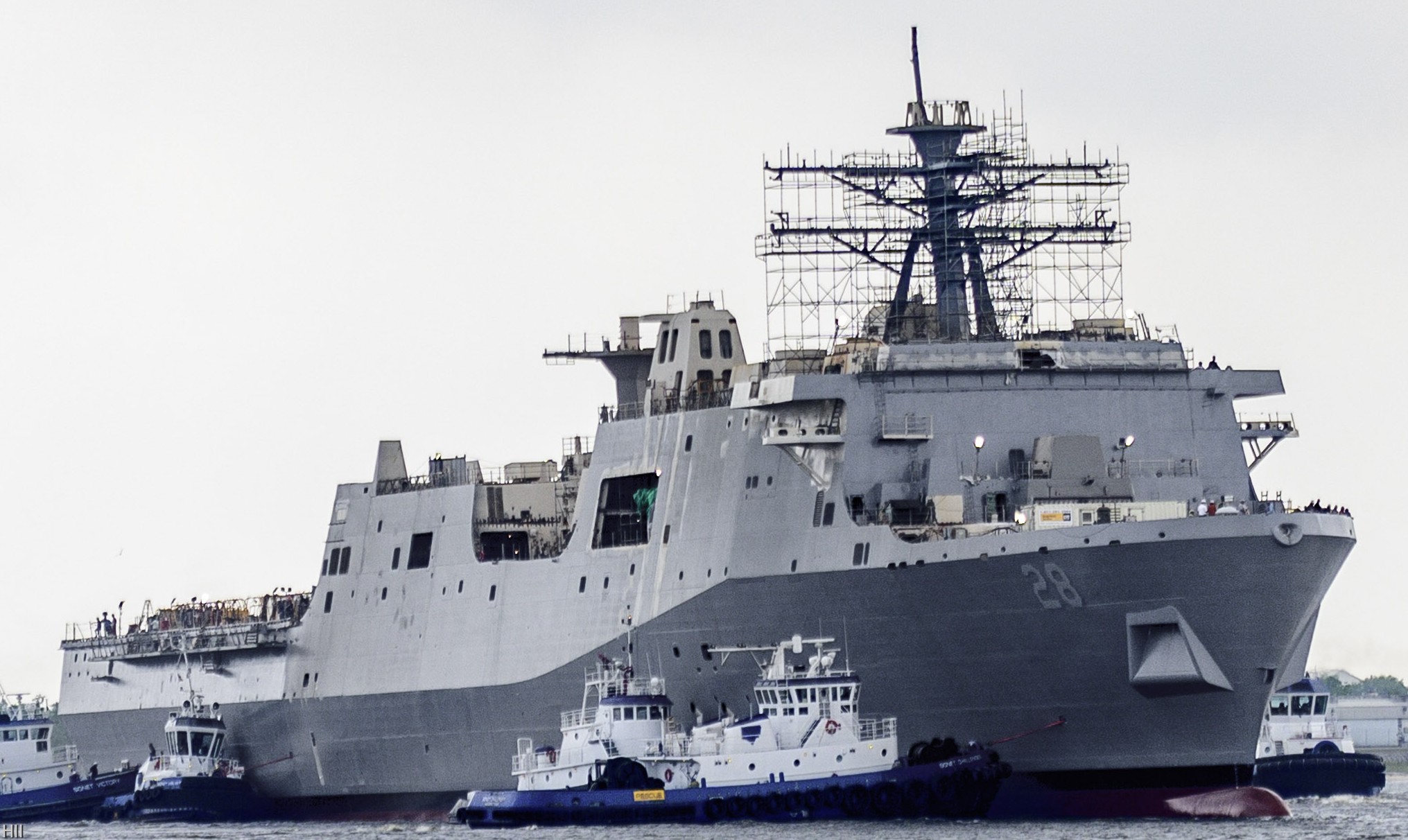 March 28, 2020




launching - March 28, 2020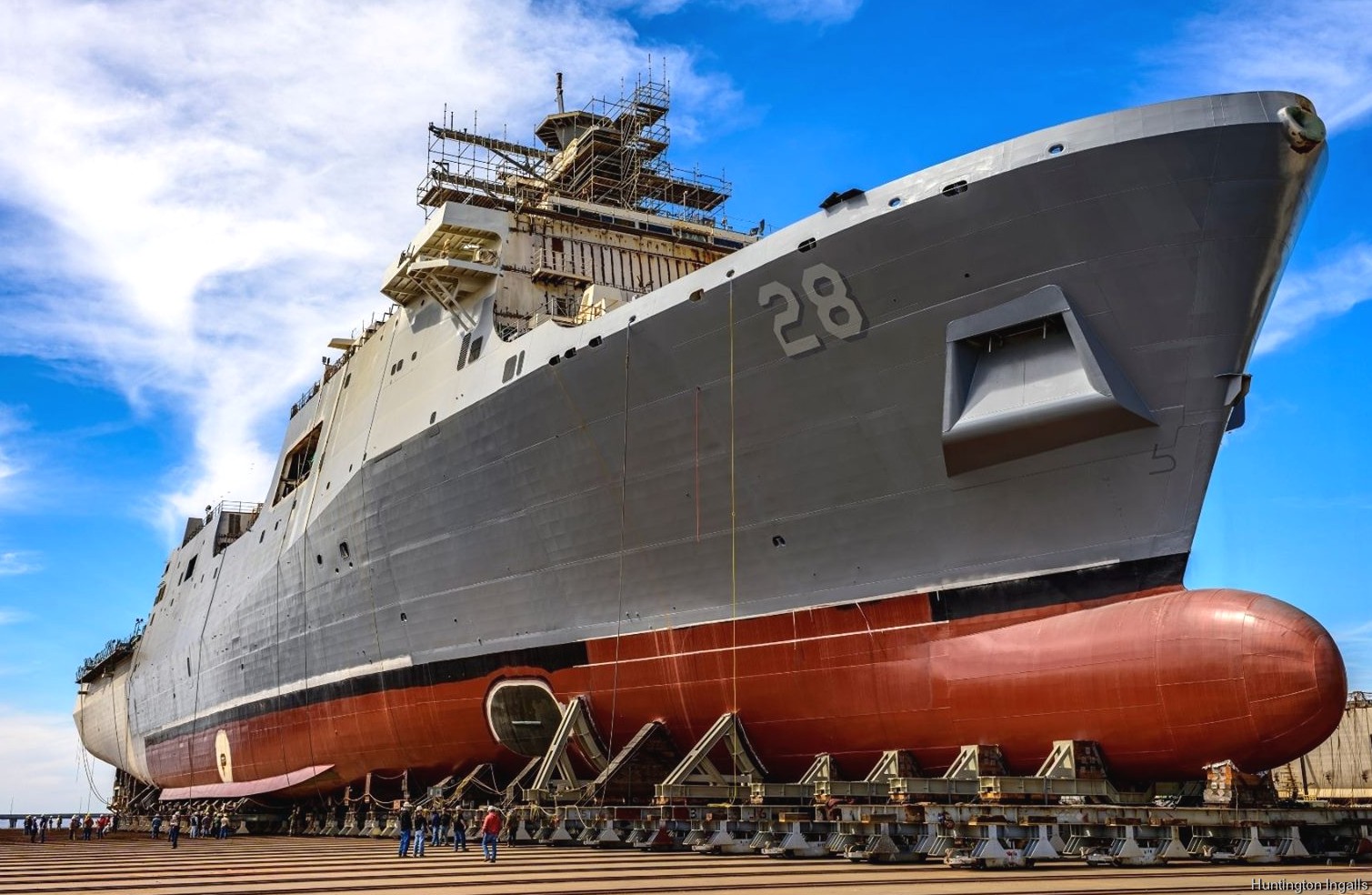 USS Fort Lauderdale (LPD 28):

Fort Lauderdale will feature design improvements developed in connection with the Navy's development of a next-generation dock landing ship, known as the LX(R)-class amphibious warfare ship. The LX(R) is intended to replace current Whidbey Island-class and Harpers Ferry-class dock landing ships. In 2014, the Navy commenced design of LX(R) based on a modified San Antonio-class design. Because this design work is in progress, the Navy has created design innovations and cost-reduction strategies around the San Antonio-class design, and the Navy believes that it can apply these innovations and strategies to Fort Lauderdale, allowing her to be built at reduced cost. The main design features intended to reduce the cost of Fort Lauderdale compared to the San Antonio-class on which she is based are simplified bow works, replacement of the forward and aft composite masts with steel masts, removal of structures from the boat valley, and a stern gate which is open at the top. This will make Fort Lauderdale a "transitional ship" between the current San Antonio-class design and future LX(R) vessels.

Fort Lauderdale will incorporate a high temperature superconductor-based mine protection degaussing system built by American Superconductor to reduce the magnetic signature of the ship.

-

On 9 March 2016, the ship was given the name Fort Lauderdale, and the contract to build her was awarded to HII's Ingalls Shipyard on 19 December 2016. Fort Lauderdale's keel was laid down on 13 October 2017, at Ingalls Shipyard in Pascagoula, Mississippi. She was launched on 28 March 2020, and her acceptance trials were completed on 31 January 2022.

Fort Lauderdale
... is a city in the U.S. state of Florida, 28 miles (45 km) north of Miami. It is the county seat of Broward County. As of the 2017 census, the city has an estimated population of 180,072. Fort Lauderdale is a principal city of the Miami metropolitan area, which was home to an estimated 6,158,824 people in 2017.
The city is a popular tourist destination, with an average year-round temperature of 75.5 °F (24.2 °C) and 3000 hours of sunshine per year. Greater Fort Lauderdale, encompassing all of Broward County, hosted 12 million visitors in 2012, including 2.8 million international visitors. In 2012, the county collected $43.9 million from the 5% hotel tax it charges, after hotels in the area recorded an occupancy rate for the year of 72.7 percent and an average daily rate of $114.48. The district has 561 hotels and motels comprising nearly 35,000 rooms. Forty-six cruise ships sailed from Port Everglades in 2012. Greater Fort Lauderdale has over 4,000 restaurants, 63 golf courses, 12 shopping malls, 16 museums, 132 nightclubs, 278 parkland campsites, and 100 marinas housing 45,000 resident yachts.
Fort Lauderdale is named after a series of forts built by the United States during the Second Seminole War. The forts took their name from Major William Lauderdale (1782-1838), younger brother of Lieutenant Colonel James Lauderdale. William Lauderdale was the commander of the detachment of soldiers who built the first fort. However, development of the city did not begin until 50 years after the forts were abandoned at the end of the conflict.
Three forts named "Fort Lauderdale" were constructed: the first was at the fork of the New River, the second was at Tarpon Bend on the New River between the present-day Colee Hammock and Rio Vista neighborhoods, and the third was near the site of the Bahia Mar Marina.
source: wikipedia