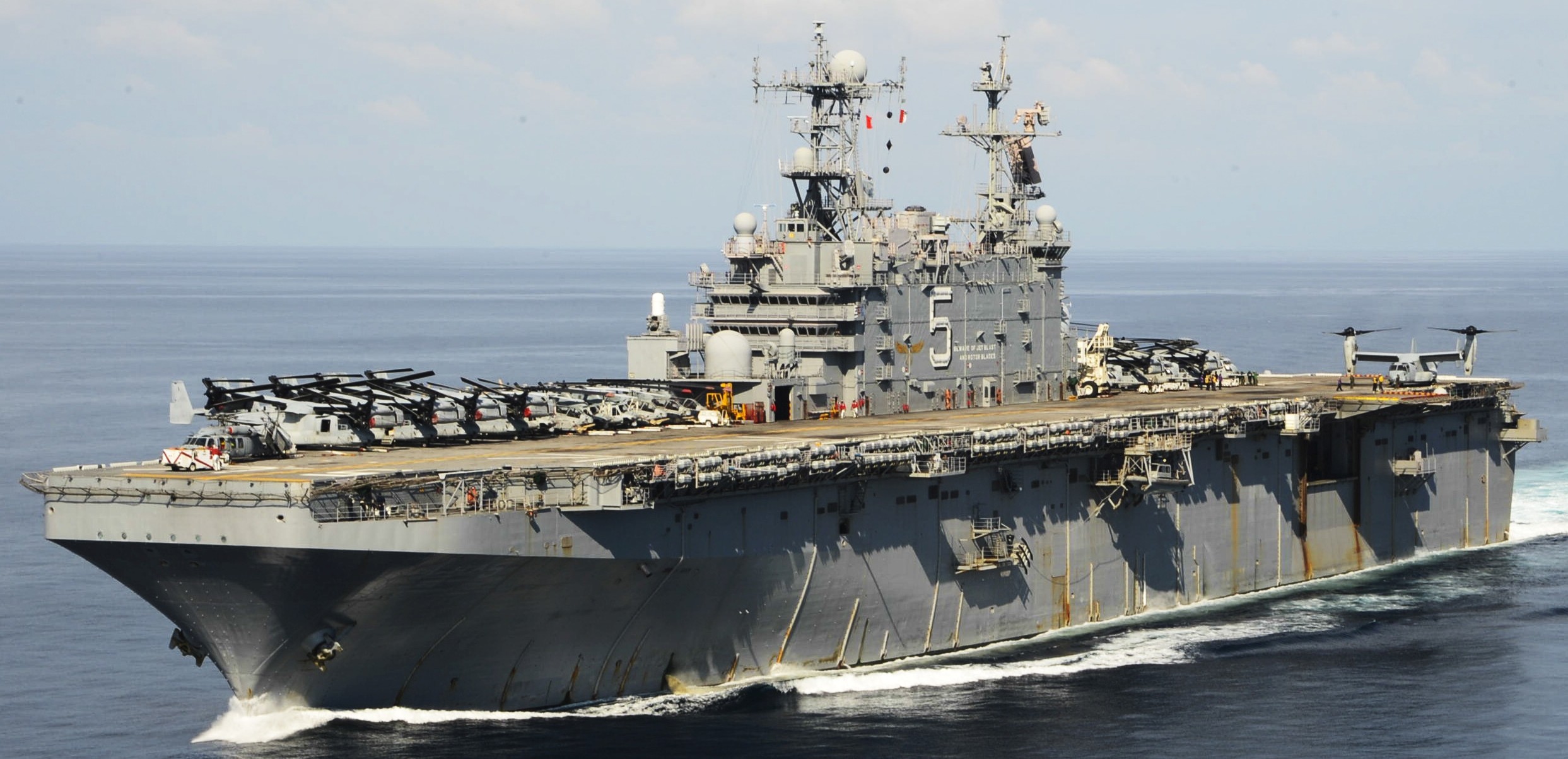 with VMM-262(REIN) embarked - Pacific Ocean - October 2014



with VMM-262(REIN) embarked - Pacific Ocean - October 2014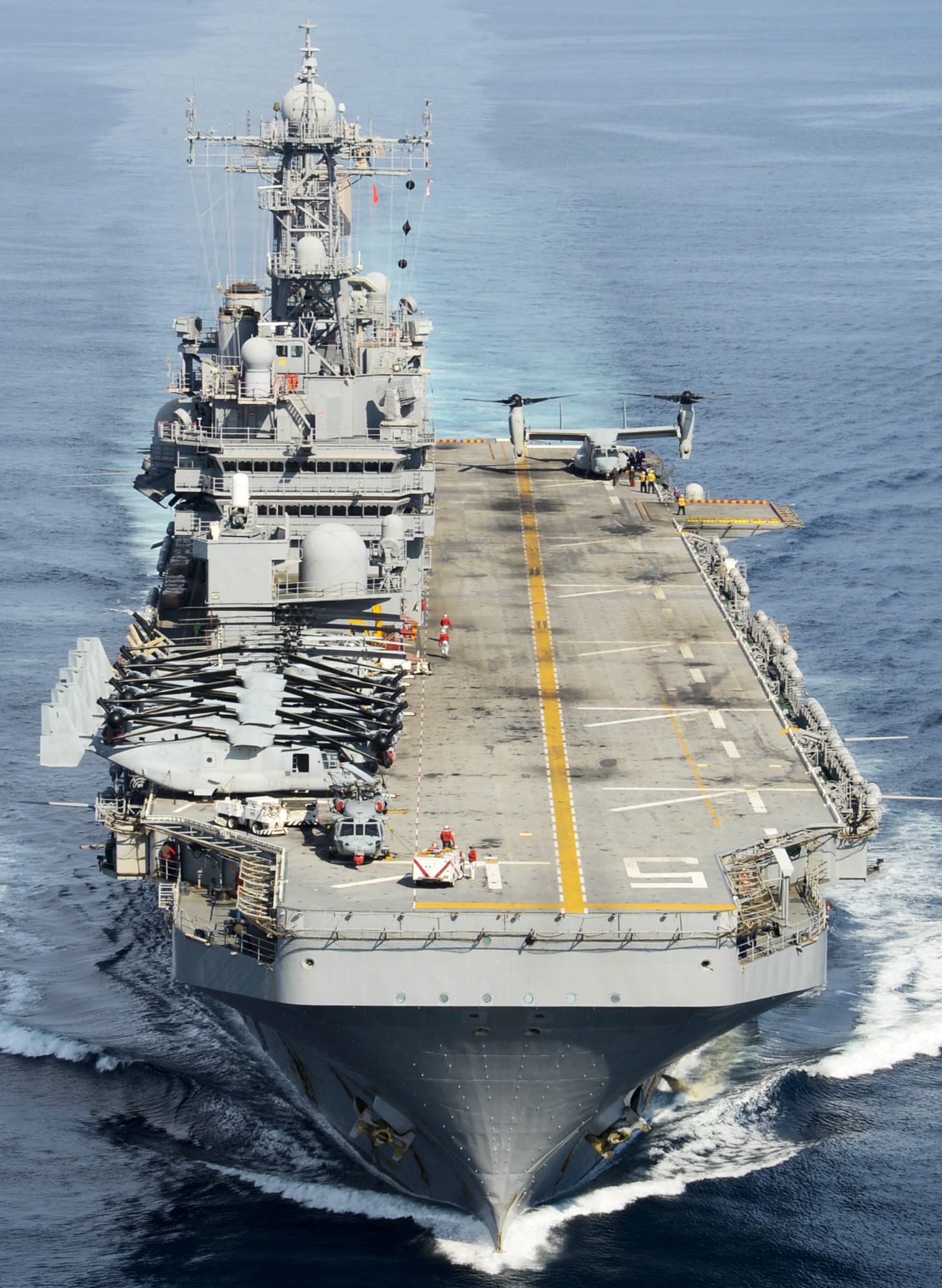 with VMM-262(REIN) embarked - Pacific Ocean - October 2014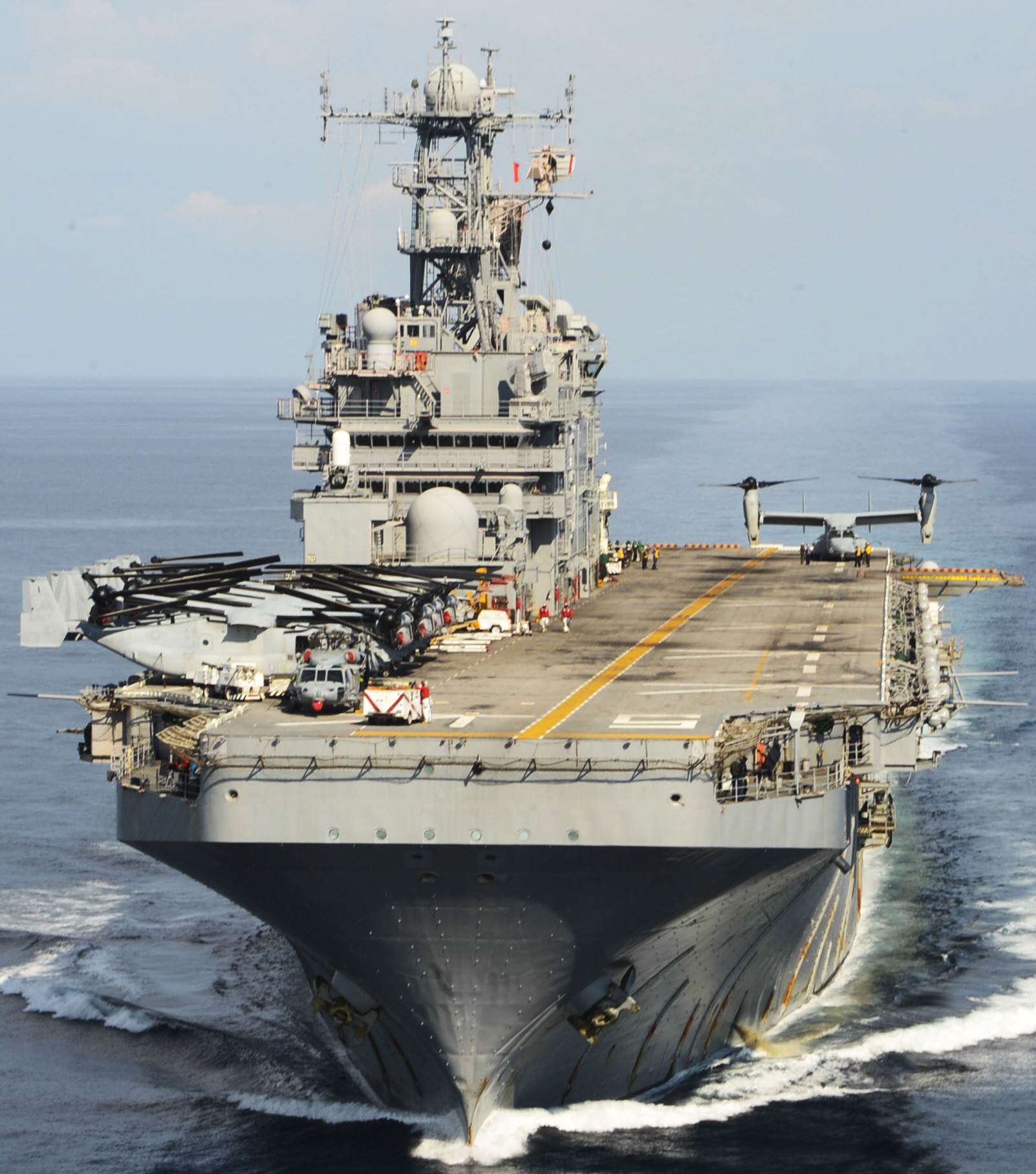 with VMM-262(REIN) embarked - Pacific Ocean - October 2014




with VMM-262(REIN) embarked - Pacific Ocean - October 2014




with VMM-262(REIN) embarked - Pacific Ocean - October 2014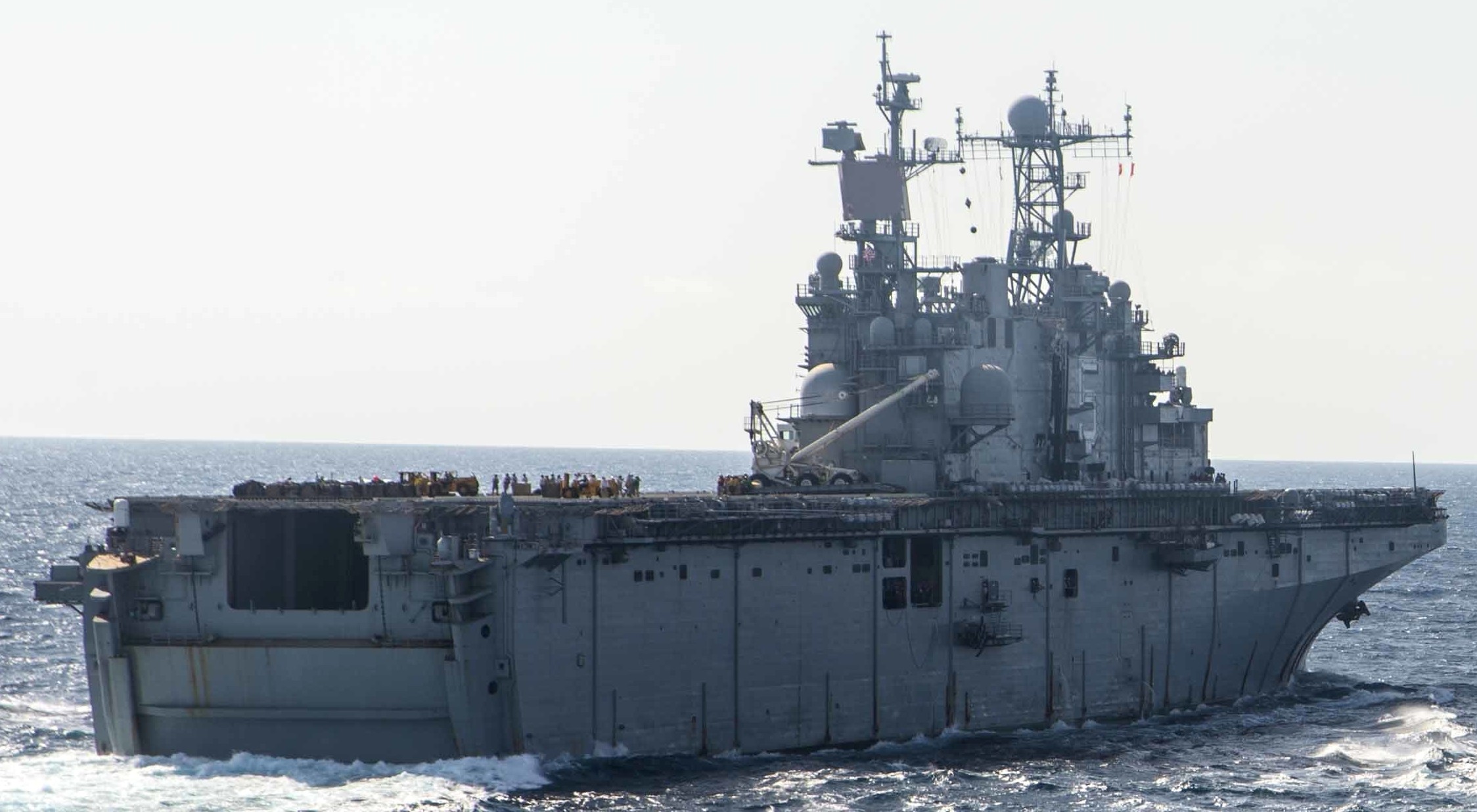 exercise PHIBLEX 15 - South China Sea - October 2015




Naval Base White Beach, Okinawa, Japan - September 2014



Subic Bay, Philippines - September 2014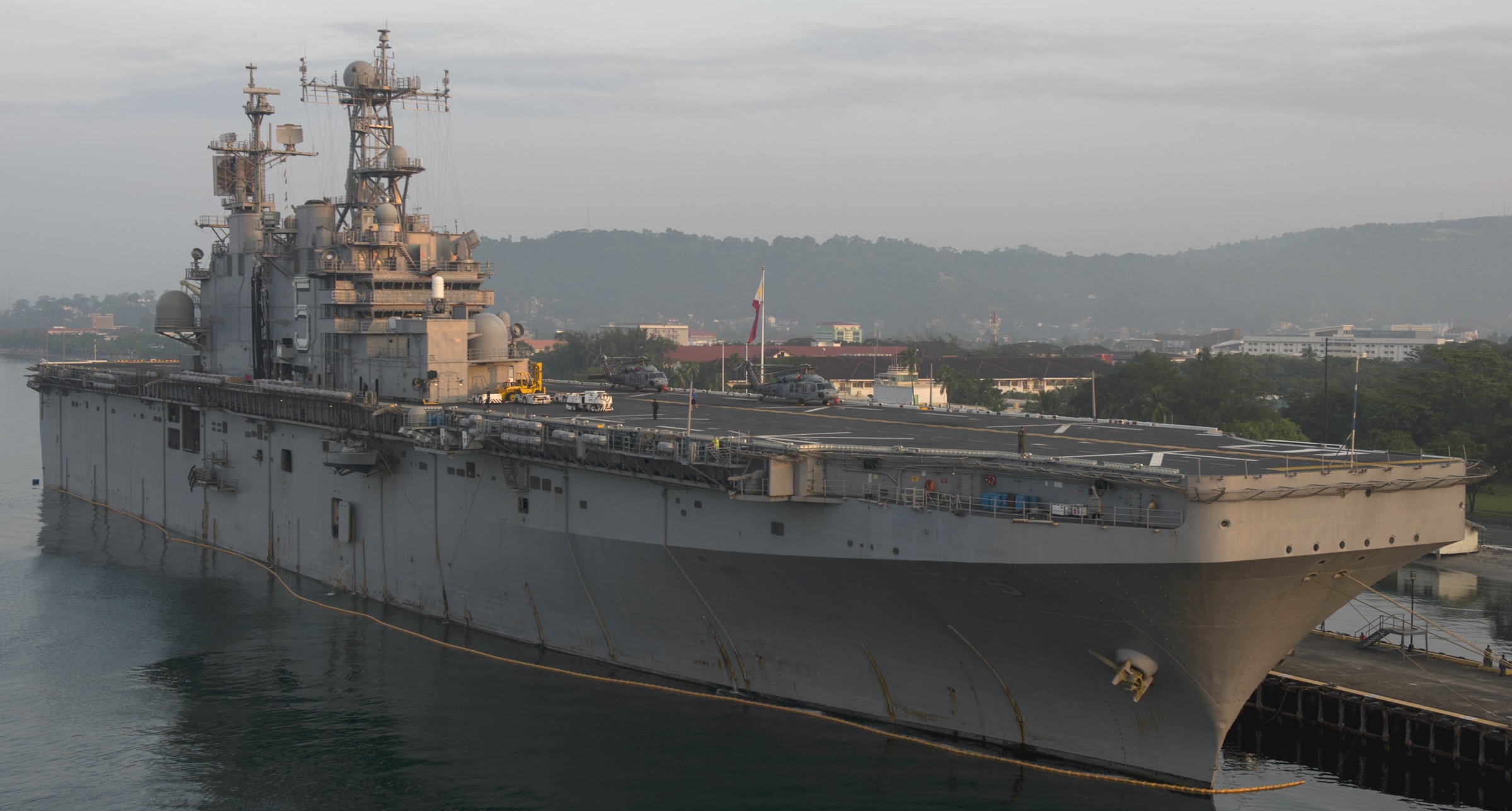 Subic Bay, Philippines - September 2014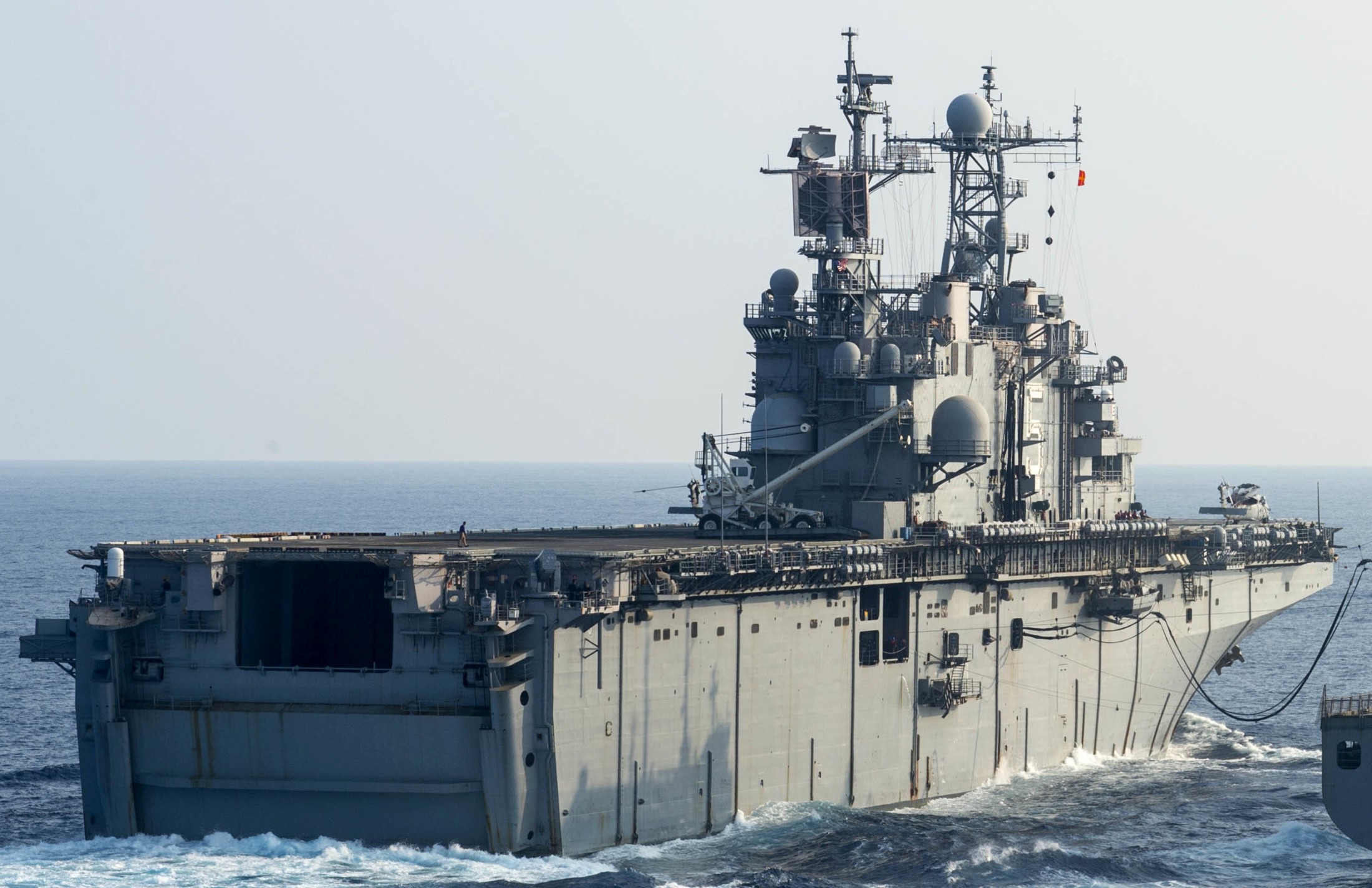 Philippine Sea - September 2014



Philippine Sea - September 2014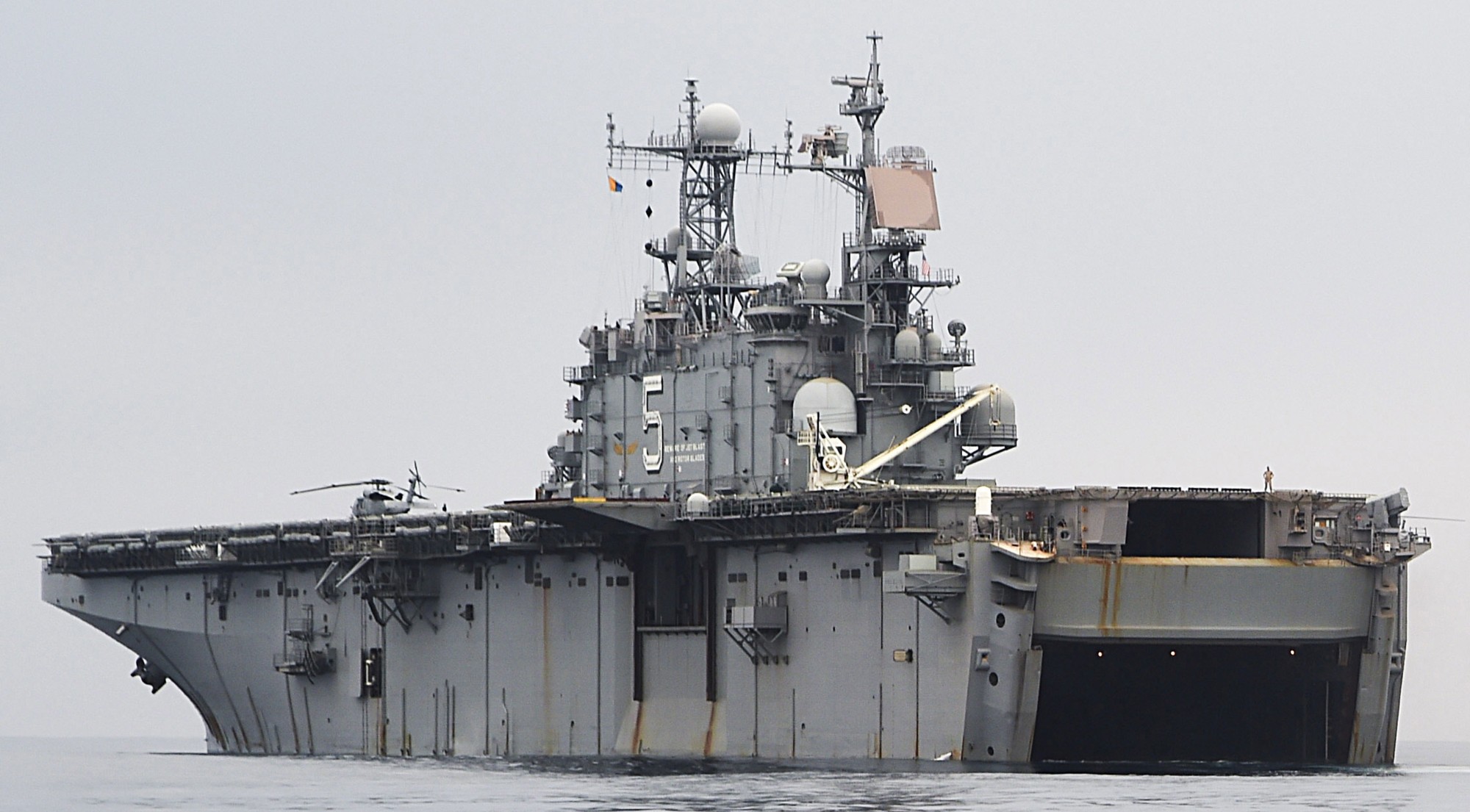 Philippine Sea - September 2014




Philippine Sea - September 2014




Philippine Sea - September 2014



Fleet Activities Sasebo, Japan - August 2014



Fleet Activities Sasebo, Japan - August 2014




Fleet Activities Sasebo, Japan - August 2014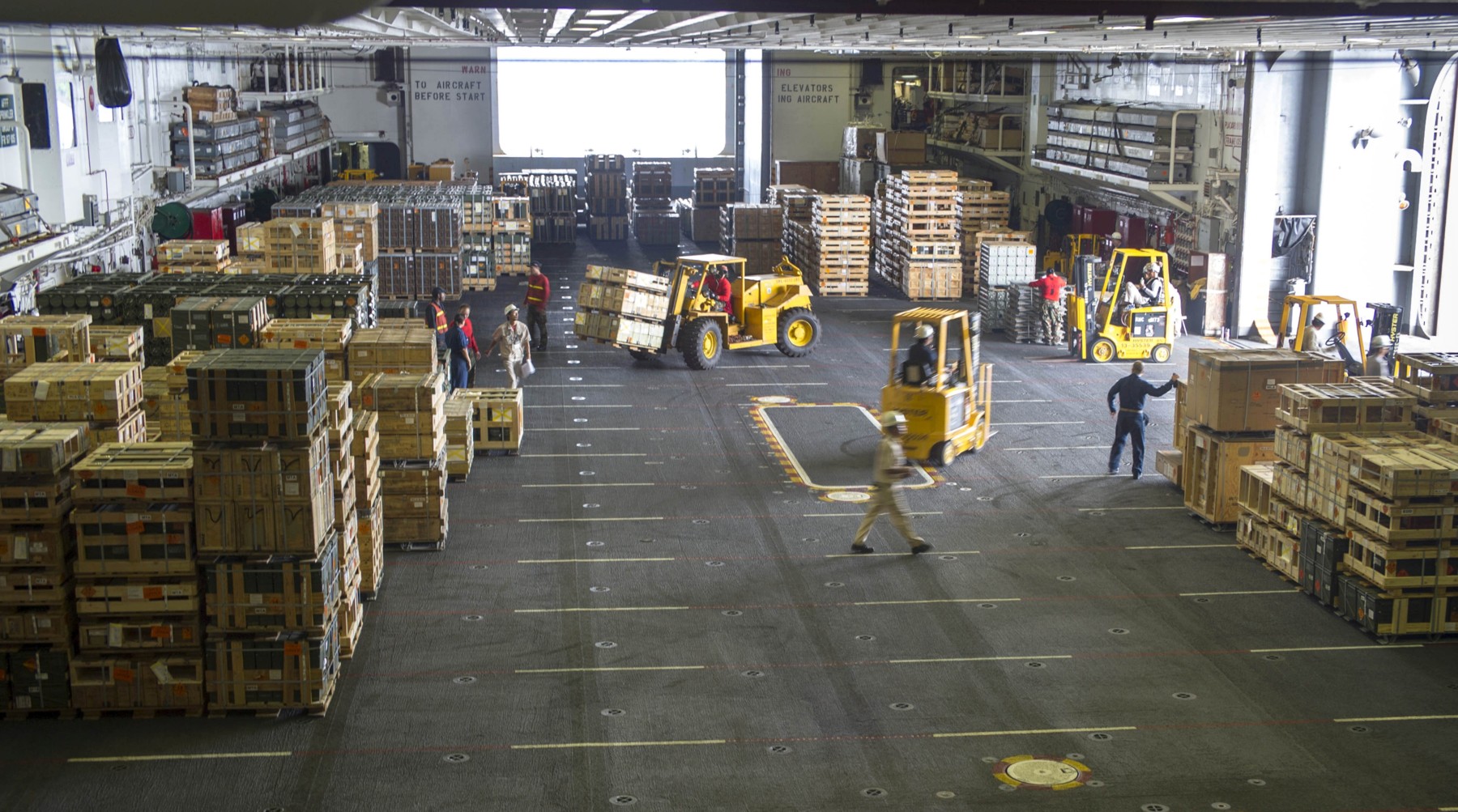 ammunition onload - Fleet Activities Sasebo, Japan - August 2014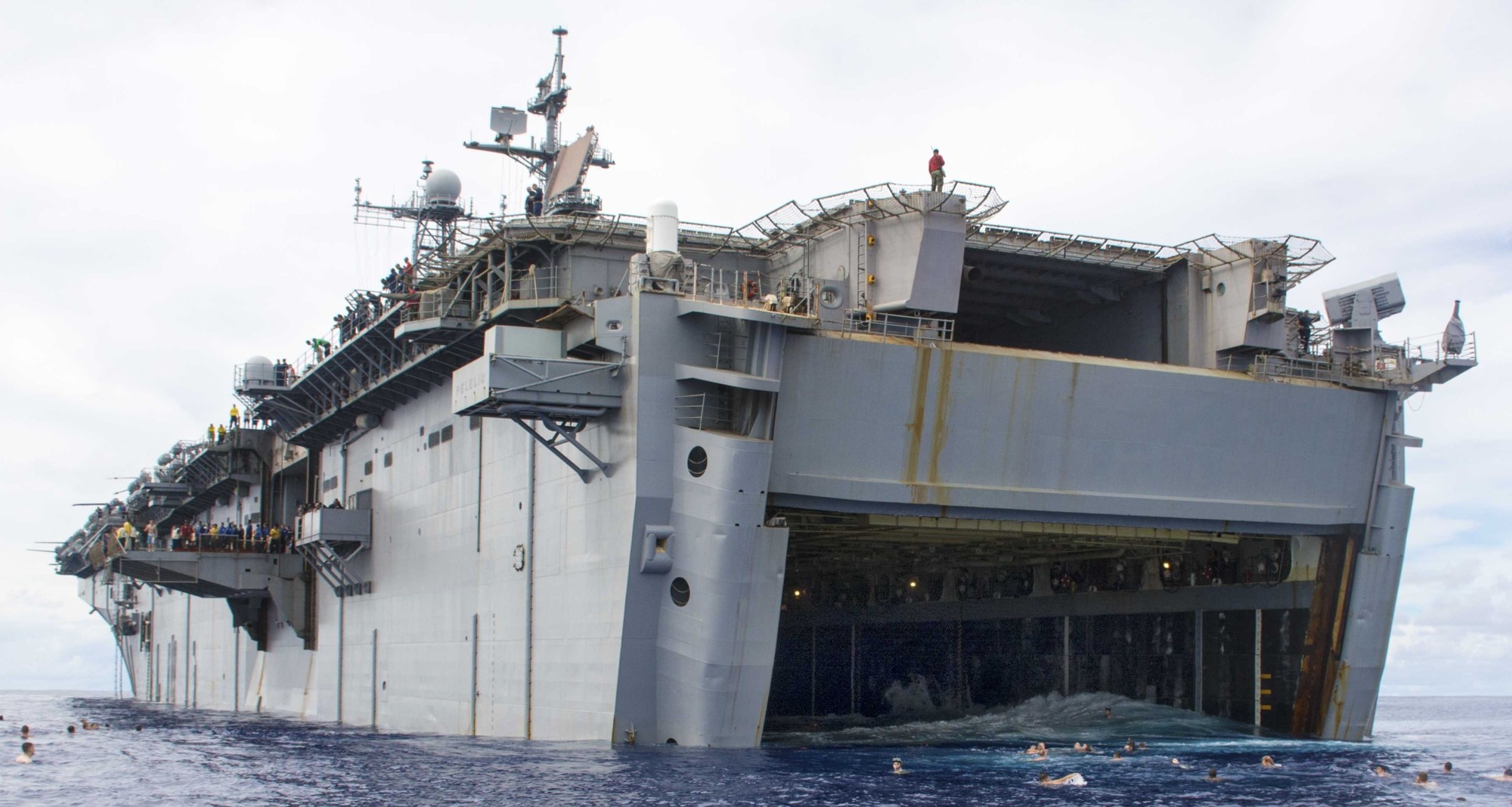 swimm call - Pacific Ocean - August 2014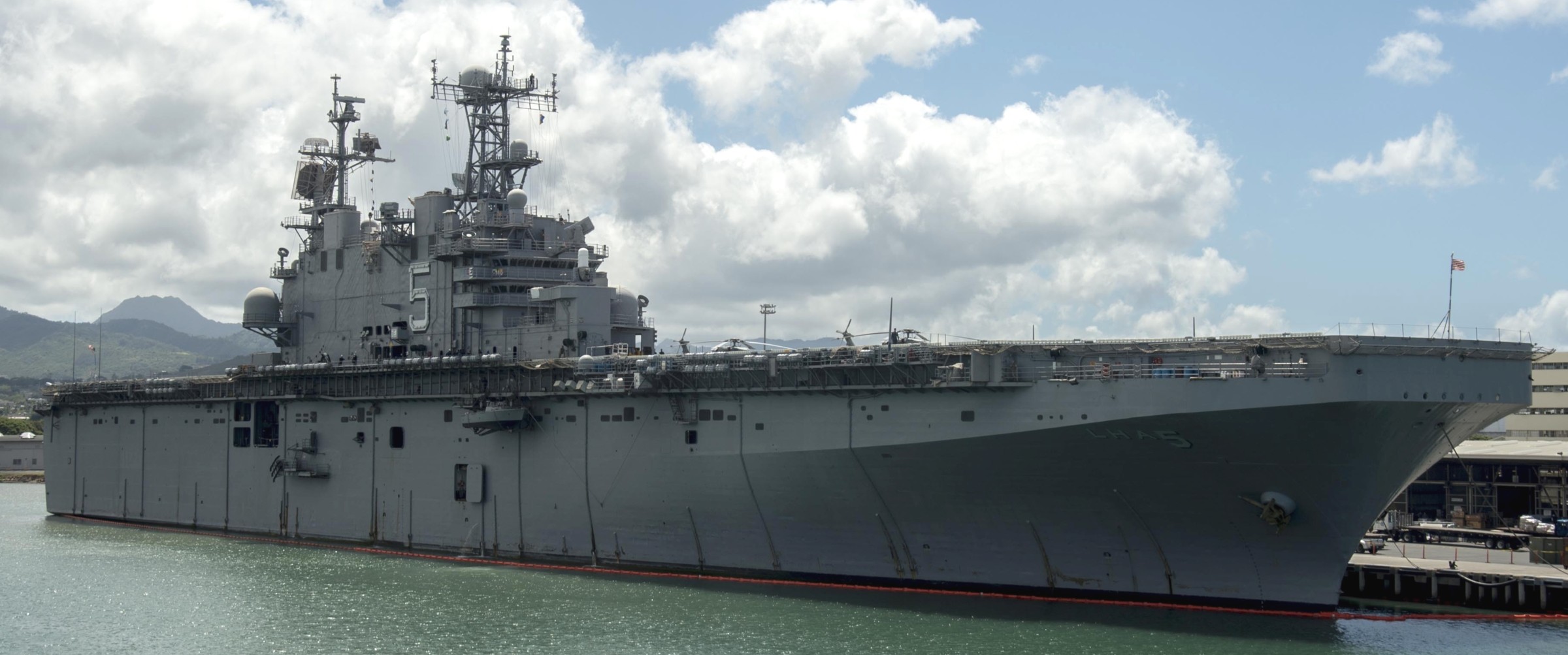 Joint Base Pearl Harbor-Hickam, Hawaii after exercise RIMPAC - July 2014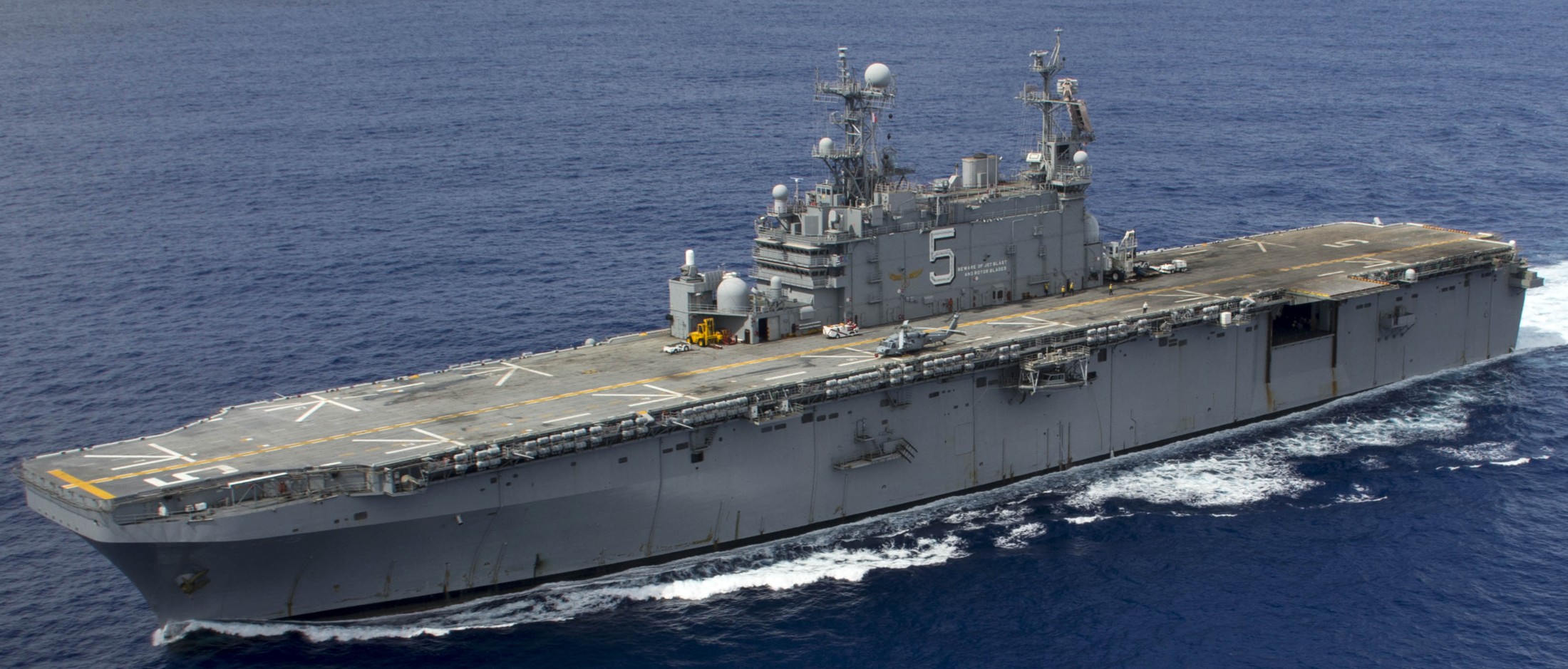 during exercise RIMPAC - Pacific Ocean - July 2014




during exercise RIMPAC - Pacific Ocean - July 2014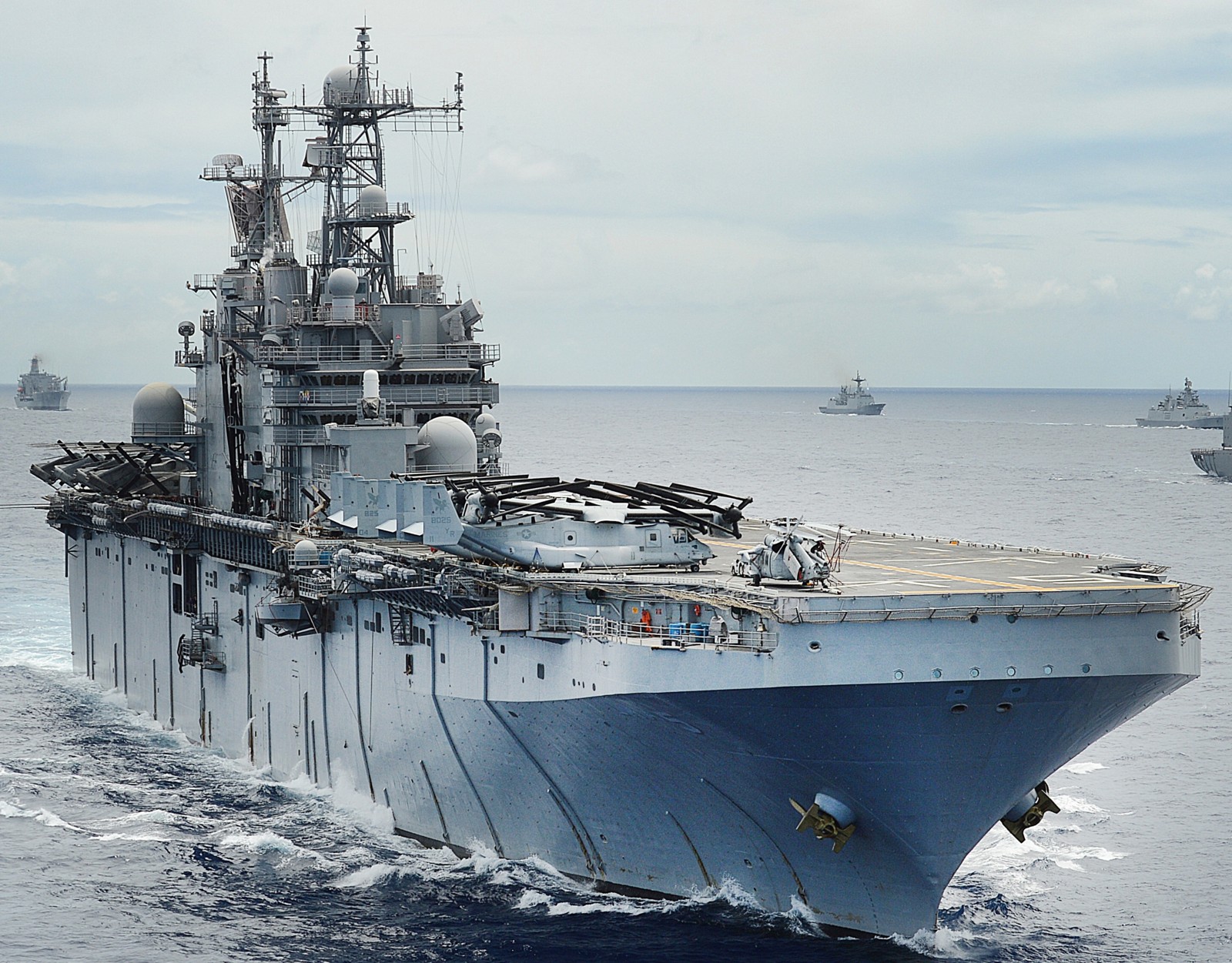 during exercise RIMPAC - Pacific Ocean - July 2014




during exercise RIMPAC - Pacific Ocean - July 2014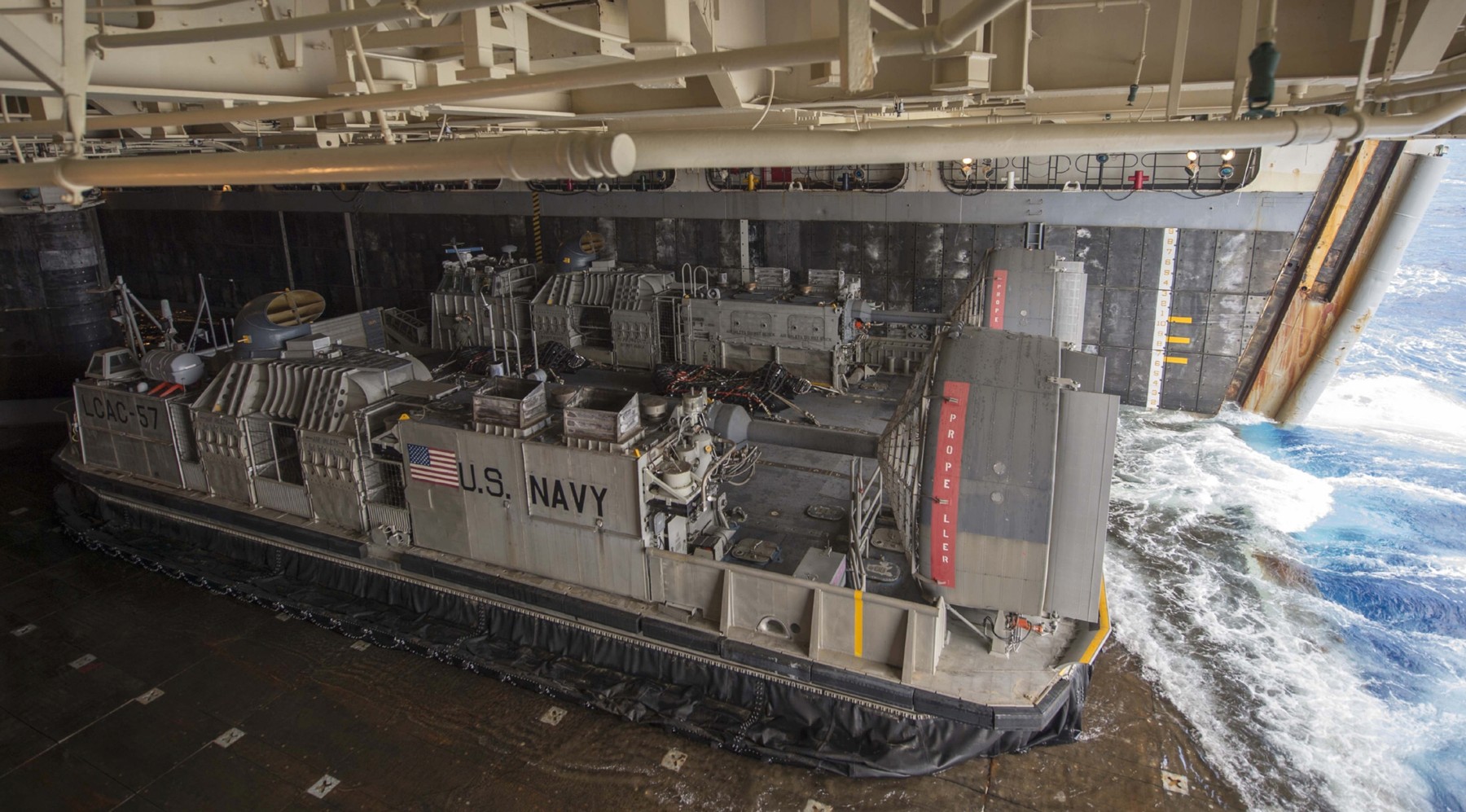 well deck operations during exercise RIMPAC - Pacific Ocean - July 2014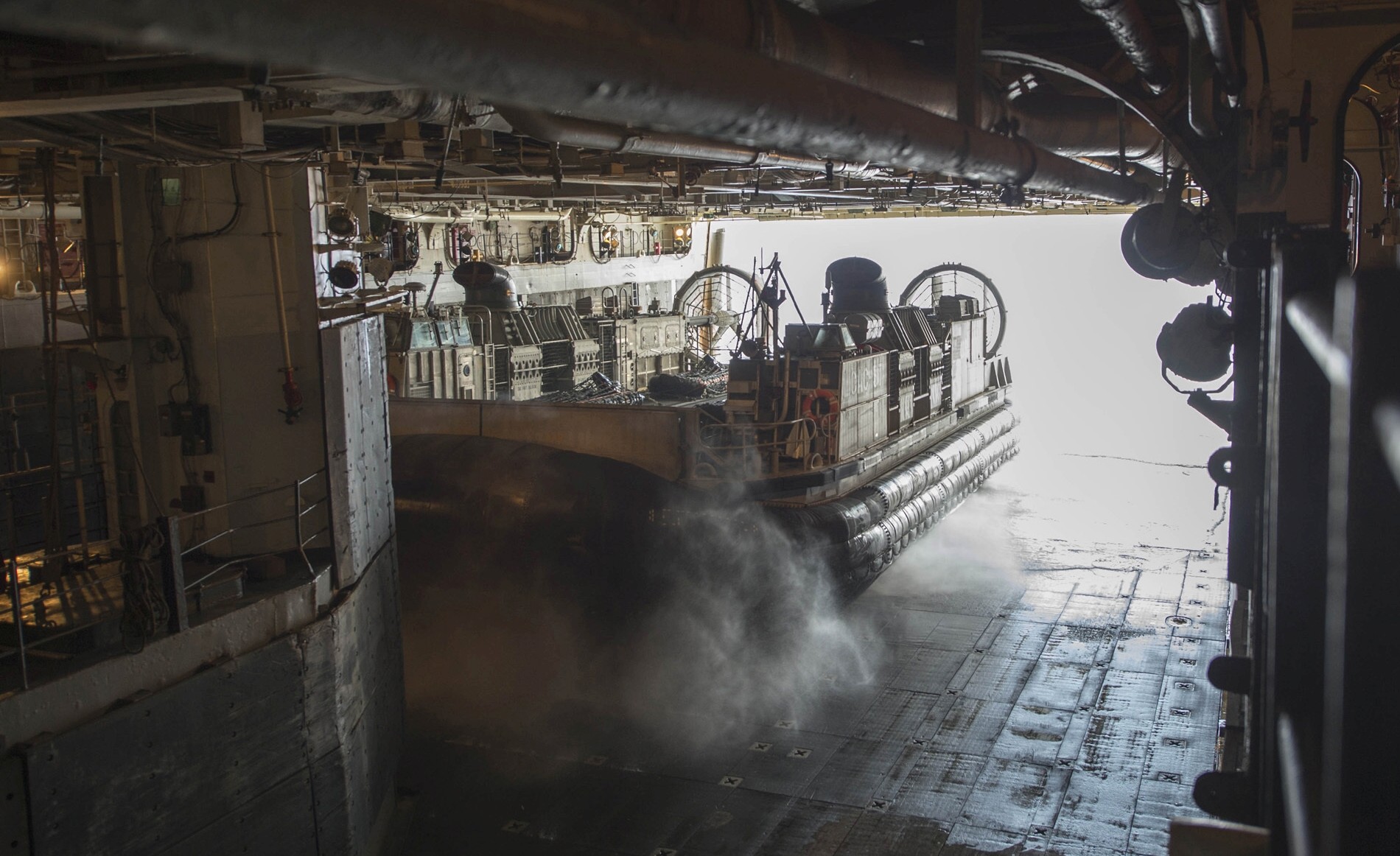 well deck operations during exercise RIMPAC - Pacific Ocean - July 2014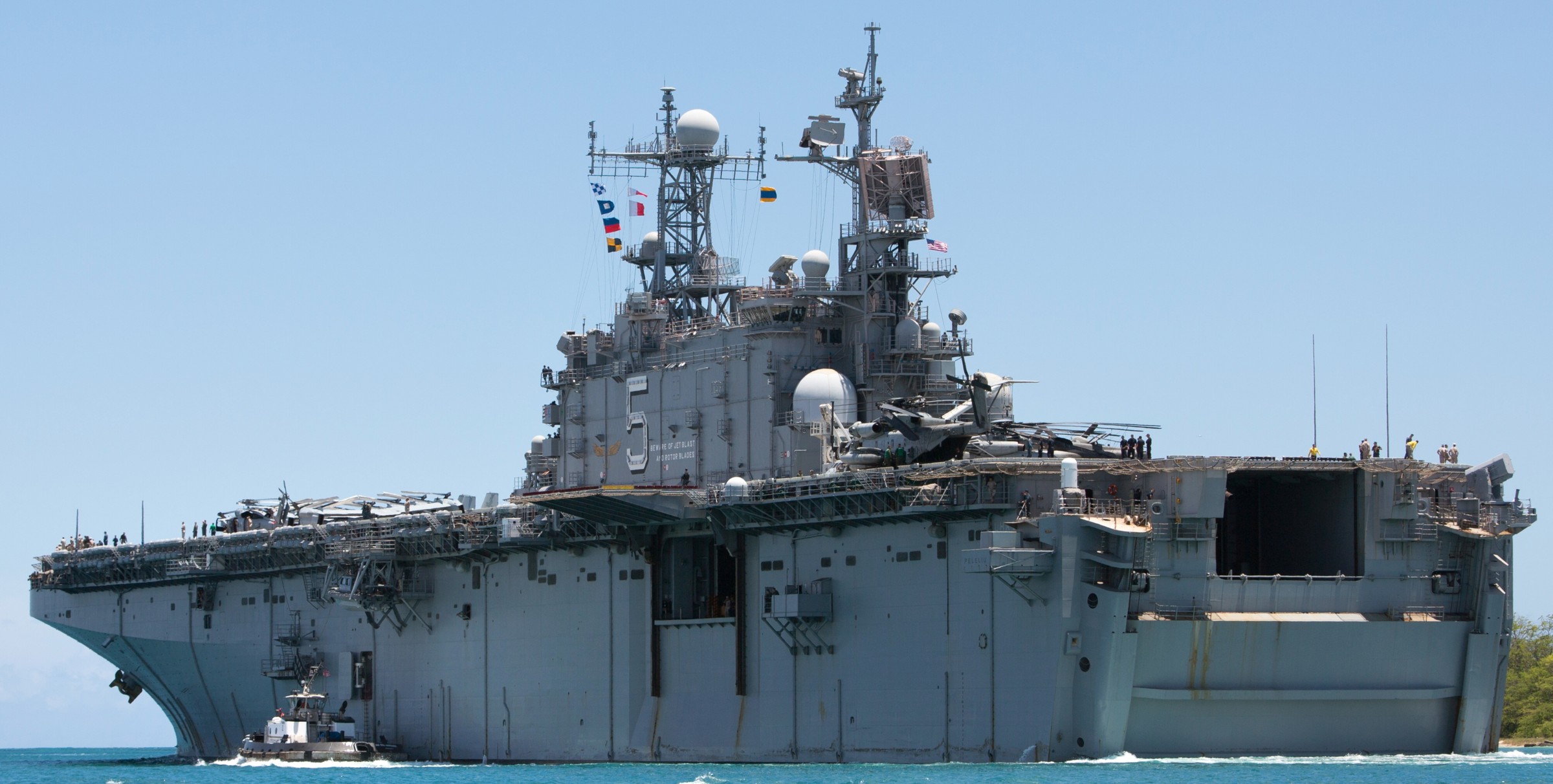 departing Joint Base Pearl Harbor-Hickam, Hawaii for exercise RIMPAC - July 2014




departing Joint Base Pearl Harbor-Hickam, Hawaii for exercise RIMPAC - July 2014




departing Joint Base Pearl Harbor-Hickam, Hawaii for exercise RIMPAC - July 2014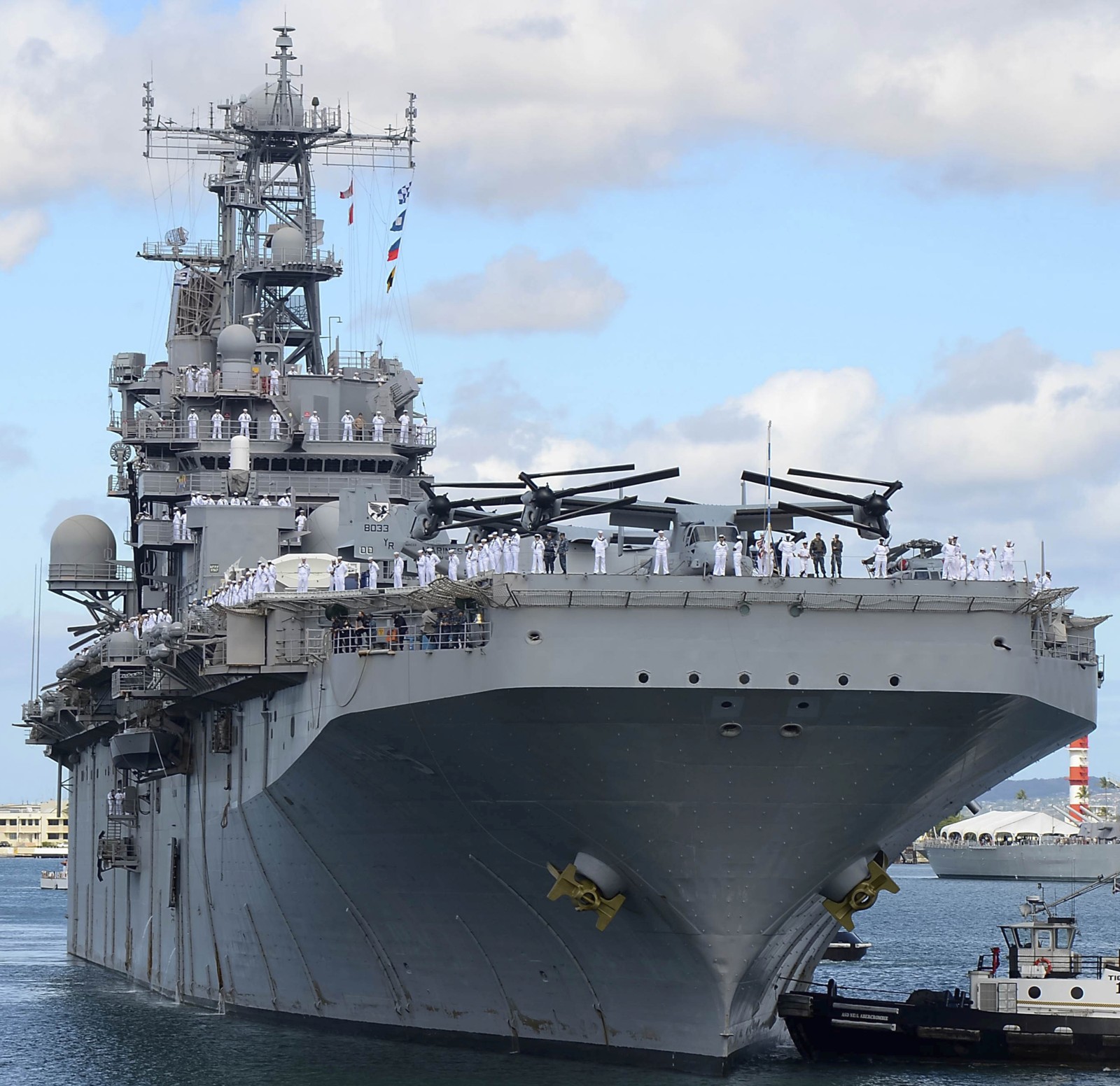 arriving at Joint Base Pearl Harbor-Hickam, Hawaii for exercise RIMPAC - June 27, 2014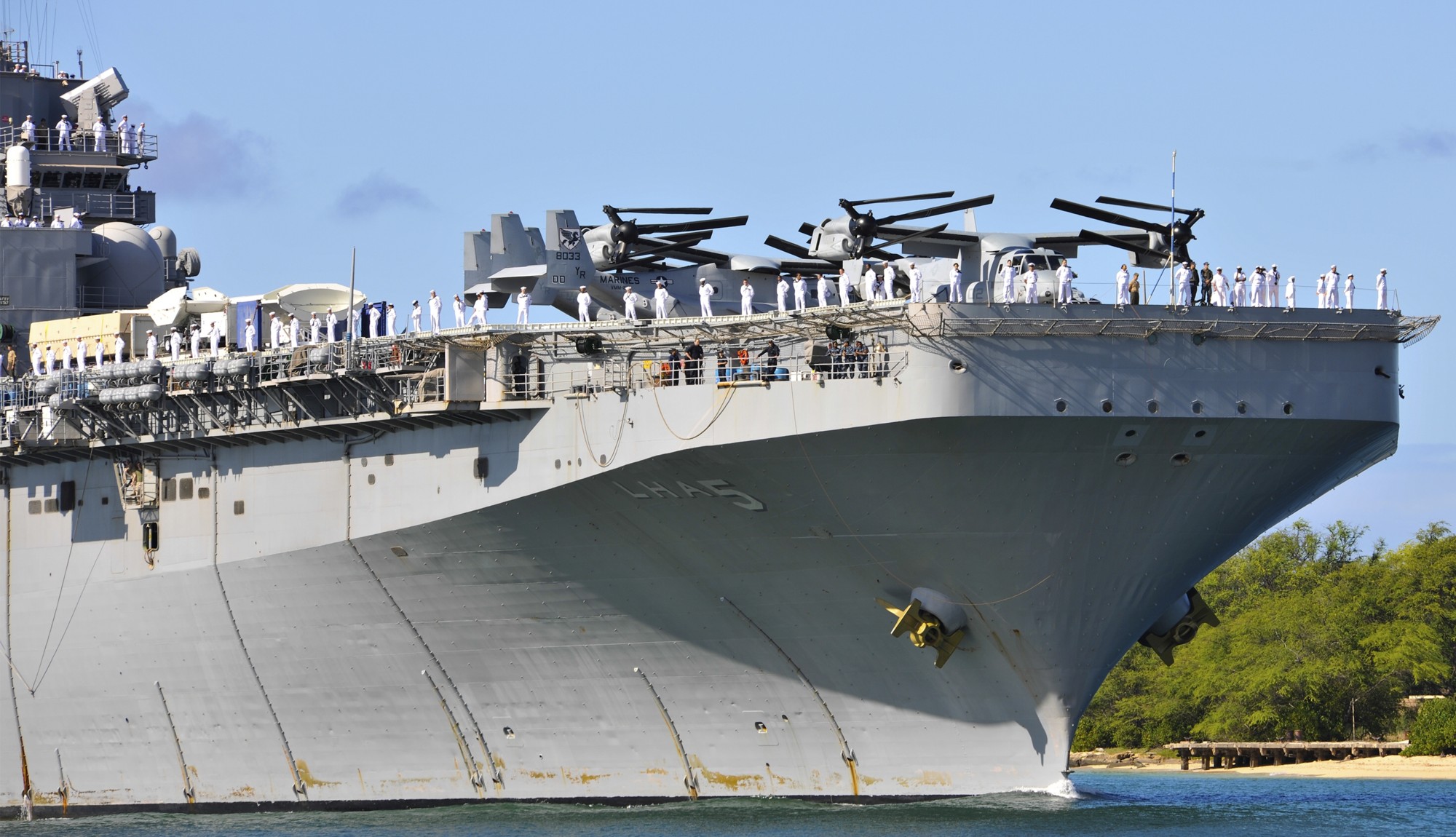 arriving at Joint Base Pearl Harbor-Hickam, Hawaii for exercise RIMPAC - June 27, 2014



arriving at Joint Base Pearl Harbor-Hickam, Hawaii for exercise RIMPAC - June 27, 2014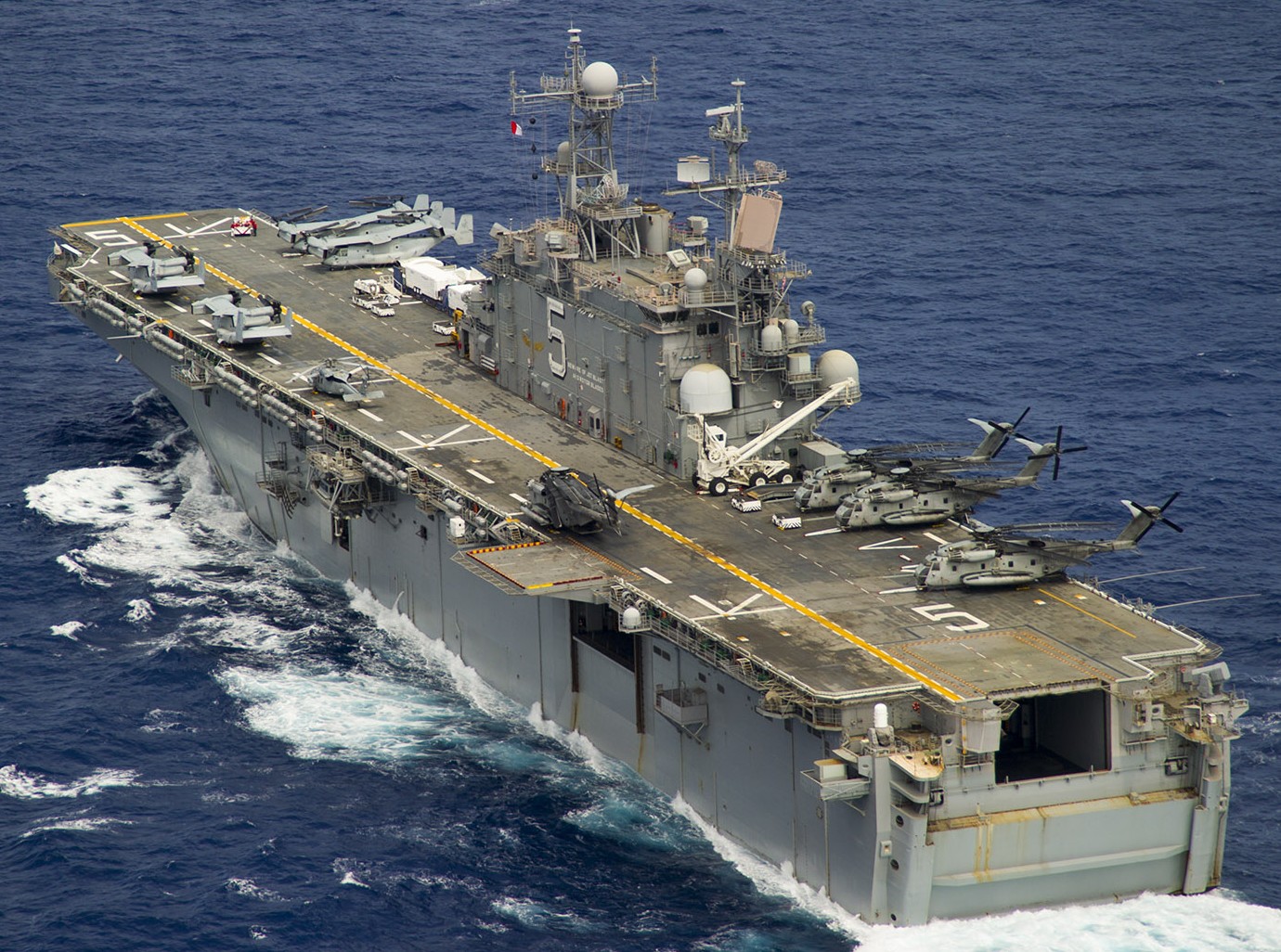 Pacific Ocean - June 2014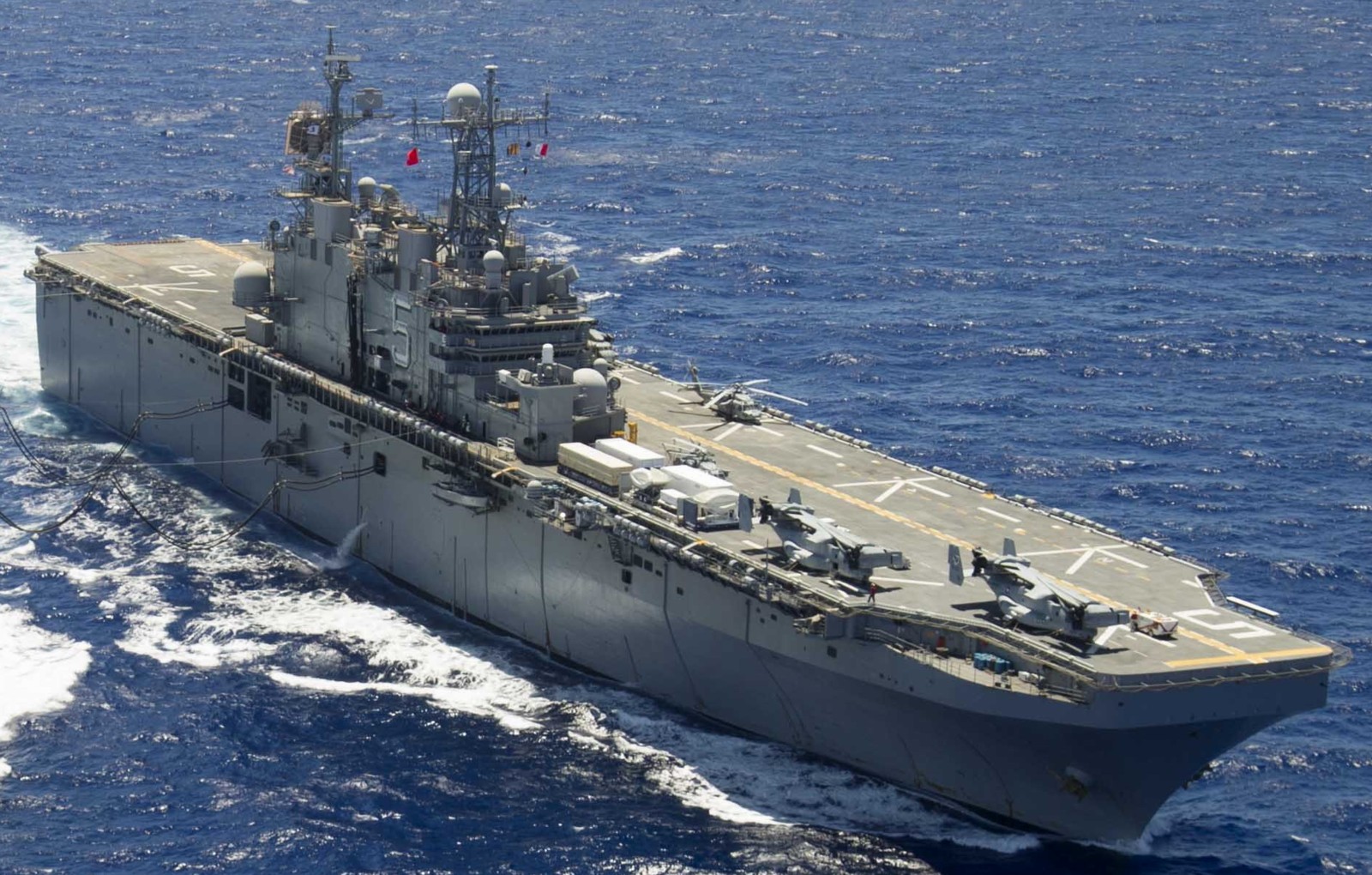 Pacific Ocean - June 2014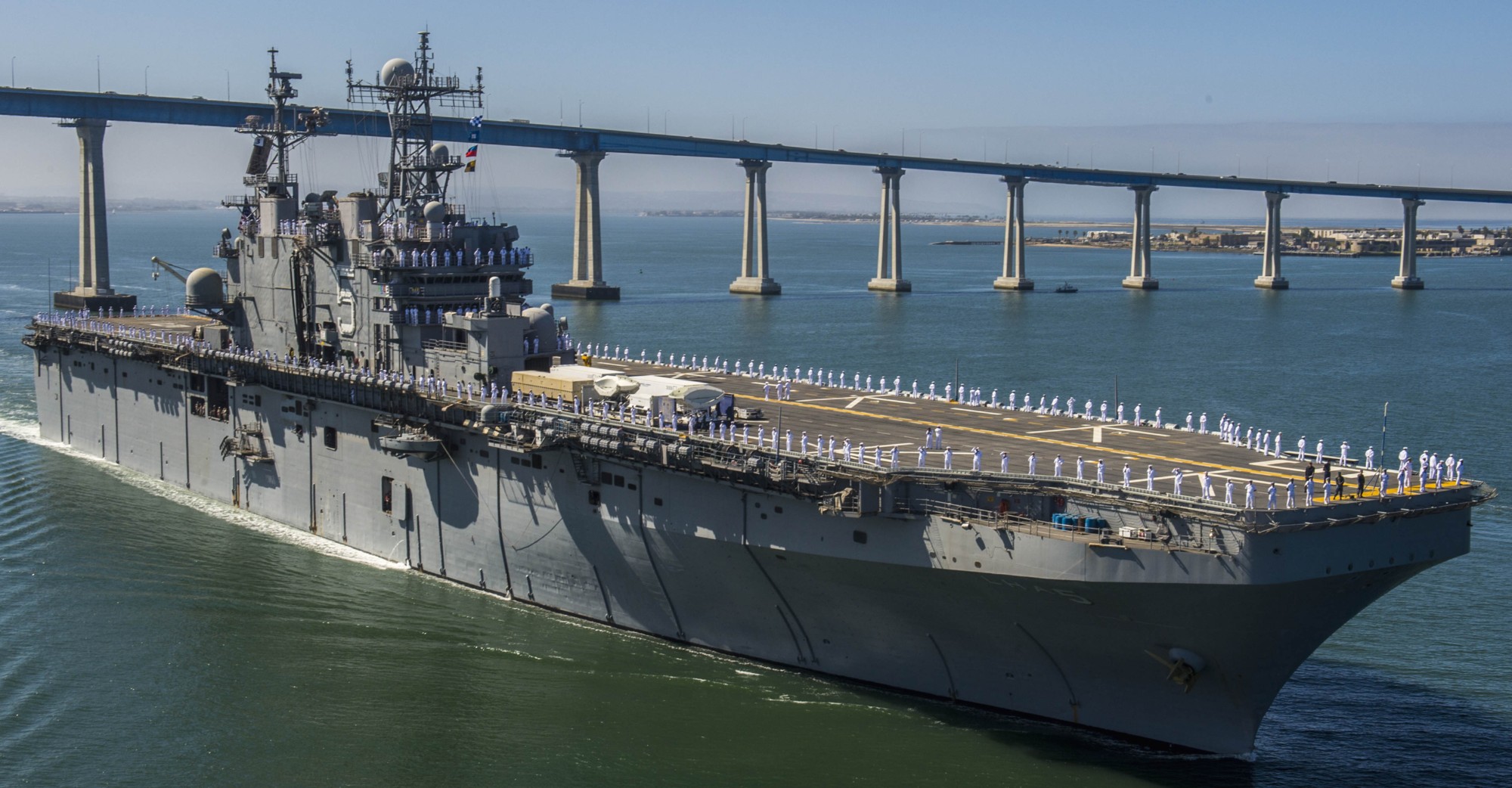 departing Naval Base San Diego for exercise RIMPAC - June 17, 2014



San Diego, California - May 2014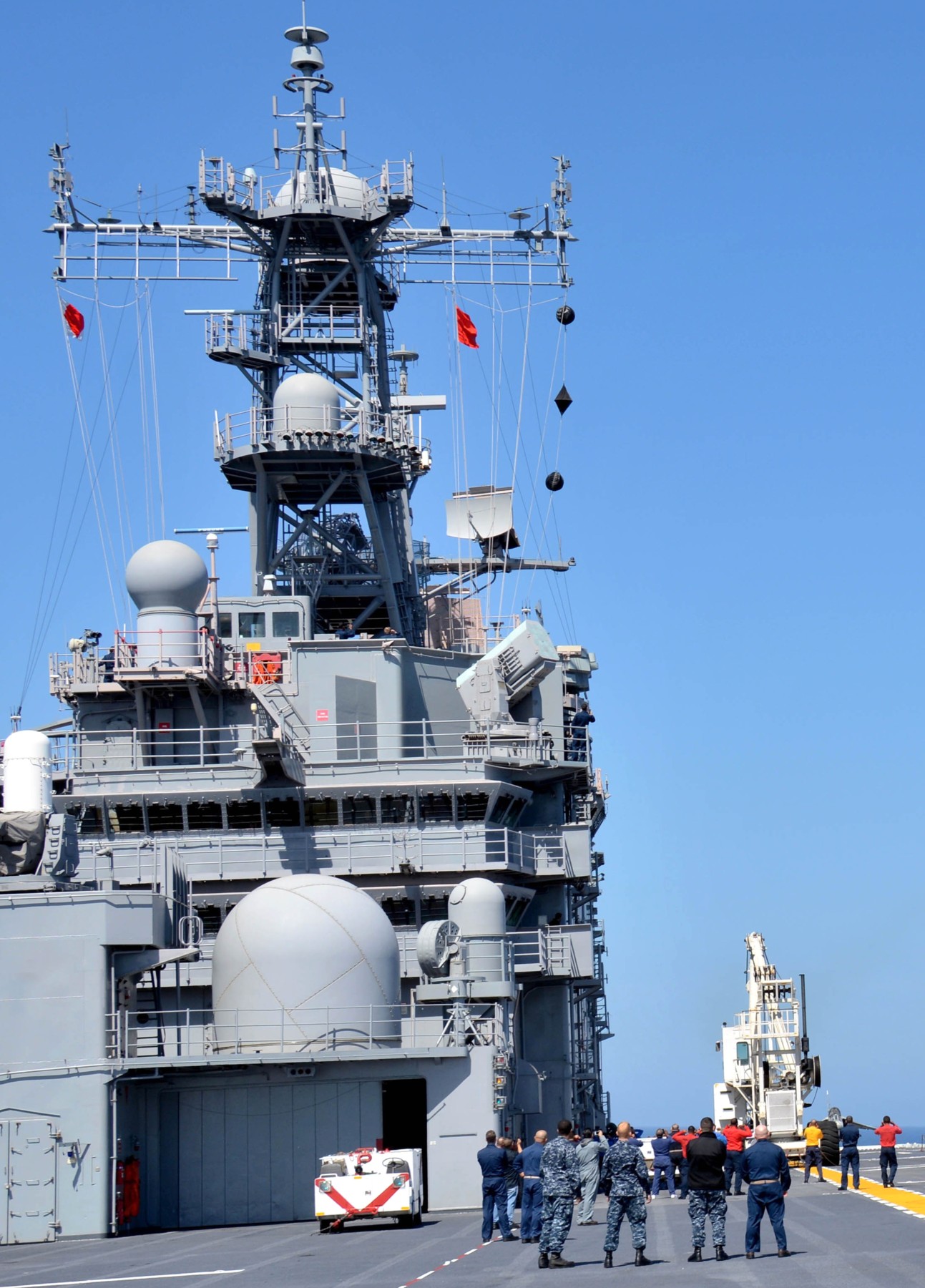 off San Diego, California - March 2014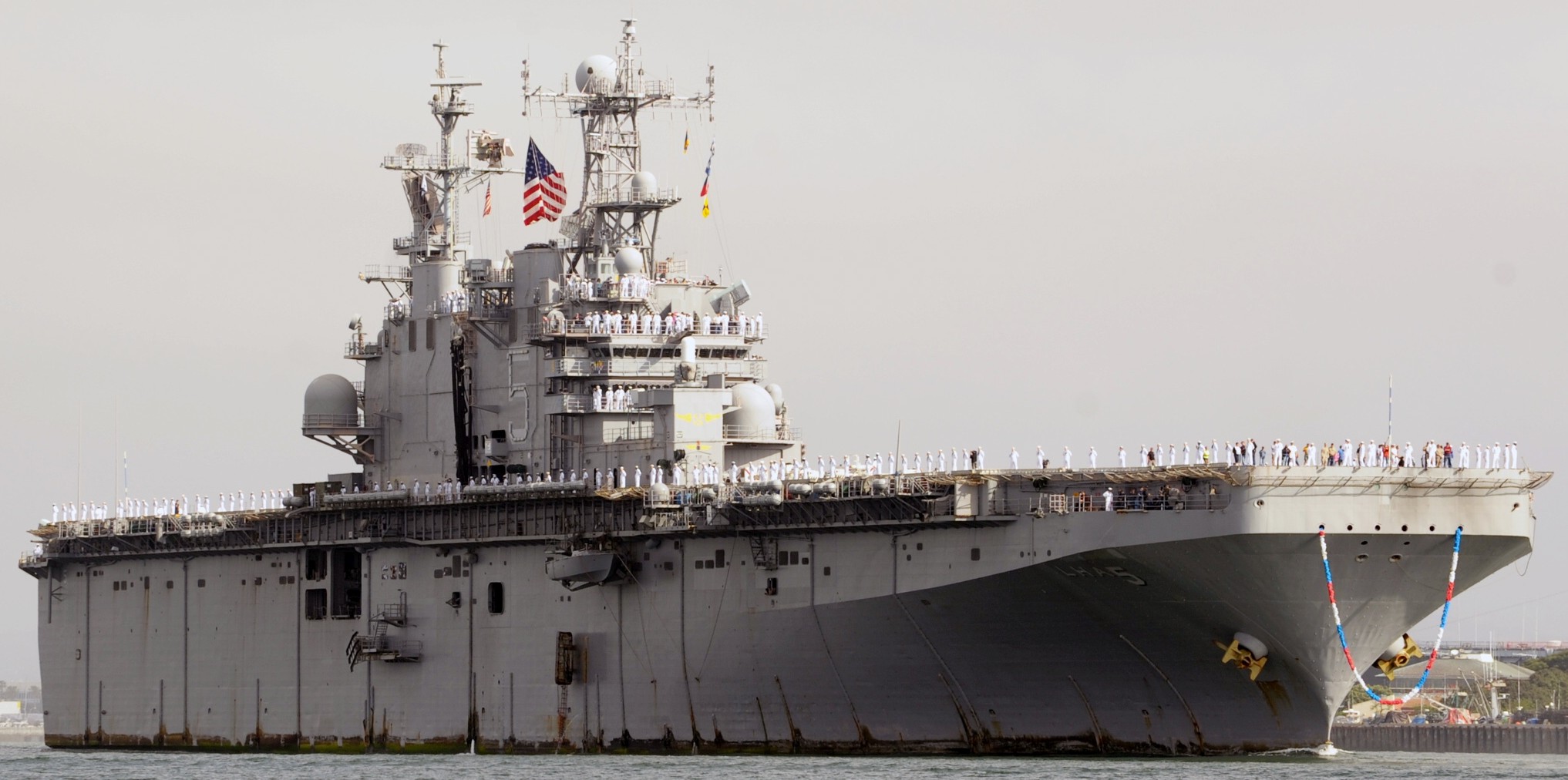 returning to Naval Base San Diego, California - May 14, 2013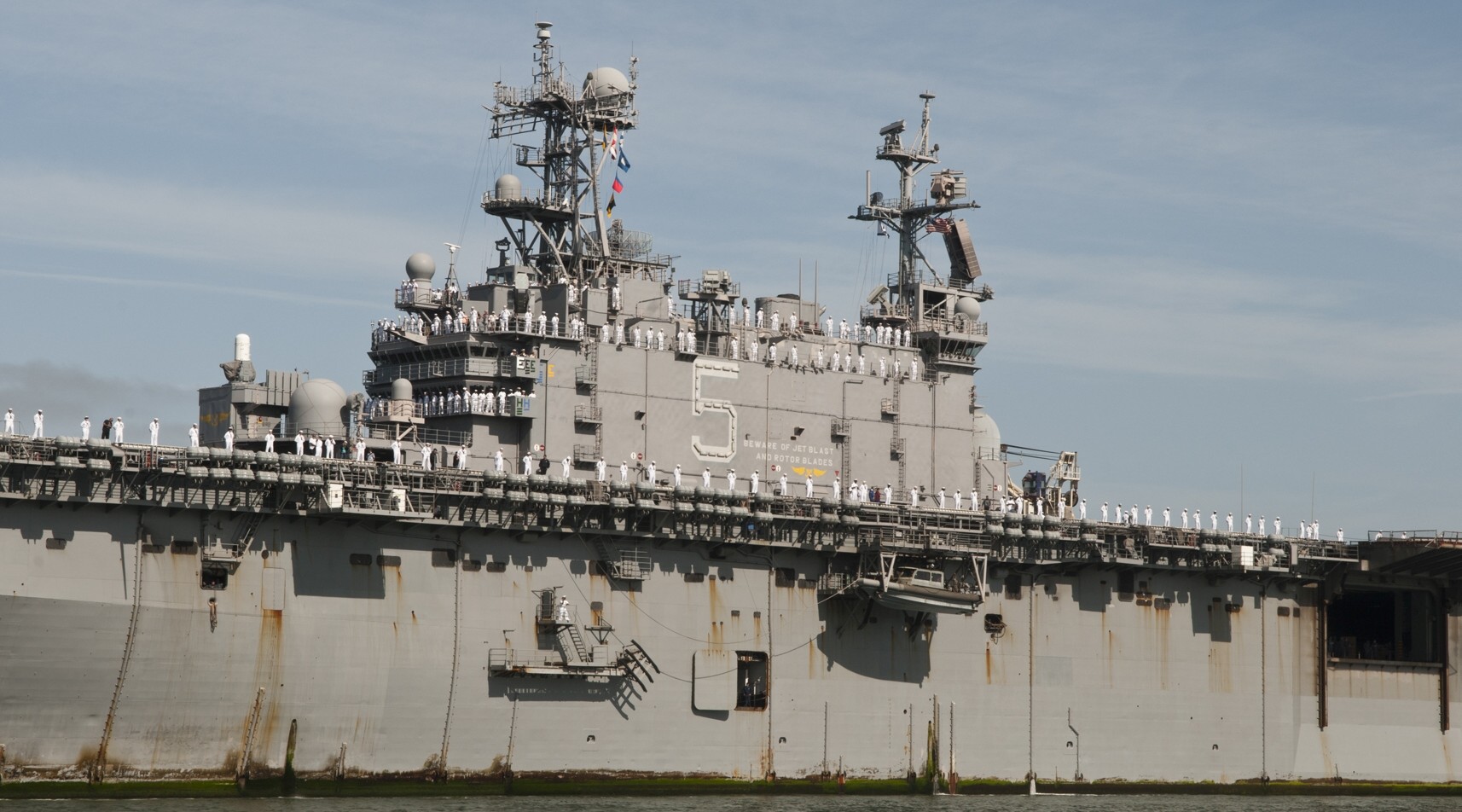 returning to Naval Base San Diego, California - May 14, 2013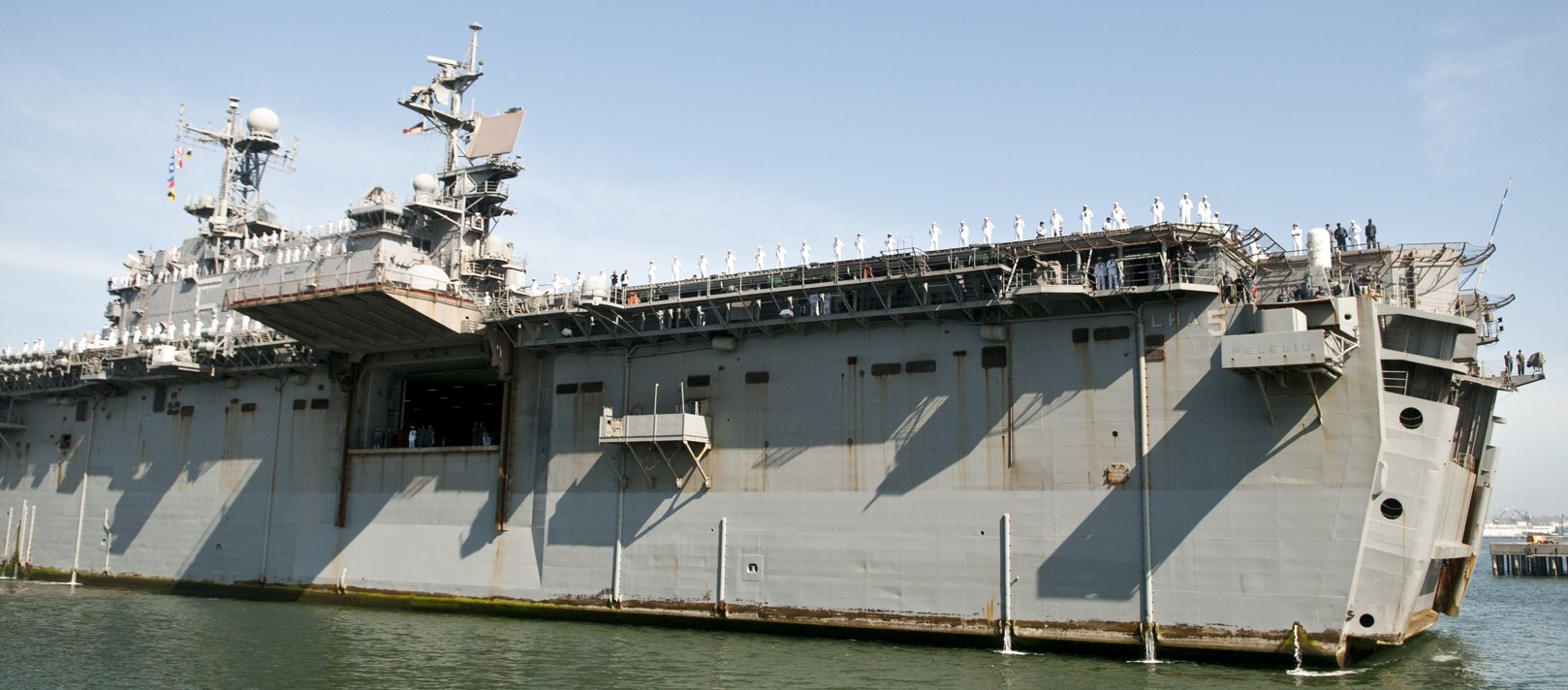 returning to Naval Base San Diego, California - May 14, 2013




with HMM-364(REIN) embarked - departing Pearl Harbor, Hawaii - May 2013




with HMM-364(REIN) embarked - Pacific Ocean - April 2013




with HMM-364(REIN) embarked - Pacific Ocean - April 2013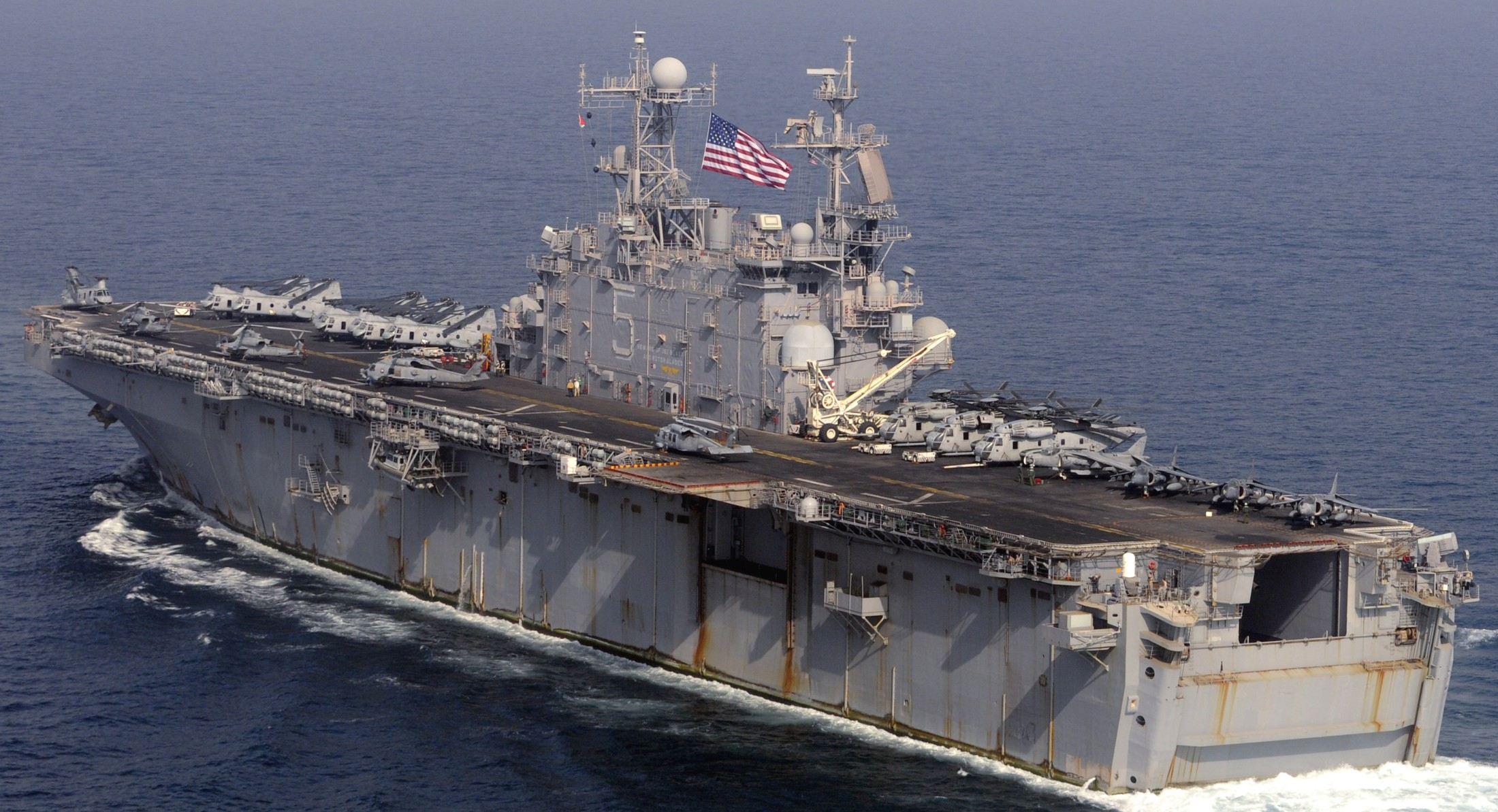 with HMM-364(REIN) embarked - Strait of Hormuz - March 2013




with HMM-364(REIN) embarked - Strait of Hormuz - March 2013




with HMM-364(REIN) embarked - Jebel Ali, UAE - March 2013




with HMM-364(REIN) embarked - 5th Fleet AOR - February 2013




with HMM-364(REIN) embarked - 5th Fleet AOR - February 2013



with HMM-364(REIN) embarked - Arabian Sea - January 2013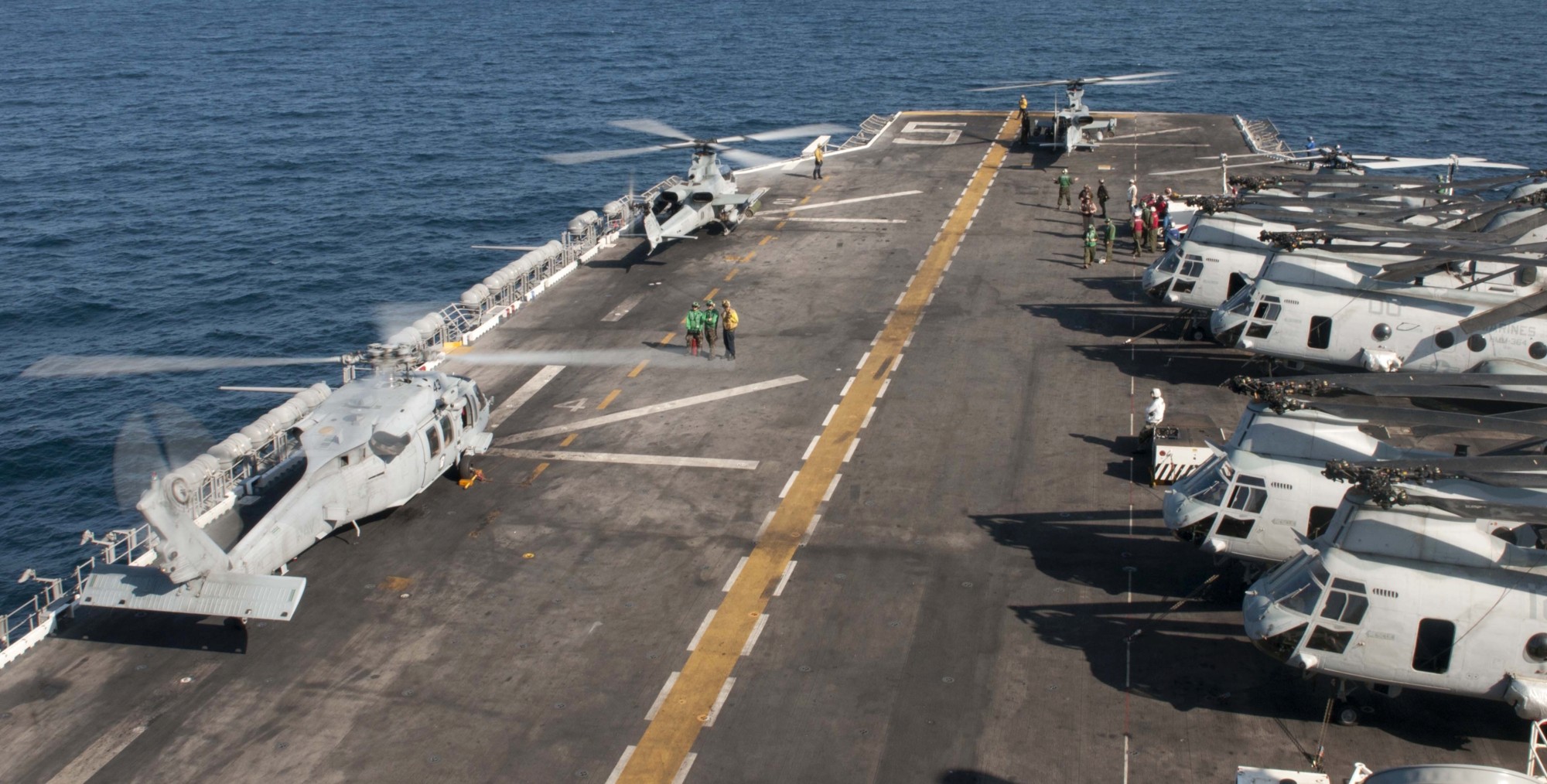 with HMM-364(REIN) embarked - Pacific Ocean - December 2012



underway replenishment - Pacific Ocean - December 2012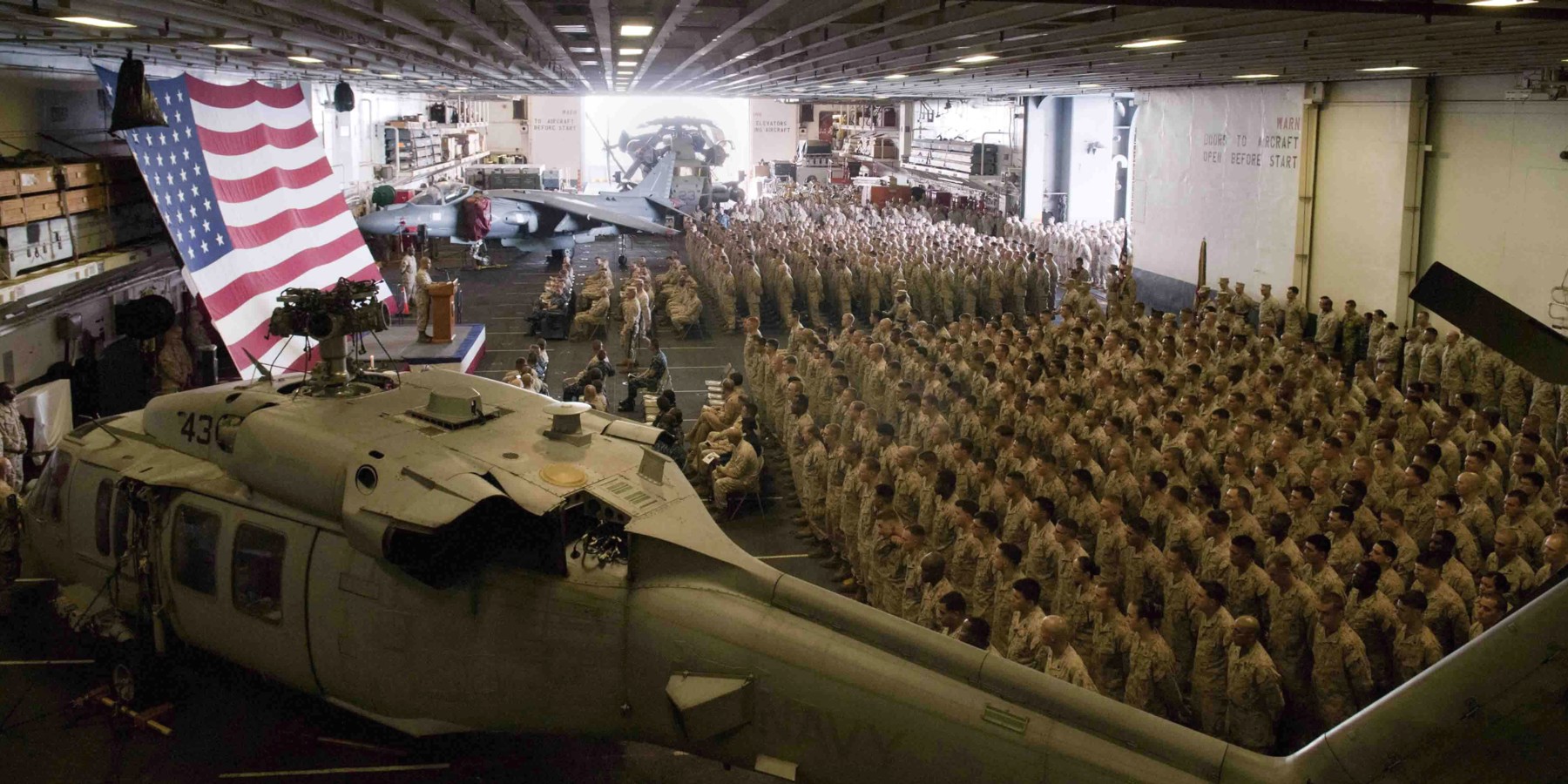 Marine Corps birthday celebrations - November 10, 2012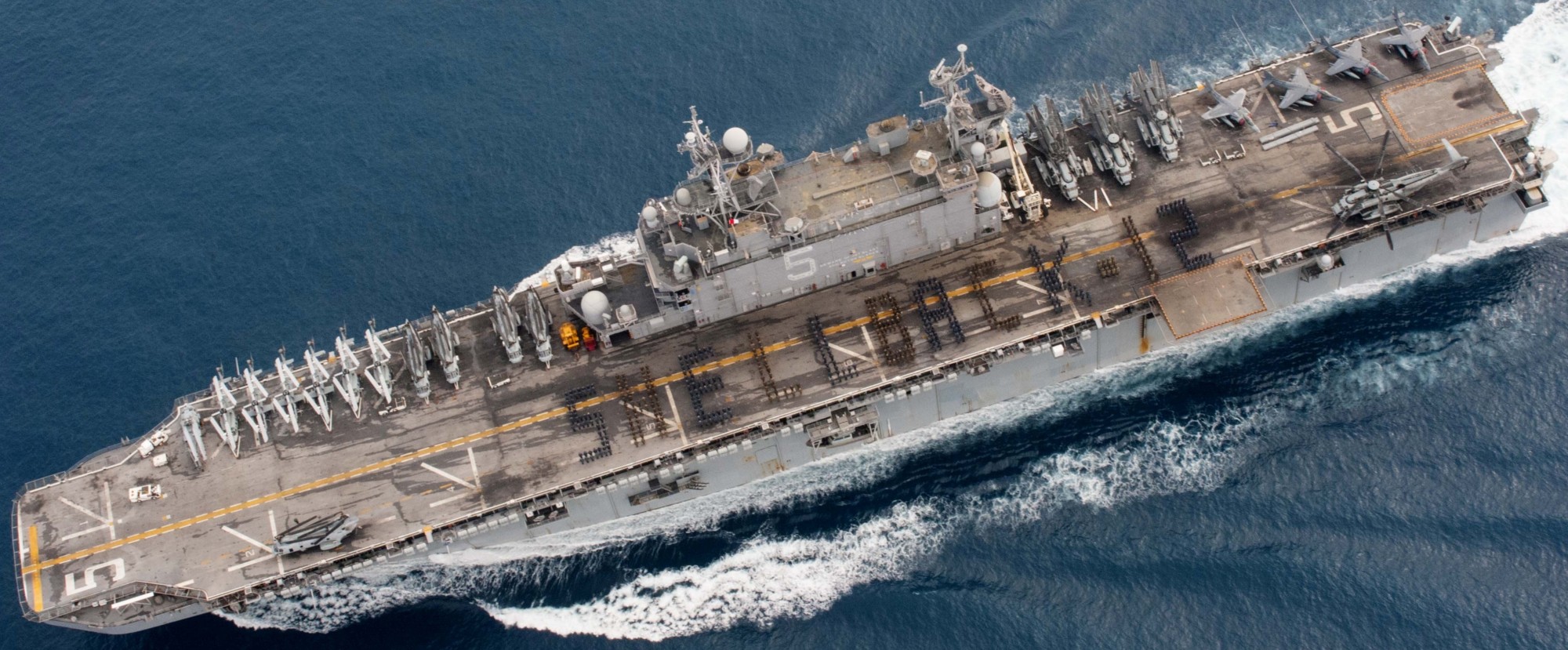 with HMM-364(REIN) embarked - Pacific Ocean - October 2012




with HMM-364(REIN) embarked - Pacific Ocean - October 2012



with HMM-364(REIN) embarked - Pacific Ocean - October 2012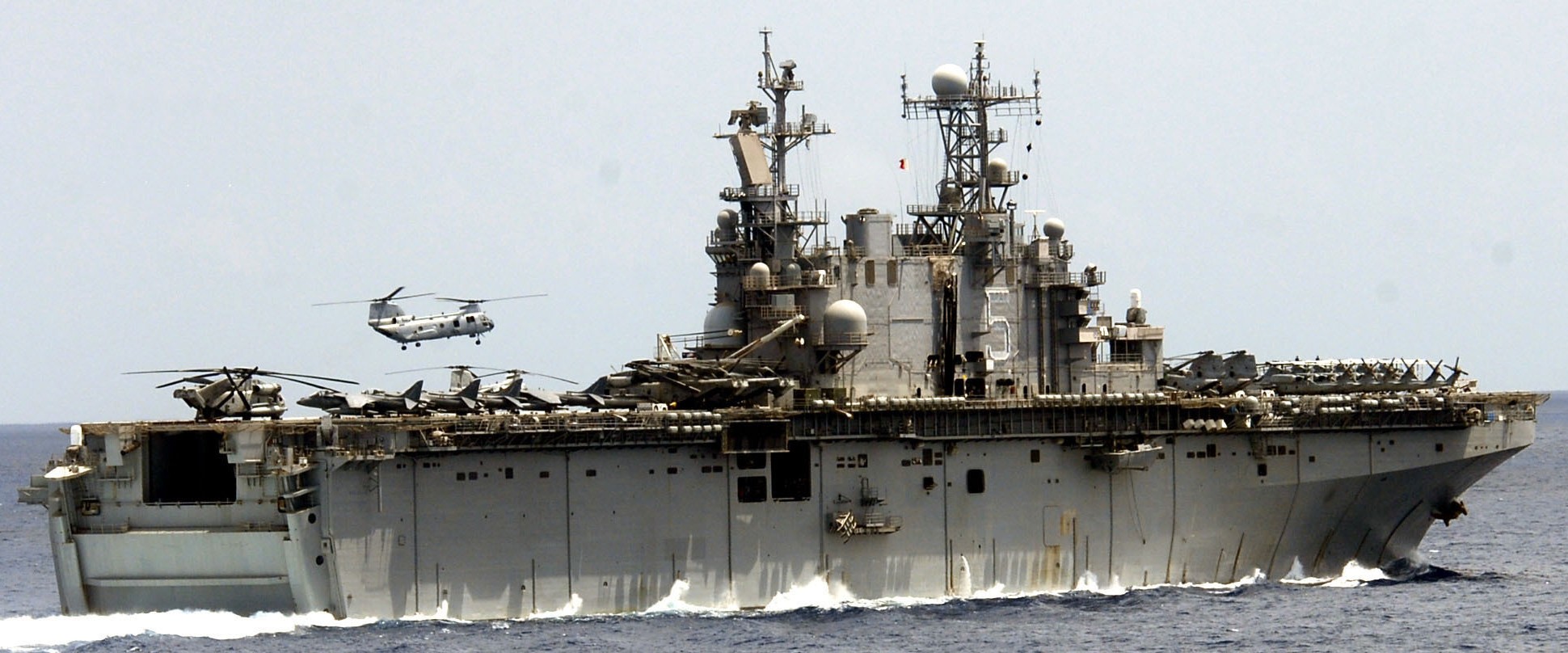 with HMM-364(REIN) embarked - Pacific Ocean - October 2012




with HMM-364(REIN) embarked - Pacific Ocean - September 2012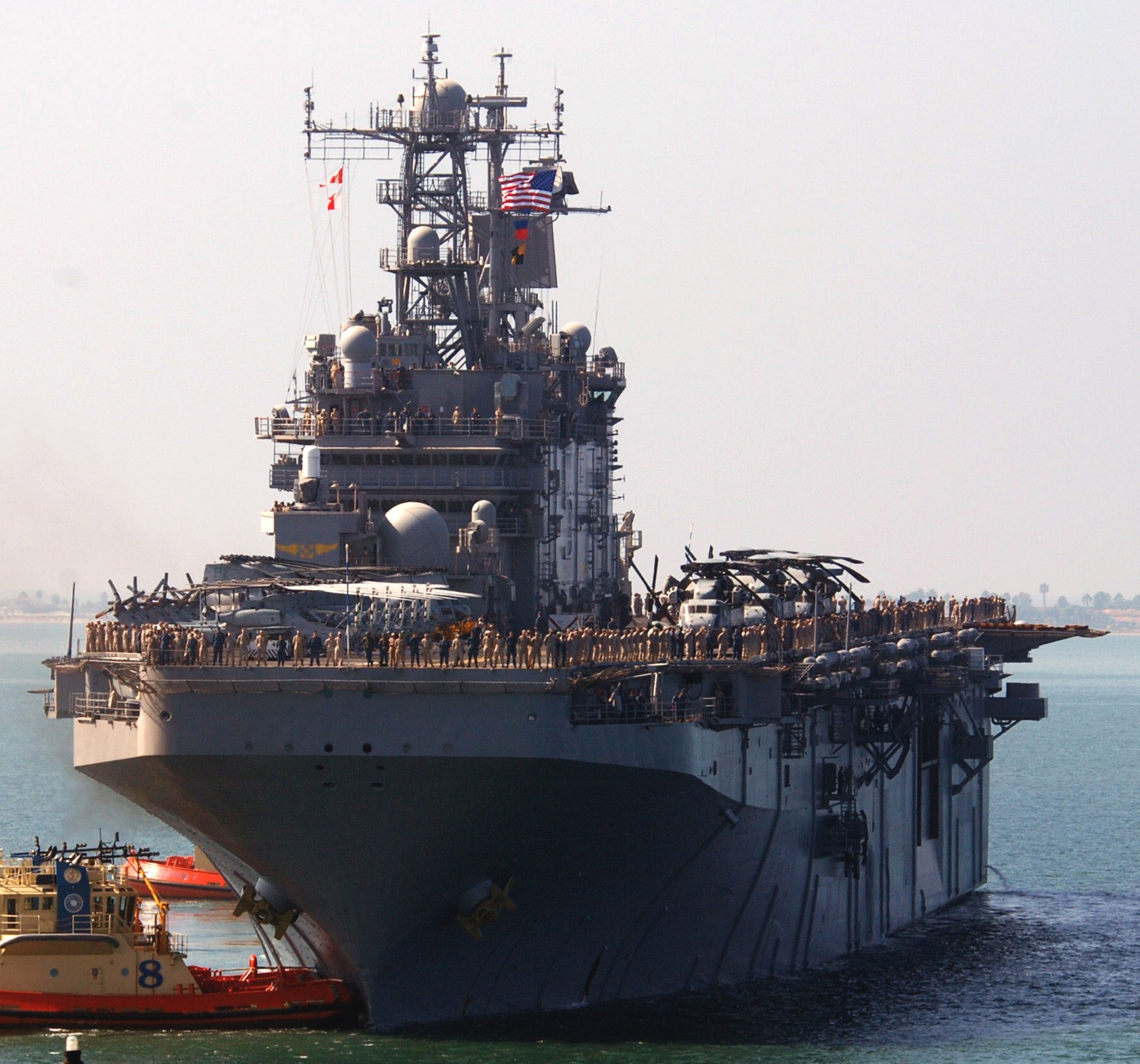 departing Naval Base San Diego, California - September 17, 2012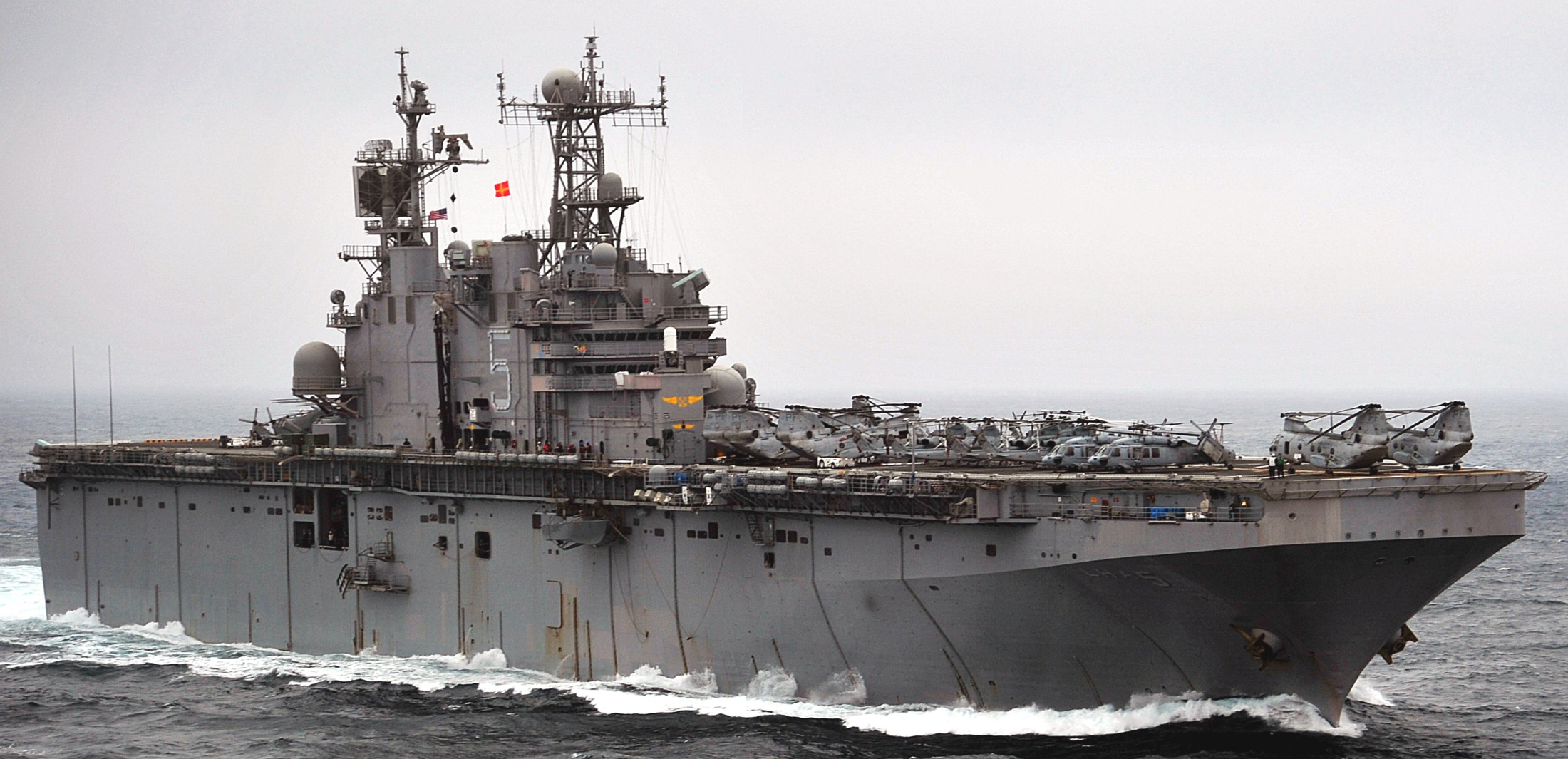 with HMM-364(REIN) embarked - COMPTUEX - Pacific Ocean - August 2012



with HMM-364(REIN) embarked - COMPTUEX - Pacific Ocean - August 2012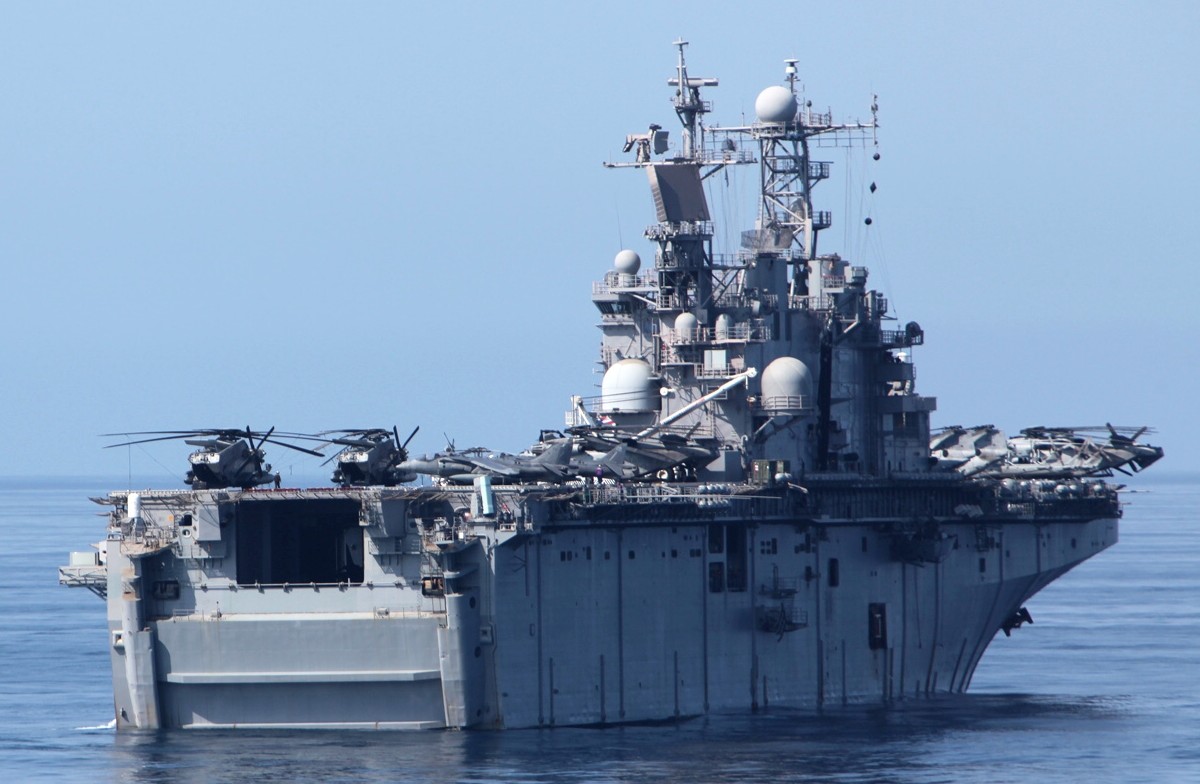 with HMM-364(REIN) embarked - COMPTUEX - Pacific Ocean - August 2012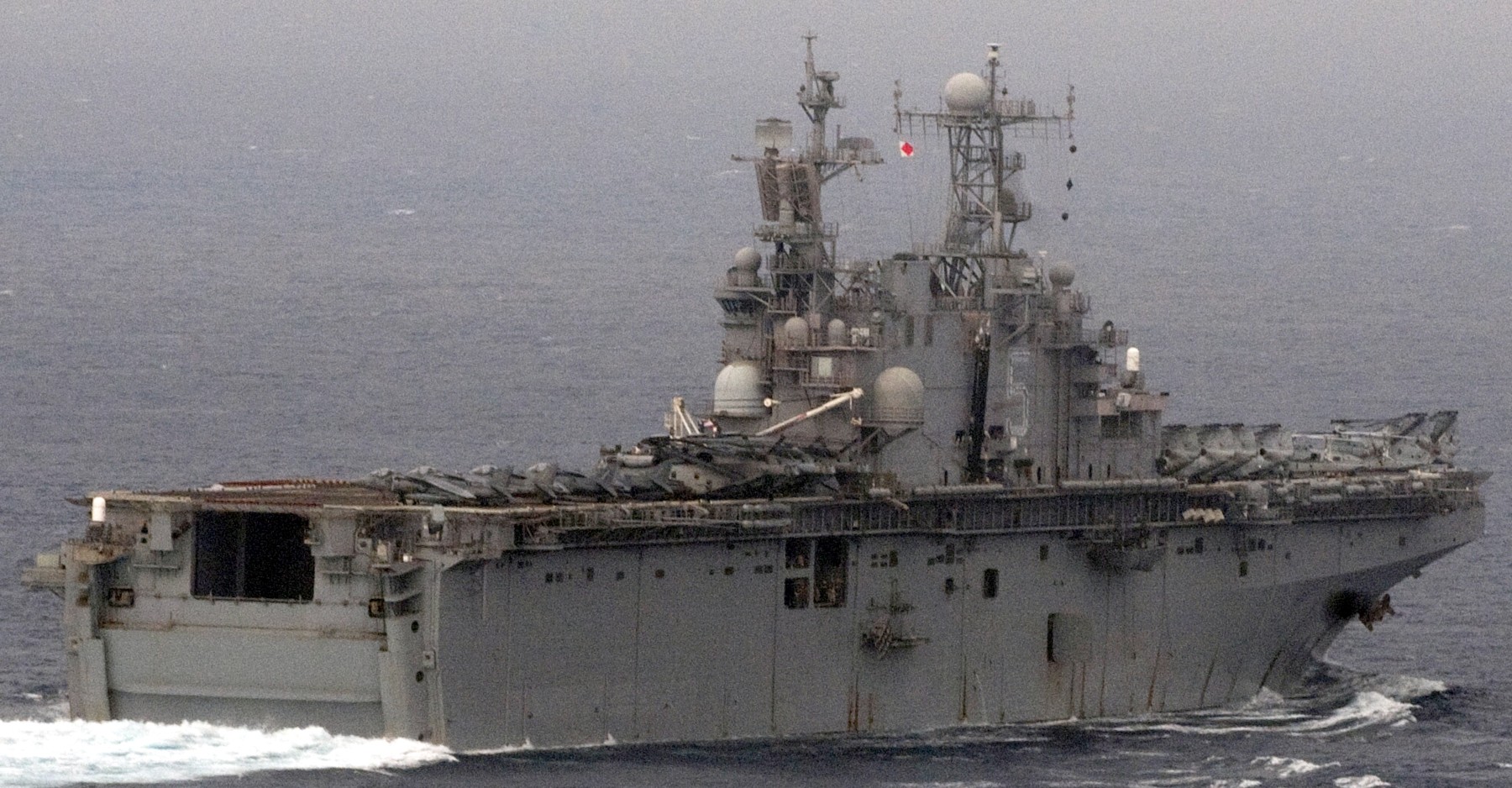 with HMM-364(REIN) embarked - COMPTUEX - Pacific Ocean - July 2012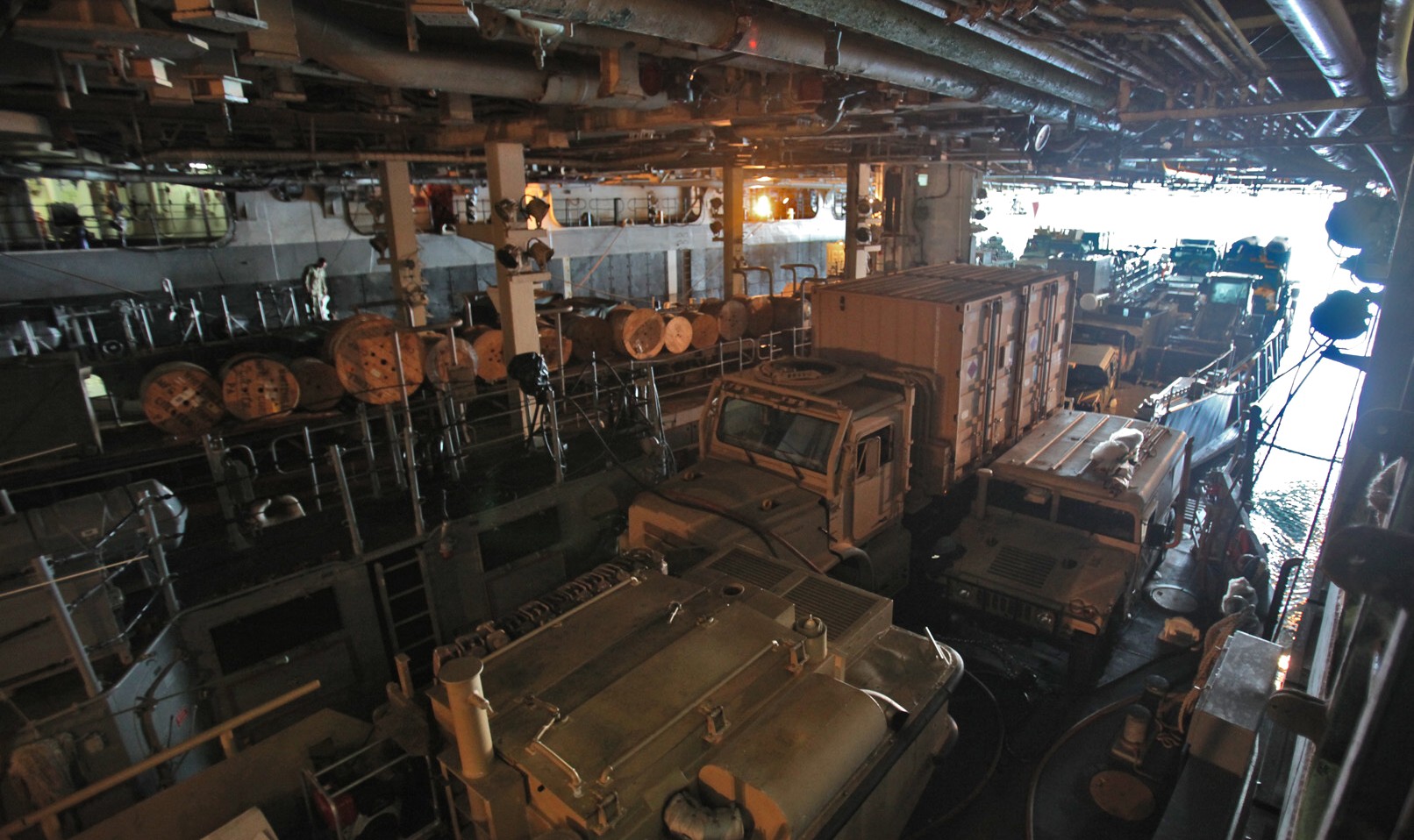 well deck operations - COMPTUEX - Pacific Ocean - July 2012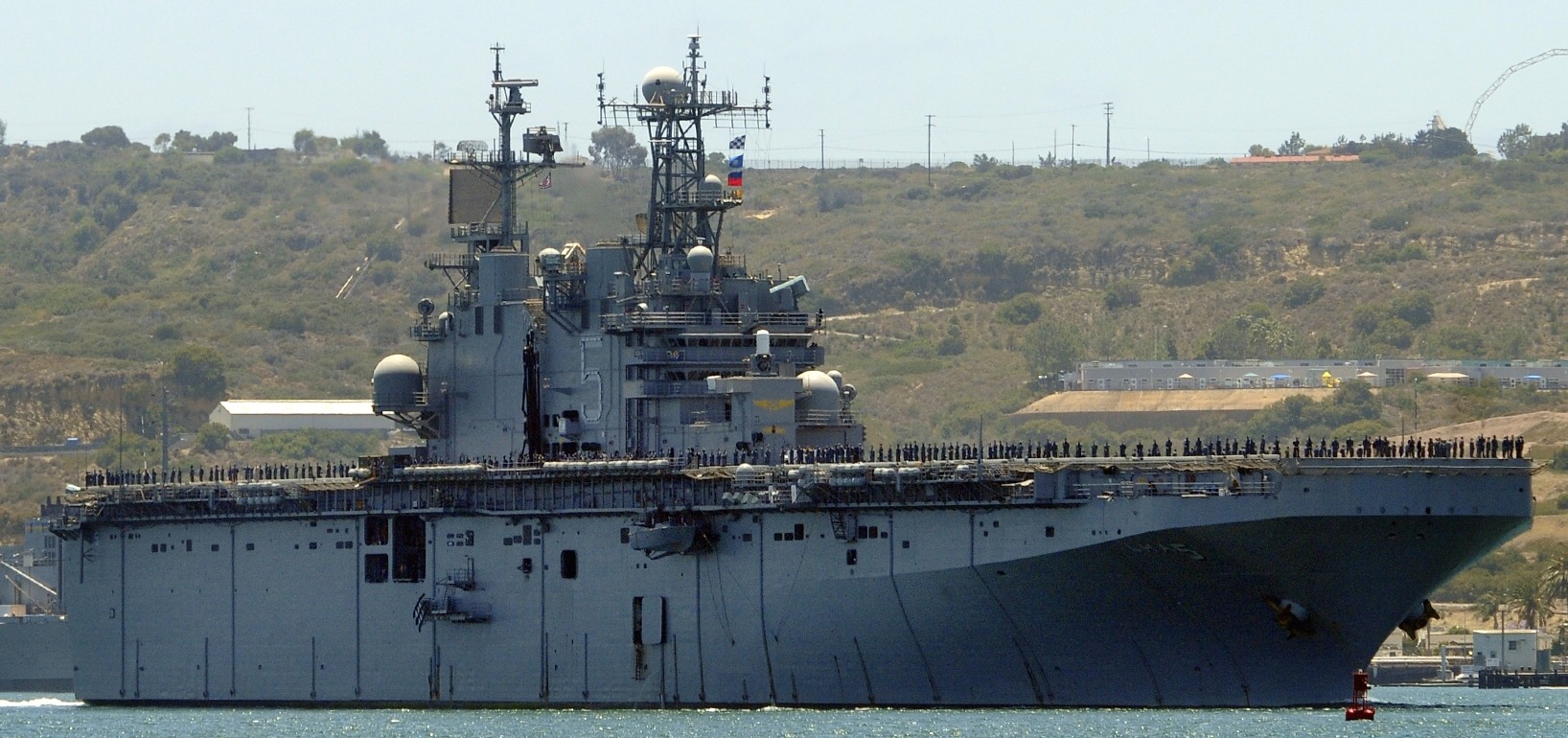 San Diego, California - June 2012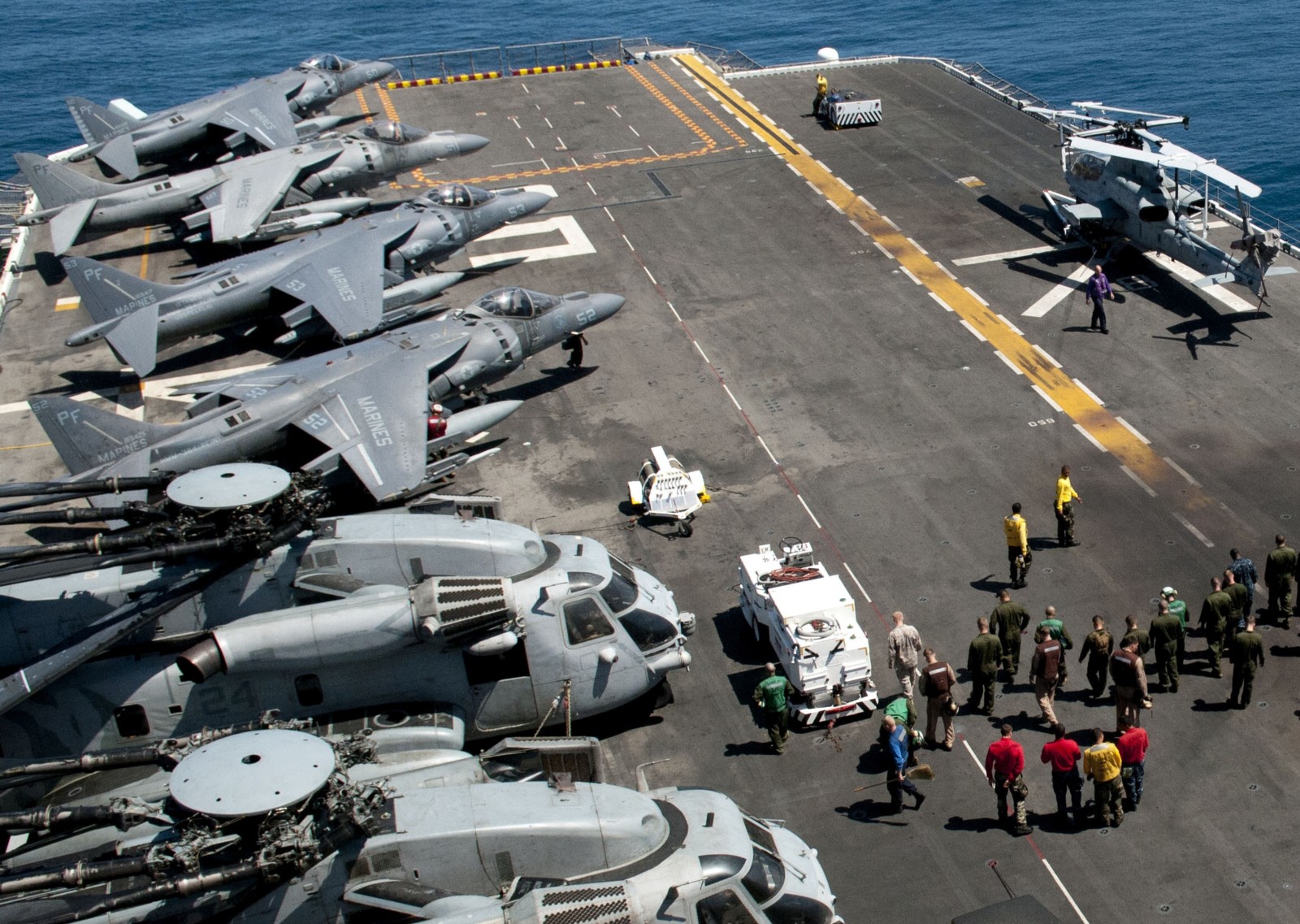 with HMM-364(REIN) embarked - Pacific Ocean - June 2012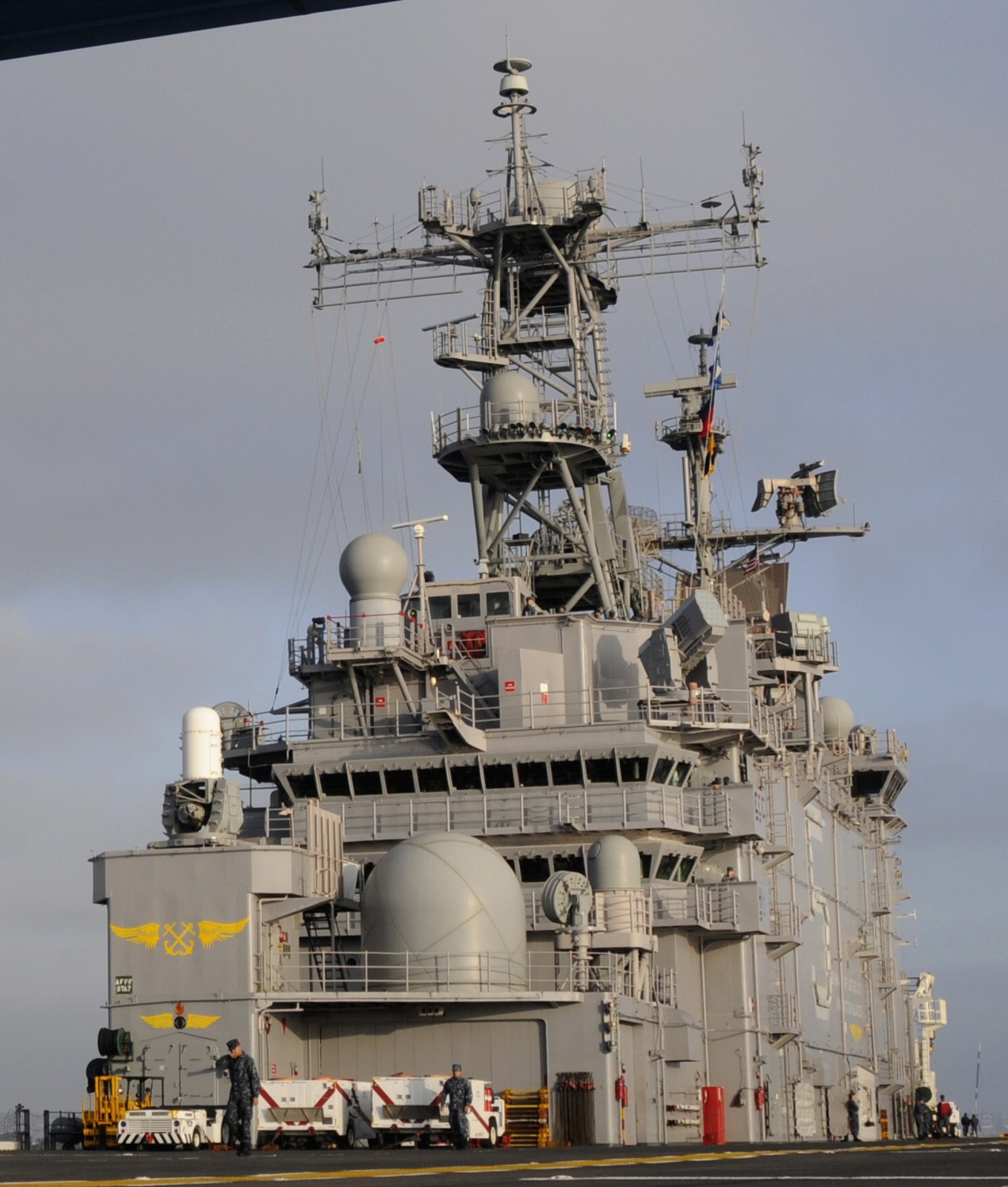 San Diego, California - May 2012




exercise Iron Fist - off California - February 2012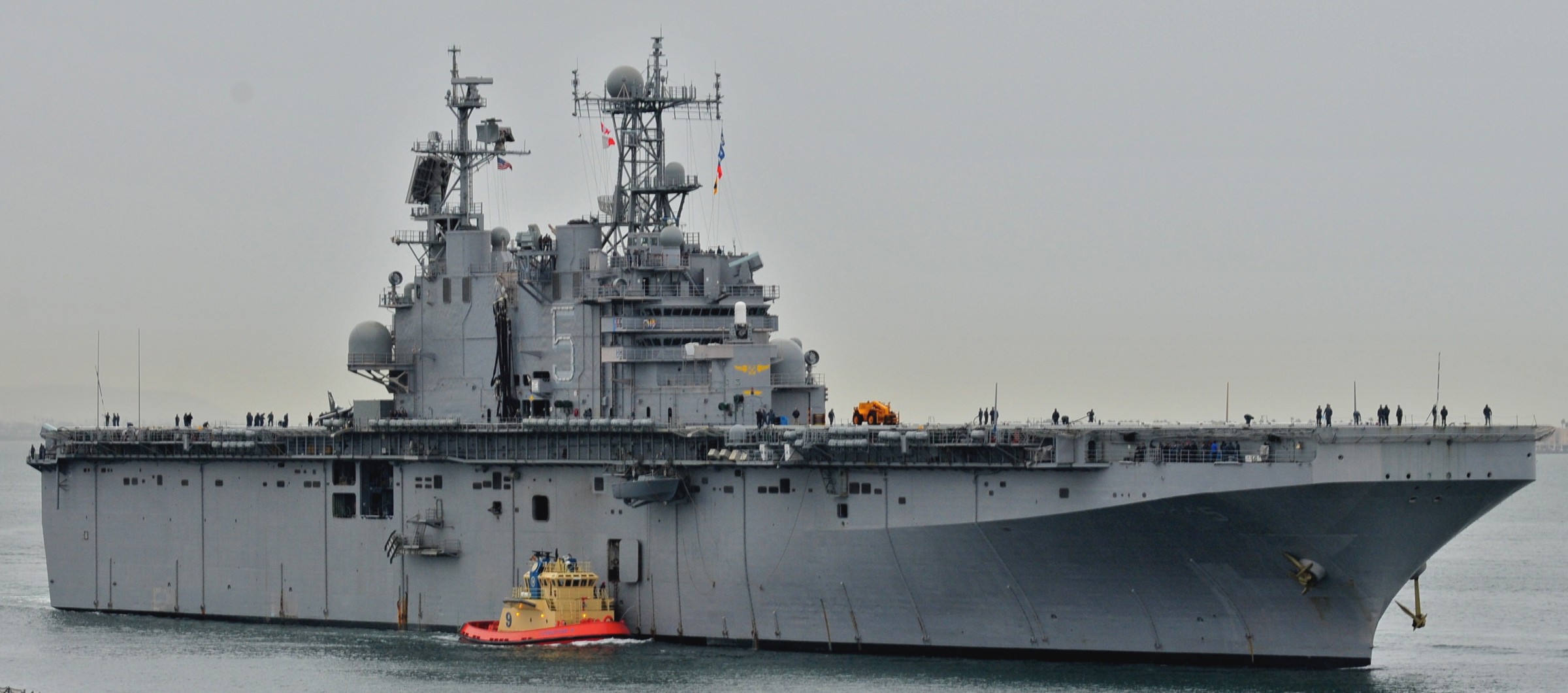 San Diego, California - December 2011




returning to Naval Base San Diego, California - December 18, 2010




returning to Naval Base San Diego, California - December 18, 2010




with HMM-165(REIN) embarked - Pacific Ocean - December 2010




with HMM-165(REIN) embarked - Arabian Sea - August 2010




with HMM-165(REIN) embarked - Arabian Sea - August 2010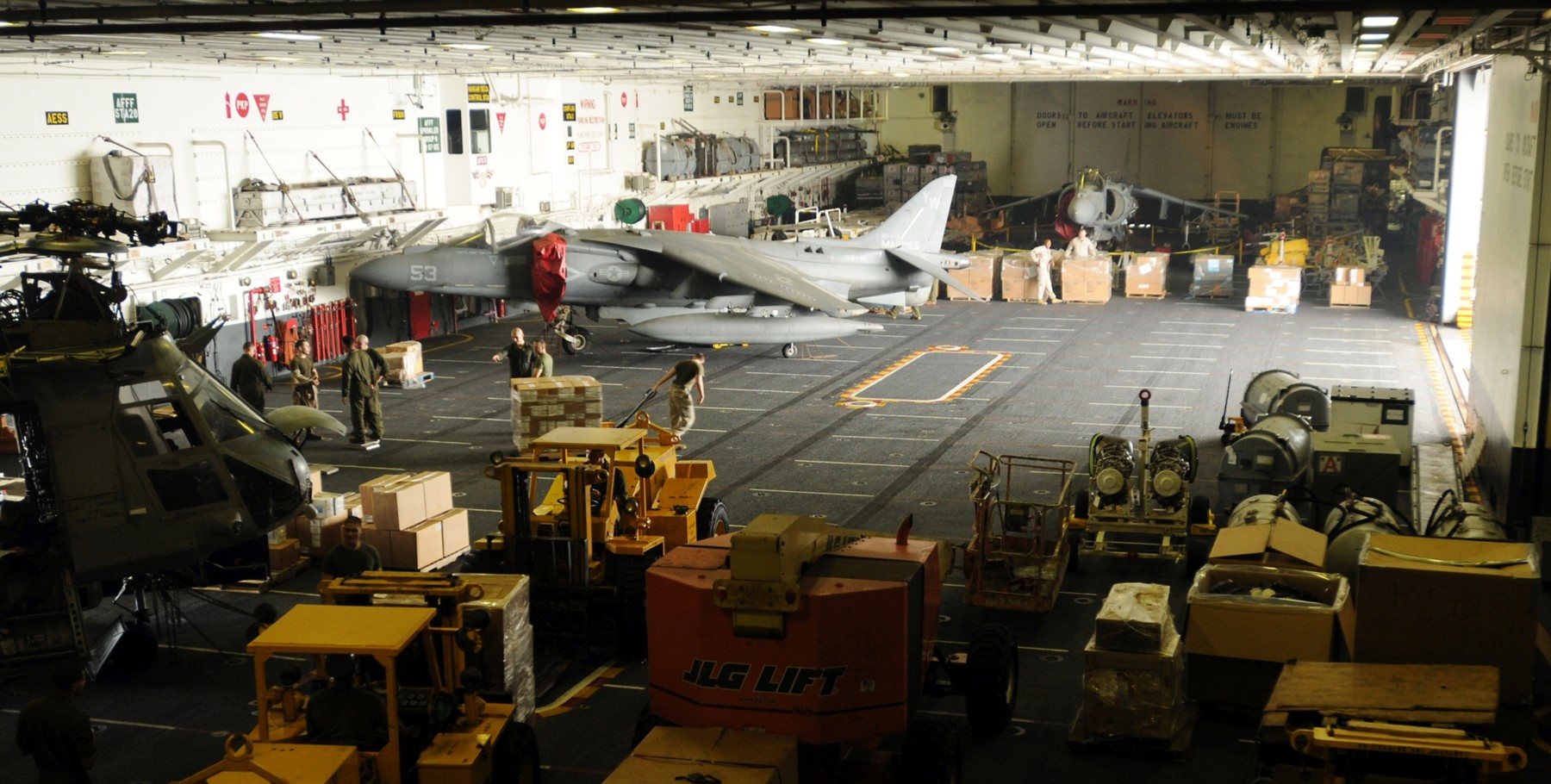 off Pakistan - August 2010



with HMM-165(REIN) embarked - Pacific Ocean - July 2010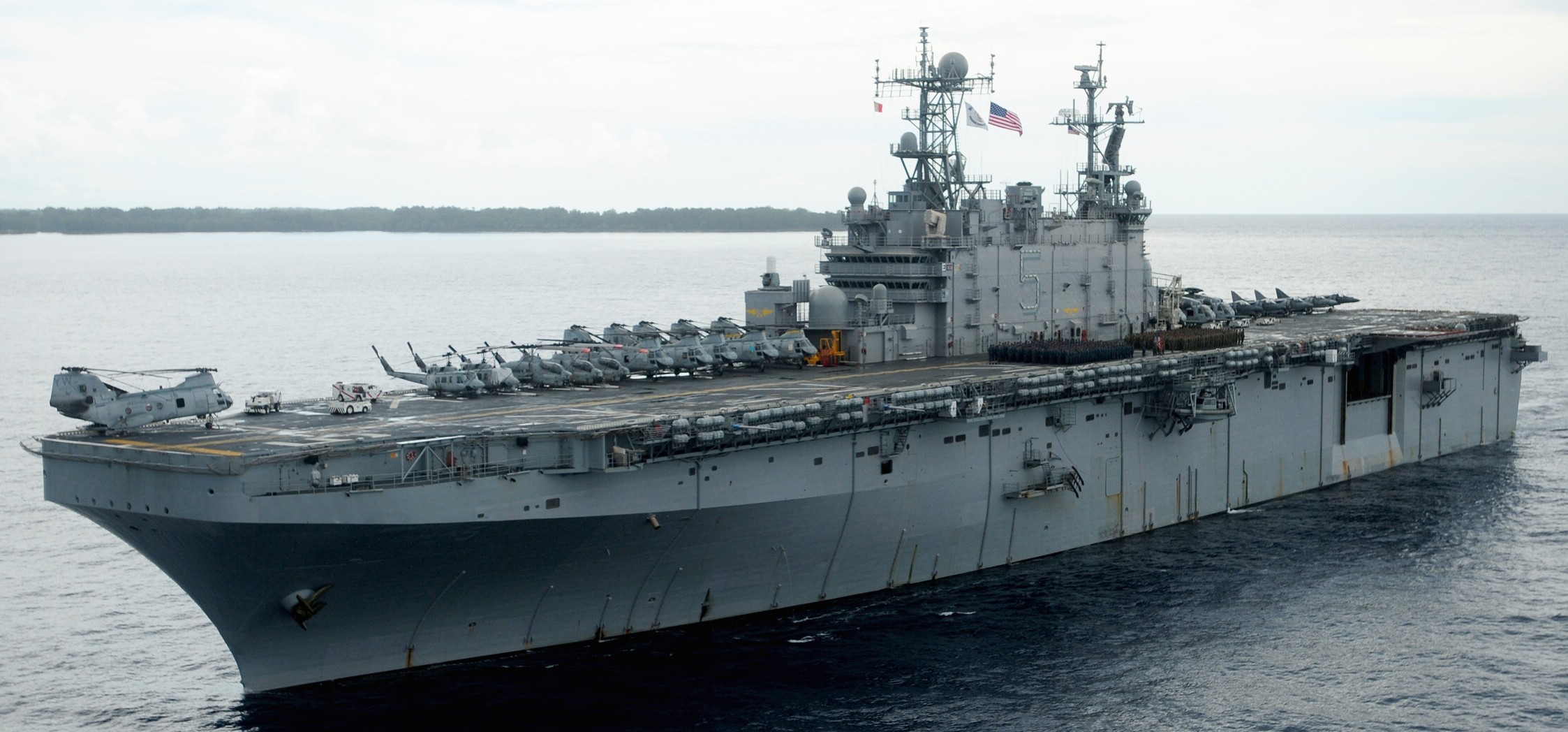 with HMM-165(REIN) embarked - off Peleliu Island - June 2010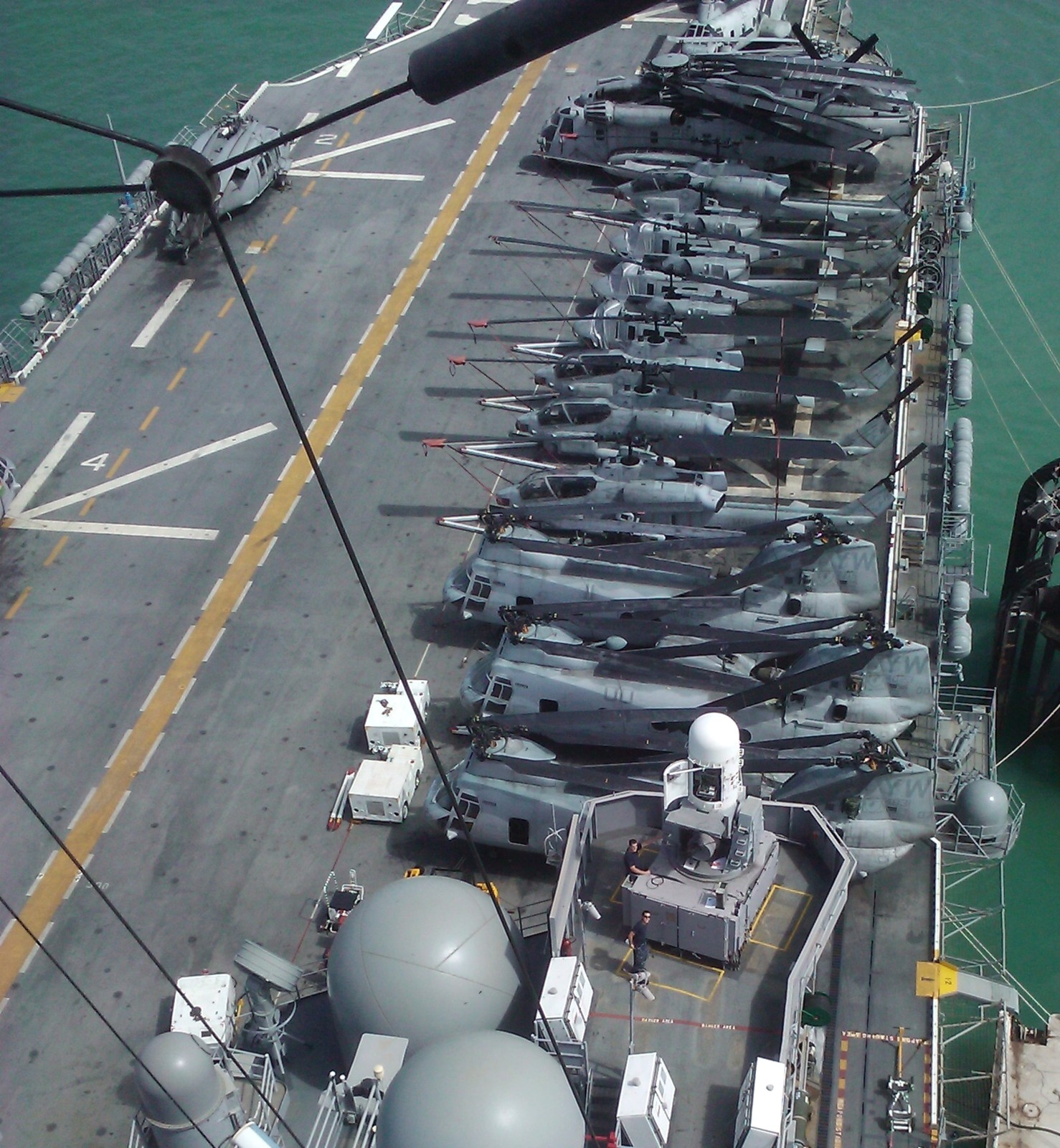 with HMM-165(REIN) embarked - Darwin, Australia - June 2010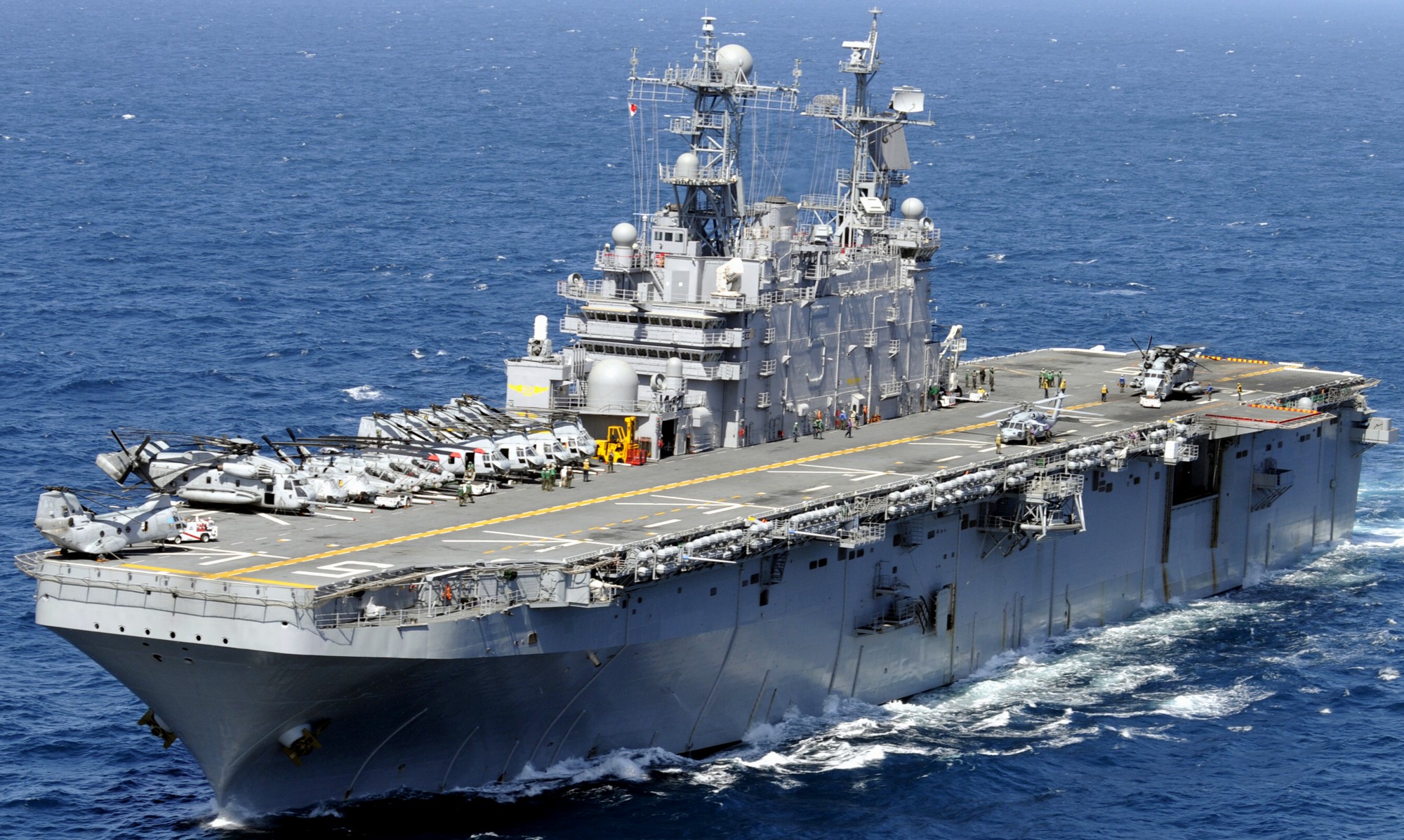 with HMM-165(REIN) embarked - Pacific Ocean - May 2010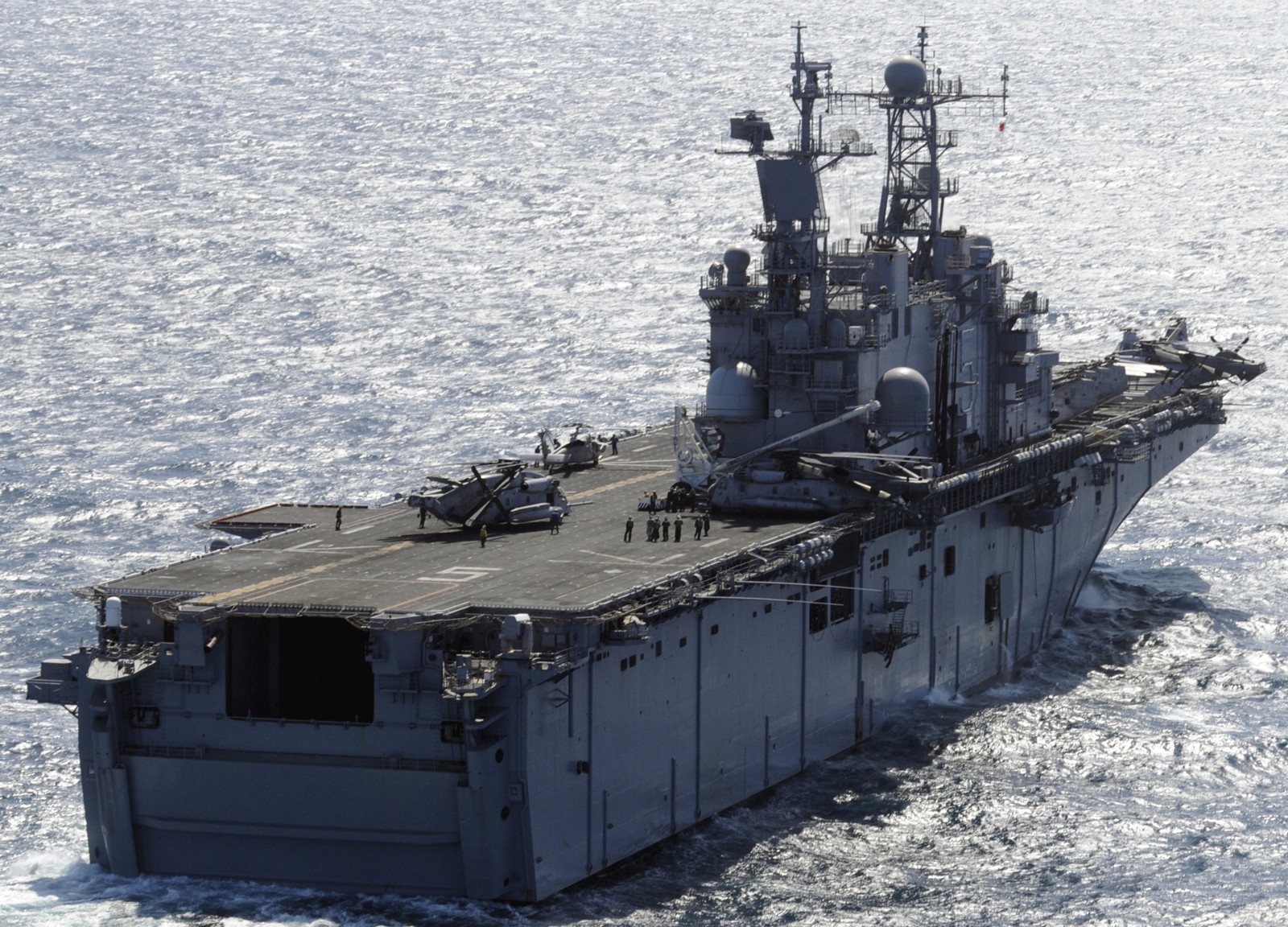 with HMM-165(REIN) embarked - Pacific Ocean - May 2010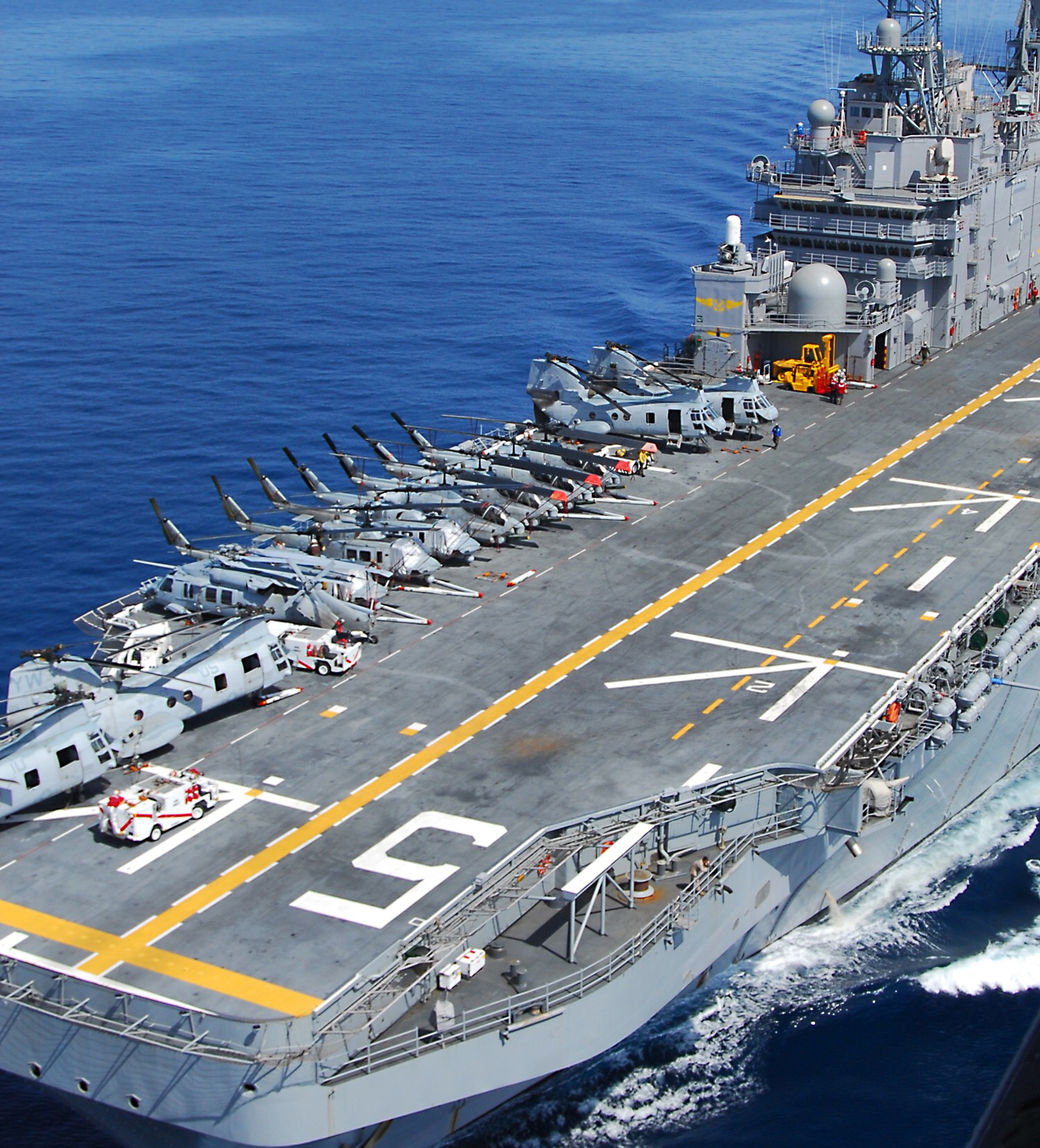 with HMM-165(REIN) embarked - COMPTUEX - Pacific Ocean - March 2010




with HMM-165(REIN) embarked - COMPTUEX - Pacific Ocean - March 2010



with HMM-165(REIN) embarked - COMPTUEX - Pacific Ocean - March 2010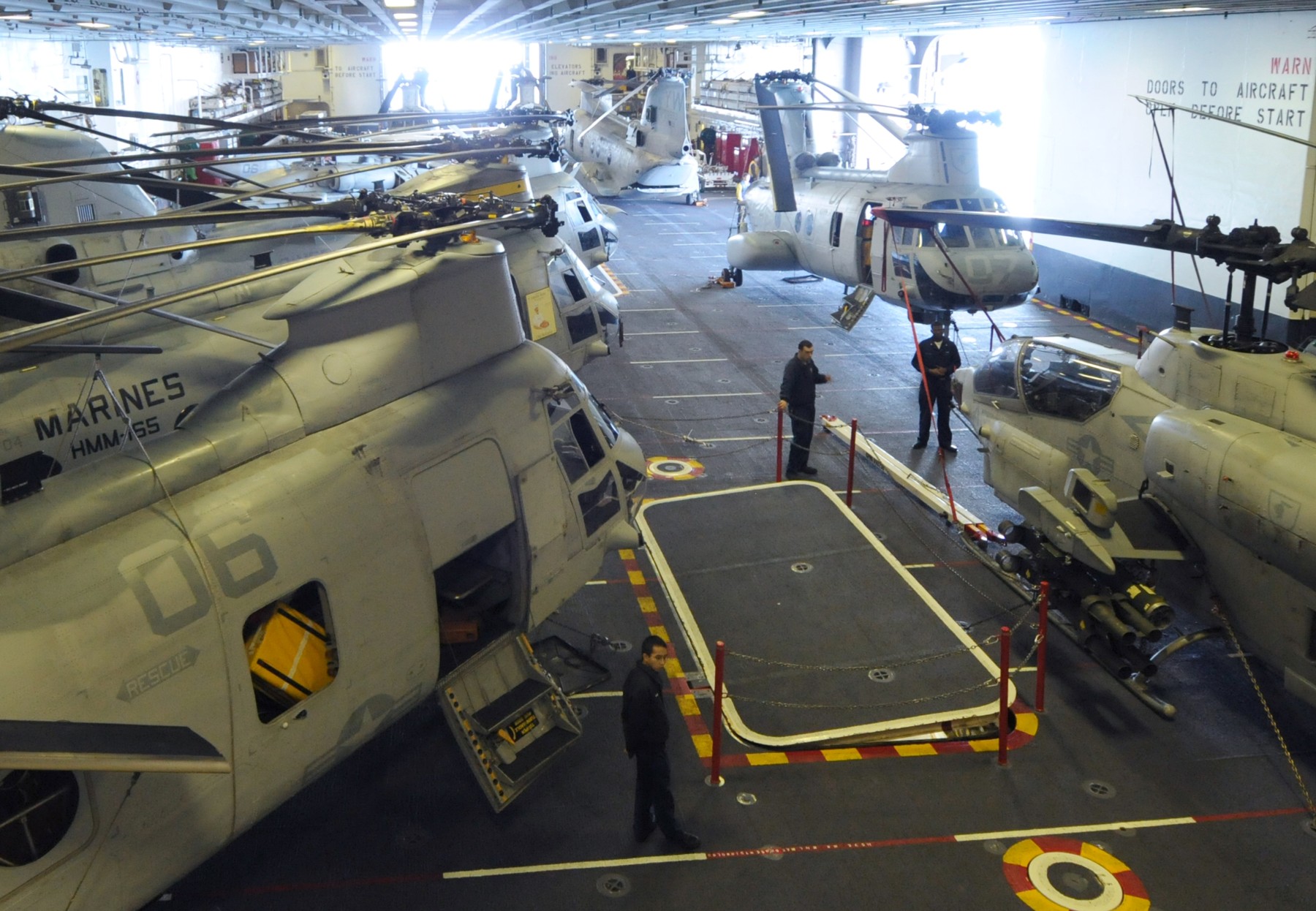 with HMM-165(REIN) embarked - Pacific Ocean - February 2010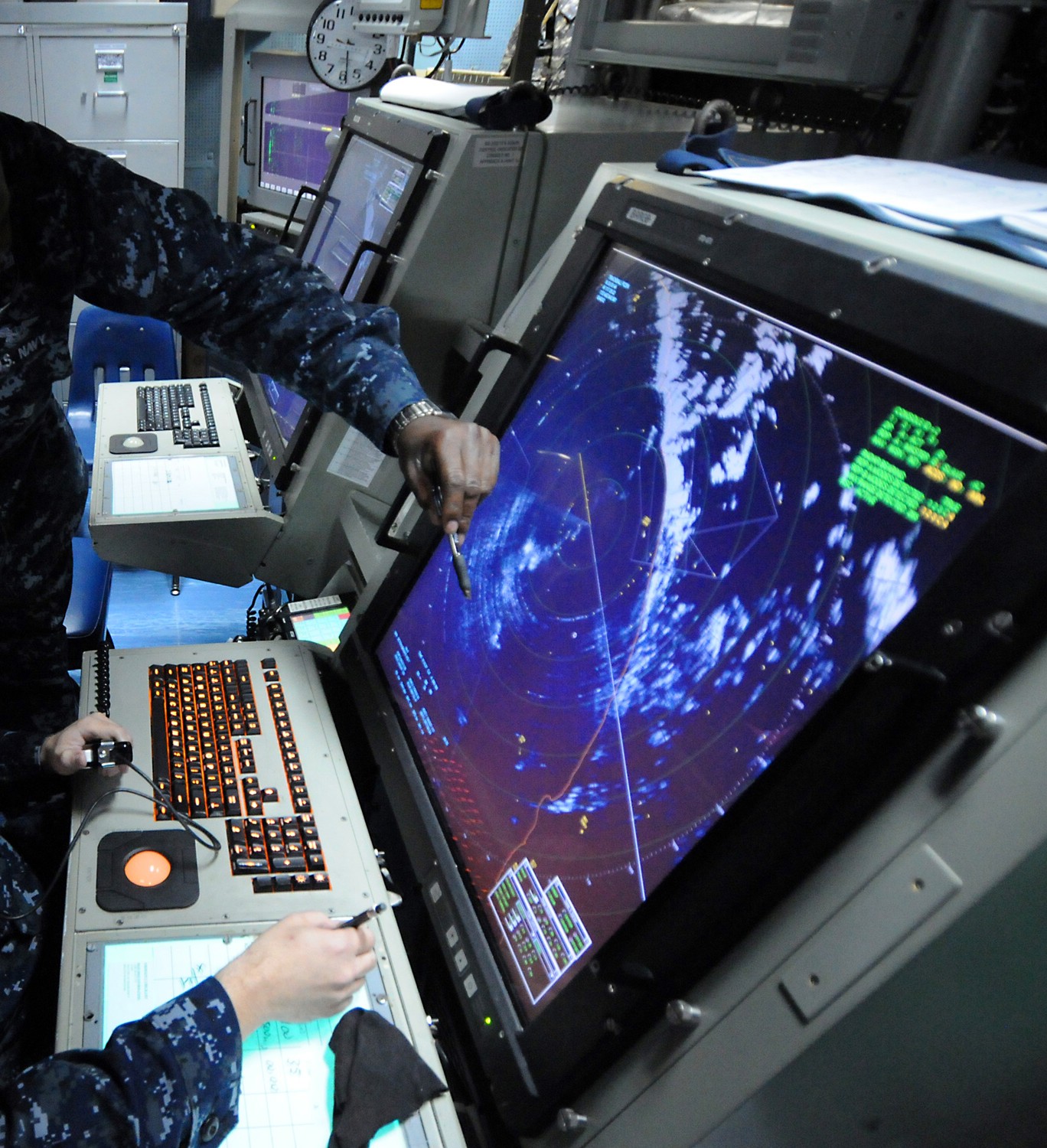 combat information center (CIC) - Pacific Ocean - February 2010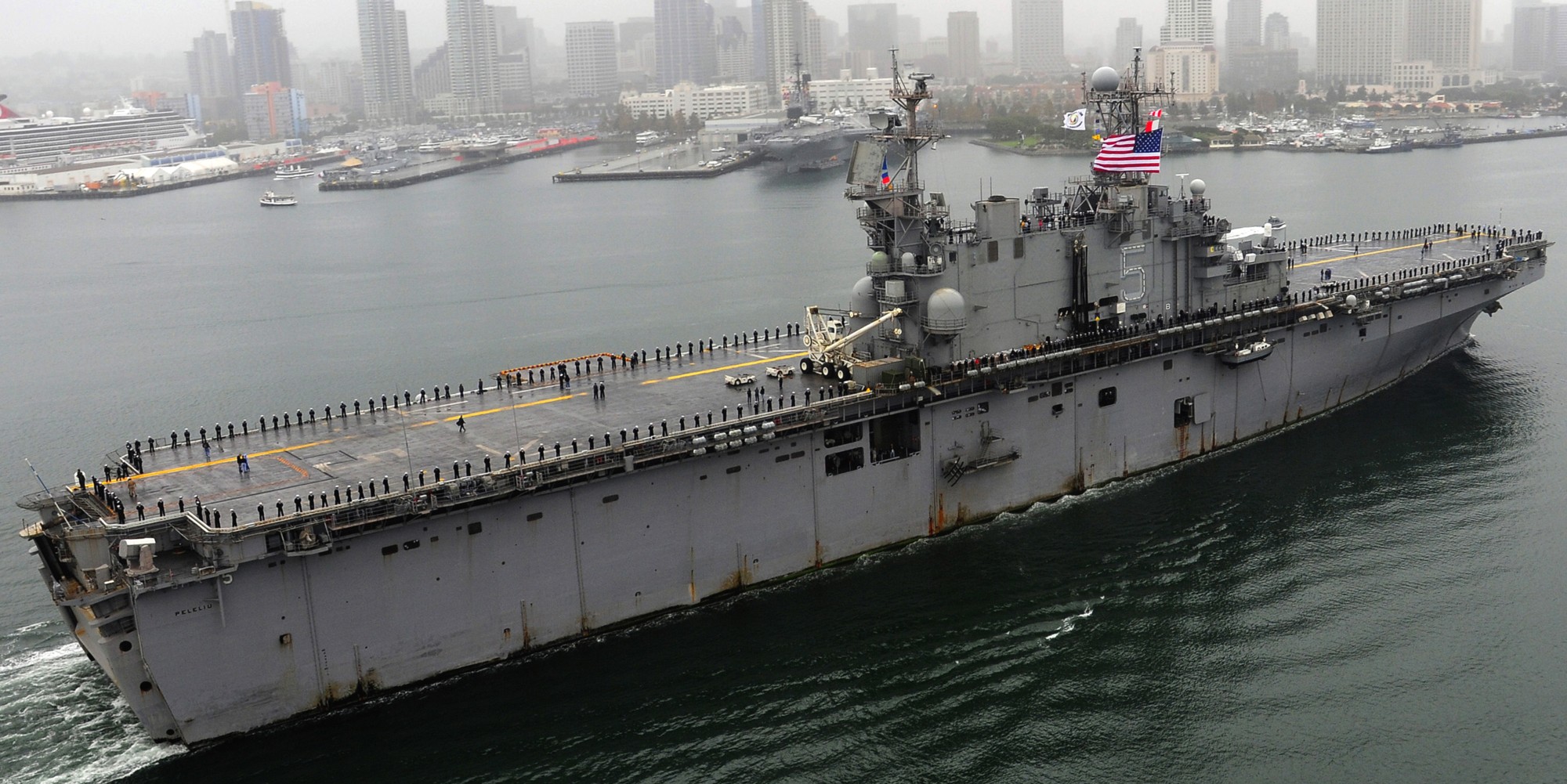 returning to Naval Base San Diego, California - November 4, 2008




Tiger cruise - Pacific Ocean - November 2008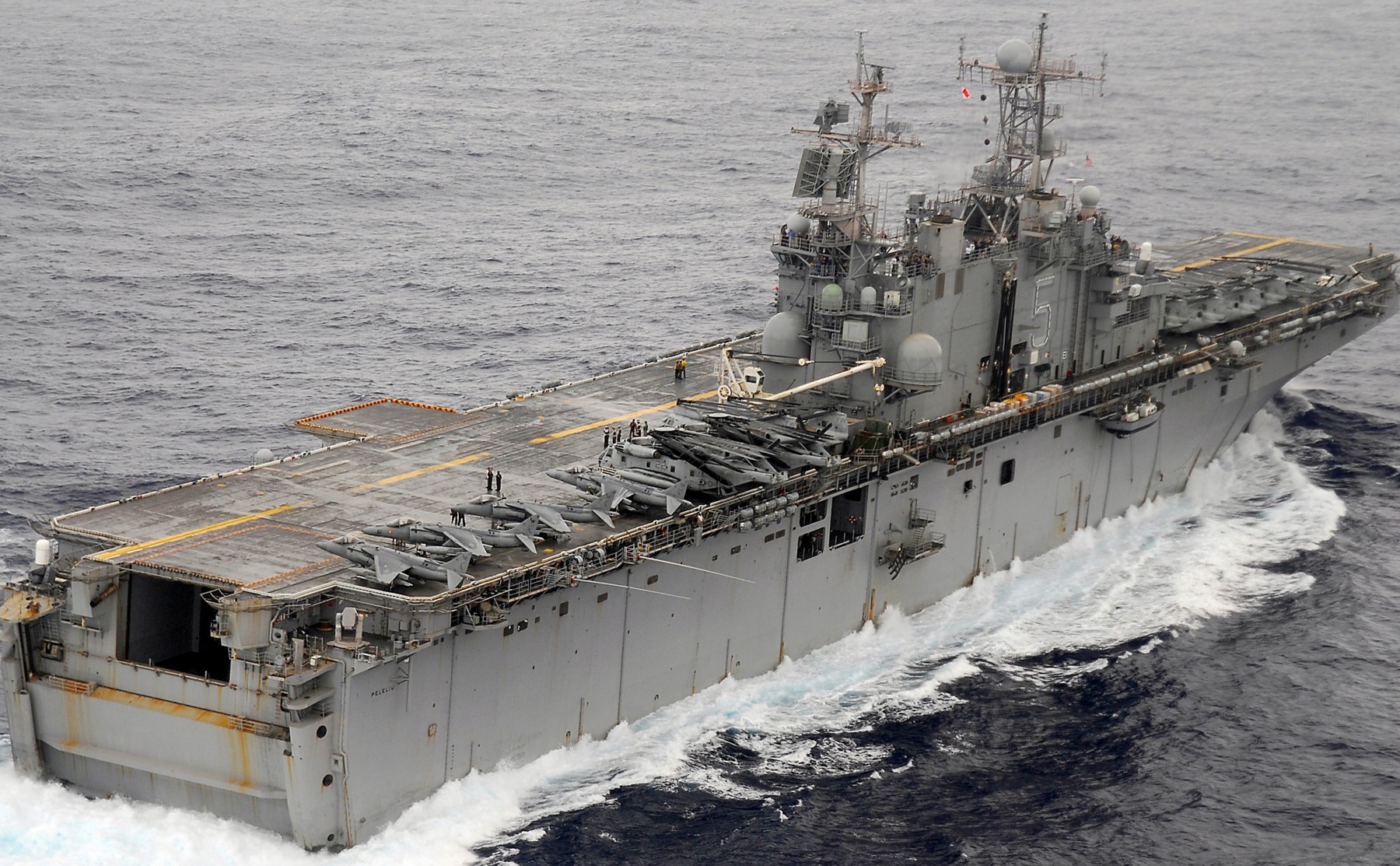 with HMM-165(REIN) embarked - off California - November 2008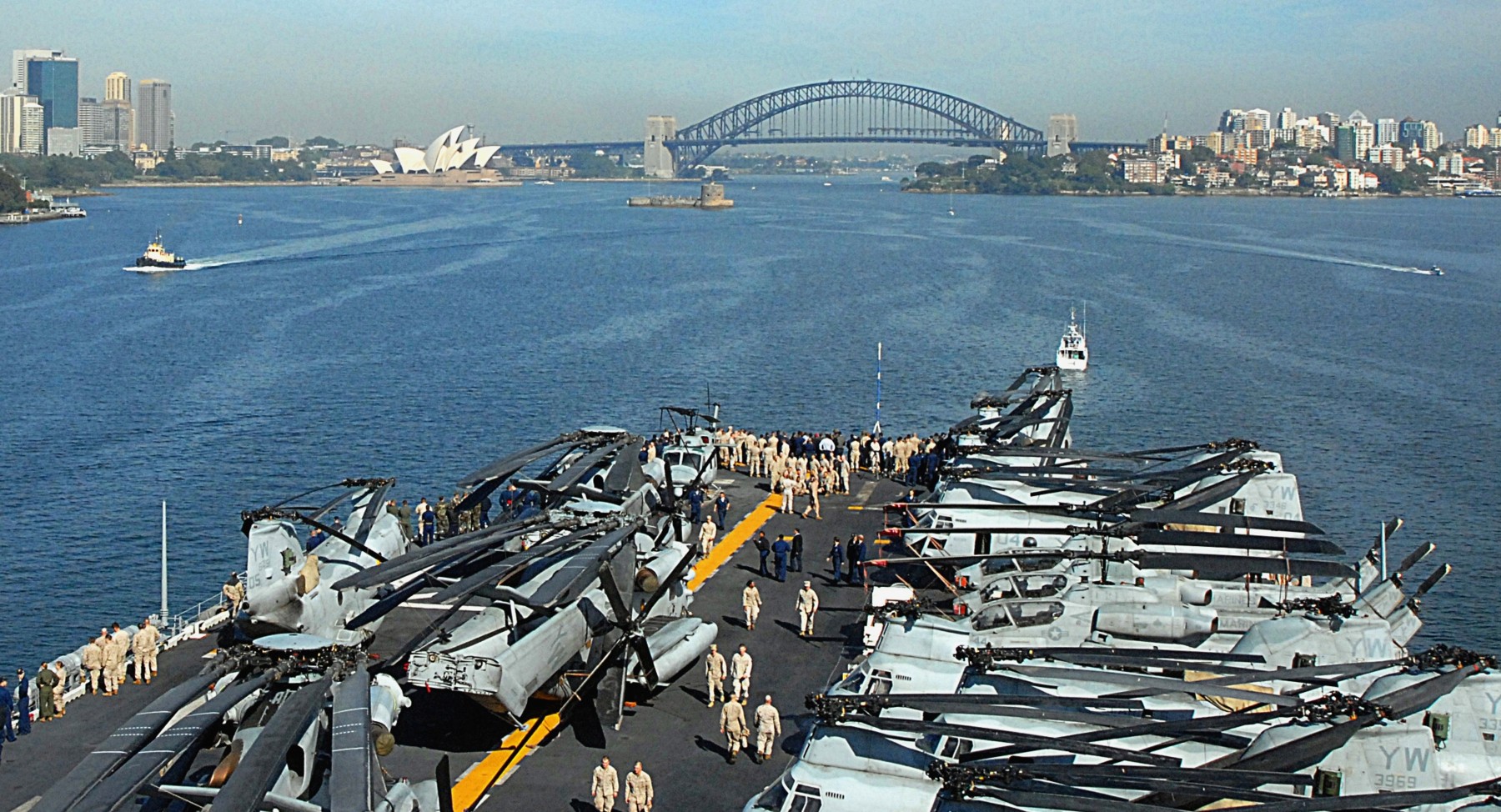 with HMM-165(REIN) embarked - Sydney, Australia - October 2008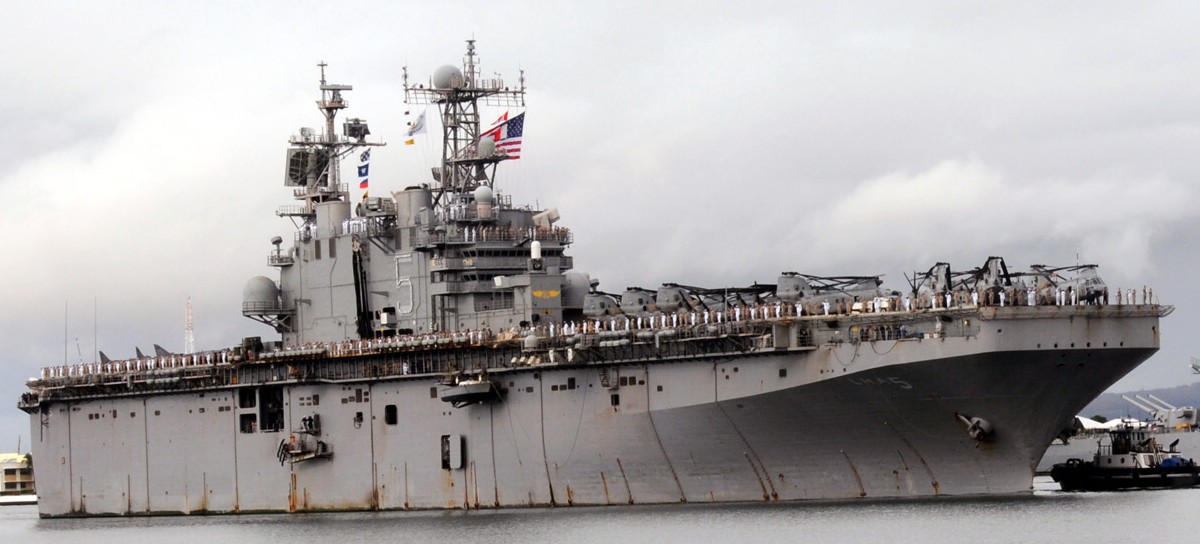 with HMM-165(REIN) embarked - Pearl Harbor, Hawaii - October 2008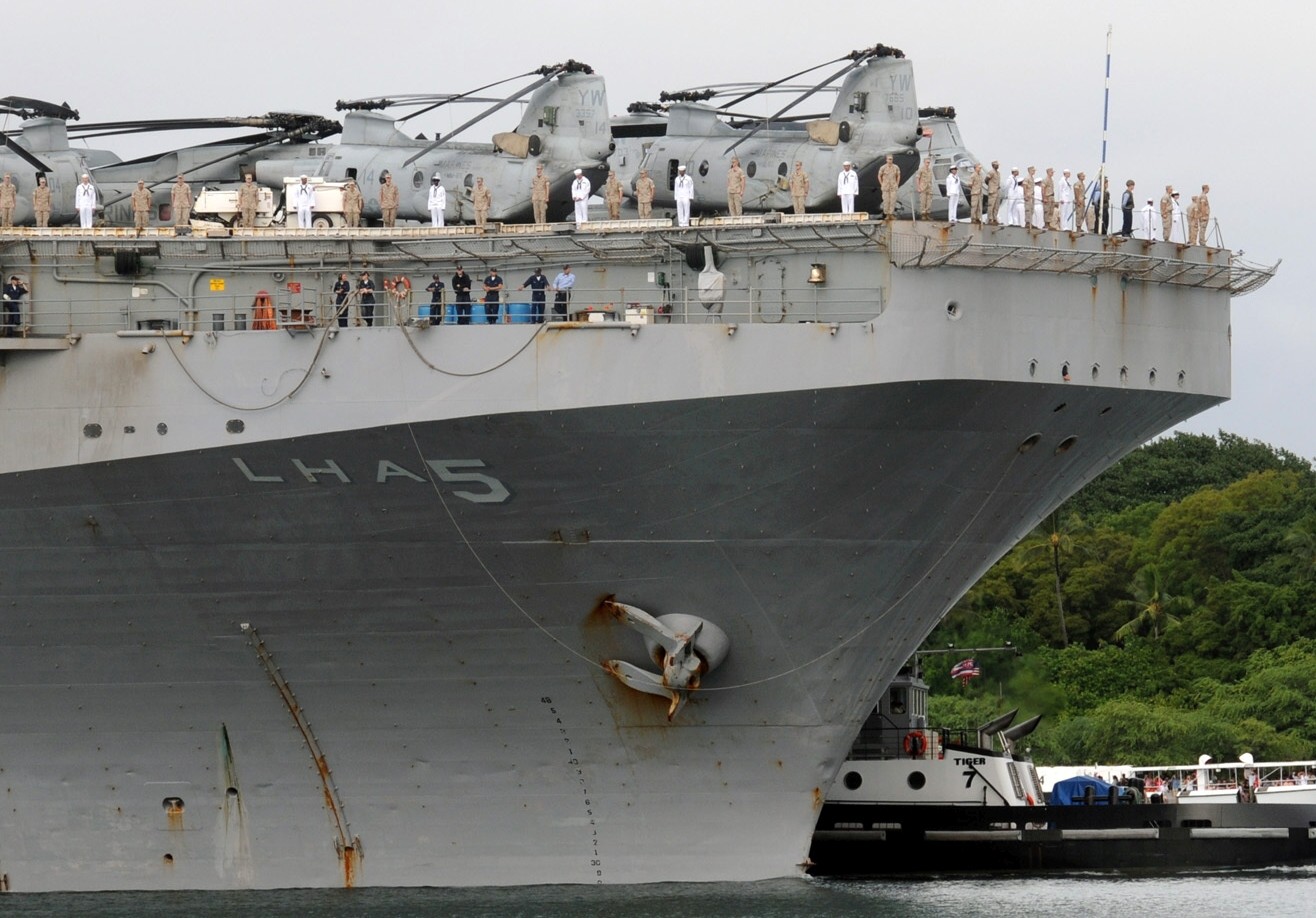 with HMM-165(REIN) embarked - Pearl Harbor, Hawaii - October 2008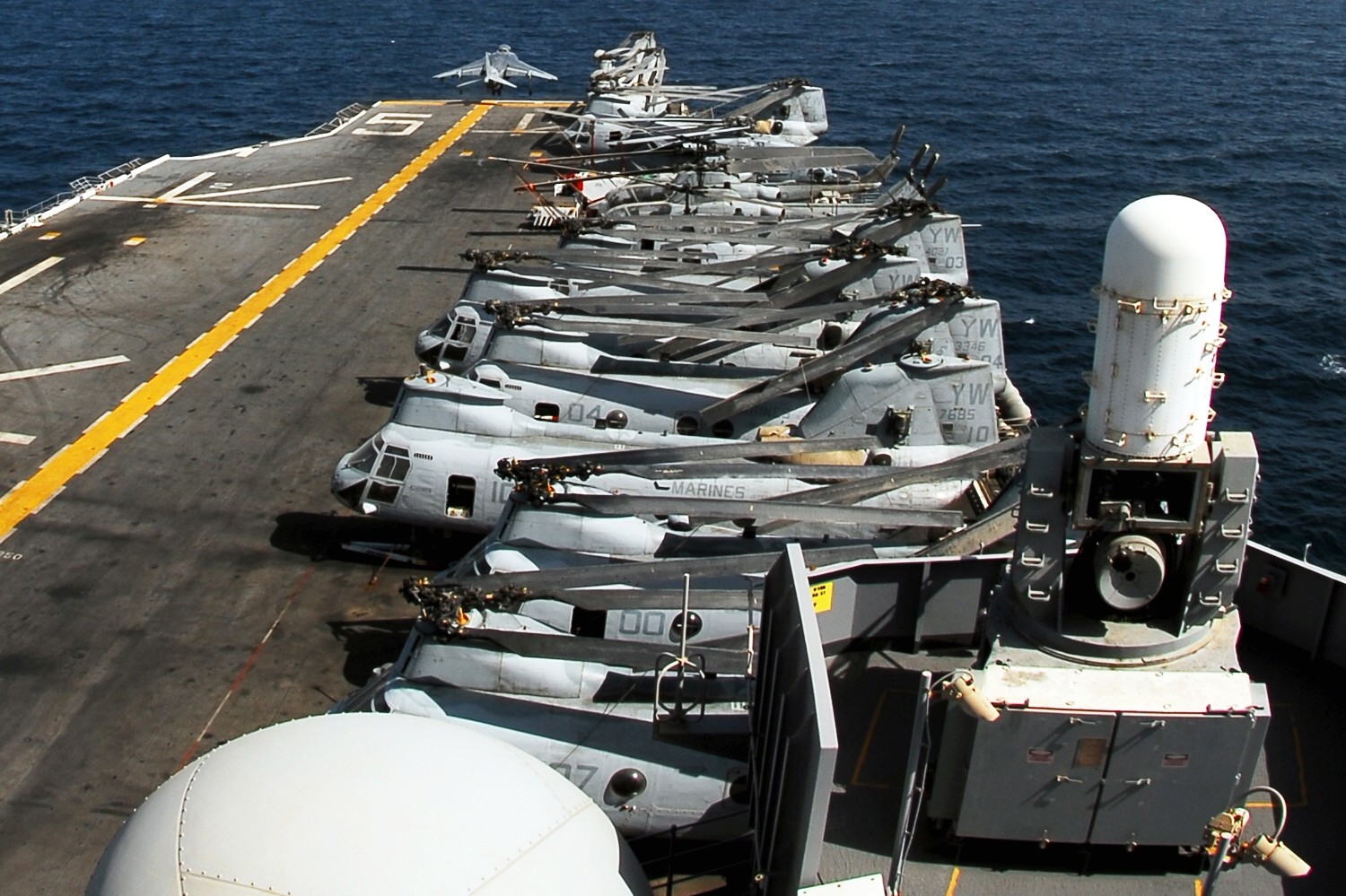 with HMM-165(REIN) embarked - 5th Fleet AOR - August 2008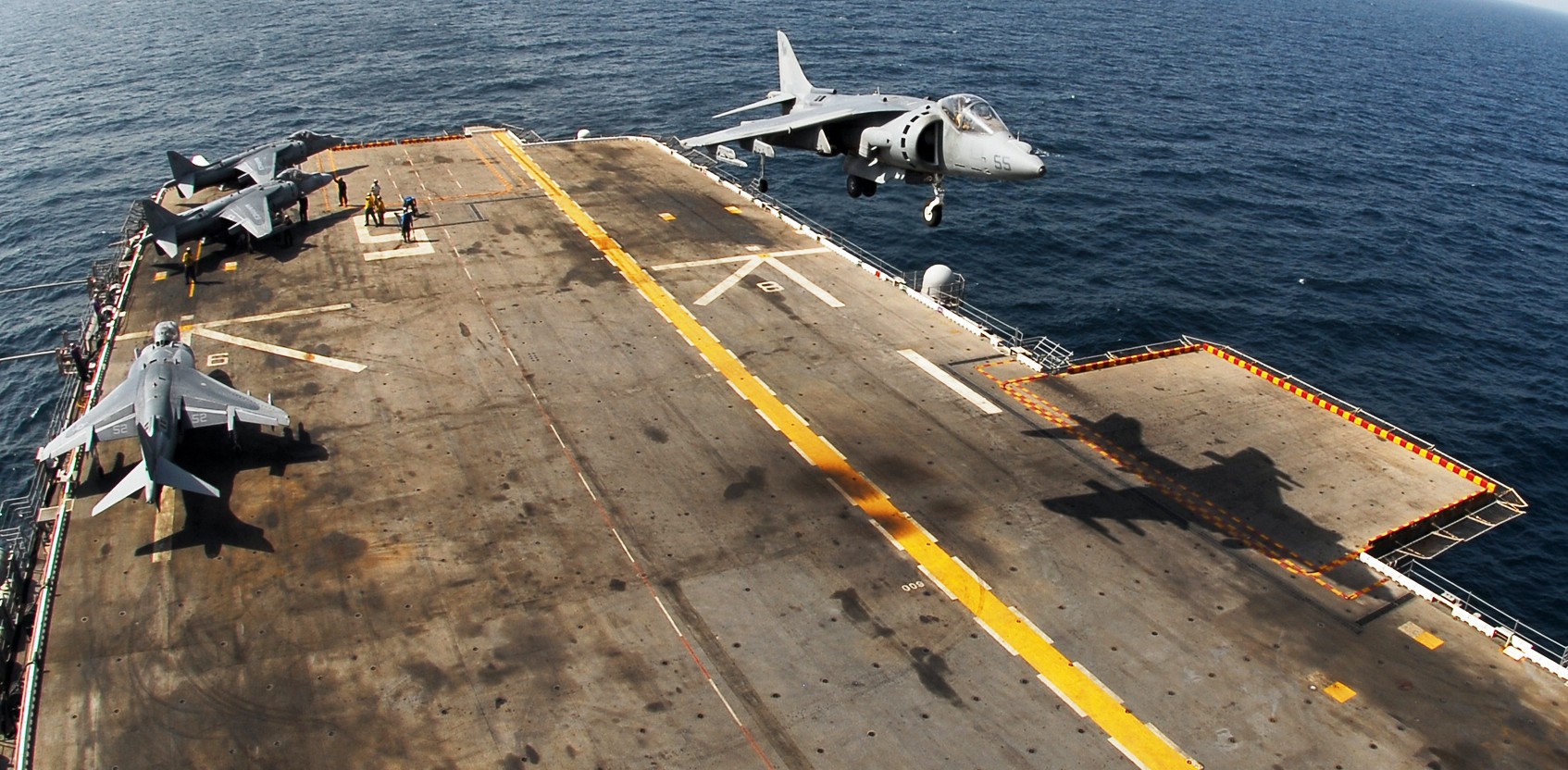 AV-8B Harrier II operations - 5th Fleet AOR - August 2008




with HMM-165(REIN) embarked - Red Sea - August 2008



with HMM-165(REIN) embarked - Red Sea - August 2008




with HMM-165(REIN) embarked - Red Sea - August 2008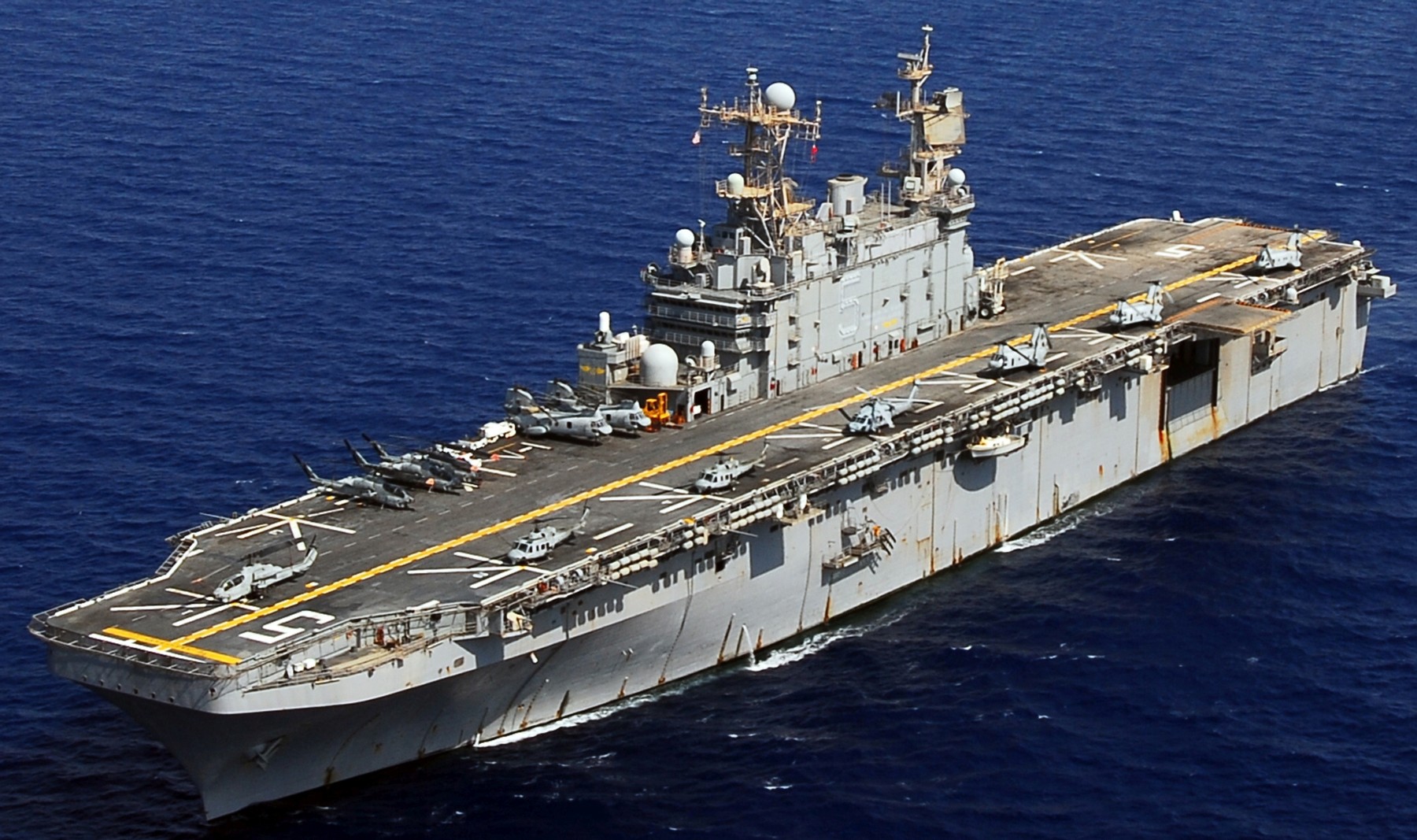 with HMM-165(REIN) embarked - Red Sea - August 2008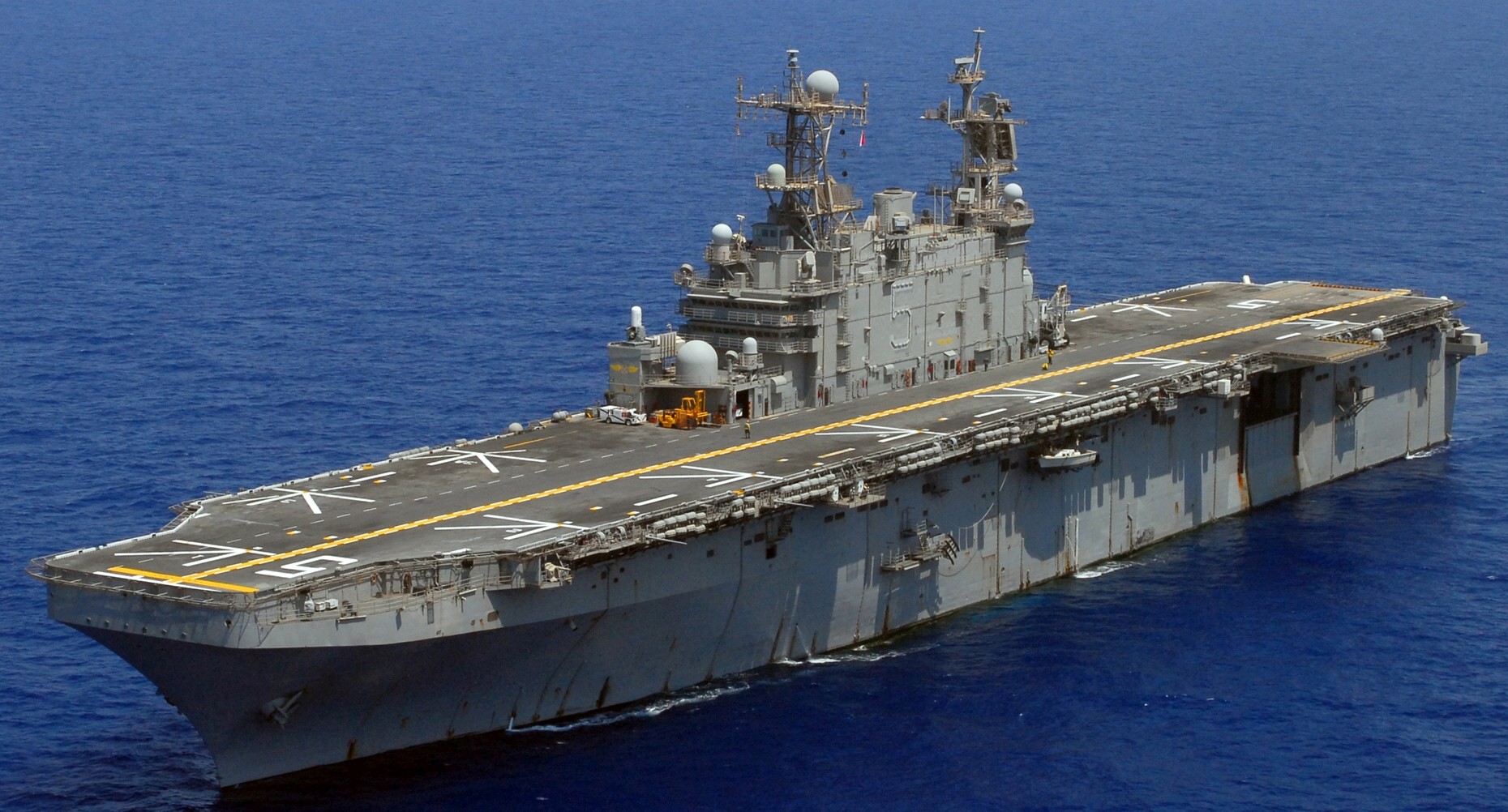 Red Sea - August 2008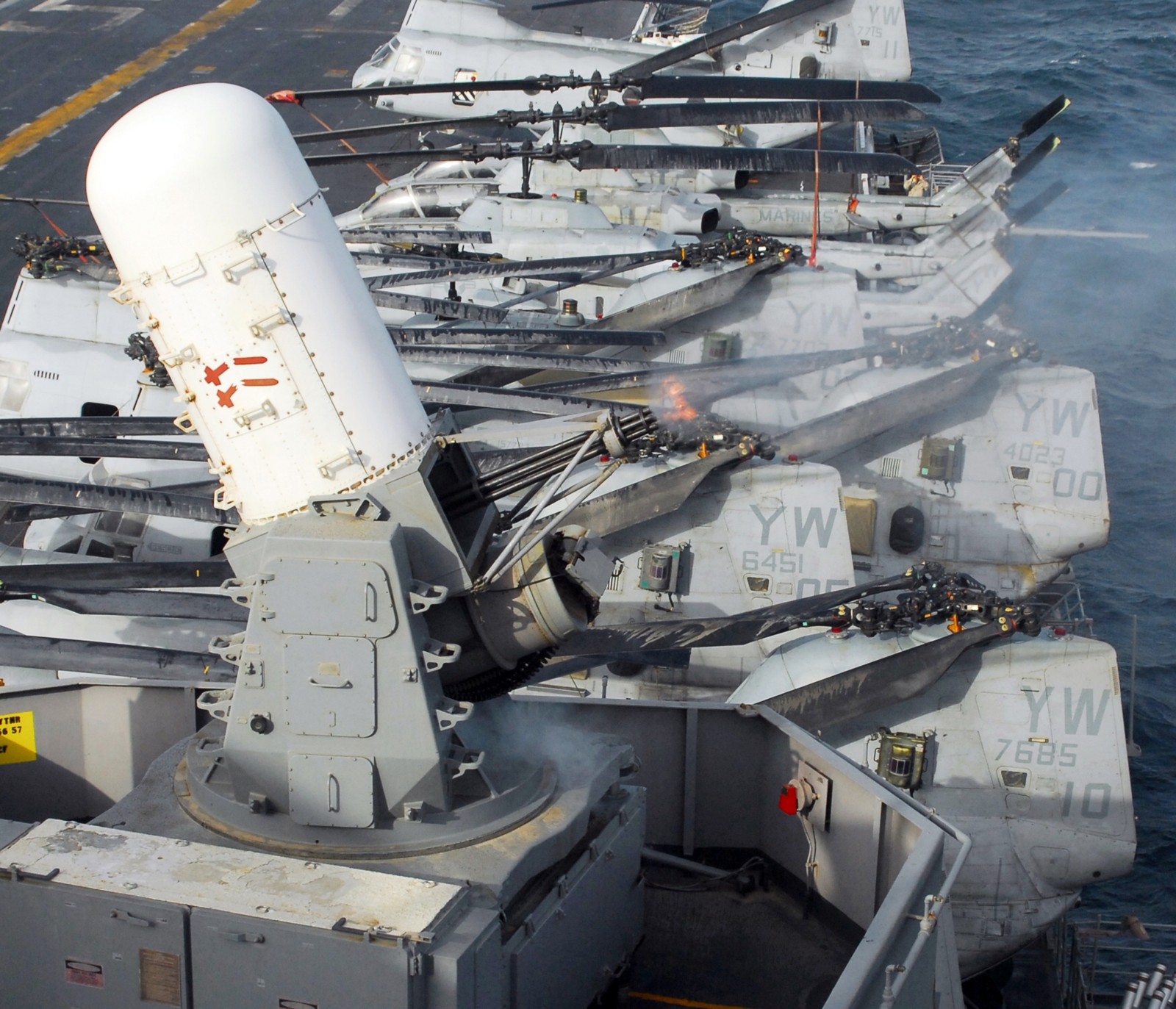 Mk.15 Phalanx CIWS fire exercise - 5th Fleet AOR - August 2008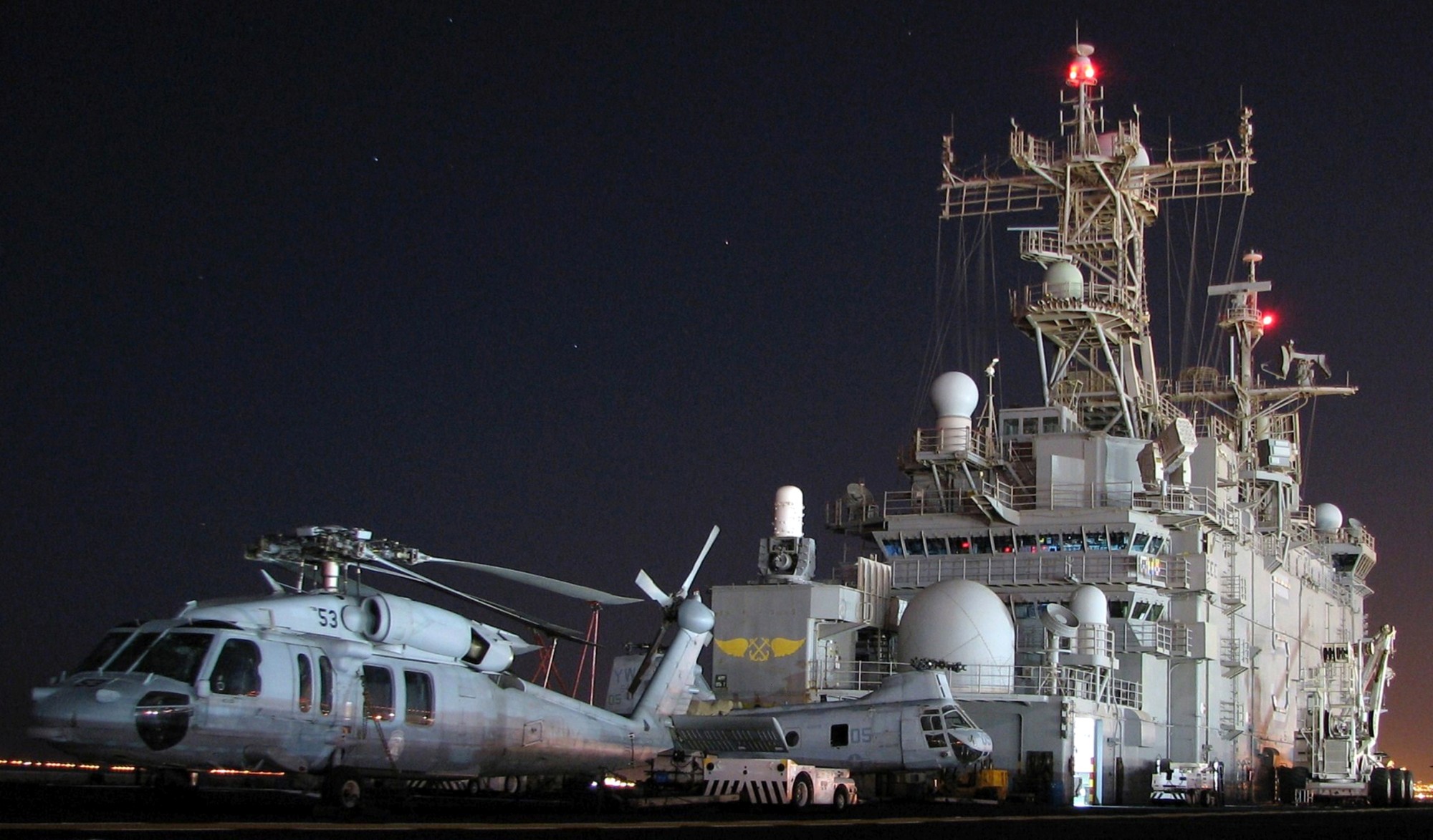 5th Fleet AOR - August 2008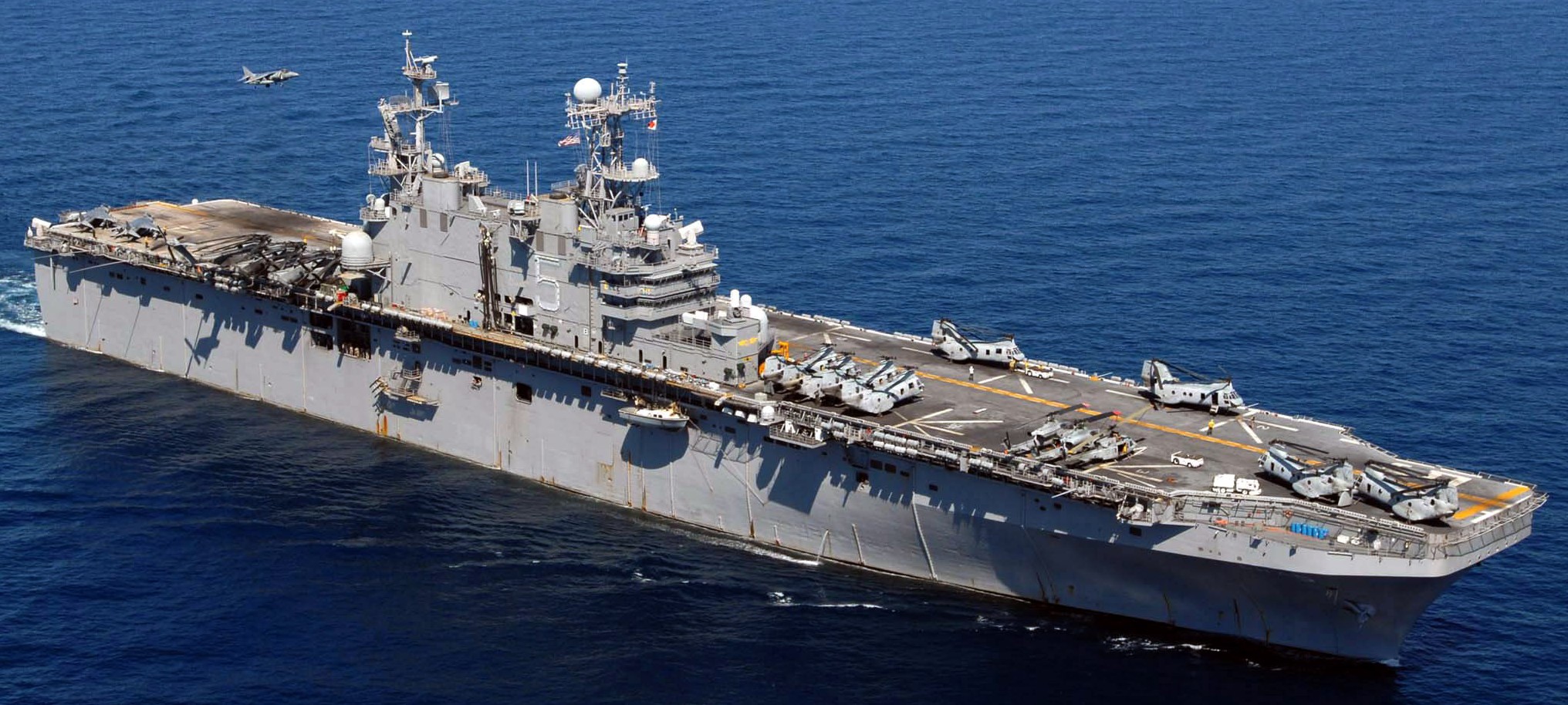 with HMM-165(REIN) embarked - South China Sea - May 2008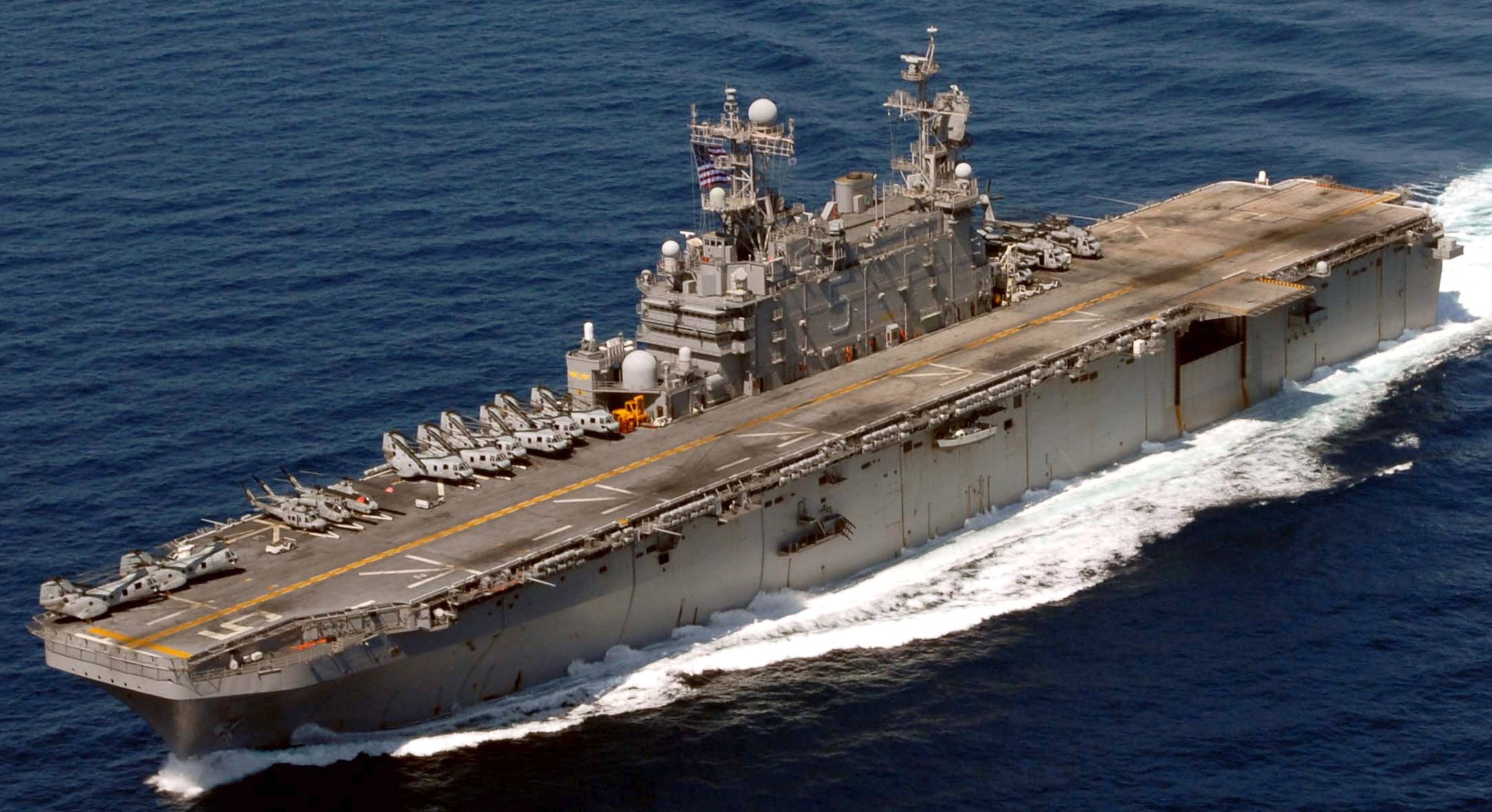 with HMM-165(REIN) embarked - South China Sea - May 2008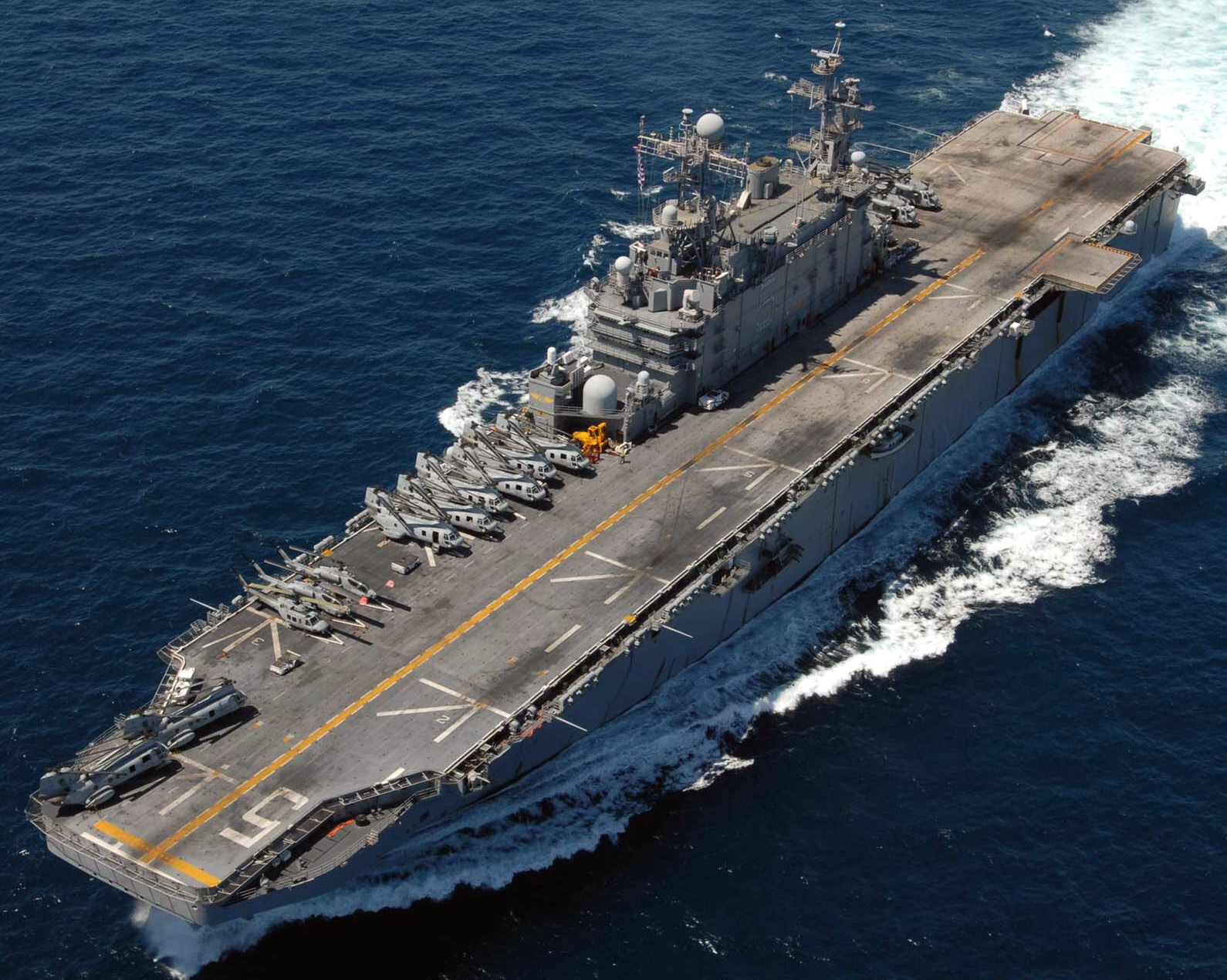 with HMM-165(REIN) embarked - South China Sea - May 2008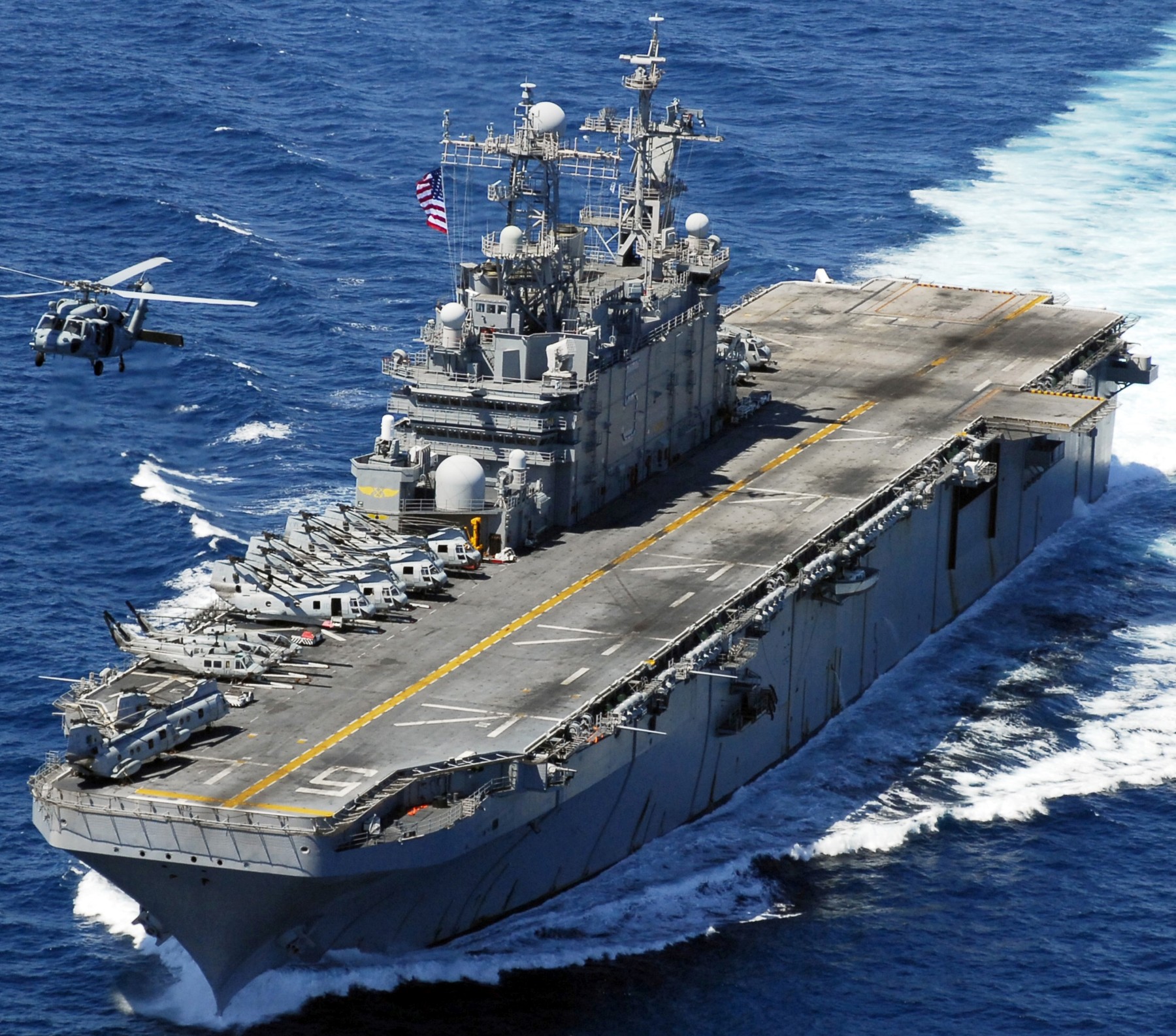 with HMM-165(REIN) embarked - South China Sea - May 2008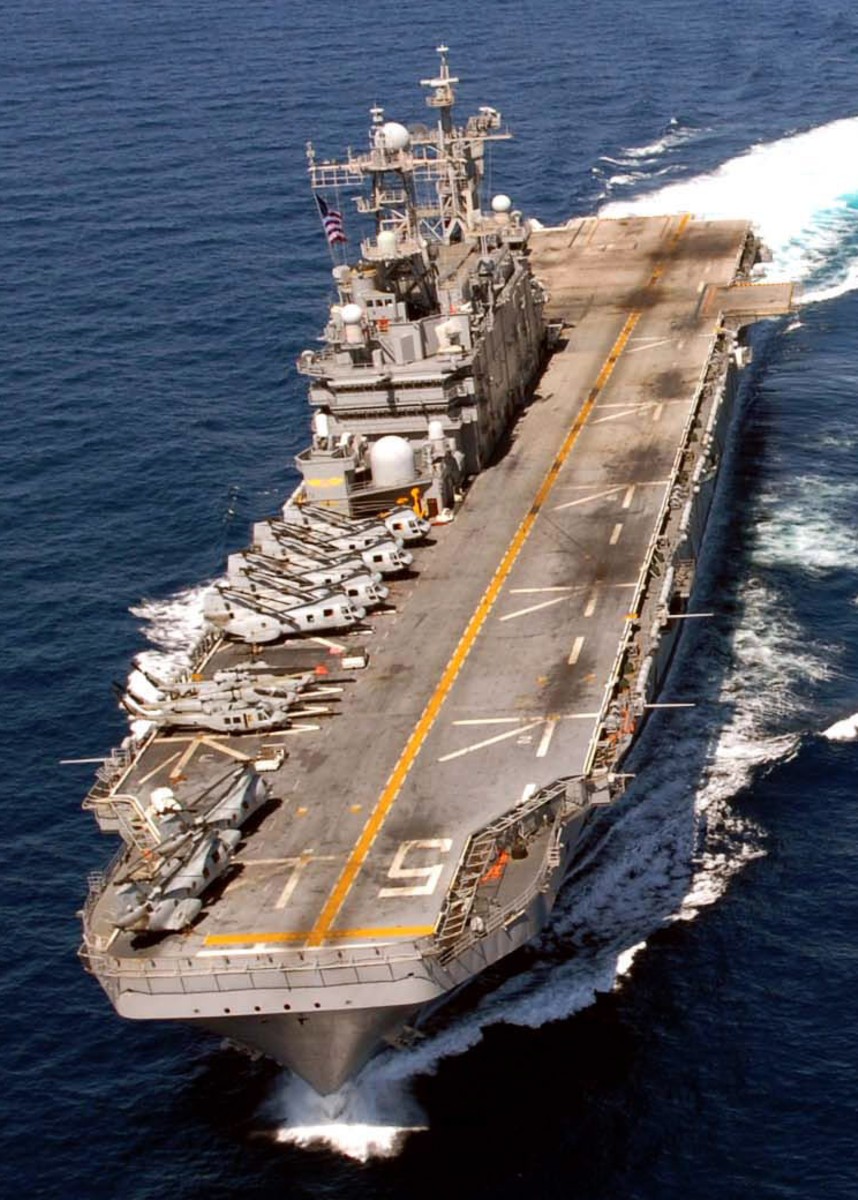 with HMM-165(REIN) embarked - South China Sea - May 2008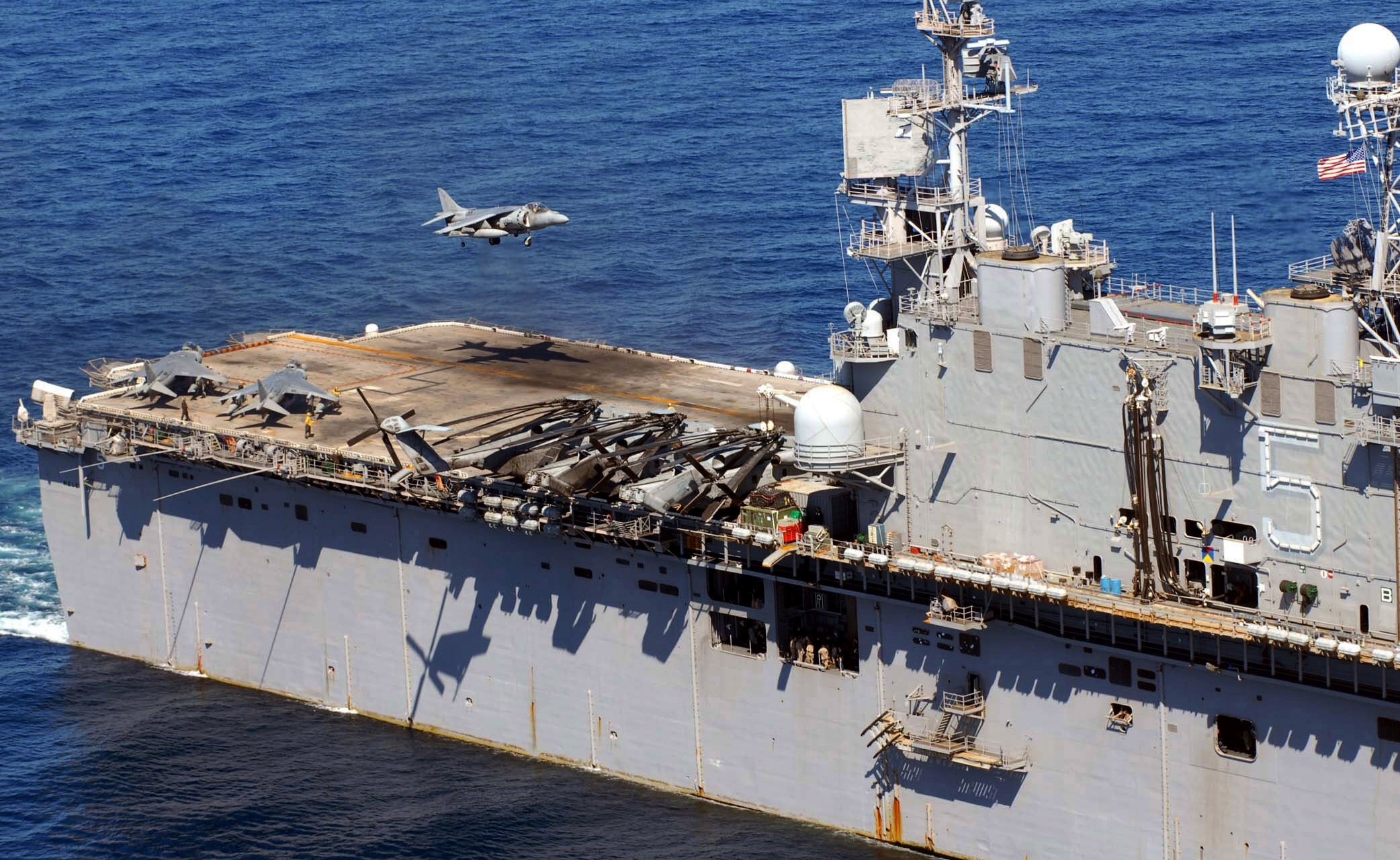 with HMM-165(REIN) embarked - South China Sea - May 2008




off California - October 2007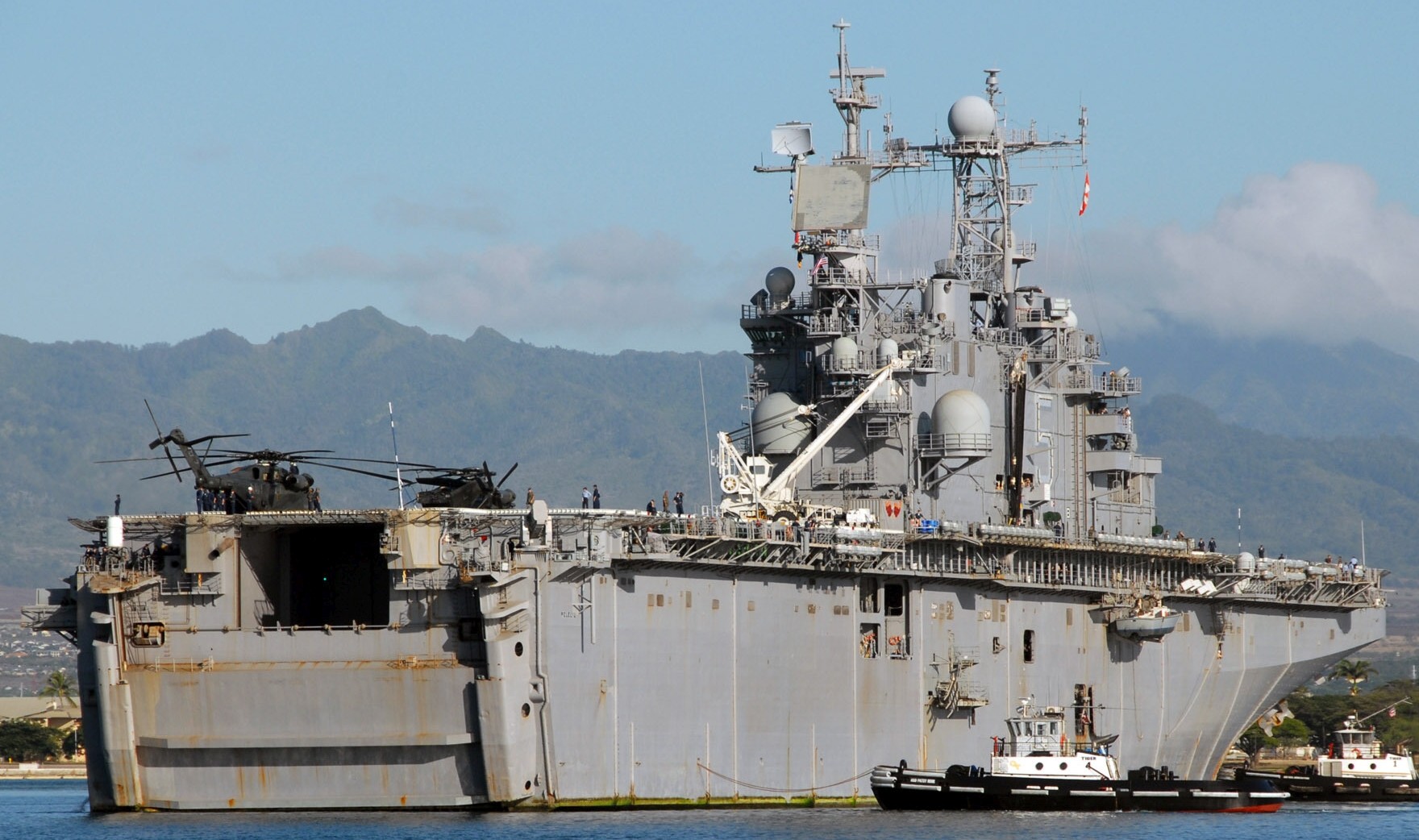 Pearl Harbor, Hawaii - September 2007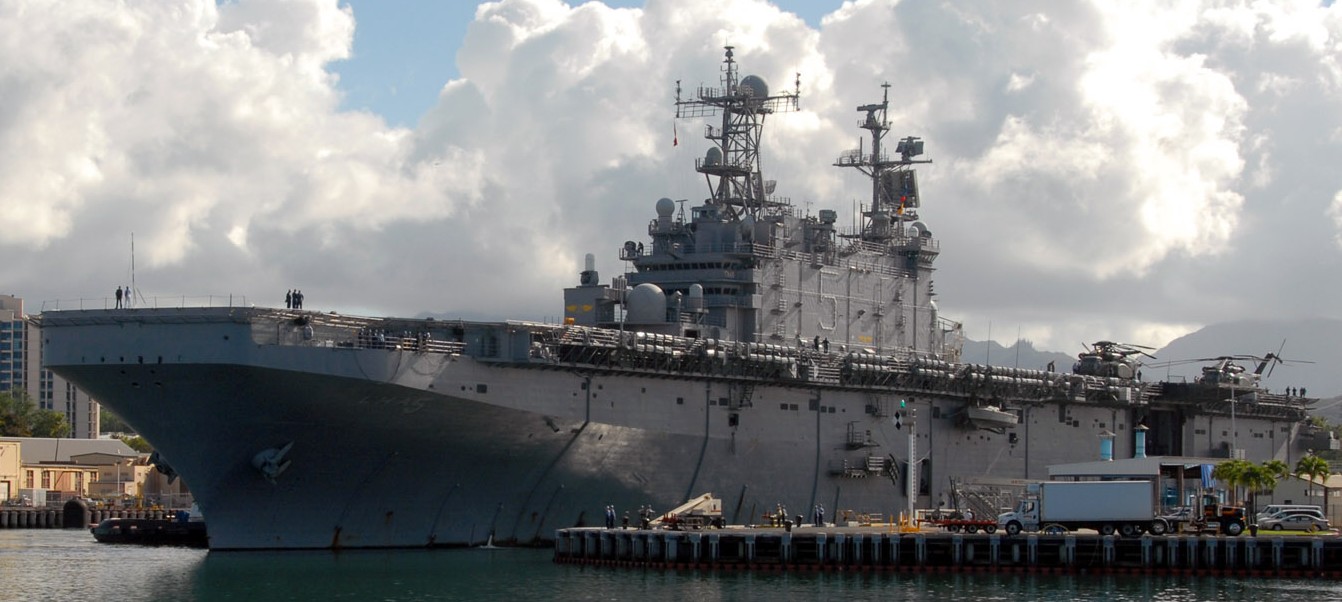 Pearl Harbor, Hawaii - September 2007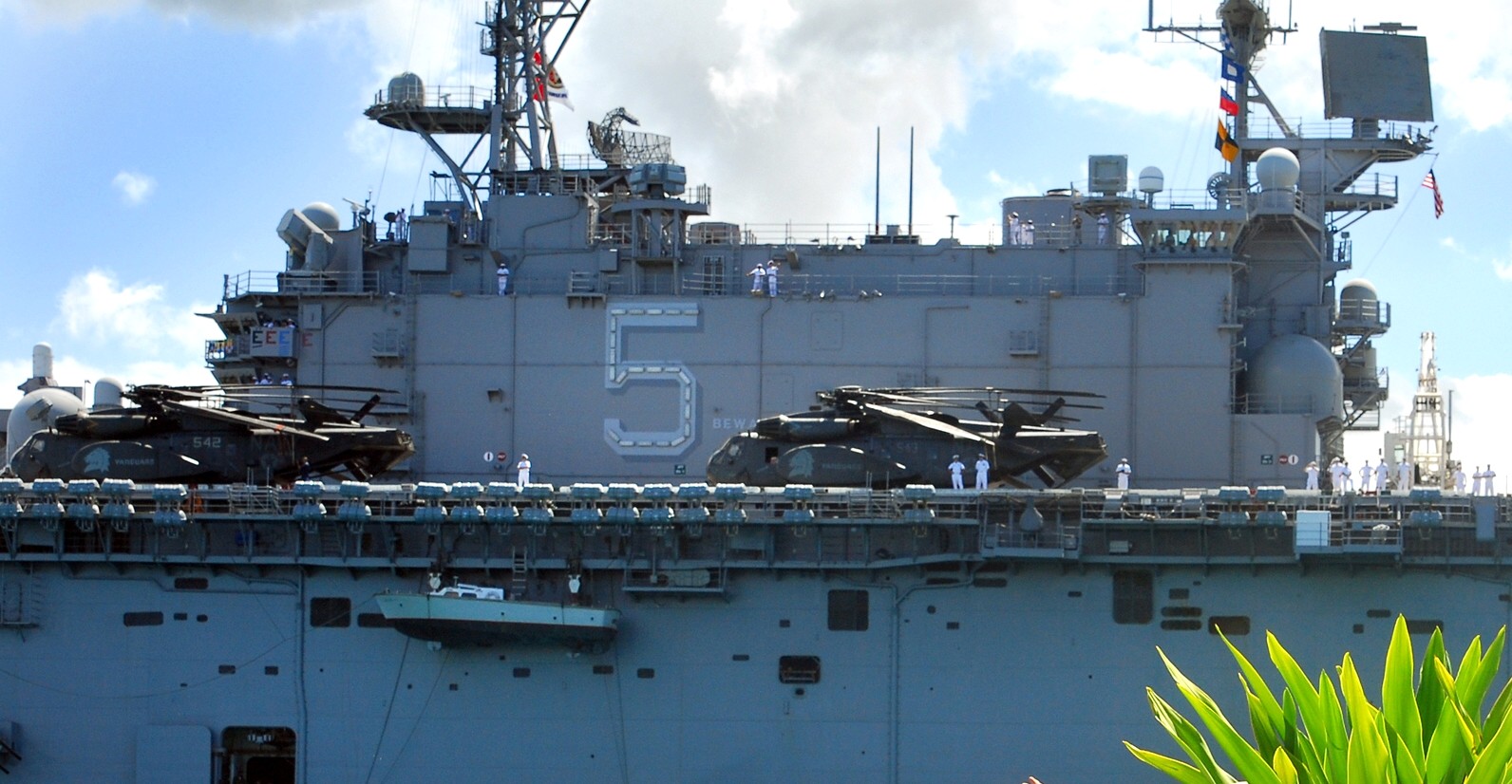 with HM-14 embarked - Pearl Harbor, Hawaii - June 2007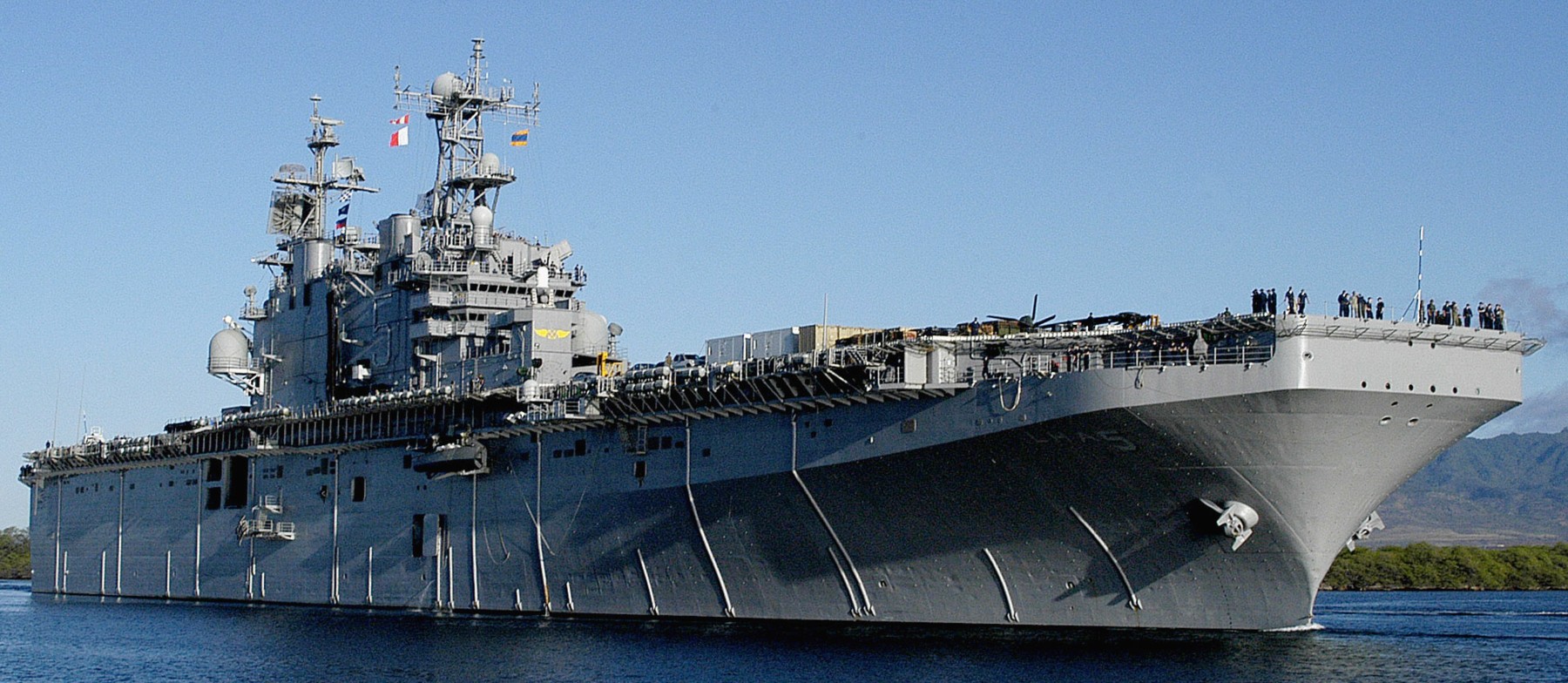 Pearl Harbor, Hawaii - May 2007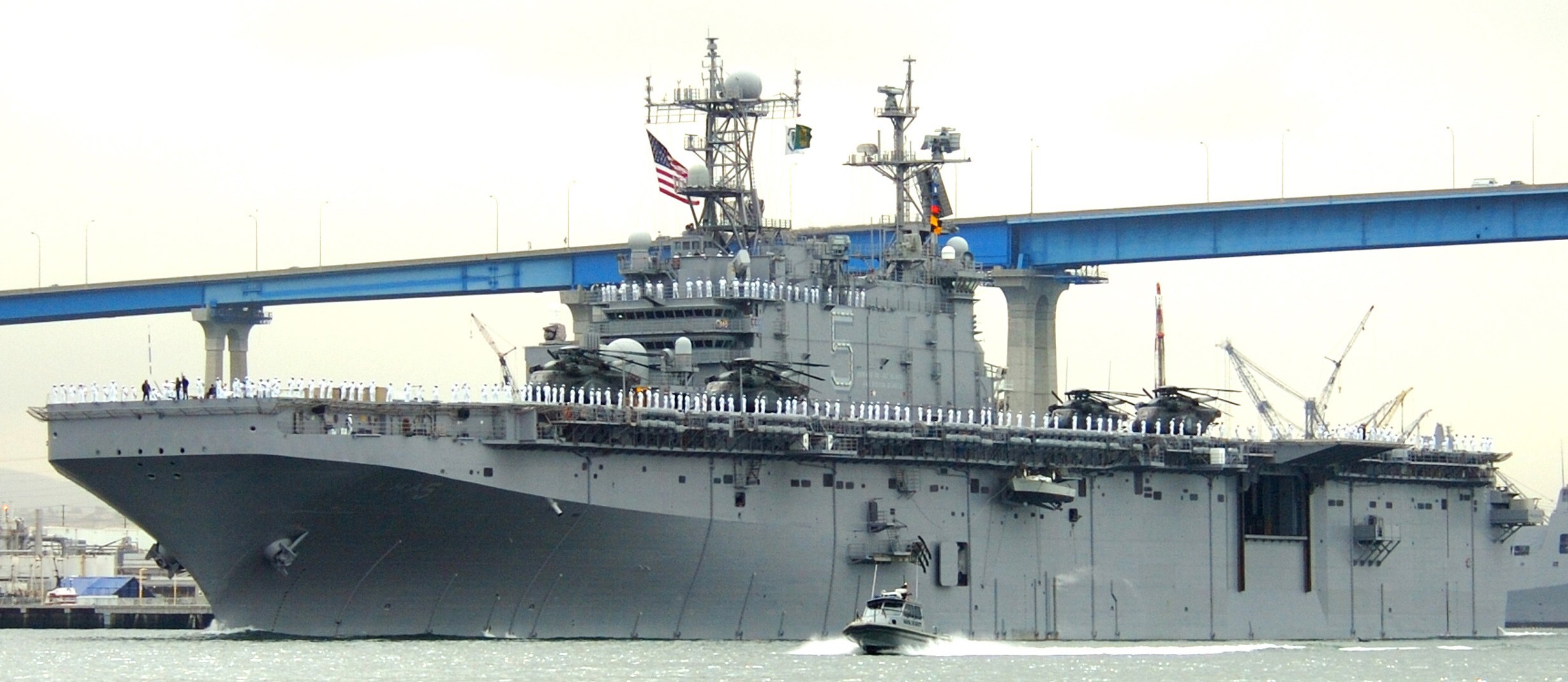 departing San Diego - May 23, 2007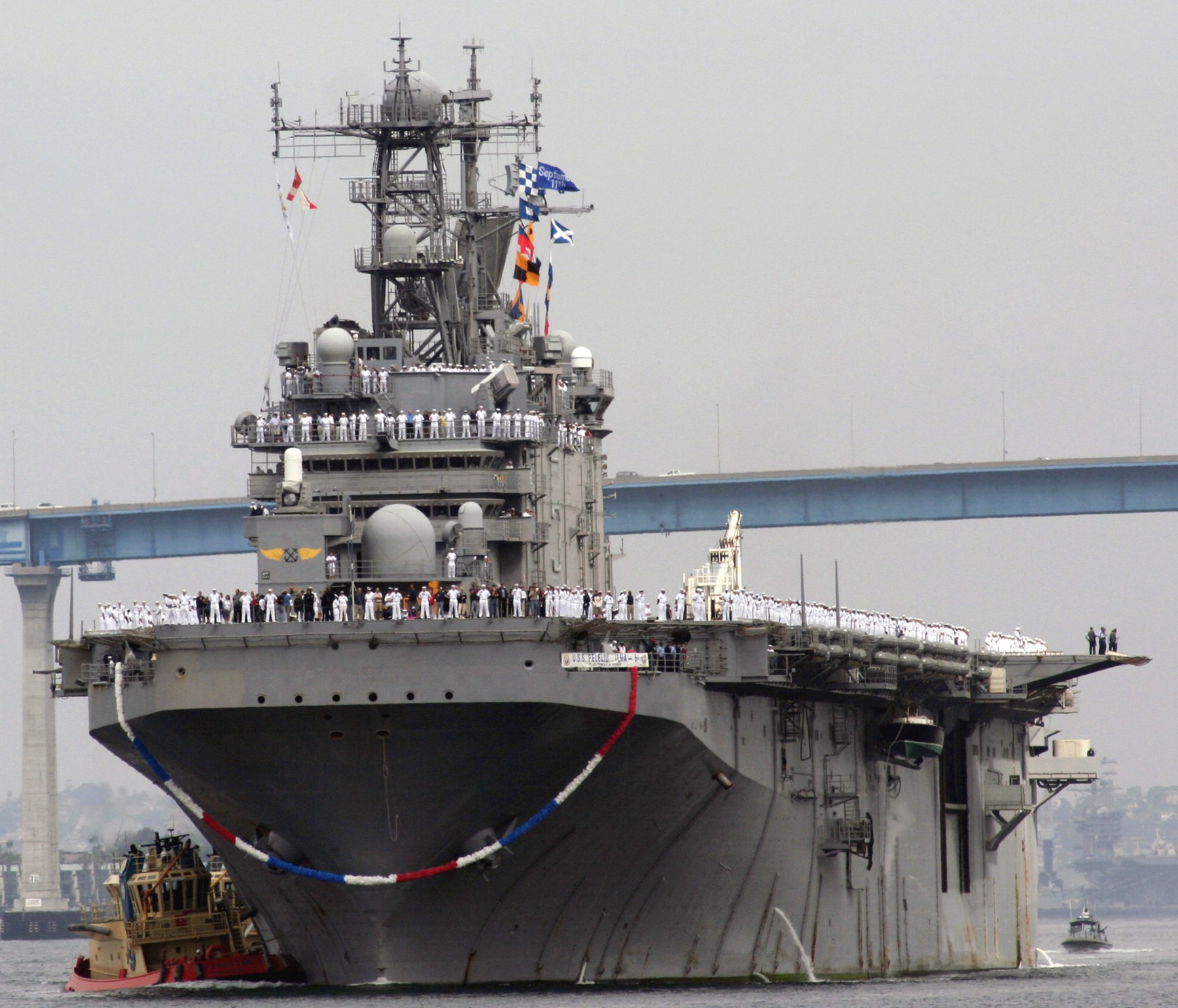 returning to Naval Base San Diego, California - August 16, 2006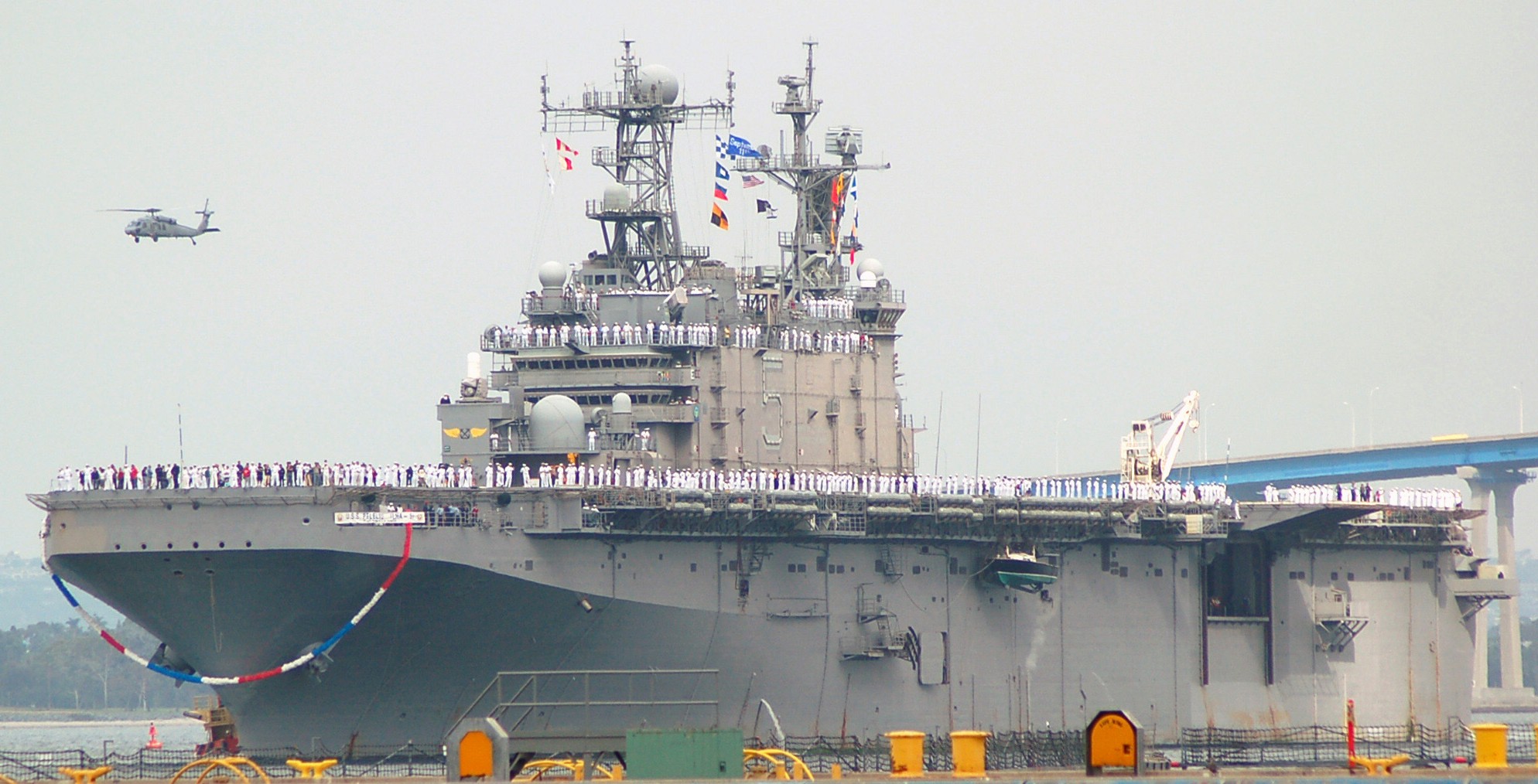 returning to Naval Base San Diego, California - August 16, 2006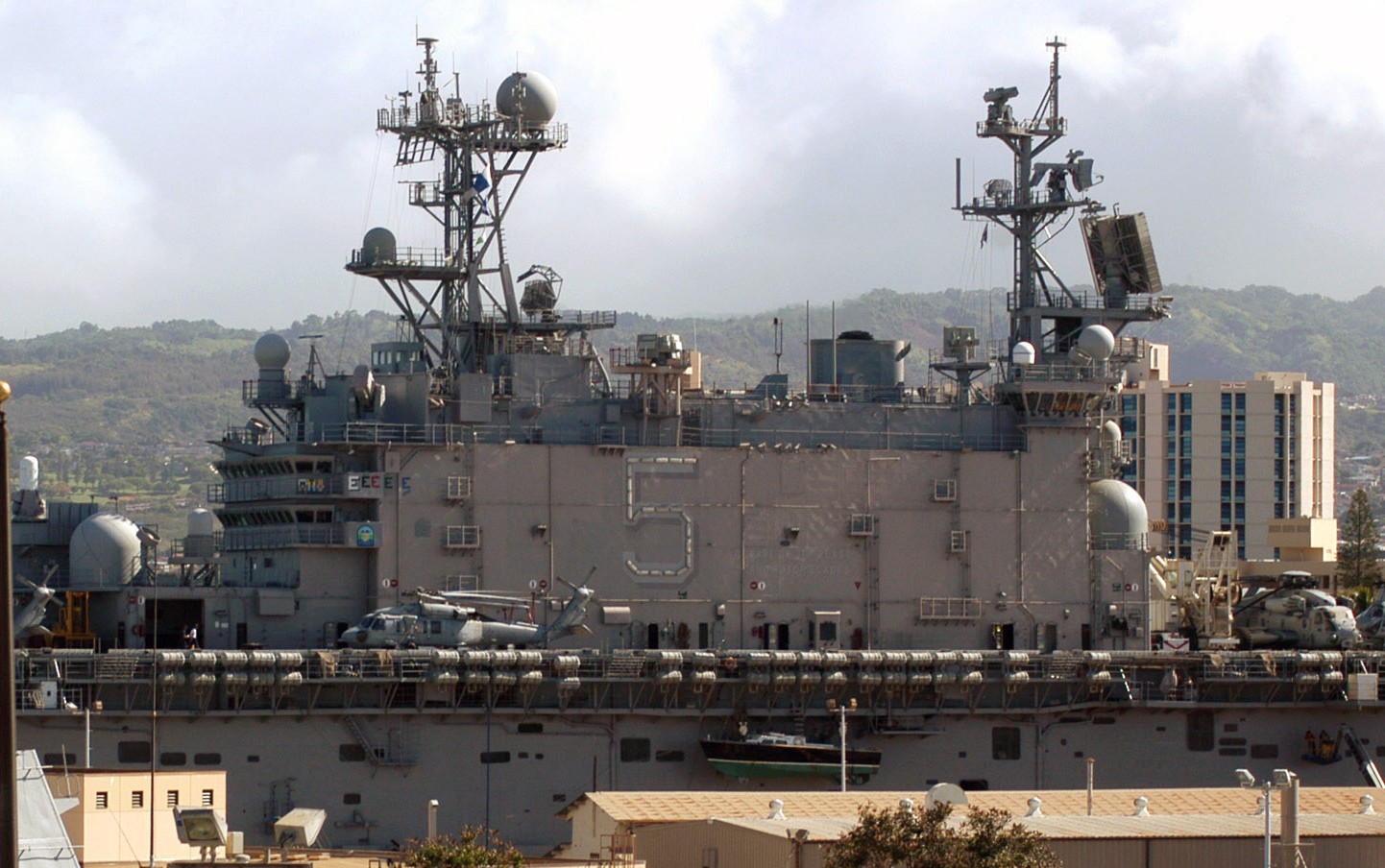 Pearl Harbor, Hawaii - August 2006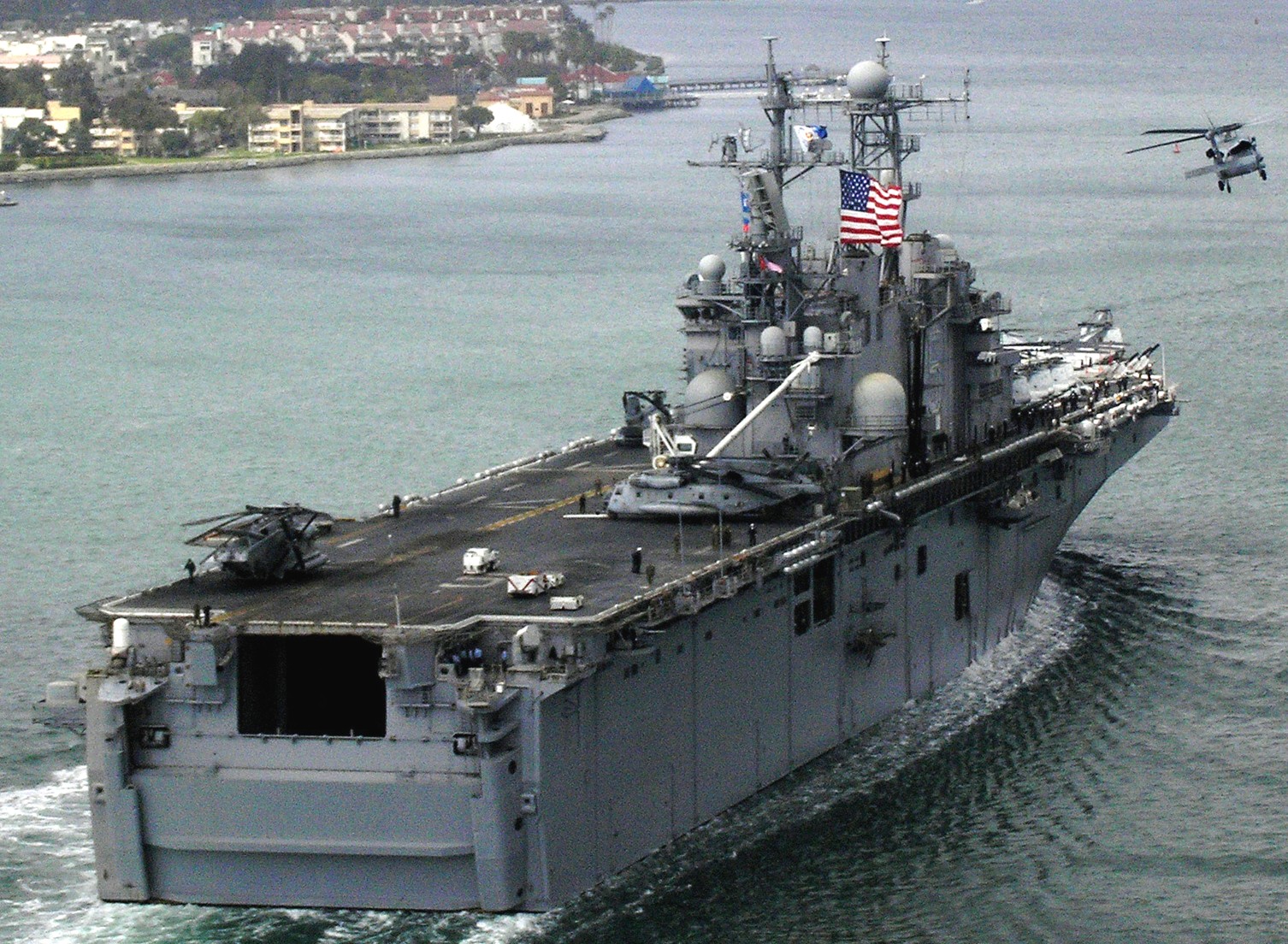 departing San Diego, California - February 15, 2006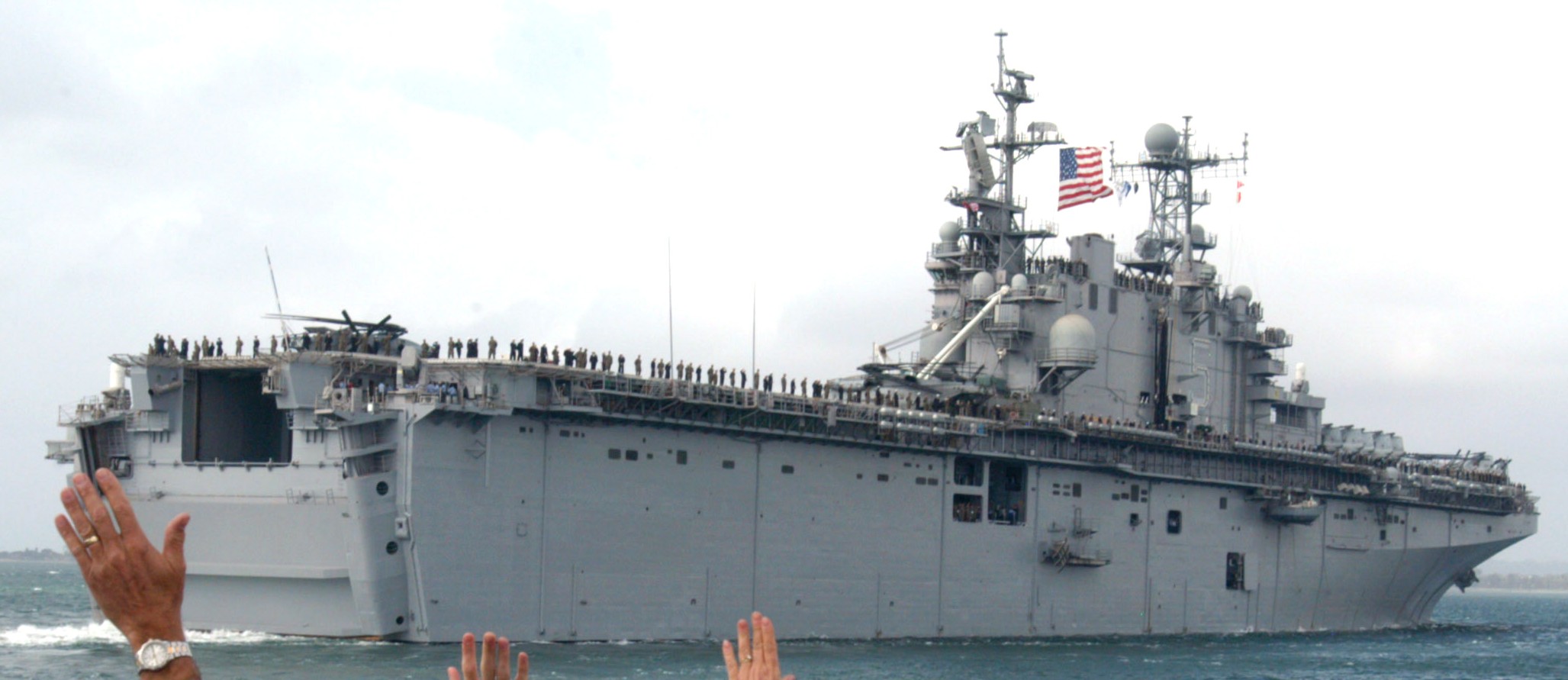 departing San Diego, California - February 15, 2006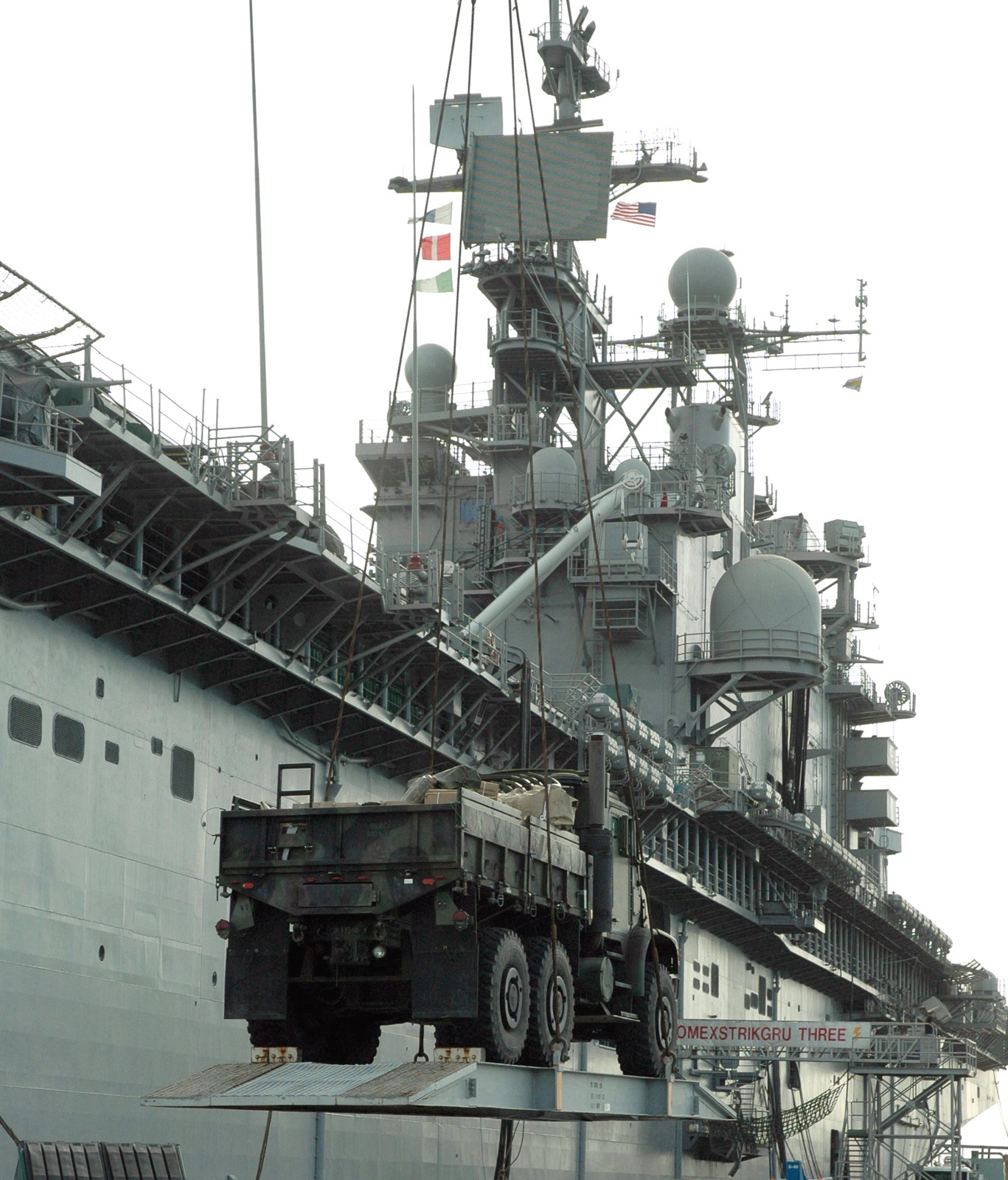 11th MEU(SOC) onload - San Diego, California - February 2006




with HMM-166(REIN) embarked - Pacific Ocean - January 2006





COMPTUEX - off California - December 2005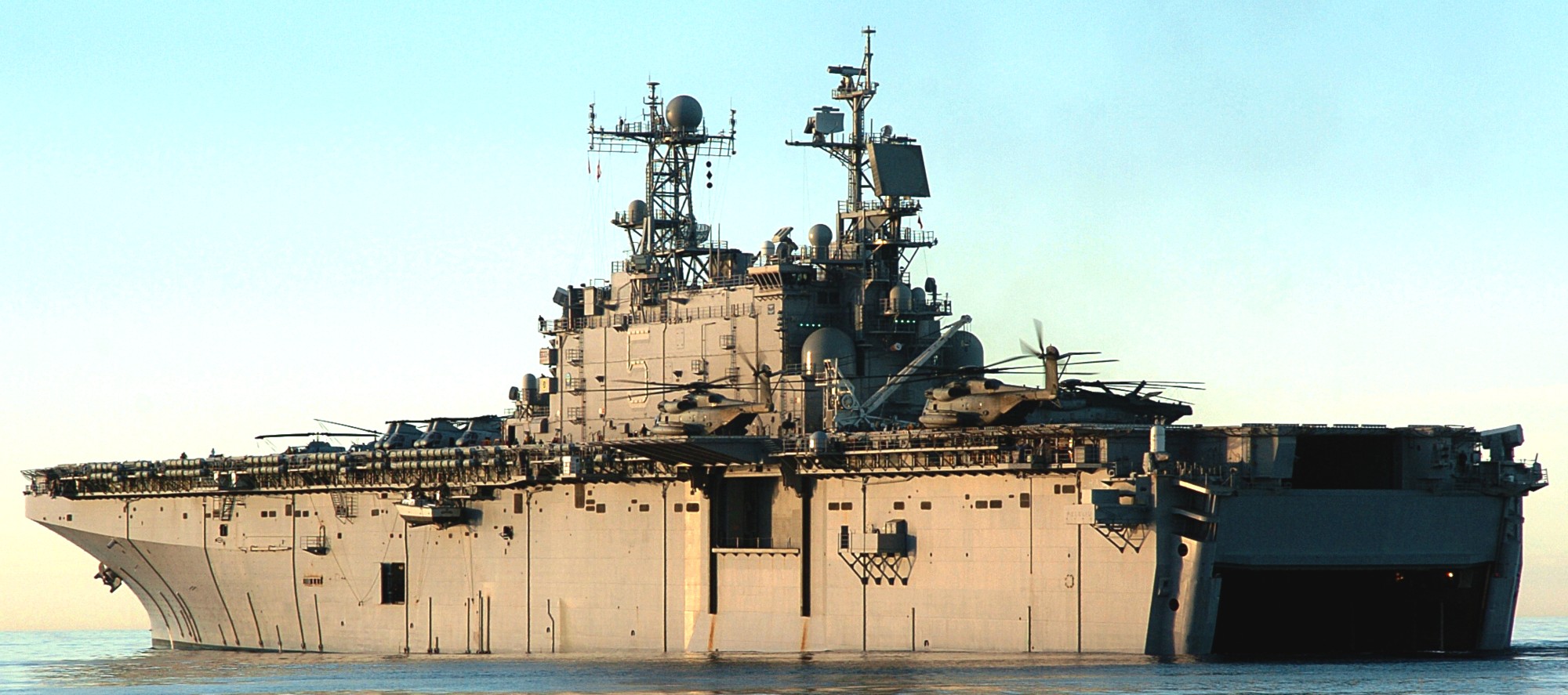 COMPTUEX - off California - December 2005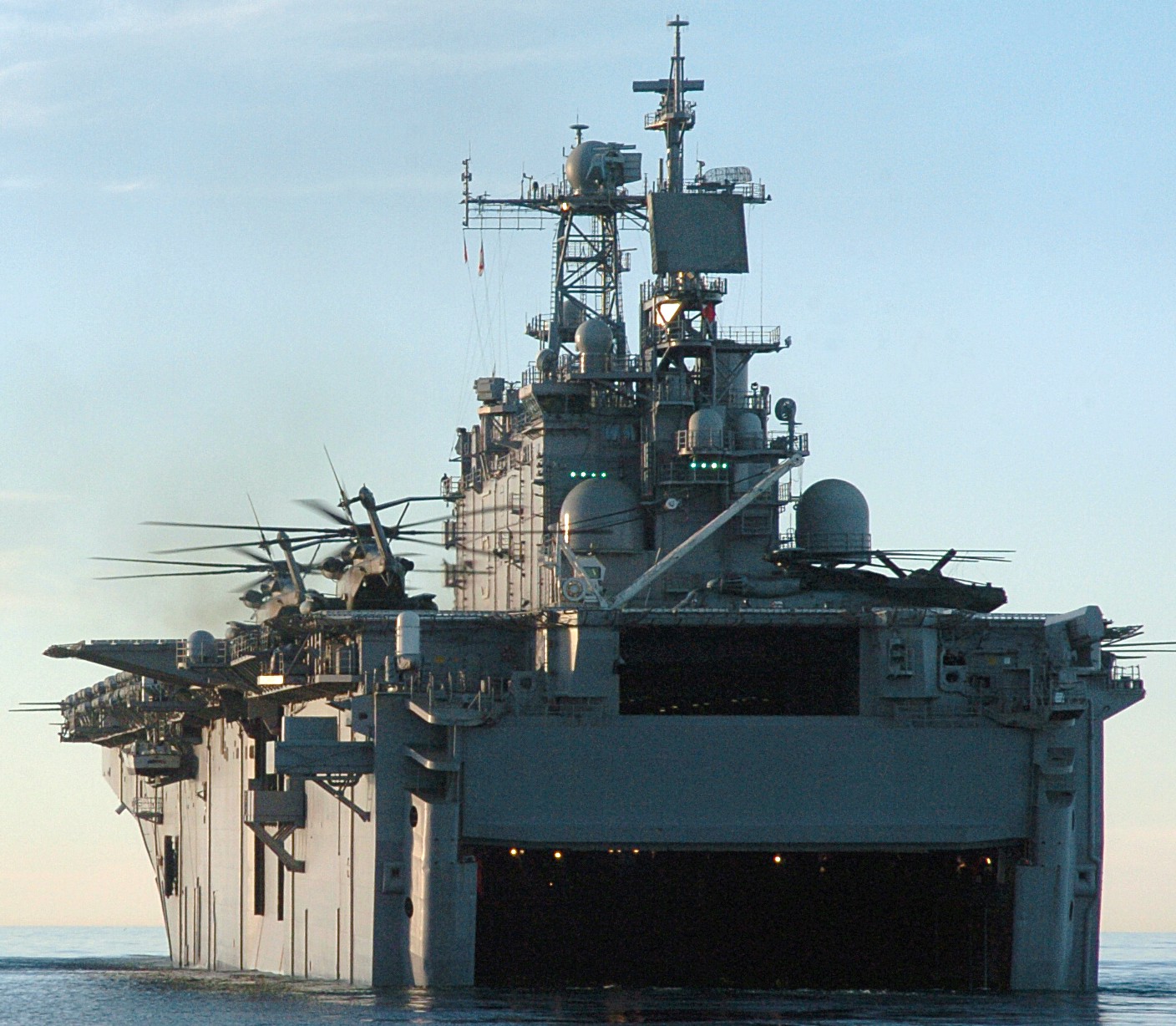 COMPTUEX - off California - December 2005




COMPTUEX - off California - December 2005




Pacific Ocean - November 2005




off Hawaii - June 2005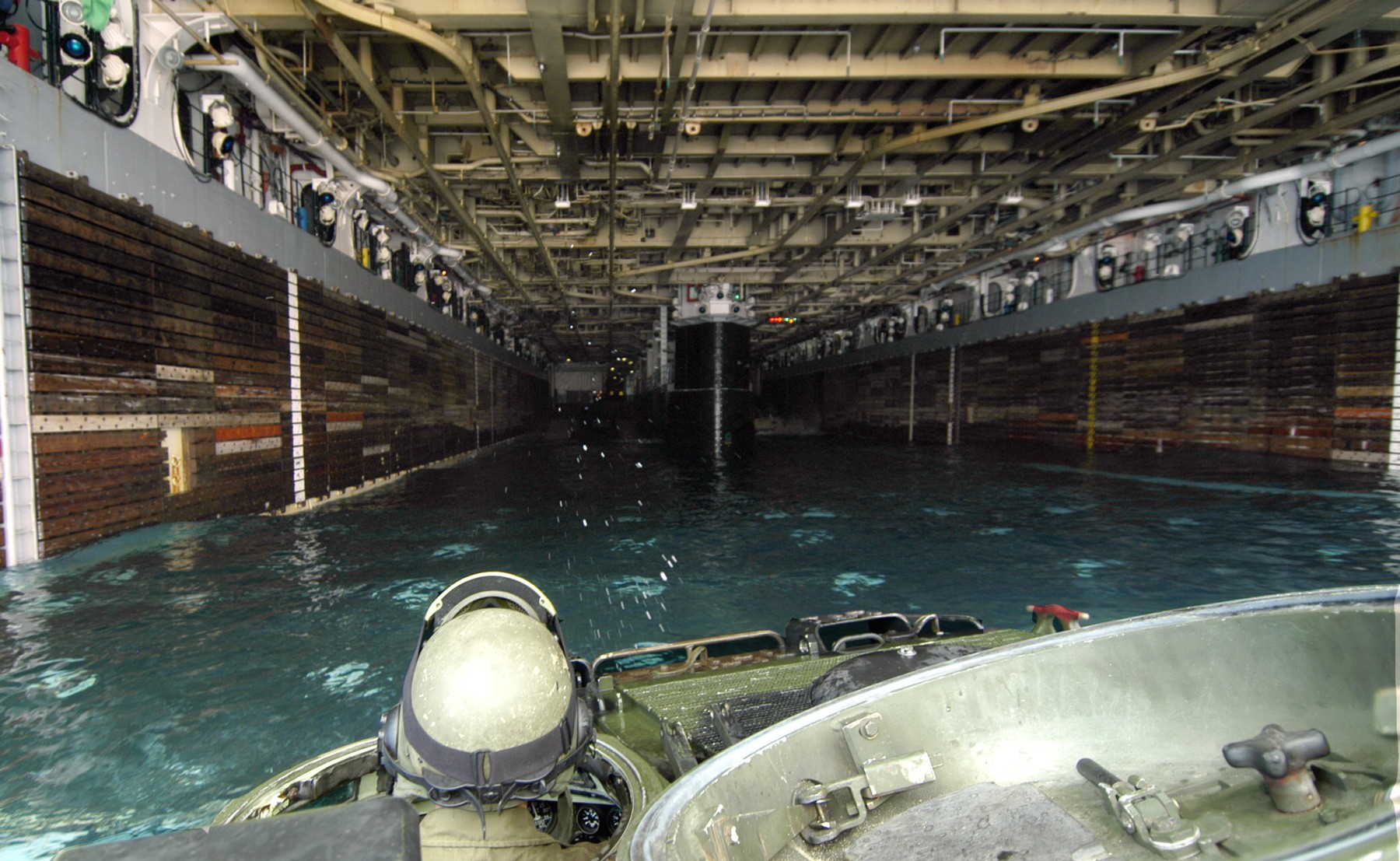 well deck operations - off Hawaii - June 2005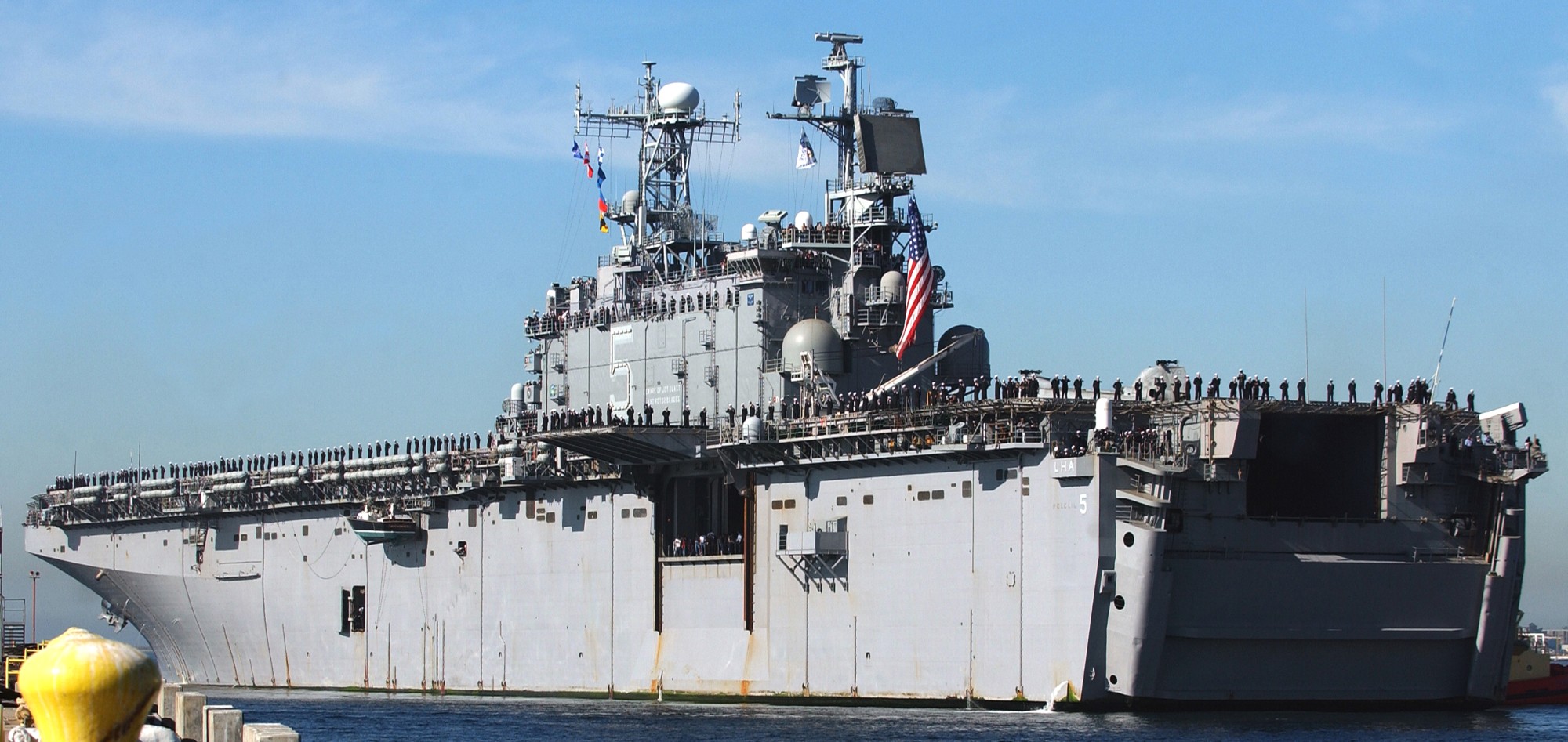 returning to Naval Base San Diego, California - March 9, 2004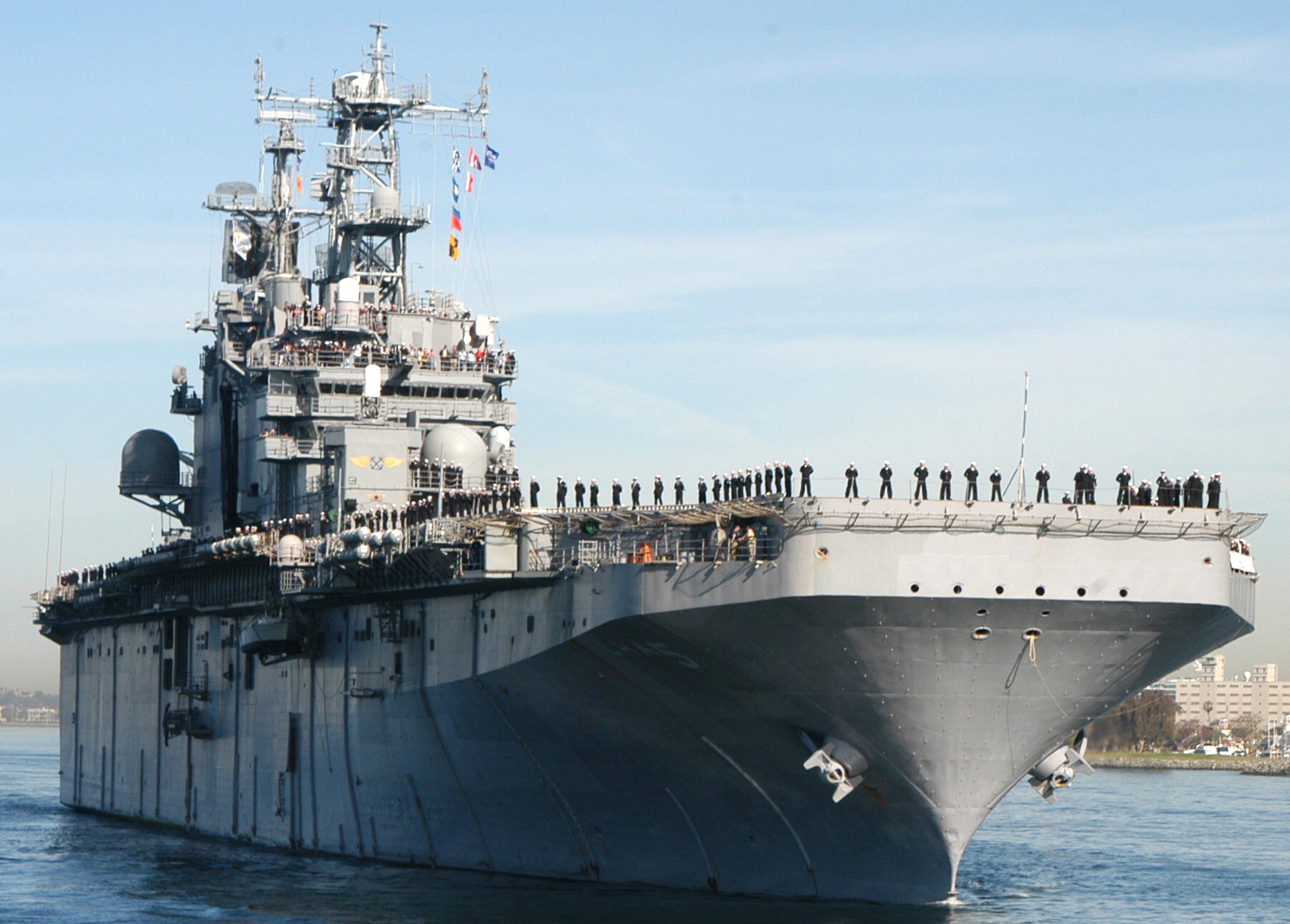 returning to Naval Base San Diego, California - March 9, 2004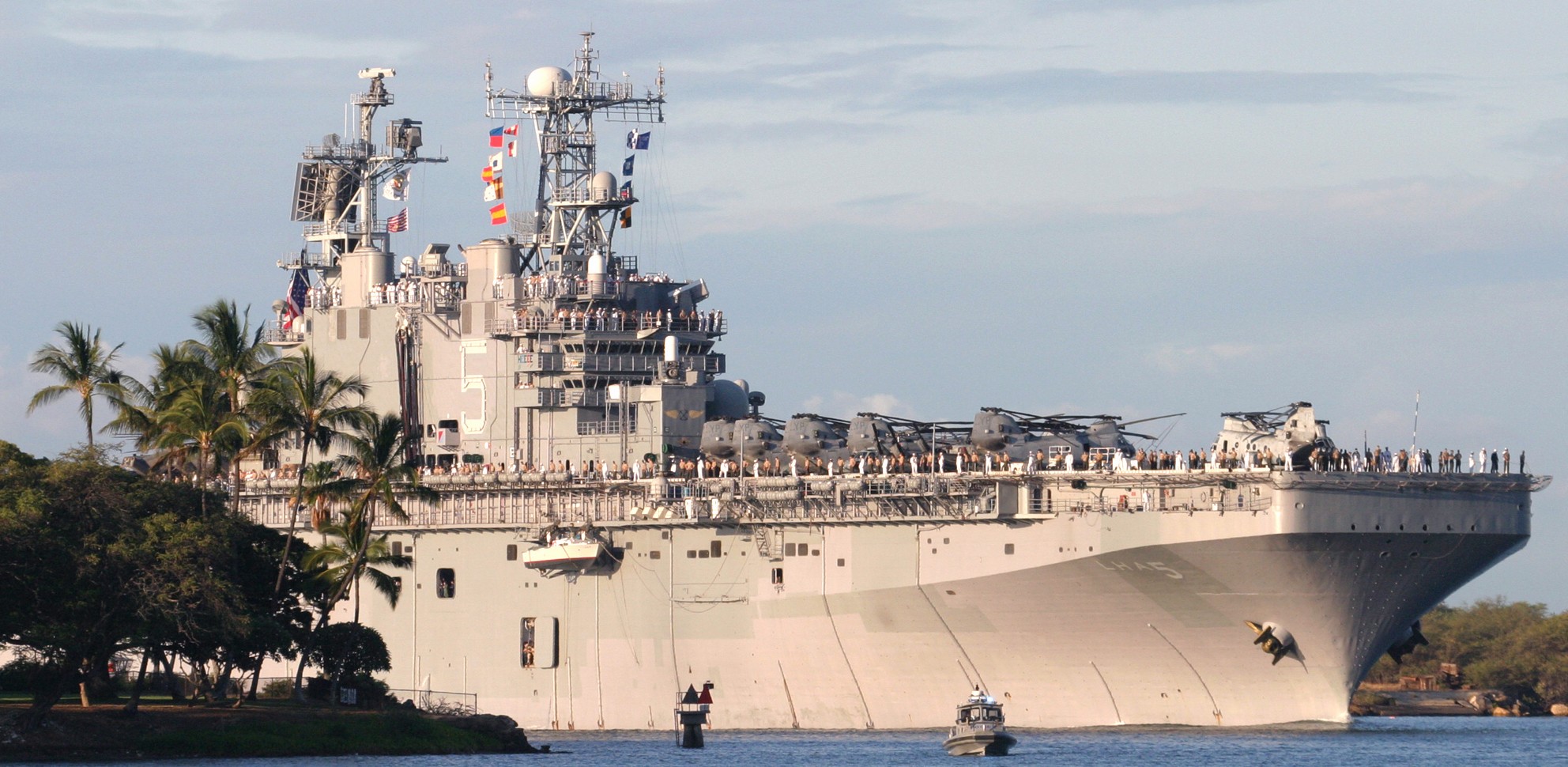 with HMM-163(REIN) embarked - Pearl Harbor, Hawaii - August 2003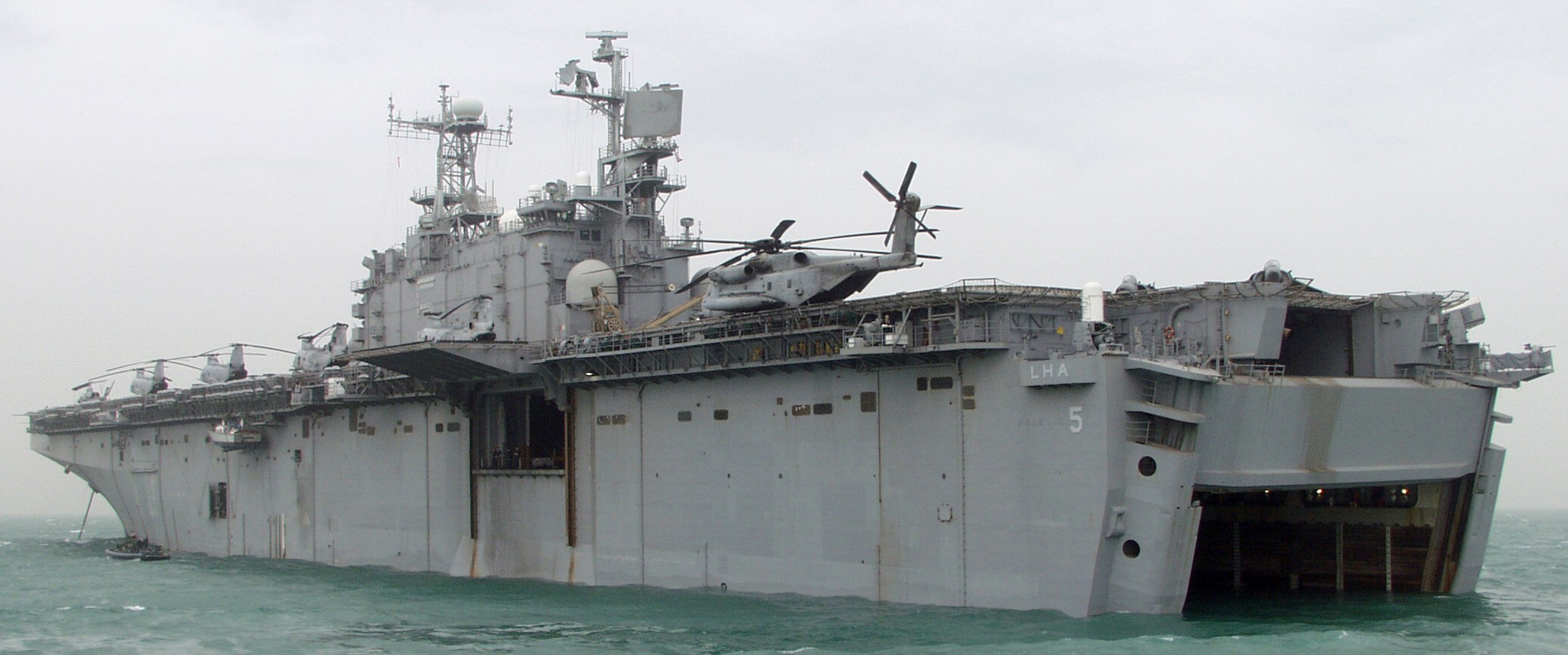 with HMM-163(REIN) embarked - Operation Enduring Freedom - 5th Fleet AOR - January 2002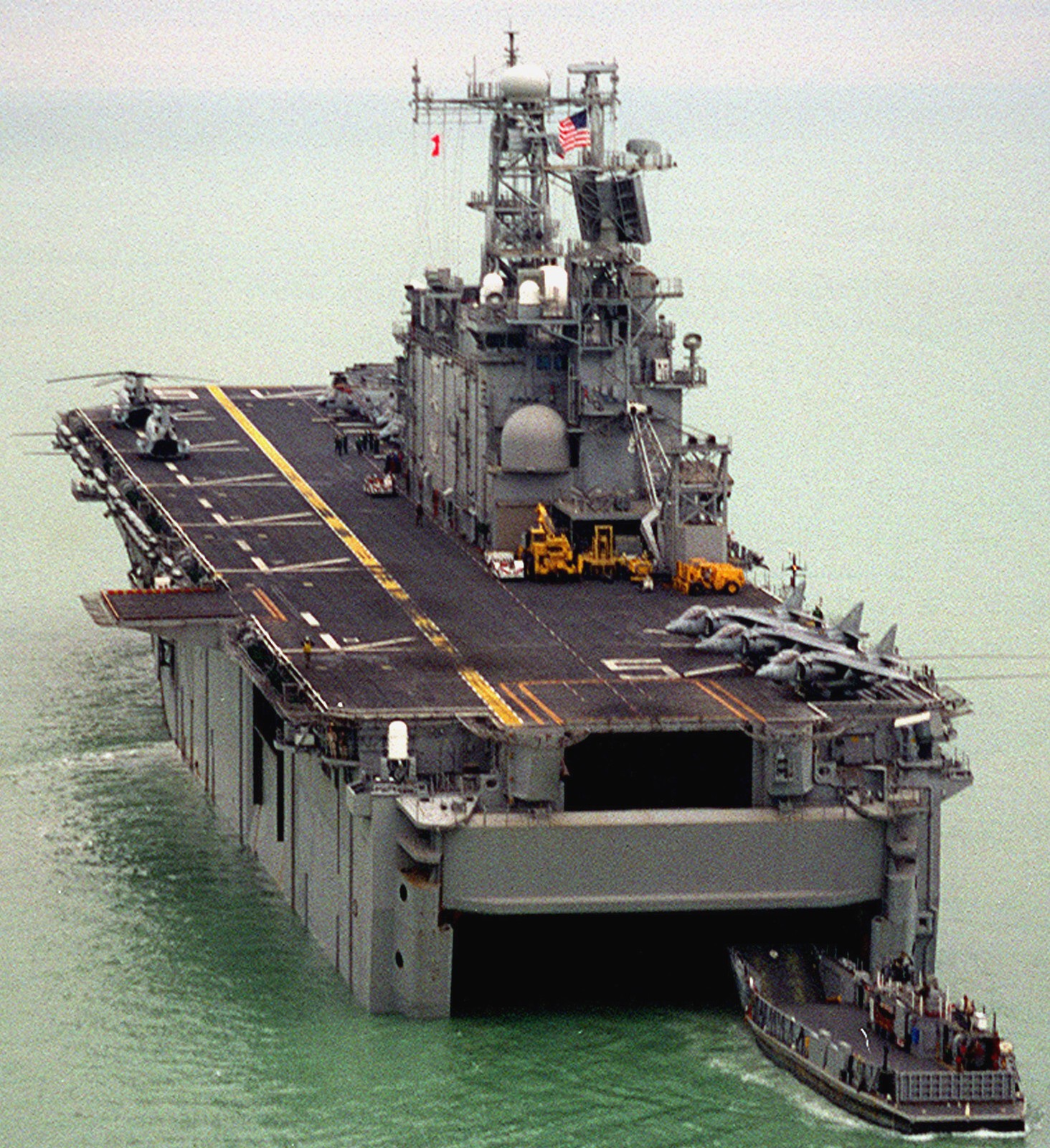 with HMM-164(REIN) embarked - off Kuwait - January 1998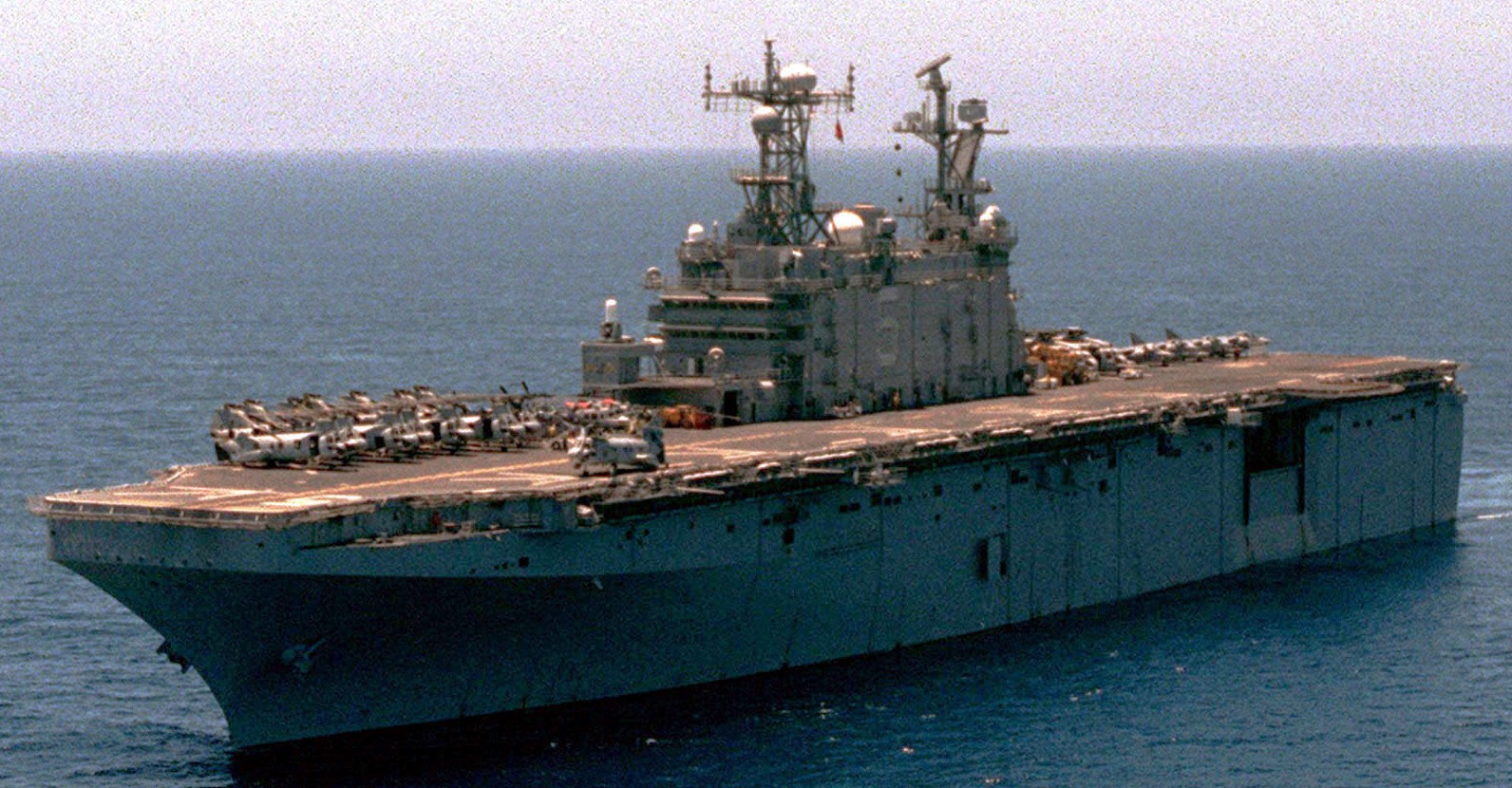 during exercise Kernel Blitz - Pacific Ocean - June 1997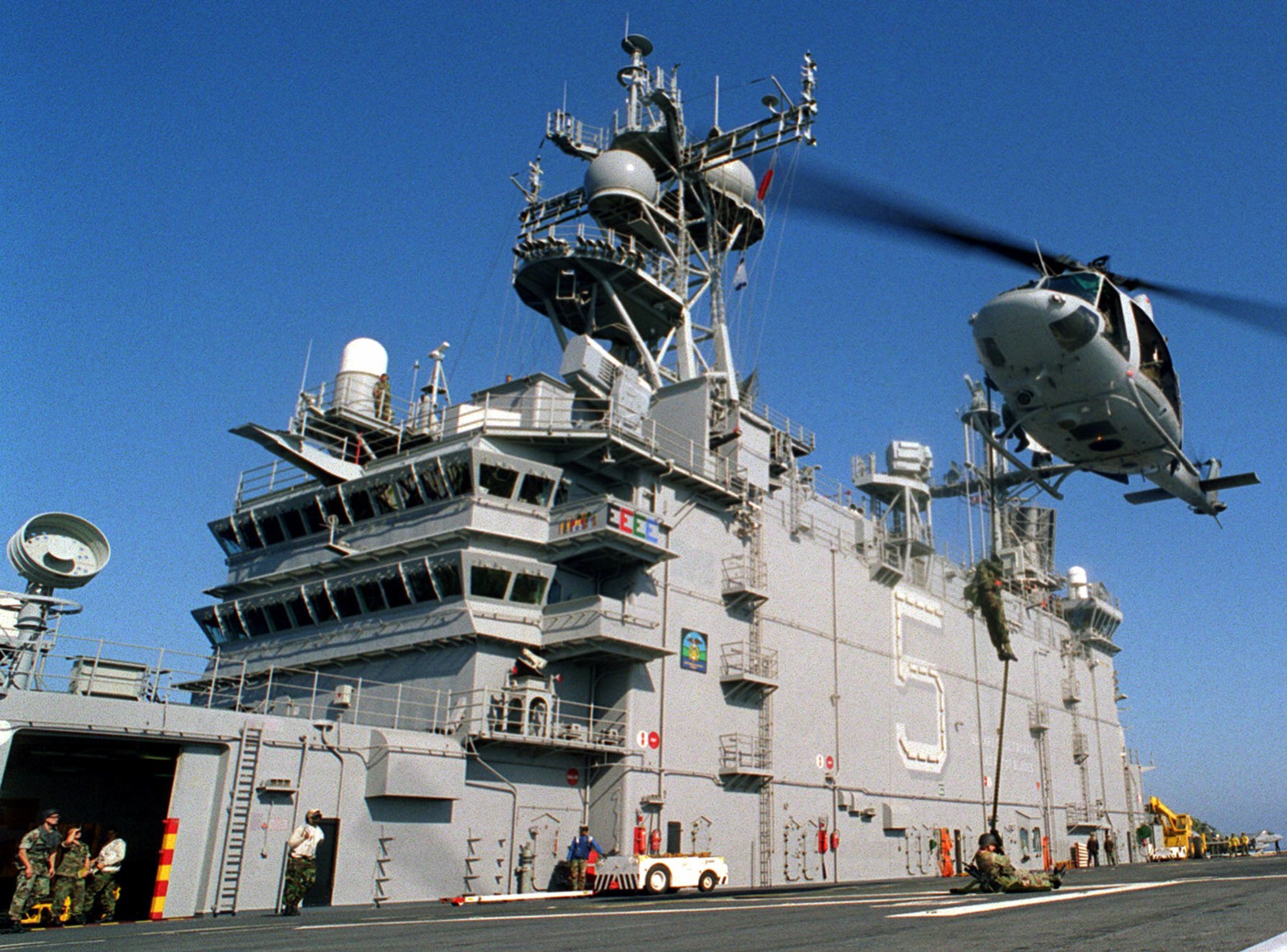 during exercise Kernel Blitz - Pacific Ocean - June 1997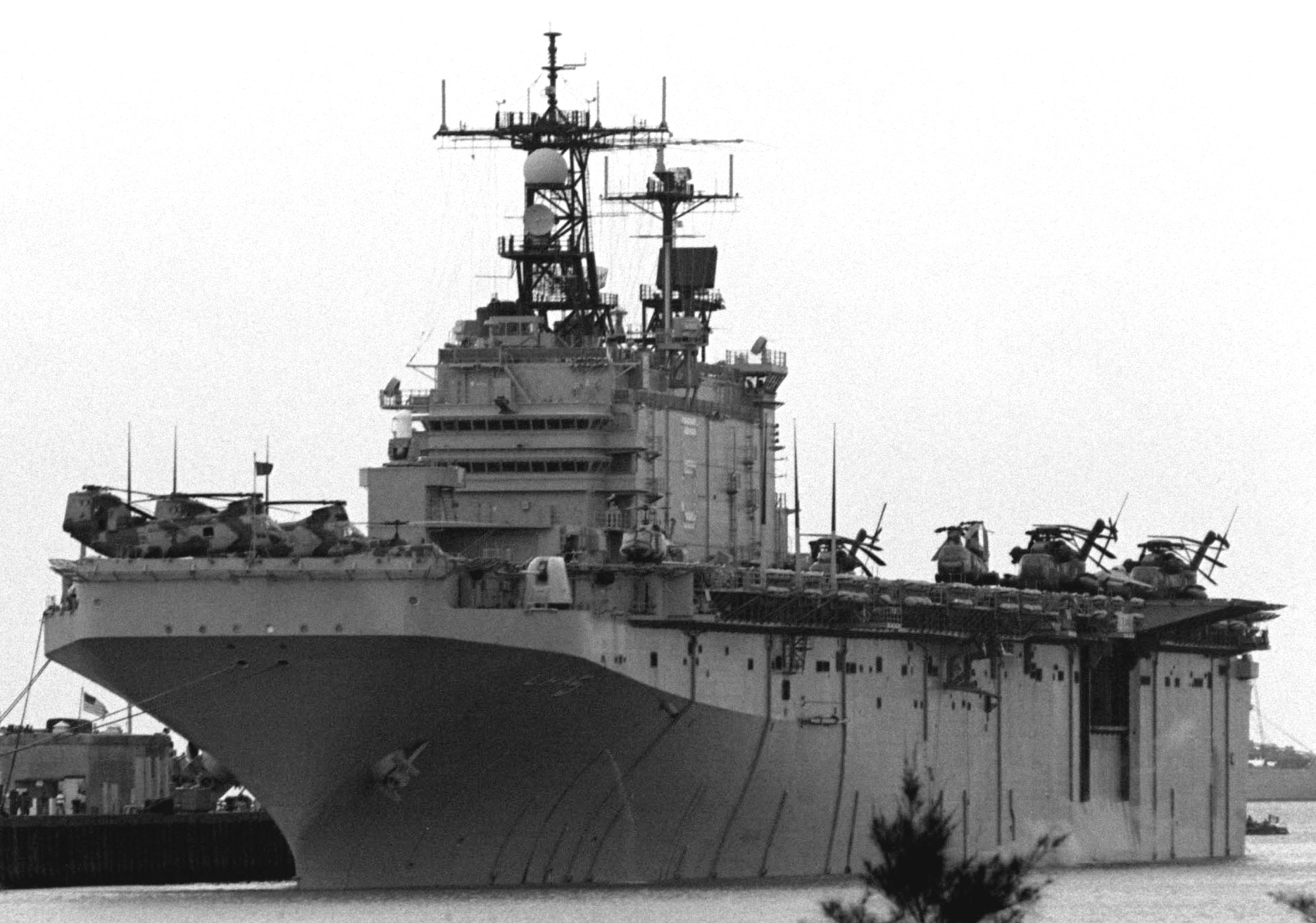 during exercise Team Spirit - Okinawa, Japan - February 1990 (note the Mk.45 gun turret)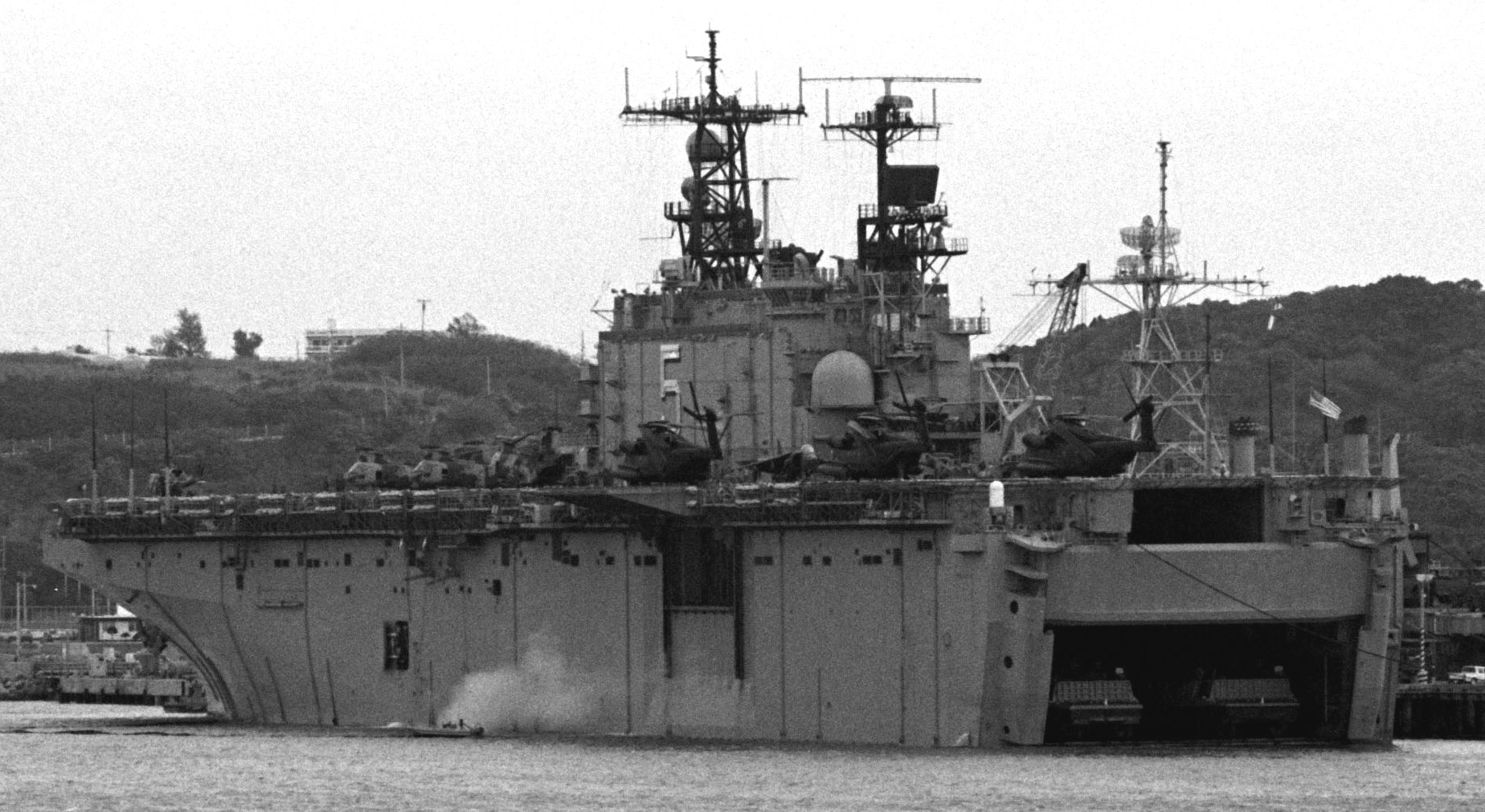 during exercise Team Spirit - Okinawa, Japan - February 1990




Pacific Ocean - July 1986



San Francisco Bay - October 1985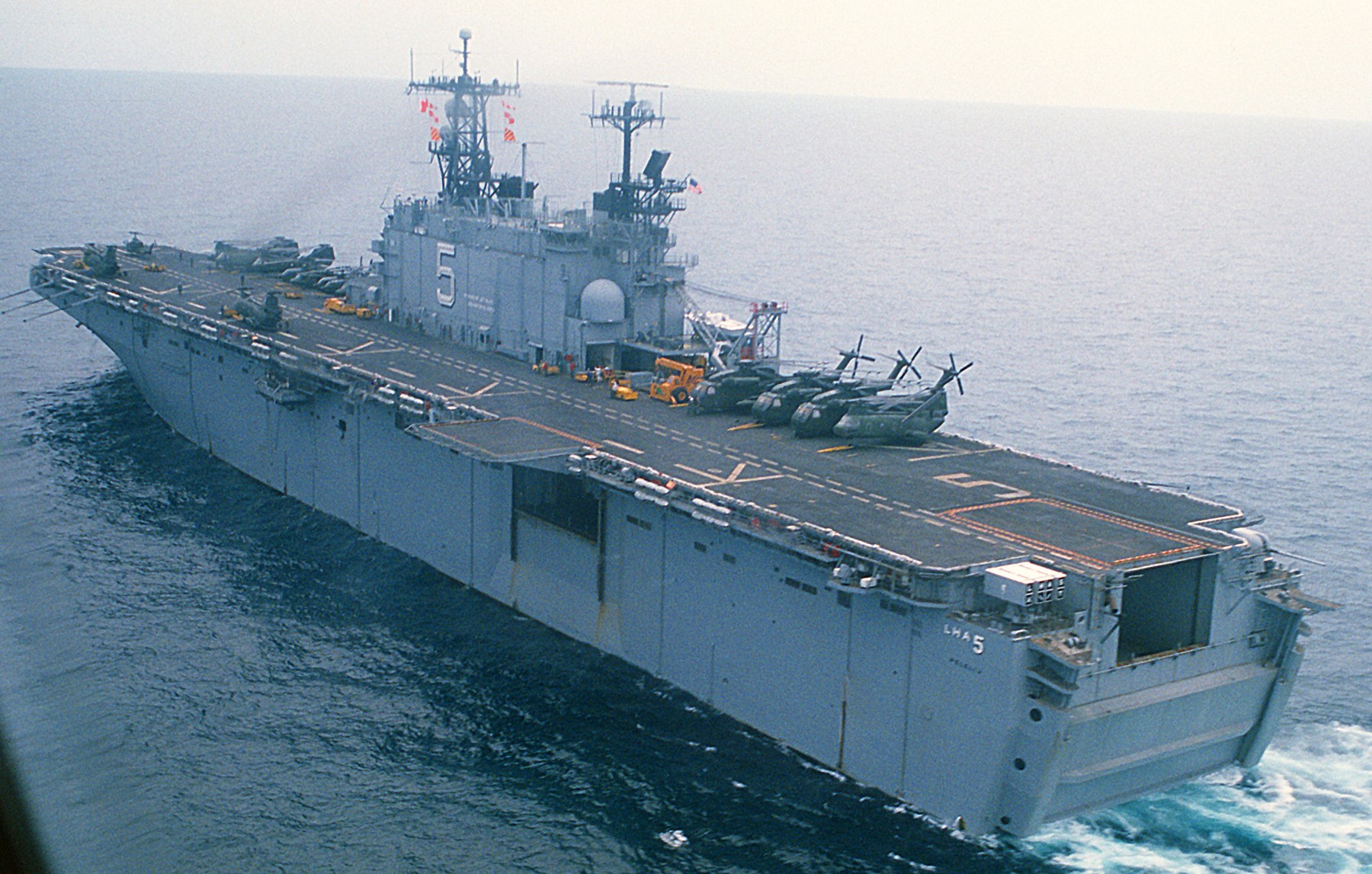 during exercise Cobra Gold - South China Sea - July 1985



Long Beach Naval Station, California - February 1985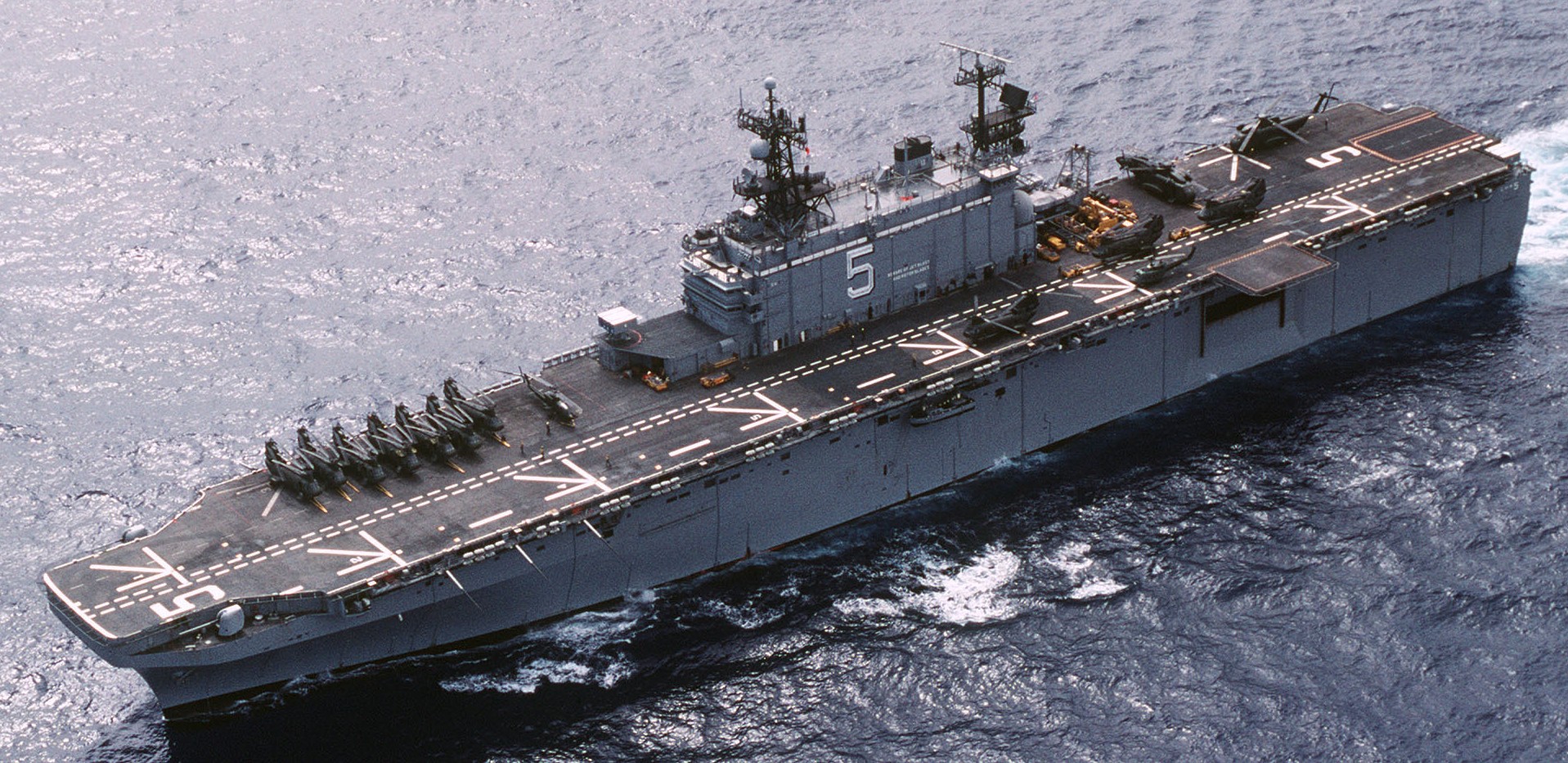 with HMM-262(C) embarked - Pacific Ocean - February 1984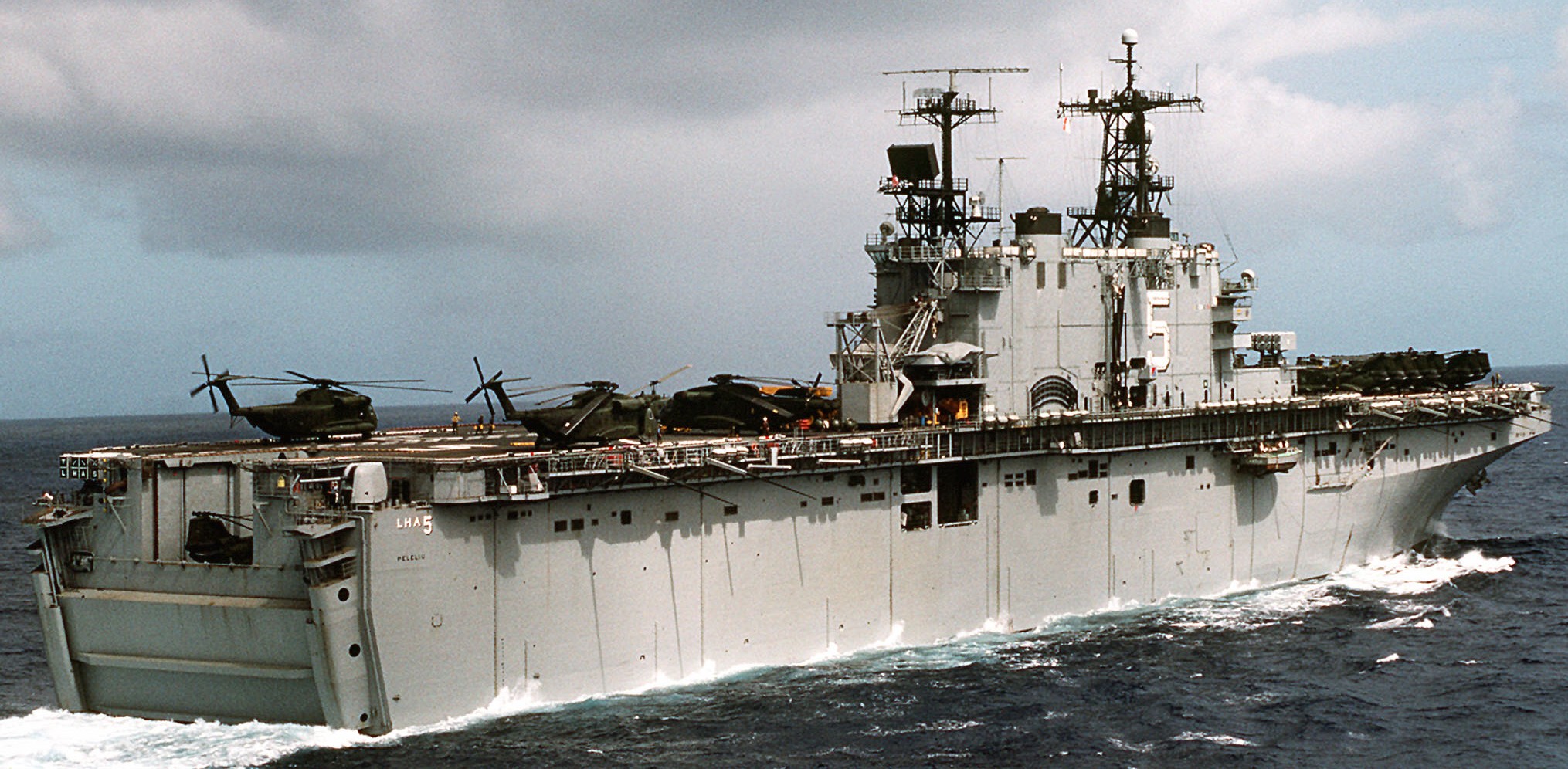 with HMM-262(C) embarked - Pacific Ocean - February 1984




with HMM-262(C) embarked - Pacific Ocean - February 1984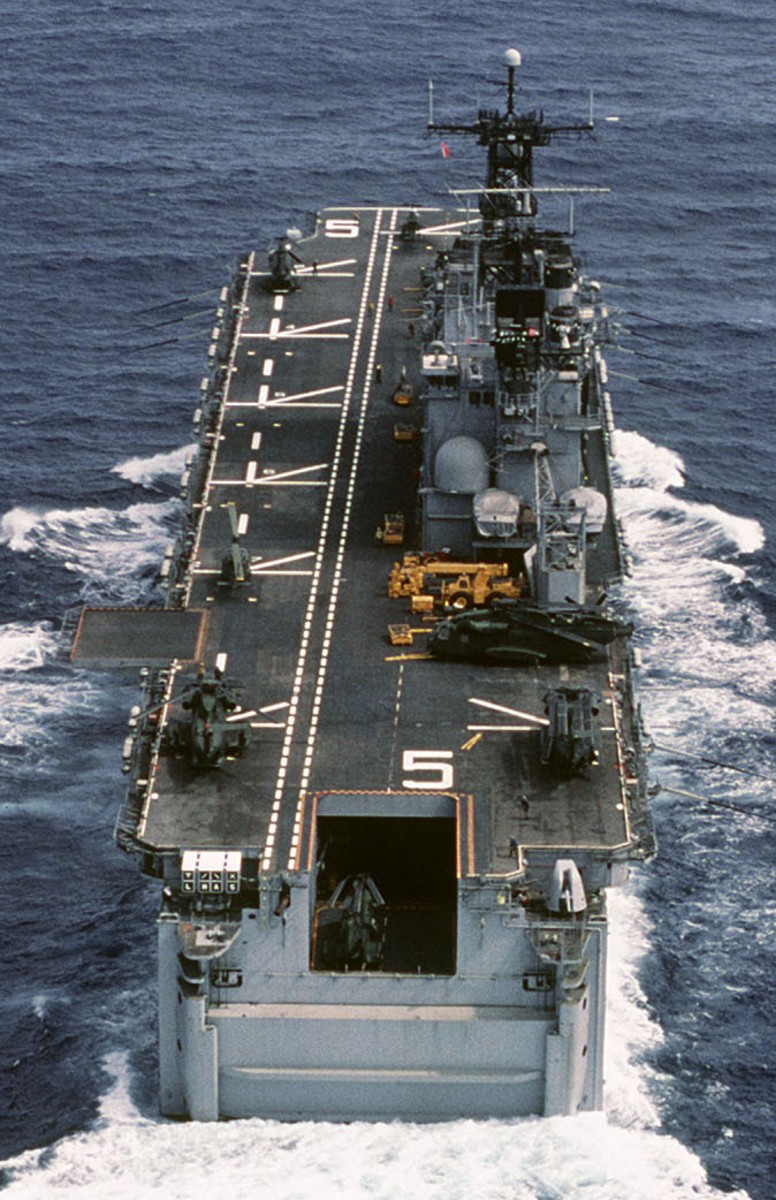 with HMM-262(C) embarked - Pacific Ocean - February 1984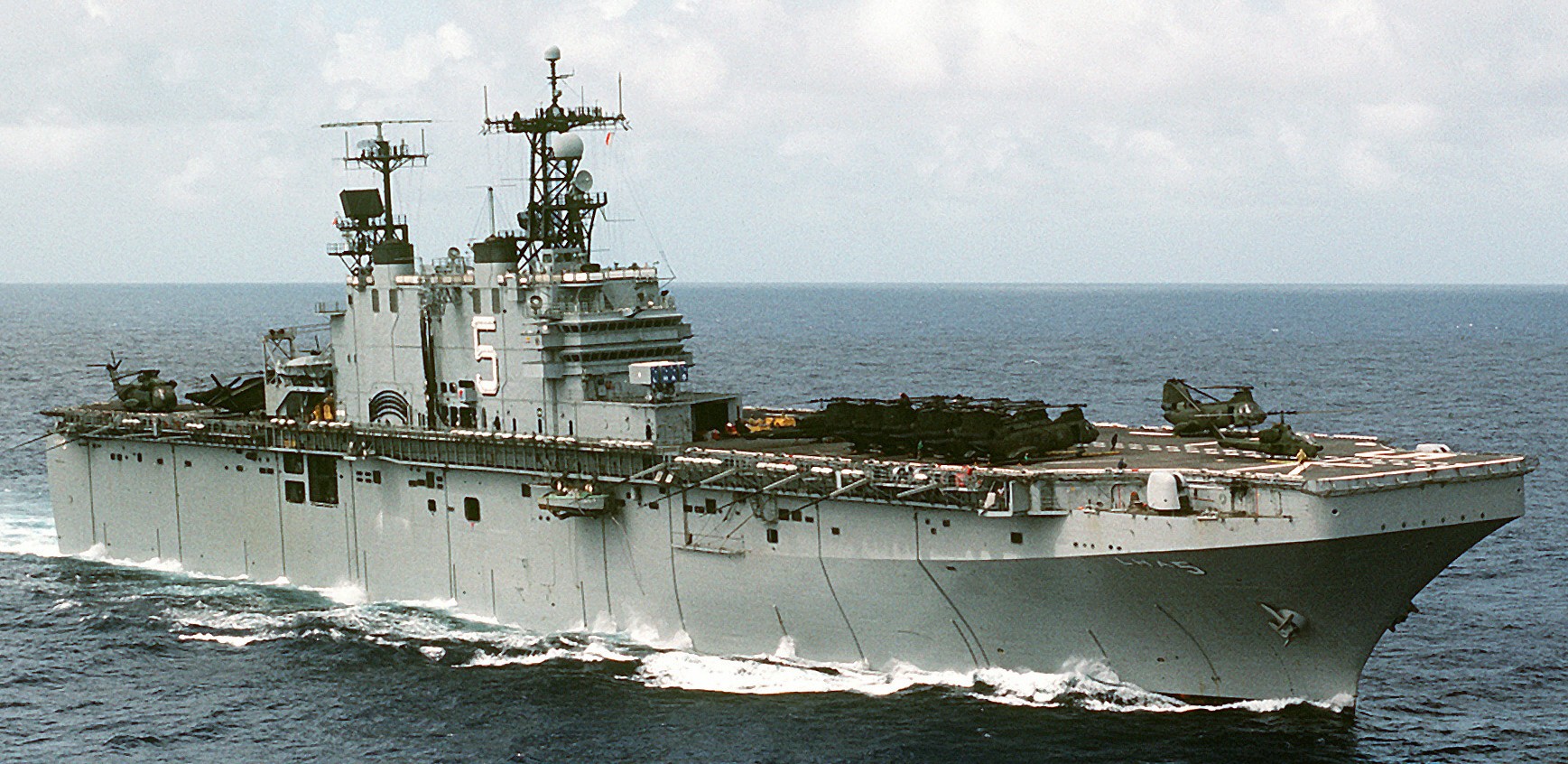 with HMM-262(C) embarked - Pacific Ocean - February 1984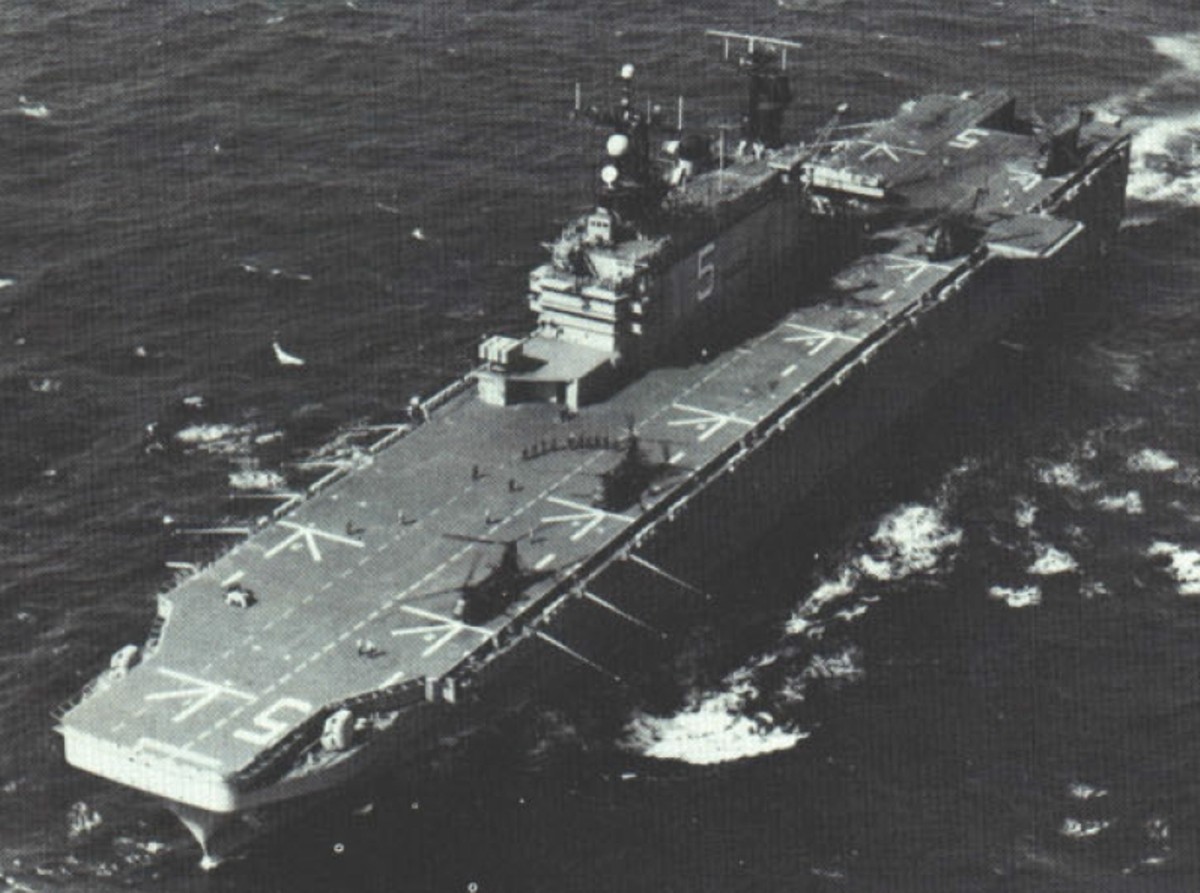 1982


USS Peleliu (LHA 5):

The contract to build LHA-5 was awarded on Nov 6, 1970. Peleliu's keel was laid Nov. 12, 1976, and the ship was launched Nov. 11, 1978. She was christened on Jan. 6, 1979, by Margaret Hayward, wife of former Chief of Naval Operations, Adm. Thomas B. Hayward. Commissioning took place in Pascagoula, Miss., at Ingalls Shipyard May 3, 1980.

Peleliu is the first U.S. Navy ship to carry the name Peleliu, and the second ship named in honor of the World War II battles fought in the Palau Islands. The first ship was USS Palau (CVE 122), a Commencement Bay Class aircraft carrier, which served from 1946 until being decommissioned in 1954. Peleliu is named in honor of the 3rd Amphibious Force's assault and capture of Peleliu Island in the fall of 1944.

On May 17th Peleliu arrived in Colon, Panama to begin unrigging for the transit of the Panama Canal. Peleliu departed Colon on May 20th and tied up in Balboa, Panama (Pacific side of the canal) twelve hours later. After five days of rerigging in Balboa, Peleliu departed and entered her home waters of the Pacific. Peleliu proceeded south from Panama and crossed the equator on the night of May 27th, which is the record for the shortest period between a ship's commissioning and "Crossing the Line."

On May 28th Peleliu headed north to Mazatlan, Mexico, departing the Baja port on June 7th enroute San Diego, California. Most of the events Peleliu and her crew participated in during this initial transit were "firsts" and the underway refueling with USNS TALUGA was no exception, occurring on June 8th. Peleliu arrived at Naval Air Station, San Diego on June 10th for a one-day stop prior to arriving in Long Beach, CA, her homeport.

In 1981 Peleliu complete its Post-Shakedown Availability and join the fleet as a fully operational unit of the Navy's Pacific Amphibious Force. The latter part of the year found the ship and her crew well trained completed numerous work up evaluations. The Engineering department passed their Operational Propulsion Plant Examination (OPPE) in 42 hours vice the normal 72 hours required, and REFTRA was successfully accomplished just prior to the holiday season. All efforts were directed toward preparing Peleliu for its first Western Pacific/Indian Ocean deployment.

1982 marked USS Peleliu's first year as a fully operational unit of the Navy's Pacific Fleet Amphibious Force. In January, she was the flagship in a no-notice, non-combatant emergency evacuation exercise conducted off San Clemente Island, and on March 28th the ship got underway for its maiden deployment to the Western Pacific and Indian Ocean.

The deployment was completed on October 4th, 1984. One month later the ship deployed to the northern Pacific Ocean to participate in an exercise held off Amchitka in the Aleutian Islands. Peleliu conducted its 10,000th accident free landing during this northern Pacific exercise.

The first fleet firing of the RIM 116 RAM (Rolling Airframe Missile) occurred in October 1995 from the USS Peleliu.

In Sepember 1997 the Peleliu Amphibious Readiness Group (ARG) took part in Fleet Battle Experiment - Bravo's "Silent Fury" phase along with the Constellation Battle Group.

The Peleliu ARG was deployed to the Persian Gulf in 1997 (actually being present in the Gulf in November) and participated in Exercise Eager Mace 98.

On June 21, 1999 the Peleliu Amphibious Ready Group deployed for a 6-month Western Pacific deployment along with the USS Constellation.

Peleliu and its ARG supported Operation Stabilize, which was intended to support humanitarian and peacekeeping efforts in East Timor.

The USS Peleliu Amphibious Ready Group deployed to the Western Pacific, Indian Ocean, and Arabian Gulf August 2001 to March 2002. Following the events of September 11th, Peleliu ARG was a central support force for Operation Enduring Freedom. Peleliu was the first ship in the war on terrorism to deploy Marines to the beach, to fly over 200 miles to the desert country of Afghanistan.

Following its deployment Peleliu underwent a comprehensive overhaul at National Steel and Shipbuilding Corporation shipyard in San Diego. Peleliu's first milestone after overhaul was successfully passing the light-off assessment (LOA) administered by Afloat Training Group (ATG) Pacific. LOA is an important process for a ship. Before a ship can light off, its engineering plant must be inspected by ATG to ensure that it is in proper condition for operation at sea. During LOA, ATG also assesses the crew's firefighting sustainment capabilities with general quarters (GQ) drills.

In 2002 it was announced that the Navy intended to deploy the USS Peleliu as the center of an Expeditionary Strike Group that would consist of cruisers, destroyers, frigates and submarines in addition to the usual compliment of amphibious vessels.

In April 2003 the "Gunbearers" of Helicopter Combat Support Squadron ELEVEN (HC-11) put their newly acquired MH-60S Knighthawk helicopters through their paces while conducting daylight landing qualifications aboard Peleliu. This evolution marked the first time the Navy's newest helicopter landed on a Pacific Fleet naval ship.

In May 2003, shortly after celebrating her 23 rd birthday, the Peleliu took part in a Expeditionary Strike Group Exercise (ESGEX) in which members of the crew and the strike group participated in a non-combatant evacuation operation (NEO). NEO is the Navy and Marine Corps way of extracting civilians from a hostile environment. Marines from the 13th Marine Expeditionary Unit (13th MEU) are inserted into a hostile country, usually by helicopter, and begin the task of escorting civilians back to Peleliu where they will be sheltered, fed and cared for until they can be brought back to the United States. NEO is one of the amphibious Navy's primary missions. Peleliu is capable of supporting more than 1,000 civilians for an indefinite amount of time. During the 1991 volcanic eruption of Mount Pinatubo in the Philippines, Navy ships embarked large numbers of civilians of all ages for the two-day passage to a safe island.

The NEO exercise during the ESGEX was the first of several NEO training evolutions for Peleliu Sailors and 13th MEU Marines over a period of several months.

In June 2003 the Peleliu Expeditionary Strike Group supported elements of the 13th Marine Expeditionary Unit as they took part in an urban training scenario using abandoned buildings that were once part of a radar range complex at Naval Weapons Station Seal Beach. The ESG also provided force protection to the Marines as they conducted operations ashore.

Marines went ashore June 11, 2003 to collect intelligence on the numbers of enemy forces and locations of equipment, to assist in planning the eventual strike on the site. The attack began at about 10 p.m., June 13, when a raiding force of about 60 Marines came ashore in small boats to assault the mock encampment. Pilots in AH-1 Sea Cobra attack helicopters orbited overhead, training to provide fire support for the Marines on the ground. During the assault, Marines used a measured amount of plastic explosive to blow the doors off their hinges; in a real-life scenario, the resulting explosions would also give the assaulting force a tactical advantage by stunning anyone inside. By midnight, the encampment was secure and the exercise was complete.

In late July and early August 2003 the Peleliu ESG completed its Joint Task Force Exercise off the coast of Southern California. The road to deployment involved months of planning, the participation of more than 6,000 Sailors and Marines, and the blending of Navy and Marine Corps assets, such as Light Armored Vehicles (LAVs) and Amphibious Assault Vehicles (AAVs). Working together in various scenarios, the Navy and Marine Corps team overcame many threats and injected troops into a range of locations that wouldn't have been possible with only one military force in the picture. During one part of the exercise at Camp Pendleton's Red Beach, Landing Craft Air Cushioned (LCAC) vehicles launched from USS Germantown (LSD 42) had to push back their landing time due to low visibility on the beach. Having completed their final training exercise, Expeditionary Strike Group ONE (ESG-1) was now ready for deployment.

The Peleliu deployed on August 22, 2003, (it had been scheduled to deploy in November 2003 but Operation Iraqi Freedom caused USS Saipan to deploy ahead of its schedule preventing it from deploying as the first ESG). ESG 1's deployment consisted of operations in Iraq, the Persian Gulf, the Red Sea and the Horn of Africa.

The group conducted humanitarian assistance and security and stabilization missions in Iraq, as well as Operation Iraqi Freedom Maritime Interception Operations on land in southern Iraq and at sea in the Persian Gulf. They also patrolled international waters in the Red Sea and Horn of Africa to deter the transport of terrorist personnel and equipment.

The patrols yielded success in December when ESG 1 units were involved in two separate interception operations in the Persian Gulf. The occurred on December 15th when USS Decatur (DDG 73) detained a dhow and its 12 crew members and seized upward of $10 million in hashish. Two weeks later, Peleliu and elements of the 13th Marine Expeditionary Unit (Special Operations Capable), along with USS Port Royal (CG 73) and USS Germantown (LSD 42), worked with Australian patrol aircraft in the detention of another dhow and its 15 crew members, seizing 2,800 pounds of hashish with an estimated street value of $11 million.

The drug seizure was not the only time the strike group would engage in coalition operations. ESG 1's most complex coalition mission came in January, when the group served as command and control for Exercise Sea Saber, a coalition maritime interdiction training exercise.

In late February 2004 the seven ships attached to Expeditionary Strike Group ONE returned following a six and a half month deployment in support of the global war on terrorism.

Following a successful post deployment maintenance cycle, Peleliu began the demanding training cycle to prepare for her 2006 deployment

During this period, the crew distinguished themselves Navy-wide as they were awarded the ships' first ever Battle Efficiency "E" Award for 2005.

The Navy Battle Efficiency Ribbon was established July 1, 1974, by then-Secretary of the Navy J. William Middendorf to recognize ships and aviation squadrons who are the best in the fleet in all areas of battle readiness, during a specific 18-month fleet-wide competition.

In the 2005 Command Excellence Award Competition, Peleliu also won her first Command, Control, Communications and Information Warfare Excellence Award, fourth Logistics Management Excellence Award, fifth Engineering/Survivability Excellence Award, and eleventh Maritime Excellence Award.

On February 15 th, 2006, Peleliu and the men and women of Expeditionary Strike Group THREE (ESG 3), commanded by U.S. Marine Corps Brig. Gen. Carl Jensen, consisted of the Thirteenth Marine Expeditionary Squadron (Special Operations Capable) (13 th MEU(SOC)); Austin-class amphibious transport dock USS Ogden (LPD 5); Ticonderoga-class guided-missile cruiser USS Port Royal (CG 73); Oliver Hazard Perry-class frigate USS Reuben James (FFG 57); Arleigh Burke-class destroyer USS Gonzalez (DDG 68); Whidbey Island-class dock landing ship USS Germantown (LSD 42); Helicopter Sea Combat Squadron (HSC) 21; Tactical Air Control Squadron (TACRON) 11; Beach Master Unit (BMU) 1; Assault Craft Unit (ACU) 5; Assault Craft Unit (ACU) 1; and Explosive Ordnance Disposal (EOD) Unit 11, Detachment 15.

Sailors and Marines of ESG THREE were instrumental in maintaining Maritime Security Operations (MSO) while assigned to the Fifth Fleet area of operation, which includes the Arabian Gulf and Gulf of Oman. MSO, which helps maintain the conditions for security and stability in the 5 th Fleet Operating Area. MSO denies international terrorists use of the maritime environment as an avenue for attacks or transportation lanes for weapons and personnel.

During this time Peleliu safely amassed over 5,337 flight deck evolutions while in the region, with more than 585 hours in support of Operation Iraqi Freedom (OIF).

Peleliu also hosted military and civilian leaders from various countries in the region, including the head of the Iraqi navy, and the U.S. Ambassadors to Qatar and Kuwait.

The Marine Corps component conducted various theater security cooperation (TSC) exercises with allies in the region, which included training foreign militaries on how to best fight the war against terrorism. They provided additional training to Iraqi security forces at Umm Qasr Naval Base on how to effectively defend the Iraqi oil terminals from attack.

Upon return from her deployment, Peleliu entered into a Planned Maintenance Availability (PMA) period where the ship is scheduled to receive the latest in war-fighting technology, which will allow the men and women of USS Peleliu to continue to serve our nation following the ship's motto, "Peace Through Strength."

Peleliu deployed in support of the Pacific Partnership mission 23 May - 20 September 2007. The mission included medical, dental, construction, and other humanitarian assistance programs ashore and afloat in the Philippines, Vietnam, Papua New Guinea, the Solomon Islands, and the Marshall Islands. Medical personnel onboard Peleliu included medical teams from the U.S. Navy and 10 partner nations, and three Non-Governmental Organizations, including "Project Handclasp".

In 2008 she was deployed in support of Operation Iraqi Freedom, Enduring Freedom and maritime security operations. On 10 August 2008 she responded to a distress call from a merchant vessel, the Gem of Kilakari, which was being attacked by armed pirates in the Gulf of Aden north of Somalia. The attack was successfully halted with no injuries.

In August 2010, Peleliu was sent to Port of Karachi to enlist its 19 helicopters for the rescue effort during the 2010 Pakistan floods, the worst in Pakistan's history. During the deployment Captain David Schnell, the ship's commanding officer, was relieved of command and reassigned for being "unduly familiar" with several crewmembers. Captain Mark E. Cedrun, chief of staff for Expeditionary Strike Group 3, replaced Schnell as commander of the ship.

On 24 November 2010, Peleliu returned full circle and she was berthed in the Subic Bay Freeport Zone on her first visit there since the evacuation by the Navy in 1991. That deployment also included port visits to: Naval Base Guam, Apra Harbor, Guam; Darwin, Australia; Dubai, UAE; Phuket, Thailand; and Pearl Harbor, Hawai'i before returning to her home port in San Diego, California on 18 Dec 2010.

On 17 September 2012, Peleliu deployed to the C5F AOR.

On 14 May 2013, Peleliu returned to her homeport after an eight-month deployment, accompanied by the USS Green Bay (LPD-20) and the USS Rushmore (LSD-47).

In February 2014, the United States Pacific Fleet announced that USS Green Bay would be forward deployed to replace the decommissioned USS Denver in Japan. Peleliu deployed to the Western Pacific to mitigate the gap in amphibious presence. The ship visited numerous ports including, Apra Harbor, Guam; Sasebo and Okinawa, Japan; Subic Bay, Philippines and Singapore. During the visits, Peleliu competed against partner nation teams during various sporting events and participated in community relations projects.

Over the course of deployment, Peleliu transited more than 25,000 nautical miles (46,000 km; 29,000 mi), conducted the safe launch and recovery of more than 50 Landing Craft Utility, 30 Landing Craft Air Cushion, and 25 Amphibious Assault Vehicle ship to shore movements, as well as carrier and deck landing qualifications and operations for U.S. Navy and Marine Corps aircraft squadrons, U.S. Army 160th Special Operations Aviation Regiment (Airborne) and foreign aircraft from Colombia, Peru, Mexico and Argentina.

Upon assignment to Seventh Fleet, the ship embarked Commander, Amphibious Force Seventh Fleet, Commander, Amphibious Squadron 11 and 31st Marine Expeditionary Unit and joined USS Germantown to form the Peleliu Amphibious Readiness Group (ARG). While deployed, the ARG conducted security and stability operations and exercises throughout the Indo-Asia-Pacific region to include Amphibious Landing Exercise (PHIBLEX) 15 and other maritime cooperation exercises with partner nations.

From June to August 2014, Peleliu, with Amphibious Squadron Three, Special Purpose Marine Task Force Three and Helicopter Sea Combat Squadron (HSC) 21 embarked, participated in Rim of the Pacific (RIMPAC) 2014 as part of the Third Fleet.

On 24 December 2014 Peleliu returned to Naval Base San Diego from a six-month deployment to the western Pacific. Upon her return the crew made preparations for decommissioning.

Peleliu decommissioned on 31 March 2015.

She was then towed to the Naval Inactive Ship Maintenance Facility (NISMF), Pearl Harbor, Hawaii and laid up in reserve.
The Battle of Peleliu, Palau Islands (September 15 - November 25, 1944):
The Battle of Peleliu, codenamed Operation Stalemate II by the US military, was fought between the United States and Japan during the Mariana and Palau Islands campaign of World War II, from 15 September to 27 November 1944, on the island of Peleliu.
US Marines of the 1st Marine Division and then soldiers of the US Army's 81st Infantry Division fought to capture an airfield on the small coral island of Peleliu. The battle was part of a larger offensive campaign known as Operation Forager, which ran from June to November 1944 in the Pacific Theater.
Major General William Rupertus, the commander of the 1st Marine Division, predicted that the island would be secured within four days. However, after repeated Imperial Japanese Army defeats in previous island campaigns, Japan had developed new island-defense tactics and well-crafted fortifications, which allowed stiff resistance and extended the battle to more than two months. The heavily-outnumbered Japanese defenders put up such stiff resistance, often by fighting to the death in the Japanese Emperor's name, that the island became known in Japanese as the "Emperor's Island."
In the US, it was a controversial battle because of the island's negligible strategic value and the high casualty rate, which exceeded that of all other amphibious operations during the Pacific War. The National Museum of the Marine Corps called it "the bitterest battle of the war for the Marines".