HOME | US Navy - ships | US Navy - air units | USMC - air units | International Navies | Weapon Systems | Special Reports
<![if !supportEmptyParas]> <![endif]>
<![if !supportEmptyParas]> <![endif]>
Air Task Group 201 - US Navy
ATG-201
<![if !supportEmptyParas]> <![endif]>
<![if !supportEmptyParas]> 01/20<![endif]>
STATUS:
ATG-201 established in June 1954
ATG-201 disestablished in November 1958



Tailcode: J / later AP
deployments

September 1954 - November 1954 aboard USS Intrepid (CVA 11) - Atlantic Ocean
September 1955 - October 1955 aboard USS Bennington (CVA 20) - carrier transfer - Mayport, FL to San Diego, CA
October 1955 - April 1956 aboard USS Bennington (CVA 20) - Pacific Ocean
February 1958 - November 1958 aboard USS Essex (CVA 9) - Mediterranean Sea, Indian Ocean, Pacific Ocean

> for a complete listing of deployed squadrons go to the end of this page <
> for more images go to the individual ship sites <

<![if !supportEmptyParas]> <![endif]>
images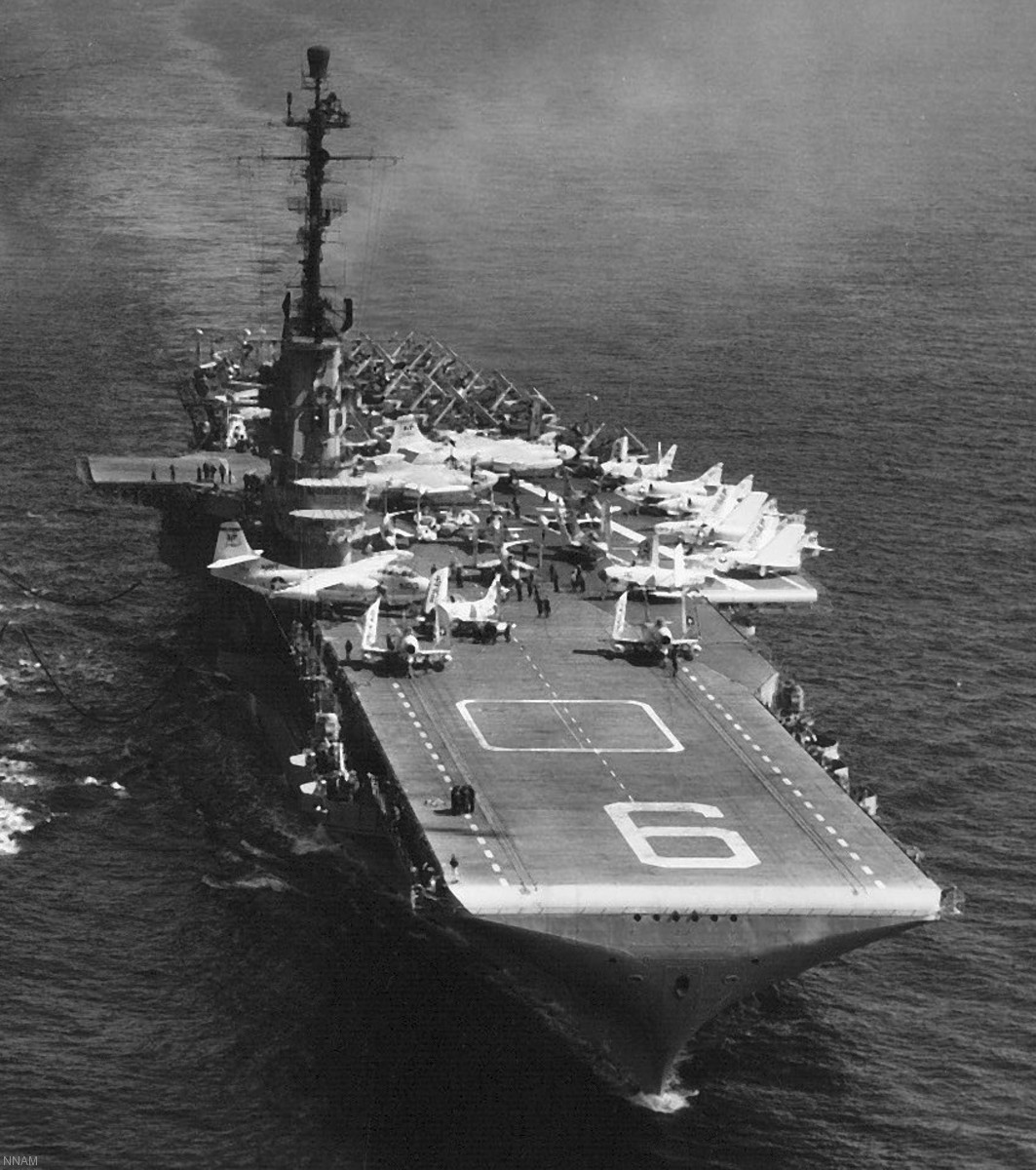 Air Task Group 201 (ATG-201) embarked on USS Essex (CVA 9) - 1958



Air Task Group 201 (ATG-201) embarked on USS Essex (CVA 9) - 1958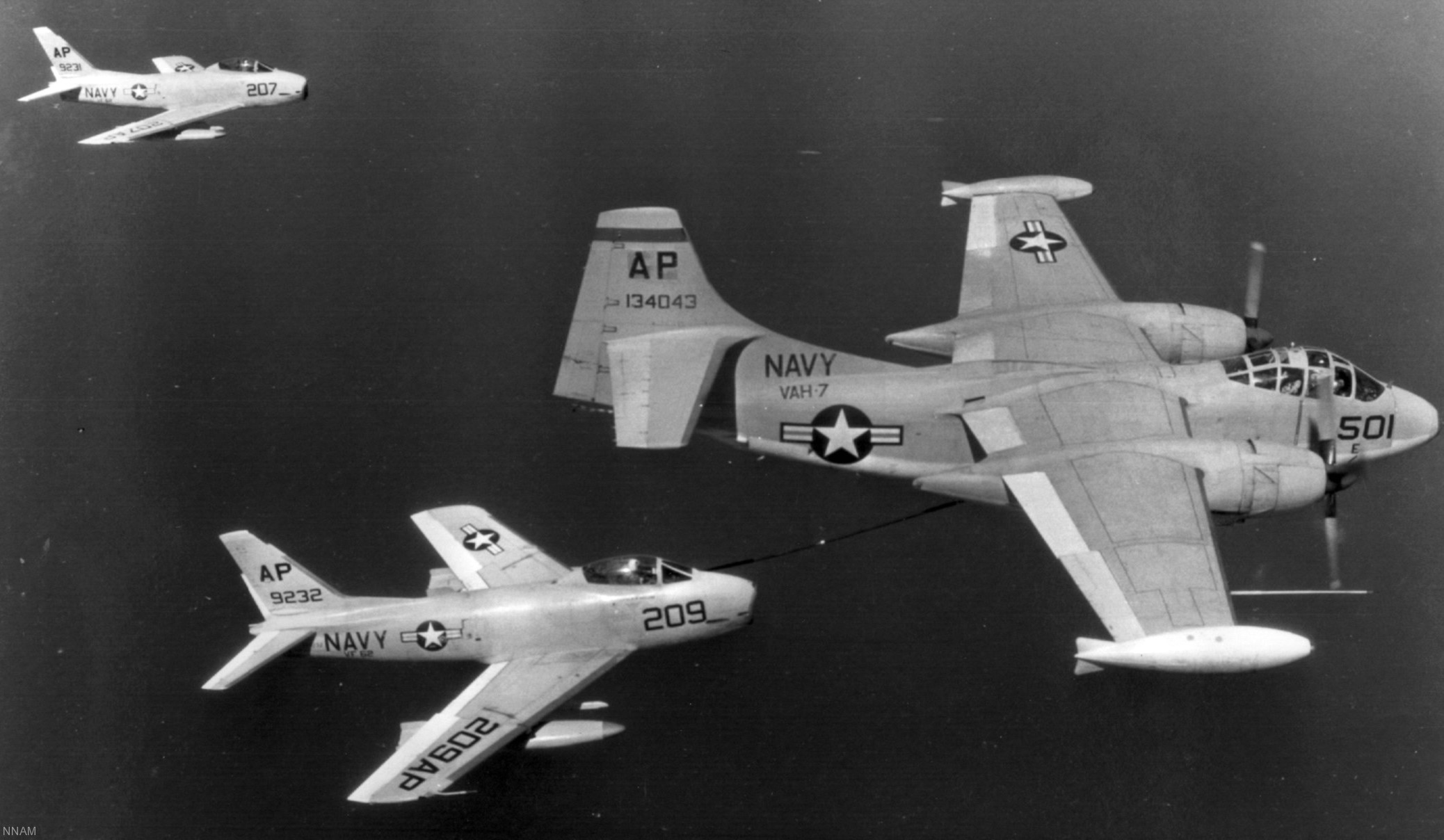 A North American AJ-2 Savage of Heavy Attack Squadron VAH-7 Det.45 Peacemakers of the Fleet refueling North American FJ-3M Fury from
Fighter Squadron VF-62 Boomerangs. Both Squadrons were assigned to Air Task Group 201 (ATG-201) aboard USS Essex (CVA-9) - 1958



aircraft of Air Task Group 201 (ATG-201), embarked on USS Bennington (CVA 20) - circa 1956
Visible are the following aircraft (right to left):
a Douglas AD-5W(?) Skyraider from Composite Squadron 12 (VC-12) Det. 30 "Bats"; (note: the aircraft more looks like an AD-6)
a AD-5N from VC-33 Det. 30 "Night Hawks"
a AD-6 from Attack Squadron 105 (VA-105) "Mad Dogs"
a McDonnell F2H-4 Banshee of VC-4 Det. 30 "Nightcappers"
a Grumman F9F-5 Panther from VA-36 "Roadrunners"
a F9F-5P from VC-62 Det. 30 "Fighting Photos"
a F8F-8 Cougar from Fighter Squadron 13 (VF-13) "Night Cappers"




<![if !supportEmptyParas]> <![endif]>
ATG-201 main deployments - squadron overview and aircraft in use
September 1954 - November 1954 (Atlantic Ocean) aboard USS Intrepid (CVA 11)
Fighter Squadron 13 (VF-13) 'Night Cappers' - Grumman F9F-8 Cougar
Fighter Squadron 14 (VF-14) 'Tophatters' - Douglas F3D-2 Skyknight
Fleet Composite Squadron 12 (VC-12) '?', detachment - Douglas AD-4W Skyraider
Fleet Composite Squadron 33 (VC-33) 'Night Hawks', detachment - Douglas AD-4N Skyraider
Fleet Composite Squadron 62 (VC-62) 'Fighting Photos', detachment - McDonnell F2H-2P Banshee
Helicopter Utility Squadron 2 (HU-2) 'Fleet Angels', detachment - Piasecki HUP-2 Retriever

September 1955 - October 1955 (carrier transfer - Mayport, FL to San Diego, CA) aboard USS Bennington (CVA 20)
Fighter Squadron 13 (VF-13) 'Night Cappers' - Grumman F9F-8 Cougar
Attack Squadron 36 (VA-36) 'Roadrunners' - Grumman F9F-5 Panther
Attack Squadron 105 (VA-105) 'Mad Dogs' - Douglas AD-6 Skyraider
Fleet Composite Squadron 5 (VC-5) 'Savage Sons', detachment - North American AJ-2 Savage
Fleet Composite Squadron 4 (VC-4) 'Nightcappers', detachment - McDonnell F2H-4 Banshee
Fleet Composite Squadron 12 (VC-12) 'Bats', detachment - Douglas AD-5W Skyraider
Fleet Composite Squadron 33 (VC-33) 'Night Hawks', detachment - Douglas AD-5N Skyraider
Fleet Composite Squadron 62 (VC-62) 'Fighting Photos', detachment - McDonnell F2H-2P Banshee
Helicopter Utility Squadron 2 (HU-2) 'Fleet Angels', detachment - Piasecki HUP-2 Retriever

October 1955 - April 1956 (Pacific Ocean) aboard

USS Bennington (CVA 20)


Fighter Squadron 13 (VF-13) 'Night Cappers' - Grumman F9F-8 Cougar
Attack Squadron 36 (VA-36) 'Roadrunners' - Grumman F9F-5 Panther
Attack Squadron 105 (VA-105) 'Mad Dogs' - Douglas AD-6 Skyraider
Fleet Composite Squadron 6 (VC-6) 'Fleurs', detachment - North American AJ-2 Savage
Fleet Composite Squadron 4 (VC-4) 'Nightcappers', detachment - McDonnell F2H-4 Banshee
Fleet Composite Squadron 12 (VC-12) 'Bats', detachment - Douglas AD-5W Skyraider
Fleet Composite Squadron 33 (VC-33) 'Night Hawks', detachment - Douglas AD-5N Skyraider
Fleet Composite Squadron 62 (VC-62) 'Fighting Photos', detachment - Grumman F9F-6P Cougar
Helicopter Utility Squadron 1 (HU-1) 'Pacific Fleet Angels', detachment - Piasecki HUP-2 Retriever

February 1958 - November 1958 (Mediterranean Sea, Indian Ocean, Pacific Ocean) aboard USS Essex (CVA 9)
Fighter Squadron 11 (VF-11) 'Red Rippers' - McDonnell F2H-4 Banshee
Fighter Squadron 62 (VF-62) 'Boomerangs' - North American FJ-3M Fury
Attack Squadron 83 (VA-83) 'Rampagers' - Douglas A4D-2 Skyhawk
Attack Squadron 105 (VA-105) 'Mad Dogs' - Douglas AD-6 Skyraider
Heavy Attack Squadron 7 (VAH-7) 'Go-Devils', detachment - North American AJ-2 Savage
Carrier Airborne Early Warning Squadron 12 (VAW-12) 'Bats', detachment - Douglas AD-5W Skyraider
All-Weather Attack Squadron 33 (VA(AW)-33) 'Night Hawks', detachment - Douglas AD-5N Skyraider
Fighter Photographic Squadron 62 (VFP-62) 'Fighting Photos', detachment - Grumman F9F-8P Cougar
Helicopter Utility Squadron 2 (HU-2) 'Fleet Angels', detachment - Piasecki HUP-2 Retriever

<![if !supportEmptyParas]> <![endif]>
|
seaforces.org
|
US Navy Air Units start page
|