Mohammed V (10 August 1909 - 26 February 1961) was Sultan of Morocco from 1927-53, exiled from 1953-55, where he was again recognized as Sultan upon his return, and King from 1957 to 1961. His full name was Sidi Mohammed ben Yusef, or Son of (Sultan) Yusef, upon whose death he succeeded to the throne. He was a member of the Alaouite Dynasty.

On 20 August 1953, the French who were occupying Morocco at the time forced Mohammed V and his family into exile on Corsica. A relative of his, Mohammed Ben Aarafa, was placed on the throne. Mohammed V and his family were then transferred to Madagascar in January 1954. Mohammed V returned from exile on 16 November 1955, and was again recognized as Sultan after active opposition to the French protectorate. In February 1956 he successfully negotiated with France for the independence of Morocco, and in 1957 took the title of King.

He died on 26 February 1961 following unspecified surgery. U.S. Ambassador Charles W. Yost saw the King hours before his death and was among those who suspected that the King's son, Hassan II, assassinated his father.
<![if !supportEmptyParas]> <![endif]>
source: wikipedia
<![if !supportEmptyParas]> <![endif]>
<![if !vml]>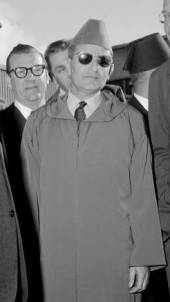 <![endif]>
<![if !supportEmptyParas]> <![endif]>
King Hassan II (July 9, 1929 - July 23, 1999) was King of Morocco from 1961 until his death in 1999. He was the second eldest son of Mohammed V, Sultan, then King of Morocco (1909-1961) and his wife Lalla Abla bint Tahar (1889-1992).


Youth and education

King Hassan was educated at the Imperial College at Rabat and earned a law degree from the University of Bordeaux.

He was exiled to Corsica by French authorities on 20 August 1953, along with his father Sultan Mohammed V. They were transferred to Madagascar in January 1954. Prince Moulay Hassan acted as his father's political advisor during the exile. Mohammed V and his family returned from exile on 16 November 1955.

Prince Moulay Hassan participated in the February 1956 negotiations for Morocco's independence with his father, who later appointed him Chief of Staff of the newly founded Royal Armed Forces in April 1956. In the unrest of the same year, he led army contingents battling rebels in the mountains of the Rif. Mohammed V changed the title of the Moroccan sovereign from Sultan to King in 1957. Hassan was proclaimed Crown Prince on 19 July 1957, and became King on 26 February 1961, after his father's death.


Rule

Hassan's conservative rule, one characterized by a poor human rights record, strengthened the Alaouite dynasty. In Morocco's first constitution of 1963, Hassan II reaffirmed Morocco's choice of a multi-party political system, the only one in the Maghreb. The constitution gave the King large powers he eventually used to strengthen his rule, which provoked strong political protest from the UNFP and the Istiqlal parties that formed the backbone of the opposition. In 1965, Hassan dissolved Parliament and ruled directly, although he did not abolish the mechanisms of parliamentary democracy. When elections were eventually held, they were mostly rigged in favor of loyal parties. This caused severe discontent among the opposition, and protest demonstrations and riots challenged the King's rule.

In the early 1970s, King Hassan survived two assassination attempts. The first, in 1971, was coup d'état attempt allegedly supported by Libya, organized by General Madbouh and Colonel Ababou and carried out by cadets during a function at the King's summer palace in Rabat during his forty-second birthday party. Important guests, including the Belgian Ambassador Marcel Dupert, were placed under house arrest, and the King himself was taken to a small pavilion. Rabat's main radio station was taken over by the rebels and broadcast propaganda stating that the King had been murdered and a republic founded. The coup ended the same day when royalist troops took over the palace in combat against the rebels. On August 16, 1972, during a second attempt, four F-5 military jets from the Royal Moroccan Air Force fired upon the King's Boeing 727 while he was traveling back to Rabat from France, but they failed to bring it down. General Mohamed Oufkir, Morocco's defense minister, was the man behind the coup and was officially declared to have committed suicide after the attack. His body, however, was found with several bullet wounds.

In the Cold War era, Hassan II allied Morocco with the West generally, and with the United States in particular. There were close and continuing ties between Hassan II's government and the CIA, who helped to reorganize Morocco's security forces in 1960. Hassan served as a back channel between the Arab world and Israel, facilitating early negotiations between them. This was made possible due to the presence in Israel of a large Moroccan Jewish community.

During his reign, Morocco recovered the Spanish-controlled area of Ifni in 1969, and military seized two thirds of Spanish Sahara (now Western Sahara) through the "Green March" in 1975. The latter issue continues to dominate Moroccan foreign policy to this day. Relations with Algeria have deteriorated sharply due to the Western Sahara affair, as well as due to Moroccan claims on Algerian territory (Tindouf and Bechar), which unleashed the brief 1963 Sand War. Relations with Mauritania were tense too, as Morocco only recognized it as a sovereign country in 1969, nearly a decade after Mauritania's independence, because of Moroccan claims on the country (see Great Morocco).

Economically, Hassan II adopted a market-based economy, where agriculture, tourism, and phosphates mining industries played a major role.

The period from the 1960s to the late 1980s was labelled as the "years of lead" and saw thousands of dissidents jailed, killed, exiled or forcibly disappeared.

King Hassan II had extended many parliamentary functions by the early 1990s and released hundreds of political prisoners in 1991, and allowed the Alternance, where the opposition assumed power, for the first time in the Arab World. He set up a Royal Council for Human Rights to look into allegations of abuse by the State.


Death

Hassan died of natural causes in his birth town at the age of 70 on 23 July 1999. A national funeral service was held for him in at Rabat, Morocco, with some 40 heads of state in attendance. He was buried in the Mausoleum of Mohammed V in Rabat. The coffin of King Hassan II, carried by King Mohamed VI, his brother Prince Moulay Rachid and his cousin Moulay Hicham, was covered with a green fabric, in which the first prayer of Islam, " There is no god but Allah," is inscribed in golden letters.
<![if !supportEmptyParas]> <![endif]>
source: wikipedia
<![if !supportEmptyParas]> <![endif]>
<![if !vml]>
<![endif]>
<![if !supportEmptyParas]> <![endif]>