In the late 1960s, following a demonstration of the Hawker Siddeley Harrier on the Italian Navy (Marina Militare Italiana) helicopter carrier Andrea Doria, the country began investigating the possibility of acquiring the Harrier. Early efforts were hindered by a 1937 Italian law that prohibited the navy from operating fixed-wing aircraft because they were the domain of the air force. In early 1989, the law was changed to allow the navy to operate any fixed-wing aircraft with a maximum weight of over 3,300 lb (1,500 kg). Following a lengthy evaluation of the Sea Harrier and AV-8B, an order was placed for two TAV-8Bs in May 1989. Soon, a contract for a further 16 AV-8B Plus aircraft was signed. After the TAV-8Bs and the first three AV-8Bs, all subsequent Italian Navy Harriers were locally assembled by Alenia Aeronautica from kits delivered from the US. The two-seaters, the first to be delivered, arrived at Grottaglie in August 1991. They were used for proving flights with the navy's helicopter carriers and on the light aircraft carrier Giuseppe Garibaldi.
In early 1994, the initial batch of US-built aircraft arrived at MCAS Cherry Point for pilot conversion training. The first Italian-assembled Harrier was rolled out the following year. In mid-January 1995, Giuseppe Garibaldi set off from Taranto to Somalia, with three Harriers on board, to maintain stability following the withdrawal of UN forces. The Harriers, flown by five Italian pilots, accumulated more than 100 flight hours and achieved 100 percent availability during the three-month deployment, performing reconnaissance and other missions. The squadron returned to port on 22 March.
In 1999, Italian AV-8Bs were used for the first time in combat missions when they were deployed aboard C551 Giuseppe Garibaldi, which was participating in Operation Allied Force in Kosovo. Italian pilots conducted more than 60 sorties alongside other NATO aircraft, attacking the Yugoslav army and paramilitary forces and bombing the country's infrastructure with conventional and laser-guided bombs (LGB).
In 2000, the Italian Navy was looking to acquire a further seven remanufactured aircraft to equip Giuseppe Garibaldi and a new carrier, C550 Cavour. Existing aircraft, meanwhile, were updated to allow them to carry AIM-120 AMRAAMs and JDAM guided bombs. From November 2001-March 2002, eight AV-8Bs were embarked aboard Giuseppe Garibaldi and were deployed to the Indian Ocean in support of Operation Enduring Freedom. The aircraft, equipped with LGBs, operated throughout January and February 2002, during which 131 missions were logged for a total of 647 flight hours.
In 2011, Italian Harriers, operating from Giuseppe Garibaldi, worked alongside Italian Eurofighters and aircraft of other nations during Operation Unified Protector, as part of the 2011 military intervention in Libya. They conducted airstrikes as well as intelligence and reconnaissance sorties over Libya, using the LITENING targeting pods while armed with AIM-120 AMRAAMs and AIM-9 Sidewinders. In total, Italian military aircraft delivered 710 guided bombs and missiles during sorties: Italian Air Force Tornados and AMX fighter bombers delivered 550 bombs and missiles, while the eight Italian Navy AV-8Bs flying from Giuseppe Garibaldi dropped 160 guided bombs during 1,221 flight hours.
All Italian Navy AV-8B+ Harrier II and TAV-8B+ Harrier II aircraft are assigned to Gruppo Aerei Imbarcati 'Wolves' (GRUPAER - embarked aircraft group) and shore based at Taranto-Grottaglie Air Station.
Italian Navy AV-8Bs are slated to be replaced by 15 (originally 22)

F-35B Lightning II

, which will form the air wing of Cavour.
Specifications:
Builder: McDonnell Douglas (now Boeing)
Length: 14,55 meters
Wingspan: 9,25 m
Height: 3,6 m
Wing area: 22,61 m²
Empty weight: 6660 kg
Loaded weight: 10410 kg
Max. takeoff weight: rolling: 14970 kg / vertical: 9415 kg
Powerplant: 1 x Rolls-Royce F402-RR-408 vectored-thrust turbofan, 23,500 lbf (105 kN)
Maximum speed: Mach 0.9 (585 knots, 673 mph, 1083 km/h)
Combat radius: 300 nmi (350 mi, 556 km)
Ferry range: 1800 NM (2100 mi, 3300 km)
Rate of climb: 14700 ft/min (4481 m/min)
Armament:
Guns: 1x General Dynamics GAU-12 Equalizer 25 mm (0.984 in) 5-barreled Gatling cannon
mounted under-fuselage in the left pod, with 300 rounds of ammunition in the right pod
Hardpoints: 6 x under-wing pylon stations holding up to 9200 lb (4200 kg) of payload
Air-to-air missiles:
AIM-9 Sidewinder

or similar-sized infrared-guided missiles
AIM-120 AMRAAM
Bombs:
Paveway series of laser-guided bombs (LGBs)
JDAM (Joint Direct Attack Munitions) - (GBU-38, GBU-32, and GBU-54)
source: wikipedia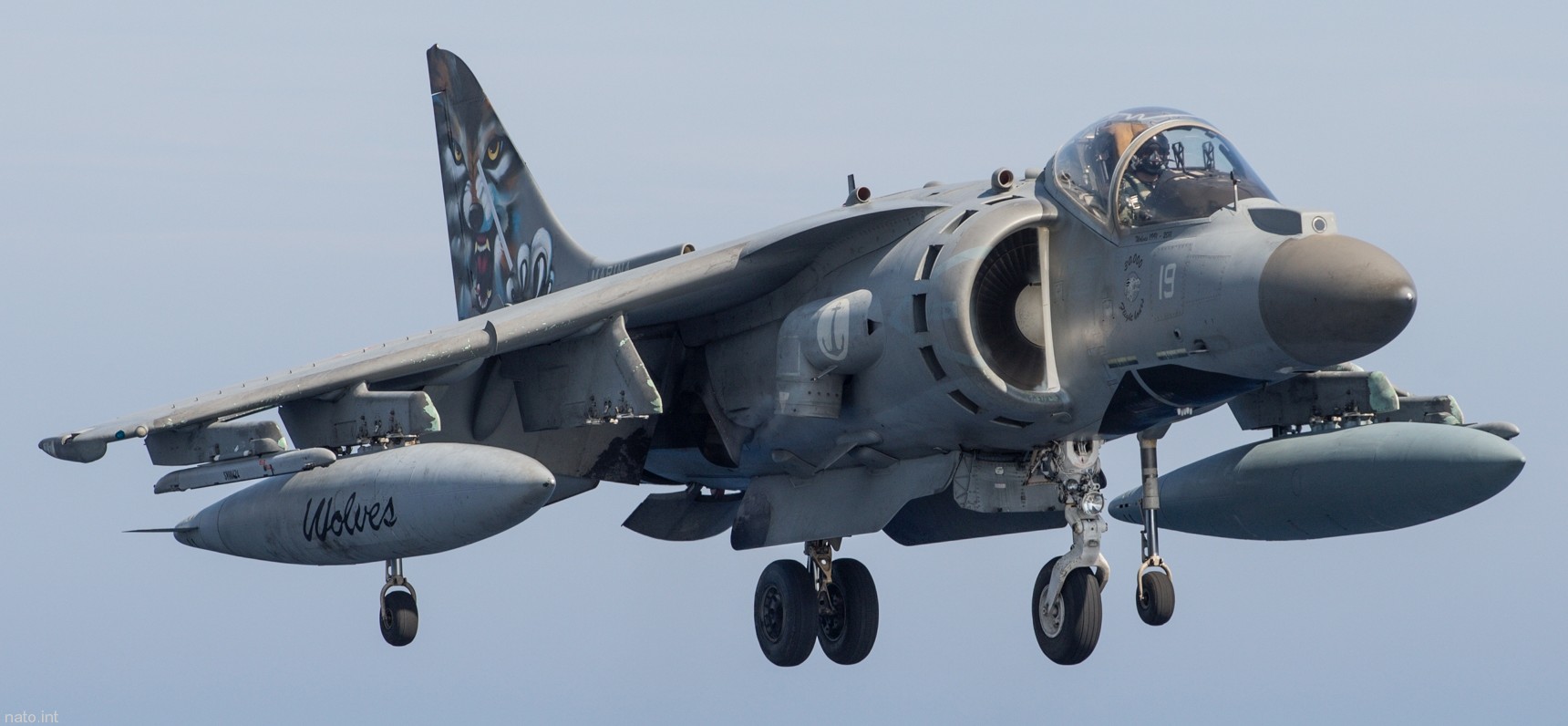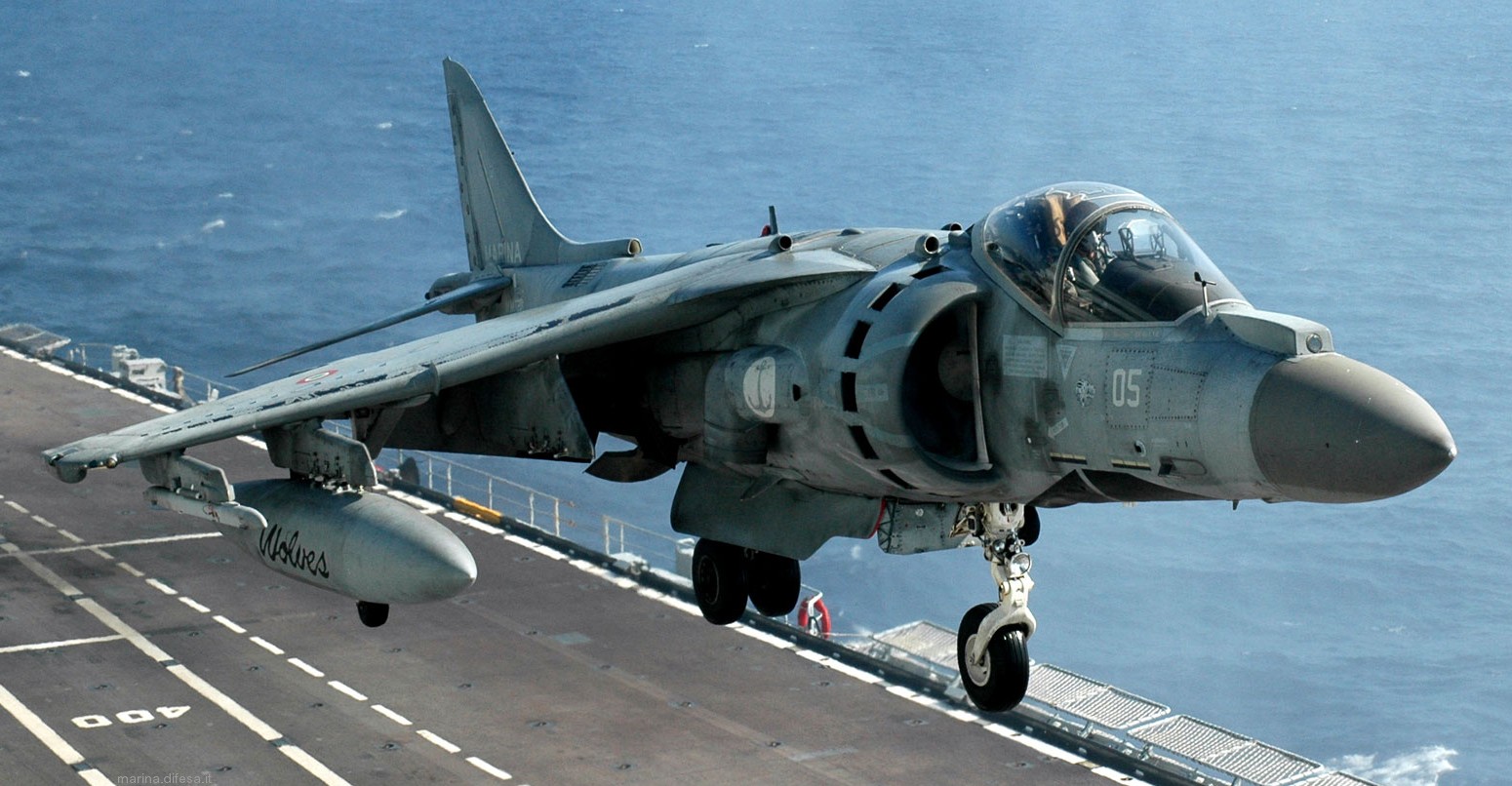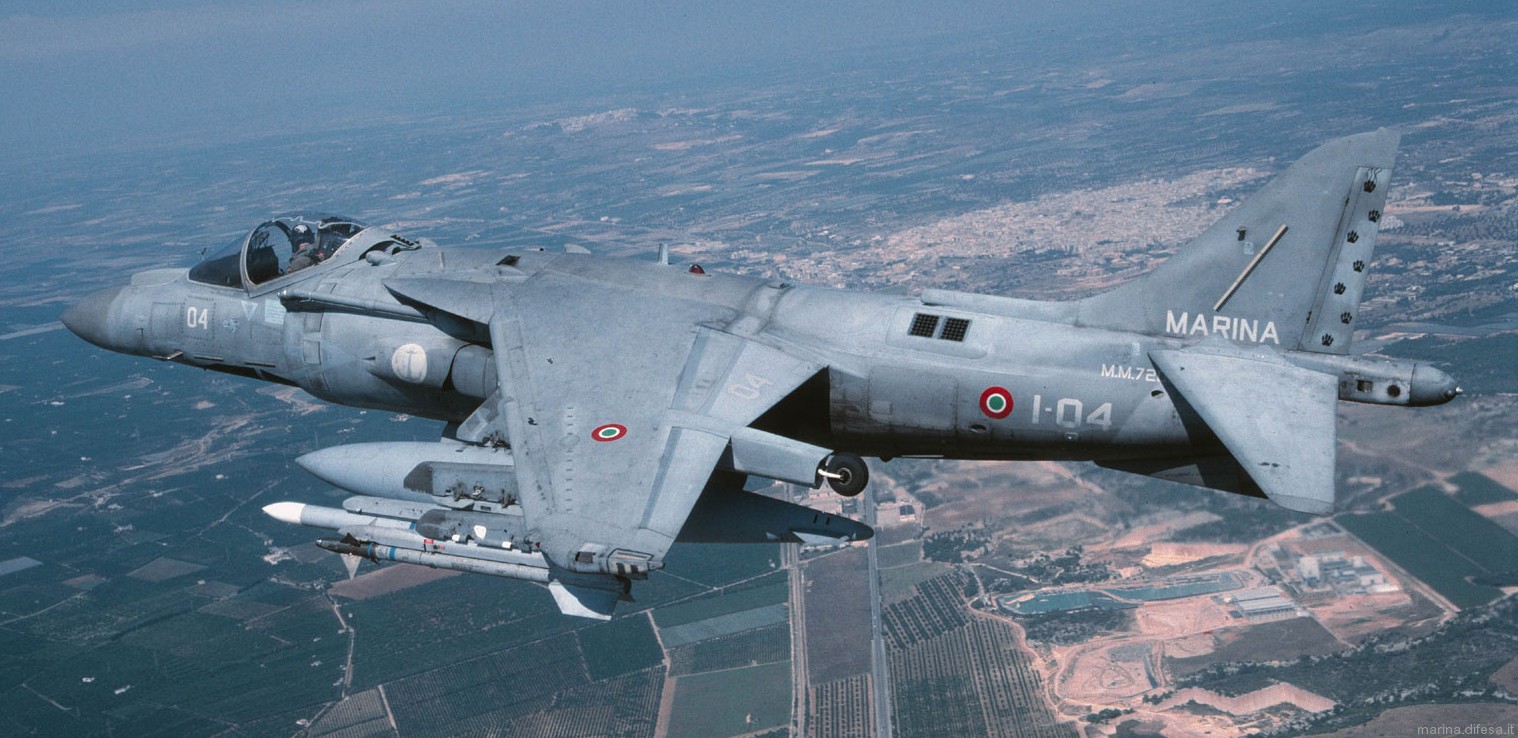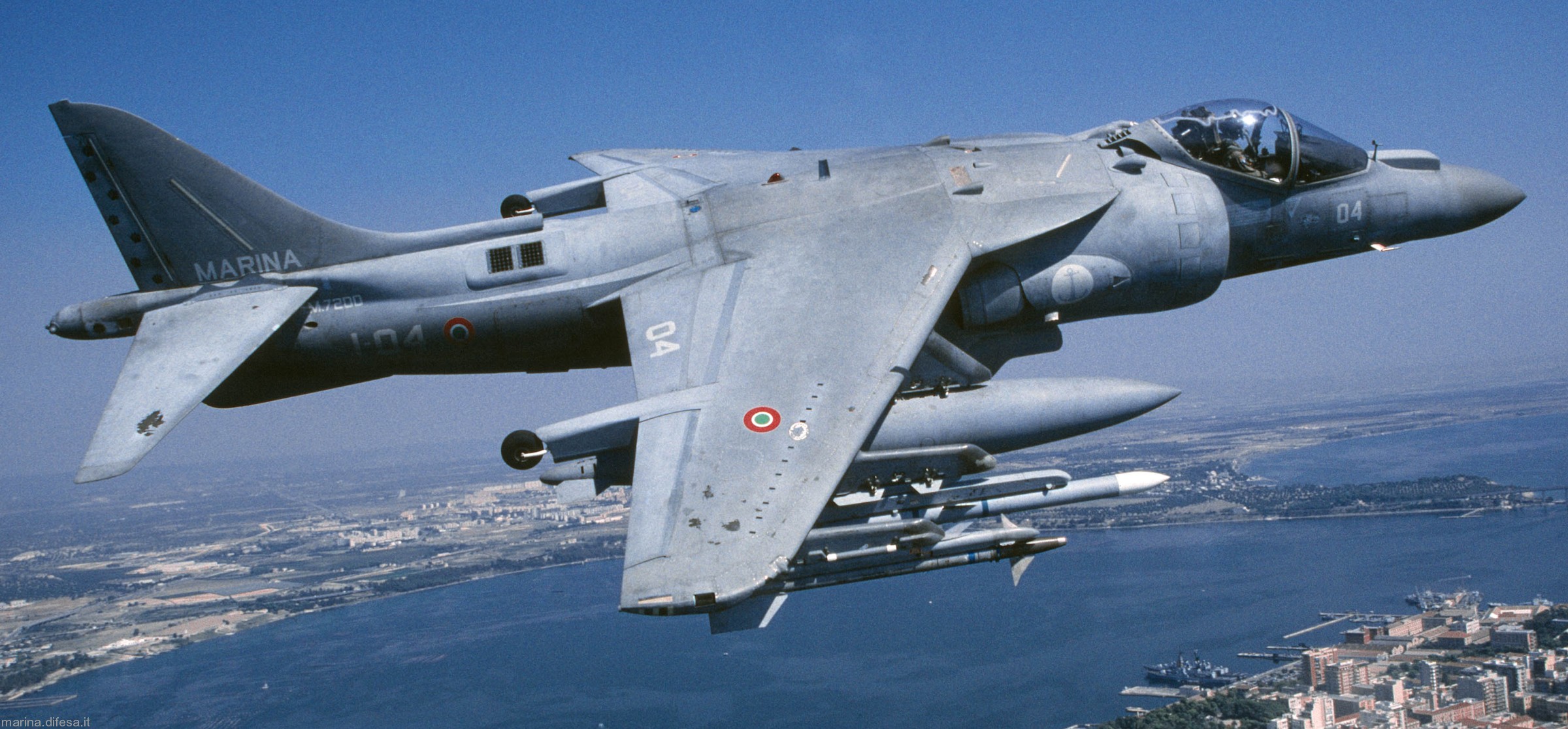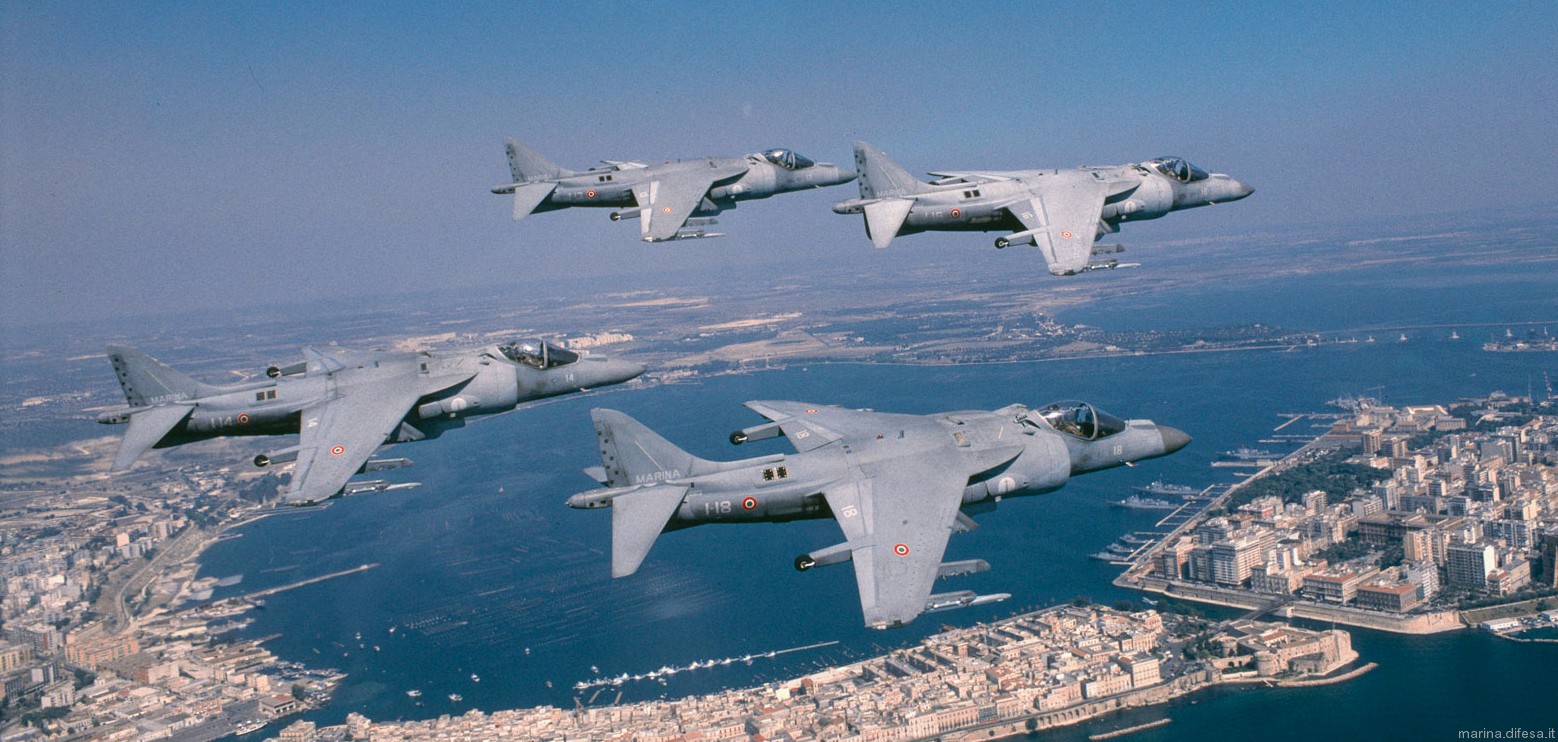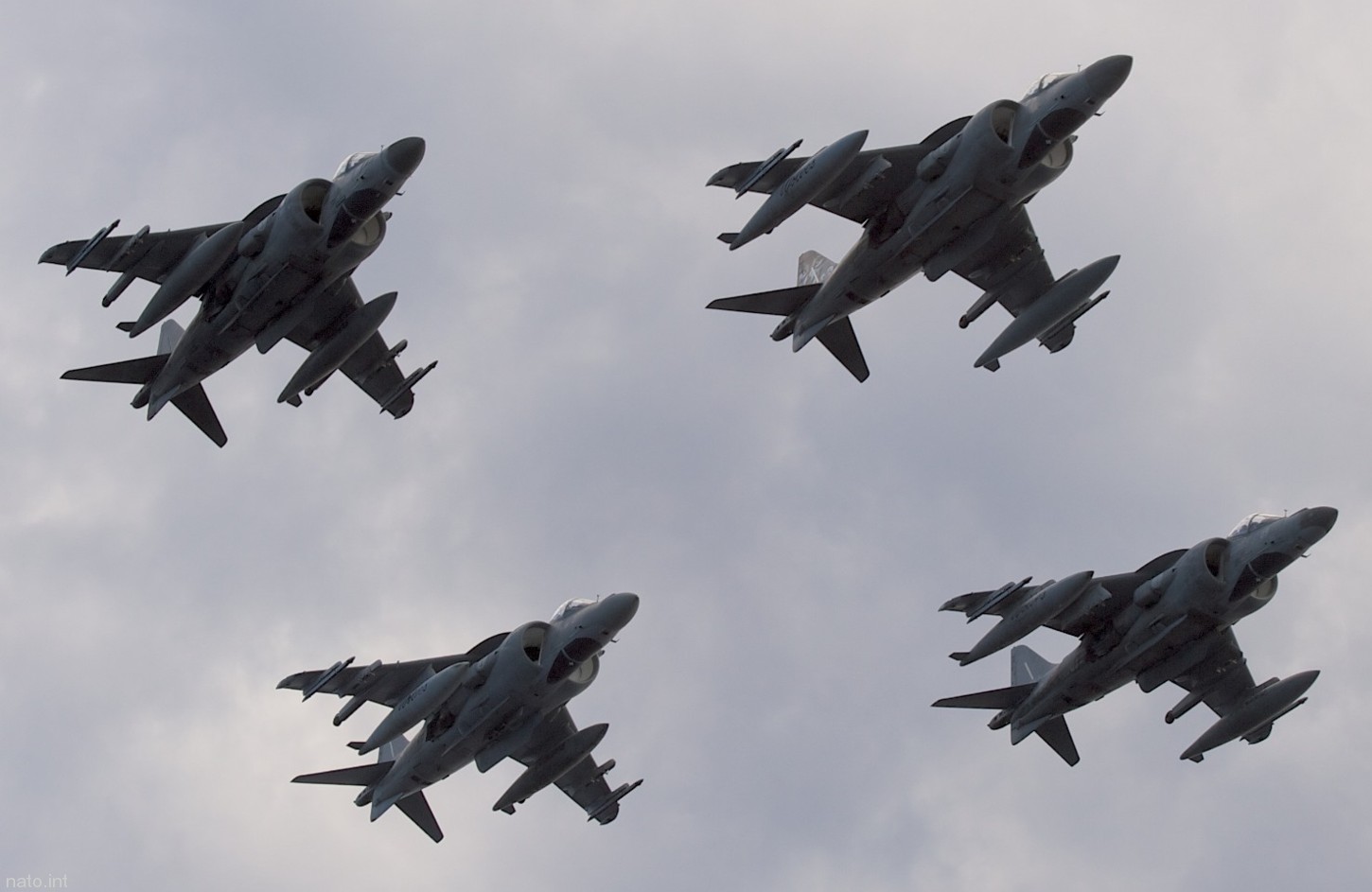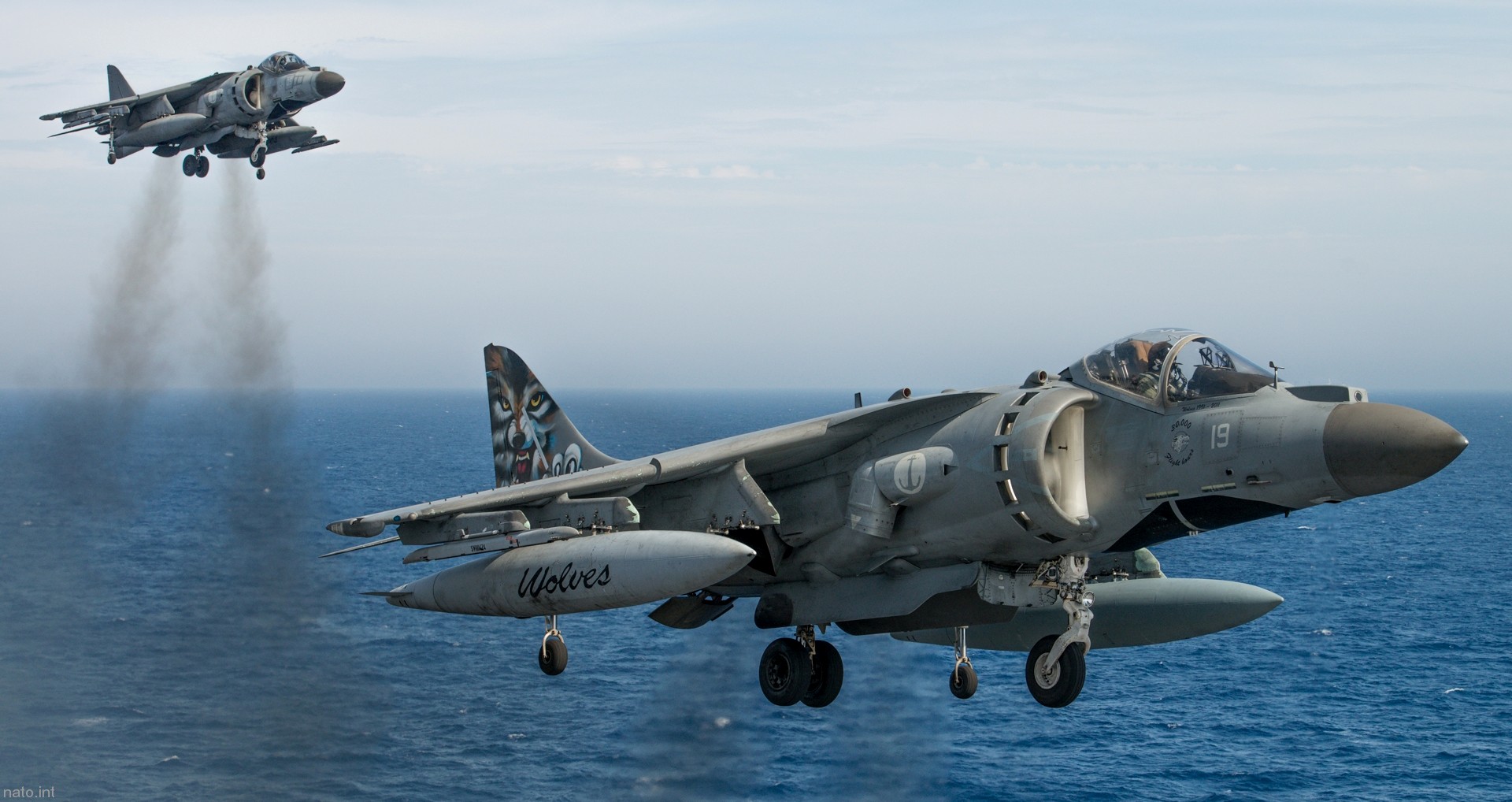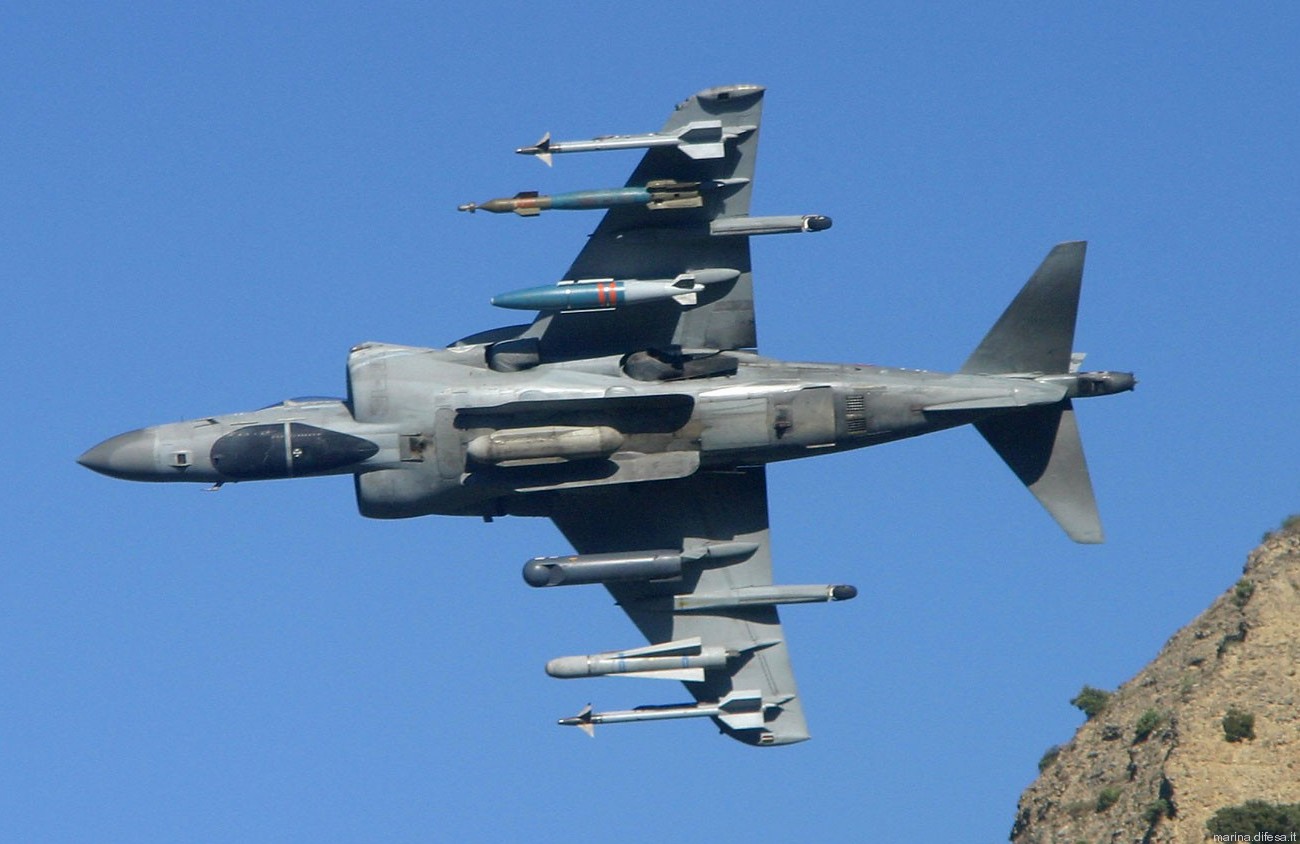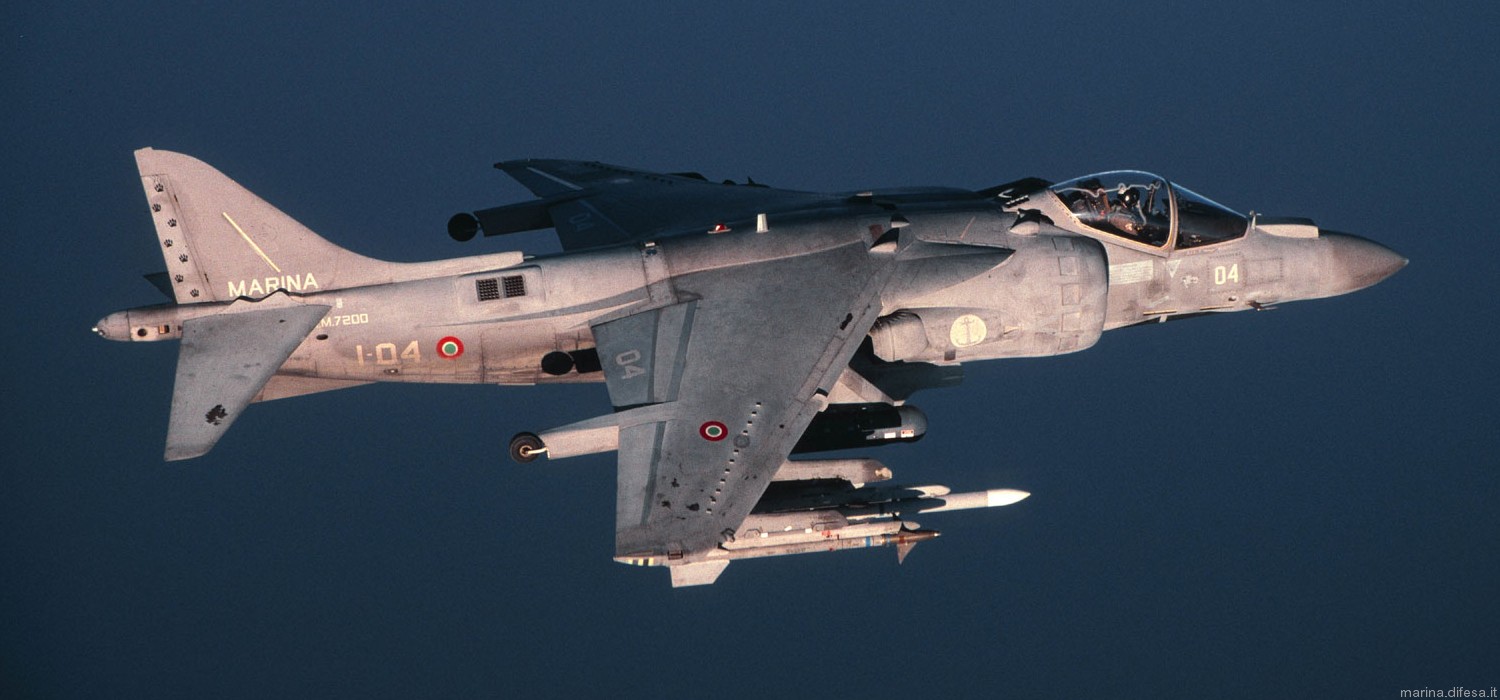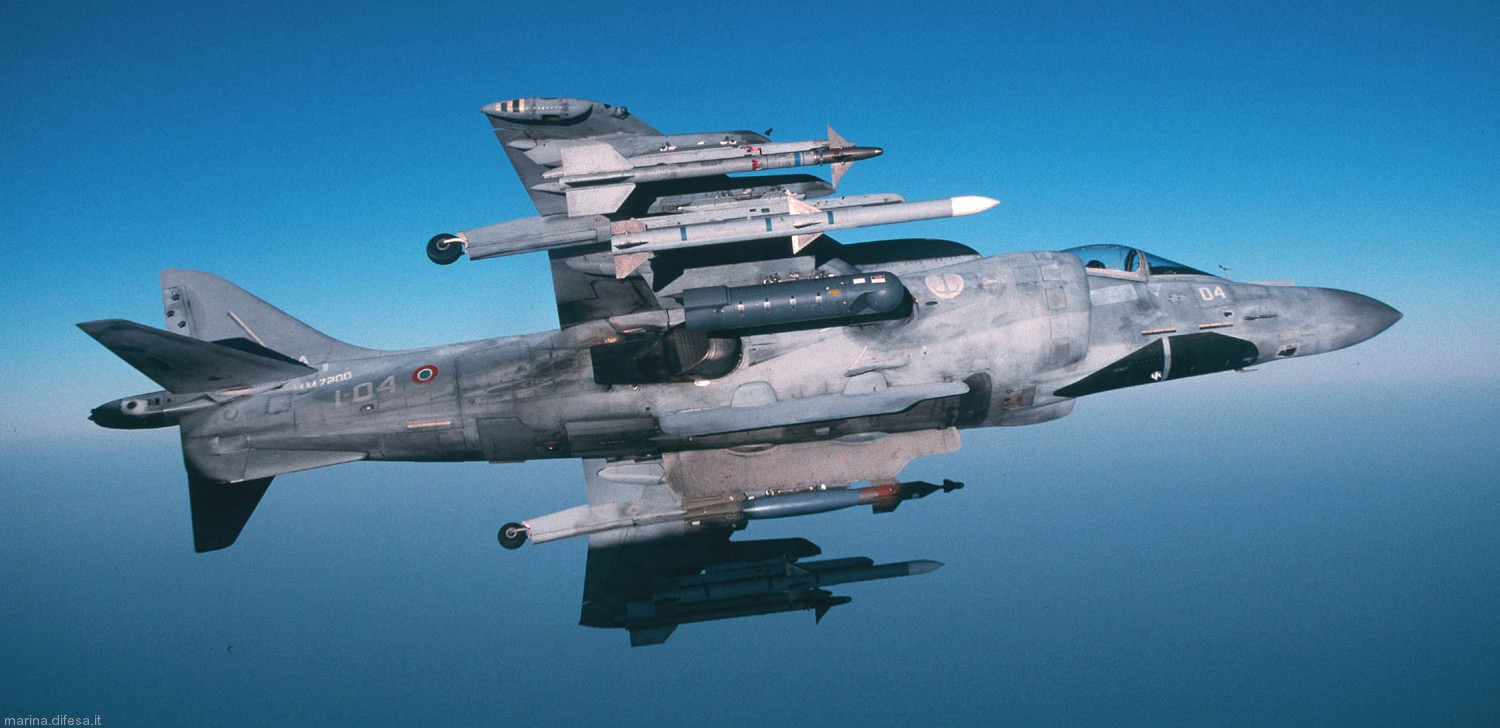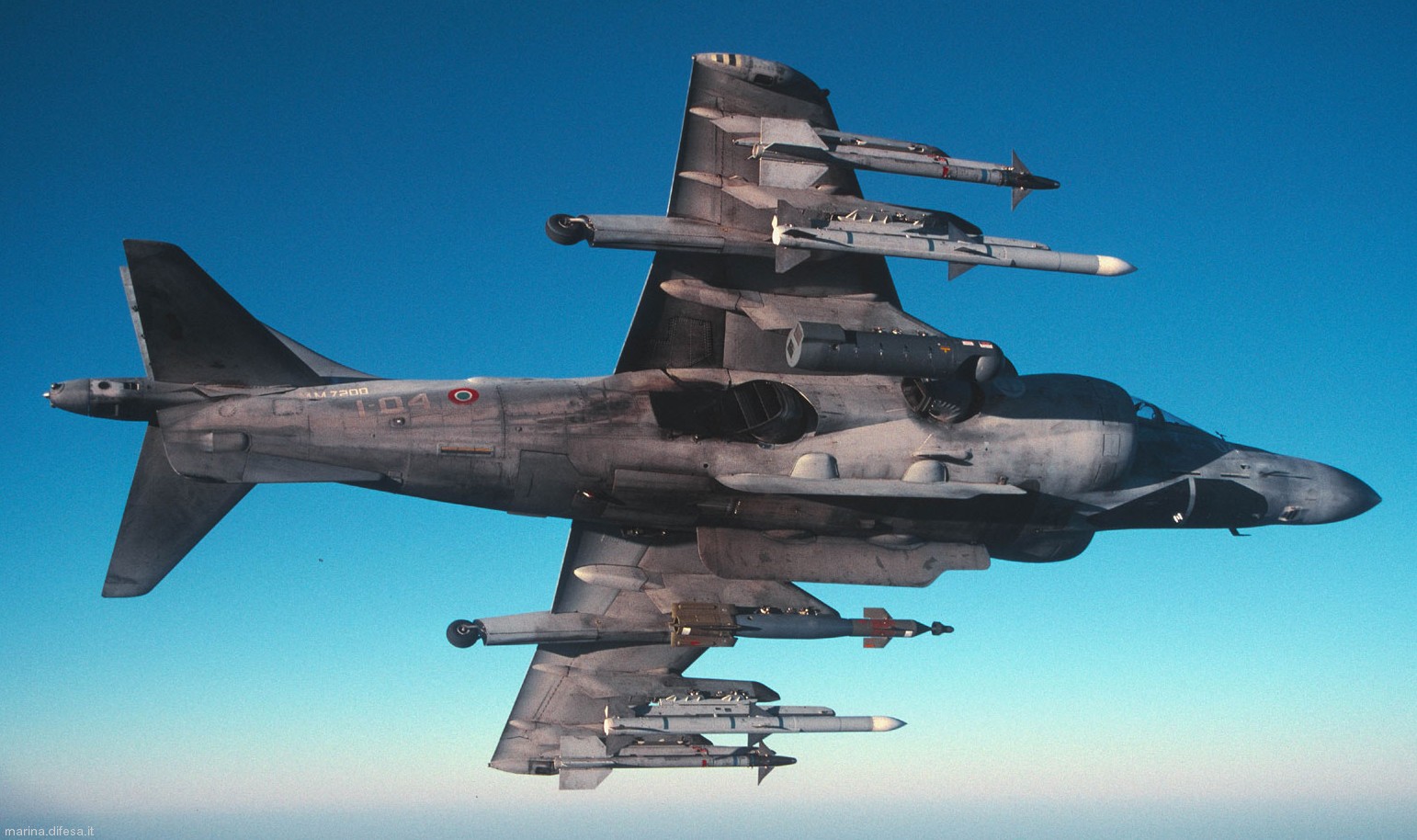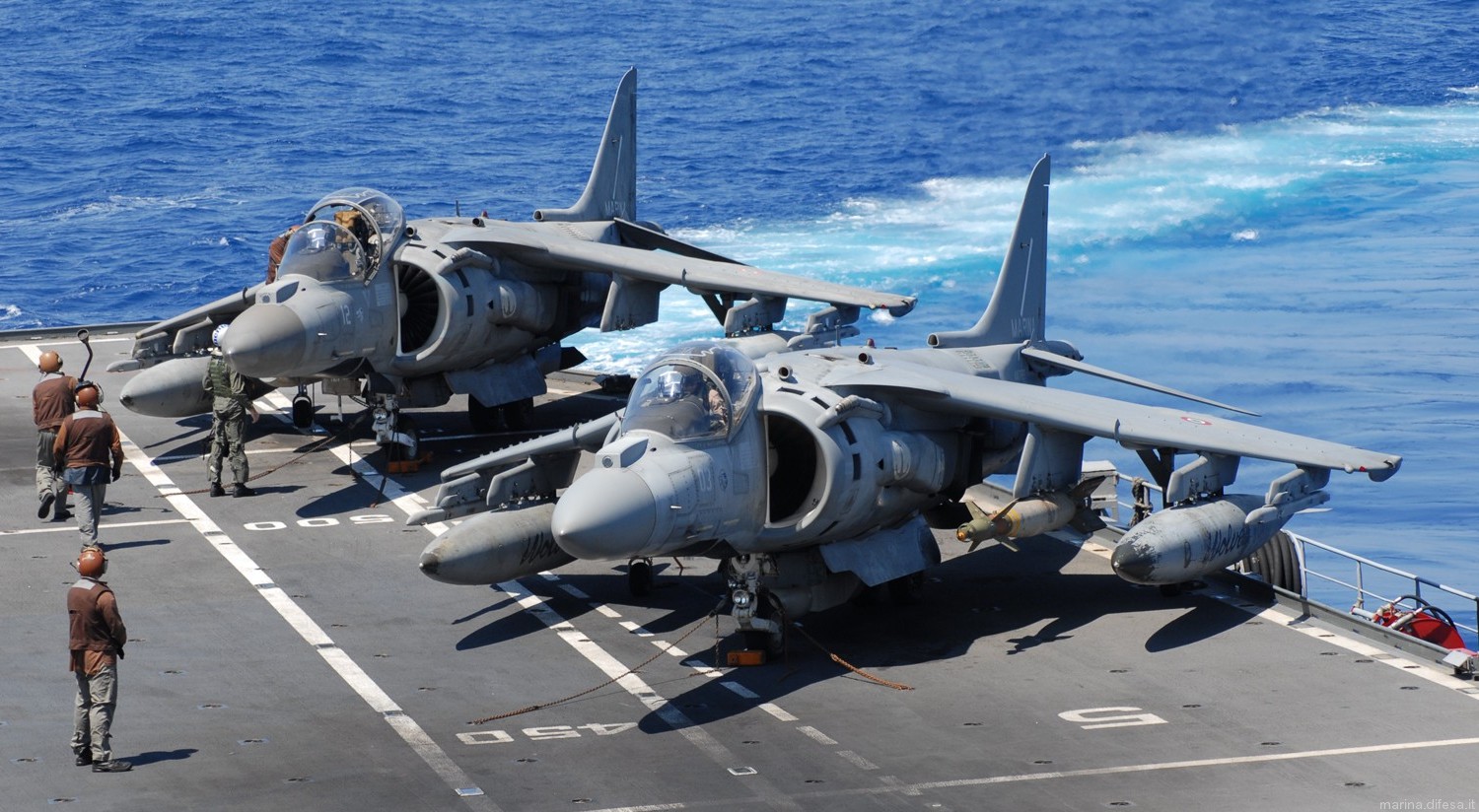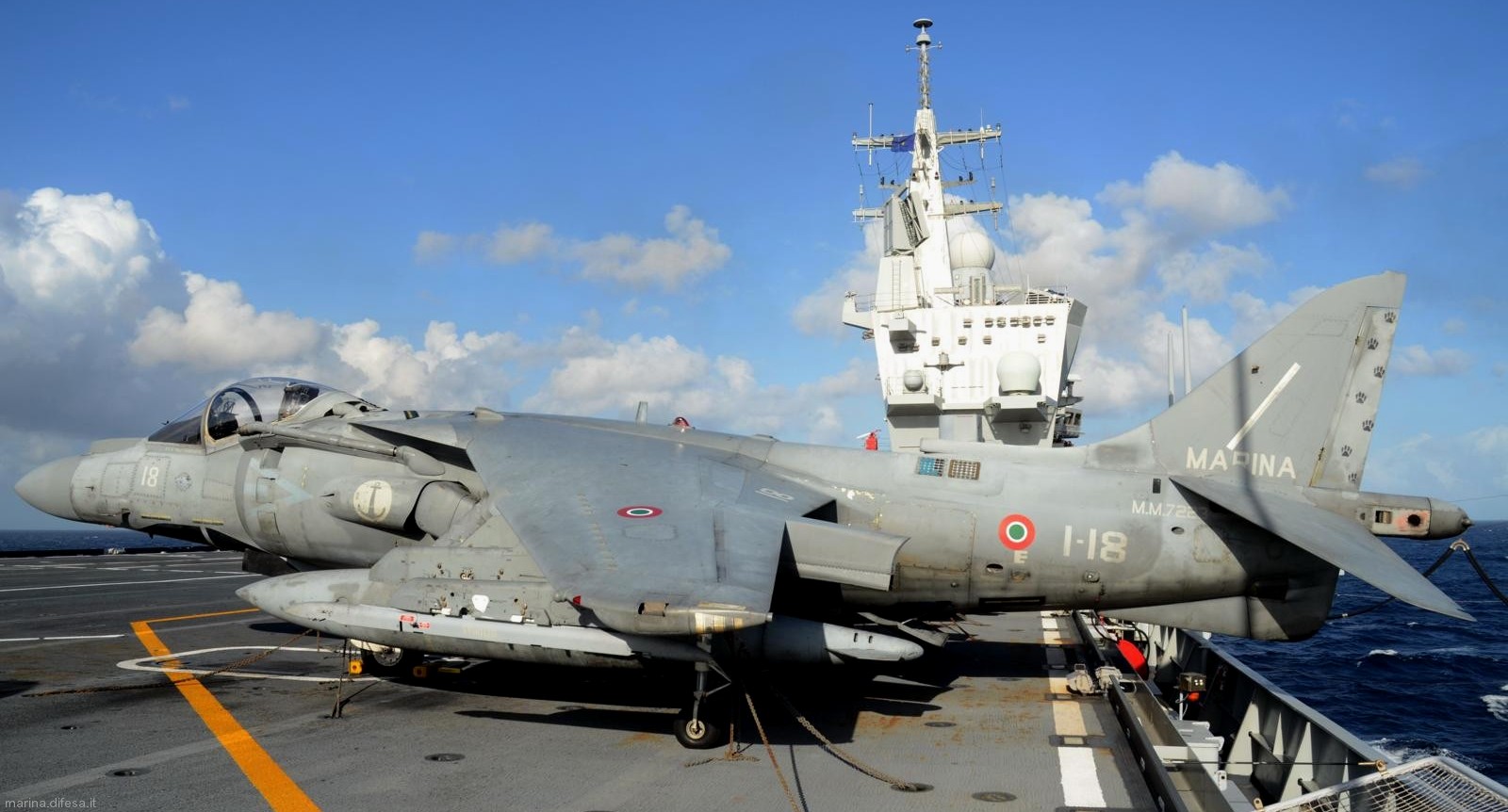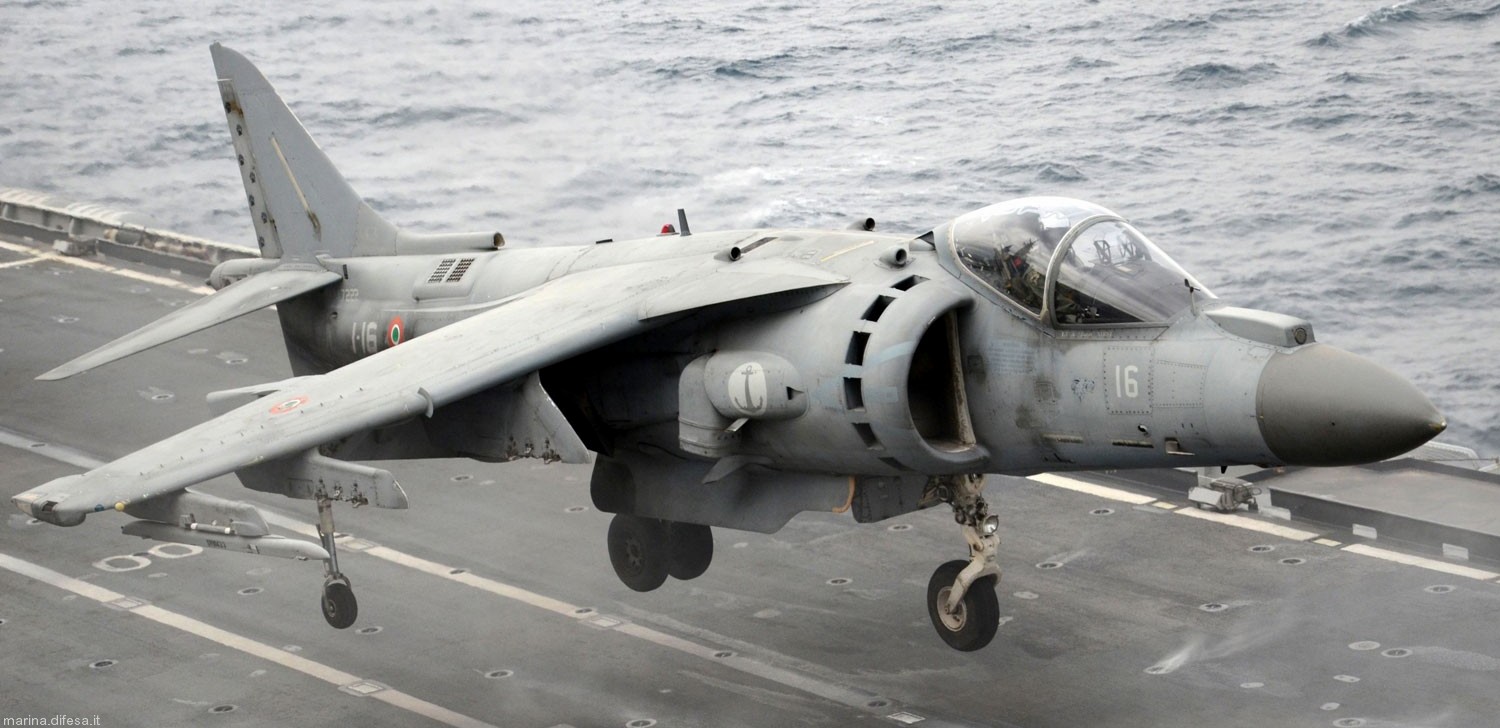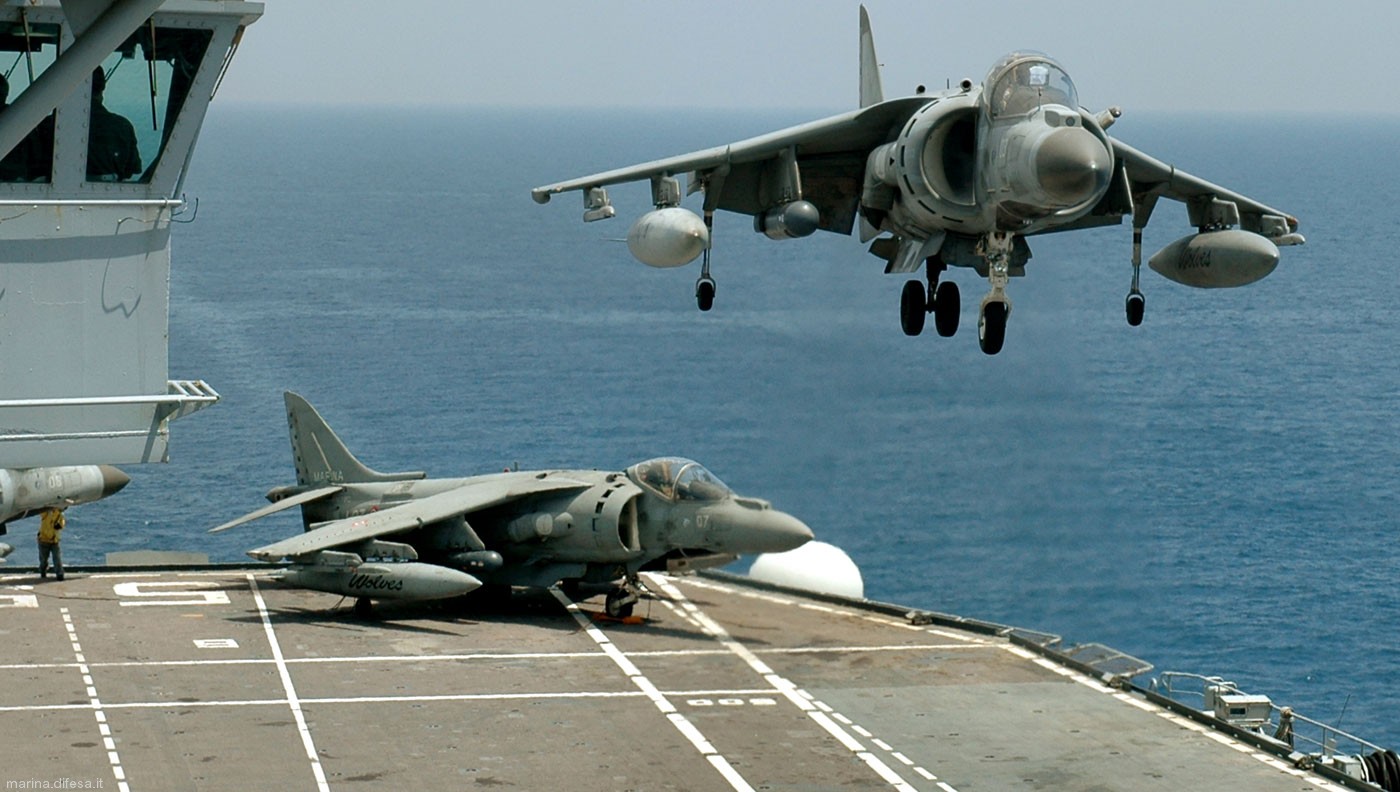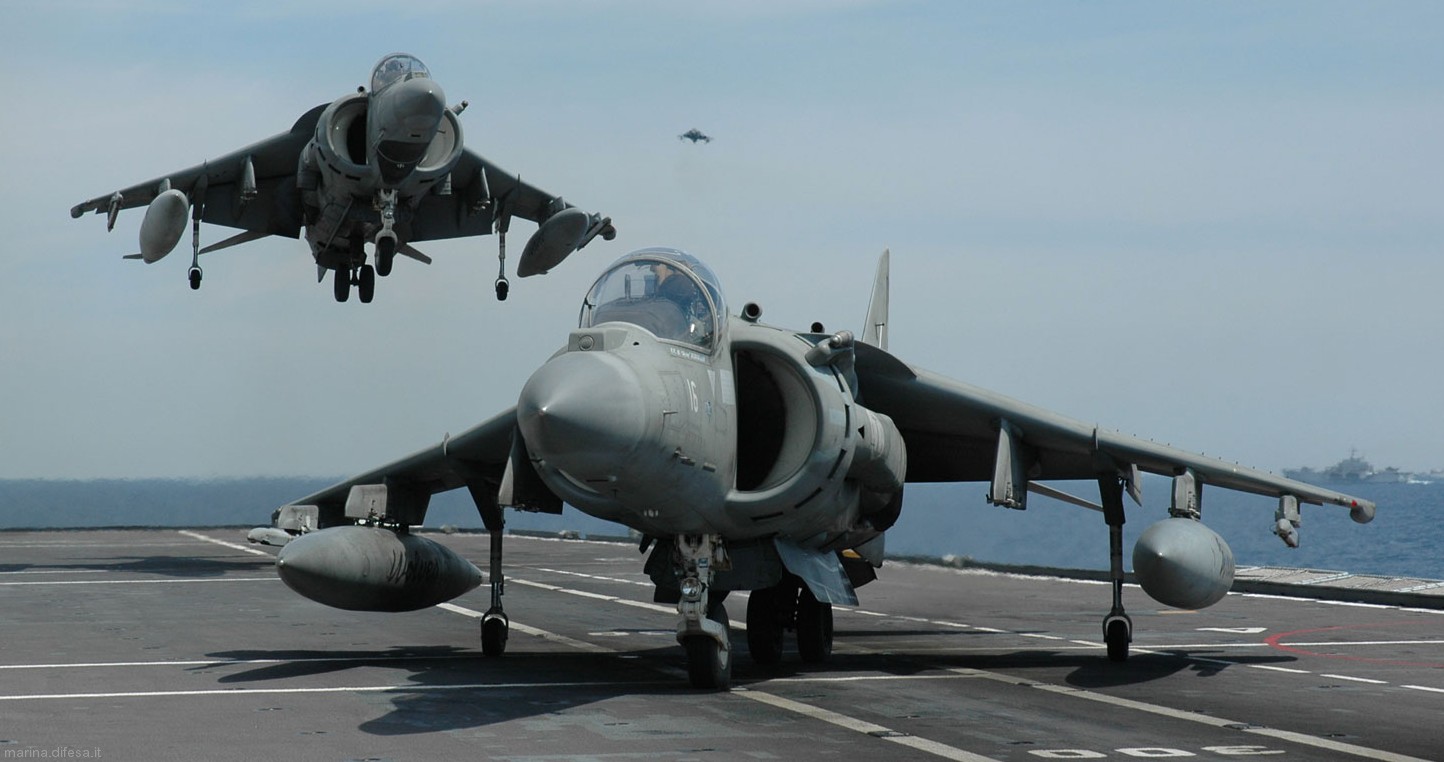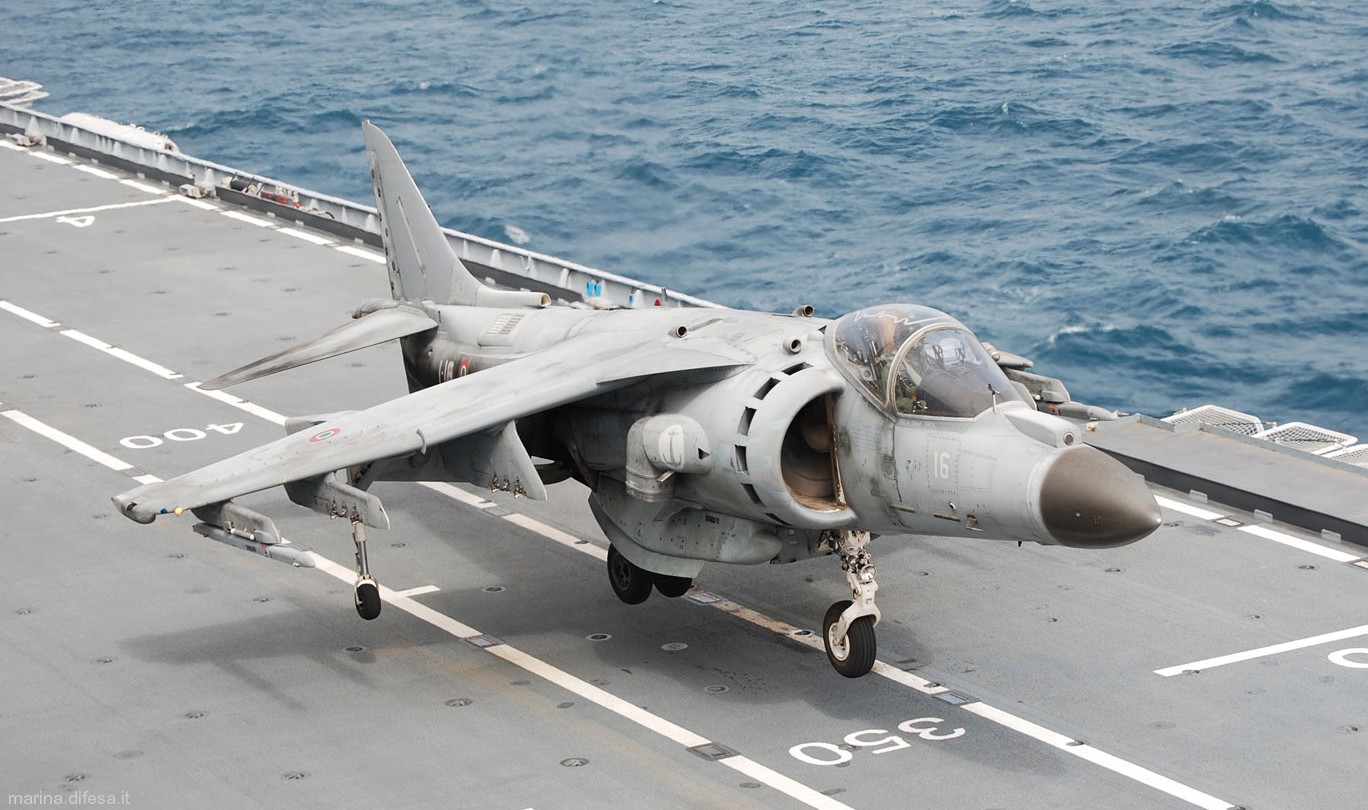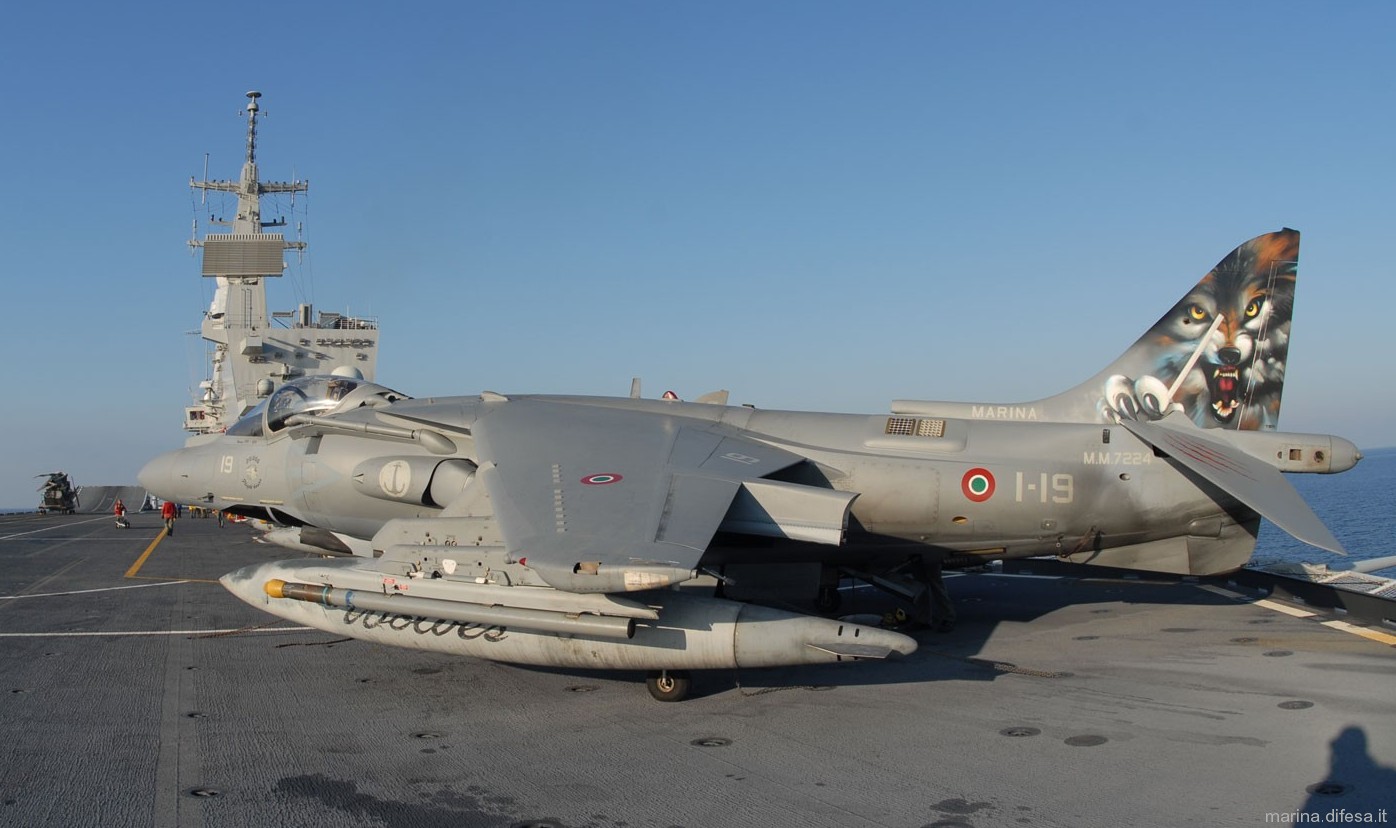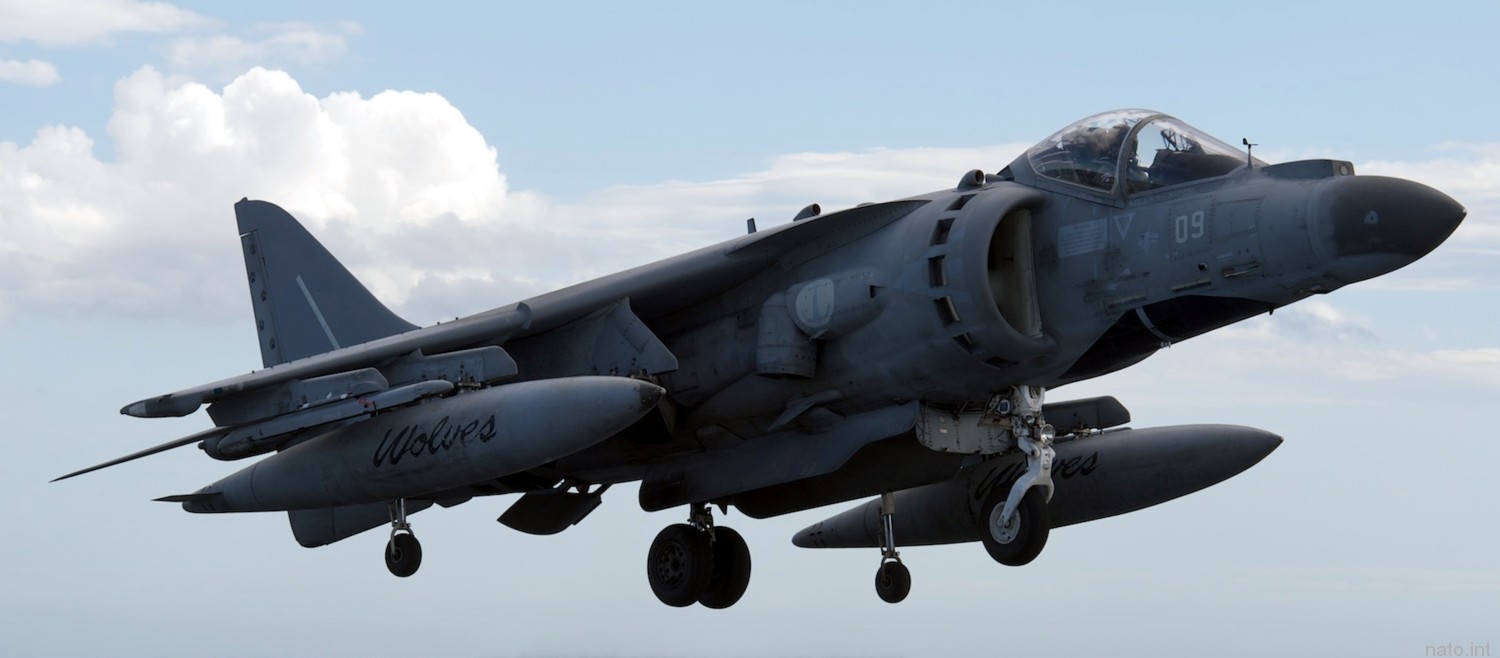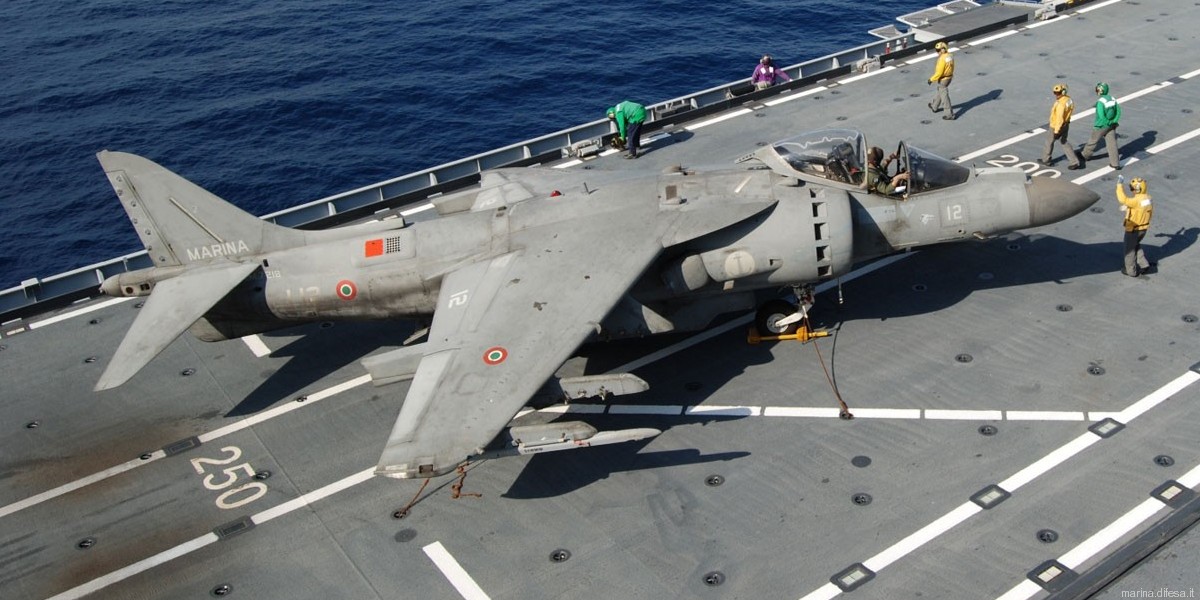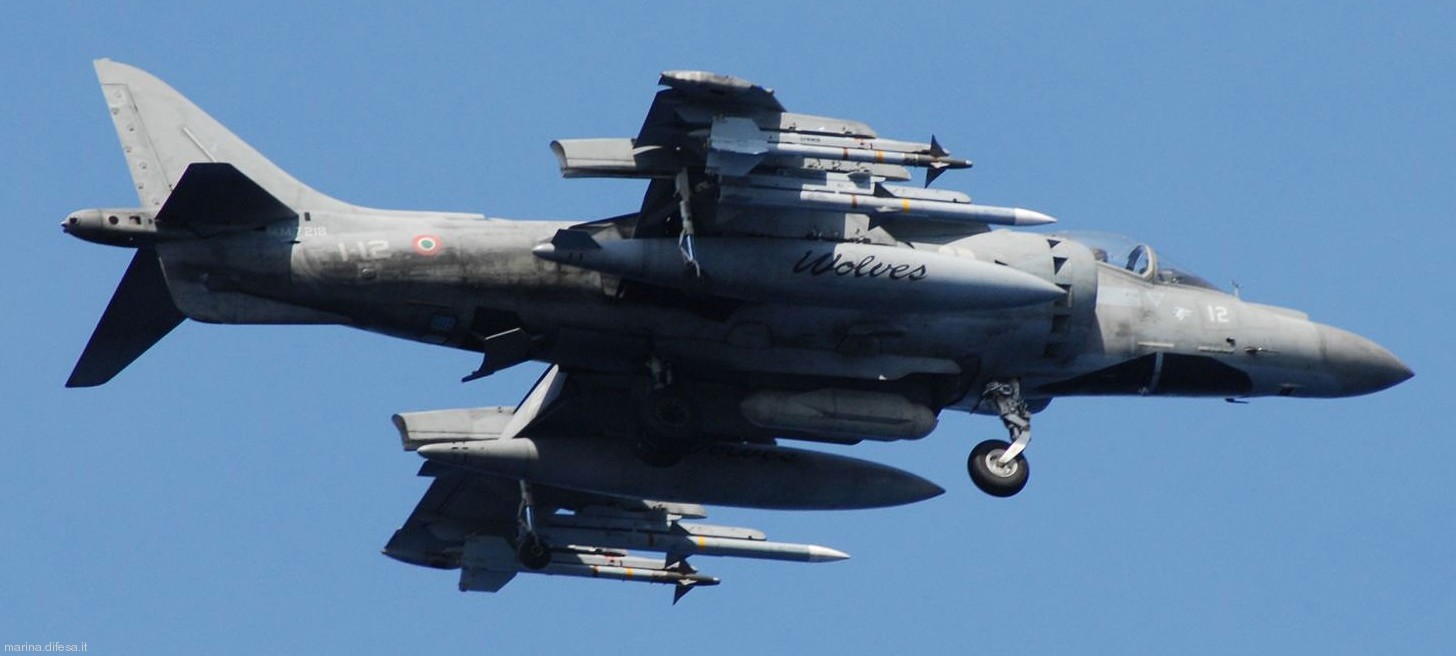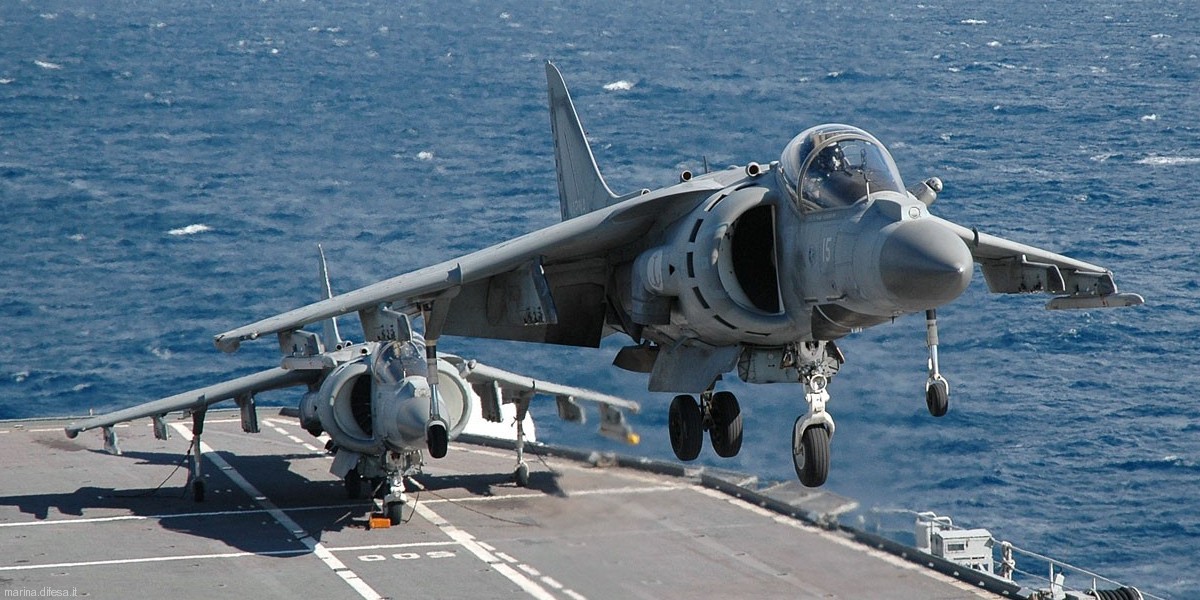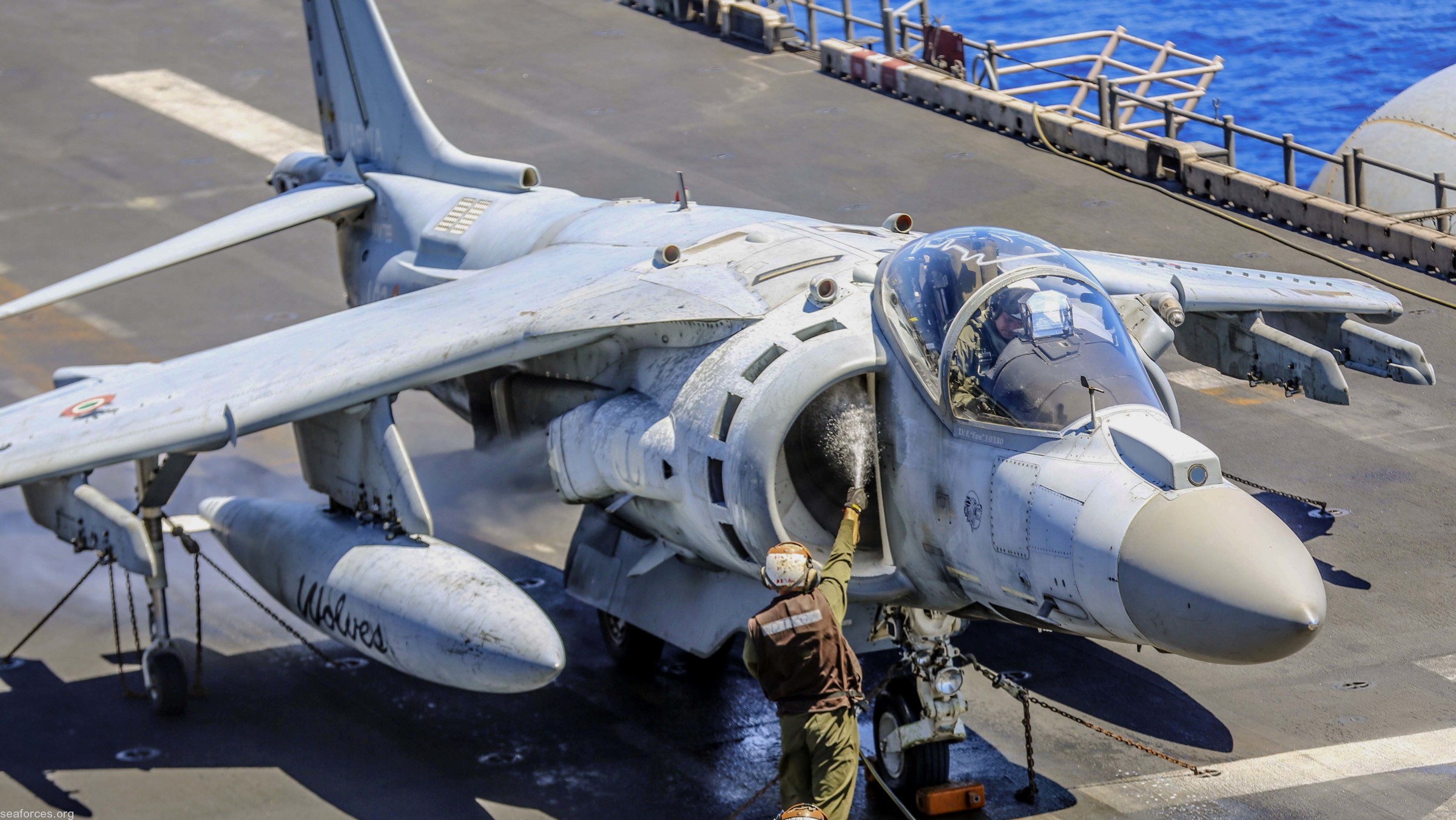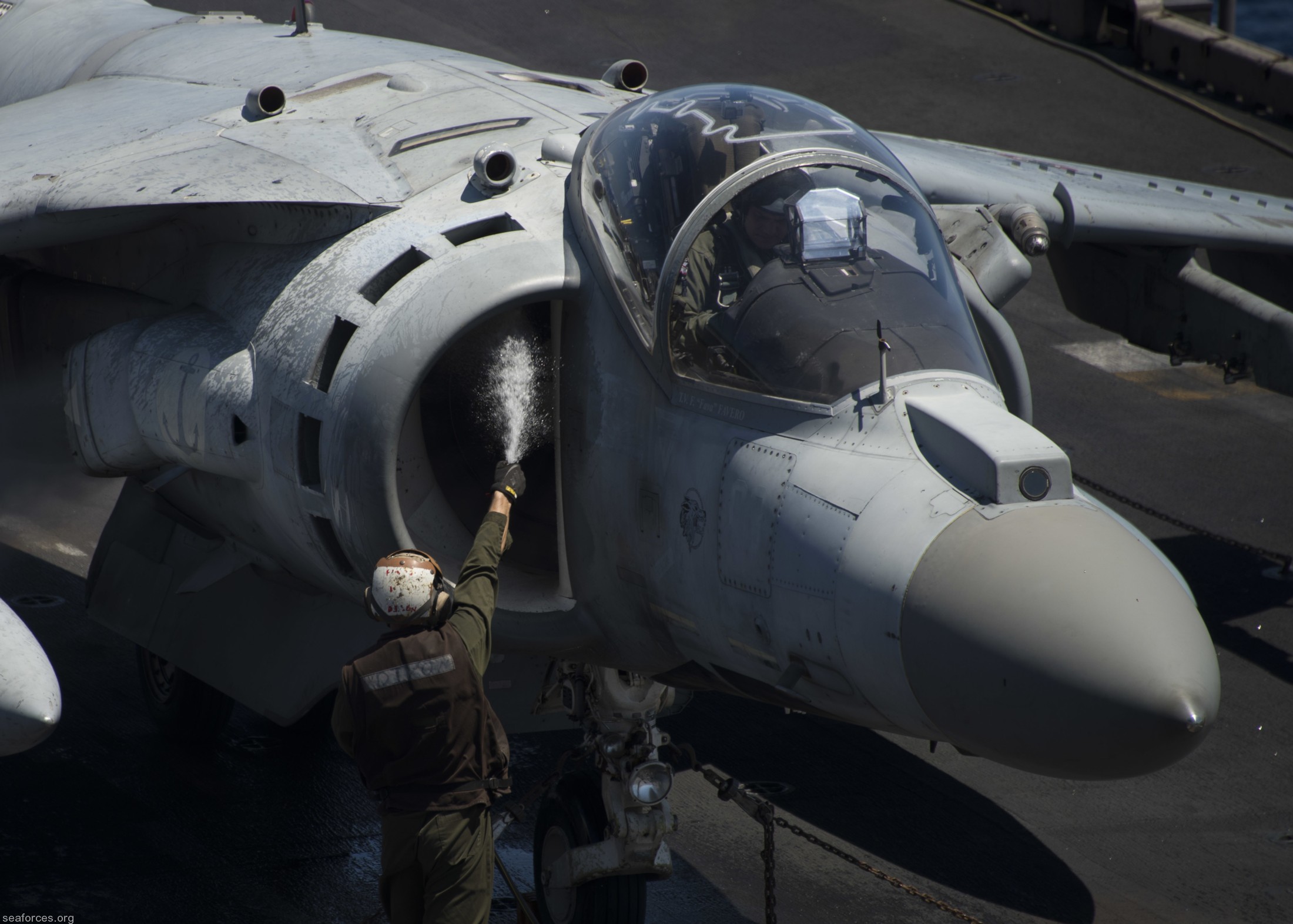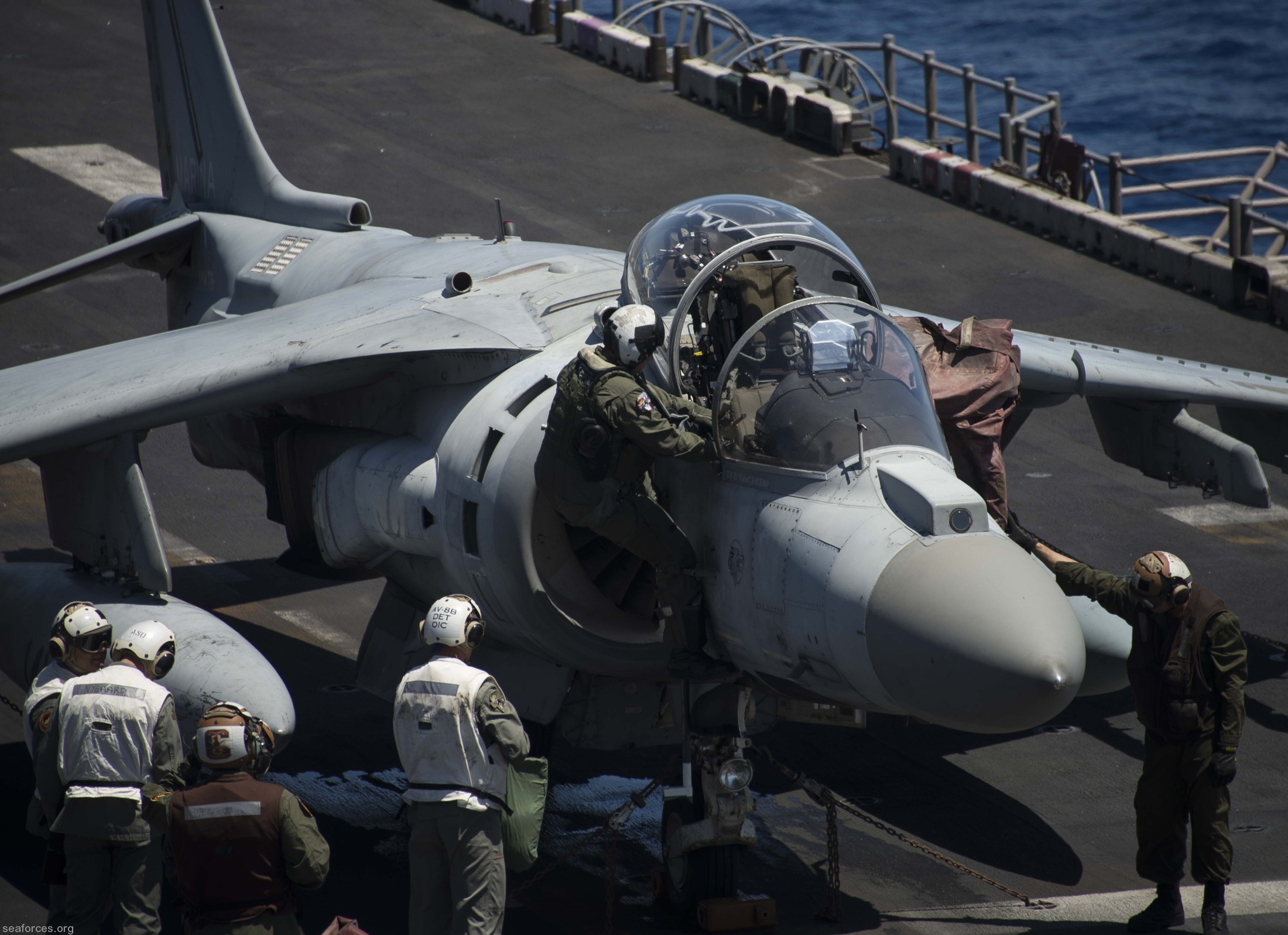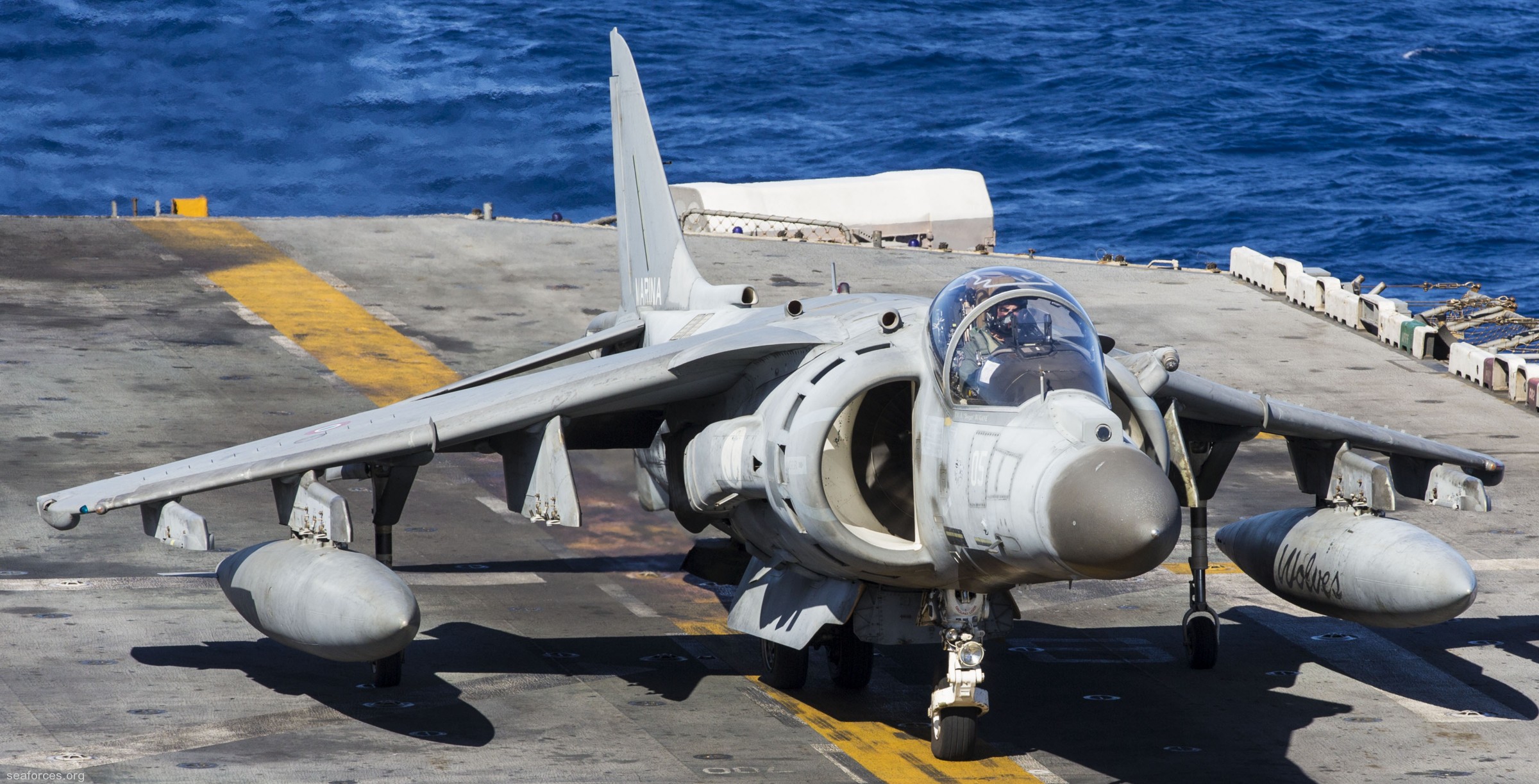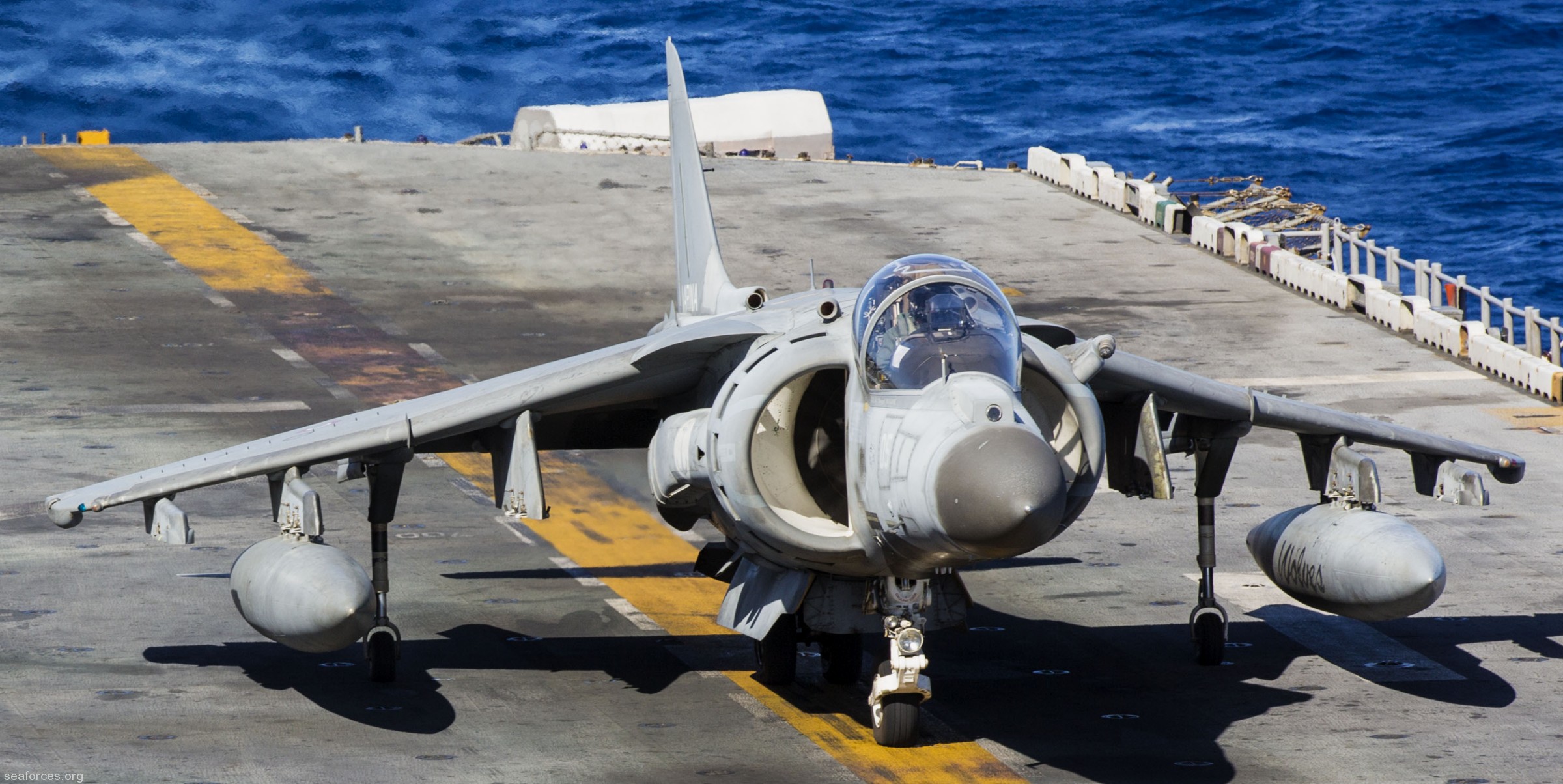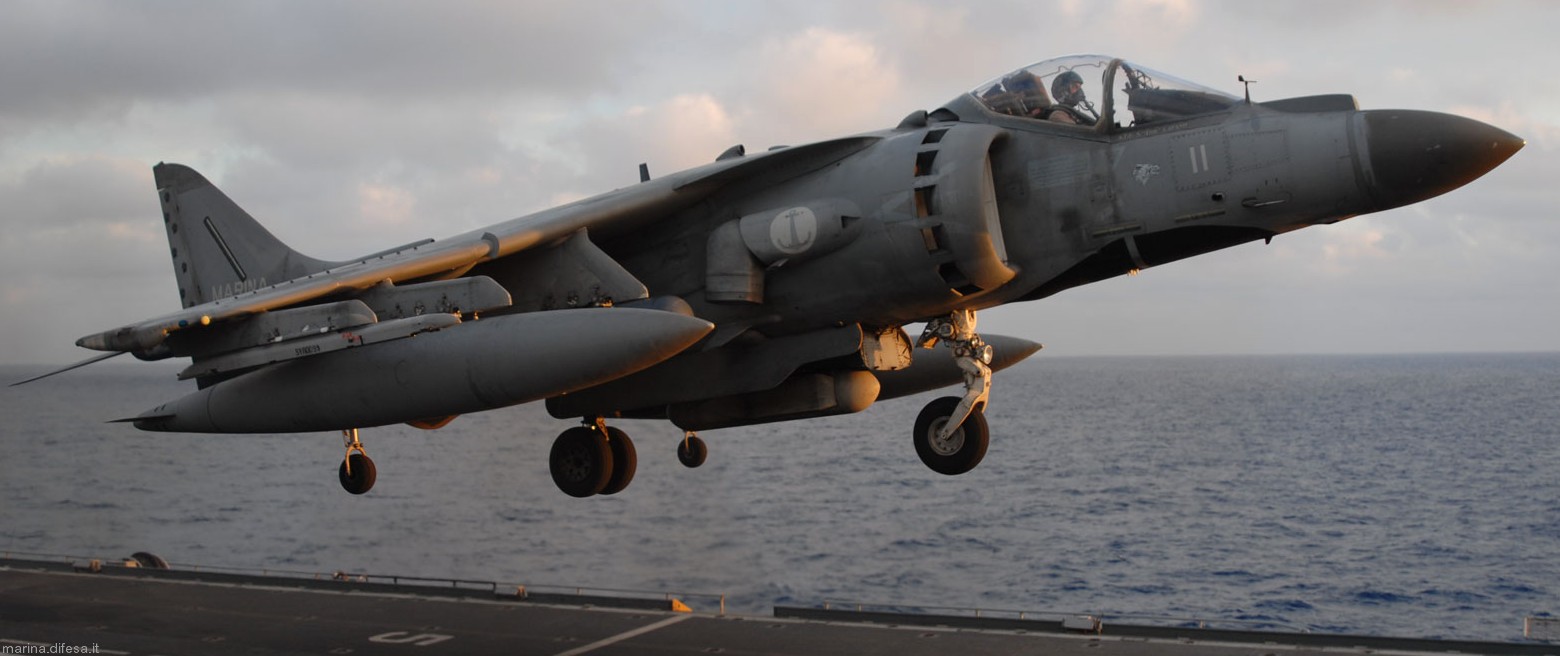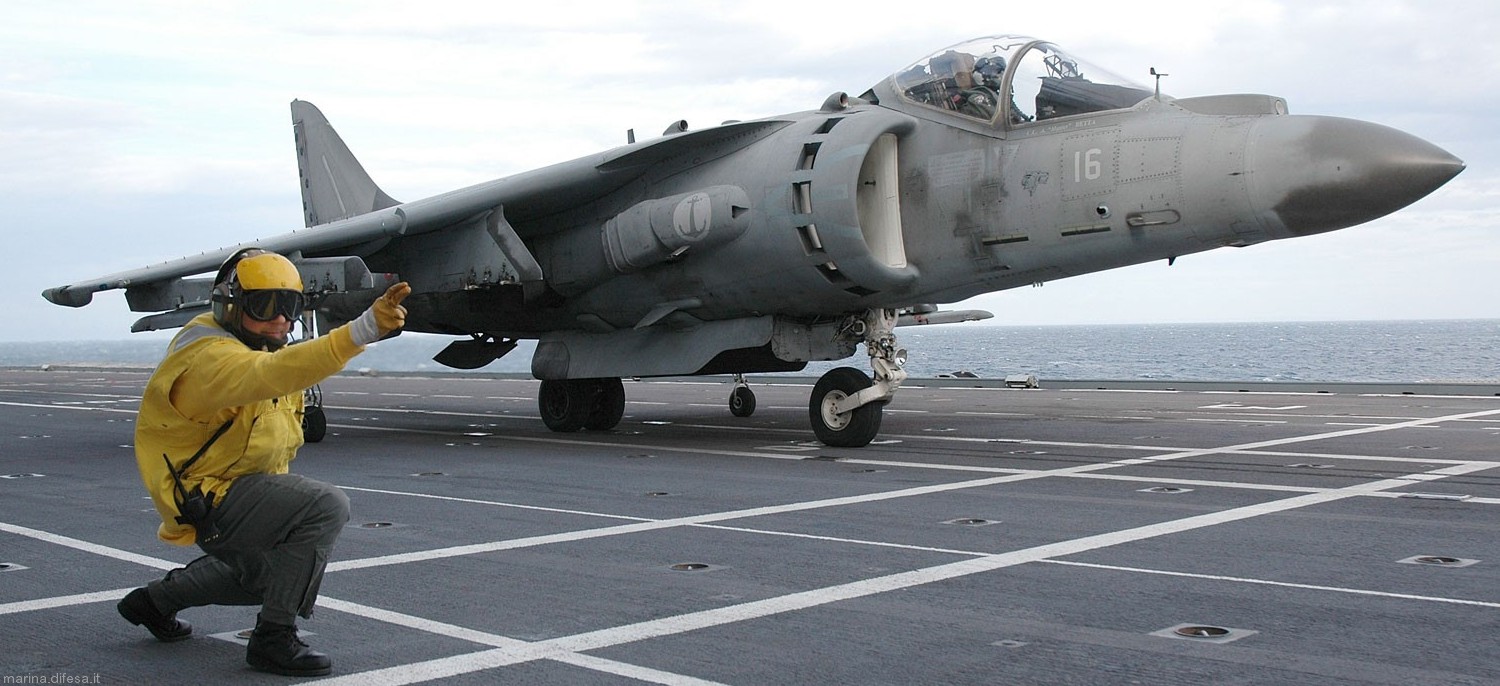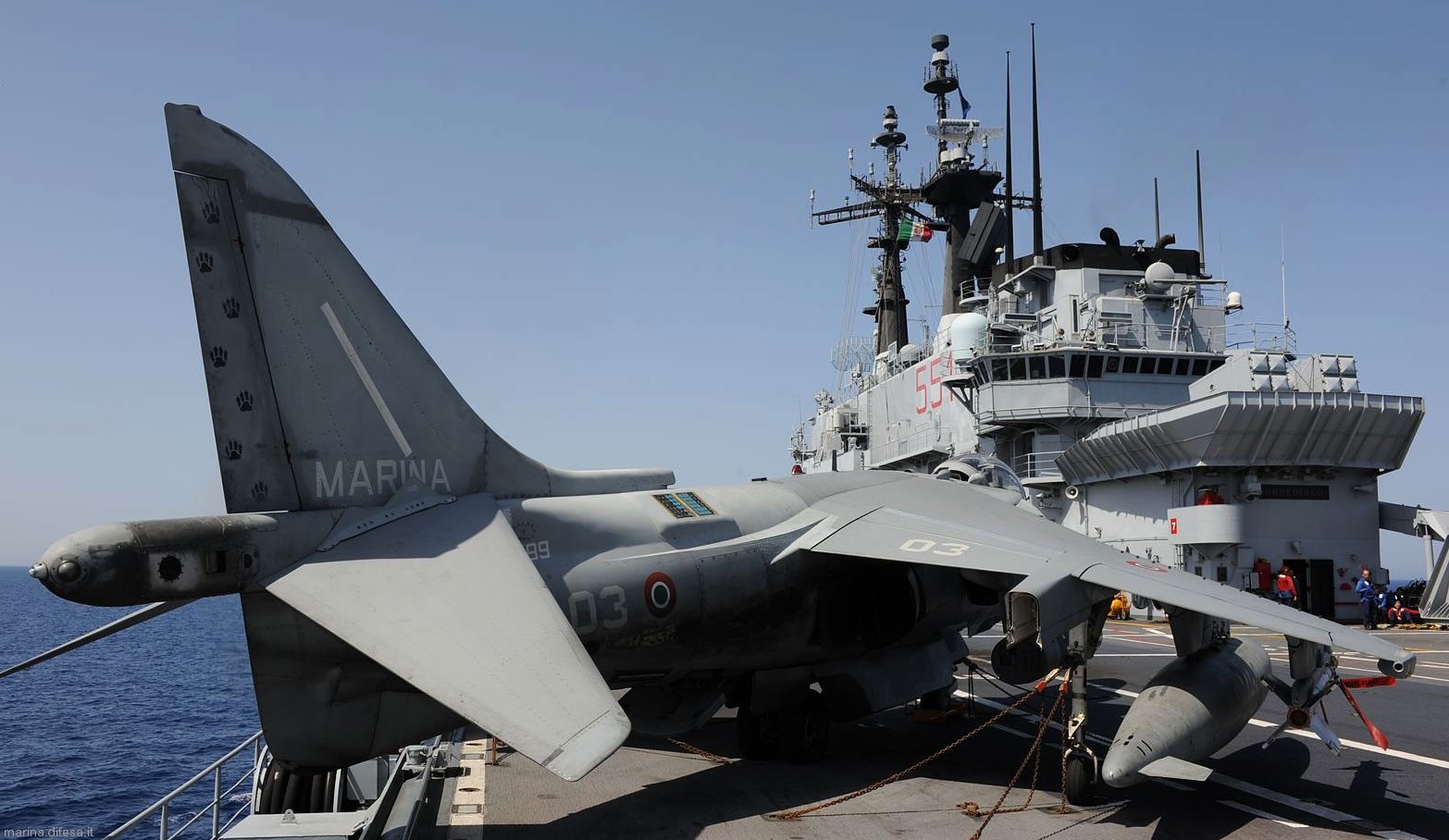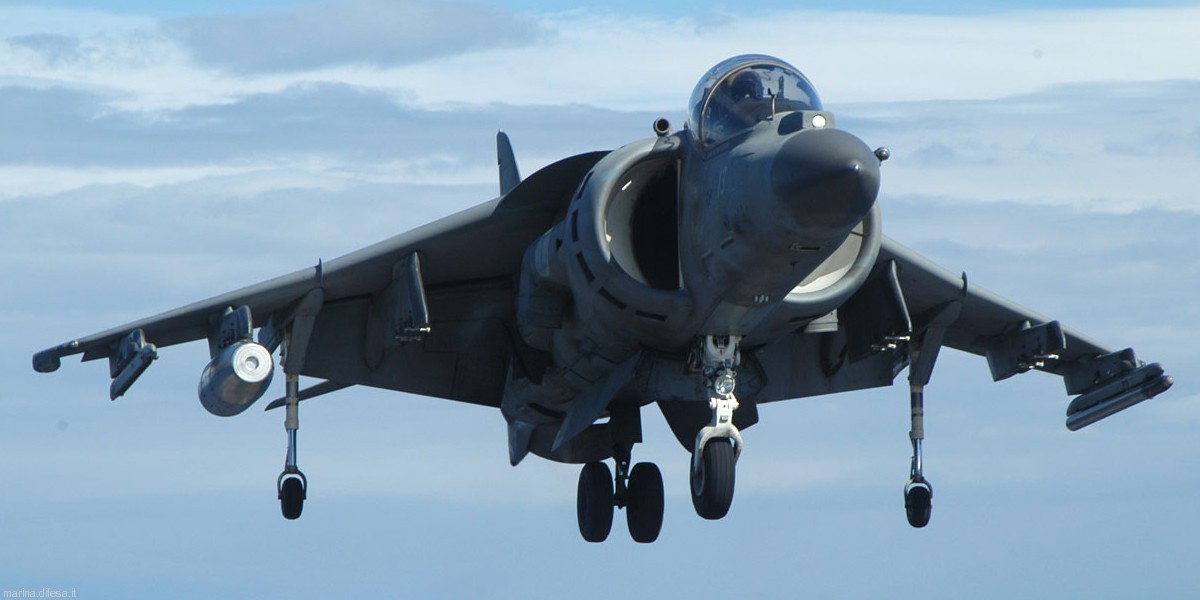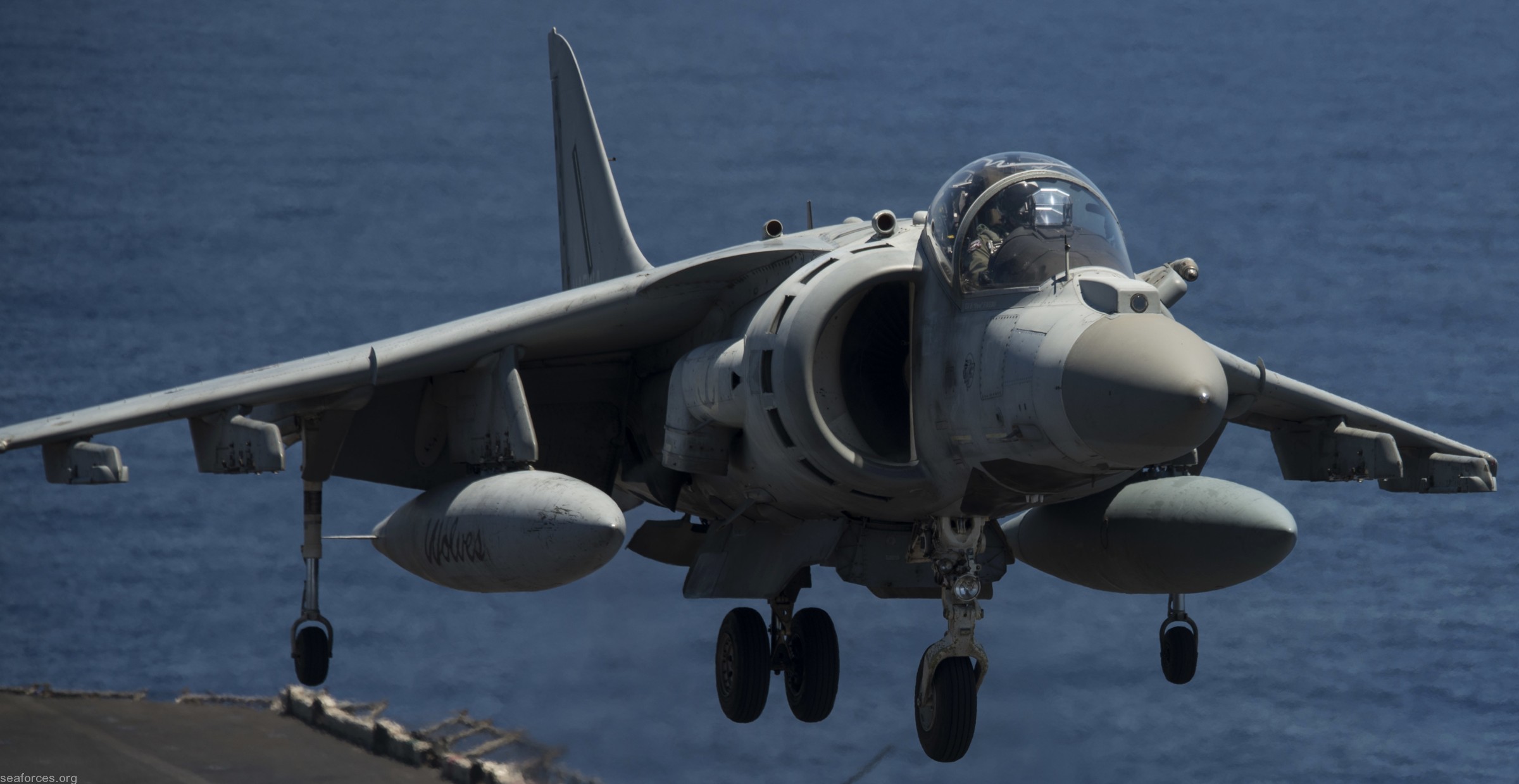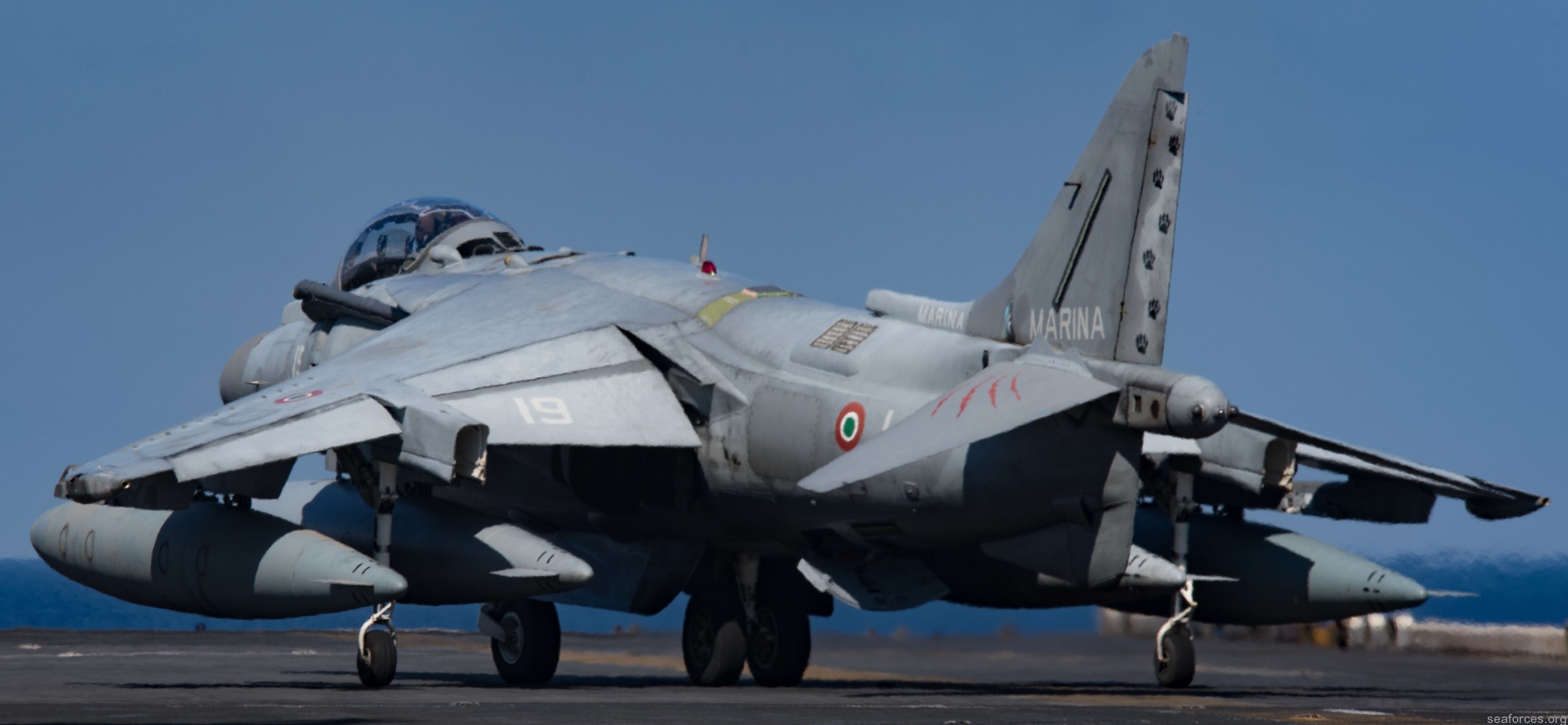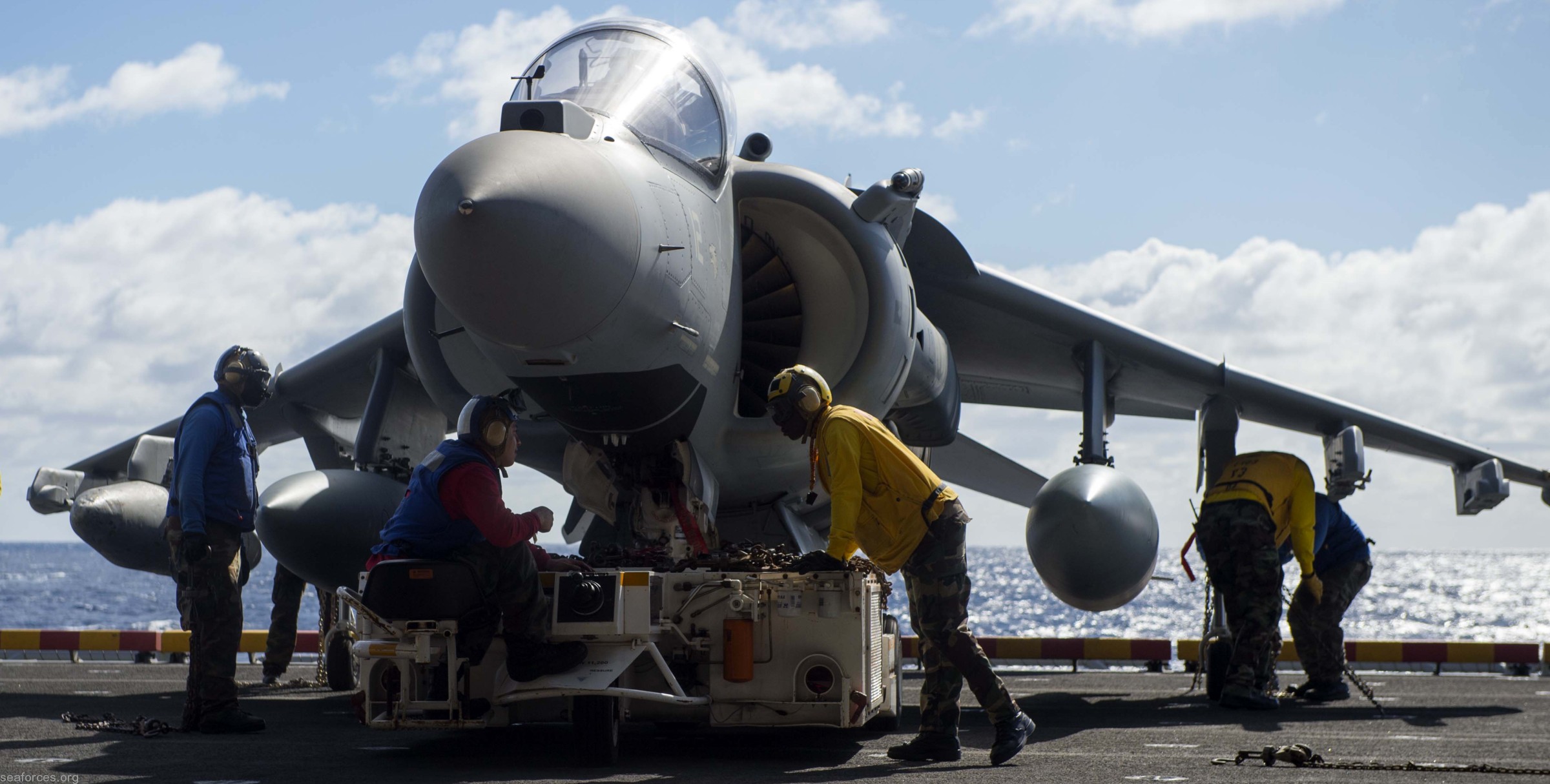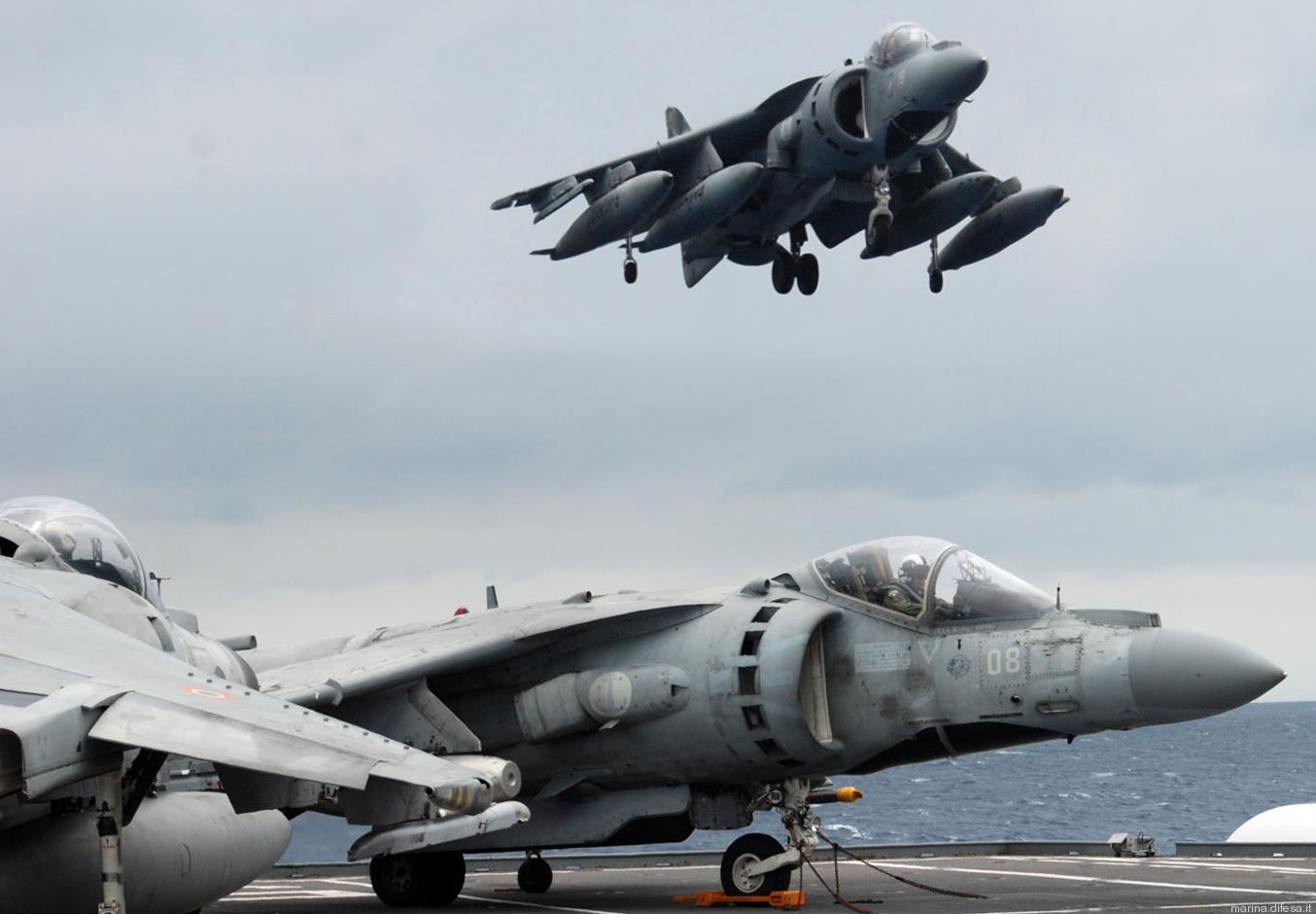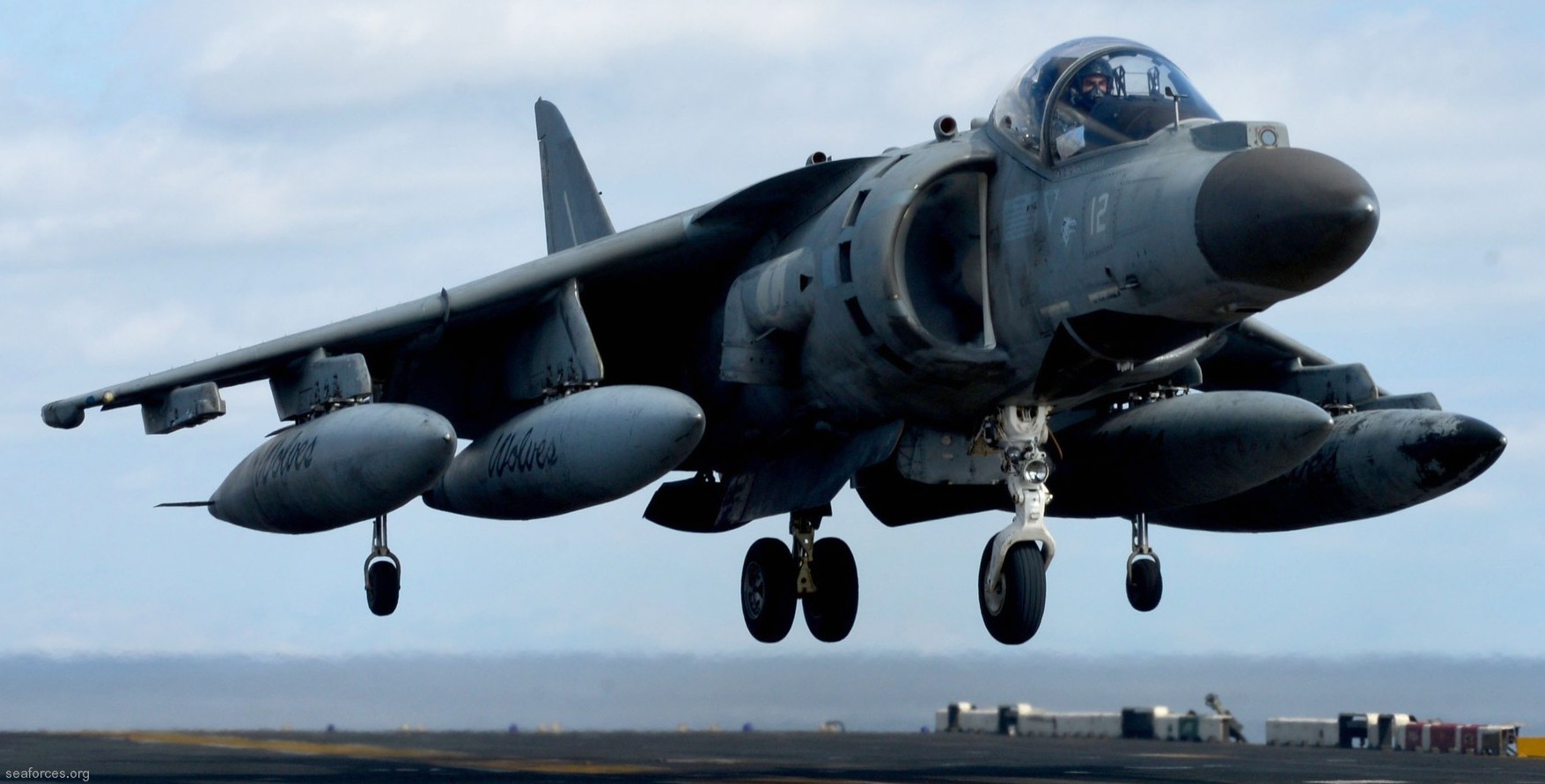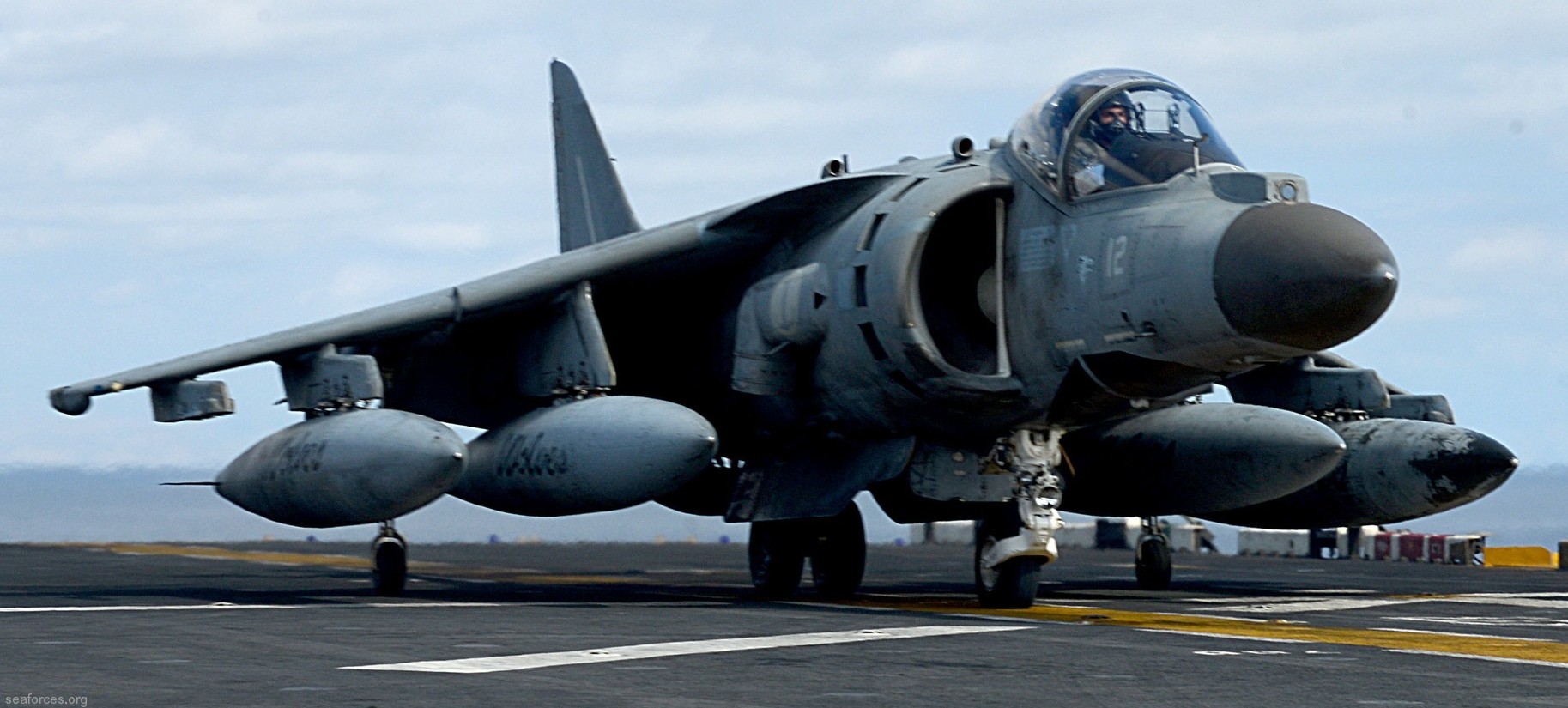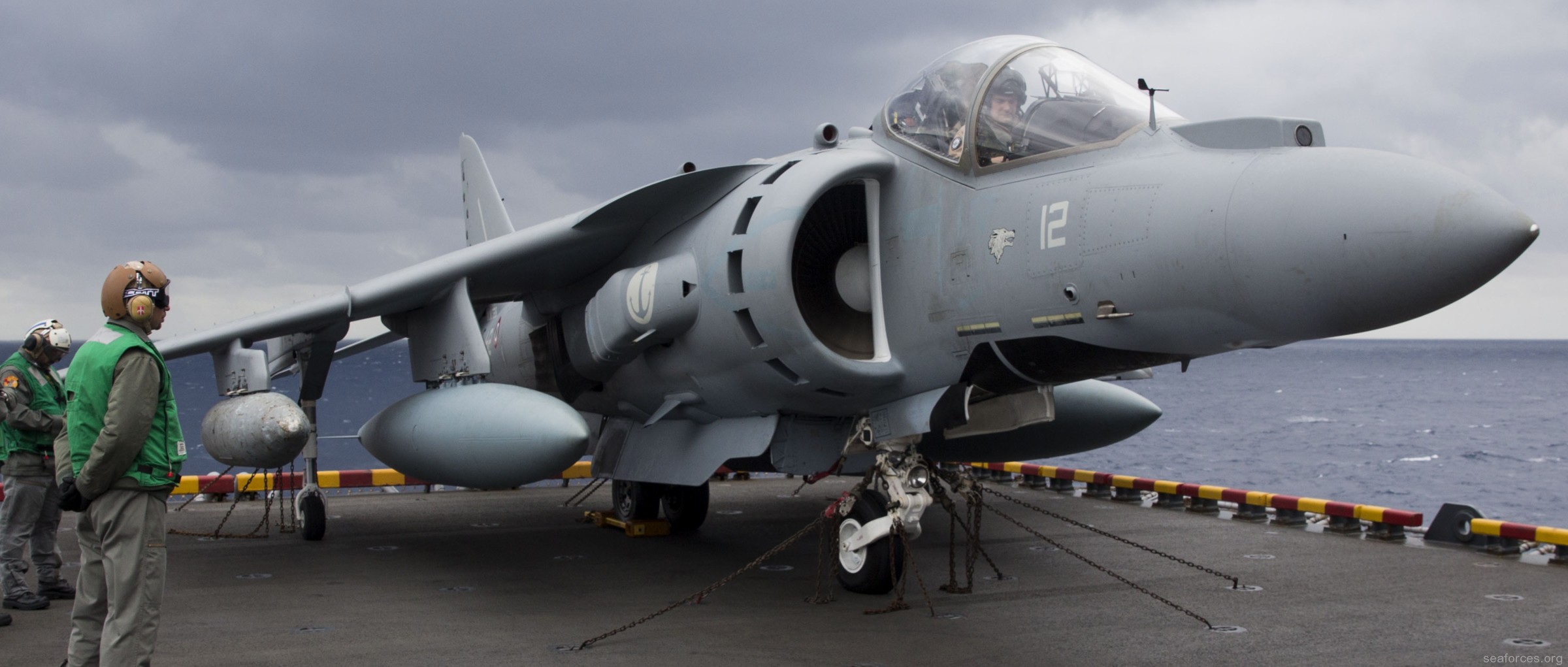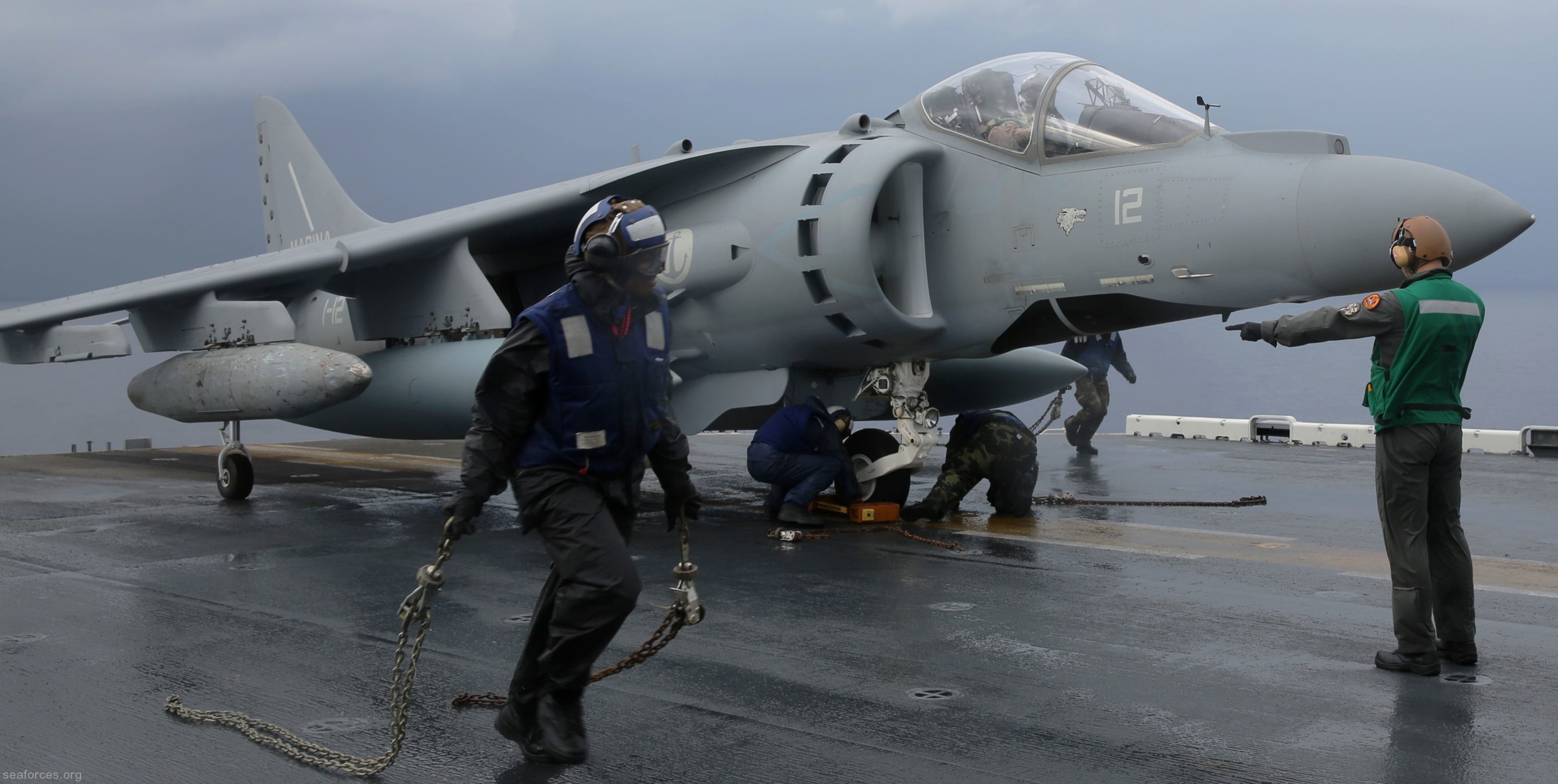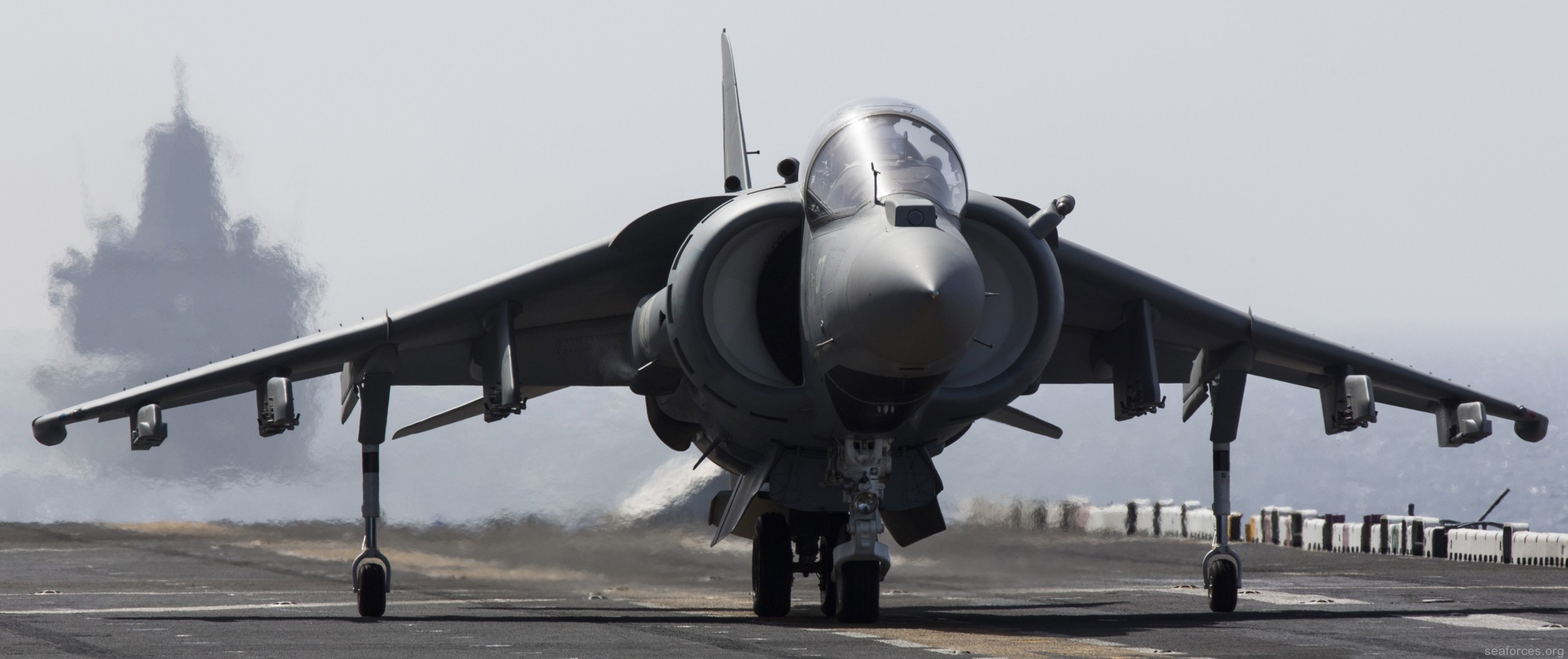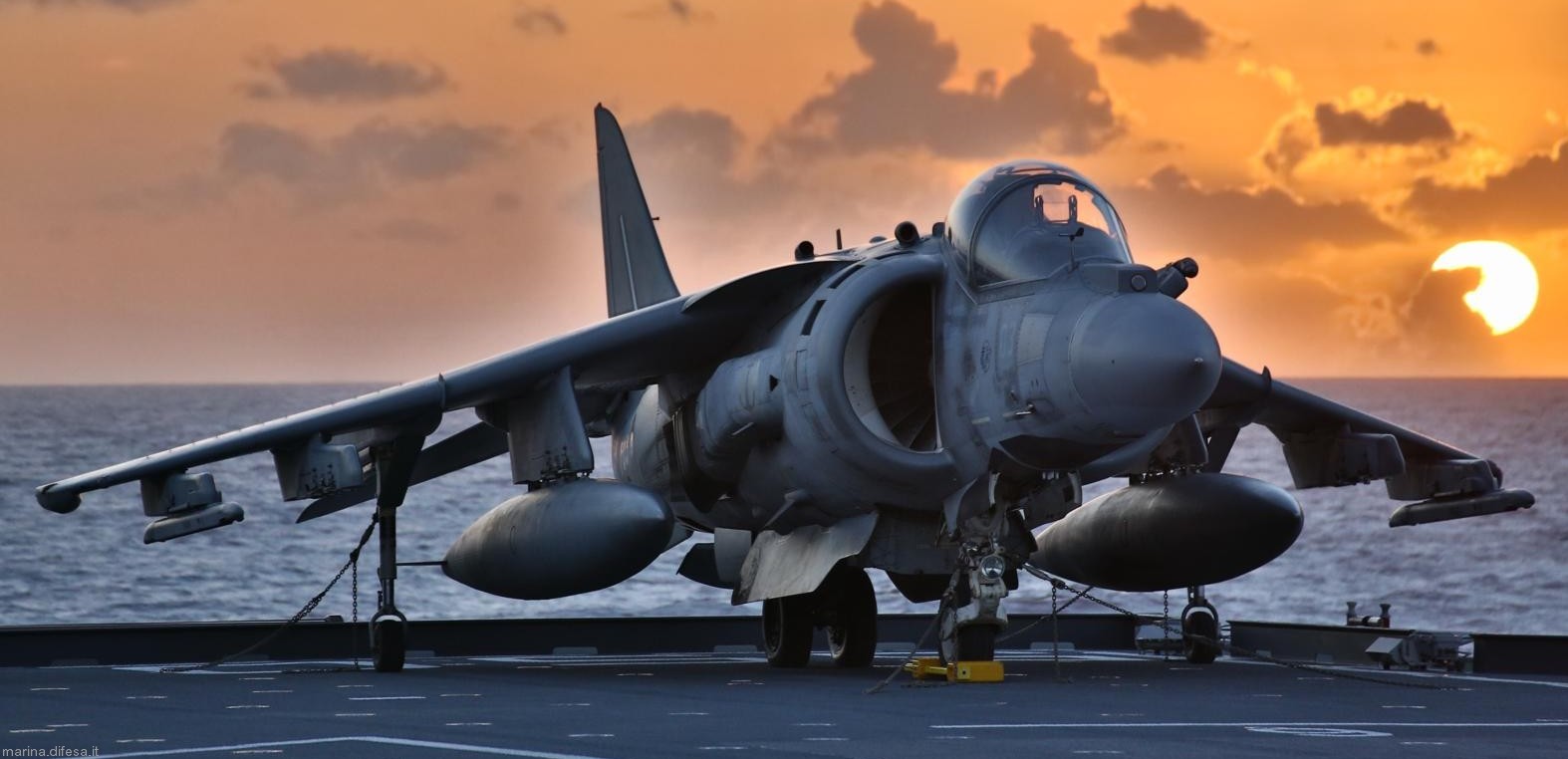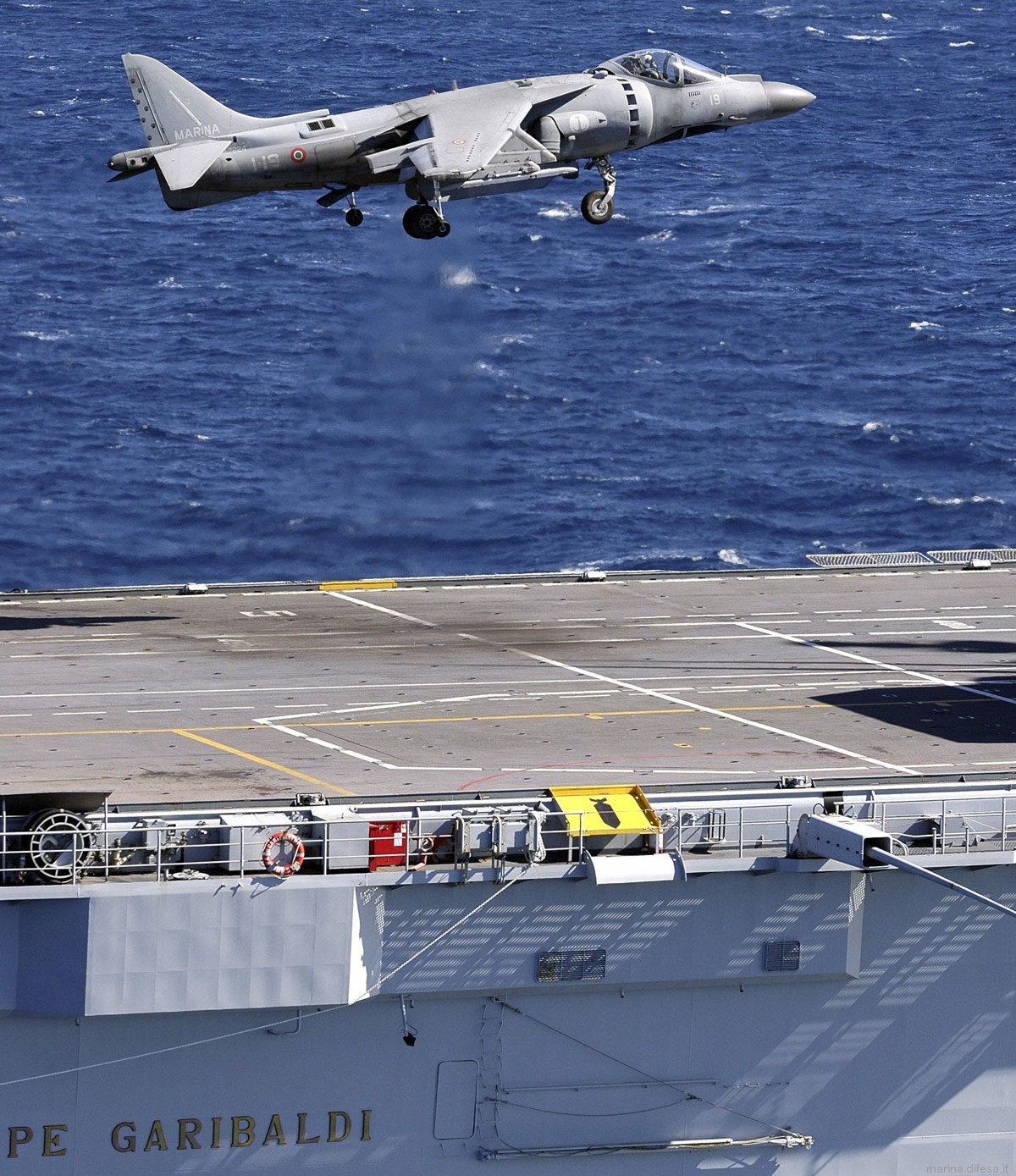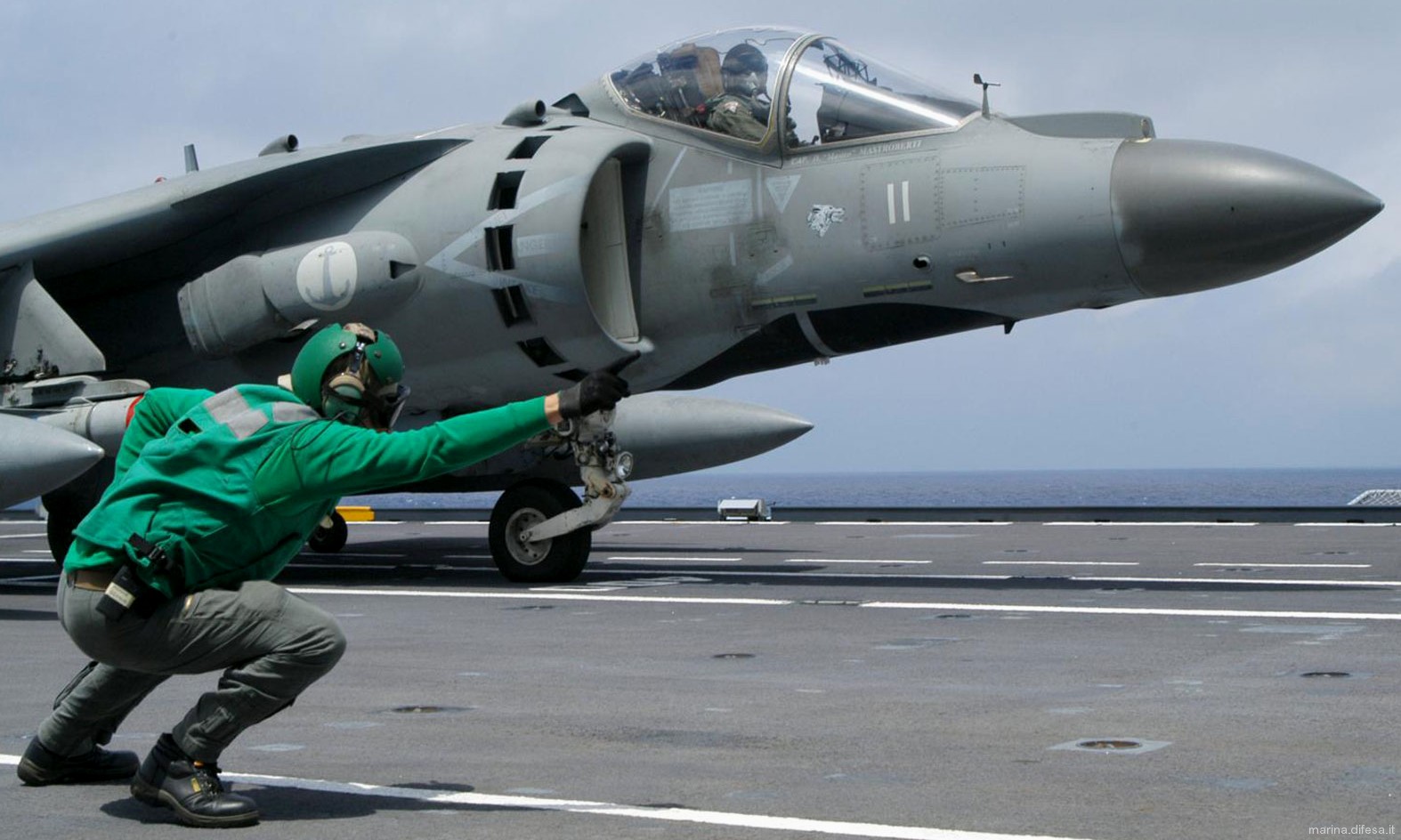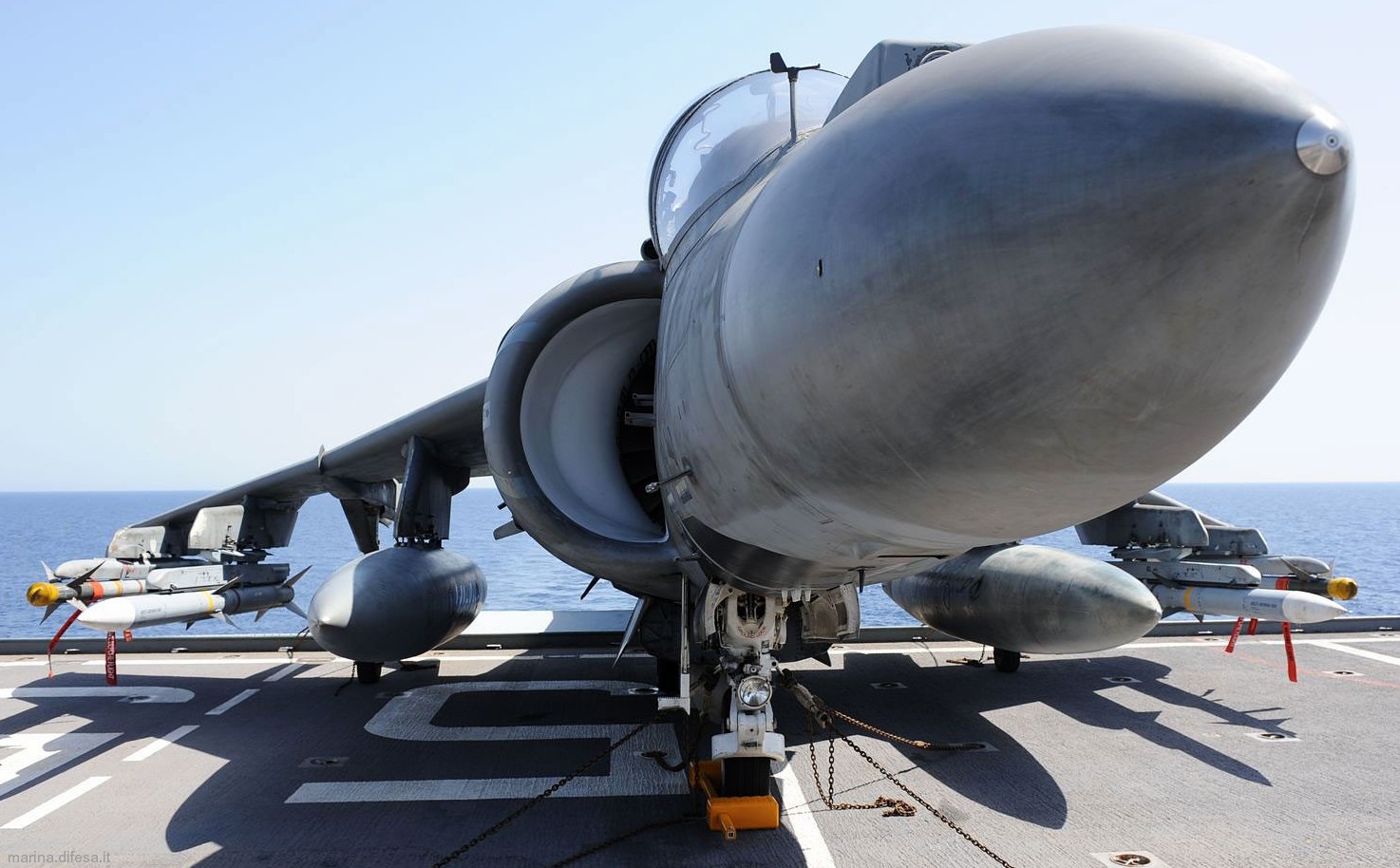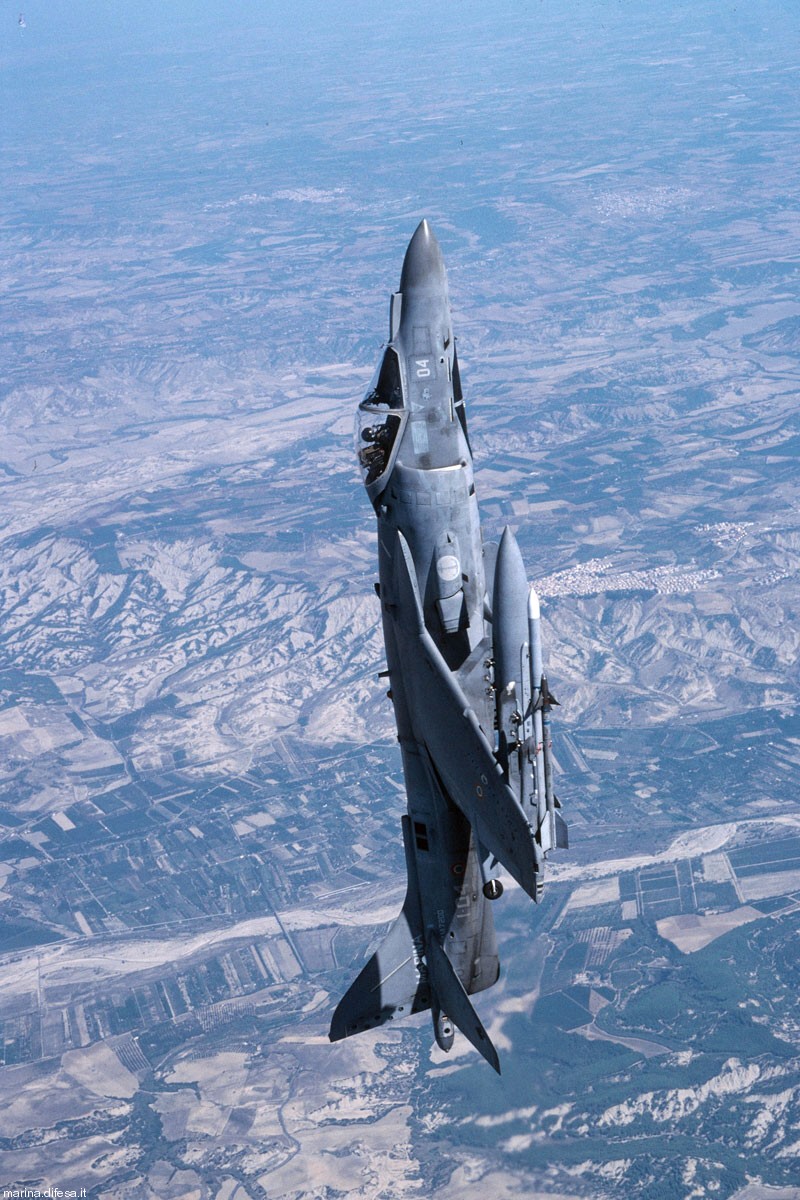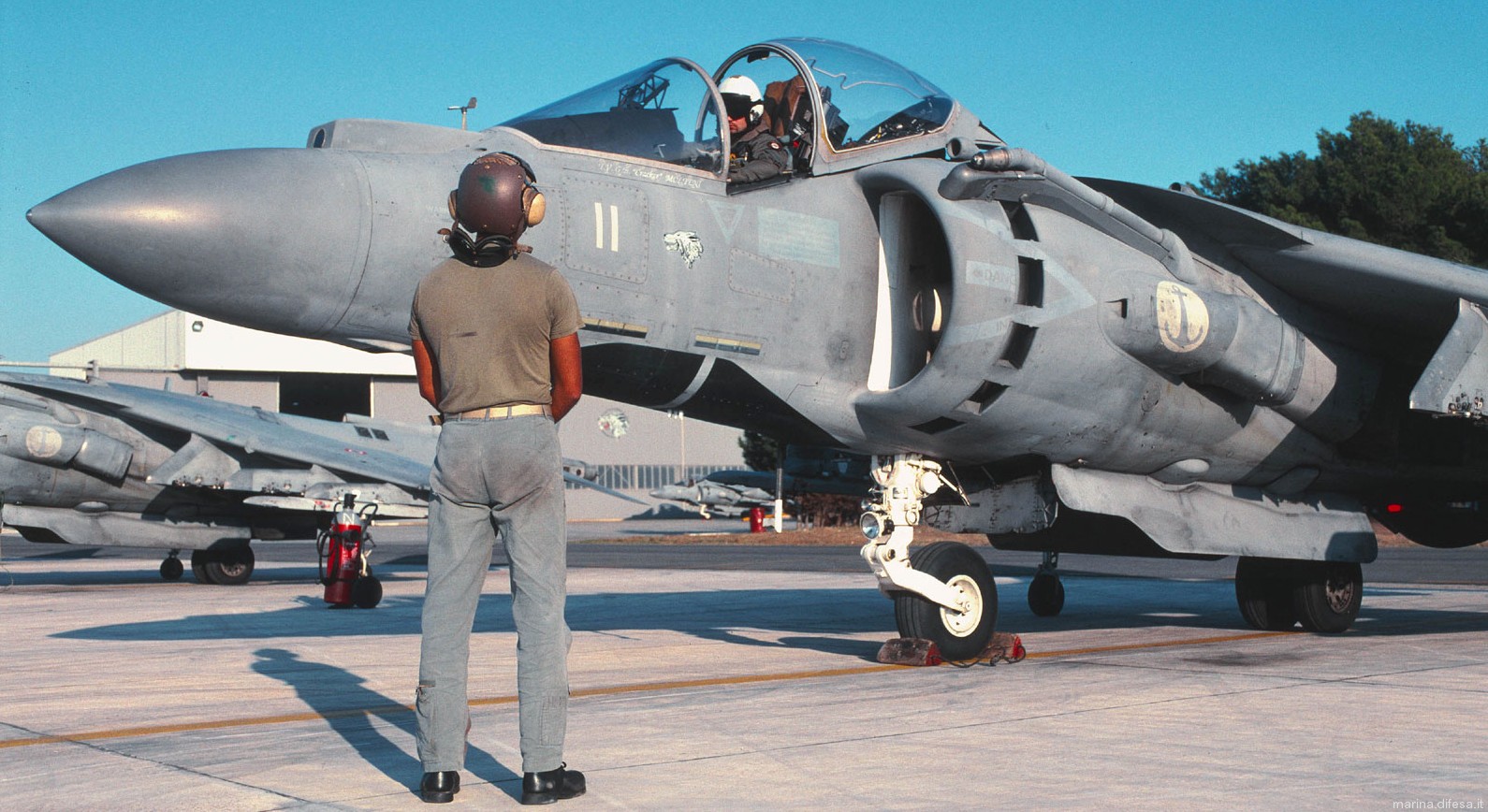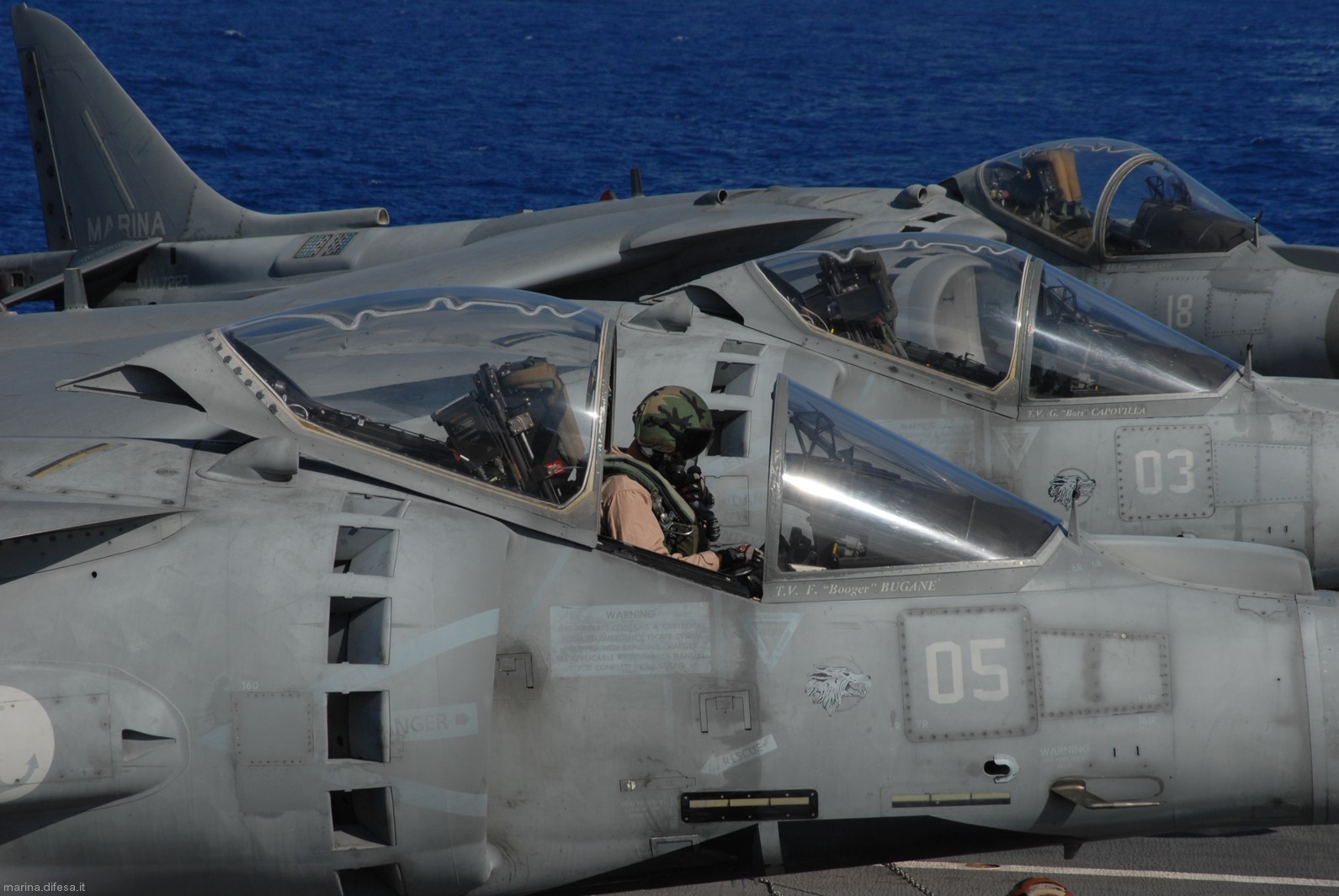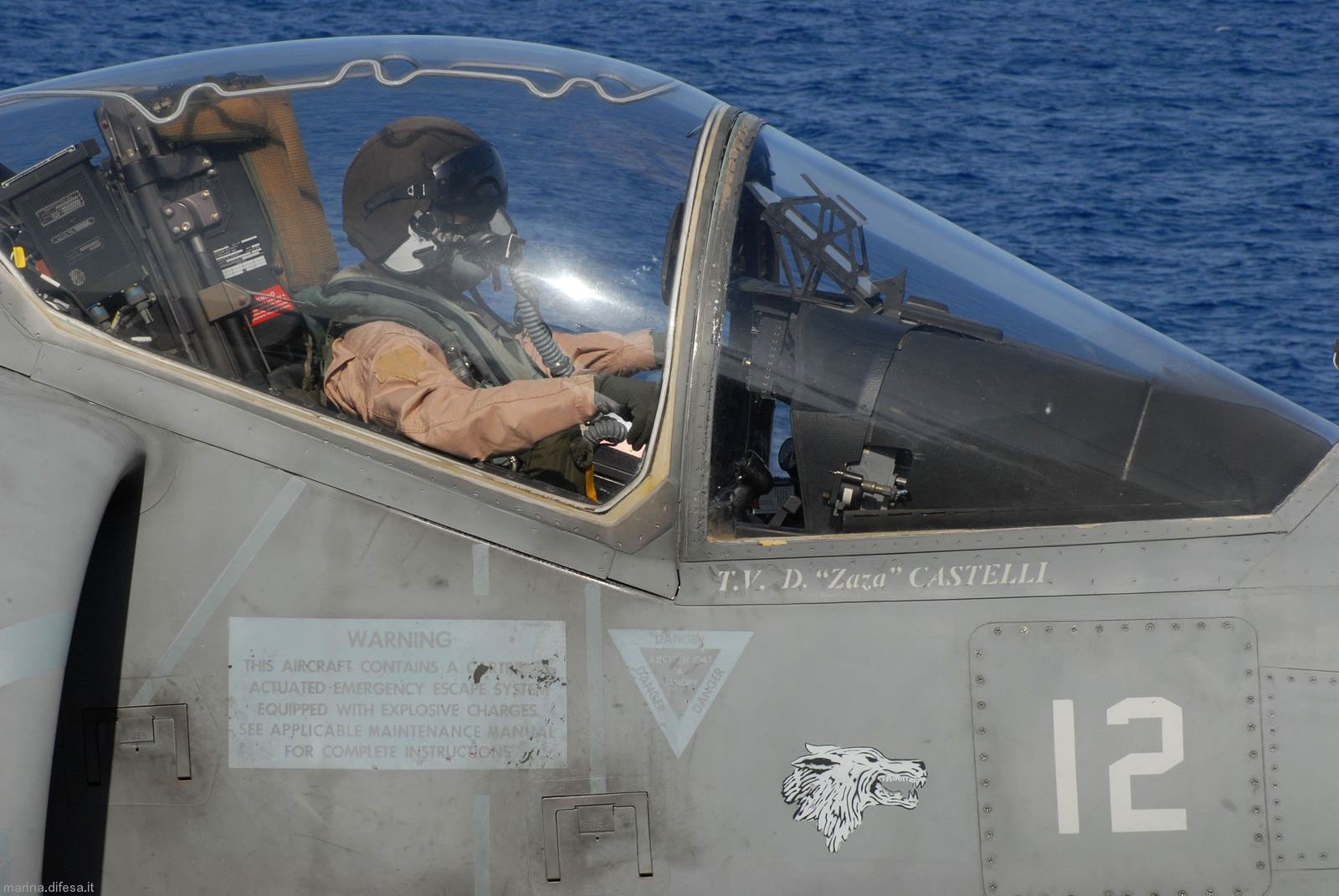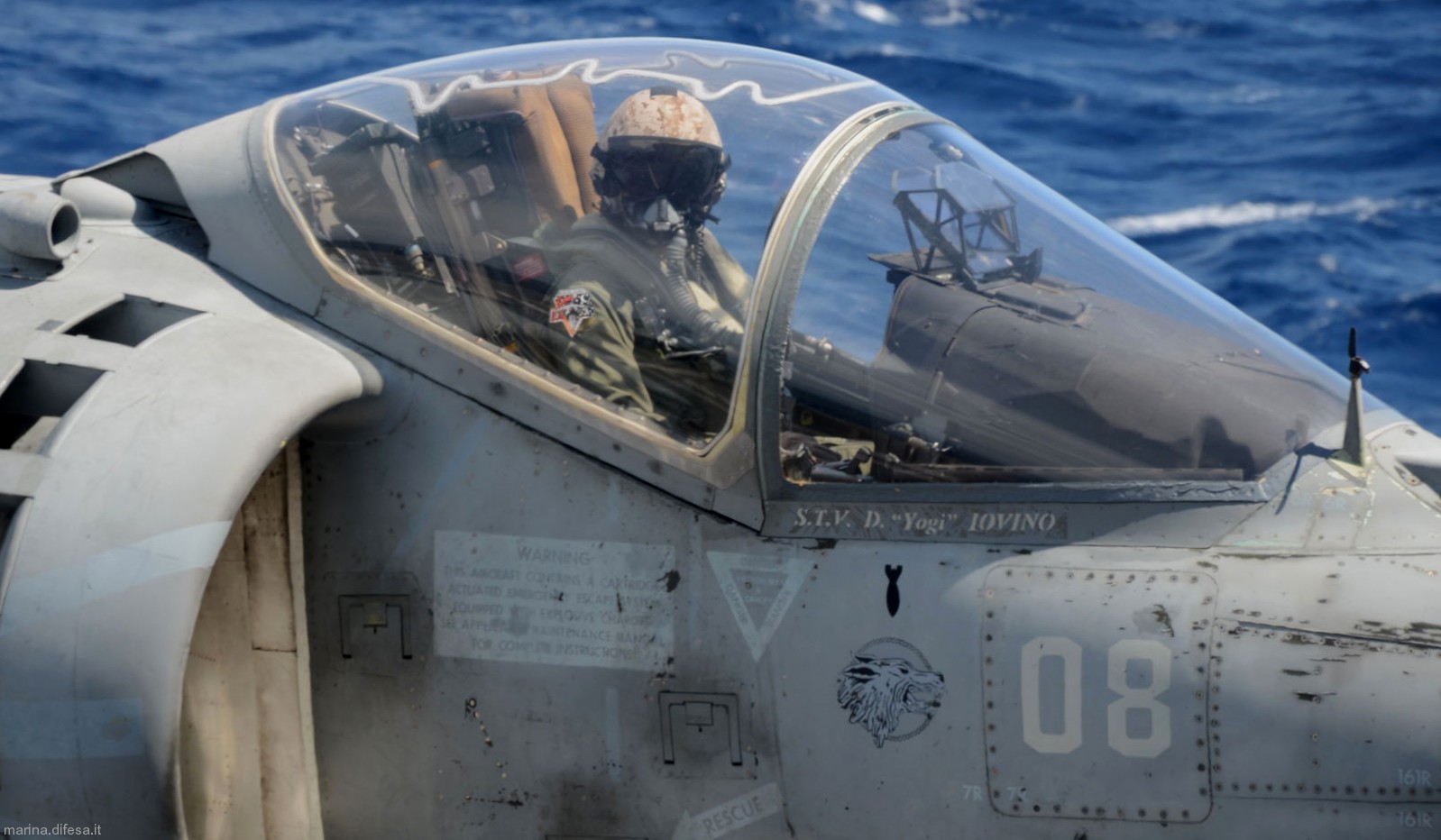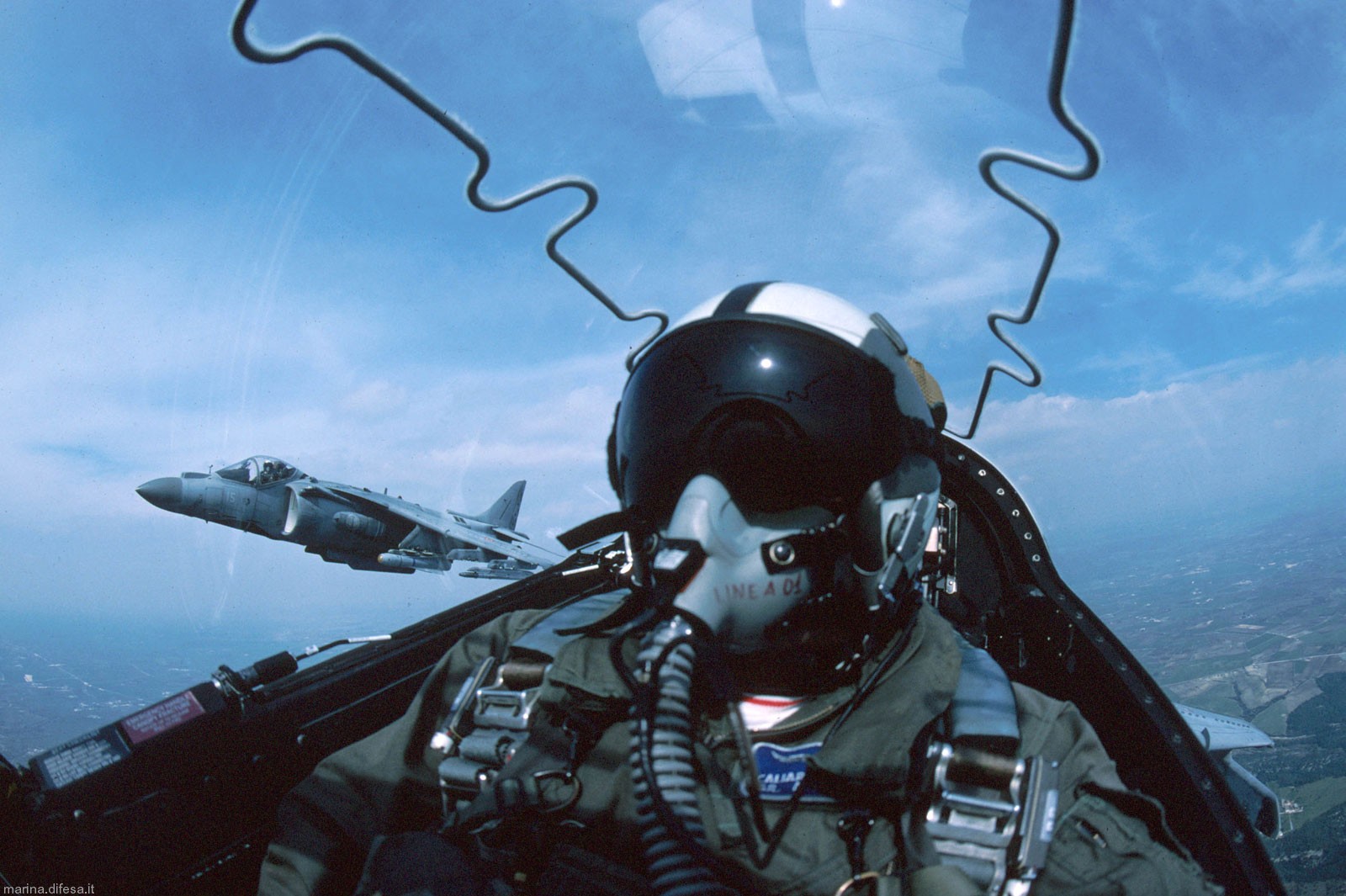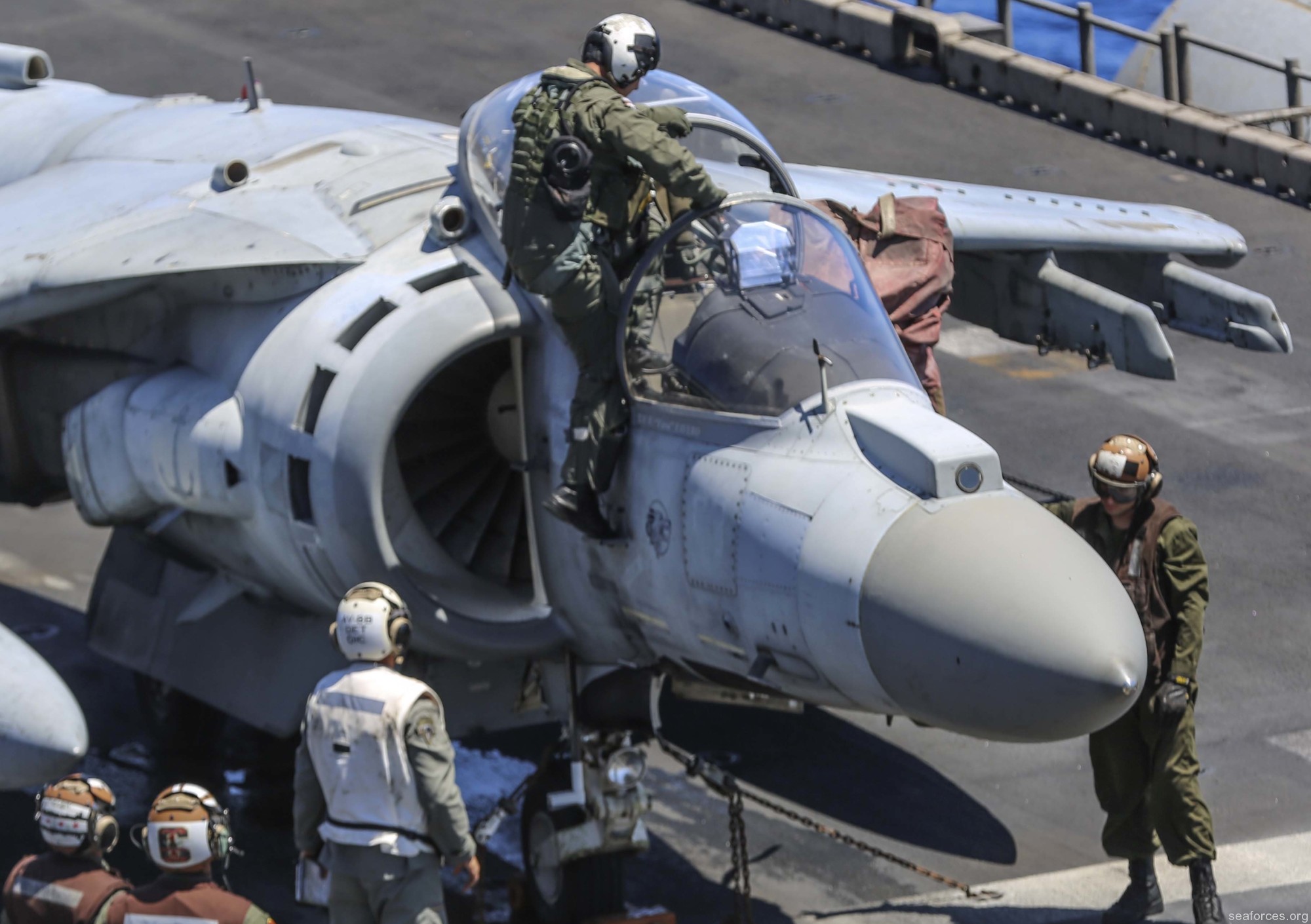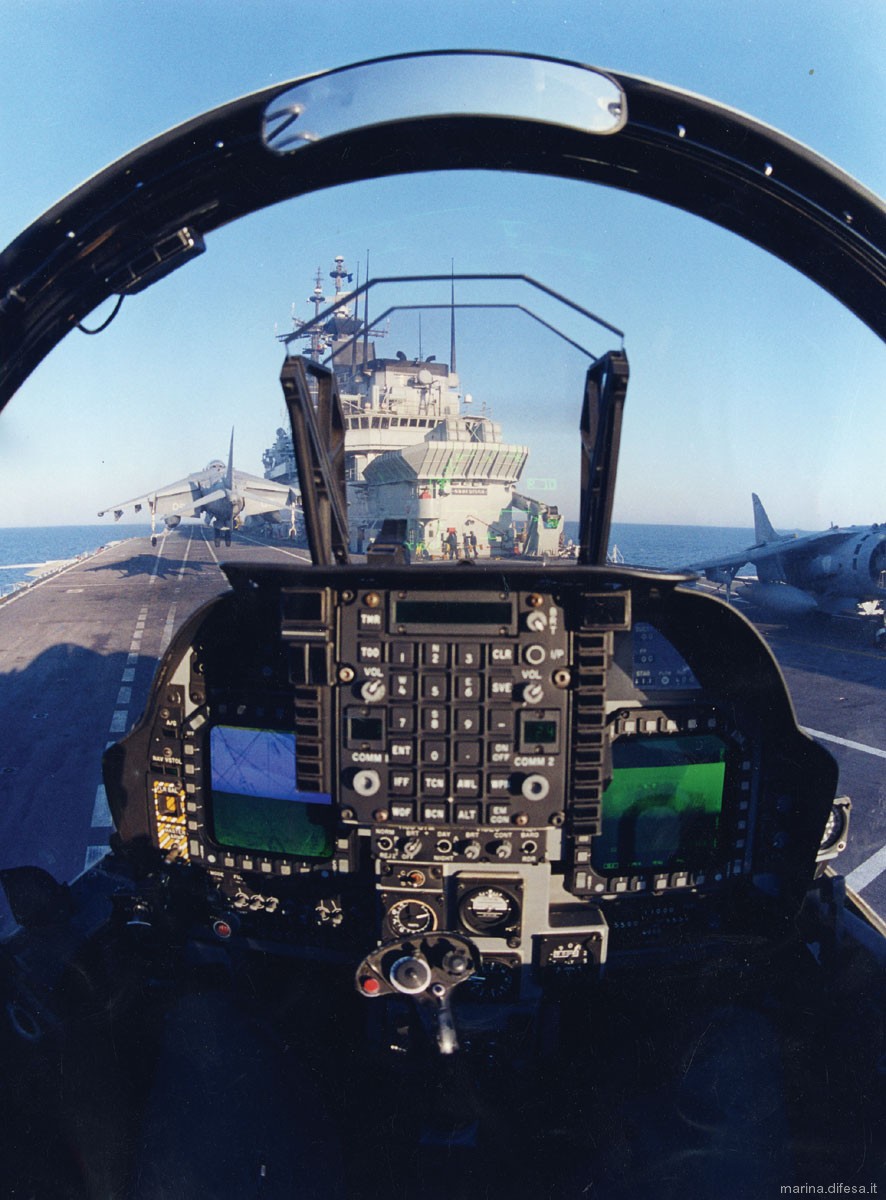 AV-8B Harrier II+ cockpit view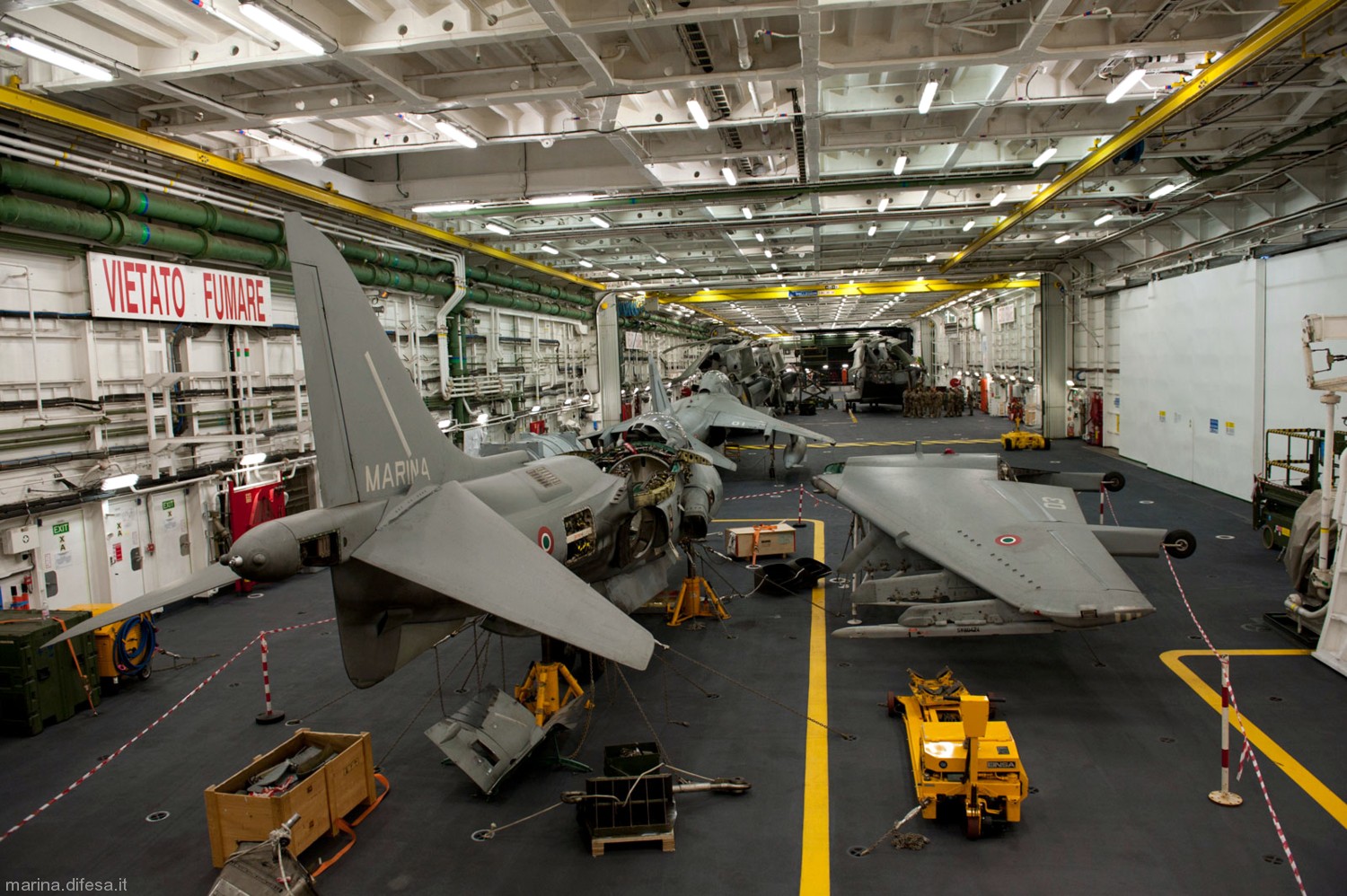 AV-8B Harrier II+ in the hangar aboard ITS Cavour (C 550)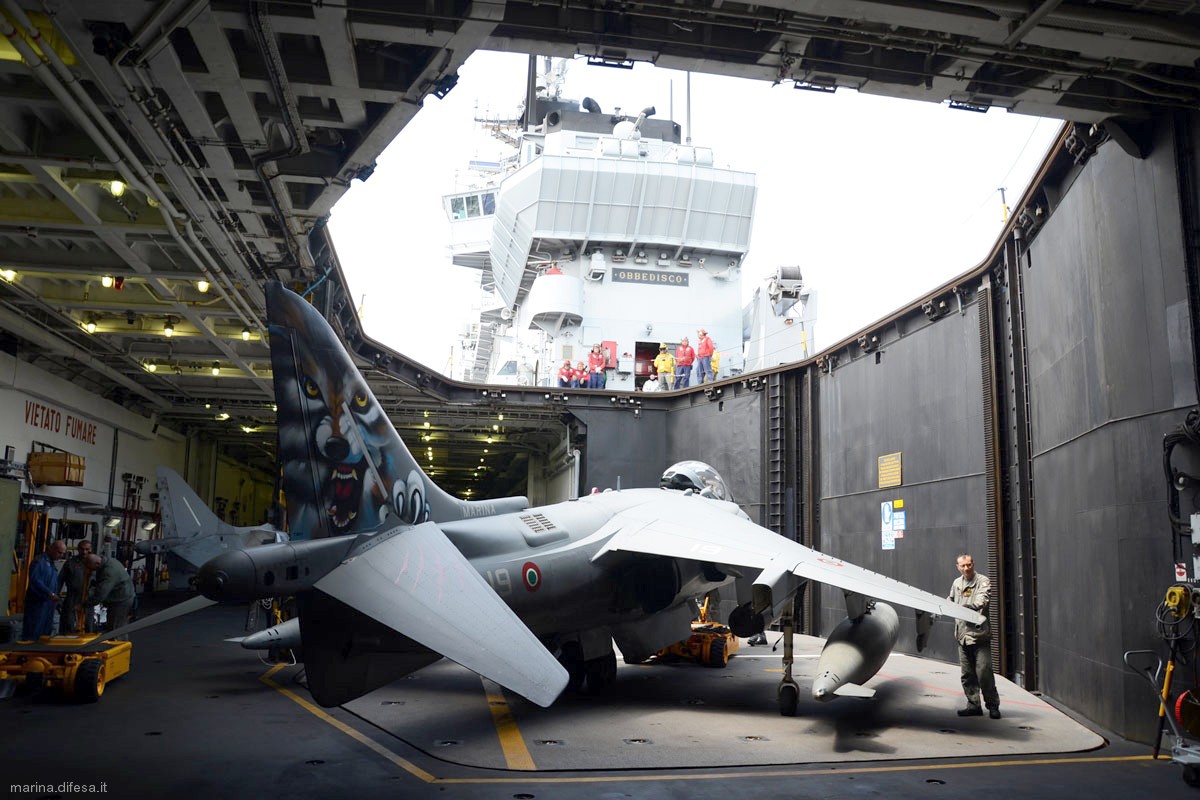 AV-8B Harrier II+ on the aircraft elevator aboard ITS Giuseppe Garibaldi (C 551)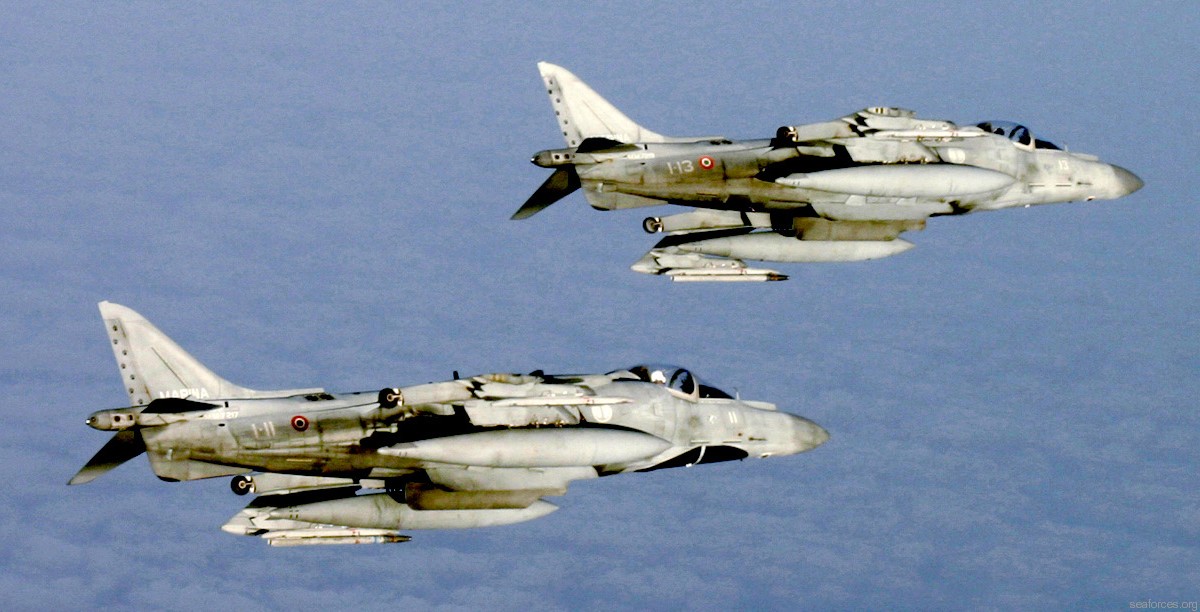 take off aboard ITS Cavour (C 550)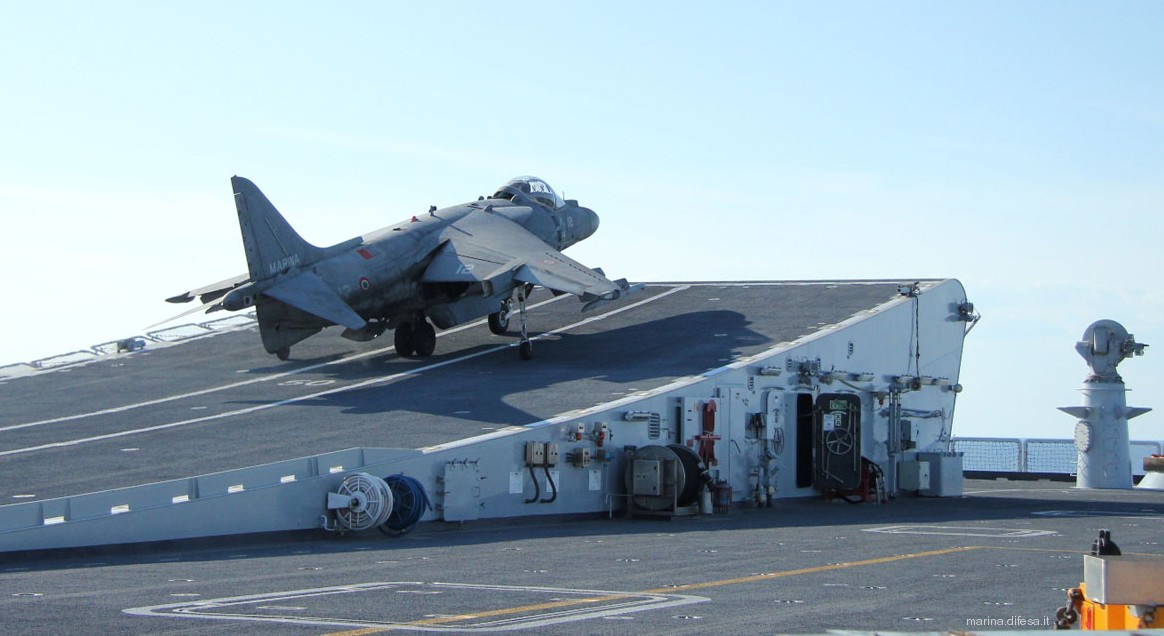 take off aboard ITS Cavour (C 550) - note the 12° ski jump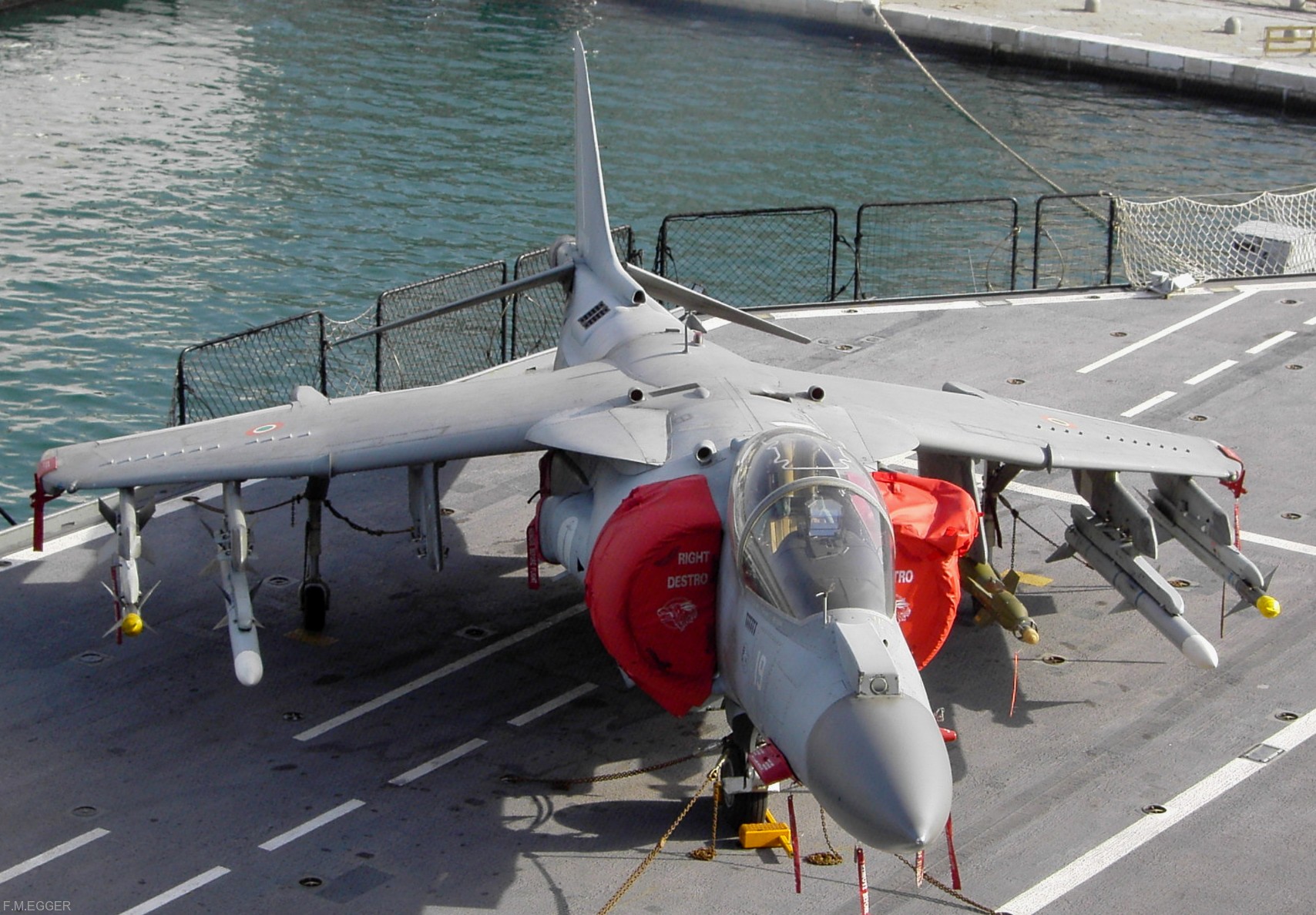 AV-8B Harrier II+ aboard ITS Giuseppe Garibaldi (C 551) - Trieste, Italy - 2004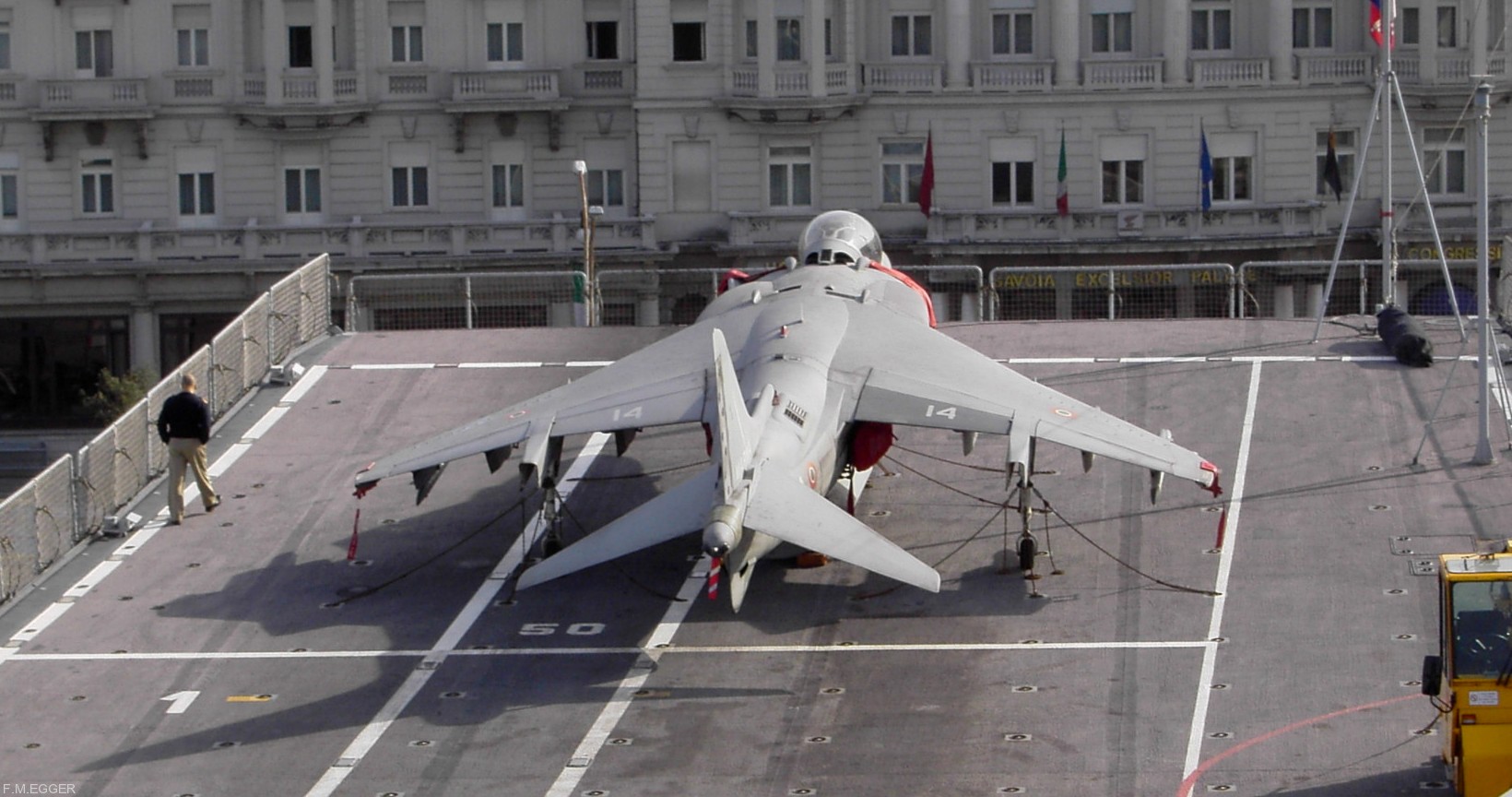 AV-8B Harrier II+ on the ski-jump aboard ITS Giuseppe Garibaldi (C 551) - Trieste, Italy - 2004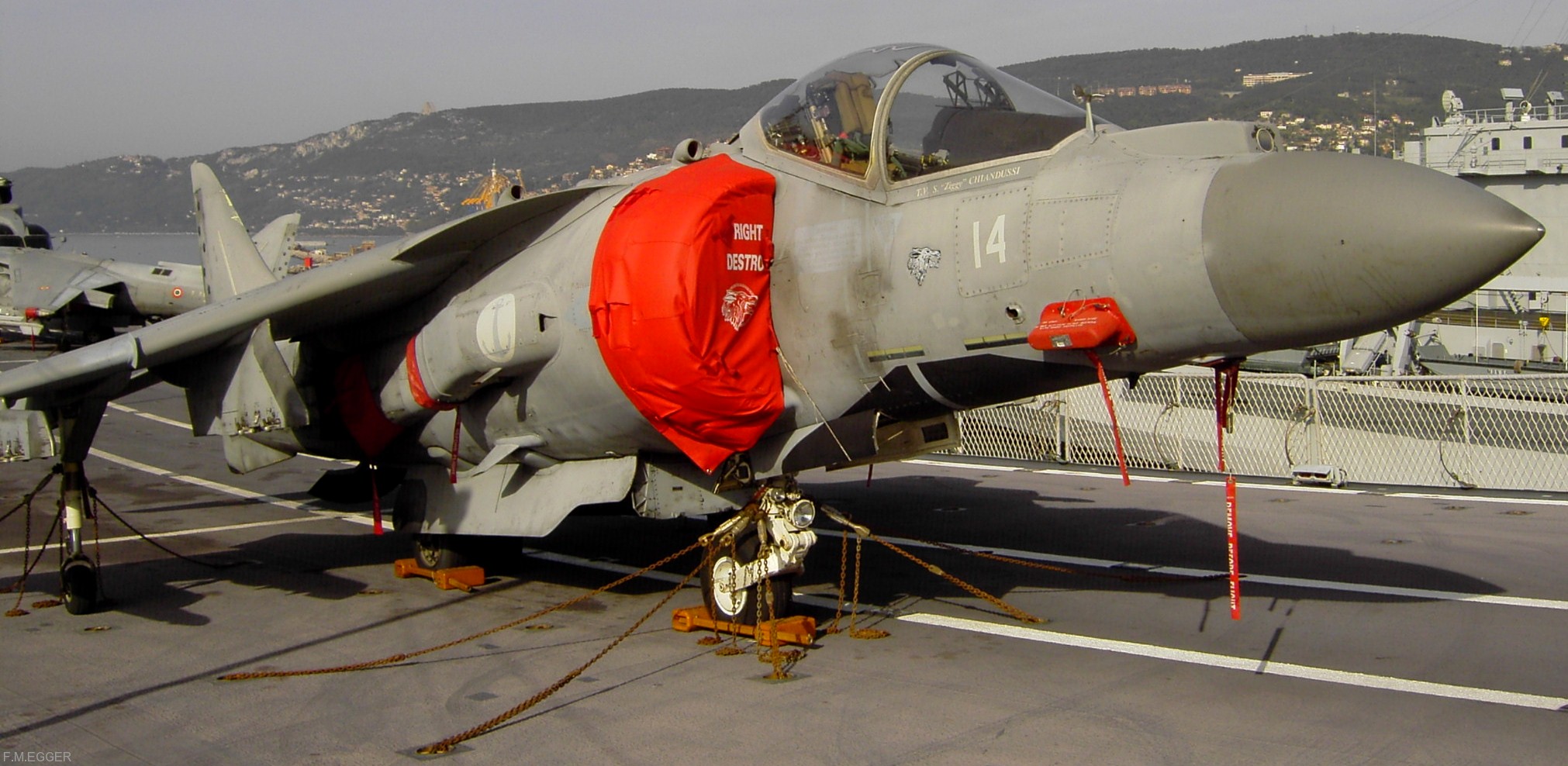 AV-8B Harrier II+ aboard ITS Giuseppe Garibaldi (C 551) - Trieste, Italy - 2004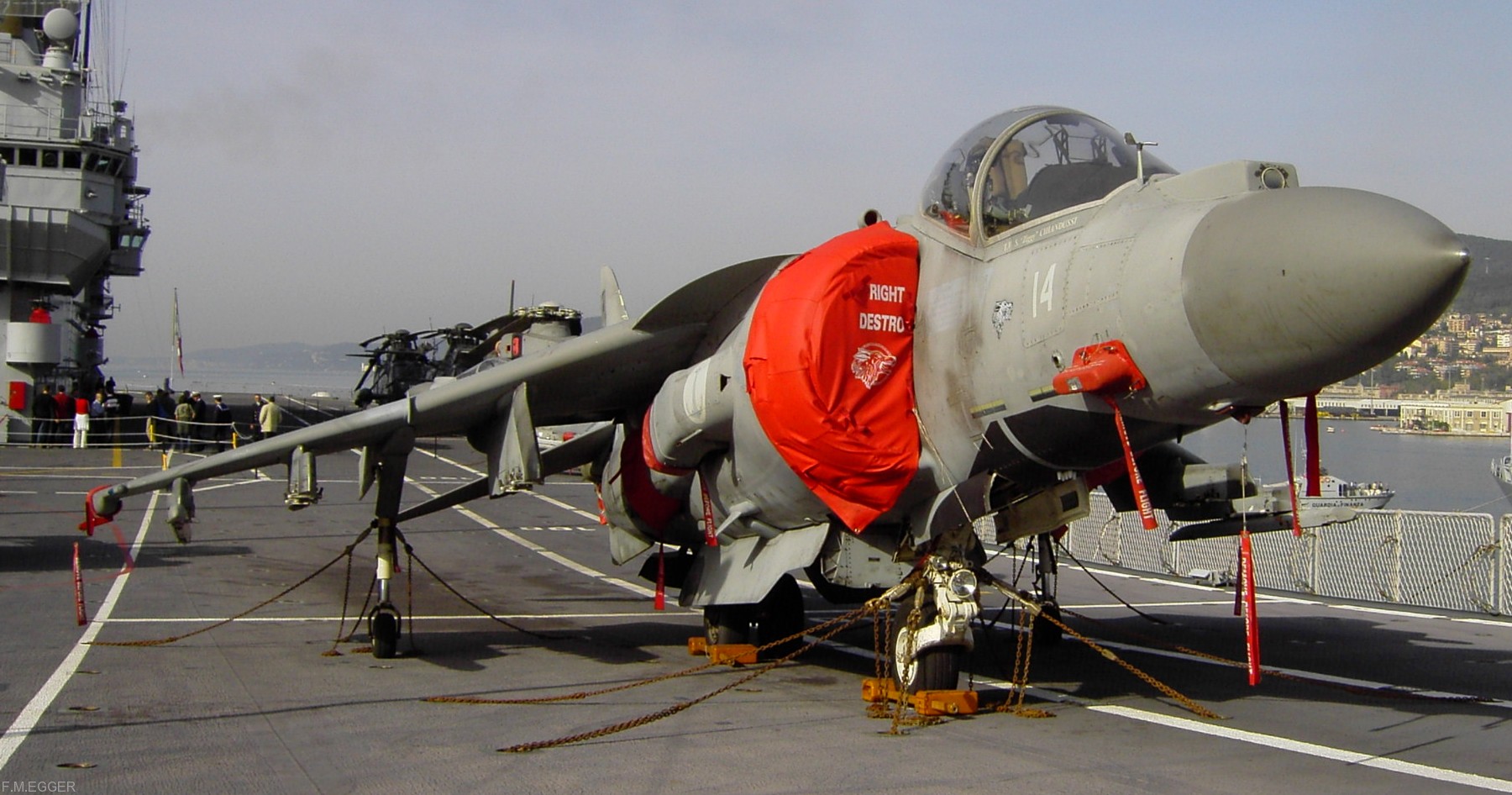 AV-8B Harrier II+ aboard ITS Giuseppe Garibaldi (C 551) - Trieste, Italy - 2004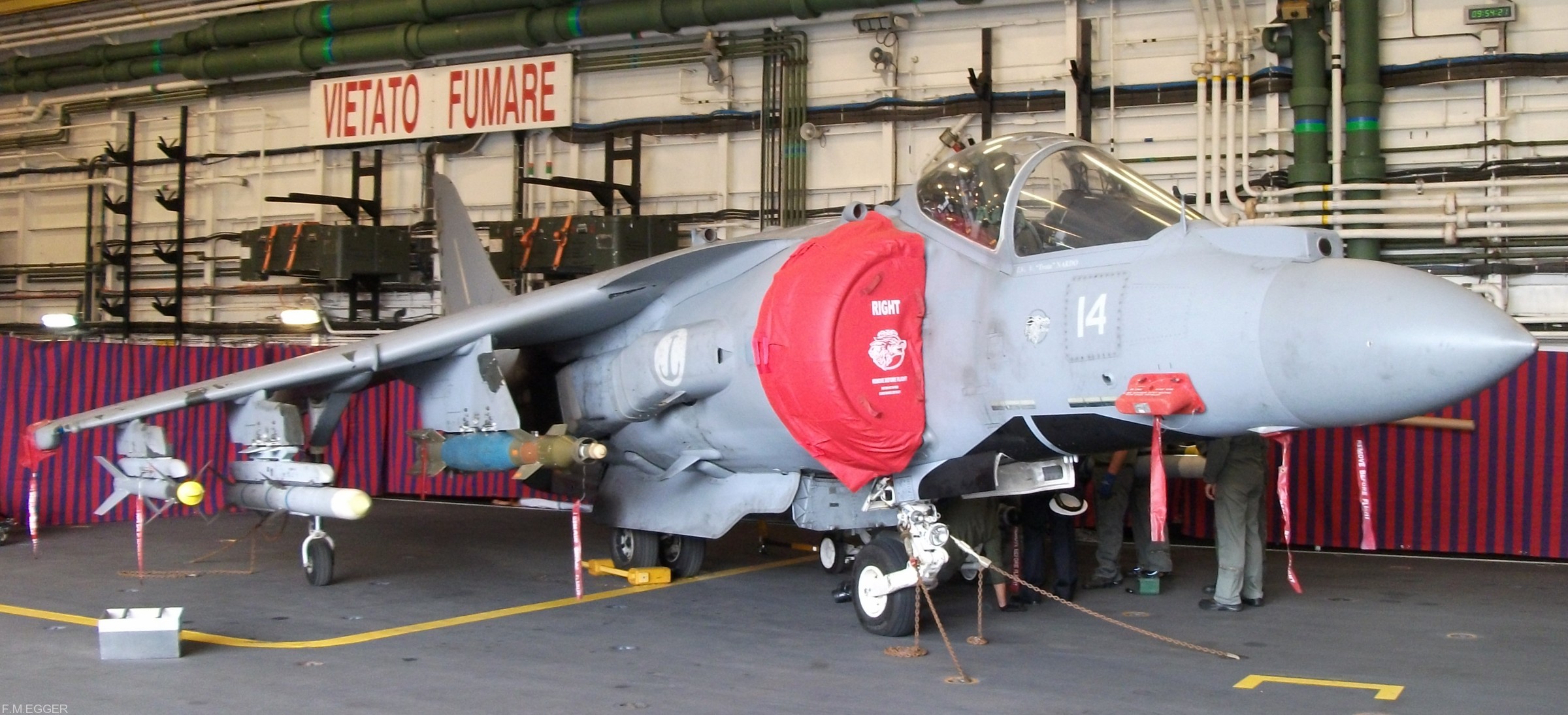 AV-8B Harrier II+ in the hangar aboard ITS Cavour (C 550) - Trieste, Italy - 2014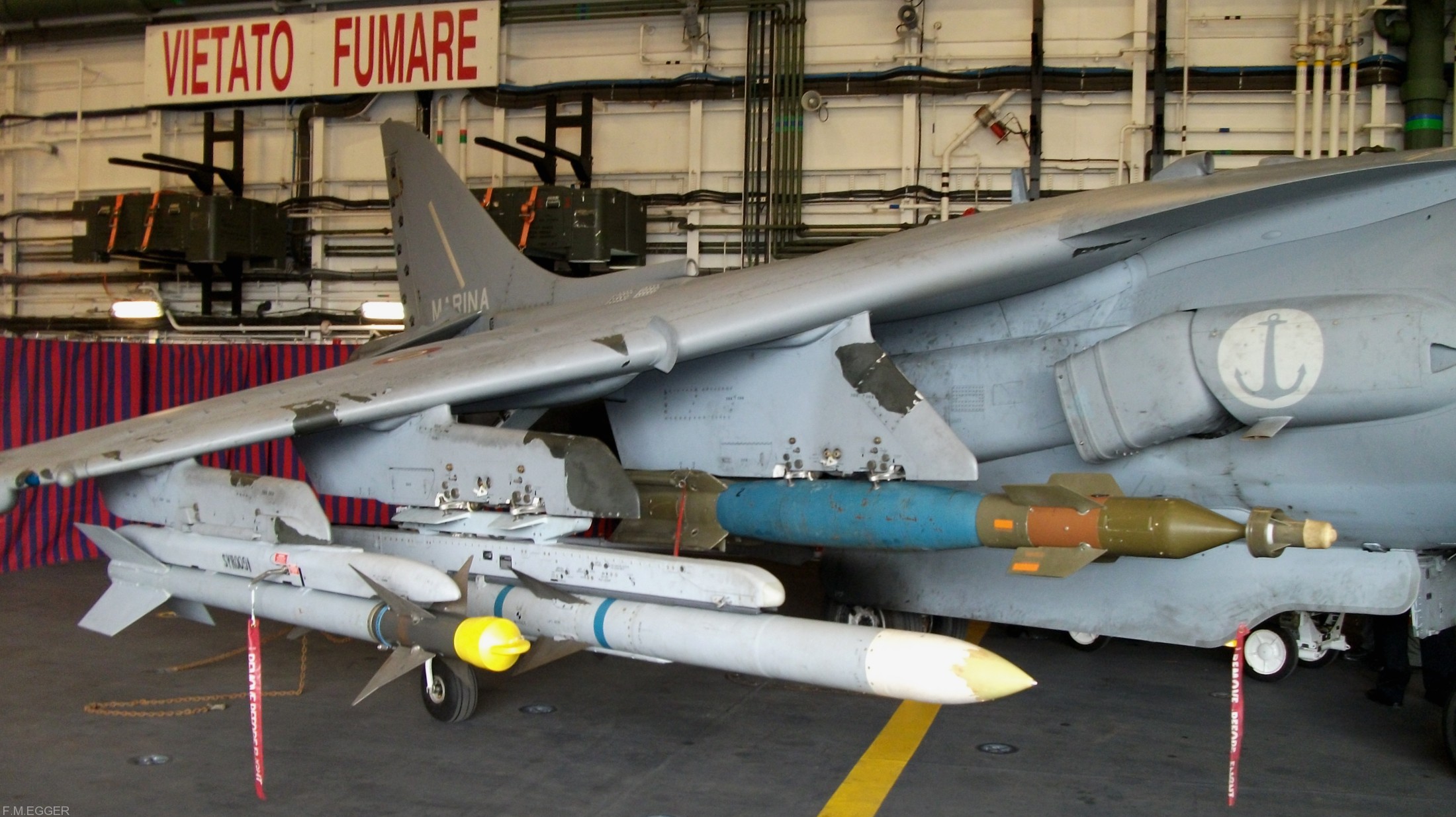 AIM-9 Sidewinder, AIM-120 AMRAAM SAM missiles and laser guided bomb

AV-8B Harrier II+ in the hangar aboard ITS Cavour (C 550) - Trieste, Italy - 2014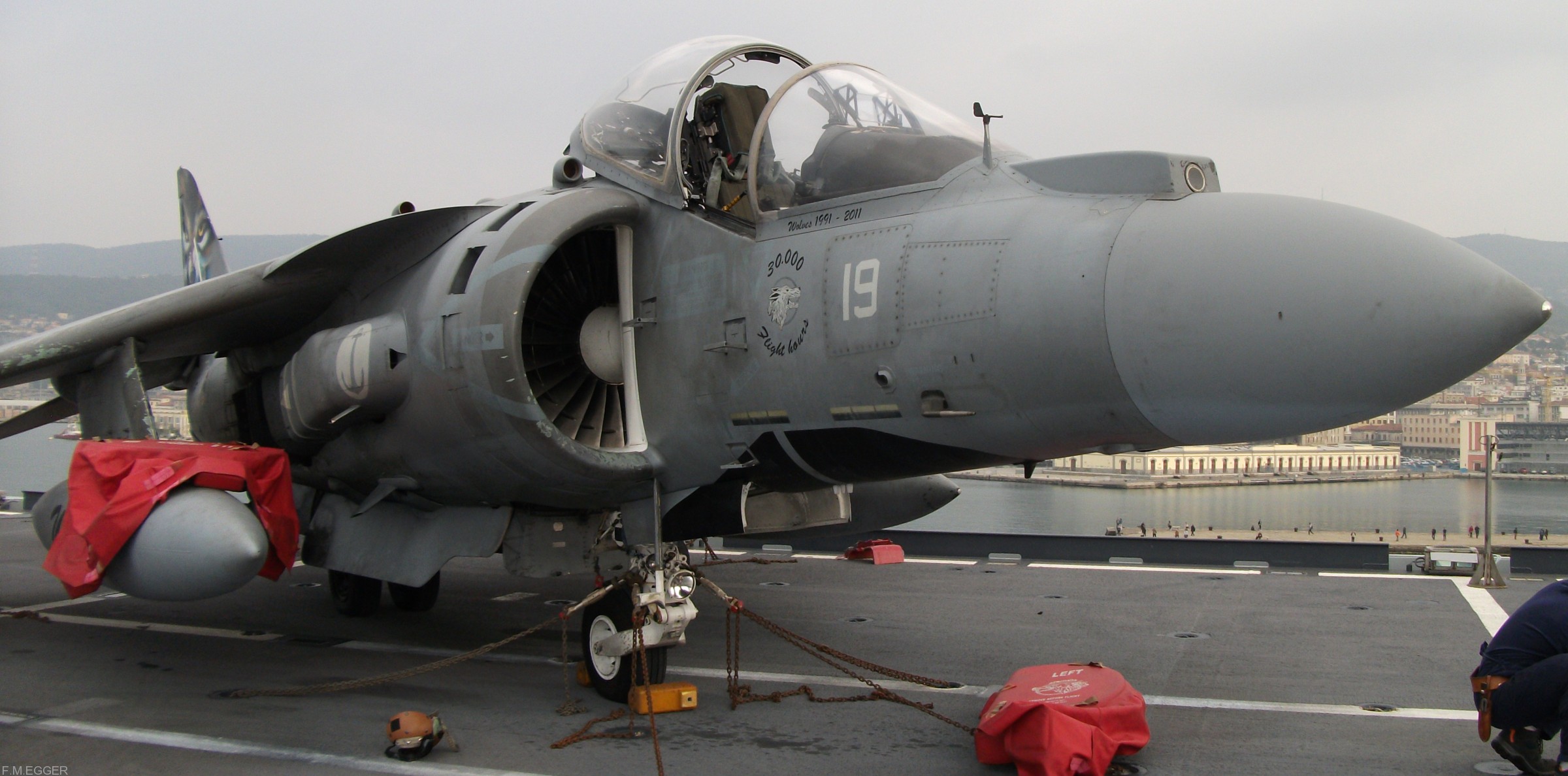 AV-8B Harrier II+ aboard ITS Cavour (C 550) - Trieste, Italy - 2014