HOME | US Navy - ships | US Navy - air units | USMC - air units | International Navies | Weapon Systems | Special Reports
<![if !supportEmptyParas]> <![endif]>
<![if !supportEmptyParas]> <![endif]>
Italian Navy / Marina Militare Italiana - Aircraft Carrier
L 9890 ITS Trieste
<![if !supportEmptyParas]> <![endif]>
| | |
| --- | --- |
| sorry, no insignia | |
07/23
Type, class:
Landing Ship, Helicopter Dock (LHD); unique unit
Builder:
Fincantieri SpA, Castellammare di Stabia, Naples, Italy
STATUS:
Awarded:
July 3, 2015

Laid down:
February 20, 2018
Launched:
May 25, 2019
Commissioned:
2023?
outfitting + trials
Homeport:
Namesake:
City of Trieste, Friuli-Venezia Giulia (FVG), Italy
Ships Motto:
I
Technical Data:
Length: 245 meters (803 feet 10 inches) overall / 213.4 m (700 ft) LPP
Beam: 47 meters (154 ft 2 in)
Draft: 7.2 meters (23 ft 7 in)
Displacement: 33000 tons (full load)
Speed: 25 knots (46 km/h) max. / 18 knots (33 km/h) on diesels / 10 knots (19 km/h) on electric engines
Range: 7000 nautical miles (13000 km) at 16 knots (30 km/h)
Crew: 450 ship / 605 Marines

Propulsion:
CODLOG (Combined Diesel-Electric or Gas)
2 x Rolls-Royce MT30 gas turbines (76000 kW / 102000 hp)
2 x MAN 20V32/44CR diesel engines (24000 kW / 32000 hp)
2 x electric motors (2.2 MW)
2 shafts / 2 propellers
Armament:
3 x
Oto Melara 76/62mm Super Rapid guns
(DAVIDE/STRALES System with DART ammunition)

3 x
Oto Melara/Oerlikon KBA 25/80mm guns
fitted for, but not with:
2 x
SYLVER A-50 8-cell Vertical Launching System (VLS)
for 2x8 Aster 15 or Aster 30 SAM or 32 x

CAMM ER SAM
Aviation:
up to 30 aircraft (

F-35B Lightning II

and/or SH/UH-90 or EH-101 Merlin or

AW-129

helicopters)
full flight deck (230 x 36 meters / 754 x 118 ft) - runway with ski-jump
flight deck with up to 9 landing spots for helicopters / 2 aircraft elevators (14x15 meters / 40 tons)
Hangar: 21 x 107 meters (69 x 351 ft) - up to 2600 m2 for up to 14 aircraft (or vehicles)

Amphibious + Transport:
garage deck: 55 x 18 meters (180 x 59 ft) - 1200 meters (3937 ft) for vehicles
well deck: 50 x 15 meters (164 x 49 ft) for 4 x LCM or 2 x Fast Assault Craft or 1 x LCAC

Systems:
Leonardo-Finmeccanica SADOC Mk.4 Command Management System (CMS)
Leonardo Kronos Star Fire Active Electronically Scanned Array (AESA) dual-band 3D Radar
Leonardo Kronos Power Shield Active Electronically Scanned Array (AESA) long-range Radar
Leonardo SIR-M IFF System
Leonardo Black Snake anti-torpedo towed array sonar system (TASS)
Thales AN-553/N Tactical Air Navigation (TACAN)
Leonardo SPN-720 Shipborne Precision Approach Radar
2 x Oto-Melara (Leonardo) ODLS-20 decoy launching system



ESM/ECM: integrated EW System by Elettronica Spa with RESM/RECM/CESM and ELINT/COMINT capabilities

<![if !supportEmptyParas]> <![endif]>
images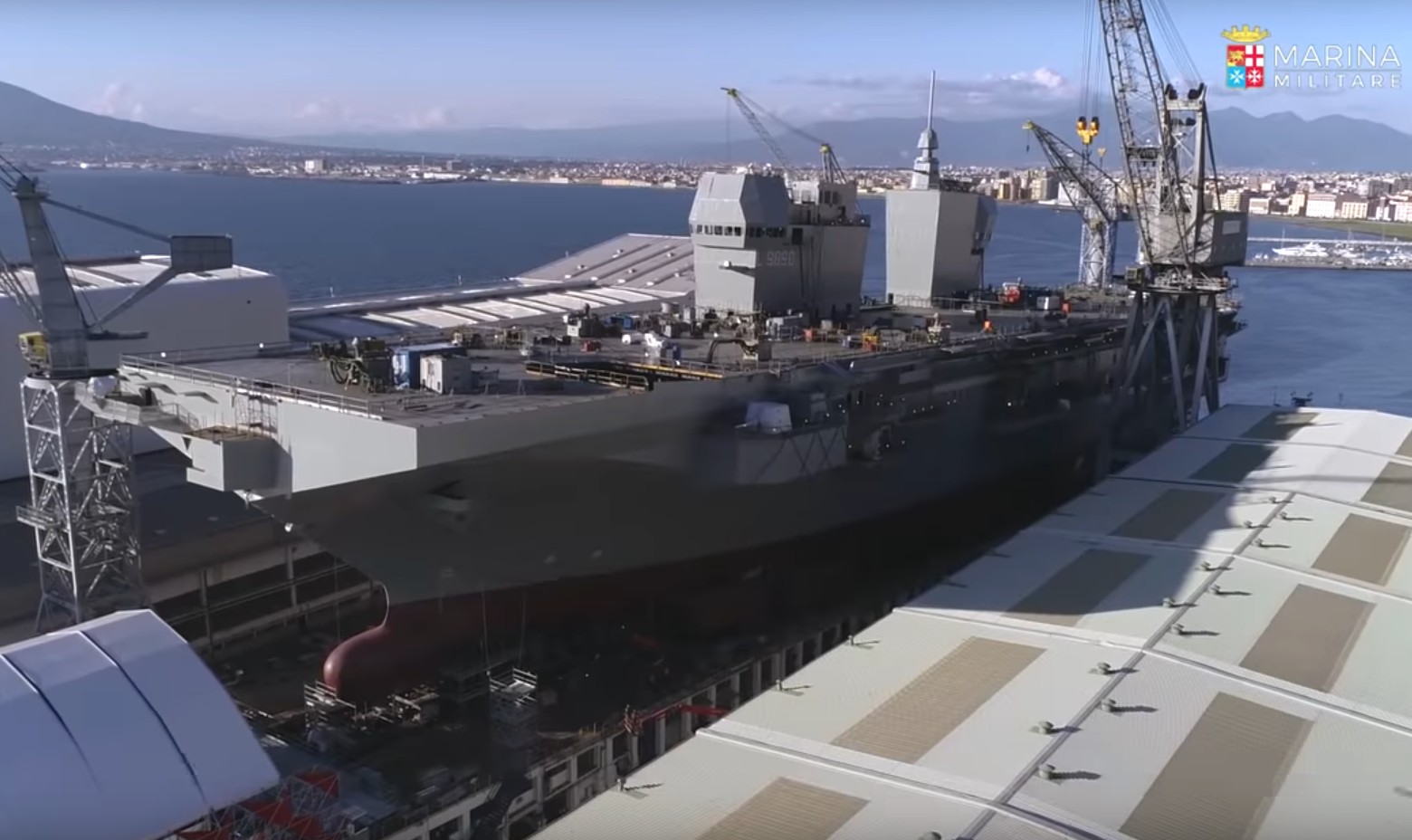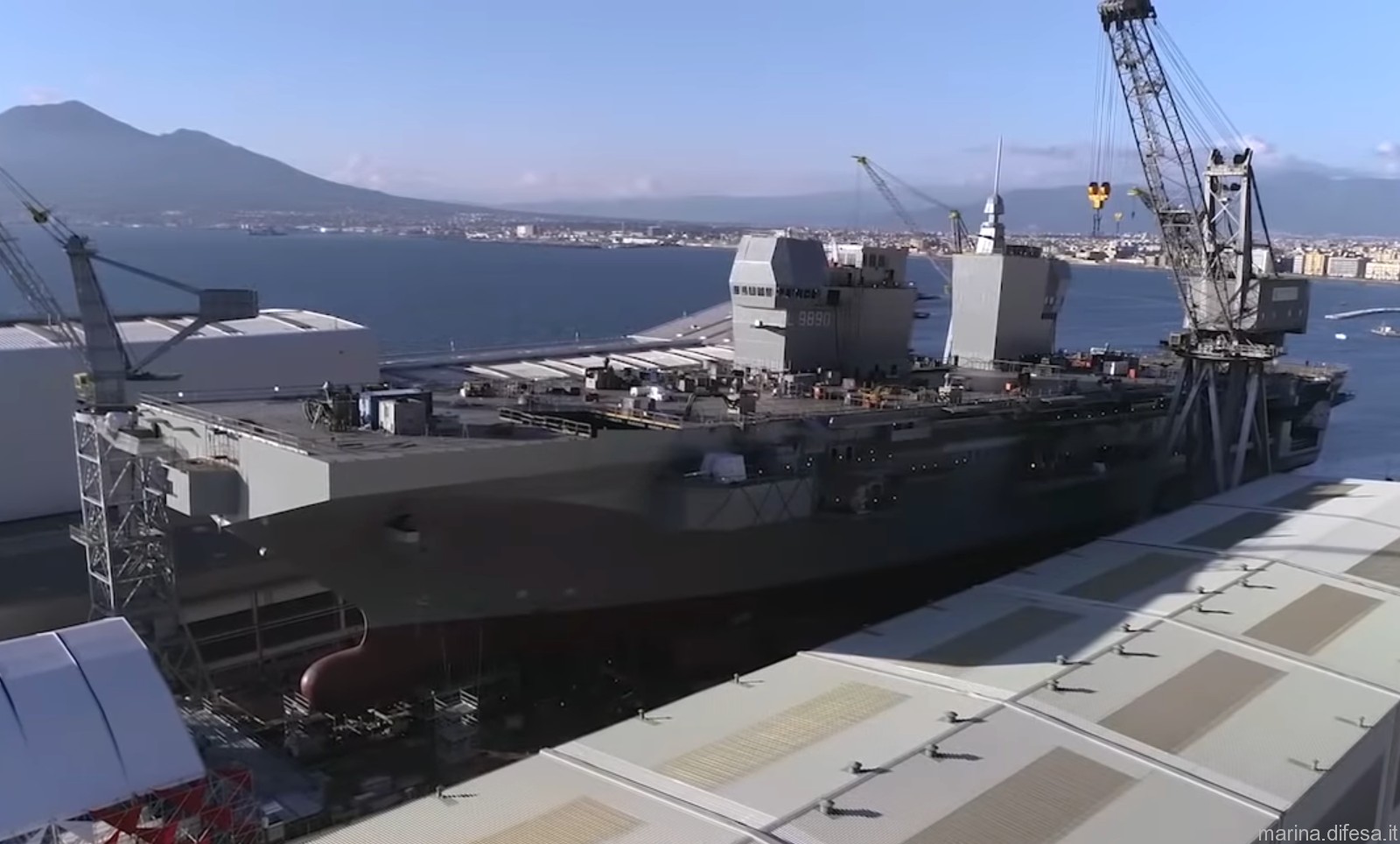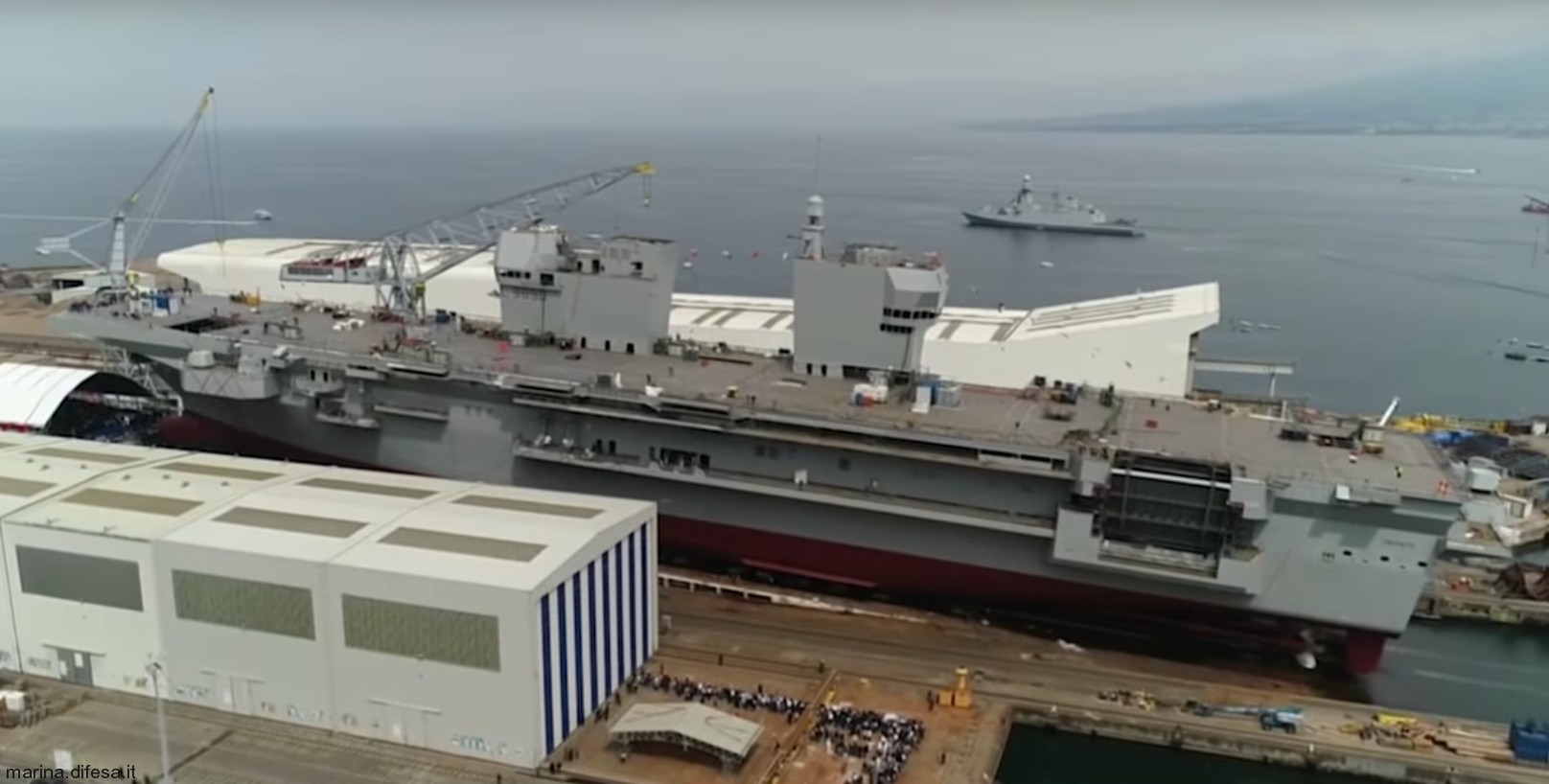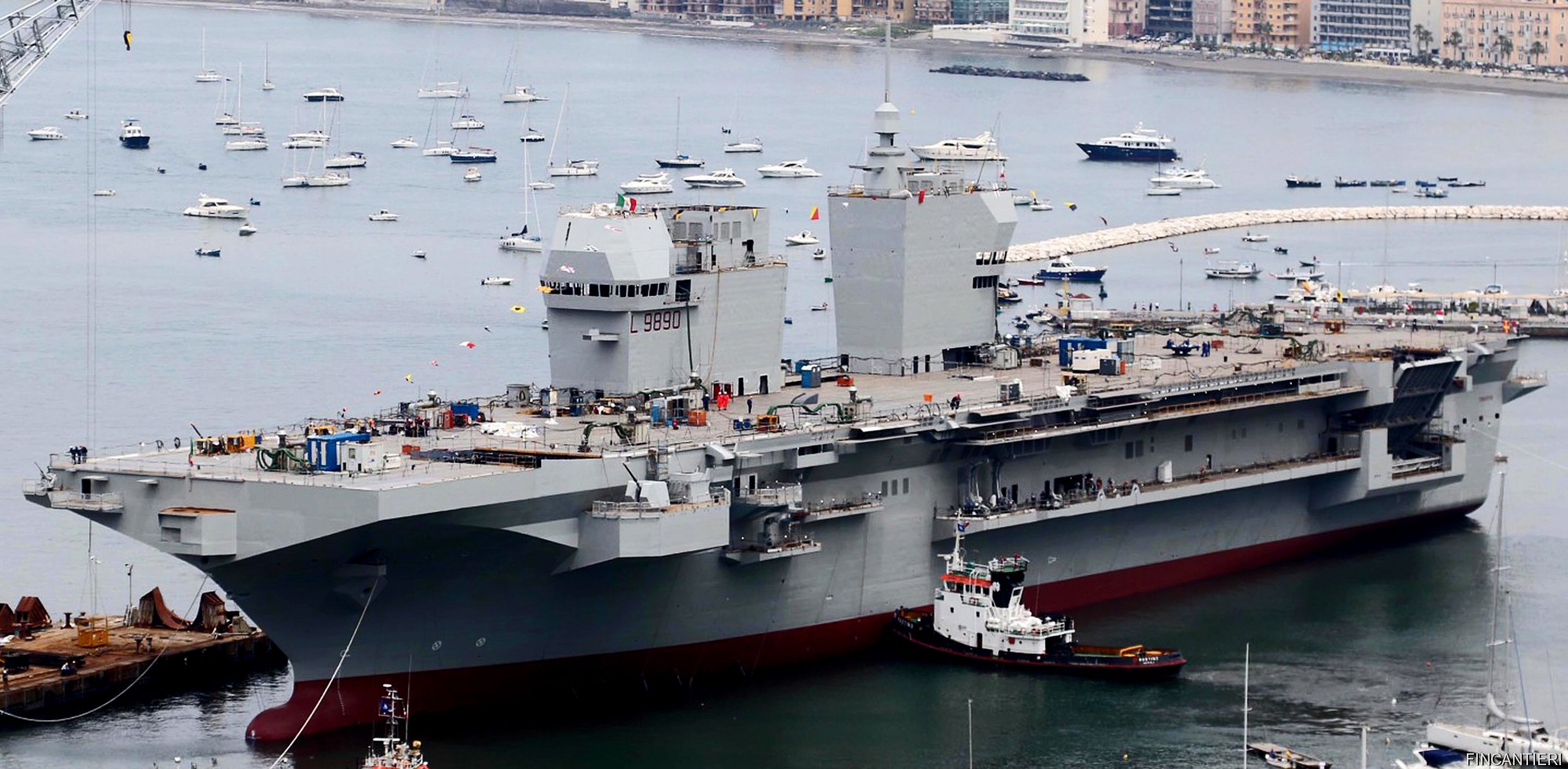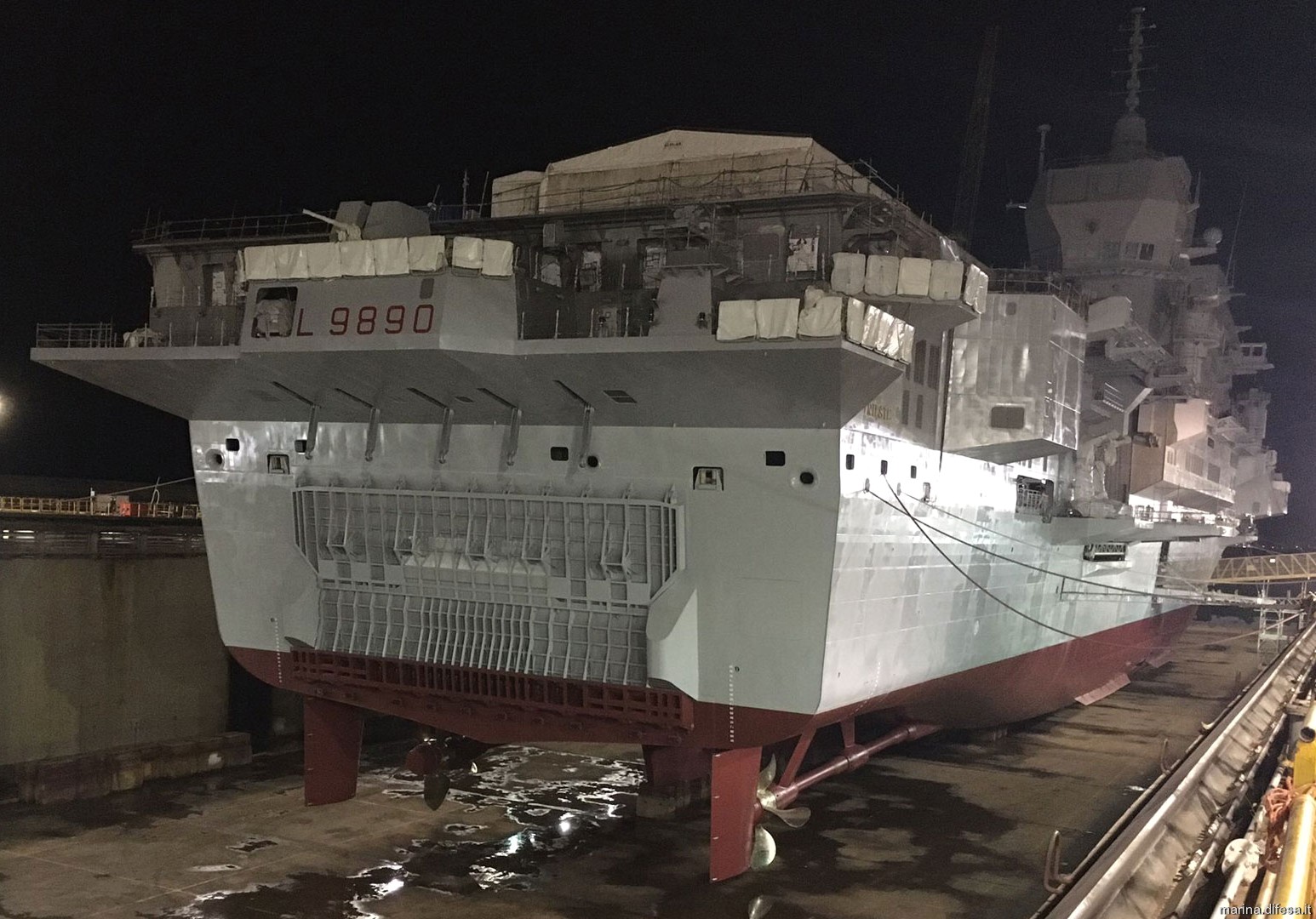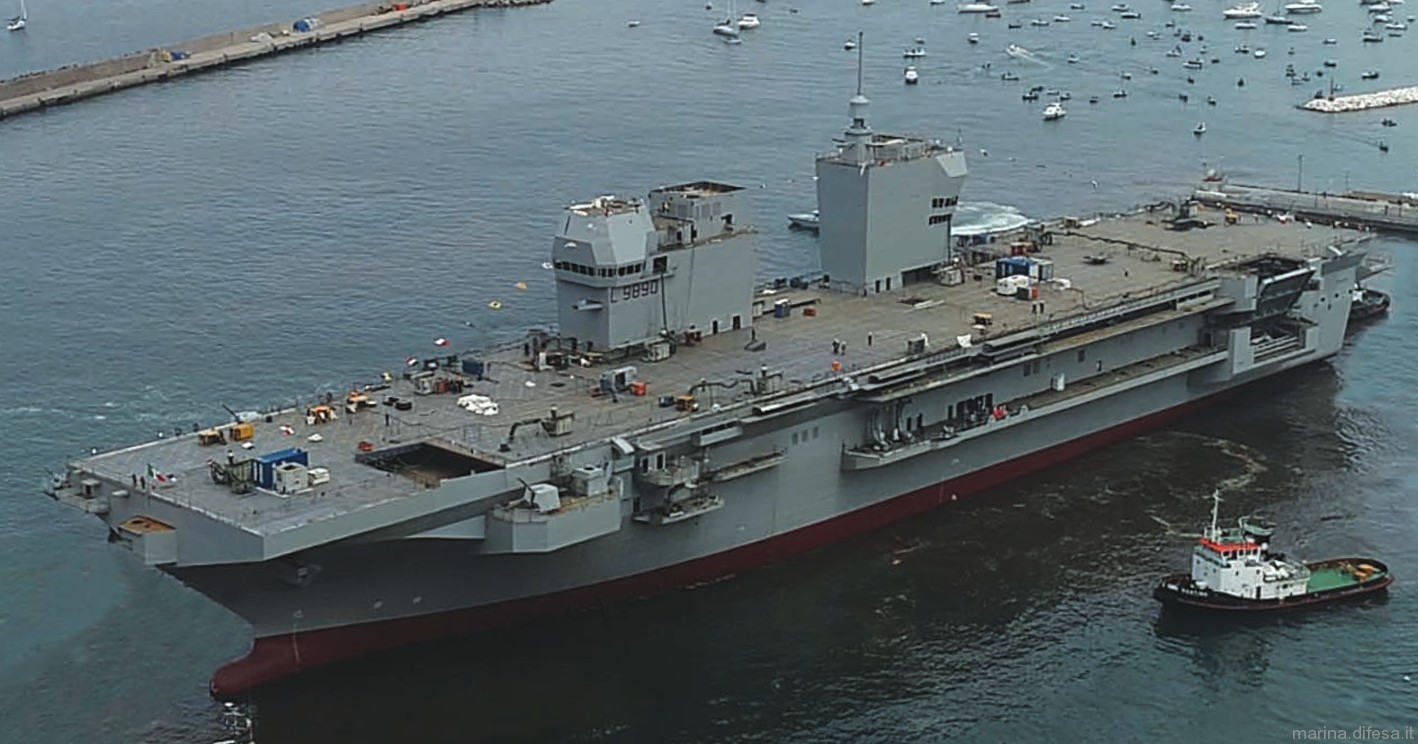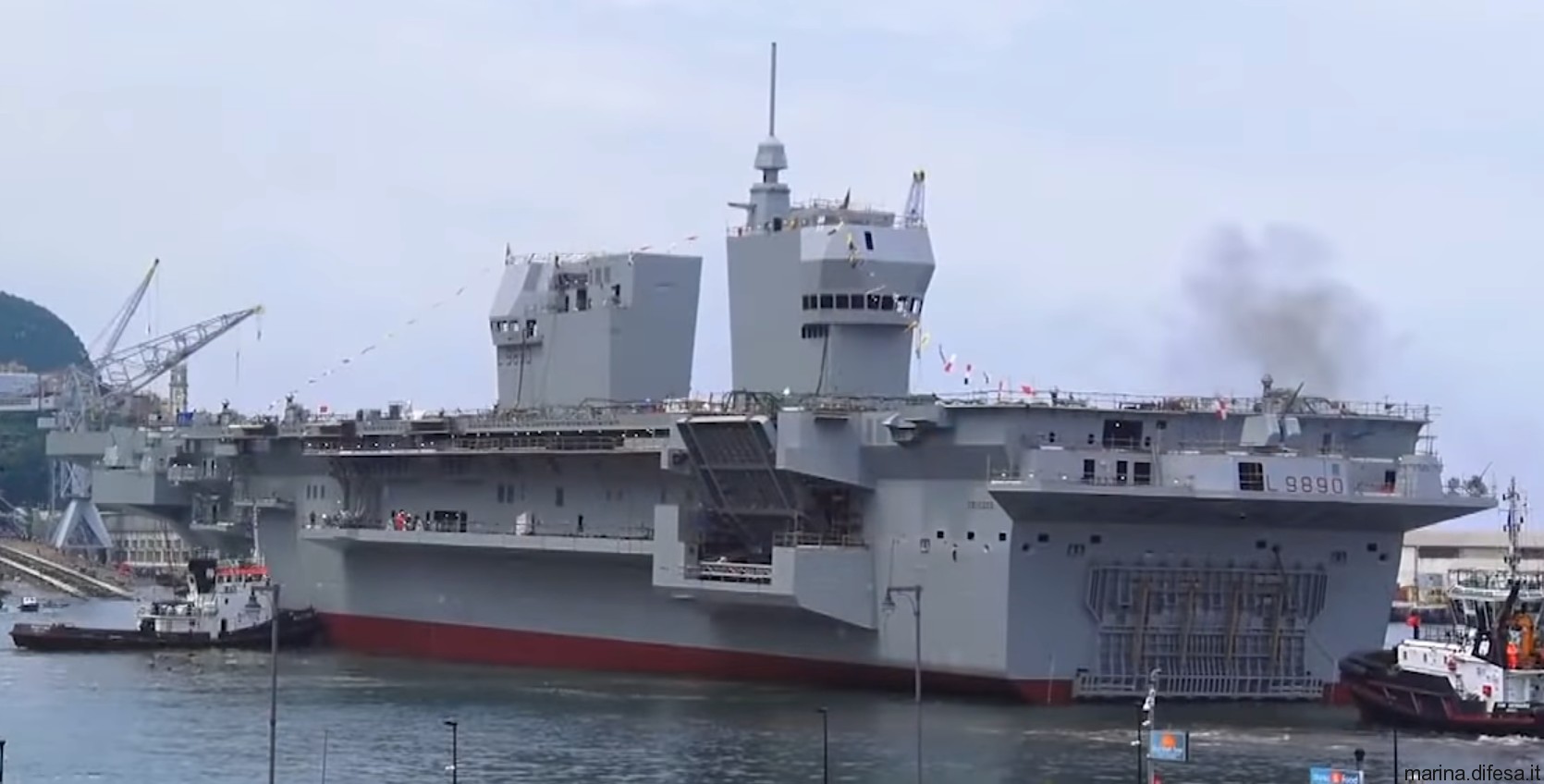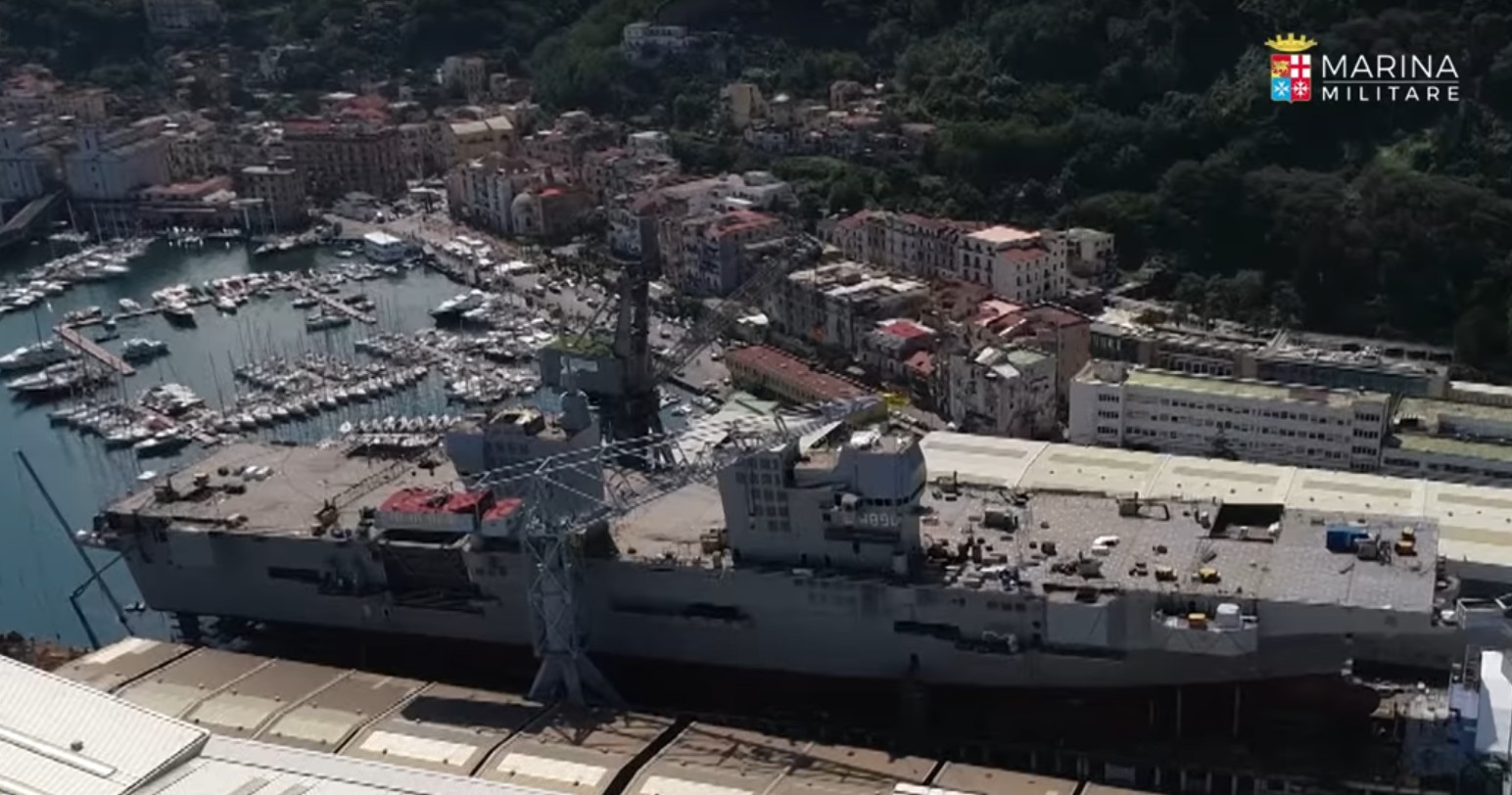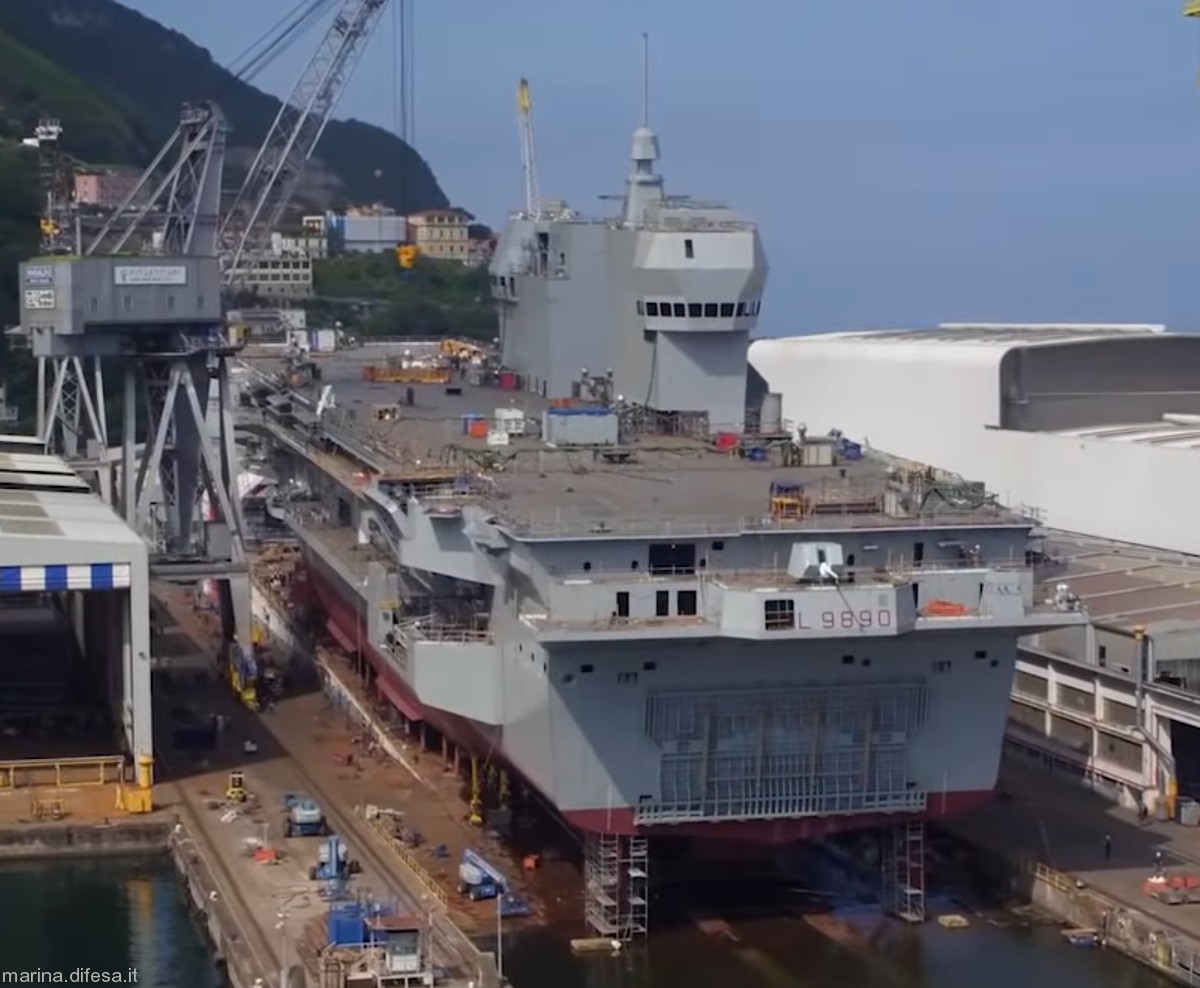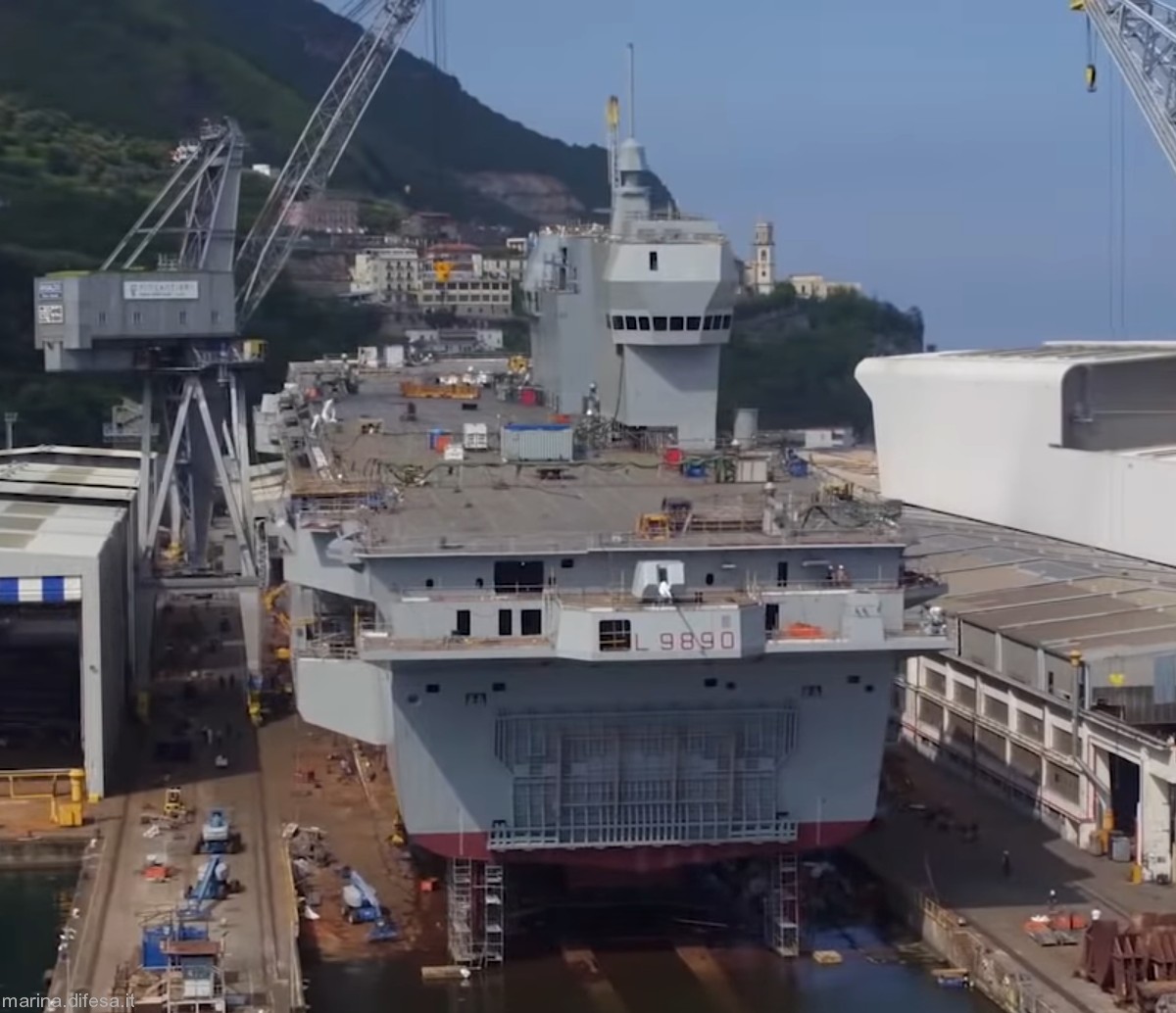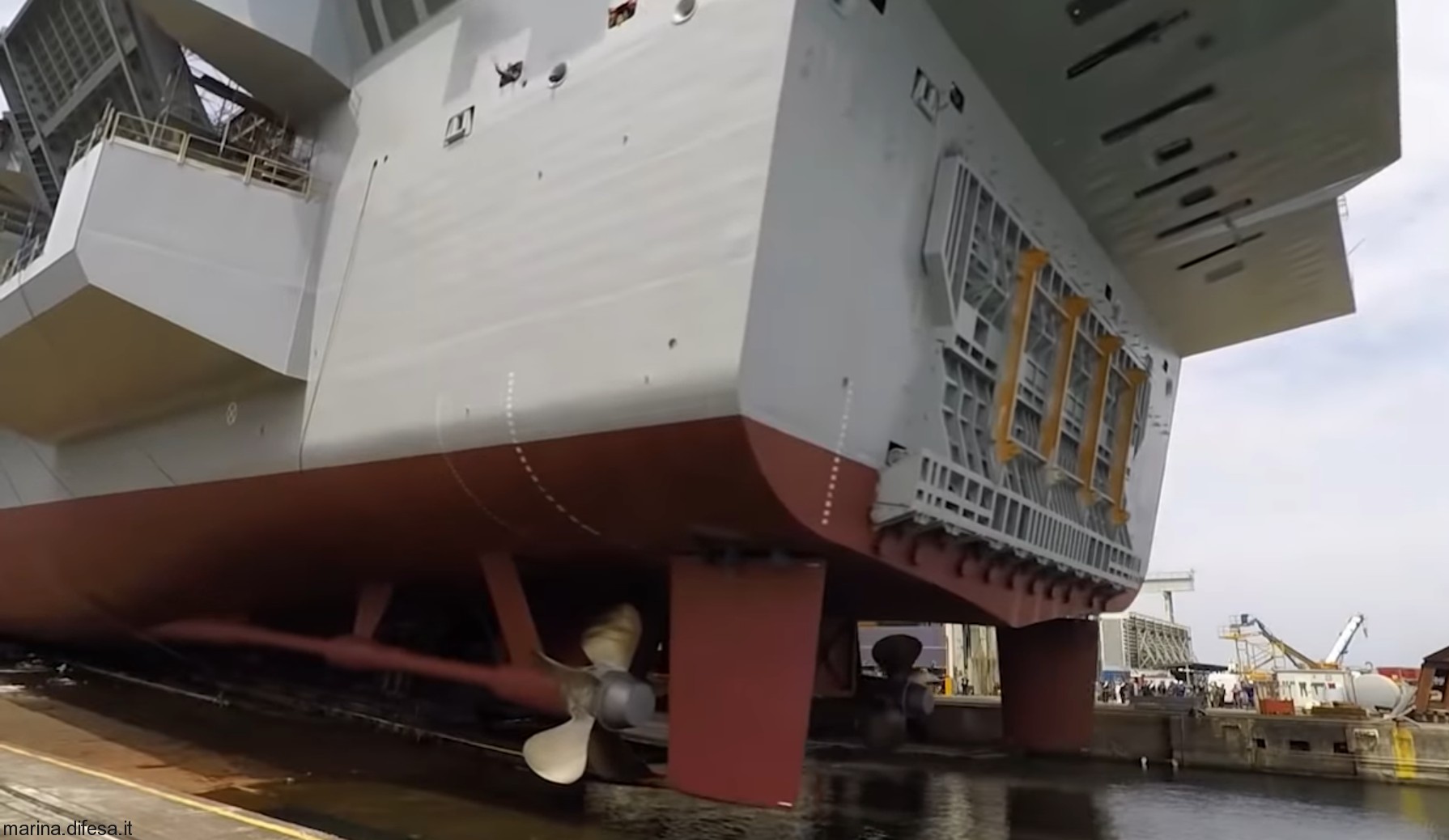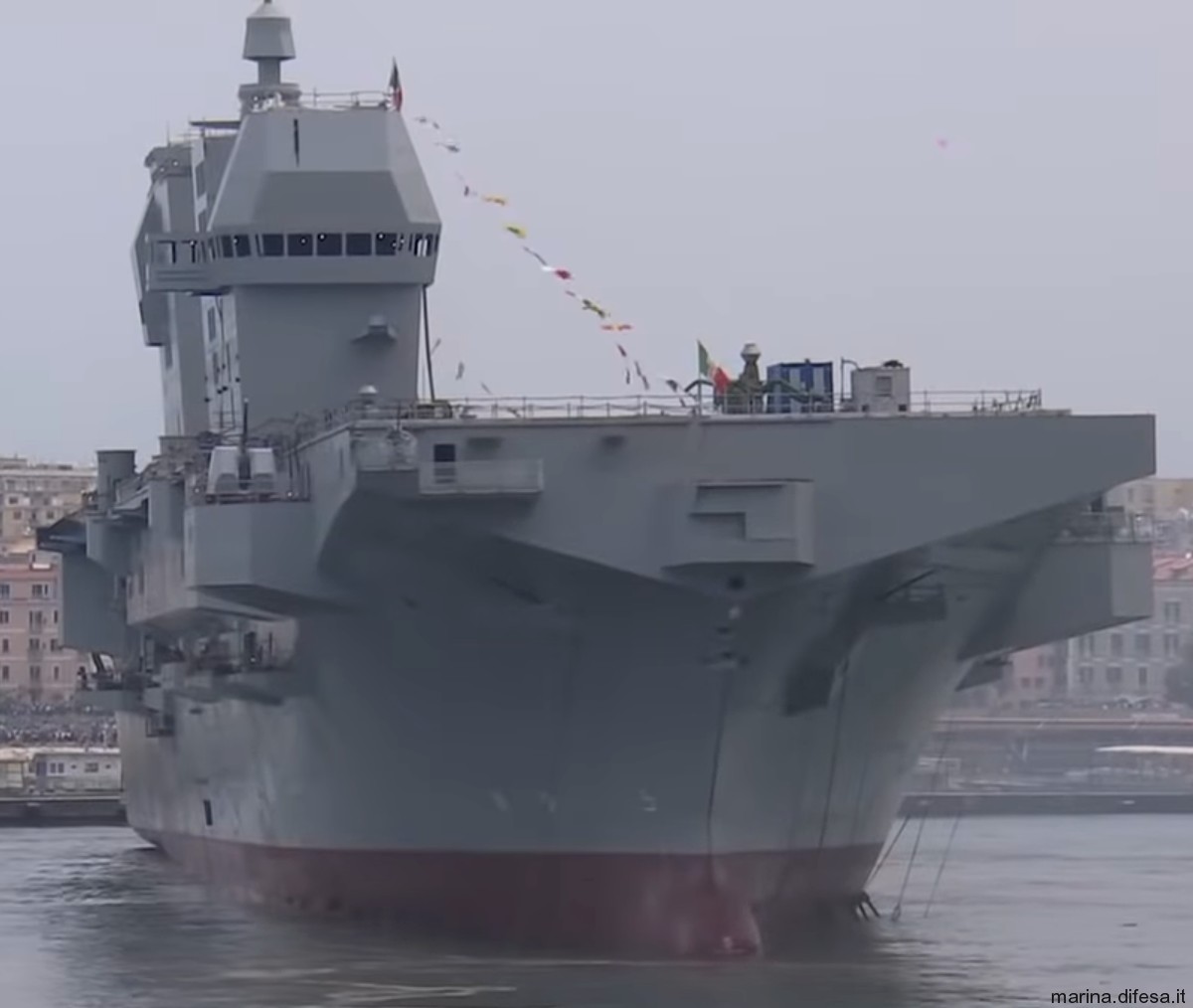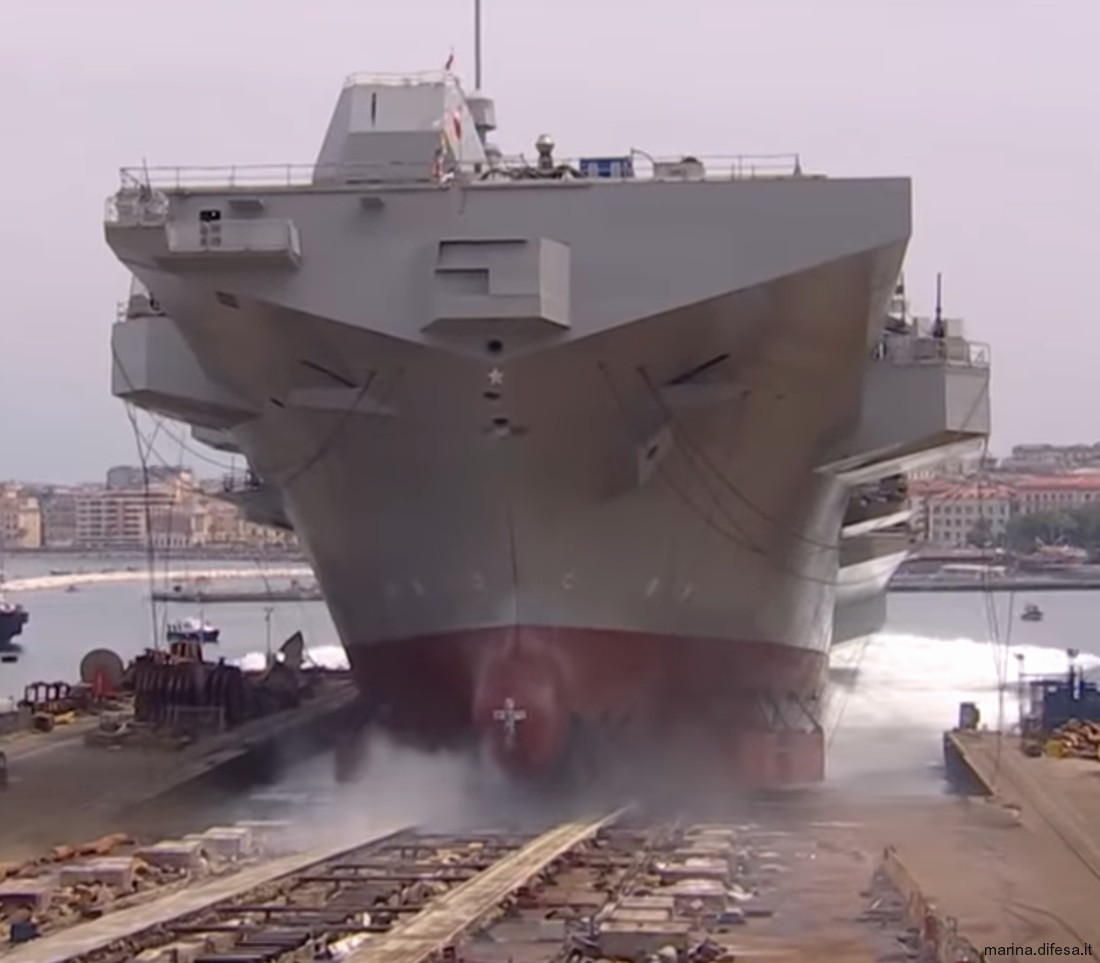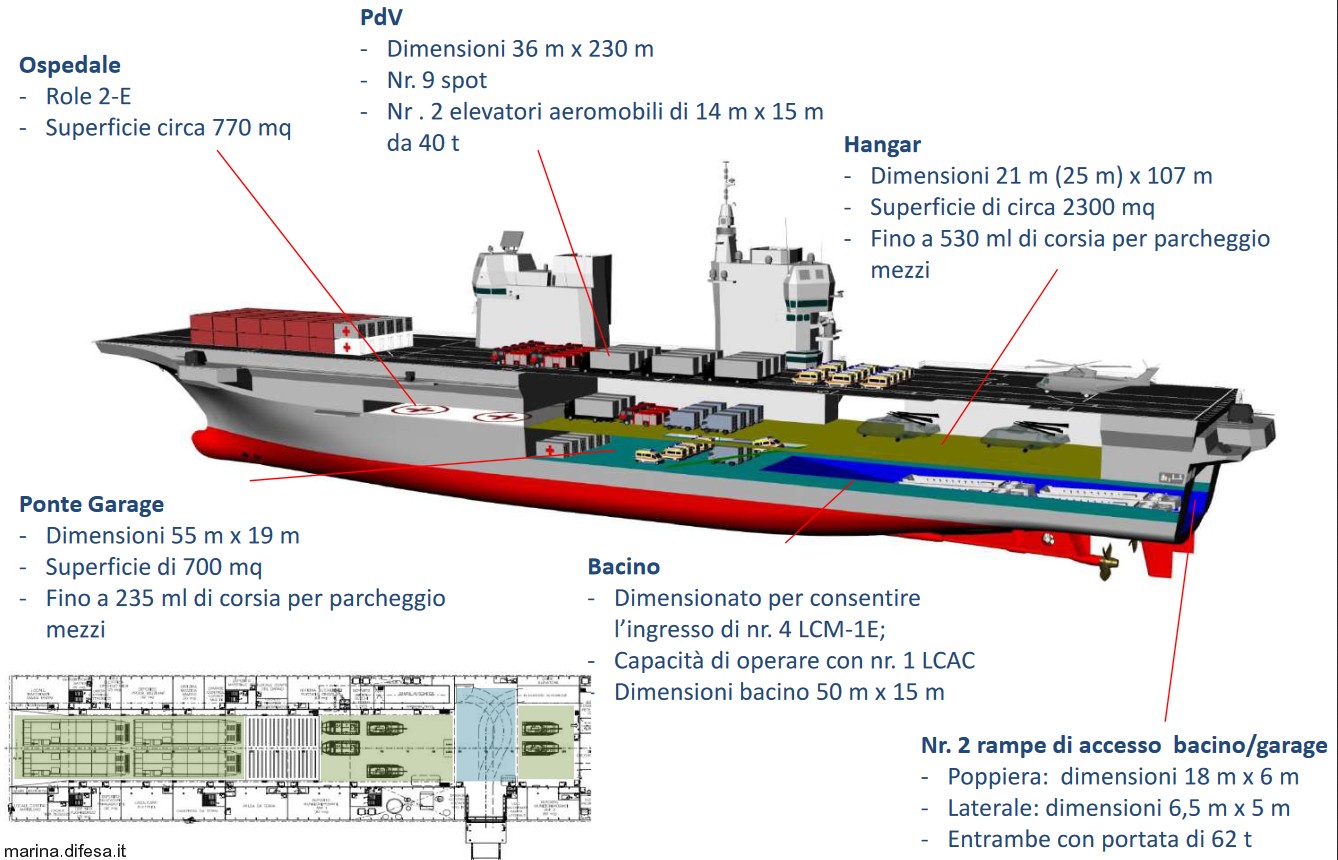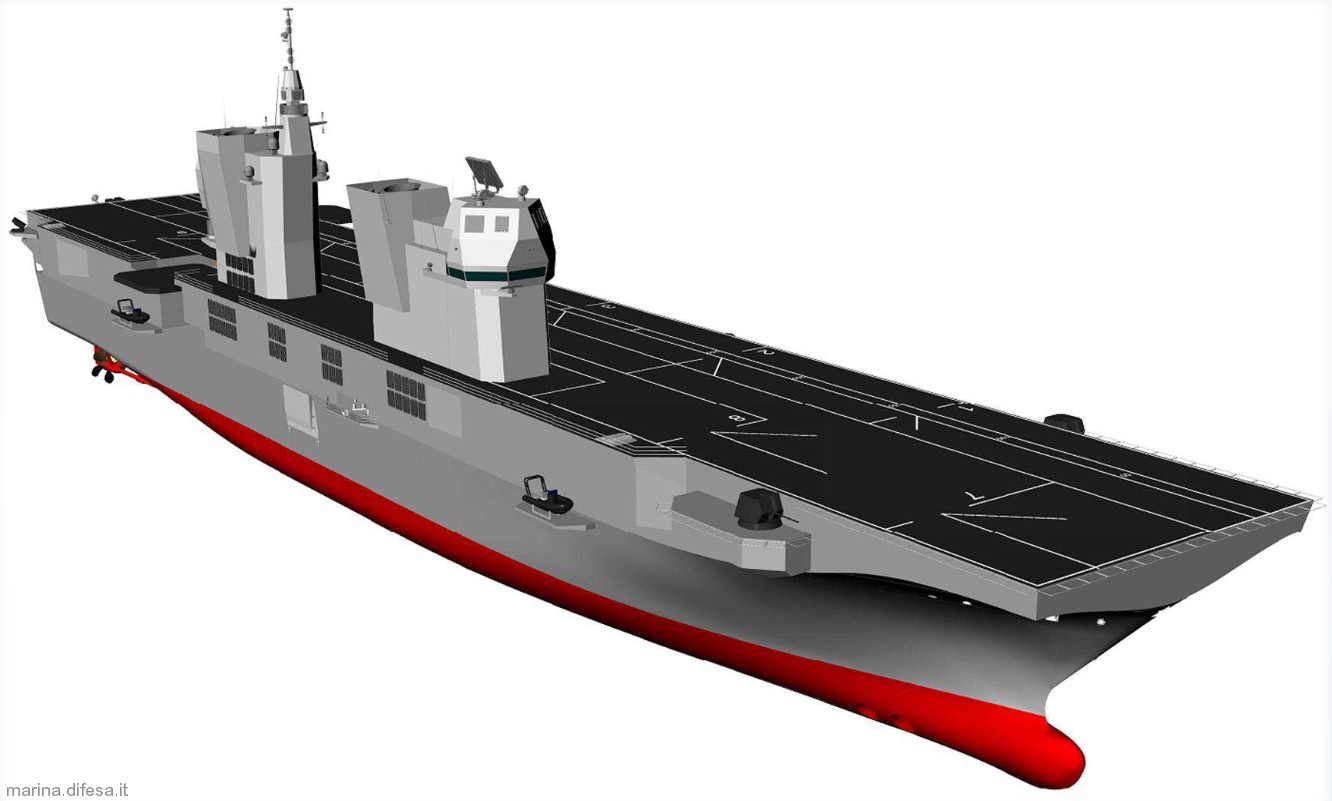 <![if !supportEmptyParas]> <![endif]>
Trieste

... is a city and a seaport in northeastern Italy. It is situated towards the end of a narrow strip of Italian territory lying between the Adriatic Sea and Slovenia, which lies approximately 10-15 km (6.2-9.3 mi) south and east of the city. Croatia is some 30 km (19 mi) to the south.

Trieste is located at the head of the Gulf of Trieste and has a very long coastline, free sea access in Barcola and is surrounded by grassland, forest and karst areas. In 2018, it had a population of about 205,000 and it is the capital of the autonomous region Friuli-Venezia Giulia. The metropolitan population of Trieste is 410,000, with the city comprising about 240,000 inhabitants.

Trieste was one of the oldest parts of the Habsburg Monarchy, belonging to it from 1382 until 1918. In the 19th century the monarchy was one of the Great Powers of Europe and Trieste was its most important seaport. As a prosperous seaport in the Mediterranean region, Trieste became the fourth largest city of the Austro-Hungarian Empire (after Vienna, Budapest, and Prague). In the fin de siècle period at the end of the 19th century it emerged as an important hub for literature and music. Trieste underwent an economic revival during the 1930s, and the Free Territory of Trieste became a major site of the struggle between the Eastern and Western blocs after the Second World War.

Trieste, with its deep-water port, is a maritime gateway for Northern Italy, Germany, Austria and Central Europe, as it was before 1918 and is considered the end point of the Maritime Silk Road with its connections via the Suez Canal and Turkey and the other Overland to Africa, China, Japan and many countries in Asia. Since the 1960s, Trieste, thanks to its many international organizations and institutions, has been one of the most important research locations in Europe, an international school and university city and has one of the highest living standards among Italian cities.
<![if !supportEmptyParas]> <![endif]>
ITS Trieste (L 9890):

Trieste (L9890) is a landing helicopter dock (LHD) of the Italian Navy. It is expected to replace the Giuseppe Garibaldi around 2022.

The ship will be equipped with heavy and medium helicopters (EH101 and NH90 respectively) and Lockheed Martin F-35B Lightning II aircraft. It will have a floodable well deck below the hangar level able to accommodate amphibious landing vessels such as LCM (new Cantieri Navali Vittoria LCM23 type), LCAC, and newer L-CAT (Landing Catamaran) vessels. It also can carry Ariete MBT, B1 Centauro tank destroyers, and up to 600 soldiers. Its base will be in Taranto.

The unit is being built at Fincantieri's Castellamare di Stabia facility near Naples. The first cut was 12 January 2017 and completed construction of the hull on 25 May 2019, while the official delivery to the Italian Navy will be around the first half of 2022. It is the largest Italian military ship built after the Second World War.

<![if !supportEmptyParas]> <![endif]>
patches + more
<![if !supportEmptyParas]> <![endif]>
|
seaforces.org
|
Italian Navy start page
|