HOME | US Navy - ships | US Navy - air units | USMC - air units | International Navies | Weapon Systems | Special Reports
US Navy - Attack Submarine
SSN 801 - USS Utah
| | |
| --- | --- |
| sorry, no insignia | |
10/21
Type, class: Attack Submarine, nuclear propulsion - SSN; Virginia class (Block IV)
Builder: General Dynamics Electric Boat (GDEB), Groton, Connecticut, USA
STATUS:
Awarded: April 28, 2014
Laid down: September 1, 2021
Launched: ?
Commissioned: 2023 ?
UNDER CONSTRUCTION
Homeport: -
Namesake: -
Ships Motto: -
Technical Data: see: INFO > Virginia class Attack Submarine - SSN
images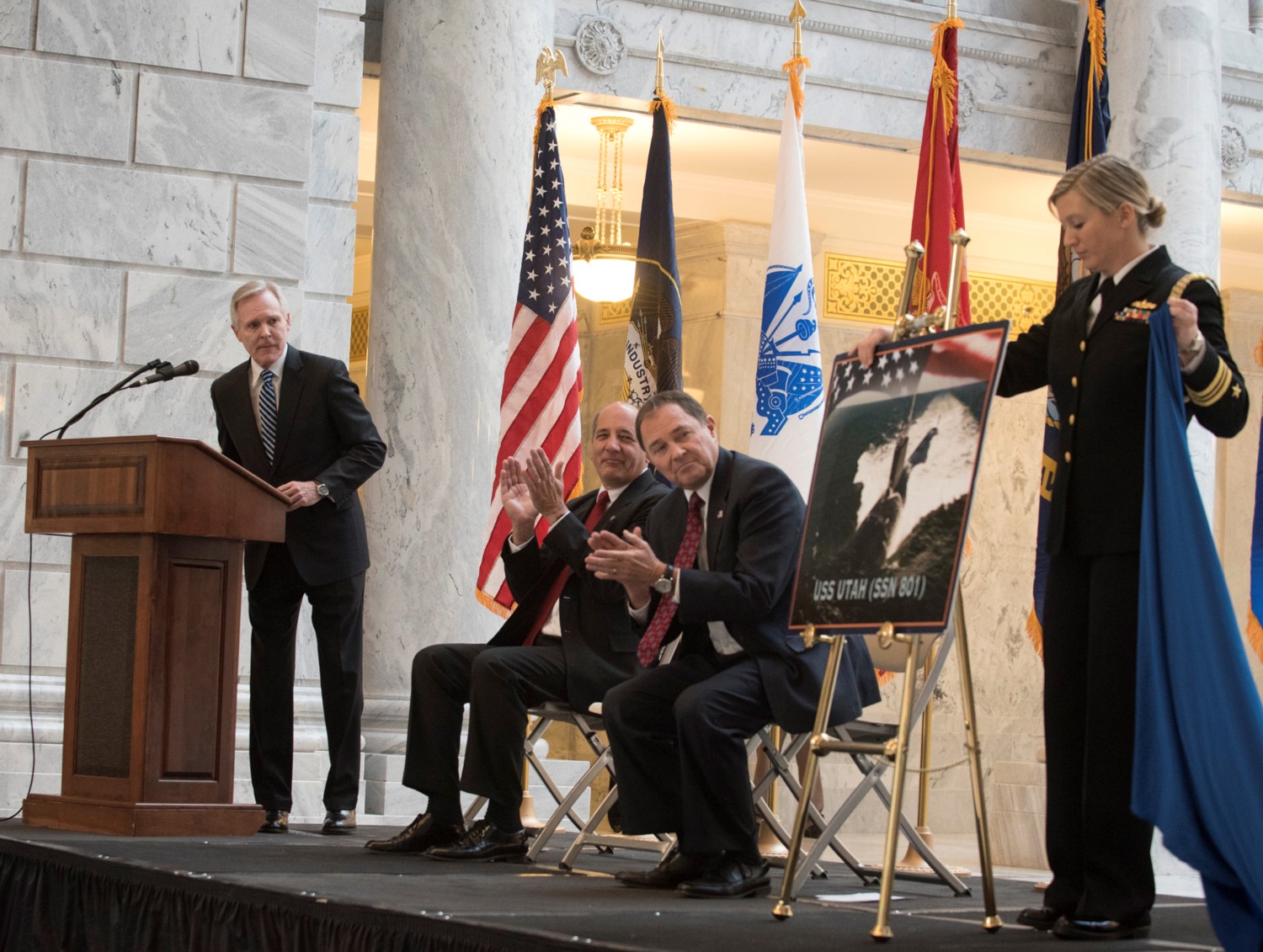 Secretary of the Navy (SECNAV) Ray Mabus announces that SSN 801 will be named USS Utah during a ship naming ceremony in the states capital.
Salt Lake City, Utah - January 19, 2016

USS Utah (SSN 801):

The Navy specifically selected boat number "801" to be named Utah, even jumping over some other as-yet-unnamed boats, as 801 is the telephone area code for Utah's capital, Salt Lake City.

Utah

... is a state in the Mountain West subregion of the Western United States. It is bordered by Colorado to the east, Wyoming to the northeast, Idaho to the north, Arizona to the south and Nevada to the west. It also touches a corner of New Mexico in the southeast. Of the fifty U.S. states, Utah is the 13th-largest by area; with a population over three million, it is the 30th-most-populous and 11th-least-densely populated. Urban development is mostly concentrated in two areas: the Wasatch Front in the north-central part of the state, which is home to roughly two-thirds of the population and includes the capital city, Salt Lake City; and Washington County in the south, with more than 170,000 residents. Most of the western half of Utah lies in the Great Basin.
patches + more
|
seaforces.org
|
USN ships start page
|