HOME | US Navy - ships | US Navy - air units | USMC - air units | International Navies | Weapon Systems | Special Reports
US Navy - Amphibious Assault Ship
LHA 8 - USS Bougainville
| | |
| --- | --- |
| sorry, no insignia at this time | |
11/19
Type, class: Amphibious Assault Ship (general purpose); America class / Flight I
Builder:
Huntington Ingalls Shipbuilding, Pascagoula, Mississippi, USA
STATUS:
Awarded: June 30, 2016
Laid down: March 14, 2019
Launched: -
Christened: -
Commissioned: -
UNDER CONSTRUCTION
Homeport: -
Namesake: Bougainville campaign (WWII - Pacific)
Ships Motto:
I
Technical Data: see: INFO > America class Amphibious Assault Ship - LHA
images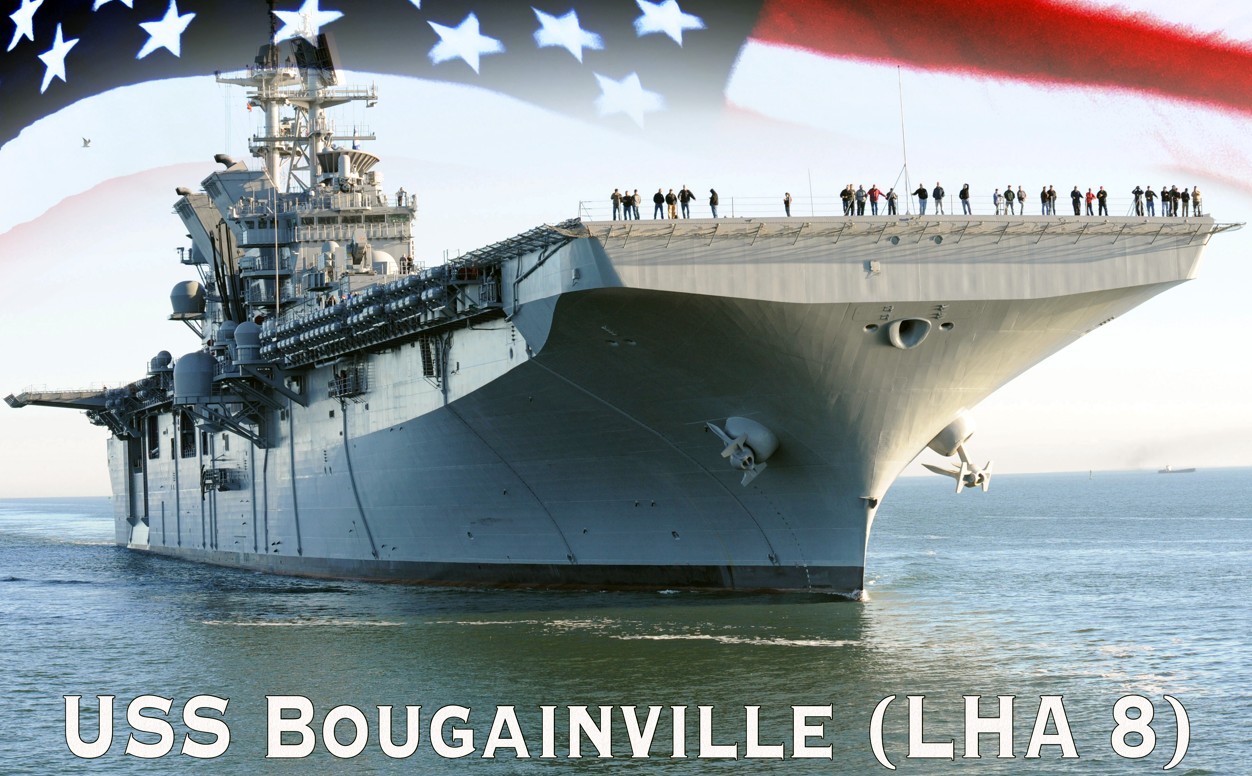 USS Bougainville (LHA 8):

The design of Bougainville is based on USS Makin Island (LHD-8), itself an improved version of the Wasp-class amphibious assault ship. While Makin Island has a well deck, the earlier two Flight 0 America-class ships USS America and USS Tripoli were designed and built without a well deck to make space for aircraft and aviation fuel. Bougainville will be the first Flight 1 America-class ship, and as such will include a well deck. The design of the Flight 1 America-class ships, including that of the Bougainville, adopts a compromise, incorporating a slightly smaller aircraft hangar as well as smaller medical and other spaces to fit a small well deck for surface connector operations. The island structure will also be modified to free up more room on the flight deck to accommodate maintenance of V-22s, compensating for some of the lost aircraft hangar space.

Bougainville will be the first in her class built with a redesigned and stronger main deck; the earlier America-class vessels America and Tripoli each required retrofitting in order to handle the strain of daily Marine F-35B Lightning II STOVL operations. In addition, Bougainville will incorporate the Enterprise Air Surveillance Radar (EASR) volume air search radar in lieu of the AN/SPS-48G air search radar in America and Tripoli.



source: wikipedia
The Bougainville campaign

... was a series of land and naval battles of the Pacific campaign of World War II between Allied forces and the Empire of Japan. It was part of Operation Cartwheel, the Allied grand strategy in the South Pacific. The campaign took place in the Northern Solomons in two phases. The first phase, in which American troops landed and held the perimeter around the beachhead at Torokina, lasted from November 1943 through November 1944. The second phase, in which primarily Australian troops went on the offensive, mopping up pockets of starving, isolated but still-determined Japanese, lasted from November 1944 until August 1945, when the last Japanese soldiers on the island surrendered. Operations during the final phase of the campaign saw the Australian forces advance north towards the Bonis Peninsula and south towards the main Japanese stronghold around Buin, although the war ended before these two enclaves were completely destroyed.
patches + more
|
seaforces.org
|
USN ships start page
|