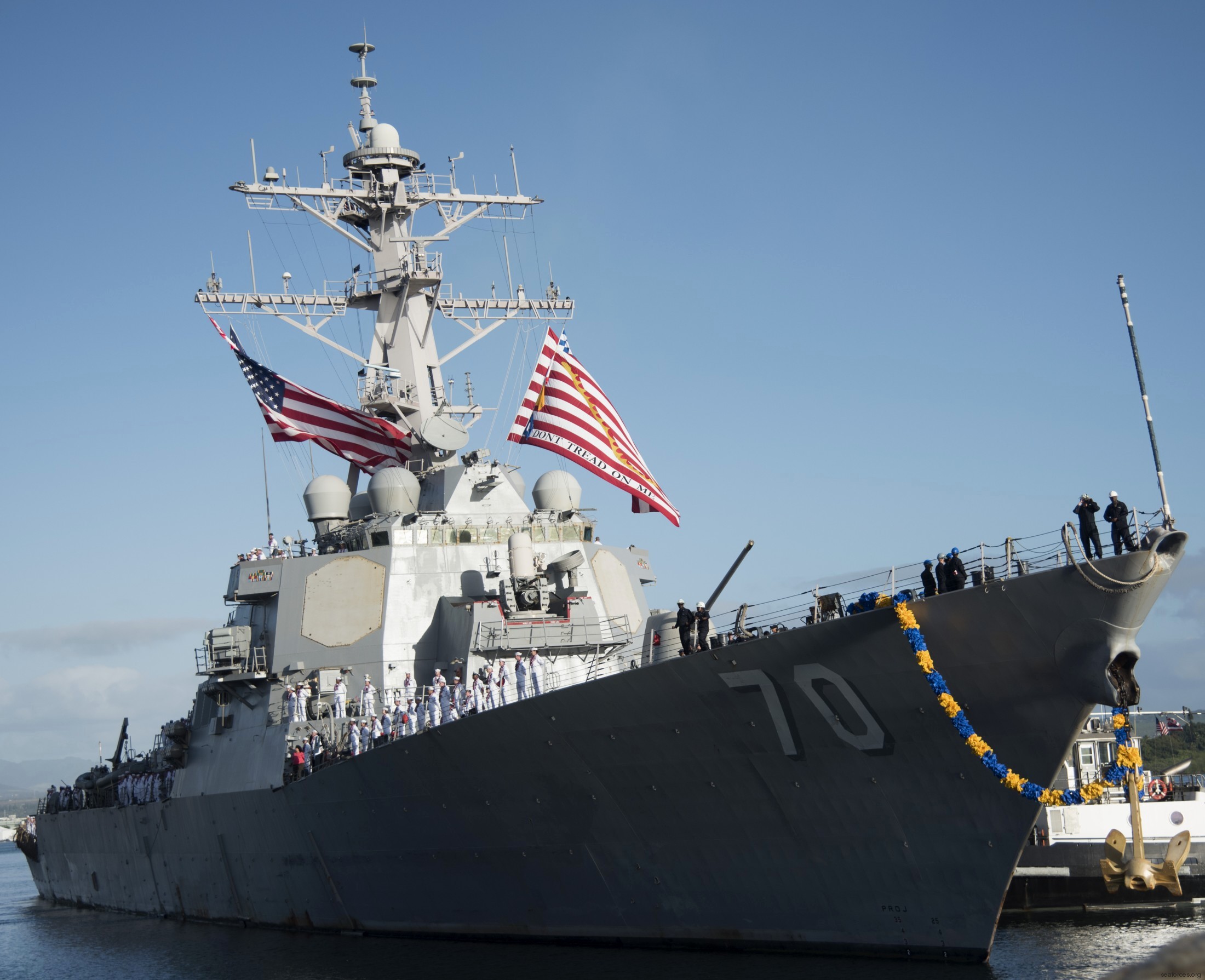 returning to Joint Base Pearl Harbor-Hickam, Hawaii - February 2018




Arabian Gulf - November 2017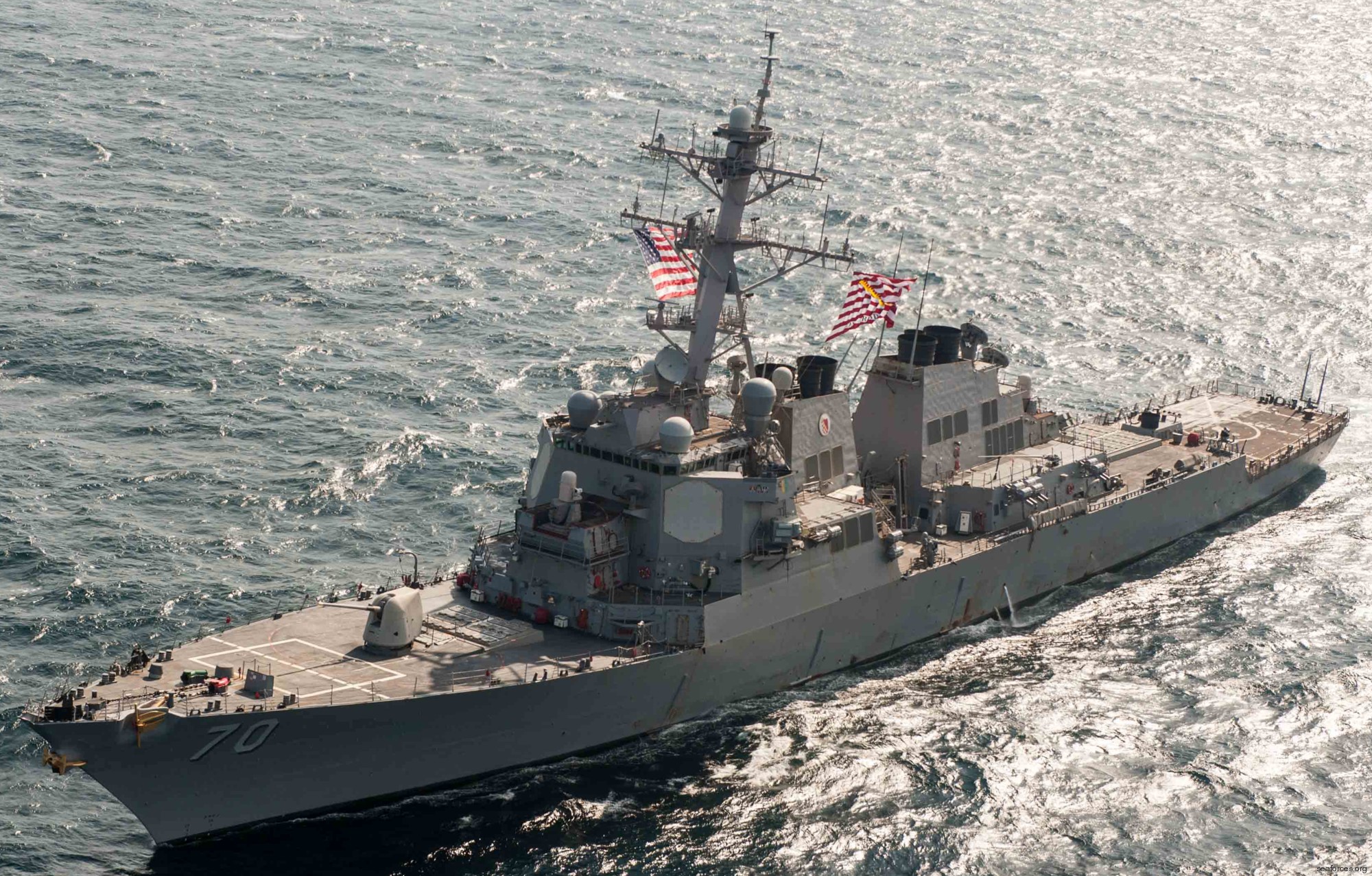 Arabian Gulf - November 2017




Arabian Gulf - November 2017



Homer, Alaska - April 2017




Arabian Gulf - November 2016



Arabian Gulf - November 2016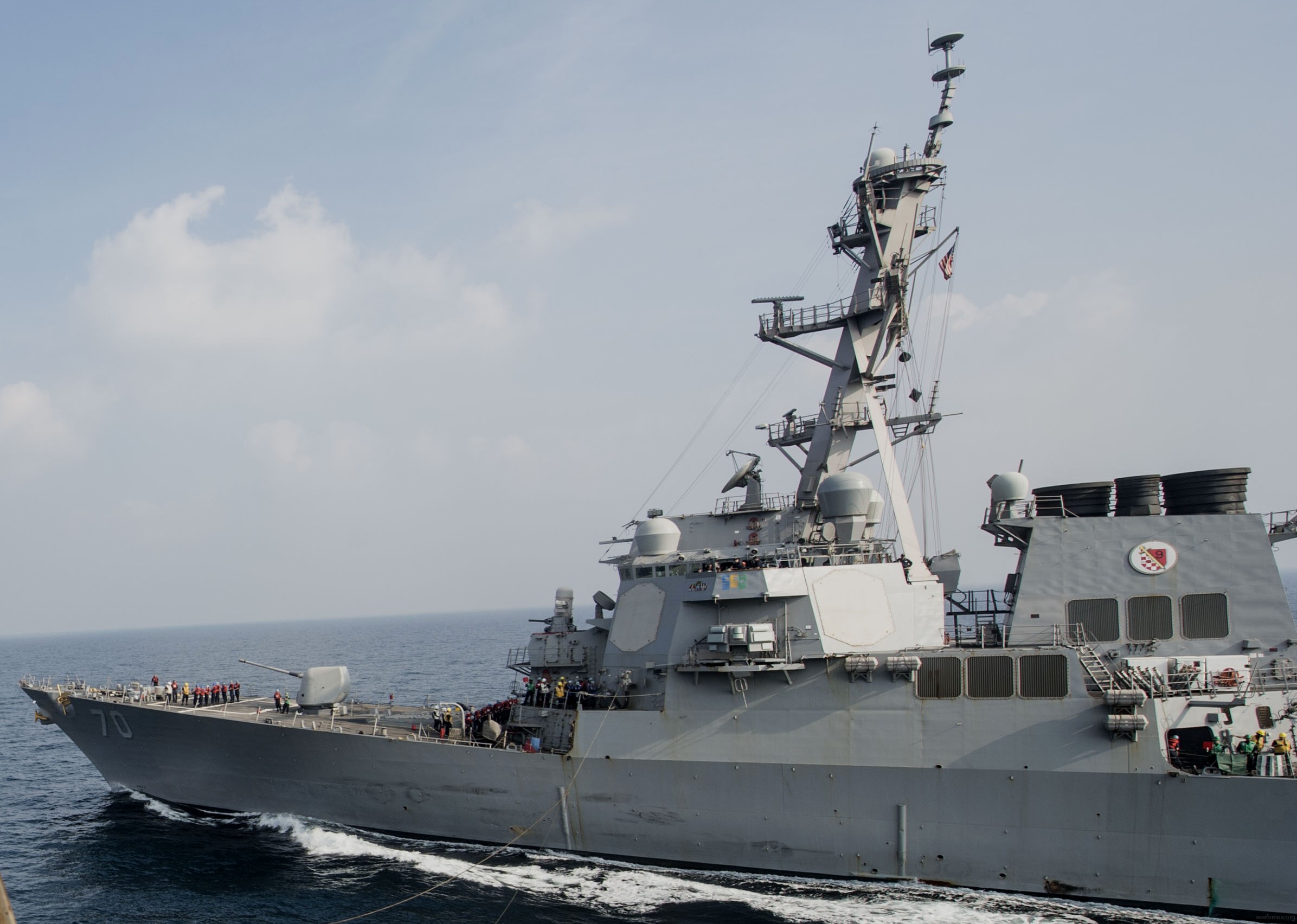 Arabian Gulf - November 2016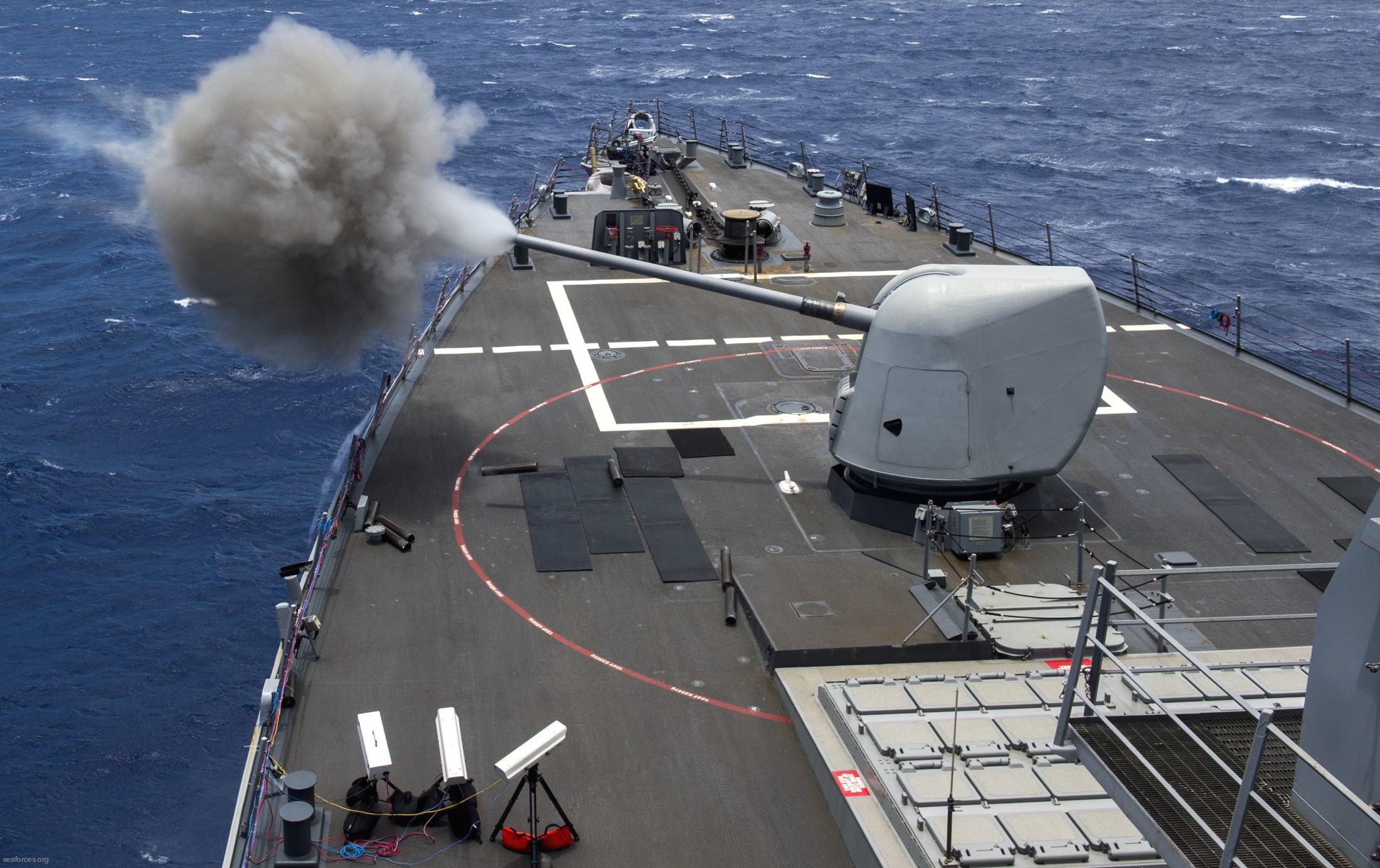 Mk-45 Mod.2 gun fire exercise - Pacific Ocean - May 2016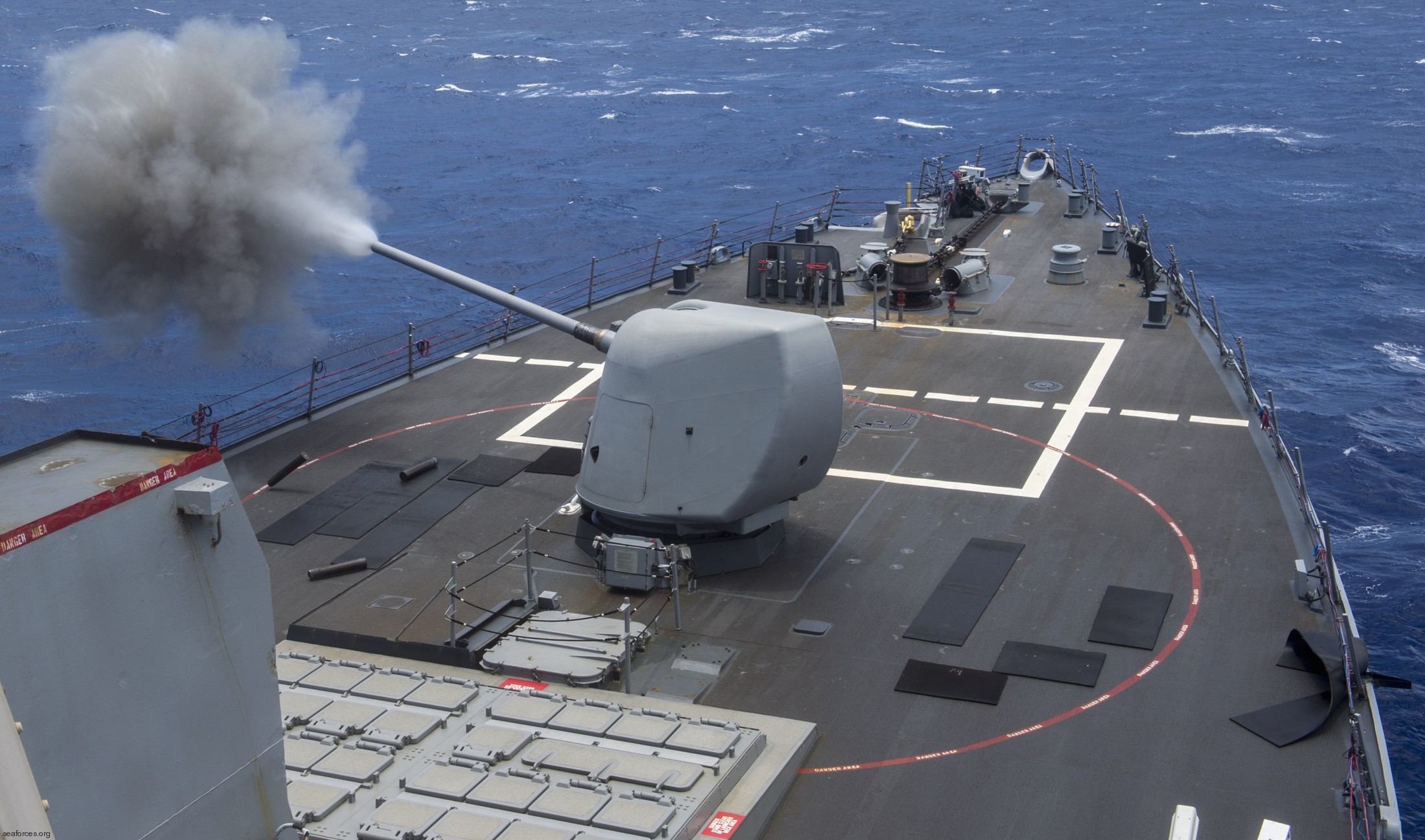 Mk-45 Mod.2 gun fire exercise - Pacific Ocean - May 2016



USS Hopper fires a RIM-161 Standard Missile SM-3 Block IB off Hawaii - May 2016



USS Hopper fires a RIM-161 Standard Missile SM-3 Block IB off Hawaii - May 2016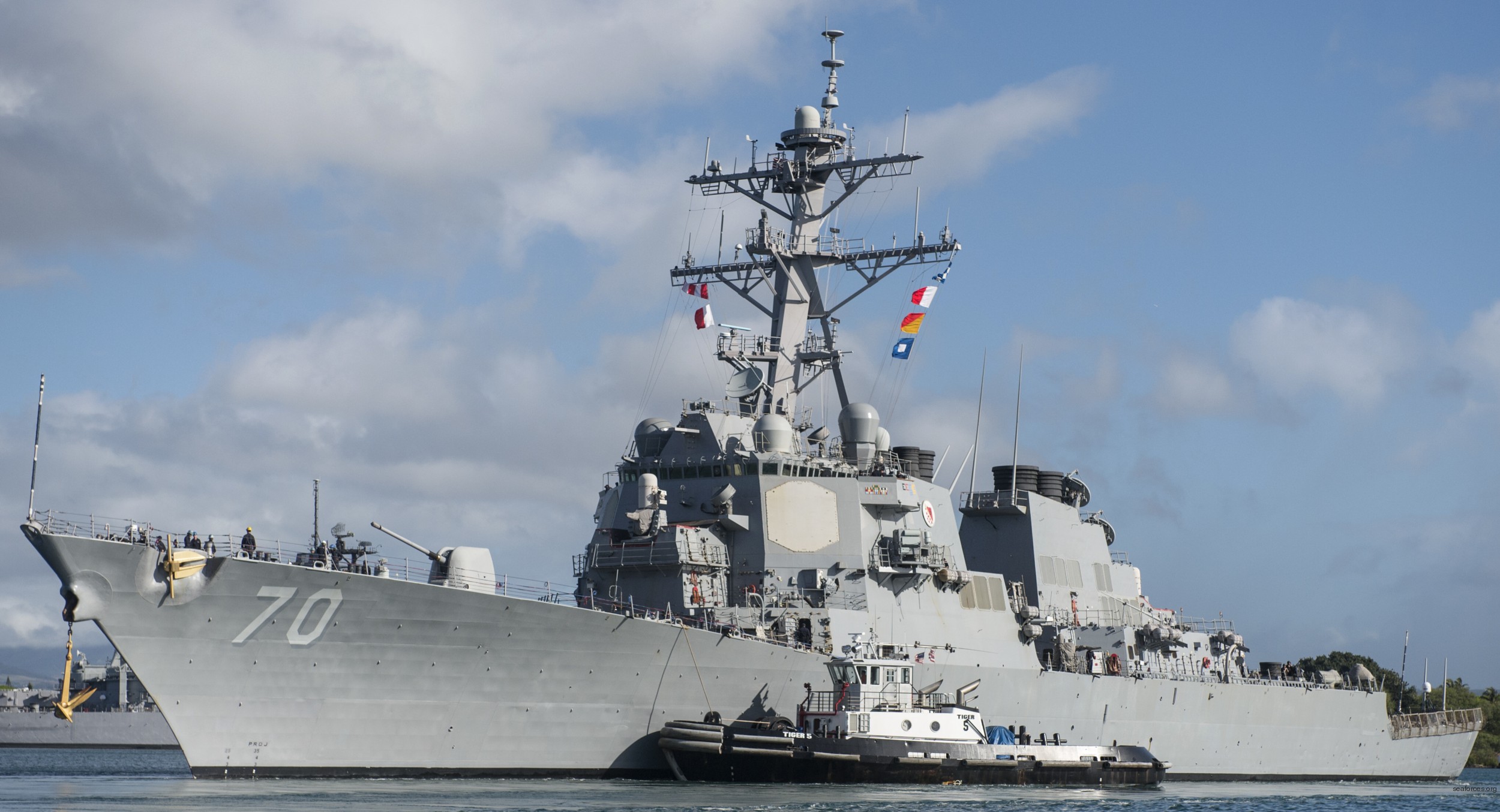 Pearl Harbor, Hawaii - May 2016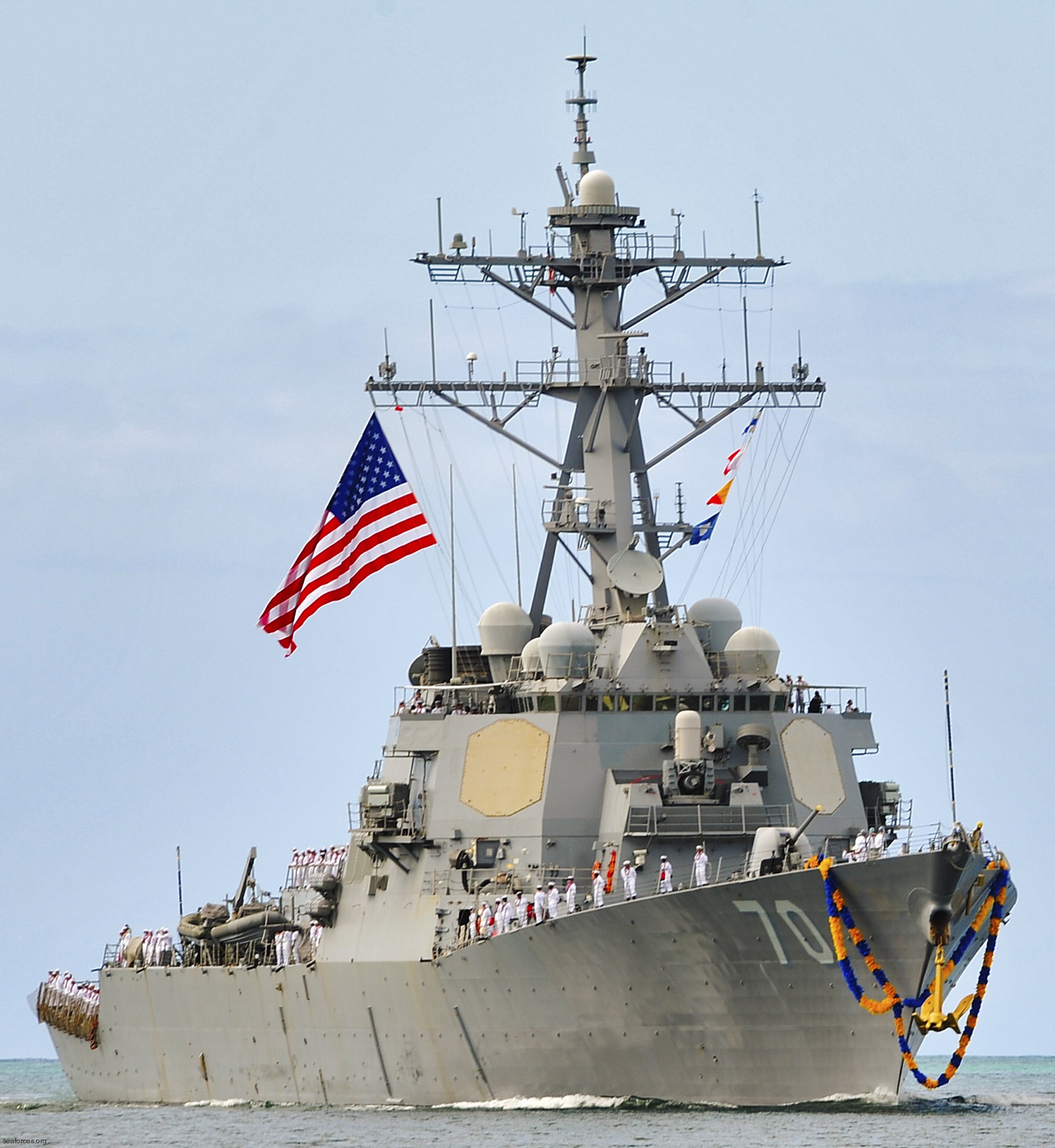 returning to Joint Base Pearl Harbor-Hickam, Hawaii - May 2014




returning to Joint Base Pearl Harbor-Hickam, Hawaii - May 2014



returning to Joint Base Pearl Harbor-Hickam, Hawaii - May 2014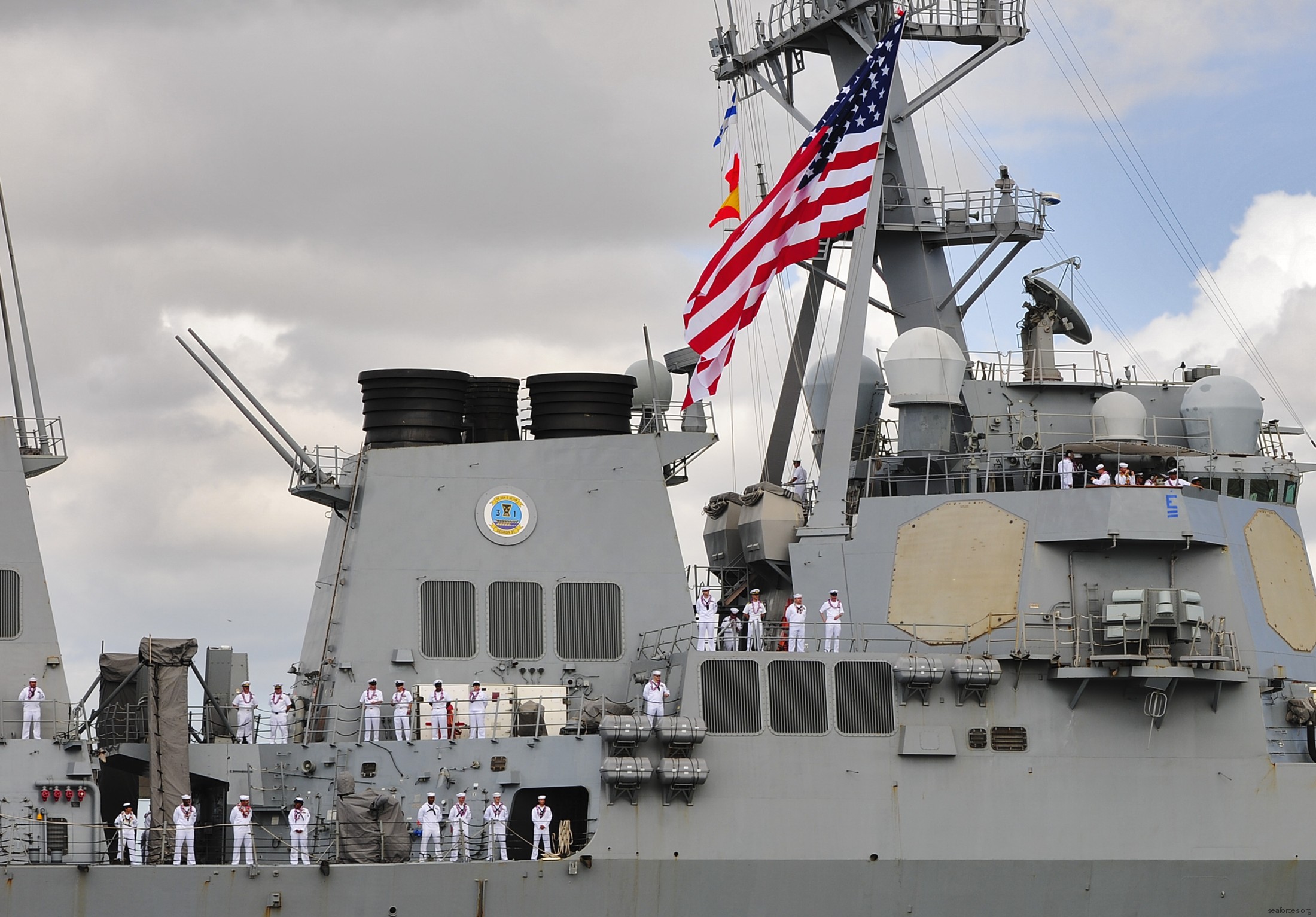 returning to Joint Base Pearl Harbor-Hickam, Hawaii - May 2014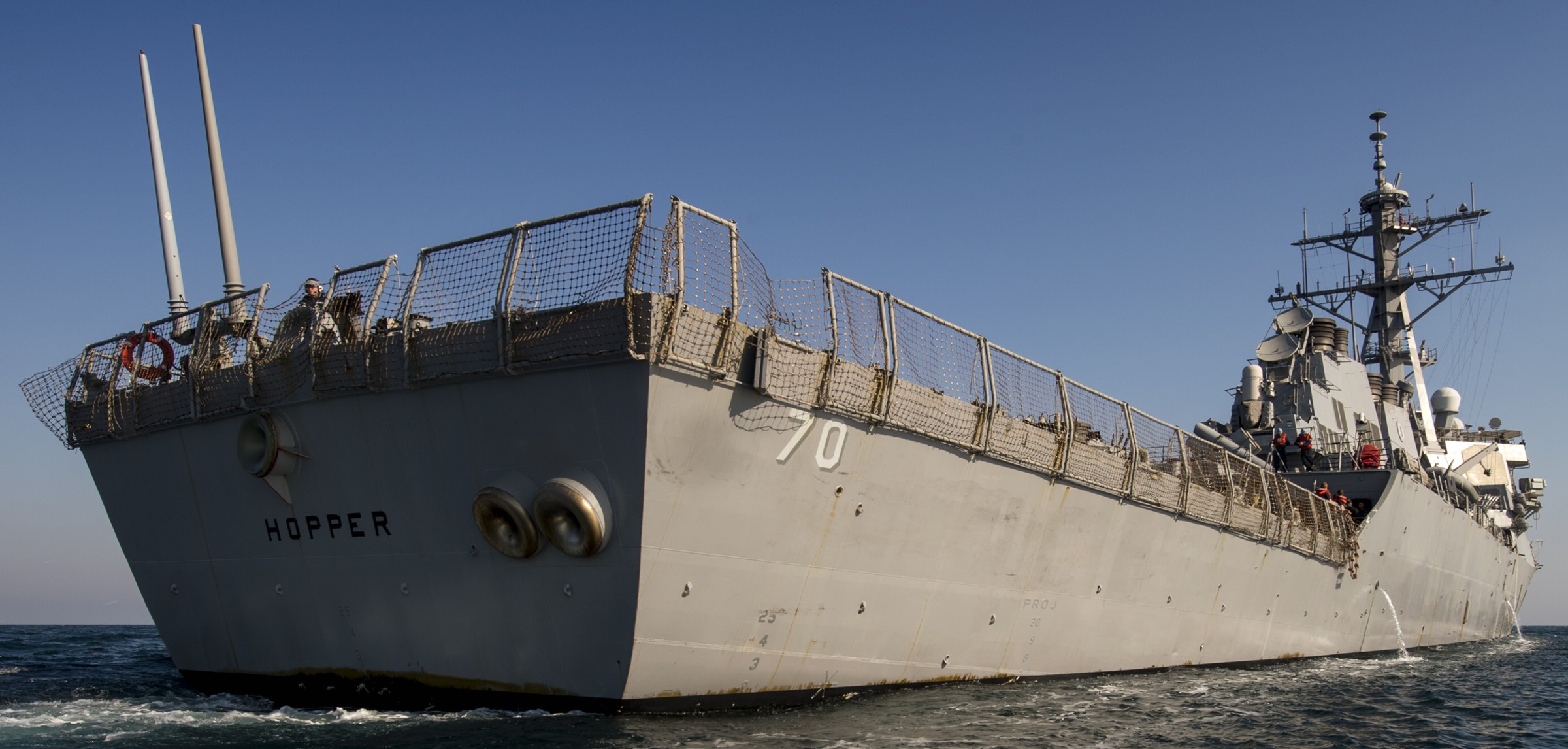 Arabian Gulf - February 2014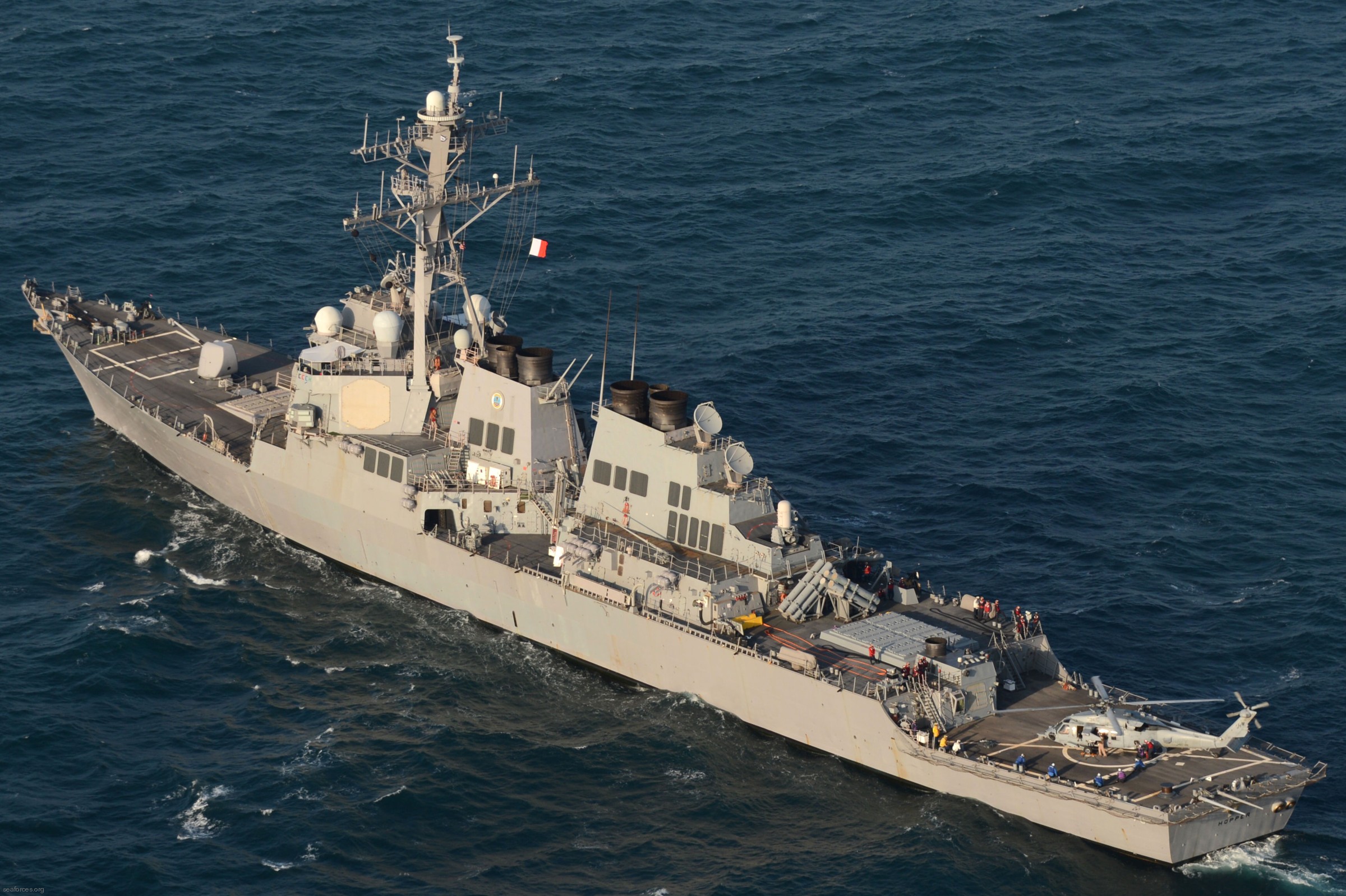 MH-60S Seahawk (HSC-26) on the flight deck - Arabian Gulf - December 2013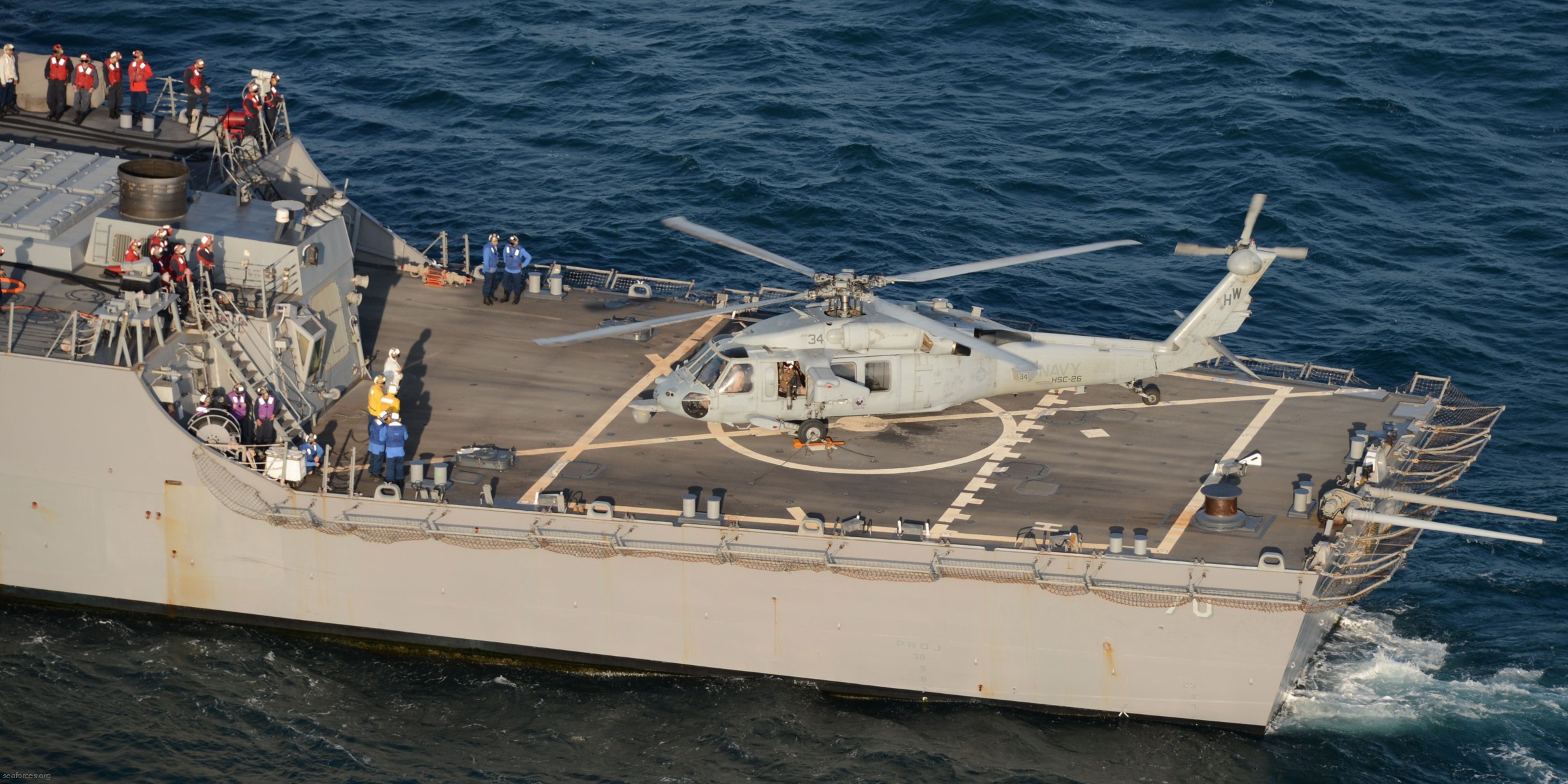 MH-60S Seahawk (HSC-26) on the flight deck - December 2013



Persian Gulf - December 2013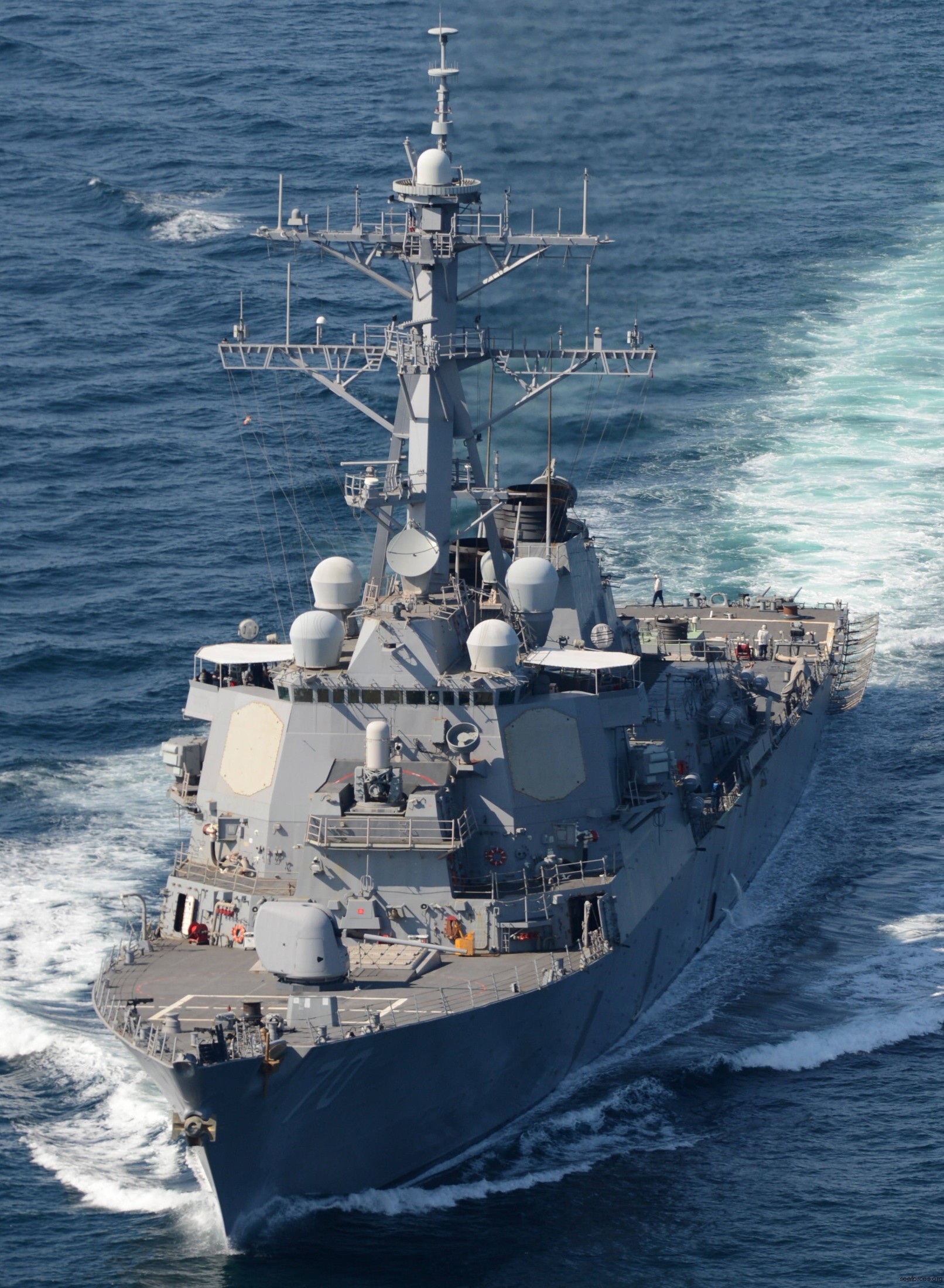 Arabian Gulf - November 2013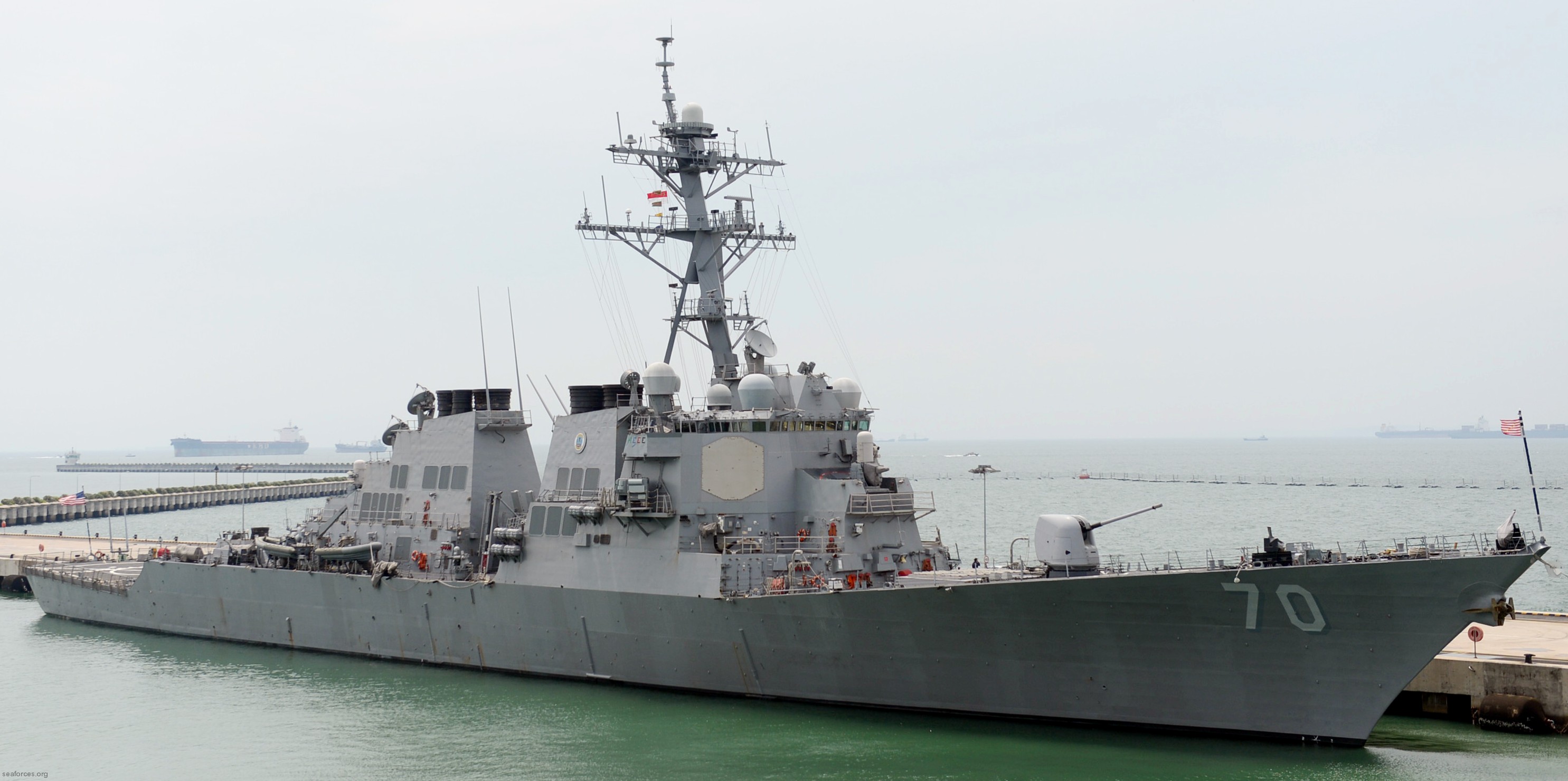 Changi Naval Base, Singapore - September 2013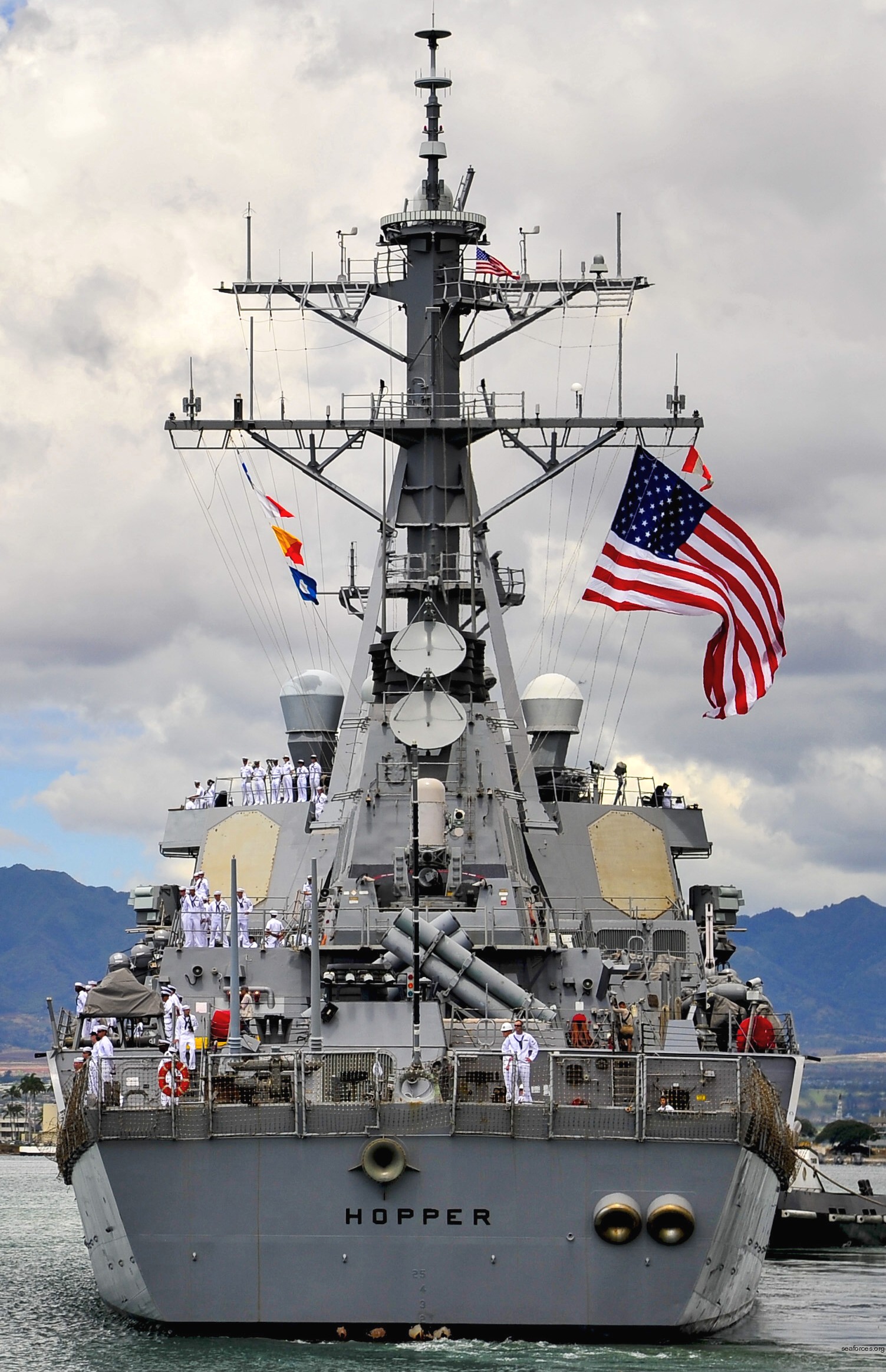 departing Pearl Harbor, Hawaii - September 2013



Pearl Harbor, Hawaii - September 2013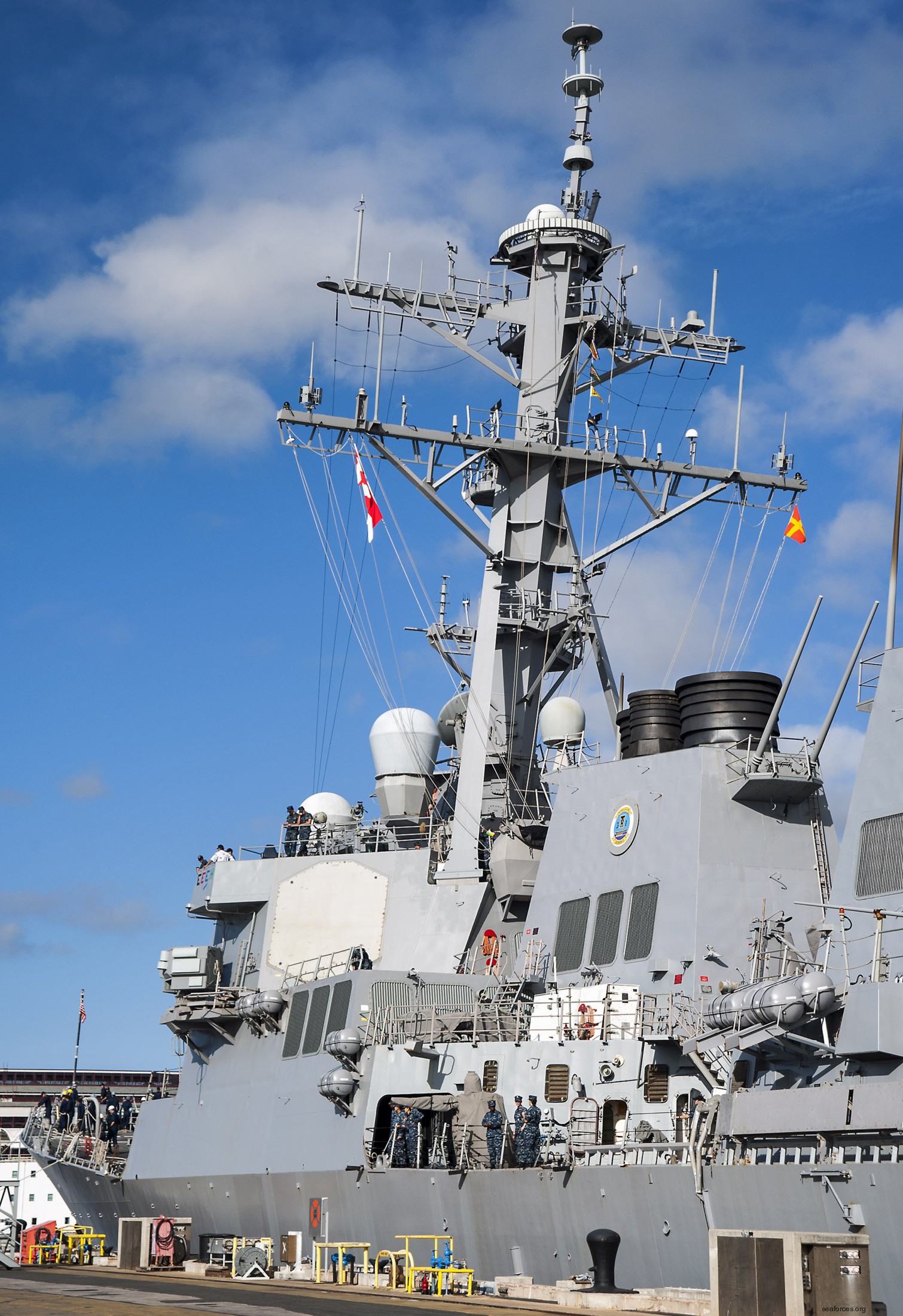 Pearl Harbor, Hawaii - September 2013



returning to Joint Base Pearl Harbor-Hickam, Hawaii - July 2013



off Hawaii - July 2013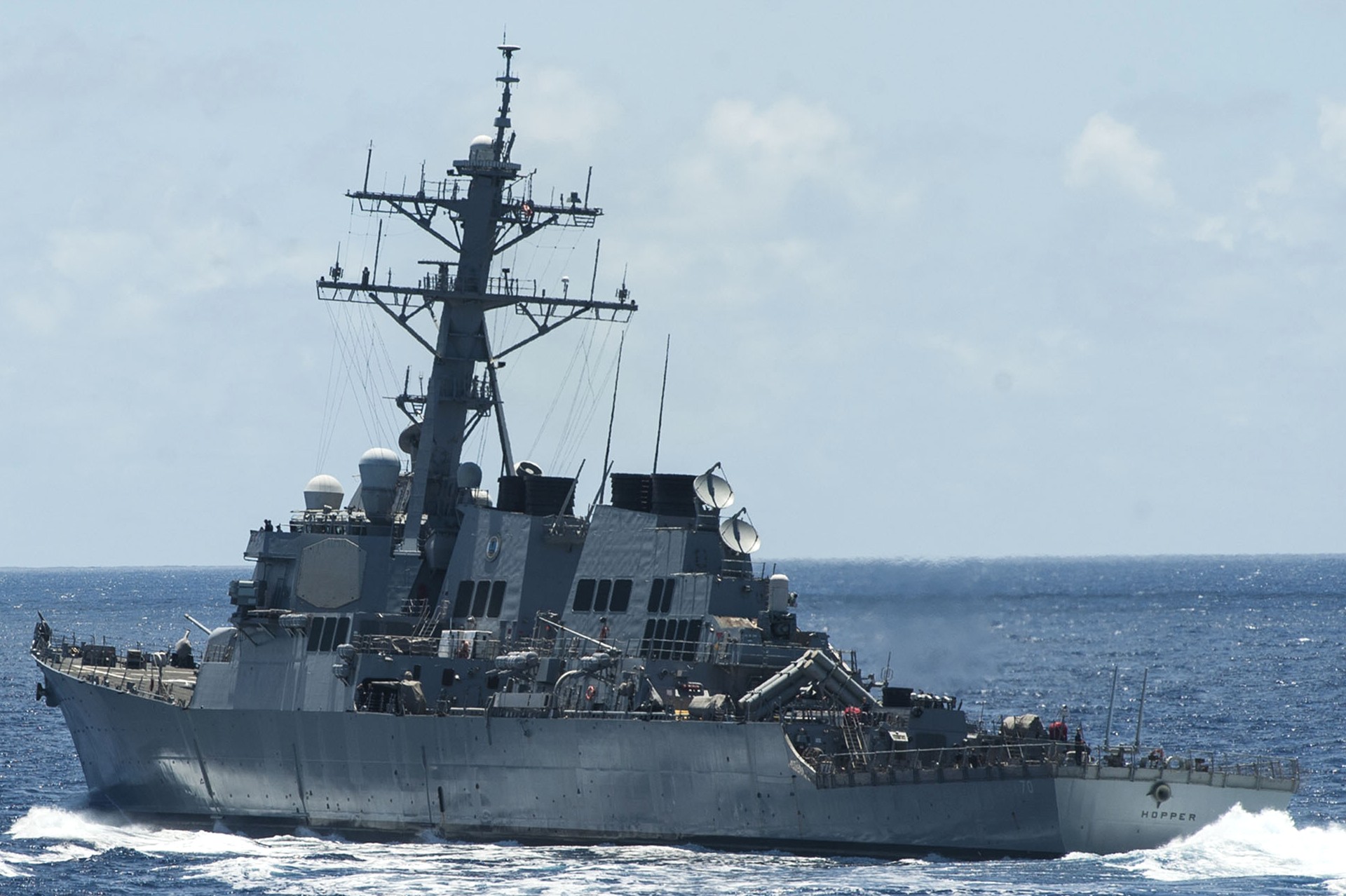 off Hawaii - July 2013



Joint Base Pearl Harbor-Hickam, Hawaii - July 2013




Joint Base Pearl Harbor-Hickam, Hawaii - March 2013




Tokyo Bay - April 2012



off Hawaii - April 2011




off Hawaii - April 2011



returning to Joint Base Pearl Harbor-Hickam, Hawaii - July 2010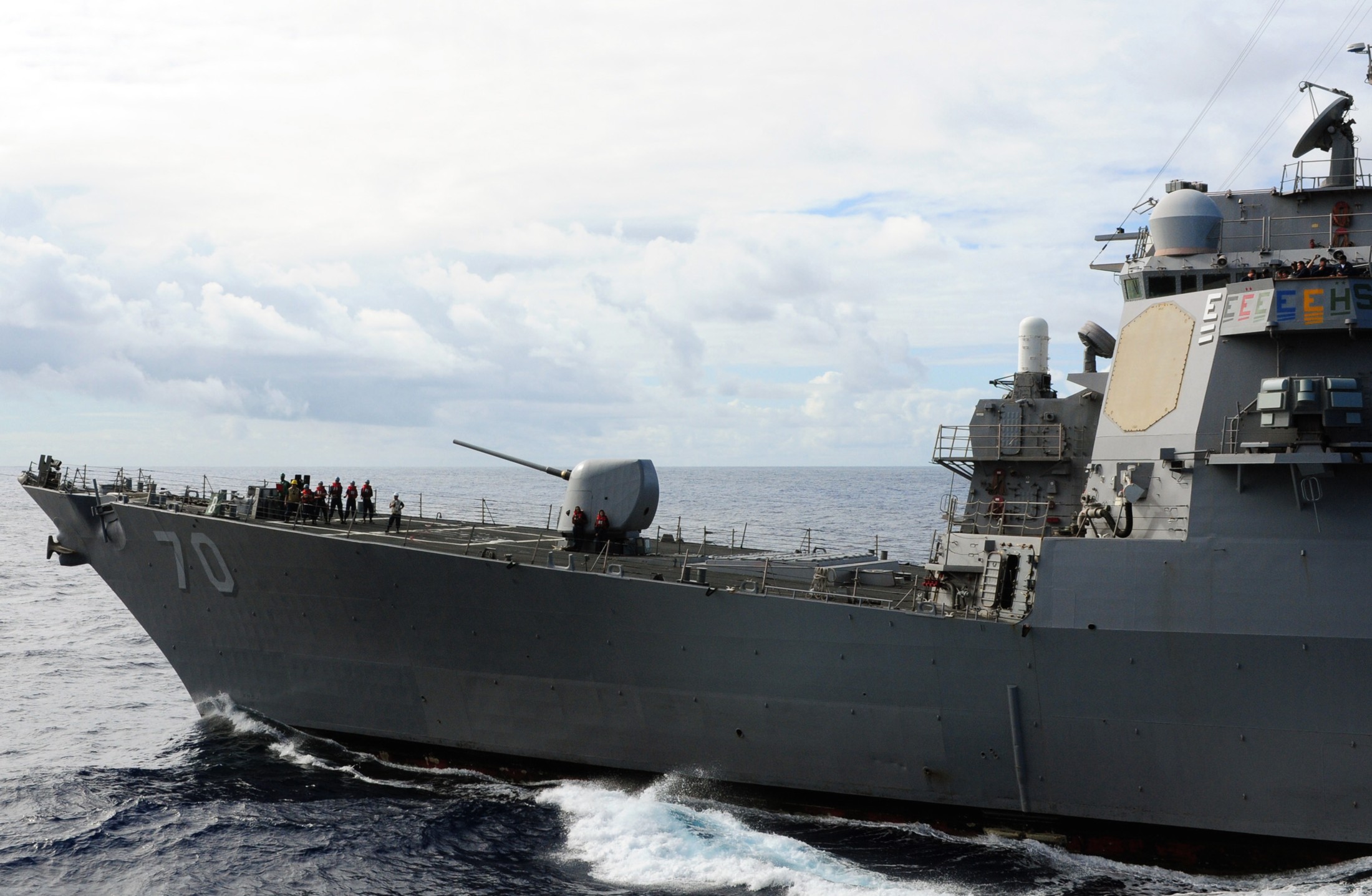 during exercise RIMPAC '10 - Pacific Ocean - July 2010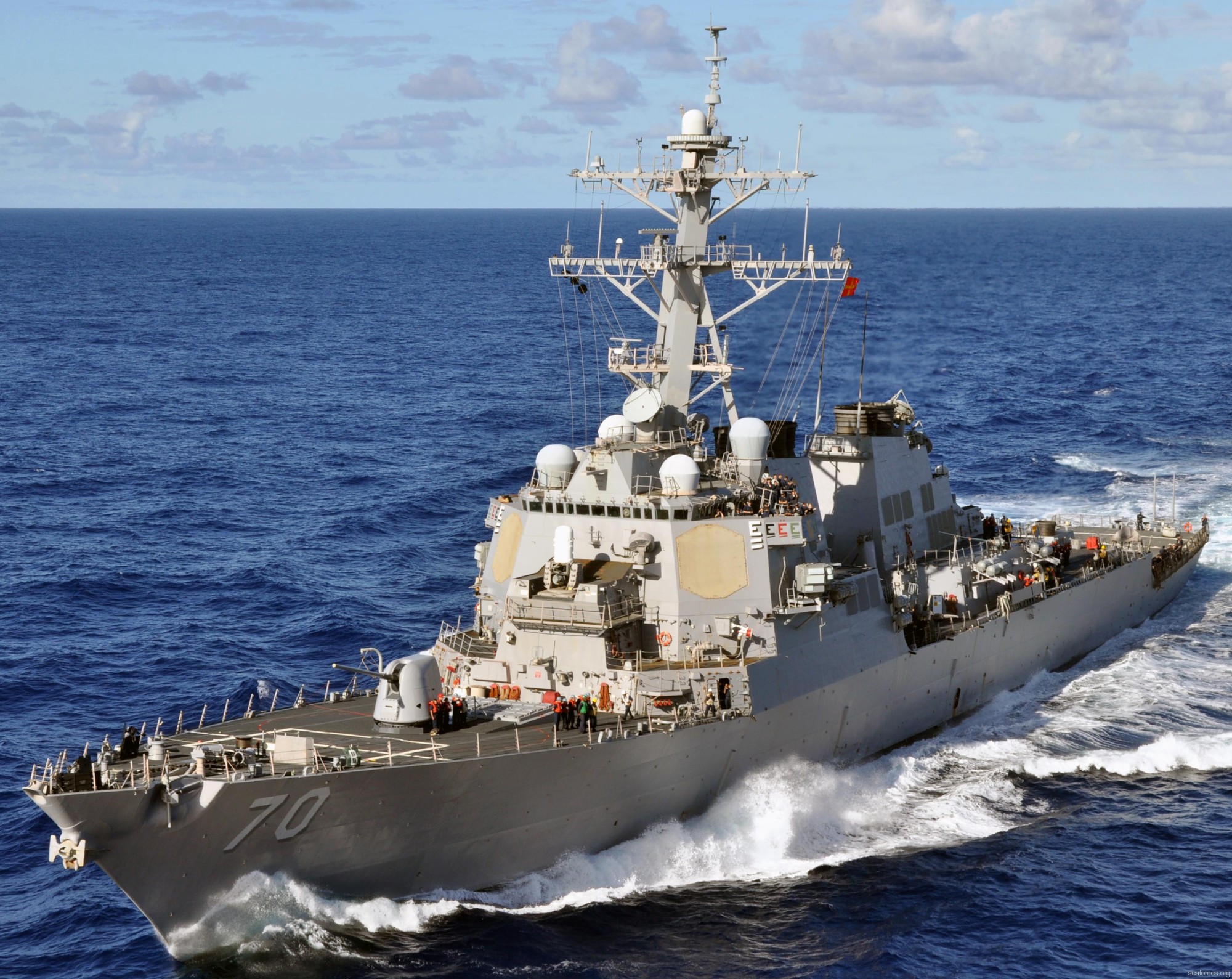 during exercise RIMPAC '10 - Pacific Ocean - July 2010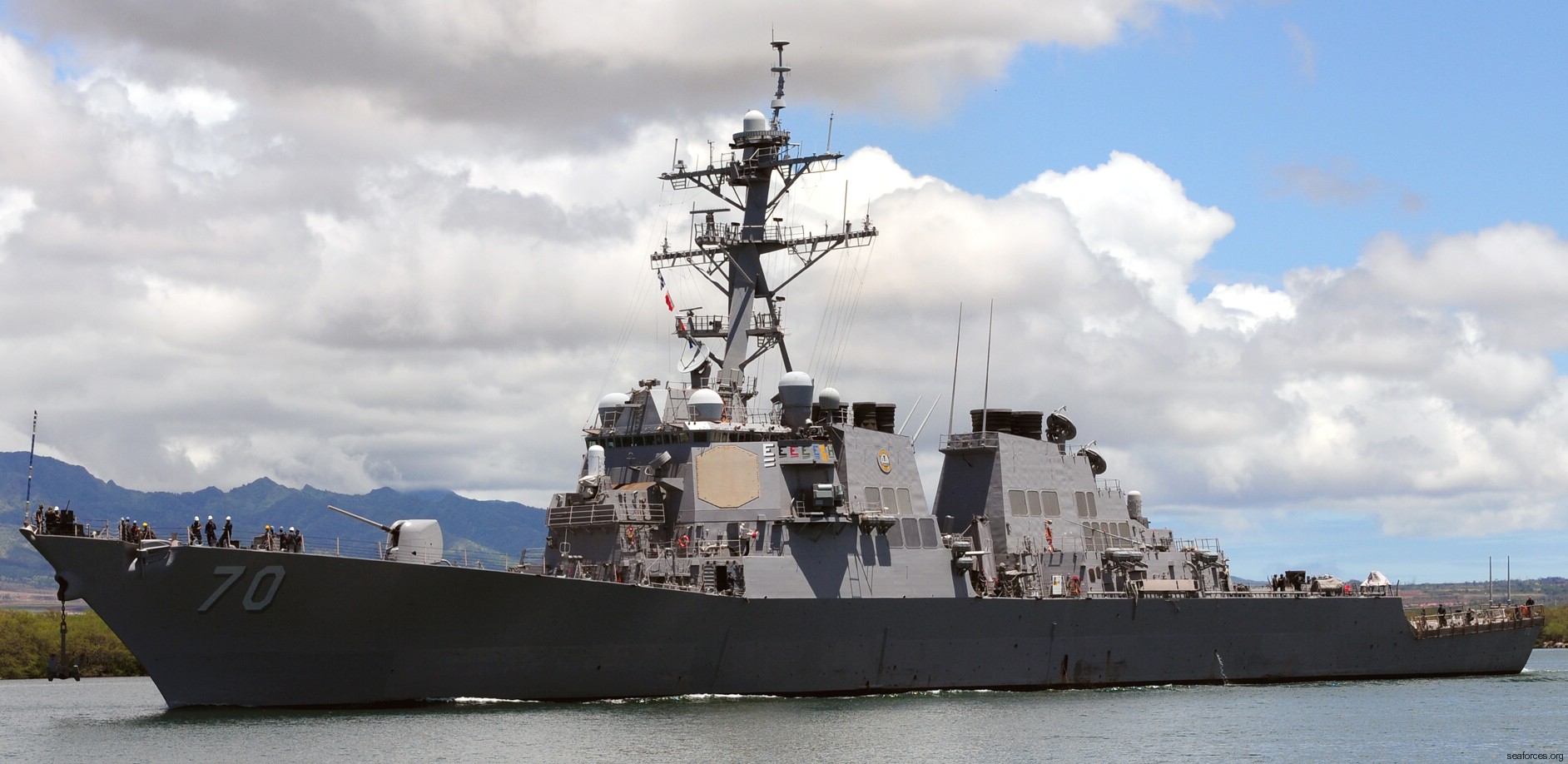 departing Pearl Harbor, Hawaii for exercise RIMPAC '10 - July 2010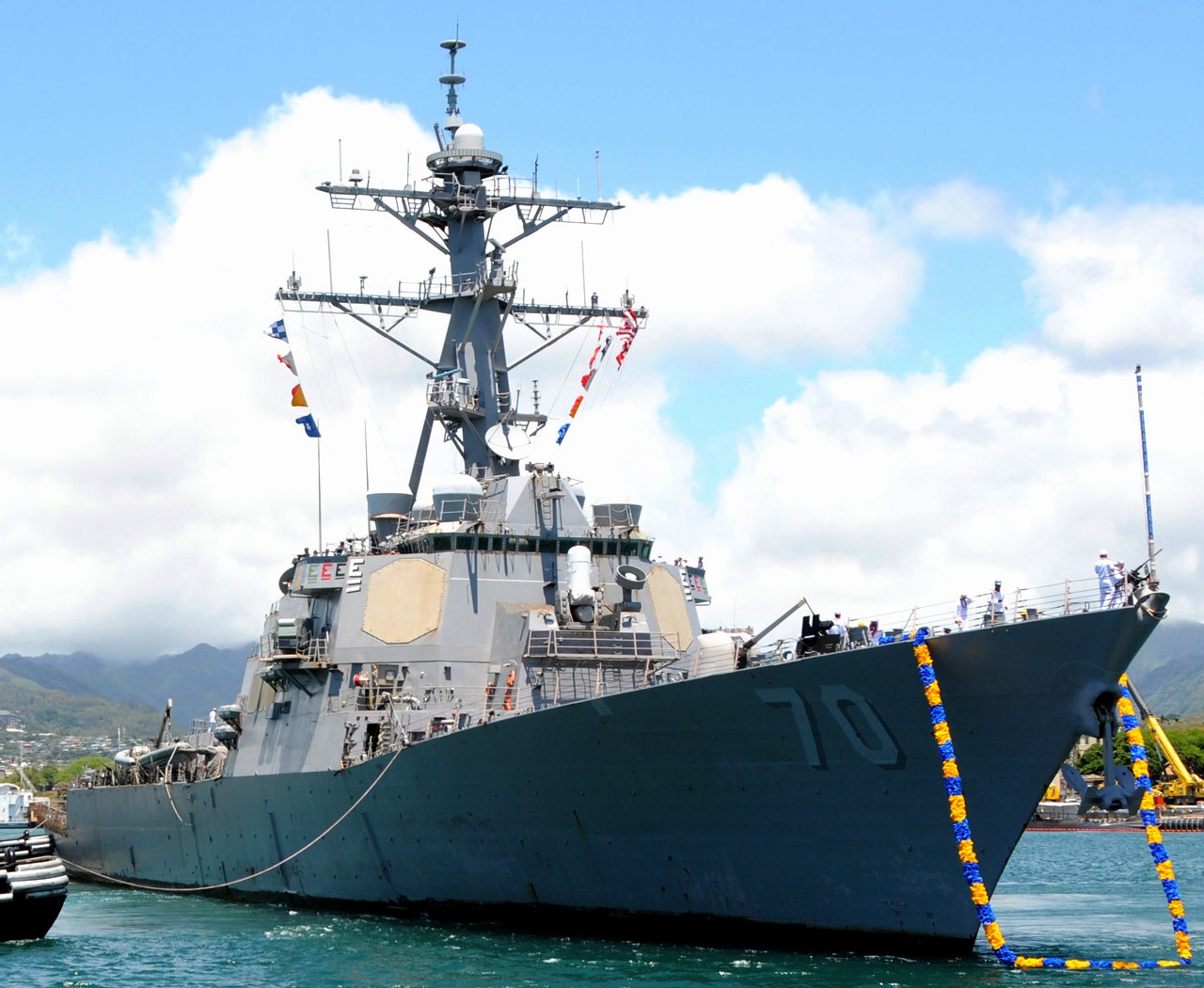 returning to Pearl Harbor, Hawaii - April 2010



Persian Gulf - November 2009



departing Naval Station Pearl Harbor, Hawaii - September 2009



USS Hopper fires a RIM-161 Standard Missile SM-3 Block IA during exercise STELLAR AVENGER off Hawaii - July 2009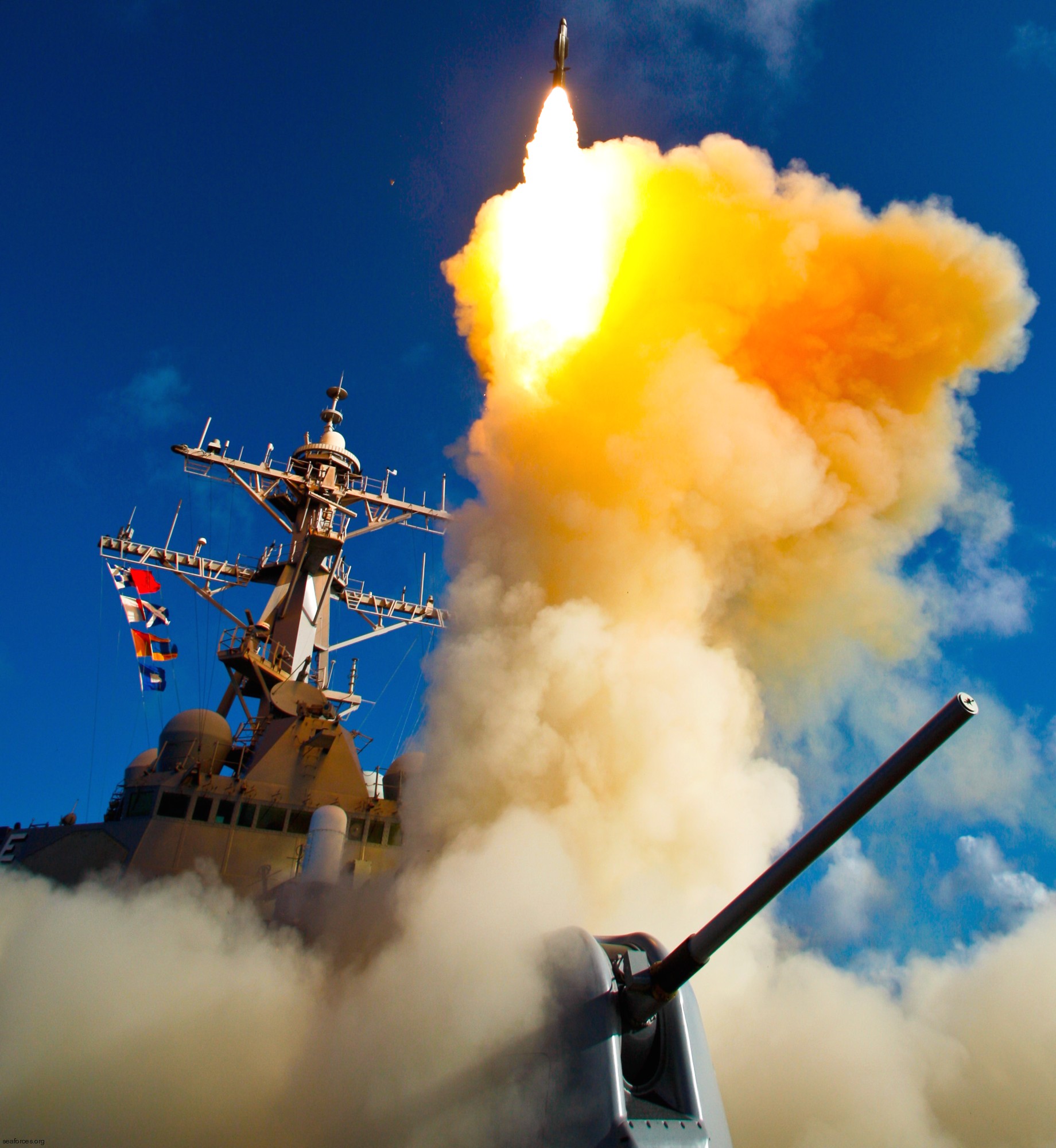 USS Hopper fires a RIM-161 Standard Missile SM-3 Block IA at Pacific Missile Range Facility, Barking Sands, Kauai, Hawaii - July 2009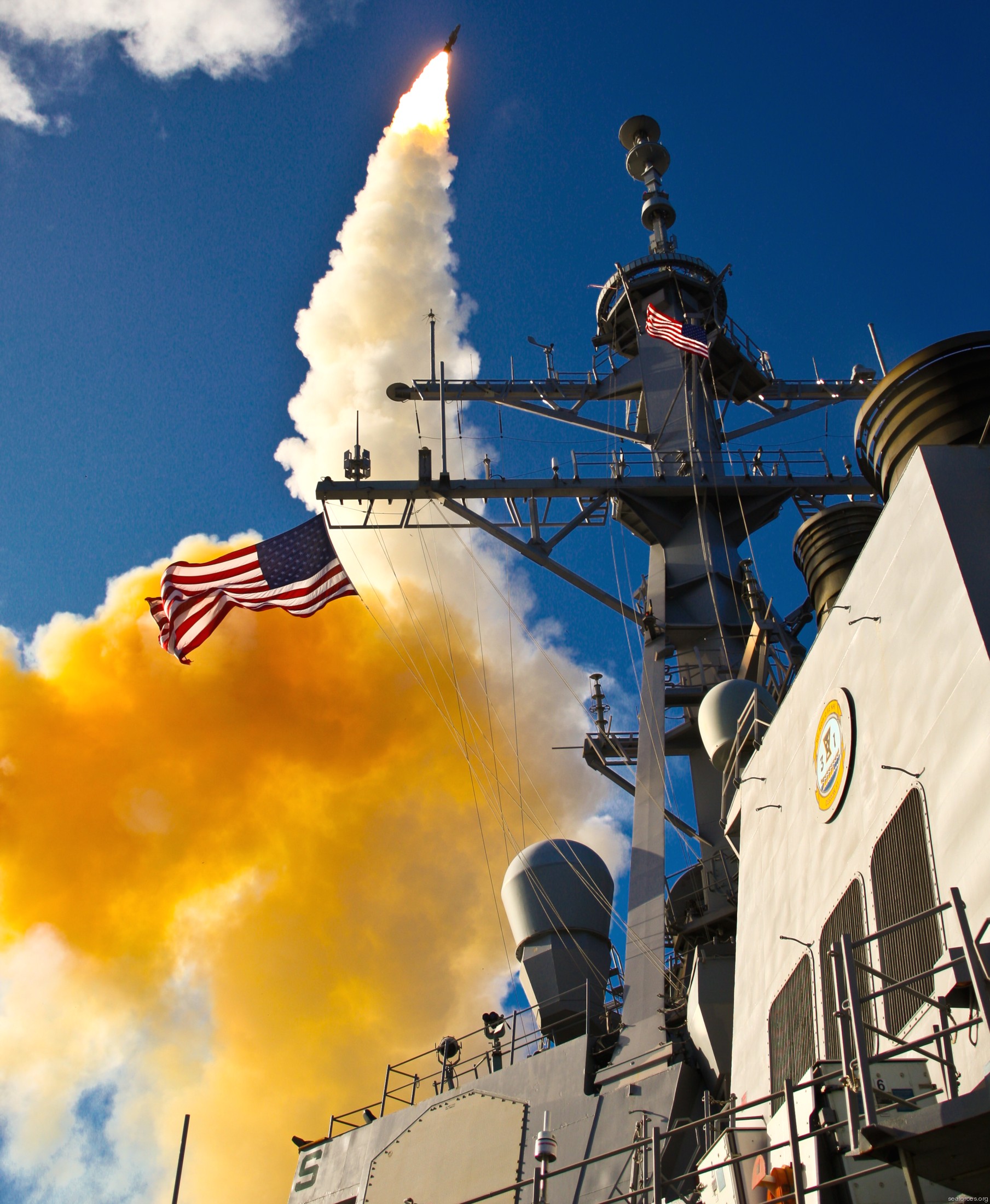 USS Hopper fires a RIM-161 Standard Missile SM-3 Block IA at Pacific Missile Range Facility, Barking Sands, Kauai, Hawaii - July 2009



returning to Naval Station Pearl Harbor, Hawaii - April 2009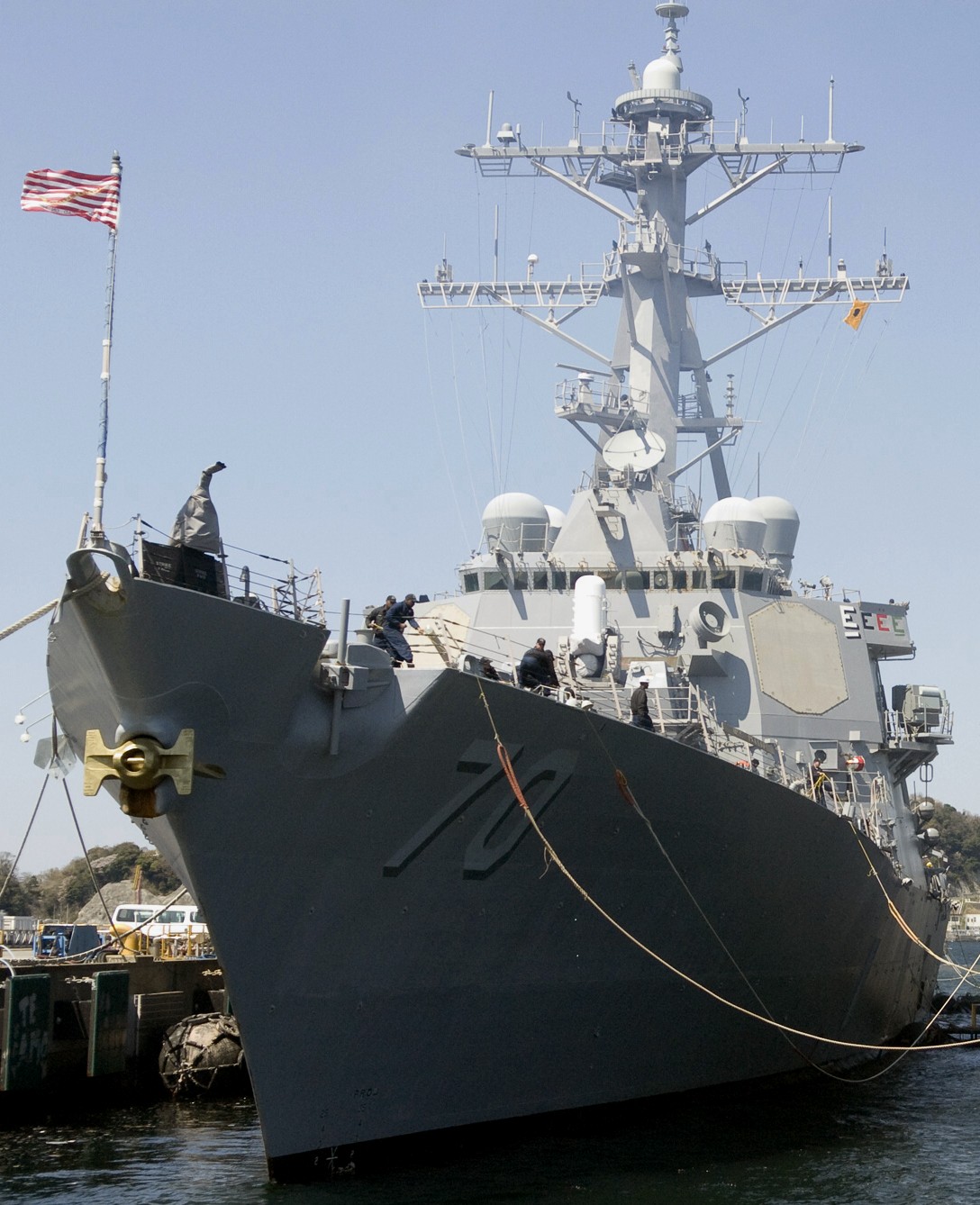 Yokosuka, Japan - April 2009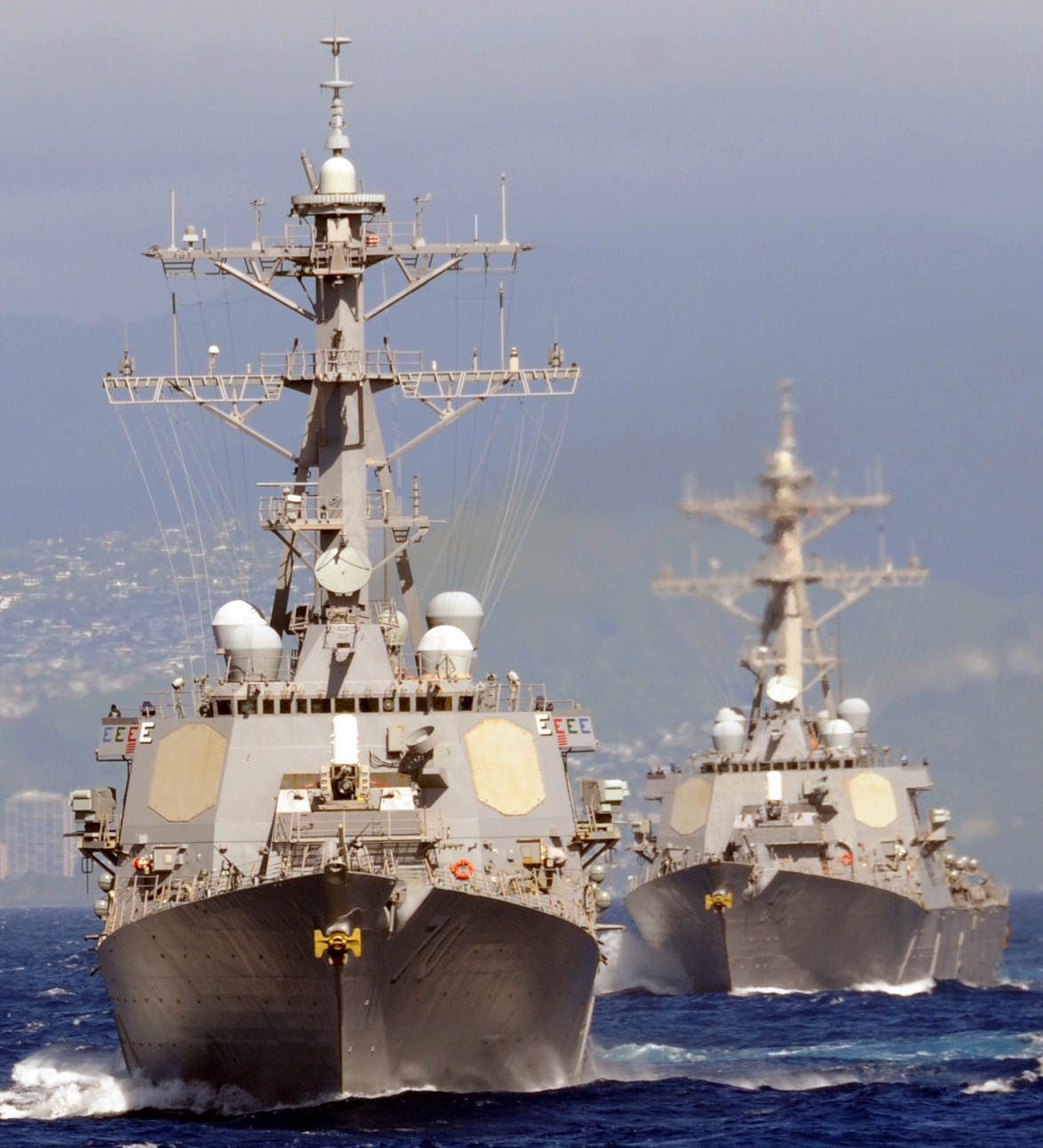 Pacific Ocean - January 2009



returning to Naval Station Pearl Harbor, Hawaii - May 2008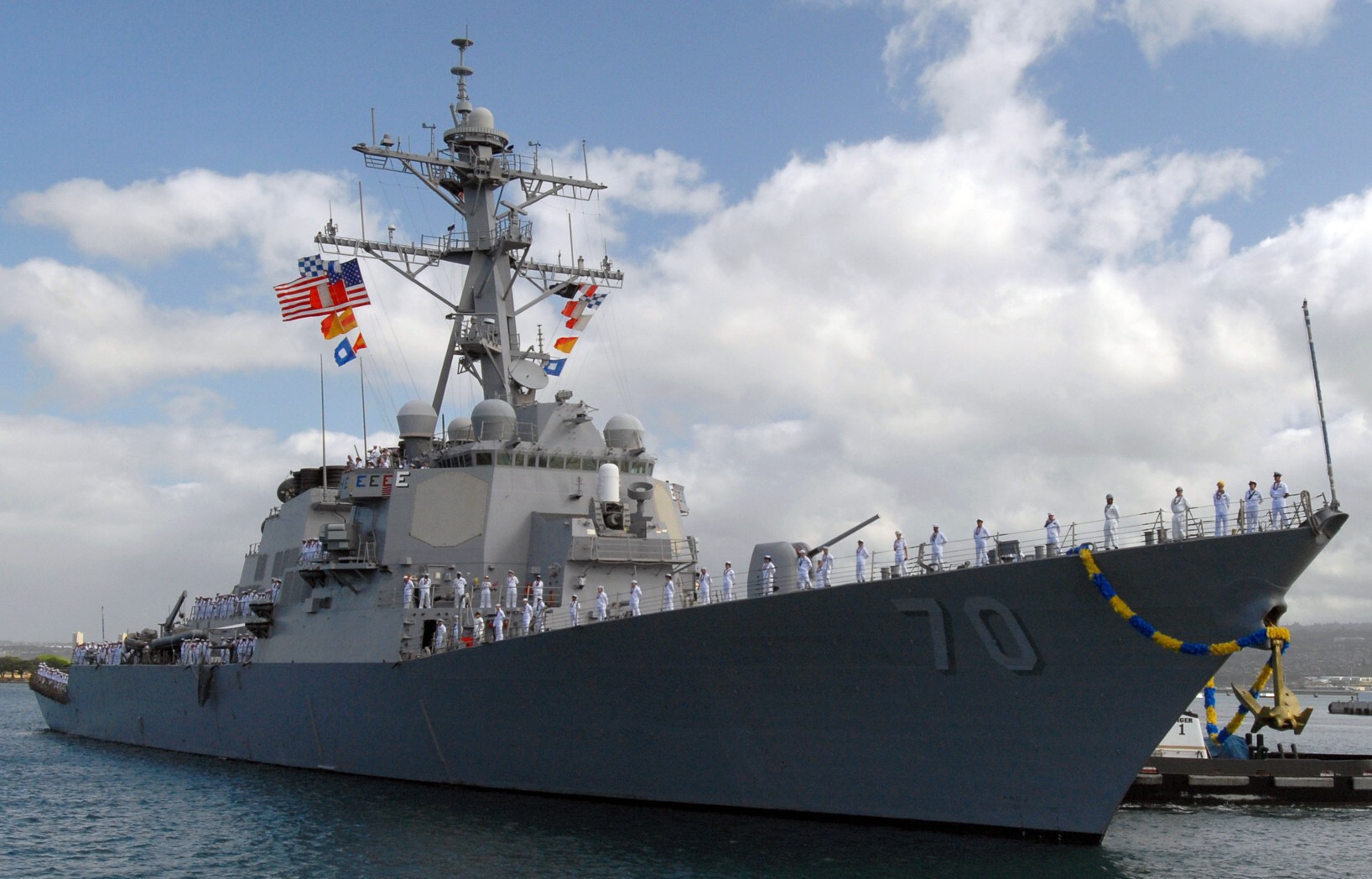 returning to Naval Station Pearl Harbor, Hawaii - May 2008




departing Naval Station Pearl Harbor, Hawaii - November 2007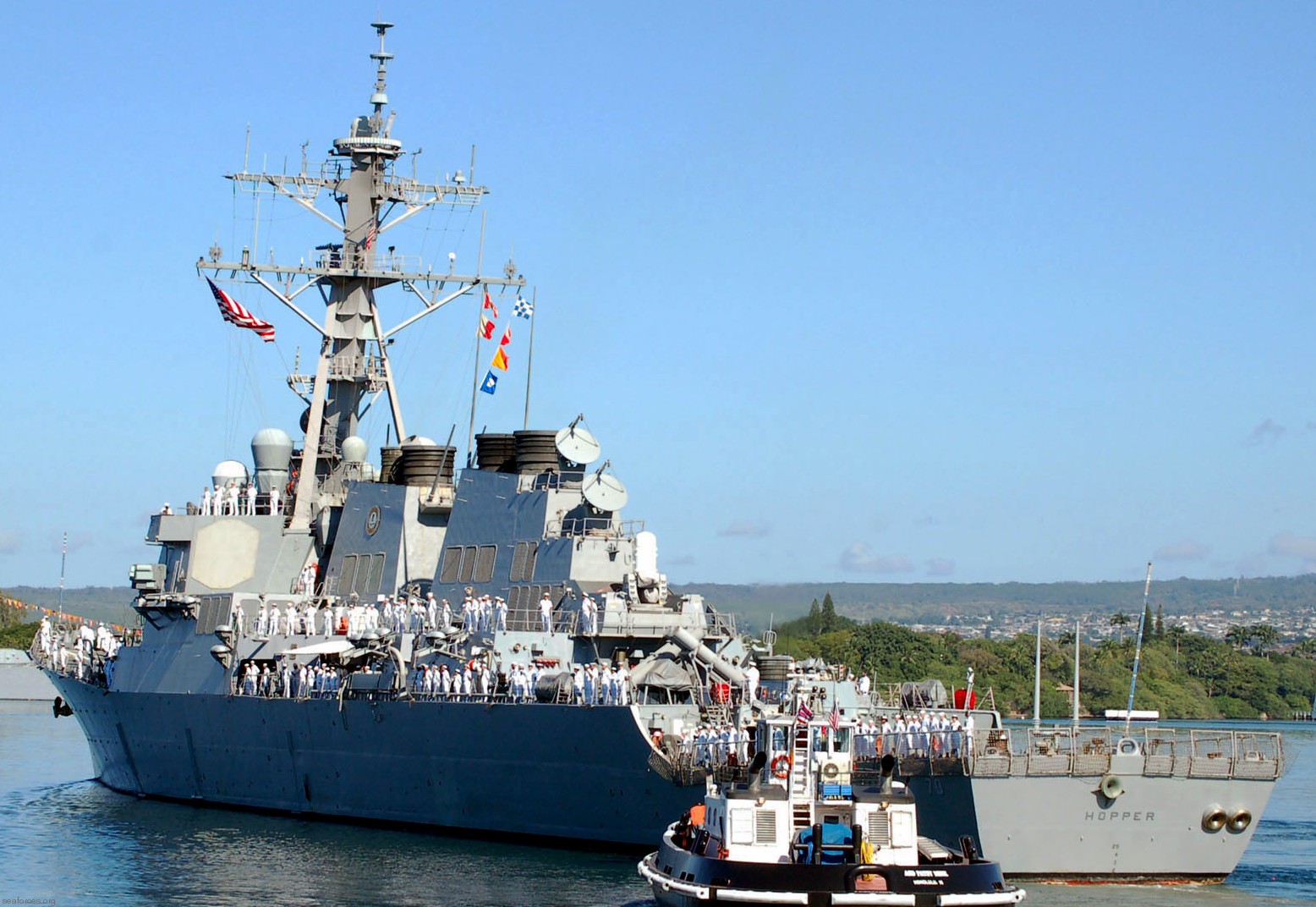 departing Naval Station Pearl Harbor, Hawaii - November 2007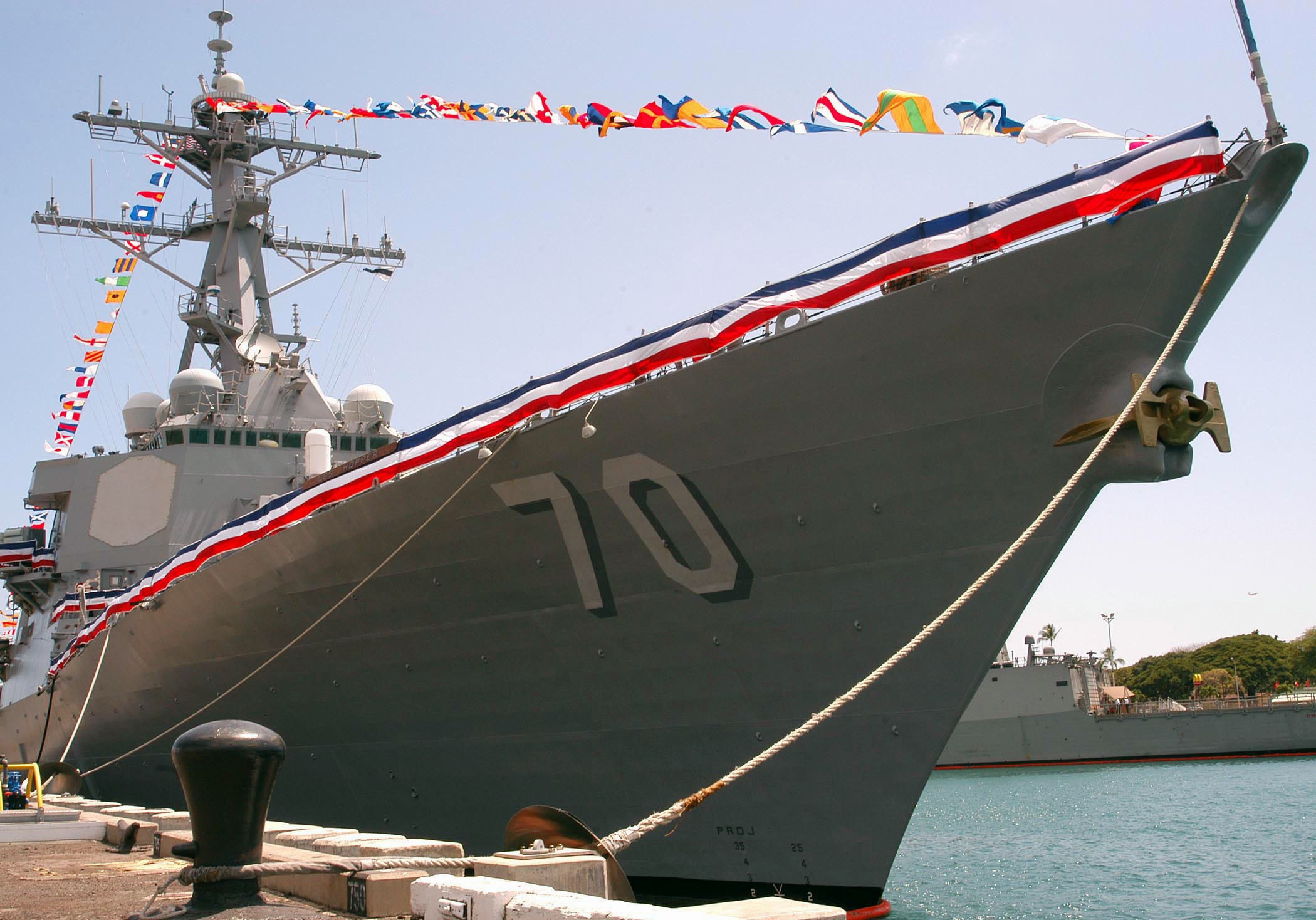 Naval Station Pearl Harbor, Hawaii - April 2007




returning to Naval Station Pearl Harbor, Hawaii - September 2006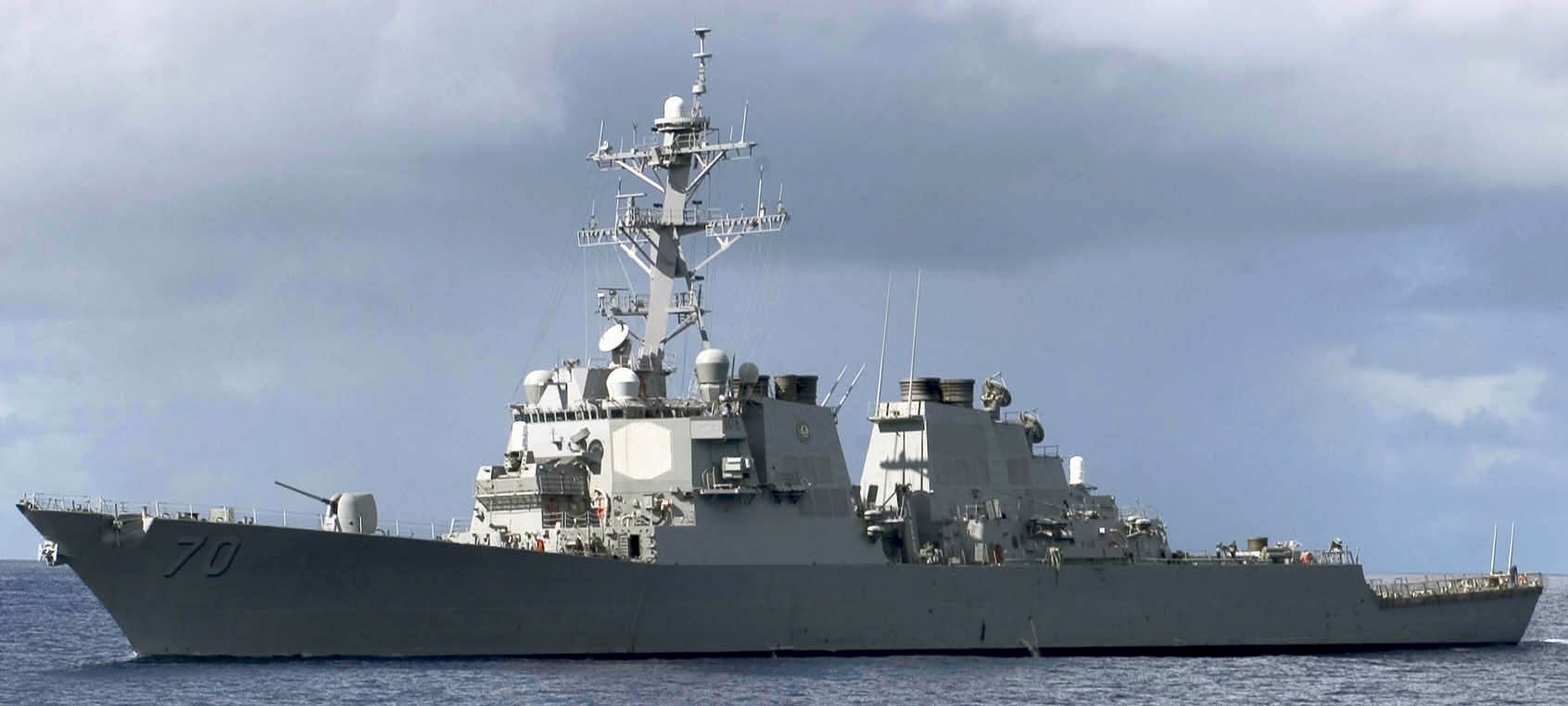 Pacific Ocean - September 2006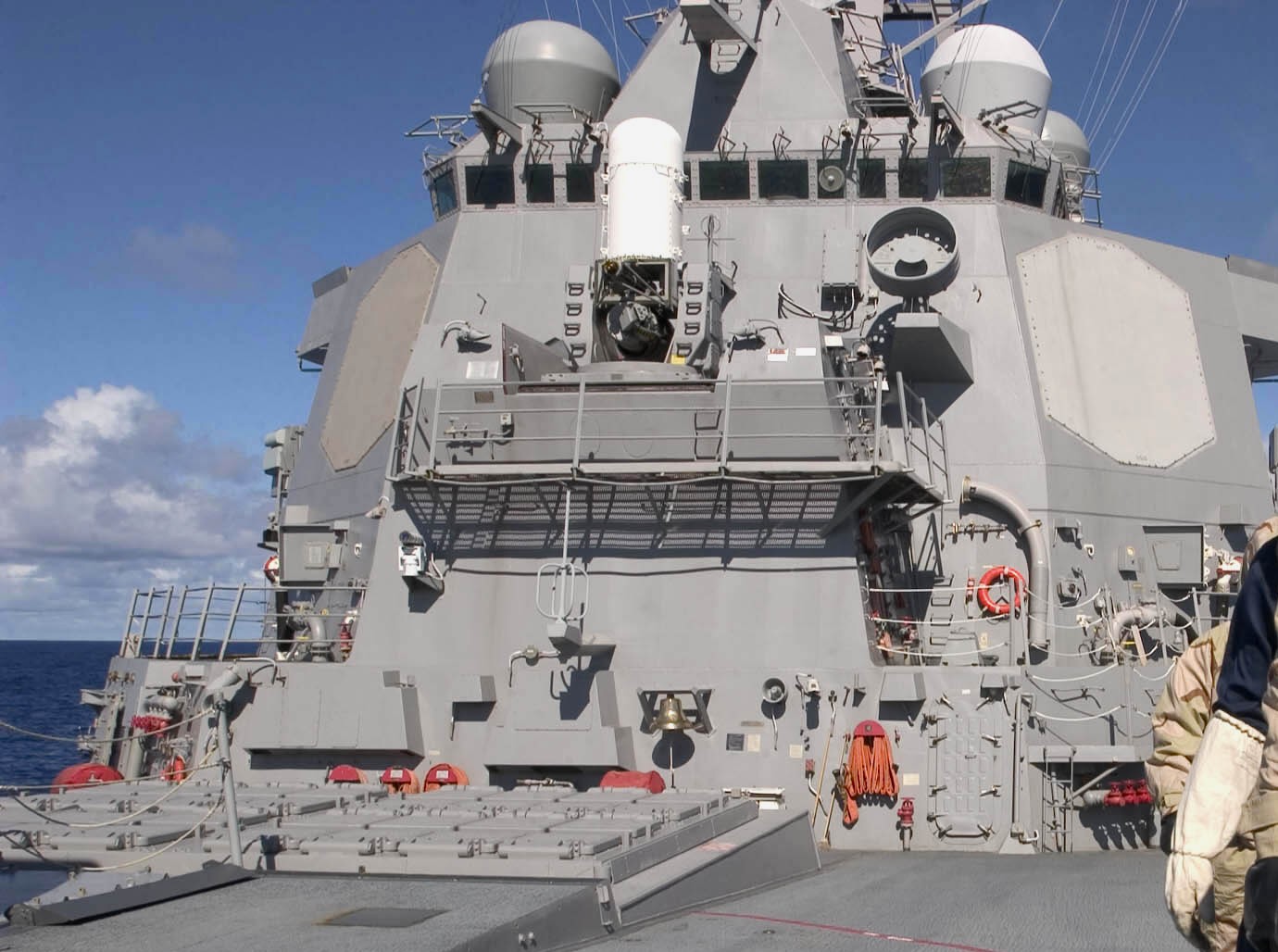 Pacific Ocean - September 2006



Muara, Brunei - August 2006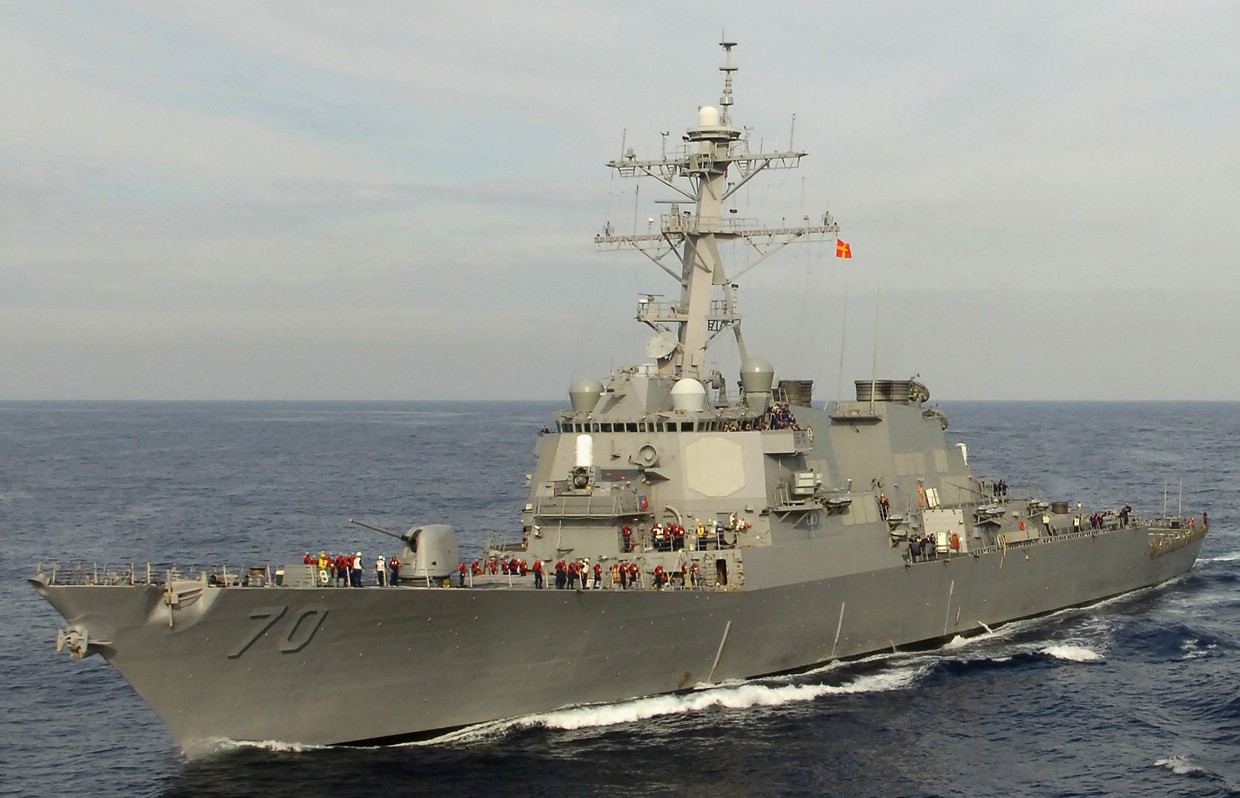 Indian Ocean - July 2006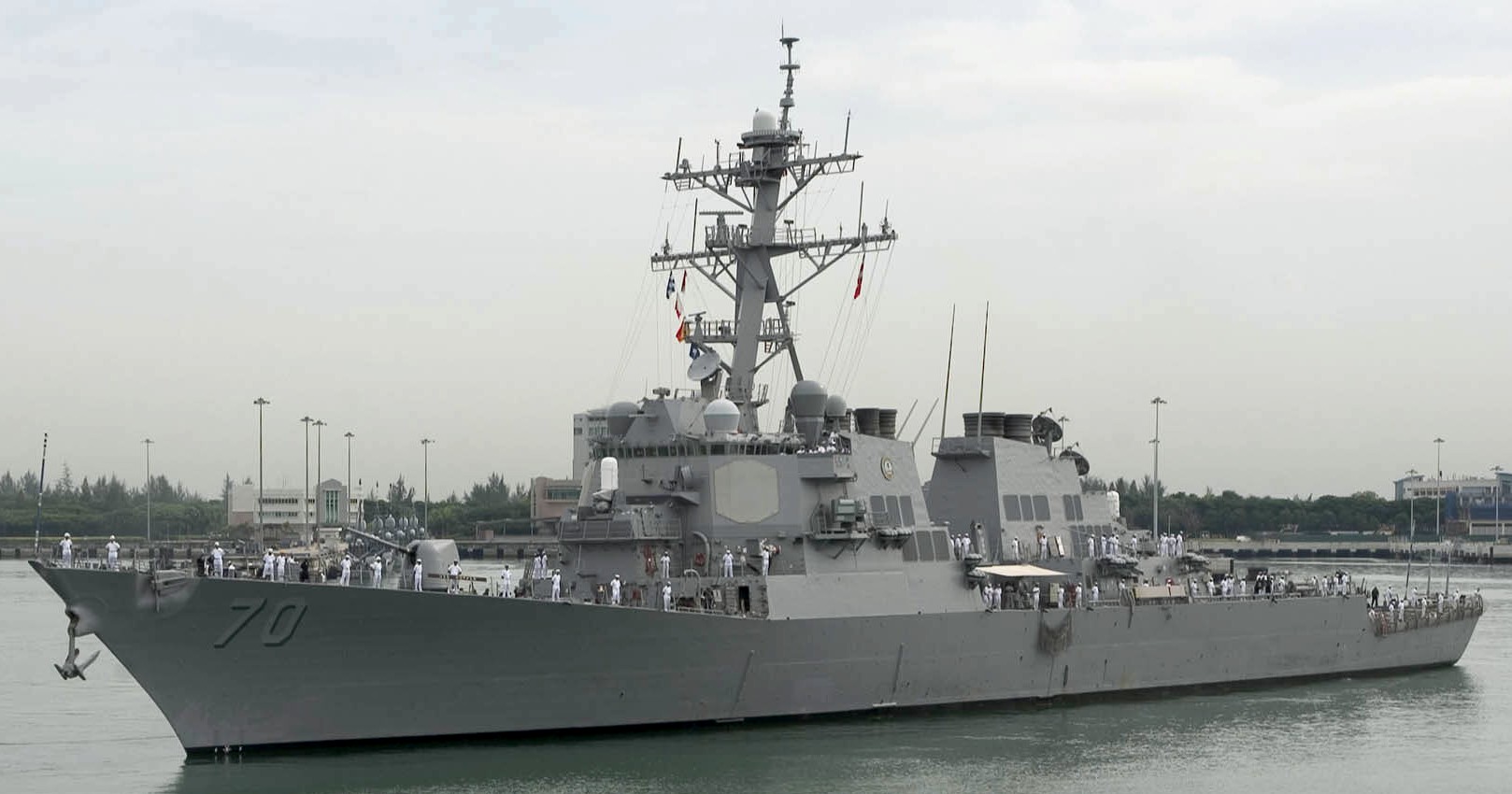 Changi Naval Base, Singapore - June 2006



departing Naval Station Pearl Harbor, Hawaii - May 2006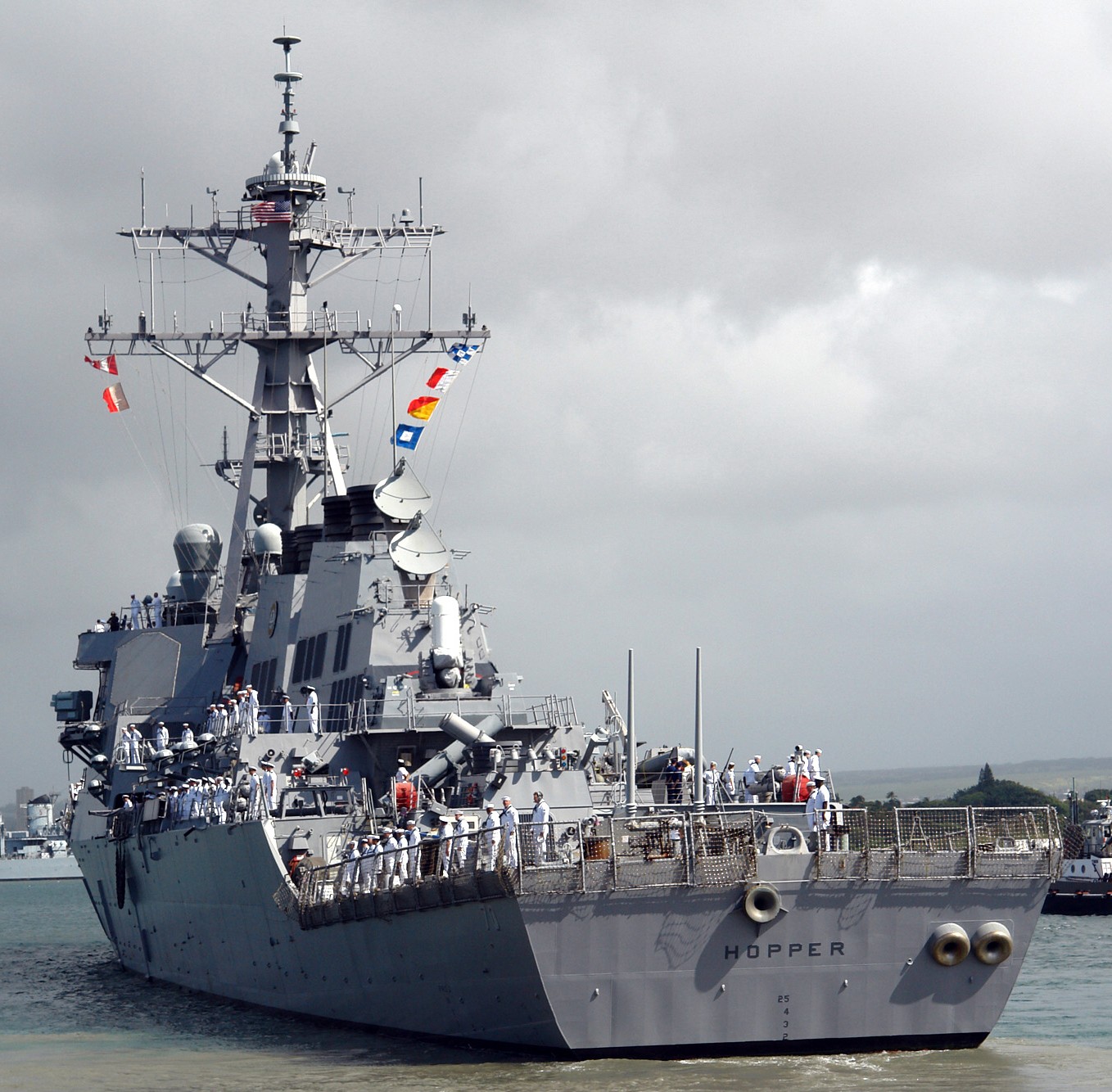 departing Naval Station Pearl Harbor, Hawaii - May 2006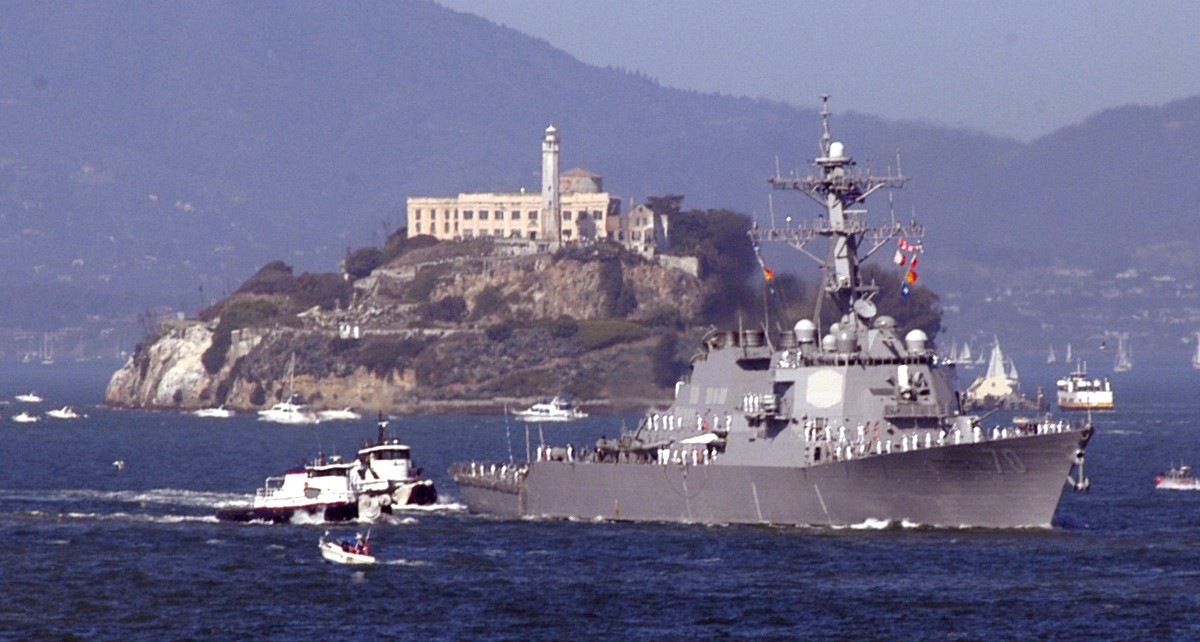 USS Hopper passes Alcatraz Island during San Francisco Fleet Week - October 2005



returning to Naval Station Pearl Harbor, Hawaii - December 2004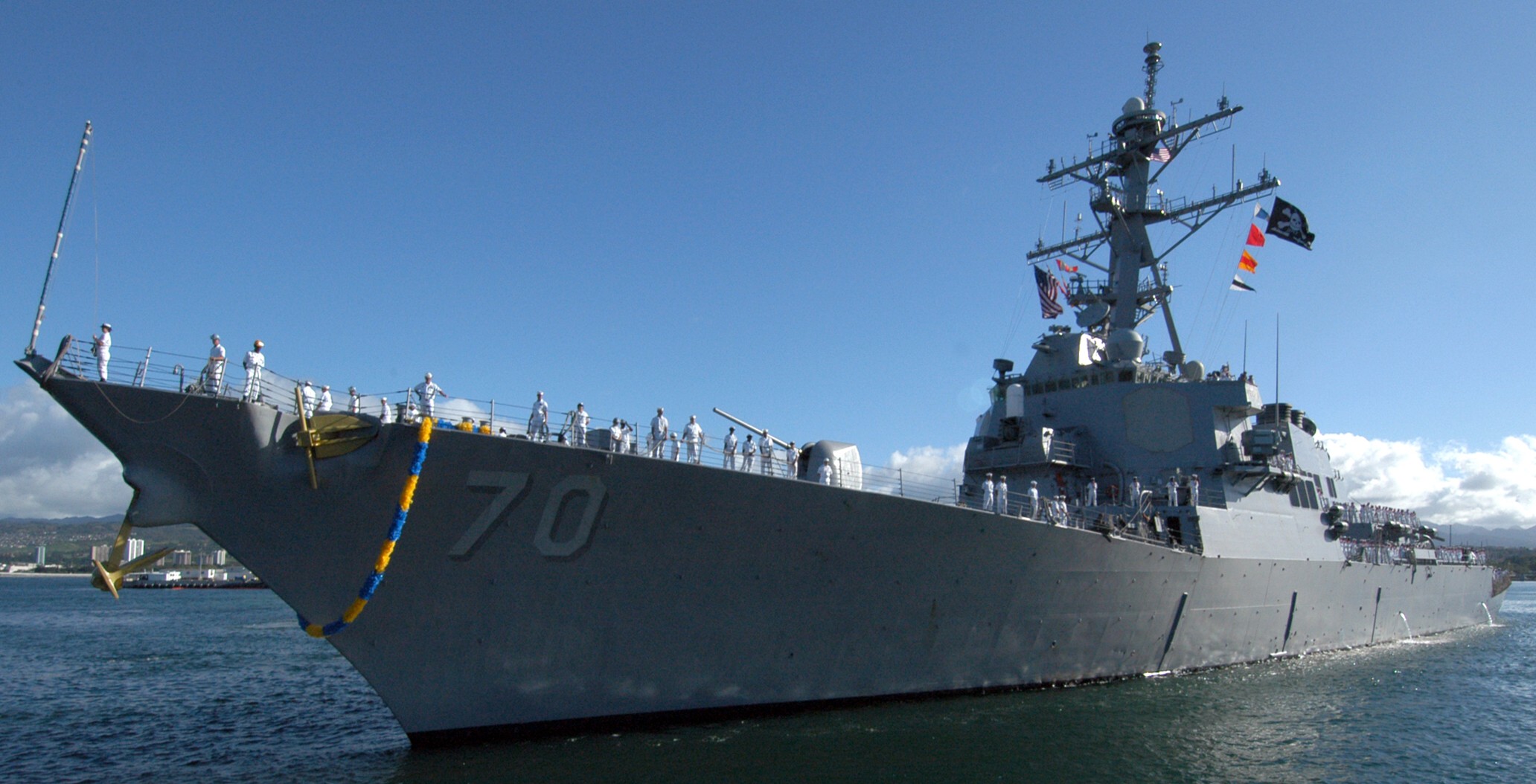 returning to Naval Station Pearl Harbor, Hawaii - December 2004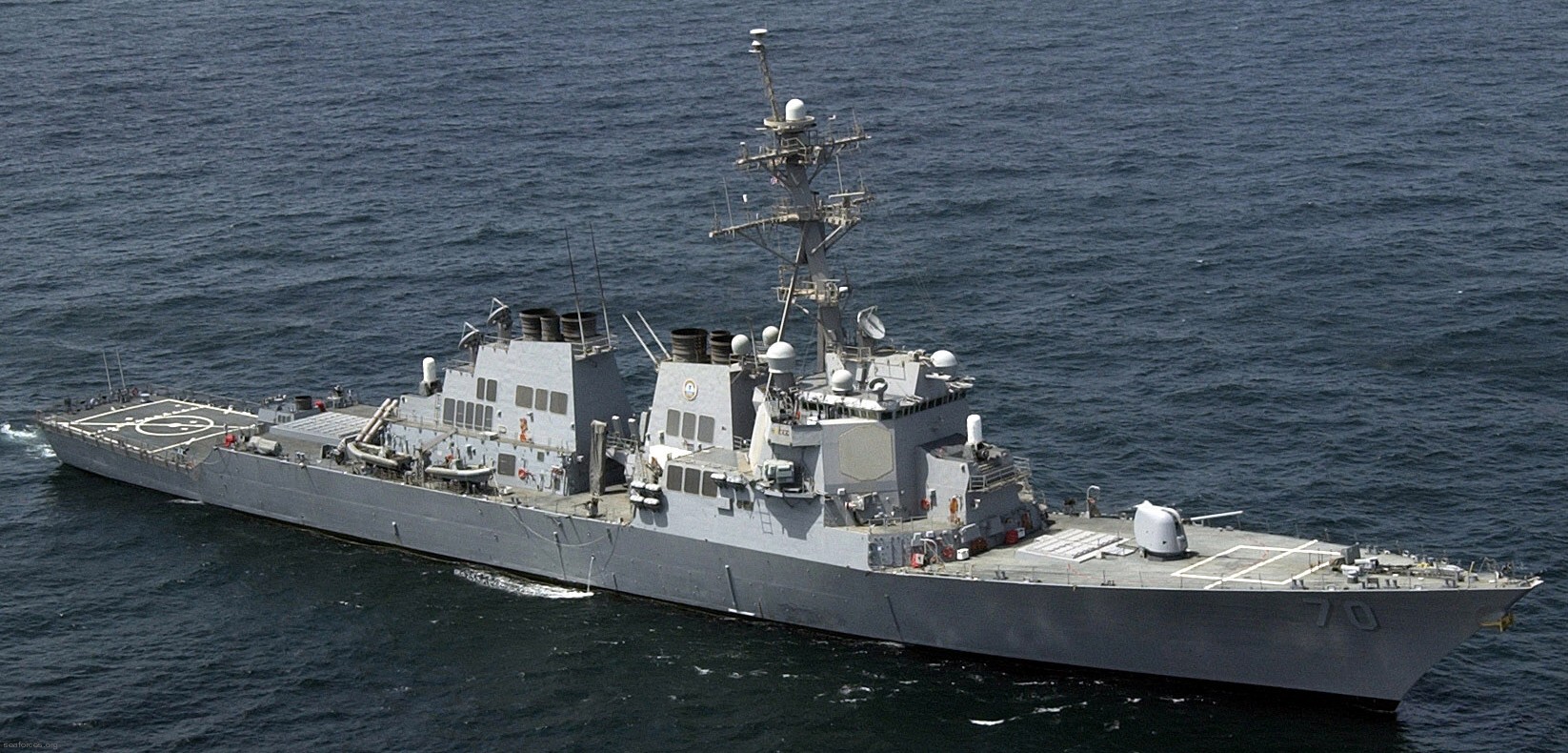 during Exercise Inspired Siren - Arabian Sea - September 2004



Honolulu, Hawaii - June 2003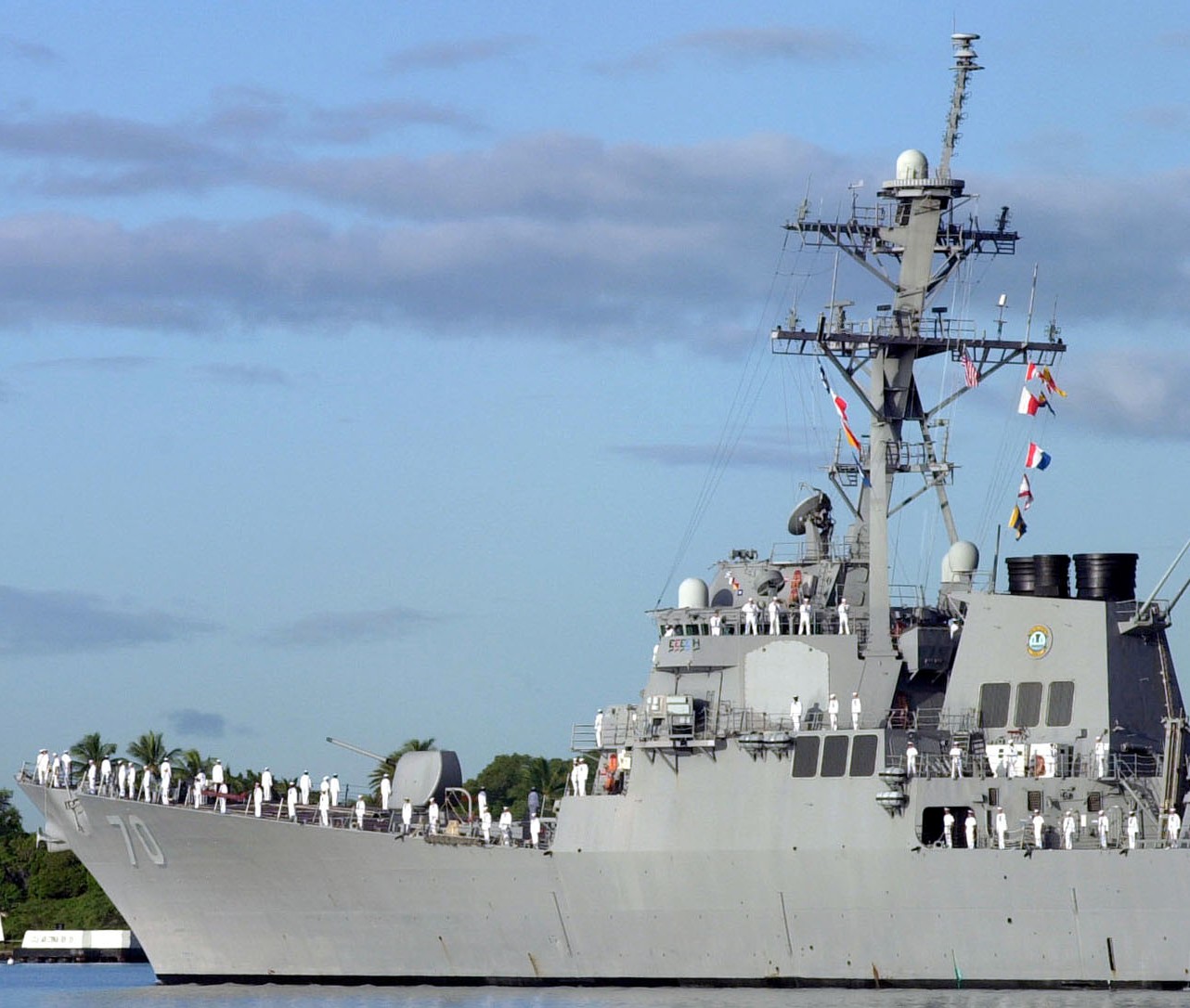 Naval Station Pearl Harbor, Hawaii - December 2002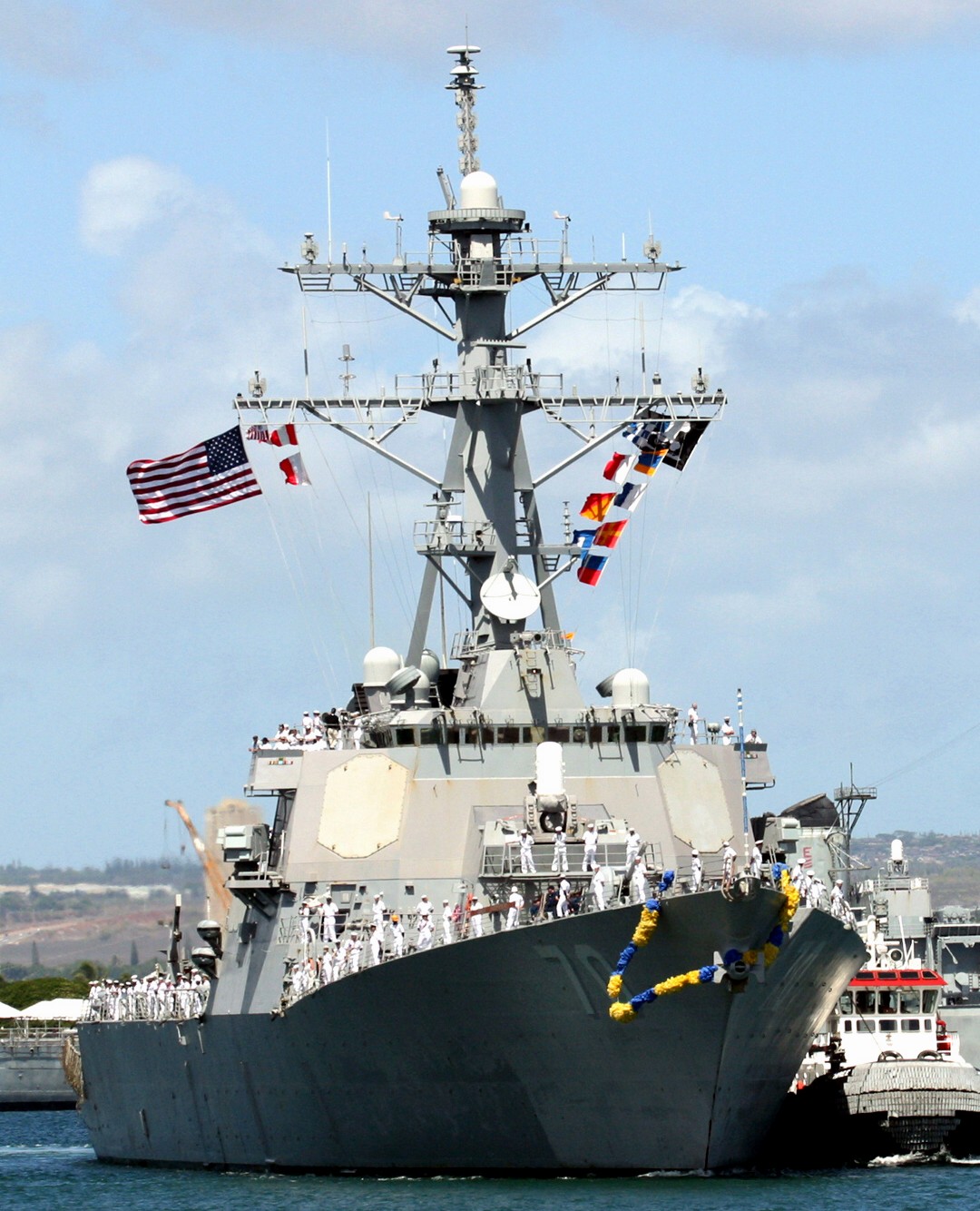 returning to Naval Station Pearl Harbor, Hawaii - October 2002



returning to Naval Station Pearl Harbor, Hawaii - October 2002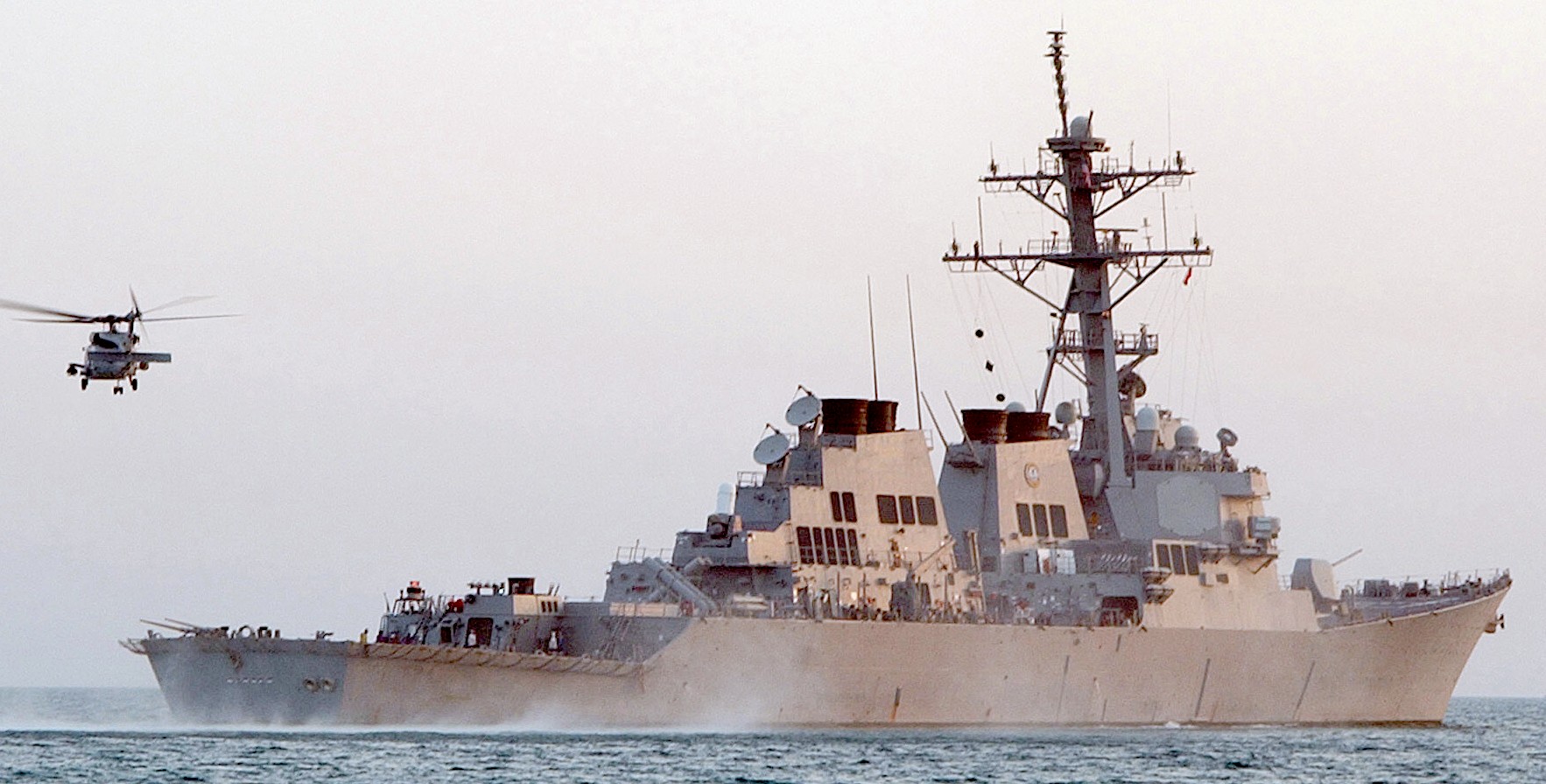 August 2002



Vertical Launching System (VLS) crane - August 2002



during Operation Southern Watch - Persian Gulf - July 2000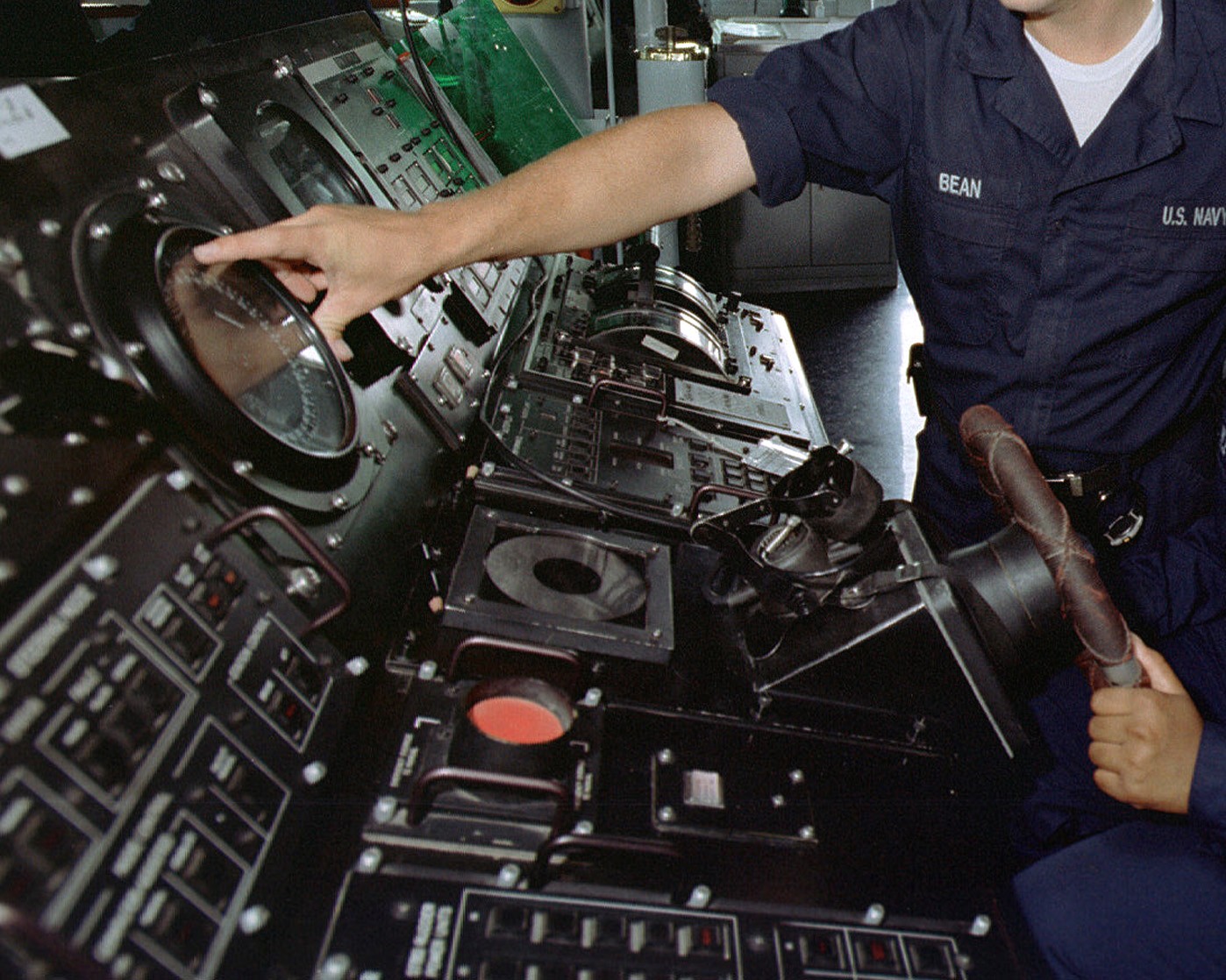 ship's helm - July 2000



electric plant control unit - Persian Gulf - July 2000



engine control console - Persian Gulf - July 2000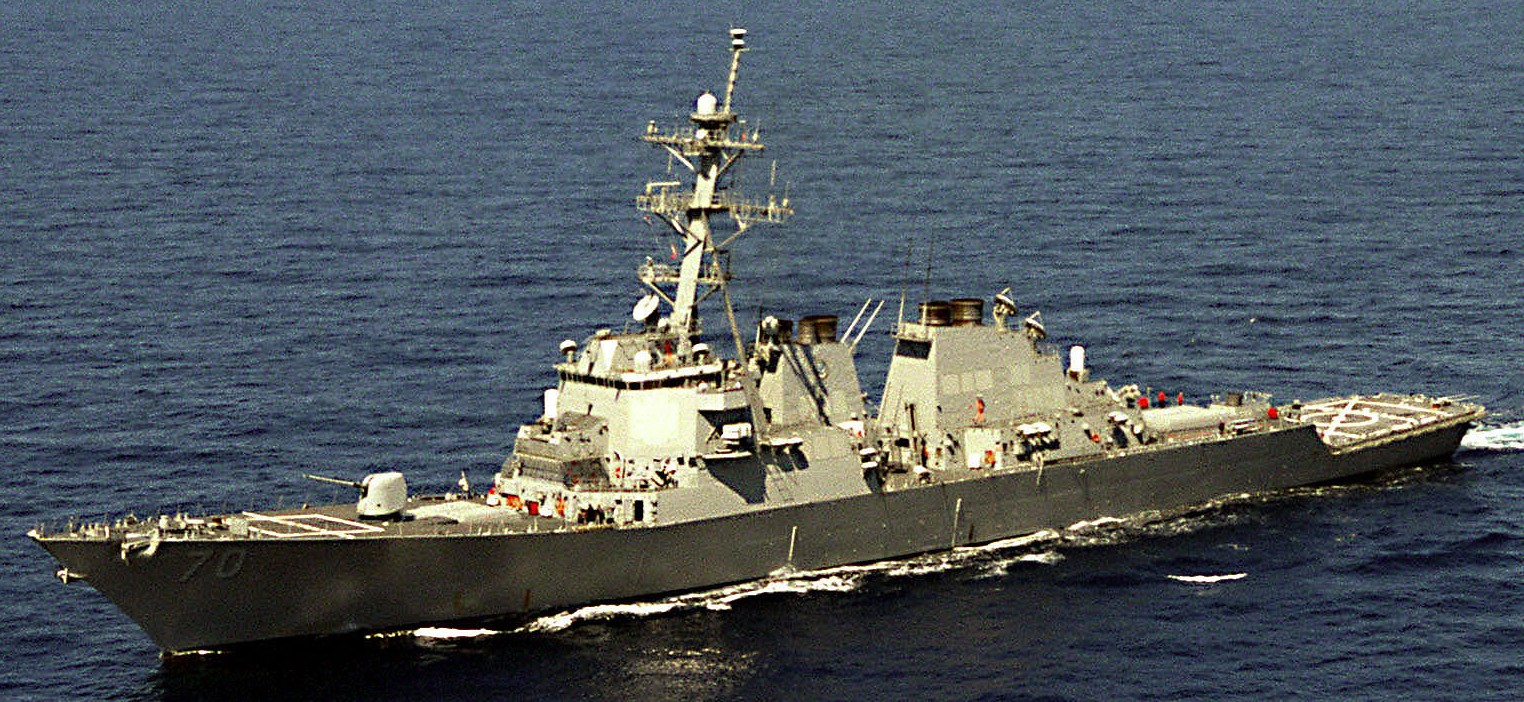 during exercise RIMPAC 98 - July 1998




after launching at Bath Iron Works, Bath, Maine - January 6, 1996



launching at Bath Iron Works, Bath, Maine - January 6, 1996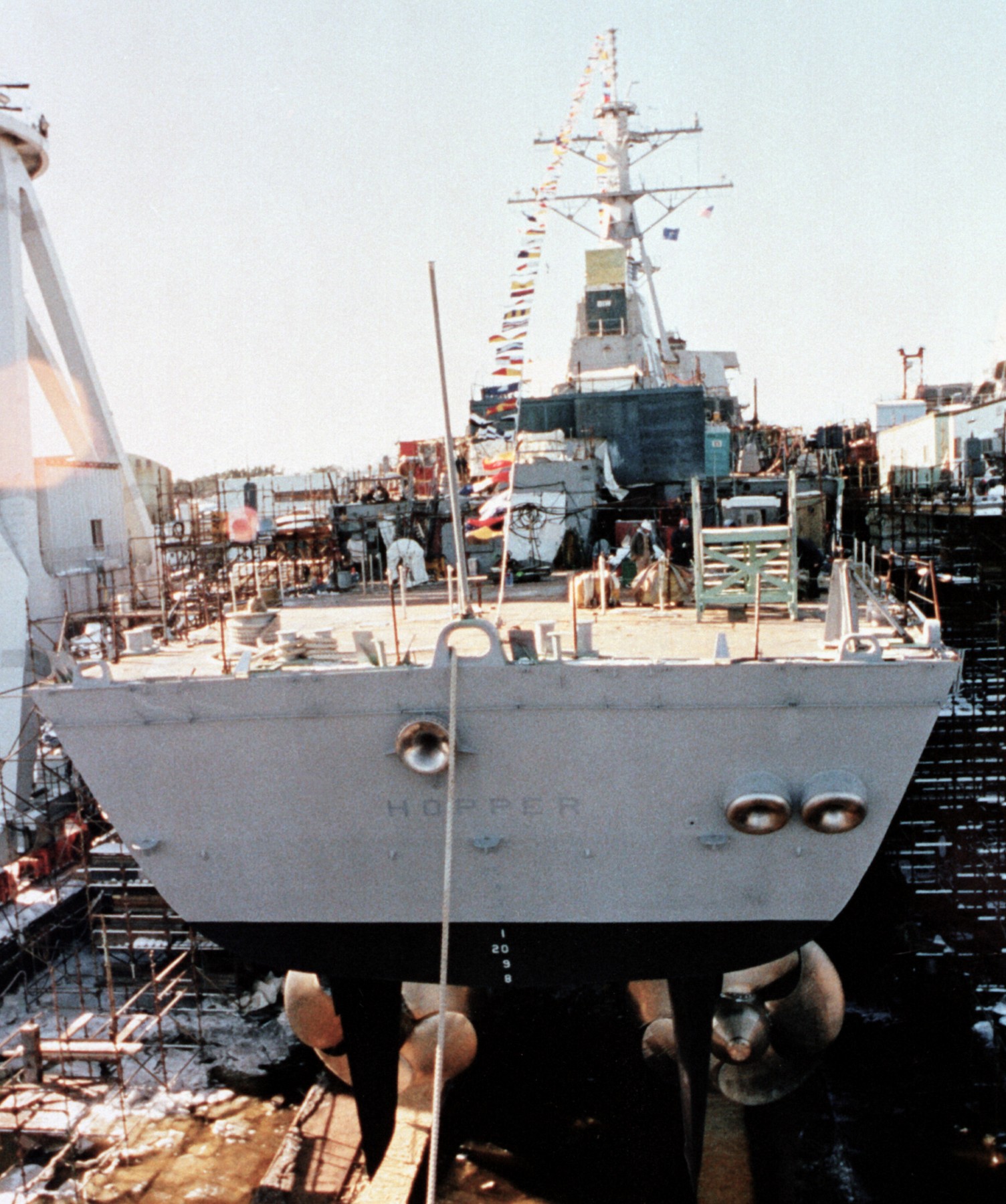 christening and launching ceremony at Bath Iron Works, Bath, Maine - January 6, 1996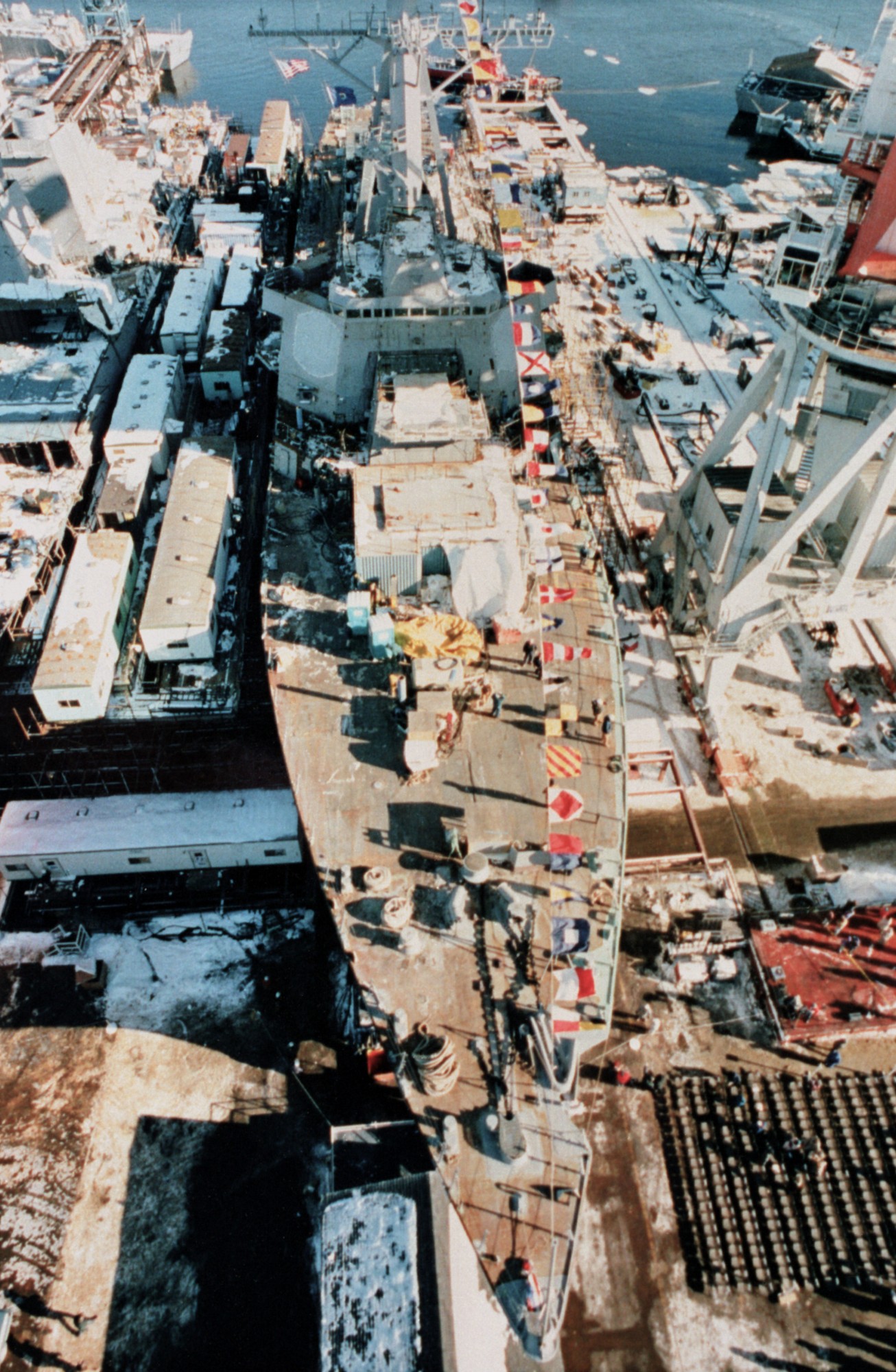 prepared for christening and launching ceremony at Bath Iron Works, Bath, Maine - January 6, 1996



prepared for christening and launching ceremony at Bath Iron Works, Bath, Maine - January 6, 1996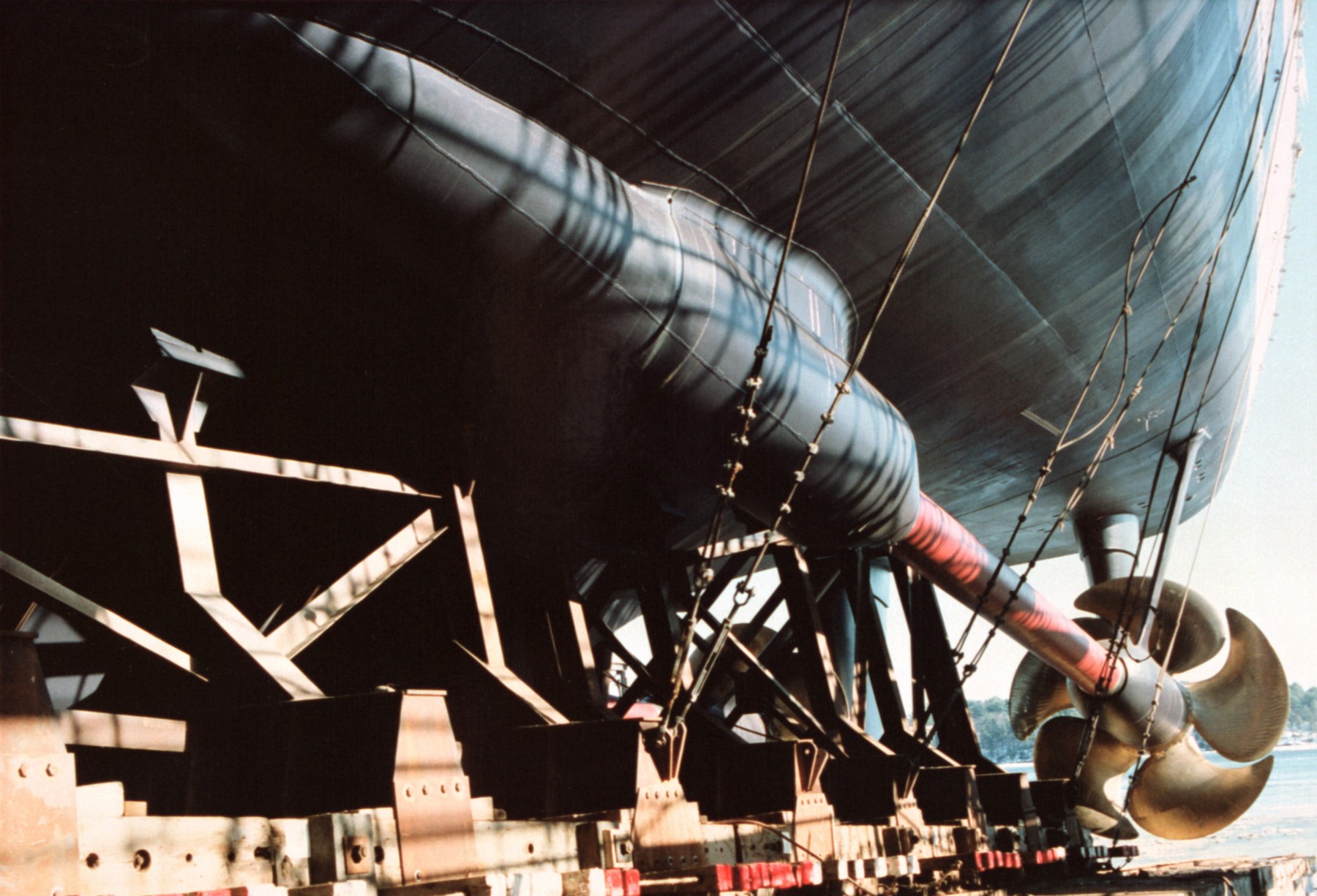 prepared for christening and launching ceremony at Bath Iron Works, Bath, Maine - January 6, 1996

USS Hopper (DDG 70):
Laid down on 23 February 1995 she was launched and christened on 6 January 1996. On 6 September 1997, she was commissioned in San Francisco outside of Silicon Valley with Commander Thomas D. Crowley in command.

Hopper has participated in multiple deployments to East Asia and the Persian Gulf, including RIMPAC 98, three individual PACMEF deployments, an Expeditionary Strike Group deployment to the Persian Gulf in 2004, and a deployment to Southeast Asia in support of Cooperation Afloat Readiness and Training (CARAT) 2006. In addition, Hopper has been foremost in the field of Ballistic Missile Defense.
On 1 April 2002, Hopper departed for a six-month deployment to the North Persian Gulf.
On 12 November 2007, Hopper departed with the Tarawa Expeditionary Strike Group for a scheduled deployment to the Fifth Fleet and Seventh Fleet.
On 6 January 2008, Hopper was involved in an incident with five Iranian Revolutionary Guard gunboats. Hopper, the cruiser Port Royal and the frigate Ingraham were entering the Persian Gulf through the Strait of Hormuz when five Iranian boats approached them at high speed and in a threatening manner. The U.S. ships had been in the Arabian Sea searching for a sailor who had been missing from the Hopper for one day. The U.S. Navy said the Iranian boats made "threatening" moves toward the U.S. vessels, coming as close as 200 yards (180 m). The U.S. Navy received a radio transmission saying, "I am coming to you. You will explode after a few minutes." As the U.S. ships prepared to fire, the Iranians abruptly turned away, the U.S. officials said. Before leaving, the Iranians dropped white boxes into the water in front of the U.S. ships. The U.S. ships did not investigate the boxes.
Officials from the two nations differed on the severity of the incident. The Iranians claimed they were conducting normal maneuvers while American officials claimed that an imminent danger to American naval vessels existed.
On 15 April 2011, Hopper departed from Pearl Harbor on a deployment to Asia and the Middle East.
On 22 June 2014, Hopper, with her Aegis Weapon System, detected and tracked a test missile launched from the Reagan Test Site on Kwajalein Atoll using her onboard AN/SPY-1 radar, providing critical targeting data to a long-range ground-based interceptor (GBI) launched from Vandenberg Air Force Base, California. GBI's protect the US from limited long-range ballistic missile attack.
In January 2018, Hopper performed a freedom of navigation cruise, sailing within 12 nautical miles of the disputed Scarborough Shoal in the South China Sea. China, which has held the rocky outpost since seizing it from the Philippines in 2012, registered a protest on the grounds that the US Navy should have notified China in advance of its approach and had "violated China's sovereignty and security interests".
Rear Admiral Dr. Grace Brewster Murray Hopper (December 9, 1906 - January 1, 1992):

Owing to the breadth of her accomplishments, as a pioneering computer scientist, and her naval rank, she is sometimes referred to as "Amazing Grace."

Grace Hopper was born Grace Brewster Murray in New York City. Grace Murray was admitted to Vassar College at age 17 where she graduated Phi Beta Kappa 1928 with a bachelor's degree in mathematics and physics and earned her Master's degree at Yale University in 1930. In 1934, she earned a Ph.D. in mathematics from Yale. She was married to New York University professor Vincent Foster Hopper from 1930 until their divorce in 1945. She never remarried but kept his surname.

Hopper began teaching mathematics at Vassar in 1931, and was promoted to associate professor in 1941. In 1943, Hopper obtained a leave of absence from Vassar and was sworn in to the United States Navy Reserve to serve in the WAVES. She reported in December and trained at the Naval Reserve Midshipmen's School at Smith College in Northampton, Massachusetts. Hopper graduated first in her class in 1944, and was assigned to the Bureau of Ships Computation Project at Harvard University as a lieutenant, junior grade. Hopper's request to transfer to the regular Navy at the end of the war was declined due to her age (38) so she continued to serve in the Navy Reserve. Hopper remained at the Harvard Computation Lab until 1949, turning down a full professorship at Vassar in favor of working as a research fellow under a Navy contract at Harvard.

In 1949, Hopper became an employee of the Eckert-Mauchly Computer Corporation (later bought by Remington Rand) as a senior mathematician and joined the team developing the UNIVAC I computer and doing pioneer work in compiling mathematic code into a language. In 1952 she had an operational compiler. "Nobody believed that," she said. "I had a running compiler and nobody would touch it. They told me computers could only do arithmetic." In late 1959 Hopper began serving as the technical consultant to the CODASYL committee that defined a new compiled computer language known as COBOL.

Hopper retired from the Naval Reserve with the rank of commander at the end of 1966. She was recalled to active duty in August 1967 for a six-month period that turned into an indefinite assignment. From 1967 to 1977, Hopper served as the director of the Navy Programming Languages Group in the Navy's Office of Information Systems Planning and was promoted to the rank of captain in 1973. She developed validation software for COBOL and its compiler as part of a COBOL standardization program for the Navy. Hopper was promoted to commodore by special Presidential appointment in 1983. In 1985, the rank of commodore was renamed rear admiral, lower half. She retired (involuntarily) from the Navy on August 14, 1986. She was laid to rest with full military honors in Arlington National Cemetery in January 1992. Owing to the breadth of her accomplishments and her naval rank, she is sometimes referred to as "Amazing Grace."

More about Grace Hopper:
In the world of technology, most women do not get the recognition that Rear Admiral Dr. Grace Murray Hopper has received. Hopper is the mother of computing. Her development of the first computer compiler and the first computer programming language helped revolutionize the world of computers. Although Hopper had a career decorated with many rewards, she had to prove herself repeatedly. She once said, "If you do something once, people will call it an accident. If you do it twice, they call it a coincidence. But do it a third time and you've just proven a natural law!" She holds honoree doctorates from over thirty universities and many of her writings have influenced programs made today. Perseverance and knowledge are two traits that made her a great leader. She was determined not to let anyone get in the way of her vision of creating a much wider audience for computing.

Grace Murray Hopper Timeline:
• 1906 Born in New York
• 1928 Graduated from Vassar College with Phi Beta Kappa
• 1930 Earned her Masters in Math and Physics at Yale
• 1934 Earned her Ph.D. in Math and Physics at Yale
• 1941 Joined Vassar's faculty as a professor in Math and Physics
• 1943 Joined the Naval Reserves
• 1946 Returned to inactive duty; Joined Harvard's Computation Laboratory
• 1949 Joined Eckert-Mauchly Computer Corp as a senior mathematician
• 1967 Recalled to active duty
• 1971 Retired from the Navy
• 1972 Asked to come out of retirement by the Navy
• 1983 Appointed to Commodore
• 1985 Appointed to Rear Admiral
• 1986 Second retirement from the Navy; Became a consultant for Digital Equipment Corp (DEC)
• 1992 Died January 1

It was unusual for a woman in the 1950's and 1960's to have the kind of job Hopper did. She was outstanding in marketing and had amazing technical skills. Her nickname in the navy was "Amazing Grace." People listened to her because she had the technical skills and the vision. She never gave up on her ideas. These qualities are what put her in the forefront of computing. Hopper had an edge over everyone in the computer business because she believed that there was always a way to improve on the technology. Through her dedication, knowledge, and determination she took the world of computers to a new level.



New York Days:


Grace Hopper was born in 1906. From an early age, Hopper was good with gadgets. She would take apart alarm clocks just for fun.



Vassar College:


In 1928, this New York native received her BA. in math and physics from Vassar College.



Naval Reserves:


In 1943, during World War II, she joined the United States Naval Reserves. She was assigned to the Bureau of Ordinance Computation Project. There she became the third programmer of the world's first large-scale computer called the Mark I. When she saw it, all she could think about was taking it apart and figuring it out. "That was an impressive beast. She was fifty-one feet long, eight feet high, and five feet deep," said Hopper. She mastered the Mark I, Mark II, and Mark III. While trying to repair the Mark I she discovered a moth caught in a relay. She taped the moth in the log book and from that coined the phrase "a bug in the computer".



Eckert-Mauchly Corp:


After her tour of duty, Hopper went on to work for Eckert-Mauchly Corporation. She wanted to provide businesses with computers that were both application-friendly and programmer-friendly. There, she mastered the UNIVAC I, the first large-scale electronic computer. She saw that the programmers would constantly have to retype certain commands for every program they did. Hopper encouraged them to write the commands once and place them in shared libraries of code. This reduced the amount of errors and stress for the programmers.
Soon, the programs contained mnemonics that were transformed into binary codes that were executable by the computer. Hopper created a program that translated symbolic math codes into machine language. This allowed the programmers to store codes on magnetic tape and re-call them when they were needed. This was the first compiler.

Hopper believed that programming did not have to be a difficult task. Since computers only read binary codes, a series of 0s and 1s placed in a certain order that the computer understands, she believed that programs could be written in English and then translated into binary code. This program was known as FLOW-MATIC. This language helped the UNIVAC I and II understand twenty English statements. This programming language was used for typical business work, such as payroll and billing.



Recalled to Active Duty:


In 1966, Hopper retired from the Naval Reserves, but was called back to active duty one year later. The navy wanted her to oversee a program to standardize its computer programs and their languages. One of the programs she help develop was COBOL.



Rear Admiral:


During her rise up the Naval ladder, Hopper had to convince a lot of people to change their habits. On a daily basis, she heard someone say, "but that's how we've always done it." Hopper believed that change was good, and needed. "I'm going to shoot somebody for saying that someday," she would quip. "In the computer industry, with changes coming as fast as they do, you just can't afford to have people saying that." To prove that things did not always have to be done a certain way, Hopper had a clock on her wall that ran counter clockwise.



Amazing Grace:


Hopper considered her greatest accomplishment to be all the young people she trained. She spent a lot of time lecturing and writing. Many of her analogies and examples have become legendary. Hopper is responsible for "debugging" the computer. She coined the phrase after finding a moth inside a computer. She carried a one-foot piece of wire with her to represent a nanosecond, based on the fact that one foot is the distance that light can travel in one nanosecond. She used this as a way to explain why programmers should not waste time, not even a microsecond.



source: US Navy



- - - - -

another history:

Rear Admiral Grace Murray Hopper (December 9, 1906 - January 1, 1992) was an American computer scientist and United States Navy officer. A pioneer in the field, she was one of the first programmers of the Harvard Mark I computer, and developed the first compiler for a computer programming language. She conceptualized the idea of machine-independent programming languages, which led to the development of COBOL, one of the first modern programming languages. She is credited with popularizing the term "debugging" for fixing computer glitches (motivated by an actual moth removed from the computer). Because of the breadth of her accomplishments and her naval rank, she is sometimes referred to as "Amazing Grace".

Early life and education:
Hopper was born Grace Brewster Murray in New York City. She was the oldest in a family of 3 children. She was curious as a child, a life long trait. She decided at seven years old to determine how an alarm clock works. She dismantled seven alarm clocks before her mother realized what she was doing. She was then limited to one clock. For her preparatory school education, she attended the Hartridge School in Plainfield, New Jersey. Rejected for early admission to Vassar College at age 16 (her test scores in Latin were too low), she was admitted the following year. She graduated Phi Beta Kappa from Vassar in 1928 with a bachelor's degree in mathematics and physics and earned her Master's degree at Yale University in 1930.

In 1934, she earned a Ph.D. in mathematics from Yale under the direction of Oystein Ore. Her dissertation, New Types of Irreducibility Criteria, was published that same year. Hopper began teaching mathematics at Vassar in 1931, and was promoted to associate professor in 1941.

She was married to NYU professor Vincent Foster Hopper (1906-1945) from 1930-1945. She never remarried and kept his surname.

World War II Naval service:
In 1943, Hopper obtained a leave of absence from Vassar and was sworn in to the United States Navy Reserve, one of many women to volunteer to serve in the WAVES. She had to get an exemption to enlist; she was 15 pounds below the Navy minimum weight of 120 pounds. She reported in December and trained at the Naval Reserve Midshipmen's School at Smith College in Northampton, Massachusetts. Hopper graduated first in her class in 1944, and was assigned to the Bureau of Ships Computation Project at Harvard University as a Lieutenant, junior grade. She served on the Mark I computer programming staff headed by Howard H. Aiken. Hopper and Aiken coauthored three papers on the Mark I,II,II also known as the Automatic Sequence Controlled Calculator. Hopper's request to transfer to the regular Navy at the end of the war was declined due to her age (38). She continued to serve in the United States Navy Reserve. Hopper remained at the Harvard Computation Lab until 1949, turning down a full professorship at Vassar in favor of working as a research fellow under a Navy contract at Harvard.



UNIVAC:


In 1949, Hopper became an employee of the Eckert-Mauchly Computer Corporation as a senior mathematician and joined the team developing the UNIVAC I. In the early 1950s the company was taken over by the Remington Rand corporation and it was while she was working for them that her original compiler work was done. The compiler was known as the A compiler and its first version was A-0. In 1954 Hopper was named the company's first director of automatic programming, and her department released some of the first compiler-based programming languages, including ARITH-MATIC, MATH-MATIC and FLOW-MATIC.



COBOL:


In the spring of 1959 a two day conference known as the CODASYL brought together computer experts from industry and government. Hopper served as the technical consultant to the committee, and many of her former employees served on the short-term committee that defined the new language, COBOL. The new language extended Hopper's FLOW-MATIC language with some ideas from the IBM equivalent, the COMTRAN. Hopper's belief that programs should be written in a language that was close to English rather than in machine code or languages close to machine code (such as assembly language) was captured in the new business language, and COBOL would go on to be the most ubiquitous business language to date.

From 1967 to 1977, Hopper served as the director of the Navy Programming Languages Group in the Navy's Office of Information Systems Planning and was promoted to the rank of Captain in 1973. She developed validation software for the programming language COBOL and its compiler as part of a COBOL standardization program for the entire Navy.



Standards:


In the 1970s, she pioneered the implementation of standards for testing computer systems and components, most significantly for early programming languages such as FORTRAN and COBOL. The Navy tests for conformance to these standards led to significant convergence among the programming language dialects of the major computer vendors. In the 1980s, these tests (and their official administration) were assumed by the National Bureau of Standards (NBS), known today as the National Institute of Standards and Technology (NIST).



Retirement:


Hopper retired from the Naval Reserve with the rank of Commander at the end of 1966. She was recalled to active duty in August 1967 for a six-month period that turned into an indefinite assignment. She again retired in 1971 but was asked to return to active duty again in 1972. She was promoted to Captain in 1973 by Admiral Elmo R. Zumwalt, Jr.

After Rep. Philip Crane saw her on a March 1983 segment of 60 Minutes, he championed H.J.RES. 341, a joint resolution in the House of Representatives which led to her promotion to Commodore by special Presidential appointment. In 1985, the rank of Commodore was renamed Rear Admiral, Lower Half. She retired (involuntarily) from the Navy on August 14, 1986. At a celebration held in Boston on the USS Constitution to celebrate her retirement, Hopper was awarded the Defense Distinguished Service Medal, the highest non-combat award possible by the Department of Defense. At the moment of her retirement, she was the oldest commissioned officer in the United States Navy (79 years, eight months and five days), and aboard the oldest commissioned ship in the United States Navy (188 years, nine months and 23 days).

She was then hired as a senior consultant to Digital Equipment Corporation, a position she retained until her death in 1992, aged 85.

Her primary activity in this capacity was as a Goodwill Ambassador, lecturing widely on the early days of computers, her career, and on efforts that computer vendors could take to make life easier for their users. She visited a large fraction of Digital's engineering facilities where she generally received a standing ovation at the conclusion of her remarks. Although she was an interesting and competent speaker, the most memorable part of these talks was her illustration of a nanosecond. She salvaged an obsolete Bell System 25 pair telephone cable, cut it to 11.8 inch (30 cm) lengths (which is the distance that light travels in one nanosecond) and handed out the individual wires to her listeners. Although no longer a serving officer, she always wore her Navy full dress uniform to these lectures.

She was laid to rest with full military honors in Arlington National Cemetery; Section 59, grave 973.

Honors:
1969 - She won the inaugural "computer sciences man of the year" award from the Data Processing Management Association.
1971 - The annual Grace Murray Hopper Award for Outstanding Young Computer Professionals was established in 1971 by the
Association for Computing Machinery.
1973 - She became the first person from the United States and the first woman of any nationality to be made a Distinguished Fellow
of the British Computer Society.
1986 - Upon her retirement she received the Defense Distinguished Service Medal.
1987 - She became a Computer History Museum Fellow Award Recipient.
1988 - She received the Golden Gavel Award at the Toastmasters International convention in Washington, DC.
1991 - She received the National Medal of Technology.
1996 - USS Hopper (DDG-70) was launched. Nicknamed Amazing Grace, it is on a very short list of U.S. military vessels named
after women.
2001 - Eavan Boland wrote a poem dedicated to Grace Hopper titled "Code" in her 2001 release "Against Love Poetry"
2009 - The Department of Energy's National Energy Research Scientific Computing Center named its flagship system "Hopper".

The Fleet Numerical Meteorology and Oceanography Center is located at 7 Grace Hopper Avenue in Monterey, California.

Grace Murray Hopper Park, located on South Joyce Street in Arlington, Virginia, is a small memorial park in front of her former residence (River House Apartments) and is now owned by Arlington County, Virginia.

Women at the world's largest software company, Microsoft Corporation, formed an employee group called Hoppers and established a scholarship in her honor. Hoppers has over 3000 members worldwide.

Brewster Academy, a school located in Wolfeboro, New Hampshire, United States, dedicated their computer lab to her in 1985, calling it the Grace Murray Hopper Center for Computer Learning. Hopper had spent her childhood summers at a family home in Wolfeboro.

An administration building on Naval Support Activity Annapolis (Previously known as Naval Station Annapolis) in Annapolis, Maryland is named the Grace Hopper Building in her honor.

Building 1482 aboard Naval Air Station North Island, housing the Naval Computer and Telecommunication Station San Diego, is named the Grace Hopper Building.



Anecdotes:


Throughout much of her later career, Grace Hopper was much in demand as a speaker at various computer-related events. She was well-known for her lively and irreverent speaking style, as well as a rich treasury of early war stories. She also received the nickname "Grandma COBOL".

While she was working on a Mark II Computer at Harvard University in 1947, her associates discovered a moth stuck in a relay and thereby impeding operation, whereupon she remarked that they were "debugging" the system. Though the term computer bug cannot be definitively attributed to Admiral Hopper, she did bring the term into popularity. The remains of the moth can be found in the group's log book at the Smithsonian Institution's National Museum of American History in Washington, D.C.

Grace Hopper is famous for her nanoseconds visual aid. People (such as generals and admirals) used to ask her why satellite communication took so long. She started handing out pieces of wire which were just under one foot long, which is the distance that light travels in one nanosecond. She gave these pieces of wire the metonym "nanoseconds." Later she used the same pieces of wire to illustrate why computers had to be small to be fast. At many of her talks and visits, she handed out "nanoseconds" to everyone in the audience, contrasting them with a coil of wire nearly a thousand feet long, representing a microsecond. Later, while giving these lectures while working for DEC, she passed out packets of pepper which she called picoseconds.



Notable quotation:


The famous quotation "It's easier to ask forgiveness than it is to get permission" is often attributed to Grace Hopper.



source: wikipedia