STATUS:
Laid down: September 13, 1954
Launched: October 1, 1955
Commissioned: as DD 936: October 7, 1956
Decommissioned: as DD 936: June 1, 1965
Reclassified to DDG 31: September 15, 1966
Commissioned: as DDG 31: April 1, 1967
Decommissioned: as DDG 31: June 30, 1983
<![if !supportEmptyParas]> <![endif]>
Fate: stricken March 16, 1988 and converted to a "Self Defense Test Ship" (SDTS)
in service as SDTS from 1996-2003
finally sunk as a target during exercise RIMPAC 2004
location: 22° 57' N / 159° 55' 41" W (Pacific) in a depth of 2560 fathoms
<![if !supportEmptyParas]> <![endif]>
<![if !vml]>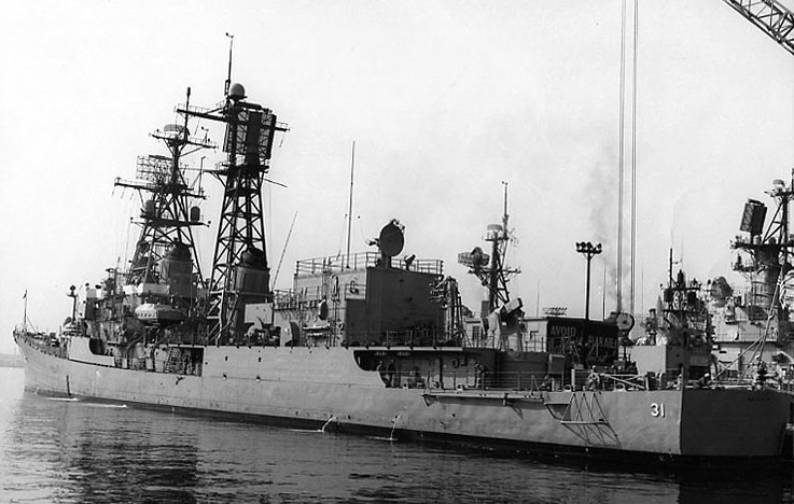 <![endif]>
<![if !supportEmptyParas]> <![endif]>
<![if !vml]>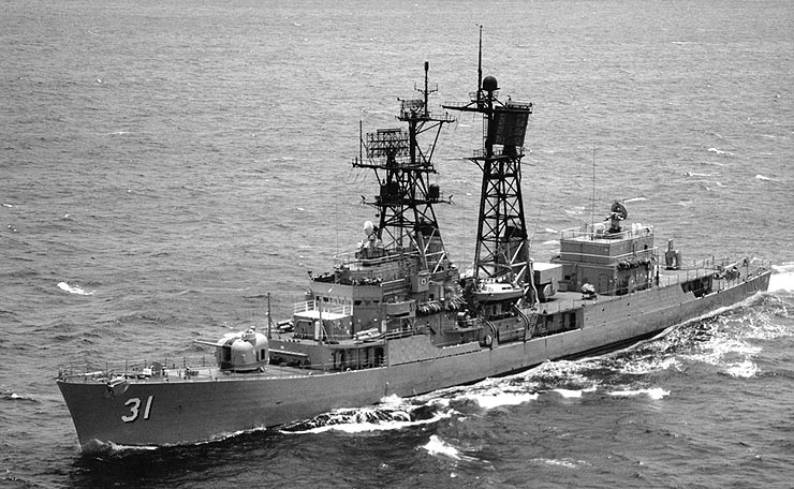 <![endif]>
<![if !supportEmptyParas]> <![endif]>
<![if !vml]>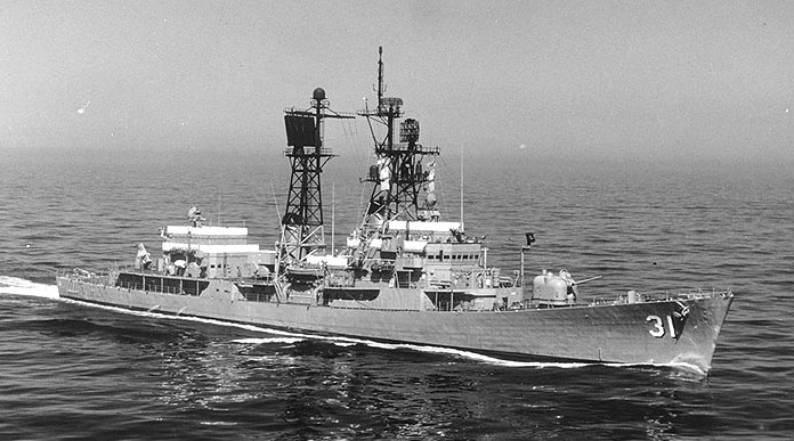 <![endif]>
<![if !supportEmptyParas]> <![endif]>
<![if !vml]>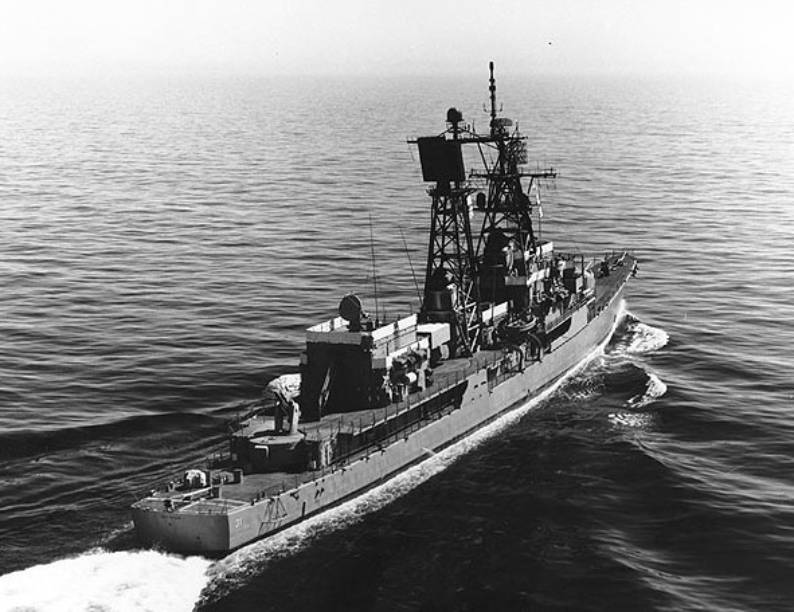 <![endif]>
<![if !supportEmptyParas]> <![endif]>
<![if !vml]>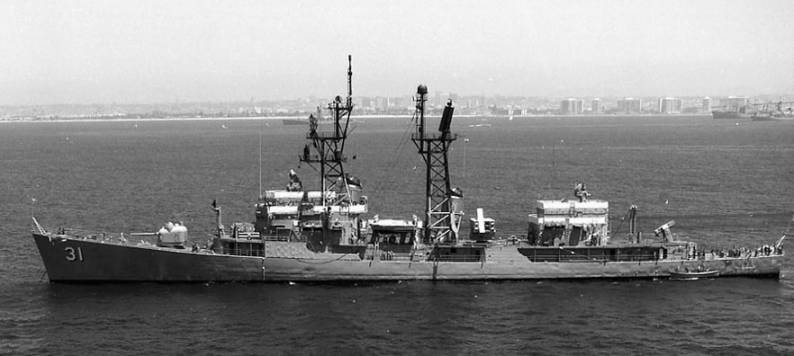 <![endif]>
<![if !supportEmptyParas]> <![endif]>
<![if !vml]>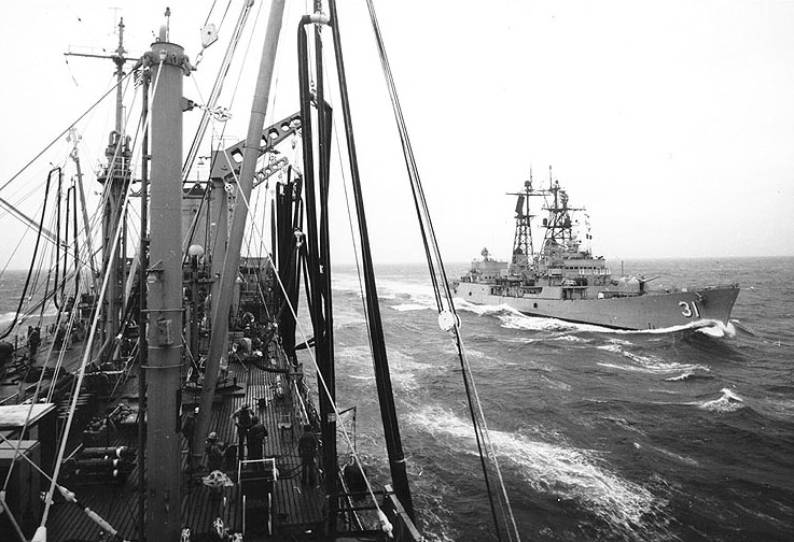 <![endif]>
<![if !supportEmptyParas]> <![endif]>
<![if !supportEmptyParas]> <![endif]>
"Self Defense Test Ship" (ex DDG 31 USS Decatur)
<![if !vml]>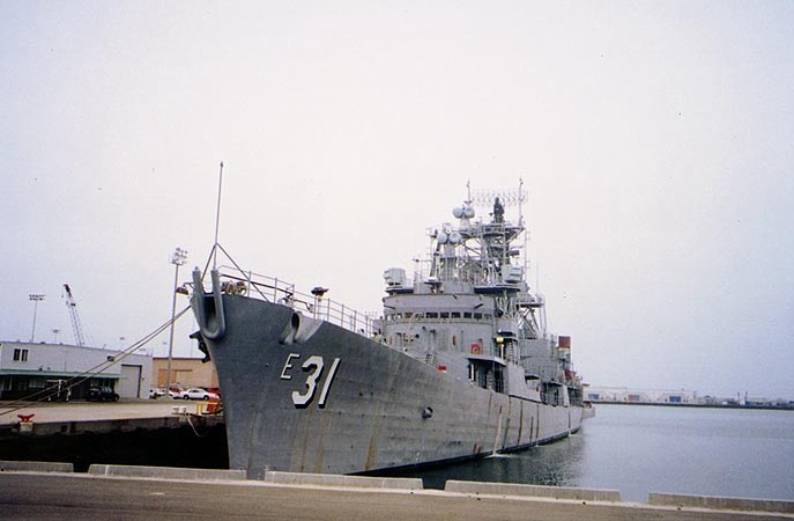 <![endif]>
<![if !supportEmptyParas]> <![endif]>
<![if !vml]>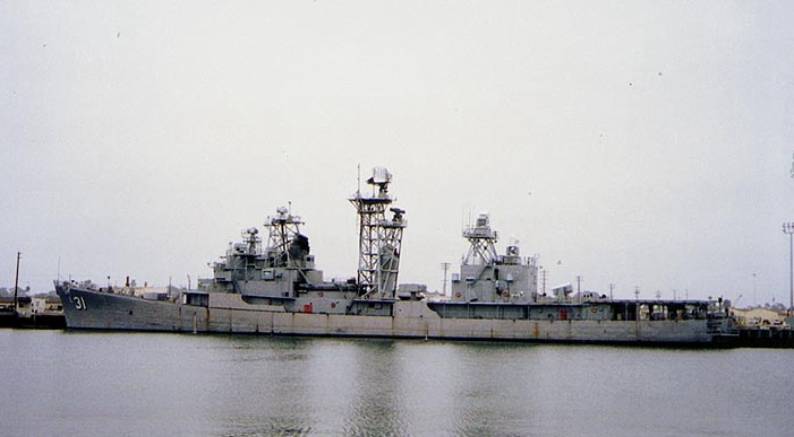 <![endif]>
<![if !supportEmptyParas]> <![endif]>
<![if !vml]>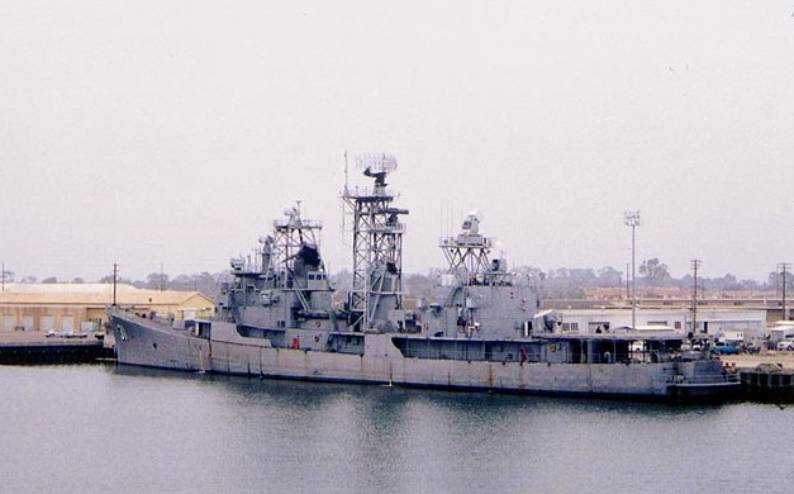 <![endif]>
<![if !supportEmptyParas]> <![endif]>
<![if !vml]>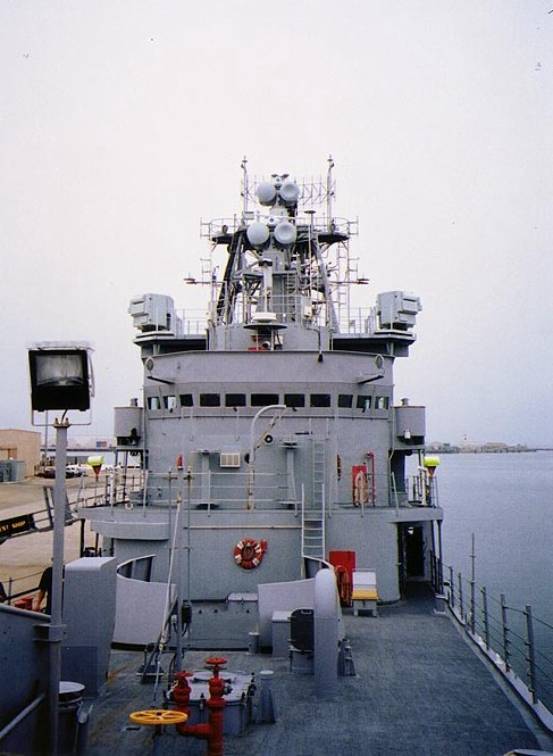 <![endif]>
<![if !supportEmptyParas]> <![endif]>
Stephen Decatur was born in Sinepuxent, Maryland, on 5 January 1779. His father, also named Stephen Decatur, commanded several privateers during the American Revolution and served as a Captain in the young United States Navy during 1798-1801. Young Stephen also joined the Navy in 1798, as a Midshipman, and was active during the undeclared war with France over the next two years. He was promoted to the rank of Lieutenant in 1799. Given command of the brig Argus in 1803, he took to the Mediterranean for war service against Tripoli. Once in the combat zone, Lieutenant Decatur commanded the schooner Enterprise and, on 23 December 1803, captured the enemy ketch Mastico. That vessel, taken into the U.S. Navy under the name Intrepid, was used by Decatur on 16 February 1804 to execute a night raid into Tripoli harbor to destroy the former U.S. frigate Philadelphia, which had been captured after running aground at the end of October 1803.

This daring and extremely successful operation made Lieutenant Decatur an immediate national hero, a status that was enhanced by his courageous conduct during the 3 August 1804 bombardment of Tripoli. In that action, he led his men in hand-to-hand fighting while boarding and capturing an enemy gunboat. Decatur was subsequently promoted to the rank of Captain, and over the next eight years had command of several frigates. On 25 October 1812, while in command of USS United States, he engaged and captured the British frigate Macedonian, an action that gained him further acclaim. The strong British blockade kept Decatur in port for most of the rest of the War of 1812, but he was able to break out of New York in the frigate President on 15 January 1815. Captain Decatur was wounded when his ship was captured the next day by a superior enemy force, but he soon recovered and was given command of a powerful squadron.

With the war with Great Britain at an end, the United States had decided to deal once and for all with the North African Barbary powers' threat to American commerce. Commodore Decatur sailed his squadron to the Mediterranean Sea in May 1815 and, with the assistance of overwhelming force, persuaded Algiers, Tunis and Tripoli to sign treaties of peace. After returning home, he became a member of the Board of Navy Commissioners in Washington, D.C. In April 1816 he made a toast that would become a standard expression of American patriotism: "Our Country! In her intercourse with foreign nations may she always be in the right; but our country, right or wrong."

In 1820 the strong-willed and spirited Decatur was challenged to a duel by a brother officer, Commodore James Barron. The contest, which took place at Bladensburg, Maryland, on 22 March 1820, resulted in wounds to both men. Barron survived, but Stephen Decatur died of his injuries shortly afterwards.

The U.S. Navy has named five ships in honor of Stephen Decatur, including: USS Decatur (1840-1865); USS Decatur (Destroyer # 5), 1902-1920; USS Decatur (DD-341), 1922-1945; USS Decatur (DD-936, later DDG-31), 1956-2004; and USS Decatur (DDG-73), 1998-
The fourth Decatur (DD-936) was launched 15 December 1955 by Bethlehem Steel Co., Quincy, Mass.; sponsored by Mrs. W. A. Pierce and Mrs. D. J. Armsden, descendants of Commodore Decatur; and commissioned 7 December 1956, Commander J. J. Skahill in command.

Decatur sailed from Newport 3 September 1957 to take part in NATO Operation "Strikeback," calling at Largs and Rosyth, Scotland, before returning to Newport 22 October. She served on local operations until 1 February 1958 when she sailed to the Mediterranean for a tour of duty with the 6th Fleet. She returned to her home port 28 August for east coast operations.

She returned to the Mediterranean for duty between 7 August 1959 and 26 February 1960, then joined in antisubmarine exercises and a midshipman cruise in the Atlantic between March and September. On 6 September Decatur sailed on a cruise which took her north of the Arctic Circle, through the Mediterranean and the Suez Canal, into the Arabian Sea and Indian Ocean, and back to the Mediterranean where she operated with the 6th Fleet. The destroyer returned to Newport in mid-December.

She would continue this pattern of operations - a six-month deployment to the Mediterranean followed by year or so in home waters - for the next three years. A highlight of this period was Decatur's recovery, the first of its kind, of a NASA spacecraft at sea in September 1961.

On 6 May 1964, while operating in an ASW exercise off the Virginia Capes, the destroyer suffered severe superstructure damage - both masts were lost over the side and the bridge and both stacks were crushed, remarkably injuring only one sailor - in a collision with Lake Champlain (CVS-39). Towed into Norfolk, she received temporary repairs alongside Shenandoah (AD-26) before returning to Newport at the end of the month. Tapped for conversion to a new class of guided-missile destroyers, Decatur subsequently sailed north to Boston and, after entering the Naval Shipyard in Charlestown, she was placed in reserve on 1 November and then decommissioned on 15 June 1965. While in the yard, conversion work was begun - which included the installation of the TARTAR missile system, new fire control radars, an ASROC system, and new sonar and other electronics equipment - and she was reclassified DDG-31 on 15 September 1966.

Recommissioned on 29 April 1967, Decatur passed her acceptance trials that summer and sailed to her new home port of Long Beach, Calif., on 22 August. After arrival on 26 September, she received a post-shakedown availability and conducted several months of missile firing tests before being pronounced ready for service on 10 June 1968.

On 18 July, Decatur began her first deployment in the Pacific. Arriving at Yankee Station in the Gulf of Tonkin on 23 August, the warship began six months of task force air defense and air traffic control for the carriers and their air groups. In between duties on Yankee Station, she visited Subic Bay, Hong Kong, and Singapore. She returned home, via Australia, New Zealand, and American Samoa, on 26 February 1969.

Following almost a year of local operations, which included visits to Seattle, Pearl Harbor and Acapulco, she returned to western Pacific operations on 10 February 1970. During this cruise, in addition to operations off Vietnam, she visited Taiwan and Japan, before sailing for home on 27 July. She again swung south across the equator, stopping in Australia and New Zealand, before arriving home on 29 August.

After an overhaul the following spring, Decatur spent the summer of 1971 conducting refresher training off the coast of southern California. She got underway for her third WestPac deployment on 1 October and arrived on Yankee Station on 2 November. Much like her last two deployments, the guided-missile destroyer interspersed her support of carrier operations with visits to Subic Bay, Hong Kong, and the occassional foray into the Sea of Japan or the Indian Ocean. She again returned home via the southern ocean and moored at Long Beach on 7 April 1972.

Decatur continued this pattern - a Vietnam cruise followed by refresher training off California - for her next two deployments. These took place between January and July 1973 and from August 1974 to the following January, before she commenced a long overhaul at the Long Beach Naval Shipyard during the spring and summer of 1975. Although the guided-missile cruiser still deployed to the western Pacific following the end of the Vietnam war, Decatur concentrated on operations in the south Pacific and in the South China Sea during her September 1976 to May 1977 WestPac cruise.

She returned to the area in December of 1978, though she then continued on into the Indian Ocean for operations off India and Pakistan. In February 1979, Decatur ventured into the Persian Gulf for a brief visit to Bahrain before sailing on the long voyage home and mooring in San Diego on 8 April. She underwent another overhaul late that year and did not finish qualifications until March 1981.

The guided-missile destroyer started her next deployment on 27 April, but this time sailed to Japan and Korea for exercises before heading south to the Philippines. In August she steamed south across the equator to Australia and New Zealand before returning home on 20 October.

Decatur's last deployment began on 30 October 1982, when she sailed to the Sea of Japan for a complex "War at Sea" exercise. Following a visit to Hong Kong, she sailed south for exercises off Thailand before moving on to the Persian Gulf. Once there, she helped cover tanker traffic imperiled by the Iran-Iraq war, before returning across the Pacific to Pearl Harbor on 7 May 1983.

Owing to her aging machinery, and old weapon systems, Decatur was decommissioned at Pearl Harbor on 30 June 1983. Struck from the Navy list on 16 March 1988, she was transferred to Naval Sea Systems Command for use as an experimental test platform out of Port Hueneme, Calif.


Self Defense Test Ship:

Self Defense Test Ship (also known as SDTS and EDDG-31) was originally the guided-missile destroyer Decatur (DDG-31), which was stricken from the Naval Vessel Register in March 1988. The ship, now in the status of "equipment", was ordered converted for weapons trials purposes a month later. This work took several years, and SDTS achieved initial operational capability in October 1994.

SDTS subsequently operated out of Port Hueneme, California, with a mission of providing the Navy "with an at sea, remotely controlled, self defense weapons engineering, test and evaluation platform for the conduct of advanced weapons evaluation without risk to personnel". Powered by outboard drive diesel engines, SDTS carried a variety of advanced guided-missiles, guns and sensors for engaging incoming anti-shipping missiles, but was also used for other test and evaluation purposes. She operated either manned or unmanned, depending on the risks involved in engaging the "real-world" weapons that were sent her way.

Self Defense Test Ship (ex-Decatur) was taken out of service in 2003 and replaced by the decommissioned Spruance class destroyer Paul F. Foster (DD-964). She was sunk as a target in the Pacific Ocean during Operation "RimPac" on 21 July 2004.

Decatur received six battle stars for Vietnam service.