HOME | US Navy - ships | US Navy - air units | USMC - air units | International Navies | Weapon Systems | Special Reports
US Navy - Guided Missile Destroyer
DDG 109 - USS Jason Dunham
05/23
Type, class: Guided Missile Destroyer - DDG; Arleigh Burke class, Flight IIA
Builder: General Dynamics Bath Iron Works, Bath, Maine, USA

STATUS:


Awarded:

September 13, 2002
Laid down: April 11, 2008
Launched: August 2, 2009
Commissioned: November 13, 2010


IN SERVICE



Homeport: Naval Station Mayport, Florida
Namesake: CPL Jason Lee Dunham, USMC (1981-2004)
Ships Motto: SEMPER FIDELIS, SEMPER FORTIS

(always faithful, always strong)


Technical Data: see: INFO > Arleigh Burke class Guided Missile Destroyer - DDG
images

returning to Naval Station Mayport, Florida - June 26, 2022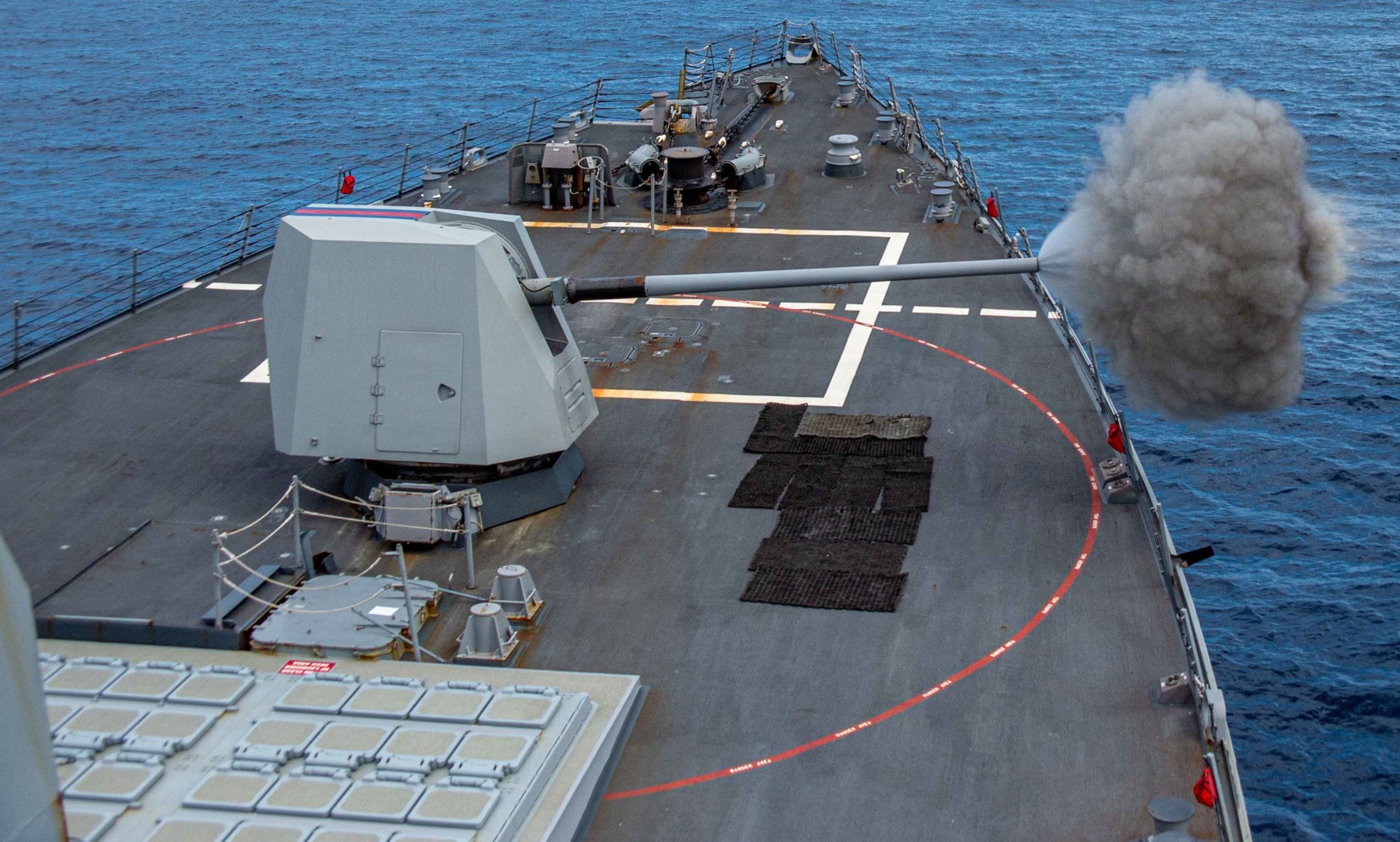 Mk.45 gun fire - Mediterranean Sea - March 2022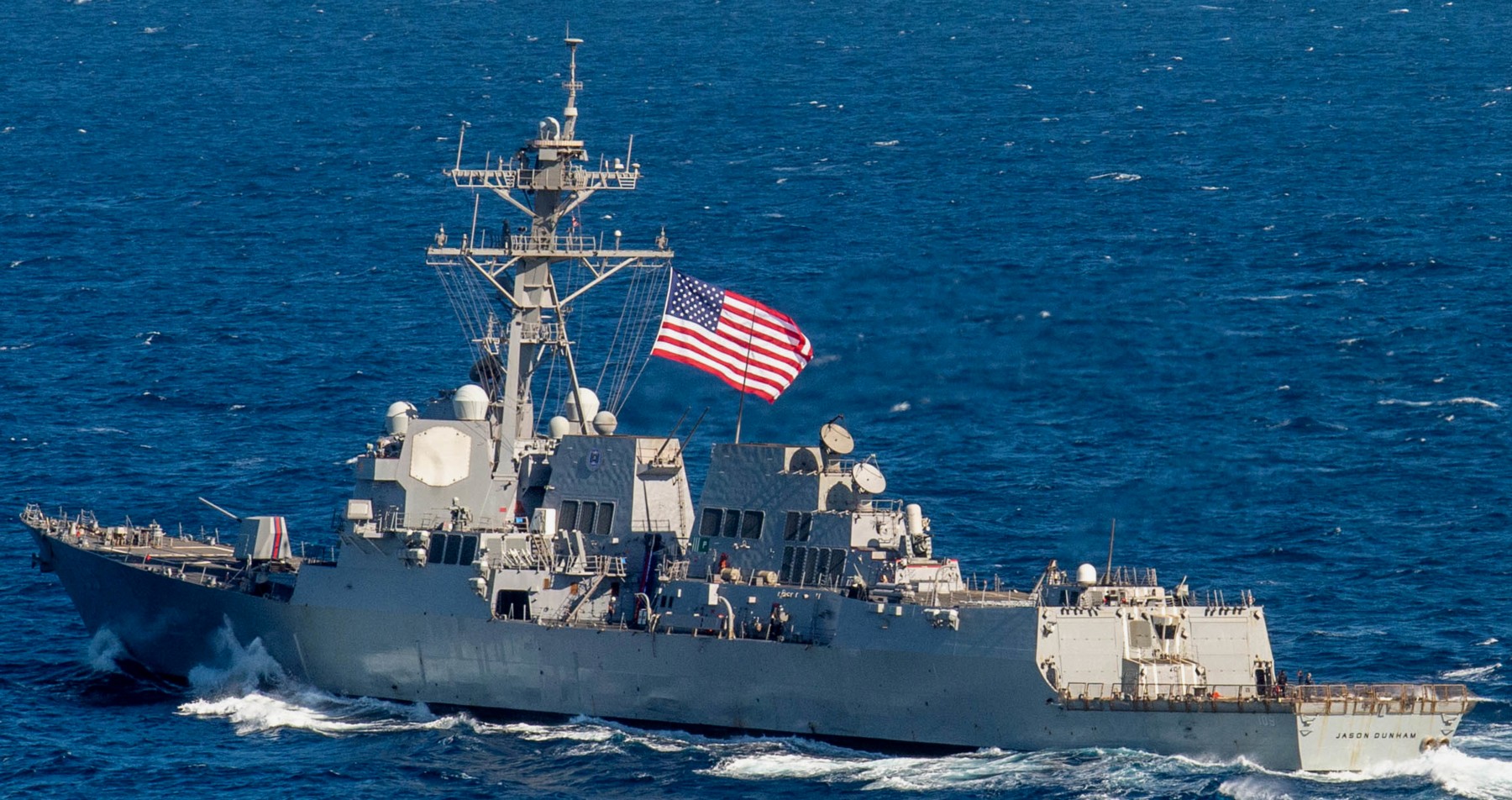 Red Sea - February 2022




Red Sea - January 2022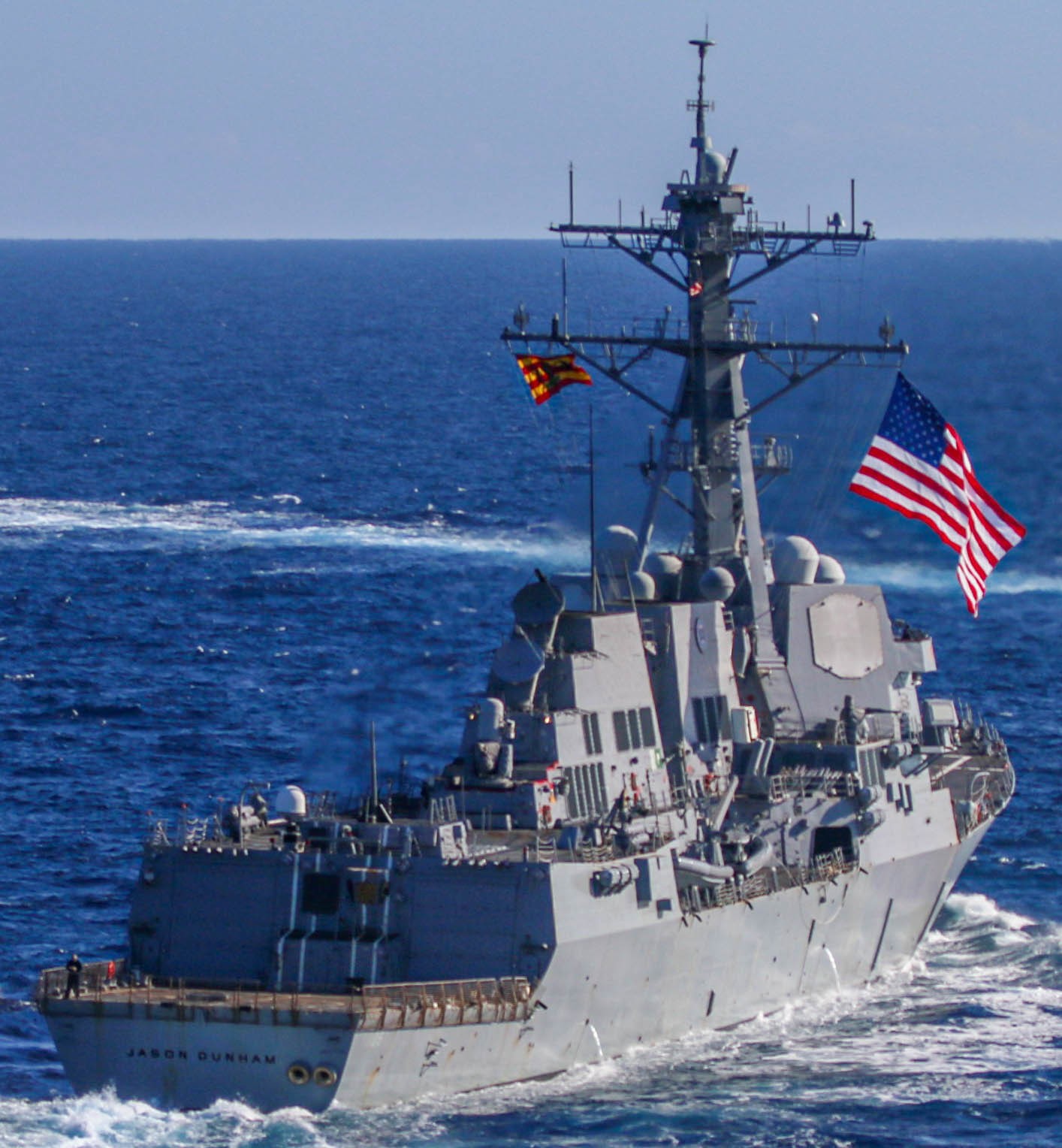 Mediterranean Sea - January 2022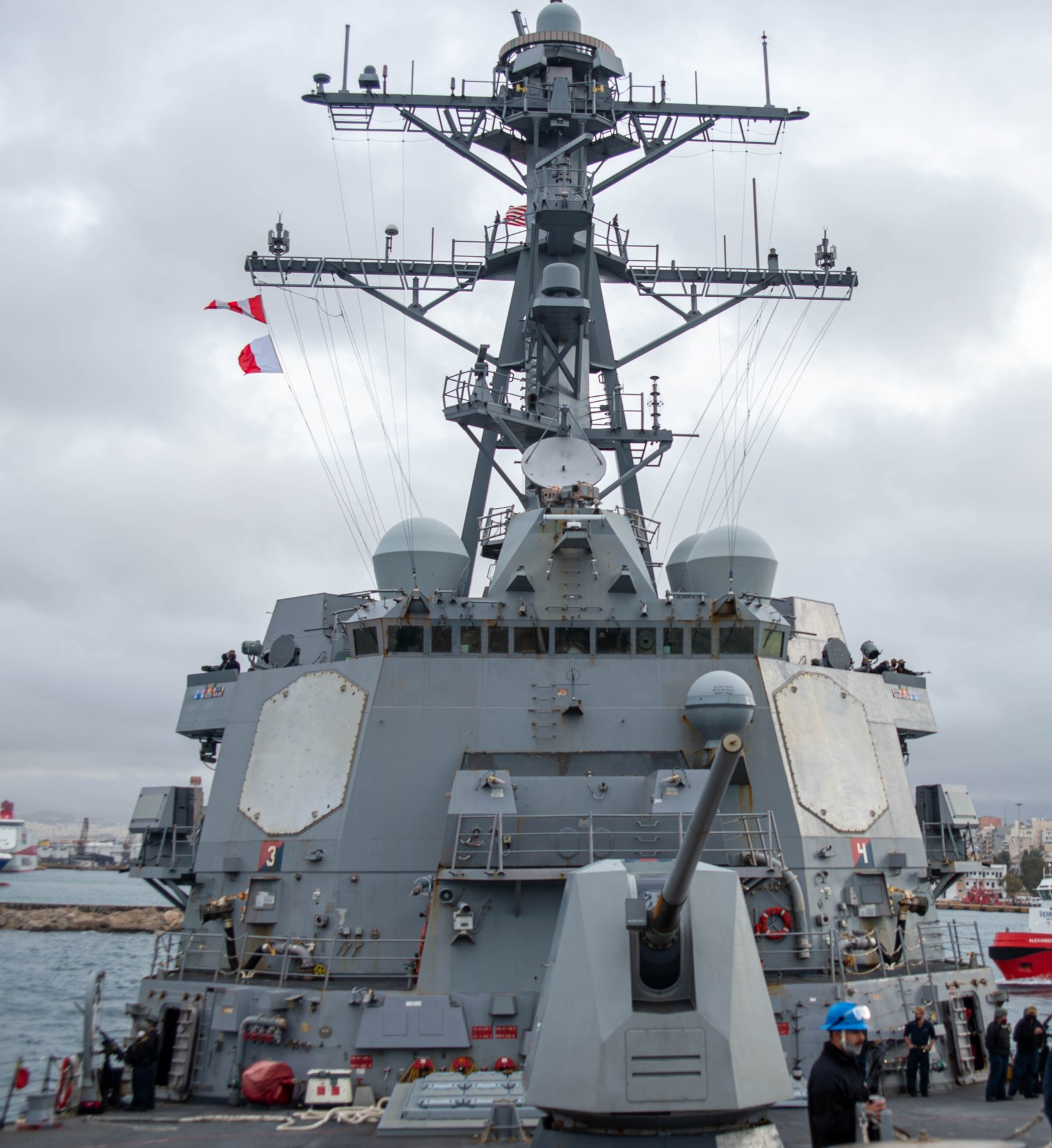 Piraeus, Greece - December 2021




departing Naval Station Mayport, Florida - December 1, 2021



departing Naval Station Mayport, Florida - December 1, 2021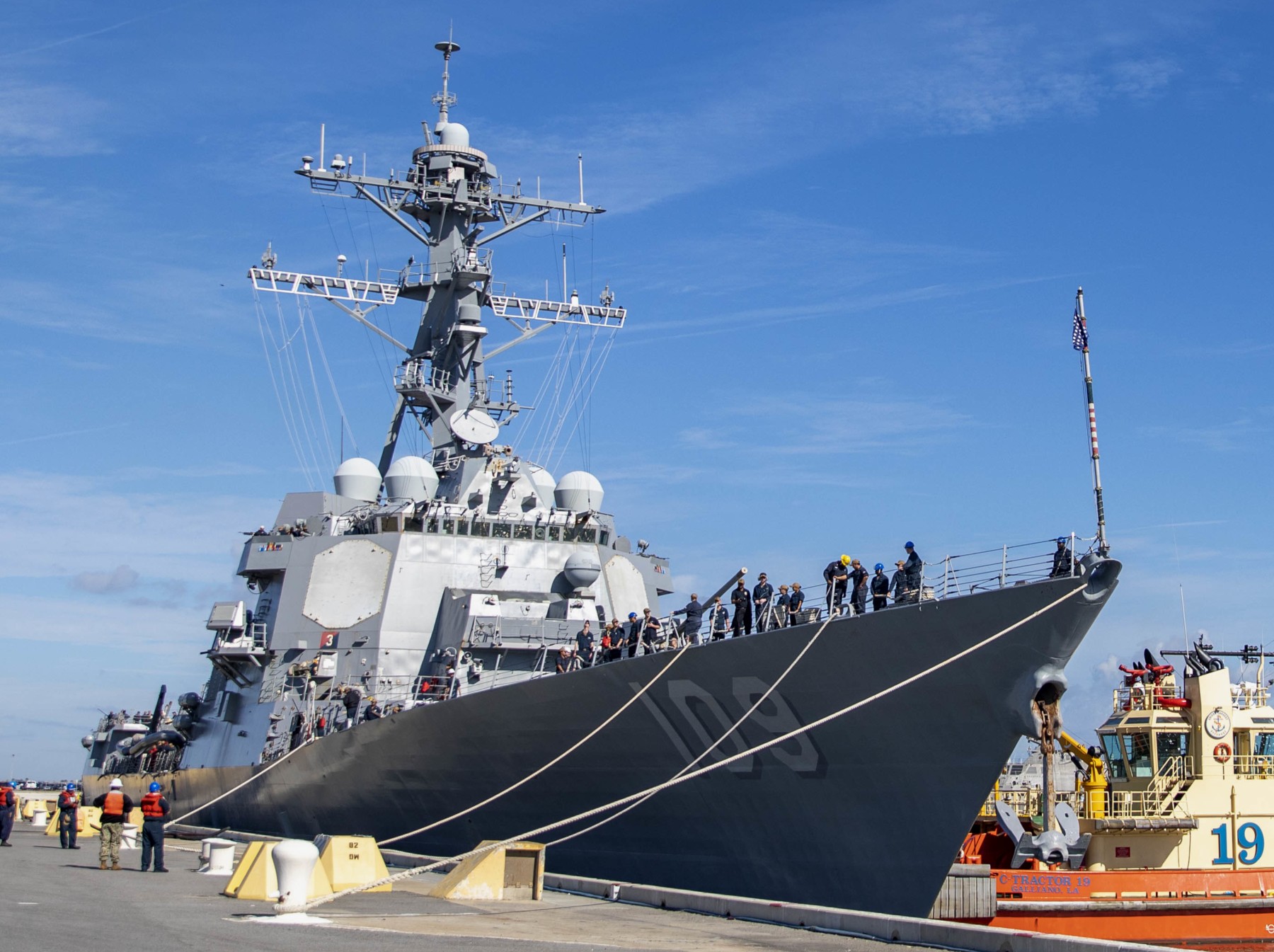 departing Naval Station Mayport, Florida - December 1, 2021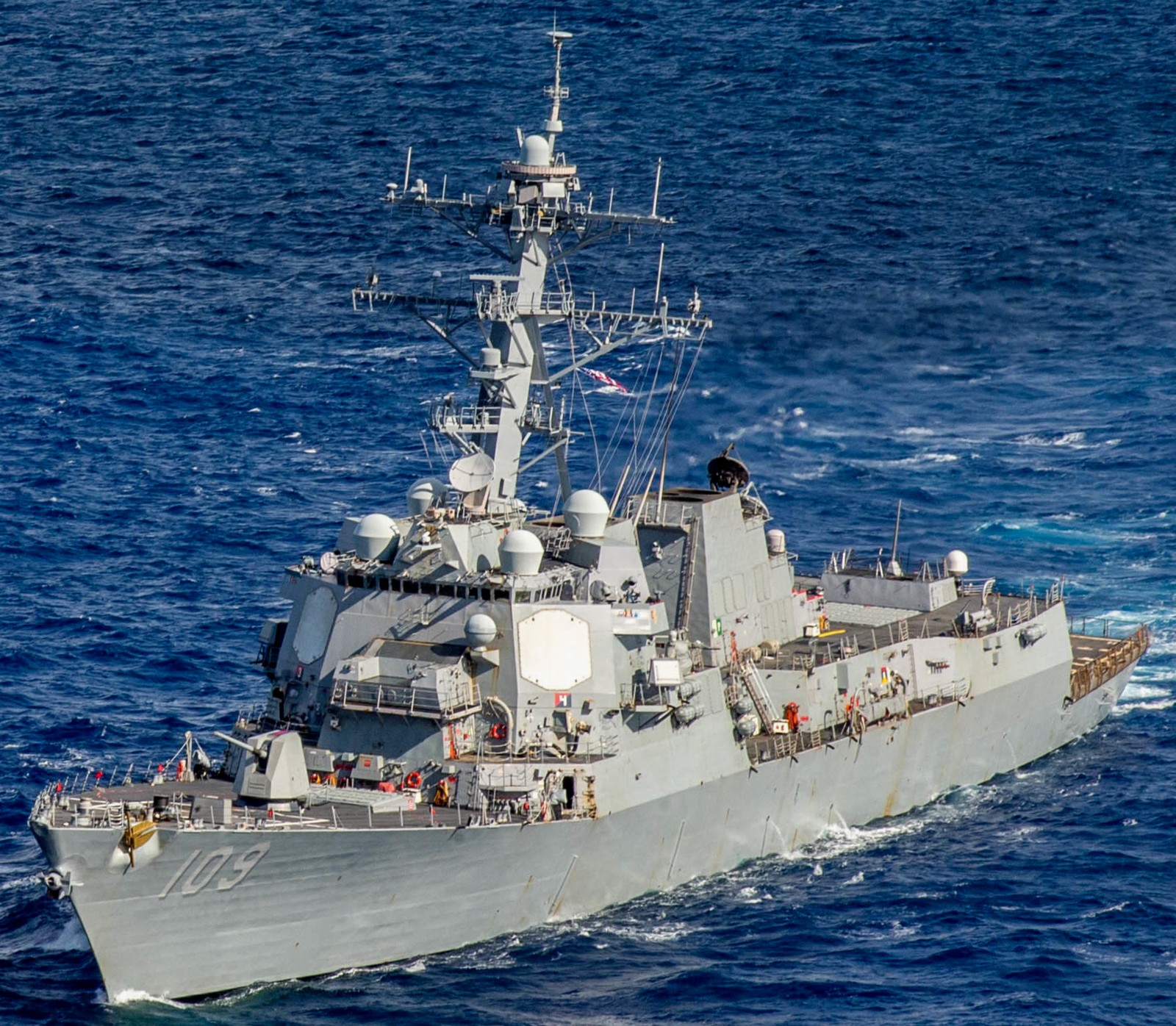 Atlantic Ocean - October 2021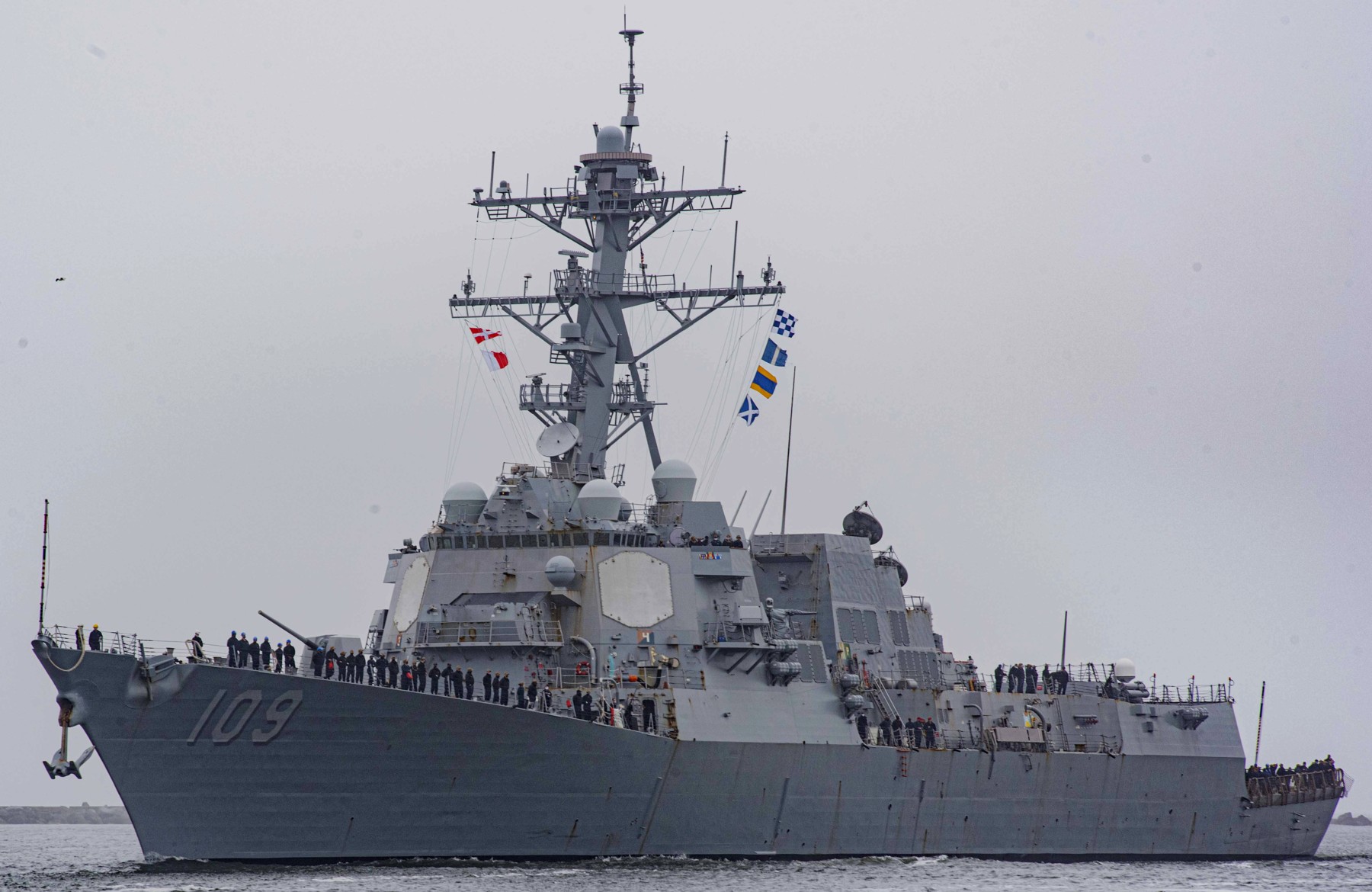 arriving at her new homeport, Naval Station Mayport, Florida - February 13, 2021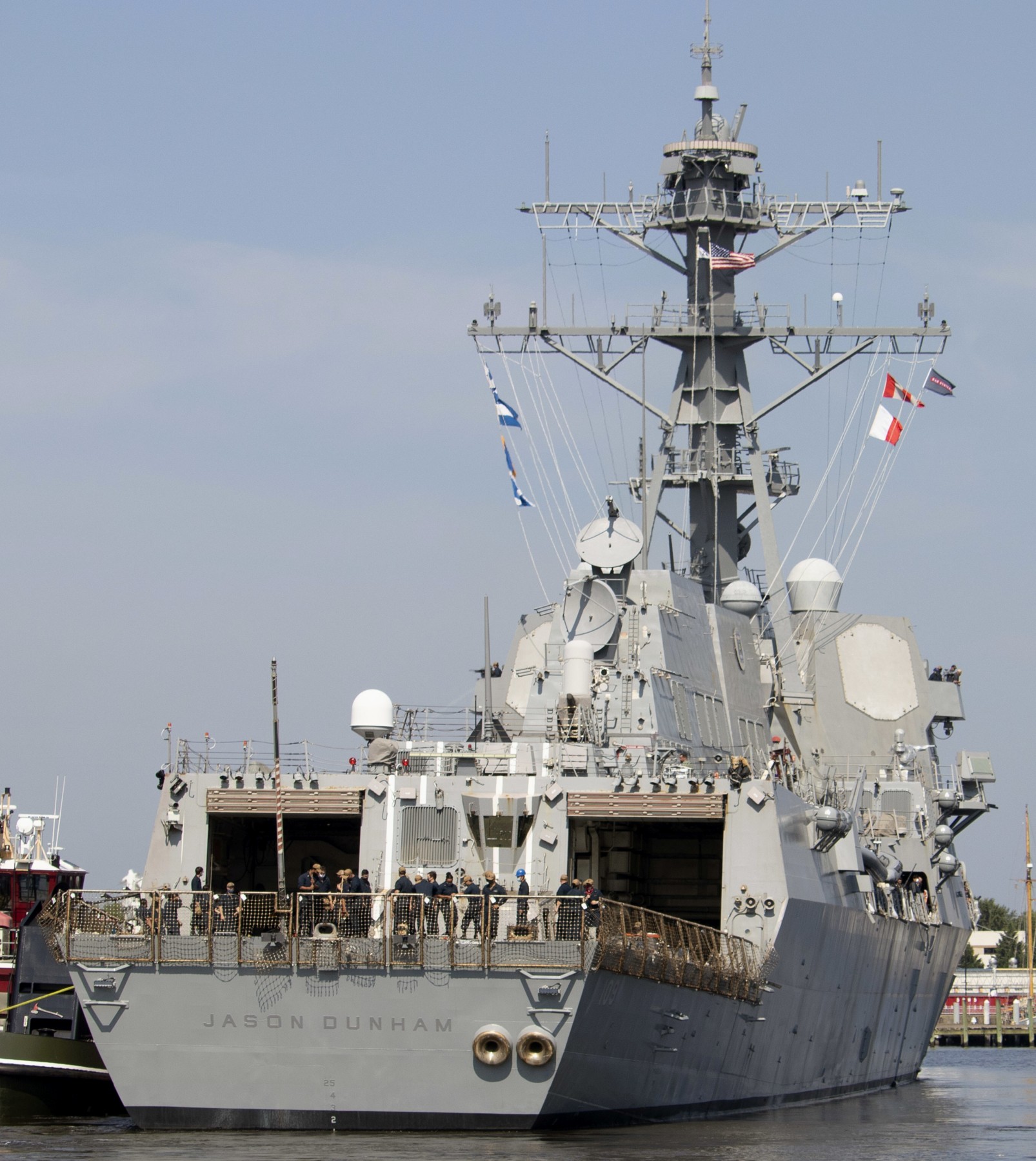 departing BAE Systems Ship Repair, Norfolk, Virginia after a 7-month Docking Selected Restricted Availability (DSRA) - July 2020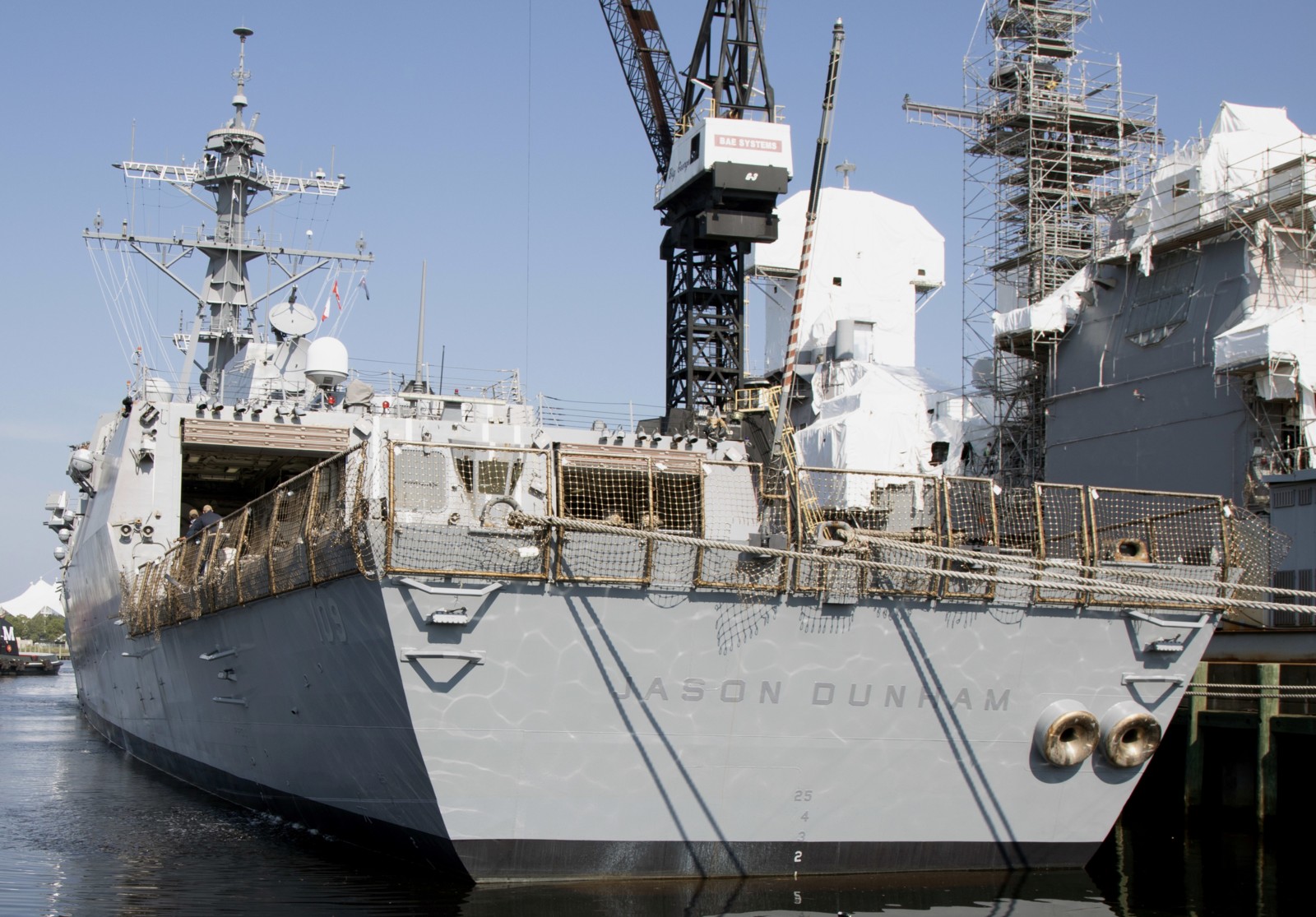 departing BAE Systems Ship Repair, Norfolk, Virginia after a 7-month Docking Selected Restricted Availability (DSRA) - July 2020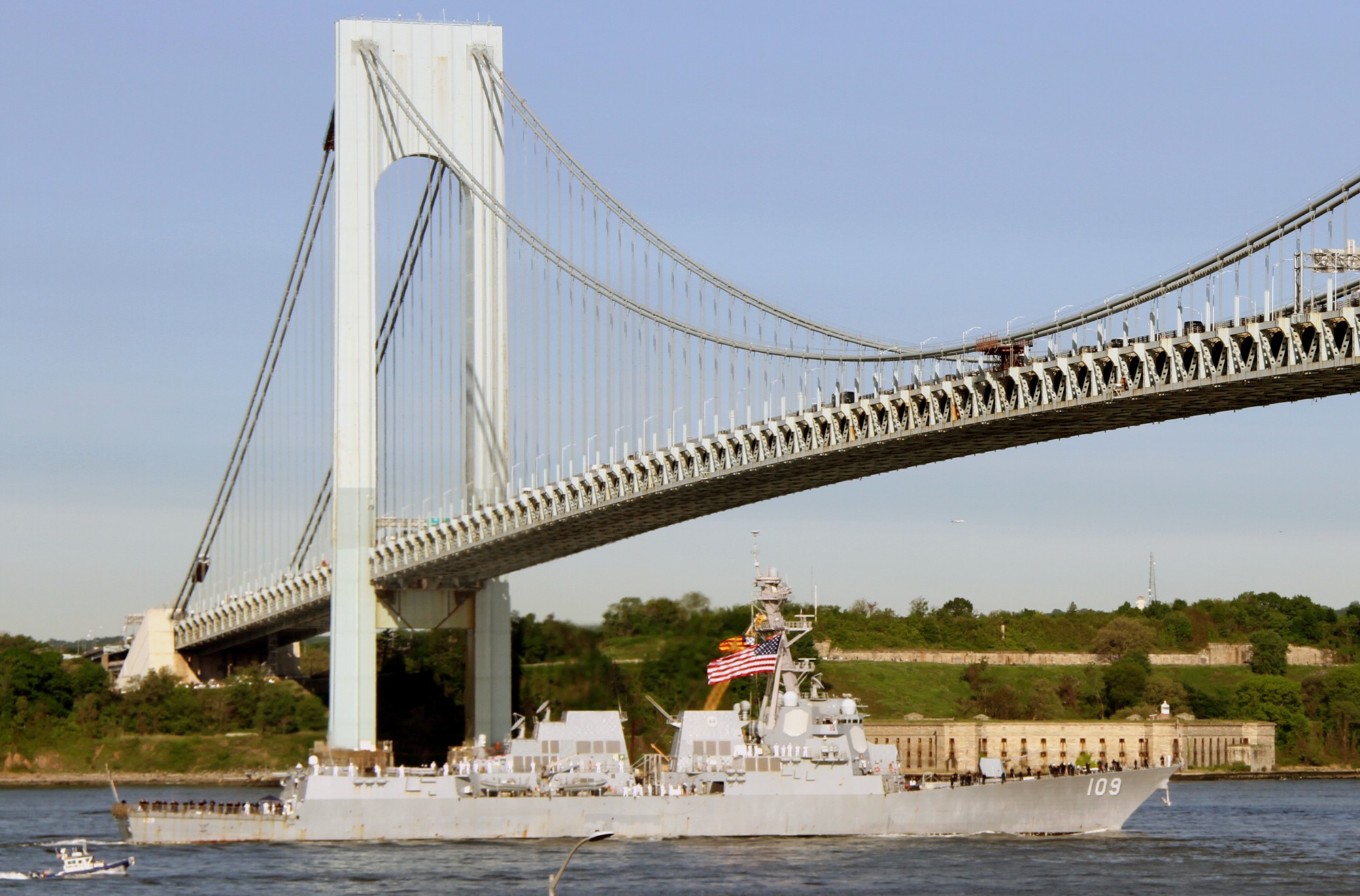 Fleet Week New York - May 2019



Fleet Week New York - May 2019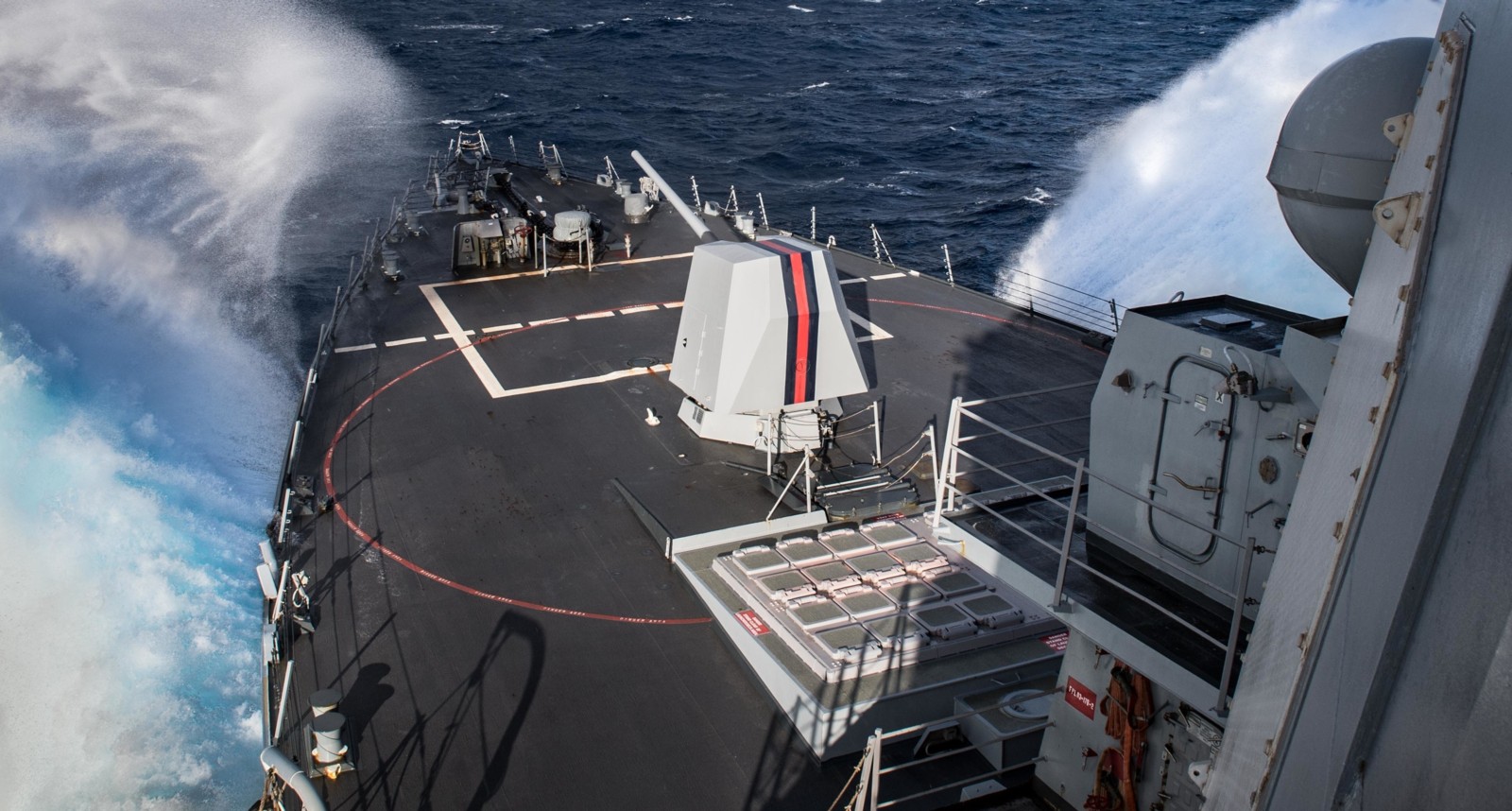 Atlantic Ocean - December 2018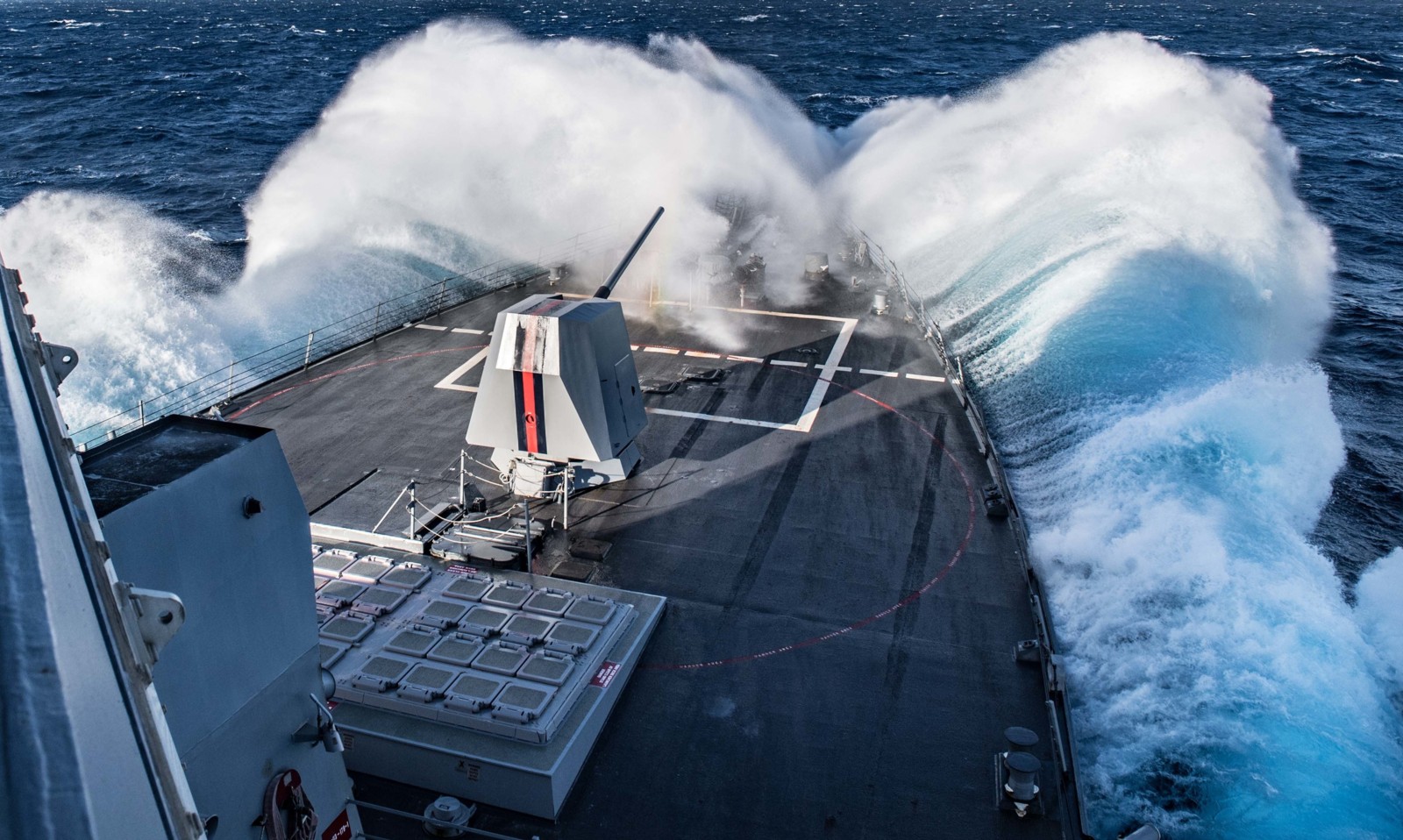 Atlantic Ocean - December 2018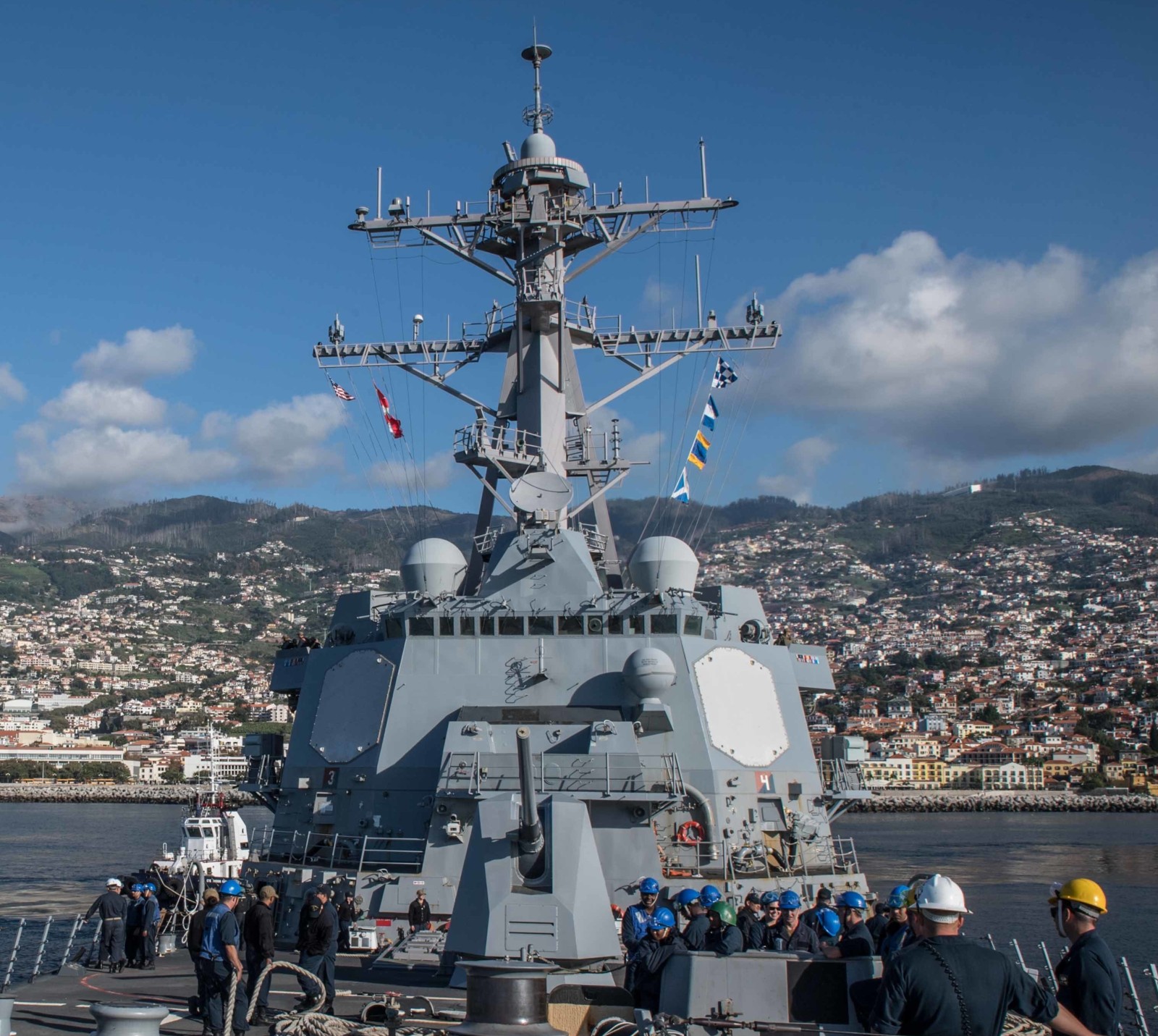 Funchal, Madeira, Portugal - December 2018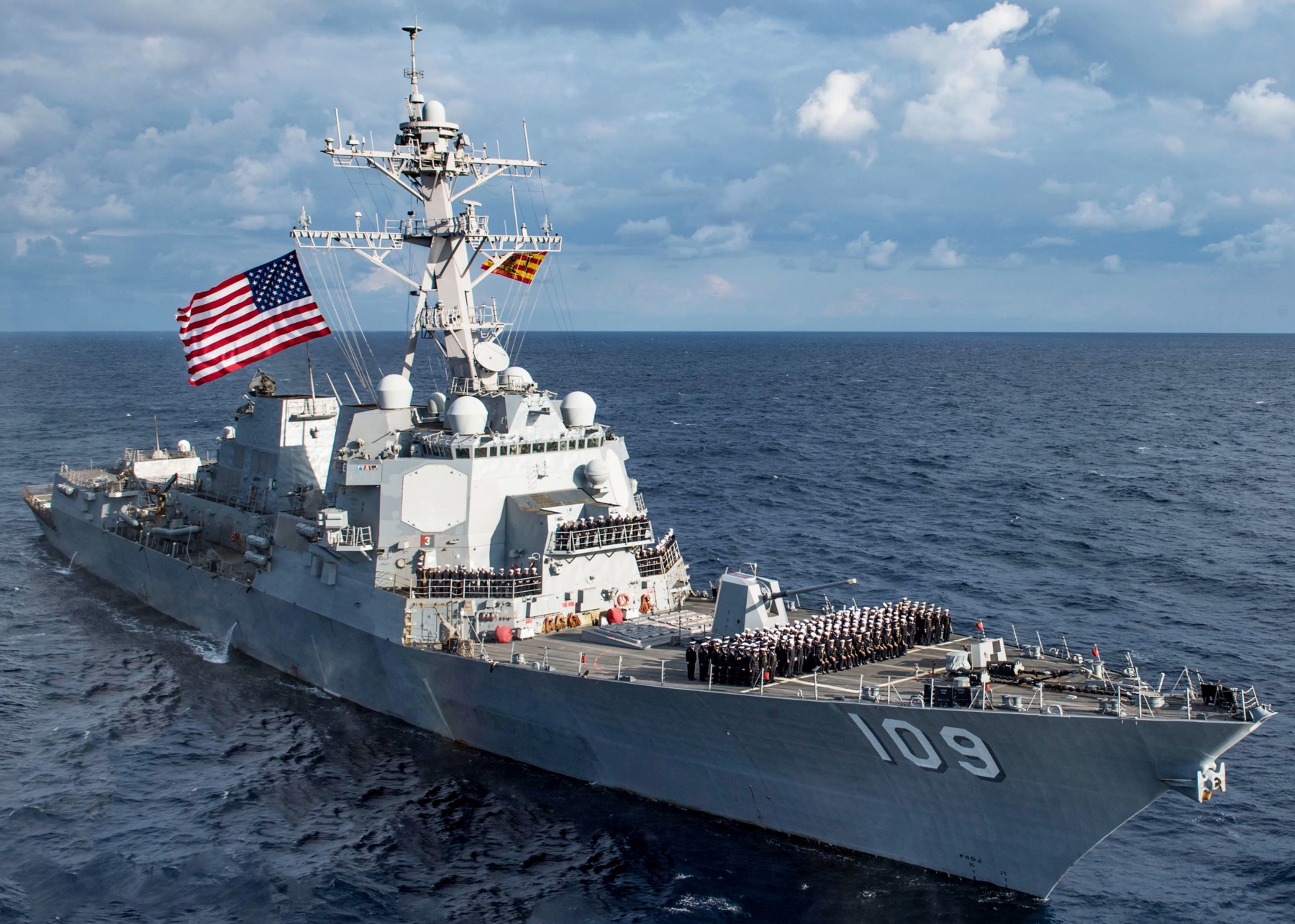 command photo - Mediterranean Sea - December 2018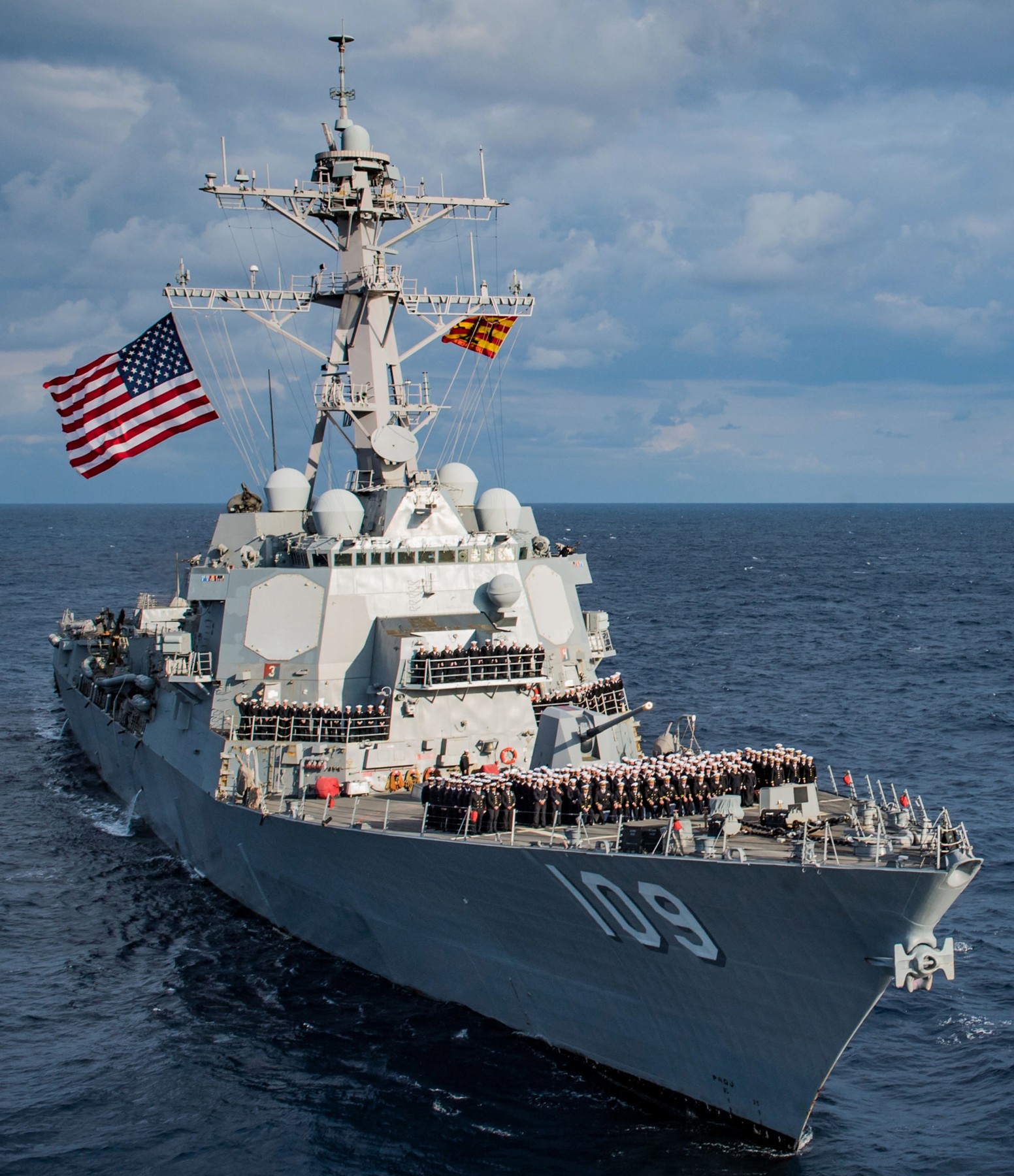 command photo - Mediterranean Sea - December 2018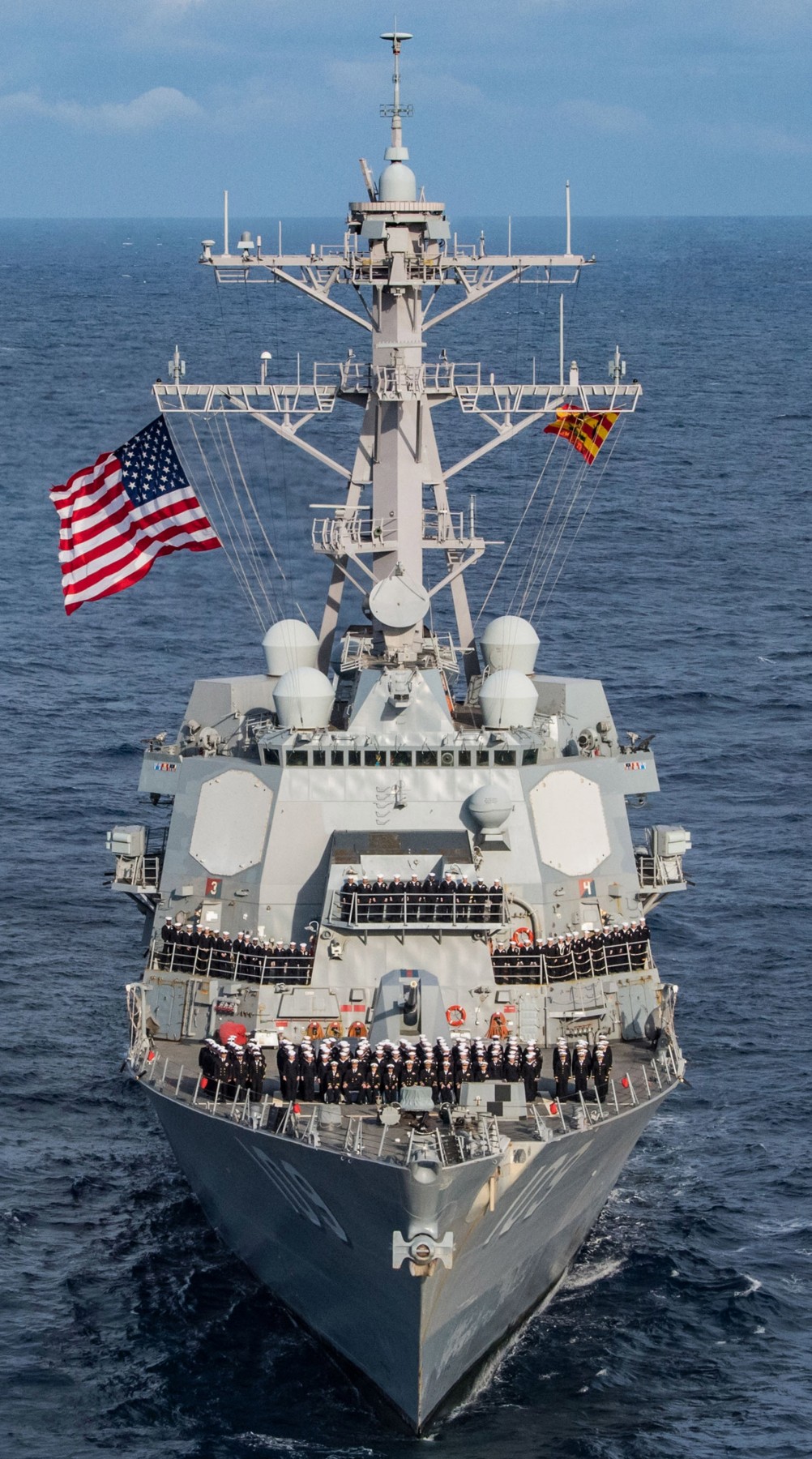 command photo - Mediterranean Sea - December 2018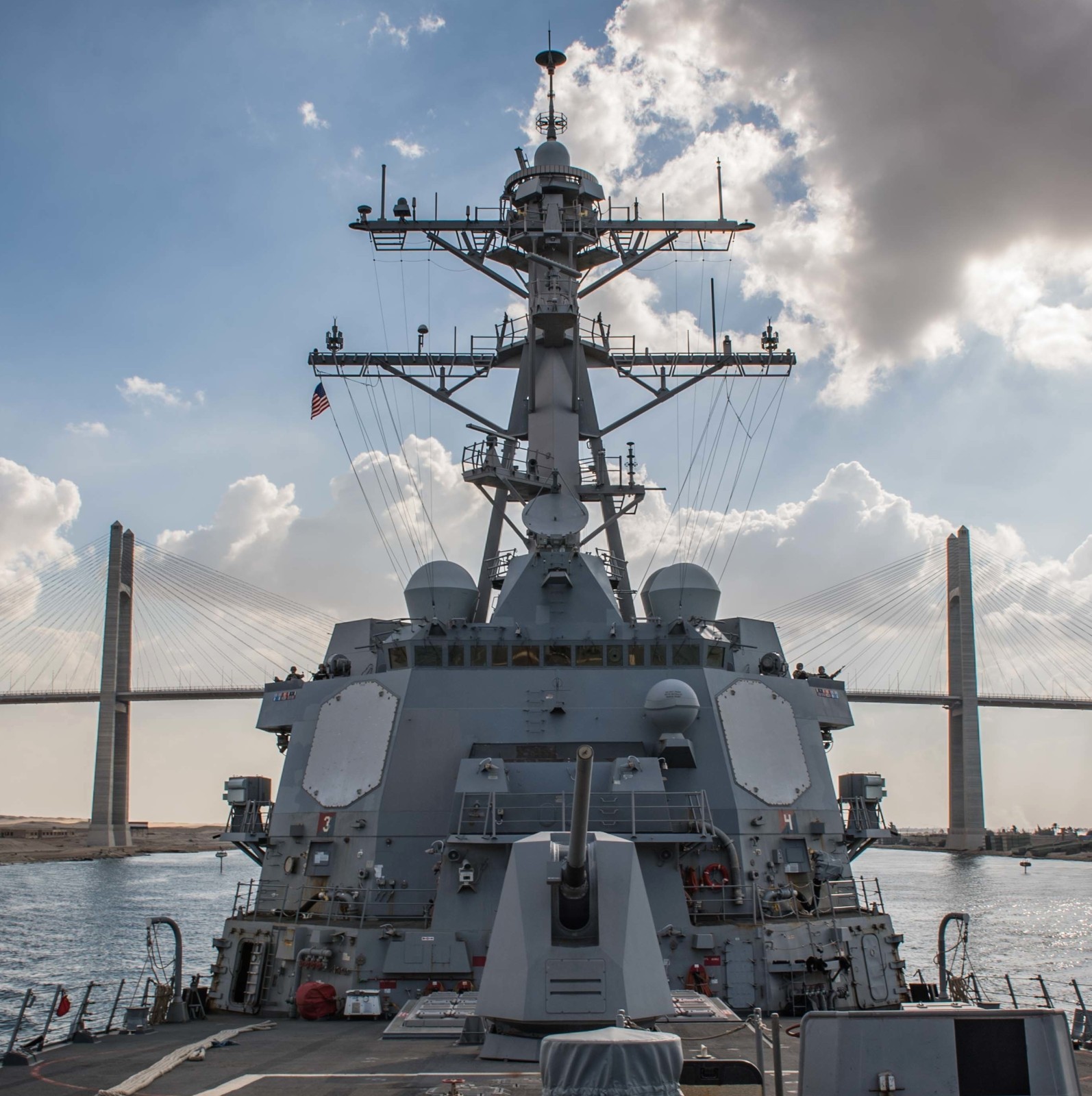 Suez Canal (northbound) - December 2018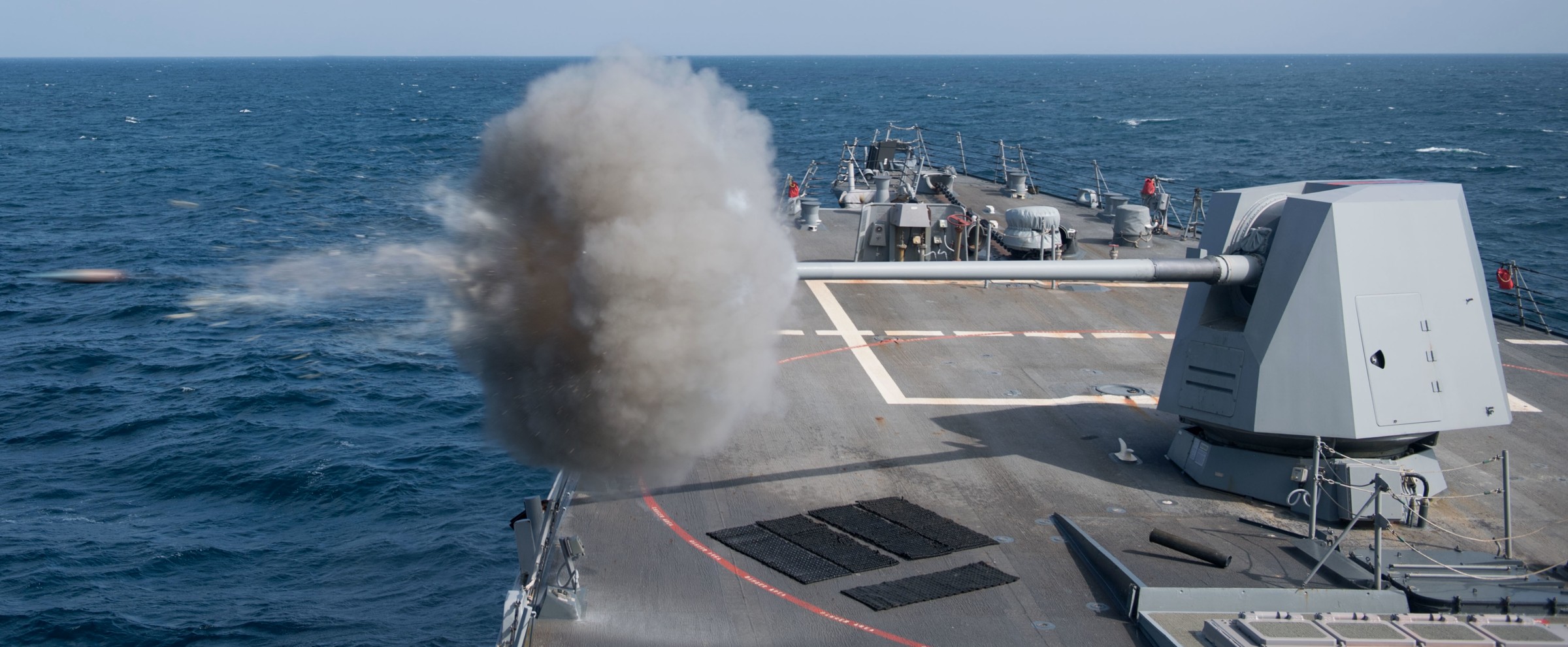 Mk.45 Mod.4 gun fire - Gulf of Aden - November 2018




with French Navy Frigate FS Courbet (F 712) - Arabian Gulf - November 2018




with French Navy Frigate FS Courbet (F 712) - Arabian Gulf - November 2018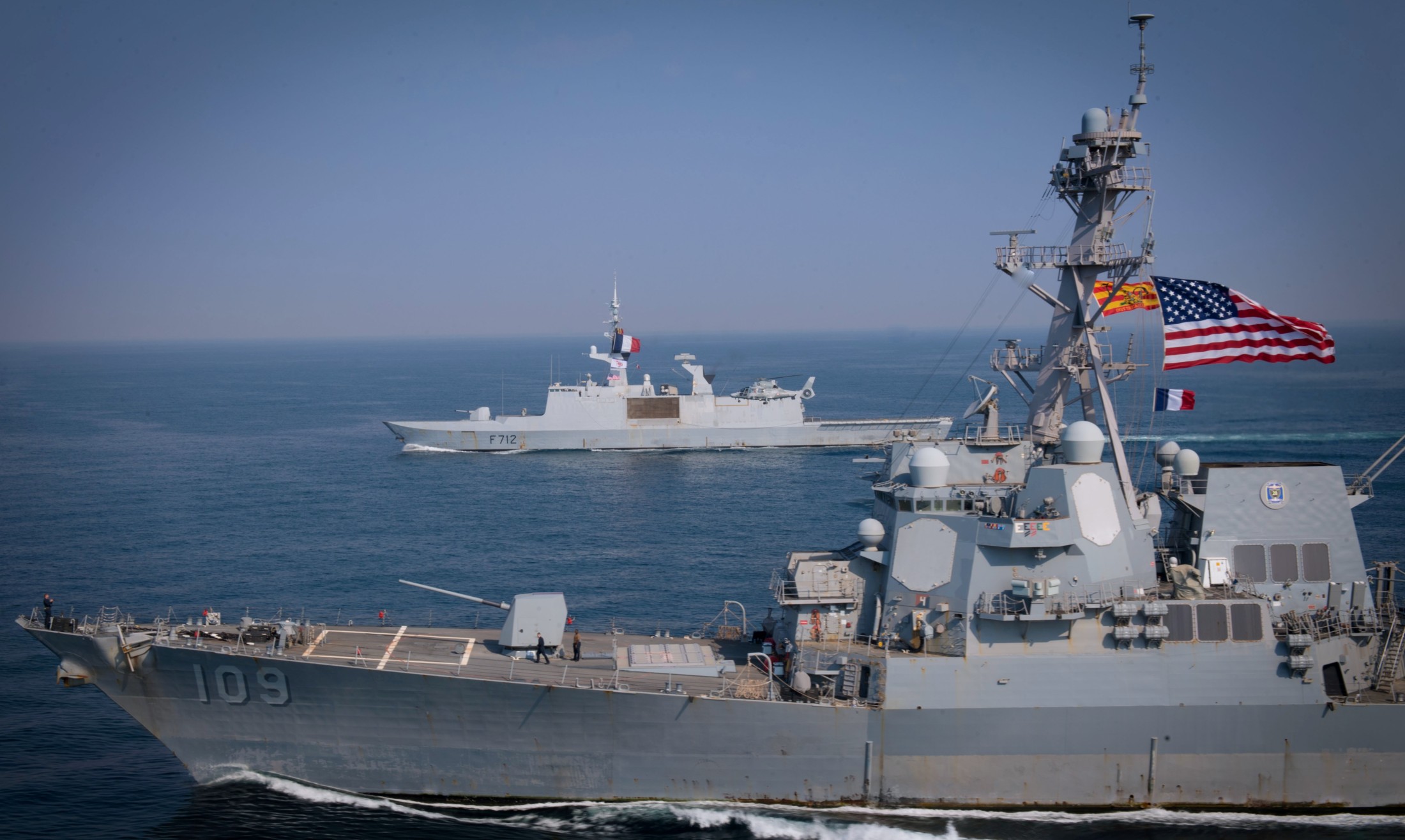 with French Navy Frigate FS Courbet (F 712) - Arabian Gulf - November 2018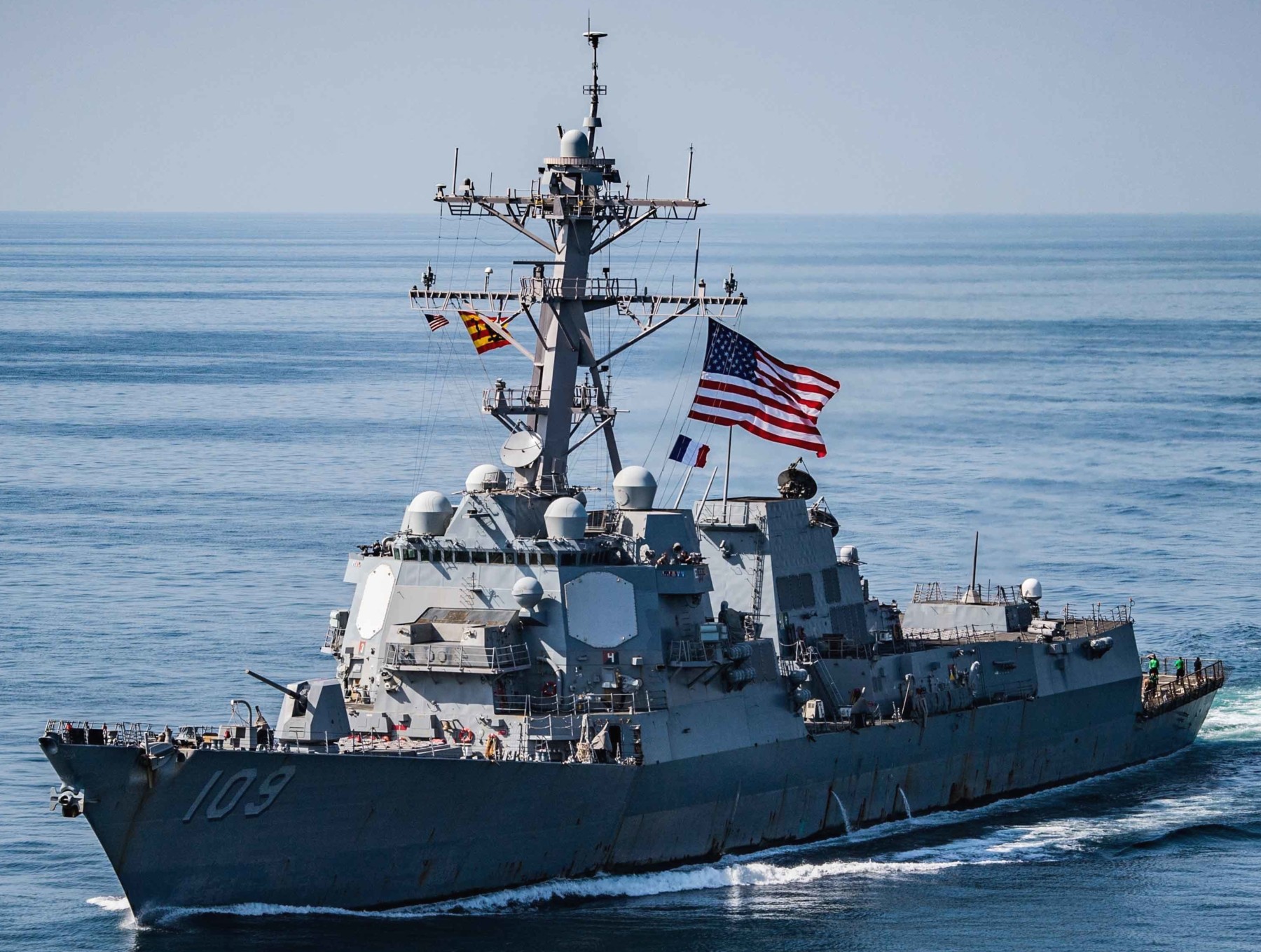 Arabian Gulf - November 2018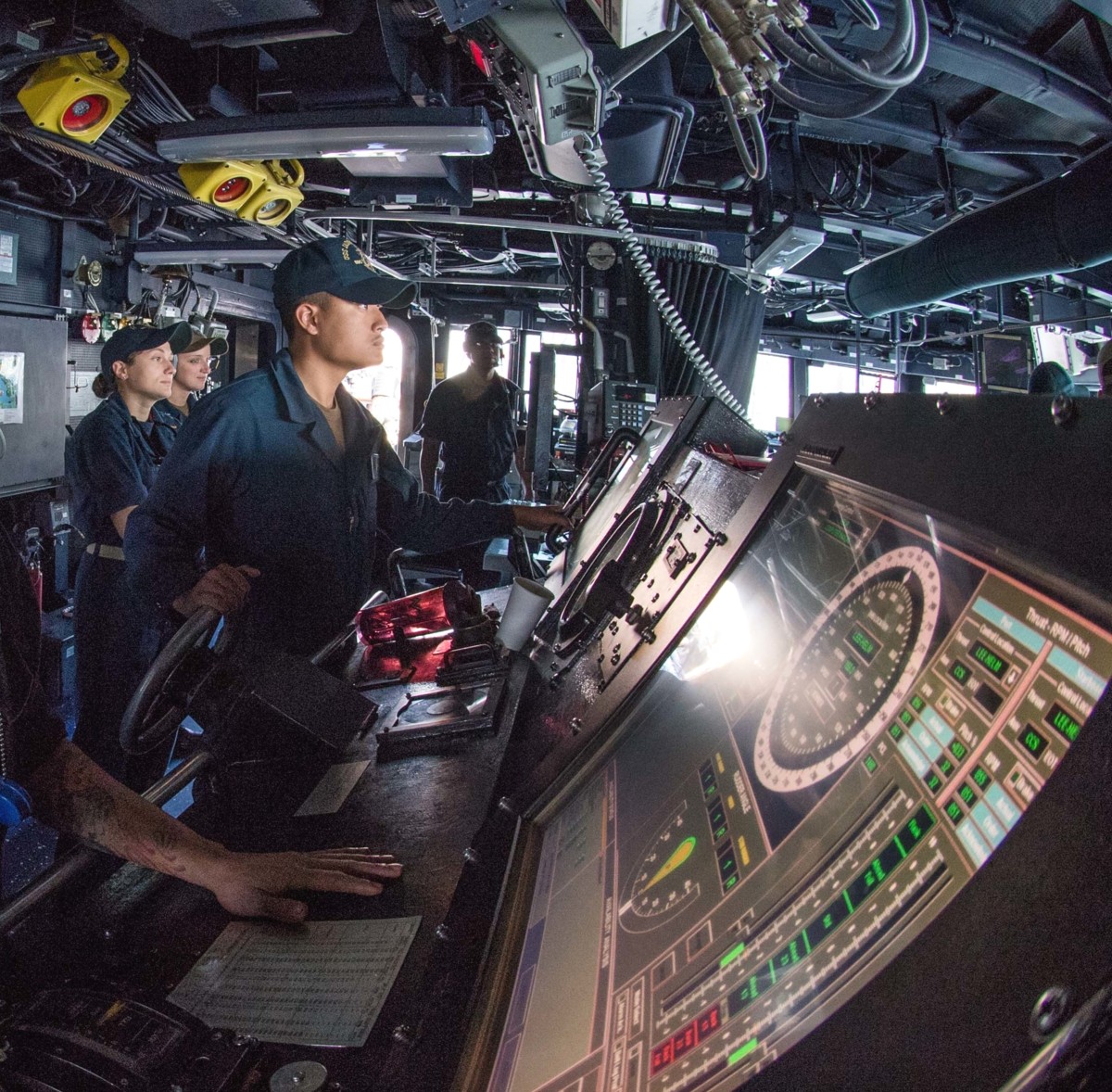 bridge/helm - Arabian Gulf - November 2018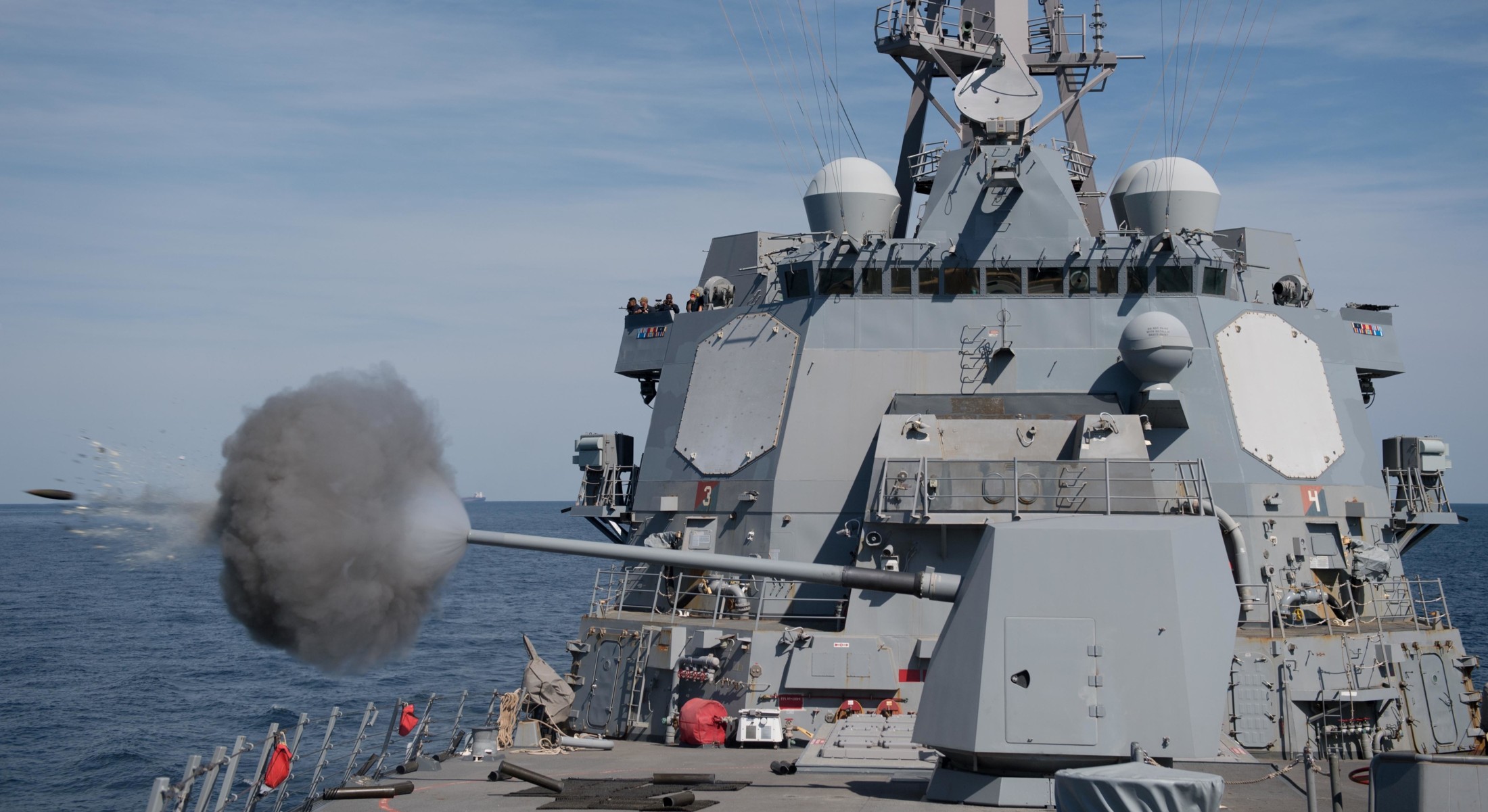 Mk.45 Mod.4 gun fire - Arabian Gulf - November 2018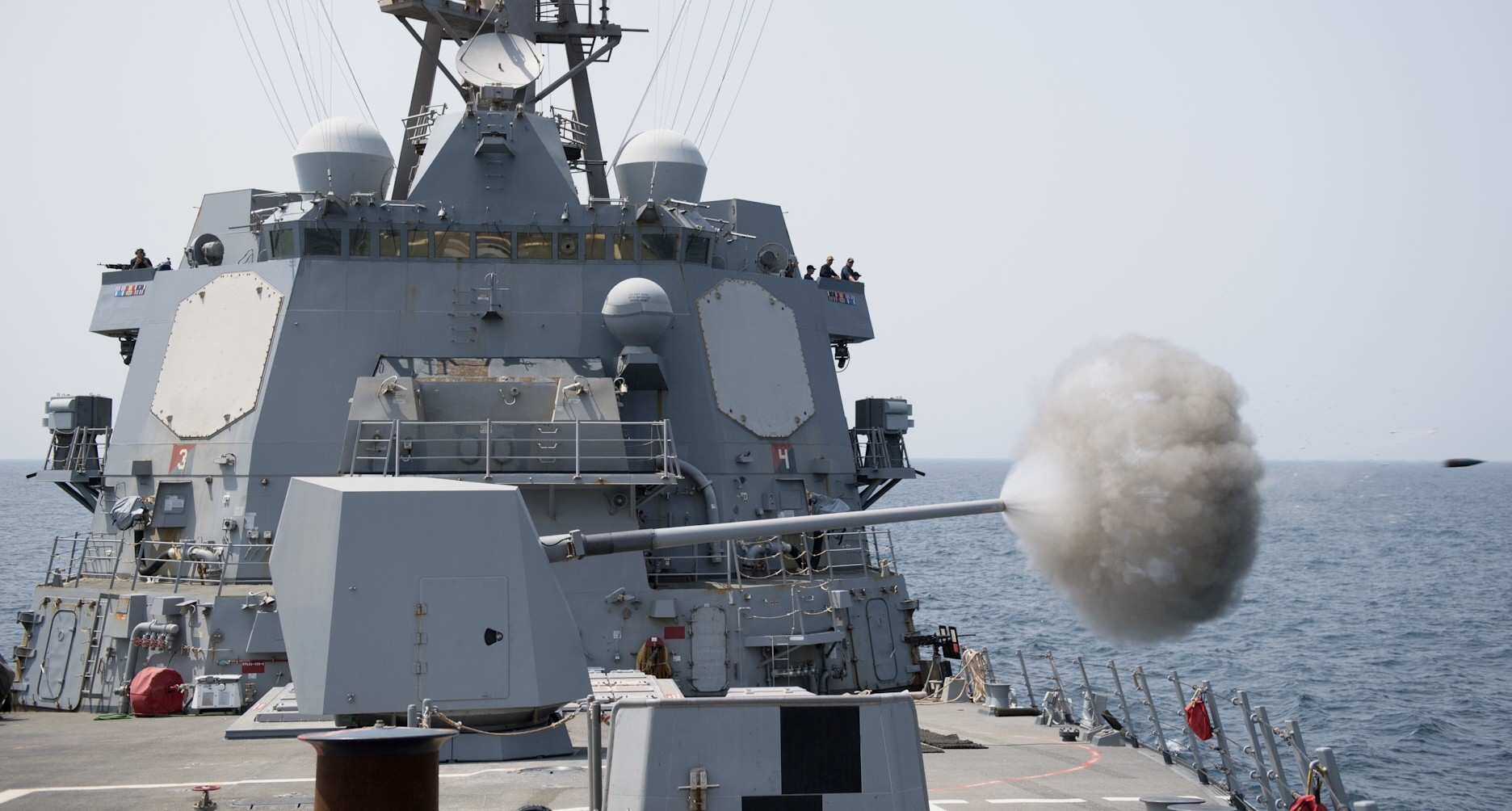 Mk.45 Mod.4 gun fire - 5th Fleet AOR - September 2018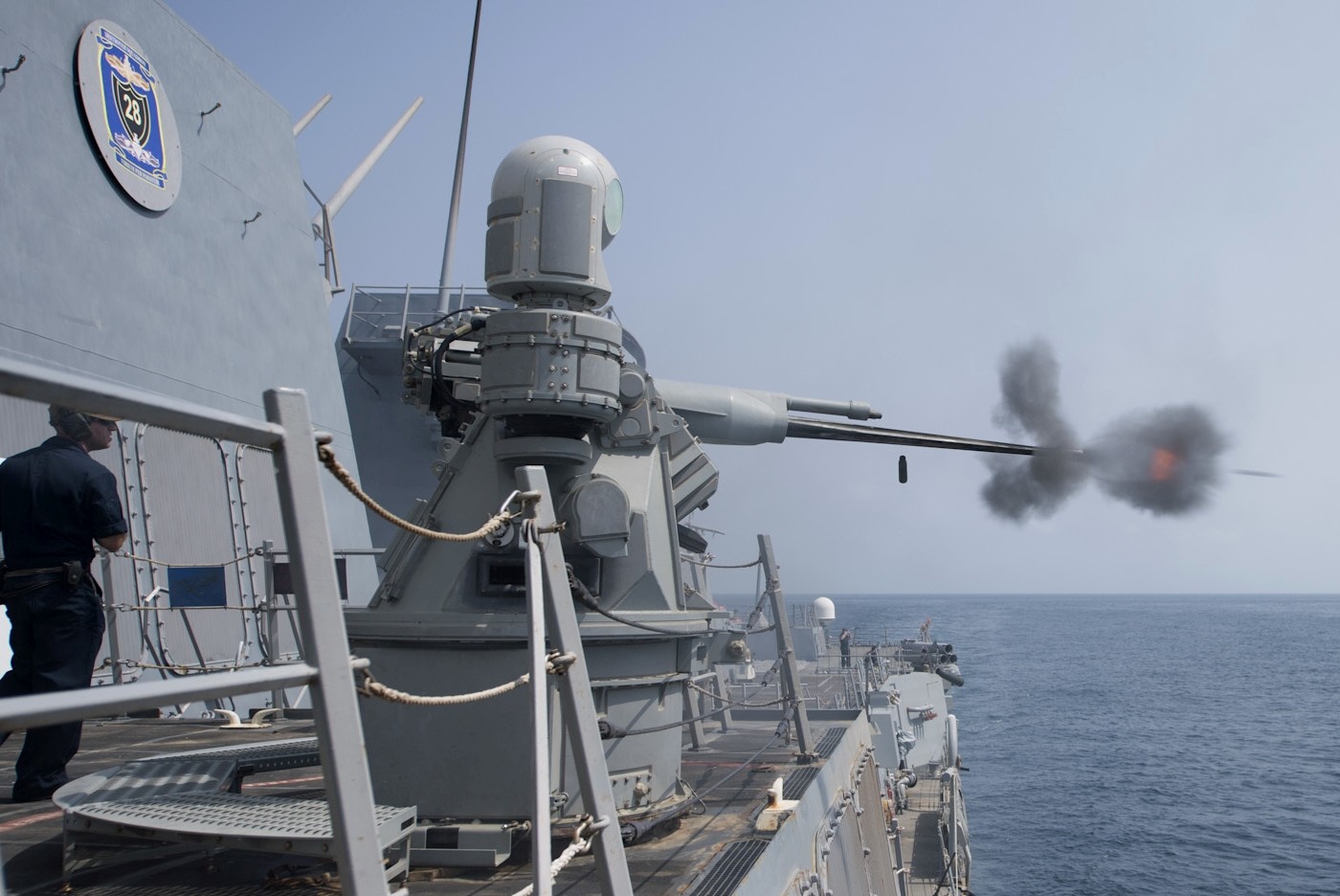 Mk.38 Mod.2 machine gun fire - 5th Fleet AOR - September 2018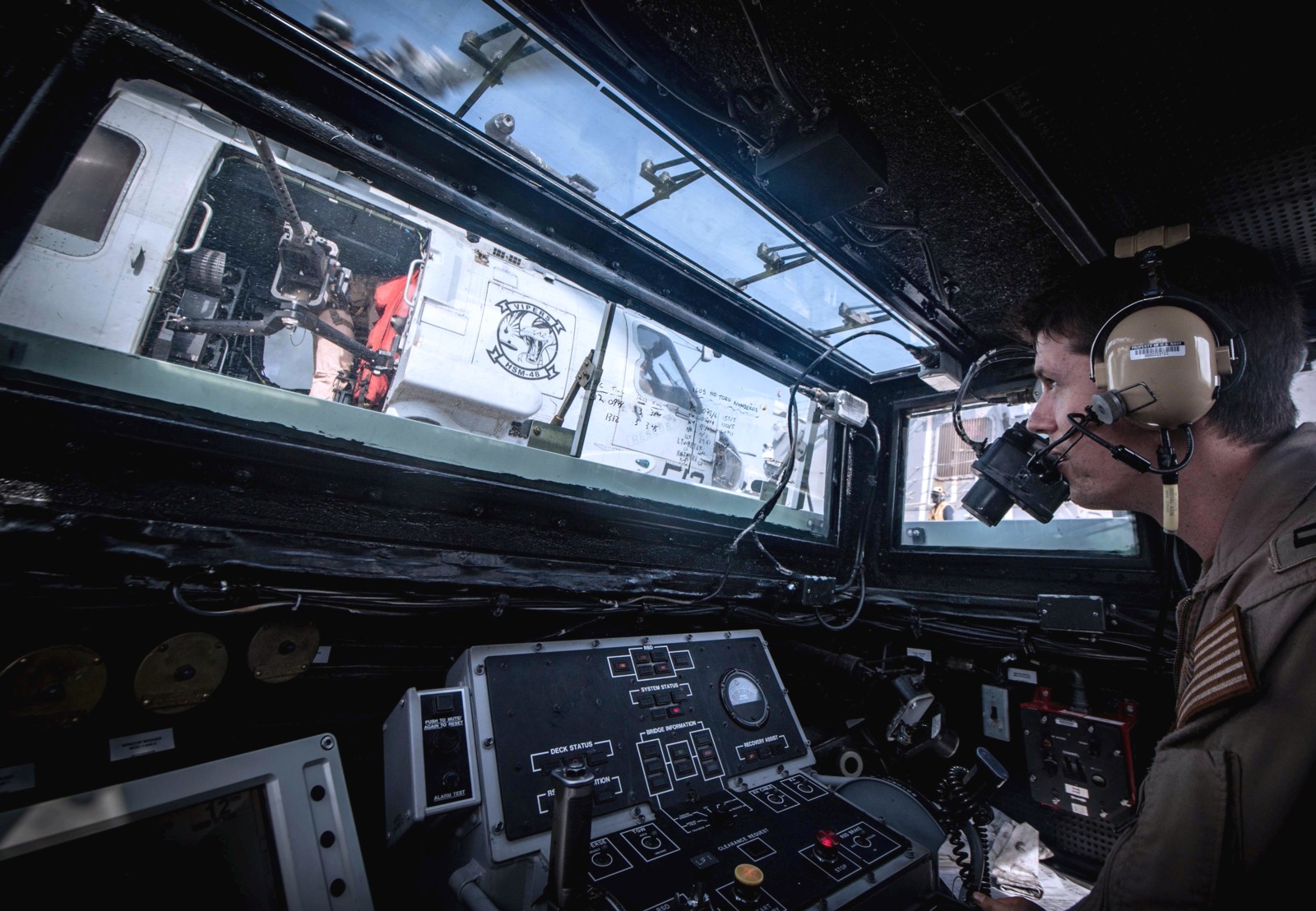 flight operations - 5th Fleet AOR - September 2018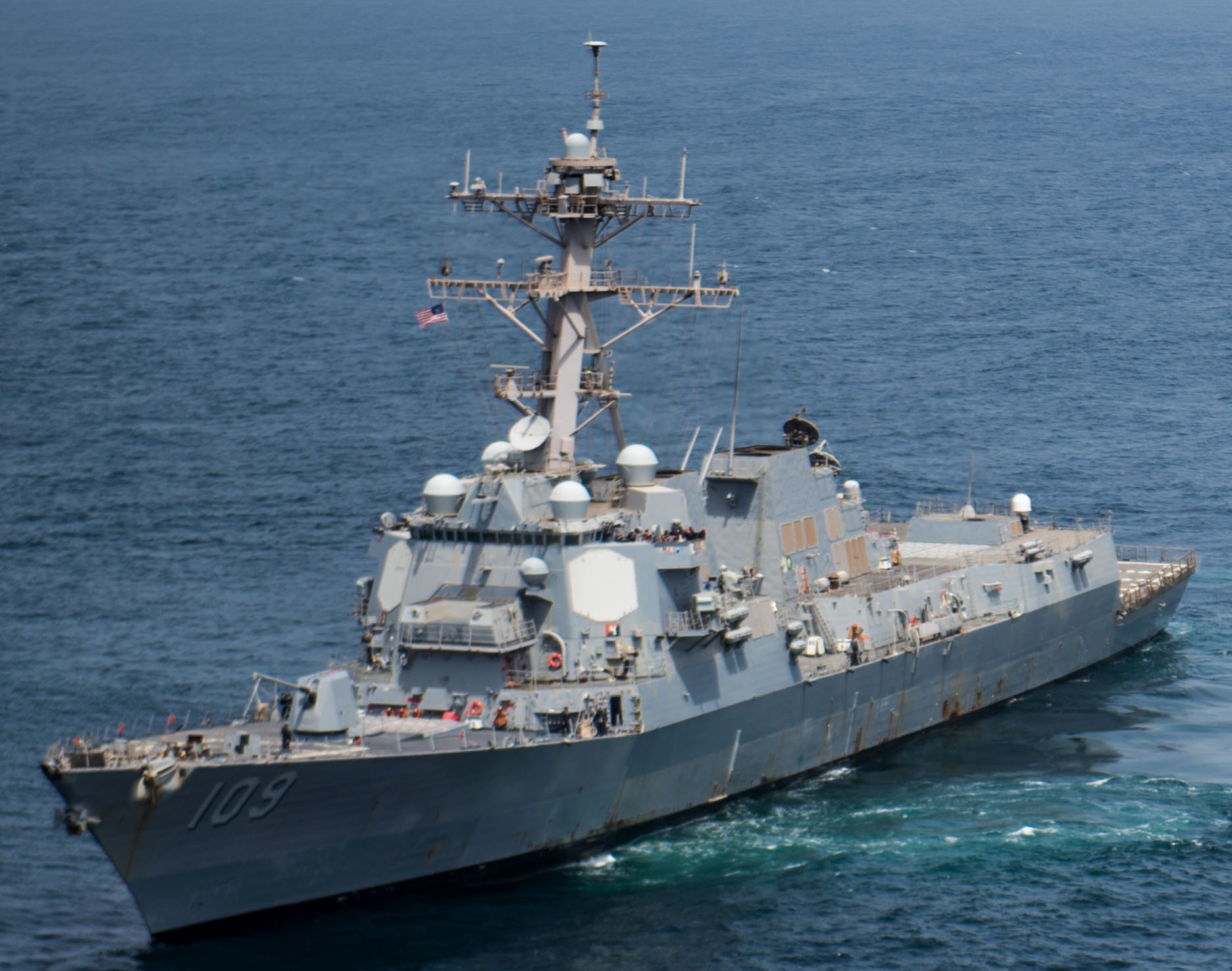 Gulf of Aden - August 2018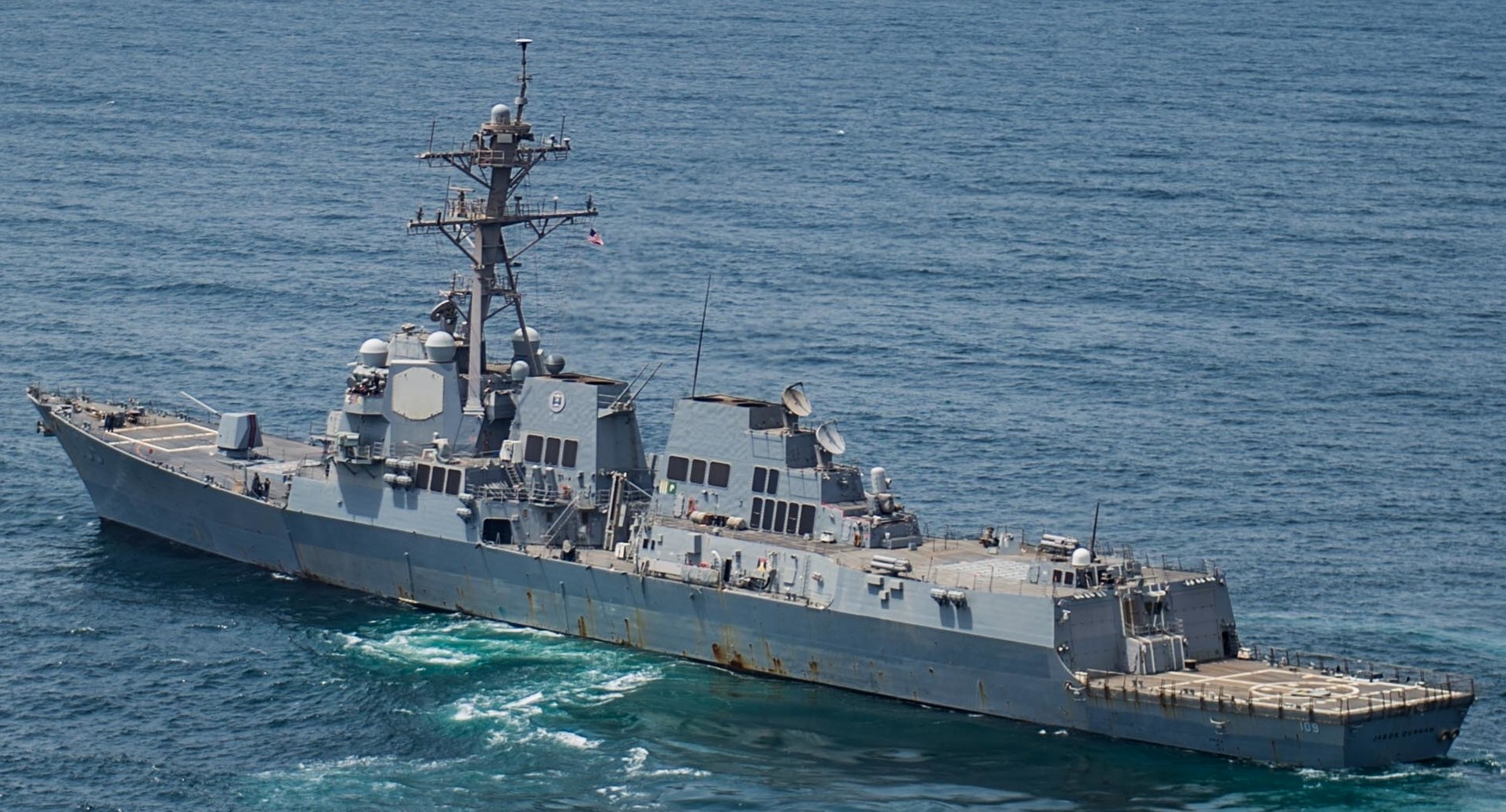 Gulf of Aden - August 2018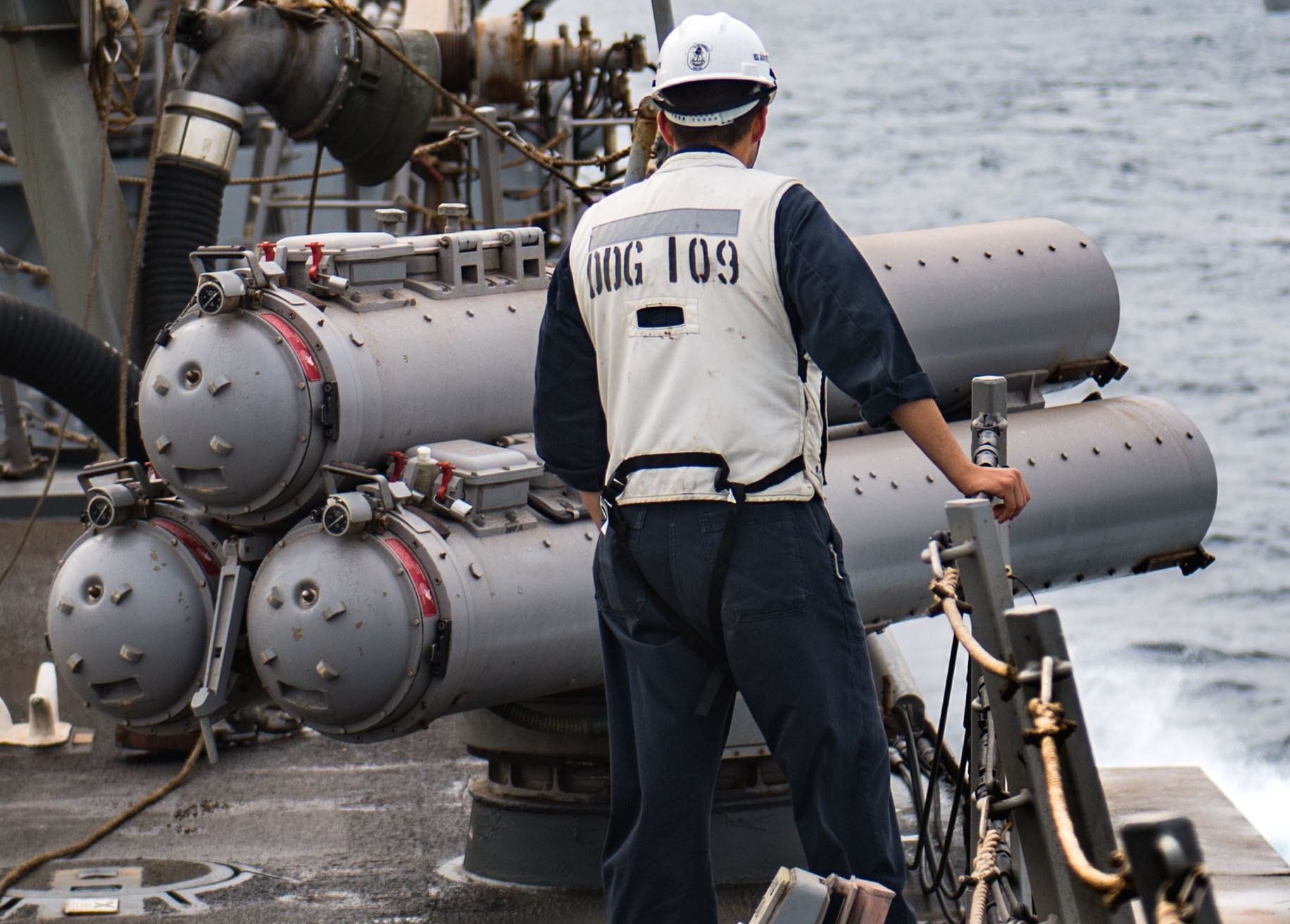 Mk.32 torpedo tubes - 5th Fleet AOR - August 2018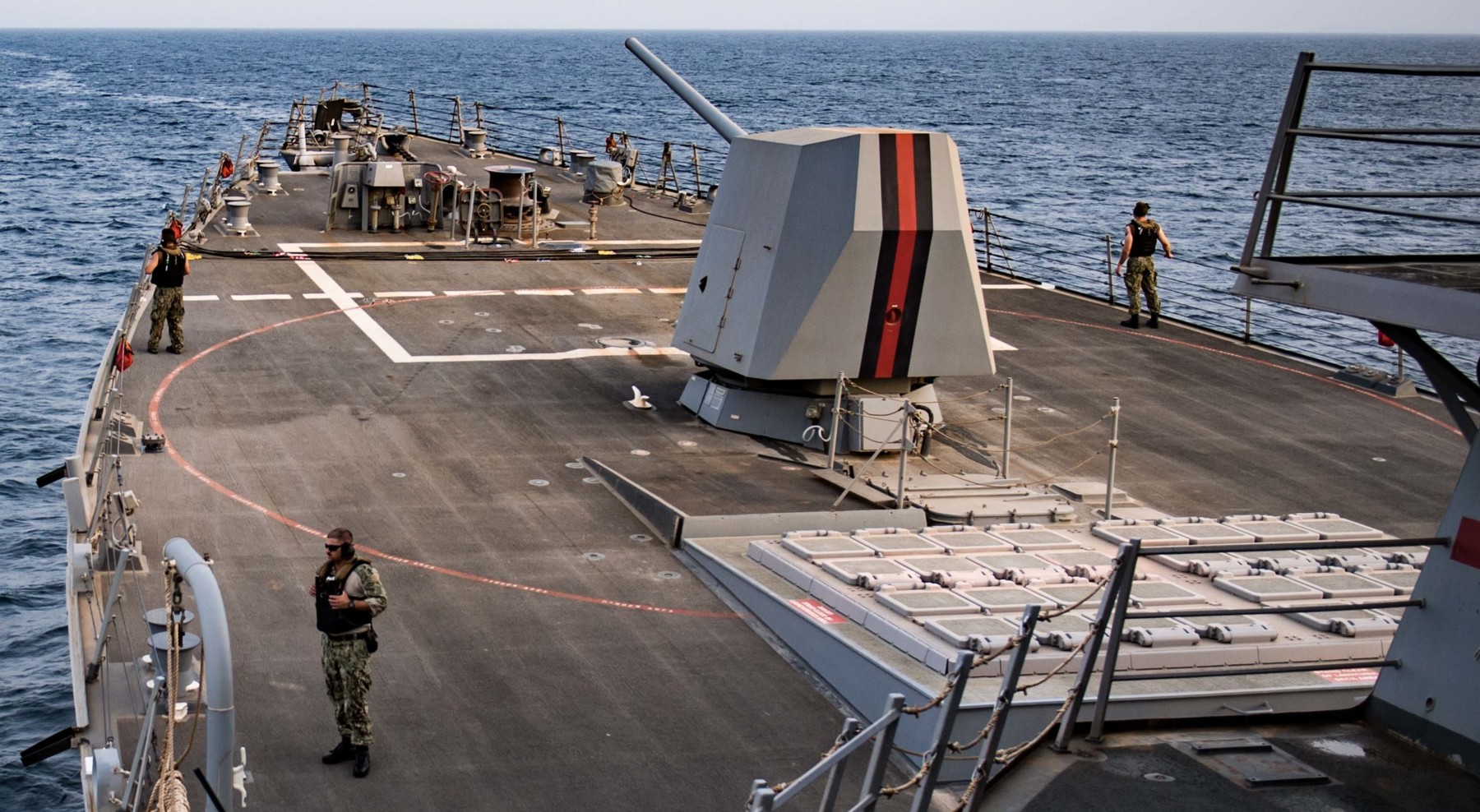 Bab el Mandeb Strait - August 2018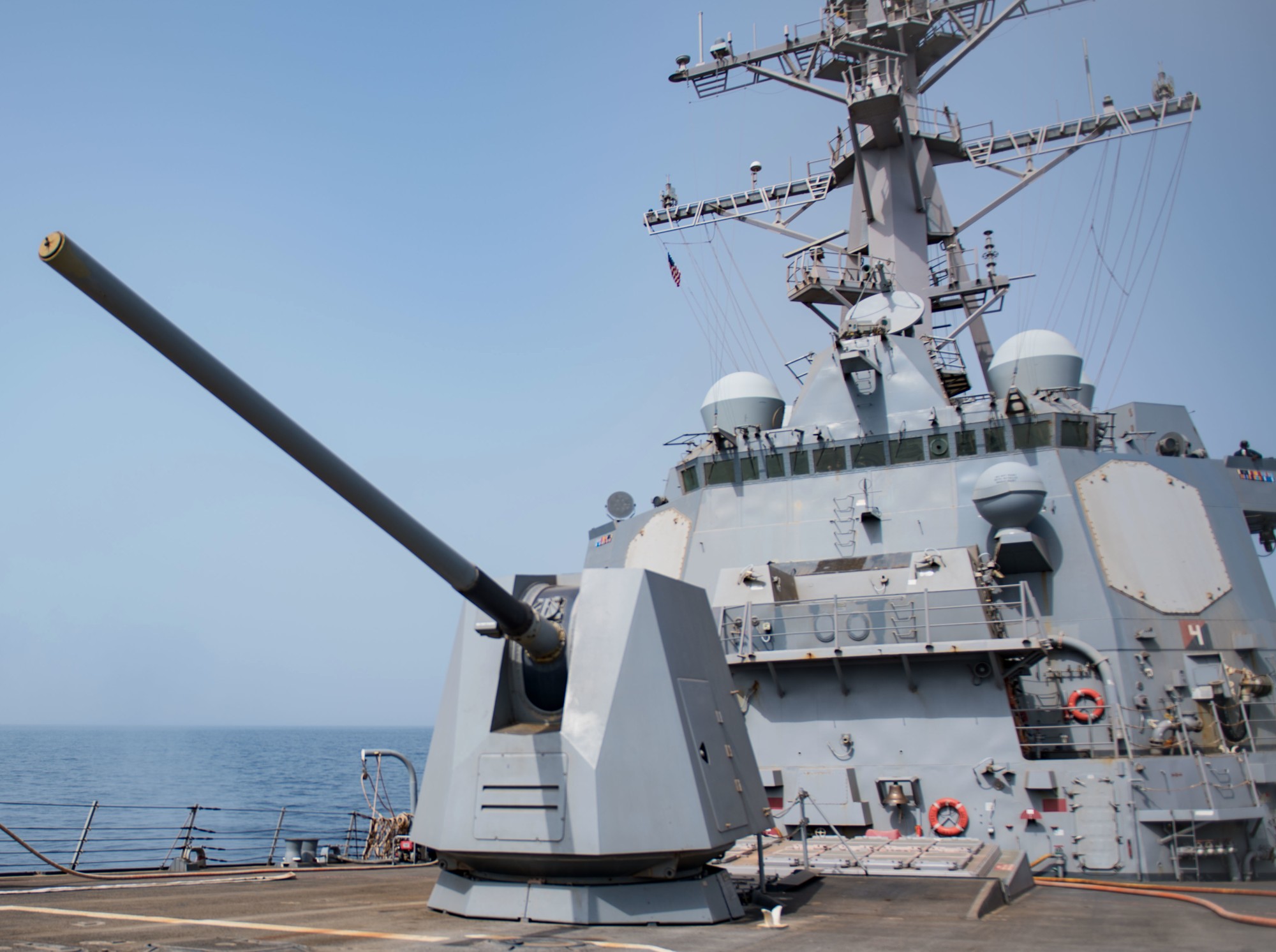 Gulf of Aden - August 2018



Red Sea - August 2018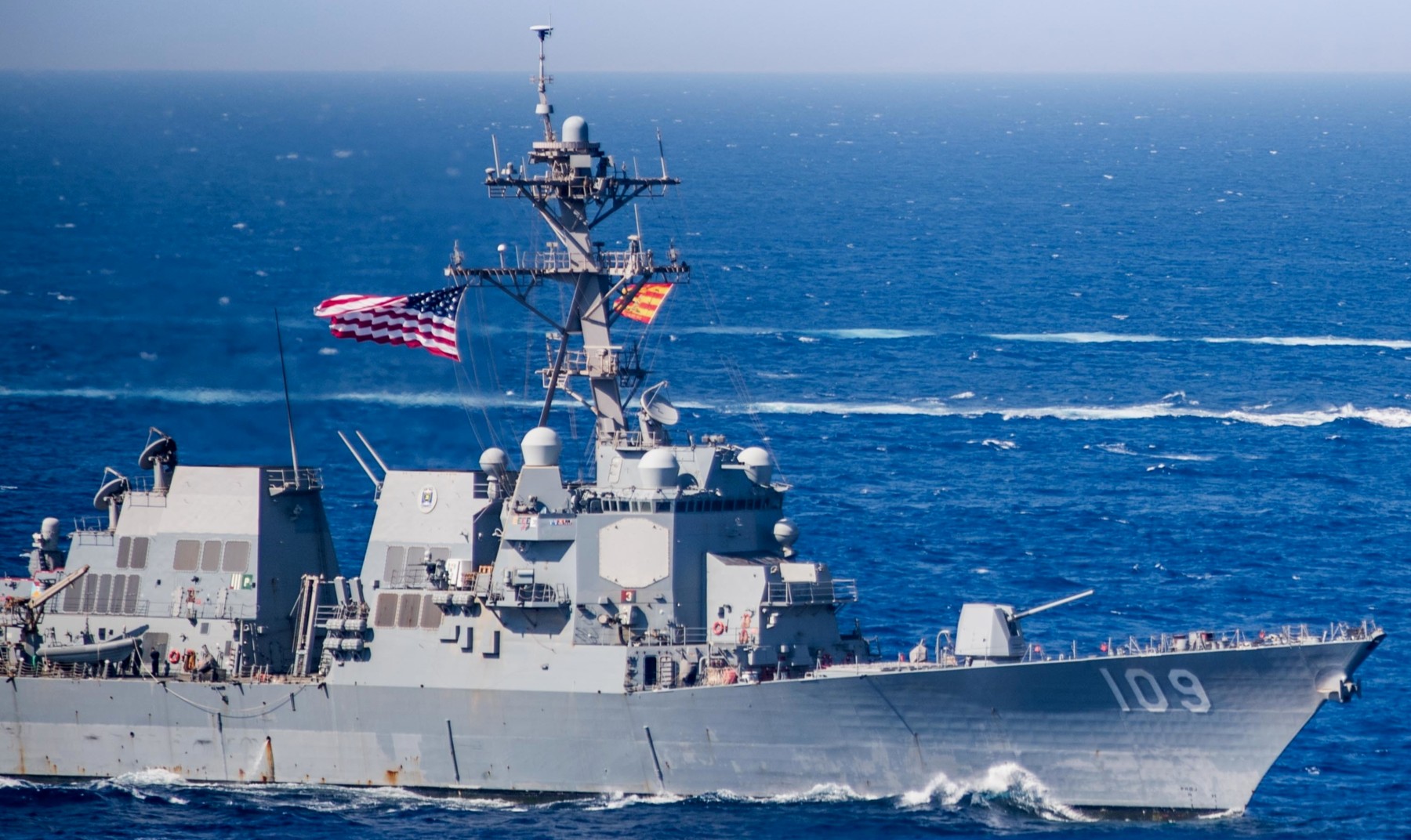 Red Sea - August 2018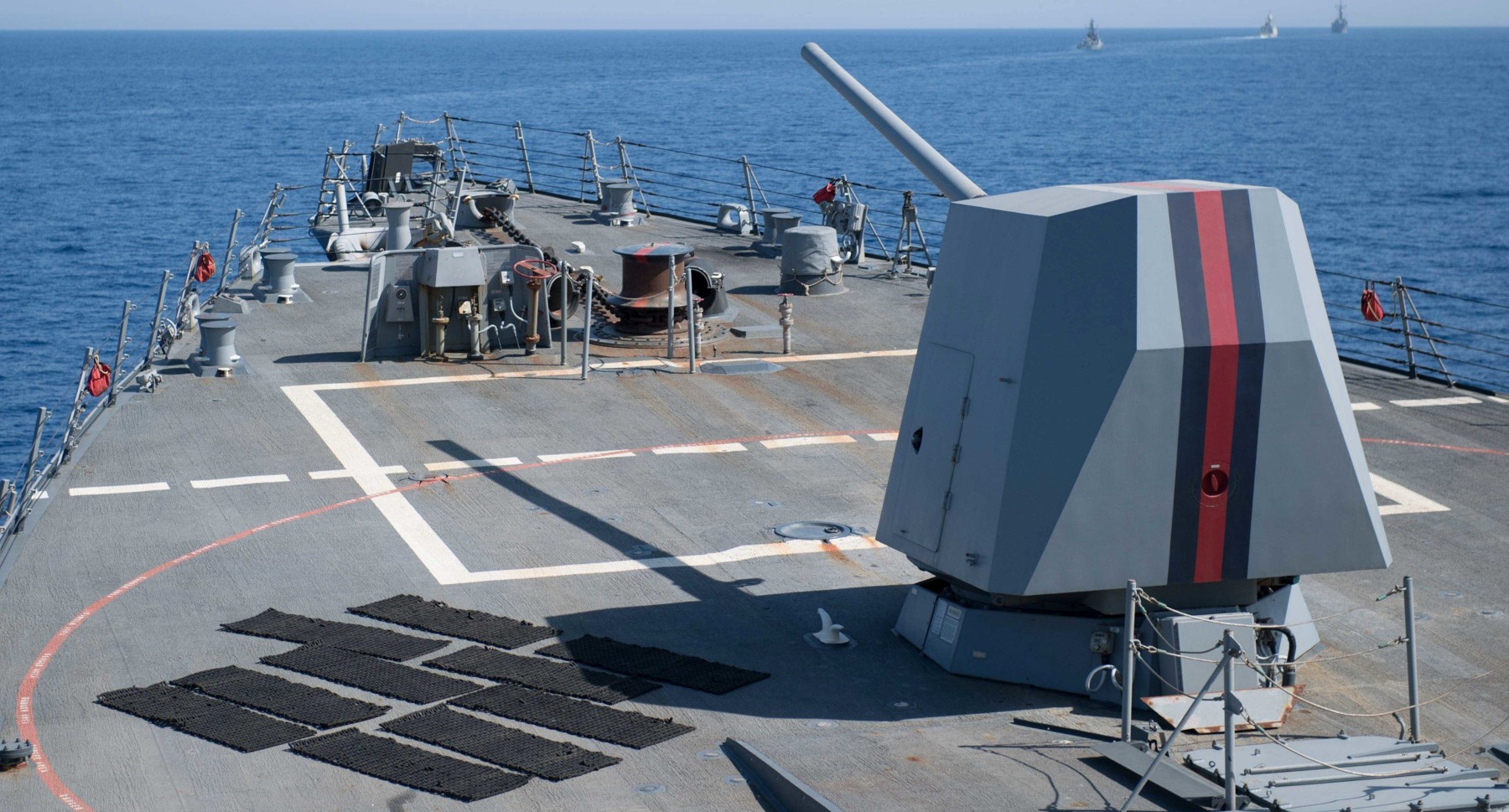 Red Sea - August 2018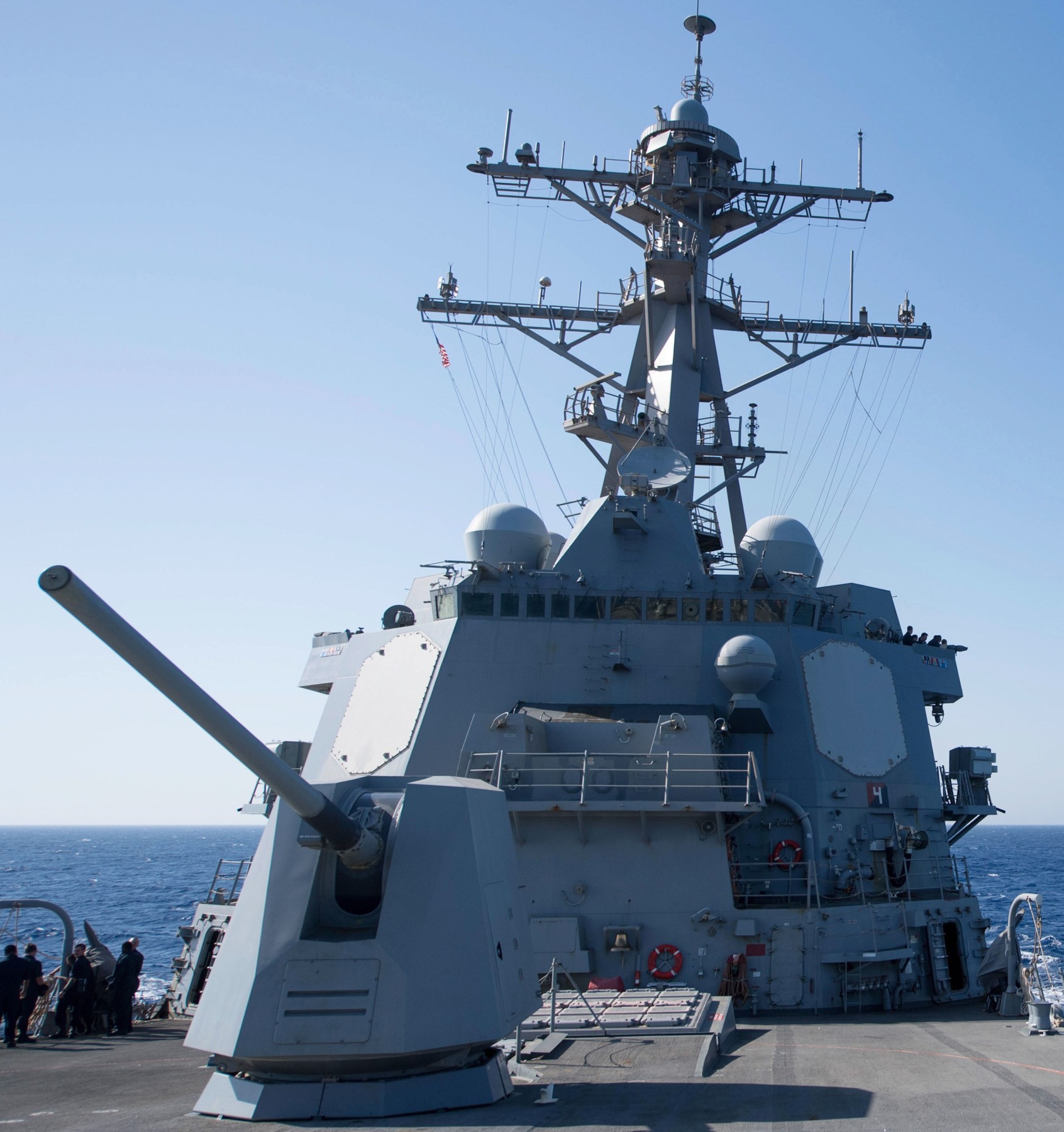 Red Sea - August 2018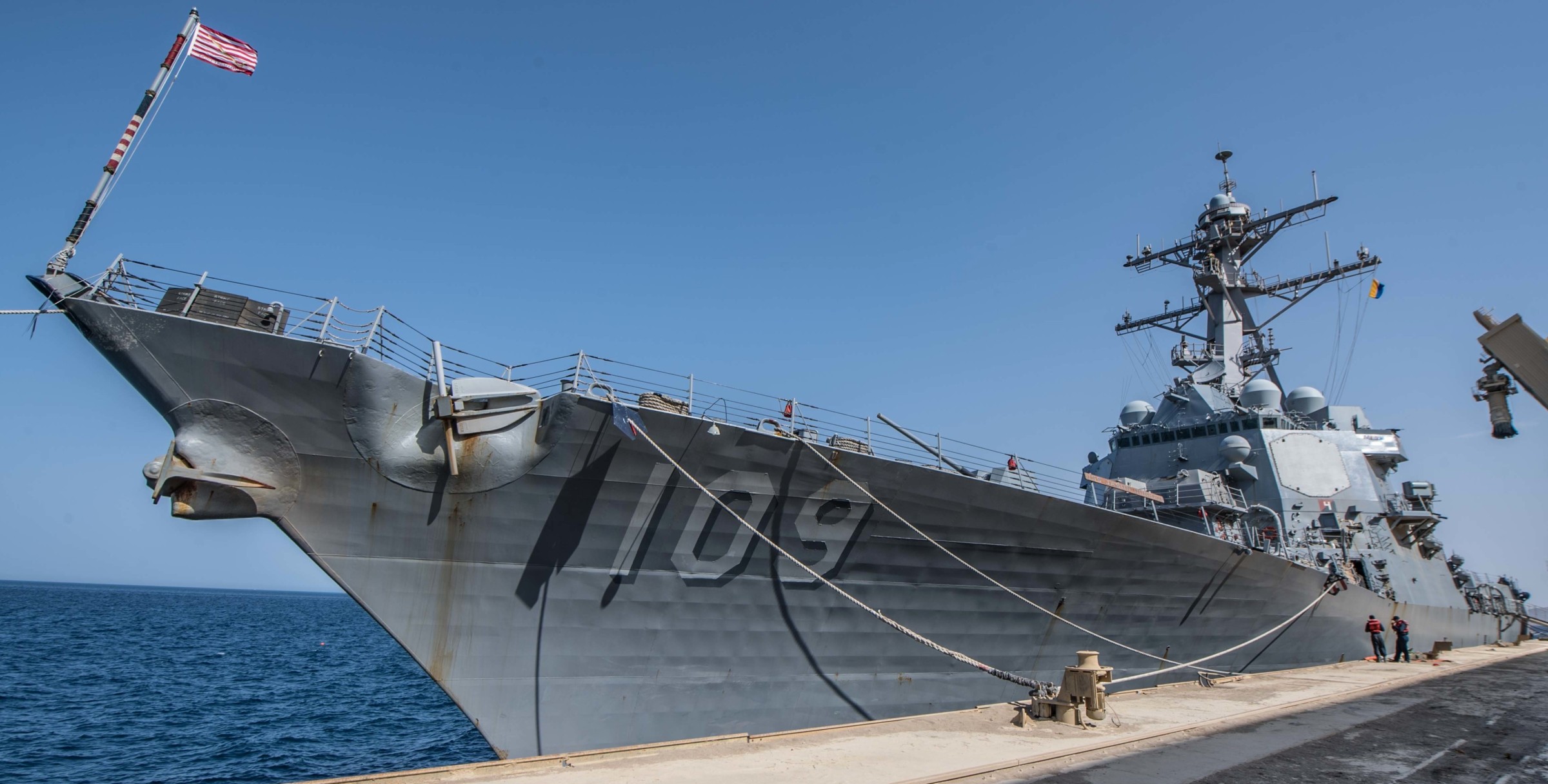 Safaga, Egypt - July 2018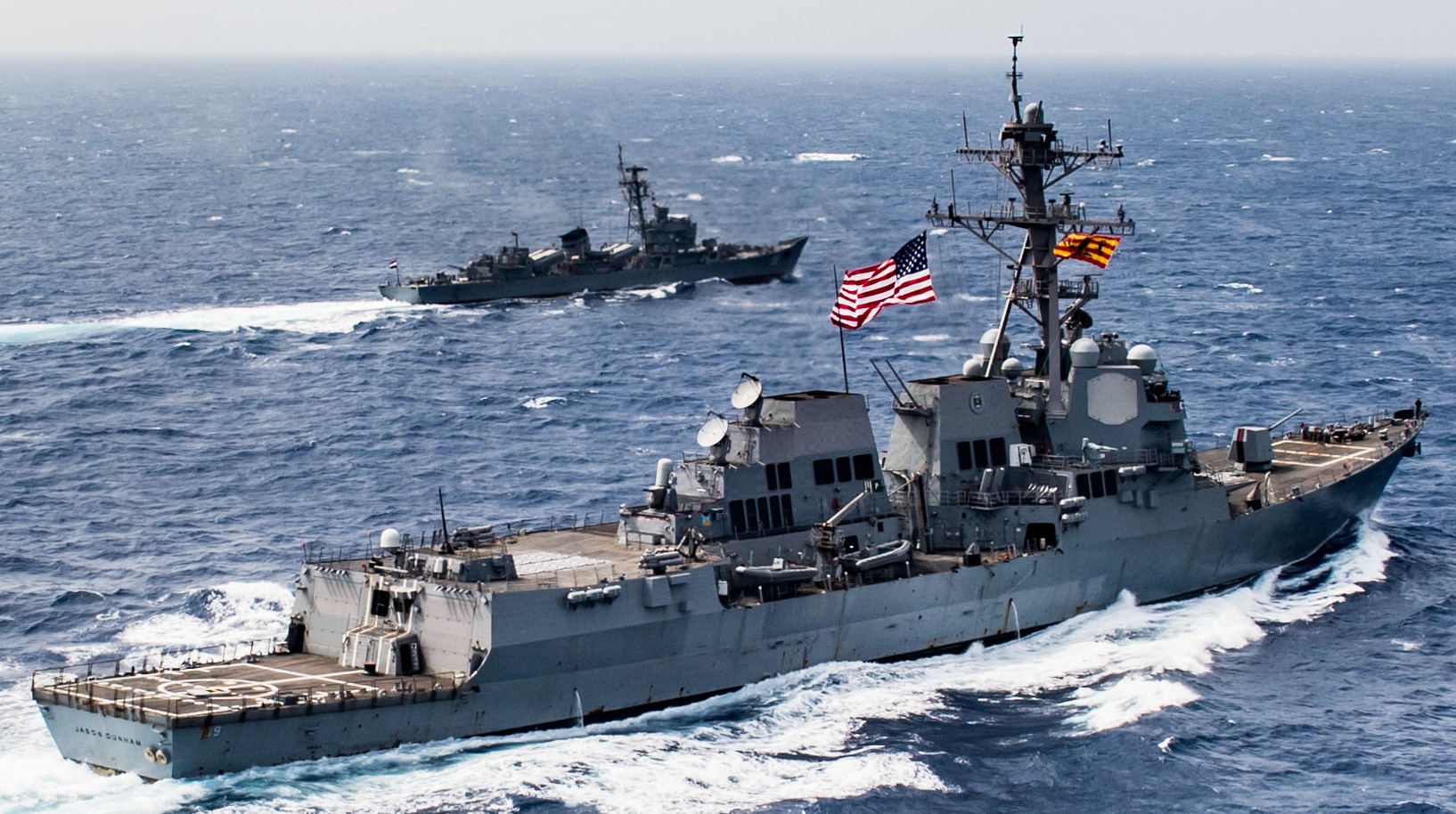 5th Fleet AOR - July 2018



Mk.38 Mod.2 machine gun fire - Mediterranean Sea - June 2018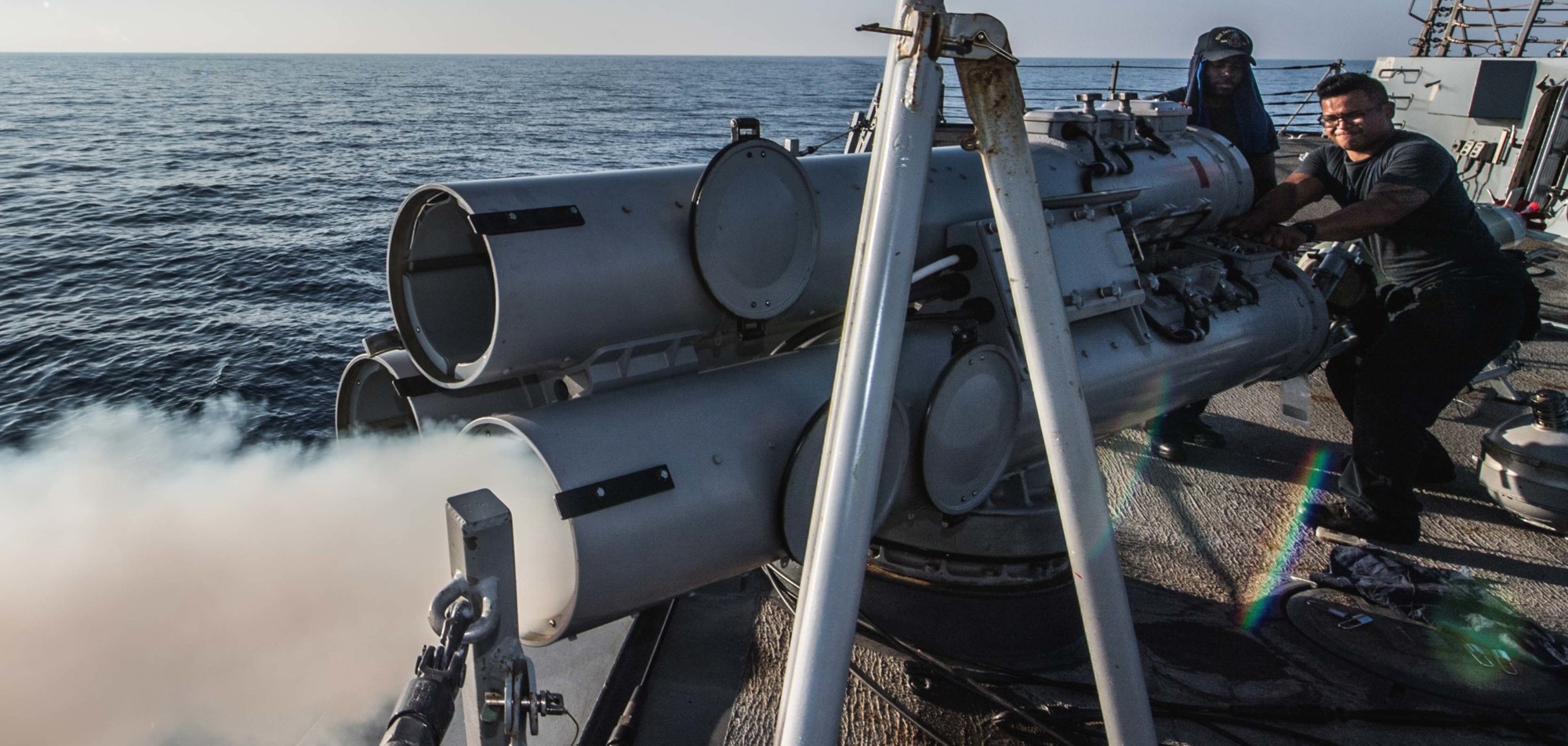 Mk.32 torpedo tube exercise - Mediterranean Sea - June 2018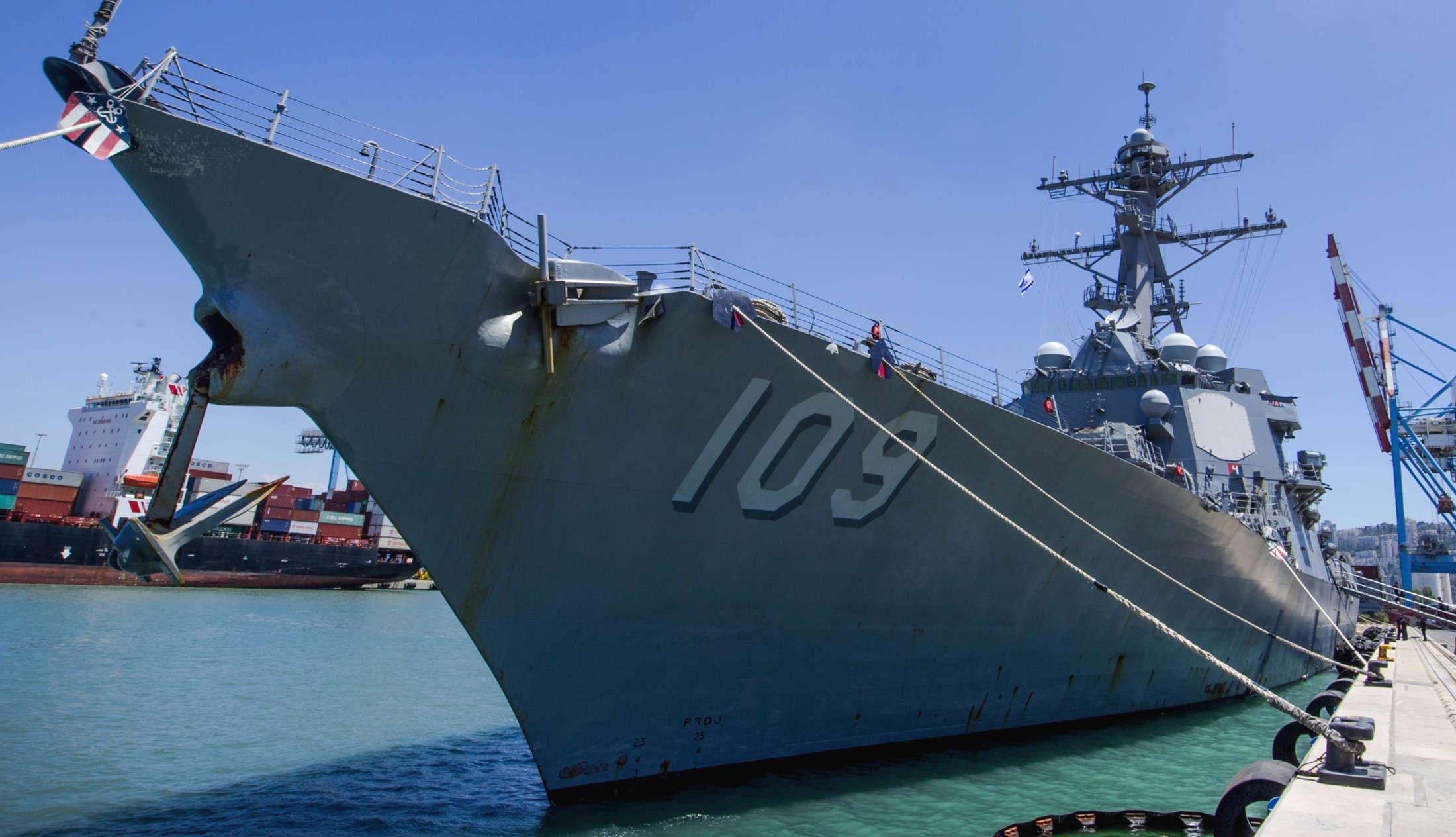 Haifa, Israel - June 2018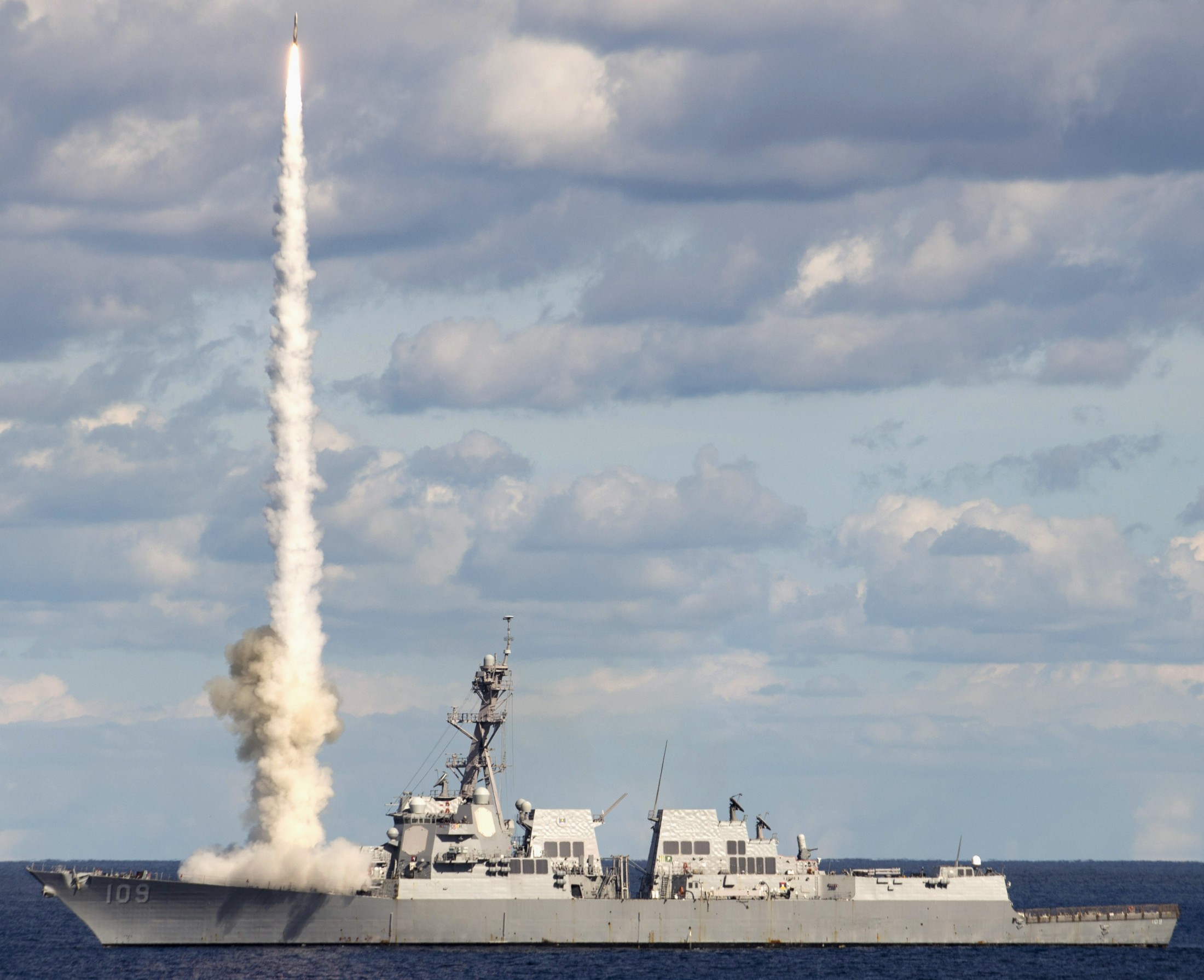 a Standard Missile SM-2 was fired from the forward Mk.41 VLS - Atlantic Ocean - November 2017




Gulf of Mexico - September 2016




Gulf of Mexico - September 2016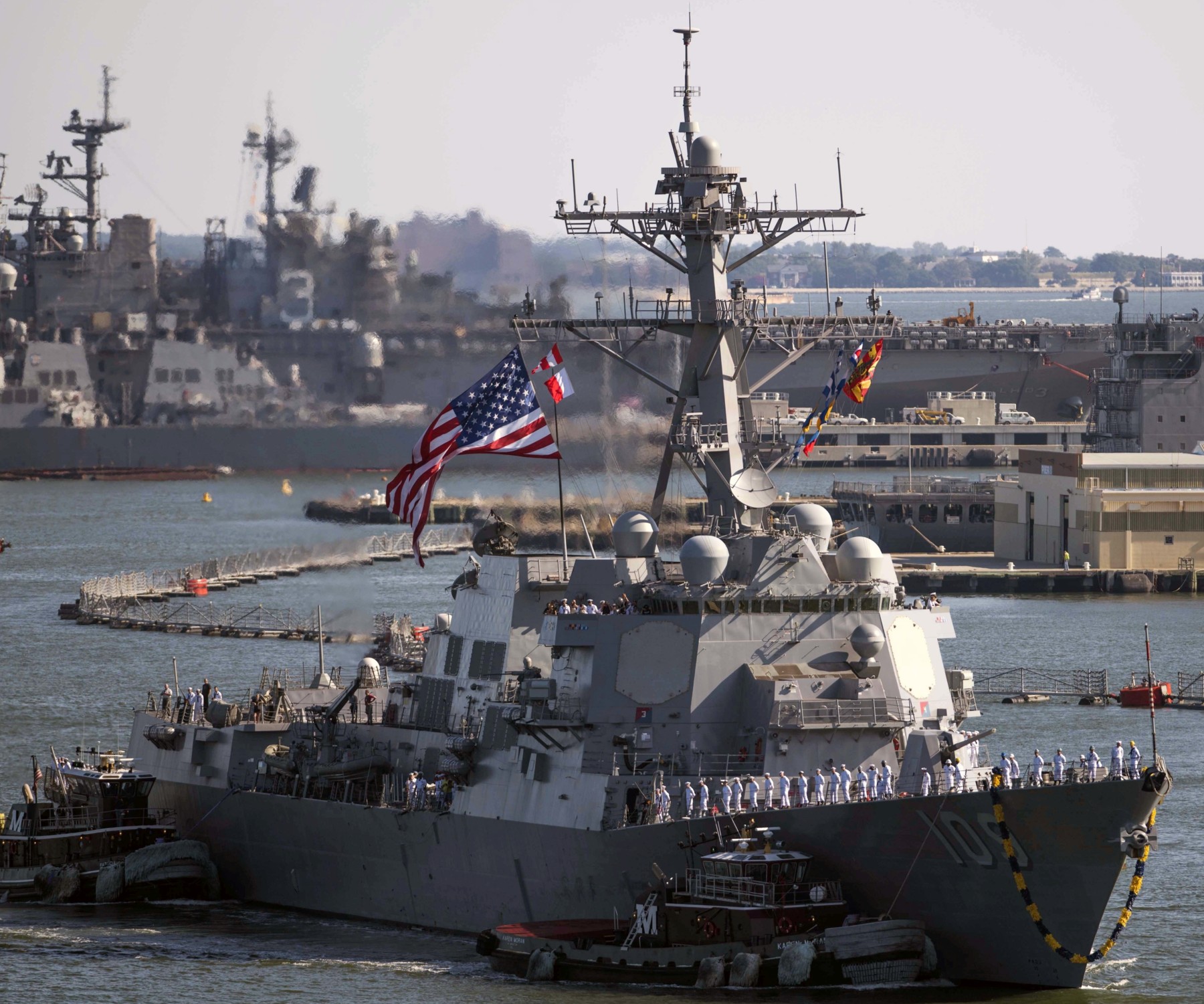 returning to Naval Station Norfolk, Virginia - August 28, 2015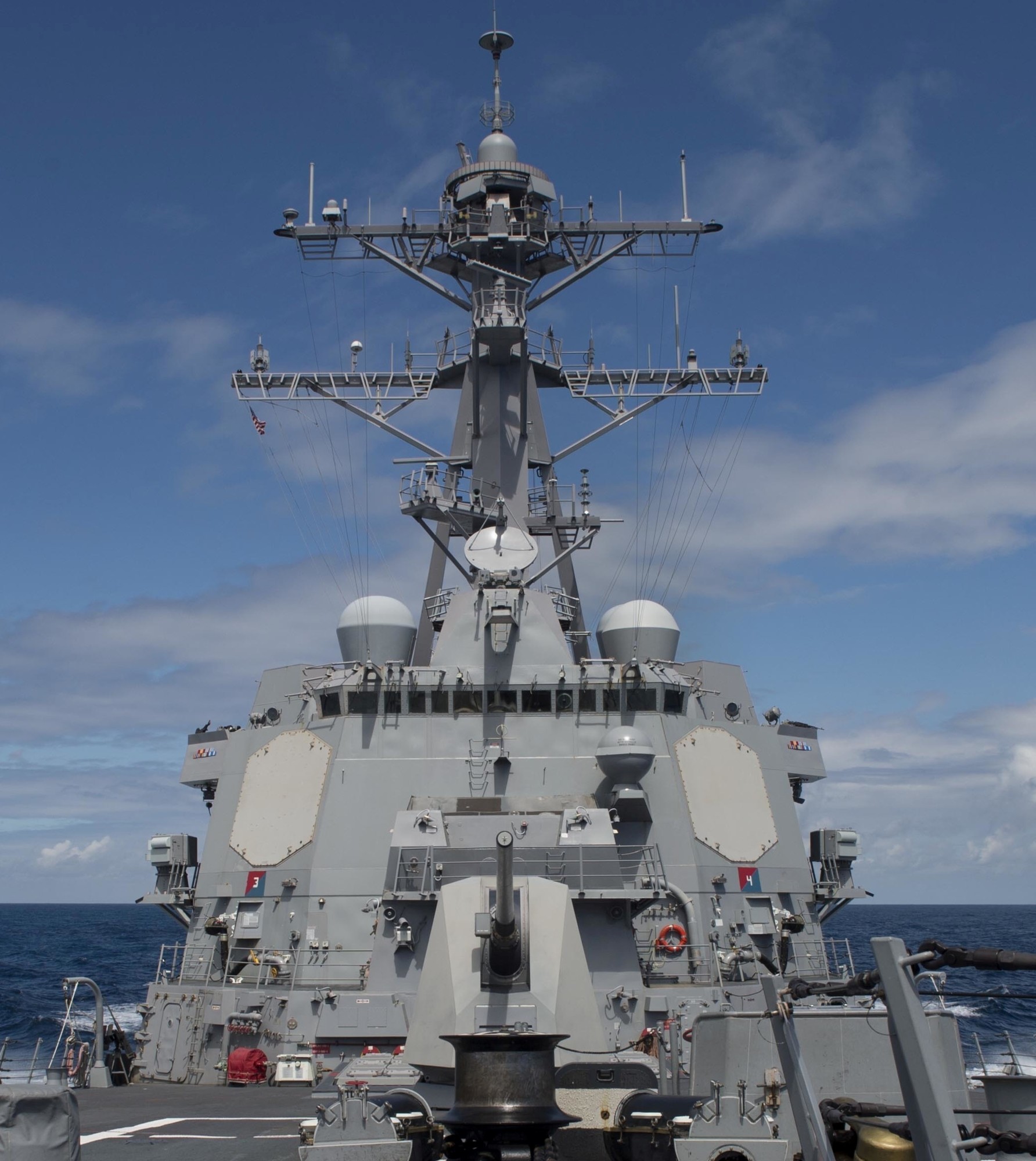 Atlantic Ocean - August 2015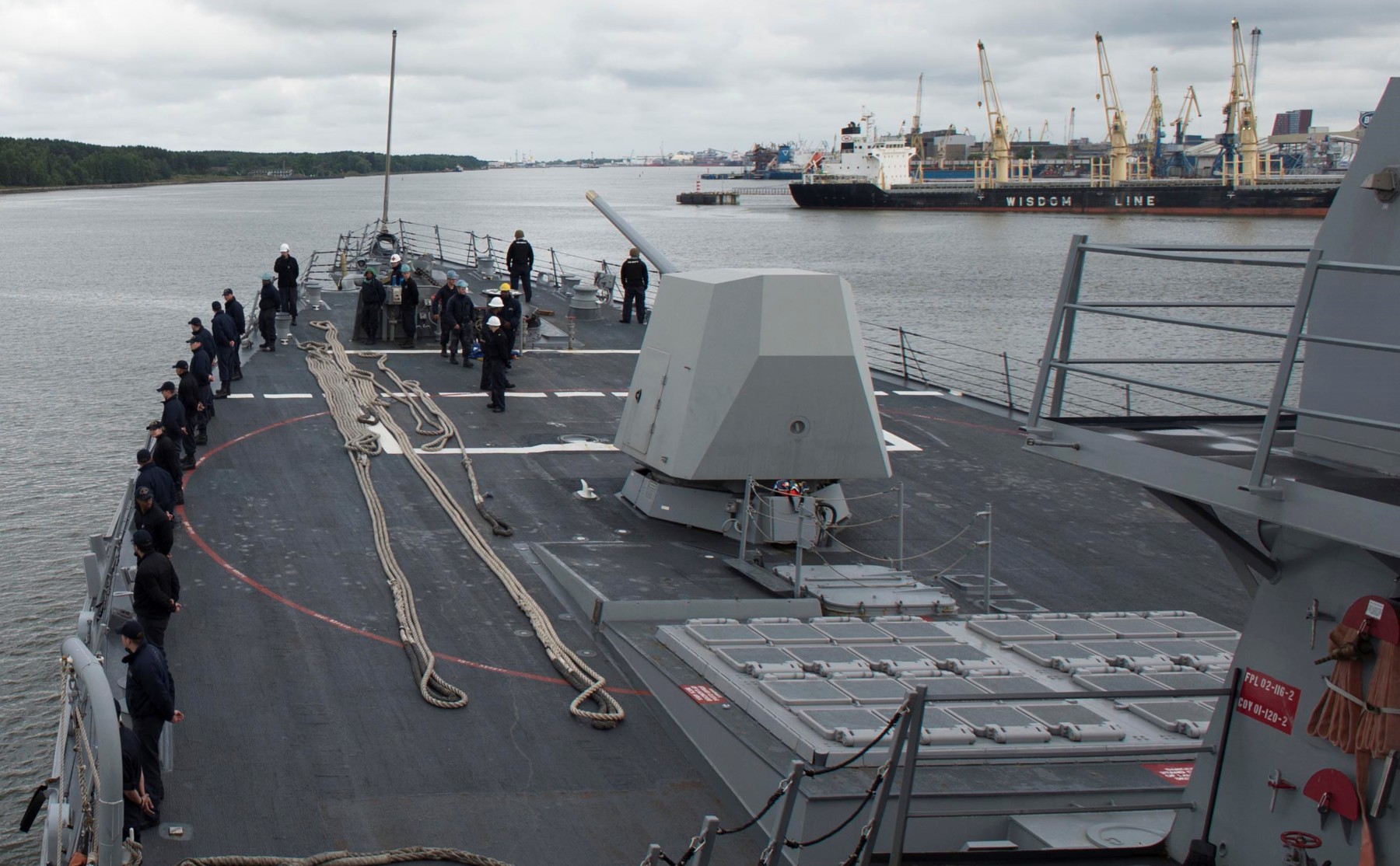 Klaipeda, Lithuania - July 2015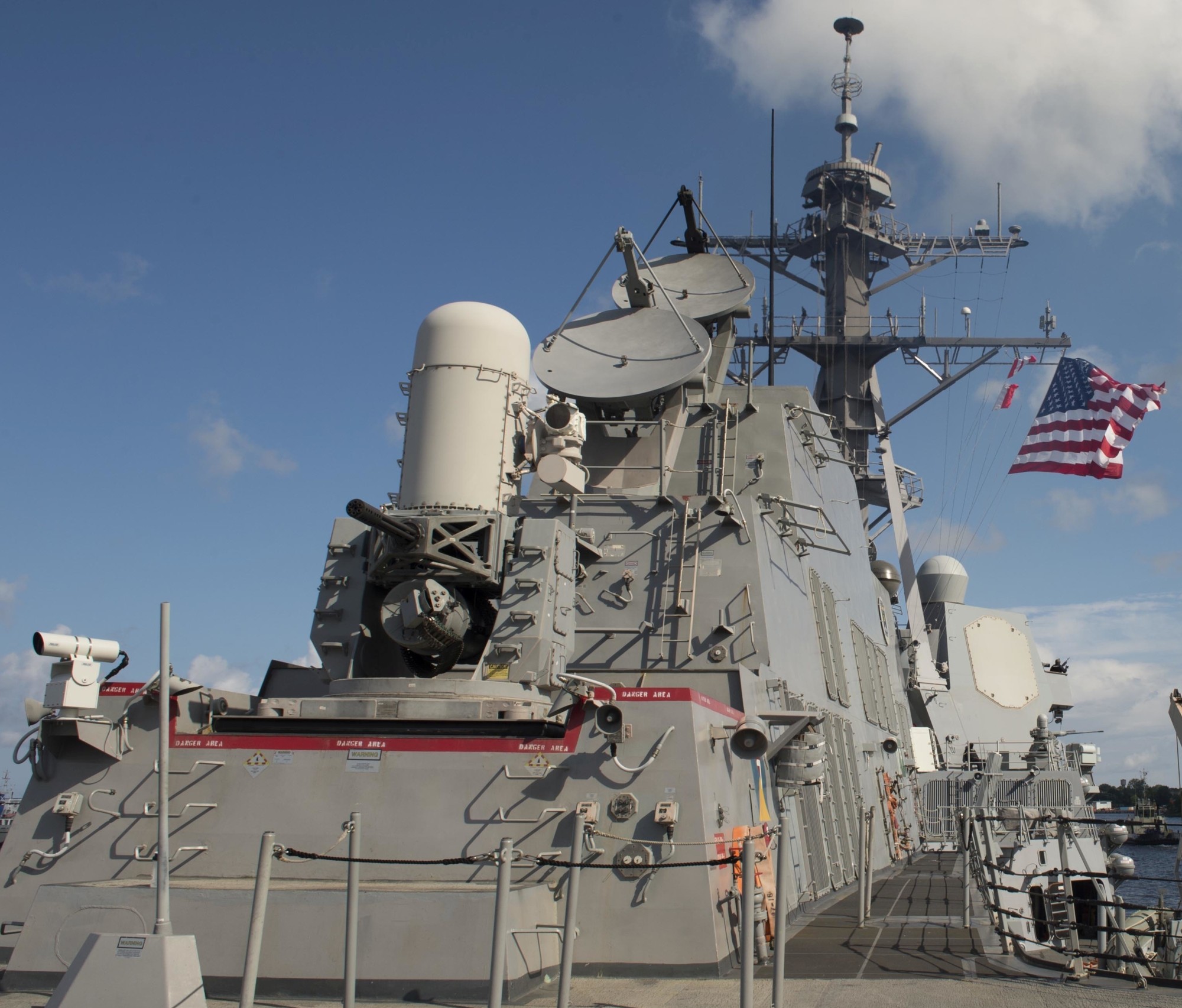 Riga, Latvia - July 2015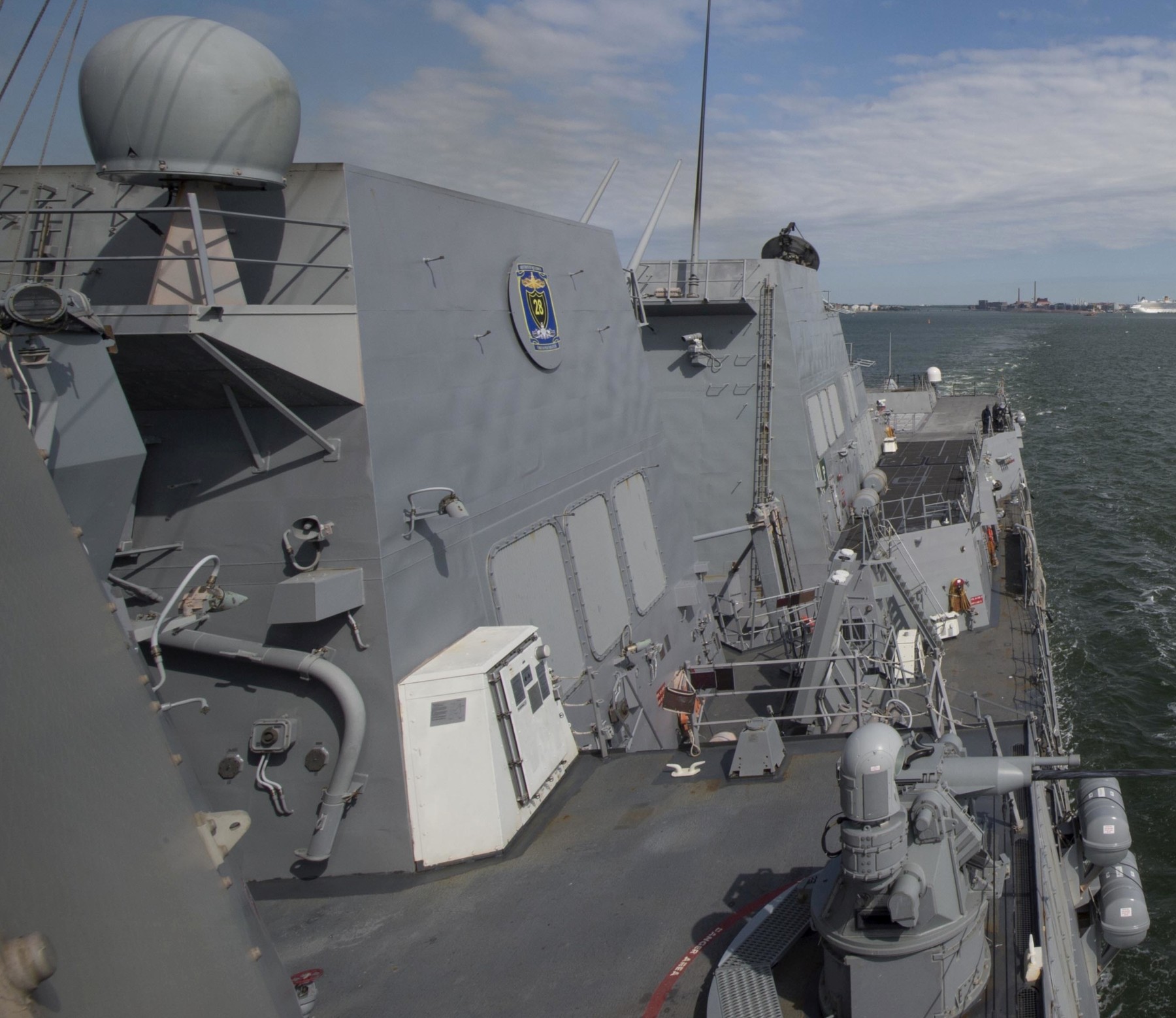 Helsinki, Finland - July 2015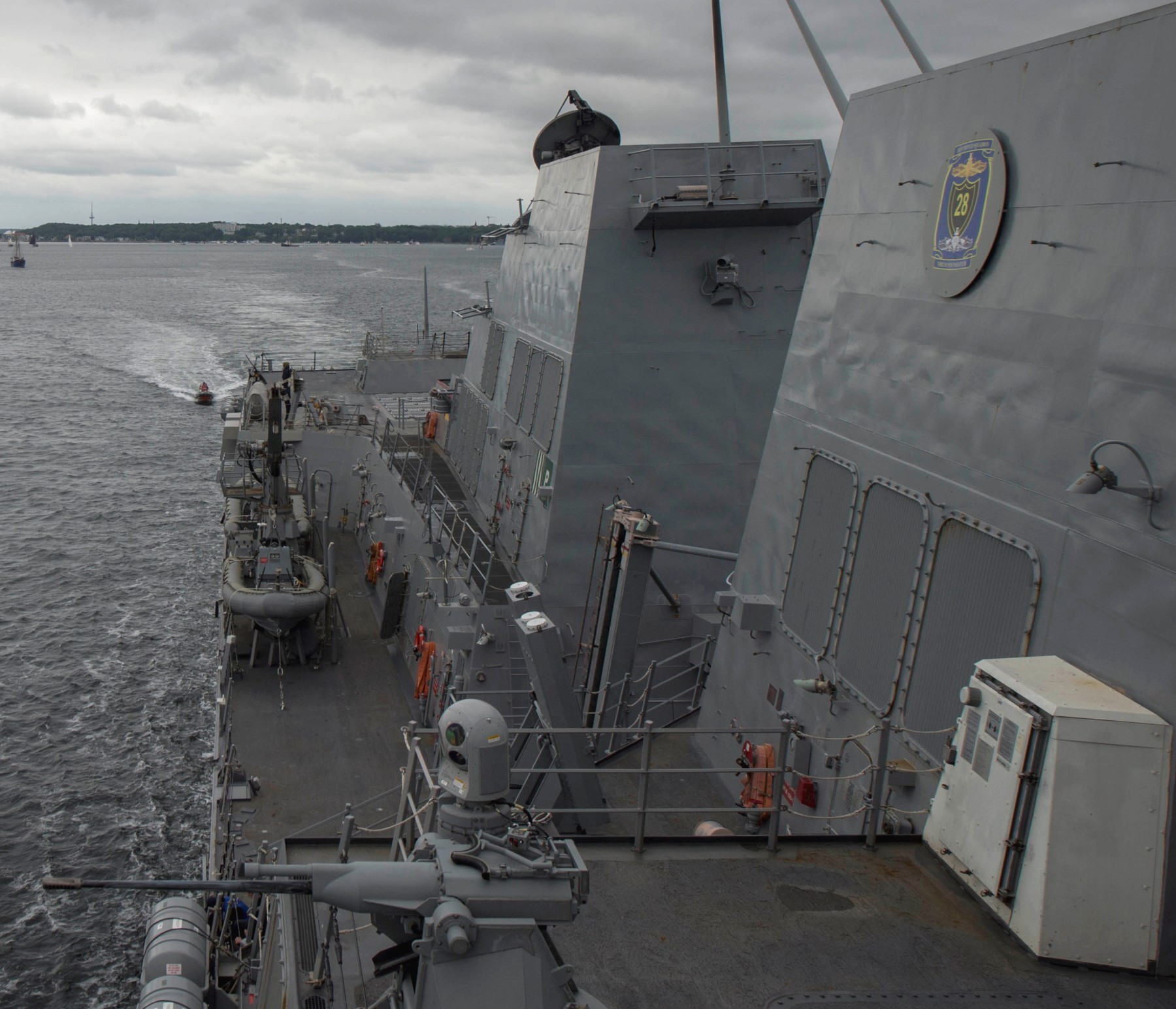 Kiel, Germany - June 2015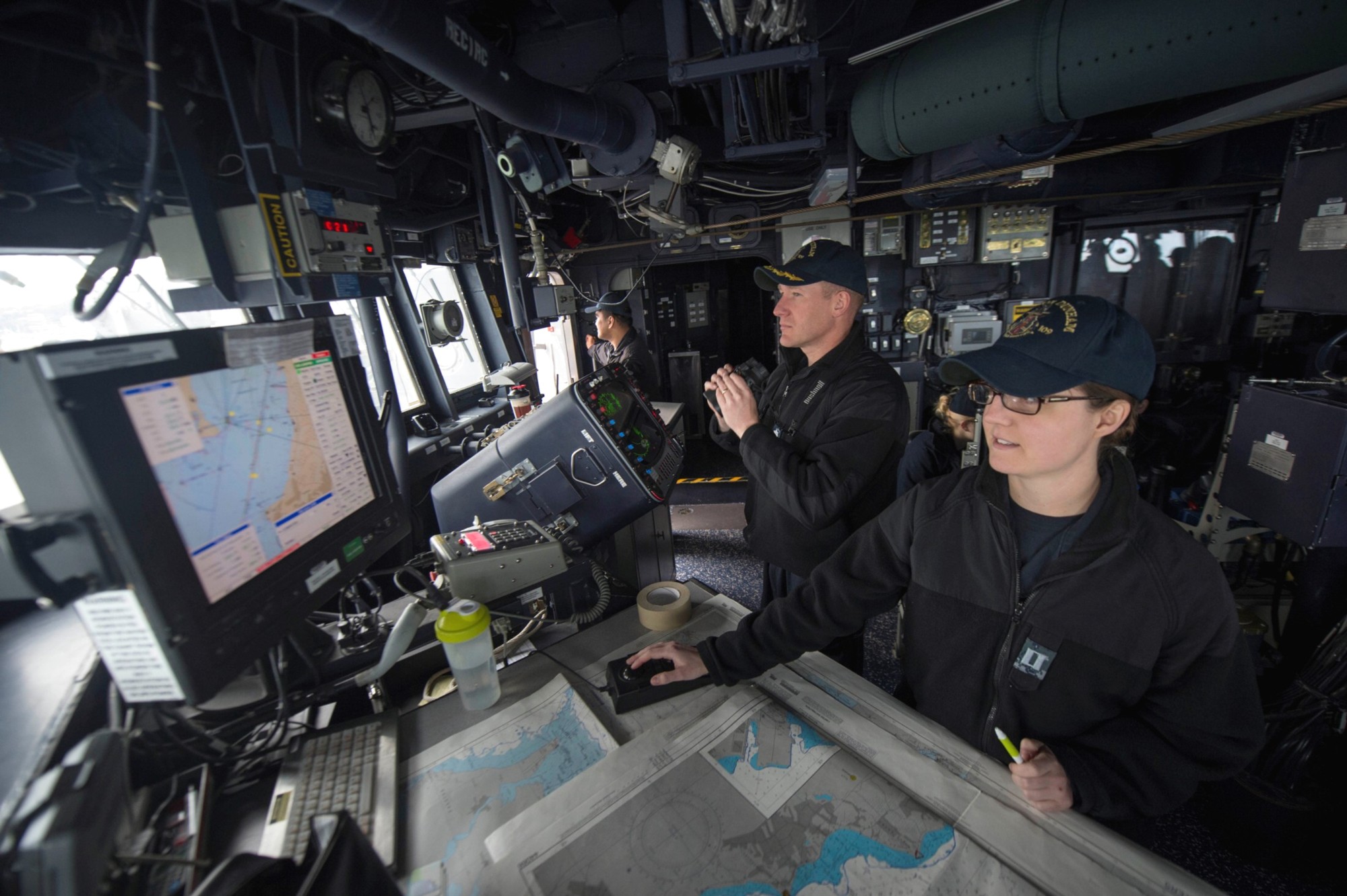 Kiel, Germany - June 2015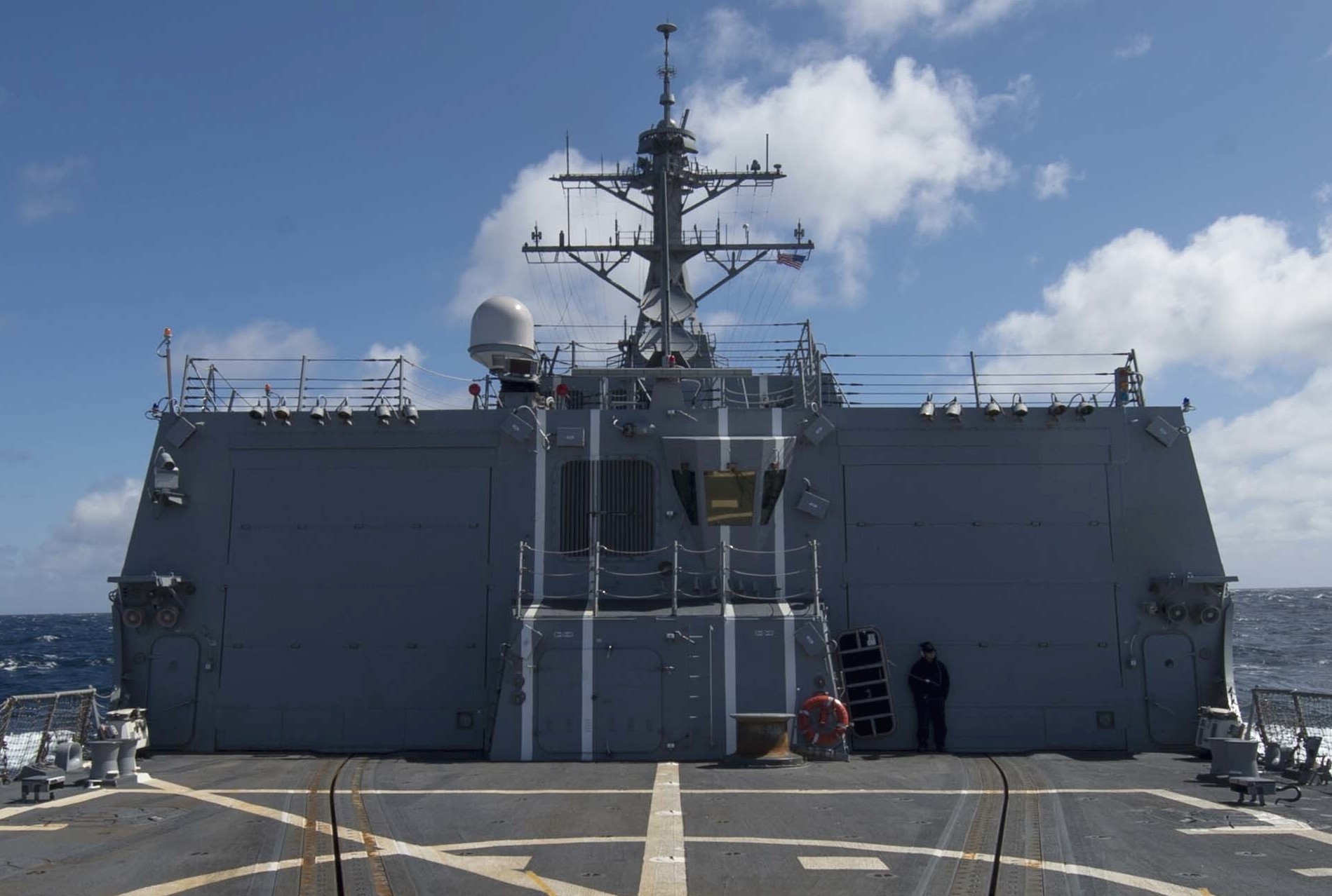 North Sea - June 2015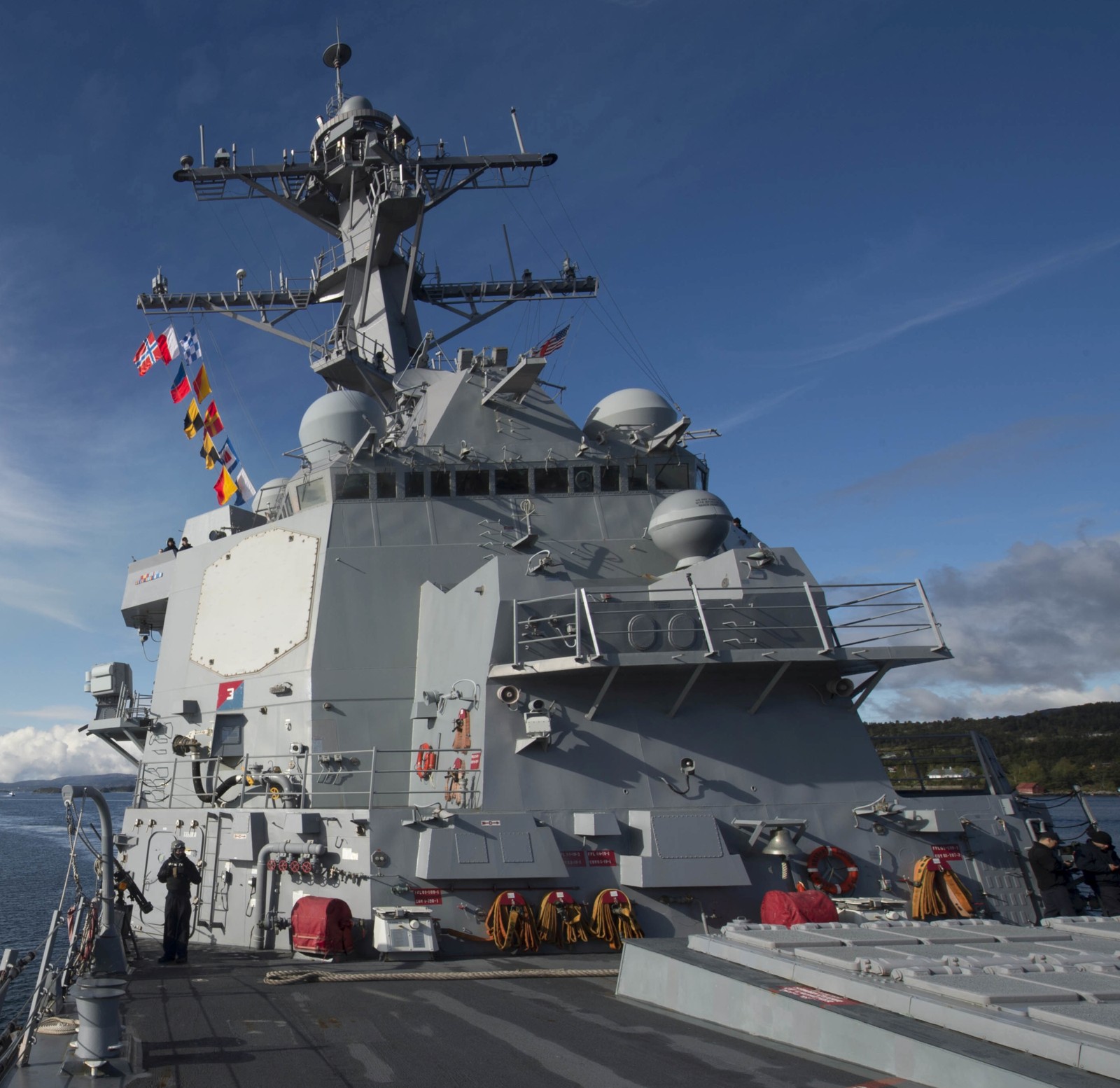 Haakonsvern Naval Base, Norway - May 2015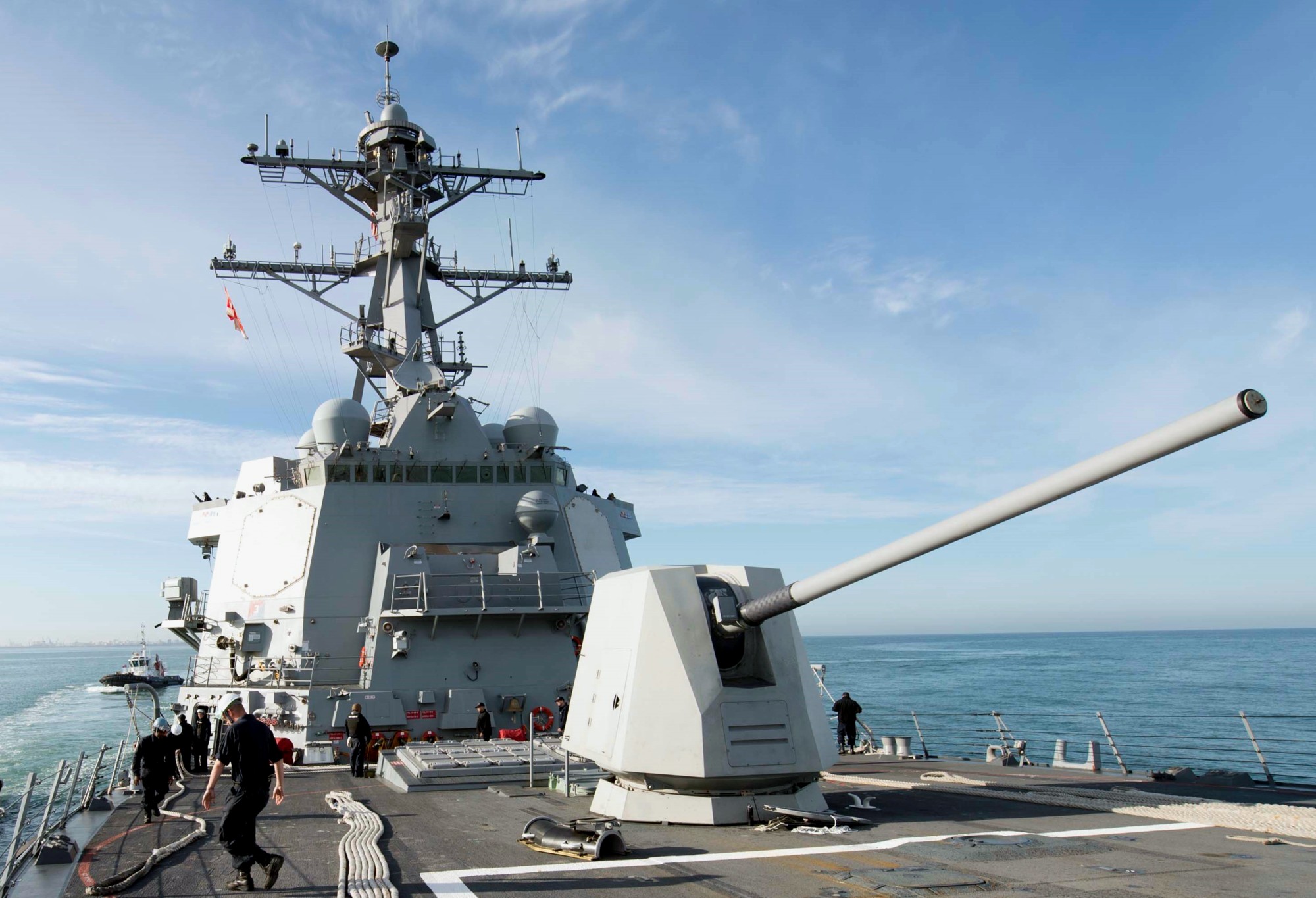 Rota, Spain - April 2015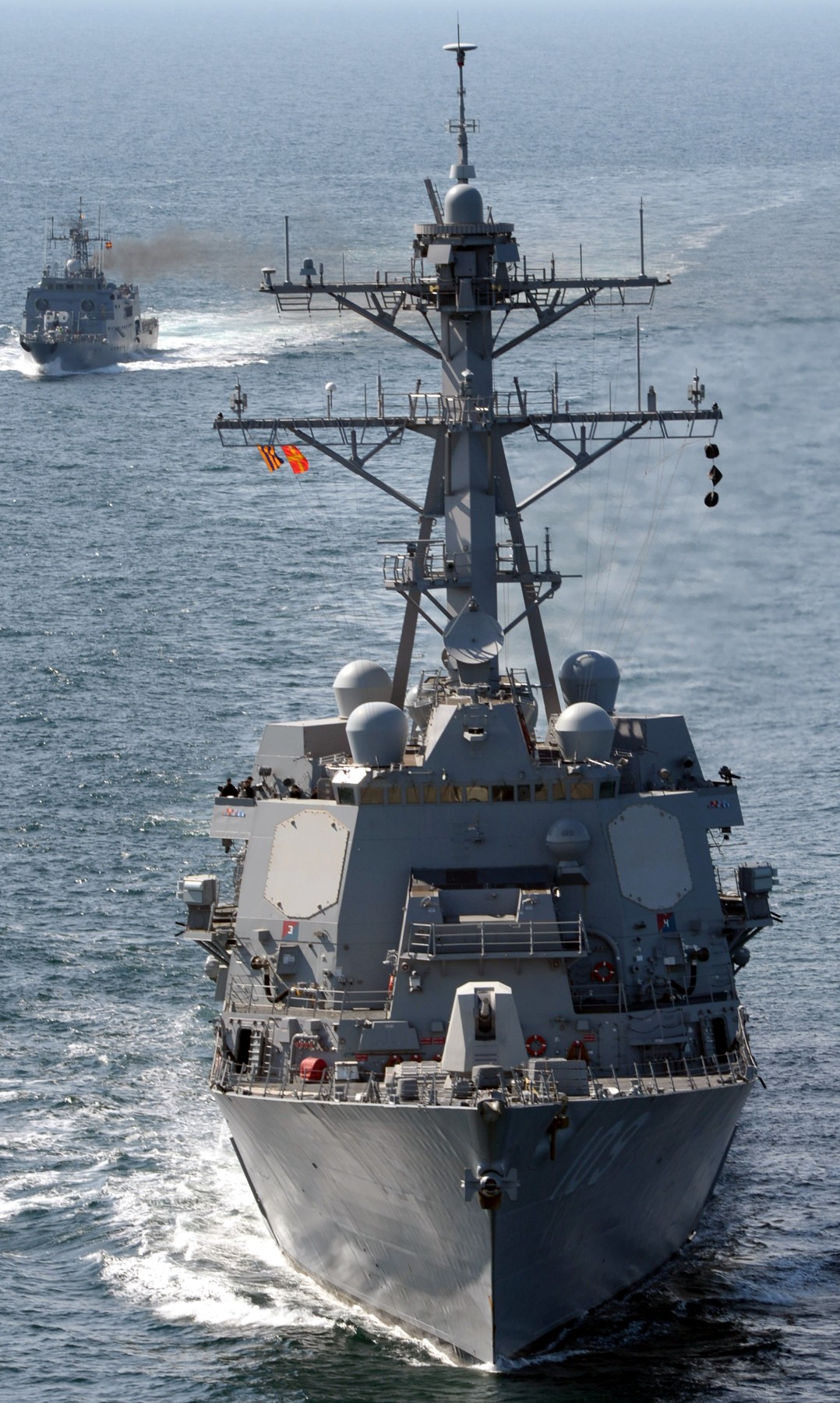 Black Sea - April 2015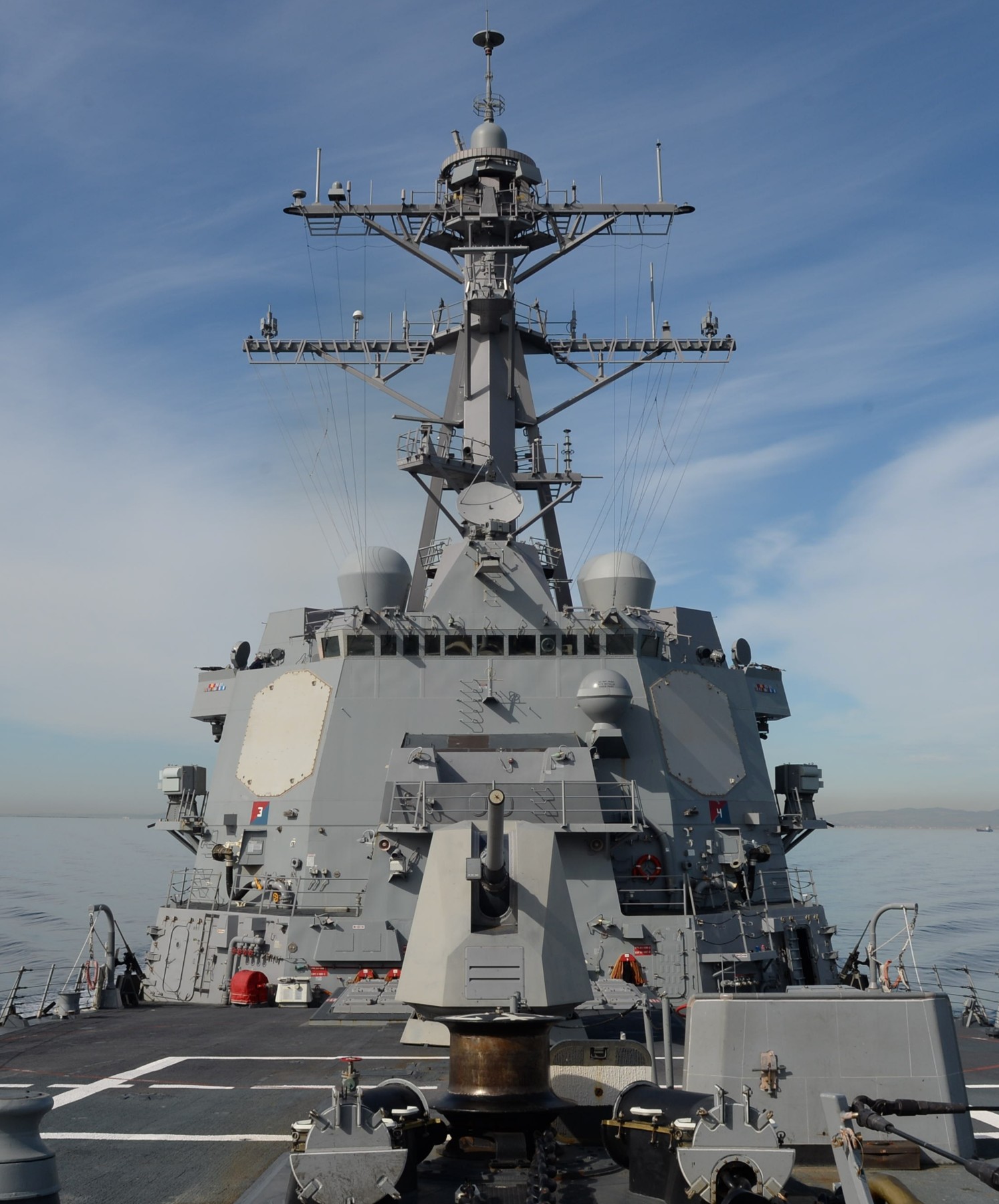 Dardanelles - April 2015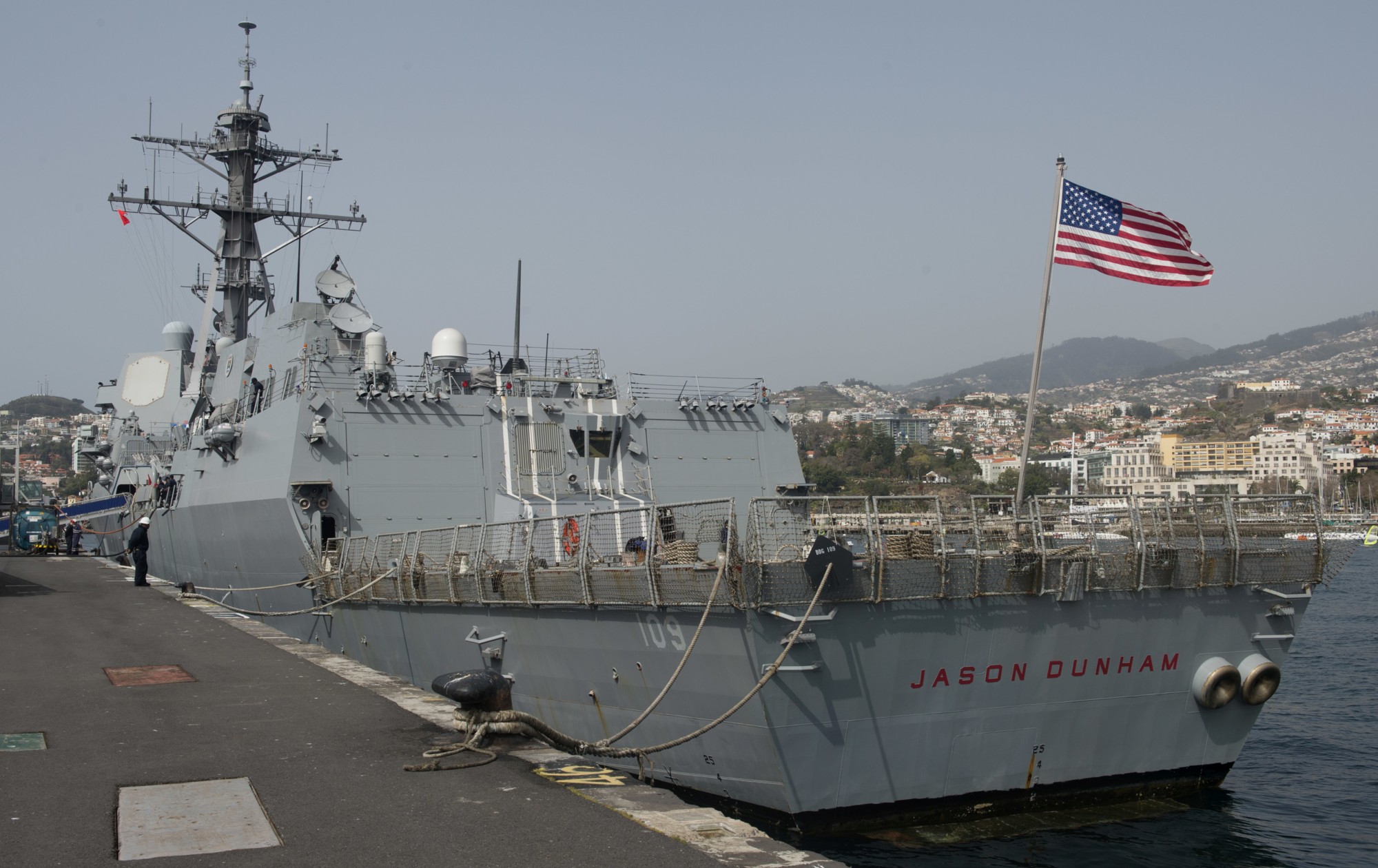 Funchal, Madeira, Portugal - March 2015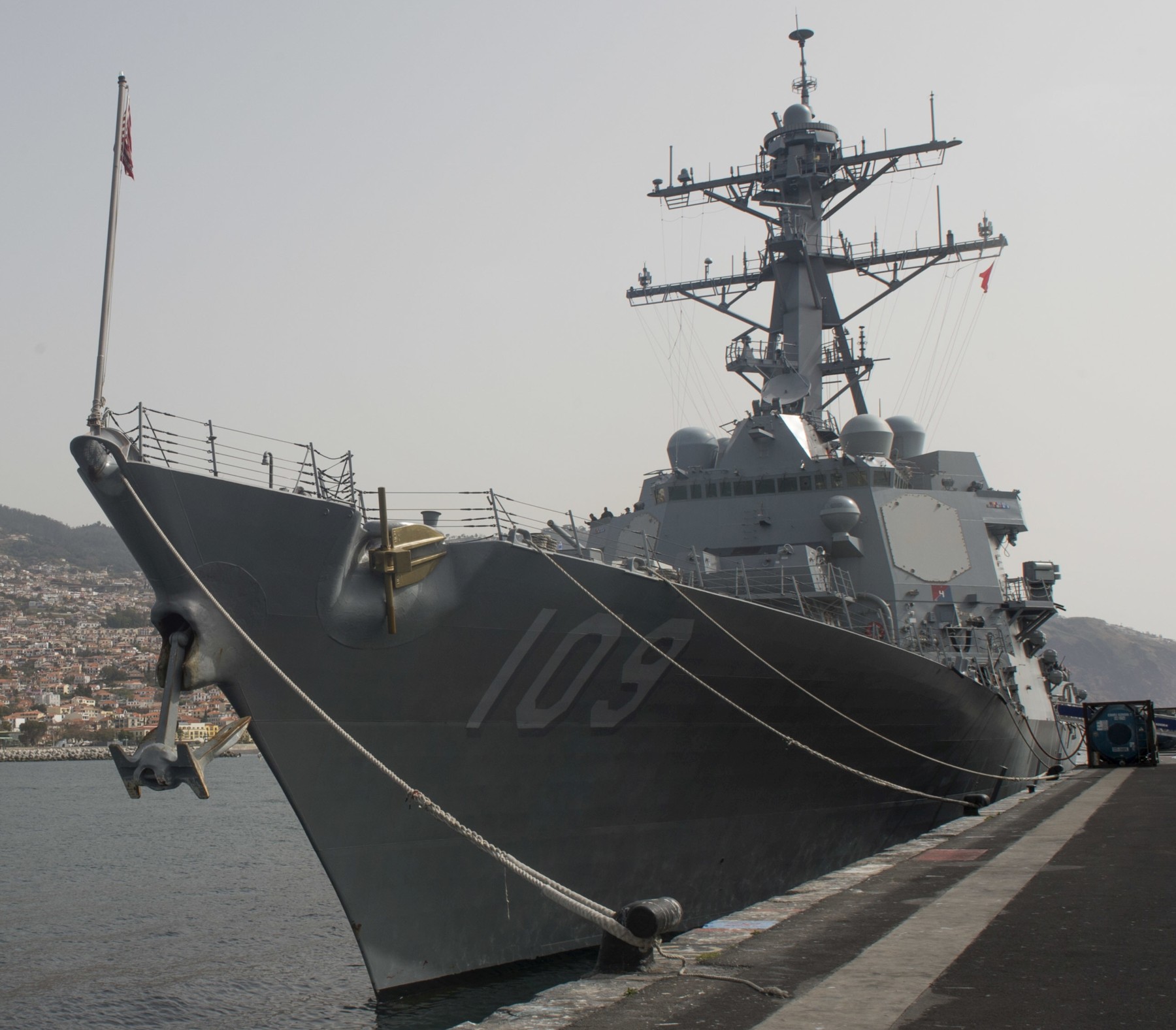 Funchal, Madeira, Portugal - March 2015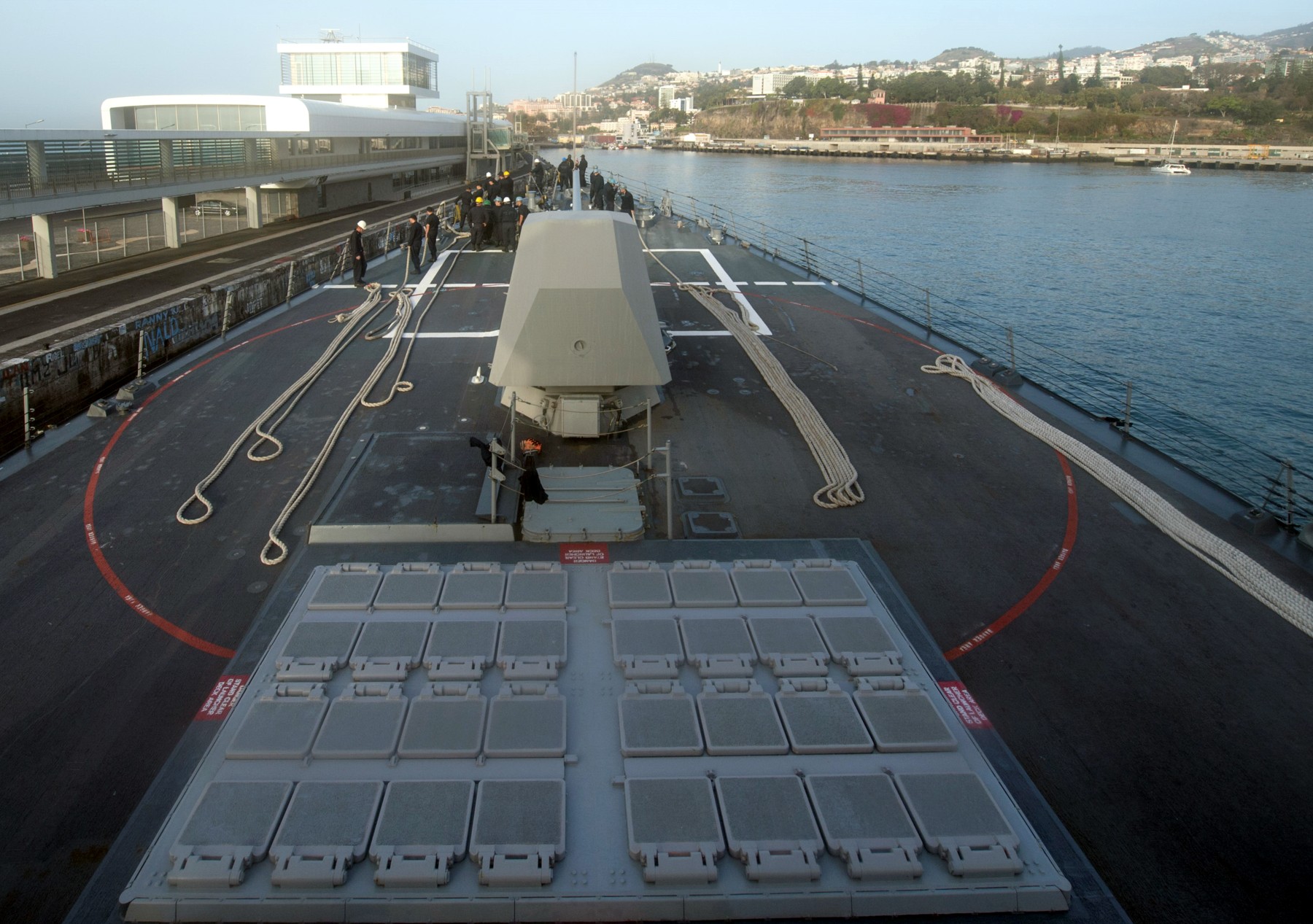 Funchal, Madeira, Portugal - March 2015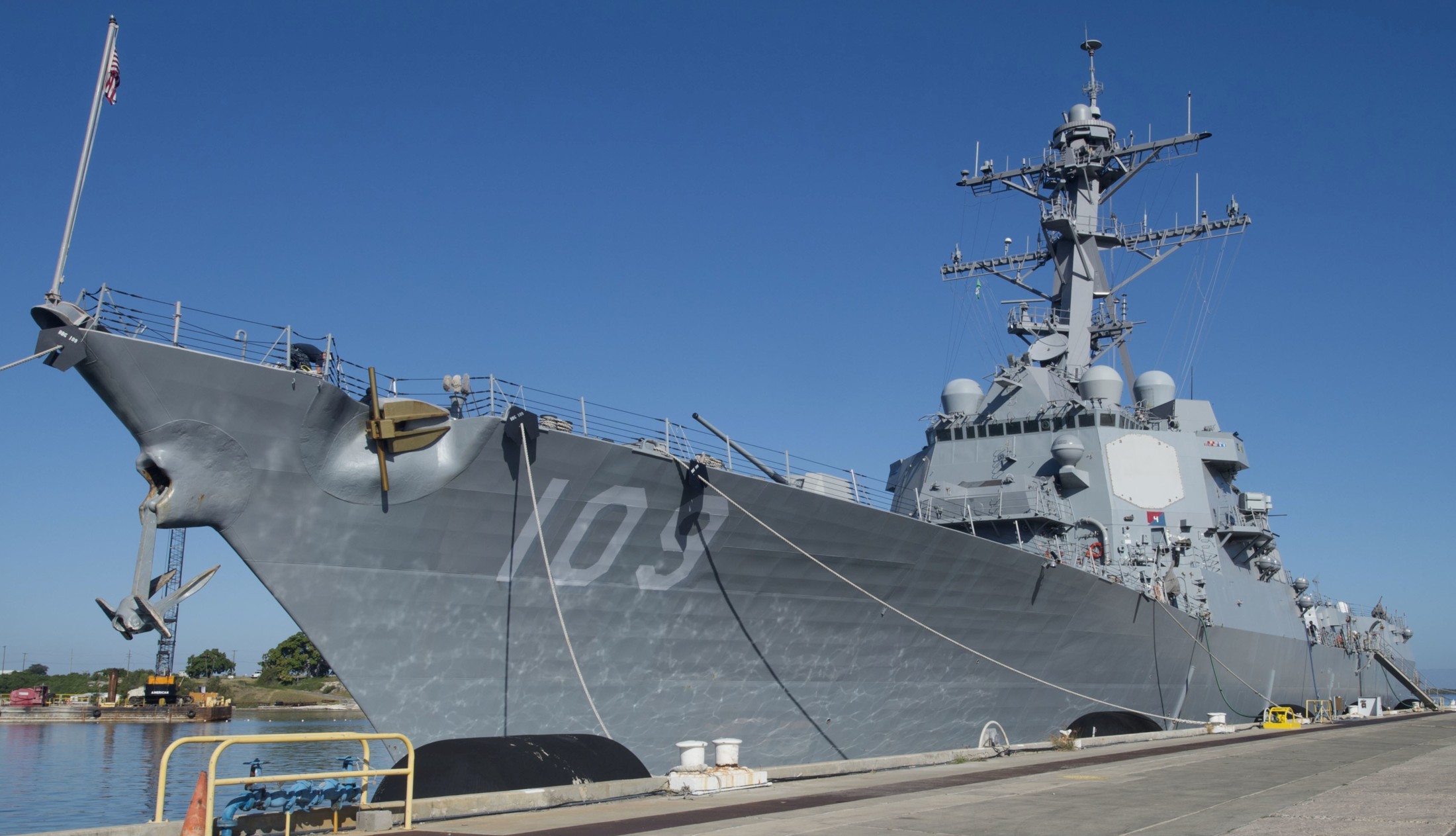 Guantanamo Bay, Cuba - February 2015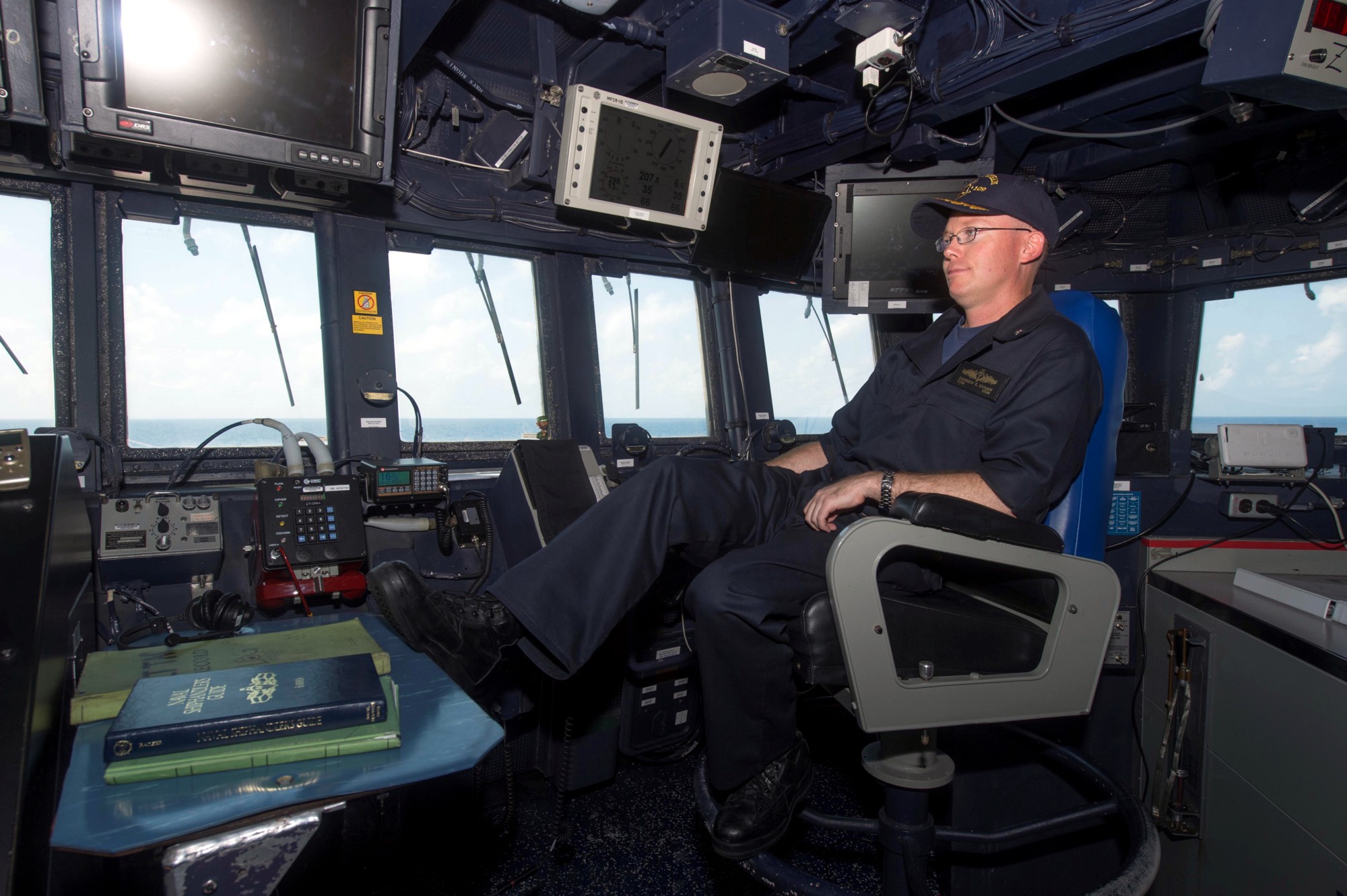 CDR Darren Dugan, Commanding Officer (CO) - February 2015



Faslane, Scotland - October 2014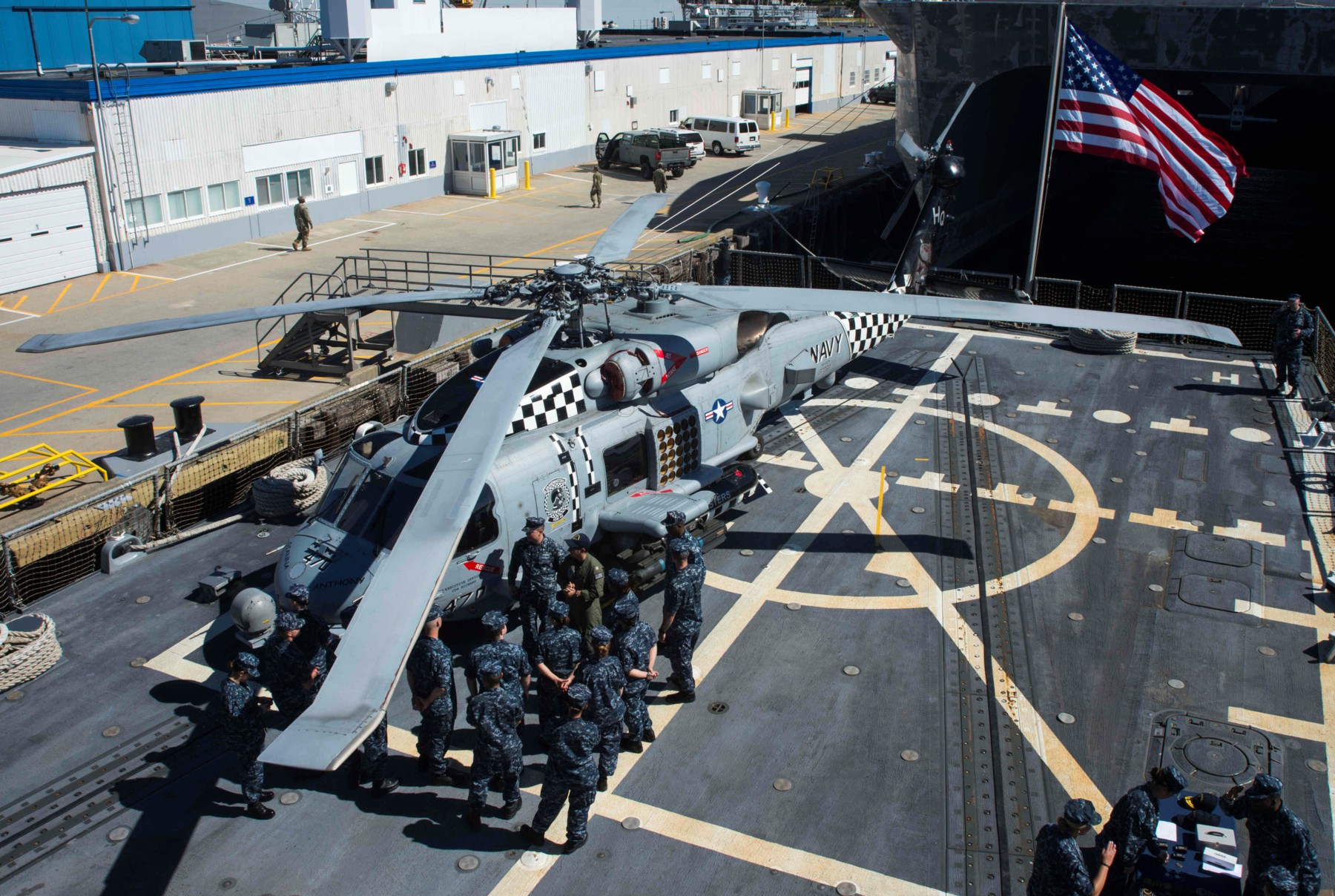 MH-60R Seahawk of HSM-46 'Grandmasters' on the flight deck - September 2014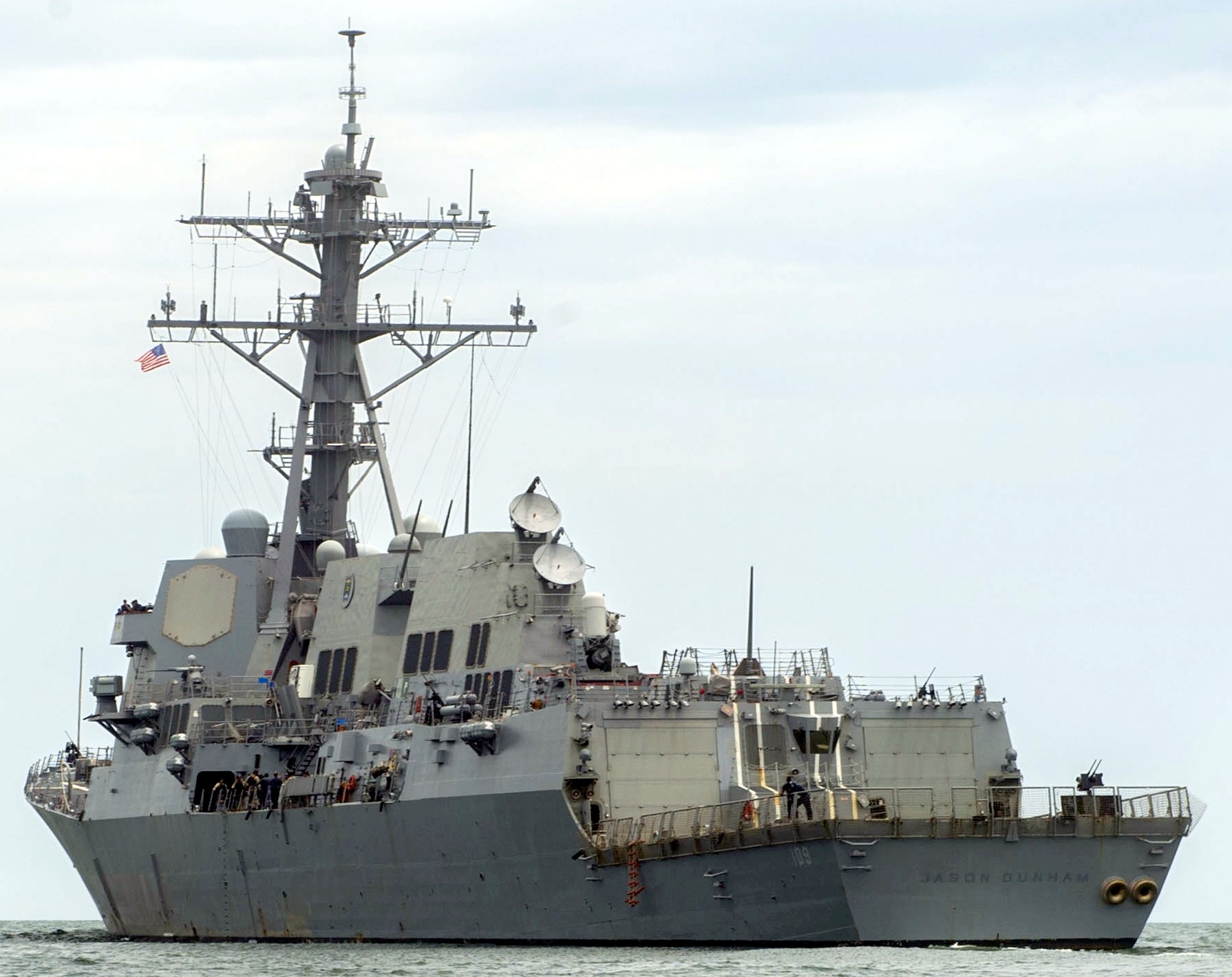 off Virginia - June 2014




aft missile deck and Mk.32 torpedo tubes - Atlantic Ocean - May 2014




Norfolk, Virginia - February 2014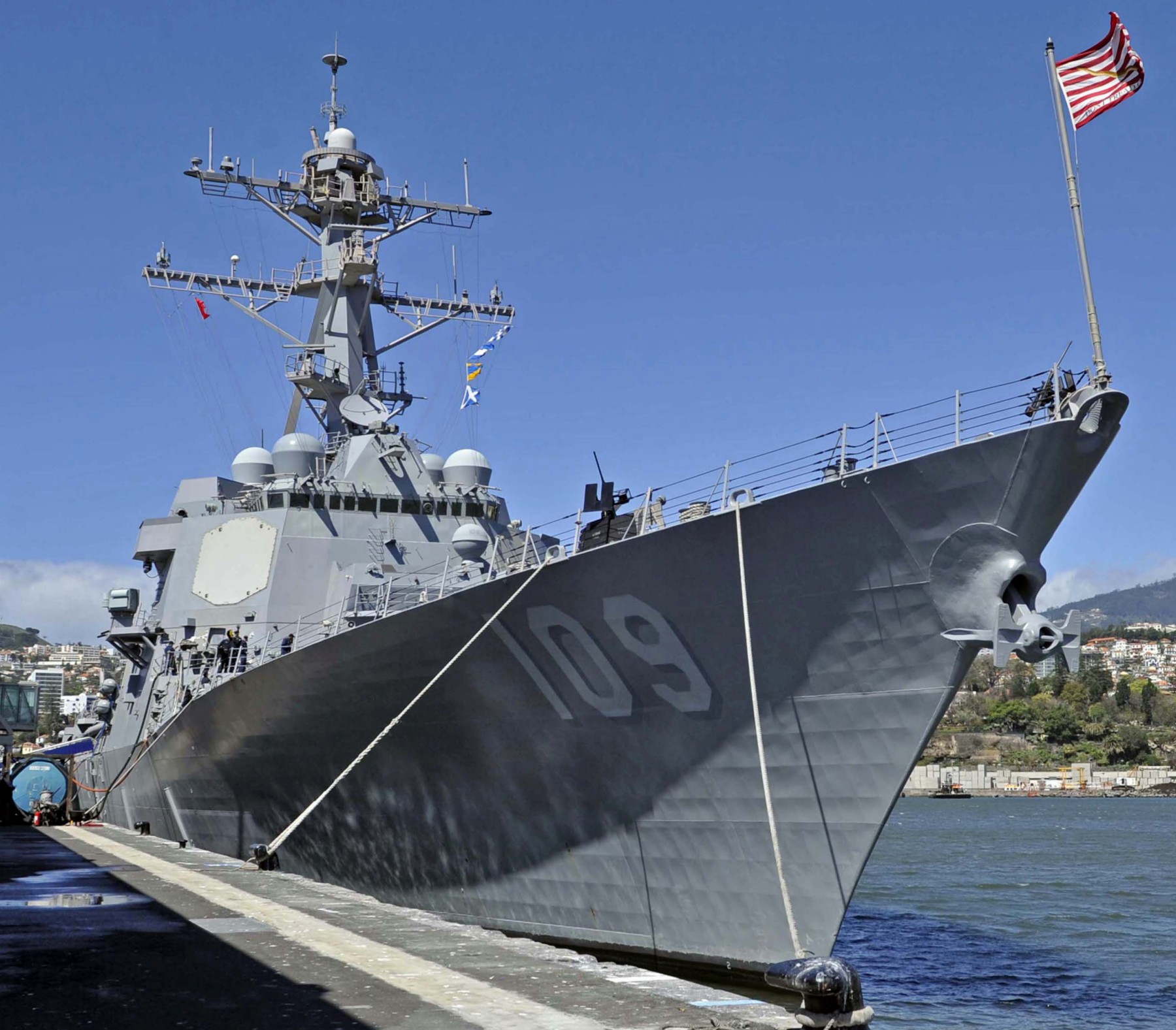 Funchal, Madeira, Portugal - March 2013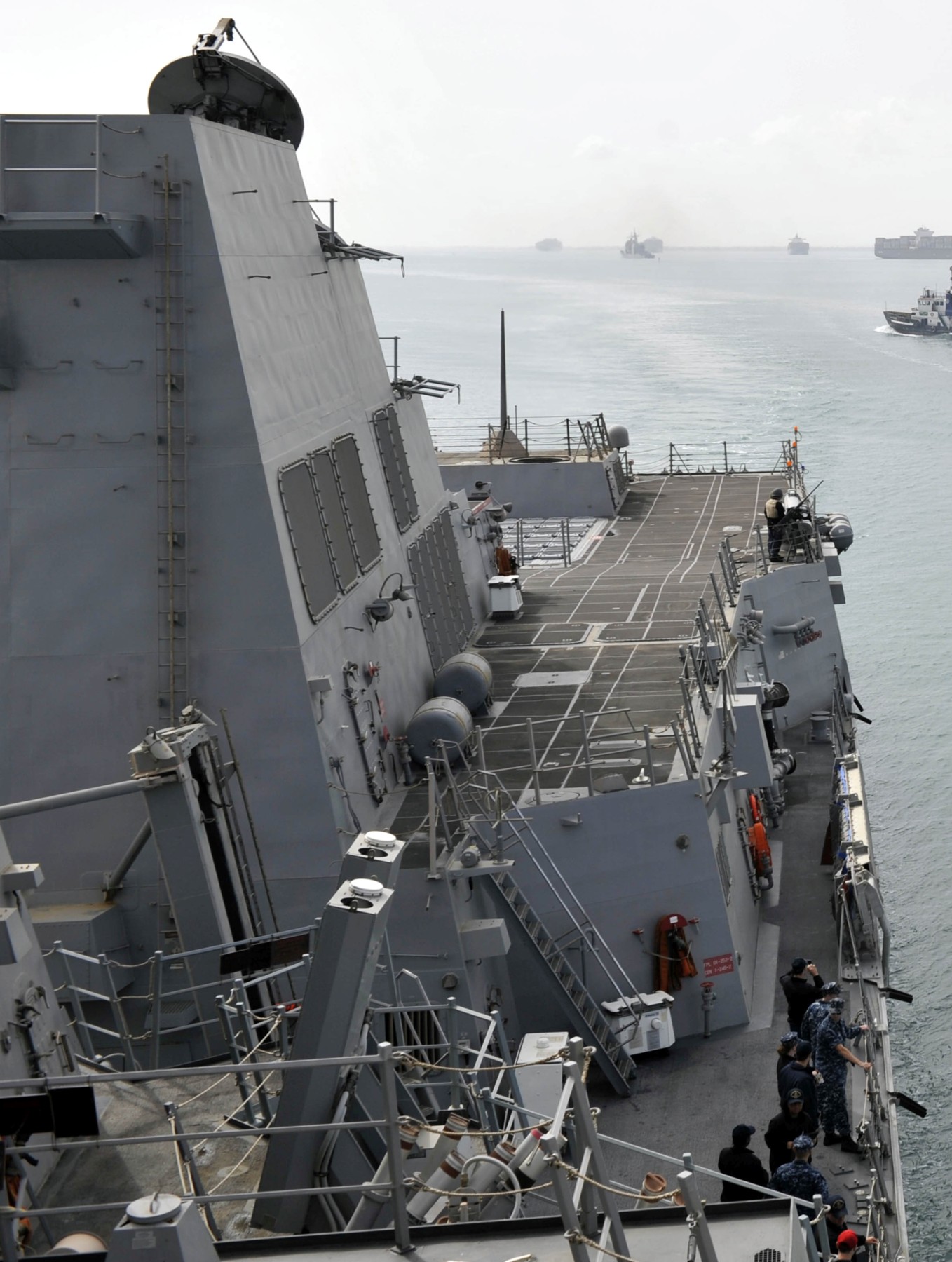 Suez Canal - March 2013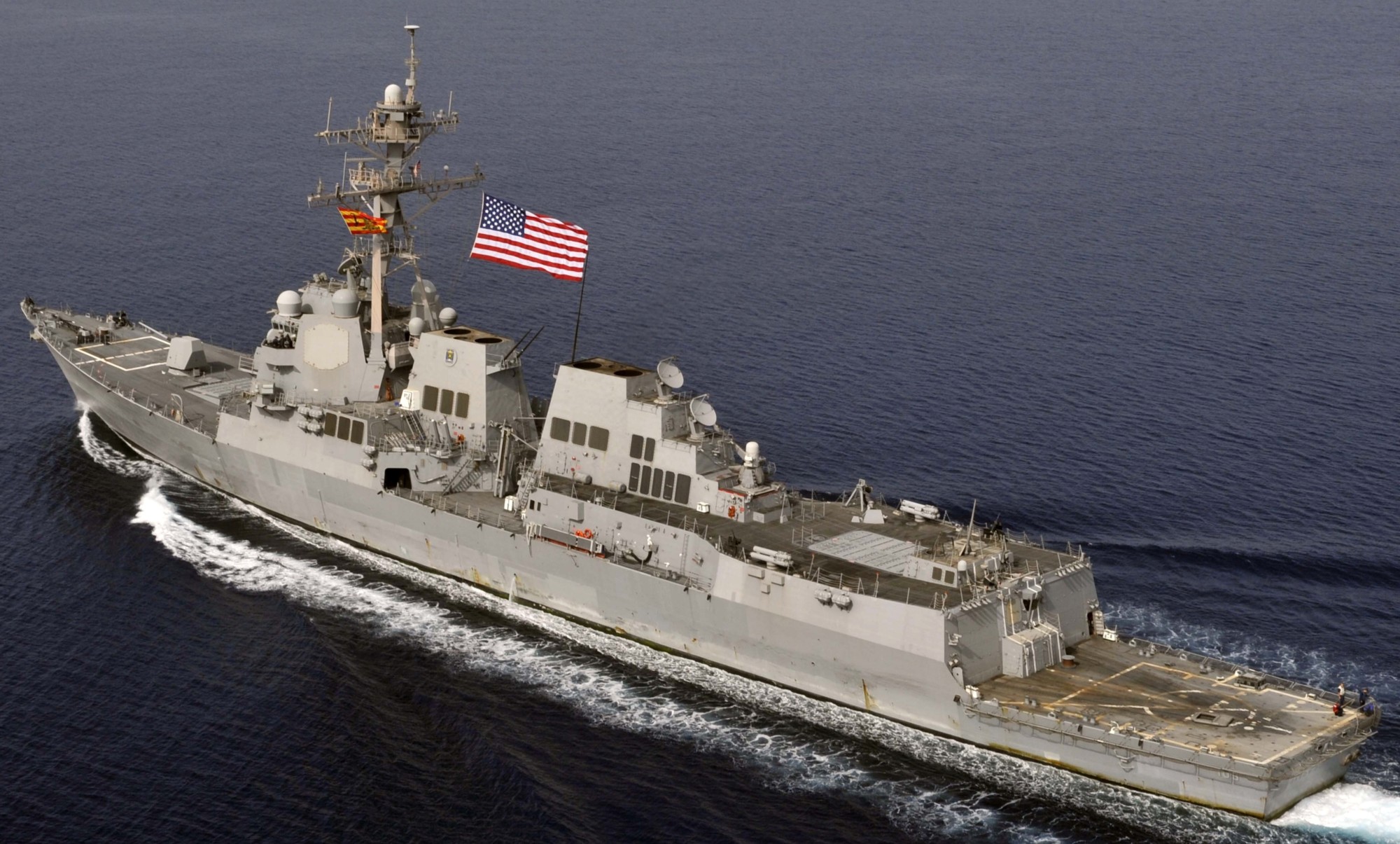 5th Fleet AOR - March 2013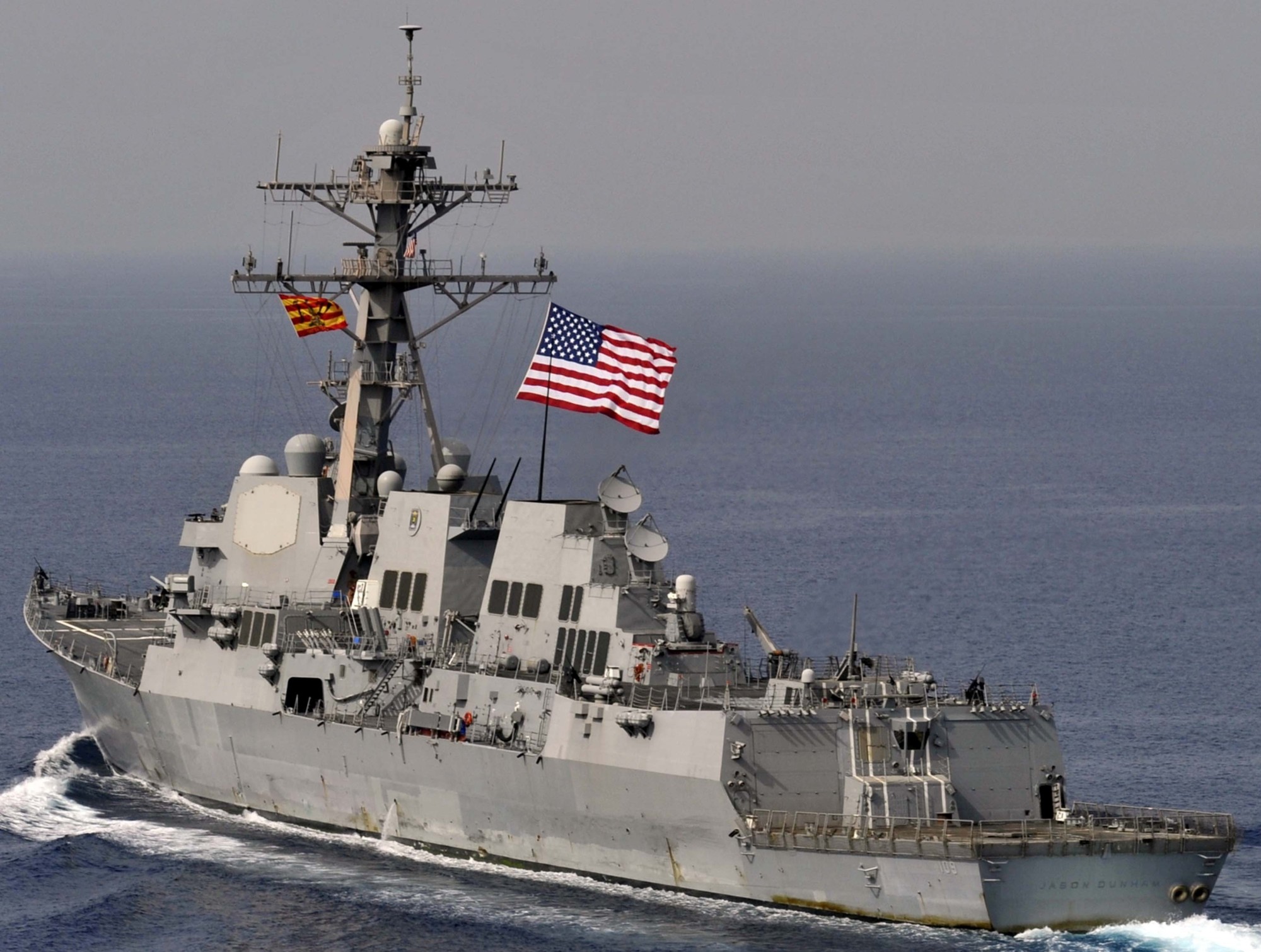 5th Fleet AOR - March 2013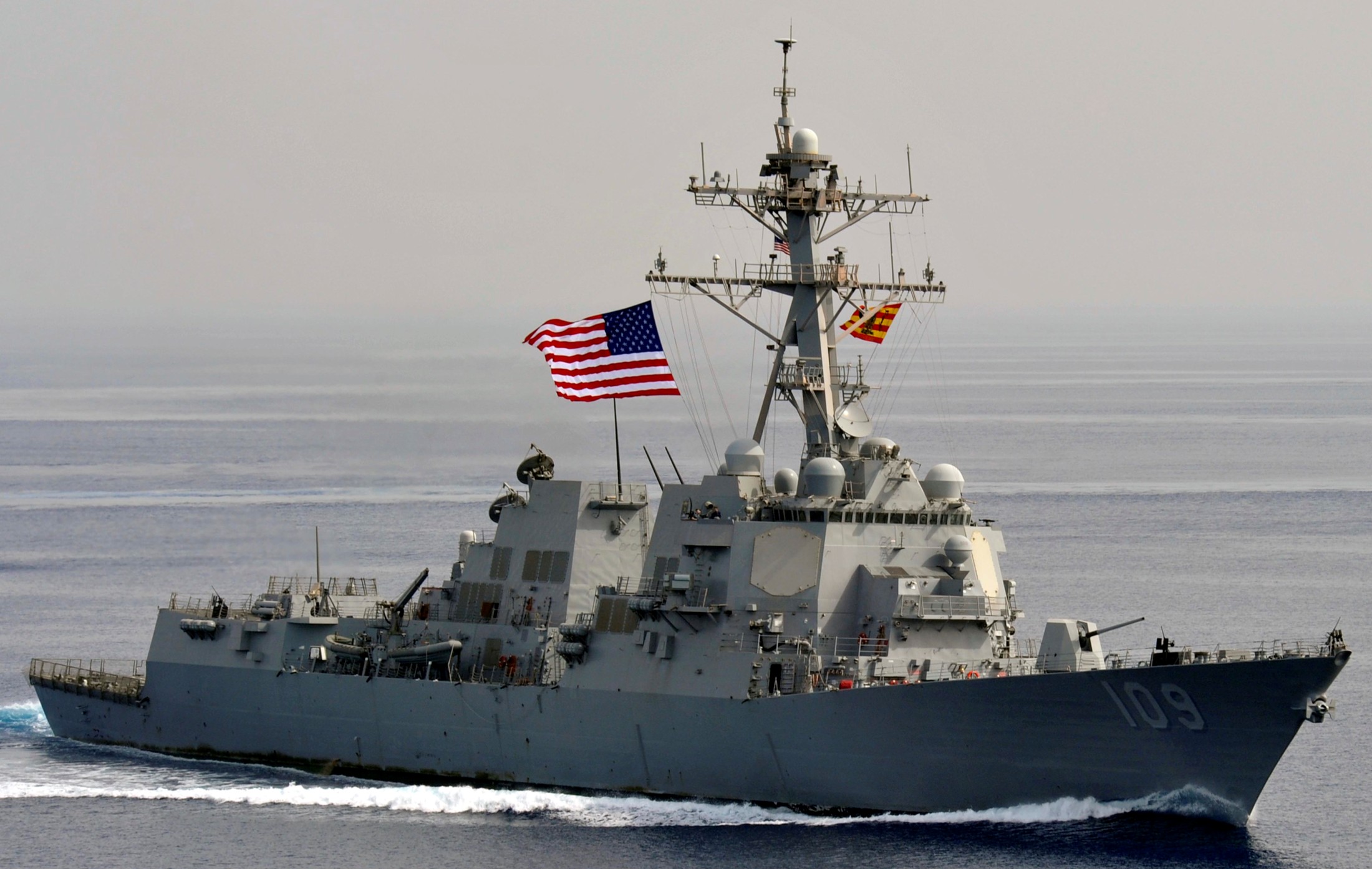 5th Fleet AOR - March 2013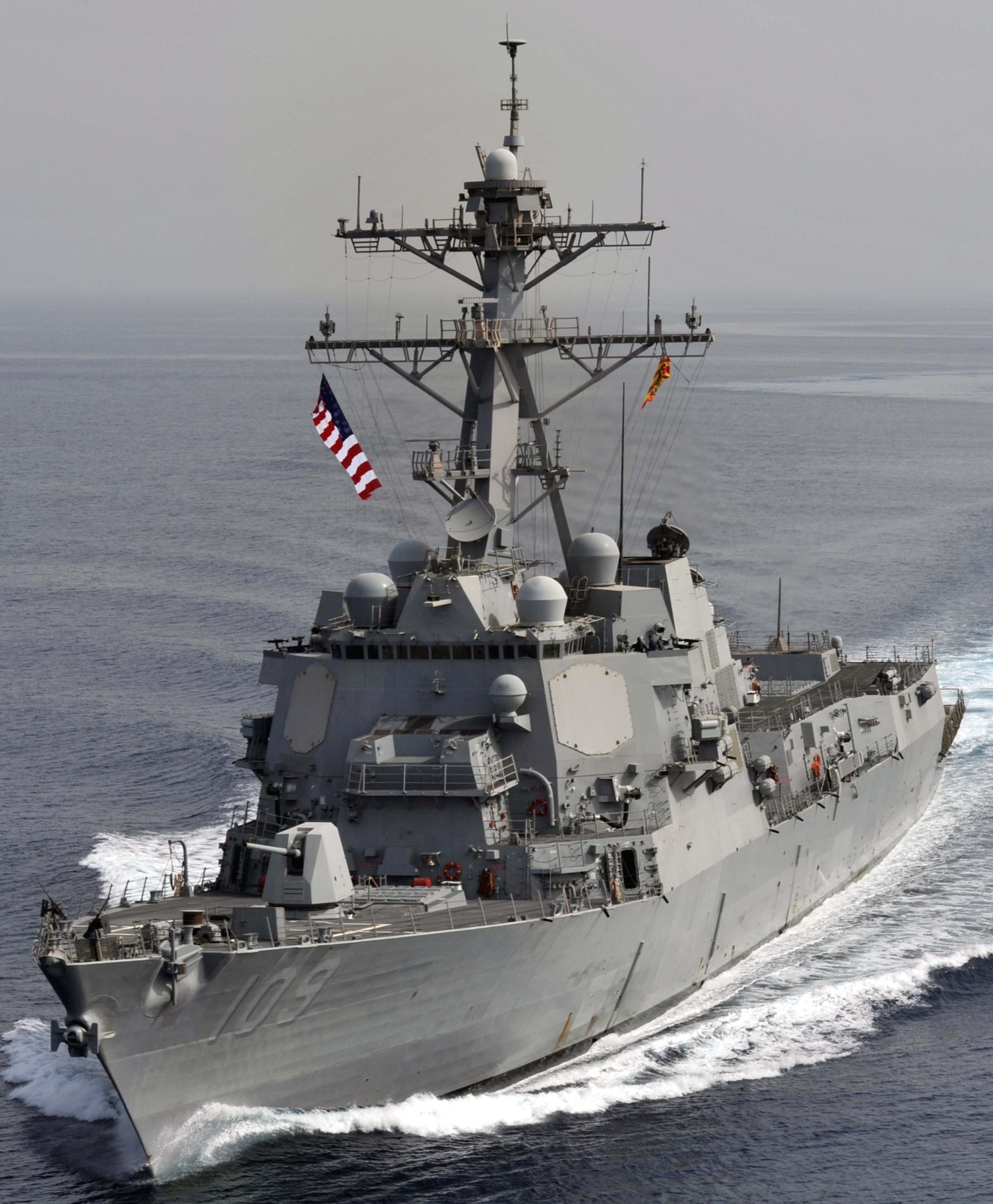 5th Fleet AOR - March 2013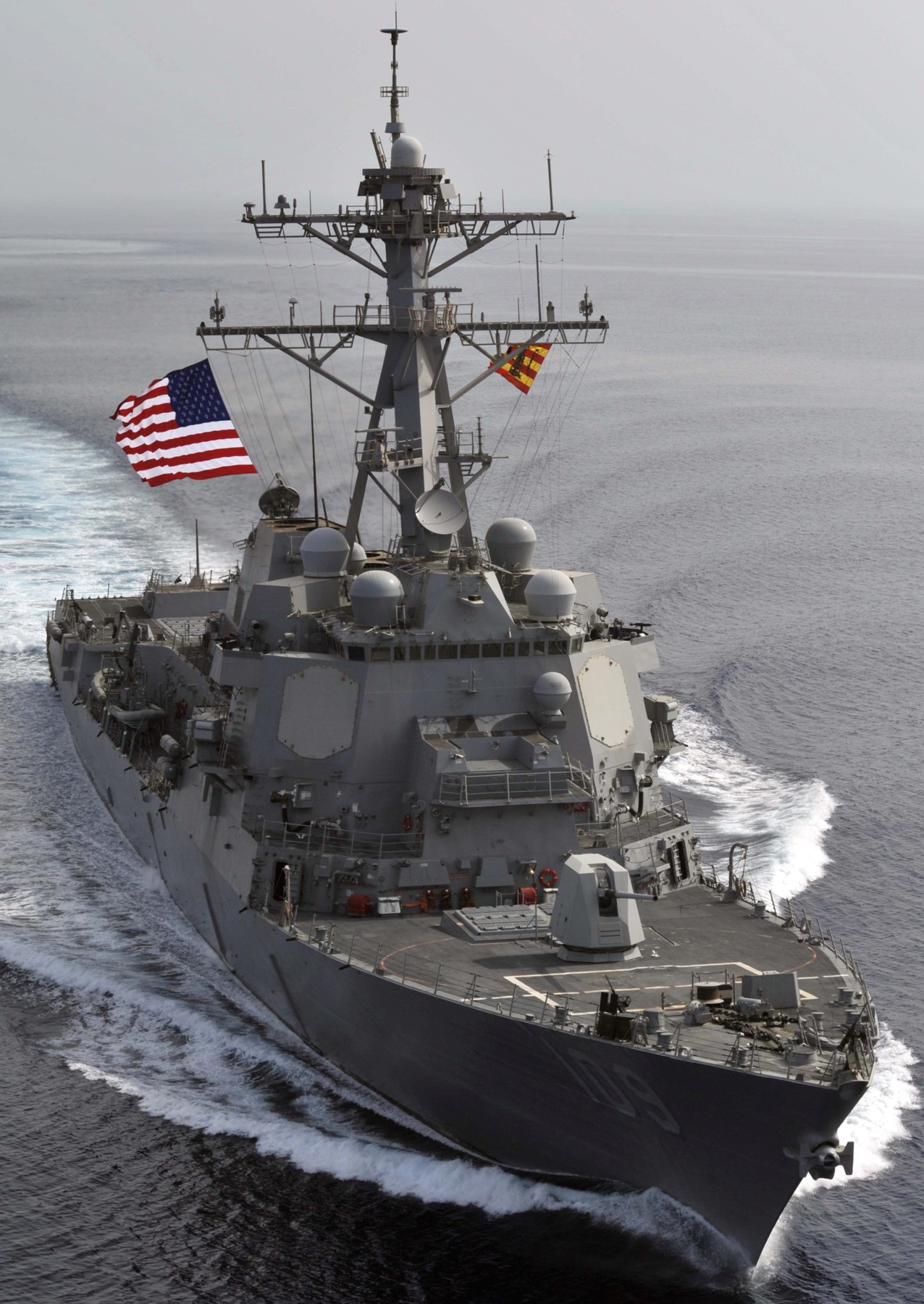 5th Fleet AOR - March 2013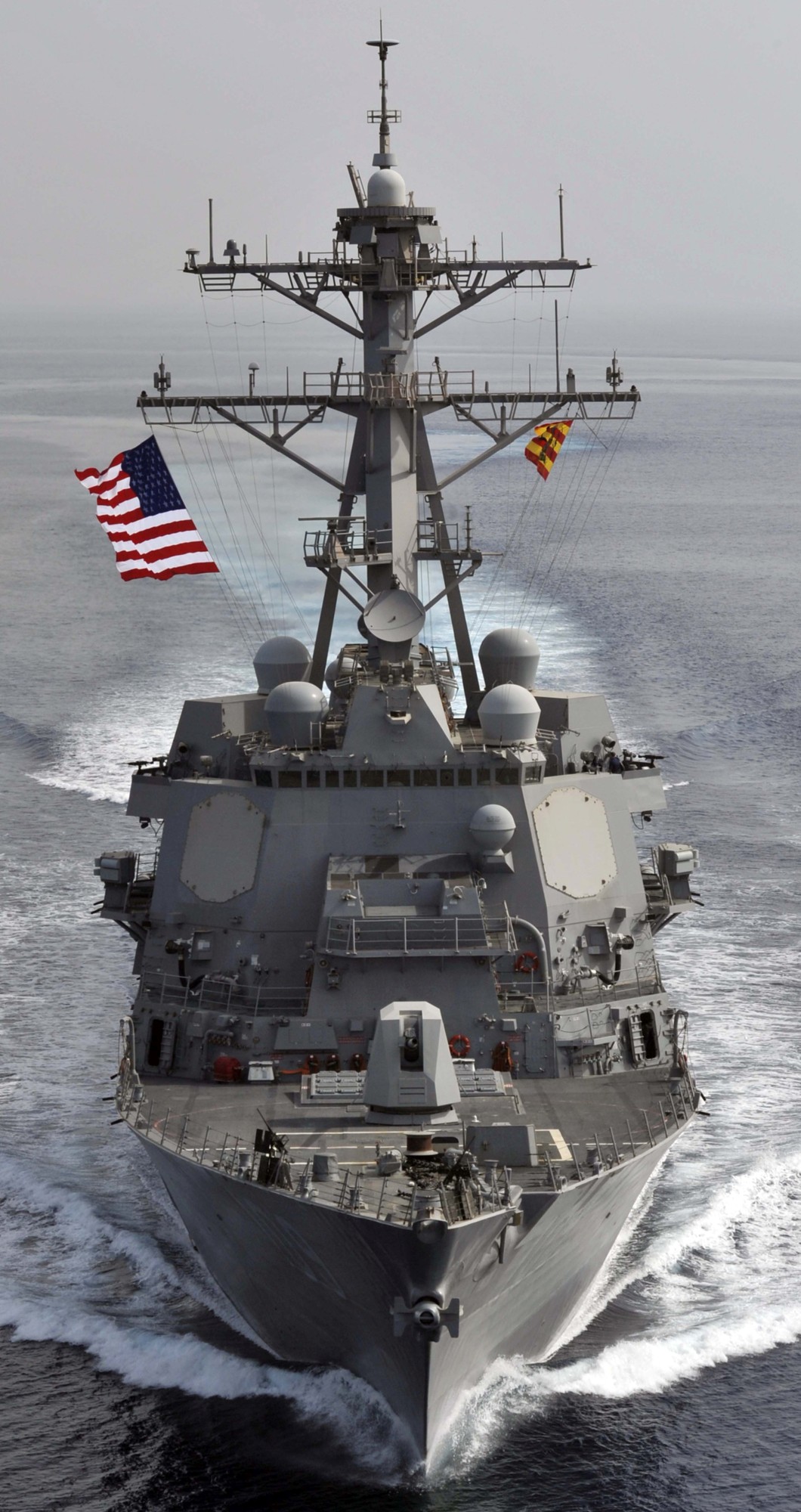 5th Fleet AOR - March 2013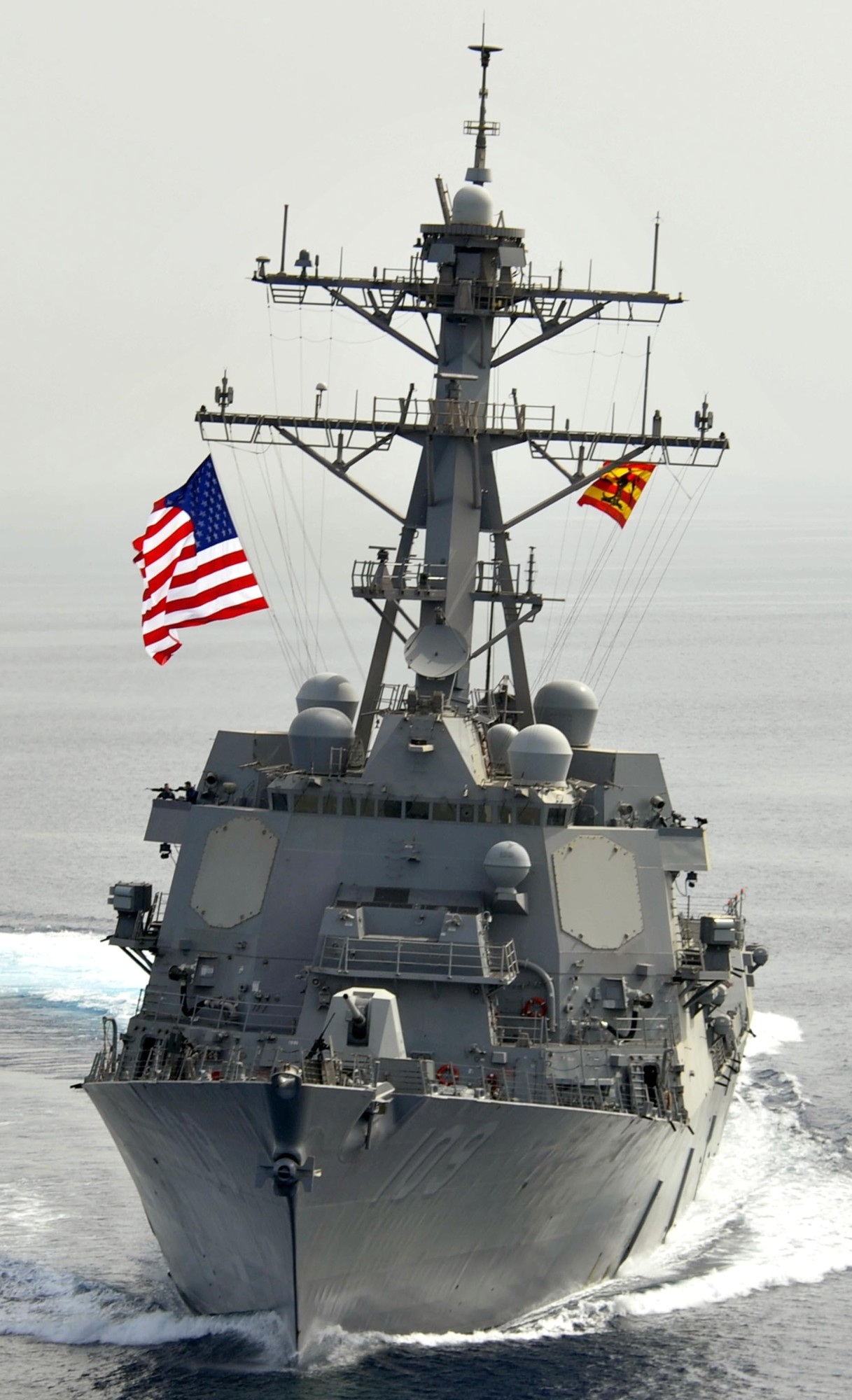 5th Fleet AOR - March 2013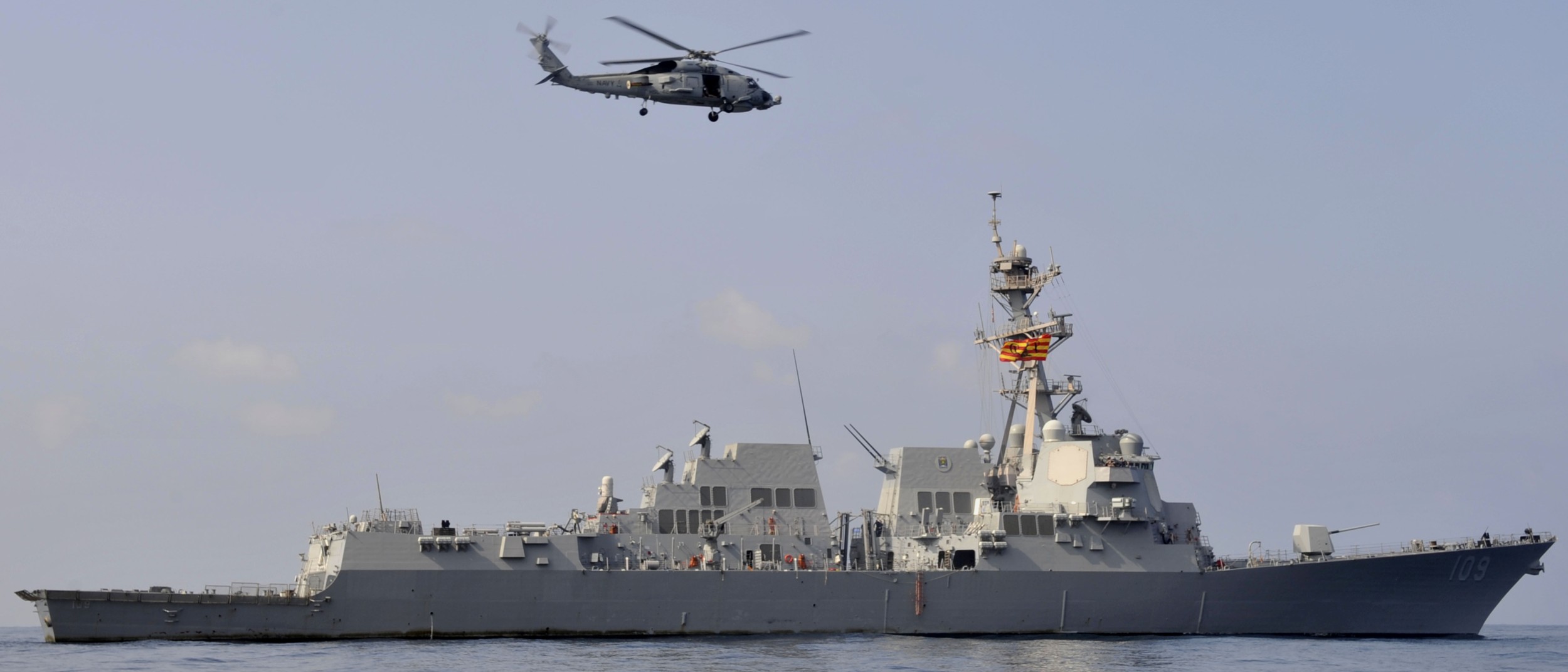 5th Fleet AOR - March 2013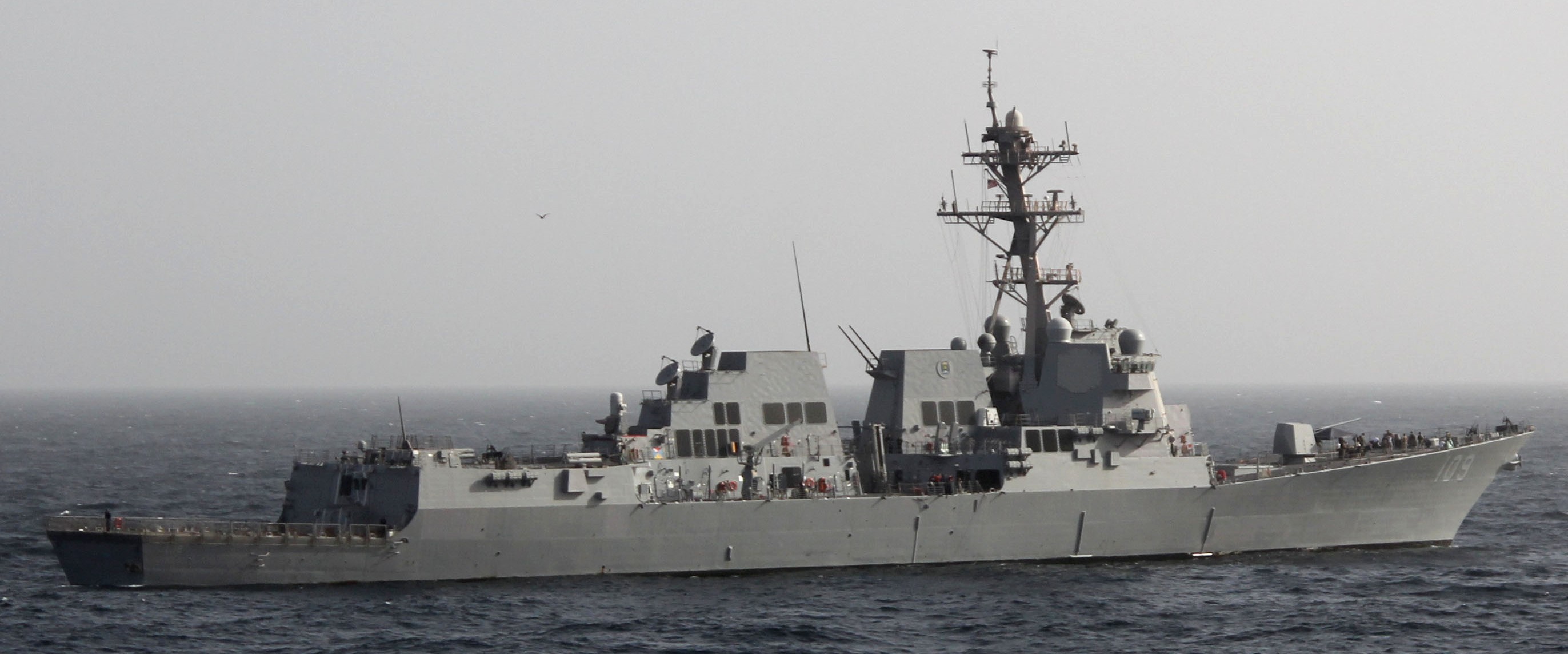 5th Fleet AOR - January 2013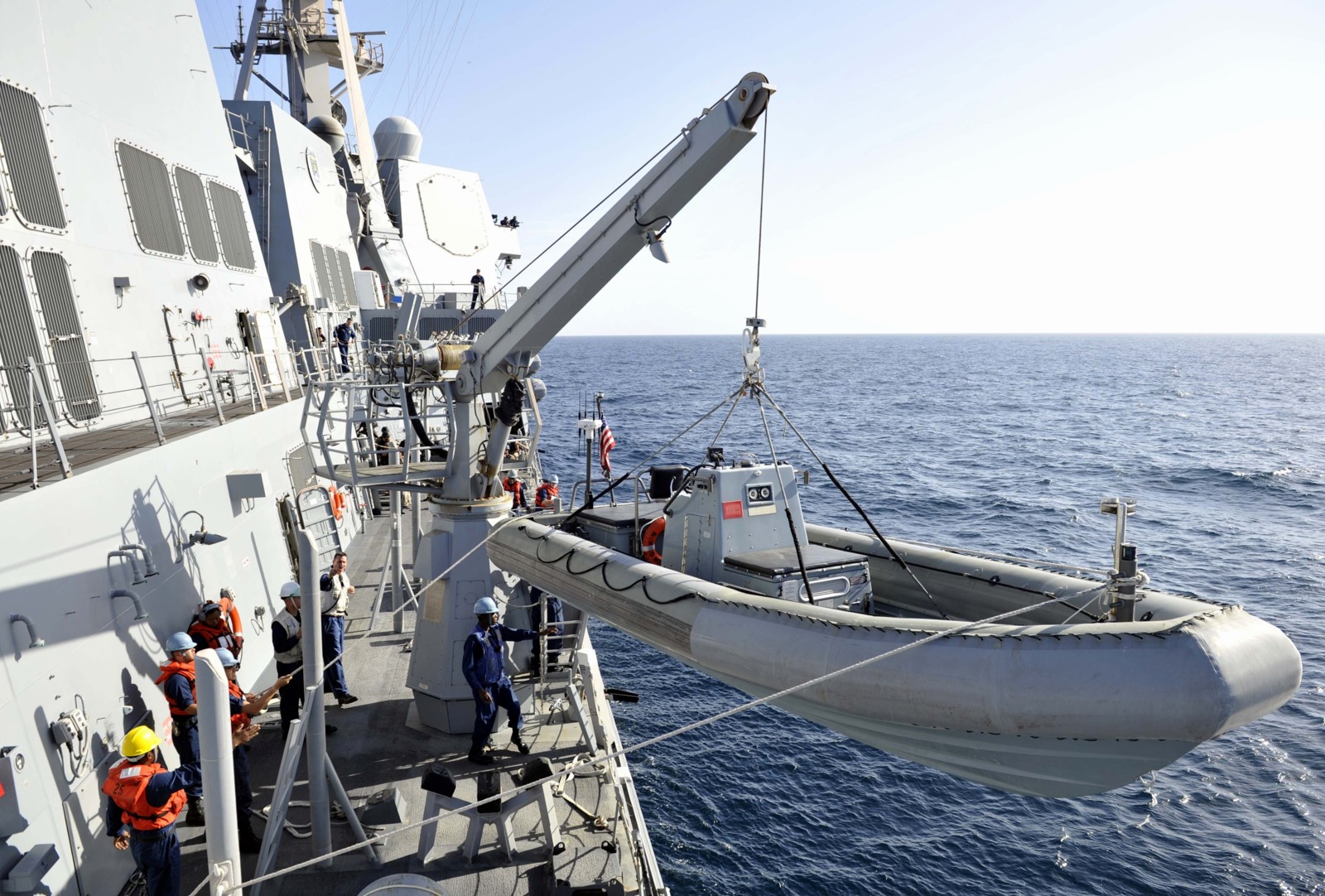 small boat operations - 5th Fleet AOR - January 2013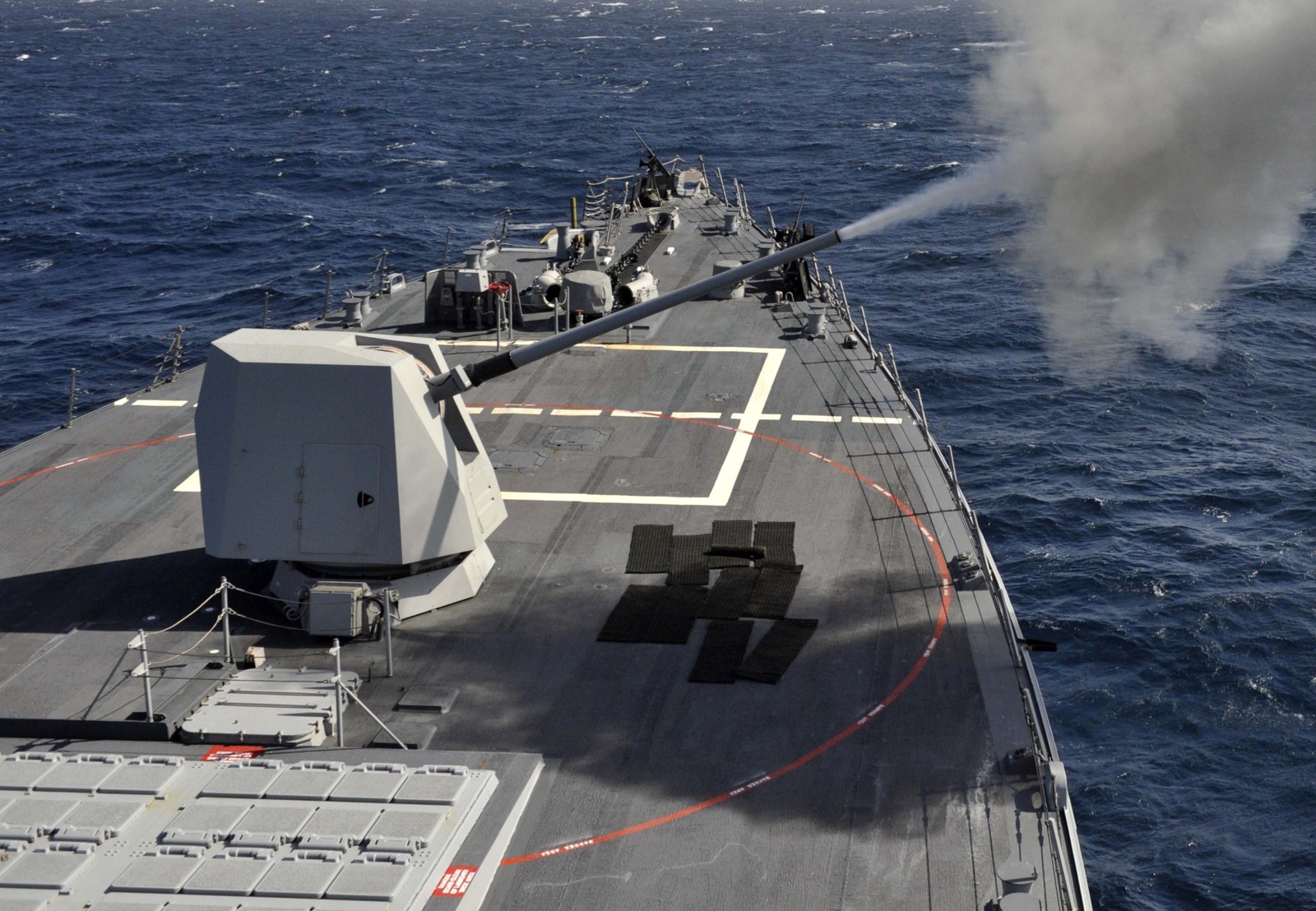 Mk.45 Mod.4 5"62-caliber gun fire - January 2013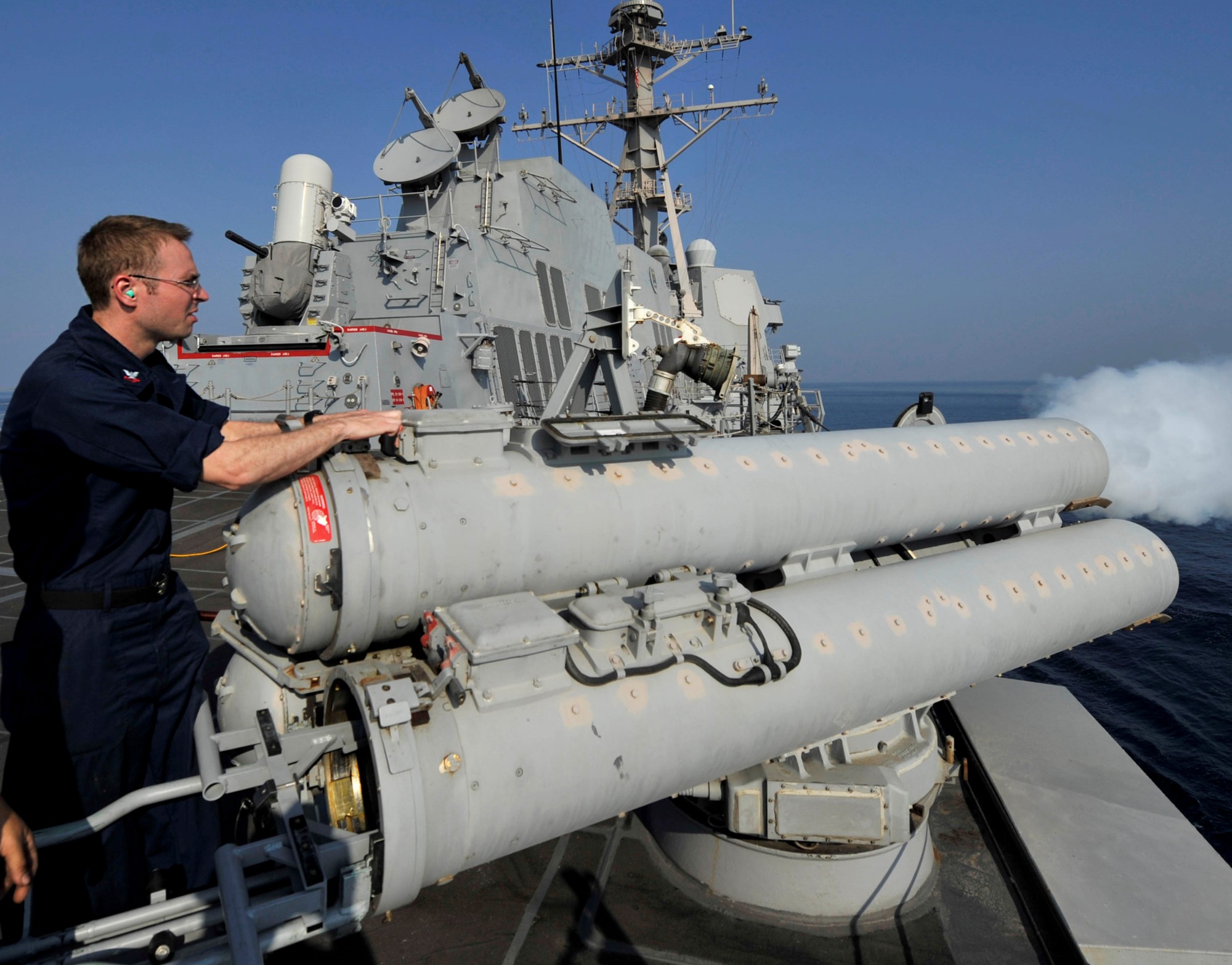 Mk.32 triple torpedo tubes - October 2012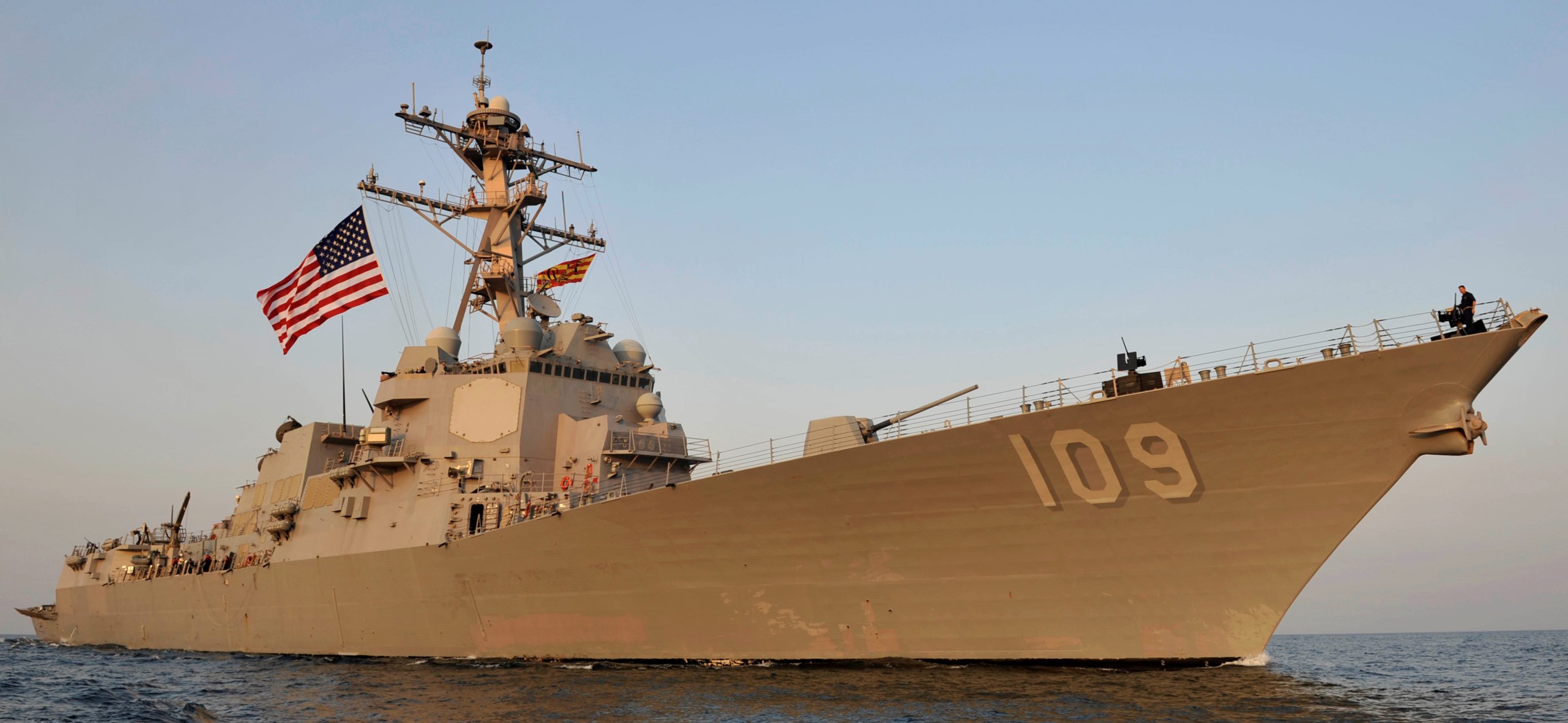 5th Fleet AOR - October 2012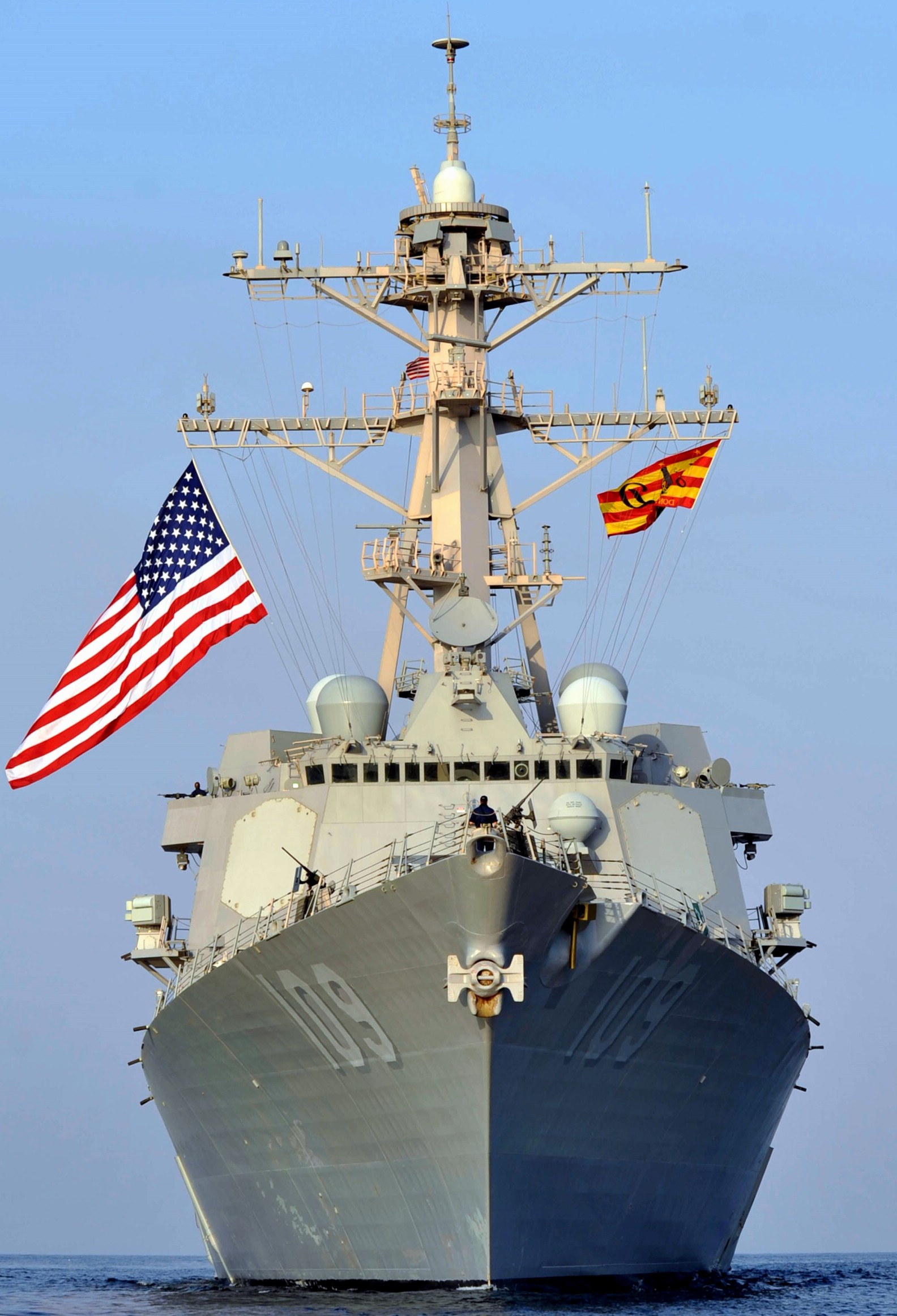 5th Fleet AOR - October 2012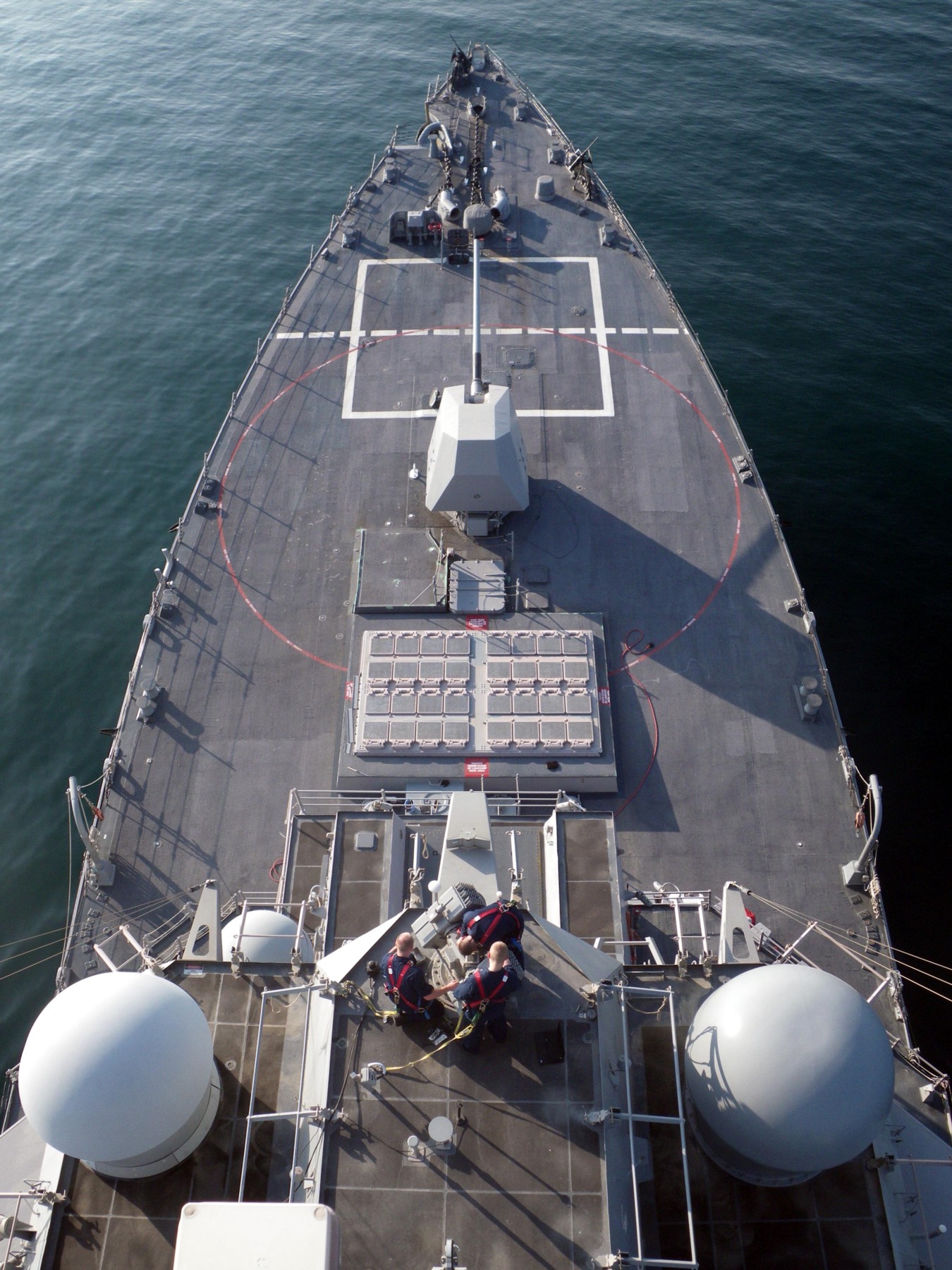 Arabian Sea - October 2012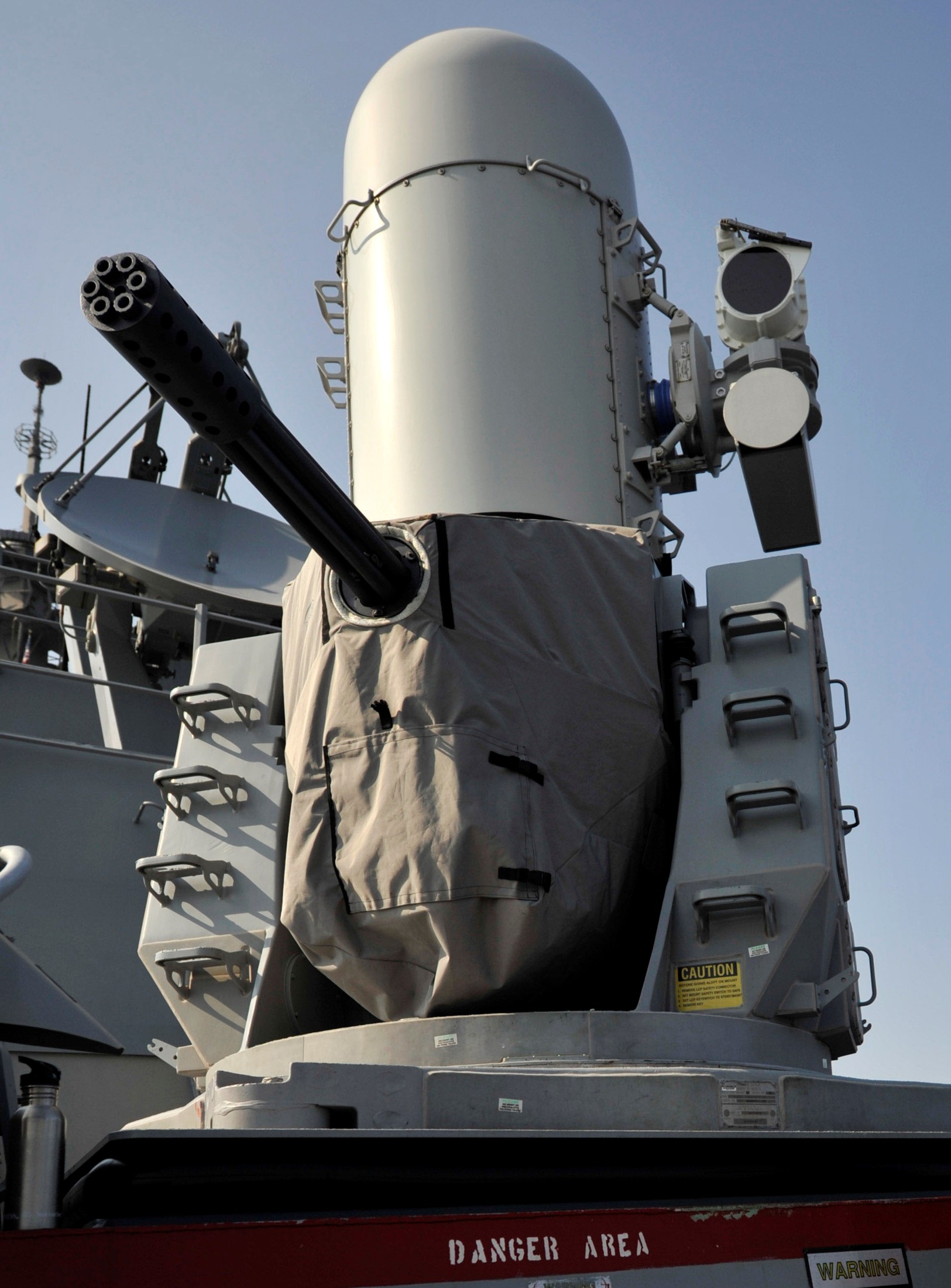 Mk.15 Phalanx close-in weapon system (CIWS) - October 2012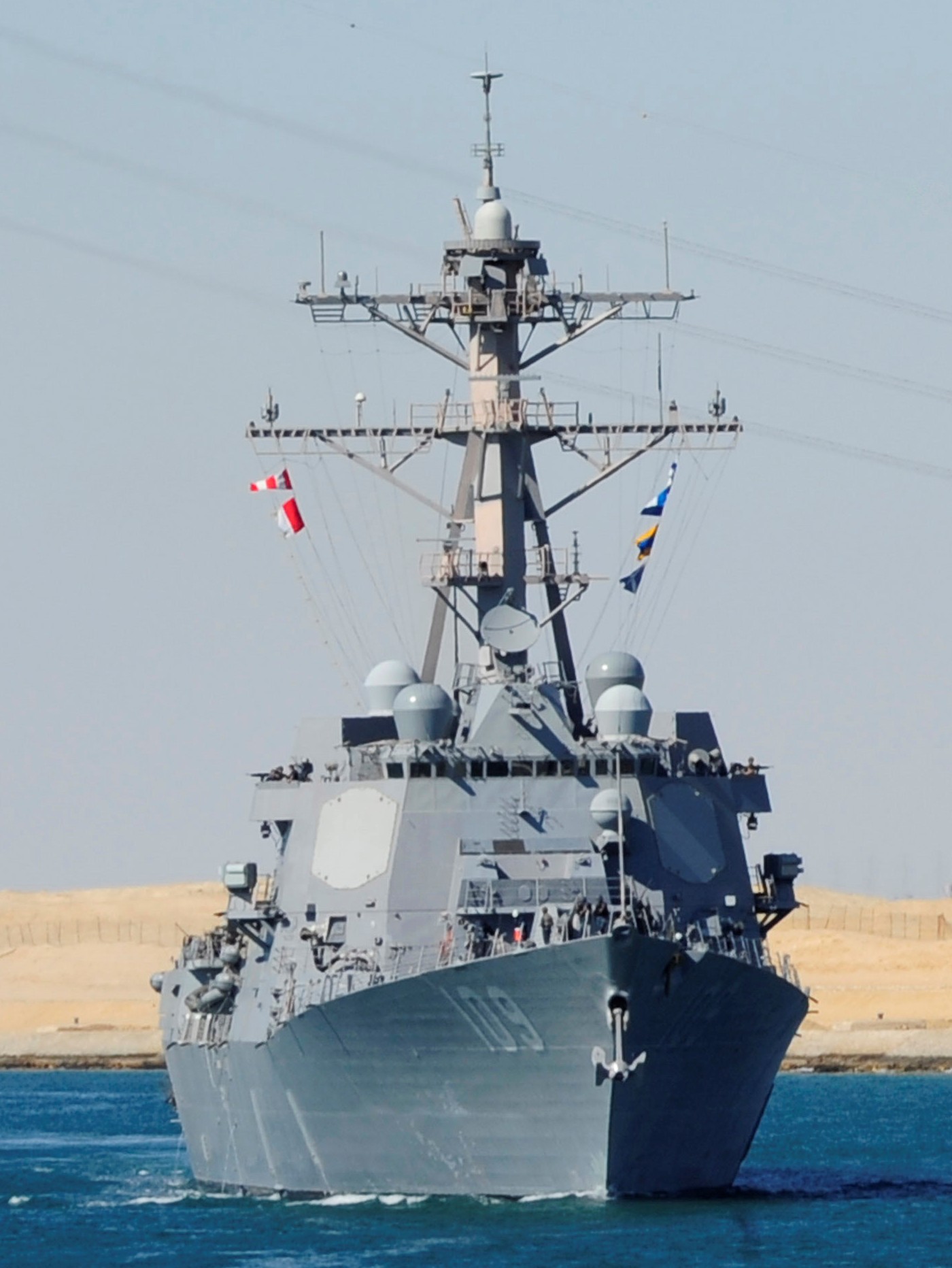 Suez Canal - September 2012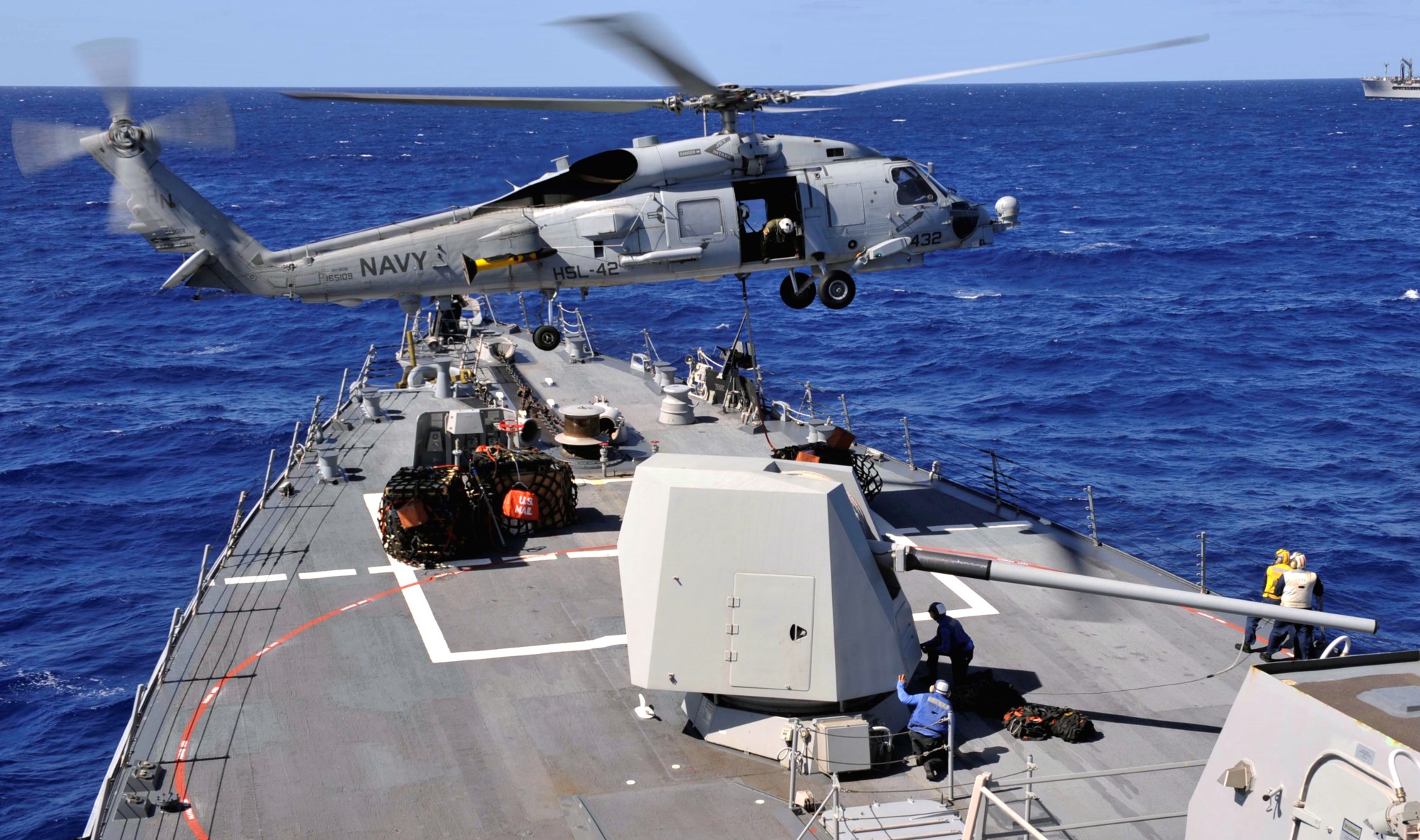 vertical replenishment (VERTREP) - Mediterranean Sea - September 2012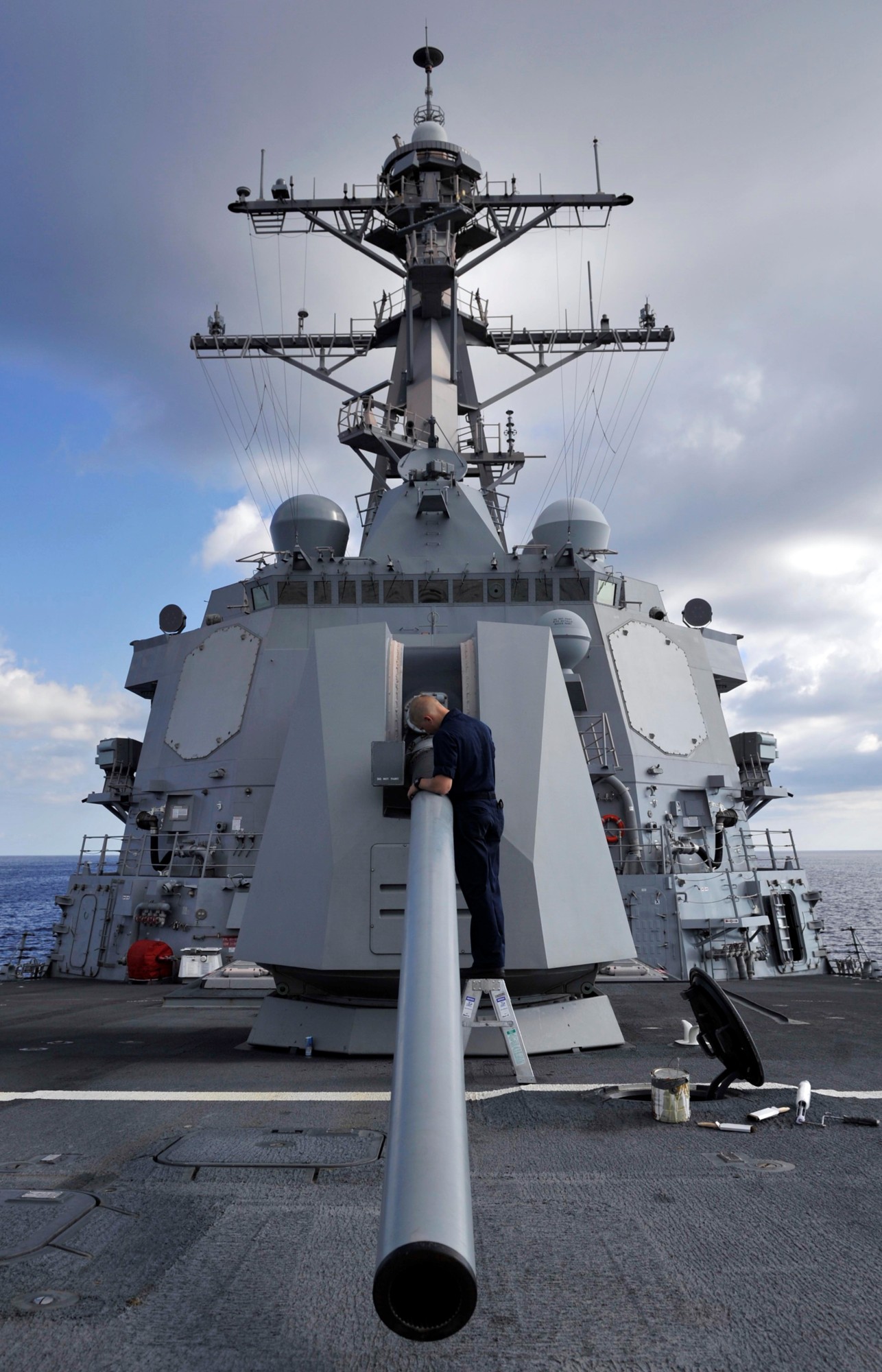 Mediterranean Sea - September 2012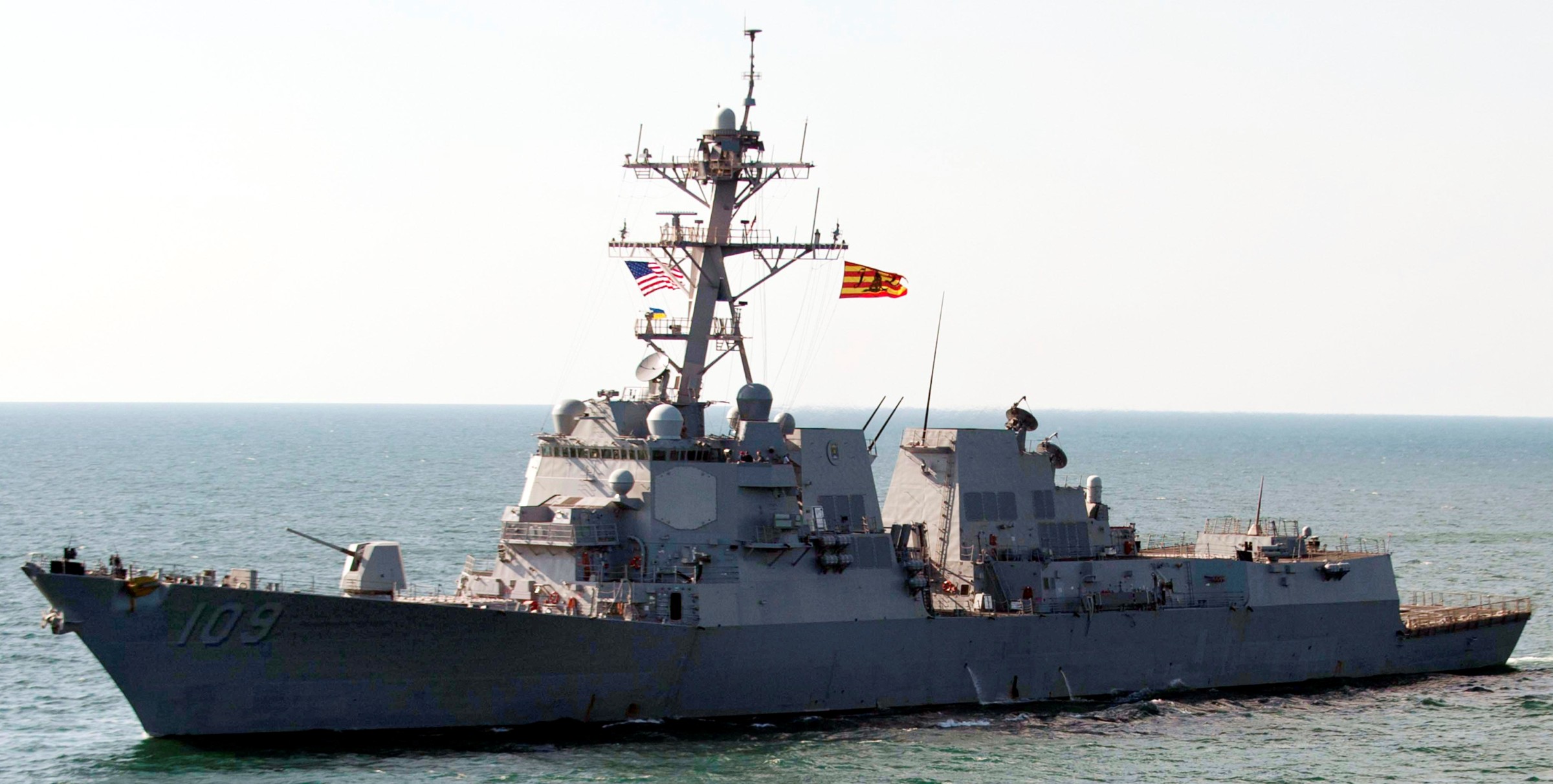 Black Sea - July 2012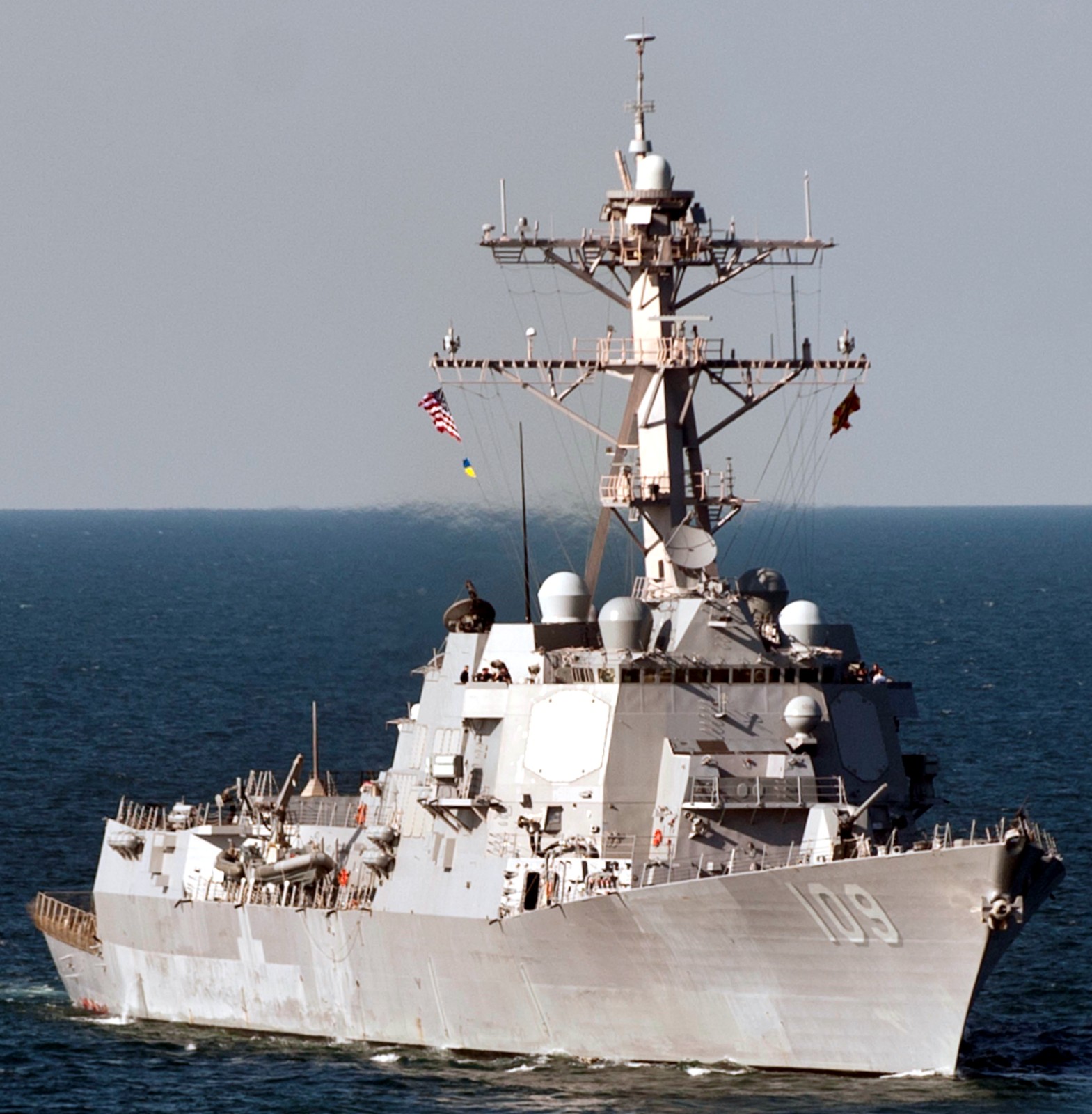 Black Sea - July 2012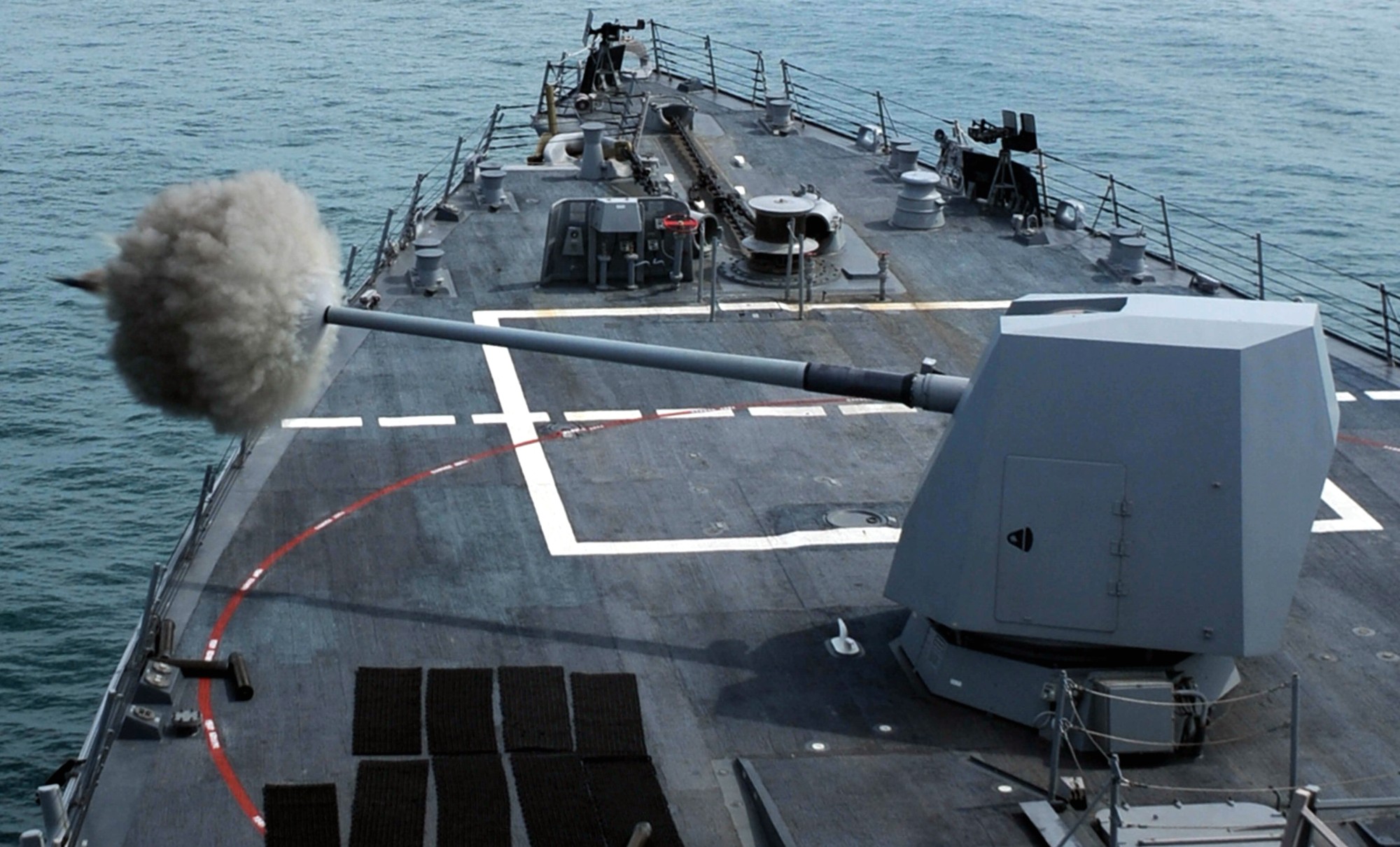 Mk.45 Mod.4 gun fire - July 2012



Mk.15 CIWS live fire exercise - July 2012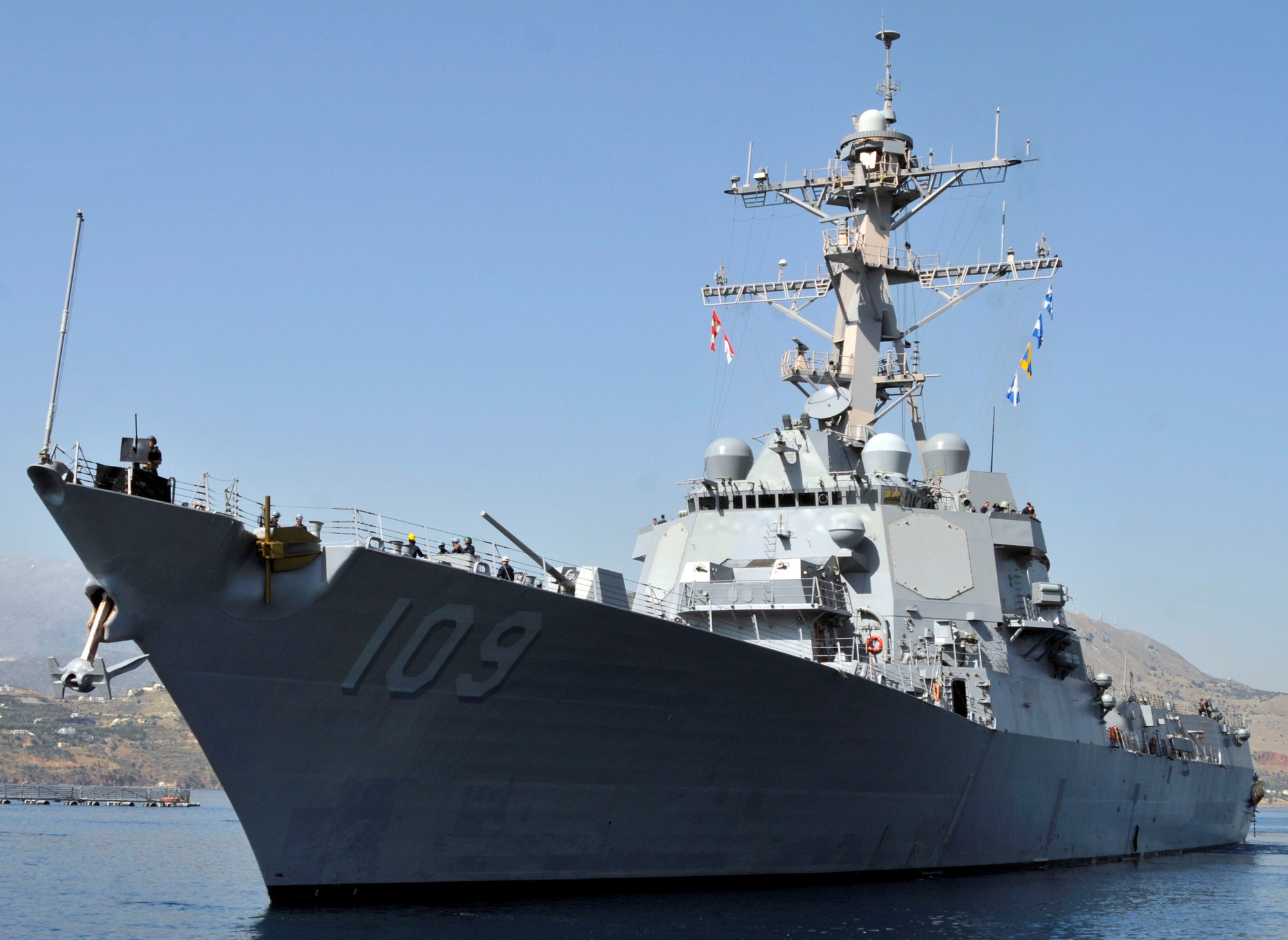 Souda Bay, Crete, Greece - July 2012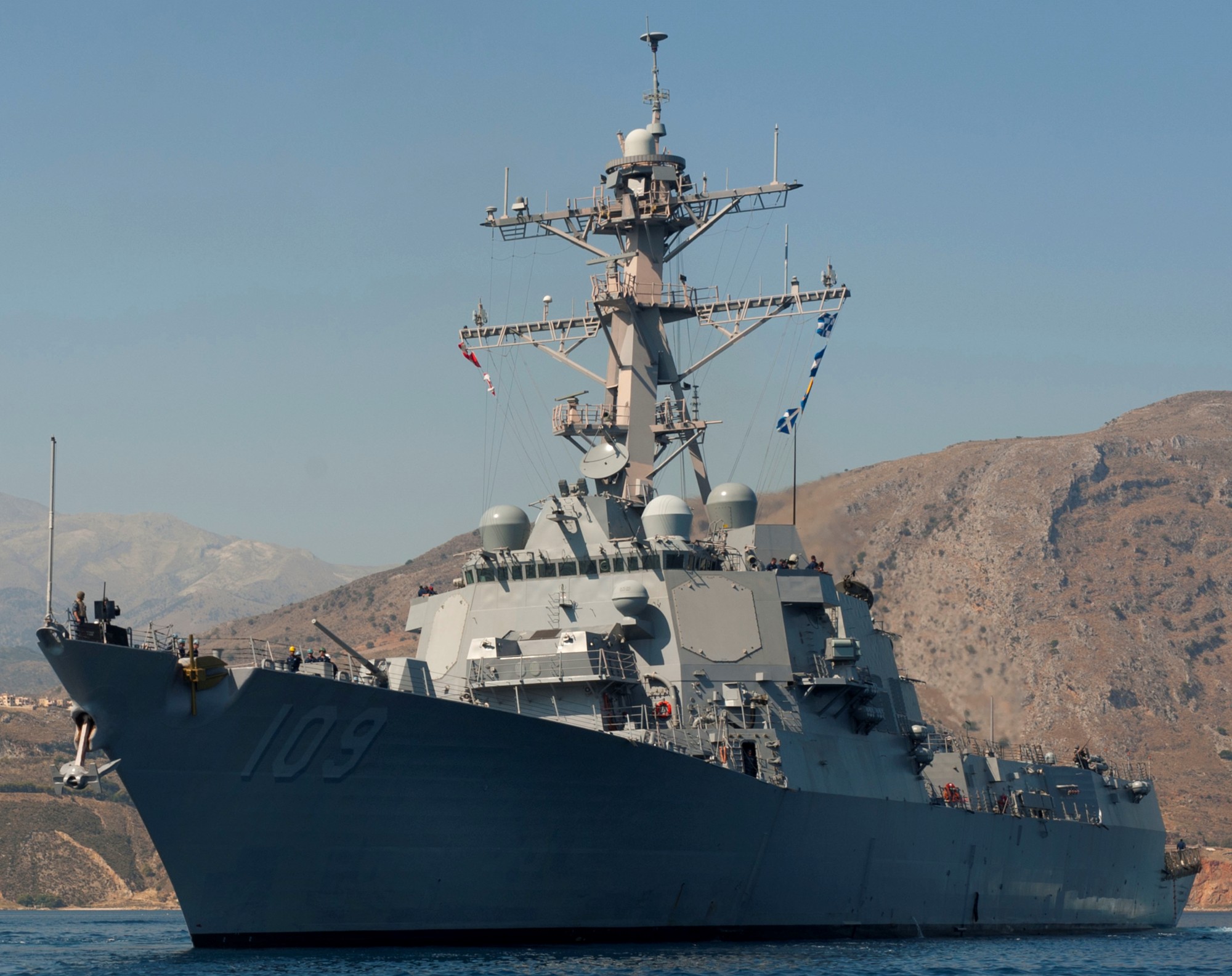 Souda Bay, Crete, Greece - July 2012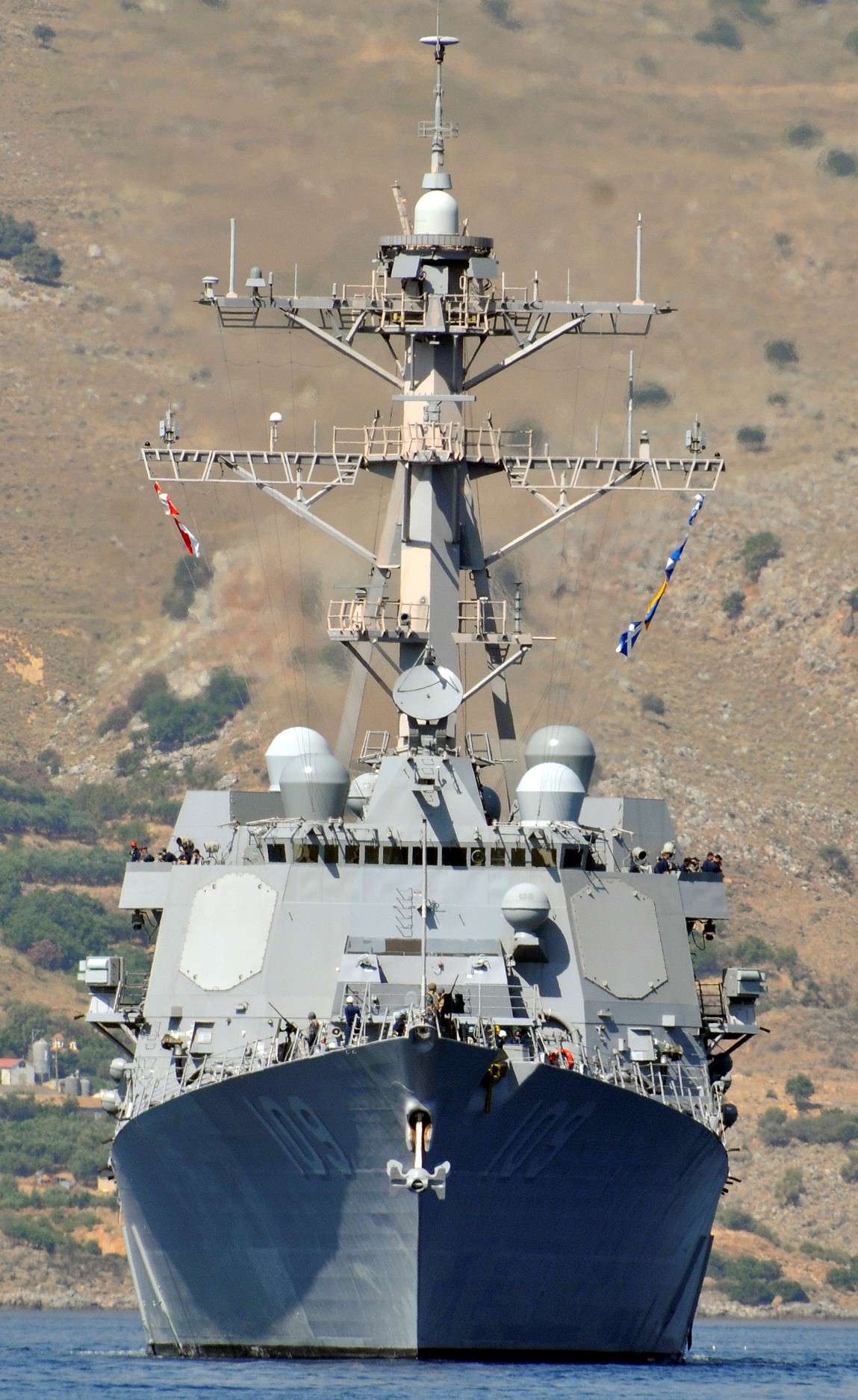 Souda Bay, Crete, Greece - July 2012




Atlantic Ocean - June 2012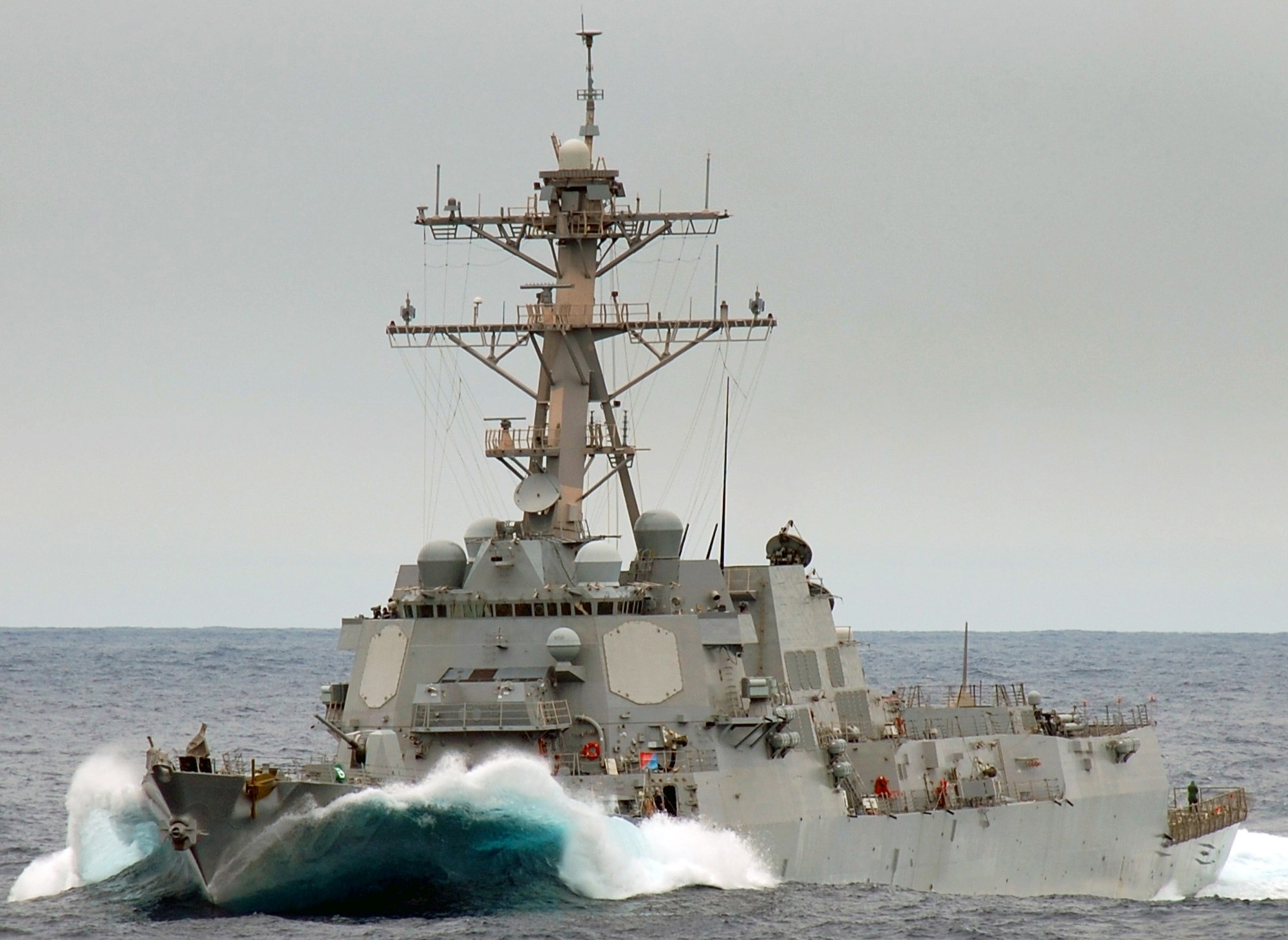 Atlantic Ocean - June 2012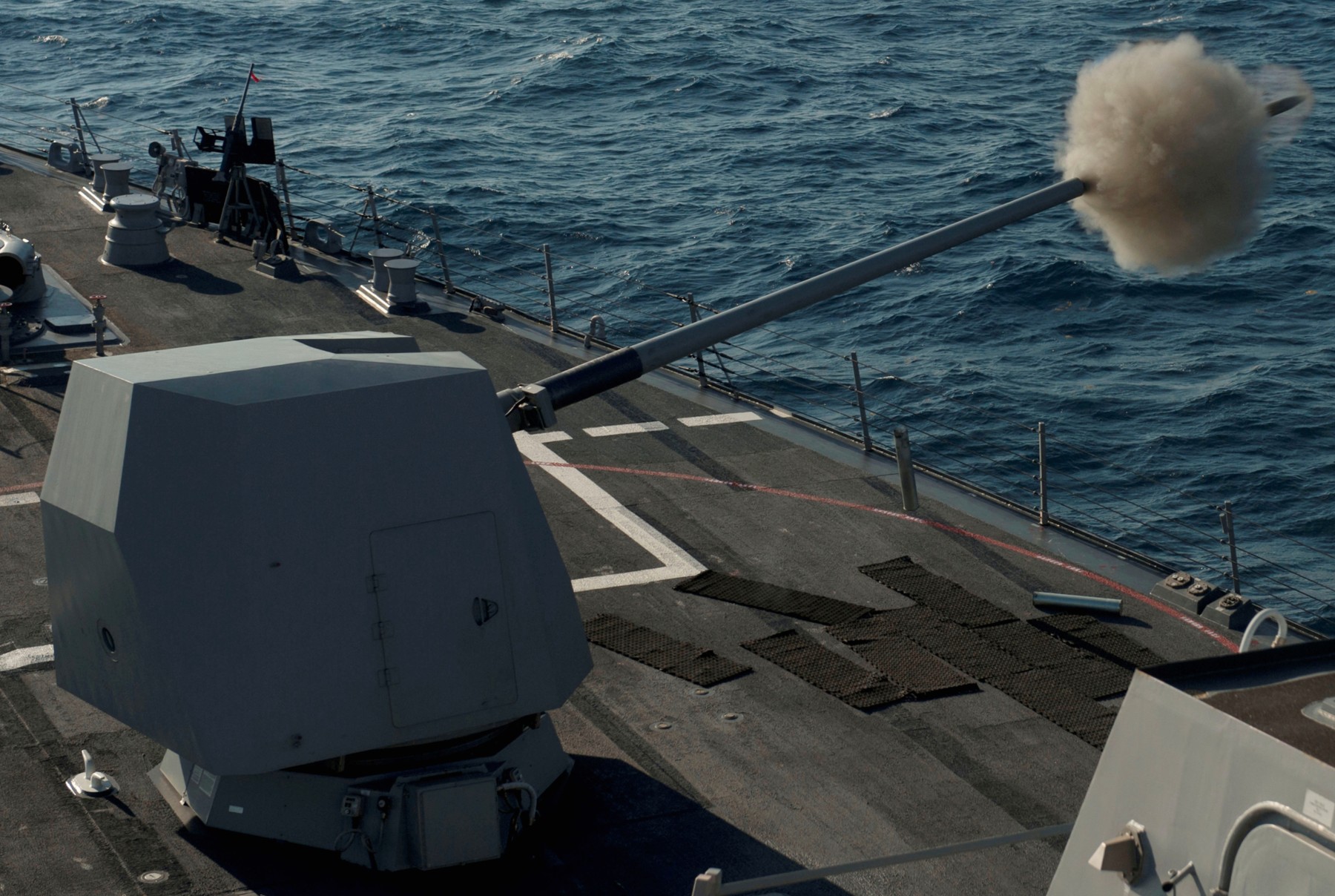 Mk.45 Mod.4 5"62-caliber gun fire - May 2012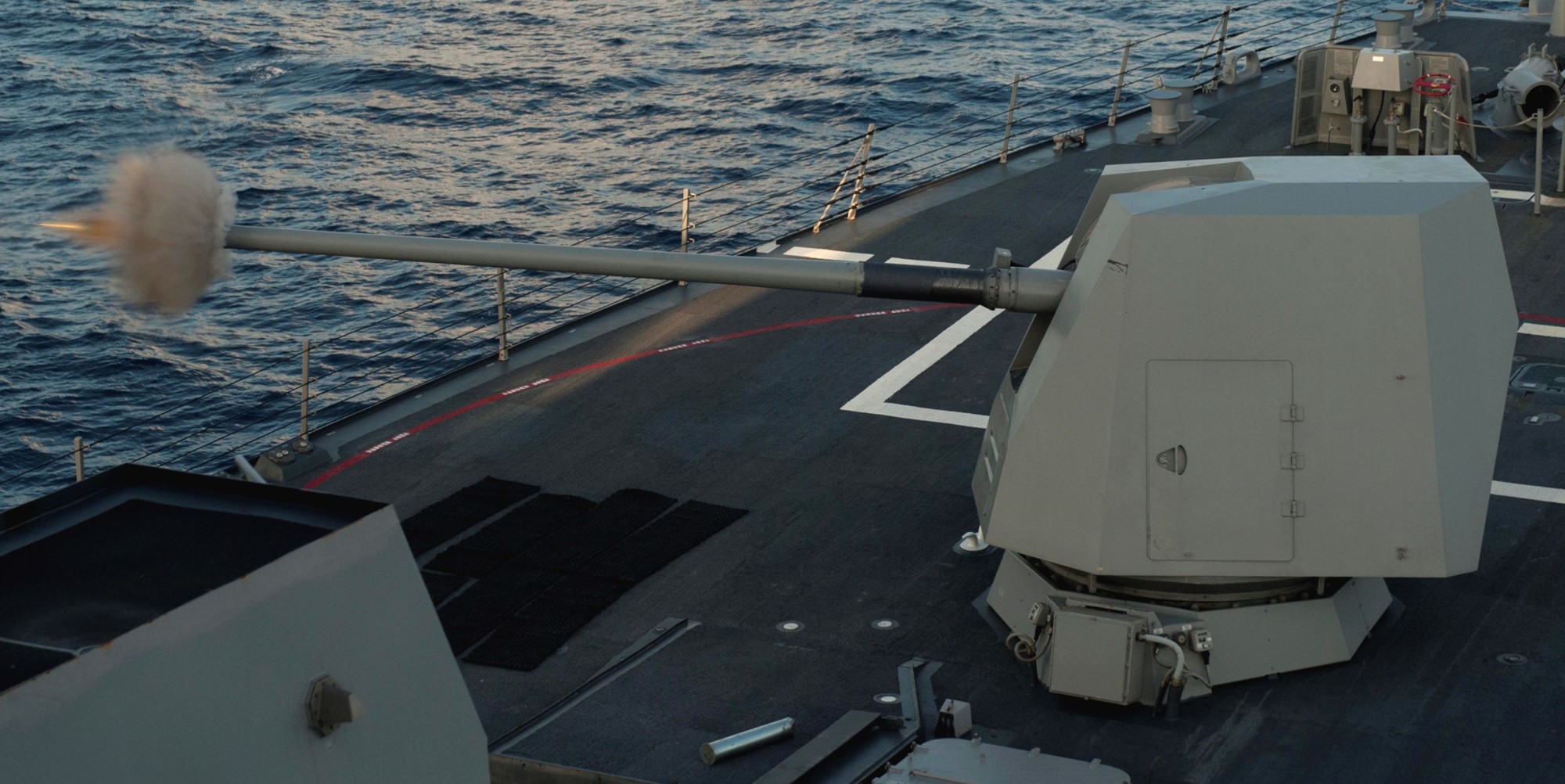 Mk.45 Mod.4 gun fire - May 2012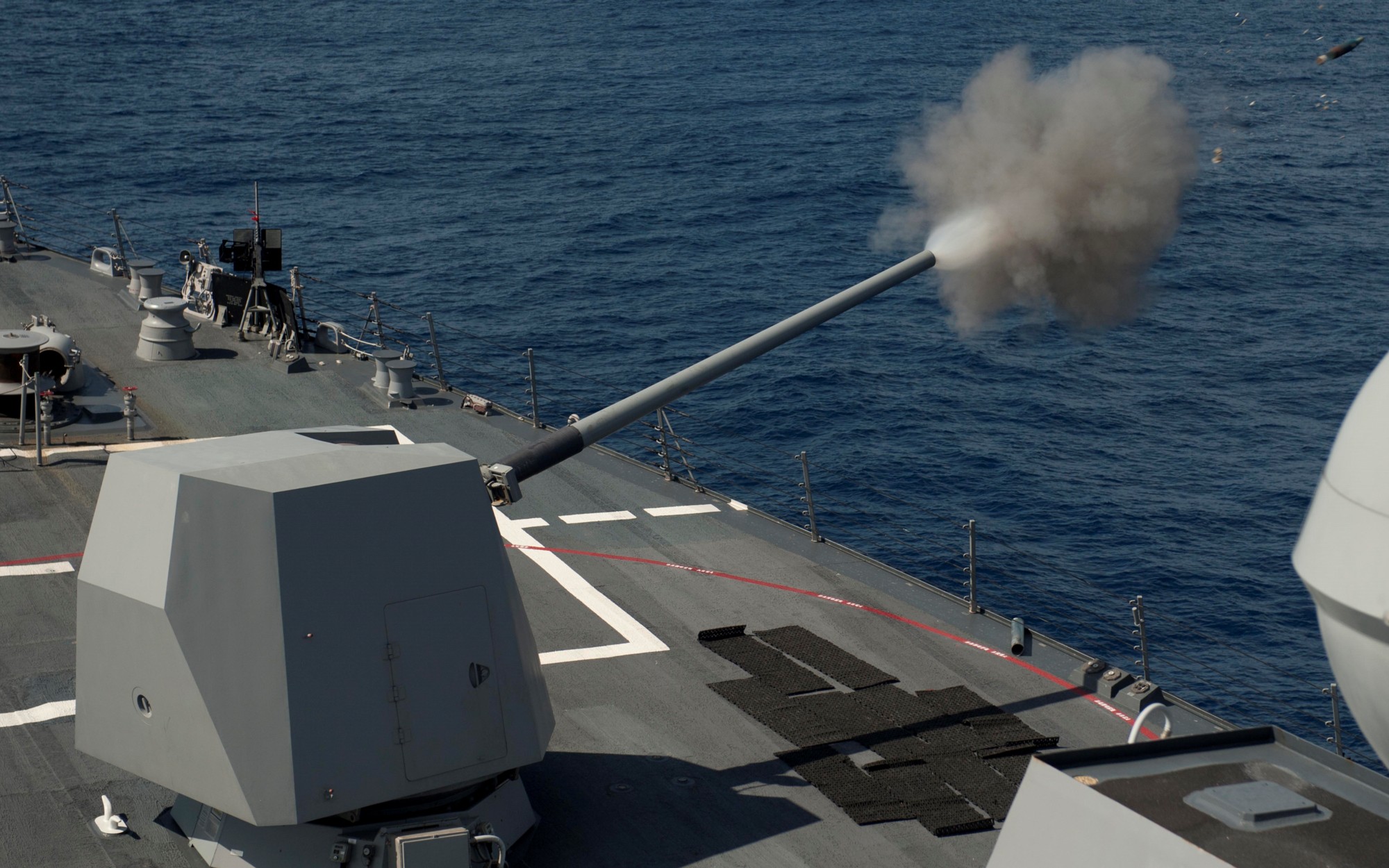 Mk.45 Mod.4 gun fire - May 2012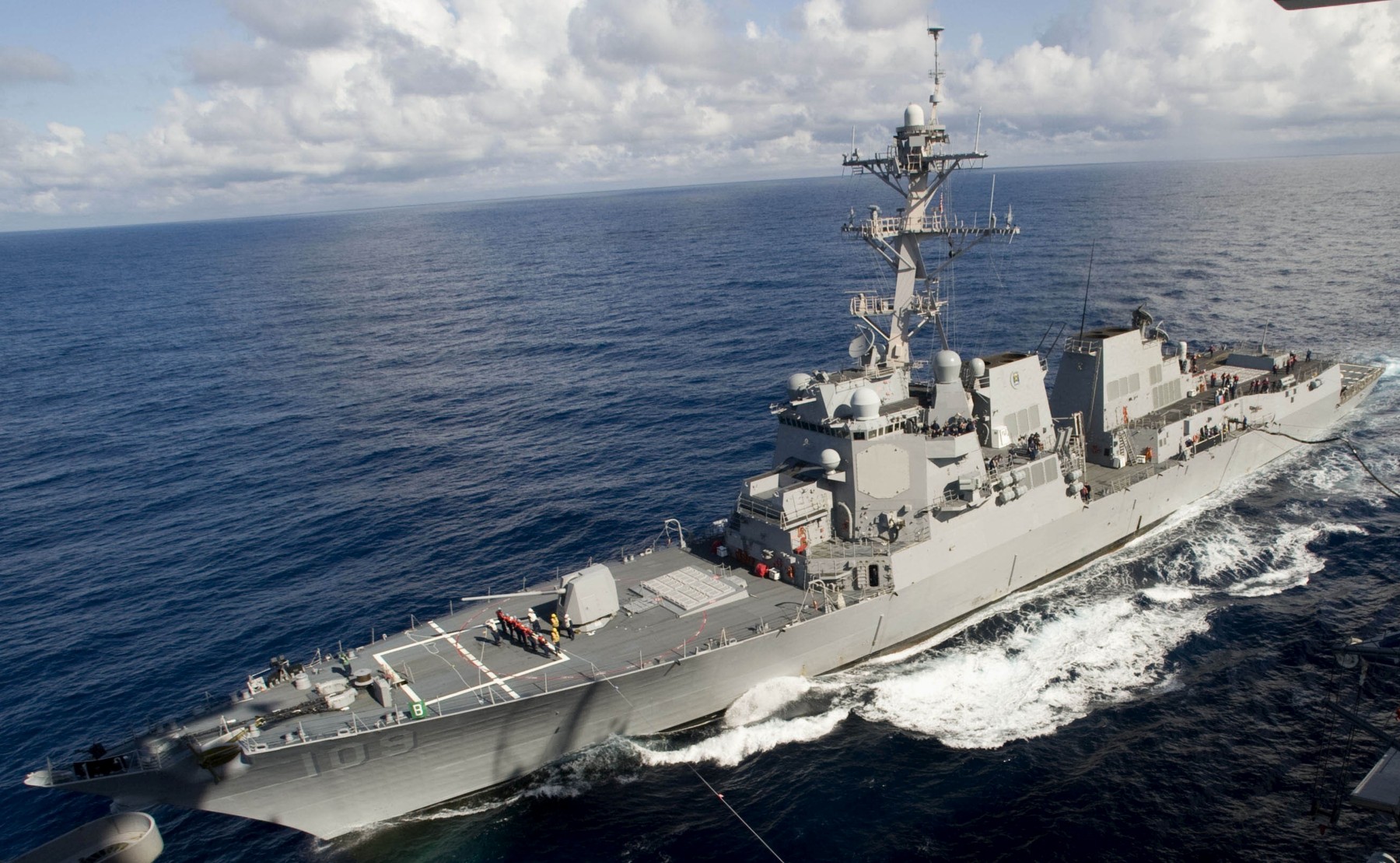 Atlantic Ocean - March 2012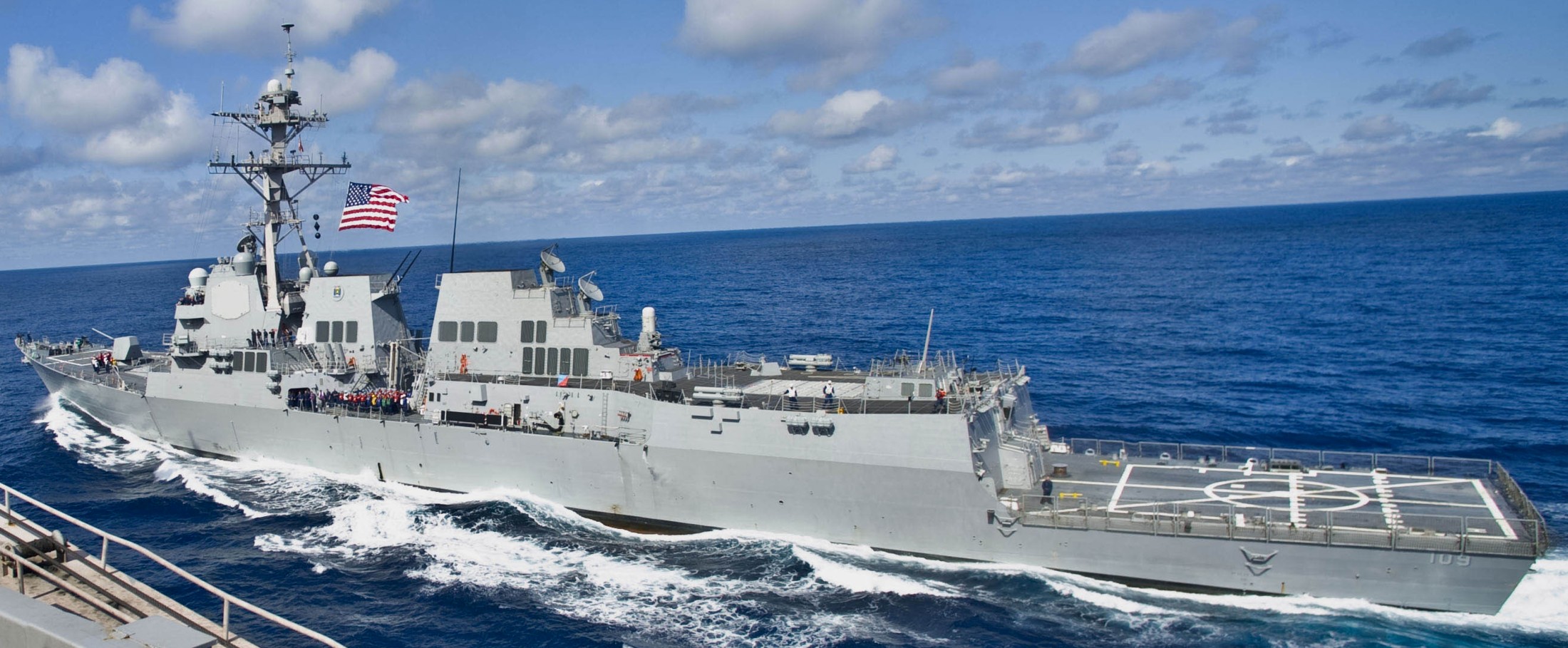 Atlantic Ocean - March 2012




departing Naval Station Norfolk, Virginia in preparation of hurricane Irene - August 2011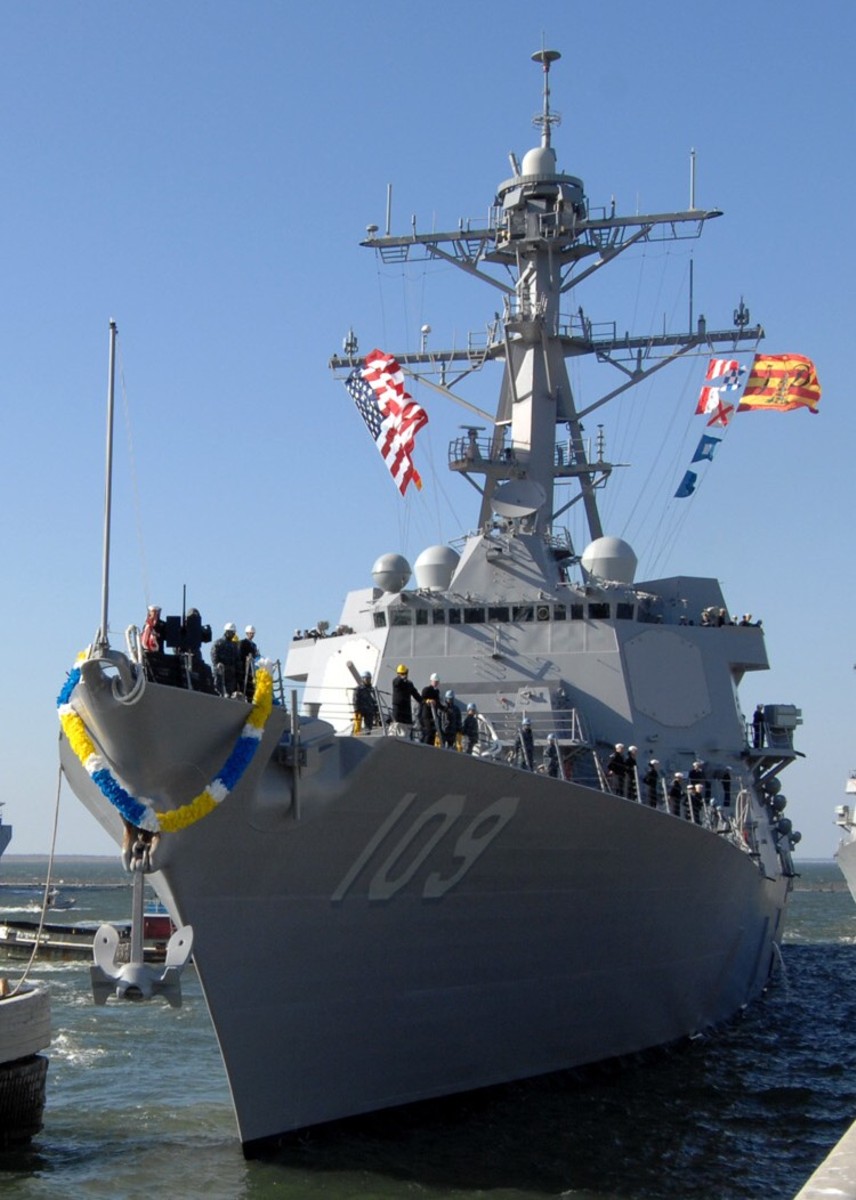 arriving at her new homeport, Naval Station Norfolk, Virginia - November 23, 2010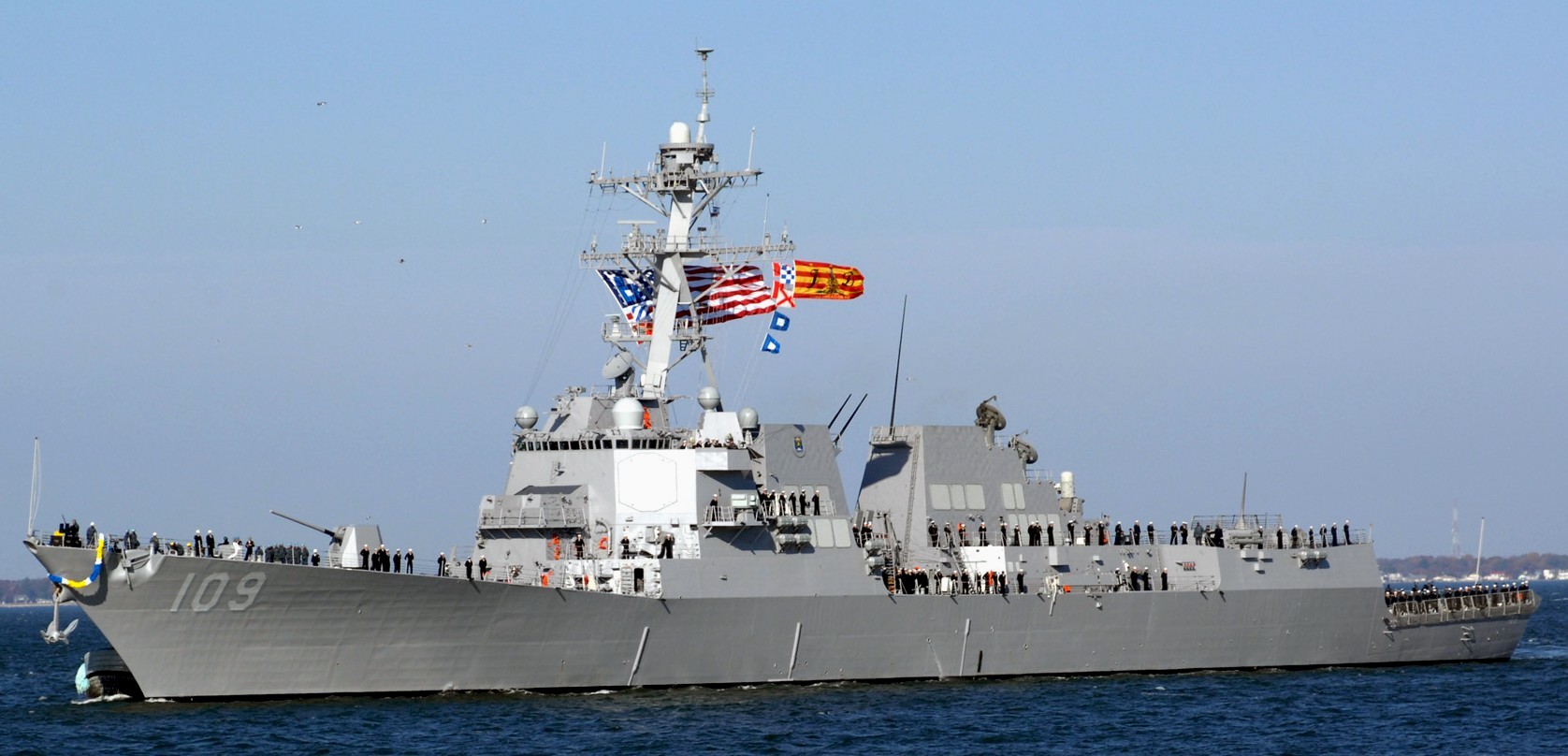 arriving at her new homeport, Naval Station Norfolk, Virginia - November 23, 2010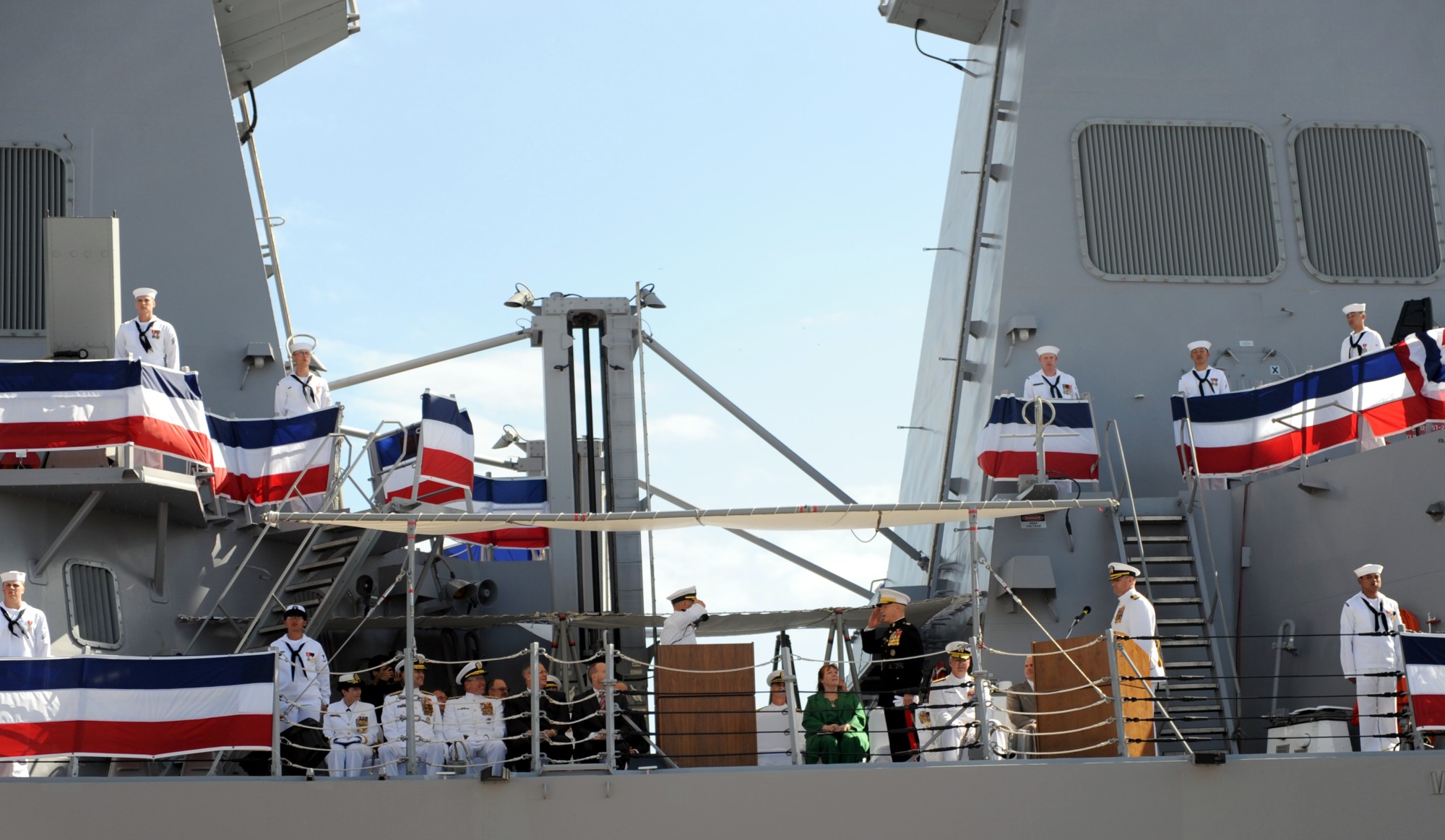 commissioning ceremony - Port Everglades, Florida - November 13, 2010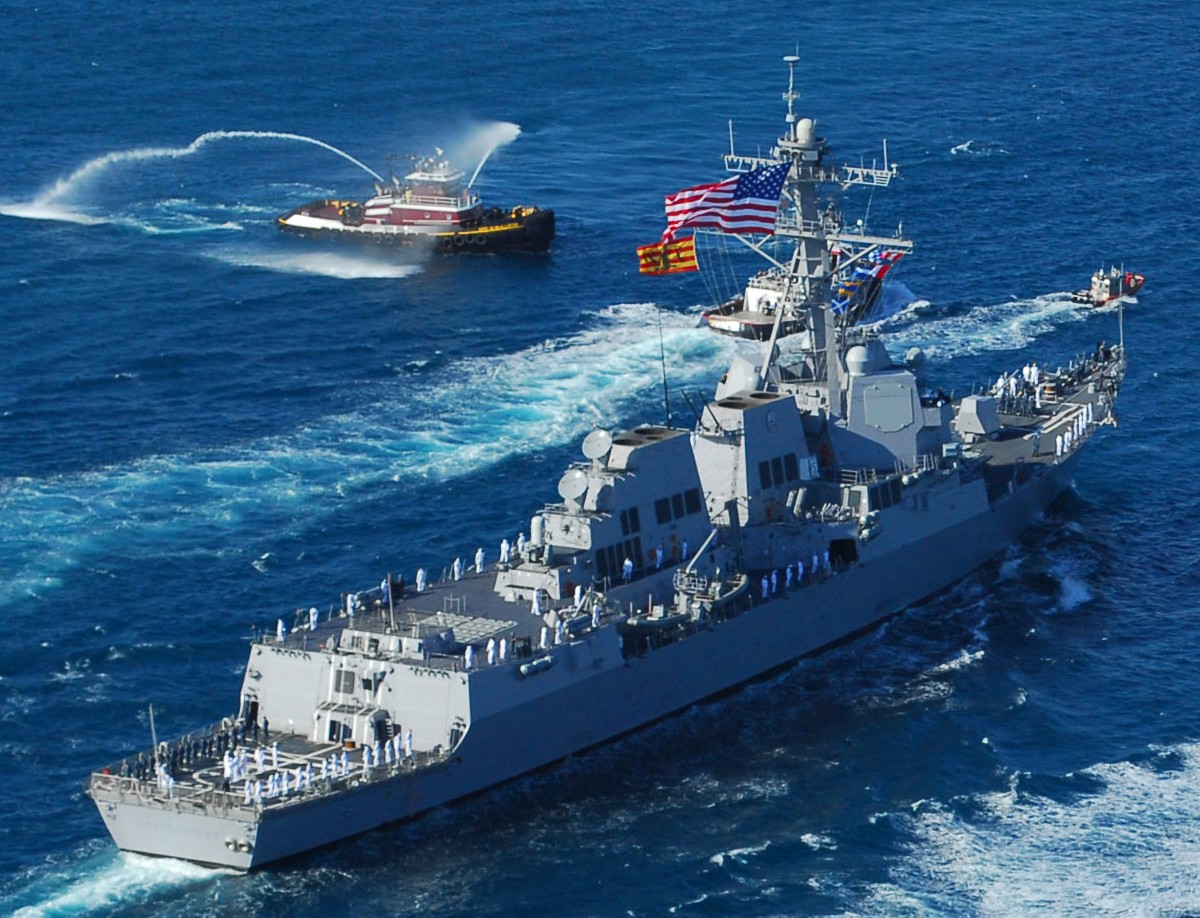 arriving at Port Everglades, Florida - November 2010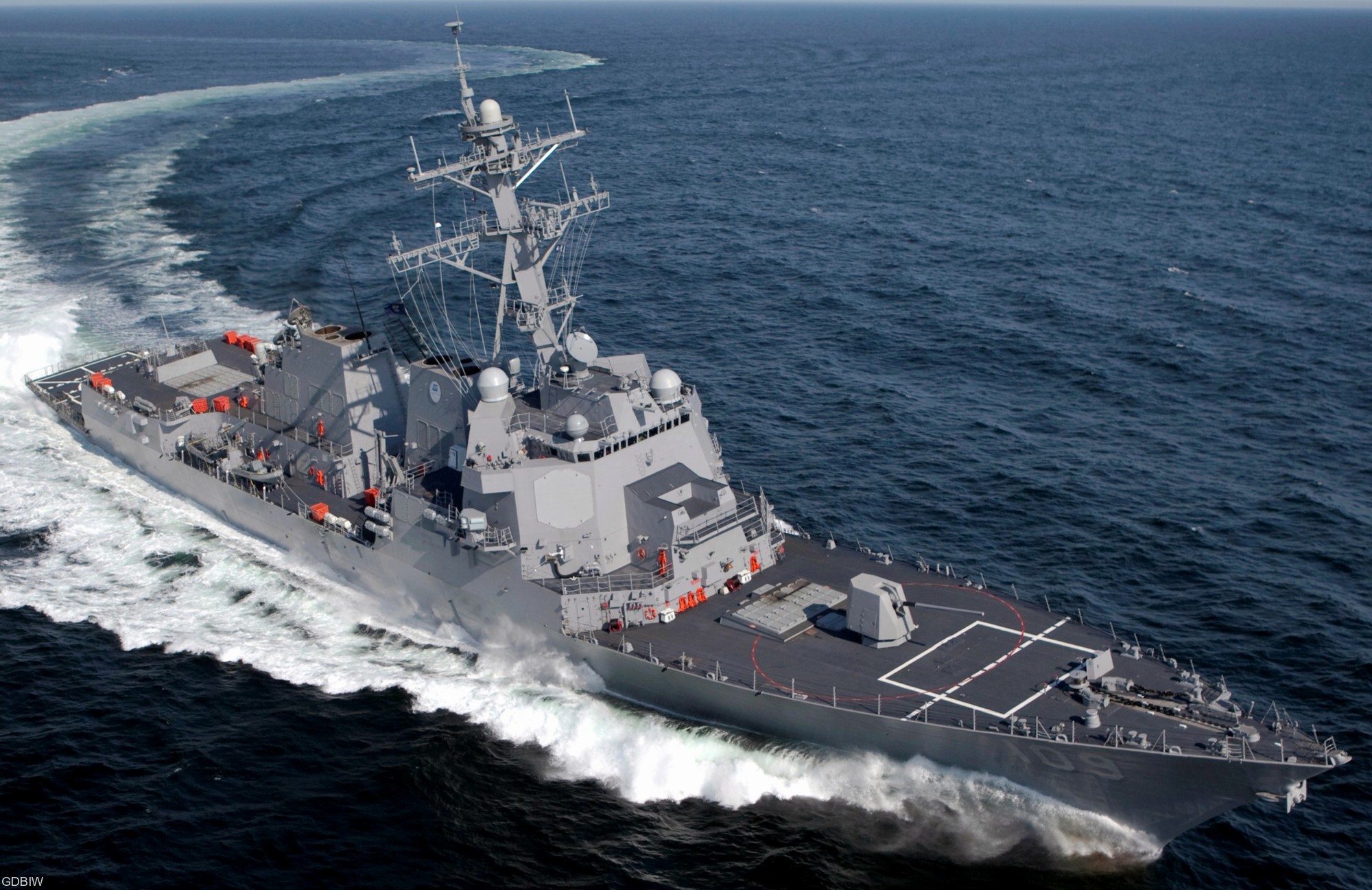 trials - May 2010 (GDBIW photo via NNS)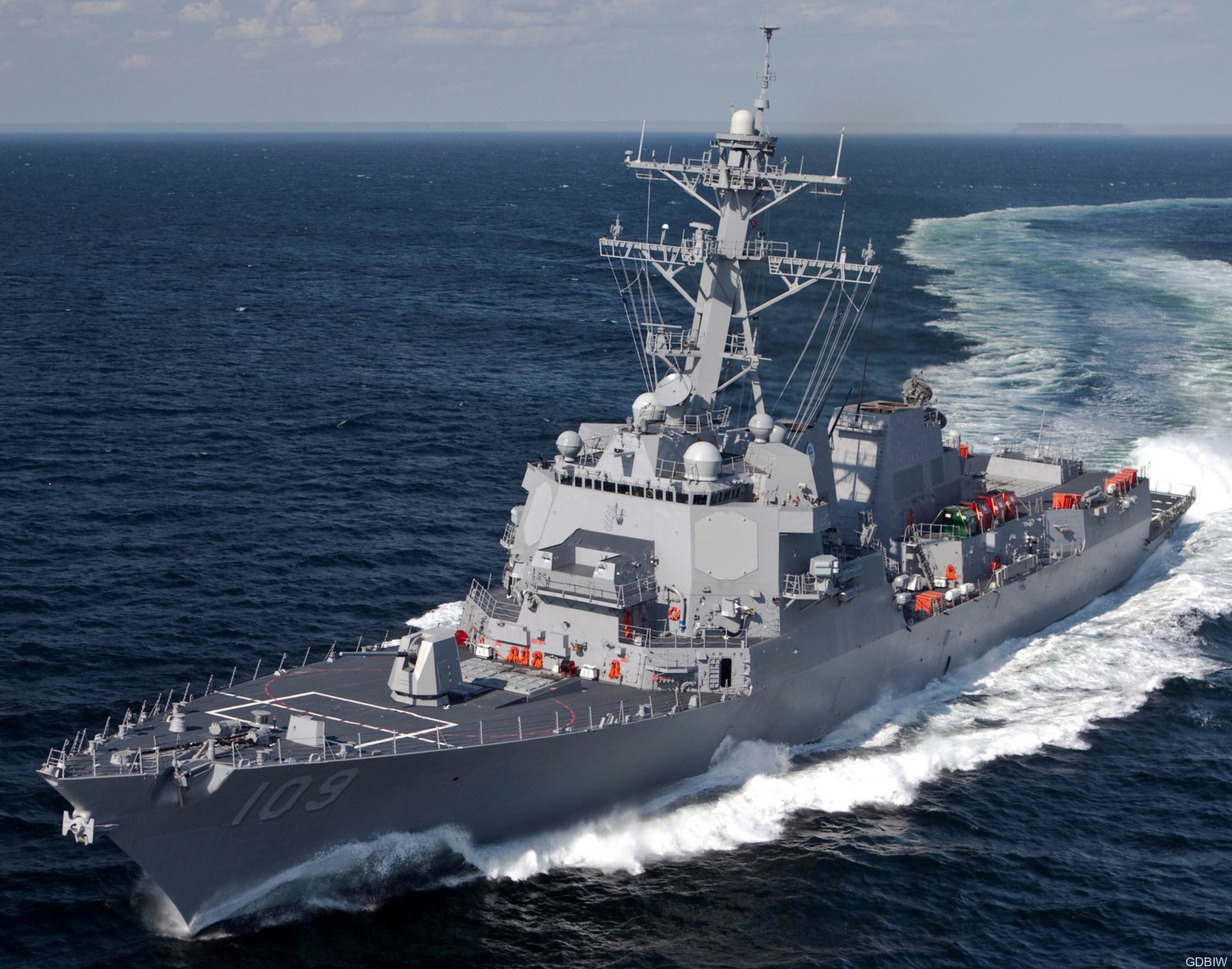 trials - May 2010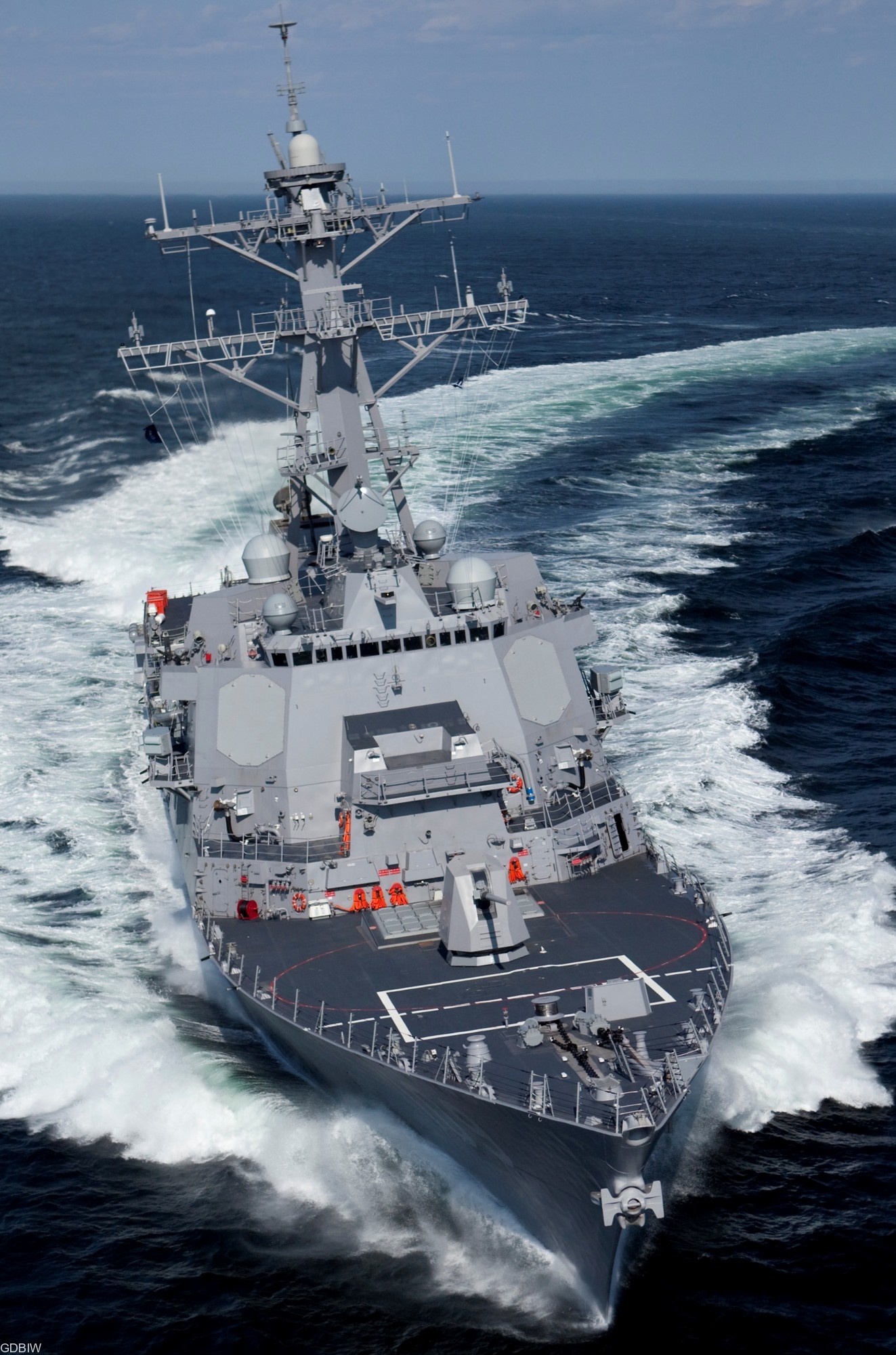 trials - May 2010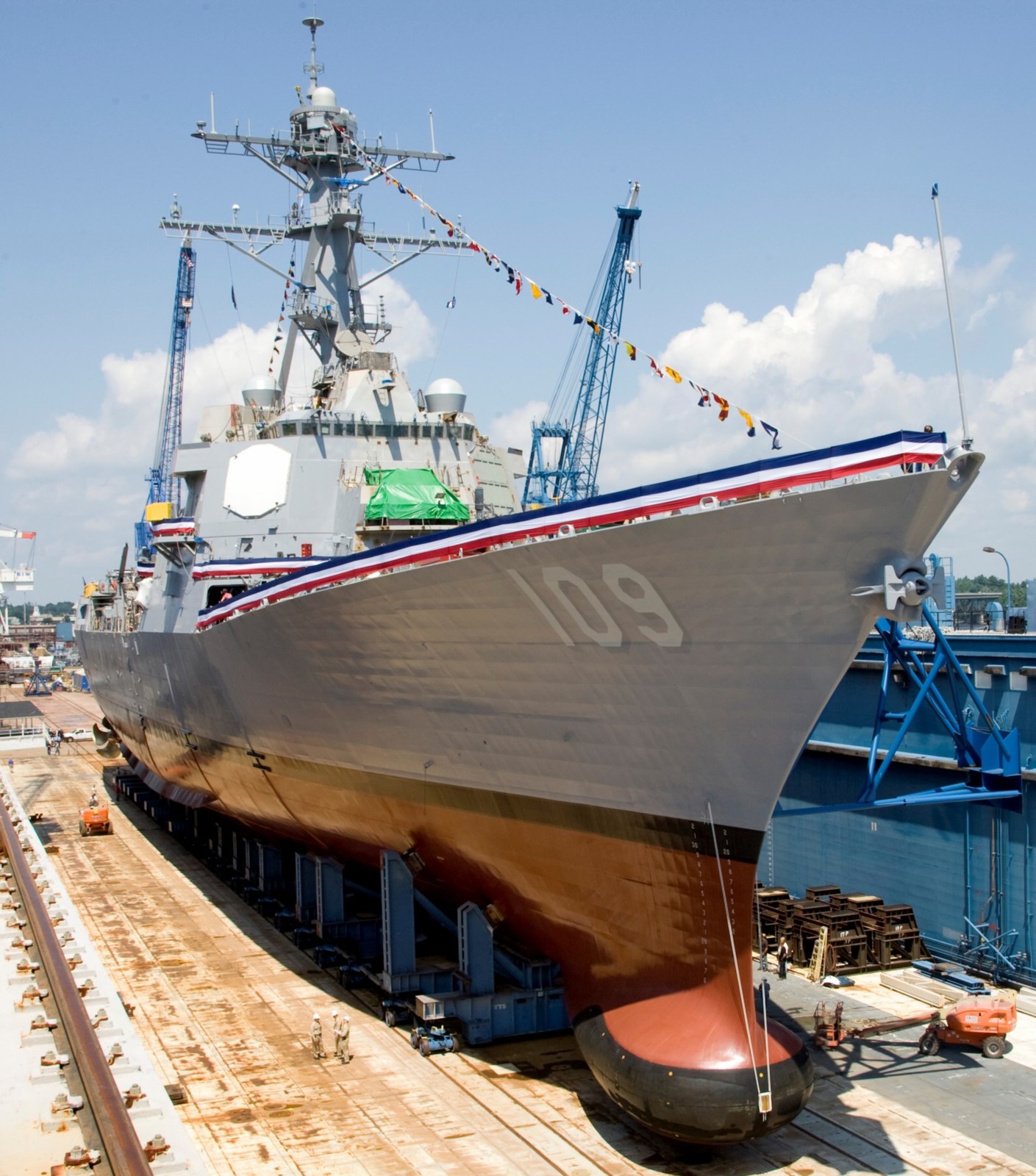 after christening at General Dynamics Bath Iron Works, Bath, Maine - August 1, 2009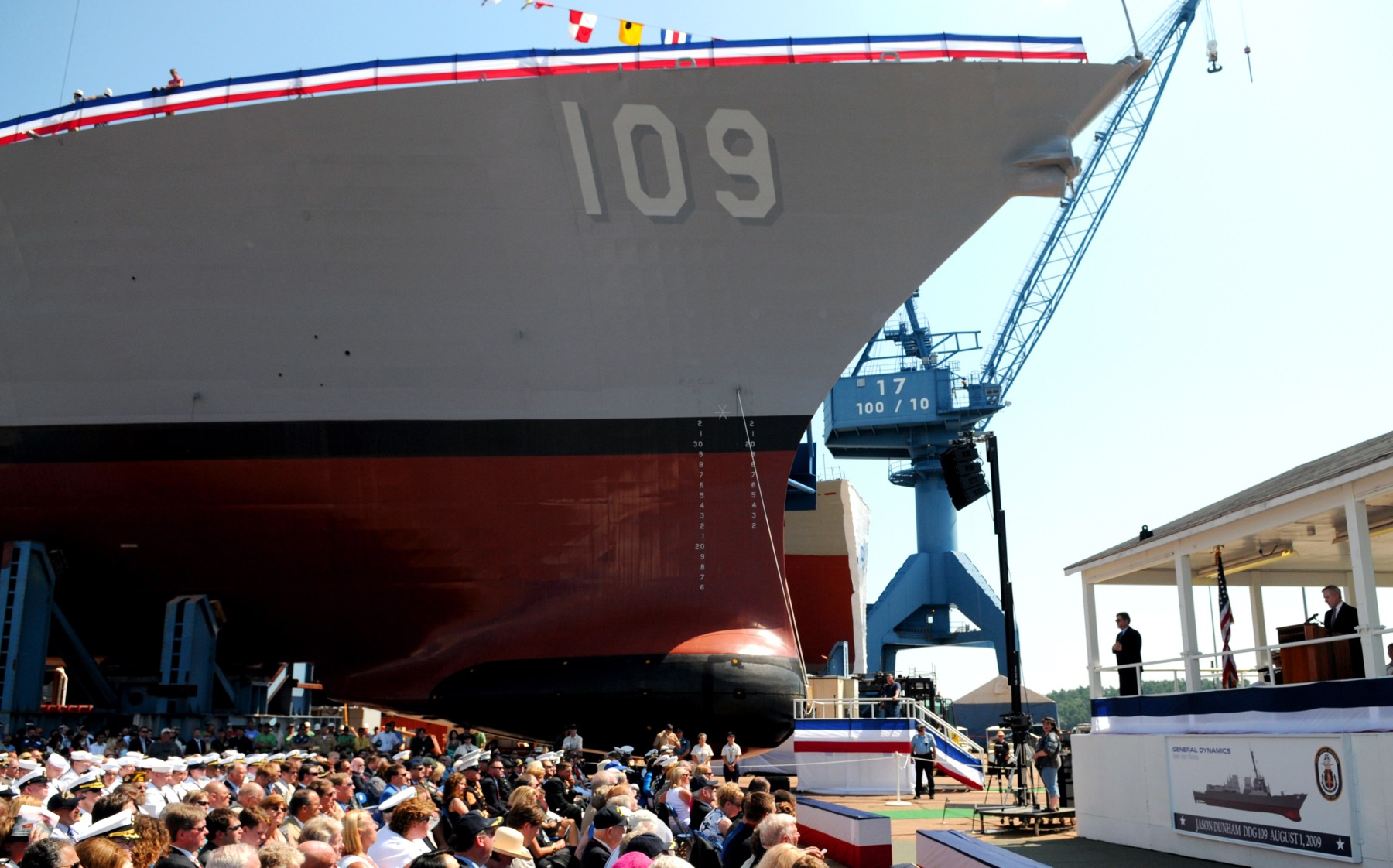 christening ceremony at General Dynamics Bath Iron Works, Bath, Maine - August 1, 2009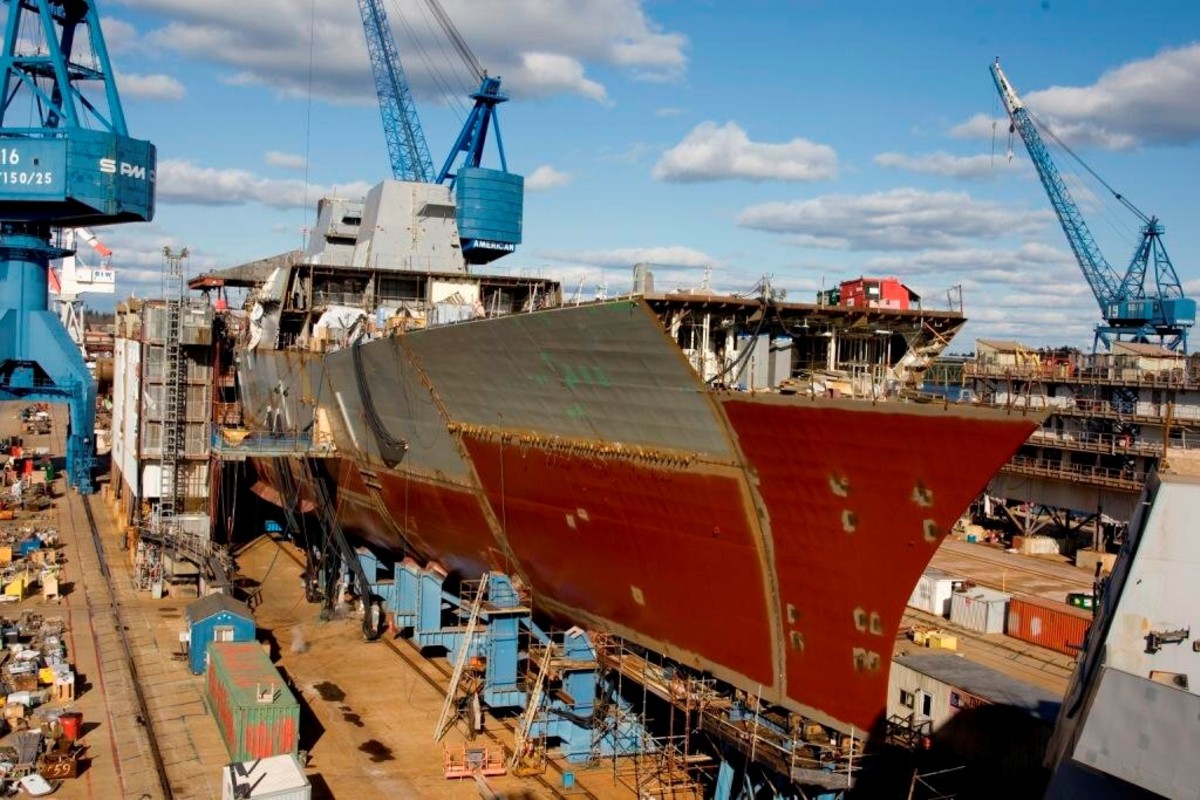 construction at Bath Iron Works, Bath, Maine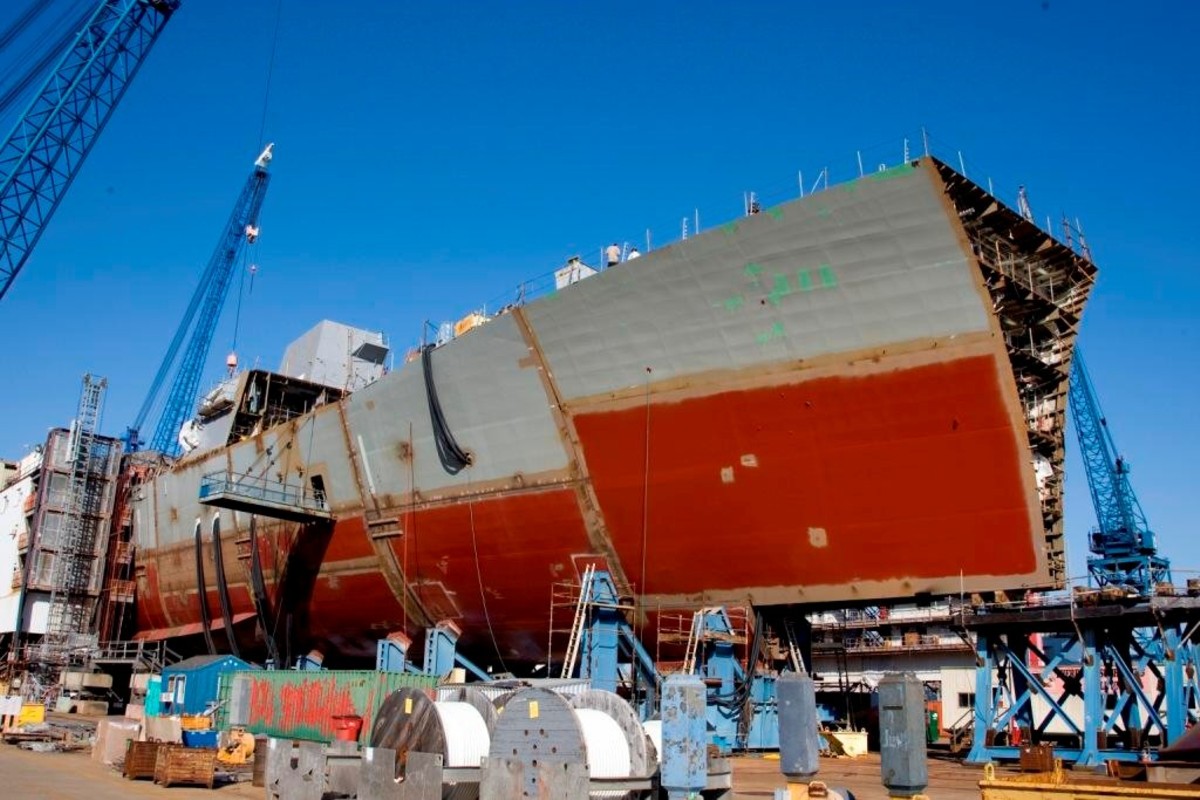 construction at Bath Iron Works, Bath, Maine


USS Jason Dunham (DDG 109):

... service history wanted ...

Corporal Jason Lee Dunham (November 10, 1981 - April 22, 2004):

Corporal Jason Lee Dunham was born on 10 November 1981 in Scio, New York. The date may seem insignificant to those who don't know its history. The ones who do know its significance celebrate this day - faithfully - each year. November 10th is the United States Marine Corps birthday... a birthday that Jason Dunham shares.

Corporal Jason L. Dunham was 22 years old when he left us. He came from the small town of Scio (sigh-oh) population 1900. It's the kind of town where everyone knows your name... where values and respect still mean something. It was here, along a winding country road filled with rolling-meadows, and a swift moving creek, that Jason L. Dunham was brought into this world.

As you turn into the Dunham's long driveway that leads to their house, the breeze catches a yellow ribbon tied to the mailbox and the story begins to unfold. The further you drive; two flags adorn the front porch, an American flag and the United States Marine Corps flag. And both seem to play the same quiet song, and yet both stand tall for this fallen young man. There is a final reminder that Jason Dunham is no longer with us… a blue star in the front window has been replaced by a gold star, symbolizing the Dunham family loss.

On April 14, 2004, 3 days after Easter Sunday, Corporal Dunham was manning a checkpoint in Karabilah, Iraq, when an insurgent leapt from his car and began choking Corporal Dunham. A scuffle ensued as two Marines approached to help. Reportedly, the last words from Corporal Dunham were, "No, No. Watch his hand." Suddenly, the insurgent dropped a grenade. Corporal Dunham took off his Kevlar helmet, dropped to the ground, and covered the explosive as best he could.

The blast seriously wounded all 3 Marines. Eight days later, Corporal Jason L. Dunham died at Bethesda Naval Hospital from wounds he received in the incident. He was 22.

Corporal Dunham made the ultimate sacrifice, and in doing so saved the lives of his fellow Marines. Due to his actions on that fateful day, Corporal Dunham has been awarded the Medal of Honor.


Medal of Honor citation:
For conspicuous gallantry and intrepidity at the risk of his life above and beyond the call of duty while serving as Rifle Squad Leader, 4th Platoon, Company K, Third Battalion, Seventh Marines (Reinforced), Regimental Combat Team 7, First Marine Division (Reinforced), on 14 April 2004. Corporal Dunham's squad was conducting a reconnaissance mission in the town of Karabilah, Iraq, when they heard rocket-propelled grenade and small arms fire erupt approximately two kilometers to the west. Corporal Dunham led his Combined Anti-Armor Team towards the engagement to provide fire support to their Battalion Commander's convoy, which had been ambushed as it was traveling to Camp Husaybah. As Corporal Dunham and his Marines advanced, they quickly began to receive enemy fire. Corporal Dunham ordered his squad to dismount their vehicles and led one of his fire teams on foot several blocks south of the ambushed convoy. Discovering seven Iraqi vehicles in a column attempting to depart, Corporal Dunham and his team stopped the vehicles to search them for weapons. As they approached the vehicles, an insurgent leaped out and attacked Corporal Dunham. Corporal Dunham wrestled the insurgent to the ground and in the ensuing struggle saw the insurgent release a grenade. Corporal Dunham immediately alerted his fellow Marines to the threat. Aware of the imminent danger and without hesitation, Corporal Dunham covered the grenade with his helmet and body, bearing the brunt of the explosion and shielding his Marines from the blast. In an ultimate and selfless act of bravery in which he was mortally wounded, he saved the lives of at least two fellow Marines. By his undaunted courage, intrepid fighting spirit, and unwavering devotion to duty, Corporal Dunham gallantly gave his life for his country, thereby reflecting great credit upon himself and upholding the highest traditions of the Marine Corps and the United States Naval Service.
Jason Lee Dunham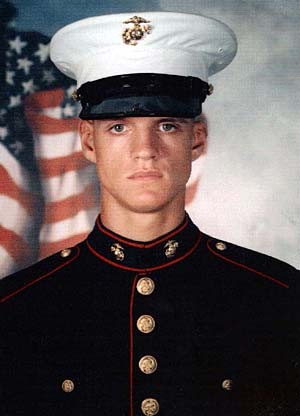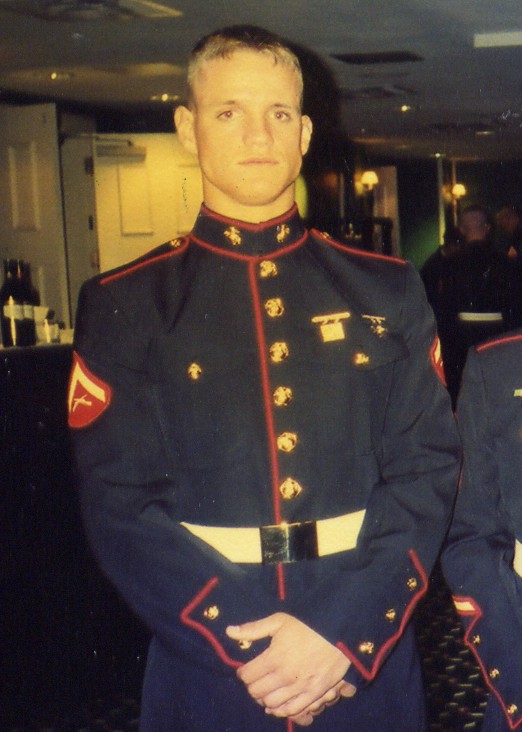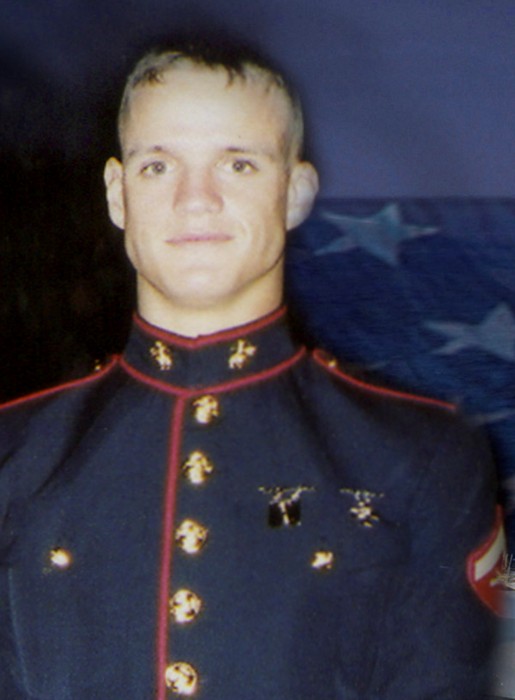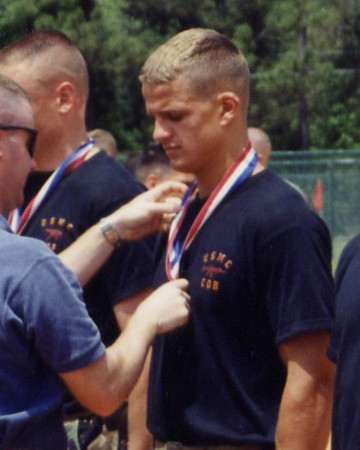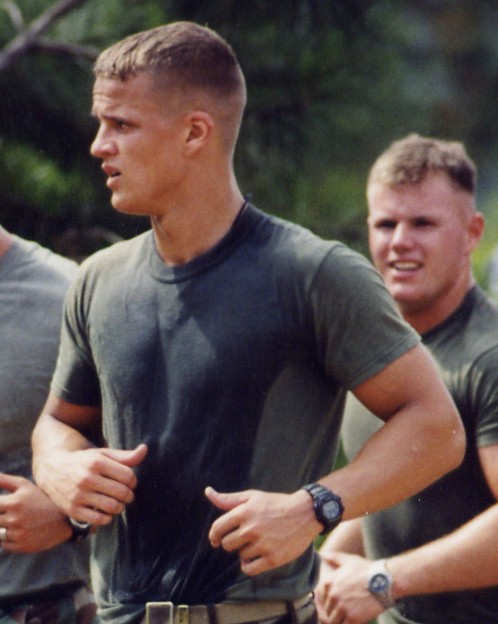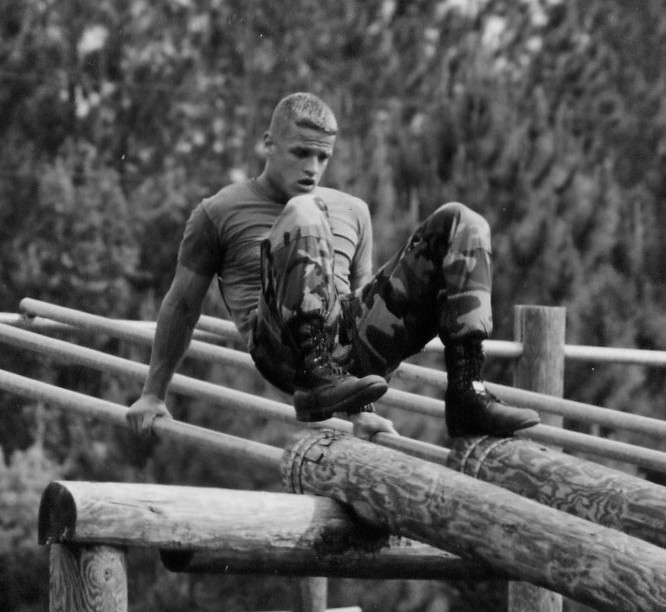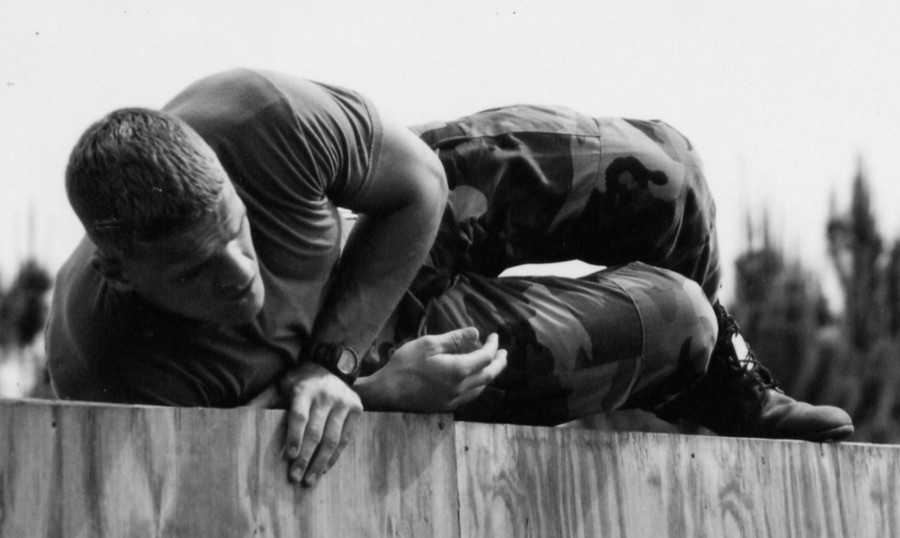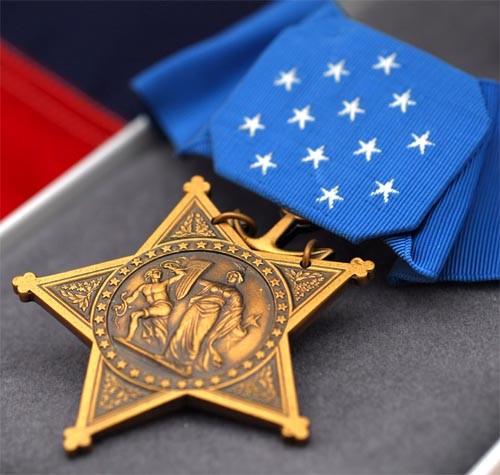 patches + more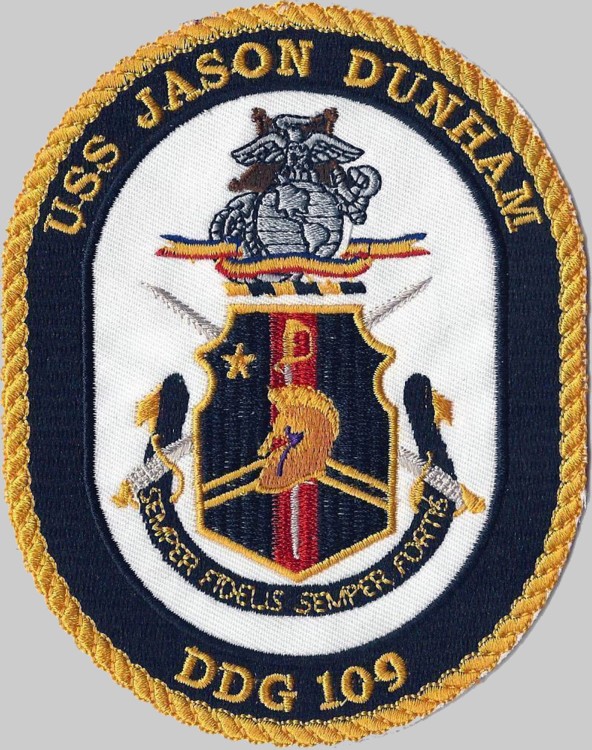 |
seaforces.org
|
USN ships start page
|