STATUS:
Awarded: January 17, 1958
Laid down: March 2, 1959
Launched: May 21, 1960
Commissioned: June 24, 1961
Decommissioned: June 24, 1991
<![if !supportEmptyParas]> <![endif]>
Fate: Stricken November 20, 1992; Sold for scrap
<![if !supportEmptyParas]> <![endif]>
<![if !vml]>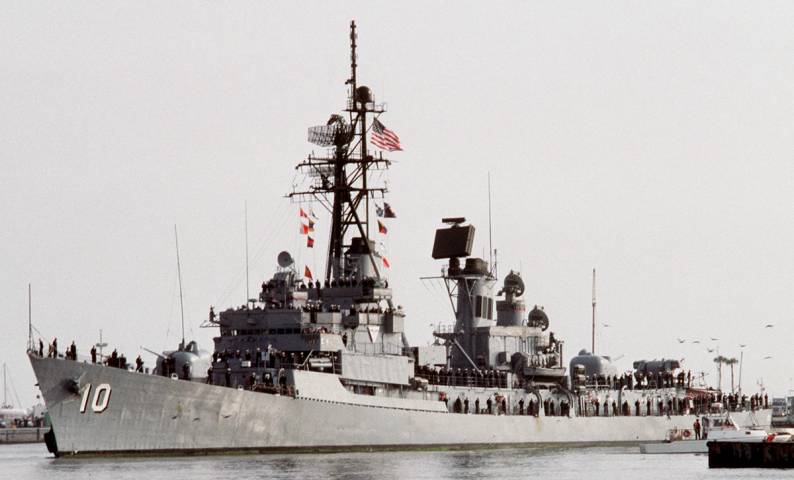 <![endif]>
<![if !supportEmptyParas]> <![endif]>
<![if !vml]>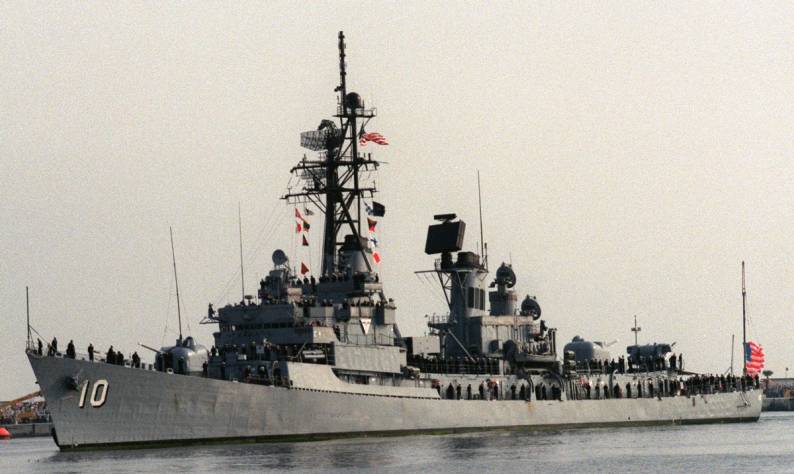 <![endif]>
<![if !supportEmptyParas]> <![endif]>
<![if !vml]>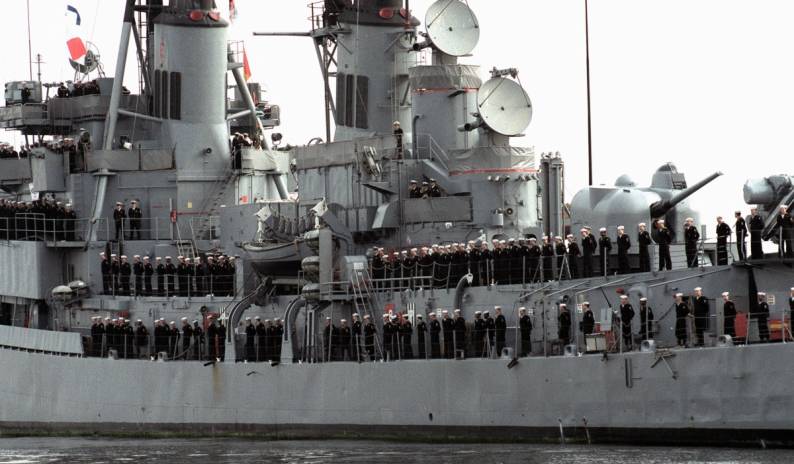 <![endif]>
<![if !supportEmptyParas]> <![endif]>
<![if !supportEmptyParas]> <![endif]>
<![if !vml]>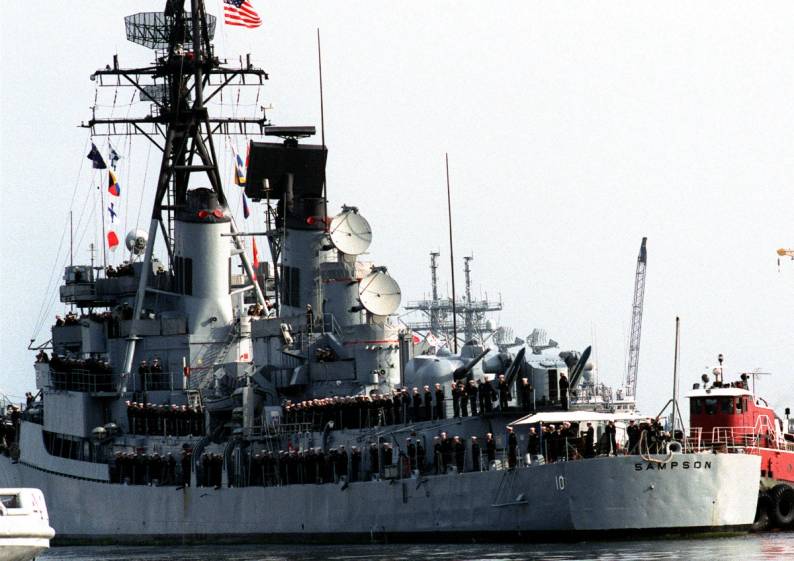 <![endif]>
<![if !supportEmptyParas]> <![endif]>
<![if !vml]>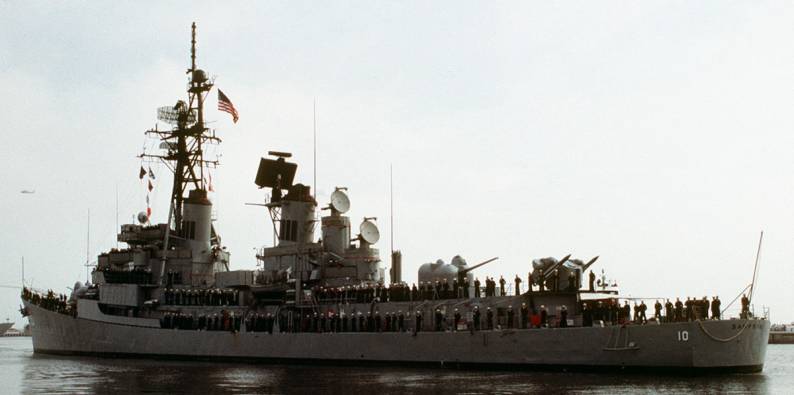 <![endif]>
<![if !supportEmptyParas]> <![endif]>
<![if !vml]>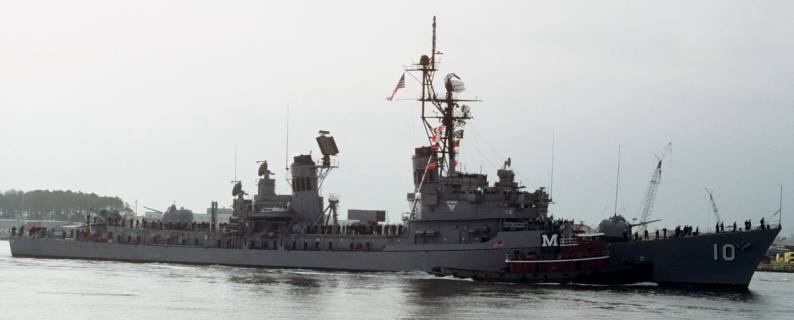 <![endif]>
<![if !supportEmptyParas]> <![endif]>
<![if !vml]>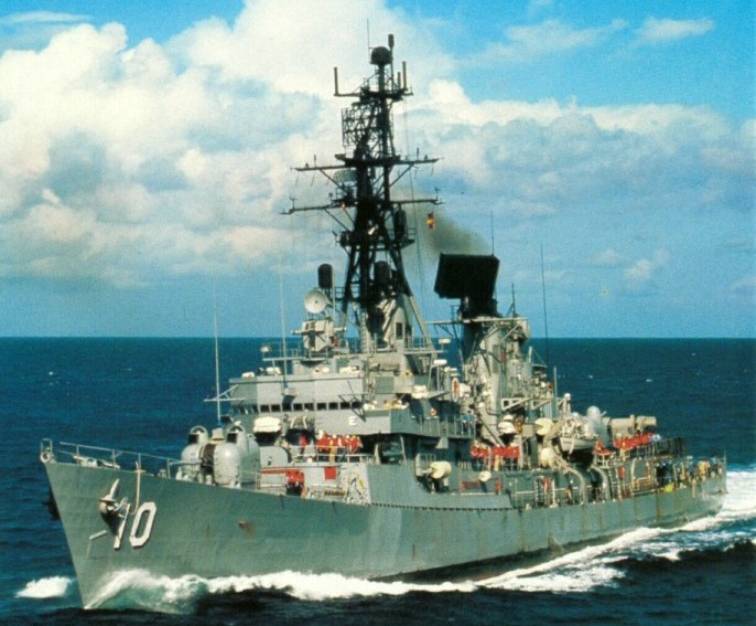 <![endif]>
<![if !supportEmptyParas]> <![endif]>
<![if !vml]>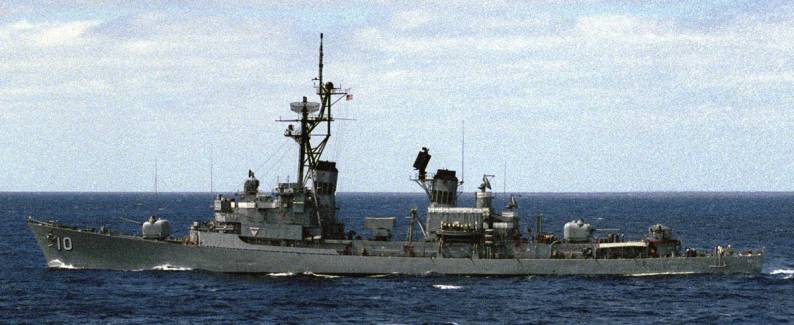 <![endif]>
<![if !supportEmptyParas]> <![endif]>
<![if !vml]>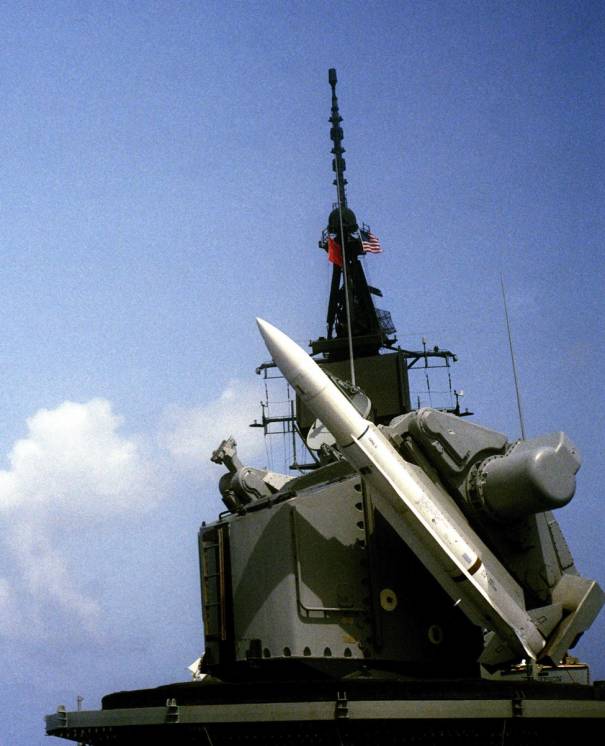 <![endif]>
<![if !supportEmptyParas]> <![endif]>
<![if !vml]>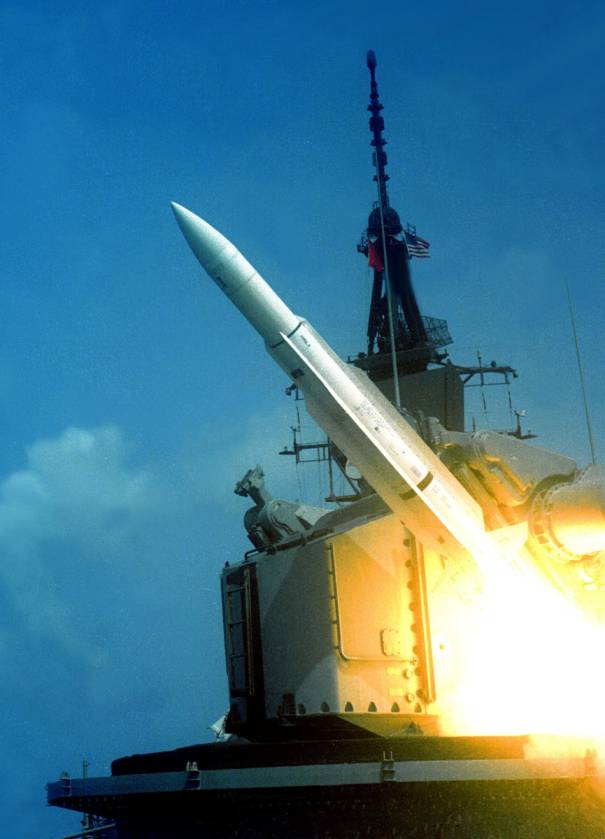 <![endif]>
<![if !supportEmptyParas]> <![endif]>
<![if !vml]>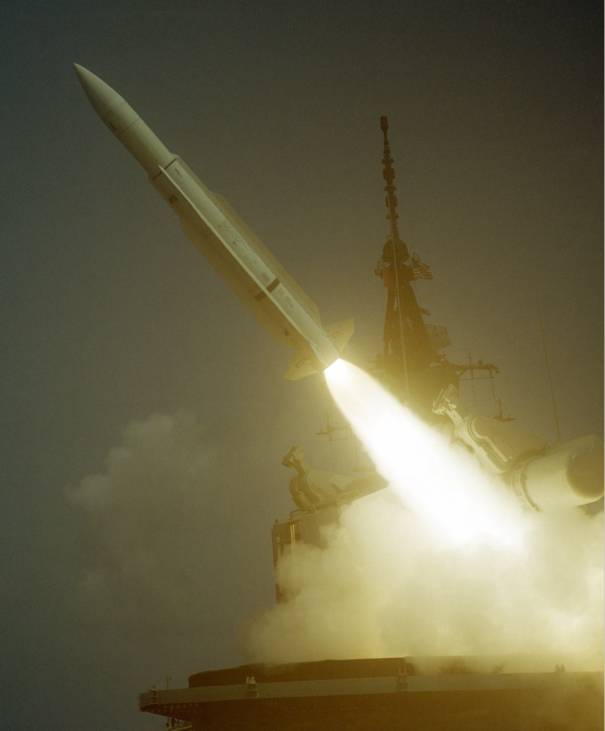 <![endif]>
<![if !supportEmptyParas]> <![endif]>
William Thomas Sampson, born on 9 February 1840 in Palmyra, N.Y., entered the United States Naval Academy on 24 September 1857. After graduating 1st in his class four years later, he served as an instructor at the Academy. In 1864, he became the executive officer of the monitor Patapsco of the South Atlantic Blockading Station and engaged in sweeping torpedoes off Charleston.

He survived the loss of that ironclad on 15 January 1865, when she struck a torpedo, exploded, and sank with a loss of 75 lives. Following duty in the steam frigate, Colorado, on the European Station, another tour as instructor at the Naval Academy, and in the Bureau of Navigation of the Navy Department, he served in the screw sloop, Congress. He then commanded Alert, practice ship Mayflower, and Swatara while on duty at the Naval Academy. During the next years, he was Assistant to the Superintendent of the Naval Observatory, then Officer-in-Charge of the Naval Torpedo Station, Newport, R.I. On 9 September 1886, he became Superintendent of the Naval Academy.

He was promoted to Captain on 9 April 1889, reported to the Mare Island Navy Yard to fit out San Francisco, and assumed command when that protected cruiser was commissioned on 15 November 1889. He was detached in June 1892 to serve as Inspector of Ordnance in the Washington Navy Yard and was appointed Chief of the Bureau of Ordnance on 28 January 1893. He assumed command of battleship, Iowa, on 15 June 1897. On 17 February 1898, he was made President of the Board of Inquiry to investigate the destruction of battleship, Maine. On 26 March 1898, he assumed command of the North Atlantic Station, with the temporary rank of Rear Admiral.

The United States declared war against Spain on 21 April 1898; and, eight days later, Admiral Cervera's fleet sailed from the Cape Verde Islands for an uncertain destination. Admiral Sampson, in flagship New York, put to sea from Key West in search of the Spanish Fleet and established a close and efficient blockade on that fleet in the harbor of Santiago on 1 June 1898. On the morning of 3 July 1898, Cervera's fleet came out of the harbor and was completely destroyed in a running sea battle lasting five hours. The next day, Rear Admiral Sampson sent his famous message: "The Fleet under my command offers the nation as a Fourth of July present, the whole of Cervera's Fleet!" He was appointed Cuban Commissioner on 20 August 1898 but resumed command of the North Atlantic Fleet in December.

He became Commandant of the Boston Navy Yard in October 1899 and transferred to the Retired List on 9 February 1902. Rear Admiral Sampson died in Washington, D.C., on 6 May 1902 and was buried in Arlington National Cemetery.
The third Sampson (DDG-10) was laid down on 2 March 1959 by the Bath Iron Works Corp., Bath, Maine; launched on 14 May 1960, sponsored by Mrs. John S. Crenshaw, and commissioned at the Boston Navy Yard on 24 June 1961, Comdr. Forrester W. Isen in command.

Following shakedown off Guantanamo Bay in September, Sampson tested and evaluated the Tartar Missile System off Puerto Rico. Homeported at Norfolk she conducted further tests and trials in early 1962 before joining Destroyer Squadron (DesRon) 18 and Destroyer Division ( DesDiv) 182 in July. Composed completely of missile ships, DesRon 18 was then the most modern squadron in the NBYJ7. Further radar and missile tests followed in 1963; and, in July, Sampson operated in the Midshipman Training Squadron. Finally, in January 1964, Sampson fired two Tartar missiles under simulated combat conditions. During 1964, she also underwent her first regular overhaul and received missile replenishment at sea from helicopters.

In January 1965, Sampson sailed for her first Mediterranean deployment, but an electrical fire on the night of 14 January caused extensive damage to her fire control capability and forced her to abbreviate her deployment and enter the Norfolk Naval Shipyard for repairs on 15 March.

The destroyer returned to fleet duties on 24 June. While conducting gunnery exercises, on 17 July, Sampson spotted the 50-foot sailing sloop, Cecelia Anna, flying distress signals and rescued her 6 crewmen and mascot puppy moments before the sloop sank. In 1966, Sampson conducted gunnery exercises and escort duties near Guantanamo Bay, Cuba; then, in March, she deployed to the Mediterranean for extensive operations with the 6th Fleet. She returned to Norfolk in August. On 28 November, following three weeks of exercises in the Caribbean and additional tests, Sampson got underway to participate in exercise "Lantflex 66" in which she provided ASW and AAW services for the ASW carrier, Wasp (CVS-18), and conducted exercises in the Puerto Rico operating area before returning to Norfolk in December.

Sampson deployed to the Mediterranean in mid-1967. While there, a Sampson radarman rescued a German seaman from the harbor at El Ferrol de Caudillo, Spain. Leaving the 6th Fleet at the end of August 1967, Sampson steamed back to the United States, and soon shifted to her new home port of Charleston.

Sampson operated out of Charleston in the Atlantic and Caribbean during 1968 until again deploying to the Mediterranean in October. She returned to Charleston in January 1969 and resumed operations in the Atlantic and the Caribbean until redeploying to the Mediterranean in October of that year. After six months with the 6th Fleet, she returned to Charleston on 28 March 1970.

Sampson operated out of Charleston in the western Atlantic until 23 September, when, after only two days notice, she got underway for special operations in the Mediterranean. She spent the month of October cruising first with John F. Kennedy (CVA-67), then with Saratoga (CV 60), during the latest Levantine crisis. On 1 November, she stood out of Barcelona, Spain, to return to the United States. Sampson entered the mouth of the Cooper River on the 12th, moored at Charleston, and began a leave and upkeep period.

She ended 1970 and began 1971 in Charleston. During the first three months of the new year, she operated in the vicinity of the British West Indies; then prepared for overseas movement. On 9 April, following exercises and type training, Sampson steamed out of Charleston, passed Fort Sumter, and headed for the Mediterranean. She cruised with the 6th Fleet for six months, participating in exercises with both American and NATO forces. By 16 October, the guided missile destroyer was back in port at Charleston. She spent the rest of 1971 preparing for regular overhaul.

For four months, from 4 January until 4 May 1972, Sampson underwent the first Compressed Regular Overhaul ever attempted on a DDG. From mid-May until 9 July, she was underway for post-overhaul trials, exercises, and refresher training. She was in Charleston during the period 9 July to 18 August, at which time Sampson stood out for her new home port, Athens, Greece. She stopped at Rota, Spain, ten days later and entered Phaleron Bay on 3 October. The guided missile destroyer remained in the Mediterranean, based at Athens, throughout 1973 and into 1974. In April 1974, she was in port at Athens.
<![if !supportEmptyParas]> <![endif]>
-- more DDG-10 history wanted --