USS Cape St. George (CG 71):

USS CAPE ST. GEORGE's keel was laid on November 10, 1990, and she was launched on January 10, 1992. CAPE ST. GEORGE was christened on April 11, 1992 by her sponsor, Mrs. Doris Hekman, the wife of VADM Peter M. Hekman, Jr., USN (Ret.). After commissioning on June 12, 1993 at ceremonies in Norfolk, Virginia, CAPE ST. GEORGE joined the Atlantic Fleet, completed work-ups with the USS DWIGHT D. EISENHOWER Battle Group, and departed on her maiden deployment on October 21, 1994.

During her first deployment, CAPE ST. GEORGE participated in Operations SHARP GUARD and DENY FLIGHT enforcing United Nations sanctions over Bosnia, as well as numerous complex exercises. Shortly after returning from deployment, CAPE ST. GEORGE conducted Counter-Narcotics Operations, during which she intercepted and seized a vessel carrying over 12.5 tons of cocaine, the largest such seizure in maritime history.

In August and September 1995, CAPE ST. GEORGE participated in the first All-Service Combat Identification and Evaluation Team (ASCIET) exercise, a joint warfighting laboratory focused on improving combat identification among all branches of the Armed Forces. The perennial cornerstone of the exercise, CAPE ST. GEORGE again participated in ASCIET in 1996 and 1997. In January 1996, the ship transited the Panama Canal to participate in Exercise MOUNTAIN TOP, a major developmental test of the Cooperative Engagement Capability (CEC), conducted at the Pacific Missile Test Range off Hawaii. Following ASCIET '96, the ship participated in a highly successful missile-firing exercise in support of CEC development and achieved Initial Operational Capability (IOC) of CEC.

In the summer of 1997, CAPE ST. GEORGE deployed to the Baltic Sea for U.S. Exercise Baltic Operations (BALTOPS) '97. A major annual regional maritime and defense exercise, BALTOPS '97 drew participants from thirteen nations and over fifty ships, aircraft, and submarines. During BALTOPS, CAPE ST. GEORGE embarked a British Royal Navy SEA LYNX helicopter detachment, a first for a U.S. Navy ship.

After work-ups, CAPE ST. GEORGE departed for her second deployment on June 10, 1998. As EISENHOWER Battle Group Air Defense Commander, CAPE ST. GEORGE was responsible for the theater air and missile defense of the battle group. CAPE ST. GEORGE spent the first half of the deployment in the Mediterranean Sea and participated in Operation DELIBERATE FORGE, enforcing the no-fly zone over Bosnia and serving as Adriatic Sea "Redcrown." While in the Mediterranean, CAPE ST. GEORGE also participated in several joint and multinational exercises, including SHAREM 125, MATADOR 98, and EAGLE ARENA. She also conducted Freedom of Navigation operations.

On 26 June 1998, with the USS DWIGHT D. EISENHOWER Carrier Battle Group, USS CAPE ST. GEORGE conducted a routine, previously scheduled deployment to the Mediterranean and Black Seas. It was her second deployement. The DWIGHT D. EISENHOWER Battle Group arrived in the Mediterranean on June 20. As DWIGHT D. EISENHOWER Battle Group Air Defense Commander, CAPE ST. GEORGE was responsible for the theater air and missile defense of the battle group. Units of the DWIGHT D. EISENHOWER Battle Group participated in 14 exercises during their deployment to the European Theater of operations, including several NATO and multinational exercises throughout the Mediterranean and Black Seas.

While deployed to the Mediterranean in the summer of 1998, the CAPE ST. GEORGE operated in the Adriatic Sea with the USS DWIGHT D. EISENHOWER (CVN 69) in support of the multinational operation Deliberate Forge and NATO's Operation Joint Forge. The USS CAPE ST. GEORGE served as Fleet Air Defense Identification Zone coordinator and established a CEC network with DWIGHT D. EISENHOWER and USS ANZIO, and served as Adriatic Sea "Redcrown". CEC enabled the three ships to maintain a flawless single integrated air picture within the Adriatic Sea. While in the Mediterranean, CAPE ST. GEORGE also participated in several joint and multinational exercises, including SHAREM 125, MATADOR 98, and EAGLE ARENA. She also conducted Freedom of Navigation operations.

CAPE ST. GEORGE made her first transit of the Suez Canal on August 31, 1998, enroute to the Arabian Gulf. While deployed to the Arabian Gulf, CAPE ST. GEORGE participated in Operation SOUTHERN WATCH.

As part of the USS DWIGHT D. EISENHOWER battle group, USS CAPE ST. GEORGE participated in a series of increasingly demanding exercises and operations. The training culminated in Joint Task Force Exercise 00-1 held in December 1999. However, because it was unable to complete live-fire training with ground spotters, and thus complete training prior to deploying on February 18, 2000, USS CAPE ST. GEORGE had to perform its Naval Surface Fire Support training at the Cape Wrath, Scotland training range. This came as a result of the Navy training range at Vieques, Puerto Rico, being closed since April. The use of the range at Cape Wrath was a unique circumstance demonstrating cooperation with British allies who operate the range. Working through heavy seas and high winds, USS CAPE ST. GEORGE, as well as USS ANZIO (CG 68) and USS MAHAN (DDG 72) were able to complete their training and attain certification in naval surface fire support. The training at Cape Wrath was performed with ground spotters for directing fire. However, the training lacked the coordinated live-fire exercises with Marines ashore, which is a hallmark of the training received at the Navy's Atlantic Fleet Weapons Training Facility range on Vieques.

Upon completion, CAPE ST. GEORGE immediately headed for her duties in the Mediterranean and 6th Fleet Area of Operation. The ship made port calls to Cartagena, Spain and Limassol, Cyprus. After Limassol, the ship conducted Exercise Juniper Stallion and Fleet Battle Experiment-Golf in the eastern Mediterranean with the DWIGHT D. EISENHOWER following which, she transited to one of Greece's most remote vacationing spots, the island of Mykonos. Following Greece, CAPE ST. GEORGE returned to the Eastern Mediterranean where she continued Fleet Battle Experiment-Golf and later visited Haifa, Israel along with the USS DWIGHT D. EISENHOWER. After Haifa, CAPE ST. GEORGE transited to La Maddalena, Sardinia where she underwent her first ever deployment Fleet Maintenance Availability. During her seven days in La Maddalena, CAPE ST. GEORGE got a lot of much needed repairs completed. Leaving La Maddalena, CAPE ST. GEORGE headed for Rijeka, Croatia where she was the first cruiser to ever visit Croatia and the first U.S. warship to visit the city since its independence from Yugoslavia. The city had been anxiously waiting to host a United States Navy ship since her independence in 1991 and, as a result, daily stories were run in the local and national press, including radio and television spots.

Departing Croatia, CAPE ST. GEORGE again joined with USS DWIGHT D. EISENHOWER as she got underway from her Croatian port visit in Dubrovnik. Transiting together, CAPE ST. GEORGE split from the carrier and headed to her second port visit to Limassol, as the final port visit before heading to the Arabian Gulf. On May 20, CAPE ST. GEORGE transited the Suez Canal and joined Fifth Fleet in the Arabian Gulf. In the Gulf, the ship participated in Operation SOUTHERN WATCH and Maritime Interception Operations (MIO). CAPE ST. GEORGE also conducted MIO in support of United Nations Security Council Resolution 986 as part of a multi-national force enforcing economic sanctions against Iraq.

While in the Arabian Gulf, CAPE ST. GEORGE made several port visits to Mina Salman, Bahrain; and Dubai, U.A.E, twice. After her second port visit in Dubai, CAPE ST. GEORGE left the Gulf on 19 July, and transited the Suez Canal northbound on 28 July. Returning to the Mediterranean after two months of Arabian Gulf operations, CAPE ST. GEORGE made a final port visit in Benidorm, Spain. On August 8, she left the Mediterranean and met up with the rest of the DWIGHT D. EISENHOWER Battle Group to transit the Atlantic to Newport, Rhode Island. USS CAPE ST. GEORGE returned home from her six-month deployment on 18 August 2000.

USS CAPE ST. GEORGE took part in late September 2000 in Underway No. 10", one in a series of tests leading to the Cooperative Engagement Capability (CEC) Operation Evaluation (OPEVAL) scheduled for Spring 2001. The CEC system provides the capability to cooperatively engage targets by a warship using data from other CEC-equipped ships, aircraft, and land-based sensors, even in an electronic-jamming environment. It also provides a common, consistent and highly accurate air picture, allowing battle group defenses to act as one seamless system. The test, off Wallops Island, VA, simulated missile firings from some of the Navy's most technically advanced ships against unmanned drones.

USS CAPE ST. GEORGE left its homeport of Norfolk, VA, on May 21, and took part, in the Baltic Sea, in the 29th annual maritime exercise Baltic Operations (BALTOPS) 2001. With naval vessels and over 40 aircraft of 14 nations taking part, the exercise is intended to improve interoperability with Baltic Sea nations and Partnership for Peace countries by conducting a peace support operation at sea. The operation involved exercises in gunnery, replenishment-at-sea, undersea warfare, radar tracking, mine countermeasures, seamanship, search and rescue, and maritime interdiction operations. Additionally, the nations conducted personnel exchanges amongst the ships so that officers and sailors could see how their contemporaries from other navies live and operate.

In the summer of 2002, CAPE ST. GEORGE again returned to the Baltic Sea for BALTOPS 2002.

In late January 2003, CAPE ST. GEORGE participated in the Composite Training Unit Exercise (COMPTUEX) of the USS THEODORE ROOSEVELT (CVN 71) Battle Group in the Puerto Rican Operating Area. On February 4, 2003, the Battle Group, including CAPE ST. GEORGE, left the Caribbean and deployed to the Mediterranean in support of Operation Enduring Freedom. From March 20 on, the Battle Group participated in Operation Iraqi Freedom, the war against the regime of Saddam Hussein. CAPE ST. GEORGE acted as platform for Tomahawk strikes against targets in Iraq.

In May 2005, Cape St. George became the first surface warship certified to use only digital nautical charts (DNC), instead of paper charts using the Voyage Management System. About 12,000 paper charts have been replaced by 29 computer discs. VMS is part of the Smart Ship Integrated Bridge System, which has been under development since 1990.

On 18 March 2006, she was involved in a firefight with suspected pirates, along with the USS Gonzalez. The two U.S. warships exchanged fire with the suspected pirates about 25 nautical miles off the coast of Somalia. Initial reports indicated that one suspected pirate was killed and five others wounded while Cape St. George took superficial damage from small arms fire during the action.

In March 2007, Seaman Richard Mott slashed the throat of Seaman Jose Garcia from behind as the 18-year-old ate breakfast on the berthing barge nested aside the ship while she was pierside at BAE Shipyards Norfolk, Virginia for repairs. Garcia was seriously injured but survived. On 7 November 2008, Mott was found guilty of attempted murder and was sentenced to 12 years in prison.

In July 2007, Cape St. George departed Norfolk, Virginia, in transit to her new homeport of San Diego, Californiaas part of the realignment of naval forces following the 2006 Quadrennial Defense Review.

On 17 October 2010, the aircraft carrier USS Abraham Lincoln (CVN-72) and Cape St. George arrived off the coast of Pakistan to support the coalition troop surge in landlocked Afghanistan.

On 31 January 2011, Cape St. George responded to a distress call from a sinking Iranian dhow by dispatching a rescue team via a rigid-hulled inflatable boat (RHIB). The rescue team attempted to repair the dhow's dewatering pumps, but they were unable to stop the flooding. The Iranian fishermen were brought aboard Cape St. George where they were examined by the medical staff before being transferred to an Iranian customs vessel.

6-10 January 2012, accompanying carrier Abraham Lincoln, Cape St. George visited the Gulf of Thailand port of Laem Chabang.

In 2012 Cape St. George circumnavigated the globe while on a nine month deployment.


March 2018 - January 2019
BAE Systems will perform ship alternations and repairs on the Cape St. George, to be conducted at the company's shipyard in San Diego.

October 2020: towed from San nDiego to Naval Station Everett, Washington.

USS Cape St. George (CG 71) arrived at Vigor Shipyard, Seattle, Washington on February 1, 2021 for its Extended Dry-Docking Selected Restricted Availability (EDSRA).

About the Battle of Cape St. George / Buka Island (now a part of Papua New Guinea) - 1943:
In November 1943, U.S. Forces were conducting an offensive island-hopping campaign in the Solomon Island chain of the Southwest Pacific. The campaign objective was to recapture territories taken by the Japanese in the early years of the war, and to provide bases for further strikes against Japan. The offensive began in early 1943, with the fierce Battle of Guadalcanal, and had progressed farther north, around New Georgia, Bougainville, Buka, and New Ireland Islands.
U.S. Naval Forces operating in the area included the ships of Destroyer Squadron 23, under the command of Captain Arleigh "31-Knot" Burke. Burke assumed command of the "Little Beavers" in October 1943, and the destroyers of "23" immediately got busy. Their missions up The Slot were never ending. They ran the mail, lobbed shells at enemy shore installations, and their personnel learned to do without sleep. Reflecting their Commodore's brashness, they did everything at high speed.
In late November 1943, South Pacific Intelligence suspected that the Japanese intended to evacuate their technical aviation personnel from their air base in Buka. The base had been knocked out by the bombardments of the THIRD fleet, and the personnel were needed elsewhere.
Since the 22nd of November, Destroyer Squadron 23 had been operating at night off Bougainville Island, retiring to Hathorn Sound at maximum speed for fuel during the day. On the 24th of November, while fueling at Hathorn Sound, the Squadron received orders from Admiral William F. "Bull" Halsey, Commander THIRD Fleet, to expedite fueling and return to point UNCLE, off Empress Augusta Bay. Evacuation of aviation personnel from Buka Island was suspected and DESRON 23 was to "take care of it." En route, Captain Burke received these orders from Admiral Halsey:
"Thirty-One Knot Burke, get athwart the Buka-Rabaul evacuation line about 35 miles west of Buka. If no enemy contact by 0300...come south to refuel same place. If enemy contacted, you know what to do."
At about 1730, the Squadron was steaming at 30 knots towards point UNCLE. Captain Burke's plan was to place his ships near the St. George Channel, as far west as possible. He intended to search the Rabaul-Buka line on the northern side so as to make contact northwest of the enemy, the direction from which the enemy could least expect interception. "It was," Burke wrote afterward, "an ideal night for a nice quiet torpedo attack." At 0130, the Squadron slowed to 23 knots to reduce their wake, and at 0140 changed course to the north, DESDIV 46 taking line of bearing 225 degrees from DESDIV 45, distance 5000 yards. Only one minute later, at 0141, USS DYSON, USS SPENCE, and USS CLAXTON made contact with the Imperial Japanese Navy, picking up the creening destroyers ONAMI and MAKINAMI on radar, eleven miles to the east. At 0145, Burke ordered DESDIV 45 to head directly for the enemy, who was steaming at 25 knots on a westerly course. According to the battle plan, DESDIV 46 would cover DESDIV 45 in the torpedo attack, after which the two divisions would change places. At 0156, DYSON, CLAXTON, and USS CHARLES AUSBURNE reached the desired torpedo firing point on the enemy's port bow, launched 15 torpedoes, and promptly turned 90 degrees right to avoid any fish the enemy might offer. The torpedoes struck; ONAMI disintegrated in a ball of fire 300 feet high, while KINAMI exploded, but stubbornly remained afloat.
Just before the torpedoes hit, CHARLES AUSBURNE made radar contact on the transport destroyers AMIGIRI, YUGURI, and UZUKI. Burke headed after them, ordering USS CONVERSE and SPENCE to finish off the MAKINAMI. Burke prepared his ships for a torpedo run on the second group of ships, but the attack never came to pass. The second group of enemy ships apparently caught sight of the burning hulks of the first group, and turned tail to run. They changed course towards Rabaul, and backed their throttles wide open, with CHARLES AUSBURNE, DYSON, and CLAXTON in hot pursuit.
The Japanese had a seven mile head start, but DESDIV 45 gradually closed the enemy. At 0215, with the chase little more than ten minutes old, Burke decided to change course on a hunch that the enemy might be firing torpedoes. Just as the ships of DESDIV 45 completed a zig-zag maneuver, three heavy explosions rocked the ships. Fortunately, the explosions were merely Japanese torpedoes exploding in the turbulent wake of DESDIV 45. Apparently, the course change kept the ships out of torpedo water. This was just one of many lucky breaks the Squadron experienced that night.
A stern chase is a long chase, but by 0222, Burke's ships had closed the Japanese destroyers to 8000 yards, and opened fire with guns. Burke described the battle action as follows: "The enemy from this time on made several changes of course and also returned our fire... As soon as enemy fire was observed, the Division started to fishtail, weaving back and forth within 30 degrees of the base course. The enemy salvos were well grouped. Patterns were small, and they came close, but for some unaccountable reason, there were no direct hits. The nearness of the enemy projectiles is best demonstrated by the fact that there were two inches of water on the CLAXTON's bridge caused by the splashes of the shots..." At 0225, the three enemy targets separated on diverging courses with YUGURI continuing north, while UZUKI and AMIGIRI turned westward. As DYSON fired on UZUKI, CHARLES AUSBURNE and CLAXTON were ordered to concentrate their fire on YUGURI. The ships pounded shell after shell into their targets, with what seemed like minimal results. But after continued relentless gunfire, the YUGURI sank at 0328. AMIGIRI and UZUKI managed to escape, but not without absorbing some savage blows. A night fighter later reported a ship burning and exploding 60 miles due east of Cape St. George, which was probably one of the fleeing ships.
Meanwhile, CONVERSE and SPENCE were finishing off MAKINAMI, the remaining destroyer afloat from the first group. They sank her with torpedoes and gunfire at 0254, and reported to Burke, "One more rising sun has set." During the attack, CONVERSE was hit by an enemy torpedo, but the warhead, fortunately, turned out to be a dud. With MAKINAMI on the bottom, DESDIV 46 set out, rejoining DESDIV 45 in pursuit of the fleeing Japanese ships. The Squadron headed towards St. George's Channel in an attempt to intercept the damaged ships. This action was in itself most daring, for Burke pursued the enemy to within easy range of Japanese air cover at Rabaul. The search, however, was in vain, and the Squadron broke off the search at 0405. Burke expected furious retaliation from enemy aircraft come daybreak; however, enemy planes never appeared. The first and only planes they saw were their fighter cover, which arrived over them at 0648. "Never has the white star on a wing meant so much to tired sailors as the one on those Lightnings," said Burke.
Commending the Squadron after the Battle, Captain Burke wrote: "The Navy stresses devotion to duty, aggressiveness, boldness, determination, courage. The full realization of exactly what these traits of character mean was brought out by the officers and crews during this engagement. The universal desire of all hands to do damage to the enemy regardless of consequences, is the greatest exhilaration that any Commander can possibly have. The complete loyalty, understanding and wholehearted desire to mutually support the operation, coupled with the courage and valiant determination to do it, were the outstanding characteristics of these ships."
In this long fight, the Japanese were outmaneuvered, outfought, and very probably taken by surprise. The "Bull dog" tactics of Captain Burke in the Battle of Cape St. George earned DESRON 23 the pride and admiration of the Pacific Fleet. The Squadron managed to sink three enemy ships and heavily damaged a fourth, in a naval action fought for the first time in waters so close to the enemy's naval and air fortress of abaul. The Naval War College characterized the engagement as "the almost prefect surface action," while Admiral Halsey called it the "Trafalgar of the Pacific." Throughout World War II, no other U.S. Naval Unit eclipsed the record of the Little Beavers at the Battle of Cape St. George.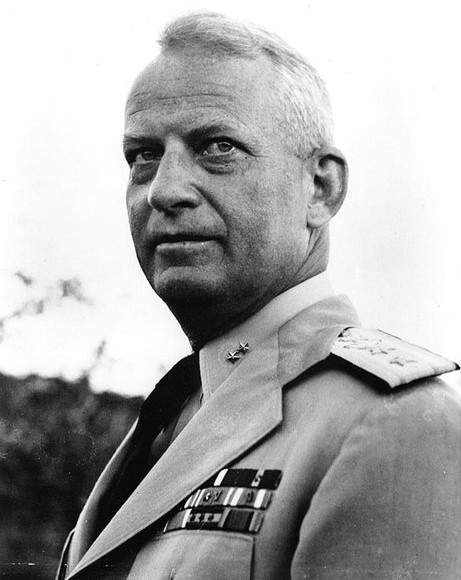 Arleigh Burke