F-14A Tomcat (VF-201) fires an AIM-7M Sparrow missile - 1987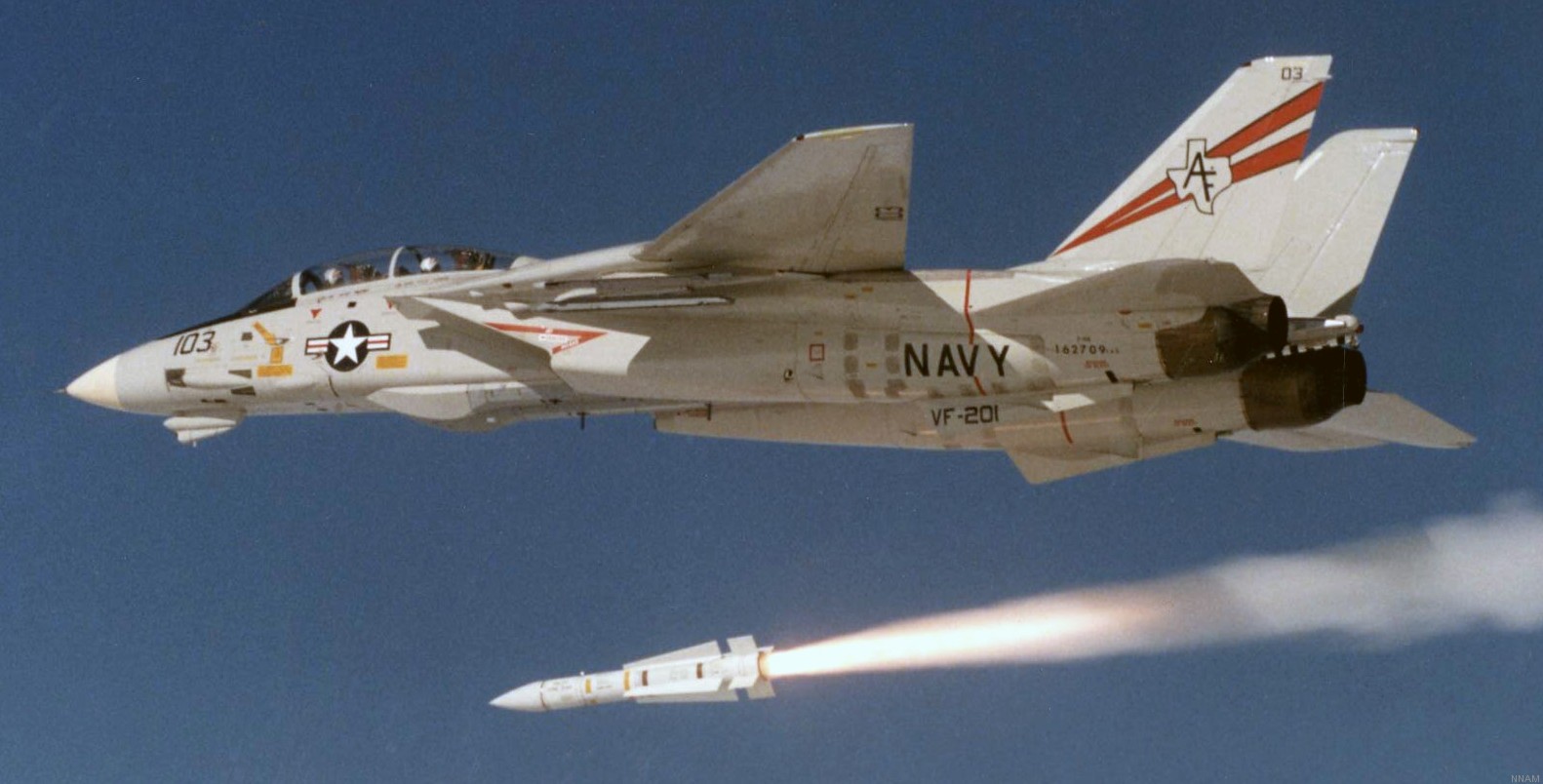 F-14A Tomcat (VF-201) fires an AIM-54 Phoenix missile - August 1987



F-14A Tomcat (VF-201) at NAS Dallas, Texas - January 1987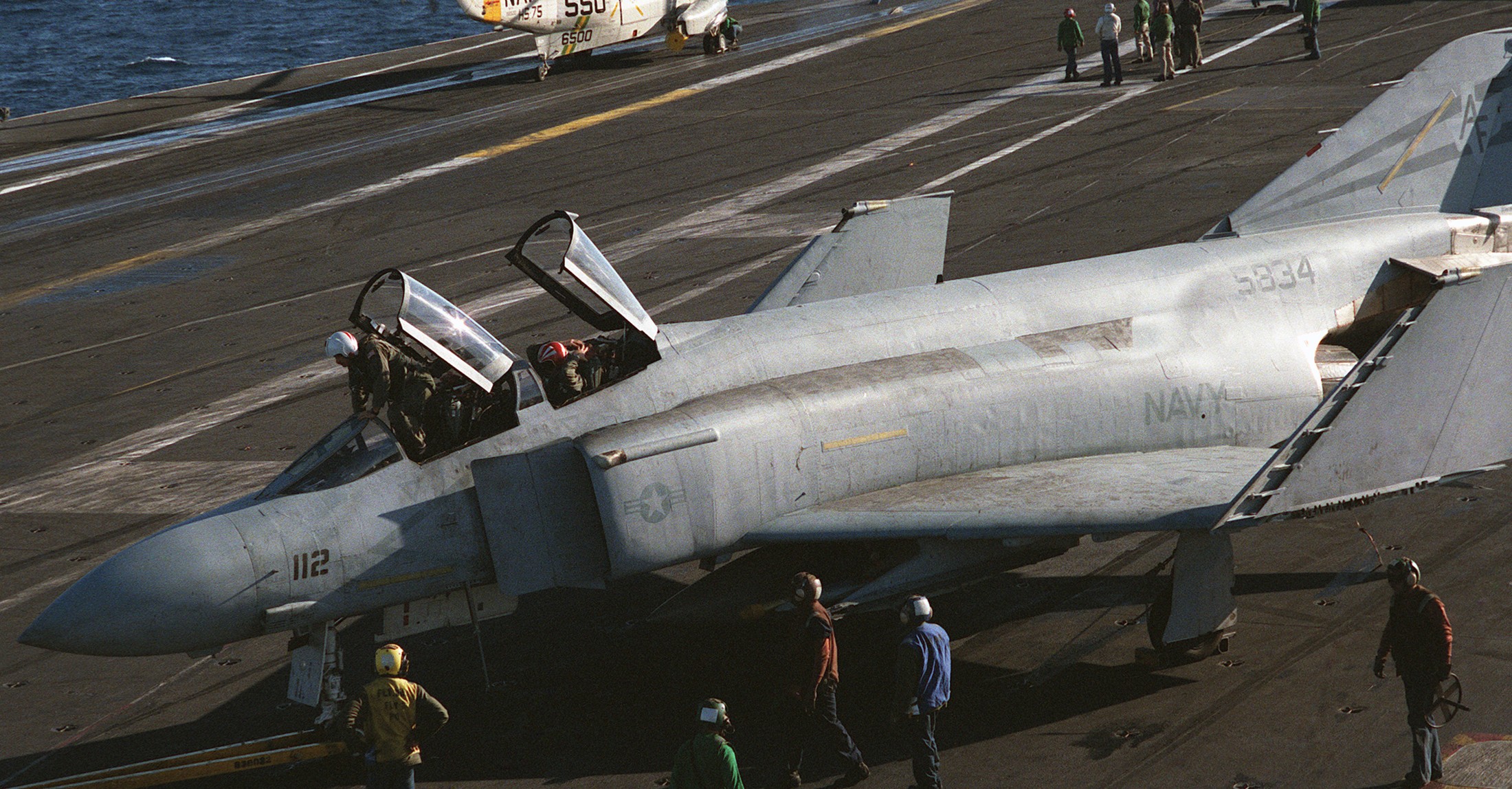 F-4S Phantom II (VF-201) aboard USS Dwight D. Eisenhower (CVN 69) - 1985



F-4S Phantom II (VF-201) aboard USS Dwight D. Eisenhower (CVN 69) - 1985



F-4S Phantom II (VF-201) aboard USS Dwight D. Eisenhower (CVN 69) - circa 1984



F-4N Phantom II (VF-201) aboard USS Saratoga (CV 60) - 1983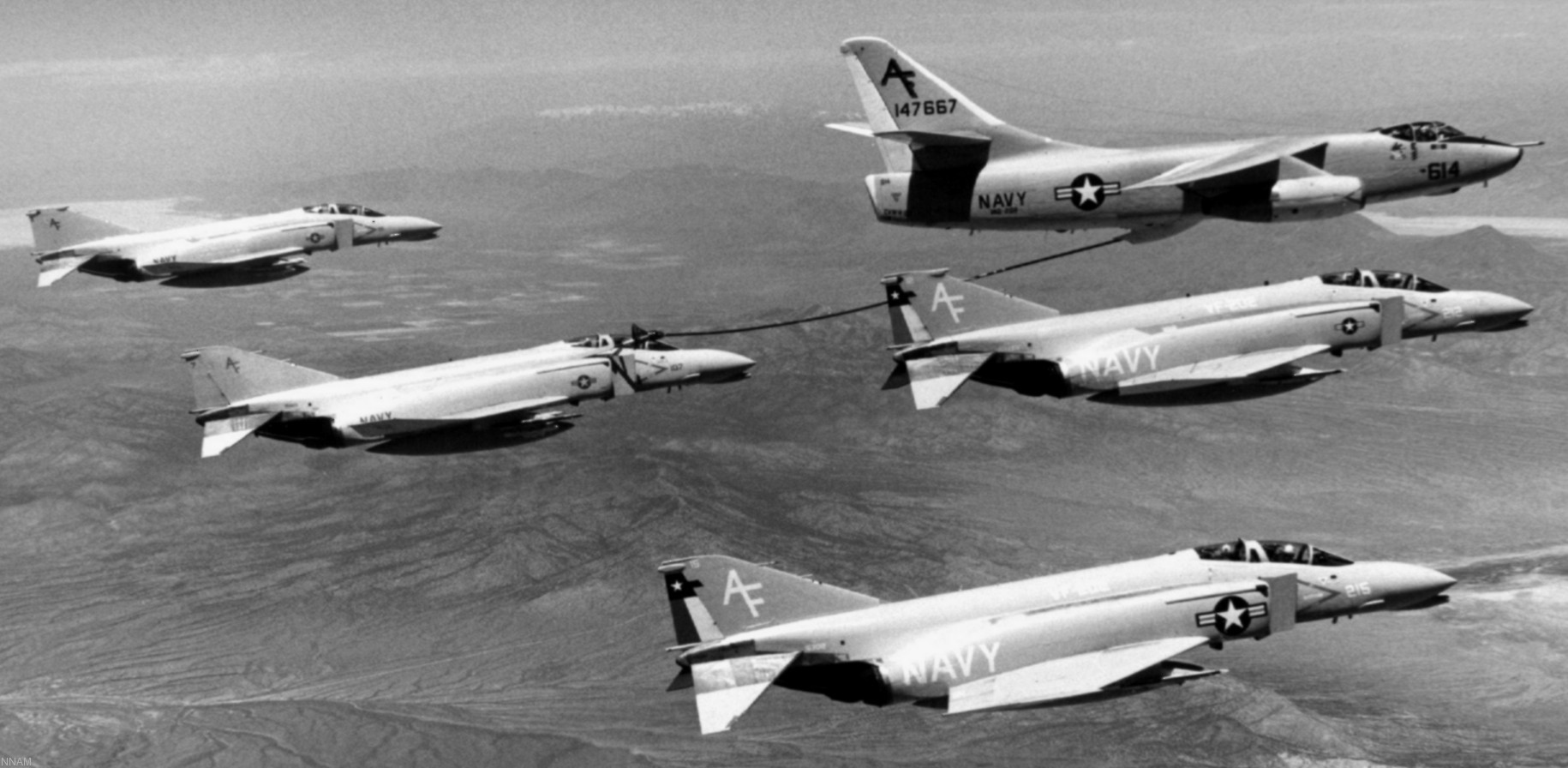 KA-3B Skywarrior (VAQ-208) refueling four F-4N Phantom II fighers, two each from VF-201 (far, left) and VF-202, near NAS Fallon, Nevada
All aircraft were assigned to Reserve Carrier Air Wing 20 (CVWR-20)



F-4N Phantom II (VF-201) at NAS North Island, California - 1976
This aircraft was delivered as an F-4B-14-MC and was converted to an F-4G in April 1964
The F-4G equipment was removed in October 1966. The aircraft was converted to an F-4N in October 1973 and retired on 22 February 1984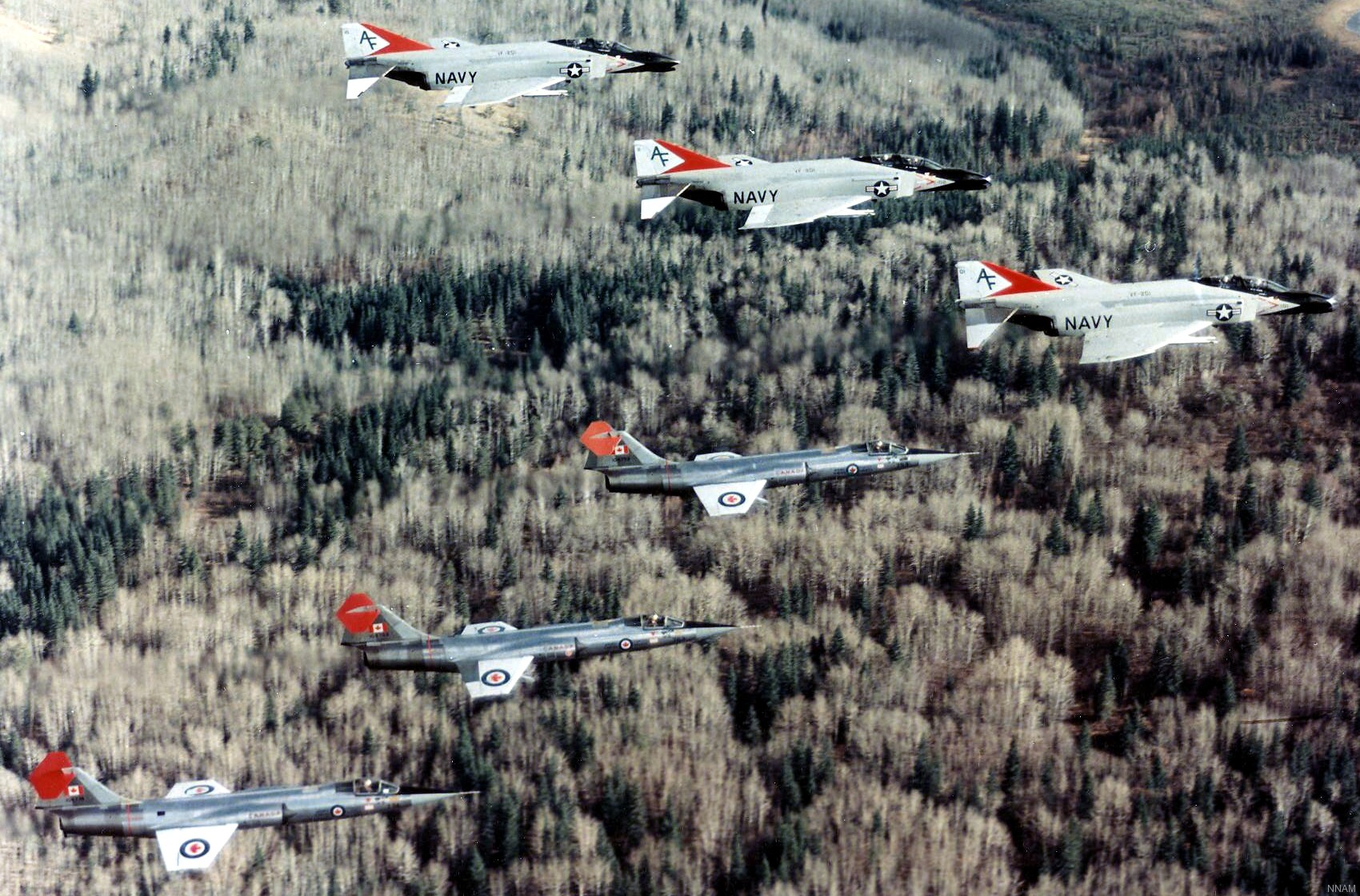 F-4N Phantom II (VF-201) in flight at Cold Lake, Alberta (Canada), with two Canadair CF-104 Starfighter from 417 Squadron of the Royal Canadian Air Force - 1976




F-8H Crusader (VF-201) at NAS North Island, California - 1972

History:
The United States Naval Reserve fighter squadron VF-201 was established at NAS Dallas on 25 July 1970, succeeding VF-124D1. It first flew the Vought F-8H Crusader, and in 1976 it transitioned to the McDonnell Douglas F-4N Phantom II. In 1984, the squadron transitioned to the F-4S Phantom II, the most advanced Phantom to enter service with the United States Navy. Soon the U.S. Navy moved to the policy that reserve units would have the same equipment as front line units, VF-201 transitioned to the Grumman F-14A Tomcat in early 1987 and was the last Navy squadron to fly the F-4. It took six months to complete the transition and soon VF-201 was carrier qualified on board the aircraft carrier USS Forrestal (CV-59). Even some of the F-14As received came directly from the production line at Grumman, and the unit received the final F-14A ever built. Within years the squadron was capable of dropping unguided bombs, cluster munitions TALD decoys, air laid mines, practice bombs, marker flares and various laser-guided bombs as the F-14 was reconfigured as a strike fighter. In 1993 they won the Battle "E" award and in 1994 the Chief of Naval Operations (CNO) Safety "S" award. The strike capability of the F-14 has been proven in exercises such as the deployment the squadron made to NAS Fallon in 1995 as part of training for the reserve air wing CVWR-20.
Later the unit would also be able to conduct TARPS reconnaissance missions, which were originally carried out by VF-202. But as some front line F-14 squadrons saw disestablishment during the 1990s, so did the two reserve fighter squadrons and VF-202 was disestablished. Due to budgetary cutbacks in active fleet aggressor squadrons, VF-201 also began flying as aggressors when needed. In 1996 VF-201, along with the rest of RCVW-20, deployed on the USS John C. Stennis (CVN-74), during this deployment VF-201 had the opportunity to fire live weapons. The unit fired 7 AIM-9 Sidewinders, 6 AIM-7 Sparrows and 1 AIM-54 Phoenix, two additional Phoenix missiles were planned to be fired but due to technical difficulties this was aborted. VF-201 also dropped 17,000 lb of bombs.
In July 1996 VF-201 deployed to NAS Key West in Florida to provide dissimilar air training for VFA-106 Gladiators, the U.S. East Coast F/A-18 training squadron. In August and September the same year, VF-201 deployed to NAS Oceana and got to fire two Phoenix missiles as well as participating in the SFARP (Strike Fighter Air Readiness Program) course. In November 1996 VF-201 deployed to NAS Fallon where they provided Dissimilar Air Combat Training (DACT) for Carrier Air Wing Two. After this deployment to NAS Fallon, VF-201 moved to NAS Fort Worth.
In 1997 the Hunters deployed for three days with six aircraft to Elmendorf AFB, Alaska for Exercise "Arctic Express 1-97". Originally this deployment had been scheduled for an active F-14 squadron, but they were unable to attend and so VF-201 filled the slot. Less than two weeks later. In late January, VF-201 took part in a scheduled deployment to NAS Fallon and the squadron dropped 195,000 lb of ordnance and shoot 3500 rounds of 20 mm cannon ammo. In March, VF-201 deployed to NAS Key West for a two-week detachment providing training to new F-14 crews from VF-101.
In January 1999 the Hunters transitioned to the McDonnell Douglas F/A-18A Hornet, because the F-14 Tomcat was out of production and the Navy wanted the ones the Reserves were using, and were redesignated VFA-201 to signify its multi-mission capability as a strike fighter squadron.
source: wikipedia