TSW/CVWR-20 squadrons have operated from virtually every carrier deck in the Navy's inventory, including cyclic operations aboard USS John F. Kennedy (CV-67) in 1971, 1996; USS Independence (CV-62) in 1978;USS Lexington (AVT-16) in 1981; USS Carl Vinson (CVN-70) in 1982; USS Dwight D. Eisenhower (CVN-69) in 1984, 1985, 1989; and USS Forrestal (CV-59) in 1987. The air wing embarked aboard the USS John C. Stennis (CVN-74) in June 1996 to conduct cyclic operations on the Navy's newest aircraft carrier. Regular operation deployments have been conducted at the Naval Strike Warfare Center in Fallon, Nevada, as well as numerous detachments to other Navy and Air Force installations. Additionally, overseas operations have been conducted in Bosnia and Herzegovina, Bermuda, Brazil, Denmark, France, Hawaii, Iceland, Italy, Norway, Panama, Turkey, the United Kingdom and Venezuela to advance air wing tactics, readiness and fleet support.

In February 1996, the Naval Reserve reestablished Squadron Augment Units (SAUs) to help ensure an adequate supply of Fleet Reserve Squadron (FRS) pilots. This action enhanced fleet mobilization readiness and increases pilot training throughput with minimal cost growth. The SAUs established to support VFA-106 and VFA-125 consisted of 10 SELRES pilots, 2 TAR pilots, 25 TAR enlisted members, and 35 SELRES enlisted members per squadron.

The two Reserve Carrier Air Wings, CVWR-20 and CVWR-30, were established on 1 April 1970 followed by two carrier ASW group [CVSGR-70 and CVSGR-80] on 1 May 1968. This was a continuation of a program initiated in July 1968 to give Naval Air Reserve squadrons an improved combat readiness.

In 1996 CVWR-20 and its squadrons, VF-201, VFA-203, VFA-204, VAQ-209, VAW-78 and HC-85 completed their much needed two week annual training aboard USS John C. Stennis (CVN-74). Much needed because CVWR-20 had not operated together as an airwing around the boat since 1989.

In the following two years, Naval Reservists of Carrier Air Wing Reserve 20 (CVWR-20) worked on the flight decks of multiple carriers. Some CVWR-20 aviators landed on the deck of every aircraft carrier on active duty today. But even this seasoned Wing and its Sailors broke new ground in April 1998 when they embarked on USS KITTY HAWK (CV-63) for the ship's flight deck certification. Approximately 240 pilots, air crew and maintenance people from CVWR-20 embarked KITTY HAWK off the coast of Southern California for a busy 10-day underway period that included flight deck certification, Command Assessment for Readiness and Training II, Precision Aircraft Landing certification and an Afloat Training Group visit. The Wing and its inventory of seven F-14 Tomcats, two EA-6B Prowlers and one E-2 Hawkeye completed over 150 traps. This was the first flight deck certification Air Wing 20 has been involved in. In addition to a busy schedule, a large part of Kitty Hawk's Air Department had never conducted flight operations at sea. But the mission was accomplished in a very short time frame.

In the summer of 1998 CVWR-20 completed a one month deployment to Incirlik, Turkey in support of Operation Deny Flight.

In May 2000 sailors of Carrier Air Wing Reserve TWENTY (CVWR-20) operated aboard USS John F. Kennedy (CV-67) for two weeks, supporting a series of tests evaluating the Cooperative Engagement Capability (CEC) system. CVWR-20 launched sorties in support of the evaluation and took advantage of the underway period to sharpen war fighting skills and achieve important qualifications as well. This detachment was especially important to VFA-201 because it was their first at-sea period since they transitioned to the FA-18 Hornet. Several pilots qualified in carrier operations for the first time in the Hornet, making arrested landings with an impressive boarding rate. VFA-201 also fired their first air-to-air missiles from the Hornet, launching three AIM-9 Sidewinder heat-seeking missiles and two AIM-7 Sparrow radar-guided missiles in a variety of profiles at a number of different targets. In another first for CVWR-20, five Marine Hornets from VMFA-142 joined them for CQ, qualifying all five pilots. Three of the Hornets then flew to Roosevelt Roads where they flew Orange Air missions in support of CEC.
<![if !supportEmptyParas]> <![endif]>
<![if !vml]>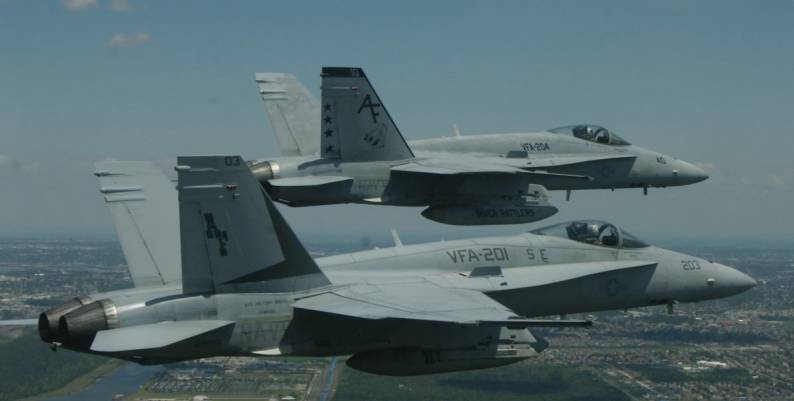 <![endif]>
F/A-18 Hornets of VFA-201 and VFA-204 fly over Louisiana - 2006
<![if !supportEmptyParas]> <![endif]>
<![if !vml]>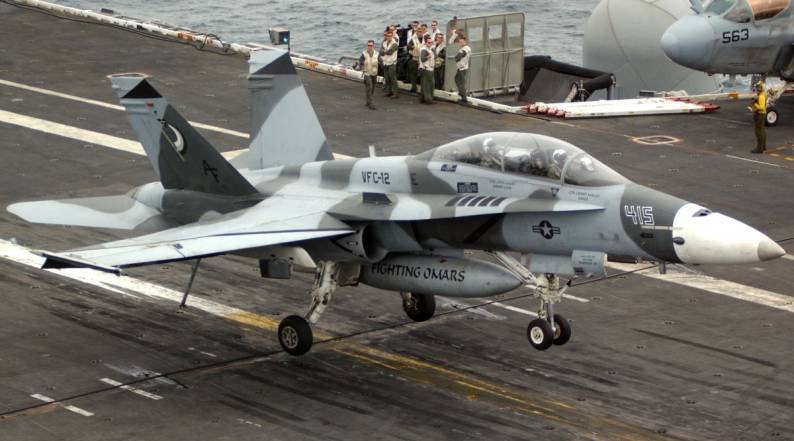 <![endif]>
A F/A-18B "Hornet" of VFC-12 "Fighting Omars", assigned to CVWR-20 lands on USS Ronald Reagan (CVN 76) - August 11, 2005
<![if !supportEmptyParas]> <![endif]>
<![if !vml]>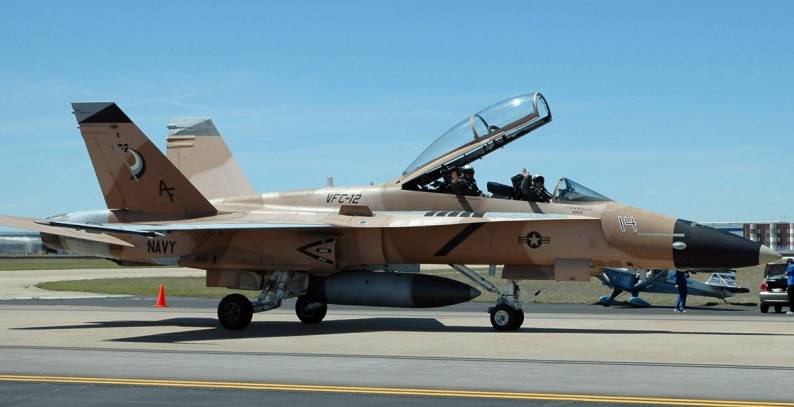 <![endif]>
F/A-18B "Hornet" of VFC-12 "Fighting Omars" - Fort Worth, Texas - April 3, 2005
<![if !supportEmptyParas]> <![endif]>
<![if !vml]>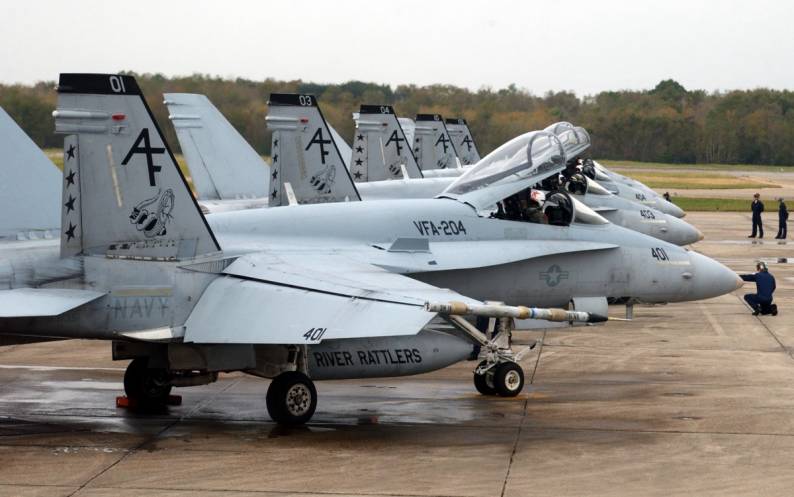 <![endif]>
F/A-18A+ Hornet of VFA-204 "River Rattlers" assigned to CVWR-20 - JRB New Orleans, Louisiana - December 6, 2004
<![if !supportEmptyParas]> <![endif]>
<![if !vml]>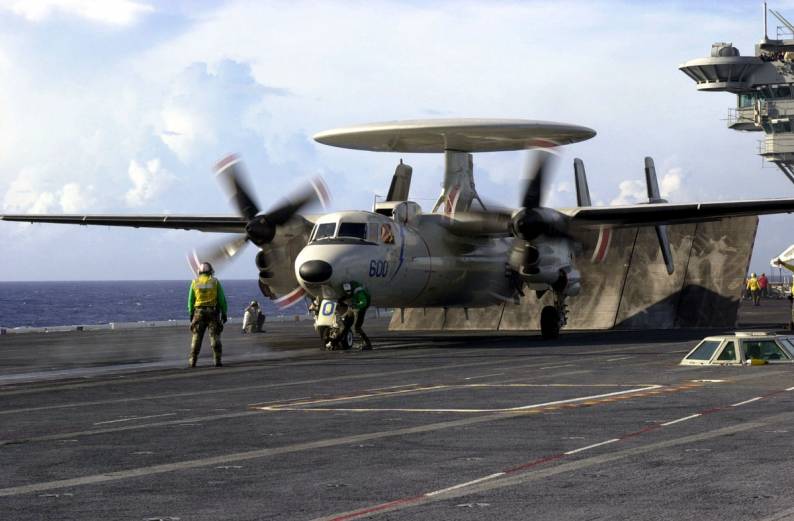 <![endif]>
An E-2C Hawkeye of VAW-78, assigned to CVWR-20 aboard USS Nimitz (CVN 68) - September 23, 2001
<![if !supportEmptyParas]> <![endif]>
<![if !vml]>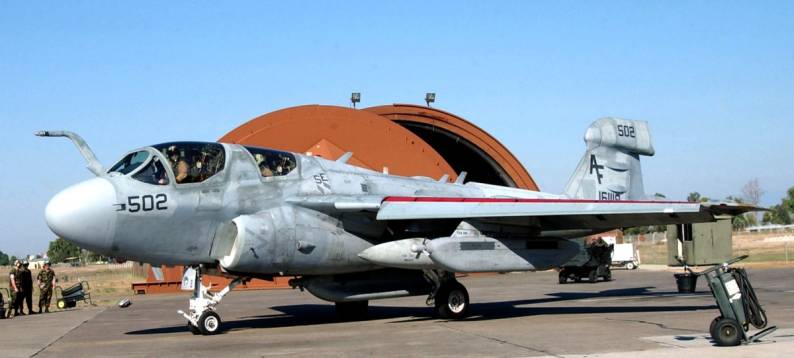 <![endif]>
An E/A-6B Prowler of VAQ-209, assigned to CVWR-20 - September 20, 2002
<![if !supportEmptyParas]> <![endif]>
<![if !vml]>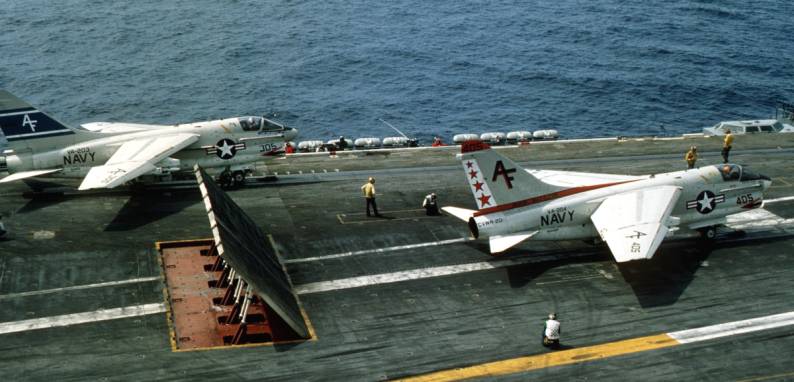 <![endif]>
A-7B Corsair aircraft of VA-203 and VA-204, assigned to CVWR-20 aboard USS Carl Vinson (CVN 70) - June 15, 1982
<![if !supportEmptyParas]> <![endif]>