HMS Enterprise is designed to conduct survey operations in support of submarines or amphibious operations. She can provide almost real-time tailored environmental information, and also has a secondary role as a mine countermeasure tasking authority platform, for which she is capable of embarking a dedicated mine counter measures command team.

HMS Enterprise is equipped with a wide variety of top of the range survey equipment.
Her integrated survey system includes:
Konigsberg multi-beam echo sounder / single-beam echo sounder / side-scan sonar / undulating oceanographic profiler / doppler current log / magnetometer / sub-bottom profiler / bottom sampling equipment

In addition her top of the range survey motor boat, SMB Spitfire, is capable of operating independently from the ship, supporting a small group of surveyors who can live and work ashore to carry out large-scale or beach surveys.

One of her other primary roles is as a floating base for a mine-countermeasures squadron, embarking a command team and providing stores, fuel and expertise to a flotilla of MCM vessels from other NATO nations.

Enterprise's crew consists of 72 personnel, with 48 on board at any one time, working a cycle of 70 days on, 30 days off. The ship can accommodate 81 personnel if necessary. The ship is operationally available 330 days a year. In support of this high availability, all accommodation and recreational facilities are designed for an unusual (in a warship) degree of comfort. All personnel share double cabins with private facilities, except the captain and executive officer who both have single cabins.

Echo and Enterprise are the first Royal Navy ships to be fitted with azimuth thrusters, where the propellers are part of a swivelling pod, allowing for precise manoeuvring. Both azimuth thrusters and the bow thruster can be controlled through the integrated navigation system by a joystick providing high manoeuvrability. Complete control and monitoring for power generation and propulsion, together with all auxiliary plant systems, tank gauging and damage control functions is provided through the integrated platform management system (IPMS), accessible through workstations around the ship.


Operational history:

HMS Enterprise's first operational overseas deployment was to the Mediterranean in October 2004.
Since then she has worked in the Gulf of Aden and Somali Basin through West Africa to the Republic of South Africa and off Iraq. She also conducted a collaborative hydrographic survey with the Saudi military.

She participated in a NATO exercise and conducted oceanographic and hydrographic surveys.

In 2007 Enterprise deployed for 19 months to West Africa, South Africa, the Indian Ocean and the Persian Gulf. While in the Persian Gulf she worked off the coast of Iraq in support of the UK and Iraqi governments.

Enterprise deployed in June 2009 for two years on an extended deployment to West Africa spending three months there before travelling through the Mediterranean to begin operations east of Suez later in the year.

On 10 June 2011, Enterprise returned to Devonport, having covered over 50,000 miles (80,000 km) during the deployment.

Enterprise set out in September 2013 for a routine nine-month deployment to update maritime charts of the Middle East. Nothing is certain at sea however and this deployment soon morphed and resulted in 34 months away.

In June 2015 Enterprise replaced HMS Bulwark in the mission to rescue migrants crossing the Mediterranean from Libya to Italy. By December 2015, Enterprise had been responsible for rescuing more than 2600 migrants. By December 2016, this number had risen to over 9000 before Enterprise was finally relieved by Echo. In recognition her contribution to the European Union's Operation Sophia and her lifesaving work, the ship was nominated for a Millies award in the "overseas hero - unit" category and awarded the Firmin Sword of Peace, an award given to units of the UK Armed Forces who have gone above and beyond their normal role.

On 9 January 2017 it was announced Enterprise had deployed to the South Atlantic to perform patrol tasks normally carried out by the Falkland Islands patrol vessel, HMS Clyde, while Clyde underwent 3 months of maintenance in South Africa. Aside from patrol duties, Enterprise was also tasked with updating charts of the region used by seafarers during her deployment. Enterprise returned to Devonport on 18 April 2017 having steamed 150,000 miles (240,000 km) and visited 20 countries over a period of nearly three years. Upon her return to the UK Enterprise underwent a short refit in Falmouth prior to returning to operations.

Sailing from Devonport on 29 June 2017, HMS Enterprise deployed in her secondary role as an mine counter measures command ship assuming the role of flagship of NATO Mine Countermeasures Group 2 (SNMCMG2), primarily operating in the Mediterranean.
Current Commander of SNMCMG-2 is Commander Justin HAINS, Royal Navy.
Ship's & technical data:
Builder:
Appledore Shipbuilders, Bideford, North Devon, UK

Ordered:
June 19, 2000

Launched:
May 2, 2002

Commissioned:
October 17, 2003

Homeport:
HMNB Devonport, Plymouth, Devon

Motto:
SPES ASPERA LEVAT
(hope lightens difficulties)
Displacement:
3740 tons

Lenght:
90,6 meters (297 feet 3 inches)

Beam:
16,8 m (55 ft 1 in)

Draft:
5,5 m (18 ft 1 in)

Speed:
15 knots (28 km/h)

Range:
9300 NM (17200 km) at 12 knots (22 km/h)

Crew:
72


Propulsion:
Diesel-electric
3 x Diesel generators (4.8 MW)
2 x azimuth-thrusters (2 x 1.7 MW / 2280 hp)
1 x bow-thruster (0.4 MW / 536 hp)


Armament (defensive):
2 x
Oerlikon 20/85mm KAA GAM-BO1 guns
2 x
M134 / 7.62mm six-barreled machine guns (minigun)
images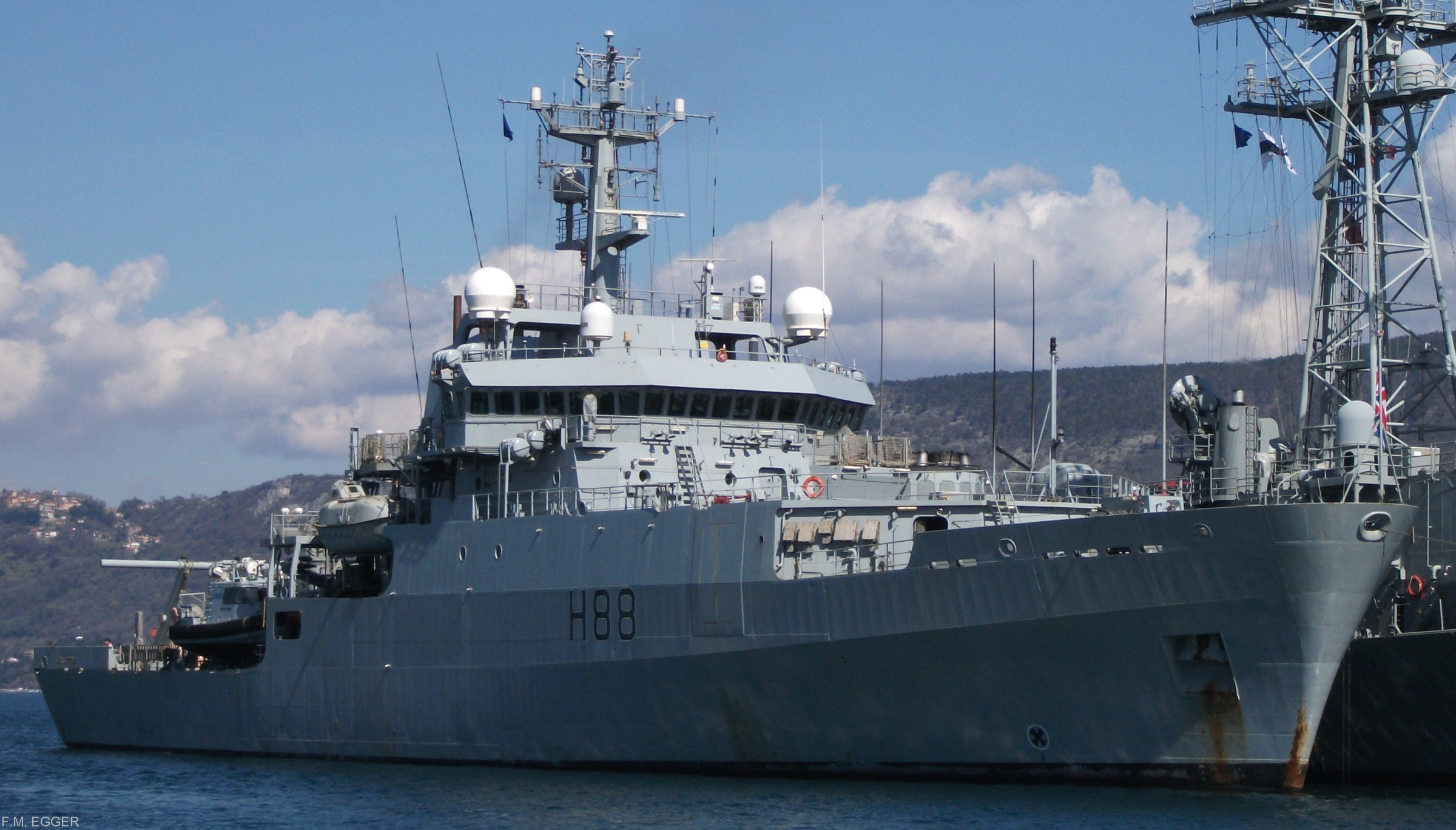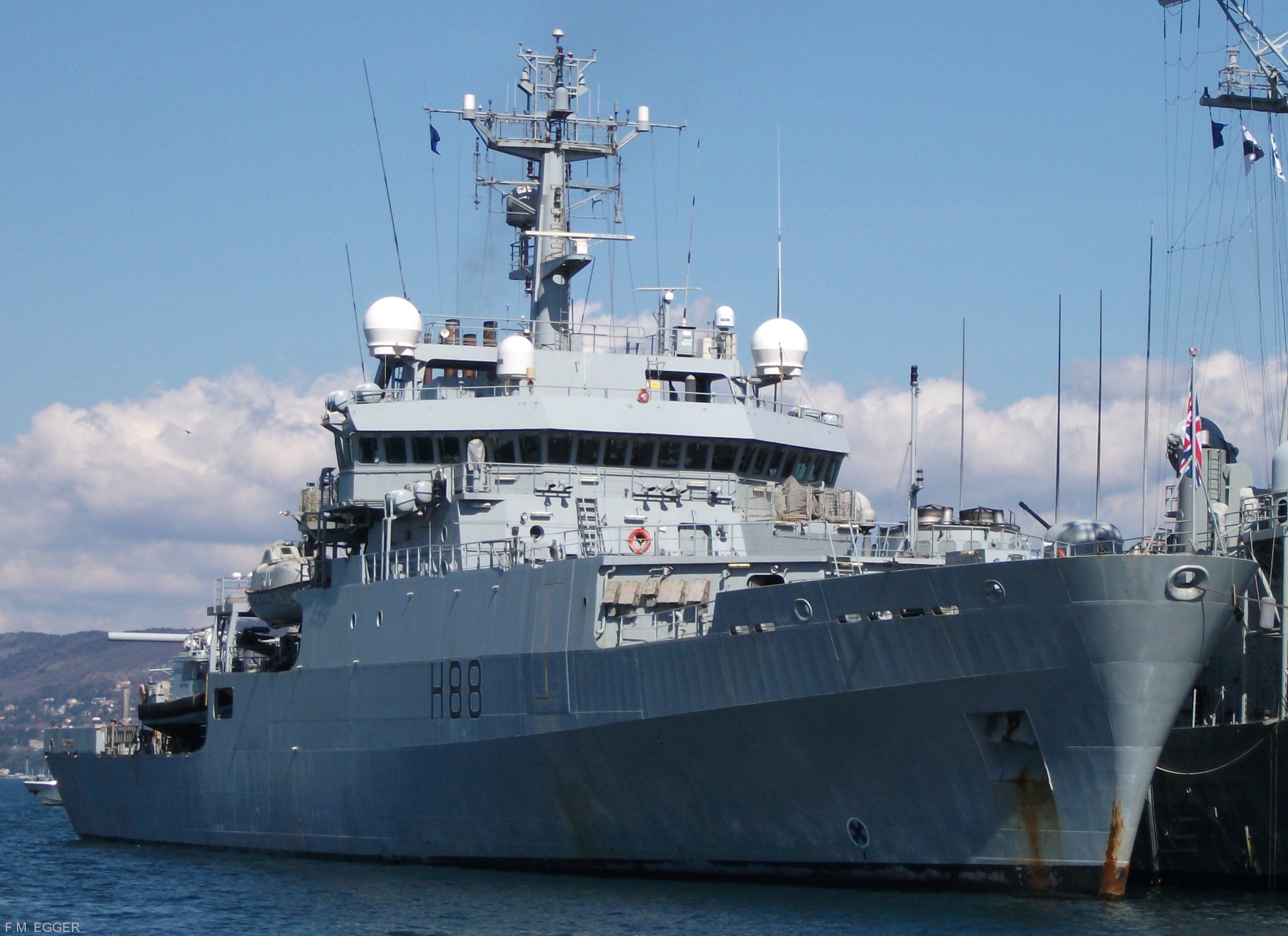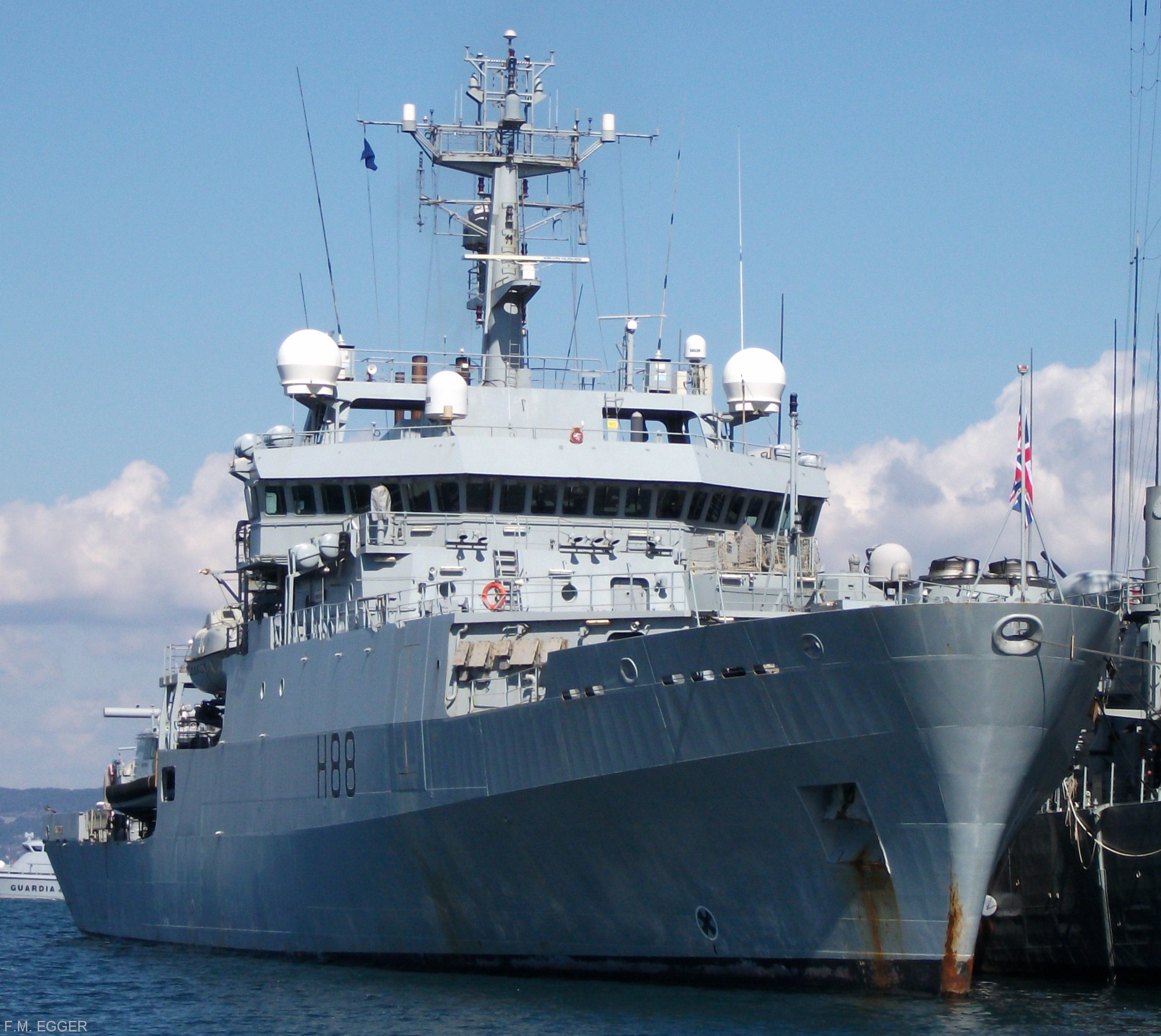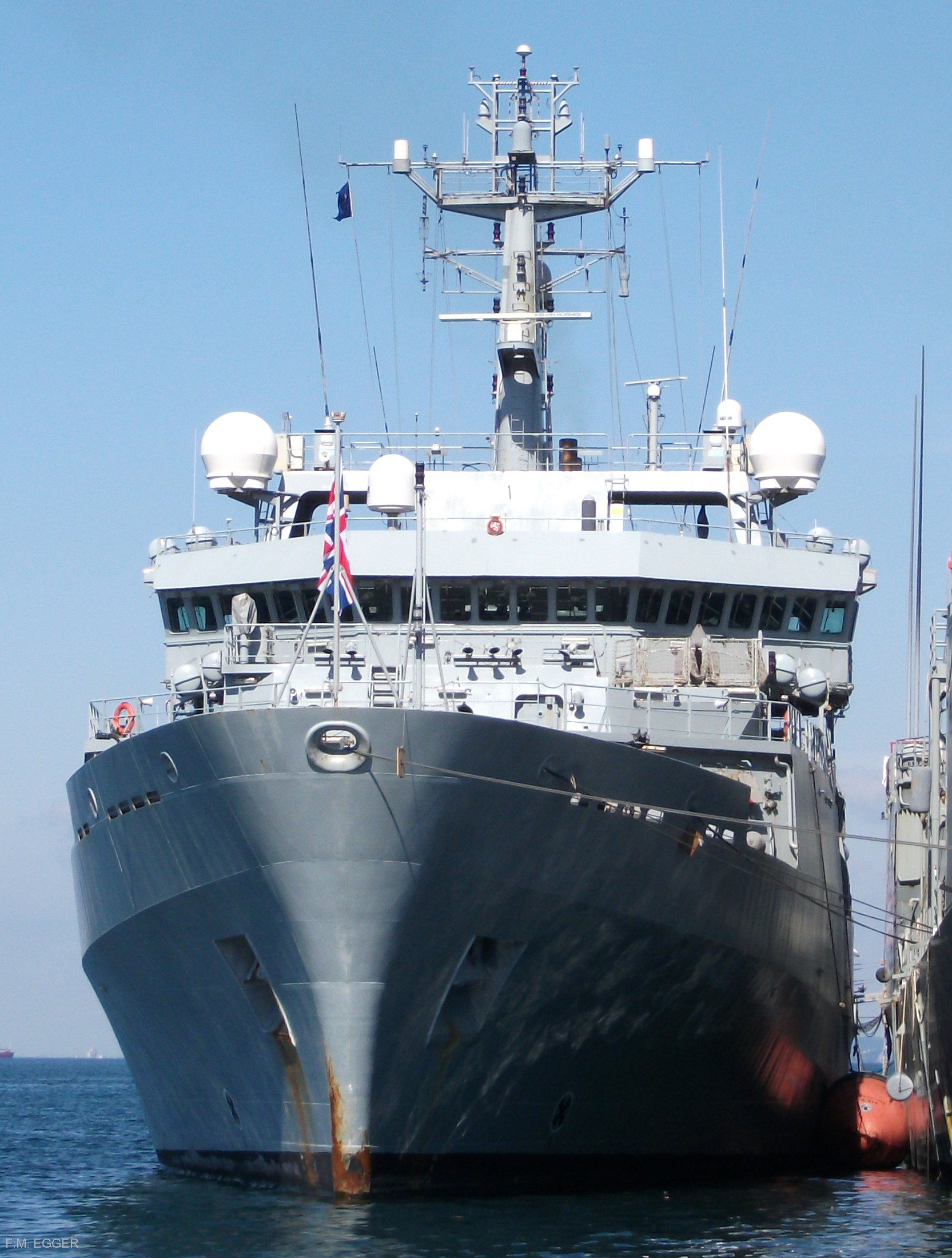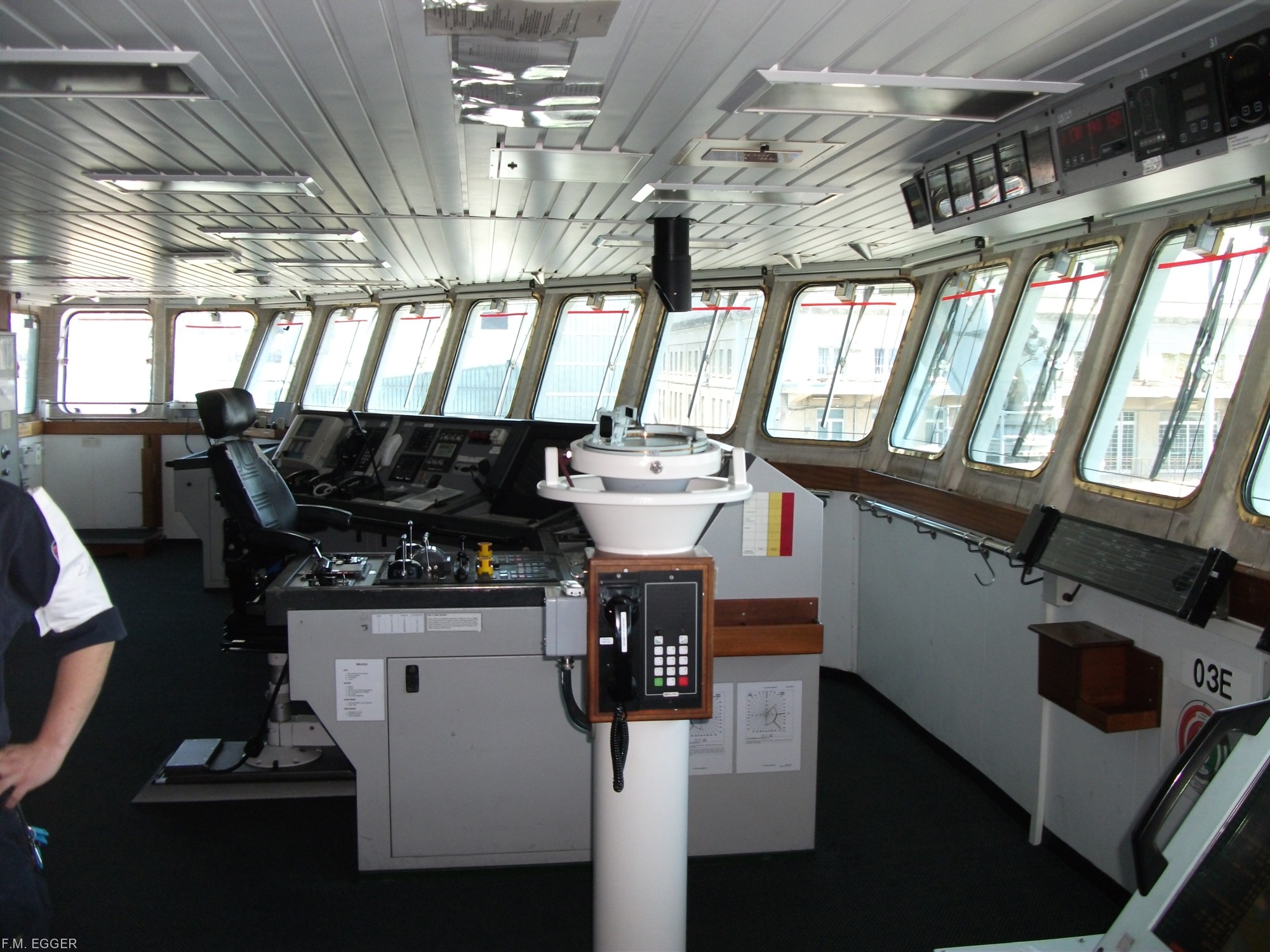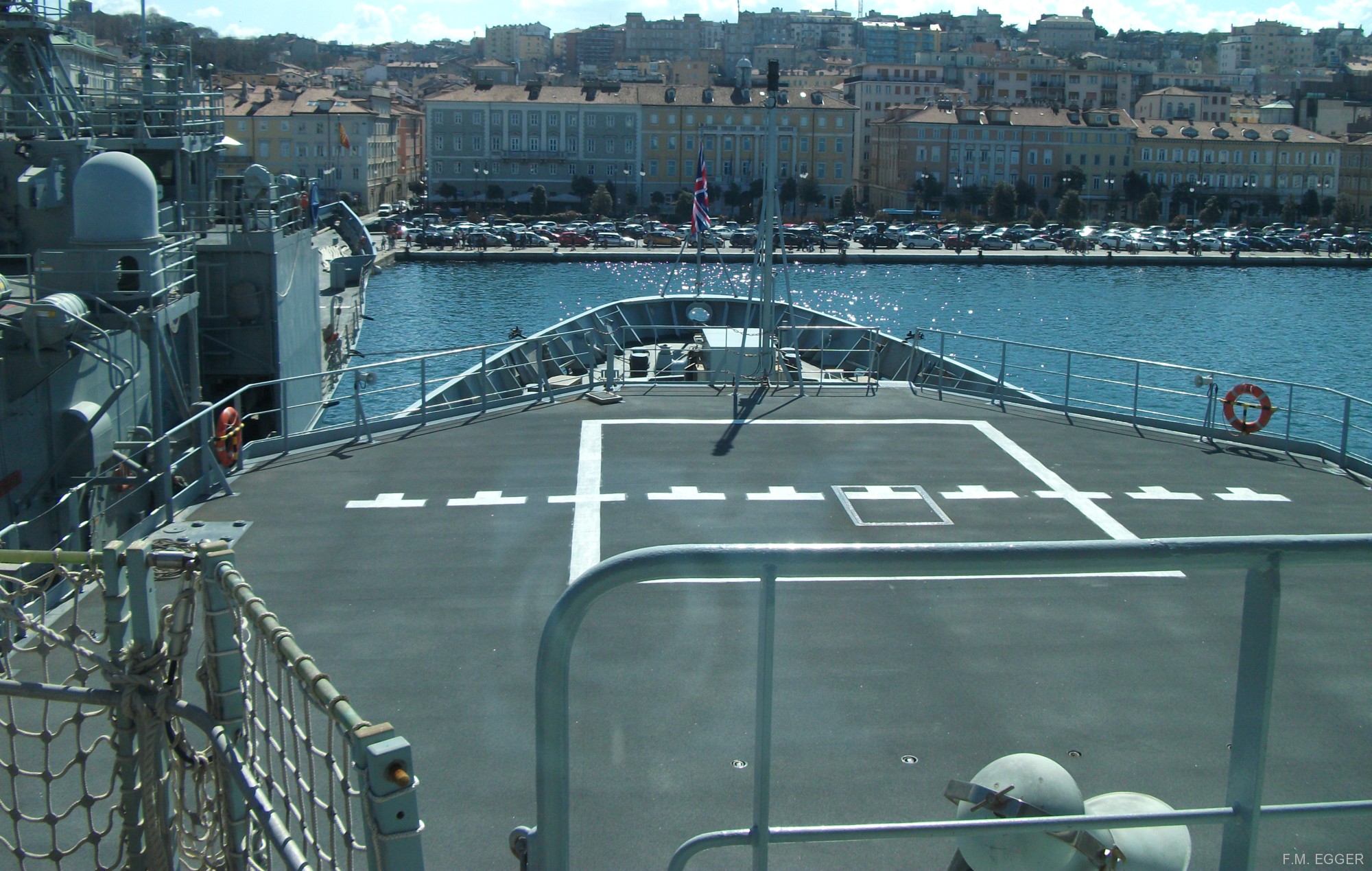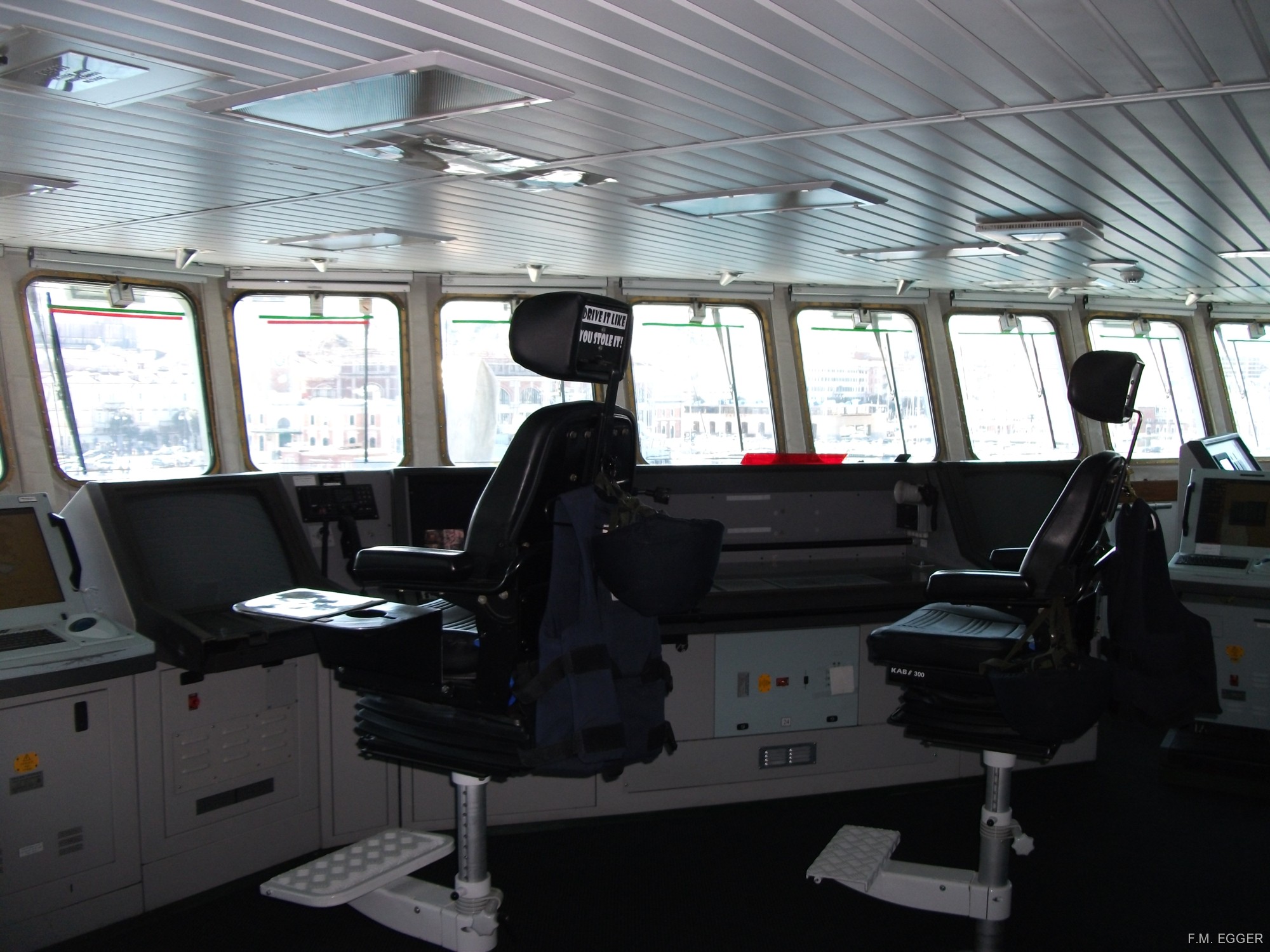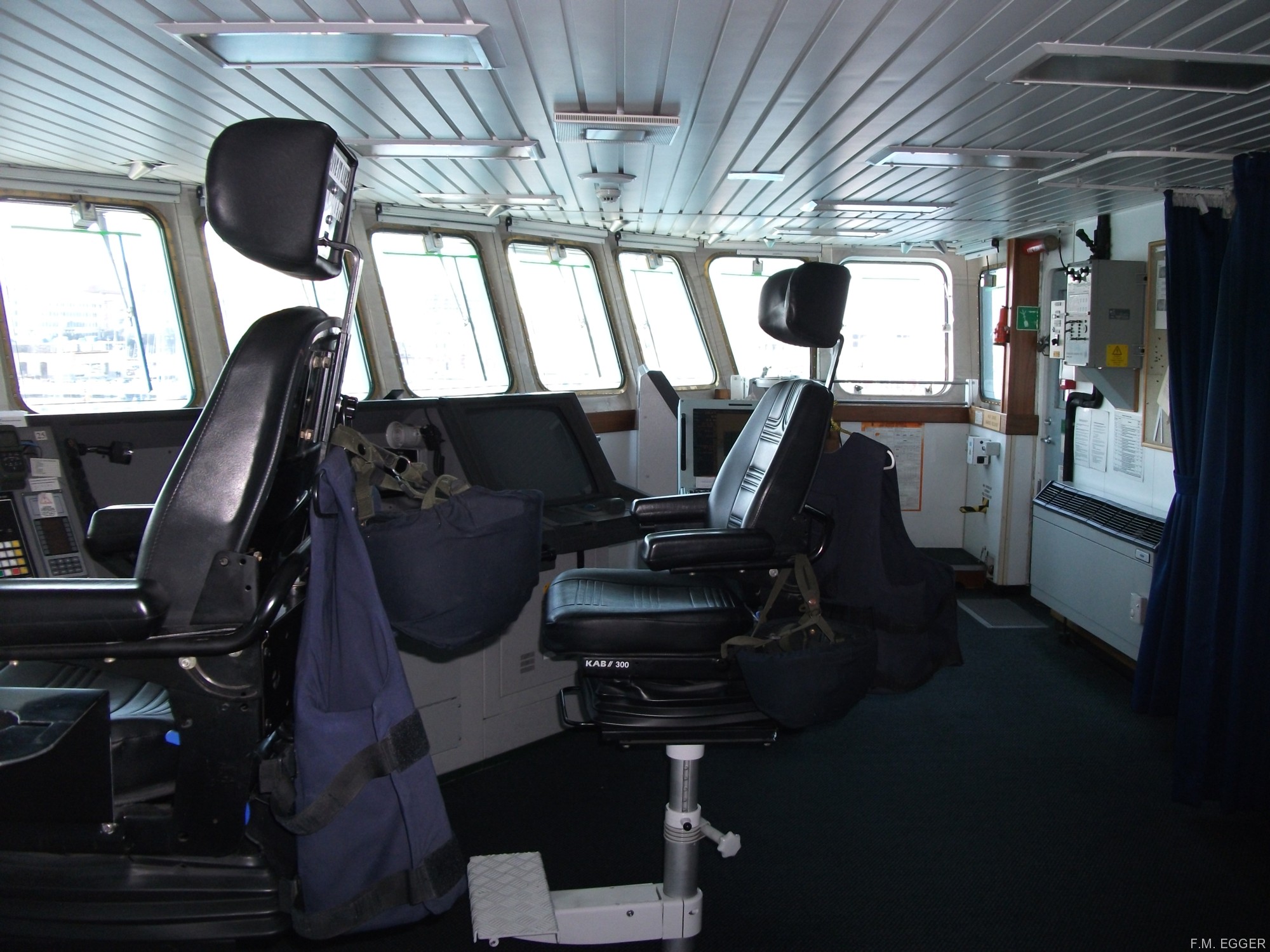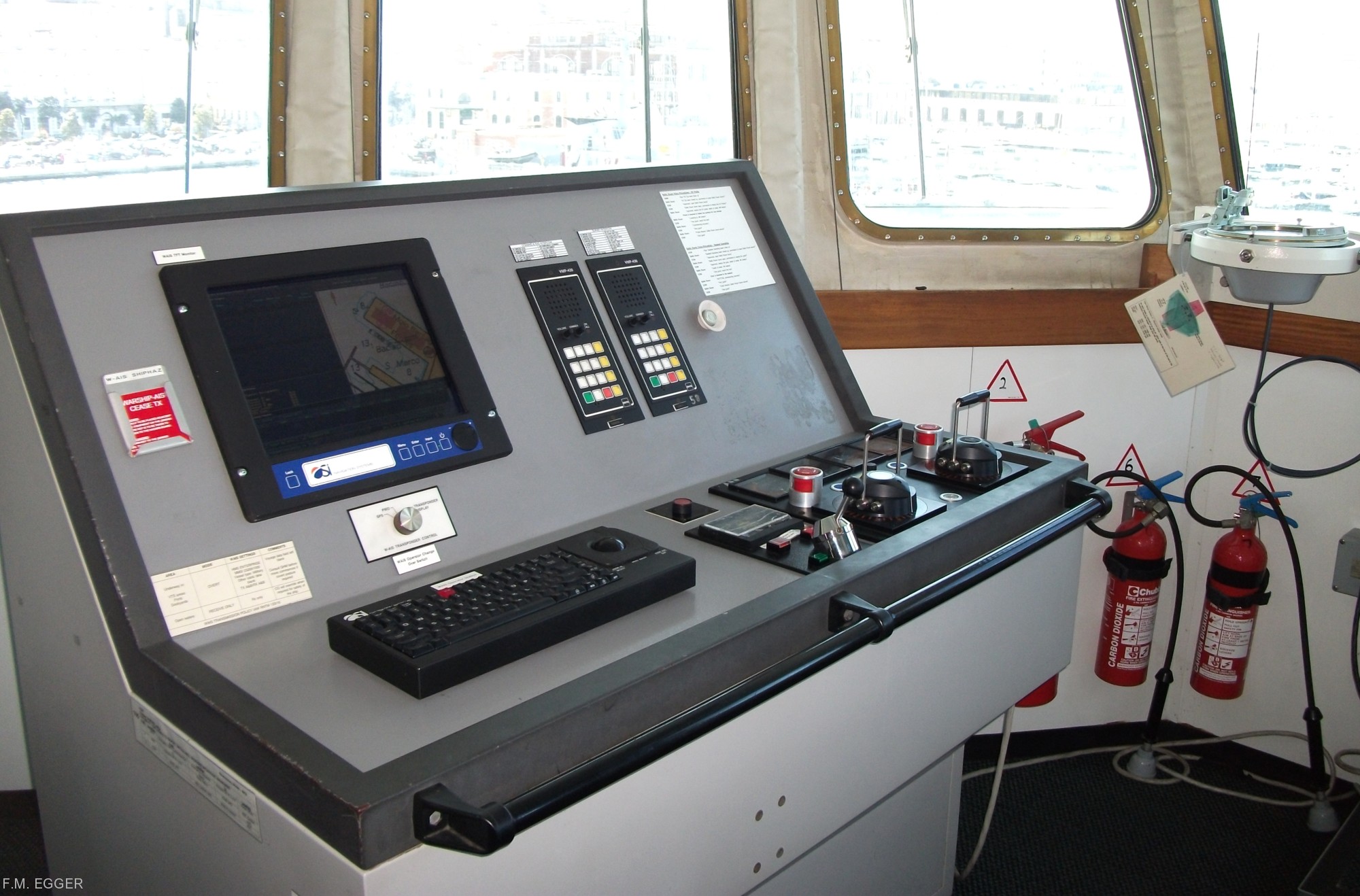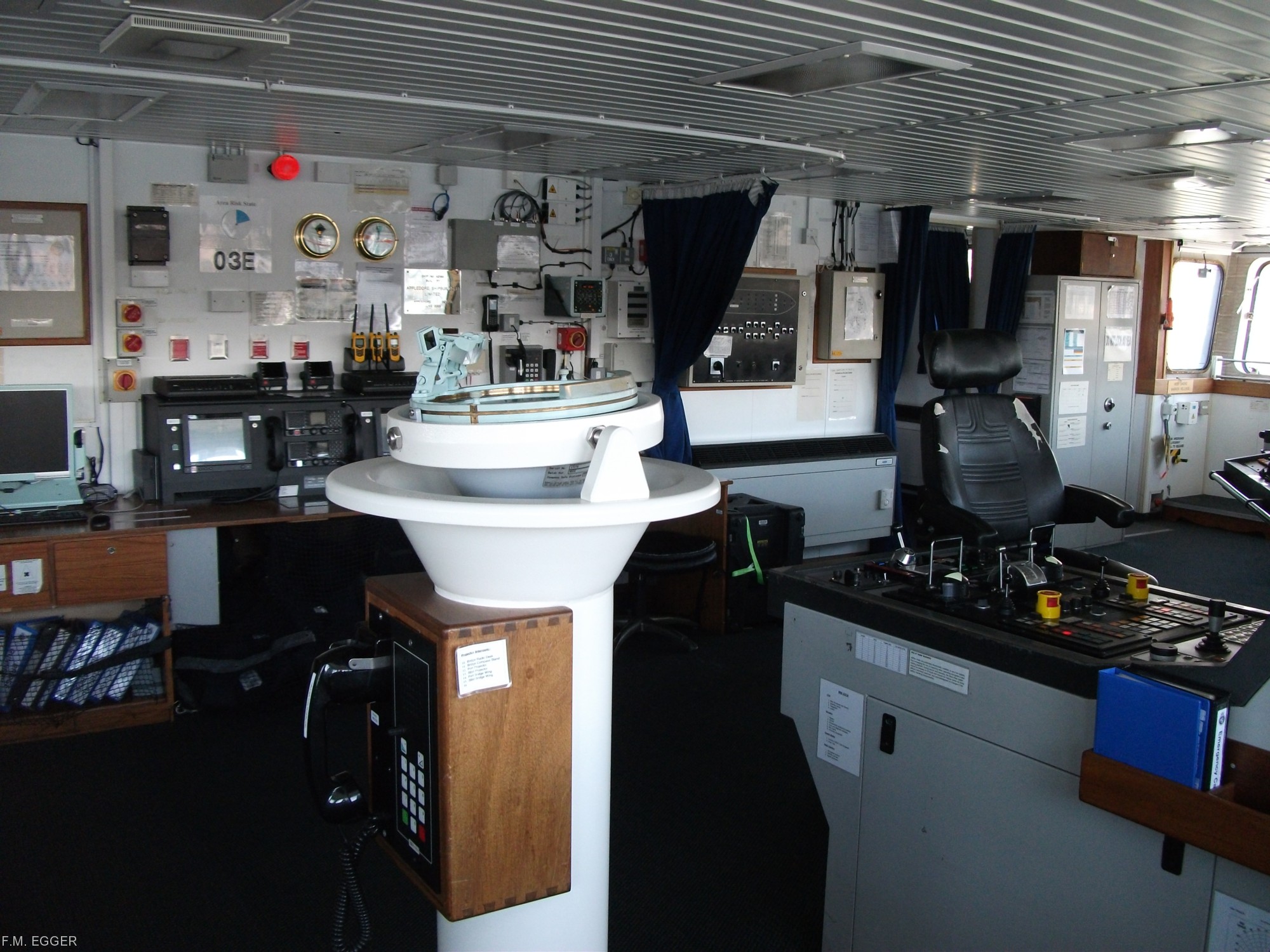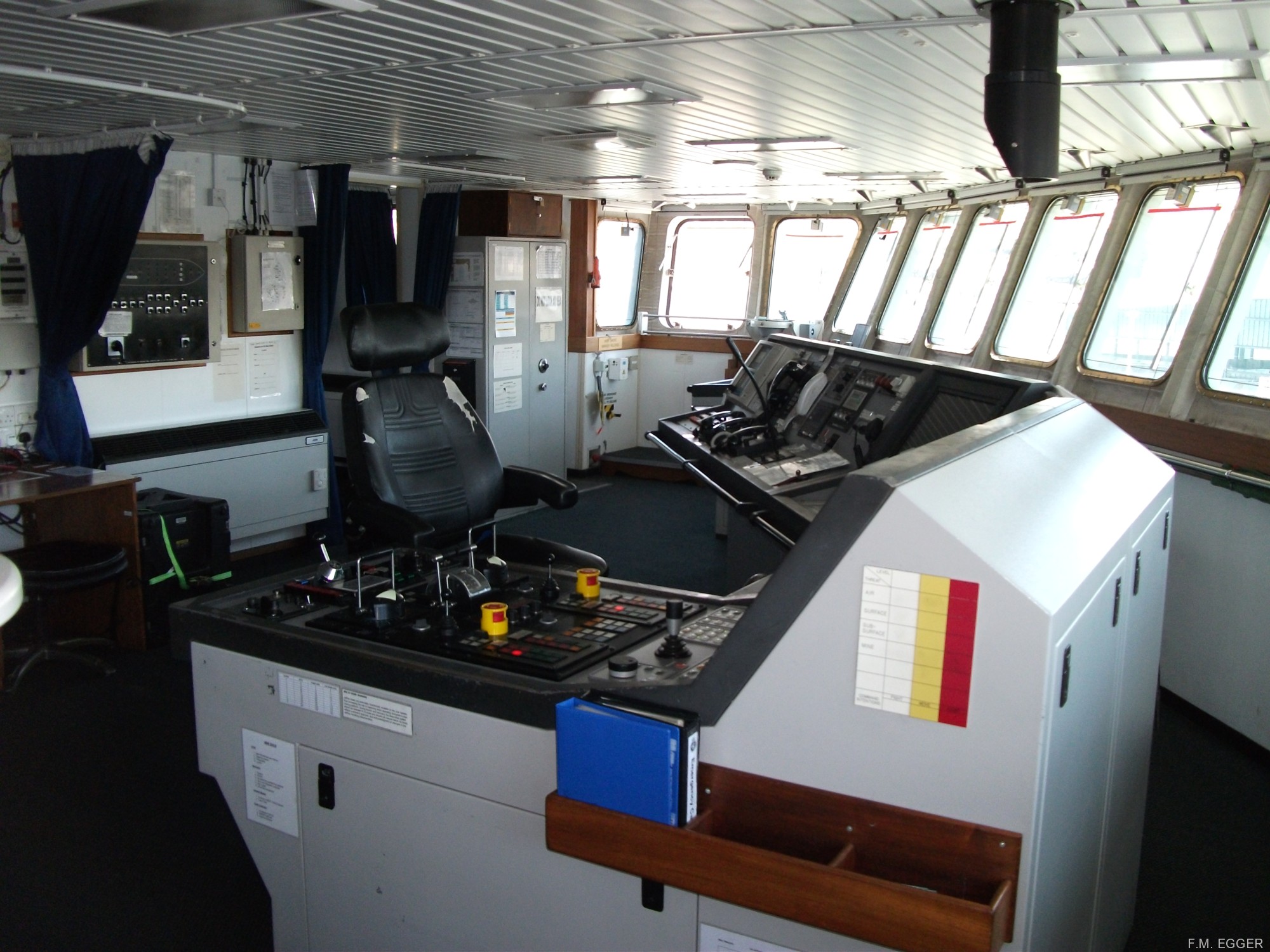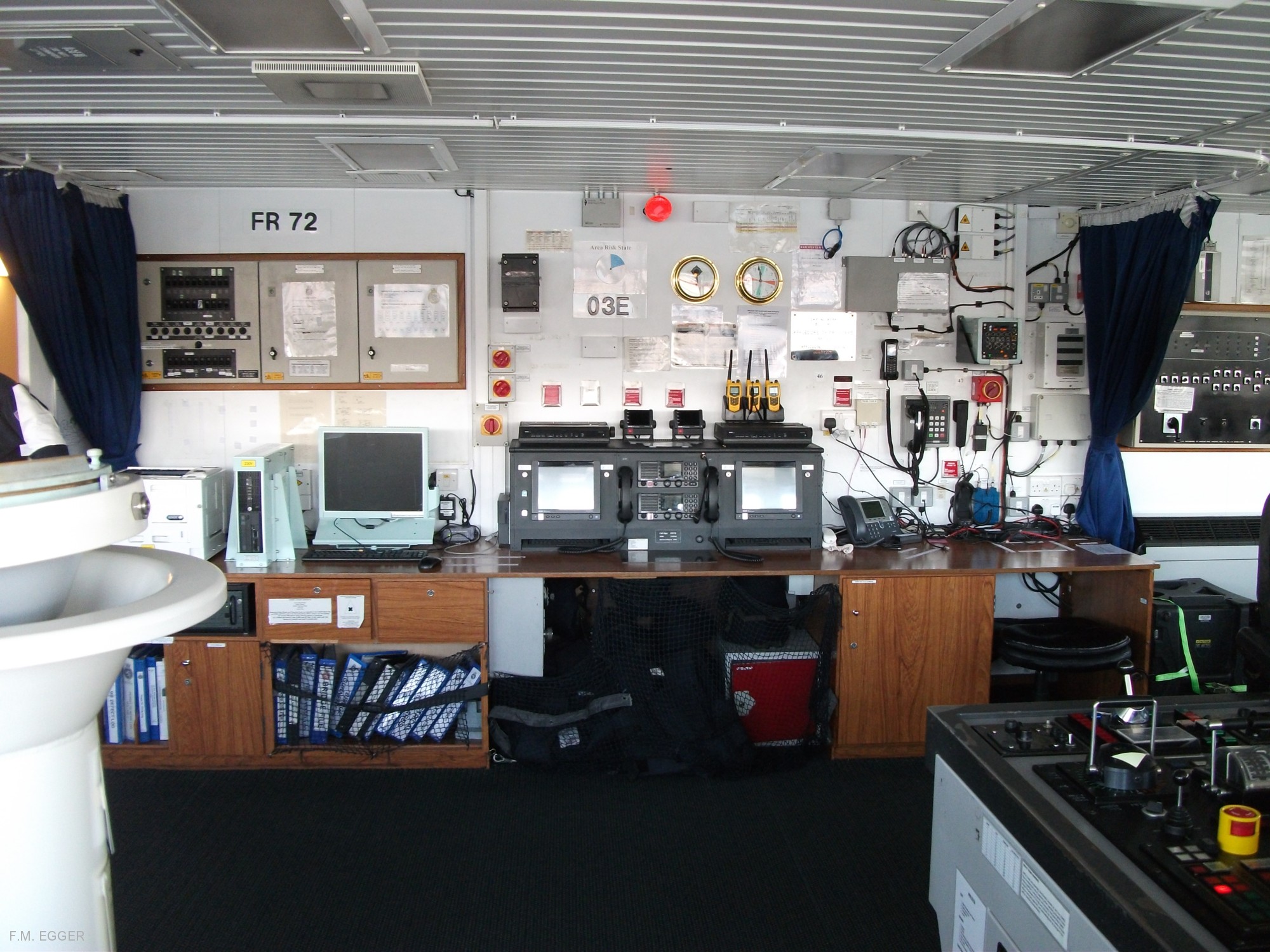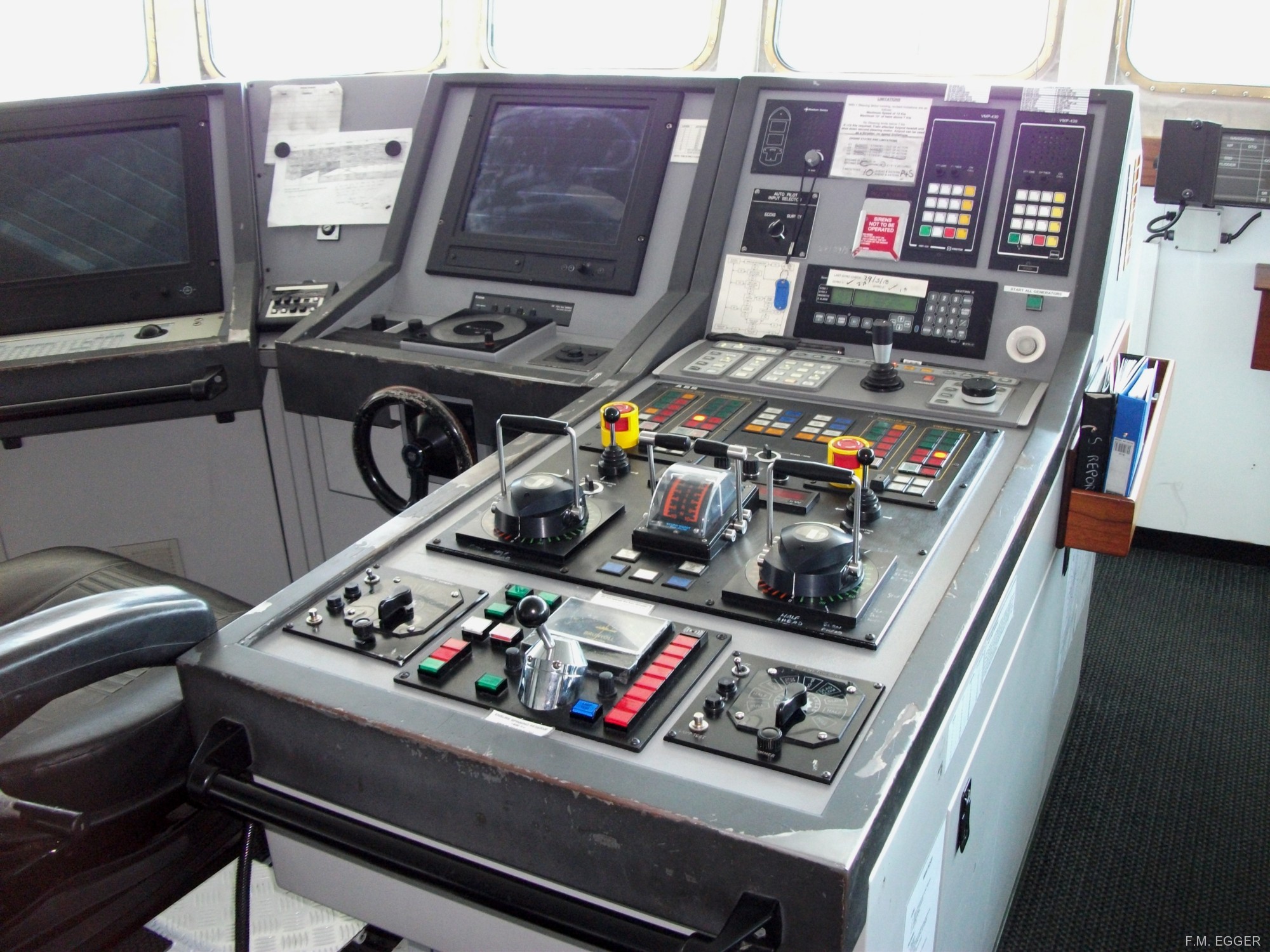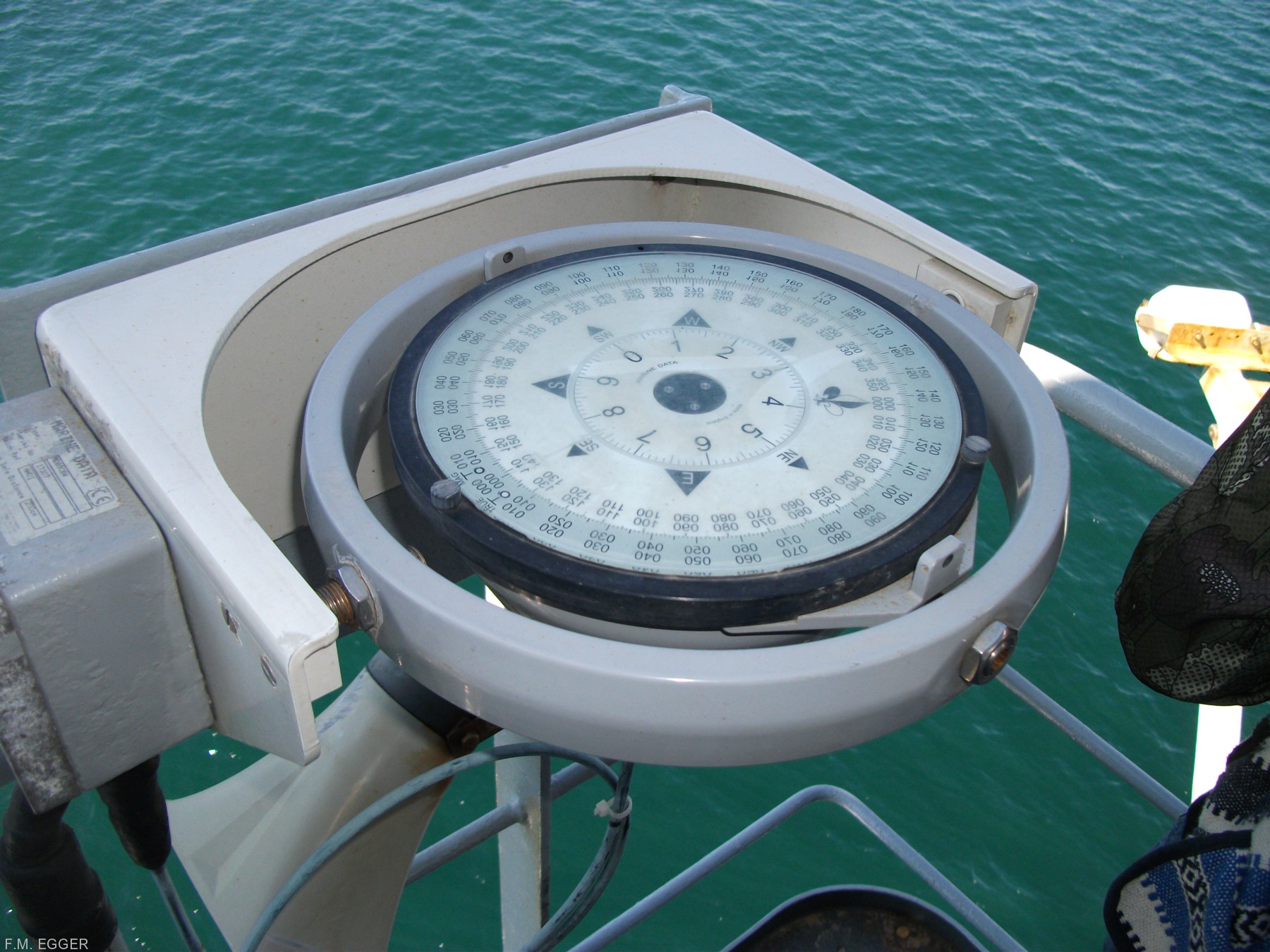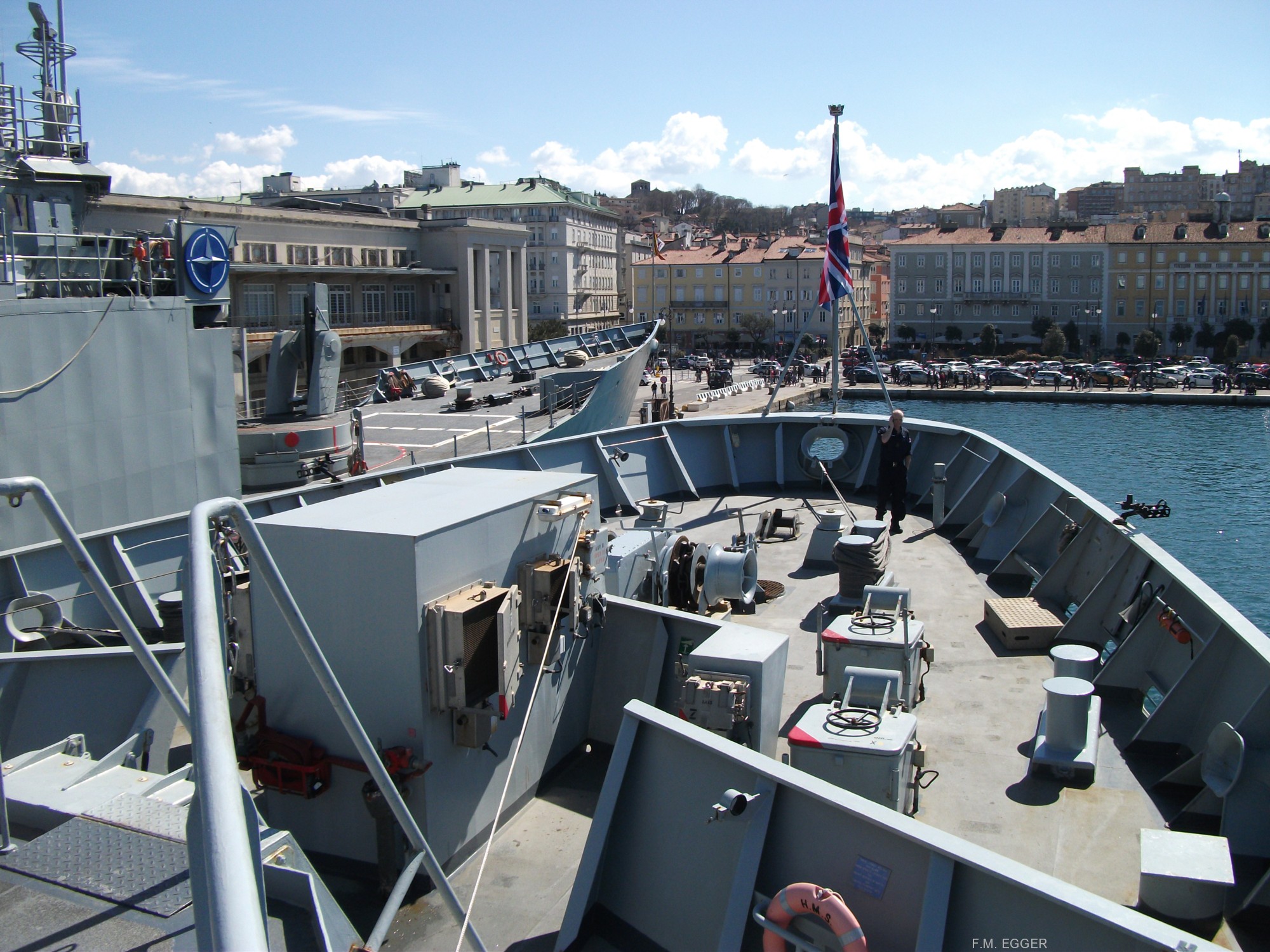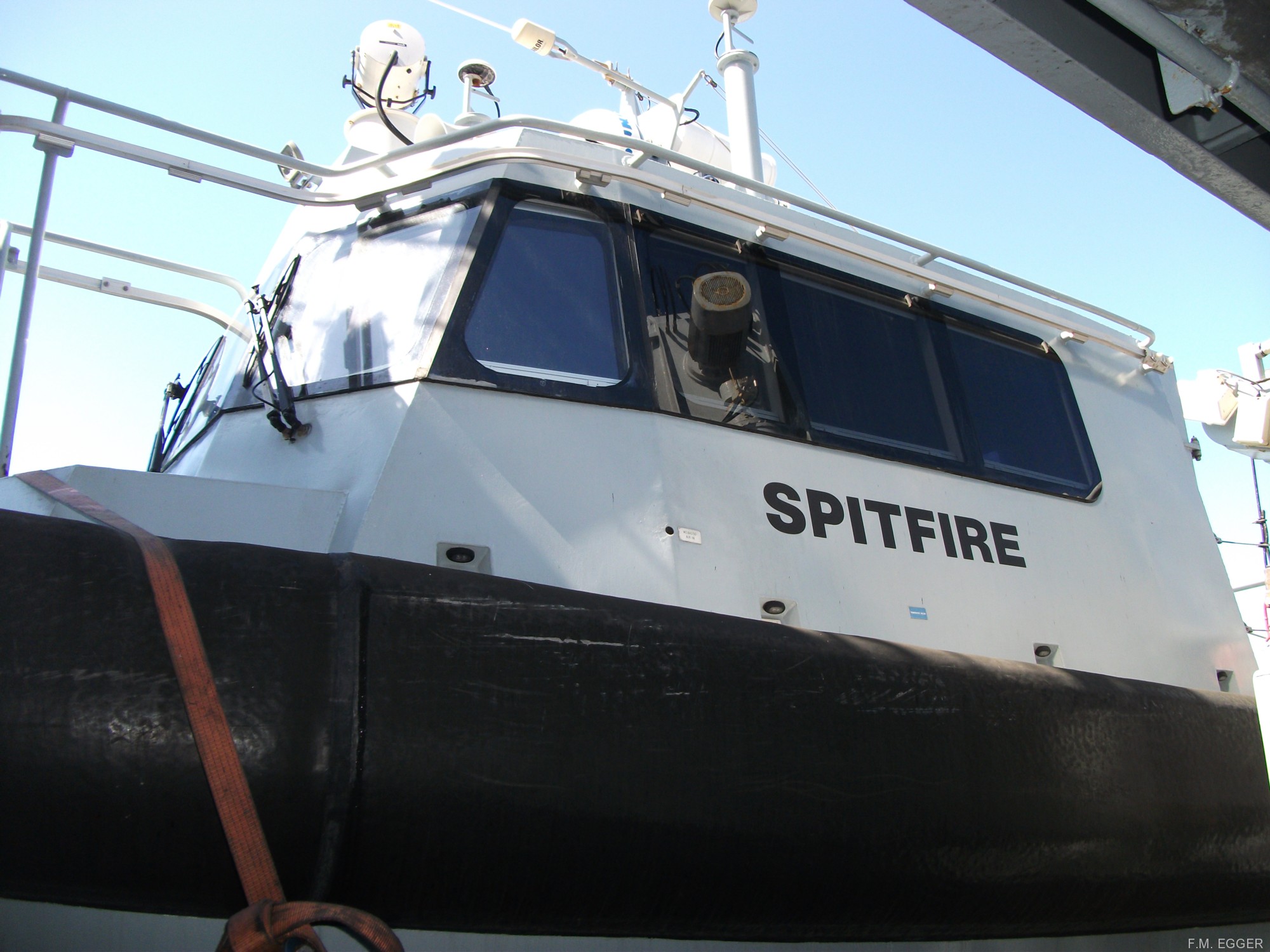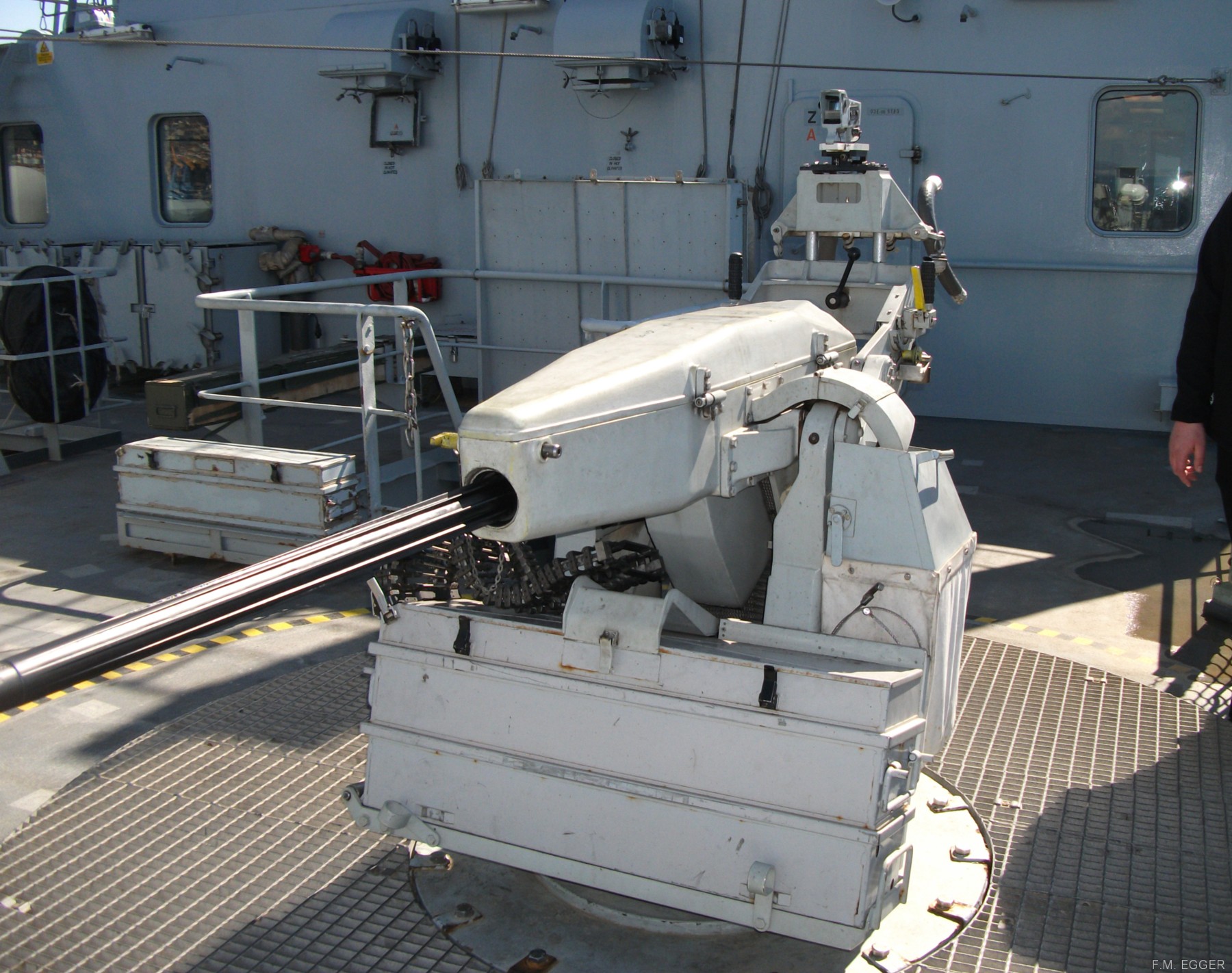 Oerlikon GAM-B01 20mm gun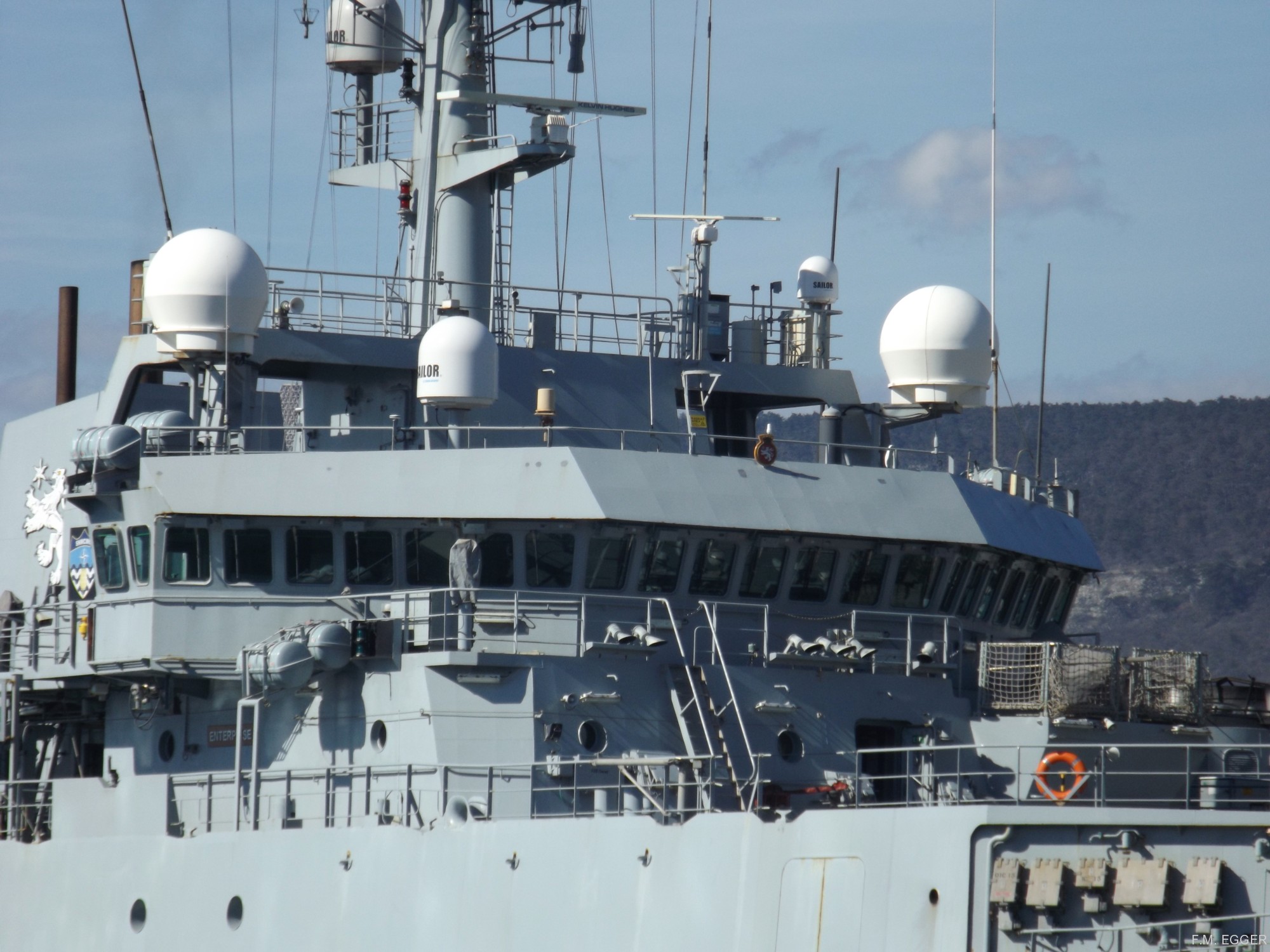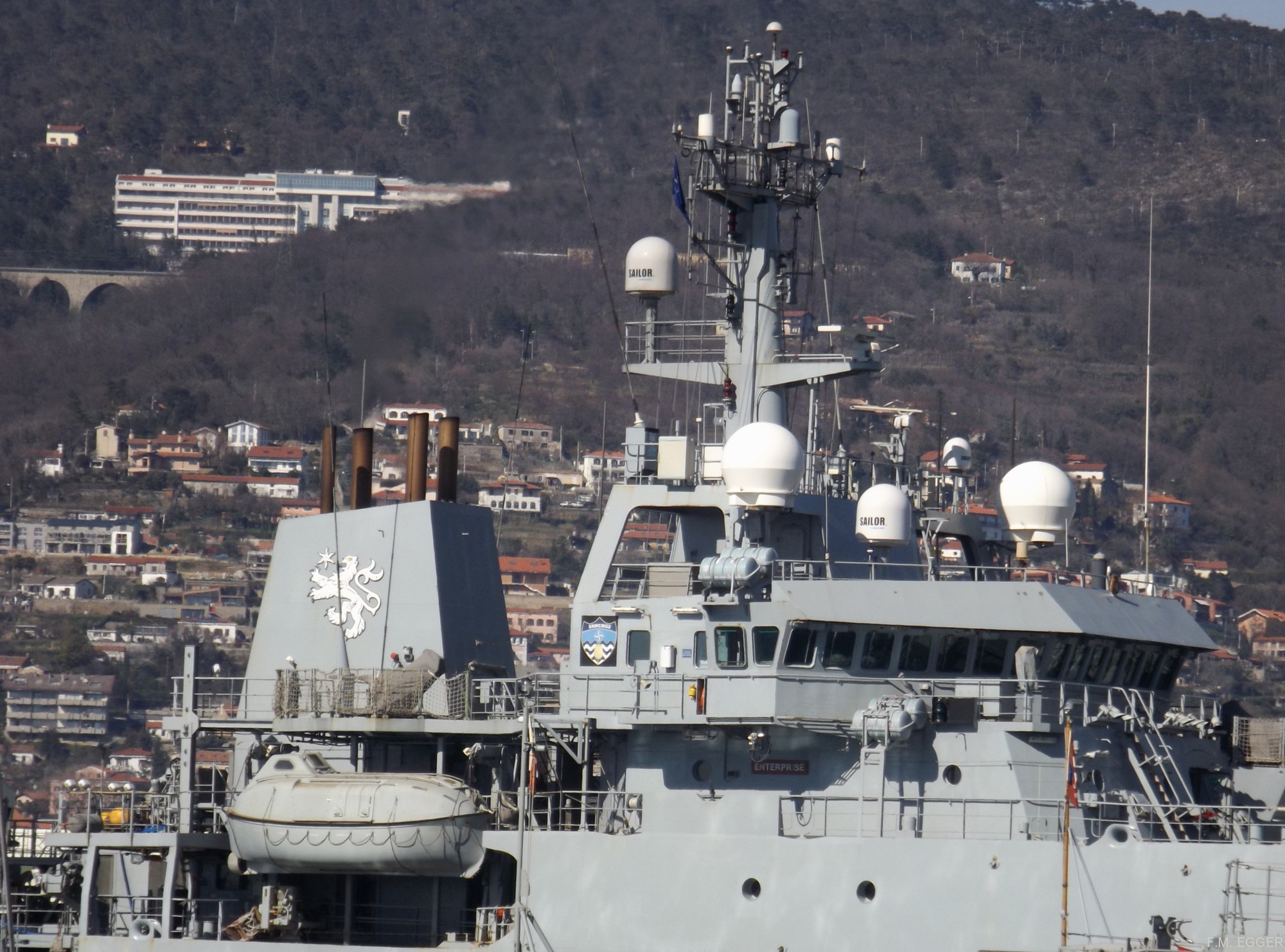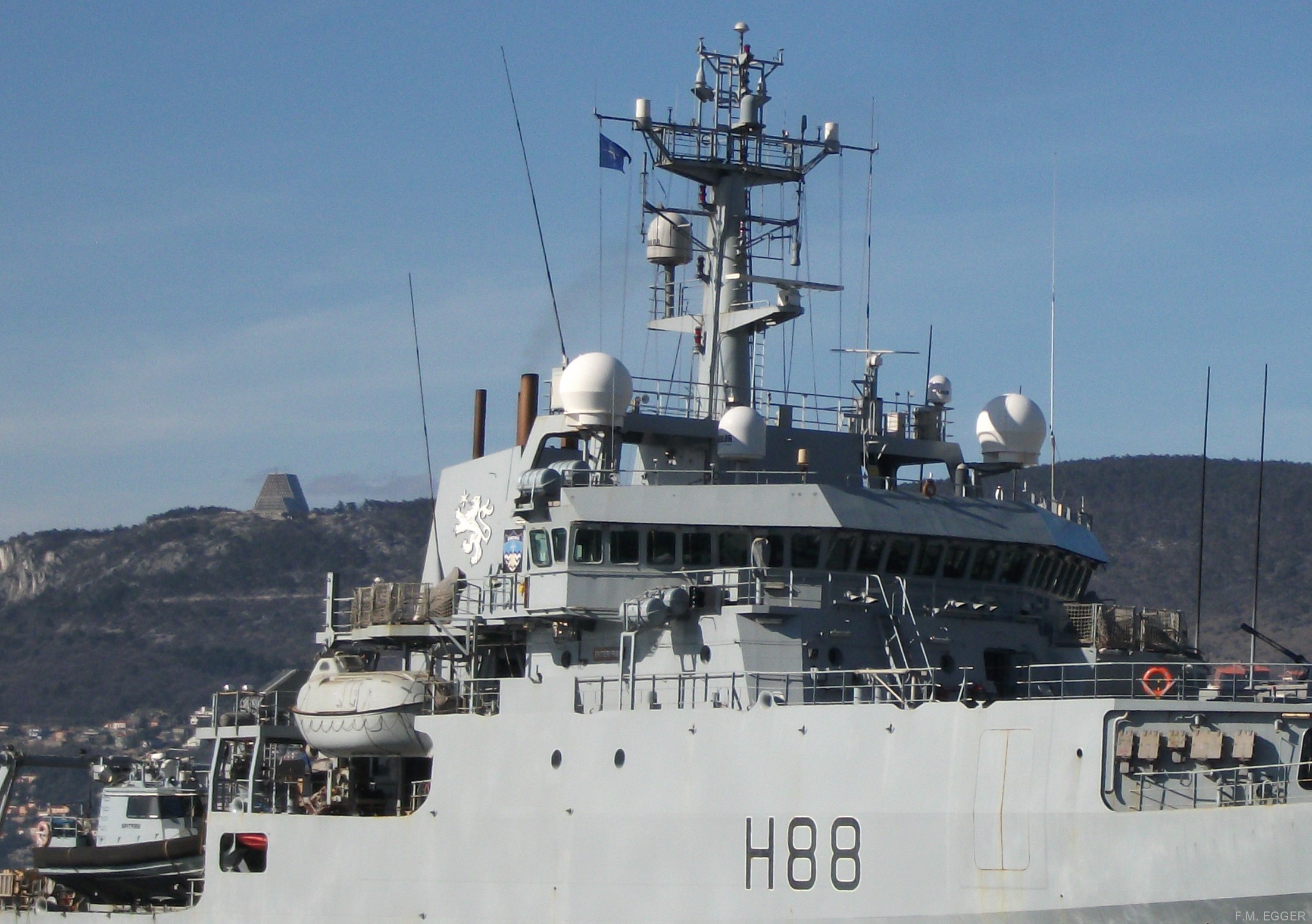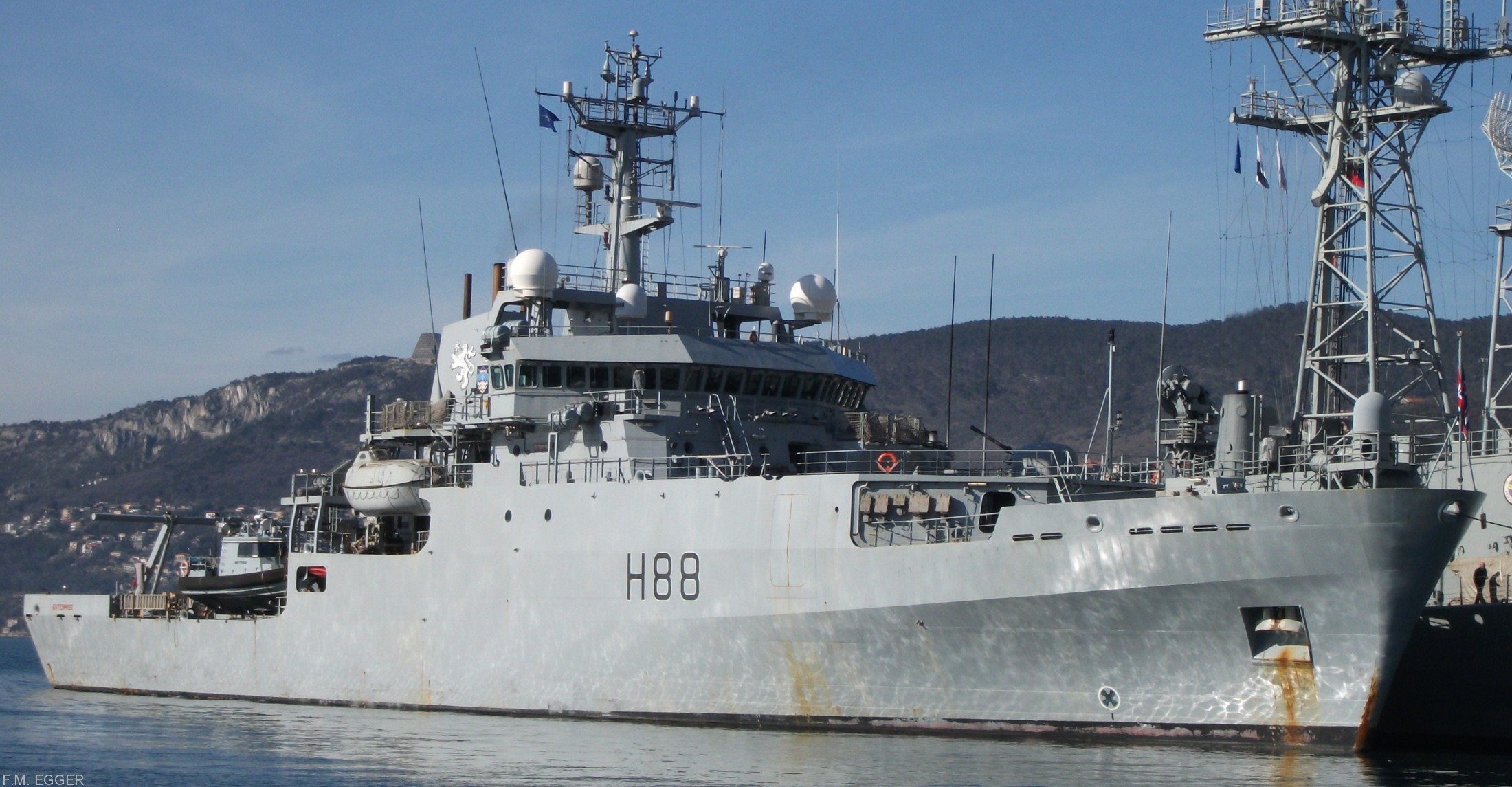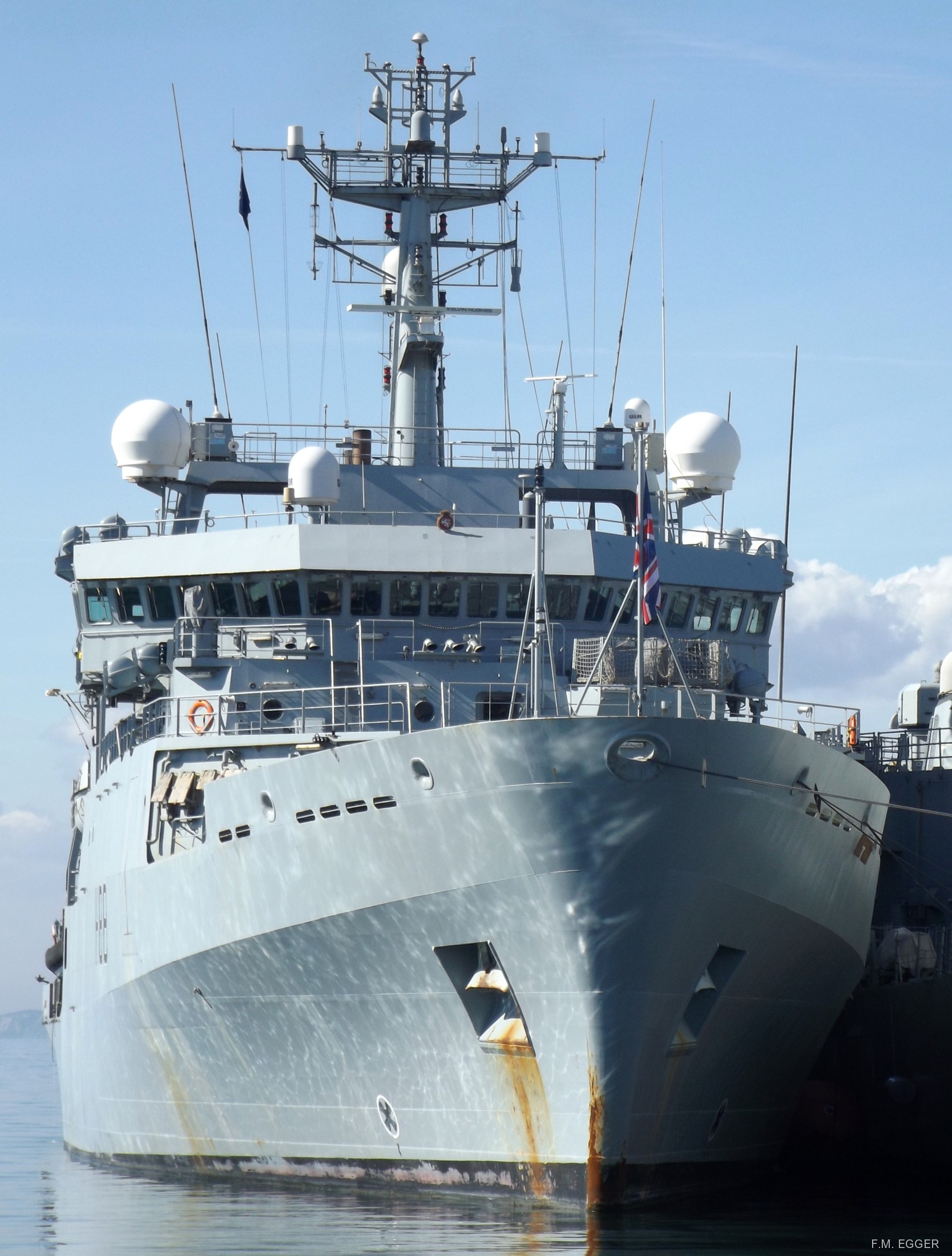 Royal Navy images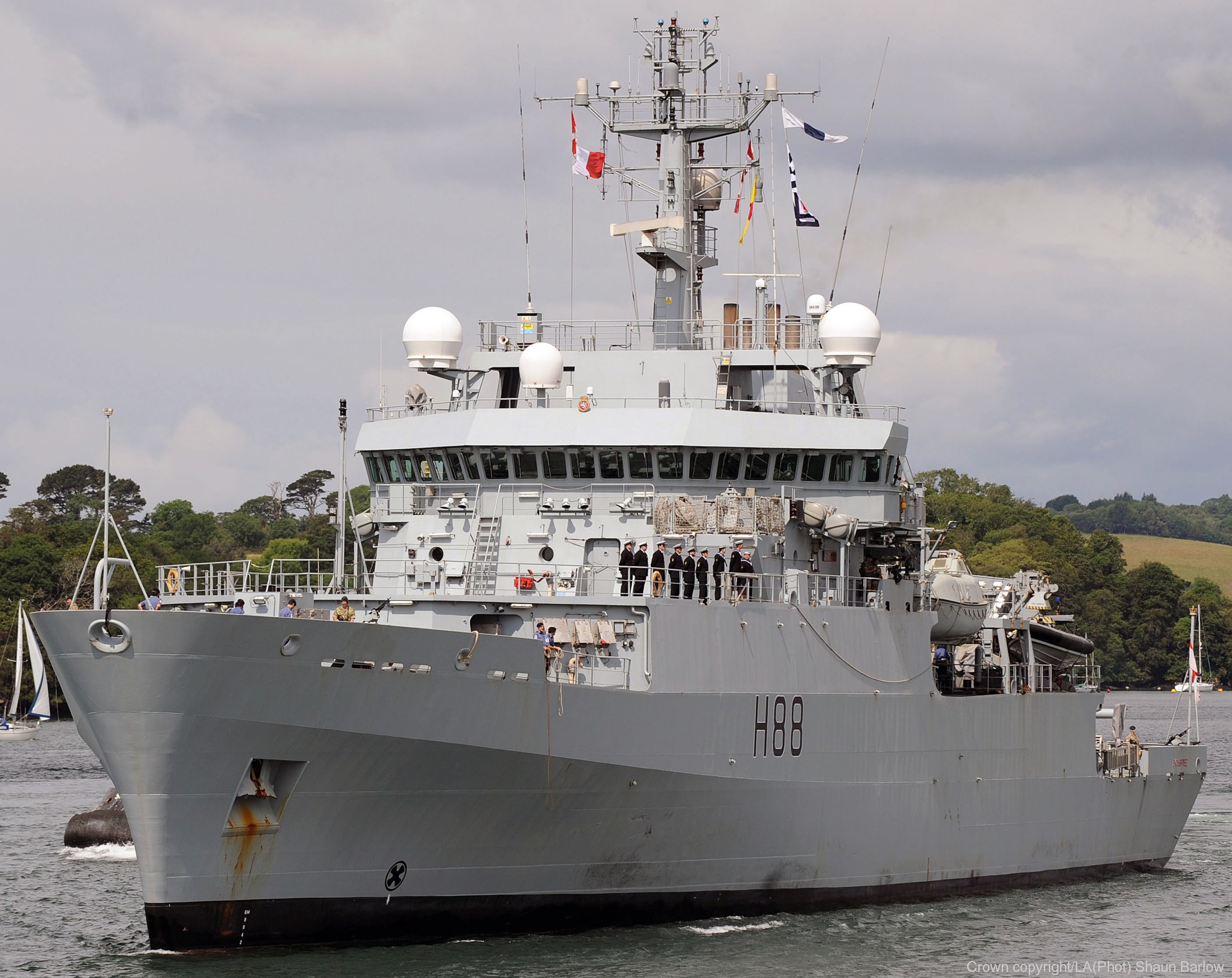 Oerlikon GAM-B01 20mm cannon



Oerlikon GAM-B01 20mm cannon




M134 7.62mm six-barreled machine gun (minigun)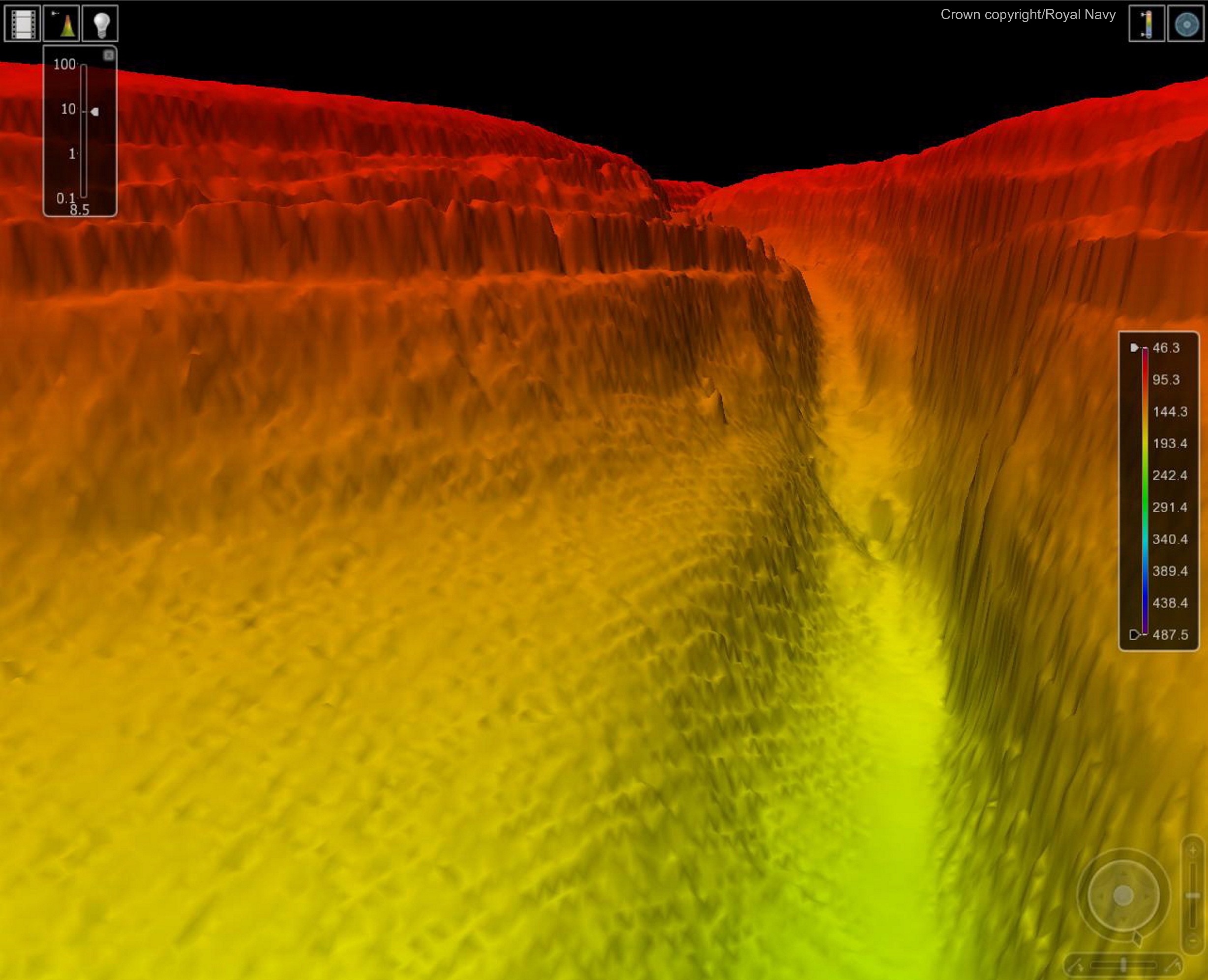 A three dimensional echo sounding representation of a newly discovered canyon under the Red Sea by survey vessel HMS Enterprise. A Royal Navy survey ship has produced a series of stunning images of a Grand Canyon-style ocean floor hidden deep under the Red Sea. HMS Enterprise used her state-of-the-art surveying equipment to reveal the natural wonder during her nine-month mission to improve understanding of the waters east of Suez. Discovering the 250 metre deep canyon after leaving the Egyptian port of Safaga the ship used her sophisticated EM1002 Multibeam echo sounder to create the 3D images, allowing the ocean floor to be seen for the first time. Commanding Officer of HMS Enterprise, Commander Derek Rae, said: "These features could be the result of ancient rivers scouring through the rock strata before the Red Sea flooded millennia ago. "Some may be far younger - and still in the process of being created by underwater currents driven by the winds and tidal streams as they flow through this area of the Red Sea, carving their way through the soft sediment and being diverted by harder bed rock. Or there is always the possibility that they are a combination of the two. "It is, however, almost certain to say that this is the closest that humans will ever get to gaze upon these truly impressive sights hundreds of metres beneath the surface." The echo sounder, which is fitted to Enterprise's hull, produces the images from the echoes returning from the sound pulses it sends out. This is a highly accurate way to measure the sea bed to determine if the depth of water is safe for navigation and shipping. This was the first time HMS Enterprise has visited Safaga, which lies on the western shore of the Red Sea -approximately 250 miles south of Suez. Safaga is the headquarters of the Egyptian Navy's Red Sea Command and the ship's company attended both formal and sporting events to ensure the regional links were kept strong. - February 2013


ITS Alghero (M5556)


Gaeta class Minehunter - Italian Navy


ESPS Segura (M31)


Segura class Minehunter - Spanish Navy

Builder: Intermarine Shipbuilding, Sarzana, Italy
Commissioned: 1993
Displacement: 697 tons
Lenght: 52,5 meters
Beam: 9,6 meters
Draft: 2,9 meters
Crew: 47
Homeport: ?
Builder: Bazan Shipbuilding, Cartagena, Spain
Commissioned: 1999
Displacement: 585 tons
Lenght: 54 meters
Beam: 10,7 meters
Draft: 2,3 meters
Crew: 41
Homeport: Cartagena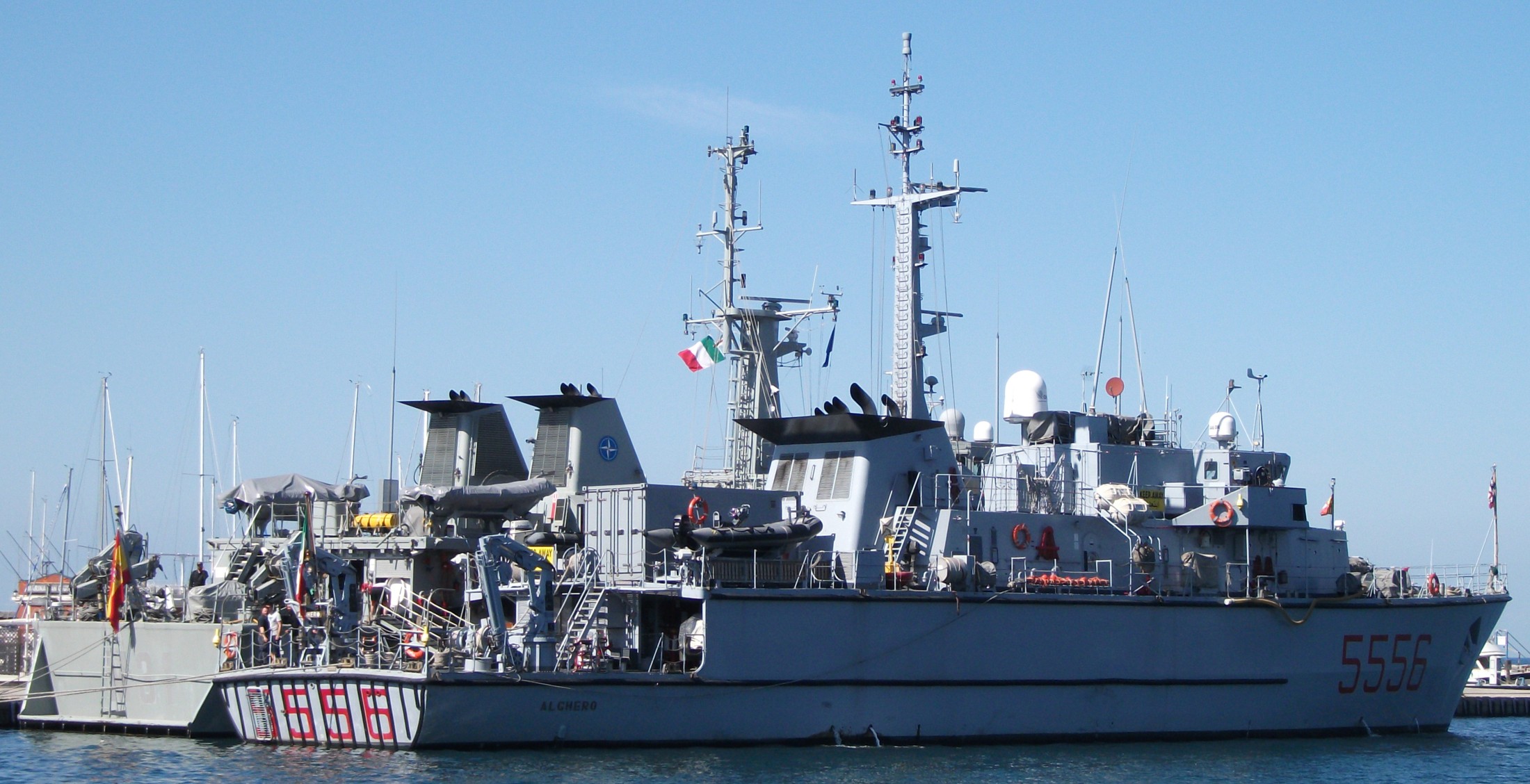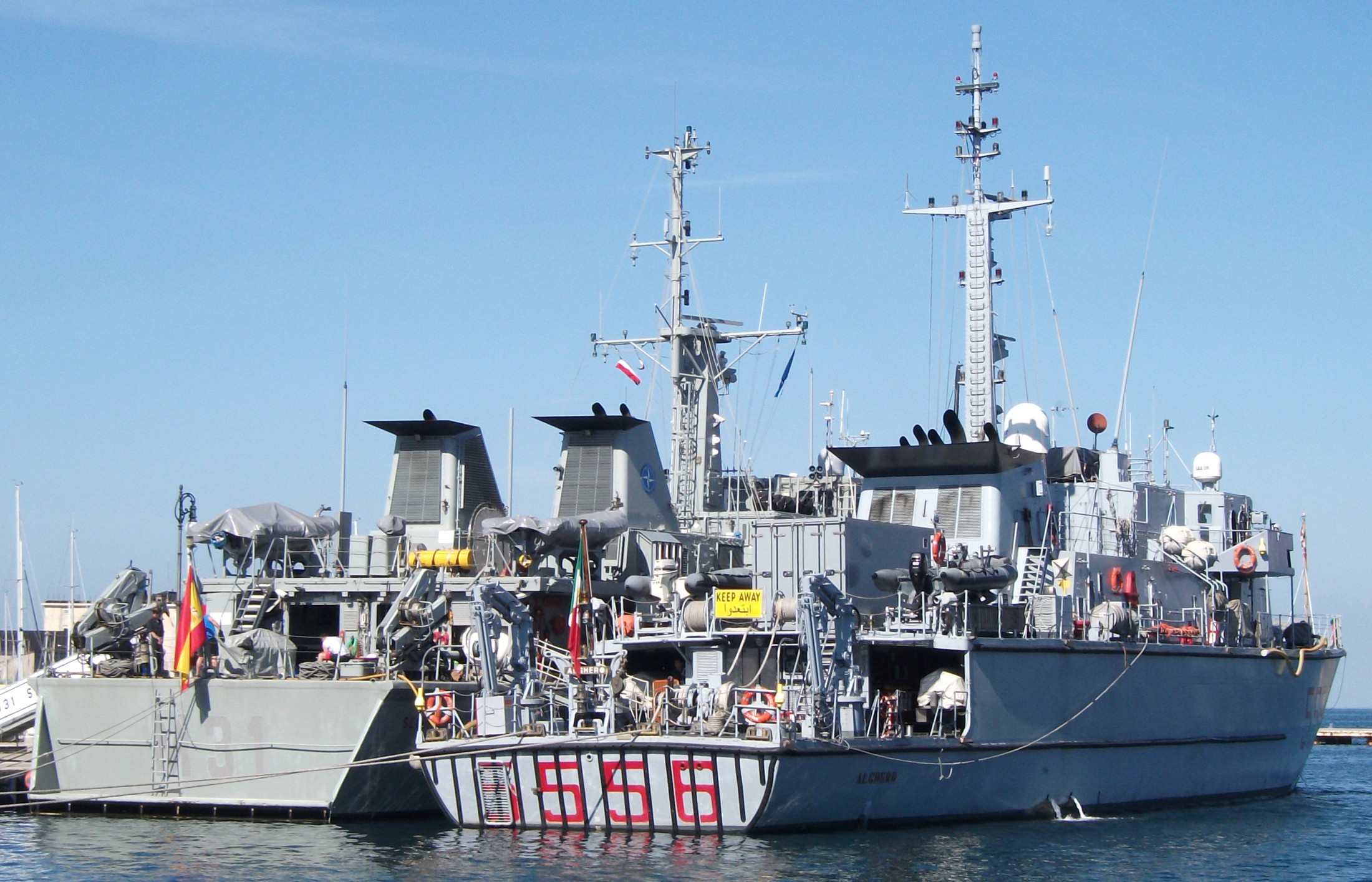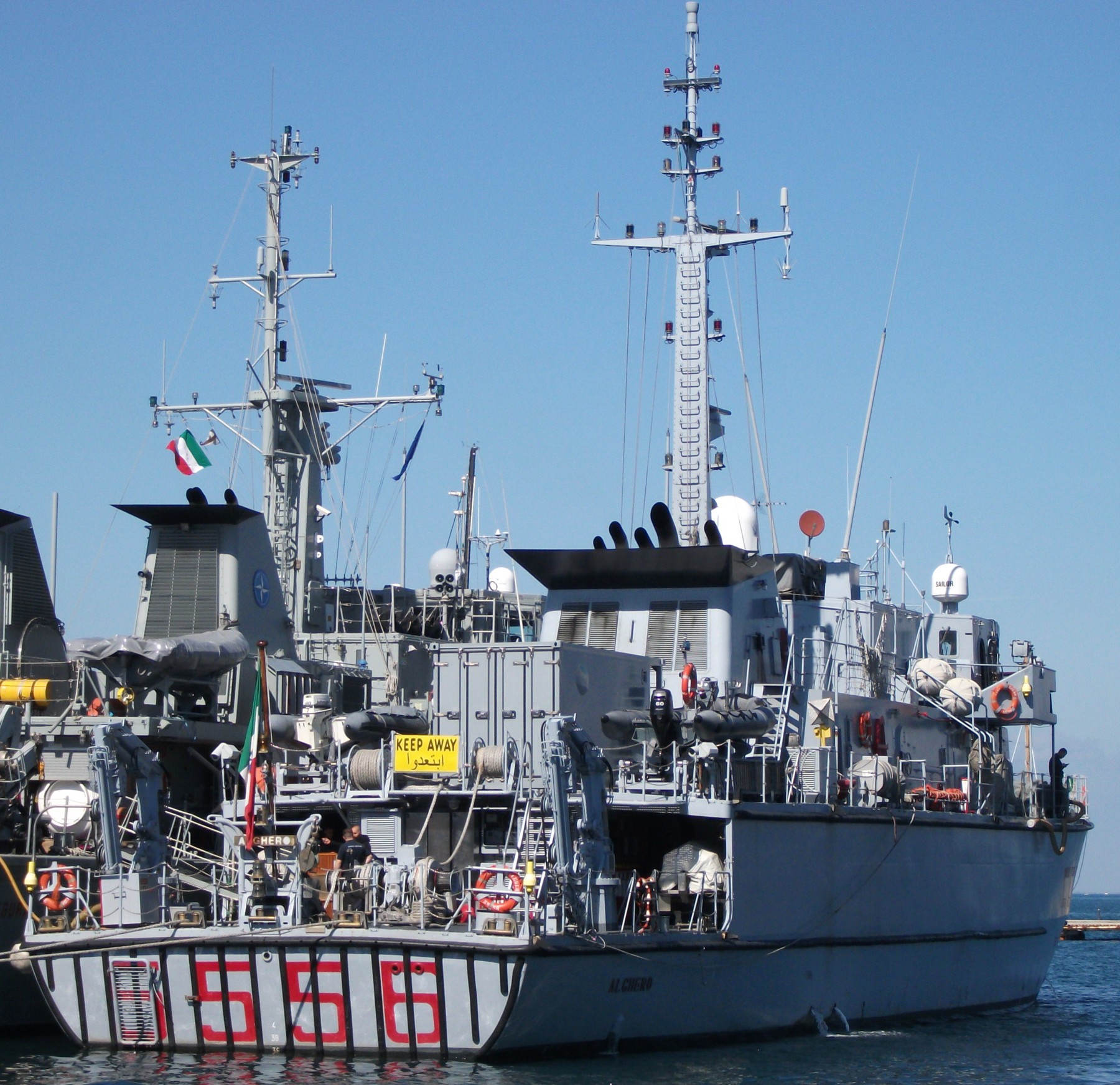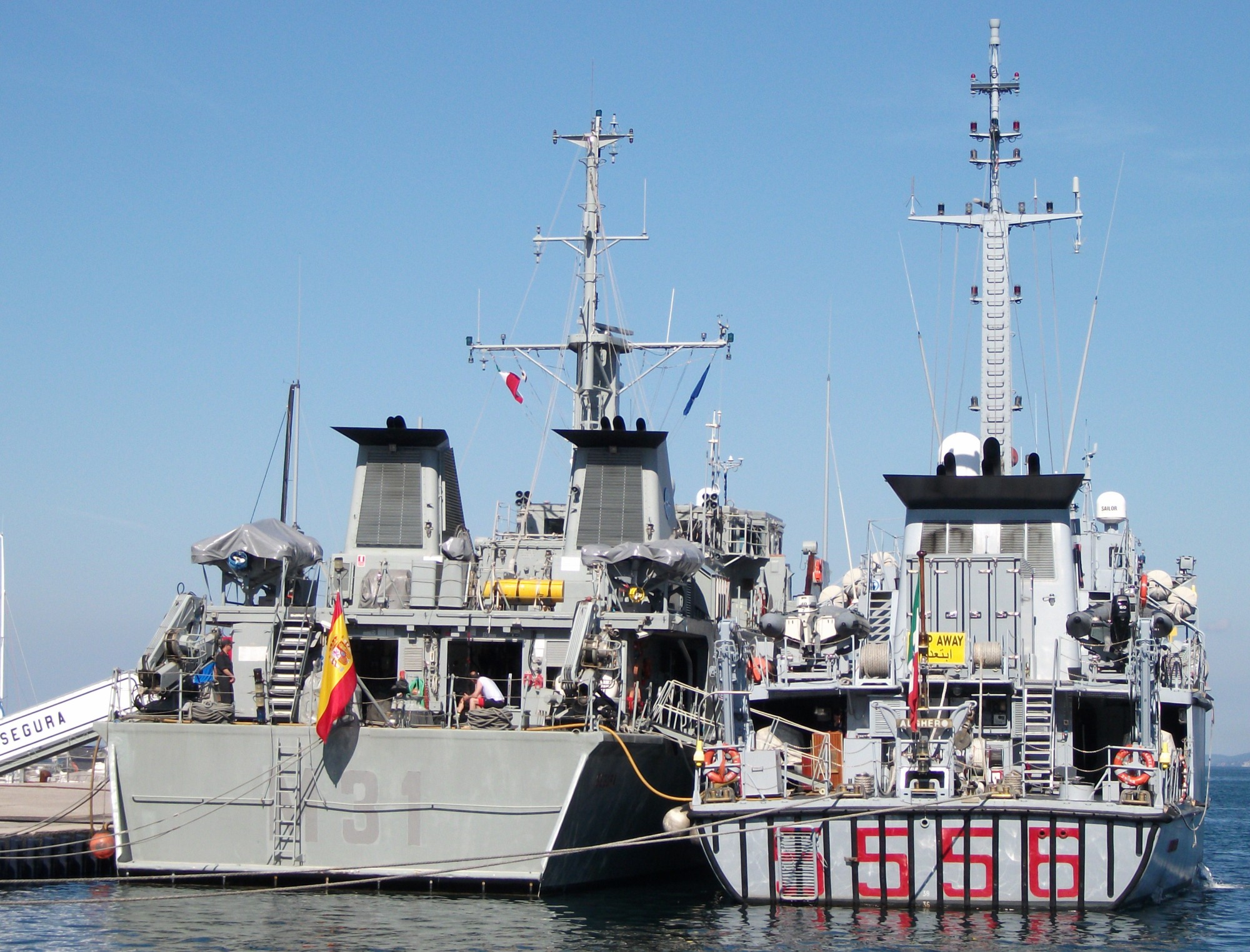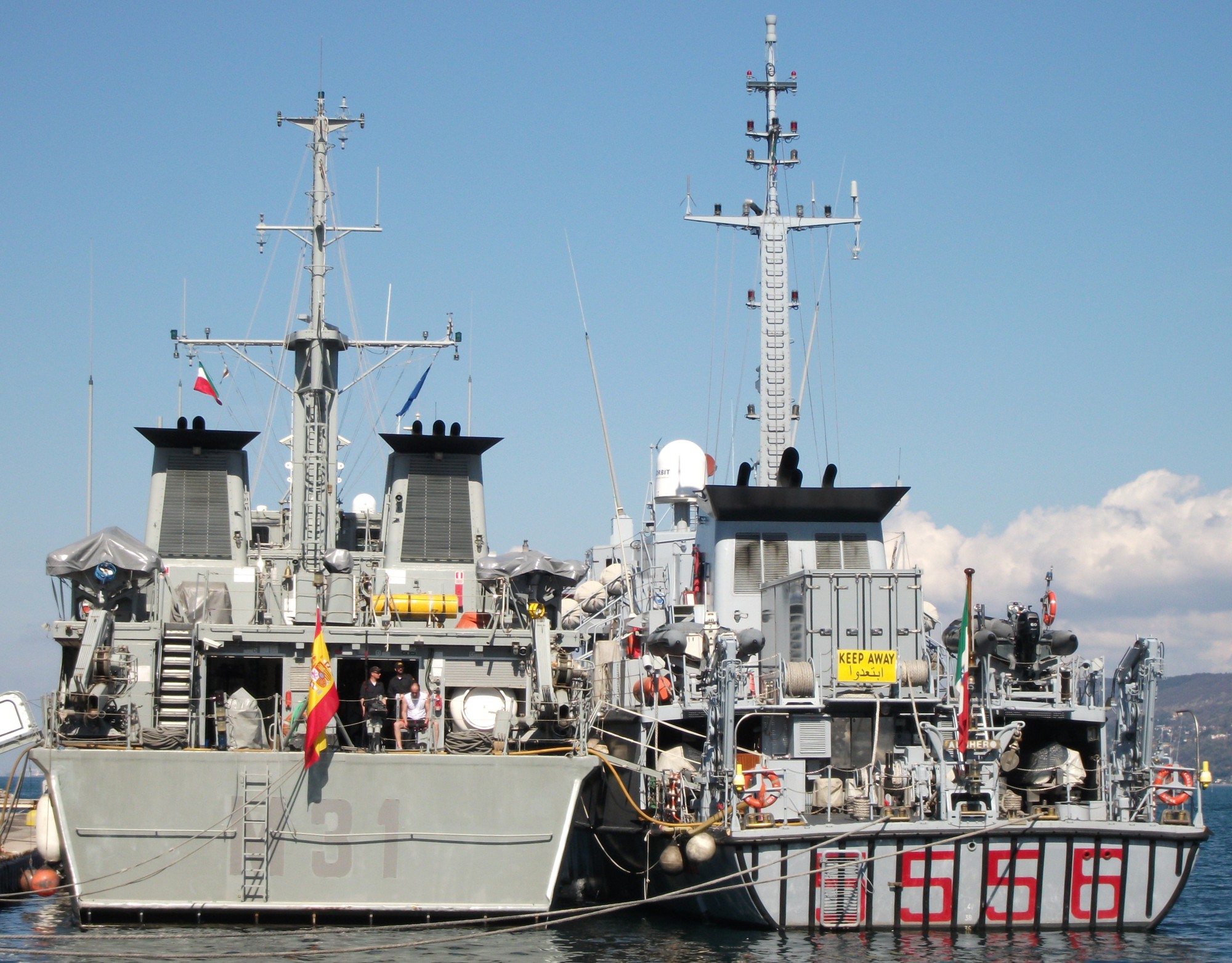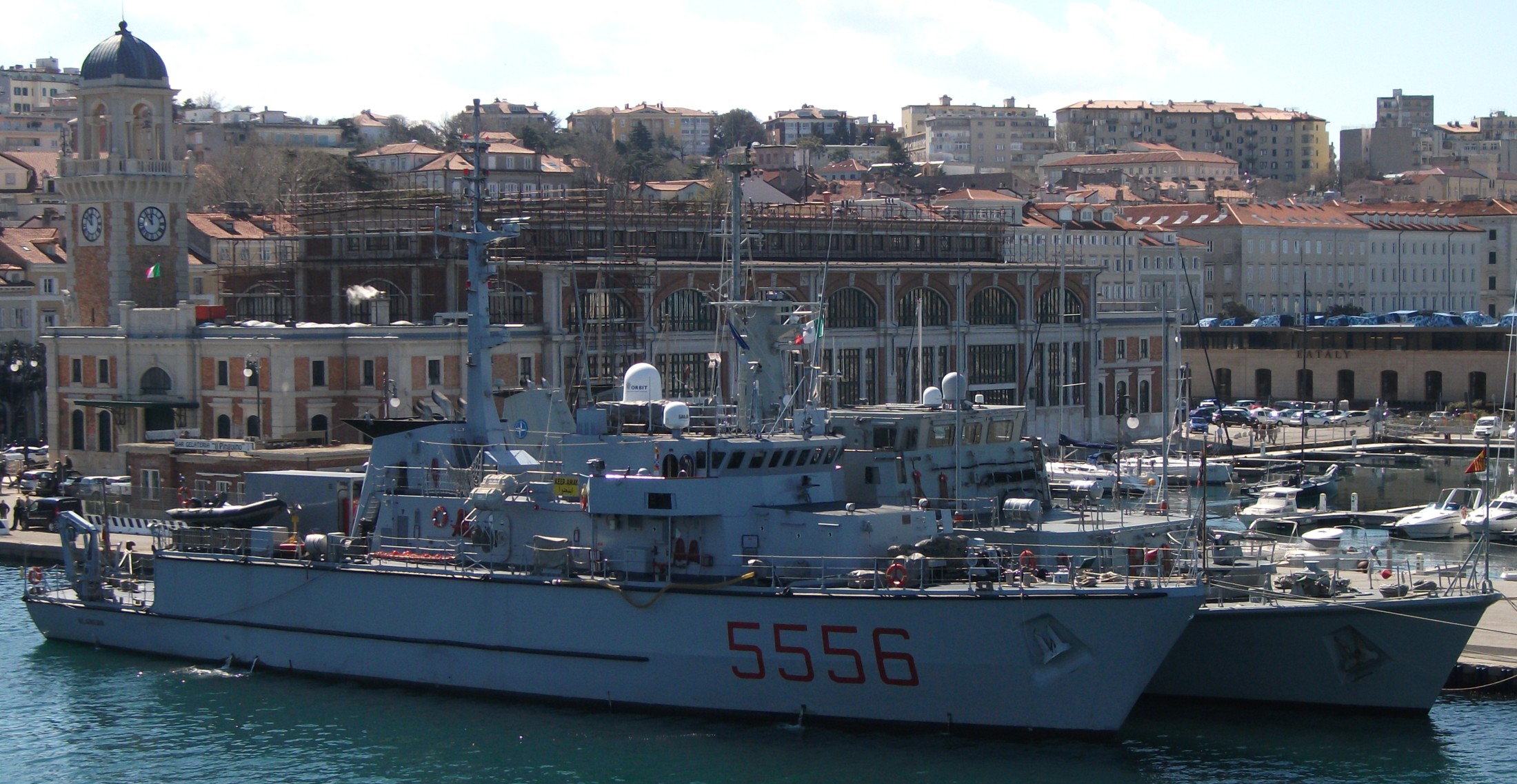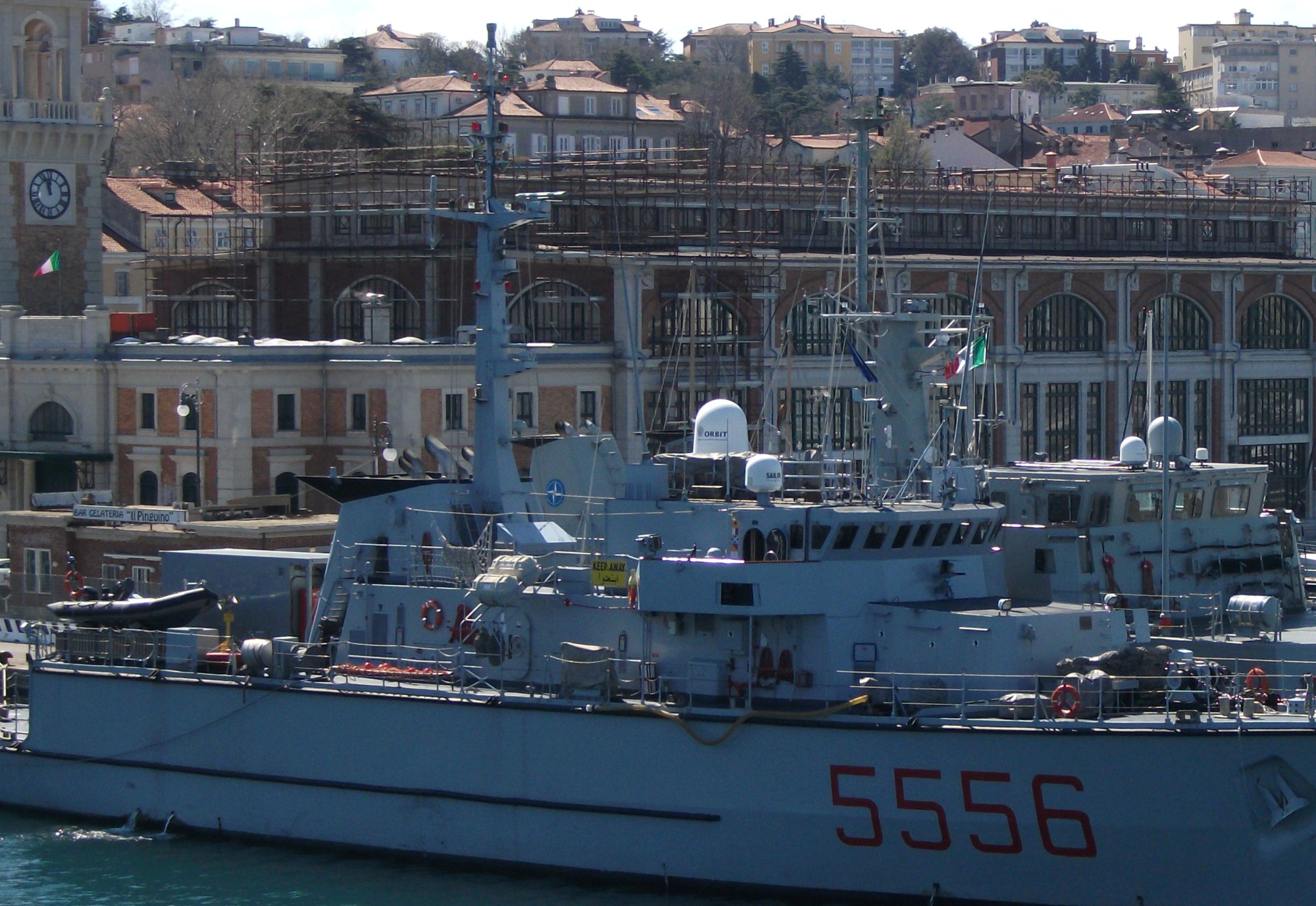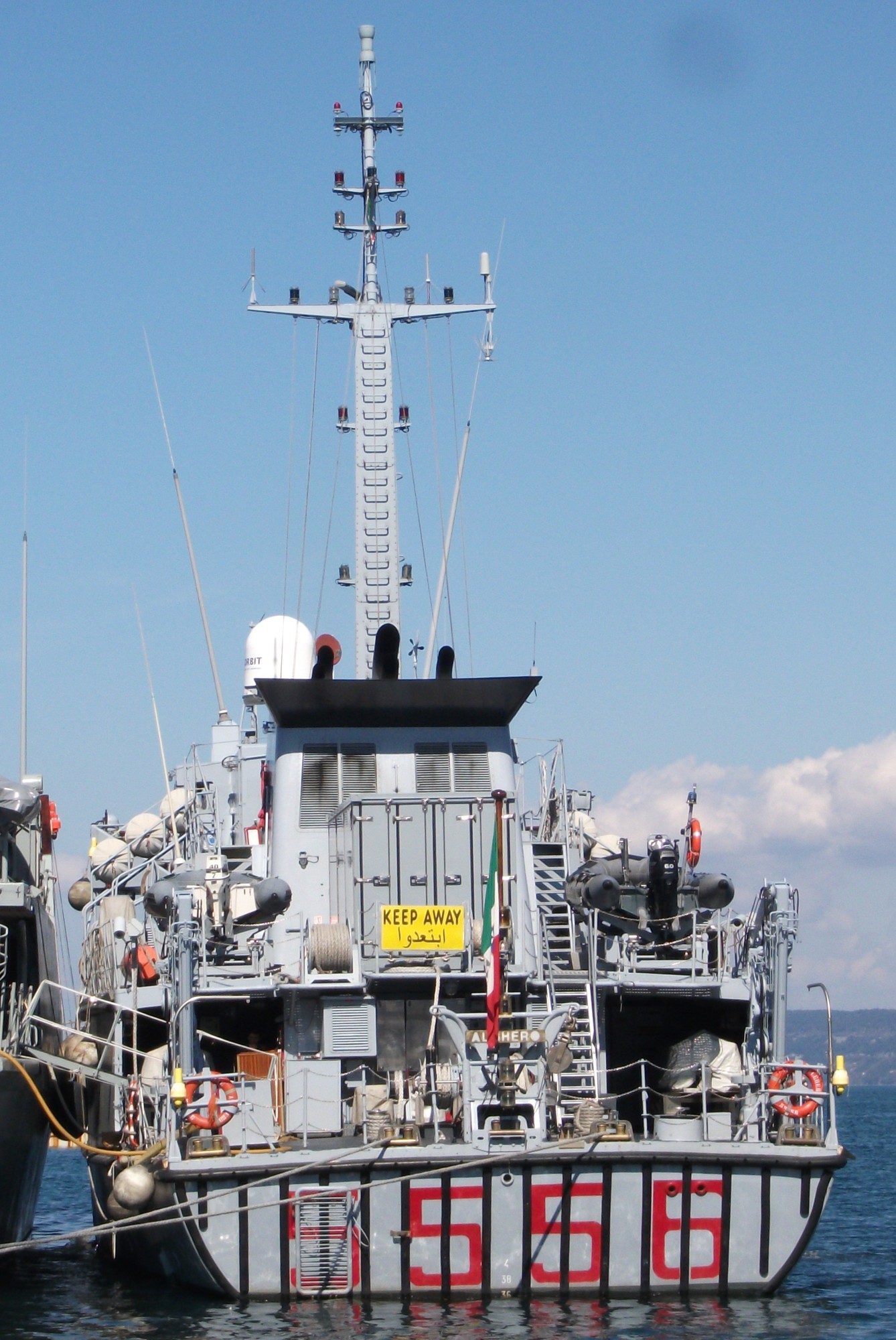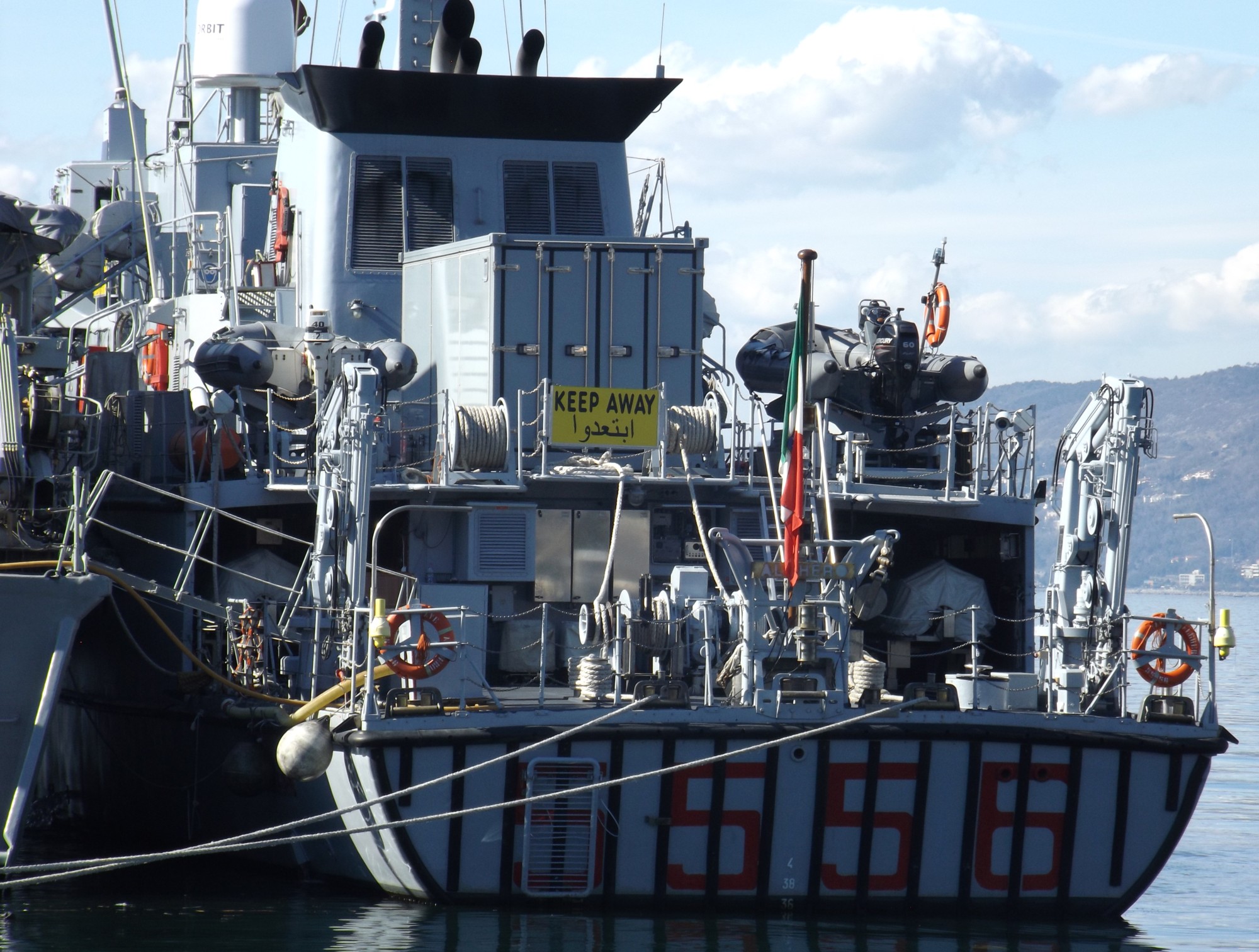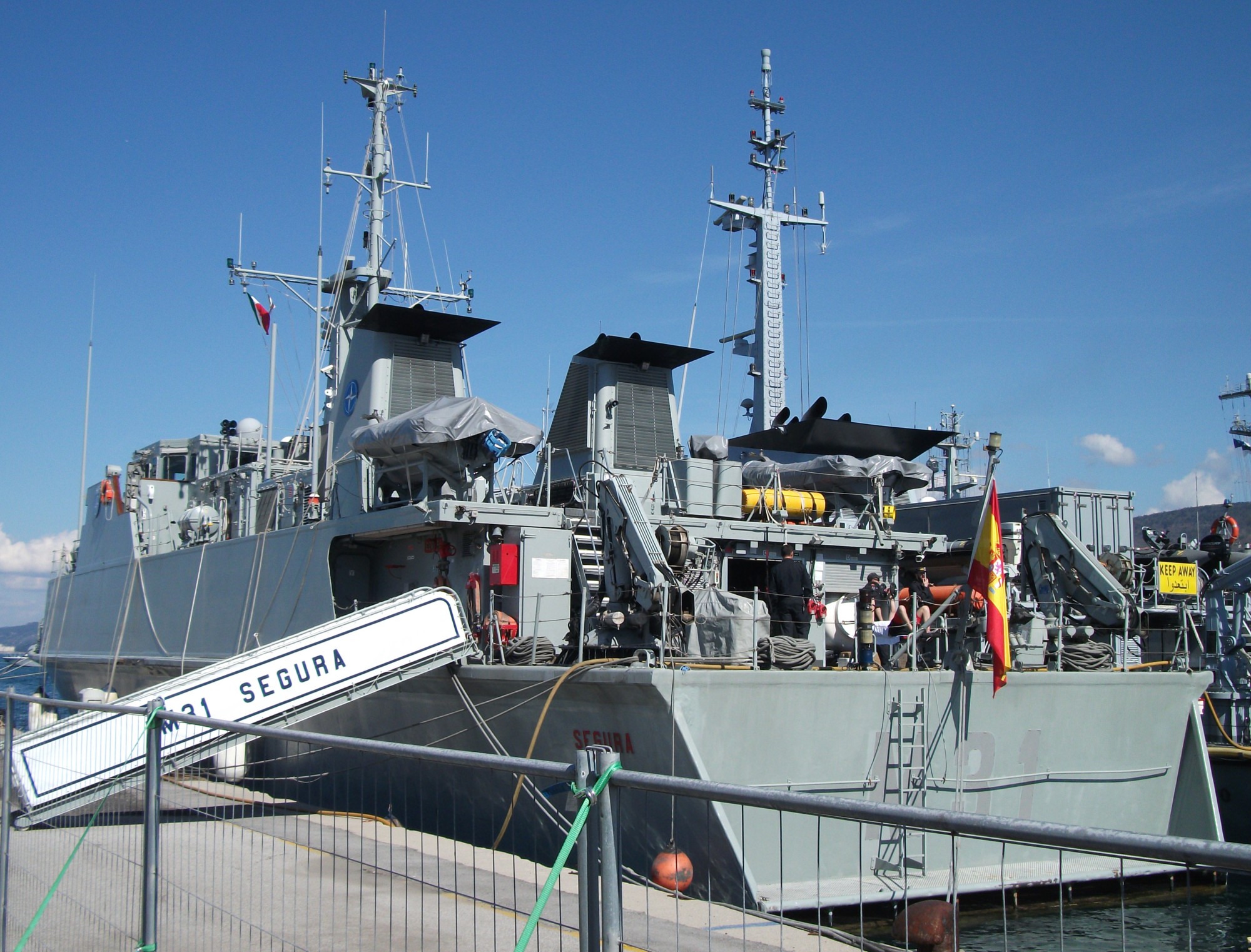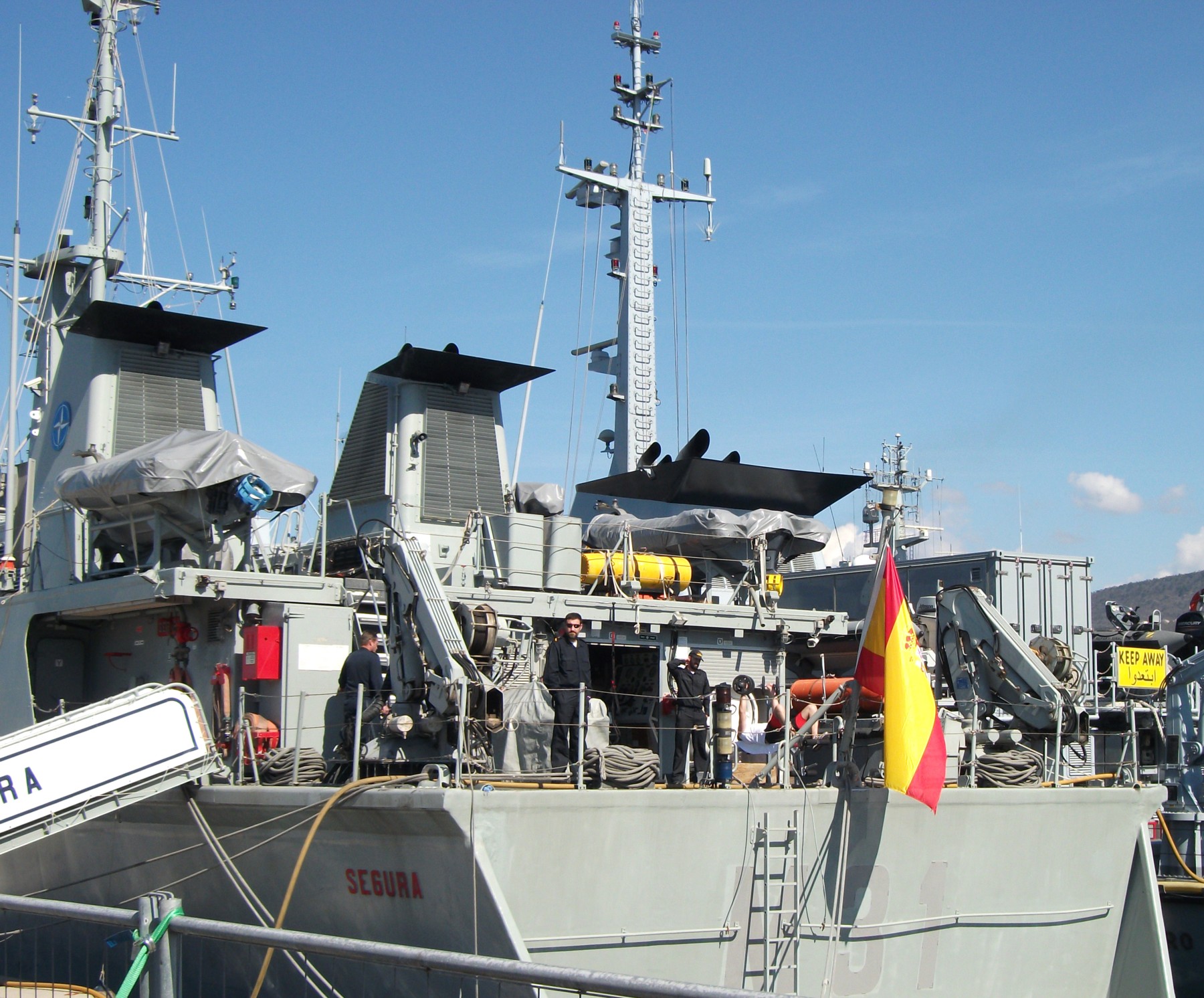 Standing NATO Mine Countermeasures Group 2 (SNMCMG-2)
Standing NATO Mine Countermeasures Group 2 is a NATO Immediate Reaction Force.

From its activation on 27 May 1999 to September 2001, it was Standing Mine Countermeasures Force in the Mediterranean (MCMFORMED).
From 3 September 2001 to 1 January 2005 it was known as the Mine Countermeasures Force South (MCMFORSOUTH).

SNMCMG-2 normally comprises up to 8 mine hunters or mine sweepers and a support ship from NATO nations.

SNMCMG-2 operates as an integral unit whether participating in exercises or conducting real world operational missions. It is employed primarily in the Mediterranean area but, as required, will be available anywhere NATO requires it to deploy. Command of the force rotates among contributing nations.

SNMCMG-2 is a component of the NATO Response Force (NRF). Operationally, SNMCMG2 reports to the Allied Maritime Command (MARCOM), which is one of the three component commands of Allied Command Operations.

Current Commander of SNMCMG-2 is Commander Justin HAINS, Royal Navy.



As of April 2018, the fleet consists of:


HMS Enterprise (H88) - Flagship
ITS Alghero (M5556)
ESPS Segura (M31)
Former participating units came from Greece and Turkey.



2018 port visits:


Constanta, Romania
Burgas, Bulgaria
Patras and Corfu, Greece
Bar, Montenegro
Split, Croatia
Trieste, Italy
Koper, Slovenia



sources & resources: Royal Navy, NATO MARCOM, wikipedia
special thank's to HMS Enterprise !