HOME | US Navy - ships | US Navy - air units | USMC - air units | International Navies | Weapon Systems | Special Reports
<![if !supportEmptyParas]> <![endif]>
<![if !supportEmptyParas]> <![endif]>
Turkish Navy / Türk Deniz Kuvvetleri

Tuzla class Patrol Boat
<![if !supportEmptyParas]> <![endif]>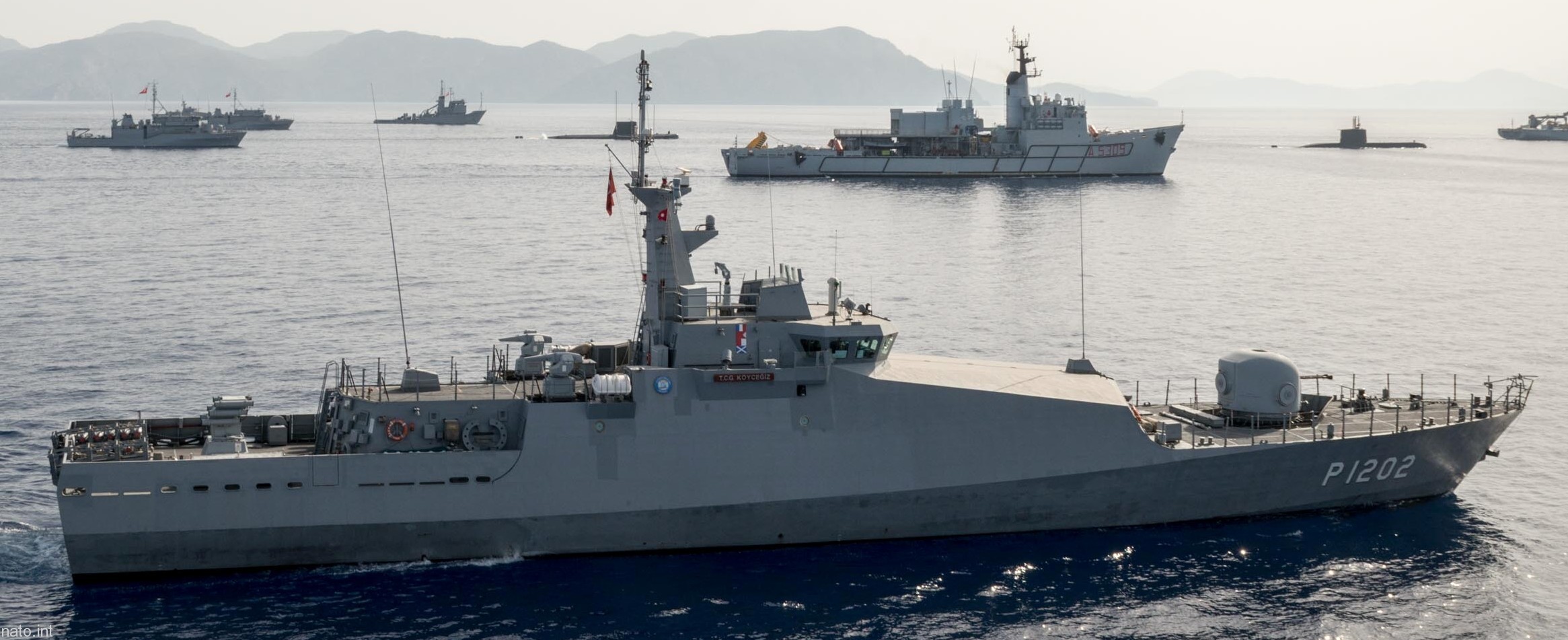 <![if !supportEmptyParas]> <![endif]>
12/19
Unit
s:

P 1200
TCG Tuzla

P 1201
TCG Karaburun

P 1202
TCG Köycegiz

P 1203
TCG Kumkale

P 1204
TCG Tarsus

P 1205
TCG Karabiga

P 1206
TCG Karsiyaka

P 1207
TCG Tekirdag

P 1208
TCG Kas

P 1209
TCG Kilimli

P 1210
TCG Türkeli

P 1211
TCG Tasucu

P 1212
TCG Karatas

P 1213
TCG Karpaz

P 1214
TCG Karadeniz Eregli

P 1215
TCG Kusadasi
Specifications:

Builder:
Dearsan Ship Construction Industry Ltd. / DEARSAN Gemi İnşaat Sanayi A.Ş

Length:
55,75 meters (182 feet 11 inches)
Beam:
8,85 meters (29 ft)
Draught:
2,5 meters (8 ft 2 in)
Displacement:
400 tons (full load)
Speed:
25 knots (46 km/h)
Range:
1000 NM (1900 km) at 14 knots (26 km/h)
Complement:
35
Propulsion:
2 x
MTU diesel engines/generators (2250 kW, each)
1

shafts,

1 propeller

Armament:
1 x
Oto-Melara 40mm twin compact gun

2 x
Aselsan 12,7mm remote controlled, stabilized machine gun systems with IR imaging

1 x
Rocketsan ASW rocket launcher

2 x
depth charge racks
Aviation:
none
Systems:
25 kW X-Band Navigation Radar with ARPA/W(ECDIS) capability
Electro optical low-weight, multi-purpose, thermal imaging sensor
Optical Gyro compass with INS capability
Simrad SP92 Mk II hull-mounted low frequency Sonar
<![if !supportEmptyParas]> <![endif]>
The Tuzla-class New Type Patrol Boat (Turkish: Yeni Tip Karakol Botu) is a patrol boat class of the Turkish Navy. The Tuzla class, named after a district in Istanbul with the same name, have been designed by Dearsan Shipyards in order to meet the operational requirements of the Turkish Navy in littoral waters. These patrol boats conduct patrol, security and anti-submarine warfare (ASW) duties in or around harbors & coastal areas.
The contract between Turkish Navy and Dearsan signed on 23 August 2007 called for 16 New Type Patrol Boats to be constructed until 2015. Along with Dearsan, 204 domestic supplier firms are involved with the NTPB project as well as several foreign ones such as MTU or Oto Melara. The project is a first for the Turkish Navy and the Turkish military shipbuilding industry as there is a 67.5% domestic production percentage compared with 65% for the MILGEM-project.
As of 2015, all 16 boats have been delivered to the Turkish Navy.
As of 2015, 10 units were delivered and operational to the Turkmenistan Navy, the first and currently only foreign operator of the Tuzla-class patrol boat.
source: wikipedia
images

P 1214 TCG Karadeniz Eregli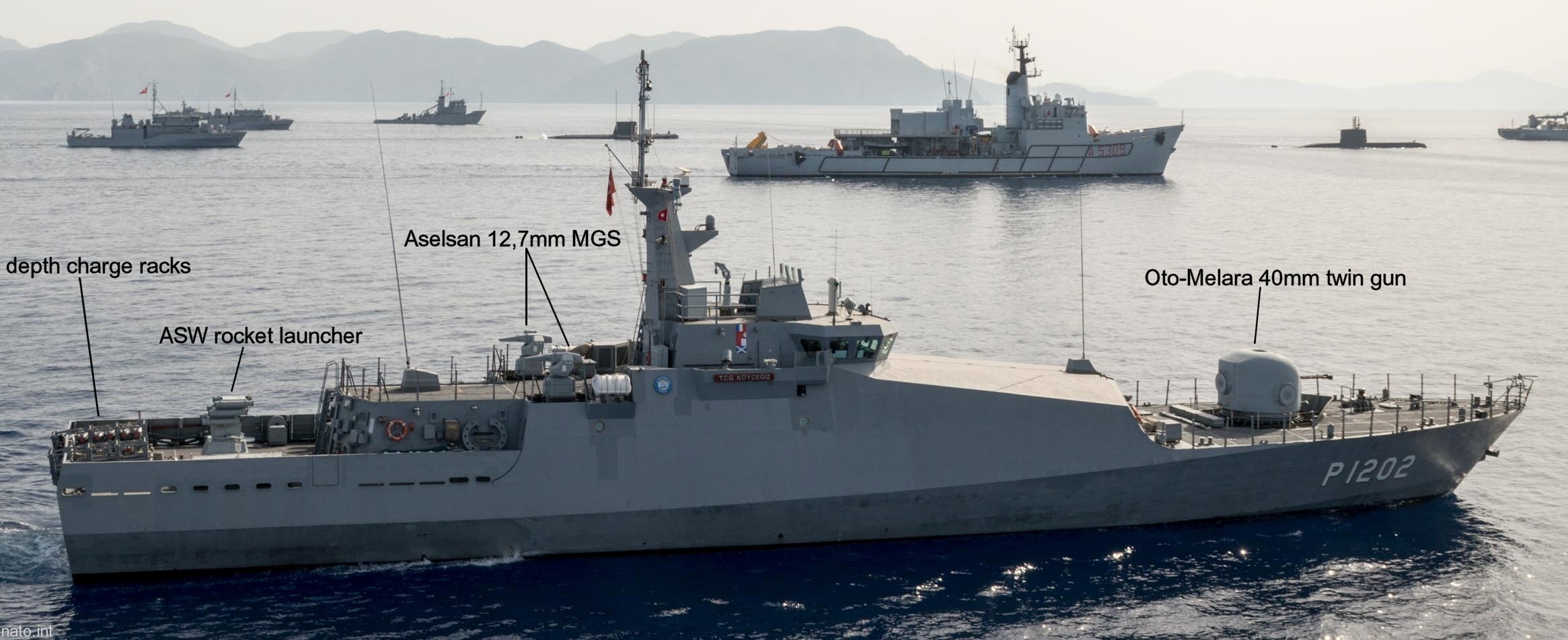 <![if !supportEmptyParas]> <![endif]>
|
seaforces.org
|
Turkish Navy start page
|