HOME | US Navy - ships | US Navy - air units | USMC - air units | International Navies | Weapon Systems | Special Reports
<![if !supportEmptyParas]> <![endif]>
<![if !supportEmptyParas]> <![endif]>
Turkish Navy / Türk Deniz Kuvvetleri

Yavuz class Frigate

(MEKO-200TN)
<![if !supportEmptyParas]> <![endif]>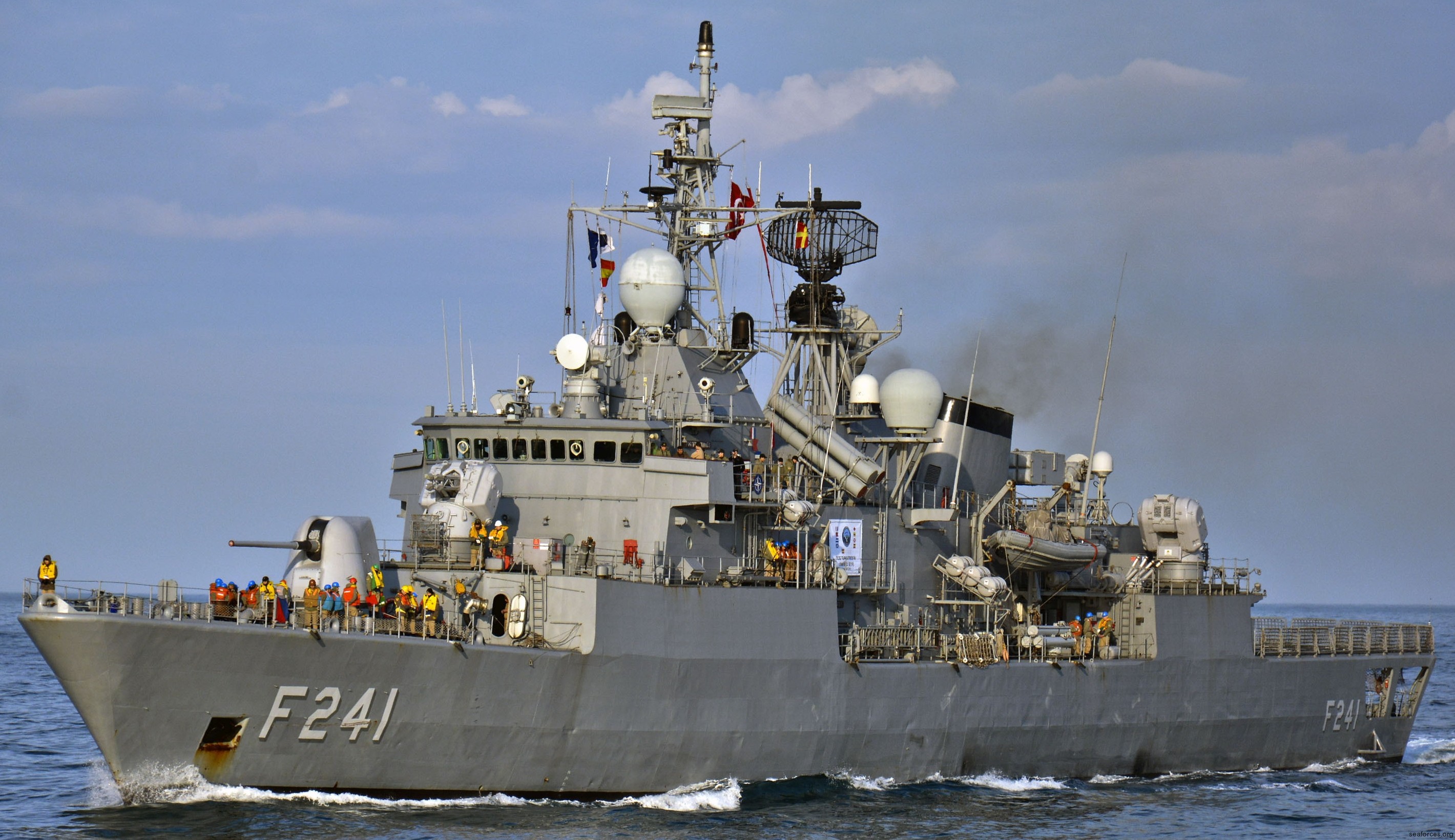 <![if !supportEmptyParas]> 08/20<![endif]>
Ship
s:



F 240

TCG Yavuz (1987)


F 241

TCG Turgutreis (1988)


F 242

TCG Fatih (1988)


F 243

TCG Yildirim (1989)

Specifications:
Length:
115.5 meters (379 feet)
Beam:
14.2 meters (46.59 ft)
Draft:
4.1 meters (13.45 ft)
Displacement:
2920 tons (full load)
Speed:
27 knots (50 km/h), max.
Range:
4000 NM (7400 km) at 20 knots (37 km/h)
Complement:
170
Propulsion:
Combined Diesel and Diesel (CODAD)
4 x MTU 20V 1163 TB93 diesel engines (29050 kW / 38960 hp total)
2 shafts, 2 controllable pitch propellers
Armament:
1 x Mk-29 missile launcher for 8 x RIM-7 Sea Sparrow SAM
1 x Mk-45 Mod.2 (5" 127mm / 54-caliber) gun
3 x
Oerlikon Contraves Sea Zenith 25mm CIWS
2 x
Mk-141 missile launcher
for up to
8 x
RGM-84 Harpoon SSM
2 x Mk-32 (12.75"/324mm) triple torpedo tubes for 6 x Mk-46 torpedos
Aviation:
flight deck and hangar for 1 helicopter
Agusta-Bell AB-212 ASW
Systems:
HSA DA08 long-range air surveillance and tracking radar
AWS-6 2D air/surface multi-functional radar
TM-1226 navigation radar
STIR-24 target tracking and illumination radar (missile)
WM-25 fire control system (gun)
Oerlikon Seaguard TMX Dolphin fire control (CIWS)
STACOS tactical command & control system
URN-25 TACAN tactical air navigation system
AN/SLQ-503 RAMSES (Reprogrammable Advanced Multimode Shipborne ECM System)
Raytheon AN/SQS-56 (DE1160) hull mounted sonar
2 x Mk-36 SRBOC chaff and decoy launching system
AN/SLQ-25 NIXIE torpedo decoy system
The Yavuz class are a group of four frigates that were built for the Turkish Navy. They were designed in Germany and are part of the MEKO family of modular warships; in this case the MEKO 200 design. Two ships were built in Germany and two in Turkey with German assistance. They are similar in design to the larger Barbaros-class frigates of the Turkish Navy, which are improved versions of the Yavuz-class frigate.
The Turkish Navy has an ongoing procurement project for an Electronic Warfare Suite. The intent is to locally produced the ECM, ECCM systems, active decoys, LWRs, IRST and the necessary user interface systems.
An order for ships was signed by the Turkish government in April 1983 for two MEKO frigates to be built in Germany and two to be built in Turkey.
images

for more images go to the individual ship-site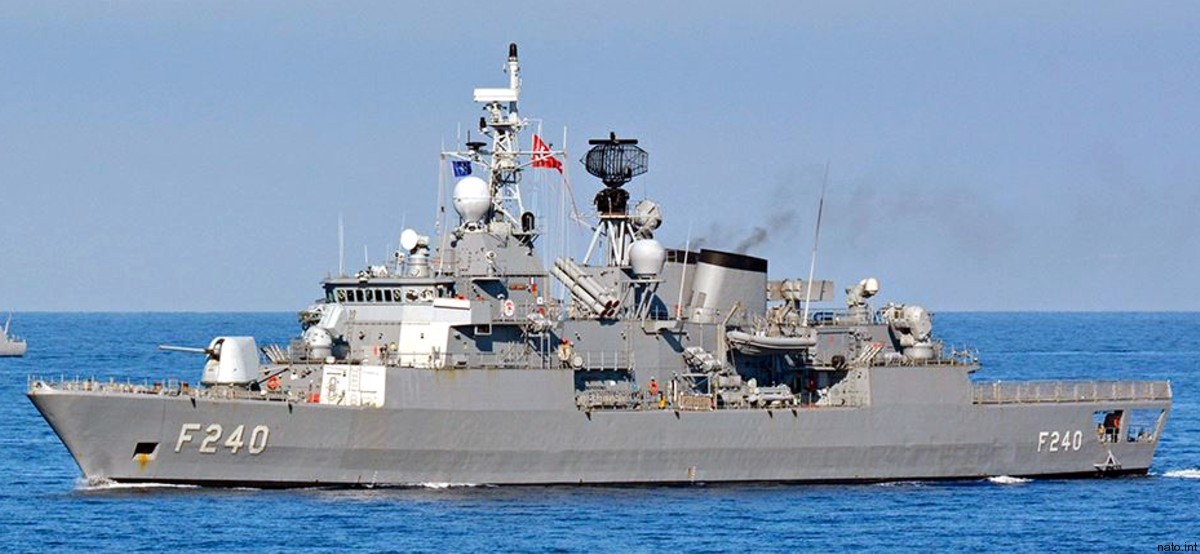 F 240 TCG Yavuz
F 241 TCG Turgutreis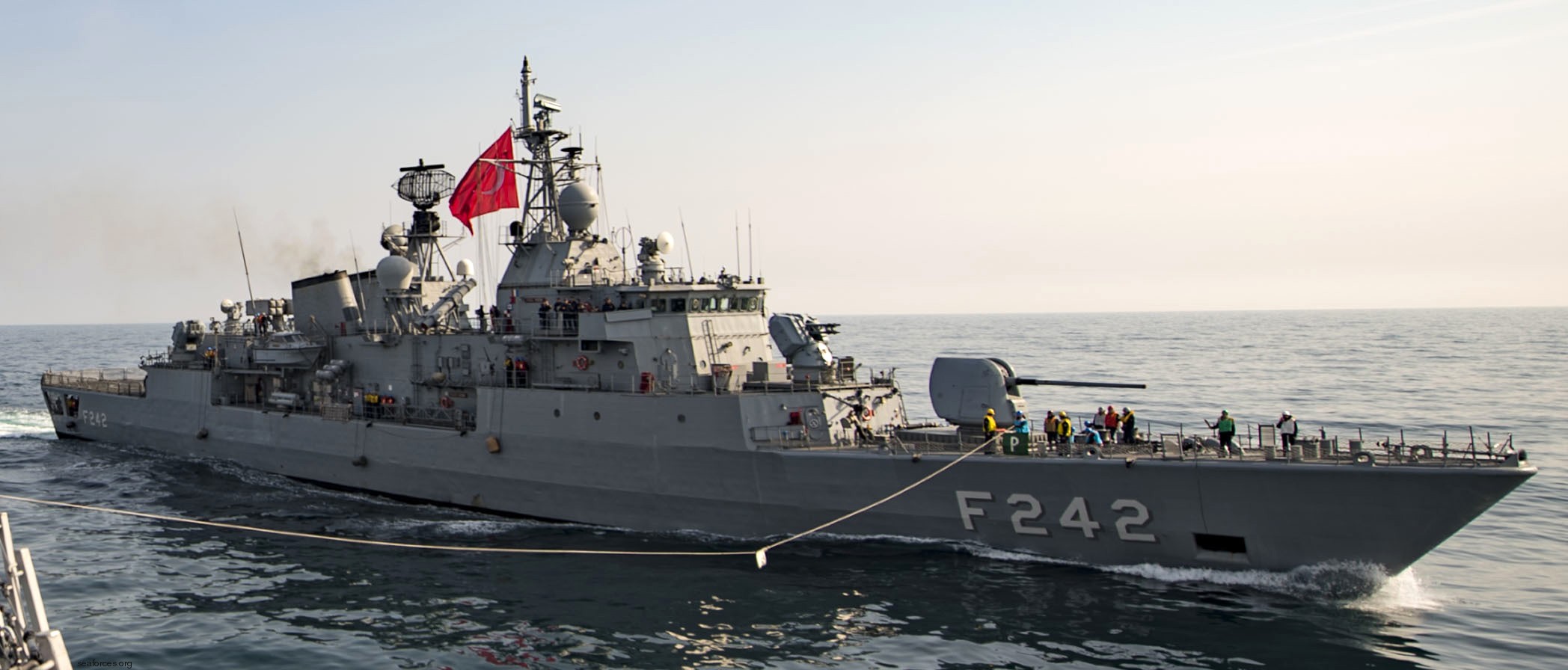 F 242 TCG Fatih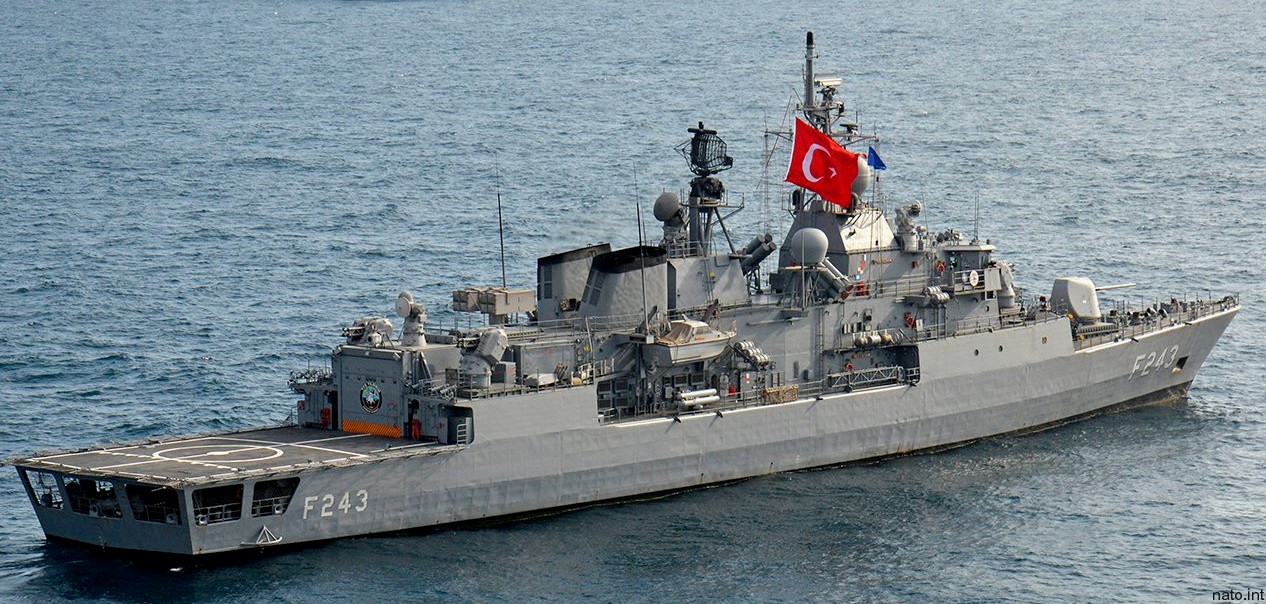 F 243 TCG Yildirim
ARMAMENT + DETAILS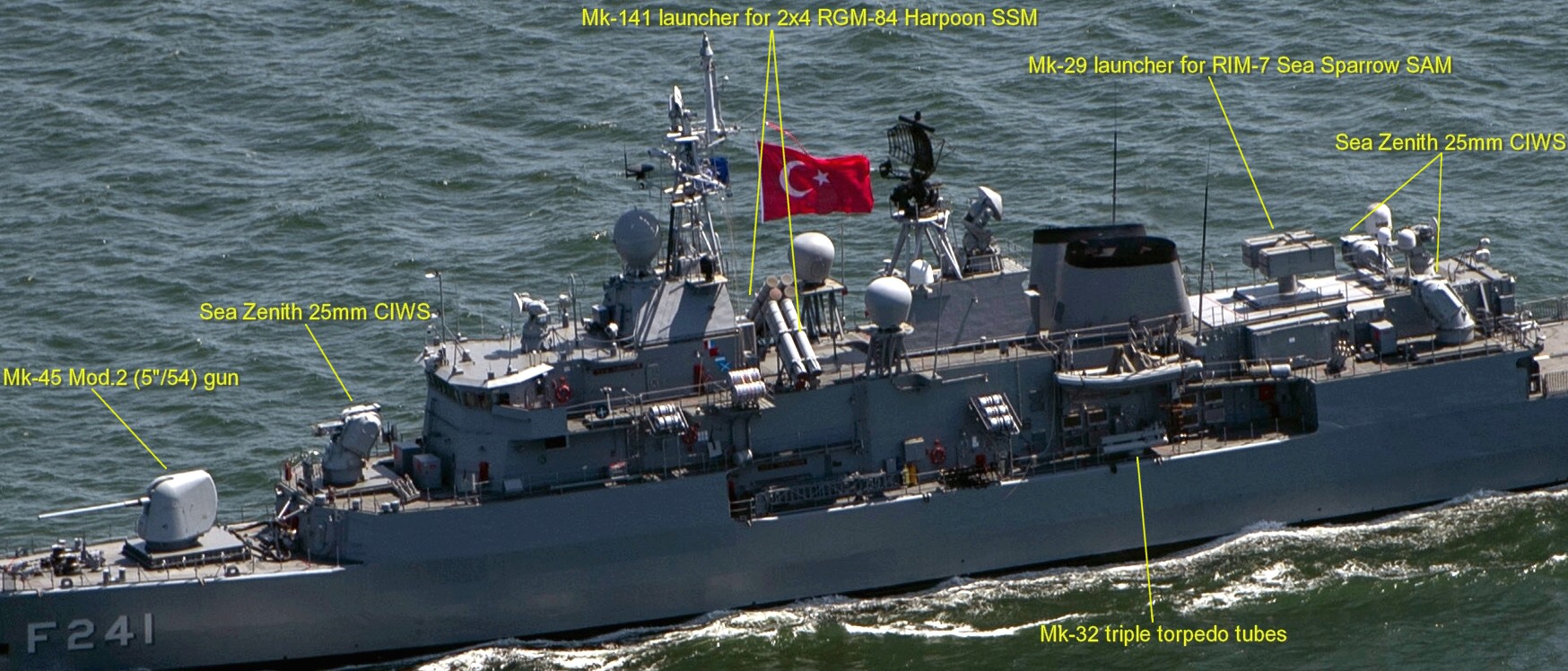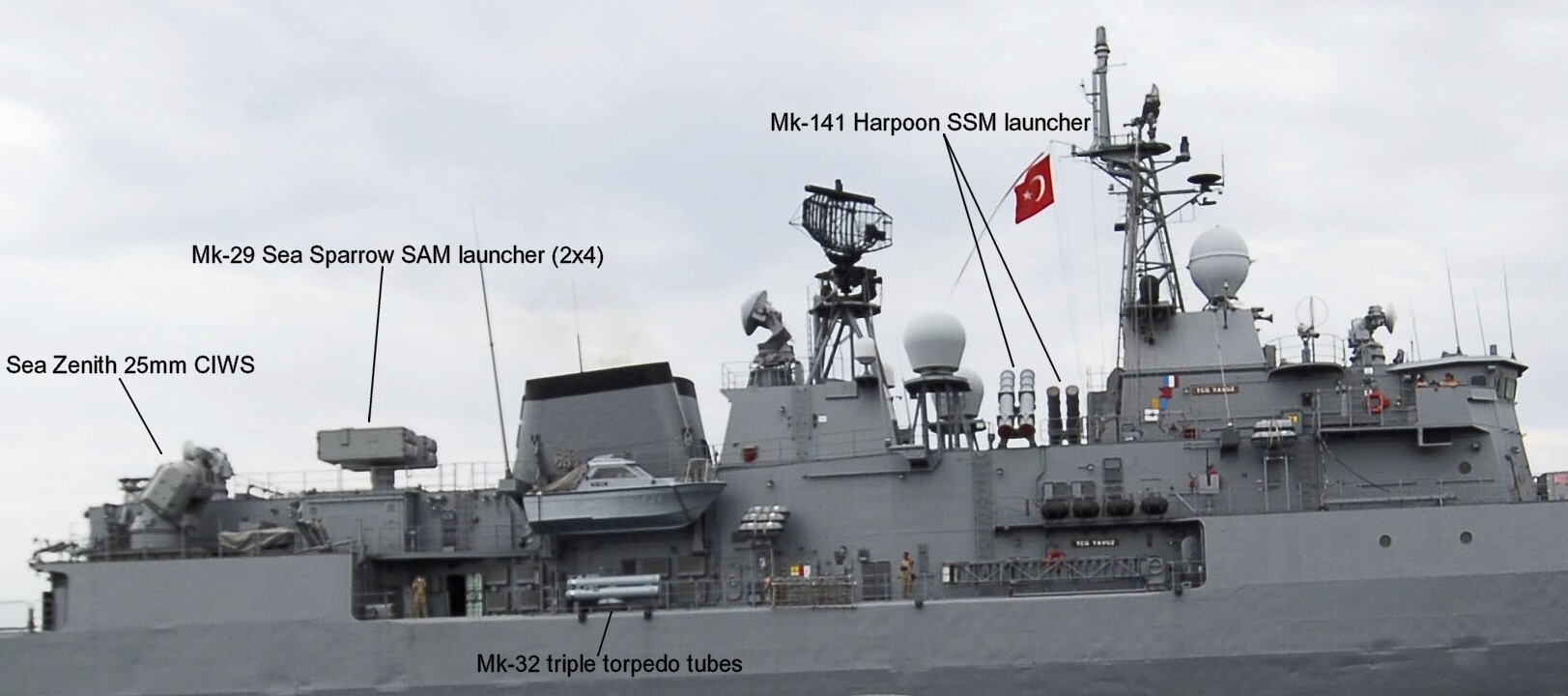 Mk-45 Mod.2 main gun (5-inches / 54-caliber) - forward Oerlikon Contraves Sea Zenith 25mm close-in weapon system (CIWS)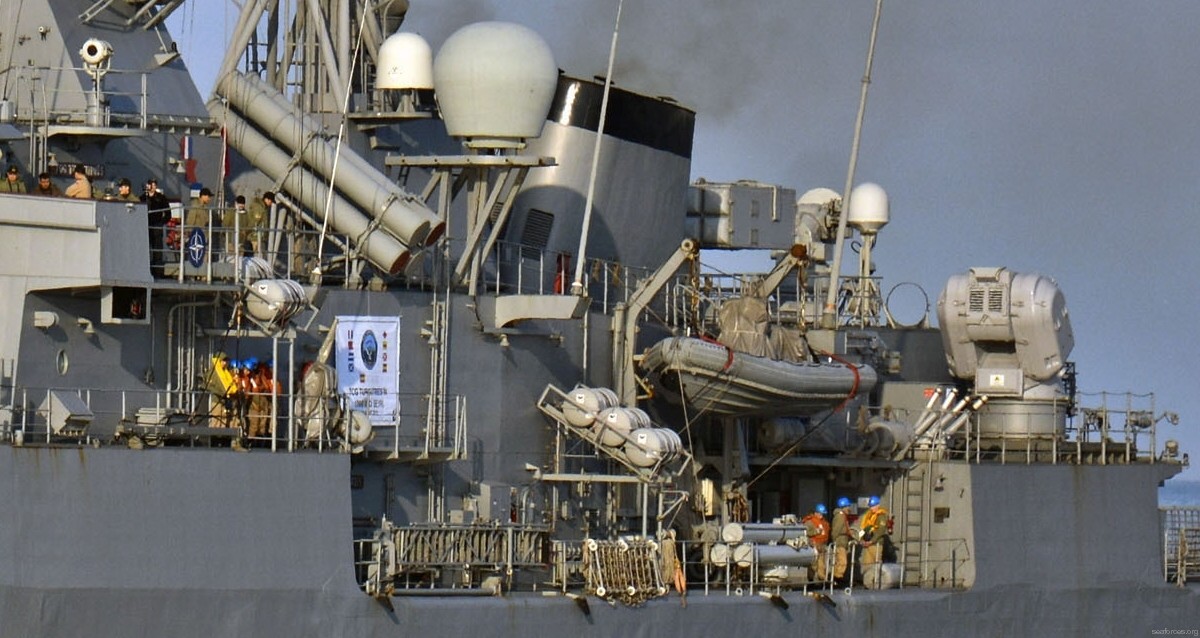 Mk-141 tube launcher for 2x4 RGM-84 Harpoon SSM - Mk-32 triple torpedo tubes
radar and antenna arrangement
2 x Oerlikon Contraves Sea Zenith 25mm CIWS, aft - Mk-29 box launcher for 2x4 RIM-7 Sea Sparrow SAM missiles - fire control radars (CIWS and SAM)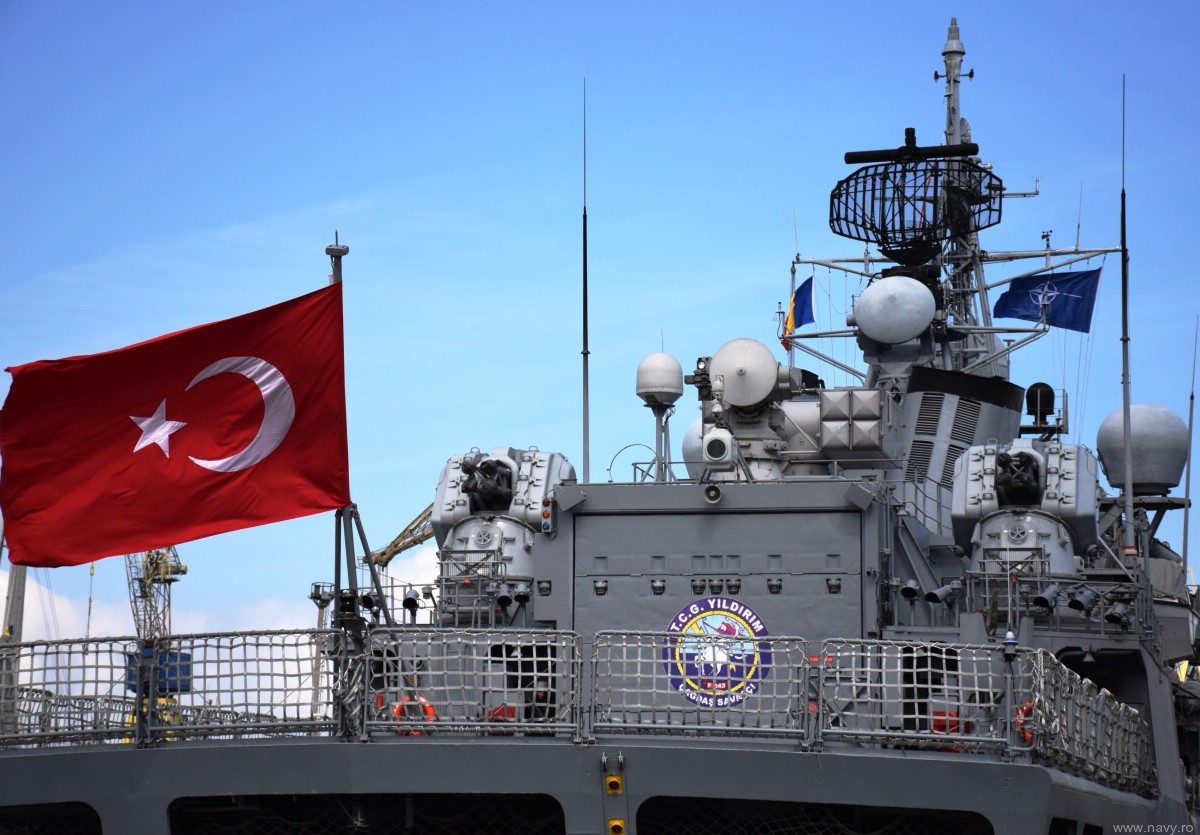 2 x Oerlikon Contraves Sea Zenith 25mm CIWS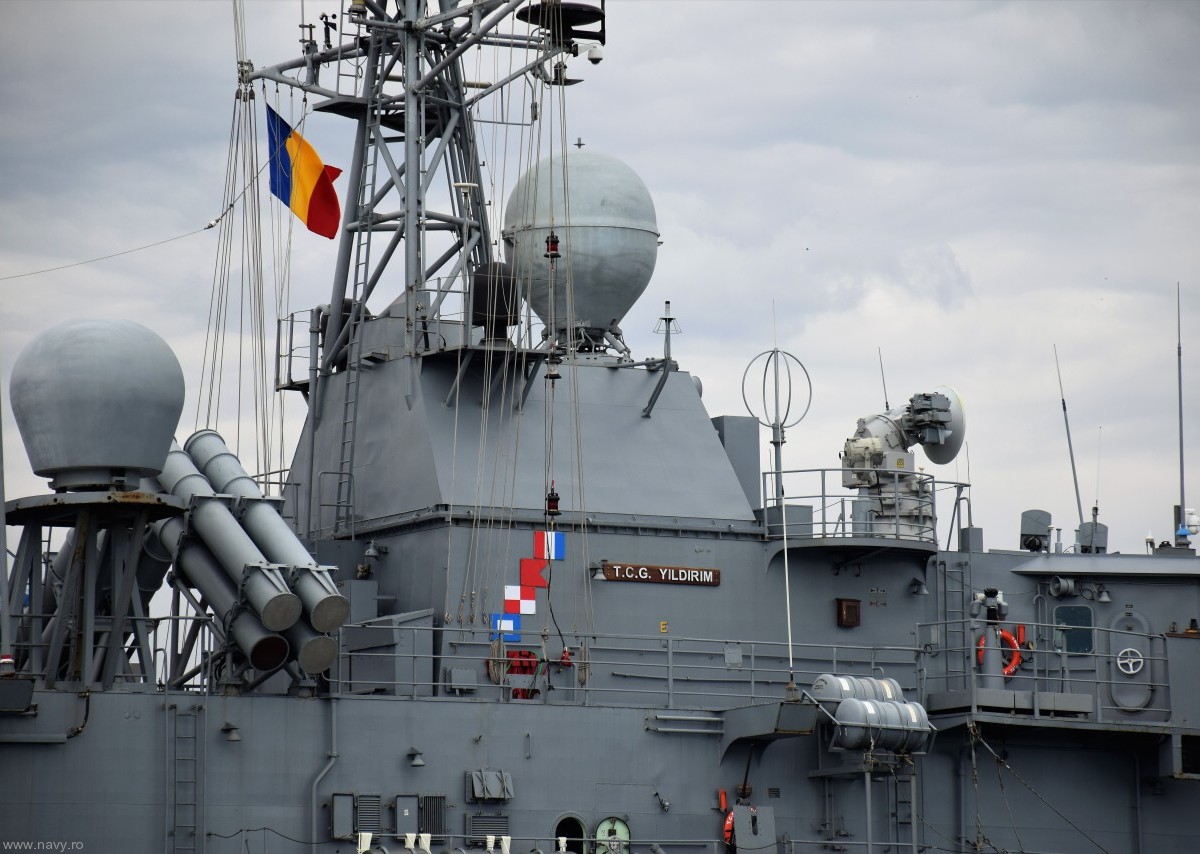 Mk-141 tube launcher for 2x4 RGM-84 Harpoon SSM missiles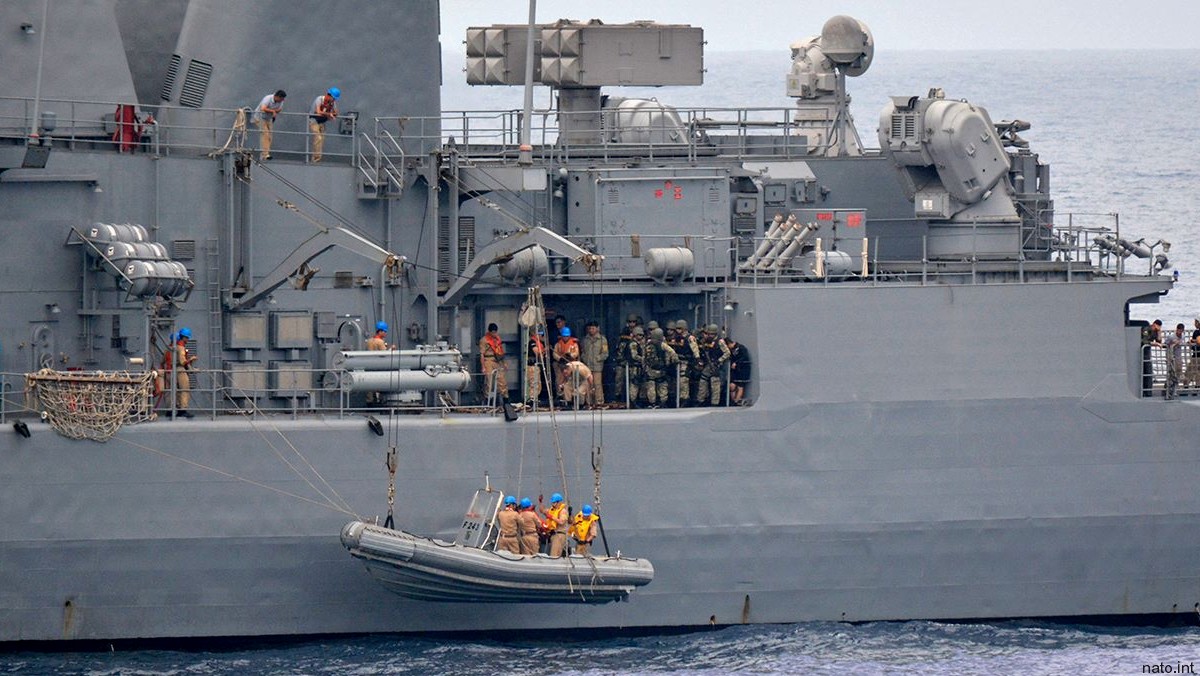 Mk-32 triple torpedo tubes - Mk-29 box launcher for 2x4 RIM-7 Sea Sparrow SAM missiles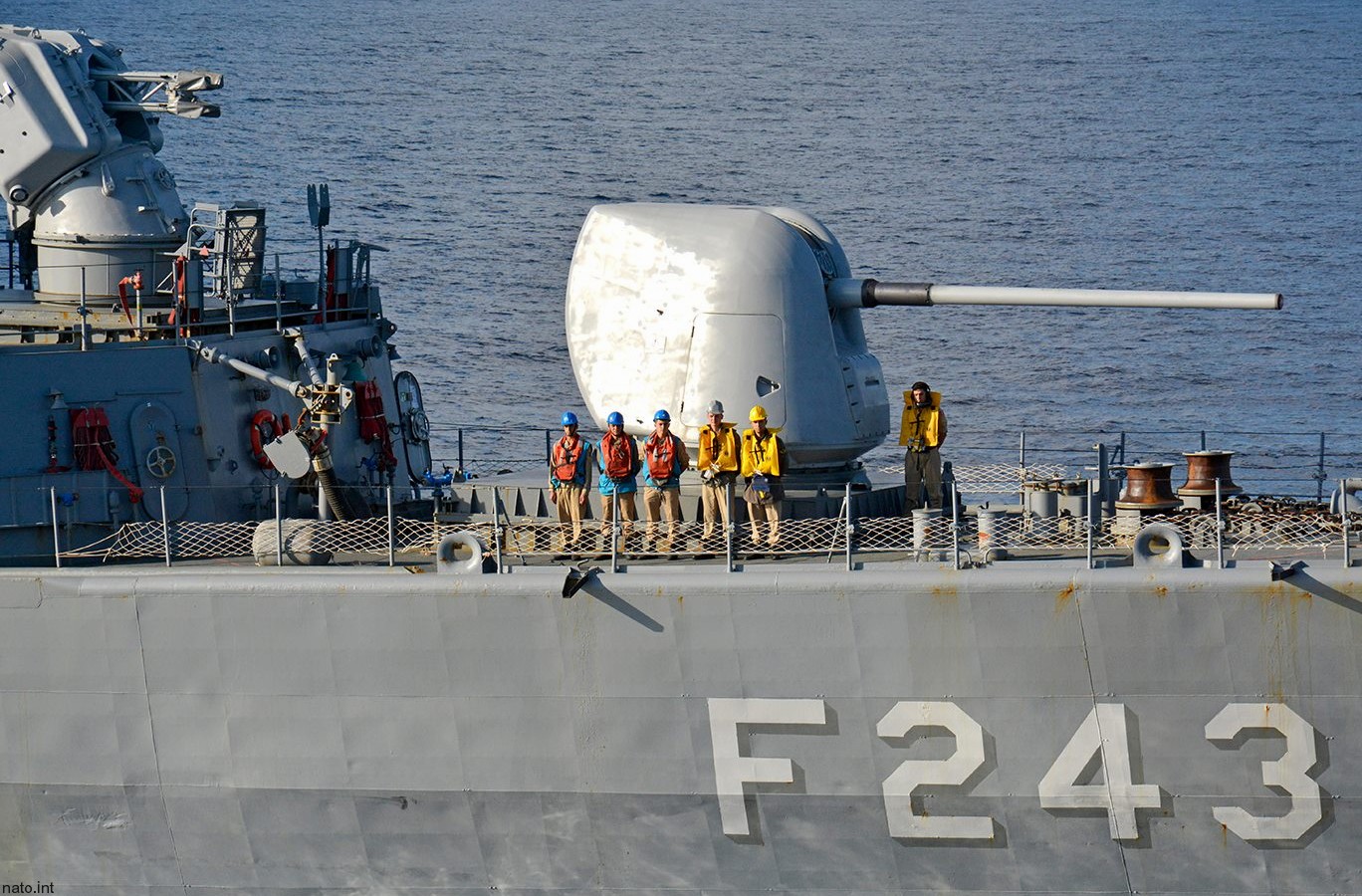 Mk-45 Mod.2 main gun (5-inches / 54-caliber)

<![if !supportEmptyParas]> <![endif]>
|
seaforces.org
|
Turkish Navy start page
|