HOME | US Navy - ships | US Navy - air units | USMC - air units | International Navies | Weapon Systems | Special Reports
Royal Swedish Navy - Svenska Marinen
Stockholm class Corvette / Patrol Vessel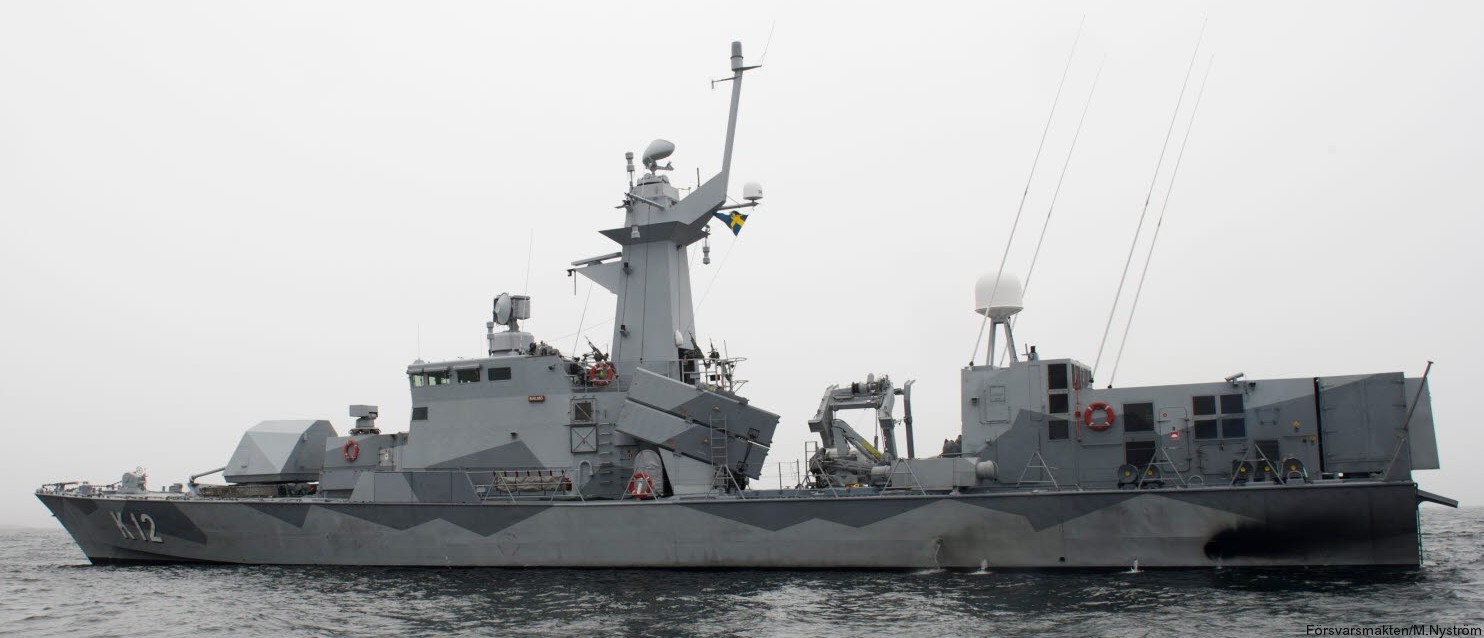 08/22
Units:
K11 / P11
HSwMS Stockholm
K12 / P12
HSwMS Malmö
Specifications:
Builder:
Karlskronavarvet AB (later Kockums), Karlskrona, Blekinge County, Sweden





Displacement:

380 tons
Length: 50 m (164 feet 1 inch)
Beam: 7.5 m (24 ft 7 in)
Draft: 2.6 m (8 ft 6 in)
Speed: 30 knots (56 km/h)
Range: ?
Complement: 35

Propulsion:
Combined Diesel and Gas (CODAG)
2 x MTU 16V 396 TB93 diesel engines (1920 kW / 25700 hp, each)
1 x Allied Signal/Allison Gas Turbine (4715 kW / 6323 hp)
2 shafts / 2 propellers

Armament (as built):
1 x Bofors 57/L70 Mk.2 gun
1 x Bofors 40mm gun
2 x

533mm Torpedo Tubes

for

Type 613 Torpedo


up to 8 x RBS 15 Mk.2 anti-ship missiles (SSM)

Armament (current):
1 x Bofors Mk.2 57mm DP gun
4 x

400mm torpedo launchers

for Torped 45 lightweight torpedoes
up to 8 x RBS 15 Mk.2 anti-ship missiles (SSM)
mines + depth charges

Systems:
Sea Giraffe 50HC air/surface search radar
9LV 300 fire control radar (missile)
90LV 100 optronic
Simrad SS 304 Spira hull-mounted sonar (HMS)
Salmon TSM 2642 variable-depth sonar (VDS)
Rheinmetall TKWA/MASS (Multi Ammunition Softkill System)

Aviation:
none

Ships:
K11 / P11 HSwMS Stockholm
Laid down:
August 1, 1982
Launched: August 22, 1984
Commissioned: February 22, 1985
IN SERVICE
Homeport: Karlskrona Naval Base, Blekinge, Sweden

Namesake:
Stockholm

... is the capital and largest city of Sweden as well as the largest urban area in Scandinavia.
Approximately 980,000 people live in the municipality, with 1.6 million in the urban area, and 2.4 million in the metropolitan area.
The city stretches across fourteen islands where Lake Mälaren flows into the Baltic Sea. Outside the city to the east, and along the coast,
is the island chain of the Stockholm archipelago. The area has been settled since the Stone Age, in the 6th millennium BC,
and was founded as a city in 1252 by Swedish statesman Birger Jarl. It is also the county seat of Stockholm County.

K12 / P12 HSwMS Malmö

Laid down: March 14, 1983
Launched: March 22, 1985
Commissioned: May 10, 1985


IN SERVICE




Homeport:

Karlskrona Naval Base, Blekinge, Sweden

Namesake:

Malmö

... is the largest city in the Swedish county of Scania (Skåne). It is the third-largest city in Sweden, after Stockholm and Gothenburg,
and the sixth-largest city in the Nordic region, with a municipal population of 350,647 in 2021. The Malmö Metropolitan Region is home
to over 700,000 people, and the Greater Copenhagen region, which includes Malmö as well as Copenhagen, is home to 4 million people.

The Stockholm class started as a study for a ship with increased endurance, a project called Ytattack-81 (Surface combatant-81), which was built on the torpedo boats of the Spica and Spica II classes, but with an increased displacement from 230 to 350 tonnes (230 to 340 long tons). The engine was to be a CODAG-concept, two diesels and one gas turbine. However, the class looked to become just another desktop project.

In the early 1980s a series of submarine incidents occurred within Swedish territorial waters, the most famous of which was U 137 which ran aground outside Karlskrona in 1981. These incidents showed that the Swedish Navy was seriously lacking in its anti-submarine (ASW) capacity. Specifically, it needed new hulls designed to anti-submarine warfare, and it needed them fast. The decision was to use the Ytattack-81 project and modify it for ASW operations, as designing a completely new ship is a time-consuming and costly task. It was given a towed array sonar, ASW torpedoes and the ELMA anti-submarine mortar system. HSwMS Stockholm was launched on 22 August 1984 closely followed by HSwMS Malmö on 23 March 1985, both ships entered service on 1 May 1986.

In the middle of the 1990s the ships started to show their age, mainly because of their high mileage and the latest few years explosive development of electronics. The Stockholm class was a successful design and the ships' basic status was good despite a hard life so the Swedish Defence Administration decided to give the ships a second life. Malmö was the first to be modernised in 1999 with Stockholm following in 2000. The modernisation included new engines, combat control systems, fire control systems, SIGINT and navigational systems. The ships both went through extensive modification of the mast, hull and superstructure to reduce their radar cross-section. Much of the modification was also made with low maintenance in mind to minimise the need for expensive repairs in the future. The guiding principle for the project was to update as much of the systems as possible to the same level as the Visby-class corvettes. Both ships are back in operational condition now, attached to the 31st Corvette Division of the 3rd Naval Warfare Flotilla.

In early 2009 the Swedish government decided that the two ships in the class was to join the EU-led taskforce outside Somalia, where it would fight piracy. In May 2009 the ships started their first patrol off the Somali coast. On 26 May, Malmö responded to a pirate attack on the Greek ship MV Antonis. The corvette fired warning shots with its 57 mm cannon and arrested seven pirates.

In 2015, Saab was awarded a contract to overhaul the Stockholm-class corvettes and the ships

were redesignated as patrol boat s

. The ships retained most of their weaponry and continue to be stationed at the Karlskrona naval base.
images

P11 HSwMS Stockholm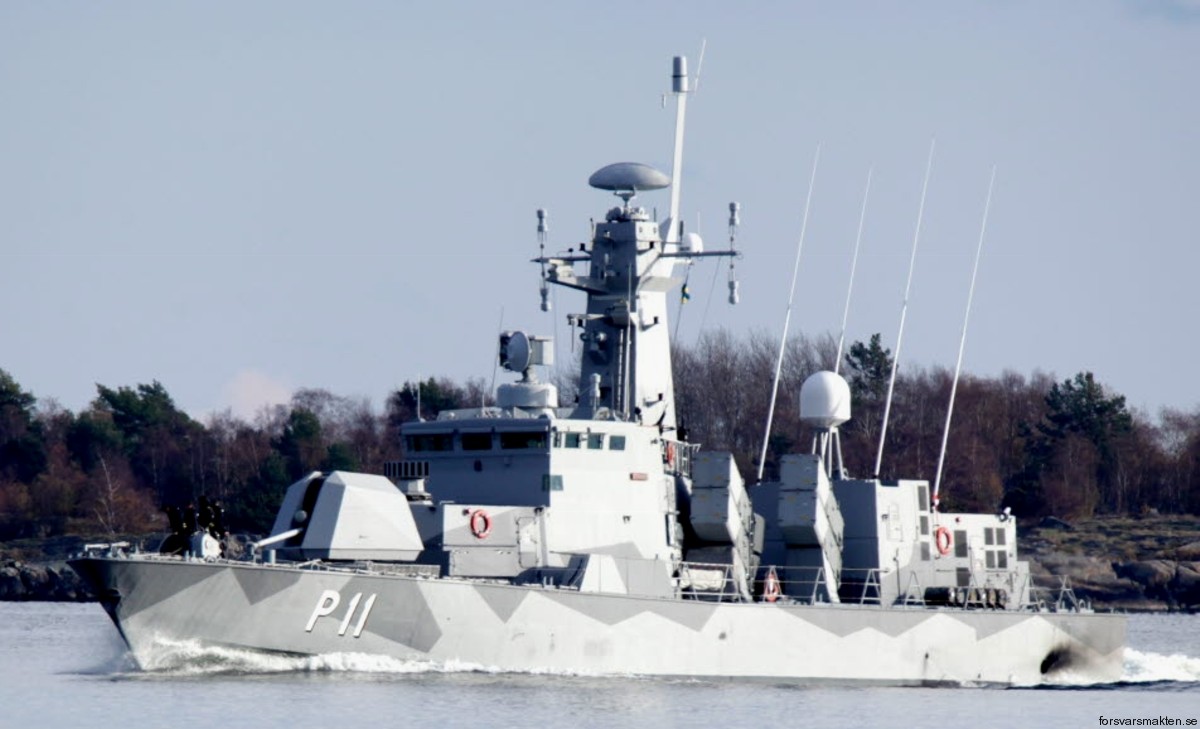 P11 HSwMS Stockholm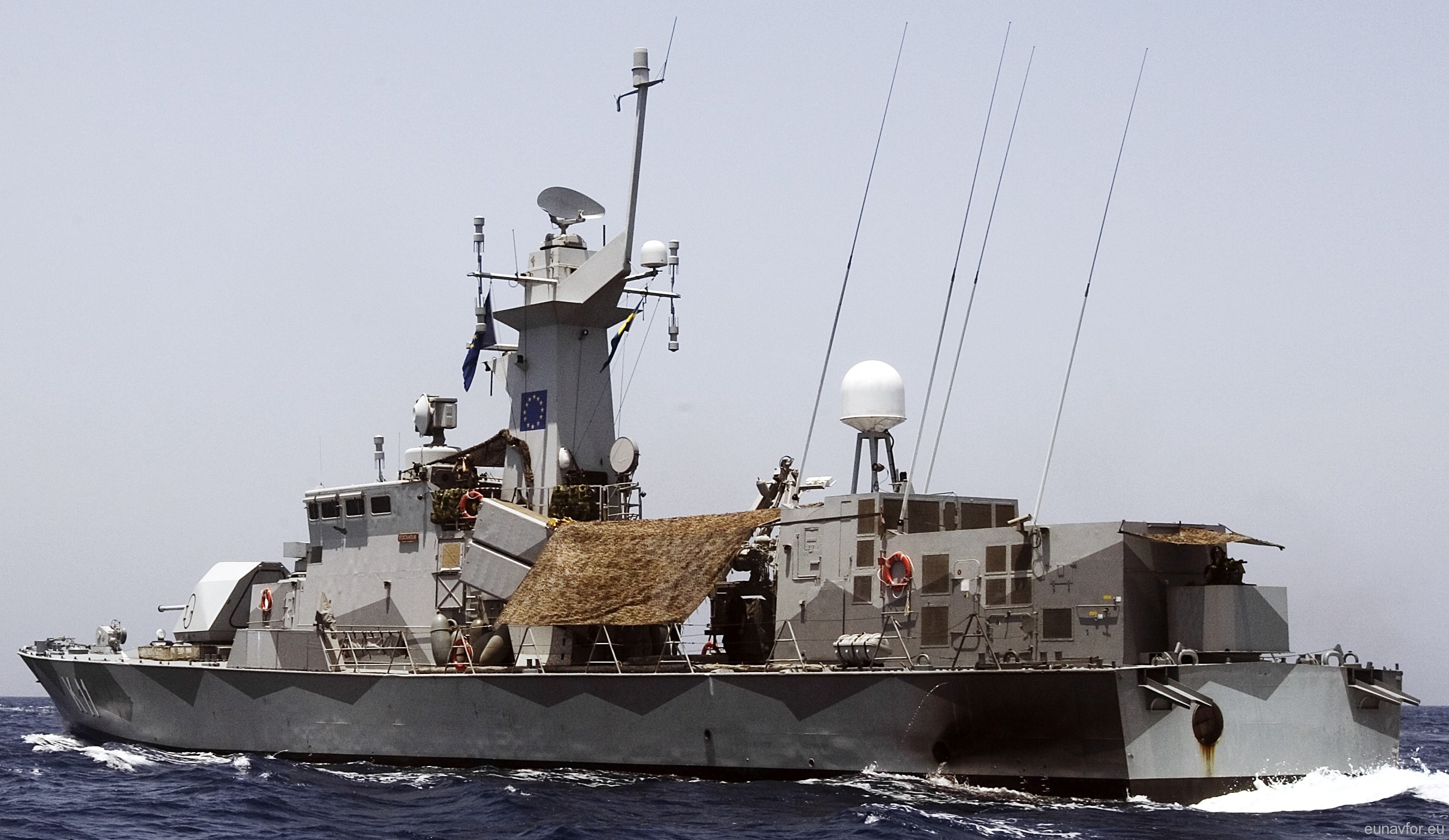 K11 HSwMS Stockholm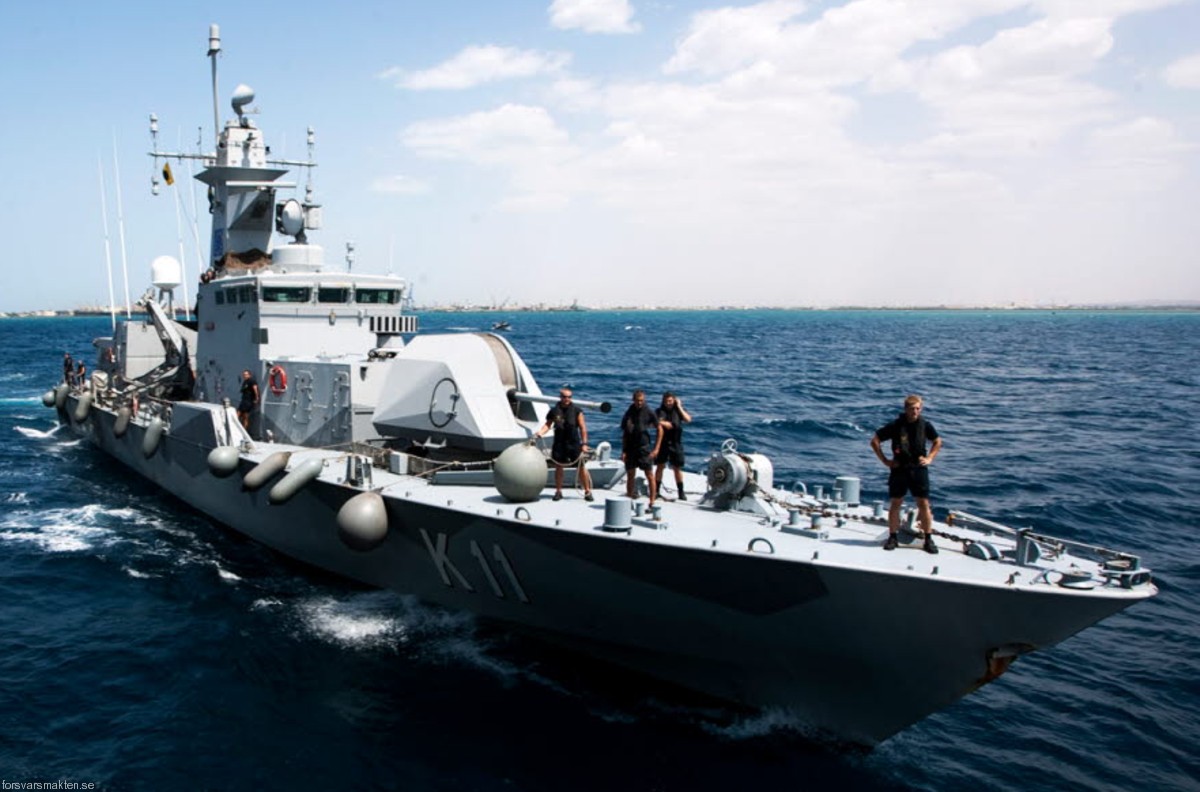 K11 HSwMS Stockholm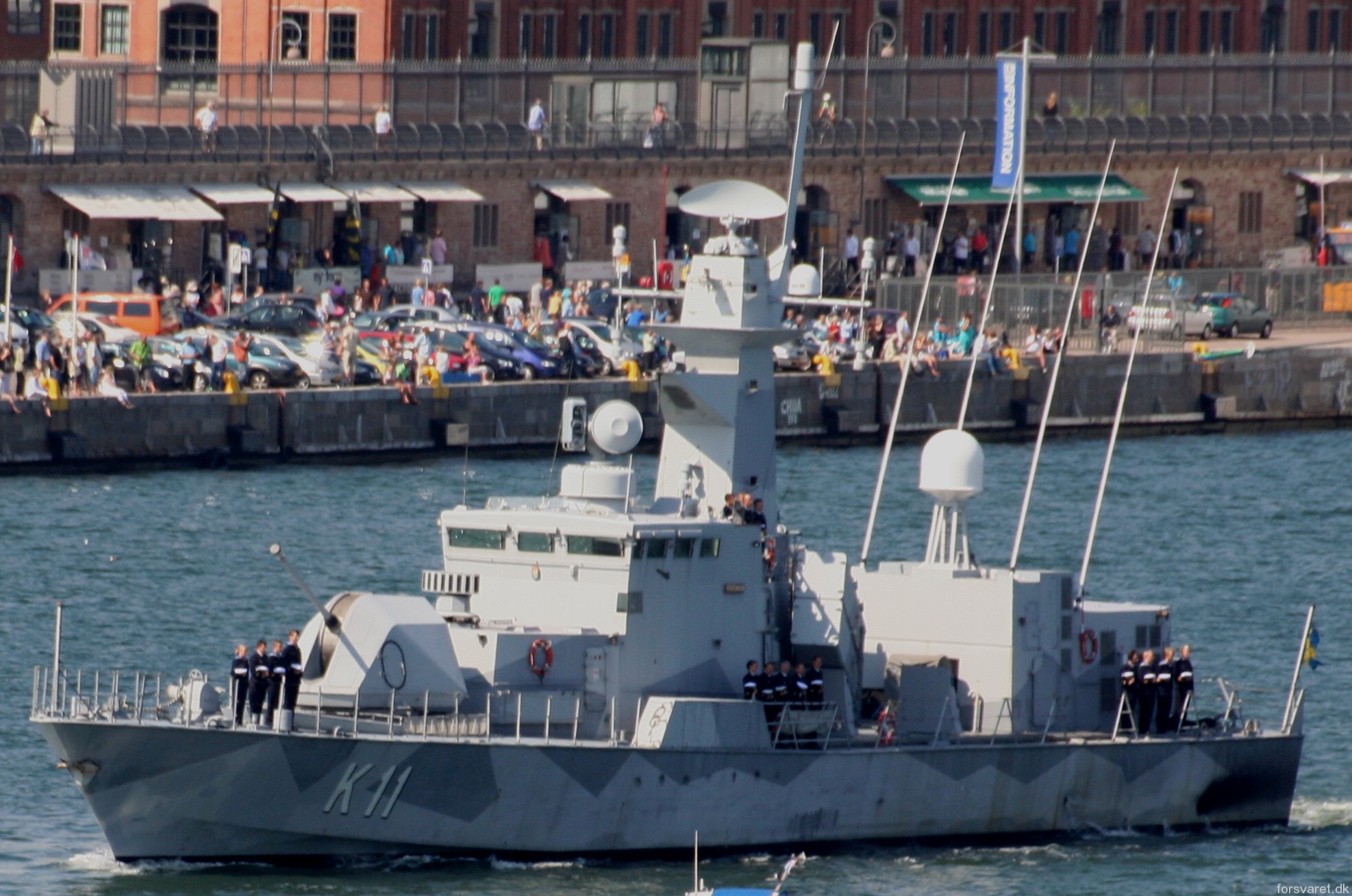 K11 HSwMS Stockholm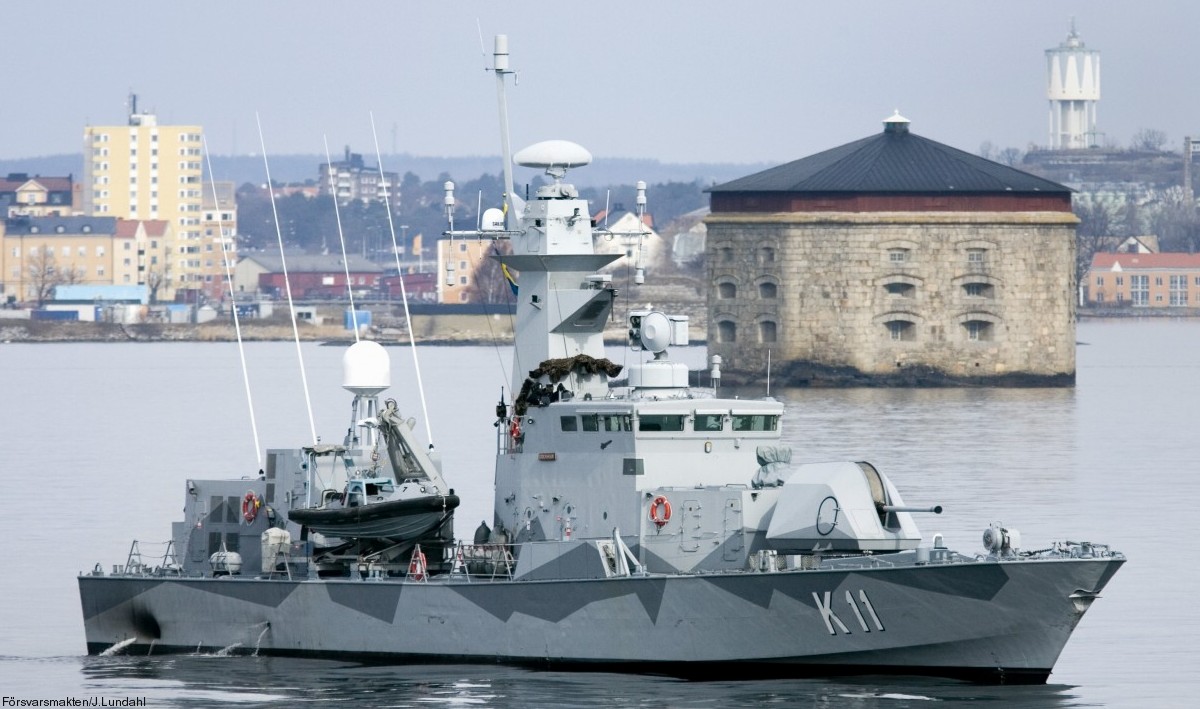 K11 HSwMS Stockholm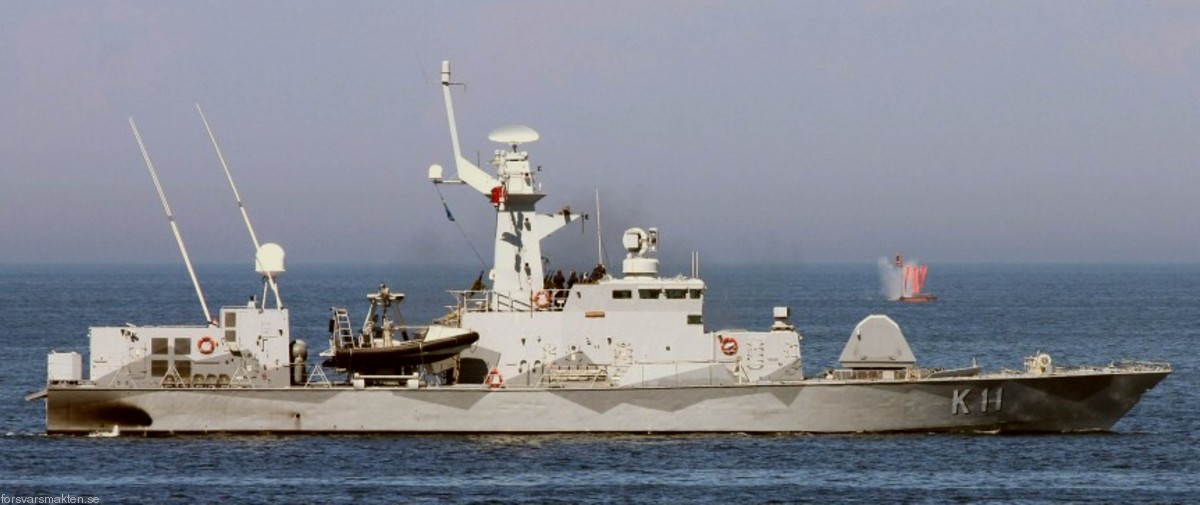 K11 HSwMS Stockholm



K11 HSwMS Stockholm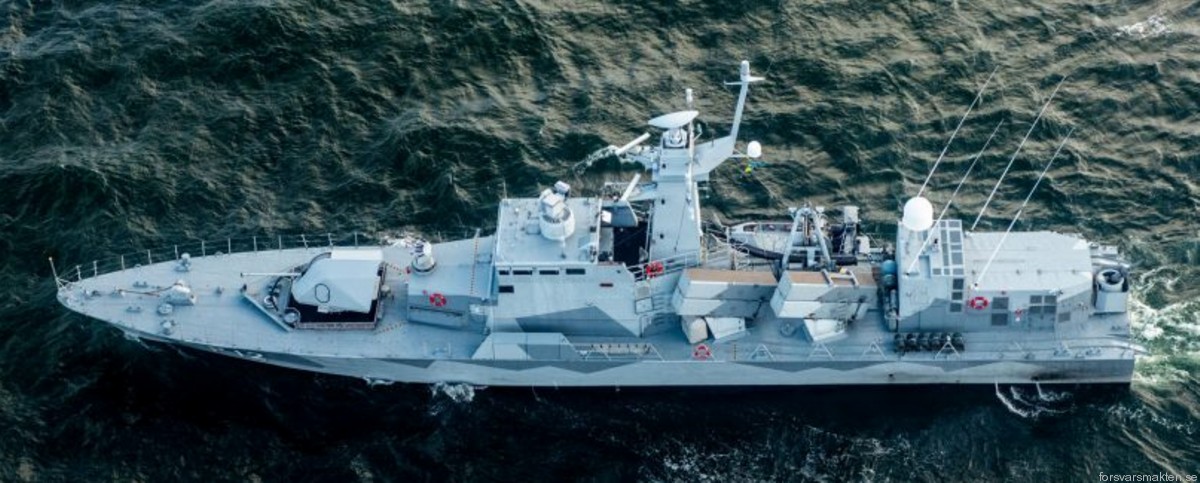 P12 HSwMS Malmö



K12 HSwMS Malmö



K12 HSwMS Malmö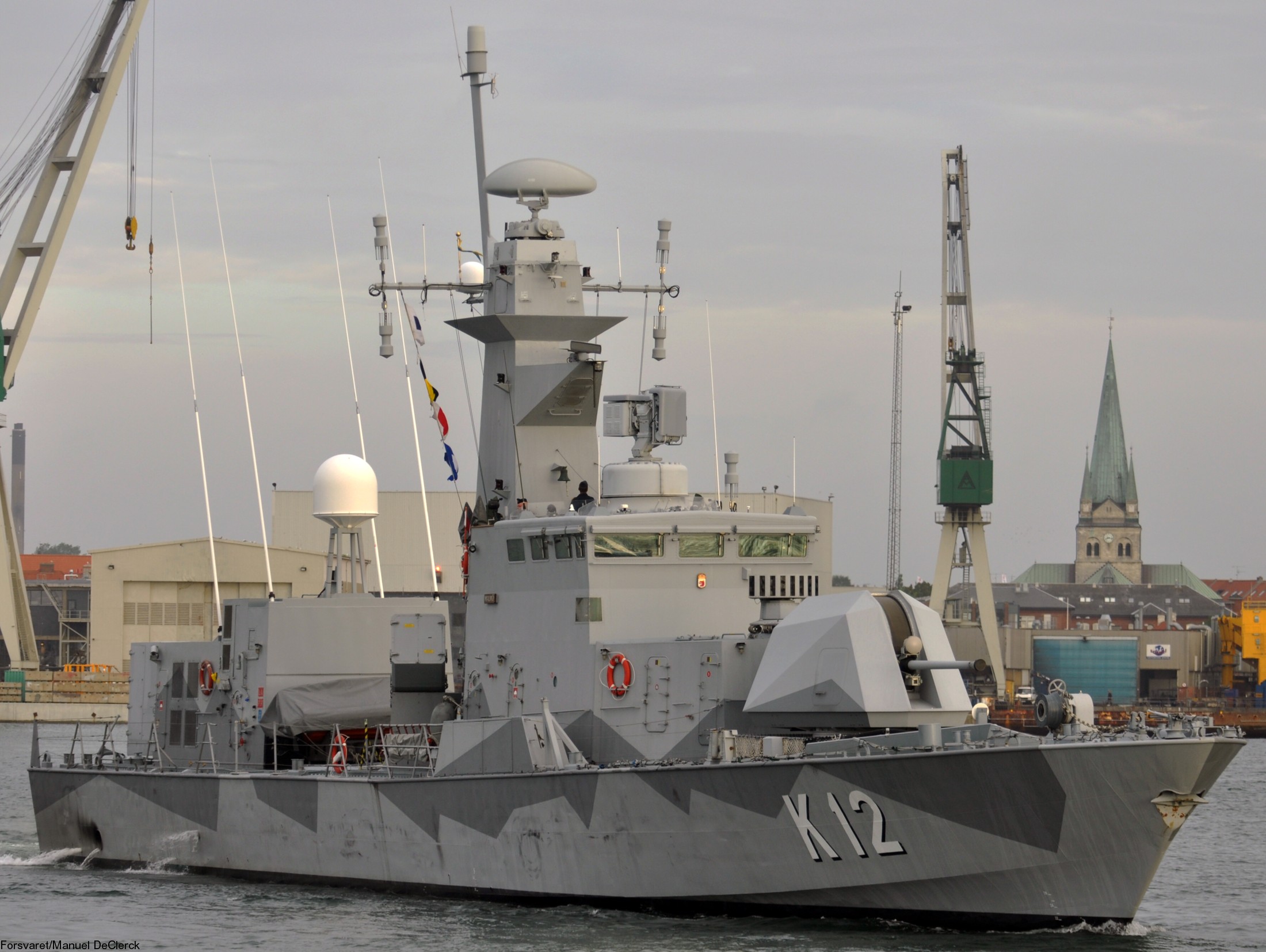 K12 HSwMS Malmö



K12 HSwMS Malmö



K12 HSwMS Malmö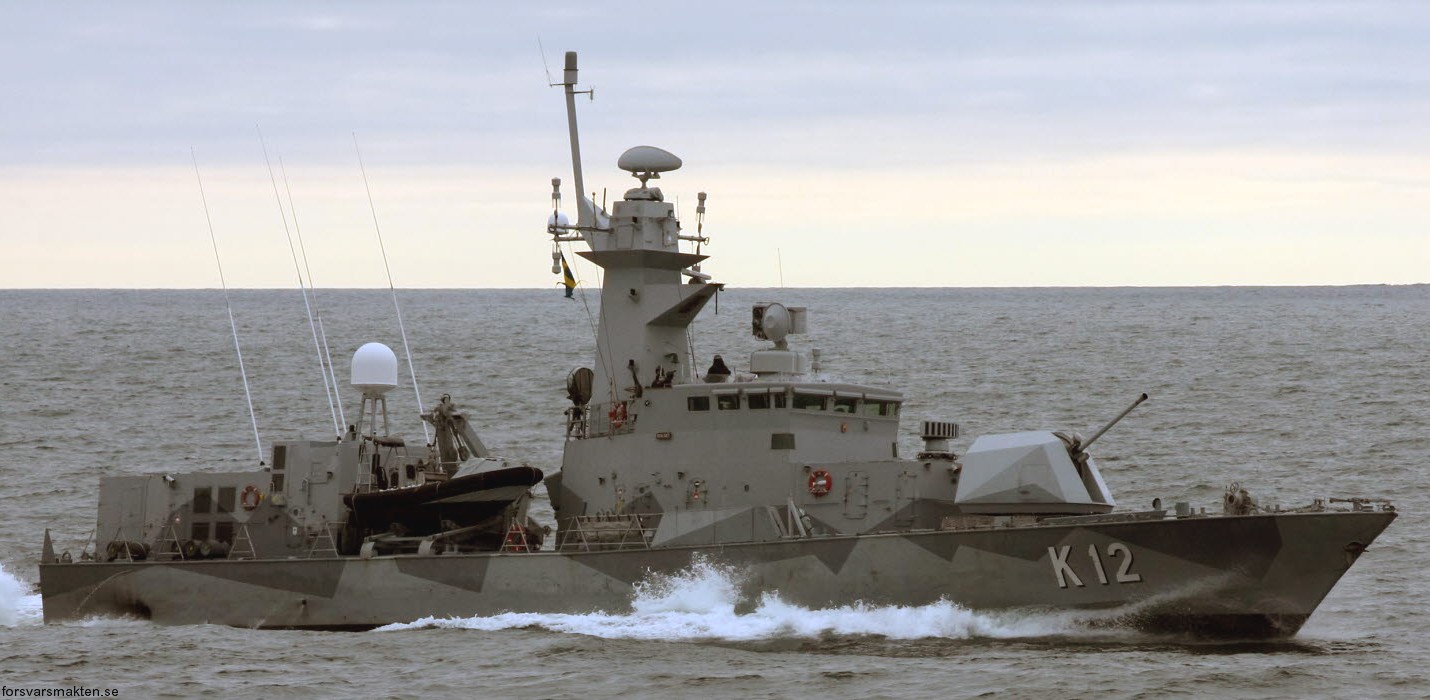 K12 HSwMS Malmö



K12 HSwMS Malmö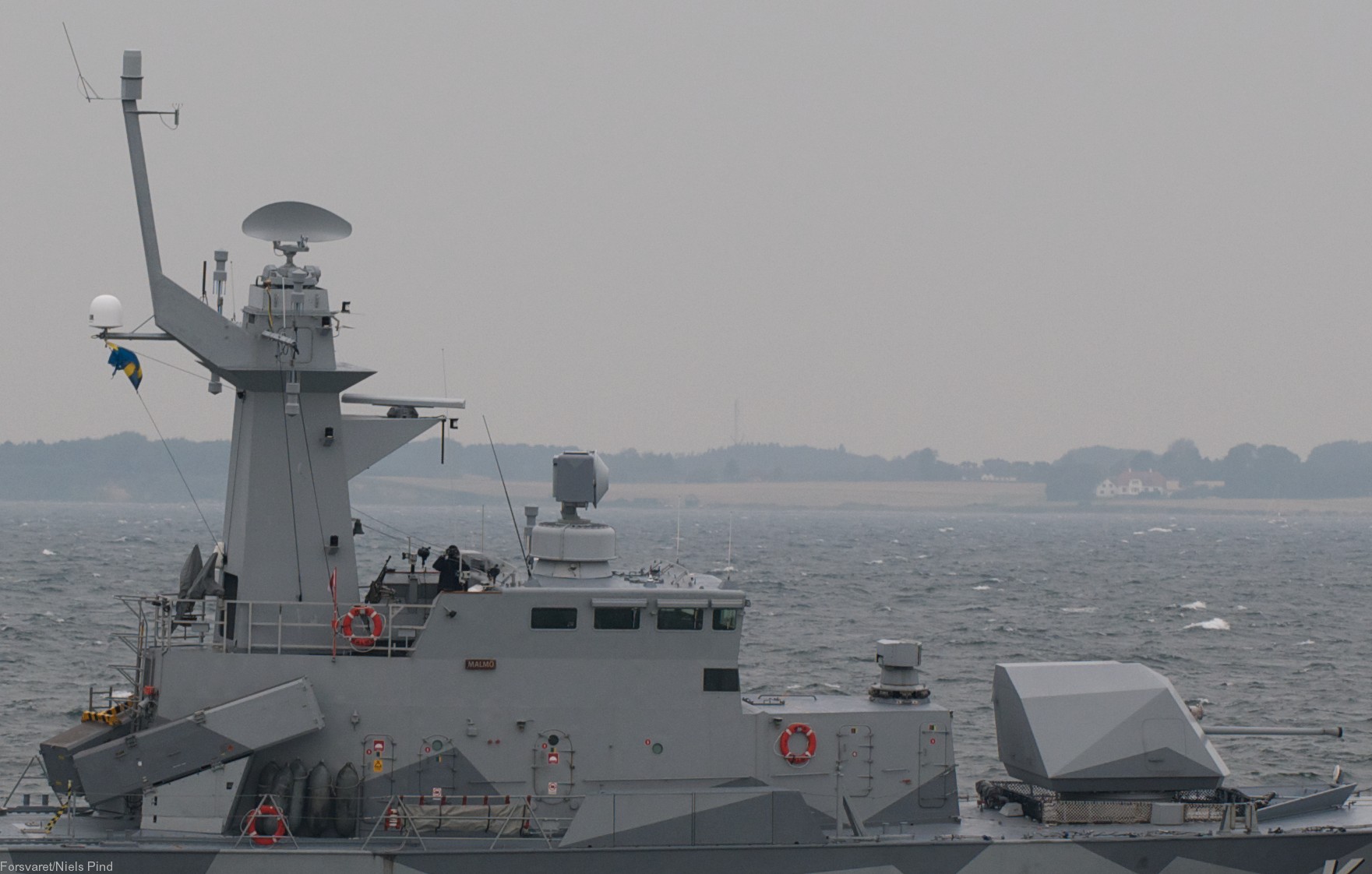 cutout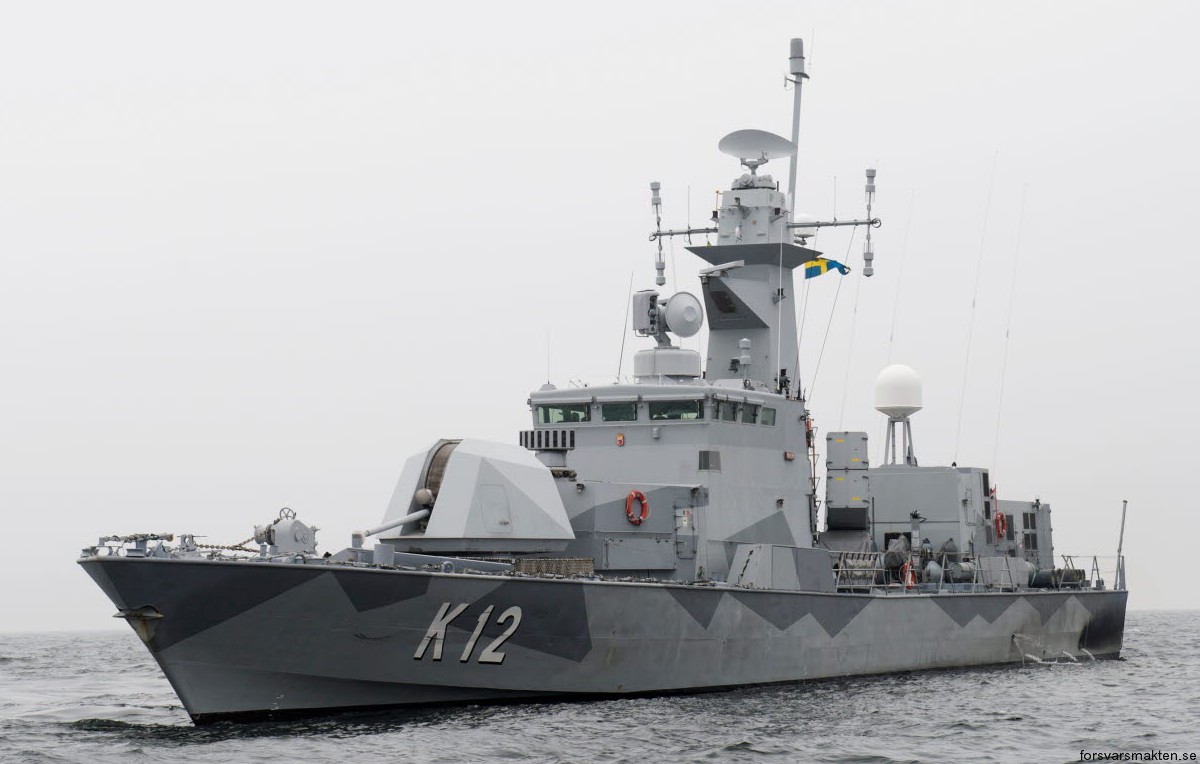 K12 HSwMS Malmö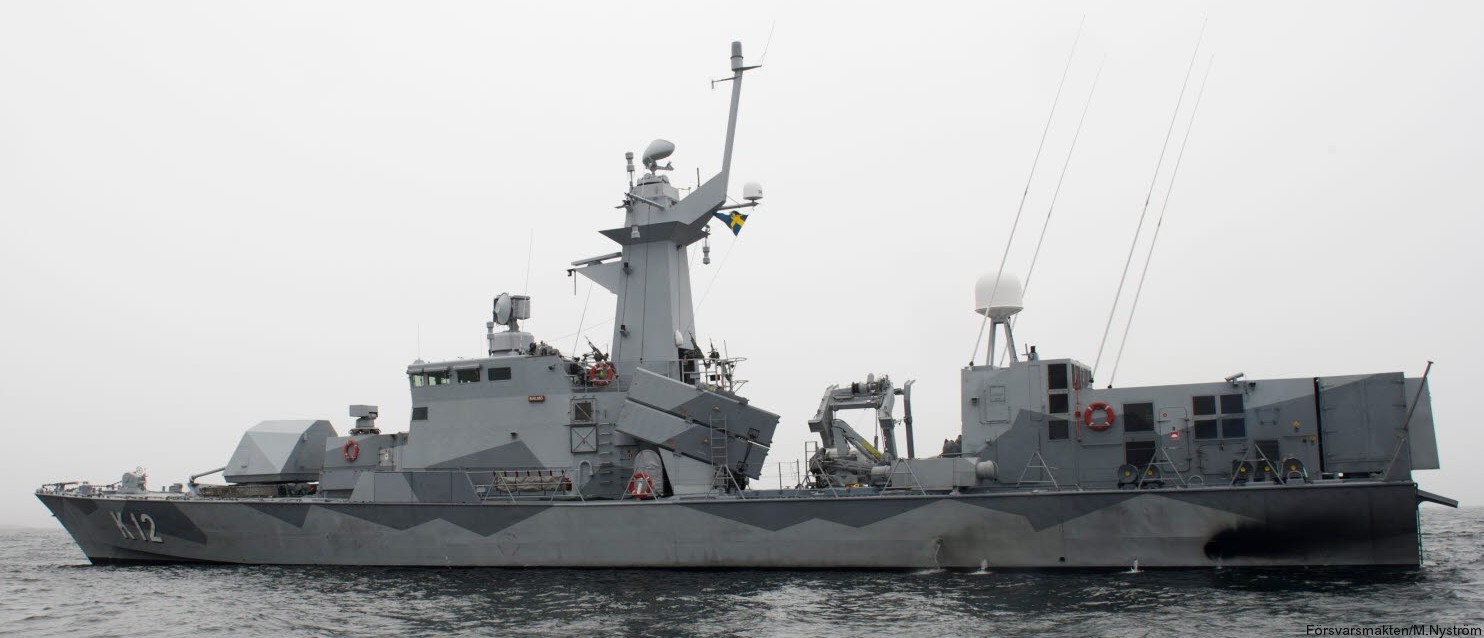 K12 HSwMS Malmö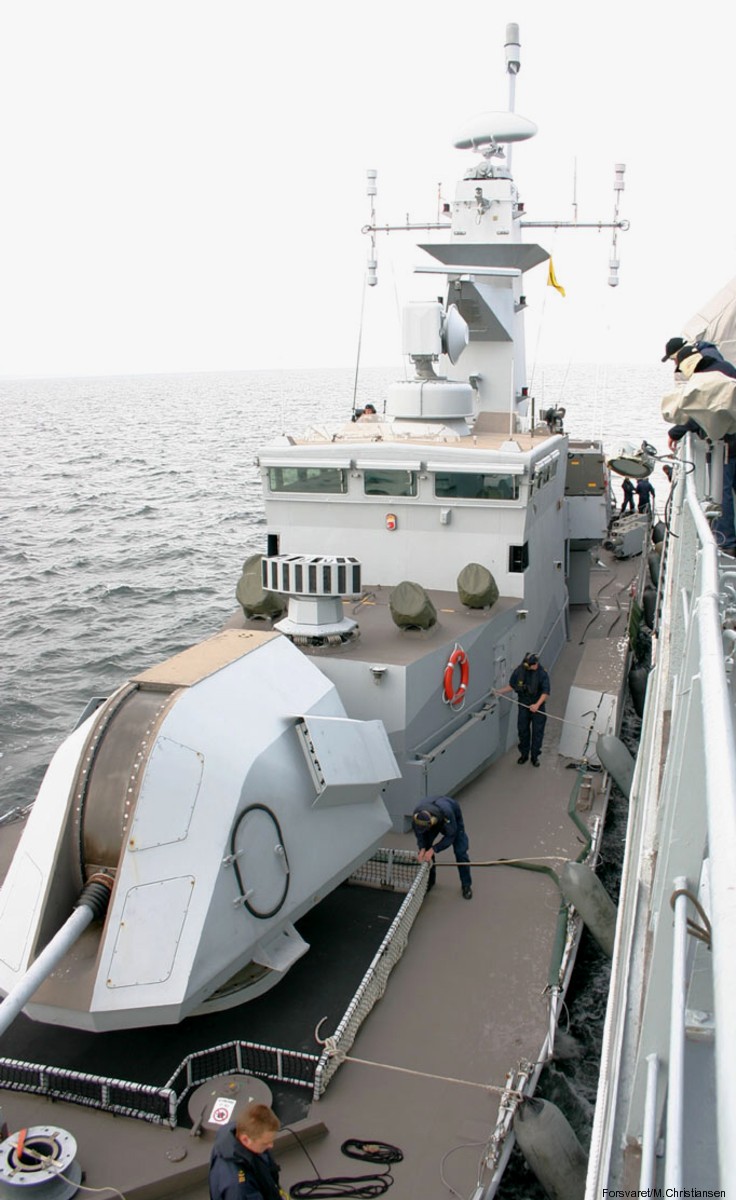 K12 HSwMS Malmö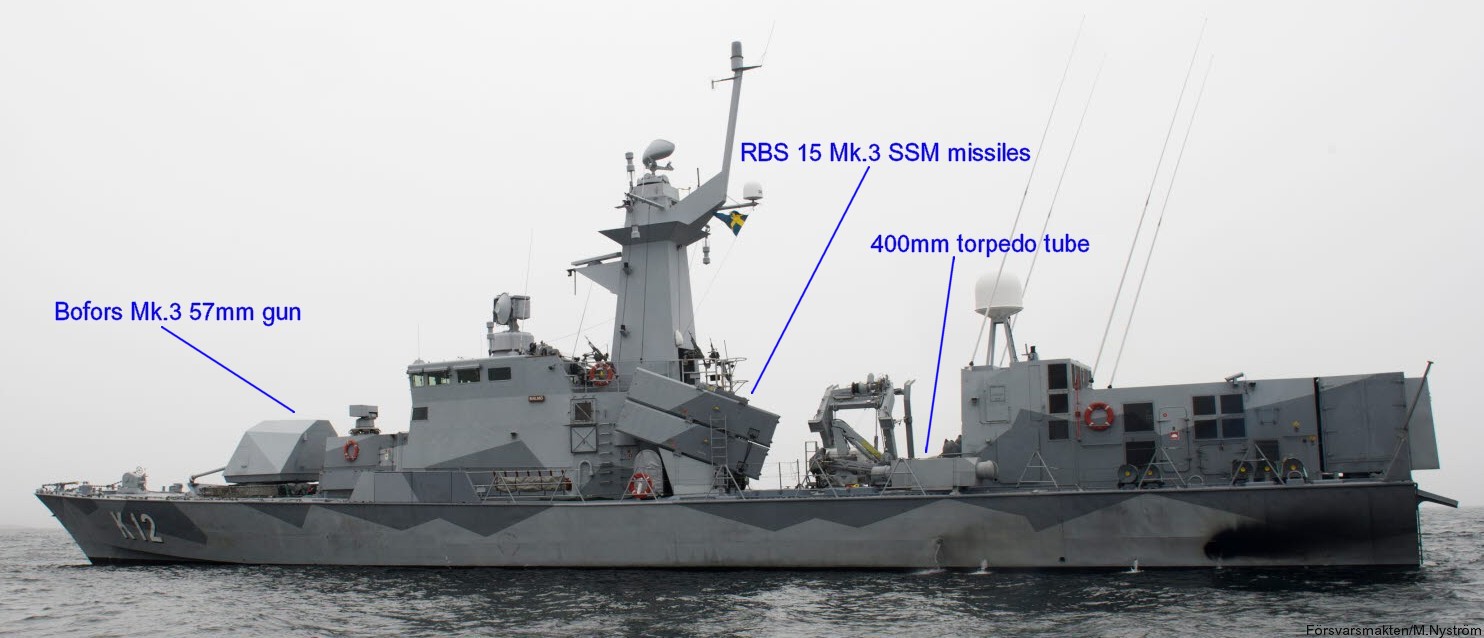 main armament


UNIDENTIFIED UNITS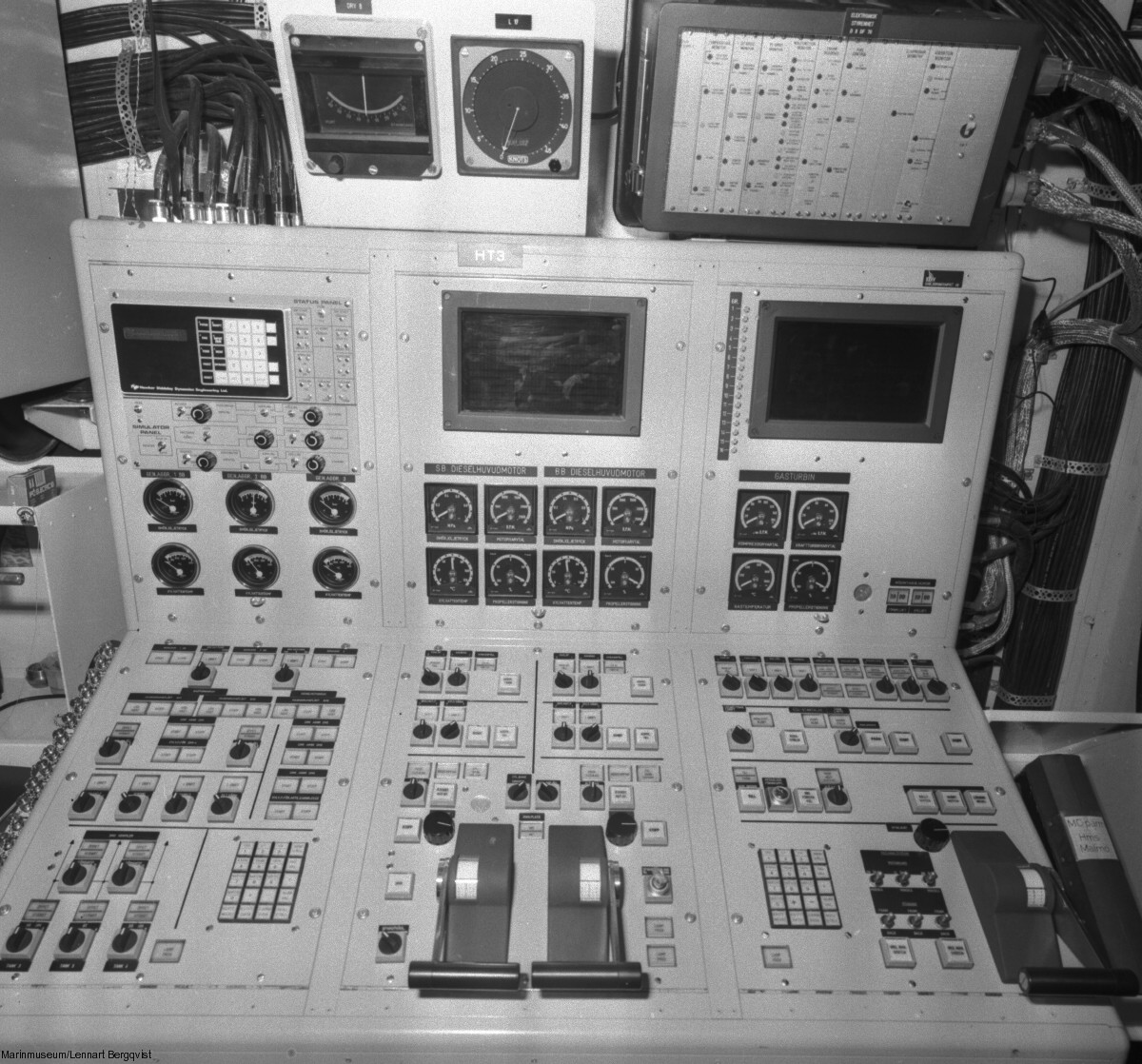 |
seaforces.org
|
Swedish Navy start page
|