HOME | US Navy - ships | US Navy - air units | USMC - air units | International Navies | Weapon Systems | Special Reports
Royal Navy - Nuclear Powered Attack Submarine
S 125 HMS Agincourt
01/23
Type, class: Astute class Attack Submarine - SSN
Builder:

BAE Systems Submarine Solutions, Barrow-in-Furness, Cumbria, U.K.
STATUS:
Awarded: ?
Laid down: May 14, 2018
Launched: ?


Commissioned:

?
UNDER CONSTRUCTION



Homeport:




Motto:

?




Technical Data:

see

INFO > Astute class Attack Submarine
images

sorry, no images at this time

HMS Agincourt (also known as Astute Boat 7) is an Astute-class nuclear-powered fleet submarine under construction for the Royal Navy and the seventh in her class. The boat's name was confirmed in May 2018, having previously held the in-work name of Ajax.

The confirmation for the seventh and final Astute-class boat was given in the Strategic Defence and Security Review 2010, although the order was not placed until 2018.

On 11 December 2012 the British government announced that long-lead items had been ordered for boats 6 and 7.

On 6 March 2018 the Defence Procurement minister Guto Bebb confirmed that the MoD had gained Treasury approval to sign a contract for Astute Boat 7, after a leaked Navy document had suggested it might not be procured as a cost-saving measure. In May 2018 it was reported that construction of Boat Seven had begun. She has been projected as being ready for service between 2024 and 2026 and will be based at Faslane (HMNB Clyde).



source: wikipedia
The Battle of Agincourt

... was an English victory in the Hundred Years' War. It took place on 25 October 1415 (Saint Crispin's Day) near Azincourt, in northern France. The unexpected English victory against the numerically superior French army boosted English morale and prestige, crippled France, and started a new period of English dominance in the war that would last for 14 years until France defeated England in the Siege of Orléans in 1429.

After several decades of relative peace, the English had resumed the war in 1415 amid the failure of negotiations with the French. In the ensuing campaign, many soldiers died from disease, and the English numbers dwindled; they tried to withdraw to English-held Calais but found their path blocked by a considerably larger French army. Despite the numerical disadvantage, the battle ended in an overwhelming victory for the English.

King Henry V of England led his troops into battle and participated in hand-to-hand fighting. King Charles VI of France did not command the French army as he suffered from psychotic illnesses and associated mental incapacity. The French were commanded by Constable Charles d'Albret and various prominent French noblemen of the Armagnac party. This battle is notable for the use of the English longbow in very large numbers, with the English and Welsh archers comprising nearly 80 percent of Henry's army.

The Battle of Agincourt is one of England's most celebrated victories and was one of the most important English triumphs in the Hundred Years' War, along with the Battle of Crécy (1346) and Battle of Poitiers (1356). It forms the backdrop to events in William Shakespeare's play Henry V, written in 1599.
patches + more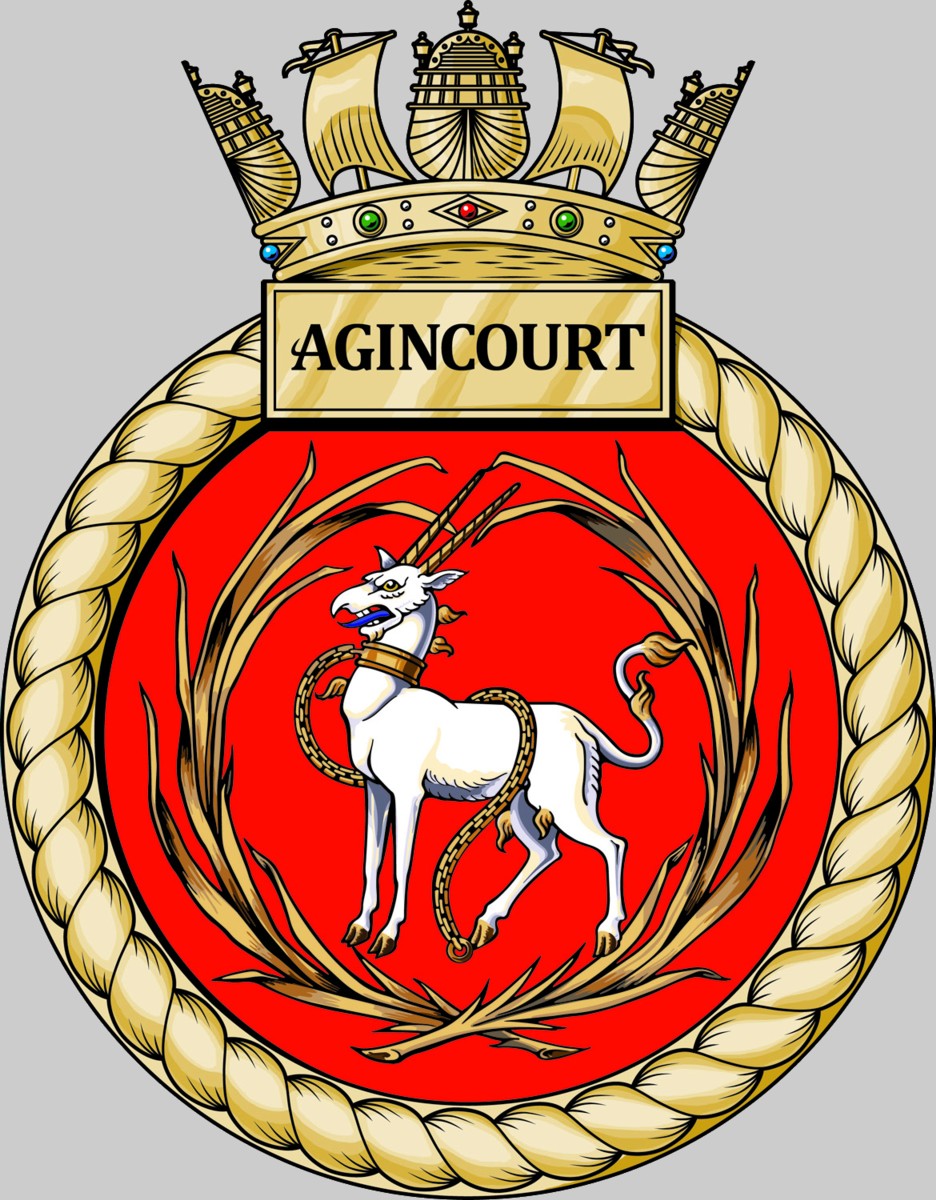 |
seaforces.org
|
Royal Navy start page
|