HOME | US Navy - ships | US Navy - air units | USMC - air units | International Navies | Weapon Systems | Special Reports
Royal Navy - Nuclear Powered Attack Submarine
S 124 HMS Agamemnon
01/23
Type, class: Astute class Attack Submarine - SSN
Builder:

BAE Systems Submarine Solutions, Barrow-in-Furness, Cumbria, U.K.
STATUS:
Awarded: March 2010
Laid down: July 18, 2013
Launched: ?


Commissioned:

?
UNDER CONSTRUCTION



Homeport:




Motto:

?




Technical Data:

see

INFO > Astute class Attack Submarine
images

sorry, no images at this time

HMS Agamemnon is the sixth Astute-class nuclear-powered fleet submarine of the Royal Navy and is currently under construction. She will be the sixth vessel of the Royal Navy to bear the name, after the legendary Greek king Agamemnon.

On 25 March 2010, BAE Systems were given the go-ahead by the government to begin construction on boats 5 and 6 (Anson and Agamemnon), being given a £300 million contract for the "initial build" of boat 5 and "long lead procurement activities" for boat 6. Initial construction work was begun on boat 6 late in 2010 and is ongoing as of 2011. On 15 September 2011 it was announced that boat 5 was to be named Anson; it had previously been stated that boat 5 (as S123) would be Agamemnon and boat 6 Anson, and it is now believed that the Agamemnon name will be transferred to boat 6.

Her keel was laid on 18 July 2013, when the Minister for Defence Equipment, Support and Technology, Philip Dunne, unveiled the "Agamemnon Keel Unit".

Her electric switchboards were powered up for the first time on 1 October 2020, making the boat go "live".



source: wikipedia
Agamemnon:

In Greek mythology, Agamemnon was a king of Mycenae who commanded the Greeks during the Trojan War. He was the son, or grandson, of King Atreus and Queen Aerope, the brother of Menelaus, the husband of Clytemnestra and the father of Iphigenia, Electra, Laodike, Orestes and Chrysothemis. Legends make him the king of Mycenae or Argos, thought to be different names for the same area. Agamemnon was killed upon his return from Troy, either by his wife's lover Aegisthus or by his wife herself.
patches + more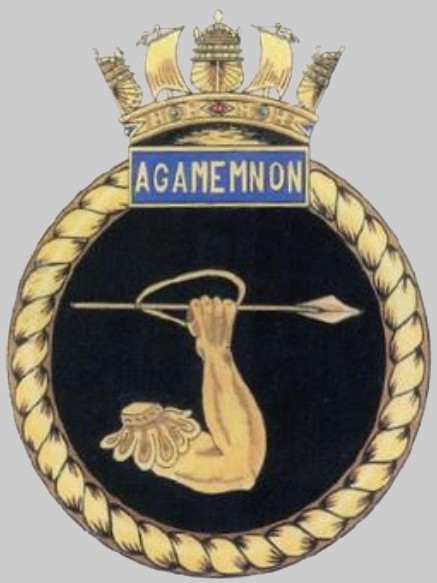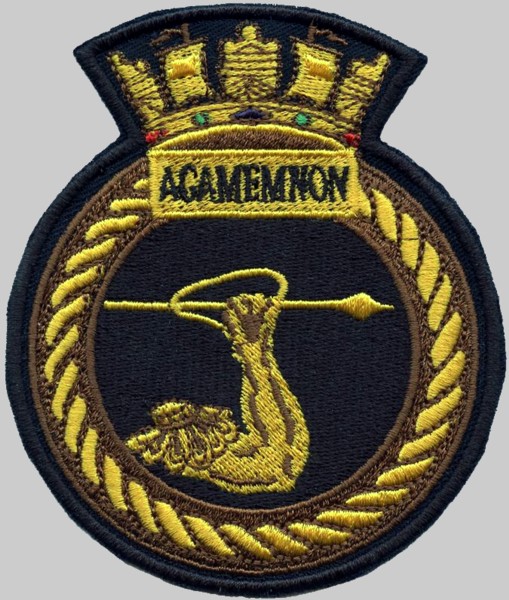 |
seaforces.org
|
Royal Navy start page
|