Type, class:

De Zeven Provincien class Guided Missile Frigate / FFG

ADCF (Air Defense and Command Frigate) / LCF-Fregat (Luchtverdedigings- en Commando Fregat)

Builder: Koninklijke Maatschappij De Schelde / KMS (Royal Schelde Shipbuilding, Vlissingen, The Netherlands)
STATUS:
Laid down: September 1, 1998
Launched:

April 8, 2000
Commissioned: April 26, 2002
IN SERVICE
Homeport: Den Helder
Namesake: The original 7 Dutch Provinces which formed the Union of Utrecht
Ship's motto: -
Technical Data:

see

INFO > De Zeven Provincien class Guided Missile Frigate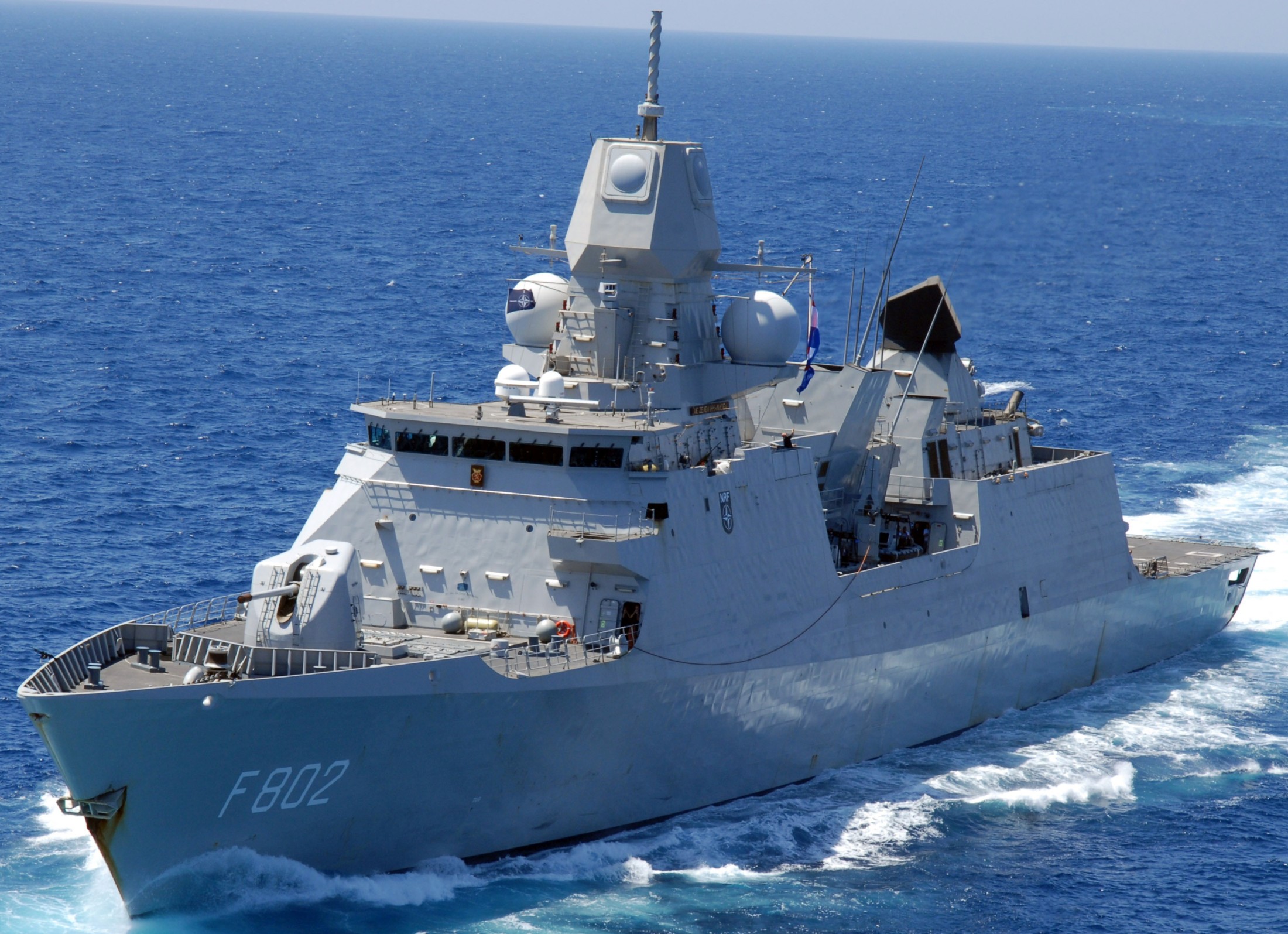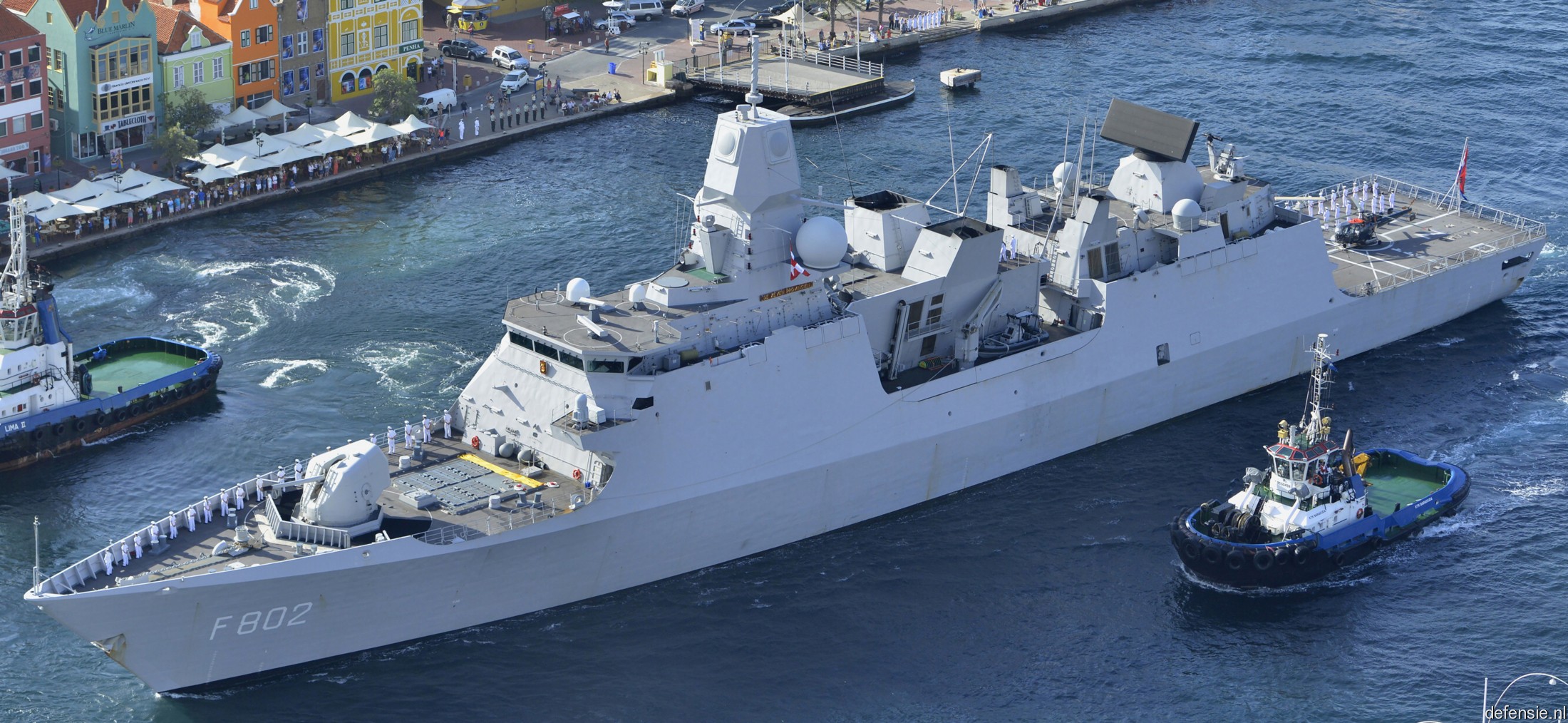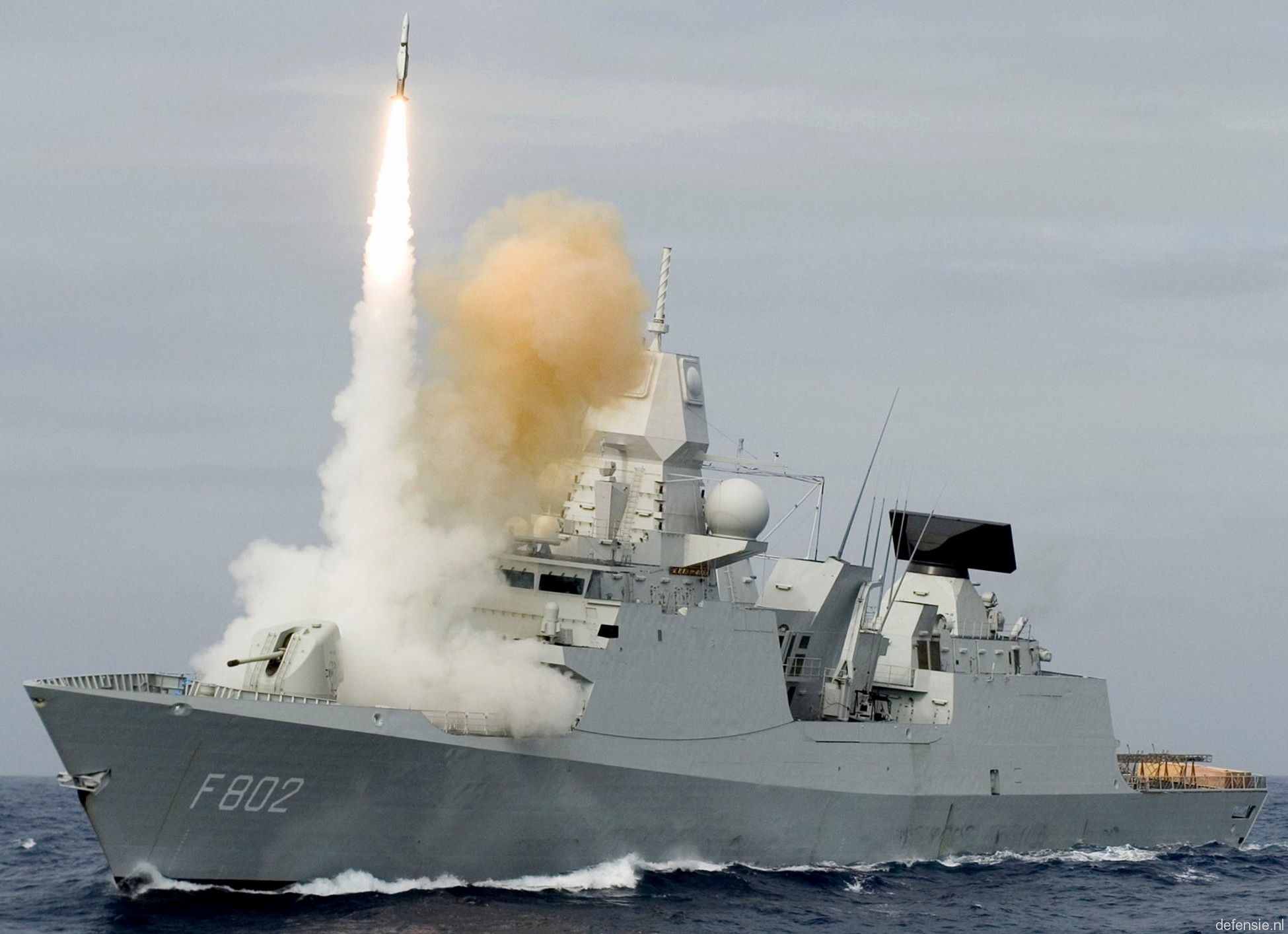 HNLMS De Zeven Provincien fires a RIM-66 Standard Missile SM-2MR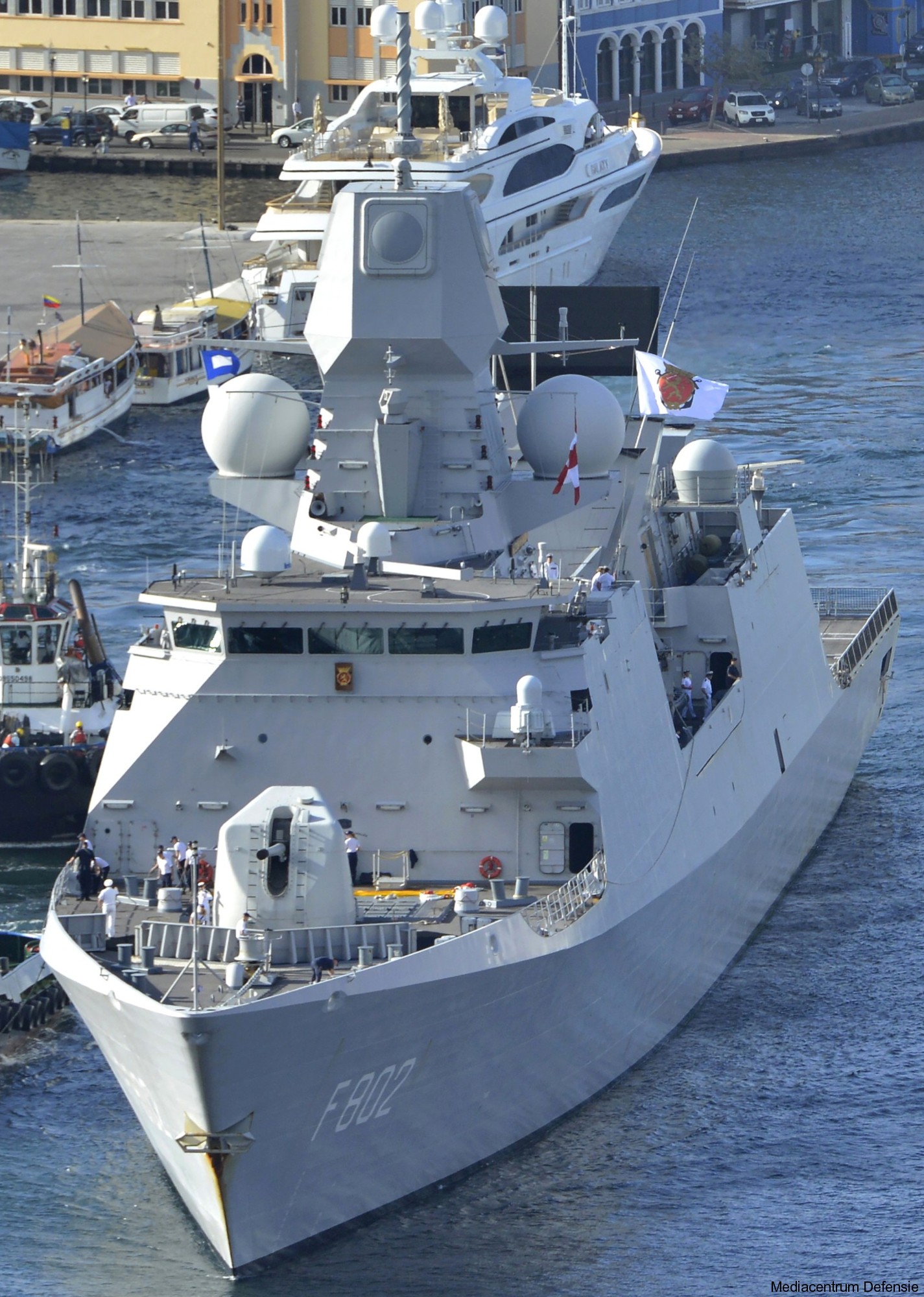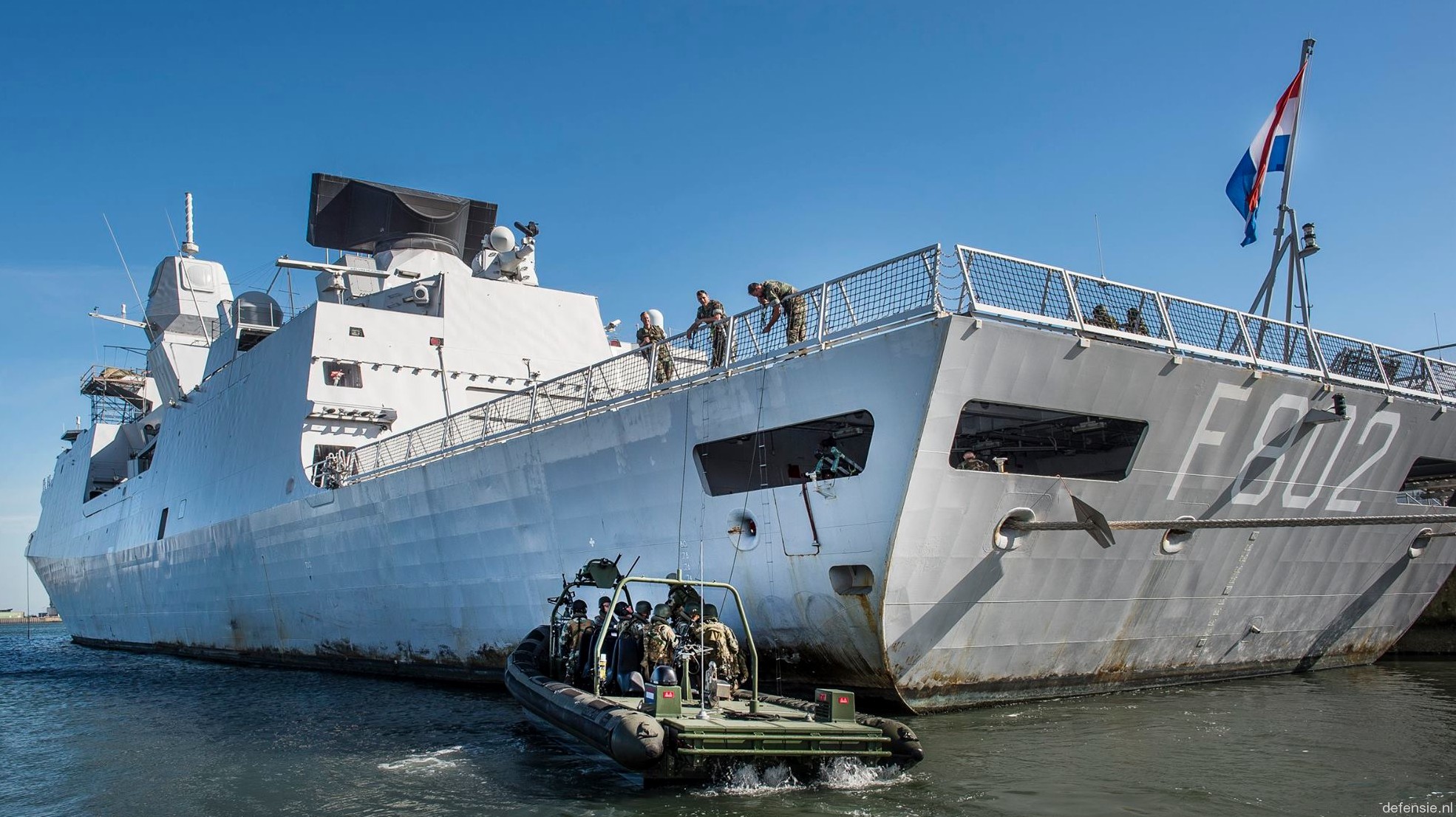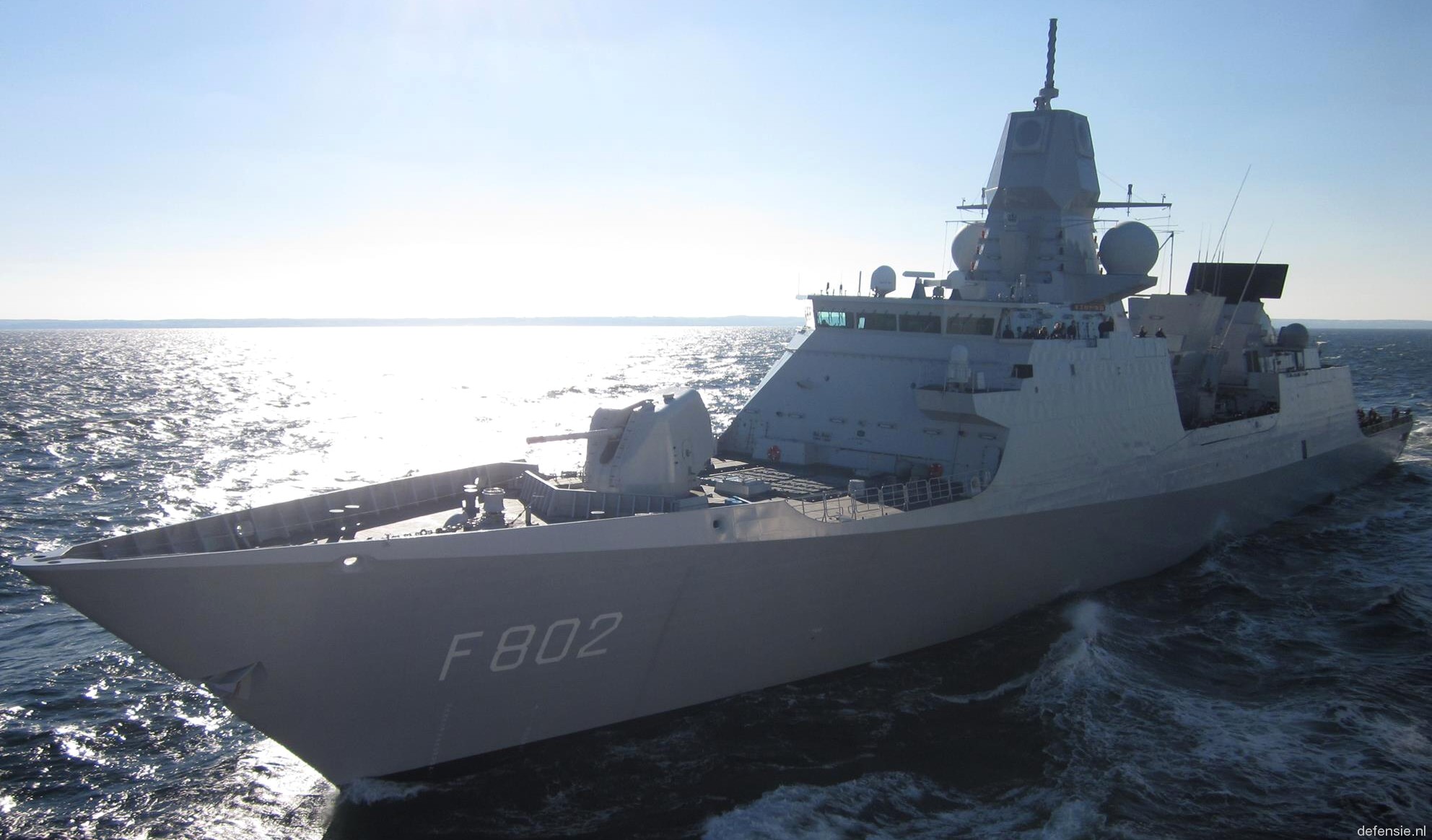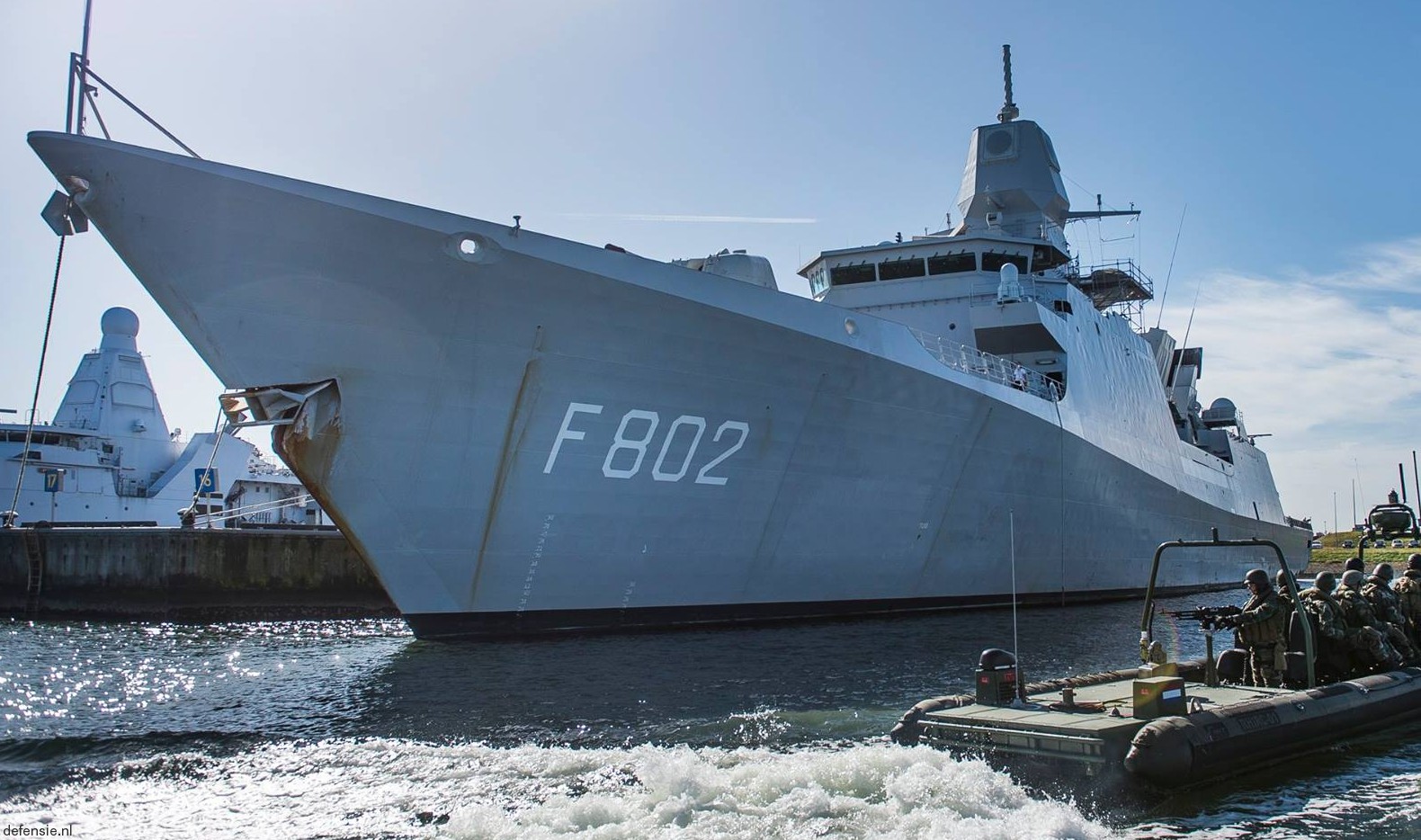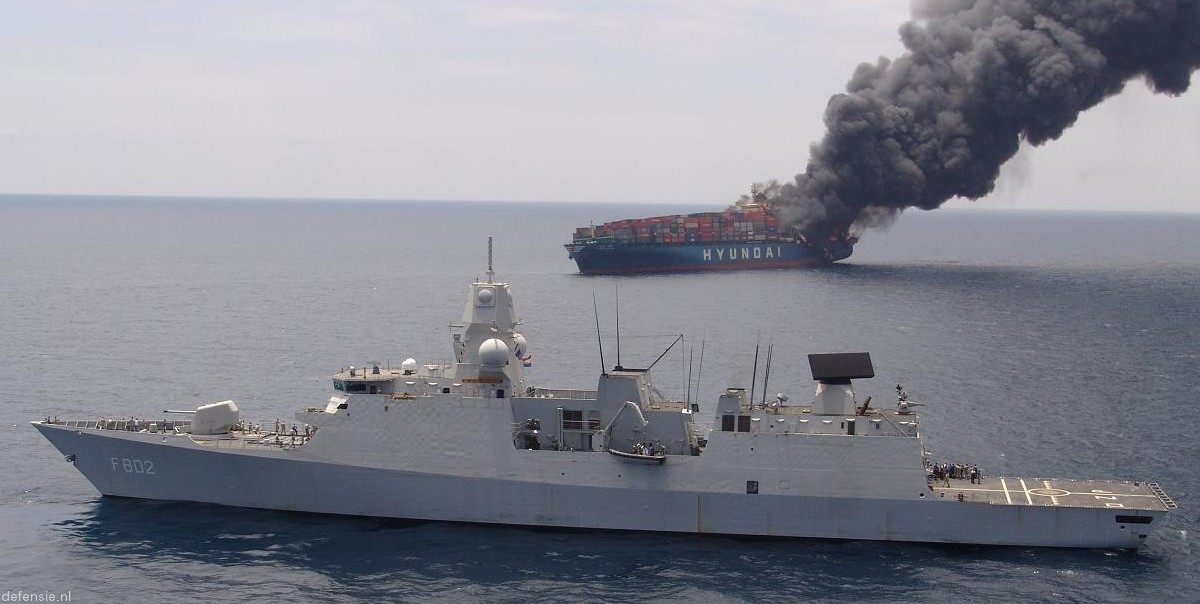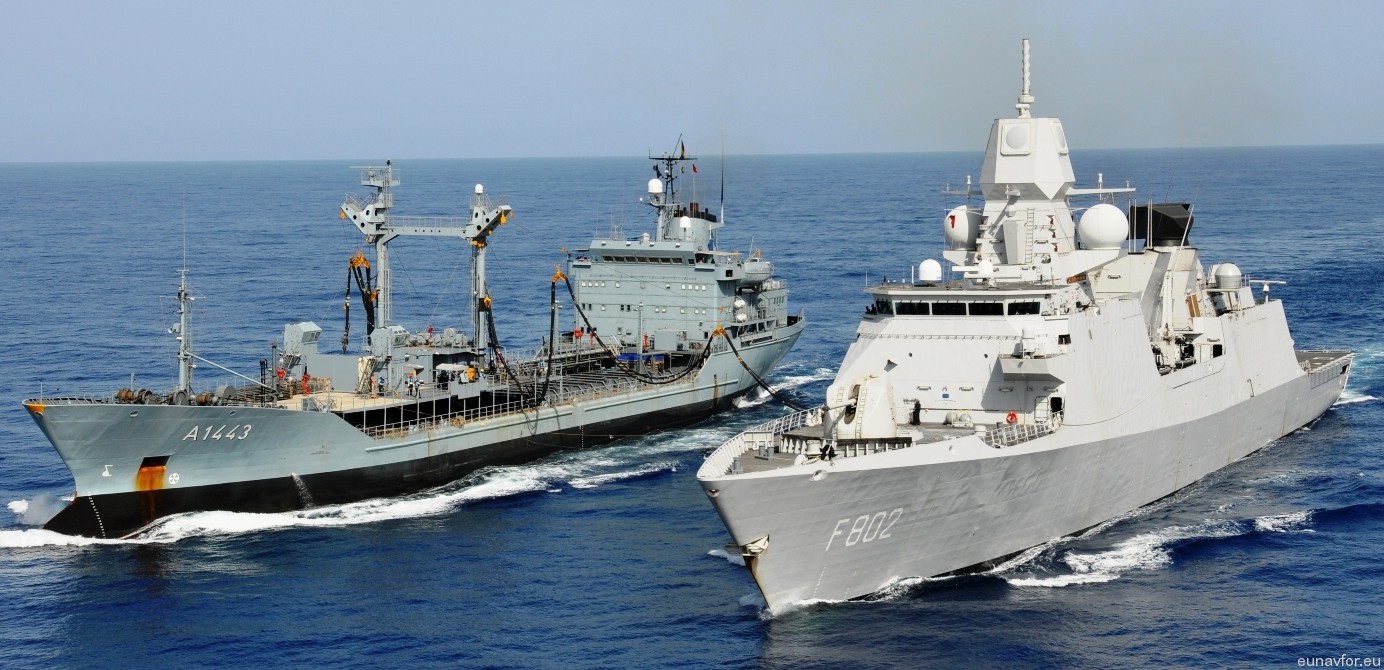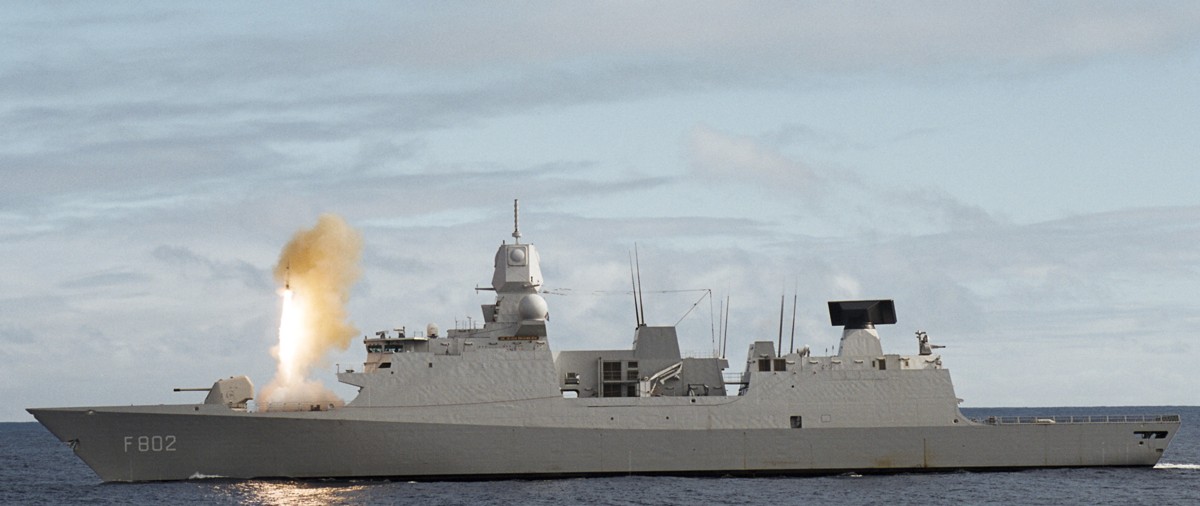 a RIM-66 Standard Missile SM-2MR was fired from the 40-cell Mk-41 VLS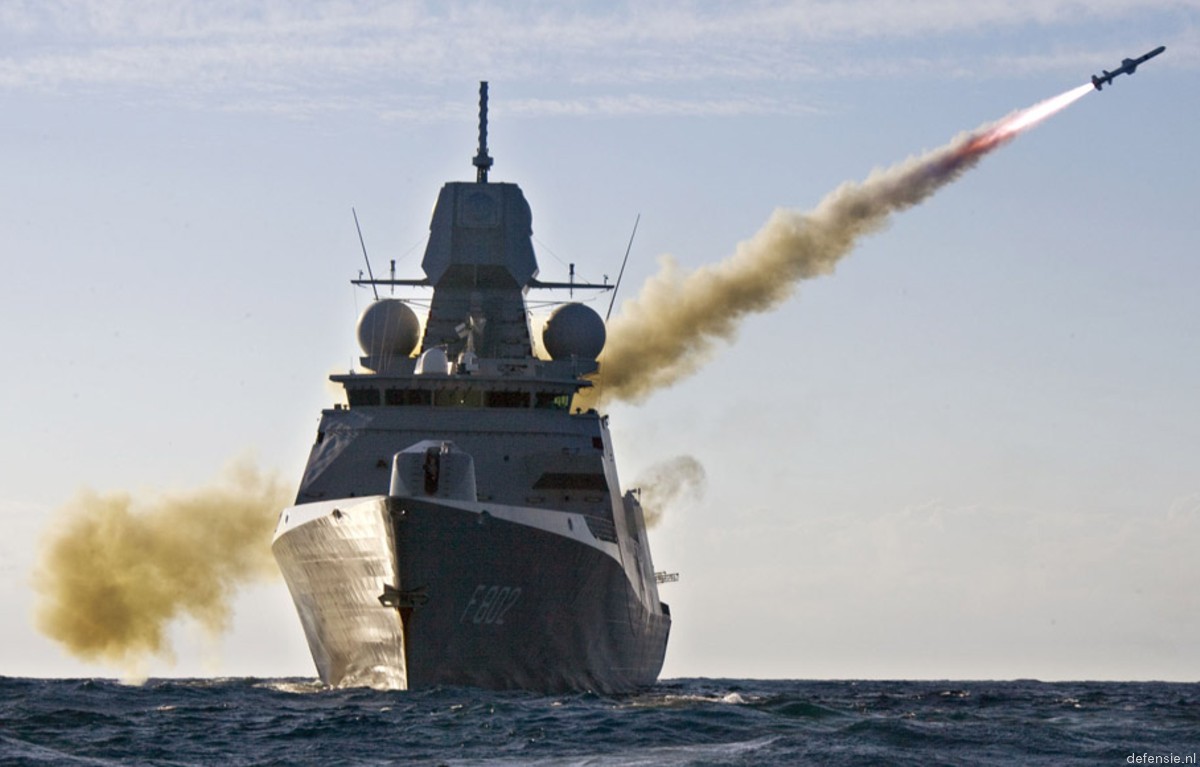 a RGM-84 Harpoon SSM missile was fired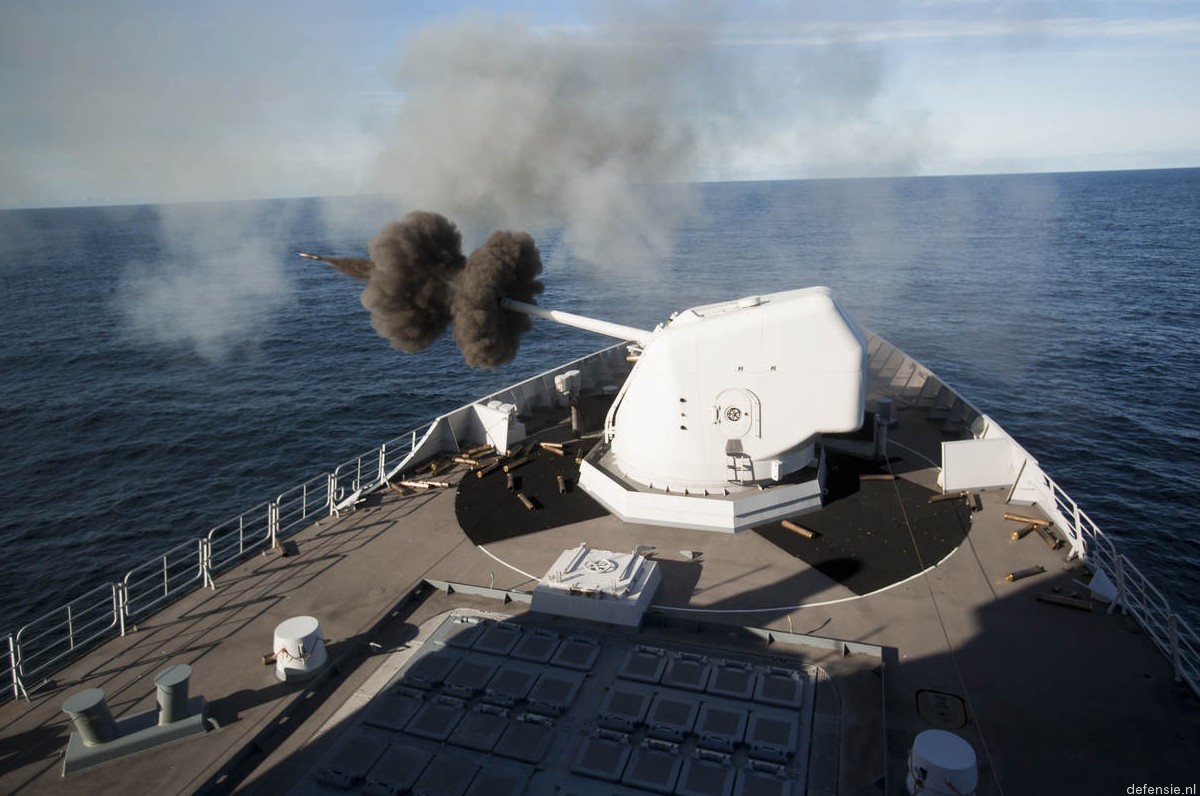 Oto-Breda 127/54 DP gun (127mm, 5-inches / 54-caliber) and Mk-41 VLS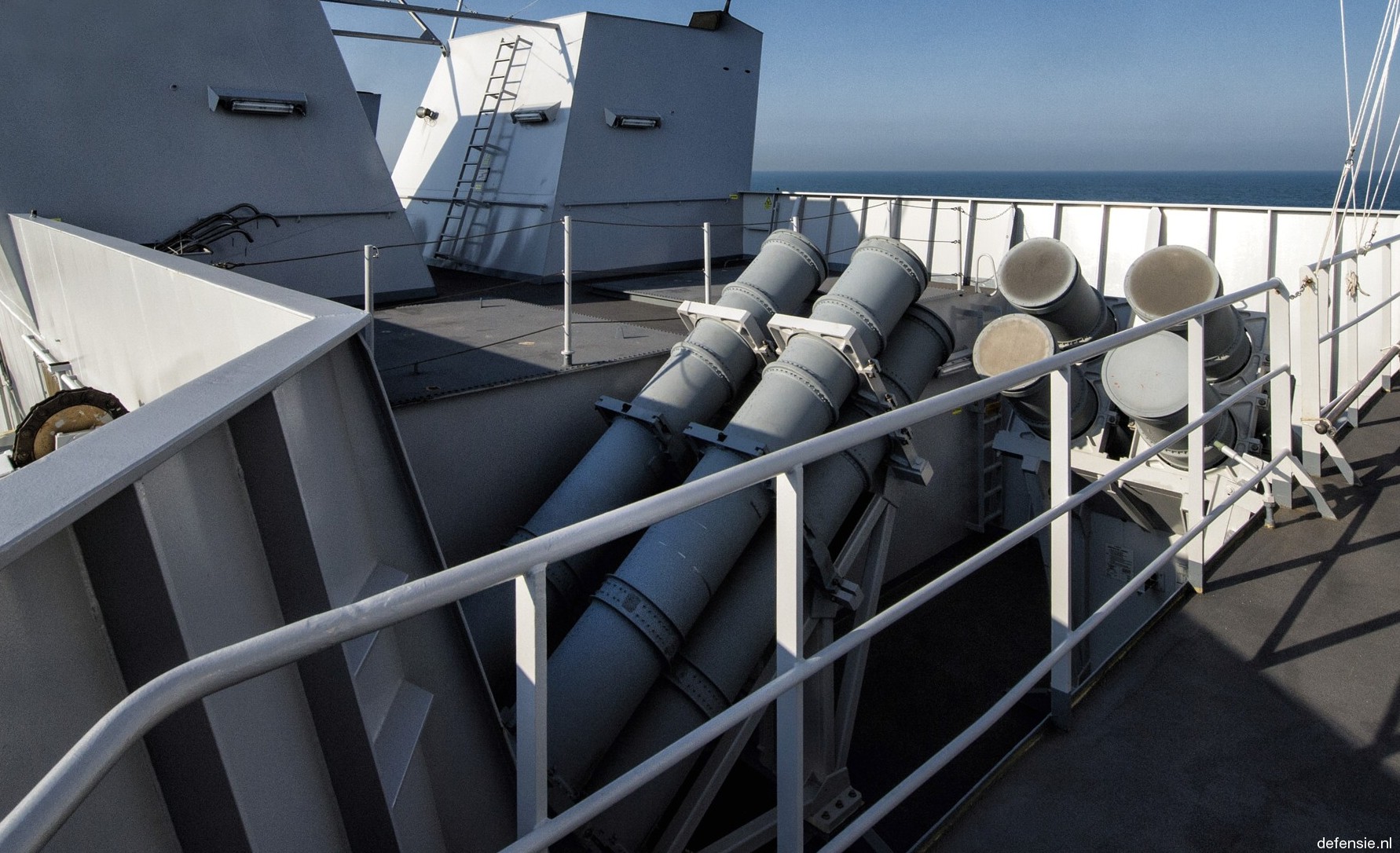 Mk-141 octuple launcher for RGM-84 Harpoon SSM
a RIM-162 Evolved Sea Sparrow Missile (ESSM) was fired from the Mk-41 Vertical Launching System (VLS)
a RIM-66 Standard Missile SM-2MR was launched
HNLMS De Zeven Provincien (F 802) launches a missile from her Mk-41 VLS
HNLMS De Zeven Provincien (F 802):

In November 2003, approximately 200 nautical miles (370 km; 230 mi) from the Azores, De Zeven Provinciën conducted her first live firings of these missile systems.
The firings involved a single ESSM and a single SM-2. These firings were particularly significant in that they were the first ever live firings involving a full-size ship-borne Active Electronically Scanned Array (i.e., APAR) guiding missiles using the Interrupted Continuous Wave Illumination (ICWI) technique in an operational environment.

Further live firings were performed by De Zeven Provinciën in March 2005, again in the Atlantic Ocean approximately 180 nautical miles (330 km; 210 mi) west of the Azores. The tests involved three live-firing events including firing a single SM-2 at an Iris target drone at long range, a single ESSM at an Iris target drone, and a two-salvo launch (with one salvo comprising two SM-2s and the other comprising two ESSMs) against two incoming Iris target drones. The long-range SM-2 engagement apparently resulted in an intercept at a range of greater than 100 km (62 mi) from the ship, with a missile-target miss distance of 8 feet (2.4 m) (the warhead's proximity fuse having been disabled for the purposes of the test).

source: wikipedia

NOTE: Royal Netherlands Navy vessels are given the international prefix "HNLMS", short for His/Her Netherlands Majesty's Ship)
In Dutch Zr.Ms. for Zijner Majesteits (His Majesty's) or Hr.Ms. for Harer Majesteits (Her Majesty's) and then the ship's name without using the word ship.
e.g. Zr.Ms. Evertsen means 'His Majesty's Evertsen' and not 'His Majesty's ship Evertsen'.

The Union of Utrecht

(Dutch: Unie van Utrecht) was a treaty signed on 23 January 1579 in Utrecht, the Netherlands, unifying the northern provinces of the Netherlands, until then under the control of Habsburg Spain.
The Union of Utrecht is regarded as the foundation of the

Republic of the Seven United Provinces

, which was not recognized by the Spanish Empire until the Twelve Years' Truce in 1609.
The treaty was signed on 23 January by Holland, Zeeland, Utrecht (but not all of Utrecht) and the province (but not the city) of Groningen. The treaty was a reaction of the Protestant provinces to the 1579 Union of Arras (Dutch: Unie van Atrecht), in which the southern provinces declared their support for Roman Catholic Spain.
During the following months of 1579, other states signed the treaty as well, such as Ghent, cities from Friesland, as well as three of the quarters of Guelders (Nijmegen Quarter, Veluwe Quarter, Zutphen County). In the summer of 1579, Amersfoort from the province of Utrecht also joined, together with Ypres, Antwerp, Breda and Brussels. In February 1580, Lier, Bruges and the surrounding area also signed the Union. The city of Groningen shifted in favor under influence of the stadtholder for Friesland, George van Rennenberg, and also signed the treaty. The fourth quarter of Guelders, Upper Guelders, never signed the treaty. In April 1580, Overijssel and Drenthe signed on.
source: wikipedia