HOME | US Navy - ships | US Navy - air units | USMC - air units | International Navies | Weapon Systems | Special Reports
Royal Netherlands Navy / Koninklijke Marine
-
Amphibious Landing Ship
L 801 HNLMS Johan de Witt
07/19

Type, class:

modified Rotter

dam class Amphibious Ship / Landing Platform Dock (LPD)
Builder: Damen Schelde Naval Shipbuilding, Vlissingen, Netherlands
STATUS:
Laid down: June 18, 2003
Launched:

May 13, 2006
Commissioned: November 30, 2007
IN SERVICE
Homeport: Den Helder
Namesake: Johan de Witt, Dutch Politician (1625-1672)
Ship's motto: AGO QUOD AGO (I do what I do)


Technical Data:
Length:
176,35 meters (578 ft 7 in)

Beam:
29 meters (95 ft 2 in)

Draft:
6,15 meters (20 ft 2 in)

Displacement:
16680 tons (full load)

Speed:
19 knots (35 km/h)

Range:
6000 NM (11000 km) at 12 knots (22 km/h)

Complement:
146 (ship), 550 troops - 739 air-conditioned spaces in total
Propulsion:
Diesel-Electric
4 x Stork Wärtsilä 12SW28 diesel generators (4 x 3,65 MW = 14,6 MW)
2 x Holec electric motors (2 x 5,5 MW = 11 MW)
2 x Schottel SEP 5 Electric Propulsor Pods / Propeller diameter 3,4 meters
1 x Schottel STT 550 CP bow thruster (900 KW) / 1,65 meters diameter


Armament:
2 x
Goalkeeper CIWS
4-6 x
12.7mm Machine Guns (caliber .50)
4 x
Mk-36 SRBOC chaff/decoy systems
Aviation:
large flight deck (58 x 25 meters) with 2 landing spots
hangar for up to 6 helicopters (6 x
NH90 NFH
or 4 x EH101)
Helicopters: CH-47 Chinook, AS532 Cougar, NH90 NFH, EH101 or similar

Well deck, boats + space:
4 x
Landing Craft Assault (LCA)
or 2 x
Landing Craft Utility (LCU)
in well deck
4 x
Landing Craft Vehicle Personnel (LCVP)
or
RHIB
in davits
2 x
FRISC (Fast Raiding Interception Special Forces Craft)

2100 square meters RoRo space (up to 170 vehicles or 33 tanks)
770 square meters cargo/ammo space

Systems:
Thales Nederland VARIANT 2D Mk.2 air & surface search radar
Thales Gatekeeper electro-optical surveillance system
AN/SLQ-25 Nixie towed torpedo decoy system

images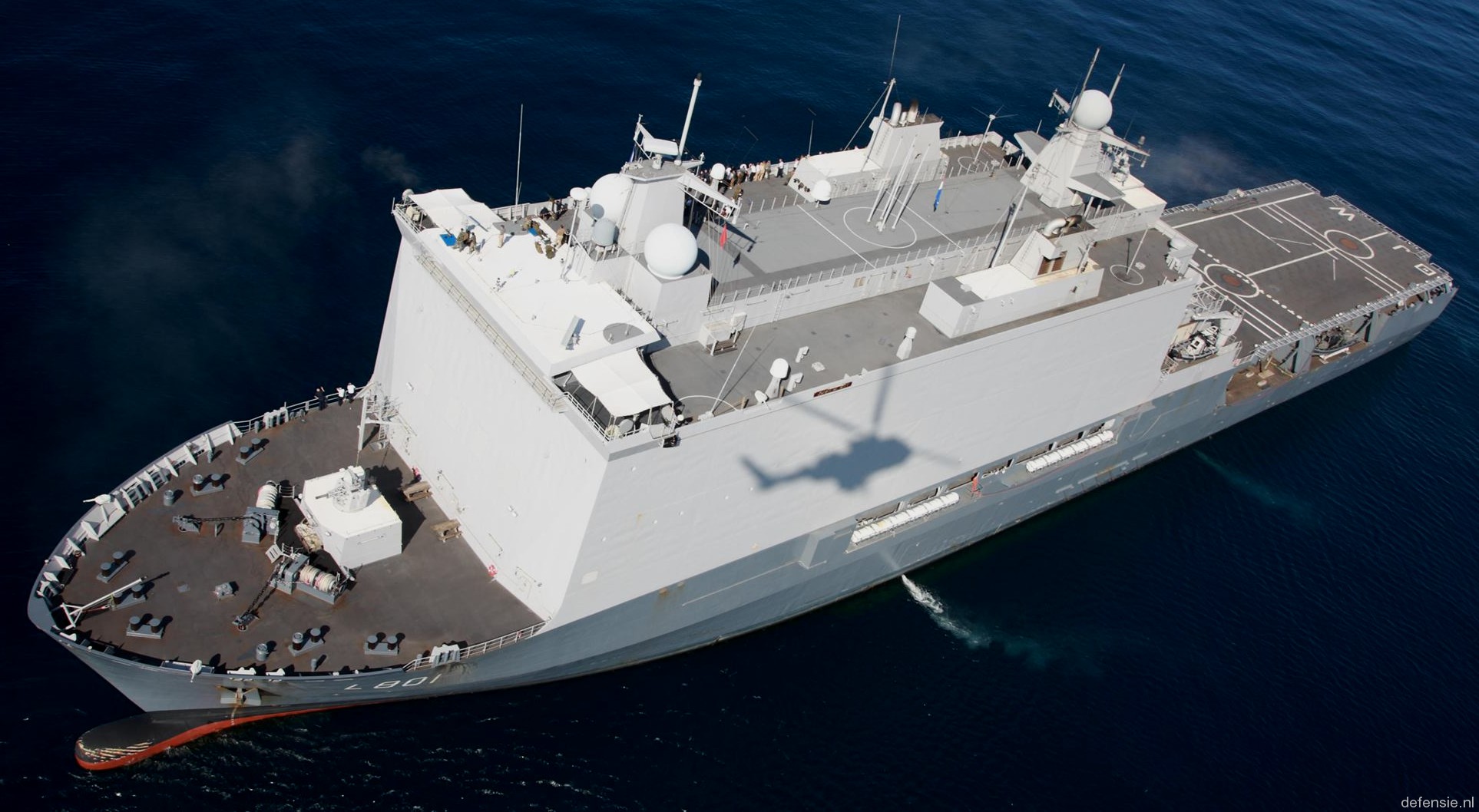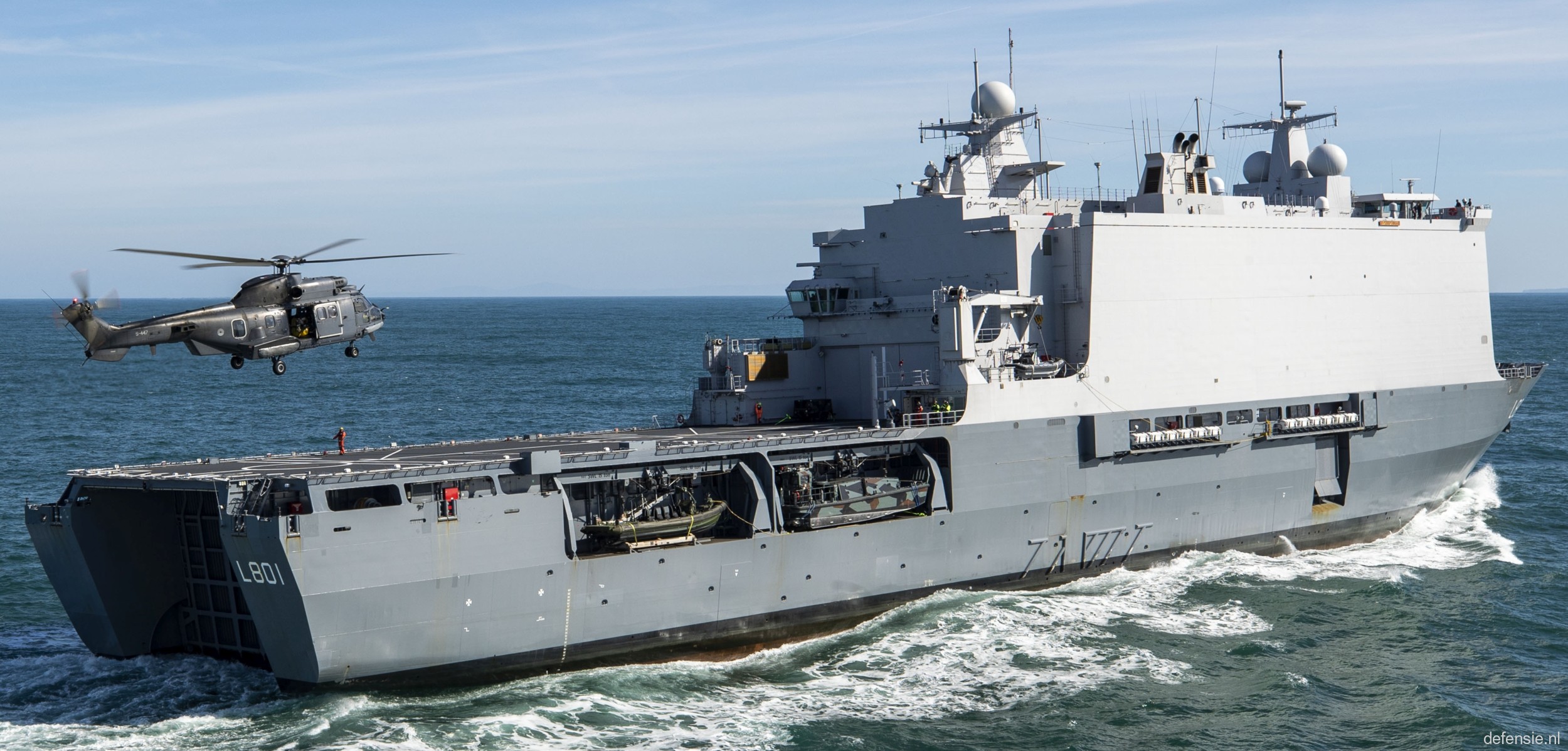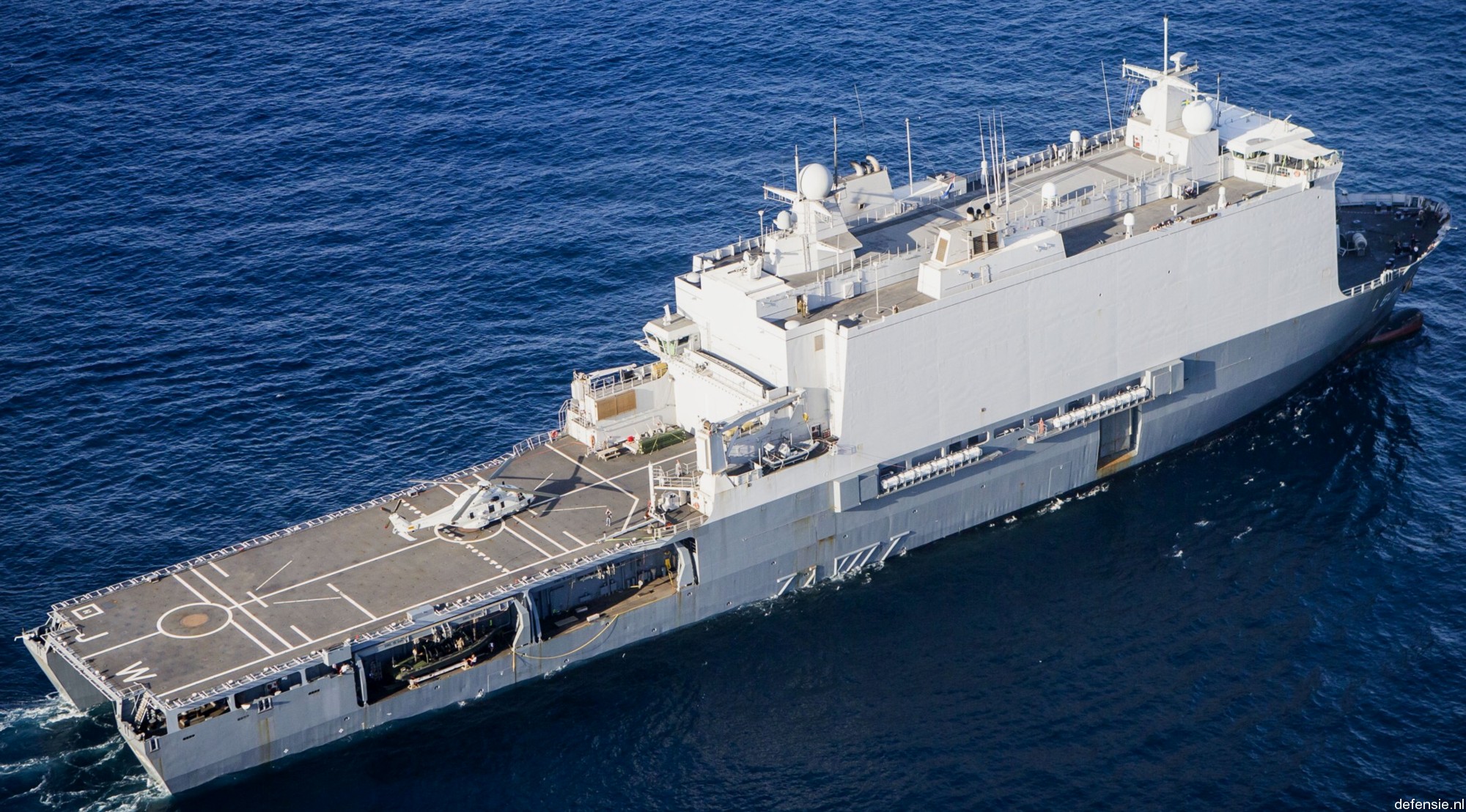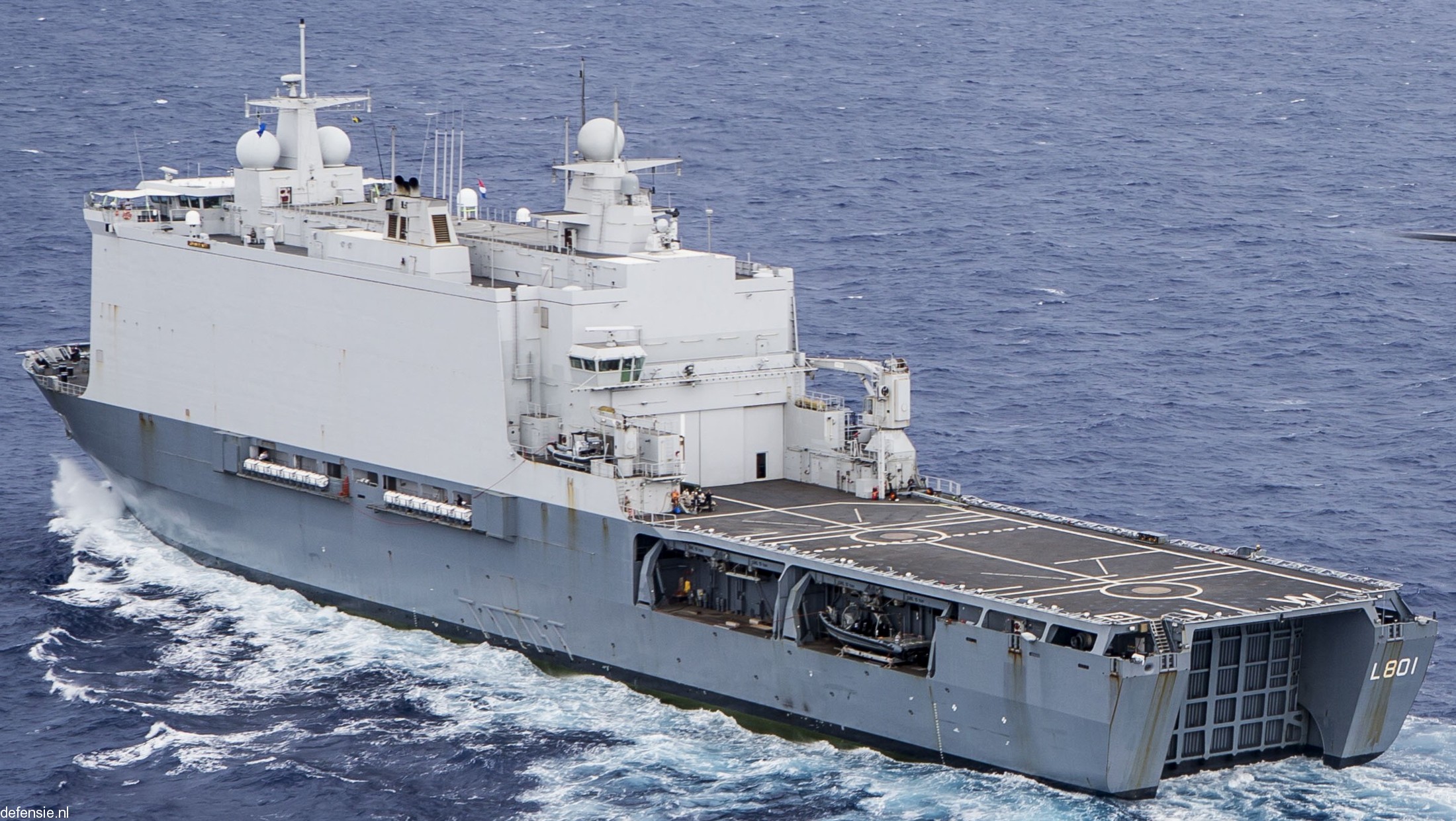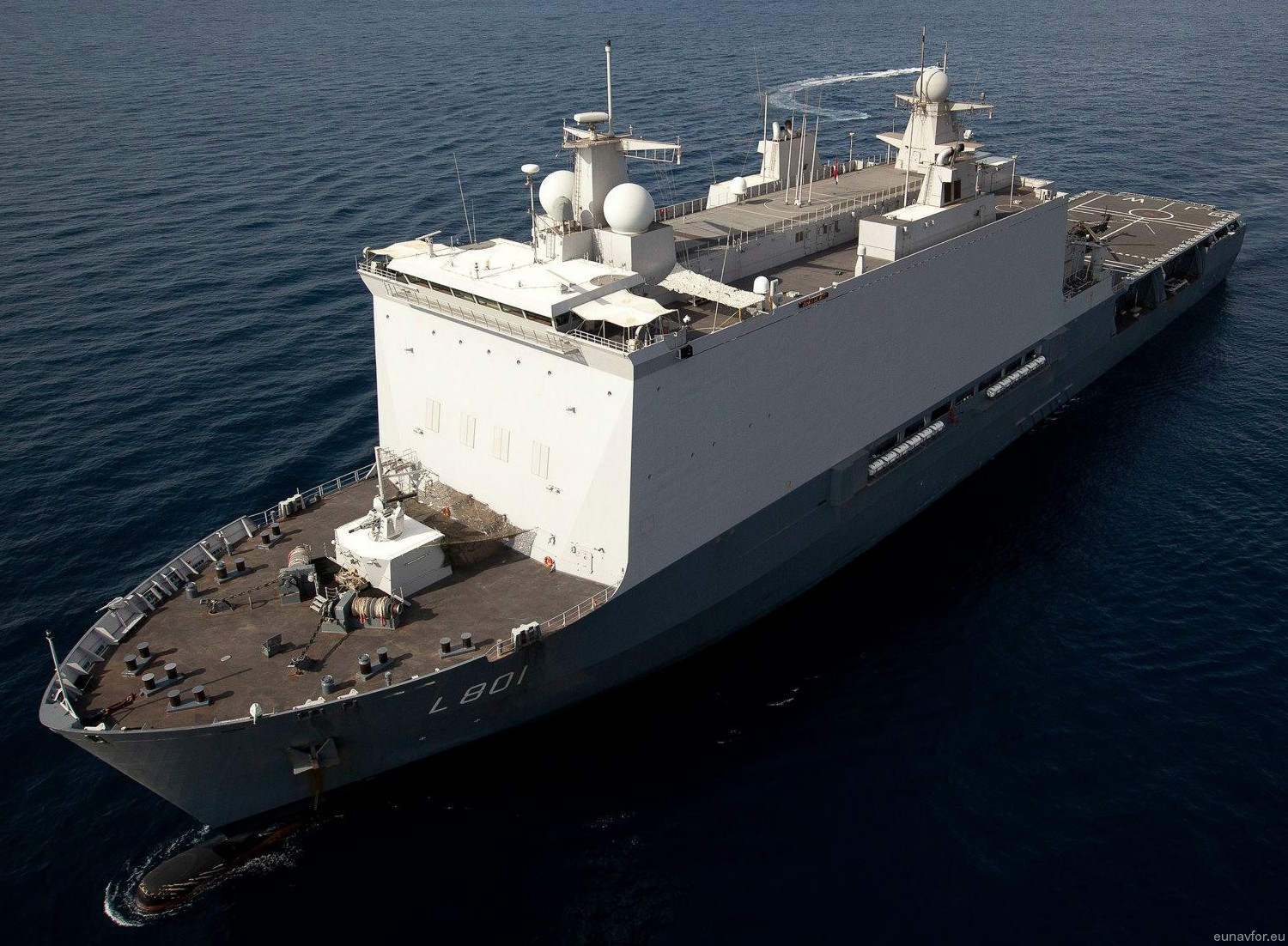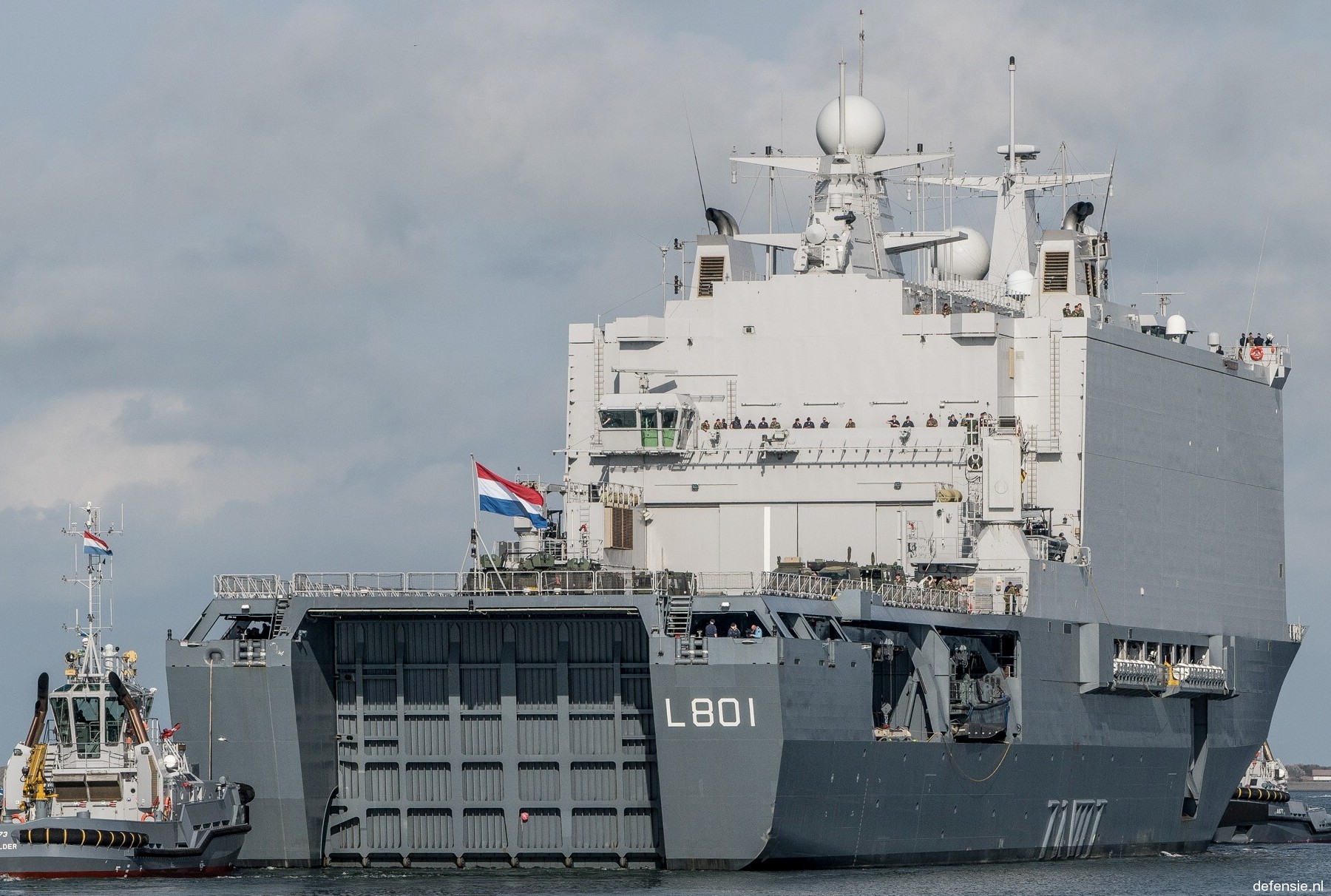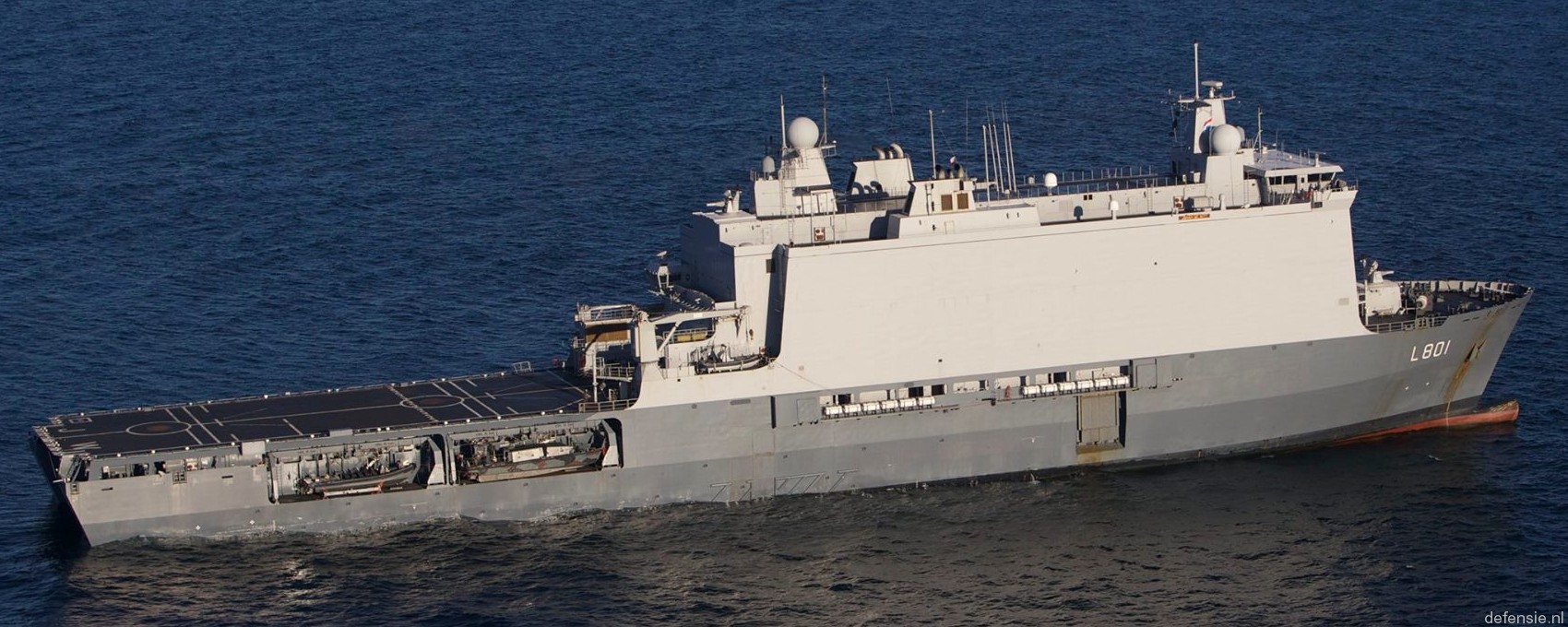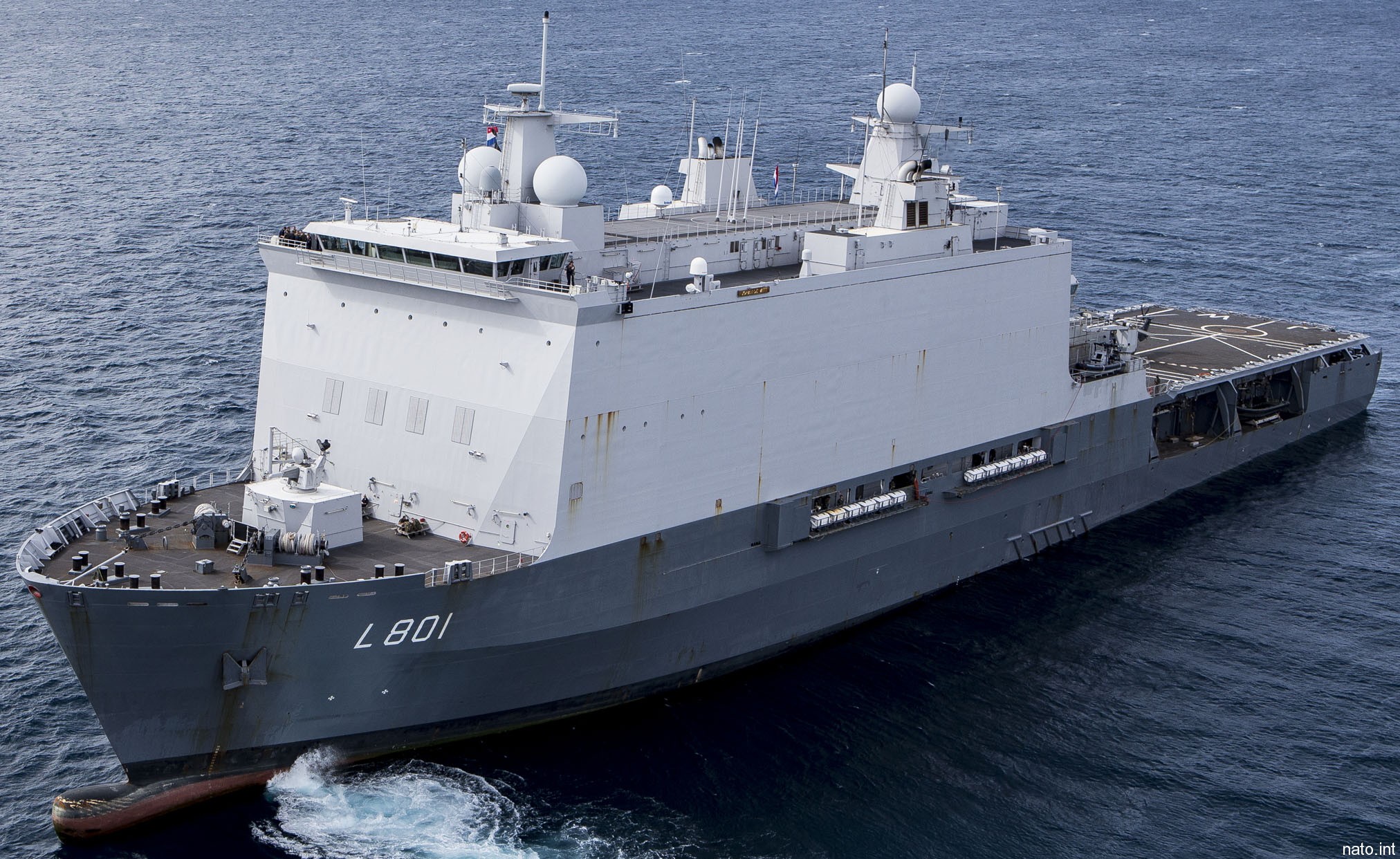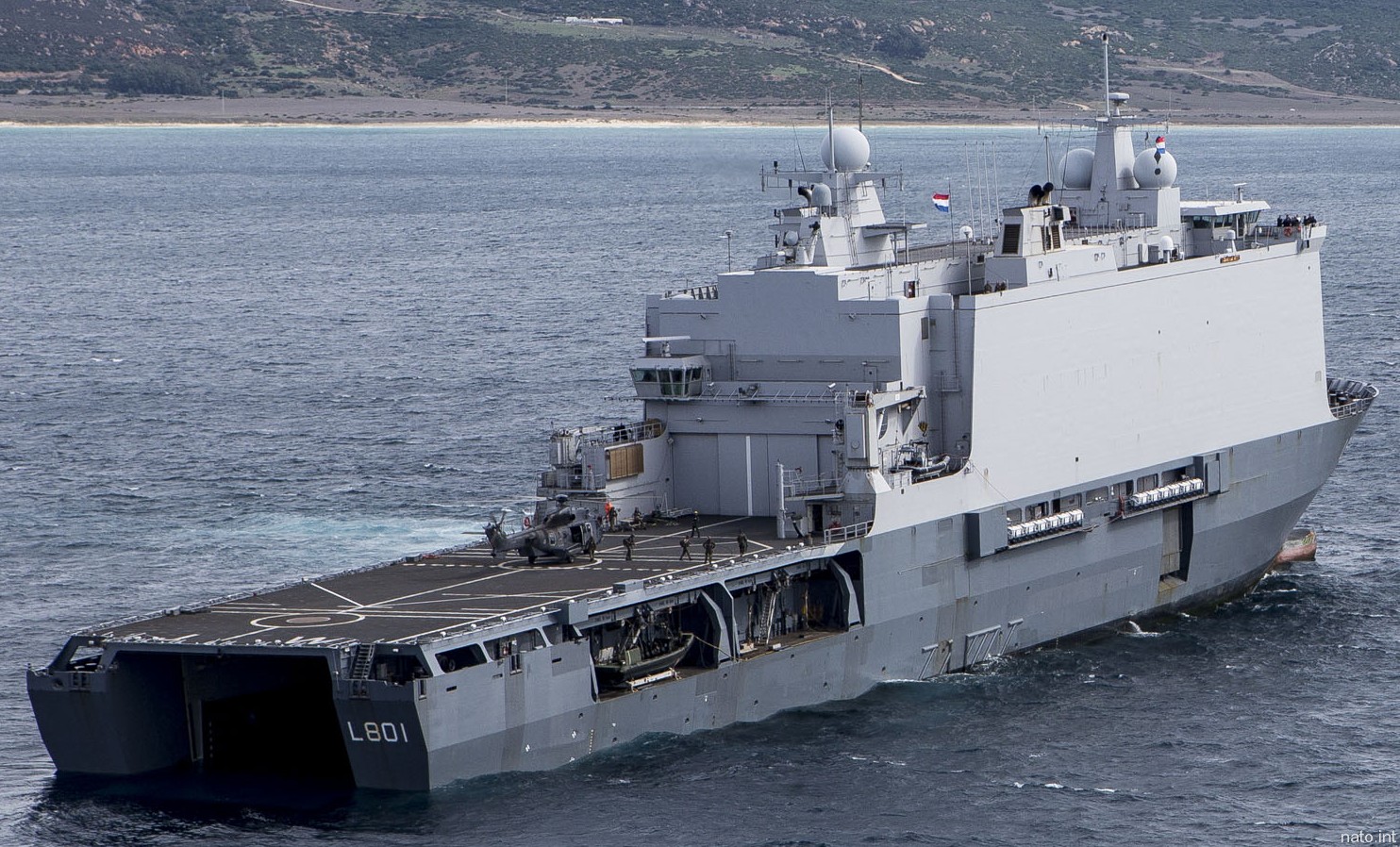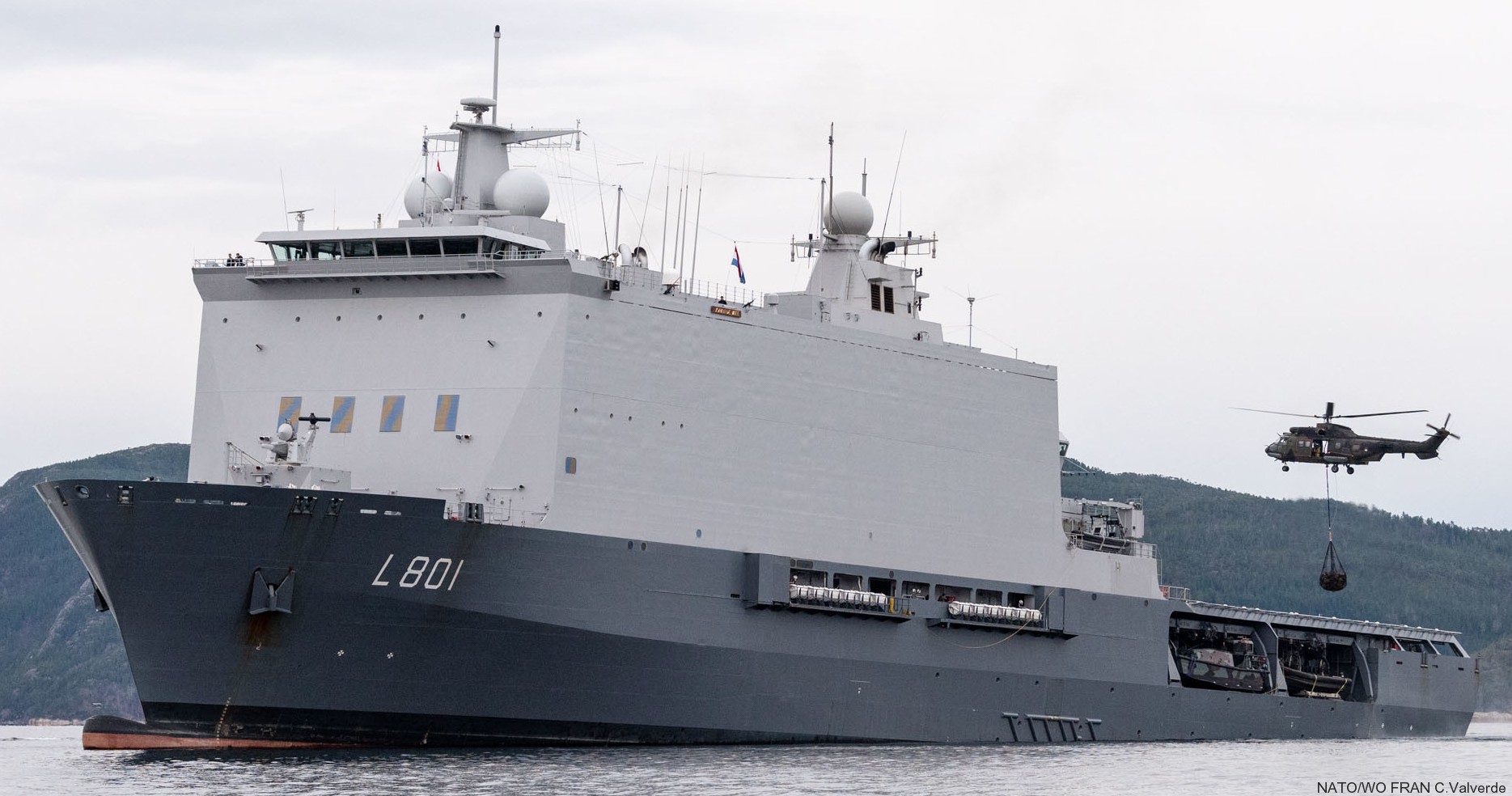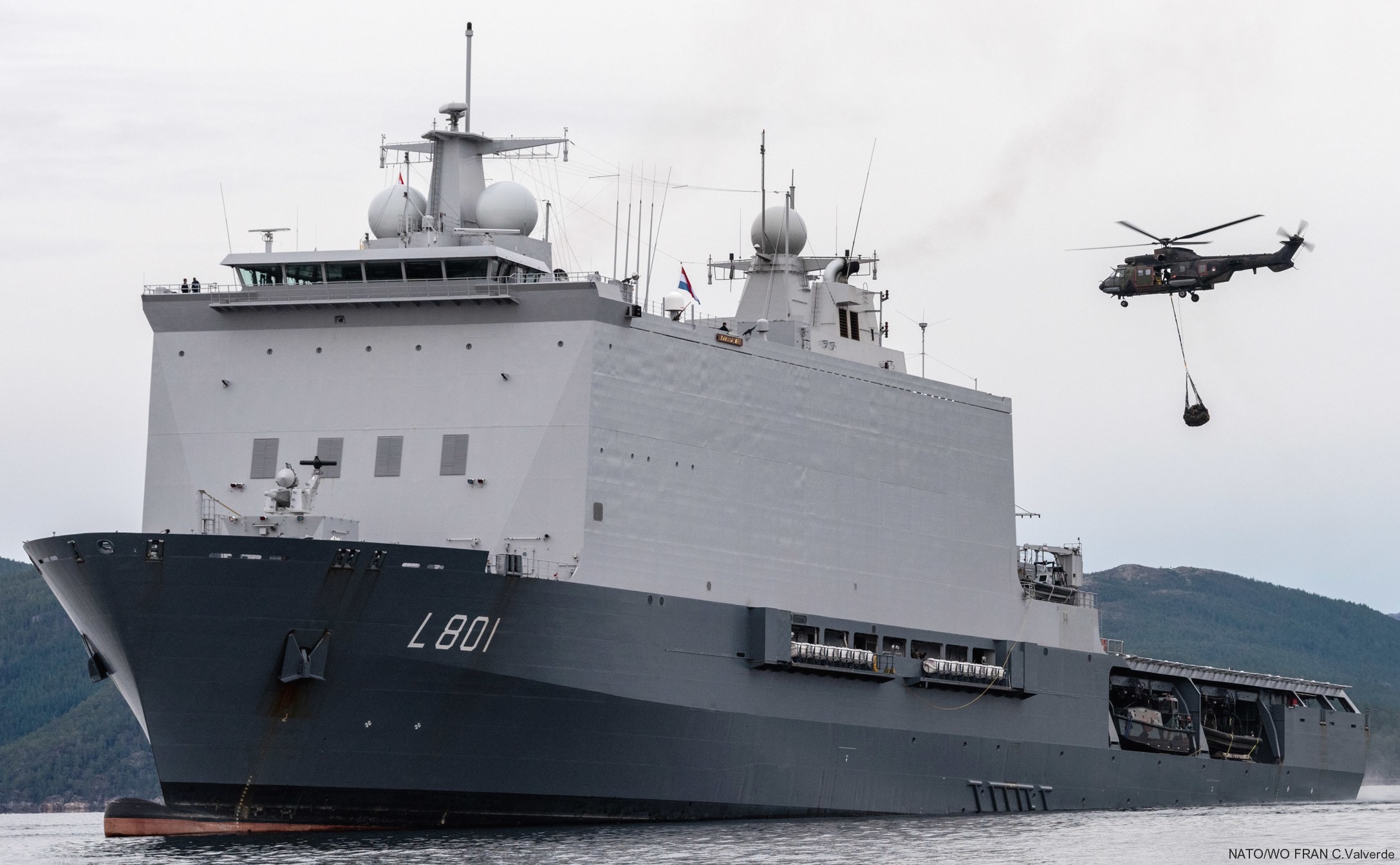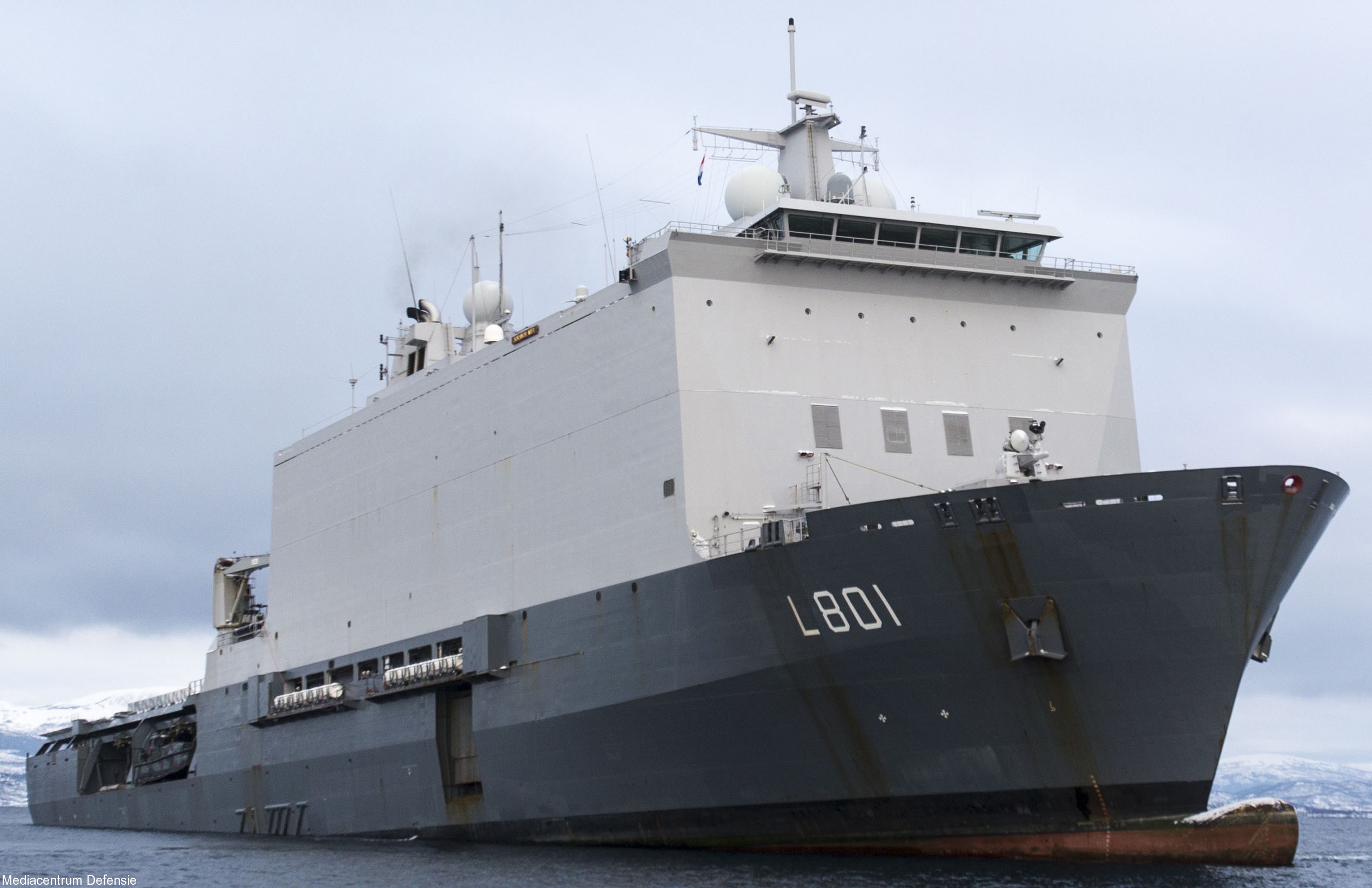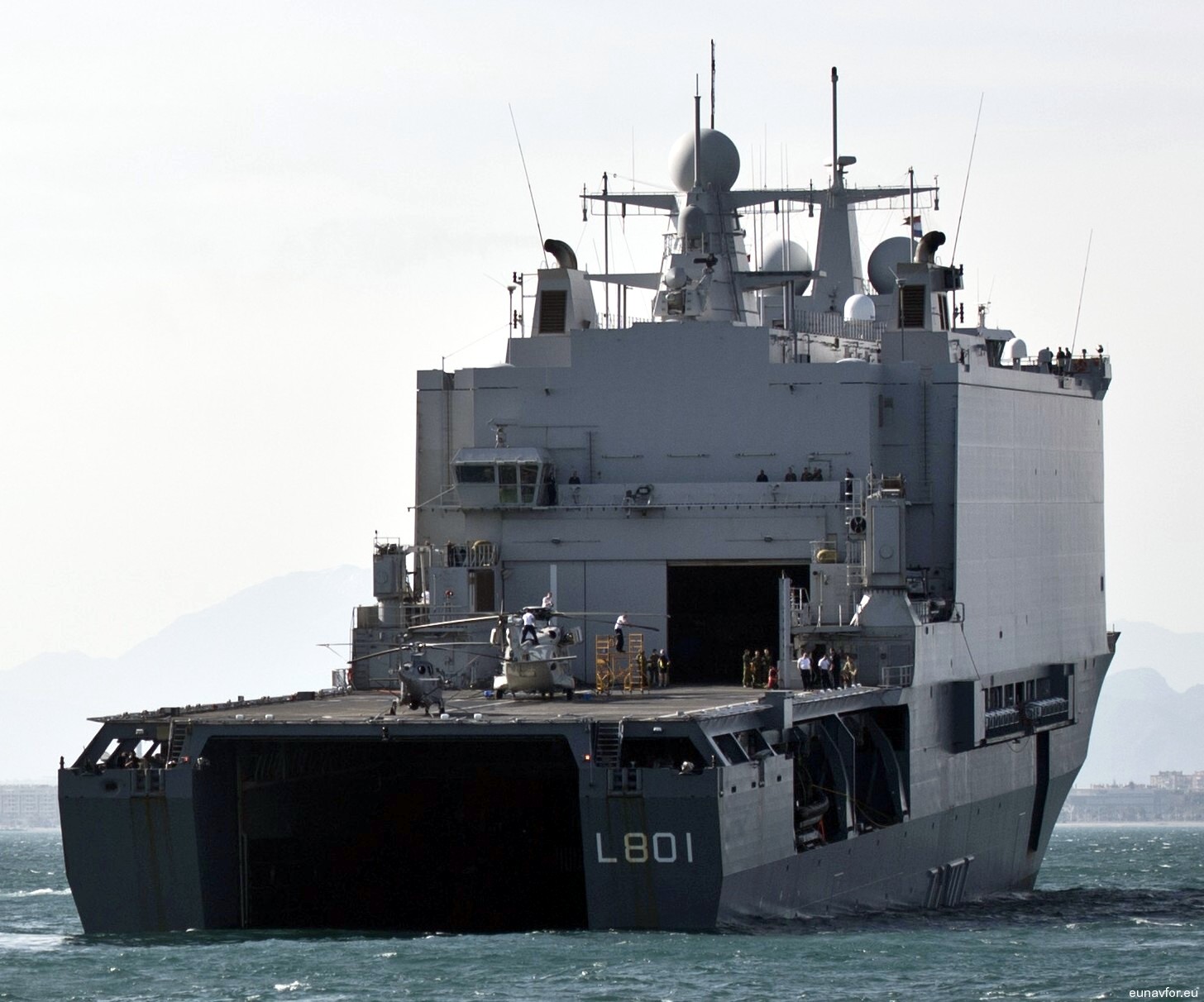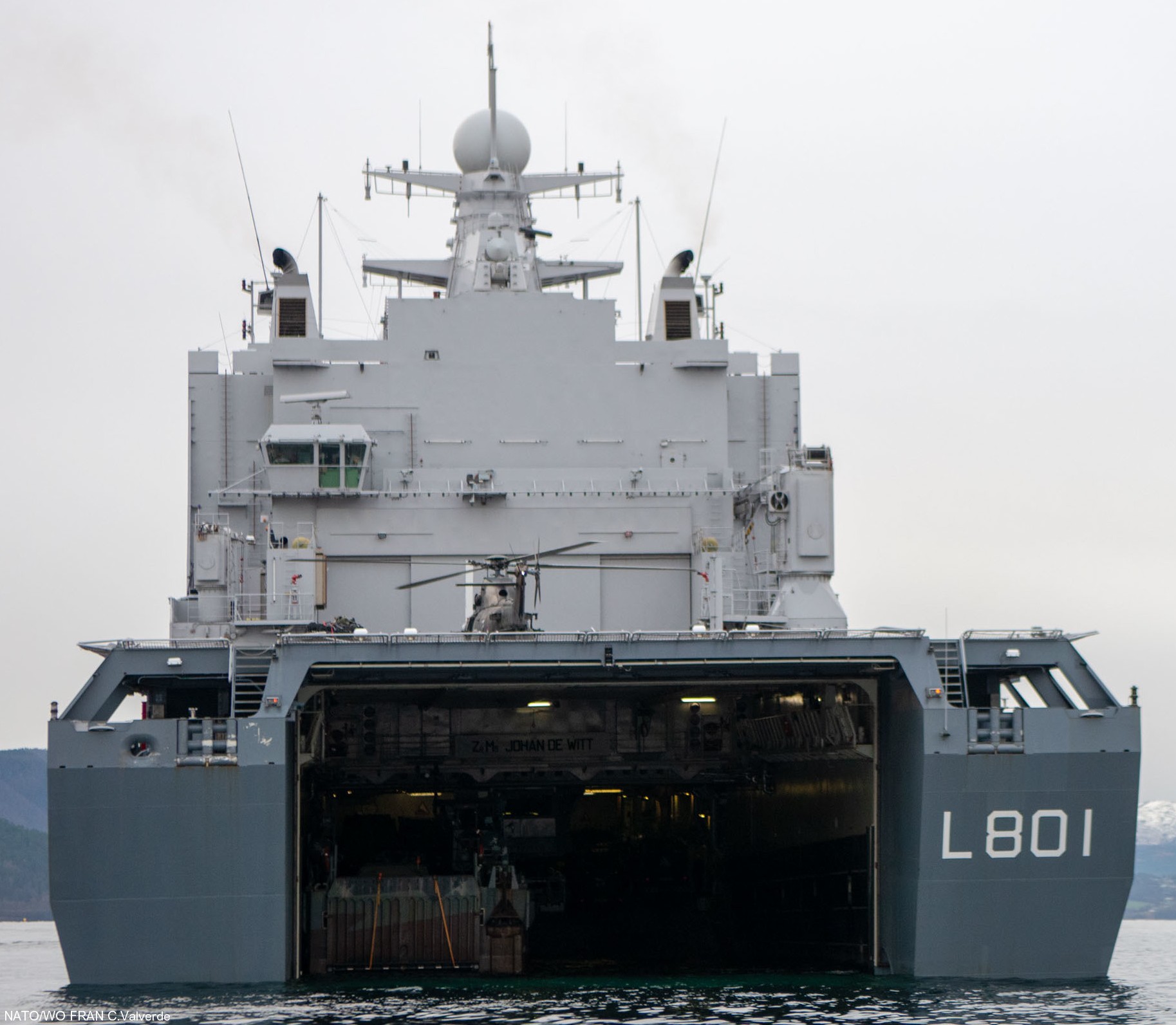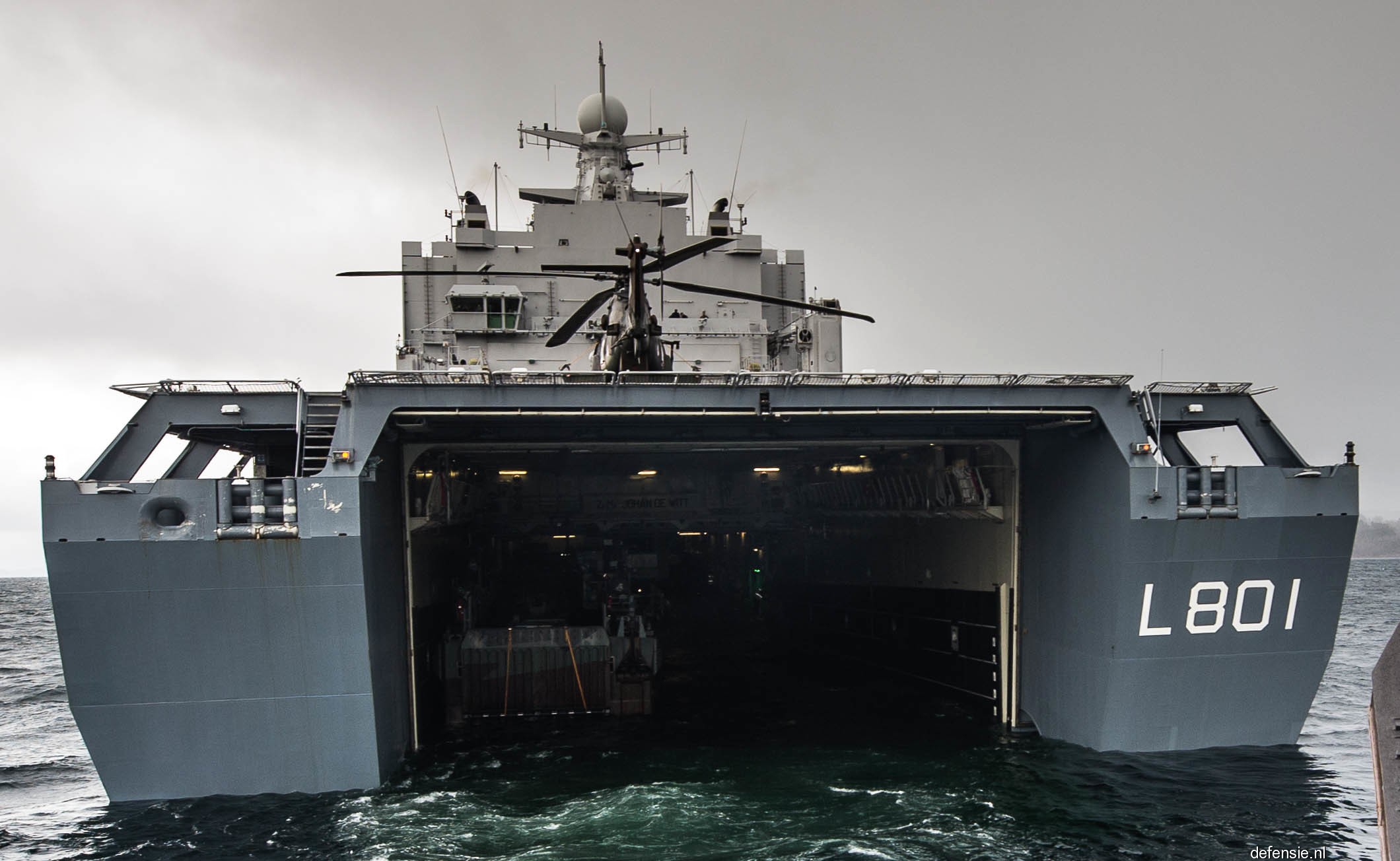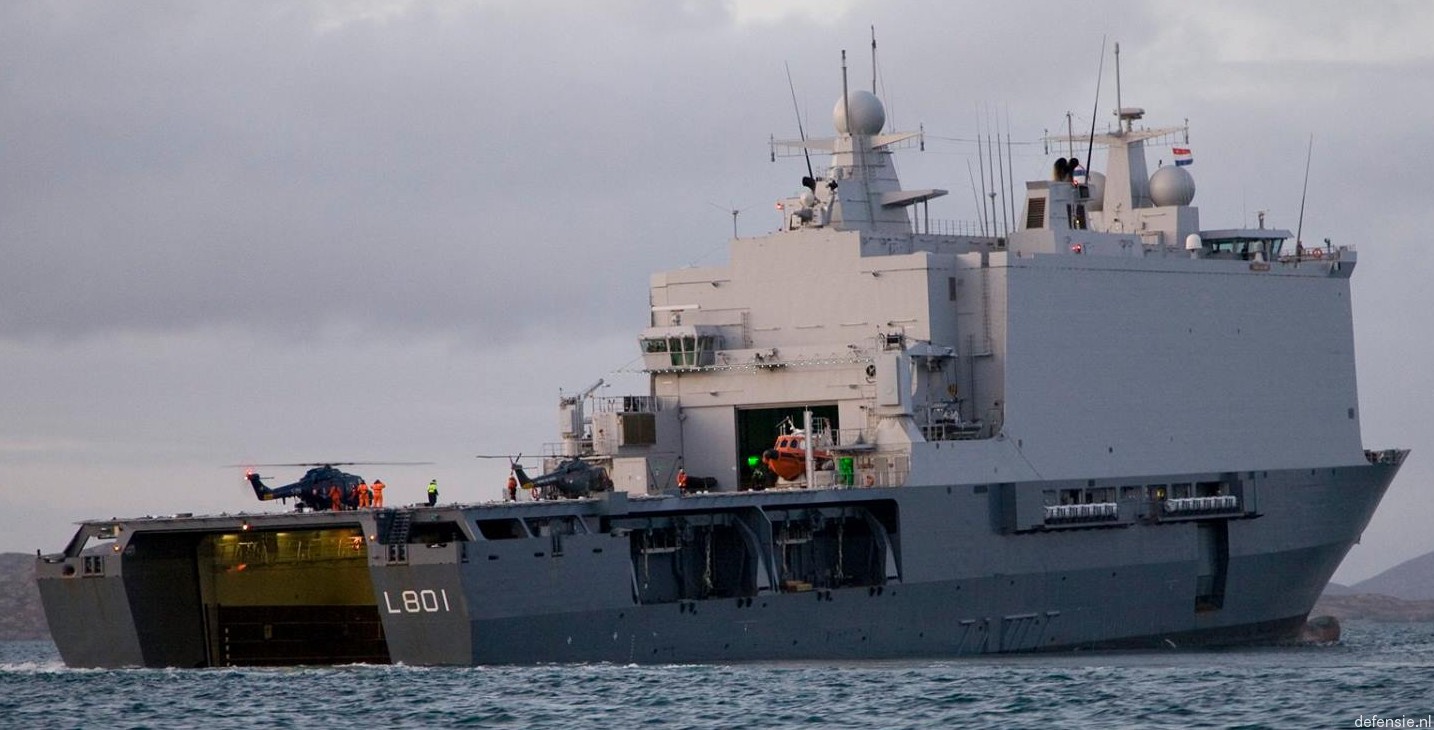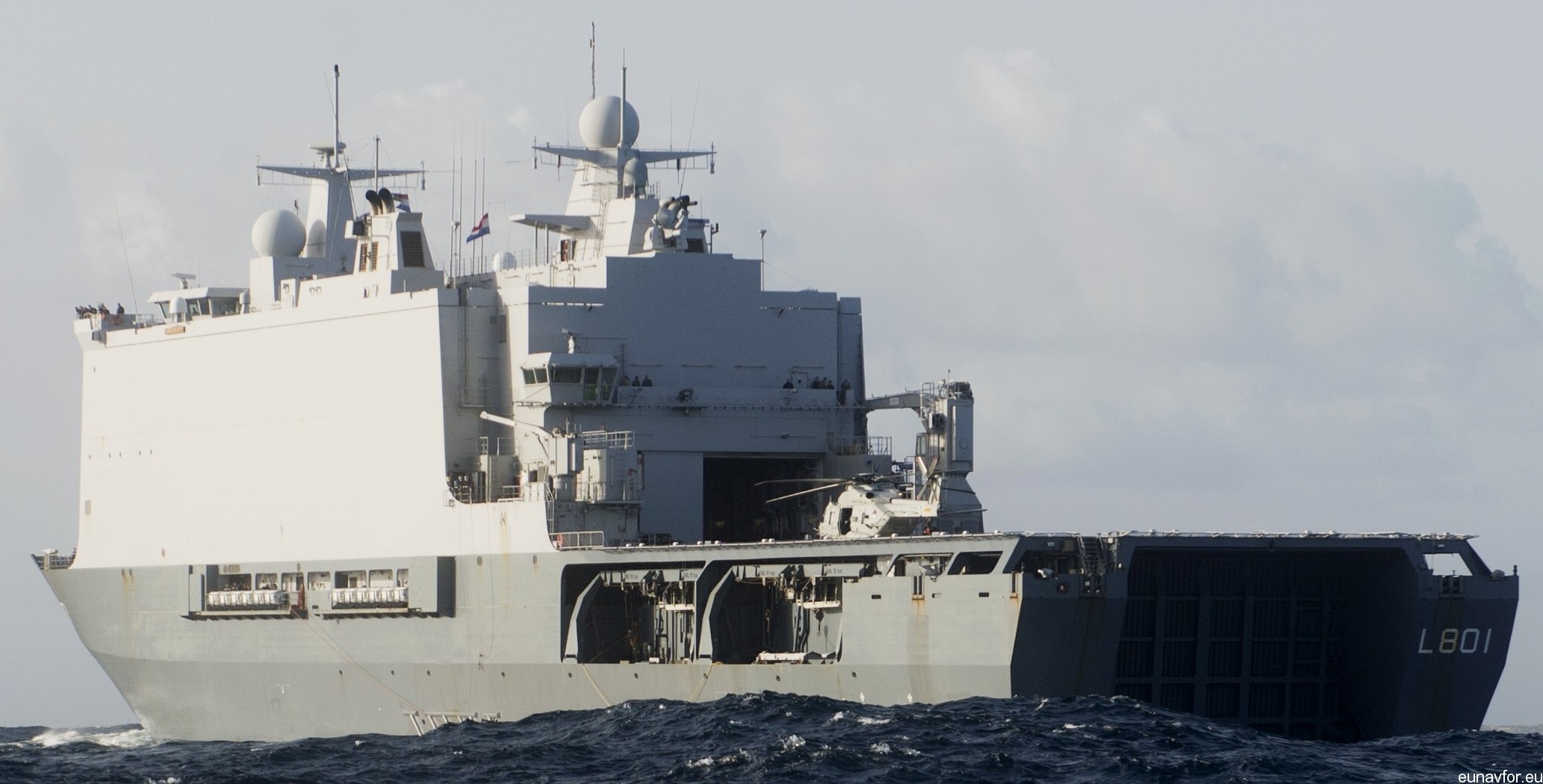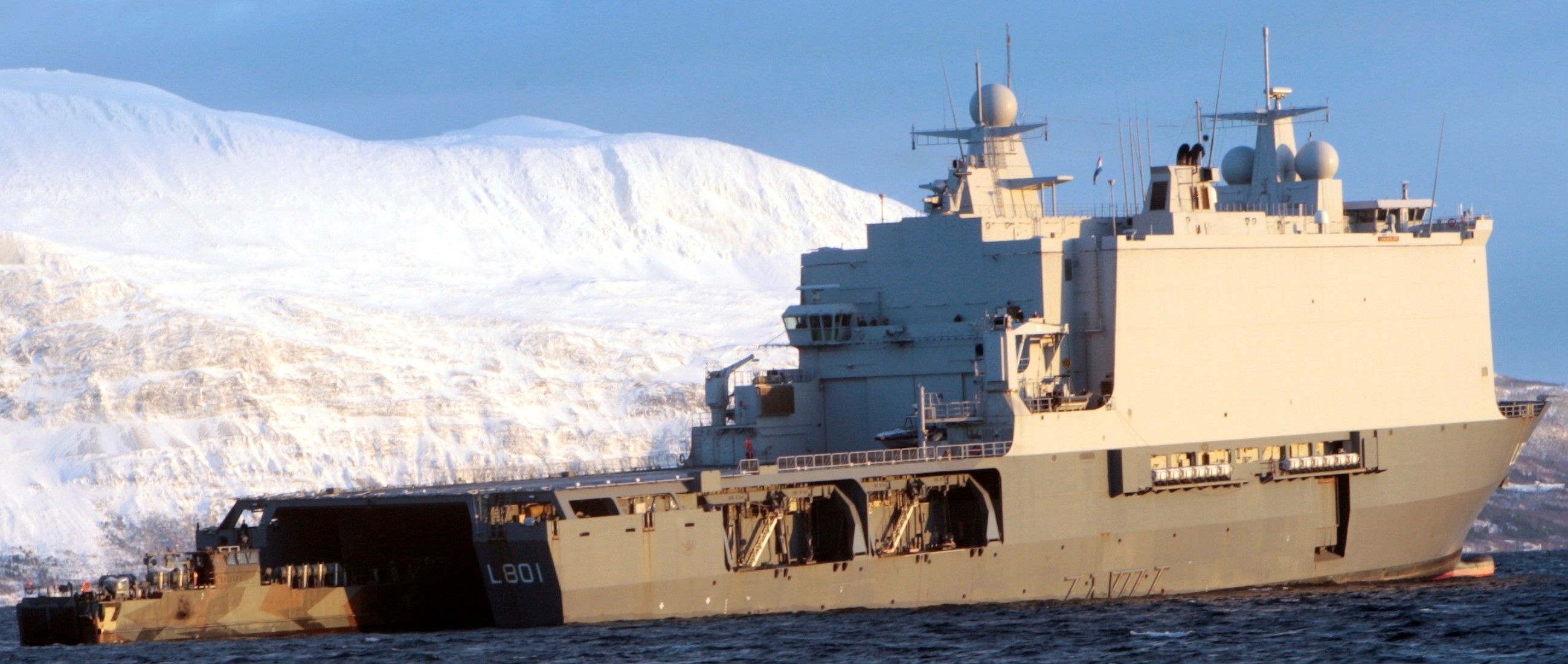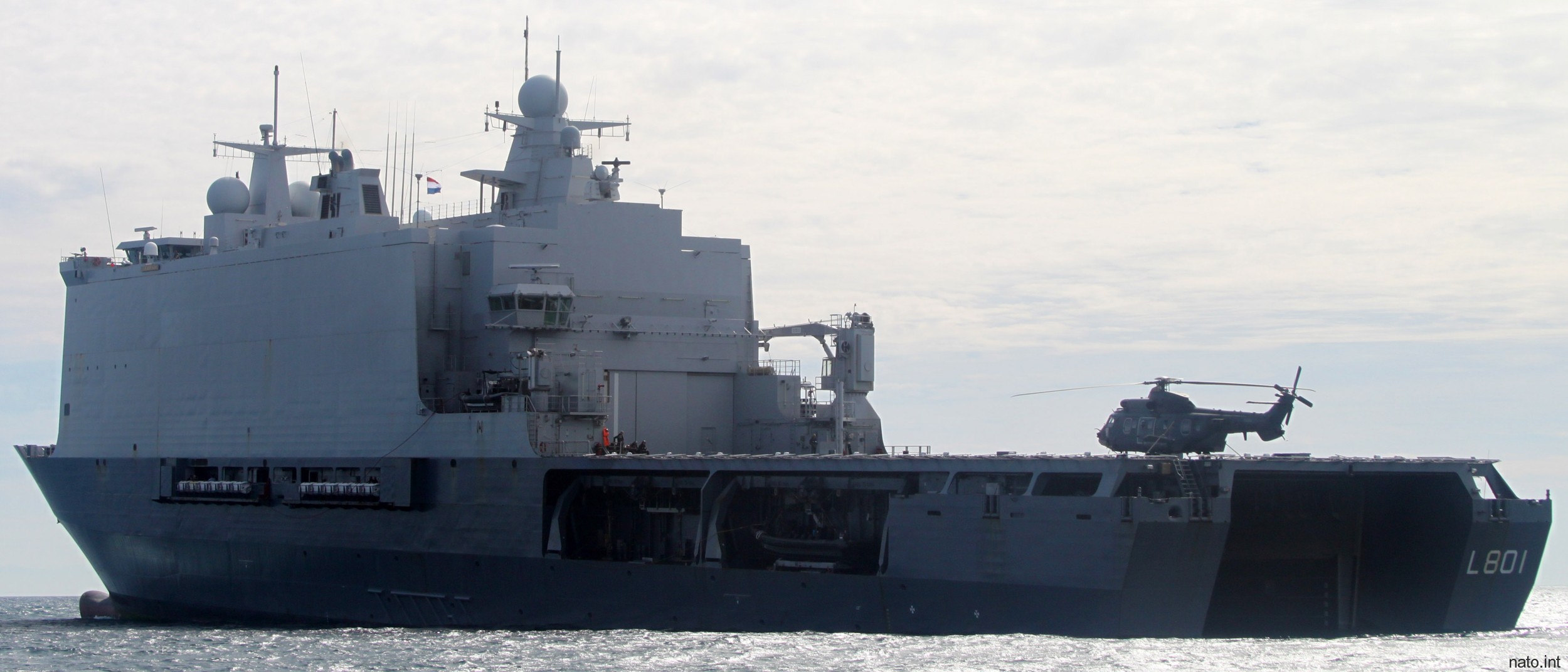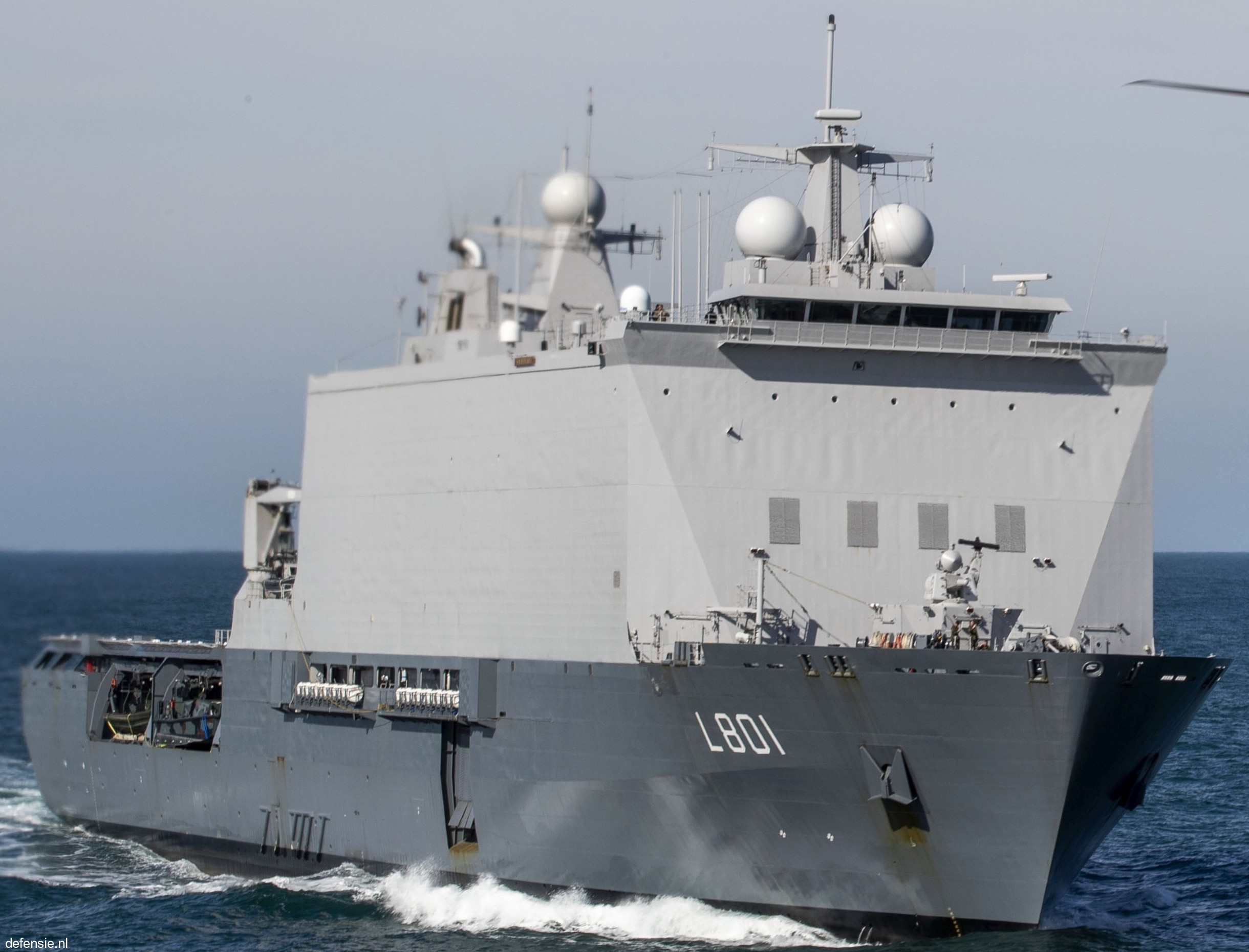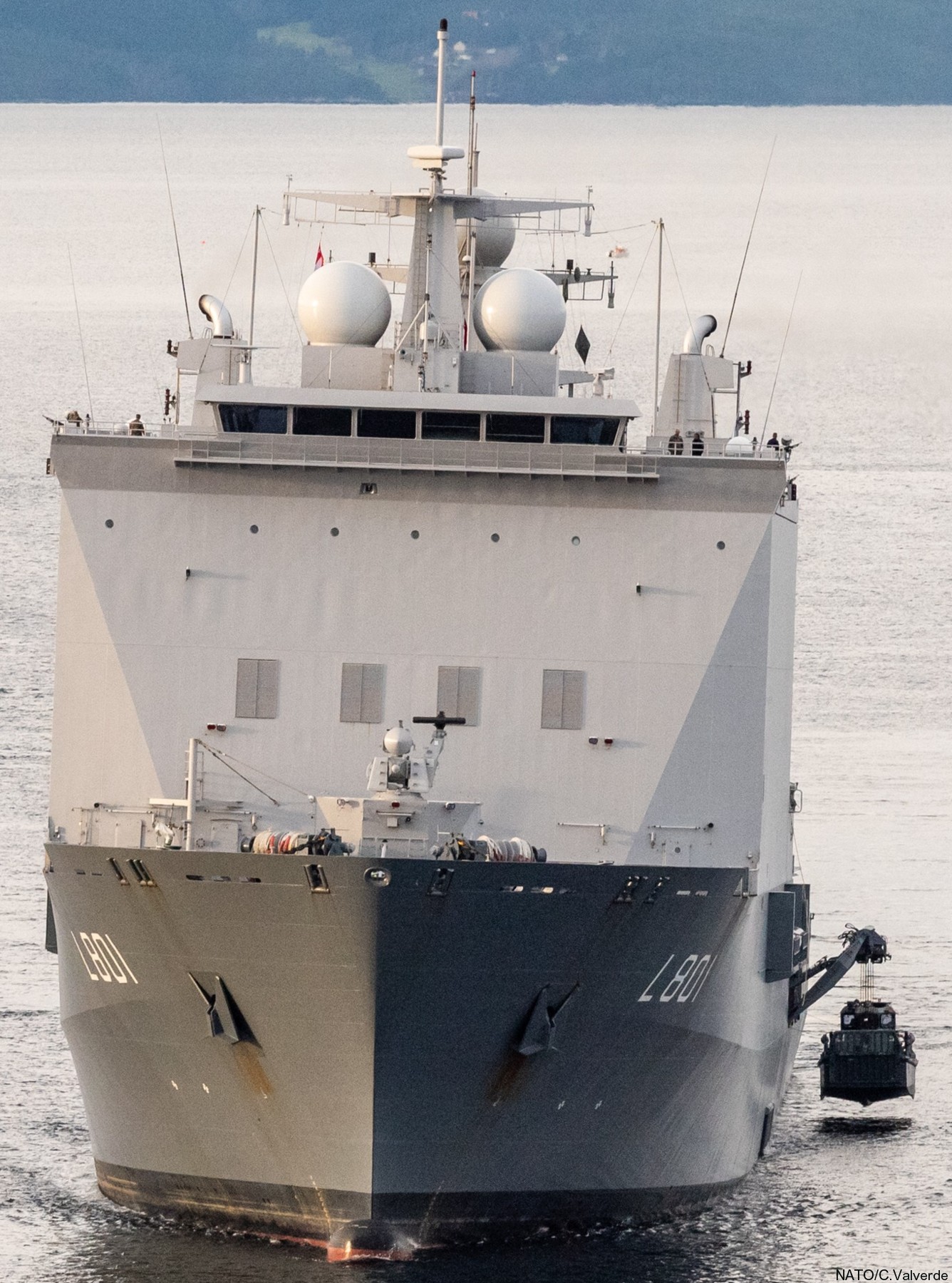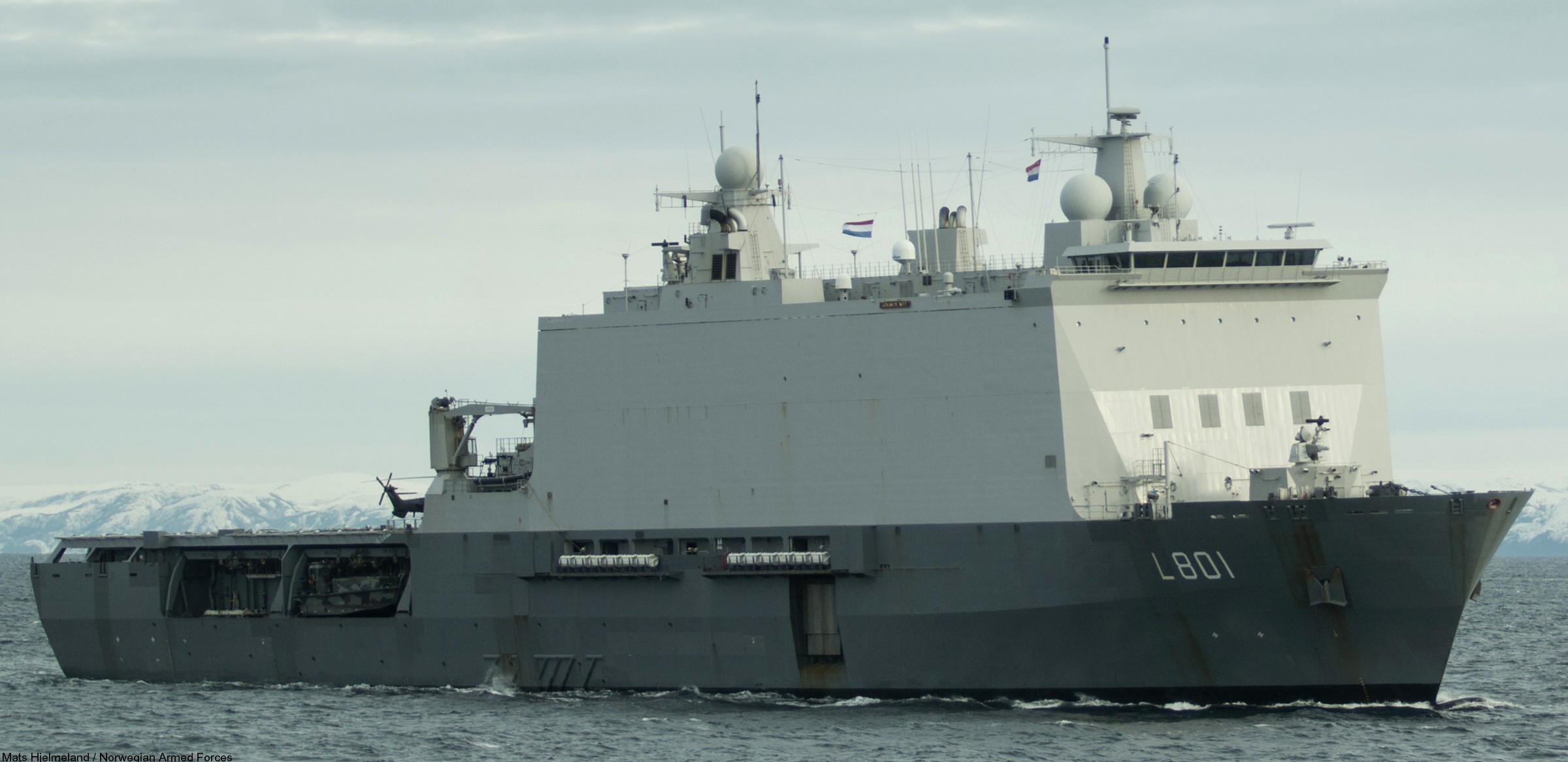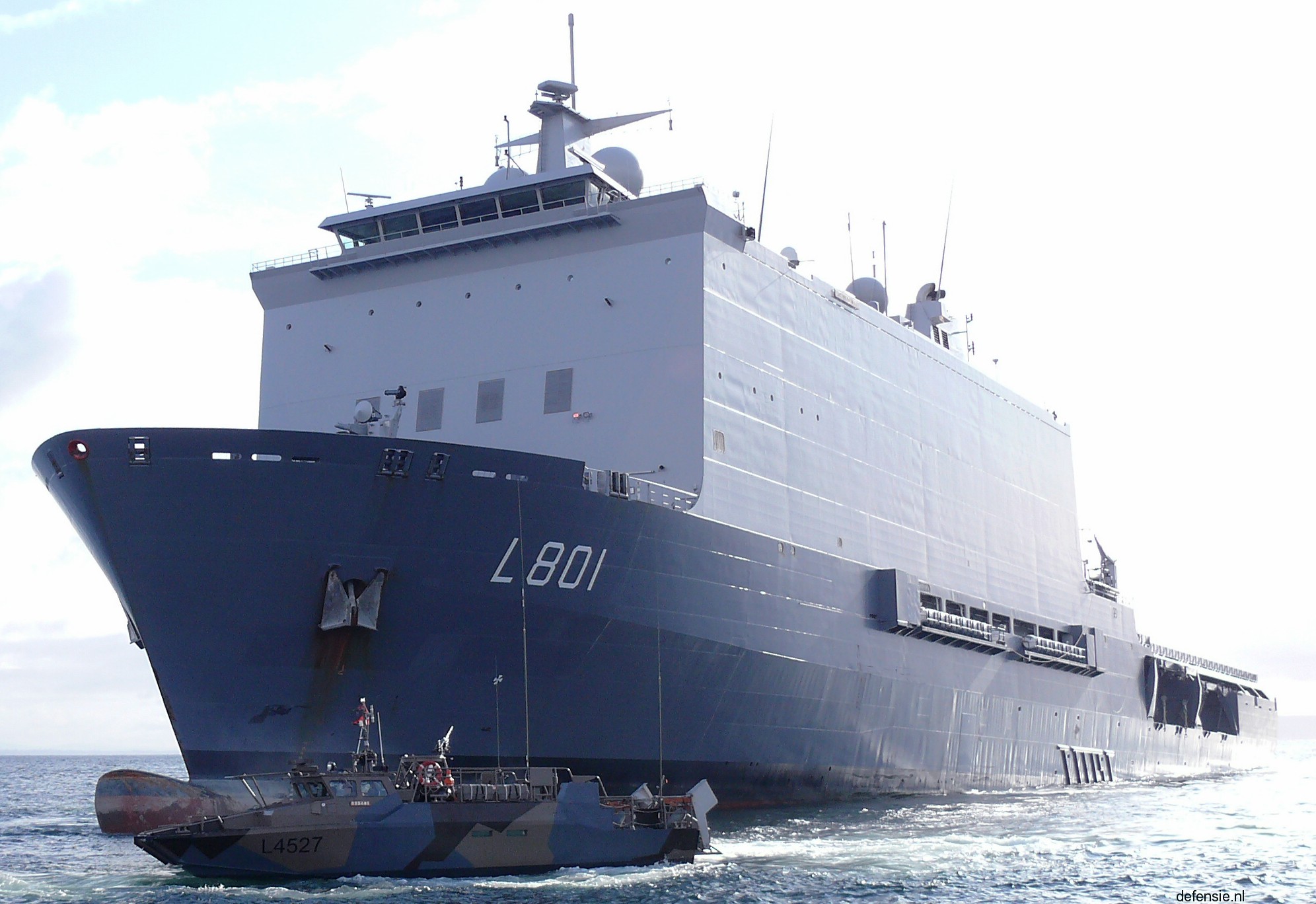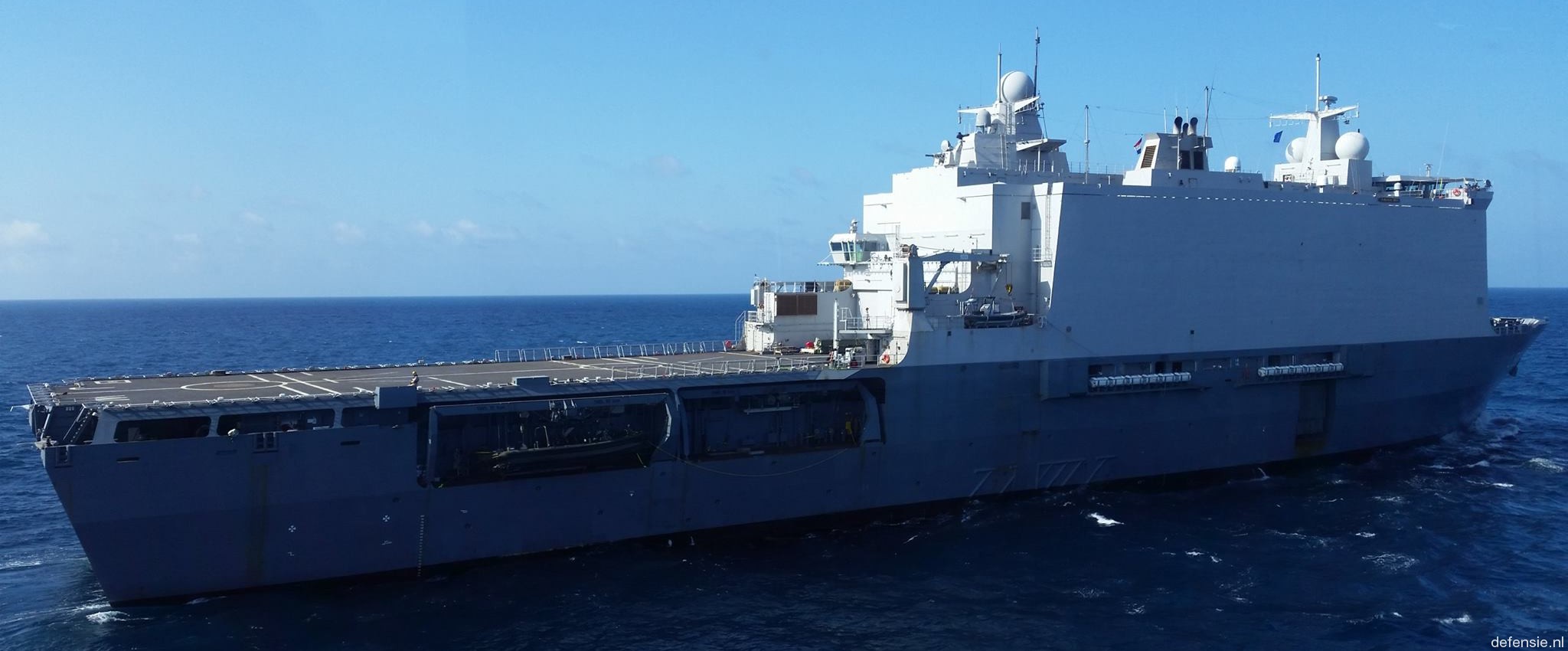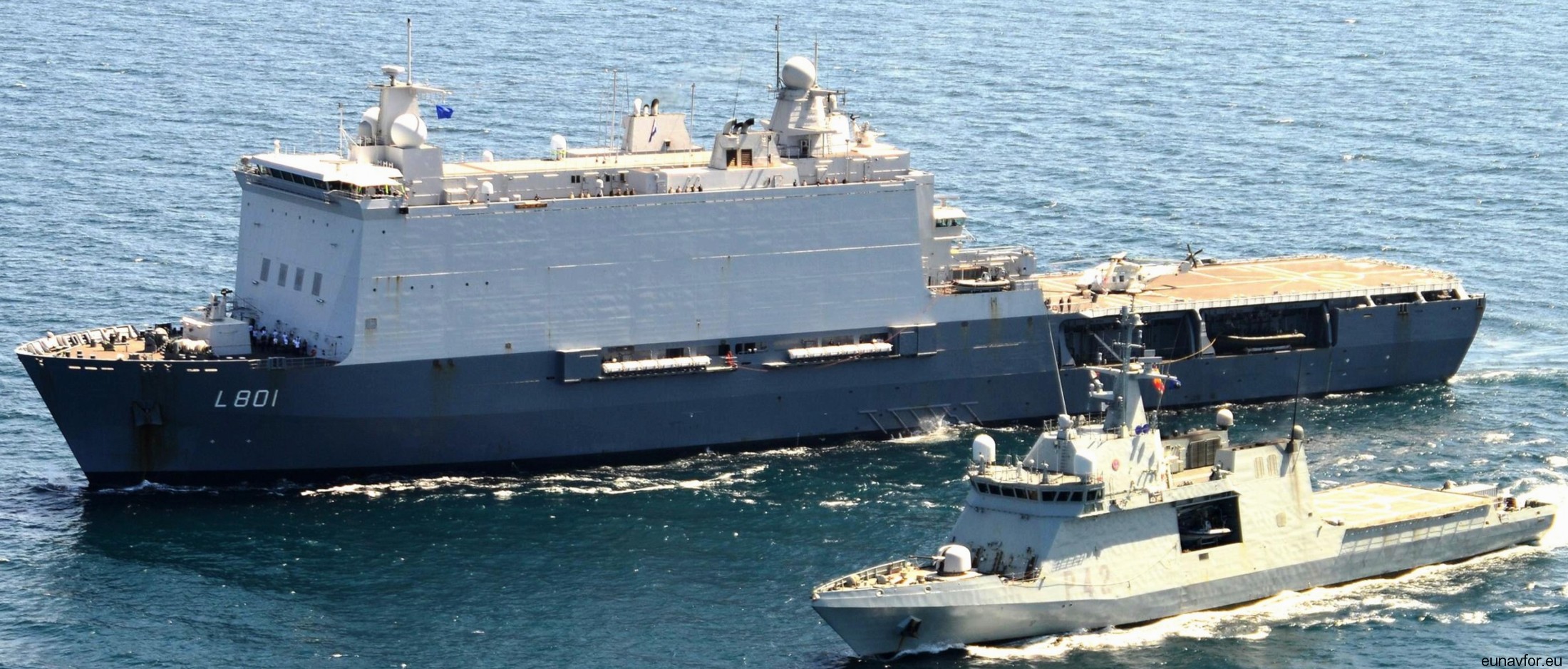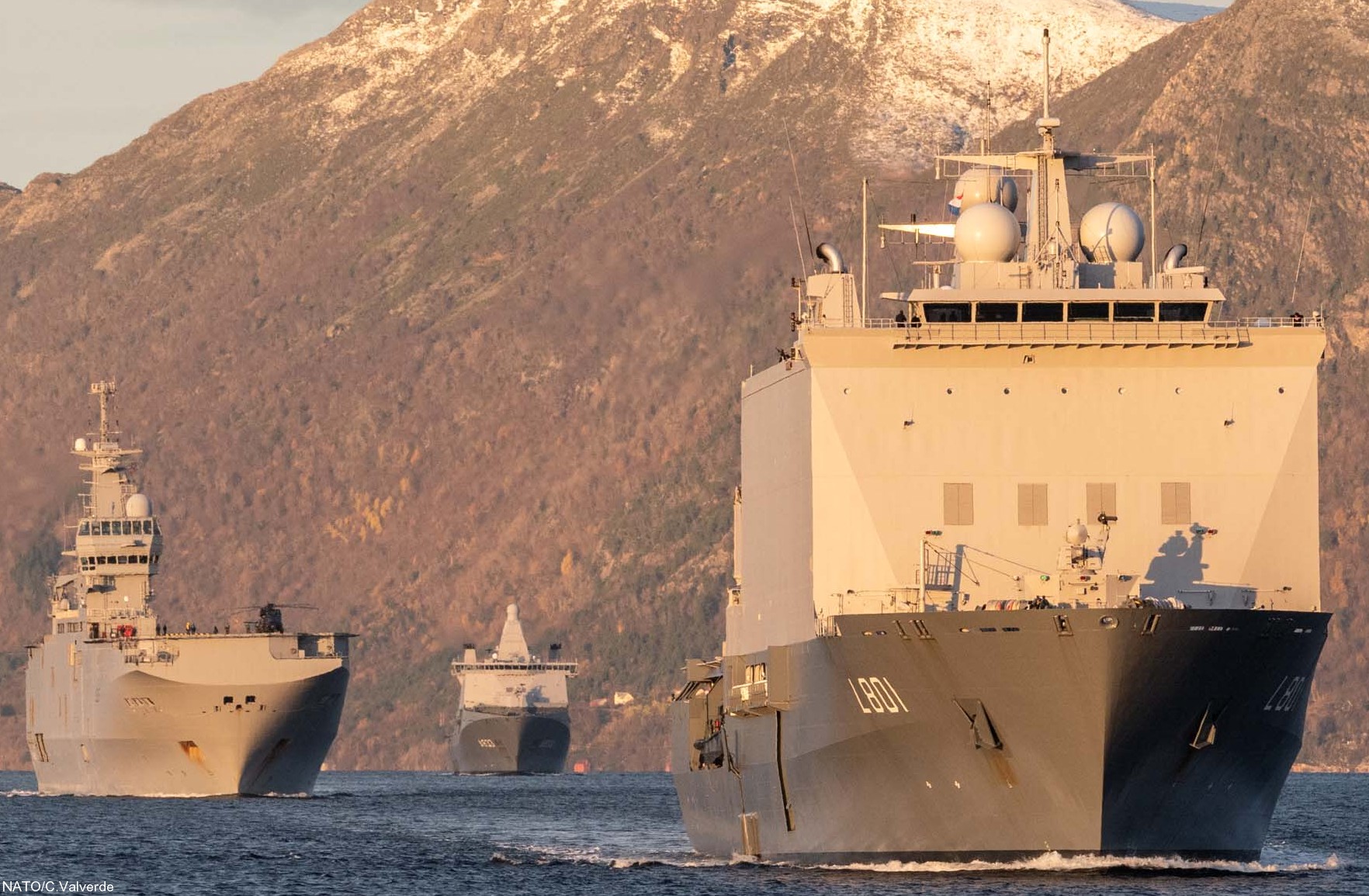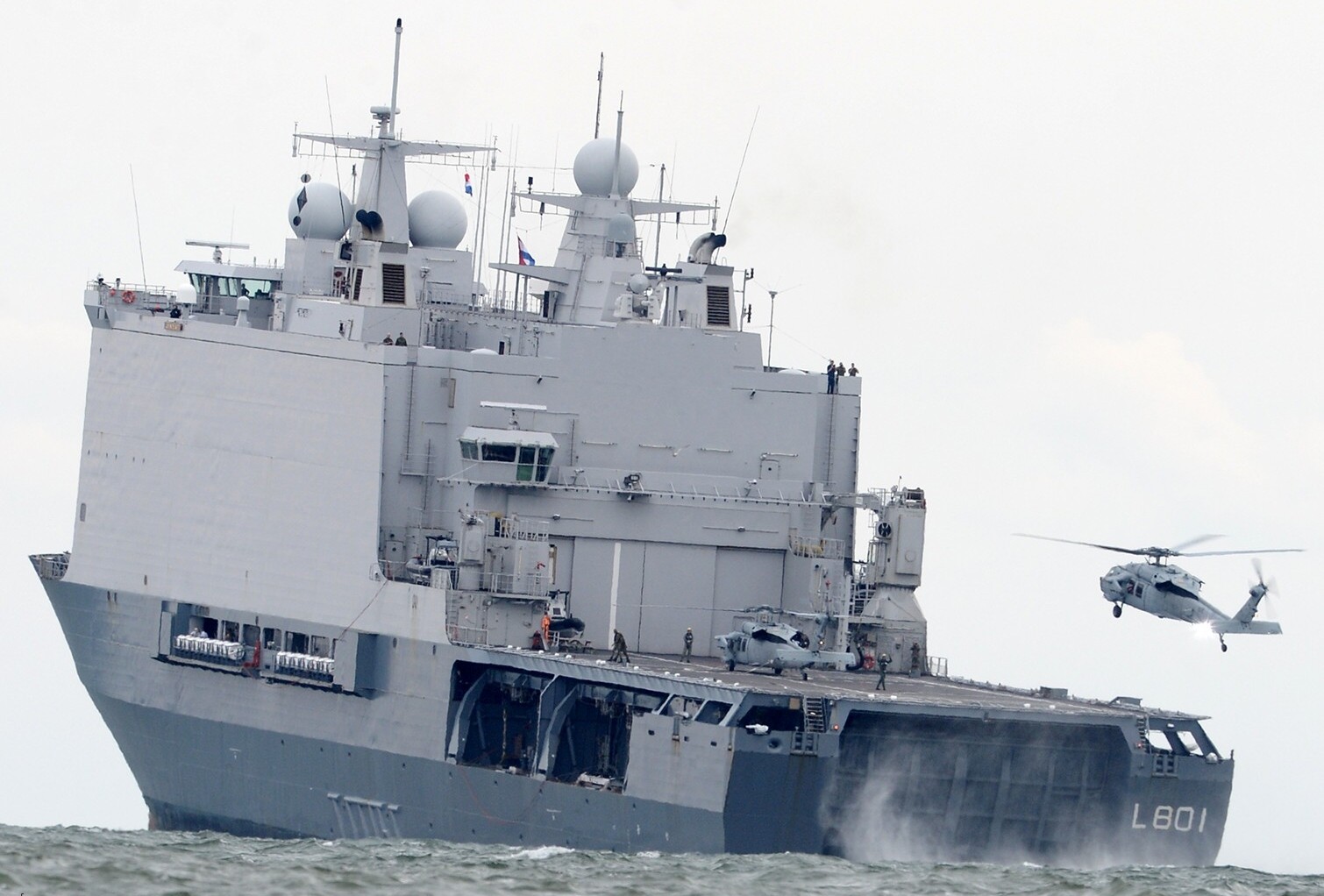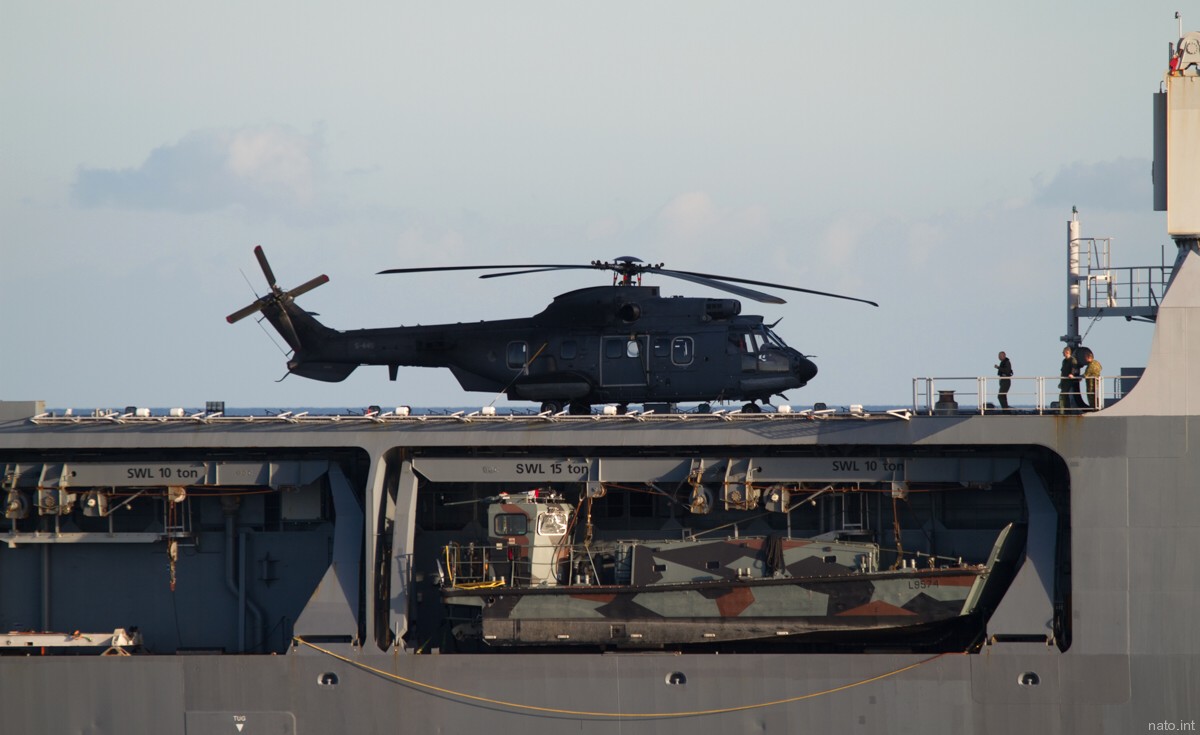 HNLMS Johan de Witt (L 801):

Equipment:
The ship is equipped with a large helicopter deck for helicopter operations and a dock for large landing craft. It can carry six NH90 helicopters or four Chinook helicopters. It has a well dock for two landing craft utility and it carries four davit-launched LCVPs. The dock is wide enough to support two LCAC, but to allow for this, the centre barrier, that splits the dockwell in two, must be removed.

The vessel has an extra deck with rooms for command staff to support a battalion size operation. The ship has a complete Role II hospital, including an operation theatre and intensive care facilities. A surgical team can be stationed on board. The ship also has a desalination system enabling it to convert seawater into drinking water.

It is equipped with pod propulsion enabling the ship to use dynamic positioning while sea basing.

Sensors + Armament:
The sensor suite consists of a Thales Netherlands Variant 2D Air and Surface surveillance radar, the Thales Scout Low Probability of Intercept Surface surveillance and tactical navigation radar and the Thales GateKeeper Electro-Optical warning system.

When participating in high-risk operations Johan de Witt needs additional protection from frigates or destroyers. For protection against incoming anti-ship missiles or hostile aircraft and swarm attacks the ship has two Goalkeeper CIWS systems and 4-6 manual operated .50 Browning or FN Mag machine guns.


Johan de Witt's home port is in Den Helder. The ship has participated twice in anti-piracy operations off the coast of Somalia, where it successfully disrupted pirate activities and patrolled the coast with the landing craft functioning as forward operating bases. Johan de Witt also supported the locals with medical assistance and supplying food and water.

source: wikipedia (07/19)

NOTE: Royal Netherlands Navy vessels are given the international prefix "HNLMS", short for His/Her Netherlands Majesty's Ship)
In Dutch Zr.Ms. for Zijner Majesteits (His Majesty's) or Hr.Ms. for Harer Majesteits (Her Majesty's) and then the ship's name without using the word ship.
e.g. Zr.Ms. Evertsen means 'His Majesty's Evertsen' and not 'His Majesty's ship Evertsen'.

<![if !supportEmptyParas]> <![endif]>
Johan de Witt (September 24, 1625 - August 20, 1672):

Johan de Witt (born: September 24, 1625 in Dordrecht / died: August 20, 1672 in The Hague) was a key figure in Dutch politics at a time when the Republic of the United Provinces was one of the Great Powers in Europe, dominating world trade and thus one of the wealthiest nations in the world.

Early life
Johan de Witt was born as the son of Jacob de Witt, an influential burgher from the patrician class in the city of Dordrecht which, in the seventeenth century, was one of the most important cities of the dominating province of Holland. Johan and his older brother Cornelis de Witt grew up in a privileged environment in terms of education, his father having important scholars and scientists, such as Isaac Beeckman, Jacob Cats, Gerhard Vossius and Andreas Colvius as good acquaintances. Jacob de Witt greatly valued stoicism.

Johan and Cornelis both attended the latin school in Dordrecht, which impregnated both brothers even more with the values of the Roman Republic. As Johan proved to be a highly gifted student, he was awarded by being allowed the role of Julius Caesar in a school play.

Career
After having attended the Latin school in Dordrecht, he studied at the University of Leiden where he excelled at mathematics and law. He received his doctorate from the University of Angers in 1645. He practiced law as an attorney in The Hague as an associate with the firm of Frans van Schooten.

In 1650 he was appointed leader of the deputation of Dordrecht to the States of Holland, the same year stadtholder William II of Orange died. In 1653 De Witt became raadpensionaris of Holland and, as such, the factual leader of this governing body in 1653. Controlling Holland, the most powerful province, he served as the most important administrator in the Republic of the United Provinces as a whole. Being the most influentian administrator of the United Provinces, the raadpensionaris of Holland was also referred to as the Grand Pensionary. Johan applied his mathematical knowledge to the Republic's financial and budgetary problems.

Johan de Witt brought about peace with England after the First Anglo-Dutch War with the Treaty of Westminster in the year 1654. The peace treaty had a secret annex, the Act of Seclusion, forbidding the Dutch ever to appoint William II's infant son as new stadtholder. This annex had been attached on instigation of Cromwell who felt that a relative the executed Charles I ((William III was a grandson of Charles) in power in Holland was not in the interests of England. De Witt did his utmost to prevent any member of the House of Orange from gaining any power, convincing many provinces to abolish the stadtholderate entirely. Influenced by the values of the Roman republic, he bolstered his policy by publicly endorsing the theory of republicanism. He is known to have contributed personally to the Interest of Holland, a radical republican textbook published in 1662 by his supporter Pieter de la Court.

De Witt's power base was the wealthy merchant class. The people supporting him were called the "States faction", opposed by the "Orange faction" that was popular among the artisan class. This antagonism paralleled a division between moderate and intolerant Calvinists. In the period following the Treaty of Westminster the Republic increased in wealth and influence under De Witt's leadership. De Witt created a strong navy, appointing one of his political cronies, Lieutenant-Admiral Jacob van Wassenaer Obdam, as supreme commander of the confederate fleet. Later De Witt became a personal friend of Lieutenant-Admiral Michiel de Ruyter. The Second Anglo-Dutch War began in 1665, lasting until 1667 when it ended with the Treaty of Breda, in which De Witt negotiated very favorable agreements for the Republic after the partial destruction of the British fleet in the Raid on the Medway, originally conceived by De Witt himself.

Death
His pro-French policy however would prove to be his undoing. In the Dutch rampjaar (disaster year) of 1672, when France and England during the Franco-Dutch War (Third Anglo-Dutch War) attacked the Republic, the Orangists took power by force and expelled him. Recovering from an earlier attempt on his life in June, he was assassinated by a carefully organized lynch "mob" after visiting his brother Cornelis de Witt in prison. He was decoyed into this trap by a forged letter.

After the arrival of Johan de Witt the city guard was sent away to stop plundering farmers, the farmers were not found. Without any protection against the assembled mob the brothers were doomed. They were taken out of the prison and on their way to the scaffold killed. Immediately after their death the bodies were mutilated and fingers toes and other parts were cut off.

Nowadays most historians assume that his adversary and successor as leader of the government stadtholder William III of Orange was involved. At the very least he protected and rewarded the killers.

Mathematician
Besides being a statesman Johan de Witt also was an accomplished mathematician. In 1659 he wrote "Elementa Curvarum Linearum" as an appendix to his translation of René Descartes' "La Géométrie".

In 1671 his "Waardije van Lyf-renten naer Proportie van Los-renten" was published ('The Worth of Life Annuities Compared to Redemption Bonds'). This work combined the interests of the statesman and the mathematician. Ever since the Middle Ages a Life Annuity was a way to "buy" someone a regular income from a reliable source. The state for instance could provide a widow with a regular income until her death, in exchange for a 'lump sum' up front. There were also Redemption Bonds that were more like a regular state loan. De Witt showed - by using probability mathematics - that for the same amount of money a bond of 4% would result in the same profit as a Life Annuity of 6% (1 in 17). But the 'Staten' at the time were paying over 7% (1 in 14).

The publication about Life Annuities is seen as the first mathematical approach of chance and probability.

The drop in income for the widows contributed no doubt to the "bad press" for the brothers De Witt. Significantly, after the violent deaths of the brothers the 'Staten' issued new Life Annuities in 1673 for the old rate of 1 in 14.

In addition, in his Elementa curvarum linearum, De Witt derived the basic properties of quadratic forms, an important step in the field of linear algebra.

In Popular Culture
The lynching of the De Witt Brothers is depicted with a dramatic intensity in the first chapter of The Black Tulip, a historical fiction novel written by Alexandre Dumas, père in 1850, and this event has implications for the whole plot line of the book.

In its time, Dumas' book has helped make this tragedy known to a French readership (and a readership in other countries into whose languages the book was translated) otherwise ignorant of Dutch history.



source: wikipedia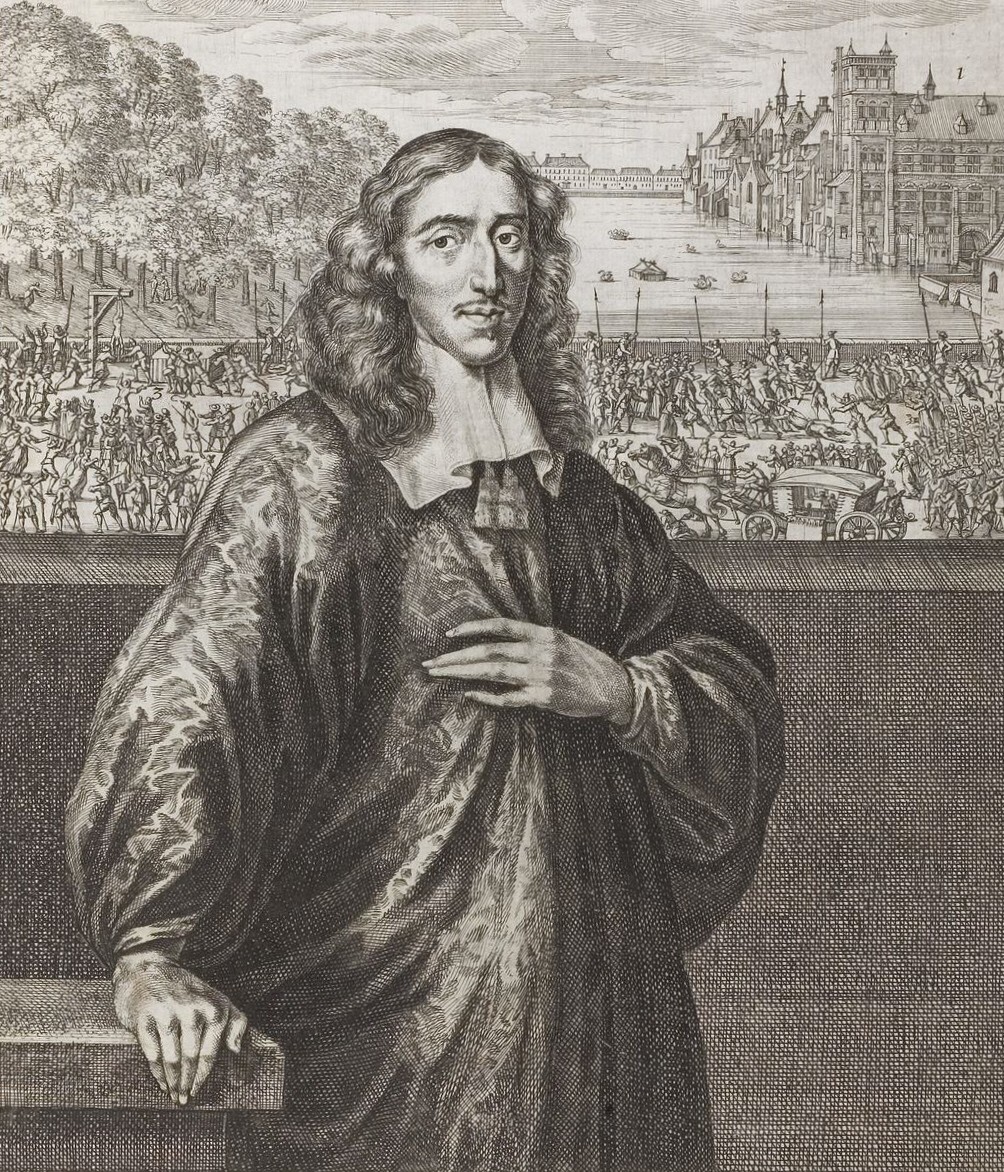 patches + more
<![if !supportEmptyParas]> <![endif]>
|
seaforces.org
|
Royal Netherlands Navy start page
|