HOME | US Navy - ships | US Navy - air units | USMC - air units | International Navies | Weapon Systems | Special Reports
Royal Netherlands Navy / Koninklijke Marine
-
Amphibious Landing Ship
L 800 HNLMS Rotterdam
07/19

Type, class:

Rotter

dam class Amphibious Ship / Landing Platform Dock (LPD)
Builder: Koninklijke Maatschappij De Schelde / KMS (Royal Schelde Shipbuilding, Vlissingen, The Netherlands)
STATUS:
Laid down: February 23, 1996
Launched:

February 22, 1997
Commissioned: April 18, 1998
IN SERVICE
Homeport: Den Helder
Namesake: City of Rotterdam
Ship's motto: STERKER DOOR STRIJD (stronger from struggle)


Technical Data:
Length:
166 meters (544 ft 7 in)

Beam:
27 meters (88 ft 7 in)

Draft:
6 meters (19 ft 8 in)

Displacement:
14000 tons (full load)

Speed:
21 knots (39 km/h)

Range:
6000 NM (11000 km) at 12 knots (22 km/h)

Complement:
130 (ship), 610 troops
Propulsion:
Diesel-Electric
4 x Stork Wärtsilä 12SW28 diesel generators (4 x 3,65 MW = 14,6 MW)
4 x Holec electric motors - two in tandem per shaft (2 x 5,5 MW = 11 MW)
2 shafts / 2 propellers
1 bow thruster (185 KW)


Armament:
2 x
Goalkeeper CIWS

up to 10 x
12.7mm Machine Guns (caliber .50)
4 x
Mk-36 SRBOC chaff/decoy systems
Aviation:
large flight deck with 2 landing spots
hangar for up to 6 helicopters (6 x Lynx / 3 x
NH90 NFH
or AS532 Cougar)
Helicopters: Lynx, AS532 Cougar, NH90 or similar

Well deck, boats + space:
6 x
Landing Craft Vehicle Personnel (LCVP)
or 4 x
Landing Craft Utility (LCU)
in well deck
2 x
RHIB / FRISC (Fast Raiding Interception Special Forces Craft)

Vehicle deck: up to 90 vehicles or 30 tanks

Systems:
Thales NS100 AESA 3D air & surface search radar
Thales IRSCAN infra-red search, track & surveillance system
AN/SLQ-25 Nixie towed torpedo decoy system

images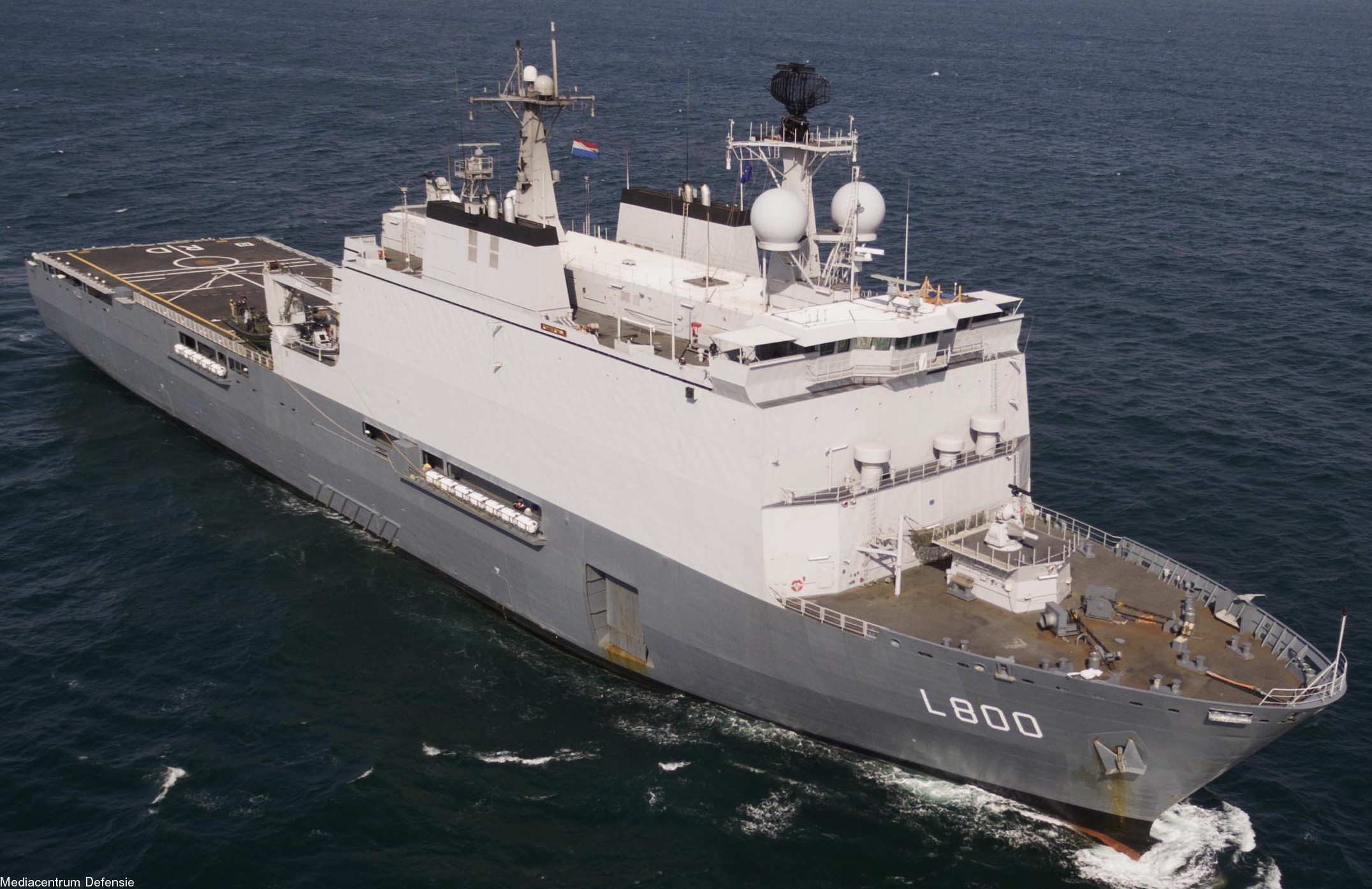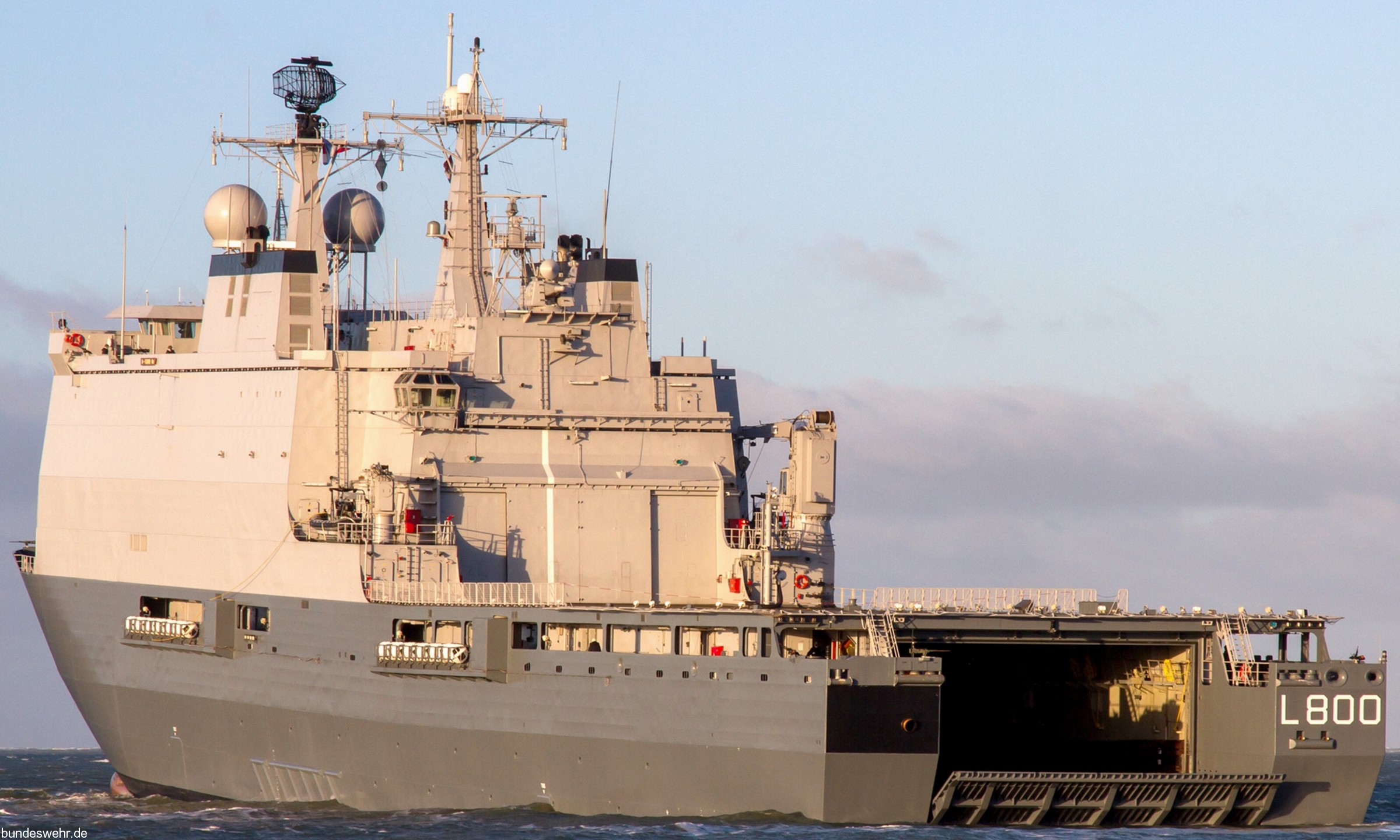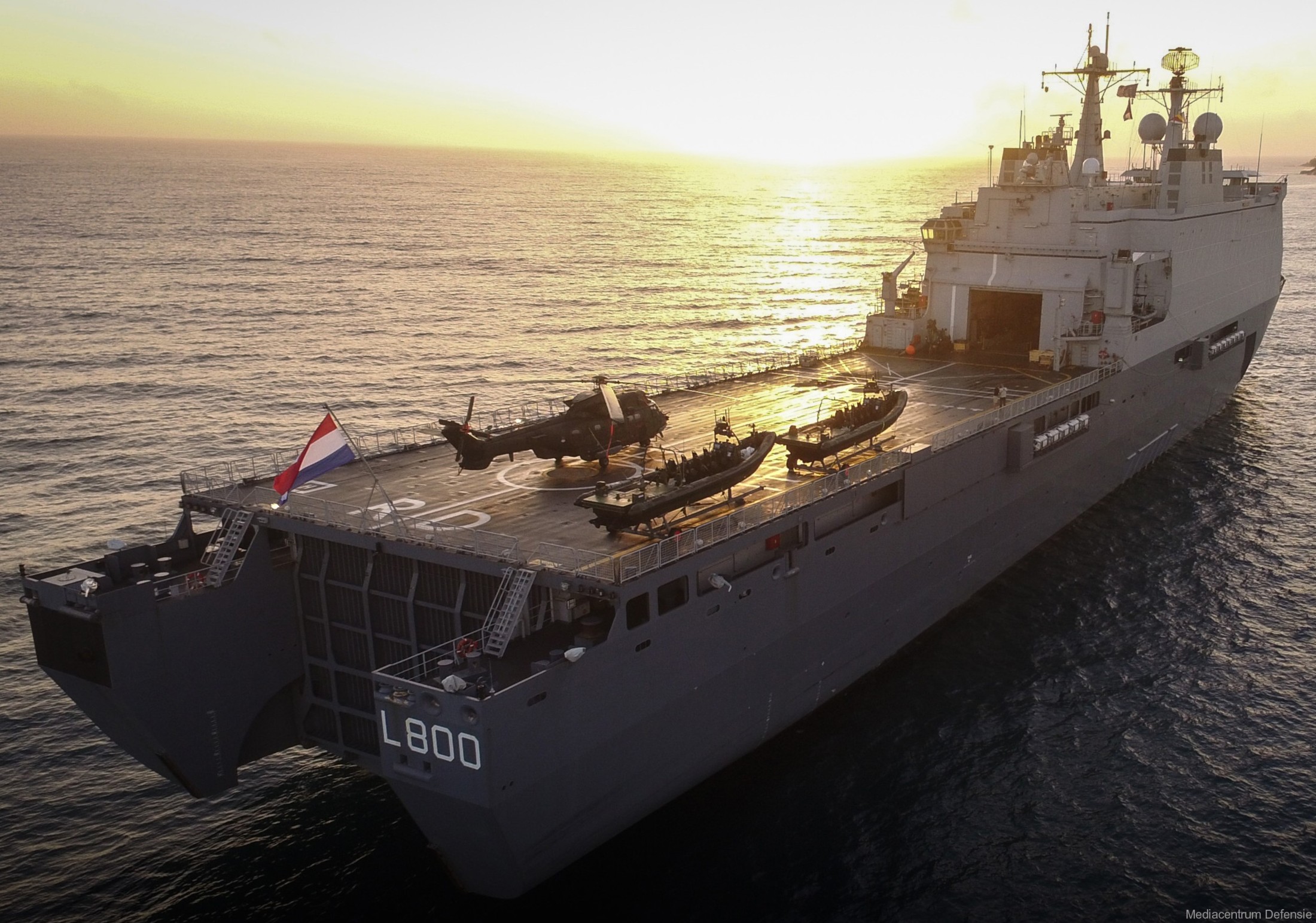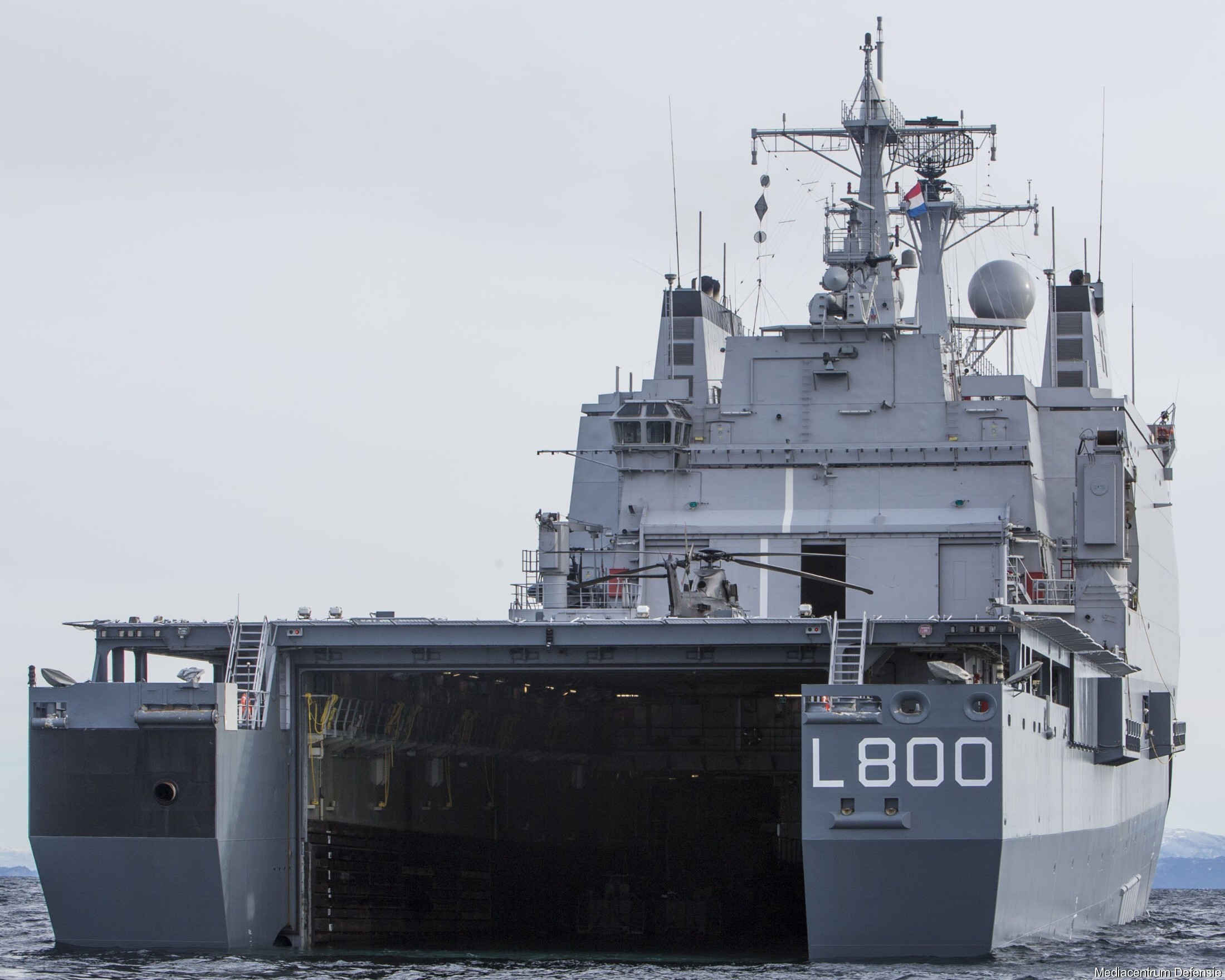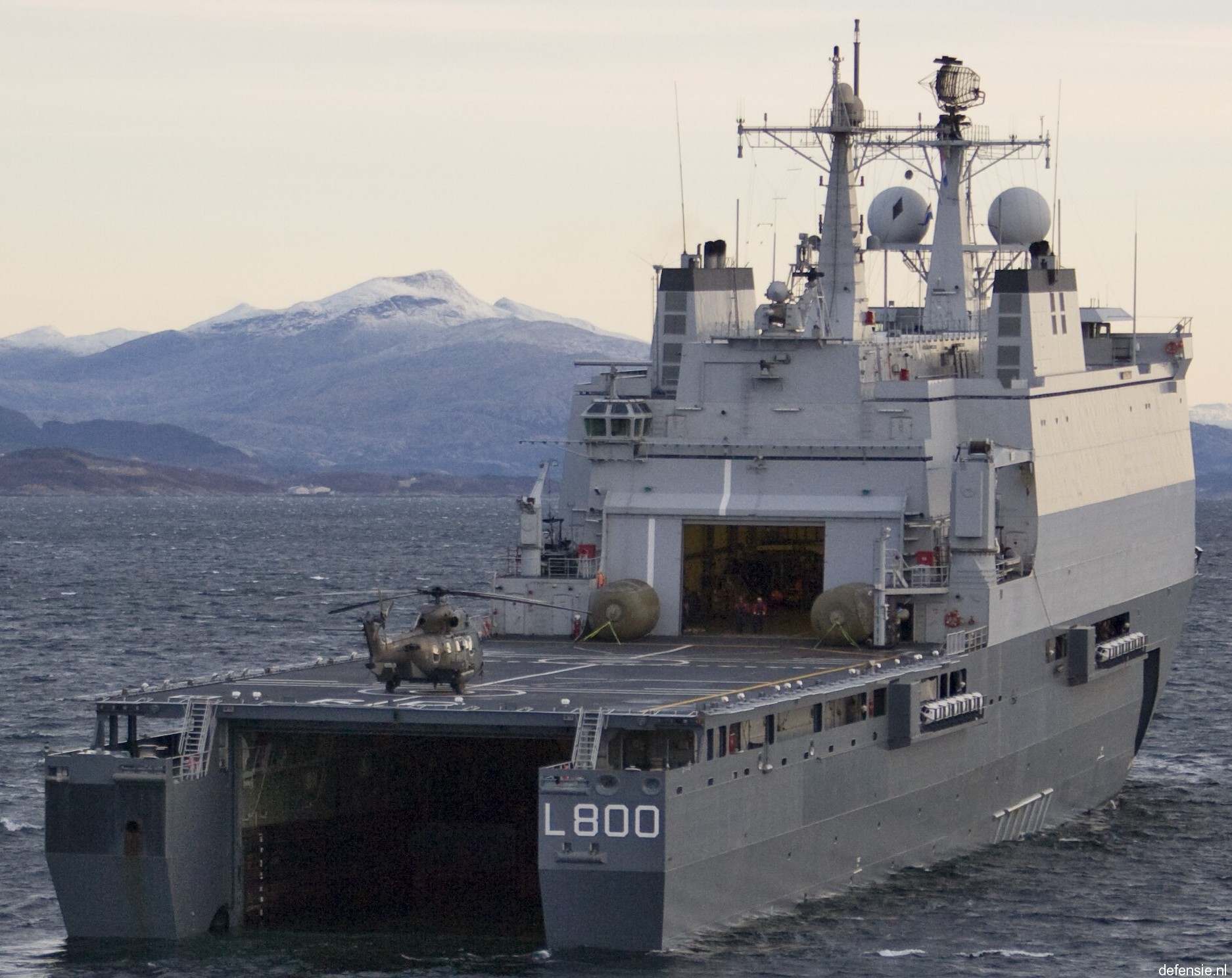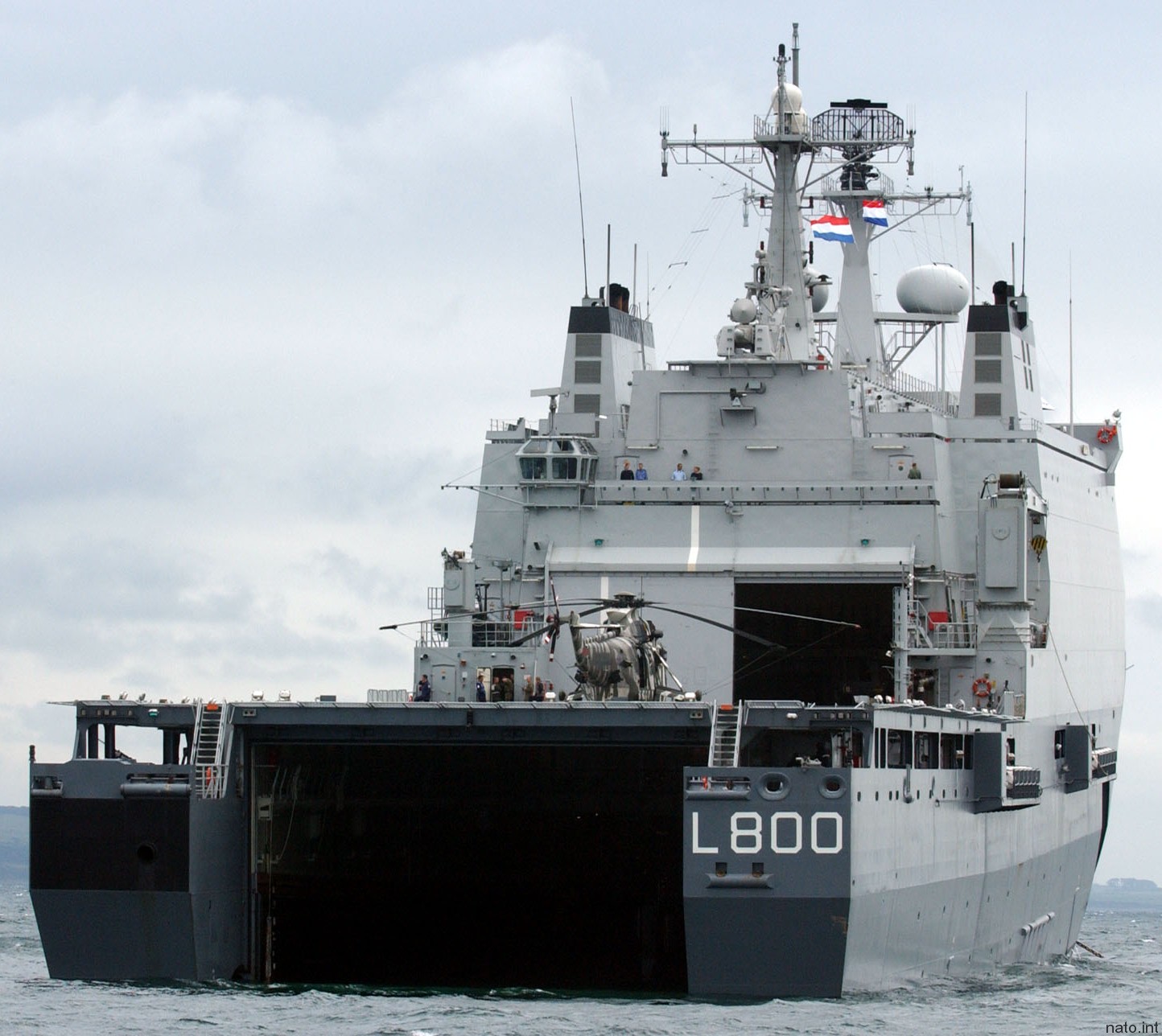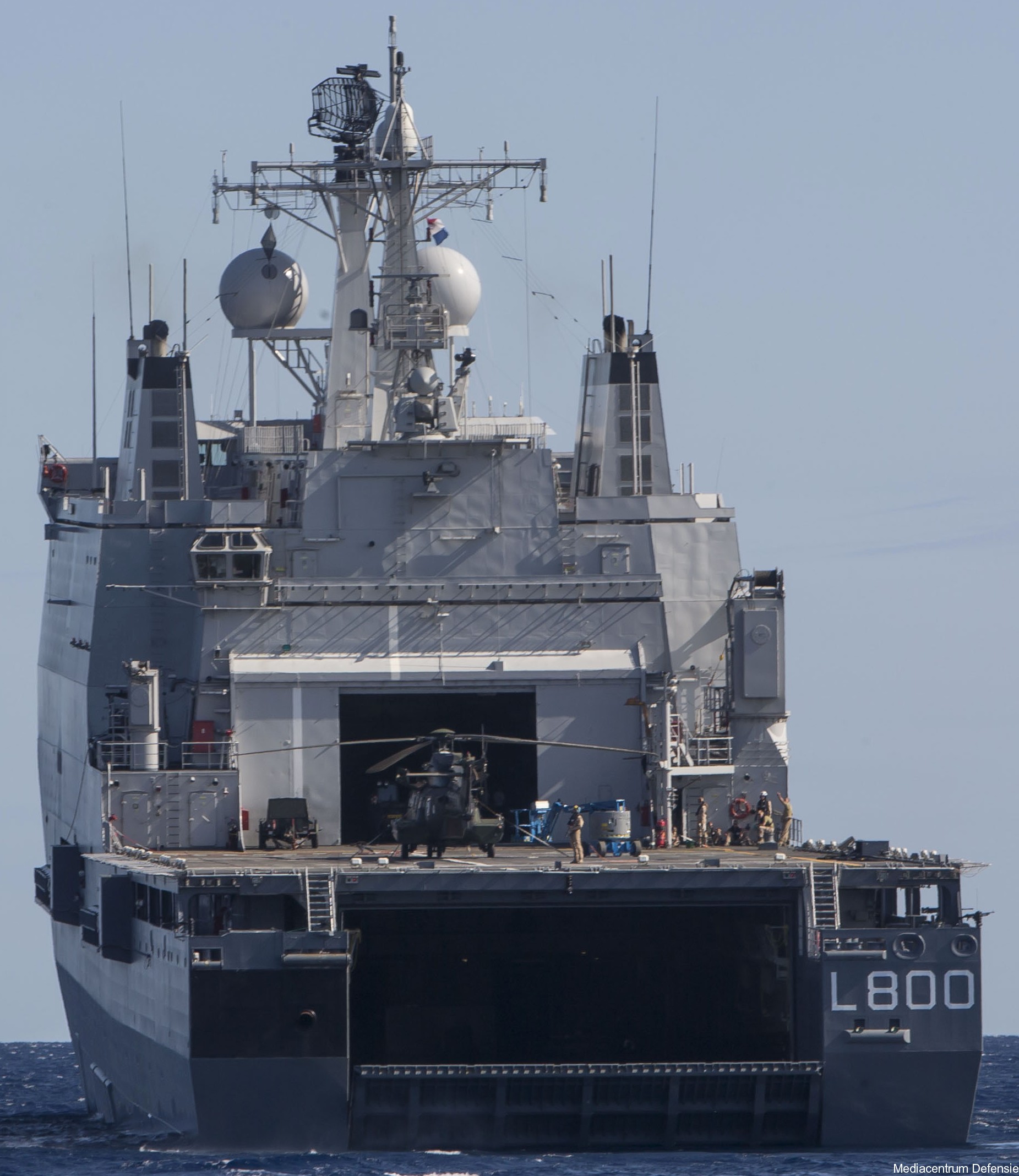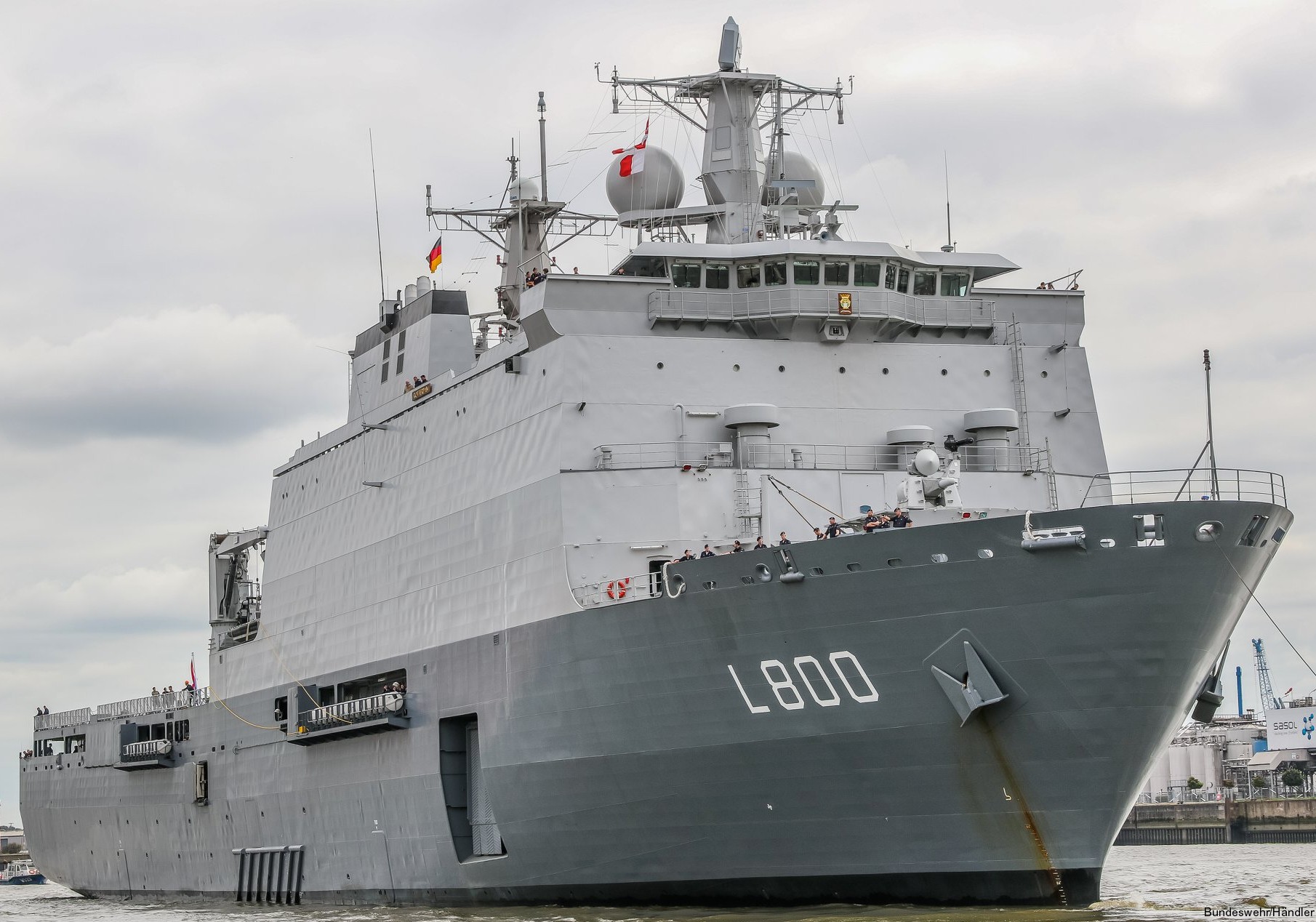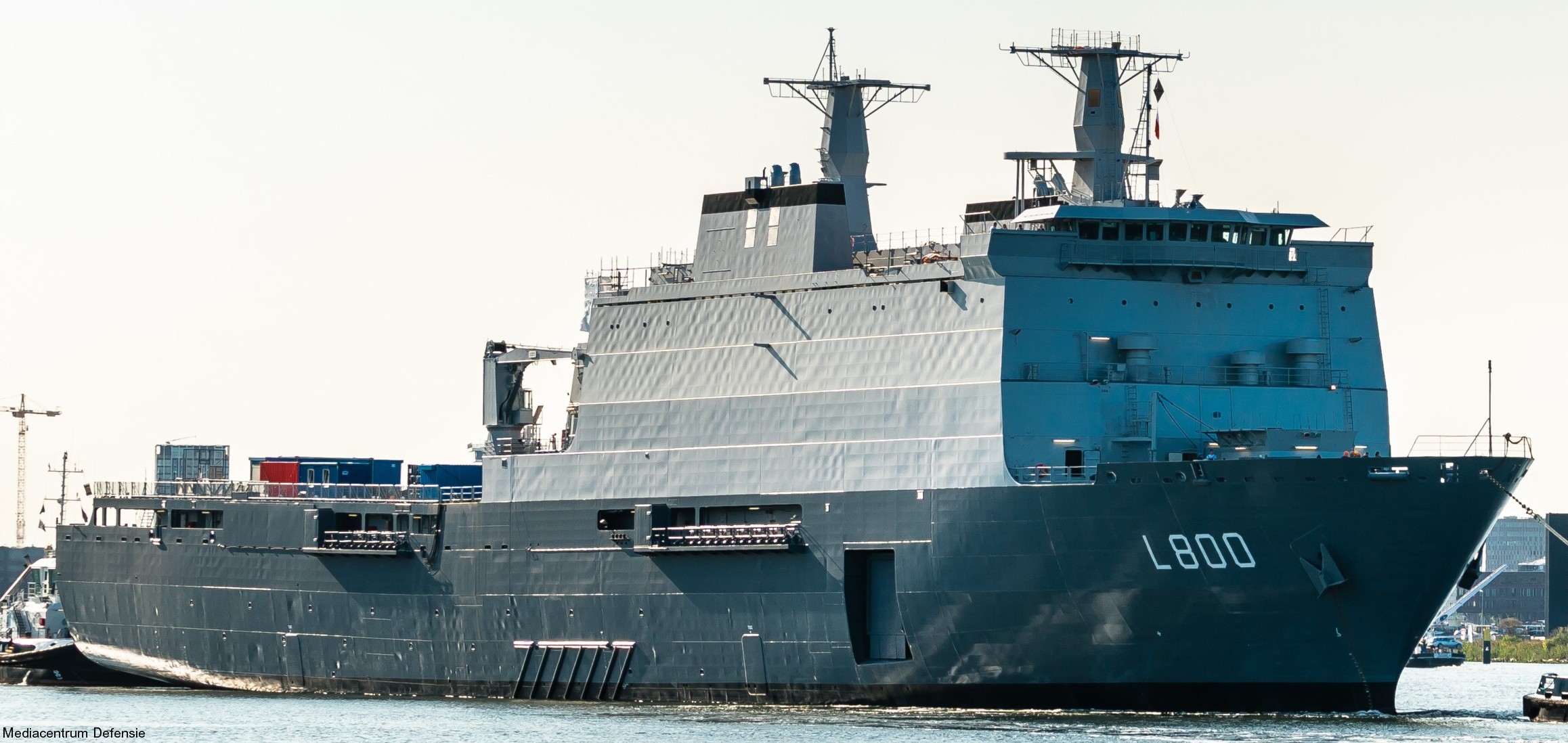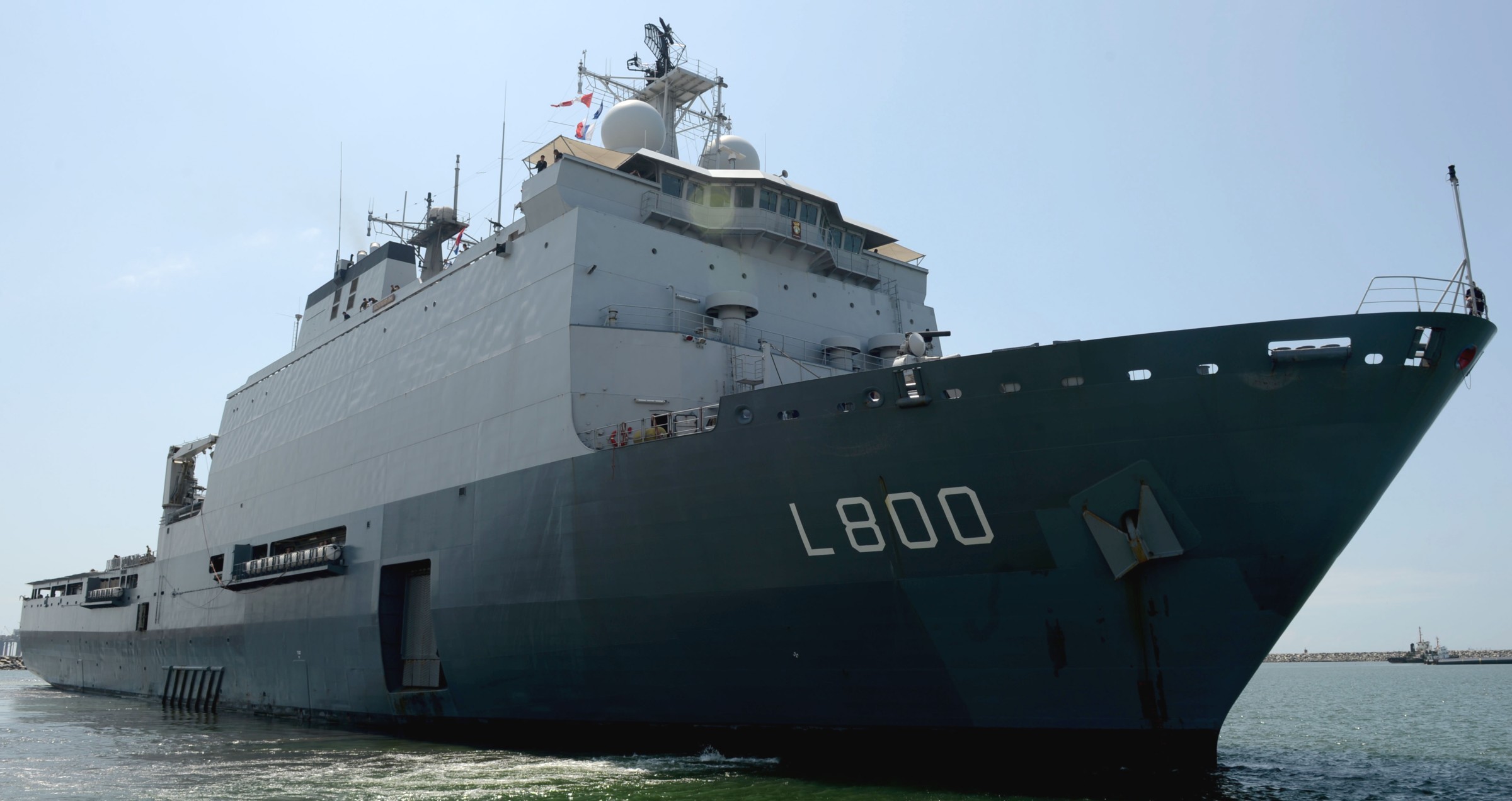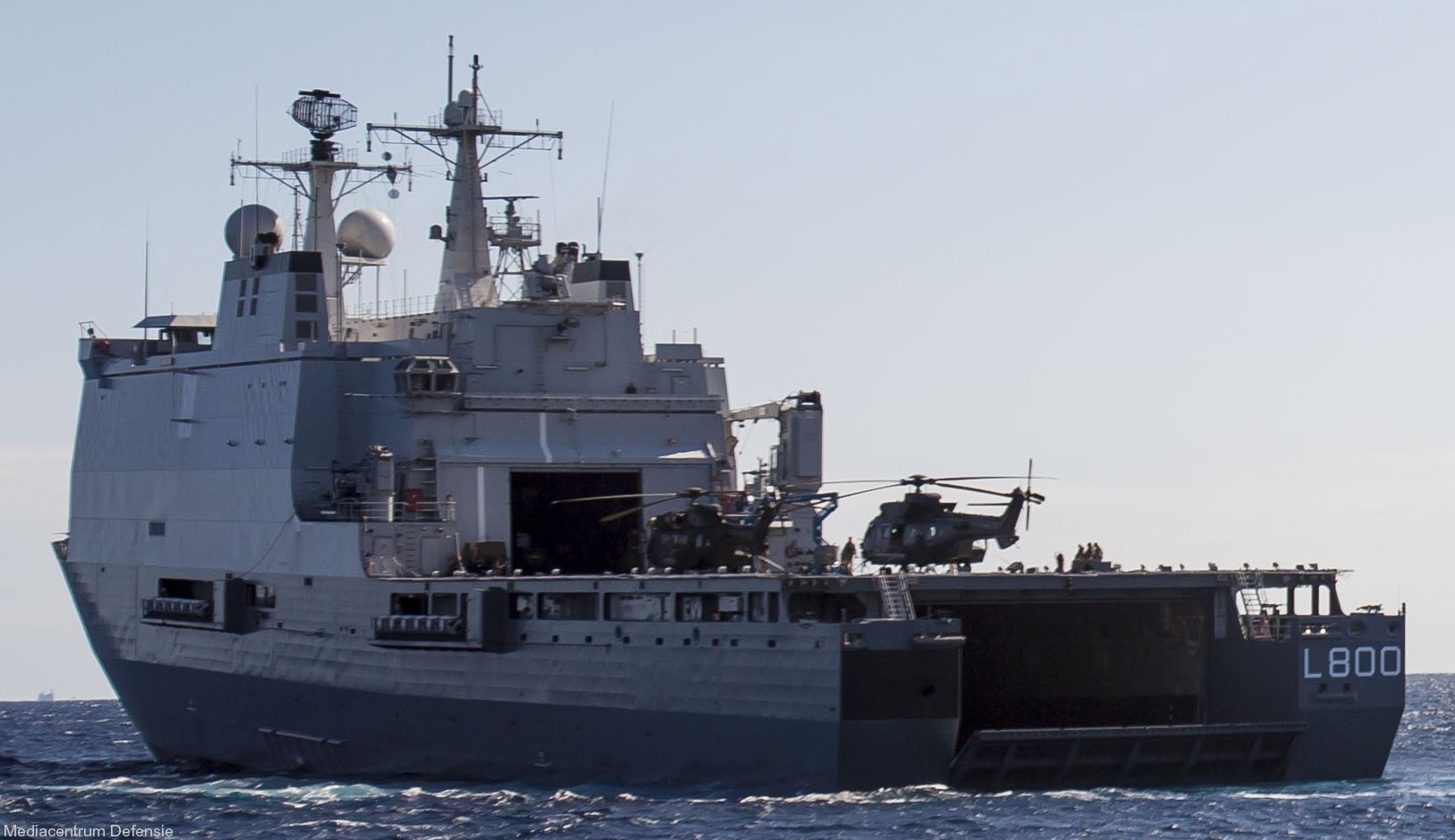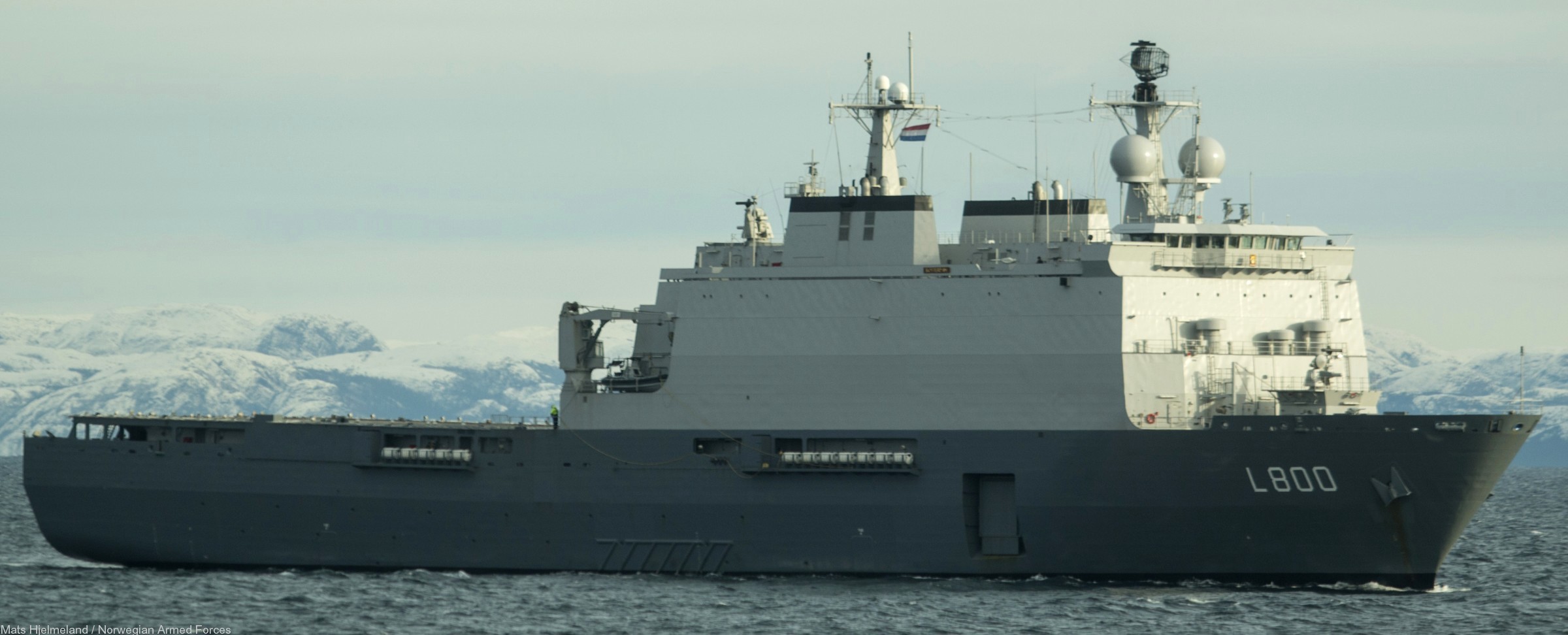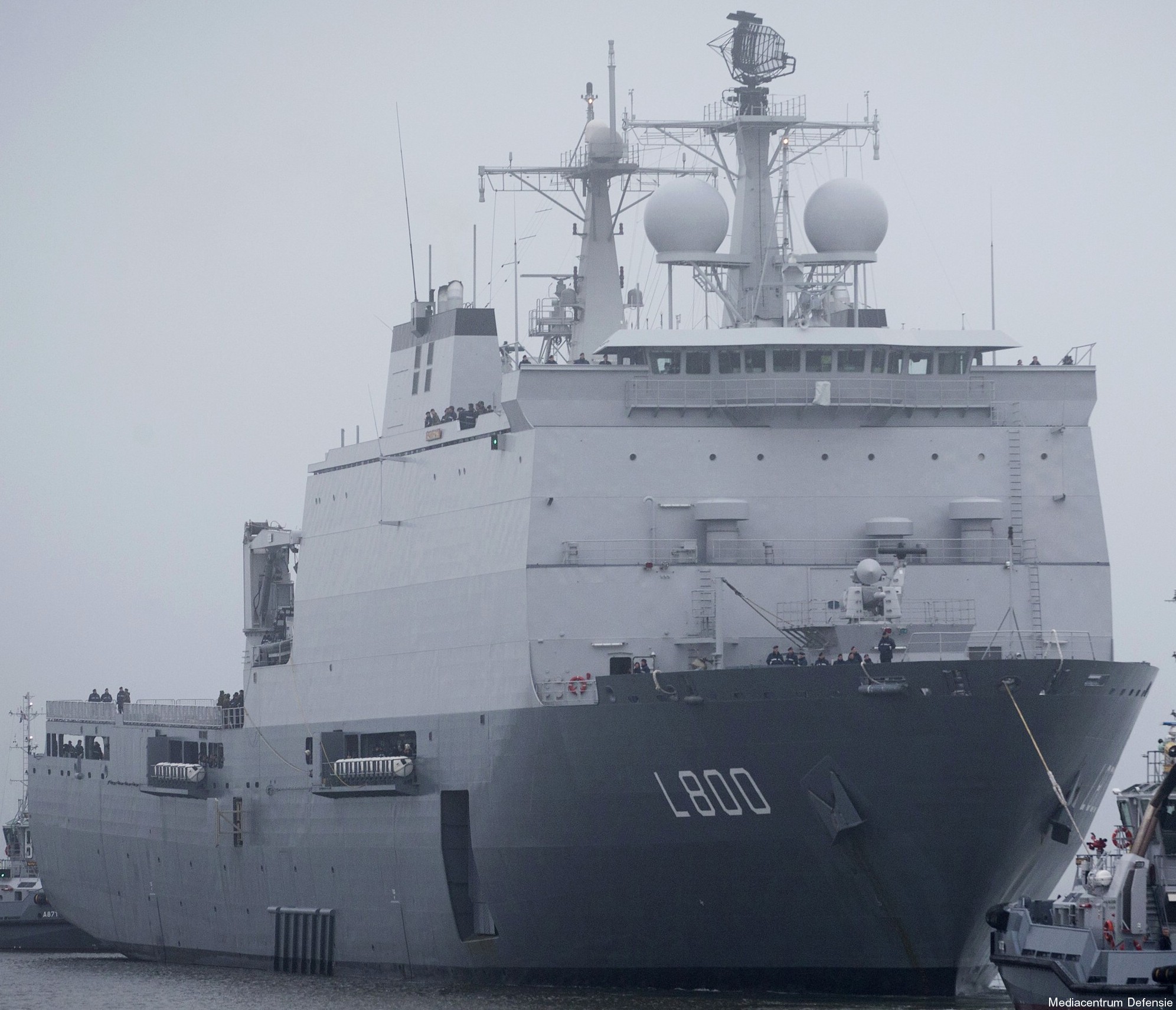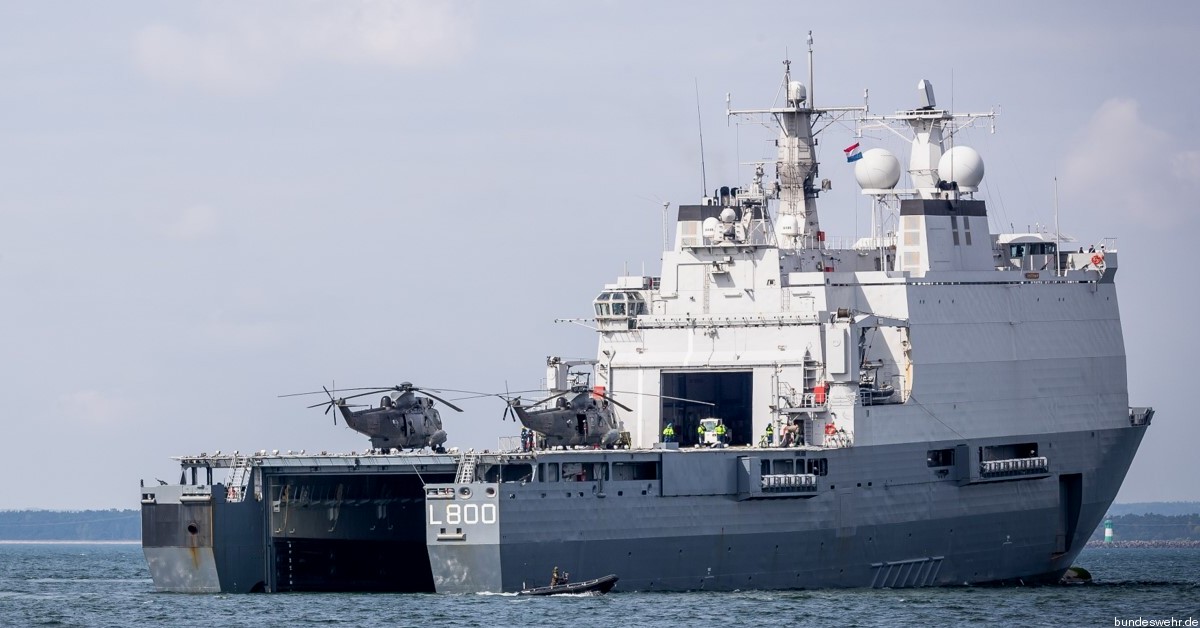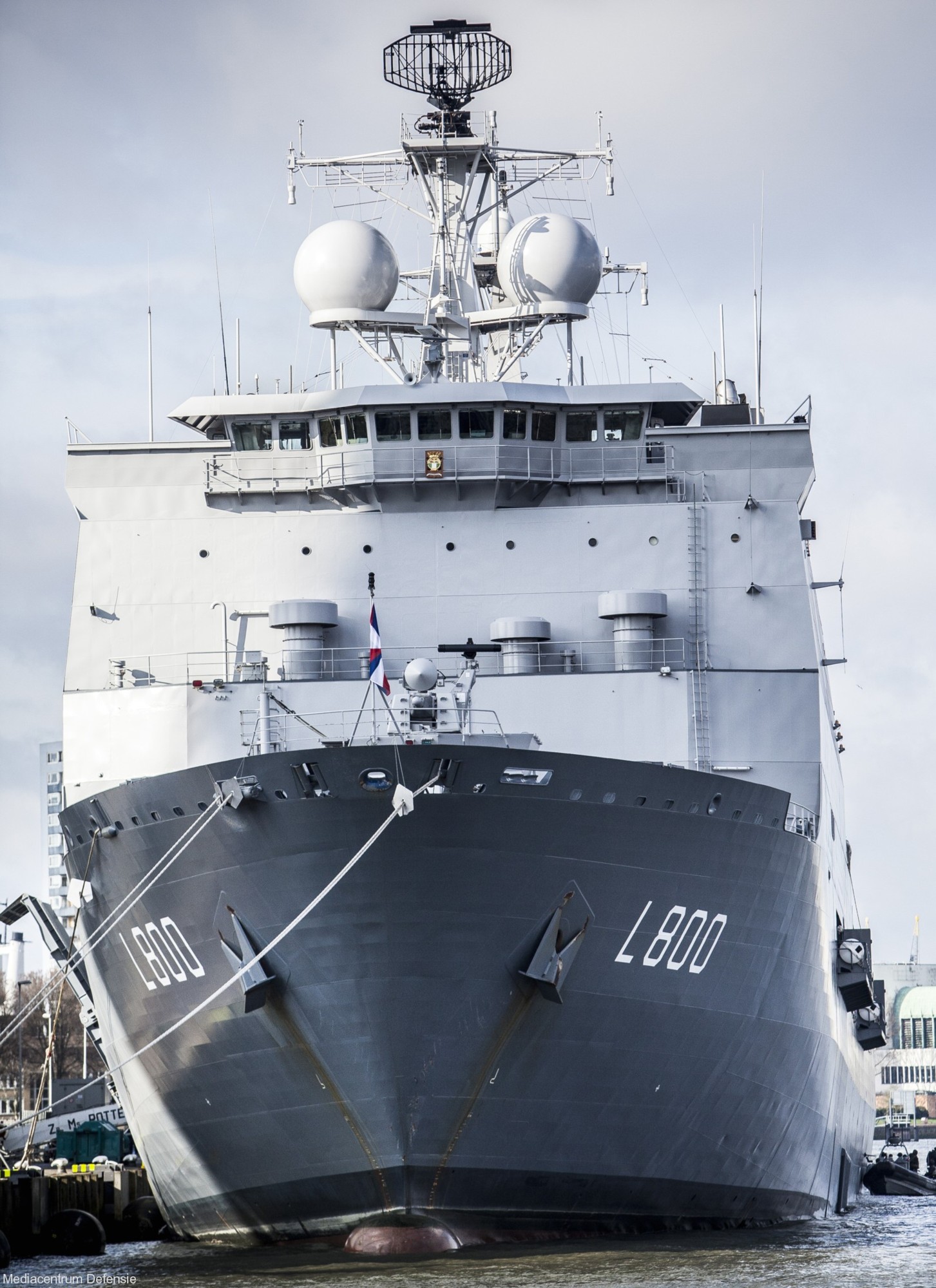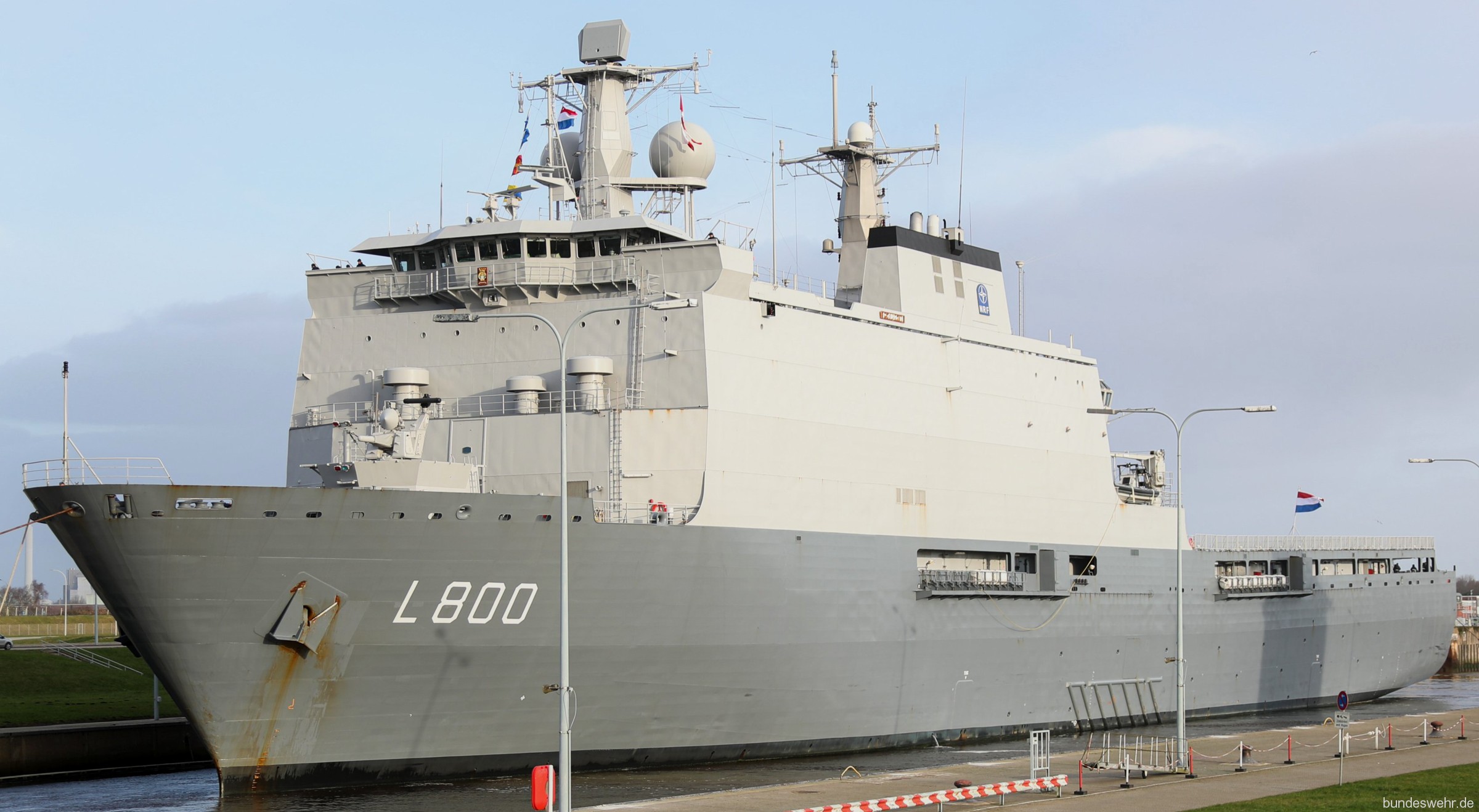 HNLMS Rotterdam (L 800):

HNLMS (Zr. Ms.) Rotterdam was the result of a joint project between the Netherlands and Spain, which resulted in the Enforcer design. The ship is equipped with a large helicopter deck for helicopter operations and a dock for large landing craft. The ship has a complete Class II hospital, including an operating theater and intensive care facilities. A surgical team can be stationed on board. The ship also has a desalination system enabling it to convert seawater into drinking water.


In October 2012, while serving as the flagship for Operation Ocean Shield, Rotterdam sank a suspected Somali pirate ship off the east coast of Africa. Rotterdam came under sustained attack from shore based weapons while rescuing the crew of the sunken ship and sustained damage to one of her small boats.

NOTE: Royal Netherlands Navy vessels are given the international prefix "HNLMS", short for His/Her Netherlands Majesty's Ship)
In Dutch Zr.Ms. for Zijner Majesteits (His Majesty's) or Hr.Ms. for Harer Majesteits (Her Majesty's) and then the ship's name without using the word ship.
e.g. Zr.Ms. Evertsen means 'His Majesty's Evertsen' and not 'His Majesty's ship Evertsen'.

<![if !supportEmptyParas]> <![endif]>
The City of Rotterdam:

Rotterdam is the second-largest city and municipality of the Netherlands. It is located in the province of South Holland, at the mouth of the Nieuwe Maas channel leading into the Rhine-Meuse-Scheldt delta at the North Sea. Its history goes back to 1270, when a dam was constructed in the Rotte, after which people settled around it for safety. In 1340, Rotterdam was granted city rights by the Count of Holland.

A major logistic and economic centre, Rotterdam is Europe's largest port. It has a population of 633,471 (2017). Rotterdam is known for its Erasmus University, its riverside setting, lively cultural life and maritime heritage. The near-complete destruction of the city centre in the World War II Rotterdam Blitz has resulted in a varied architectural landscape, including sky-scrapers (an uncommon sight in other Dutch cities) designed by renowned architects such as Rem Koolhaas, Piet Blom and Ben van Berkel.

The Rhine, Meuse and Scheldt give waterway access into the heart of Western Europe, including the highly industrialized Ruhr. The extensive distribution system including rail, roads, and waterways have earned Rotterdam the nicknames "Gateway to Europe" and "Gateway to the World".



source: wikipedia
patches + more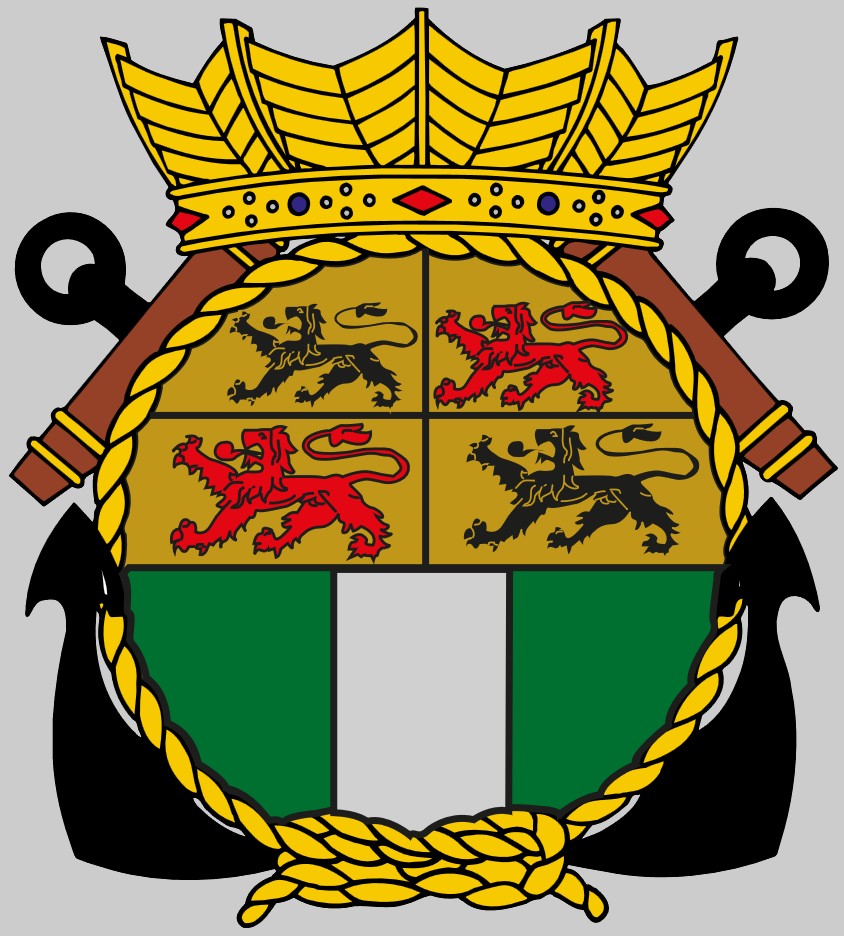 <![if !supportEmptyParas]> <![endif]>
|
seaforces.org
|
Royal Netherlands Navy start page
|