HOME | US Navy - ships | US Navy - air units | USMC - air units | International Navies | Weapon Systems | Special Reports
<![if !supportEmptyParas]> <![endif]>
<![if !supportEmptyParas]> <![endif]>
Japan Maritime Self Defense Force / JMSDF - Amphibious Ship
LST-4003 JS Kunisaki
<![if !supportEmptyParas]> <![endif]>
| | |
| --- | --- |
| sorry, no insignia | |
10/22
Type, class: Amphibious Landing Ship / LST; Osumi class
Builder: Hitachi Zosen Corporation, Maizuru, Japan
STATUS:
Laid down: September 7, 2000
Launched: December 13, 2001
Commissioned: February 26, 2003
IN SERVICE

Homeport: Kure, Hiroshima, Japan
Namesake:
くにさき / Kunisaki Peninsula, Kyūshū, Japan
Technical Data: see INFO > Osumi class Tank Landing Ship
<![if !supportEmptyParas]> <![endif]>
images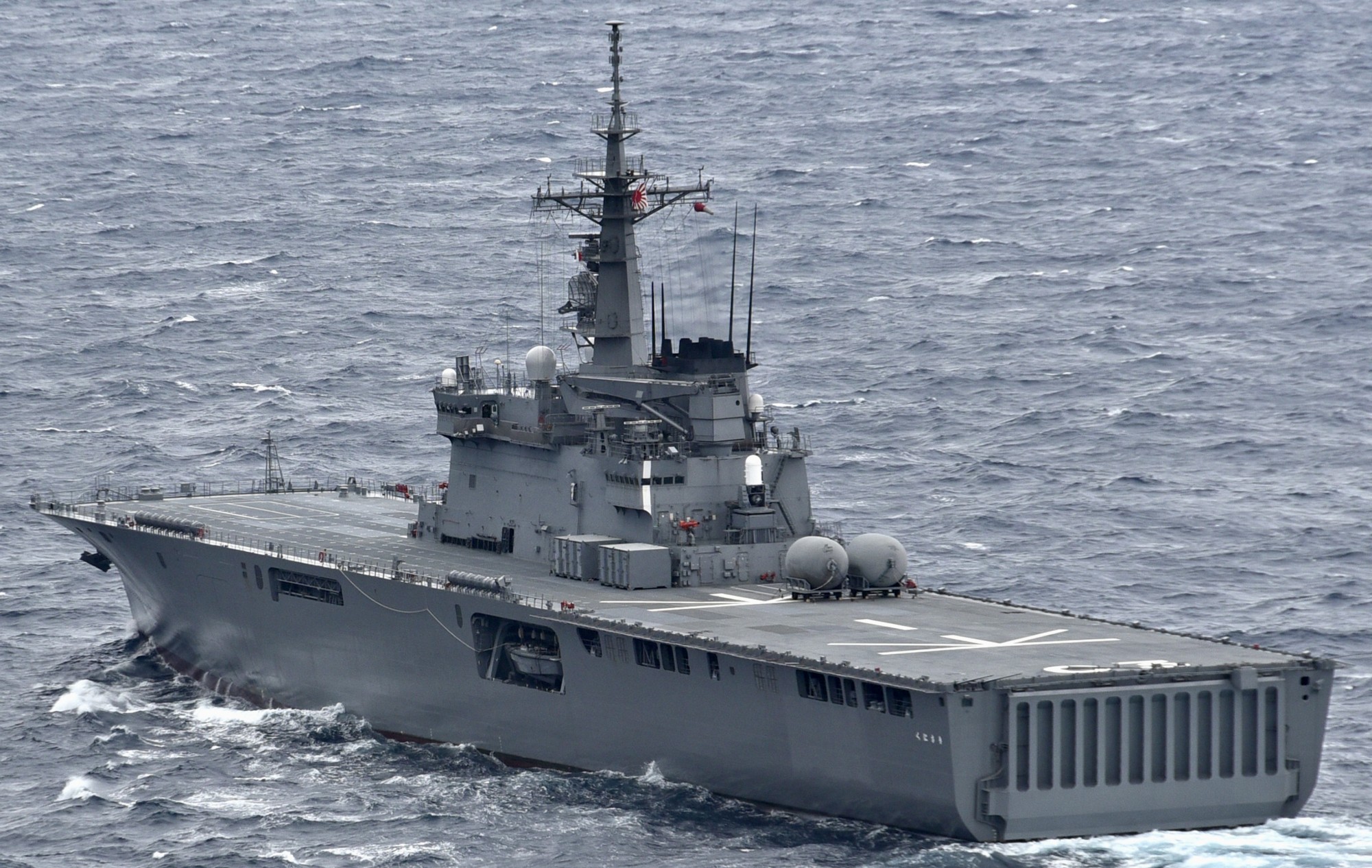 cutout - vehicle elevator on the foredeck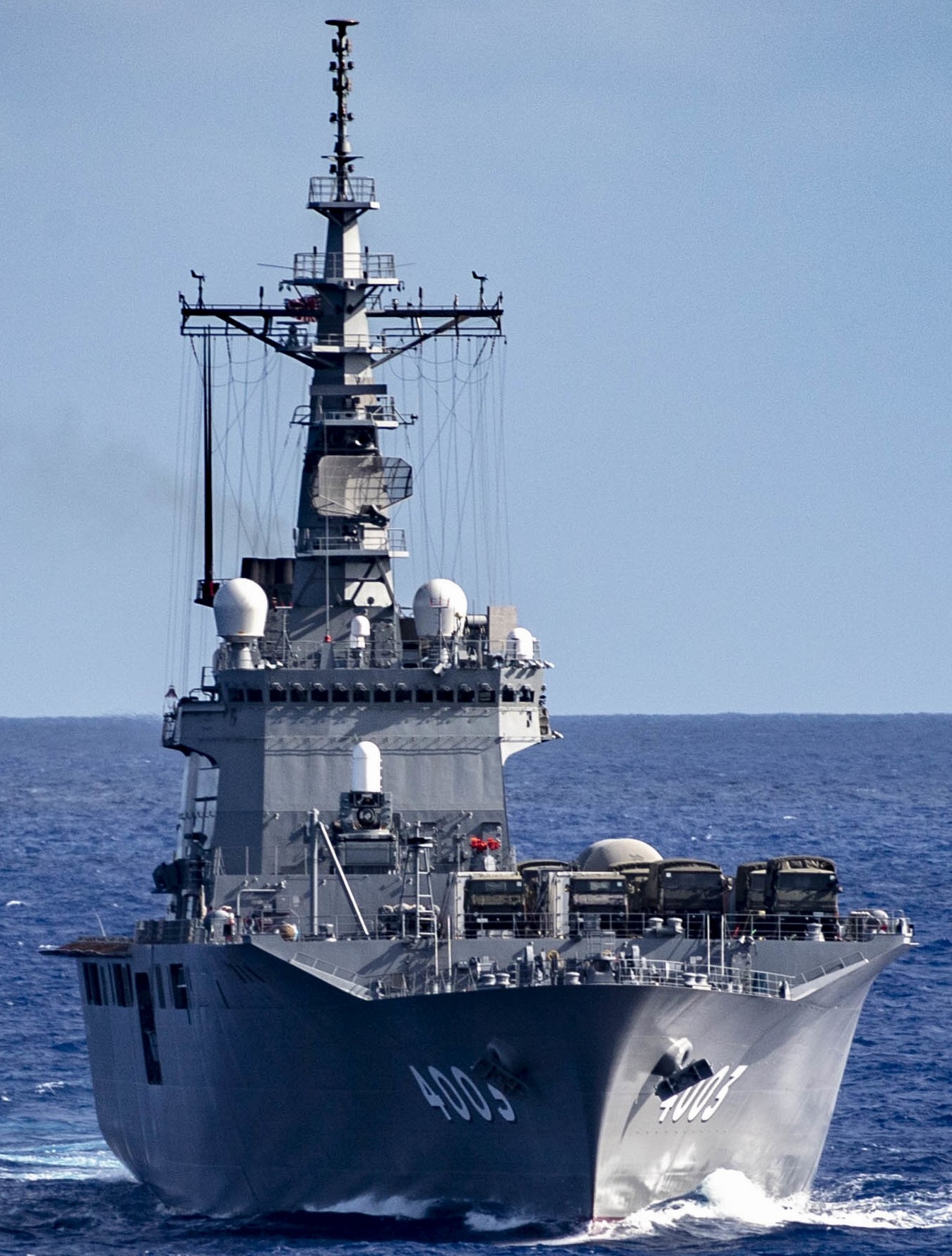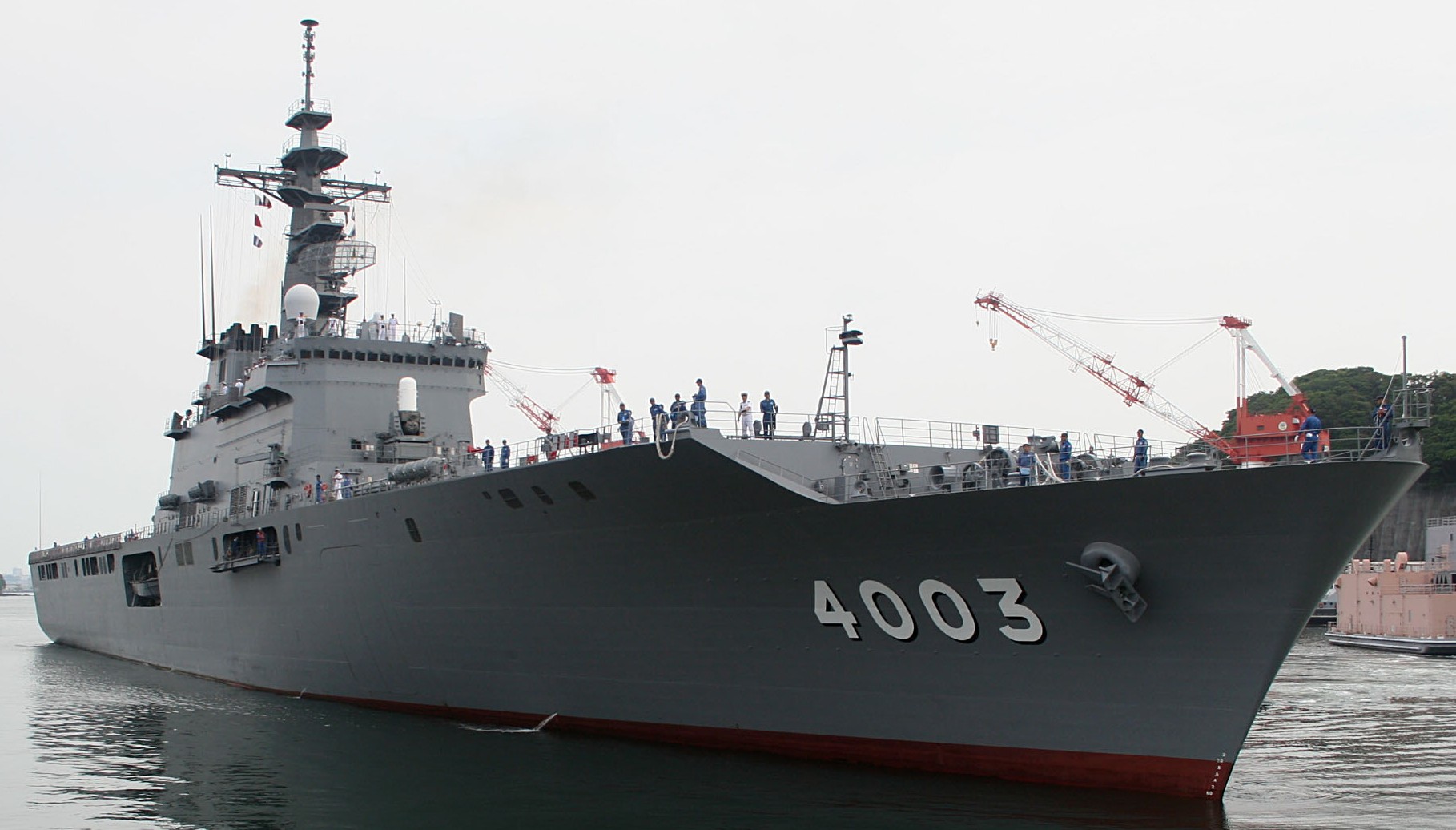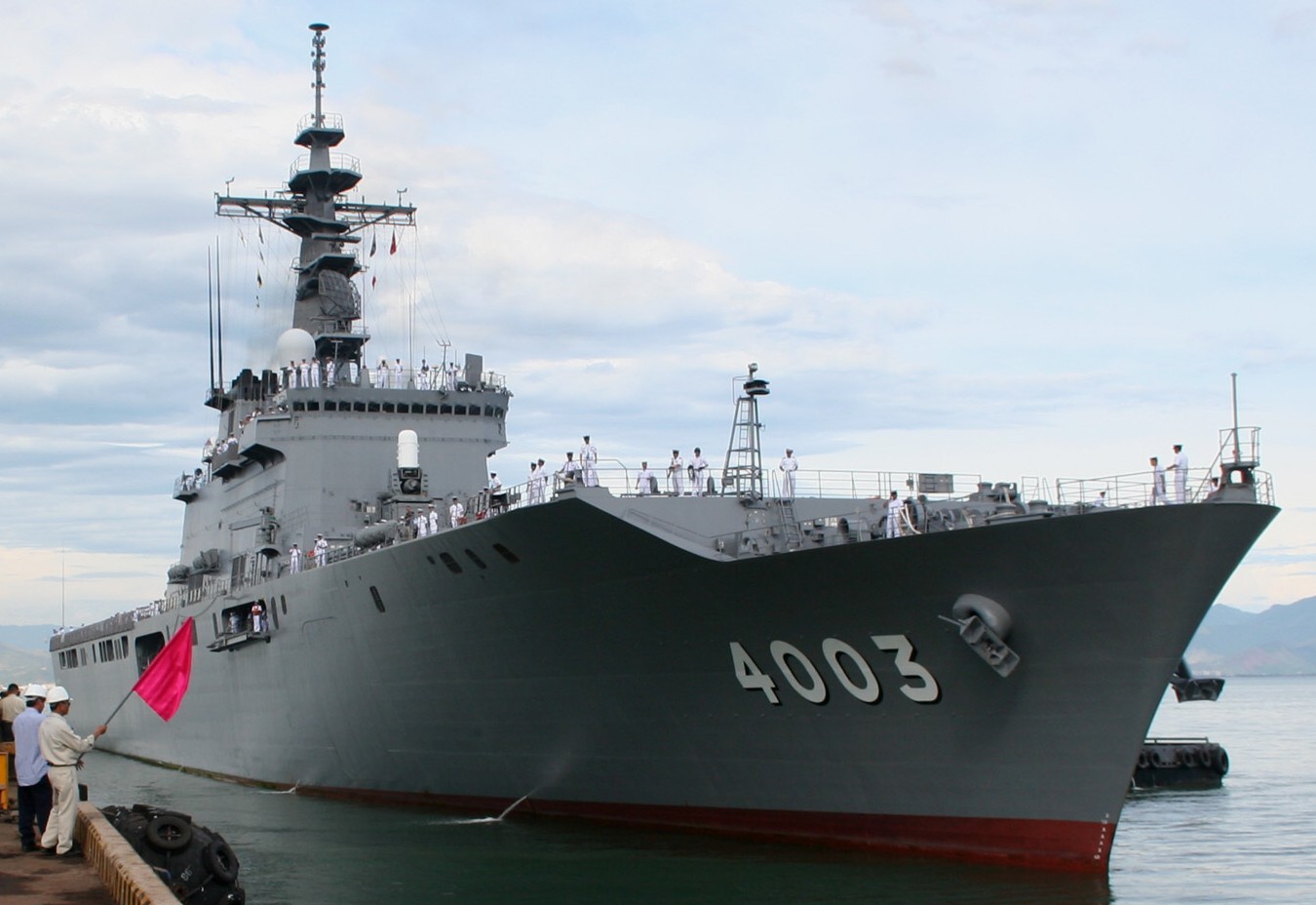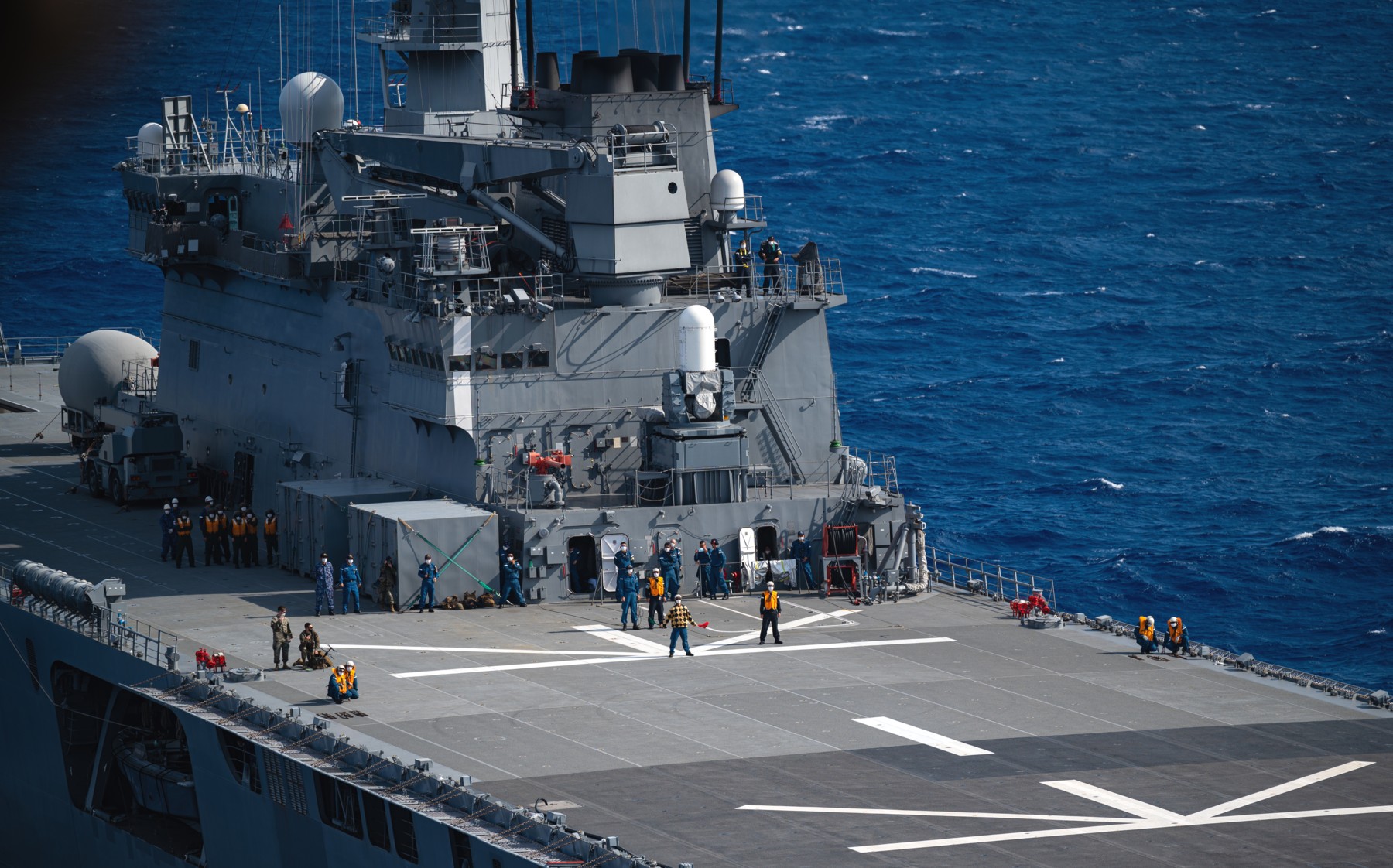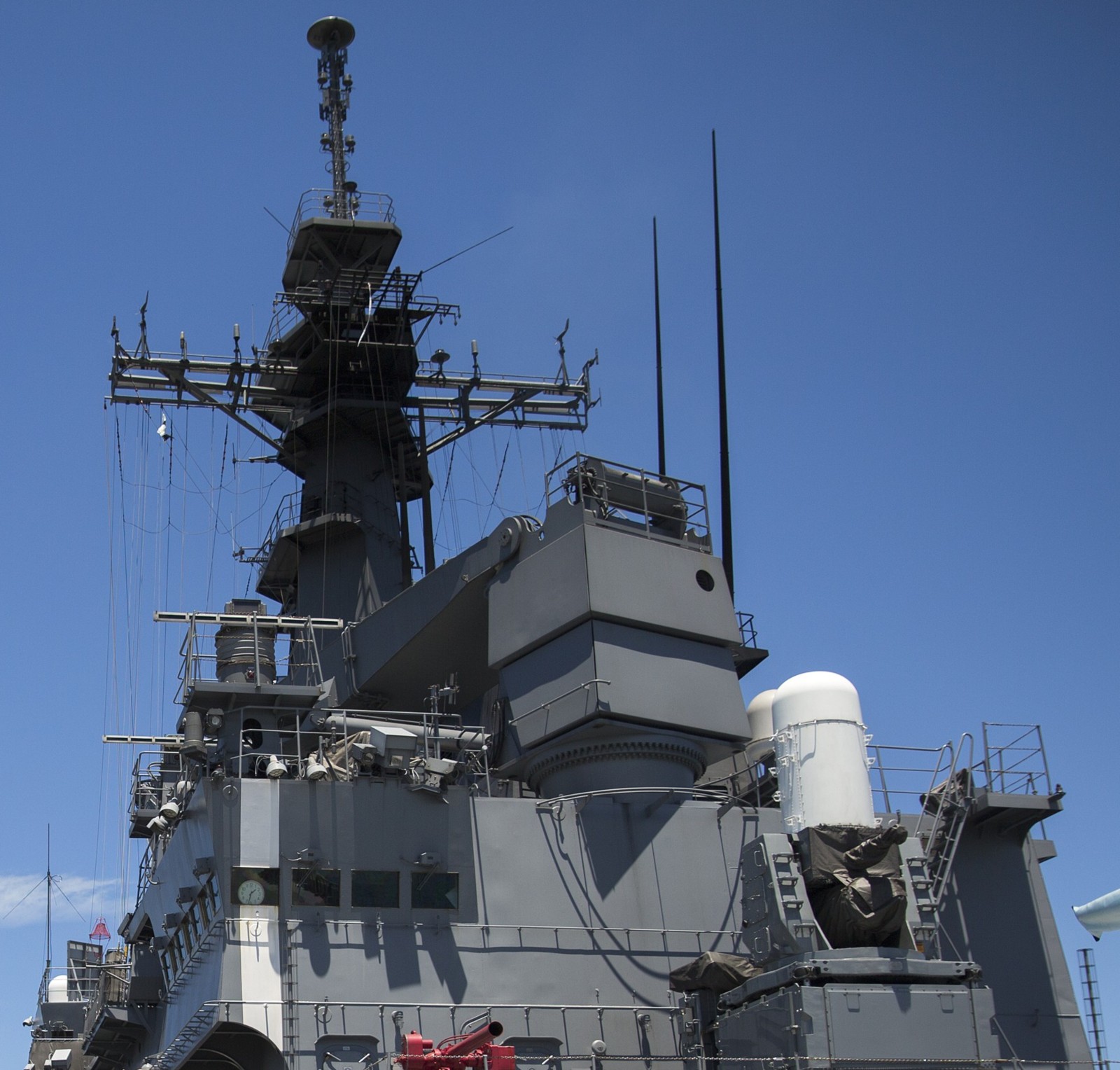 <![if !supportEmptyParas]> <![endif]>
JS Kunisaki (LST-4003):

Kunisaki was laid down on 7 September 2000 and launched on 13 December 2001 by Hitachi Zosen Corporation, Maizuru. She was commissioned into the 1st Landing Group on 26 February 2003.

In June 2010, seamen from the Kunisaki helped to paint Ohtres Chas Primary School in Sihanoukville, Cambodia during a Pacific Partnership 2010 community service event.

This ship was one of several in the JMSDF fleet that participated in disaster relief after the 2011 Tōhoku earthquake and tsunami.

Kunisaki was the first-ever JMSDF ship to serve as the primary mission platform for the 2014 Pacific Partnership annual humanitarian and disaster response-focused mission.

2014 May 29, she departed Yokosuka to participate in the Pacific Partnership 2014. She provided Vietnam, Cambodia and the Philippines medical activities in, carried out cultural exchanges, etc. July 24 and return to port to Kure.

Participated in the integrated training Dawn Blitz 15 to be held in the United States from August 18 to September 9, 2015 with JS Hyūga and JS Ashigara under the command of the Mine Warfare Force, and amphibious warfare training.

Participate in the ADMM Plus Humanitarian Aid / Disaster Relief and Defense Medical College Exercise (AM-HEx2016) in Thailand from September 3 to 9 of the same year.

Joint training will be conducted with the French Navy Mistral, which called at Sasebo from May 5, 2017, in the waters around Japan.

On January 11 and 12, 2019, joint cruise training was conducted with several ships including the USS Wasp and USS Green Bay in the waters West of Kyushu.

Under the command of the Mine Warfare Force commander during the actual training with the U.S. military (Talisman Saber 19) to be conducted from June 3 to August 21, 2019 at the Shoalwater Bay Exercise Area in Queensland, Australia and the surrounding waters. Japan and the United States jointly by wearing landing and ground combat, to implement the joint cruise training, etc. The ship and JS Ise participated in the exercise.

On June 18, while participating in the training, she was towed by a tugboat and tried to turn around to leave Brisbane, Australia, where she was calling, but she collided with the quay of the port. The door at the rear of the hull broke, and the quay also broke.



source: wikipedia
Kunisaki Peninsula
... is a peninsula in Oita prefecture, located on the island of Kyūshū, that juts out into the Seto Inland Sea. The peninsula is almost circular. There is Mount Futago in the central part of the peninsula.
patches + more
|
seaforces.org
|
Japan Maritime Self Defense Force start page
|