HOME | US Navy - ships | US Navy - air units | USMC - air units | International Navies | Weapon Systems | Special Reports
Italian Navy / Marina Militare Italiana
Artigliere class Destroyer

(ex US Benson / Gleaves class Destroyer)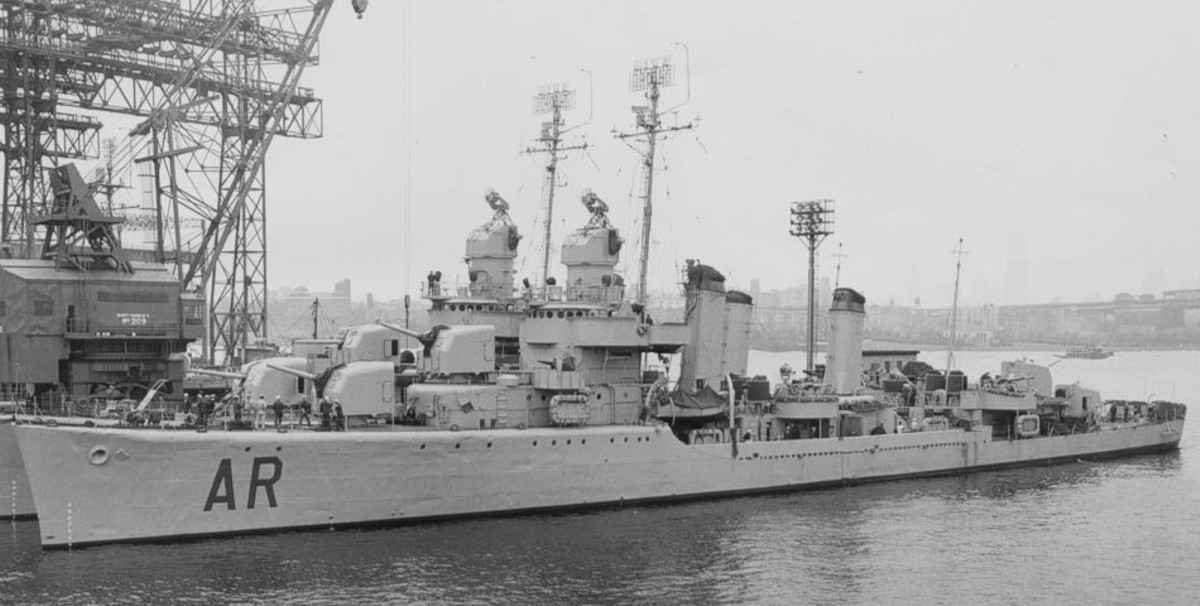 10/22
Ship
s:

D 553
ITS Artigliere

D 554
ITS Aviere

Specifications:
Displacement: 1650 tons - Artigliere / 2540 tons - Aviere
Length: 106 meters (347 feet 9 in) - Artigliere / 114.8 m (376 ft 8 in) - Aviere
Beam: 11 meters (36 ft 1 in)
Draft: 5.5 meters (18 ft) - Artigliere / 4 m (13 ft 1 in) - Aviere
Speed: 37 knots (69 km/h) - Artigliere / 35 knots (65 km/h) - Aviere
Range: 6500 NMI (12000 km) at 12 knots (22 km/h)
Complement: 275
Propulsion:
4 x Babcock & Wilcox boilers
2 x GE steam turbines
50000 shp / 37000 kW
2 shafts / 2 propellers
Armament (as built):
4 x
5"/38 caliber (127mm) guns

4 x
Bofors 40/L56 twin AA guns

2 x
Bofors 40/L56 single AA guns

5 x
2 21" (533mm) torpedo tubes

2 x
depth charge tracks

6 x
depth charge projectors

Aviation:
none
Systems:
AN/SPS-6 air search radar
AN/SPS-10 surface search radar
Mark 37 director (gun fire control system)
Units:
D 553 ITS Artigliere
(ex DD 460 USS Woodworth / US Benson class Destroyer)
Builder: Bethlehem Steel, San Francisco, California, USA


Laid down:

April 30, 1941
Launched: November 29, 1941
Commissioned: April 30, 1942
Decommissioned: January 14, 1951

transferred to Italy in 1951


Recommissioned:

as Artigliere (AR) on June 11, 1951
received the hull identification D-553 in 1953
Decommissioned: 1971
Fate: sunk as a target by an experimental torpedo in the Gulf of La Spezia on May 27, 1983

Name:
Artigliere = artilleryman
D 554 ITS Aviere
(ex DD 442 USS Nicholson / US Gleaves class Destroyer)
Builder: Boston Navy Yard, Boston, Massachusetts, USA
Laid down: November 1, 1939


Launched:

May 31, 1940
Commissioned: June 3, 1941
Decommissioned: January 15, 1951

transferred to Italy in 1951


Recommissioned:

as Aviere (AV) in 1951
received the hull identification D-554 in 1953
Decommissioned: 1970
Fate: experimental ship A-5302 until 1975 / finally scrapped


Name: Aviere = aviator

<![if !supportEmptyParas]> <![endif]>
The Artigliere-class destroyers consisted of two former United States Navy destroyers, purchased by the Italian Navy in 1951 as part of its post-war reconstruction phase. These were the Benson class DD-460 USS Woodworth, which became Artigliere, and the Gleaves class DD-442 USS Nicholson, which became Aviere. Although they were from two different US Navy classes, they had the same general characteristics.


USS Woodworth
was transferred to the Atlantic Fleet in November and proceeded through the Panama Canal to Charleston, South Carolina. After inactivation overhaul there, the destroyer was placed out of commission, in reserve, on 11 April 1946. She was placed in service on 30 January 1947 for Naval Reserve training duty. Placed in full commission on 21 November 1950, the ship was briefly assigned to the 3rd Naval District before she was decommissioned at the New York Naval Shipyard on 14 January 1951 and overhauled to prepare her for transfer to Italy. Her name was struck from the Navy list on 22 January 1951, and she was turned over to the Italian Navy on 11 June 1951.

Artigliere (D 553)
She served Italy as Artigliere (AR), later (D 553), operating as a fleet destroyer and for some time as command ship for motor torpedo boat flotillas until struck from the Italian Naval Vessel Register in January 1971. After 1971 she was used for turbine instruction for naval cadets, one of her propellers stands on a plinth in front of the naval school of Cala Chiesa, La Maddalena, Sardinia. After being used for sometime for educational purposes at La Maddalena, she was taken to the La Spezia Naval Base in 1981. On 27 May 1983, she was once again taken in tow out of the Gulf of La Spezia and sunk by an experimental torpedo by the submarine Nazario Sauro.

- - -

USS Nicholson
While serving as reserve training ship at the Brooklyn Navy Yard, Nicholson served as the backdrop for the big-screen musical On the Town starring Frank Sinatra, Gene Kelly, Vera Ellen, Ann Miller and Betty Garret. The ship was shown in the beginning of the movie and also in the last scene.
USS Nicholson was recommissioned on 17 July 1950, then decommissioned once more and transferred to the Italian Navy 15 January 1951.

Aviere (D-554)
The ship was renamed "Aviere" with the AV hull identification and after Italy joined NATO it had D 554.

Aviere carried out team activities, also participating in various NATO exercises until 1970, when she was classified as an Experience Ship for the experimentation of systems that in the following years would be embarked on board numerous Italian and foreign naval units and had the new identification A 5302.

The weapon systems tested include the new OTO Melara 127/54mm gun on the bow. On the stern a version of the 76/62mm Compact was mounted. Between the two funnels was placed the eight-cell launcher for the new Sea Sparrow short-range SAM missile system with the relative guidance equipment. The ship was finally stricken on 1 September 1975.
images
D 553 ITS Artigliere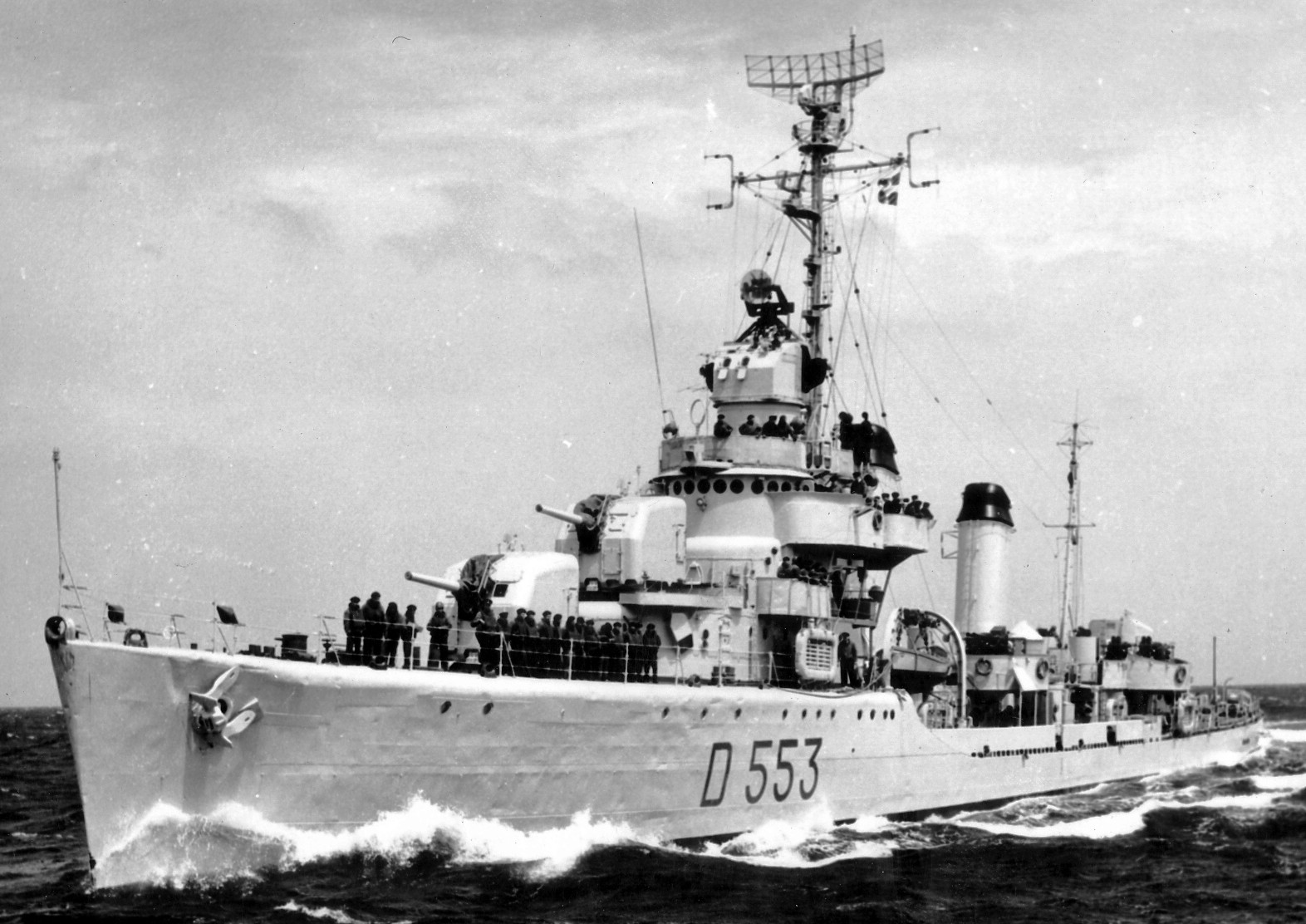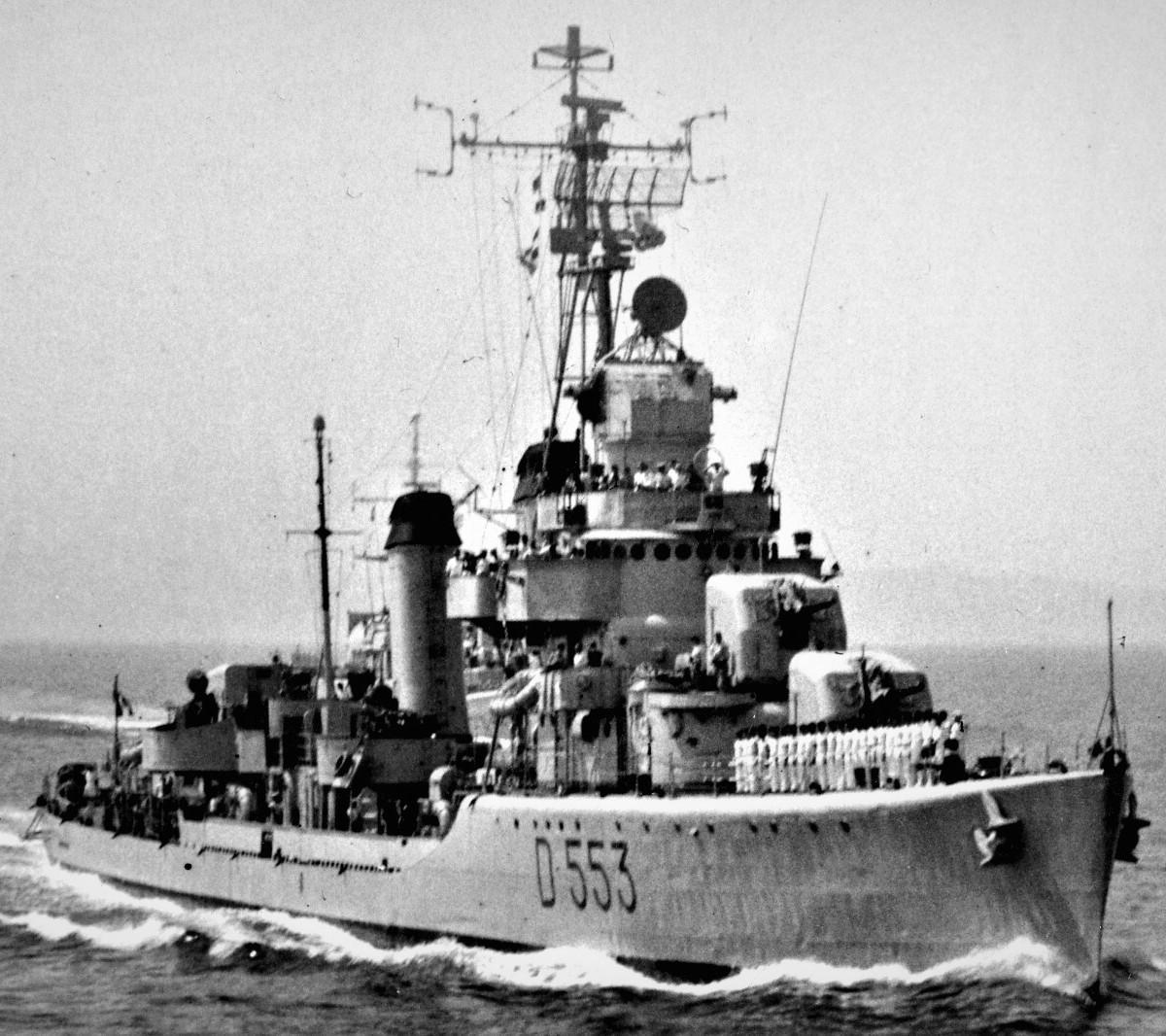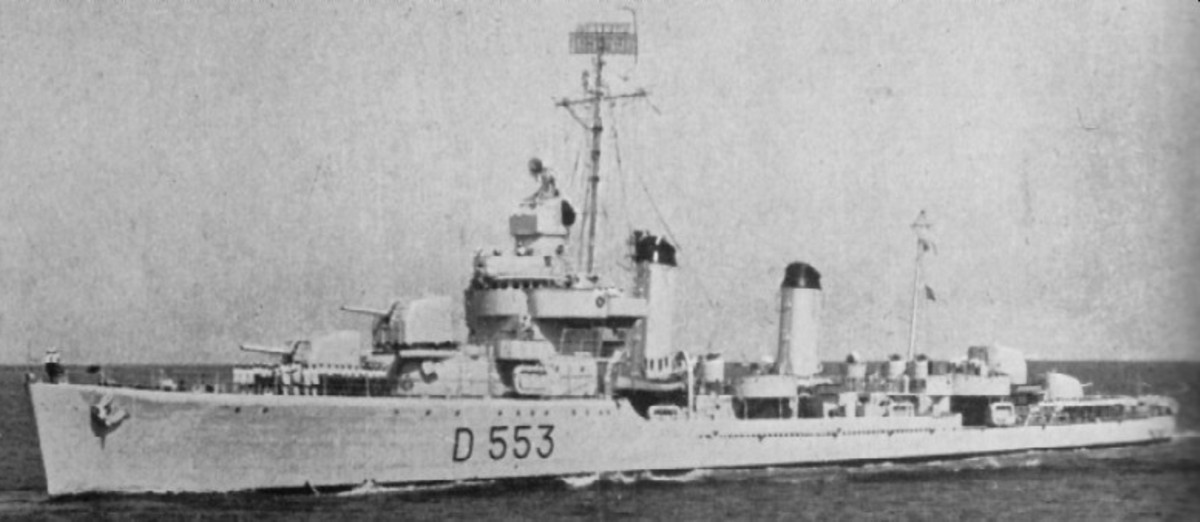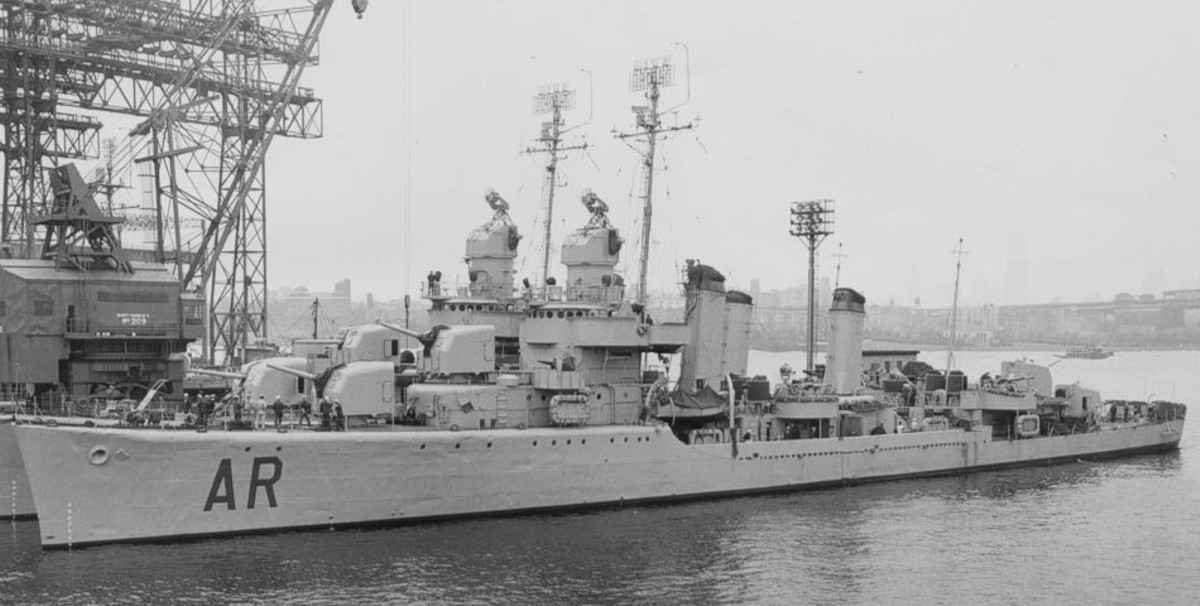 D 554 ITS Aviere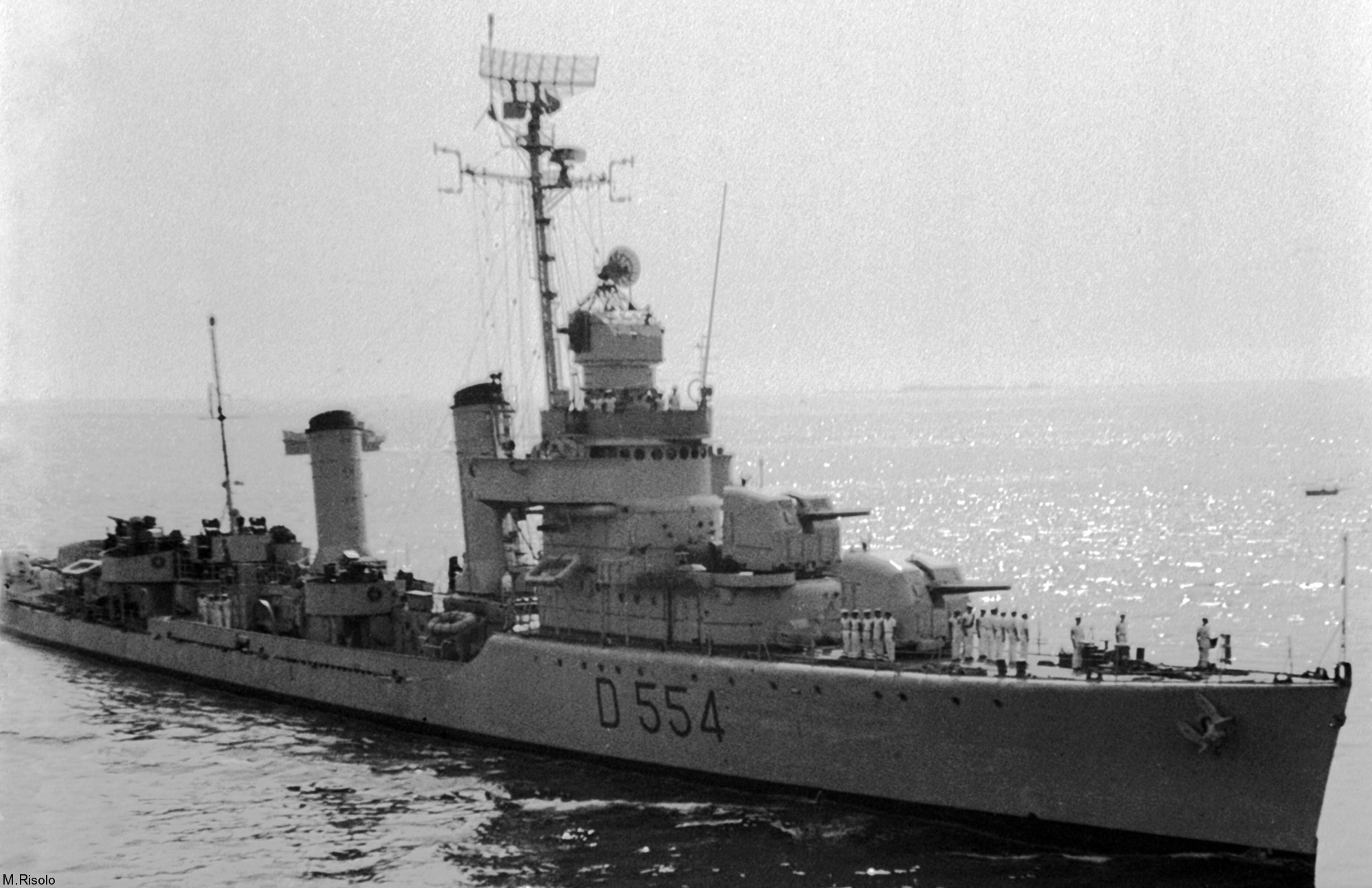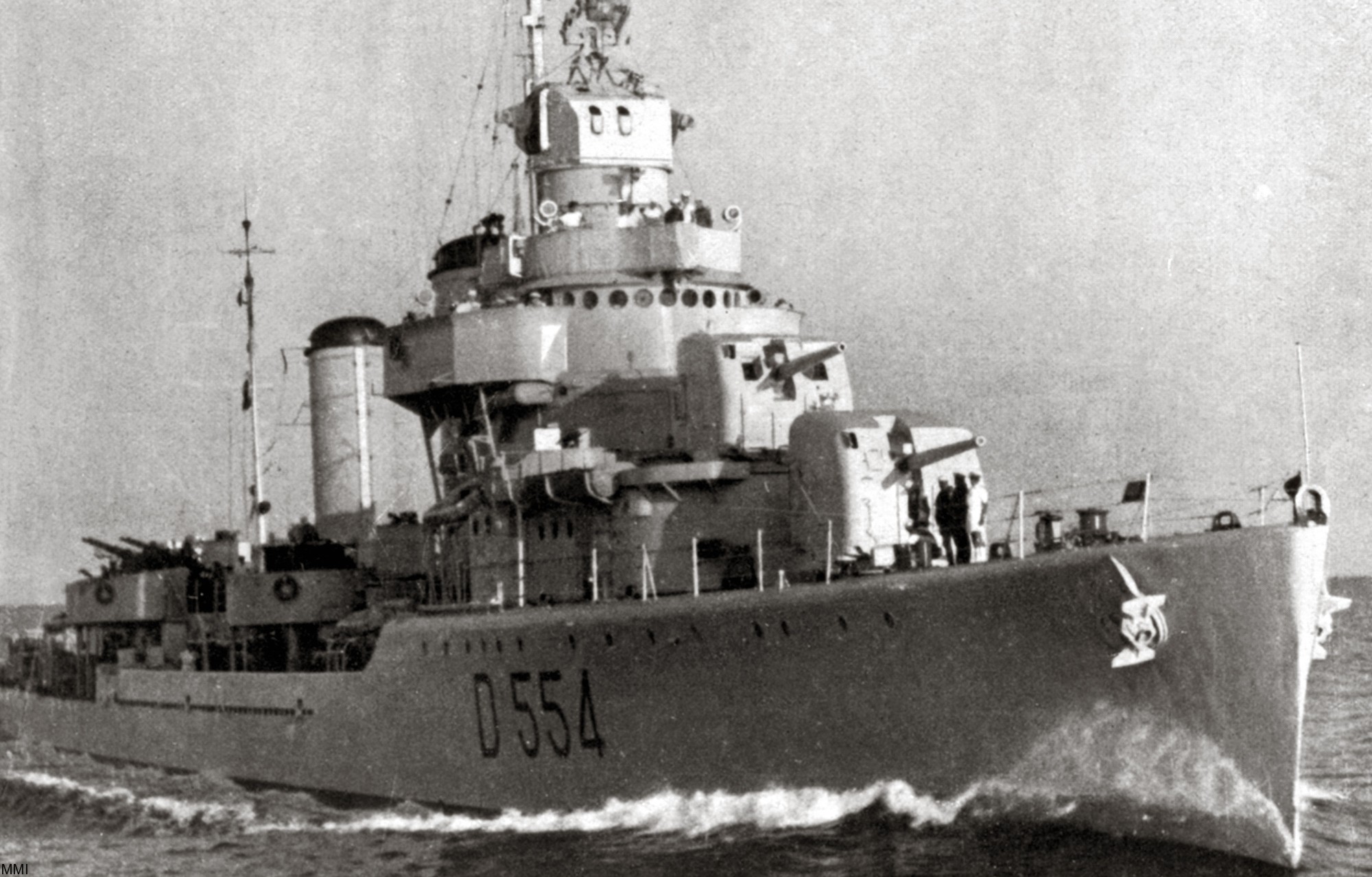 IN US SERVICE: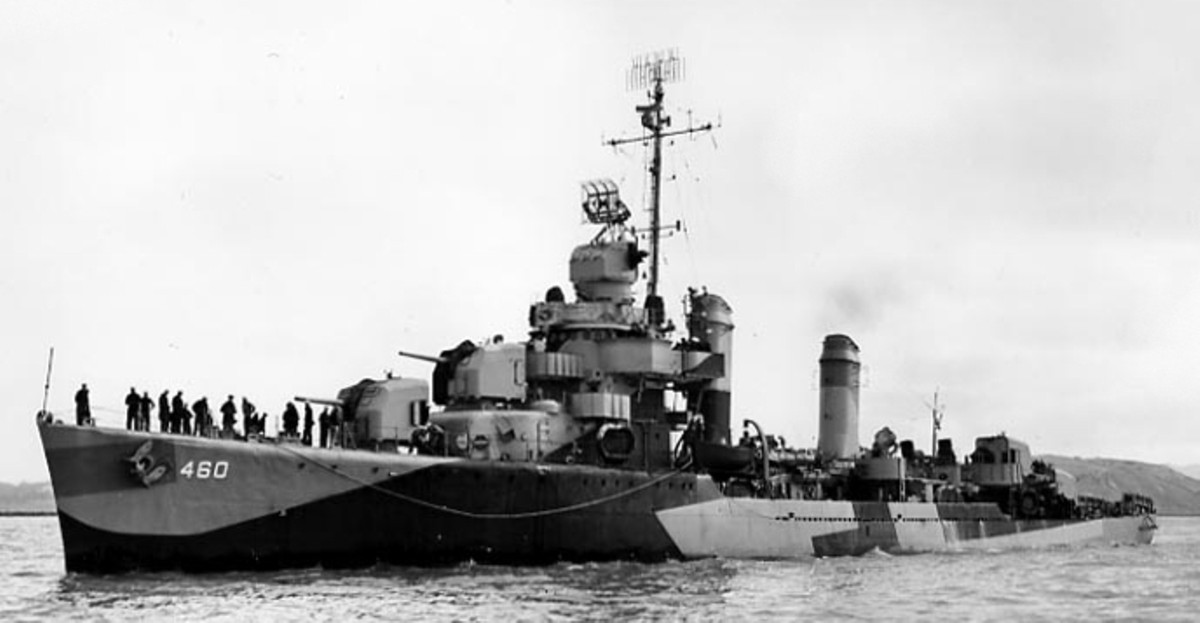 DD 460 USS Woodworth - later D-553 Artigliere




DD 460 USS Woodworth - later D-553 Artigliere






DD 442 USS Nicholson - later D-554 Aviere




DD 442 USS Nicholson - later D-554 Aviere


|
seaforces.org
|
Italian Navy start page
|