Umberto Grosso:
<![if !supportEmptyParas]> <![endif]>
2nd Lieutenant (Sottotenente del CREM - Corpo Reali Equipaggi Marittimi)
(born: October 4, 1890 in Pinerolo (Turin) / died in action: March 28/29, 1941 - off Cape Matapan, Greece - Ionian Sea)

Volunteer in the Italian Royal Navy at age 18.
He was embarked on torpedo vessels and participated in the Italo-Turkish war of 1911-12.
He participated in WWI aboard the Battleship Conte di Cavour.
In 1938 he was assigned to the Naval Academy of Livorno, where he received his promotion to Lieutenant of the CREM.
In July 1940 he embarked on the Heavy Cruiser Zara.
Aboard Zara he participated in the naval battles of Punta Stilo (July 1940) and Cape Matapan (March 1941).
Zara sunk after the battle of Matapan on March 29, 1941.
<![if !supportEmptyParas]> <![endif]>
"When the XO asked who wanted to go down with him in the ammunition-store to blow up the ship, so that it could not fall prey to the enemy, he offered first, firm and secure. Not pushing the surges and the enthusiasm of youth, but the cold, conscious willingness to advanced age. On the night, illuminated by the flames of the fire, he followed the XO down in the darkness, Santa Barbara with him, set fire to the offices and - did not return."
<![if !supportEmptyParas]> <![endif]>
<![if !vml]>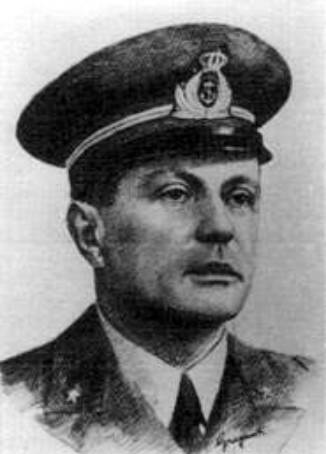 <![endif]>
Umberto Grosso - Awards:
Medaglia d'oro al Valor Militare alla Memoria - Gold Medal for Military Valour in Memory
<![if !supportEmptyParas]> <![endif]>
The Battle of Matapan:
(source: wikipedia)
<![if !supportEmptyParas]> <![endif]>
On 27 March, Vice-Admiral Pridham-Wippell - with the cruisers Ajax, Gloucester, Orion and Perth and a number of destroyers - sailed from Greek waters for a position south of Crete. Admiral Cunningham with Formidable, Warspite, Barham and Valiant left Alexandria on the same day to meet the cruisers.

The Italian Fleet was spotted by a Sunderland flying boat at 12:00, depriving Iachino the advantage of surprise. The Italian Admiral also learned that Formidable was at sea, thanks to the decryption team aboard Vittorio Veneto. Nevertheless, after some discussion, the Italian headquarters decided to go ahead with the operation, in order to show the Germans their will to fight and confidence in the higher speed of their warships.


Action off Gavdos
On 28 March, an IMAM Ro.43 floatplane launched by Vittorio Veneto spotted the British cruiser squadron at 06:35. At 07:55, the Trento group encountered Admiral Pridham-Wippell's cruiser group south of the Greek island of Gavdos. The British squadron was heading to the southeast. Thinking they were attempting to run from their larger ships, the Italians gave chase, opening fire at 08:12 from 24,000 yd (22,000 m). The Italian guns had trouble grouping their rounds, which had little effect. The rangefinders also performed poorly, with the exception of those of the Bolzano.

The three heavy cruisers fired a total of 535 rounds of 203 mm ammunition: Trieste fired 132 armour piercing rounds; Trento fired 204 armour-piercing and 10 explosive shells, and Bolzano fired another 189 armour piercing shells until 08:55. HMS Gloucester fired back three salvos, but these were short, even though they caused the Italians to change their heading.

After an hour of pursuit, the Italian cruisers broke off the chase, as the distance had not been reduced, and turned northwest under orders to rejoin Vittorio Veneto. The Allied ships also reversed their course, and followed the Italians at extreme range. Iachino's plan was to lure the British cruisers into the range of Vittorio Veneto's guns.

An officer eating a sandwich on Orion's bridge remarked to a companion, "What's that battleship over there? I thought ours were miles away." The Italians eavesdropped on Orion's signal that she had sighted an unknown unit and was going to investigate. At 10:55, Vittorio Veneto joined the Italian cruisers, and immediately opened fire on the shadowing Allied cruisers. She fired 94 rounds from a distance of 25,000 yd (23,000 m), all well aimed, but again with an excessive spread of her salvos. The Allied cruisers, until then unaware of the presence of a battleship, withdrew, suffering slight damage from 15 in (380 mm) shell splinters. A series of photographs taken from HMS Gloucester showing Italian salvos falling amongst Allied warships was published by Life magazine on 16 June 1941. Veneto fired a total of 94 shells in 29 salvos. Another 11 rounds got jammed in the barrels.


Air attacks
At this point, Cunningham's forces, which had been attempting to join up with Pridham-Wippell's, had launched a sortie of Fairey Albacore torpedo bombers from HMS Formidable at 09:38. They attacked Vittorio Veneto without direct effect, but the required manoeuvring made it difficult for the Italian ships to maintain their pursuit. The Italian ships fired 152, 100 and 90 mm guns and also 37, 20 and 13.2 mm guns when at close range, repelling the attack, while one of the two Junkers 88 escorting the Italian fleet was shot down by a Fairey Fulmar.

Realising that they might not be so lucky next time, Iachino broke off the pursuit at 12:20, retiring towards his own air cover at Taranto.

A second sortie surprised the Italians at 15:09. Lieutenant-Commander Dalyell-Stead flew his Albacore to 1,094 yards (1,000 m) from Vittorio Veneto, before releasing a torpedo which hit her outer port propeller and caused 4,000 long tons (4,100 t) of flooding. Dalyell-Stead and his crew were killed when their aircraft was shot down by AA fire from the battleship. The ship stopped while the damage was repaired, but she was able to get underway again at 16:42, making 19 knots (35 km/h; 22 mph). Cunningham heard of the damage to Vittorio Veneto, and started to pursue her.

A third strike by six Albacores and two Fairey Swordfish from 826 and 828 Naval Air Squadrons on Formidable - as well as two Swordfish from 815 squadron on Crete - was made between 19:36 and 19:50. Admiral Iachino deployed his ships in three columns and used smoke, searchlights and a heavy barrage to protect the Vittorio Veneto. This tactic succeeded in protecting the battleship from further damage, but one torpedo hit the Pola, which had nearly stopped in order to avoid running into the Fiume and could not take any avoiding action. This blow knocked out five boilers and the main steam line. Pola lost electric power and drifted to a stop. The torpedo was apparently dropped by Lieutenant F.M.A. Torrens-Spence. Unaware of Cunningham's pursuit, a squadron of cruisers and destroyers were ordered to return and help Pola. This squadron was composed of Pola's sister ships, Zara and Fiume. The squadron did not start to return towards Pola until about an hour after the order had been given by Iachino, officially due to communication problems, while Vittorio Veneto and the other ships continued to Taranto.


Night action
At 20:15, Orion's radar picked up a ship six miles to port, apparently dead in the water; she was the crippled Pola. The bulk of the Allied forces detected the Italian squadron on radar shortly after 22:00, and were able to close without being detected. The Italian ships had no radar and could not detect British ships by means other than direct sight; the resulting military doctrine did not envisage night actions and the Italians had their main gun batteries disarmed. They managed to spot the Allied squadron at 22:20, which they thought to be Italian ships. Therefore the British battleships Barham, Valiant and Warspite were able to close to 3,800 yards (3,500 m) unnoticed by the Italian ships - point blank range for battleship guns - from where they opened fire. The Allied searchlights illuminated their enemy. (The searchlights aboard Valiant were under the command of a young Prince Philip.) Some British gunners witnessed the cruiser's main turrets flying dozens of metres into the air. After just three minutes, two Italian heavy cruisers - Fiume and Zara - had been destroyed. Fiume sank at 23:30, while Zara was finished off by a torpedo from the destroyer HMS Jervis at 02:40 of 29 March.

Two Italian destroyers, Vittorio Alfieri and Giosué Carducci, were sunk in the first five minutes. The other two, Gioberti and Oriani, managed to escape, the former with heavy damage. Towing Pola to Alexandria as a prize was considered, but daylight was approaching and it was thought that the danger of enemy air attack was too high. The British boarding parties seized a number of the much needed Breda anti-aircraft machine guns.

Pola was eventually sunk with torpedoes by the destroyers Jervis and Nubian after her crew was taken off, shortly after 04:00. The only known Italian reaction after the shocking surprise was a fruitless torpedo charge by some destroyers and the aimless fire of one of Zara's 40 mm guns in the direction of the British warships.

The Allied ships took on survivors, but left the scene in the morning, fearing Axis air strikes. Admiral Cunningham ordered a signal to be made on the Merchant Marine emergency band. This signal was received by the Italian High Command. It informed them that due to air strikes the Allied ships had ceased their rescue operations, and it granted safe passage to a hospital ship for rescue purposes. The location of the remaining survivors was broadcast and the Italian hospital ship Gradisca came to recover them.

Allied casualties during the battle were a single torpedo bomber shot down by Vittorio Veneto's 90 mm (3.5-inch) anti-aircraft batteries, with the loss of the three-man crew. Italian losses were up to 2,303 sailors, most of them from Zara and Fiume. The Allies rescued 1,015 survivors, while the Italians saved another 160.