HOME | US Navy - ships | US Navy - air units | USMC - air units | International Navies | Weapon Systems | Special Reports
French Navy - Marine Nationale
Agosta class Attack Submarine - SSK
(sous-marin d'attaque)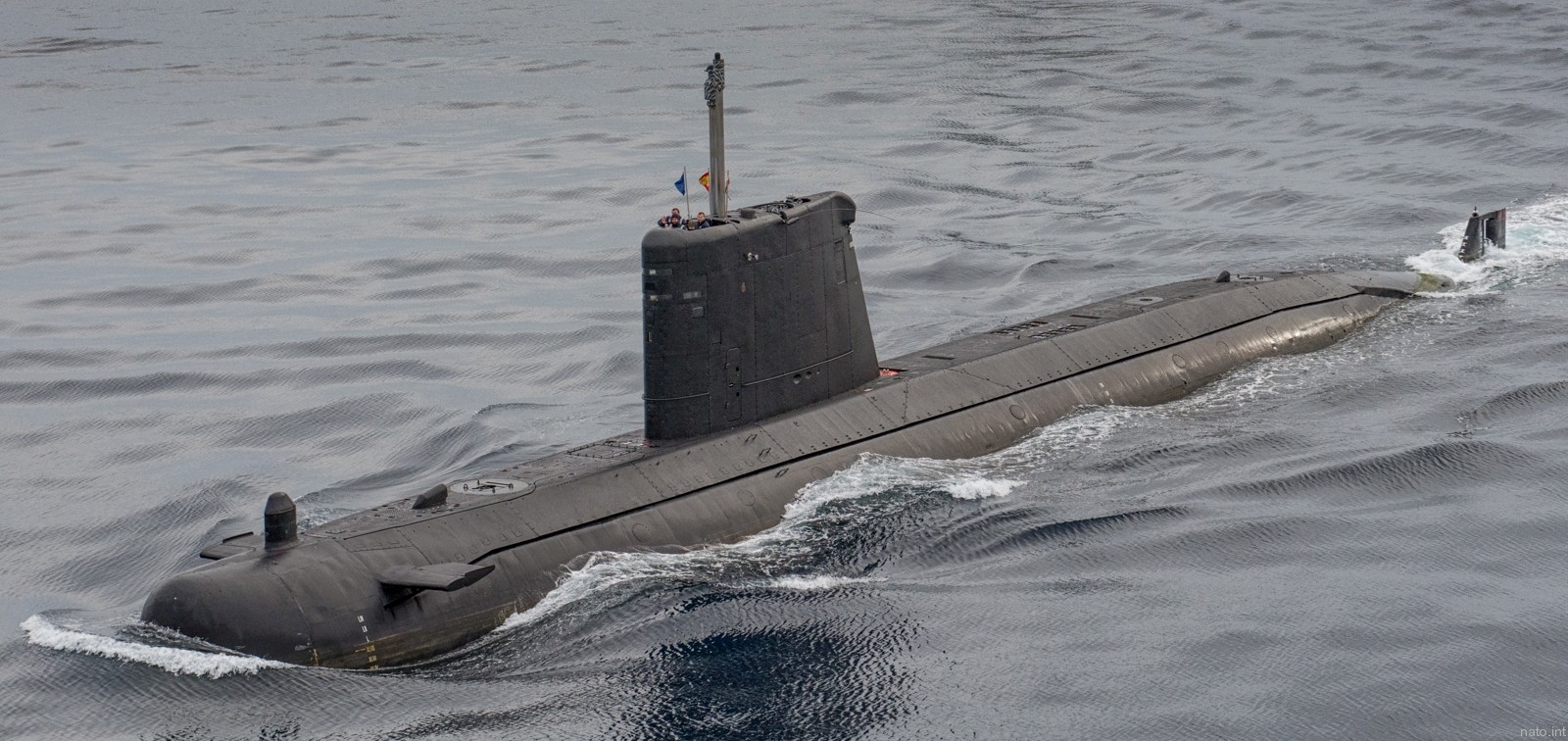 06/22
Unit
s:

S 620

FS

Agosta (1977)
S 621 FS Beveziers (1977)
S 622 FS La Praya (1978)
S 623 FS Ouessant

(1978)



Specifications:
Builder:
Arsenal de Cherbourg, Normandy, France
Displacement:
1510 tons (surfaced) / 1760 tons (submerged)
Length:
67 meters (219 feet 10 inches)
Beam:
6 meters (19 ft 8 in)
Draught:
Speed:
20+ knots (37+ km/h) submerged / 12 knots (22 km/h) surfaced
Range:
8500 NMI (13700 km)
Test depth: 300 meters (980 ft)
Complement:
41
Propulsion:
2 x Diesel Generators SEMT-Pielstick 16 PA 4 (960 kW)
1 x electric motor (3500 kW)
1 shaft / 1 propeller

Armament:
4 x
533mm (21 inches) torpedo tubes
for a mix of up to 16:
ECAN L5 Mod.3 heavy torpedoes
ECAN F17 Mod.2 heavy torpedoes
MBDA Exocet SM39 missiles
Systems:
DSUV-62A towed array passive sonar
Thomson Sintra DSUV-22 passive cylindrical array sonar with active transducer
DUUA-2D sonar
DUUA-1D sonar
DUUX-2 sonar
Thomson CSF DRUA-33 radar
The Agosta-class submarine is a class of diesel-electric fast-attack submarine developed and constructed by the French DCNS in 1970s to succeed the Daphné-class submarines. The submarines have served in the French Navy as well as exported to the navies of Spain and Pakistan. They are currently in the active service with the navies of Spain and Pakistan, and were replaced by the Scorpène-class submarines in the French Navy. The French Navy grouped this model of submarine in their most capable class as an océanique, meaning "ocean-going."
source: wikipedia



S 620 FS Agosta




The naval Battle of Agosta (Augusta, Sicily) on 22 April 1676 during the Franco-Dutch War



Laid down: November 1, 1972
Launched: October 19, 1974
Commissioned: July 28, 1977
Decommissioned: 1997
Fate: hull used for impact tests / dismantled in Brest 2021


S 621 FS Beveziers


The Battle of Beachy Head; UK (Fr. Battle of Bévéziers) was a naval battle fought on 10 July 1690 during the Nine Years' War



Laid down: May 17, 1973
Launched: June 14, 1975
Commissioned: July 29, 1977
Decommissioned: 1998


Fate:

awaiting dismantling in Brest 2009-2020 / dismantled in Brest 2020-2021




S 622 FS La Praya


The Battle of Porto Praya (Portuguese colony Cap Verde) was a naval battle that took place during the American Revolutionary War on 16 April 1781




between a British squadron under Commodore George Johnstone and a French squadron under the Bailli de Suffren



Laid down: 1974
Launched: May 15, 1976
Commissioned: March 9, 1978
Decommissioned: 2000


Fate:

laid up in Brest / dismantled in Brest 2020-2021


S 623 FS Ouessant


The Battle of Ushant (Fr. Ouessant) on 27 July 1778 was fought between French and British fleets 100 miles (160 km) west of Ushant,




an island at the mouth of the English Channel off the north-westernmost point of France



Laid down:

1974


Launched: October 23, 1976
Commissioned: July 27, 1978
Decommissioned: 2001
Fate:

lent, then sold to the Malaysian Navy as a training boat / now a museum



images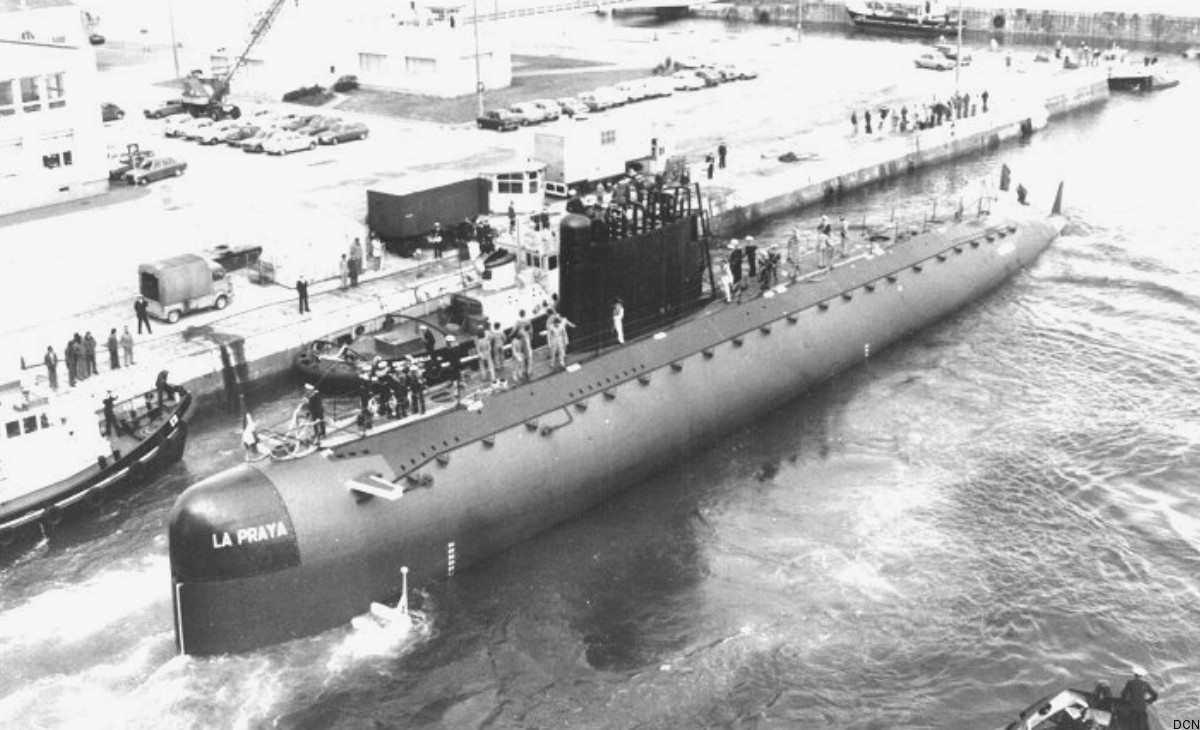 |
seaforces.org
|
French Navy start page
|