HOME | US Navy - ships | US Navy - air units | USMC - air units | International Navies | Weapon Systems | Special Reports
French Navy - Marine Nationale
Commandant Rivière class Frigate
Aviso escorteur

04/22
Units:
F 725
FS Victor Schoelcher
(1962-88)
F 726
FS Commandant Bory
(1964-96)
F 727
FS Amiral Charner
(1962-91)

F 728

FS Doudart de Lagree
(1963-91)
F 729

FS Balny
(1970-94)

F 733

FS Commandant Riviere

(1962-92)
F 740 FS
Commandant Bourdais
(1963-90)
F 748
FS Protet
(1964-92)
F 749
FS Enseigne de Vaisseau Henry
(1965-94)
Specifications:
Builder: Arsenal de Lorient, Brittany, France
Displacement: 1750 tons (standard) / 2230 tons (full load)
Length: 103 m (337 feet 11 inches)
Beam: 11.5 m (37 ft 9 in)
Draft: 4.3 m (14 ft 1 in)
Speed: 25 knots (46 km/h)


Range:

7500 nmi (13900 km) at 16 knots (30 km/h)
Complement: 214 (original) / 169 (later)

Propulsion:
4 x SEMT Pielstick PC12 diesel engines
12,000 kW (16,000 bhp)
2 shafts / 2 propellers

Armament:
3 x GIAT Model 53 100mm gun

(1 removed later for MM38)


4 x Exocet MM38 SSM launcher

(added later)


2 x

Bofors 40mm AA guns


1 x

305 mm 4-tube ASW mortar


2 x

550mm triple torpedo tubes

for

Type L5 heavy-weight torpedoes



Systems:
DRBV-22A air/surface search radar
DRBC-32C fire control radar
DUBA-3 sonar
SQS-17 sonar

Aviation:
none

The Commandant Rivière class was a class of frigates built for the French Navy in the late 1950s and early 1960s. Labeled "aviso-escorteur" (fr: "sloop-escort"), they were designed to perform the role of overseas patrol in peacetime and anti-submarine escort in wartime. This vessel class is named after the French Navy officer Henri Rivière (1827-83).


The main gun armament of the Commandant Rivière class consisted of three of the new French 100-millimetre (4 in) guns, with a single turret located forward and two turrets aft. These water-cooled automatic dual-purpose guns could fire a 13.5-kilogram (30 lb) shell at an effective range of 12,000 metres (39,000 ft) against surface targets and 6,000 m (20,000 ft) against aircraft at a rate of 60 rounds per minute. A quadruple 305 mm (12 in) anti-submarine mortar was fitted in 'B' position, aft of the forward gun and in front of the ship's superstructure, capable of firing a 230 kg (510 lb) depth charge to 3,000 m (9,800 ft) or in the shore bombardment role, a 100 kg (220 lb) projectile to 6,000 m (20,000 ft). Two triple torpedo tubes were fitted for anti-submarine torpedoes, while the ship's armament was completed by two 30 mm (1.2 in) Hotchkiss HS-30 cannon. The ships had accommodation for an 80-man commando detachment with two fast landing boats, each capable of landing 25 personnel.

While the previous French frigates of the Le Corse and Le Normand classes were powered by steam turbines, because a long-range was required for the overseas colonial role of the ships, the class was instead fitted with a 16,000-brake-horsepower (12,000 kW) two-shaft diesel powerplant, capable of propelling the ship at a speed of 26 knots (48 km/h; 30 mph), although 26.6 knots (49.3 km/h; 30.6 mph) was reached during trials.




Two ships of the class were fitted with modified power plants.





Commandment Bory

was powered by free-piston engines driving gas turbines, although it was refitted with a conventional diesel installation in 1974-1975, while Balney was fitted with an experimental CODAG (combined diesel and gas) installation, with a 11,500 hp (8,600 kW) and two 3,600 bhp (2,700 kW) diesel engines driving a single shaft. The CODAG arrangement took up less space, allowing 100 tons more fuel to be carried and giving a range of 13,000 nautical miles (24,000 km; 15,000 mi) at 10 knots (19 km/h; 12 mph).



Balny

omitted one 100 mm gun turret to accommodate the revised machinery.


The first of the class, Victor Schœlcher entered service in October 1962, with all but one of the class following in the next 27 months. The exception was the CODAG powered Balny, which although launched in 1962 and completed in 1964, did not commission until 1970, being employed as a trials ship in the meantime.

Commandant Bourdais was used for fishery protection in the North Atlantic from 1963 to 1972, while several of the ships of the class were used as training ships, including Victor Schœlcher (1961-1973) and Commandant Bourdais. In the 1970s, all except Balny had one 100 mm turret replaced by four MM 38 Exocet anti-ship missile launchers, while several of the ships had their 30 mm cannon replaced by Bofors 40 mm (1.6 in) guns.

In 1984-1985, Commandant Rivière was converted to a sonar-trials ship. The ship's armament was replaced by a single 40 mm Bofors gun and two 12.7 mm (0.50 in) machine guns, while the ship's stern was rebuilt to accommodate a hoist for a variable depth sonar, which was used to test various active and passive towed array sonars.

All French units were decommissioned in the early 1990s, save for three frigates that were sold to the Uruguayan Navy.

source: wikipedia (11/20)



> An aviso is a French kind of combat-capable ships, smaller in size than a corvette, but greater than patrol ships.
Ship data:



F 733 FS Commandant Rivière





Namesake:


Henri Laurent Rivière (July 12, 1827 - May 1883) was a French naval officer and a writer
who is chiefly remembered today for advancing the French conquest of Tonkin (northern Vietnam) in the 1880s.
Rivière's seizure of the citadel of Hanoi in April 1882 inaugurated a period of undeclared hostilities between France and Dai Nam
(as Vietnam was known then) that culminated one year later in the Tonkin campaign (1883-1886).

Laid down: April 1957
Launched: October 11, 1958


Commissioned:

December 4, 1962


Decommissioned: 1992
Fate: breakwater in Saint-Mandrier 1993-2009 / laid-up in Toulon 2009-2014 / dismantled in Ghent, Belgium in 2015




F 725 FS Victor Schœlcher





Namesake:


Victor Schœlcher (22 July 1804 - 25 December 1893) was a French abolitionist writer, politician and journalist,
best known for his leading role in the abolition of slavery in France in 1848, during the Second Republic.

Laid down: October 1957
Launched: October 11, 1958
Commissioned: October 15, 1962
Decommissioned: December 1988
Fate: transferred to Uruguay in 1988 > renamed

ROU 02 General Artigas






F 726 FS Commandant Bory





Namesake:




Victor Bory (sorry, no info)



Laid down: May 1958
Launched: October 11, 1958
Commissioned: March 5, 1964
Decommissioned: September 1, 1996
Fate: breakwater in Brest 1996-2004 / sunk as a target in 2004




F 727 FS Amiral Charner





Namesake:




Léonard Victor Joseph Charner (13 February 1797 - 7 February 1869) was an Admiral of the French Navy.



Laid down: November 1958
Launched: March 12, 1960
Commissioned: December 14, 1962
Decommissioned: 1990
Fate: transferred to Uruguay in 1991 > renamed

ROU 03 Montevideo






F 740 FS Commandant Bourdais





Namesake:




Adrien Bourdais (sorry, no info)





Laid down:

April 1959


Launched: April 15, 1961
Commissioned: March 10, 1963
Decommissioned: 1990
Fate: transferred to Uruguay in 1990 > renamed

ROU 01 Uruguay






F 728 FS Doudart de Lagrée





Namesake:


Ernest Marc Louis de Gonzague Doudart de Lagrée (March 31, 1823 - March 12, 1868)
was the leader of the French Mekong Expedition of 1866-1868.

Laid down: March 1960
Launched: April 15, 1961
Commissioned: May 1, 1963
Decommissioned: 1991
Fate: breakwater in Brest 1994-99 / sunk as a target on November 29, 1999




F 729 FS Balny





Namesake:


Adrien-Paul Balny d'Avricourt (June 11, 1849 in Noyon - December 21, 1873 in Hanoi) was a French naval officer.

Laid down: March 1960
Launched: March 17, 1962
Commissioned: February 1, 1970
Decommissioned: 1994
Fate: breakwater in Lanveoc-Poulmic 1994-2003 / sunk as a target in 2003




F 748 FS Protet





Namesake:


Auguste Léopold Protet (1808 - 1862) was a French Navy admiral. He founded Dakar, fought in the Second Opium War, and was killed
in the Taiping Rebellion at the Fengxian District of Shanghai on the afternoon of 17 May 1862.

Laid down: September 1961
Launched: December 7, 1962
Commissioned: May 1, 1964
Decommissioned: 1992


Fate:

sunk as a target on May 24, 2001 (off Toulon, Mediterranean Sea)






F 749 FS Enseigne de Vaisseau Henry





Namesake:




Paul Charles Joseph Martin Henry (sorry, no info)



Laid down: September 1962
Launched: December 14, 1963
Commissioned: January 1, 1965
Decommissioned: 1996


Fate:

breakwater in Brest 1996-2006 / laid up in Landevennec 2006-15 / dismantled in Ghent, Belgium in 2016



images


F 726 FS Commandant Bory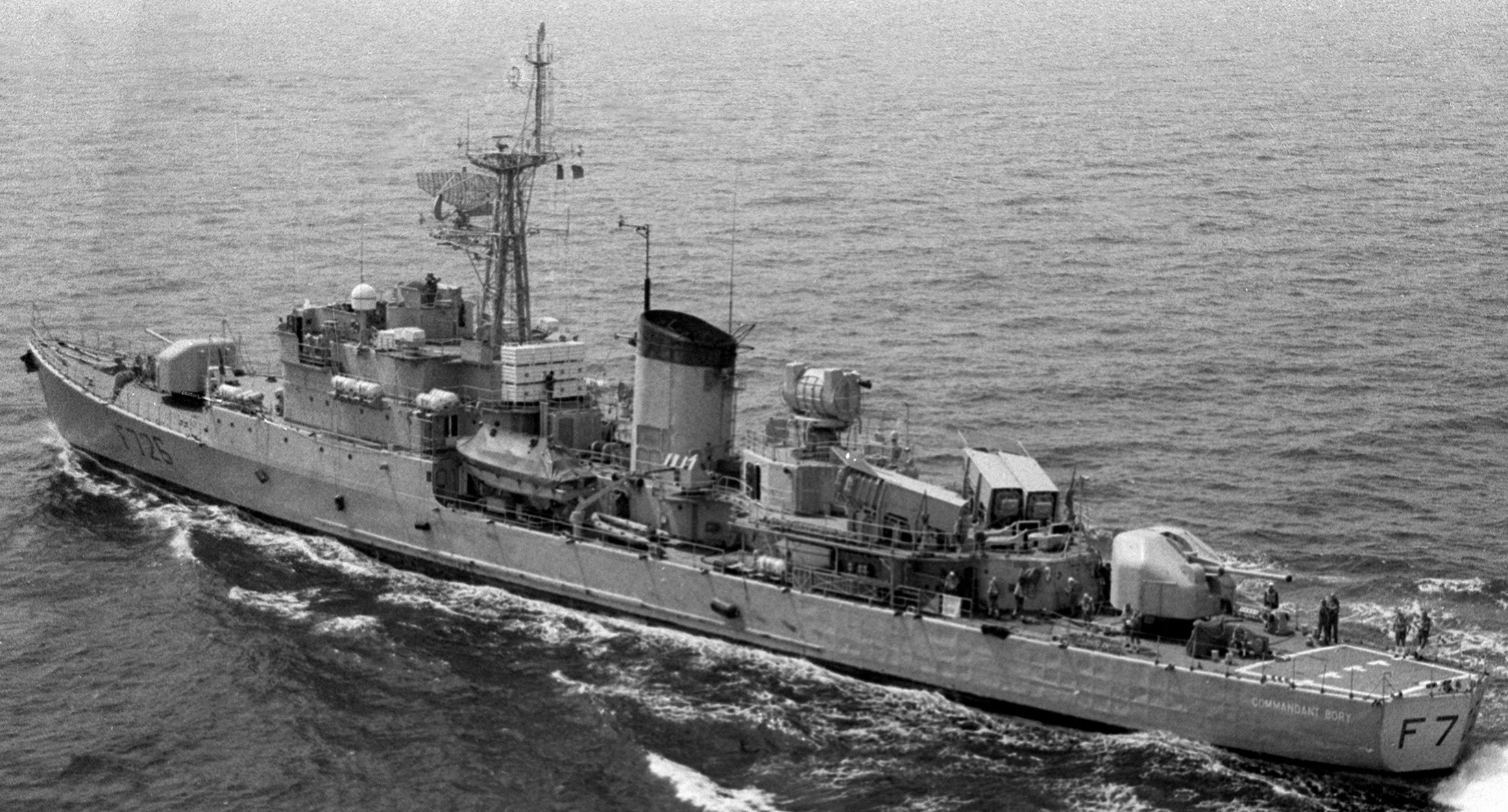 F 726 FS Commandant Bory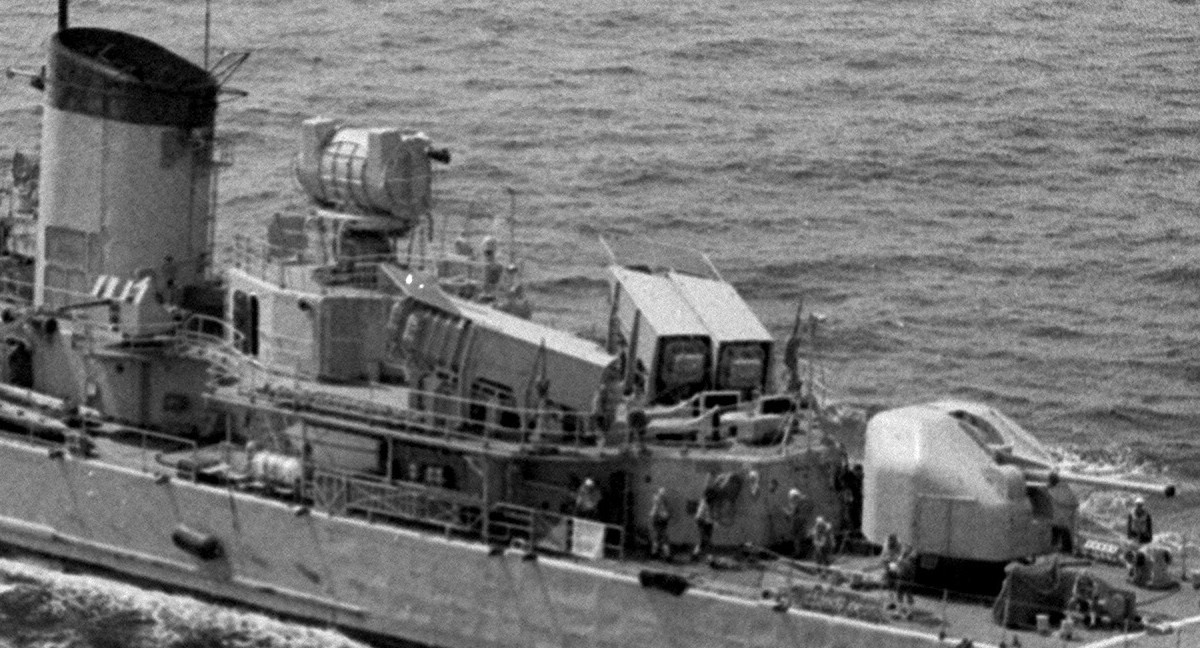 4 x MM38 Exocet SSM missile launcher / 100mm Model 53 gun




F 726 FS Commandant Bory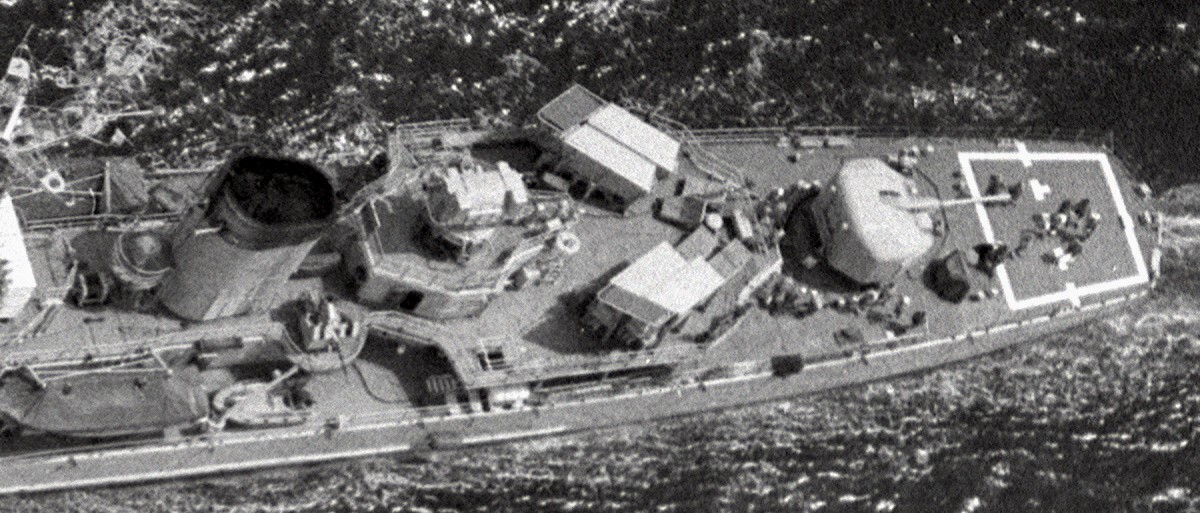 F 726 FS Commandant Bory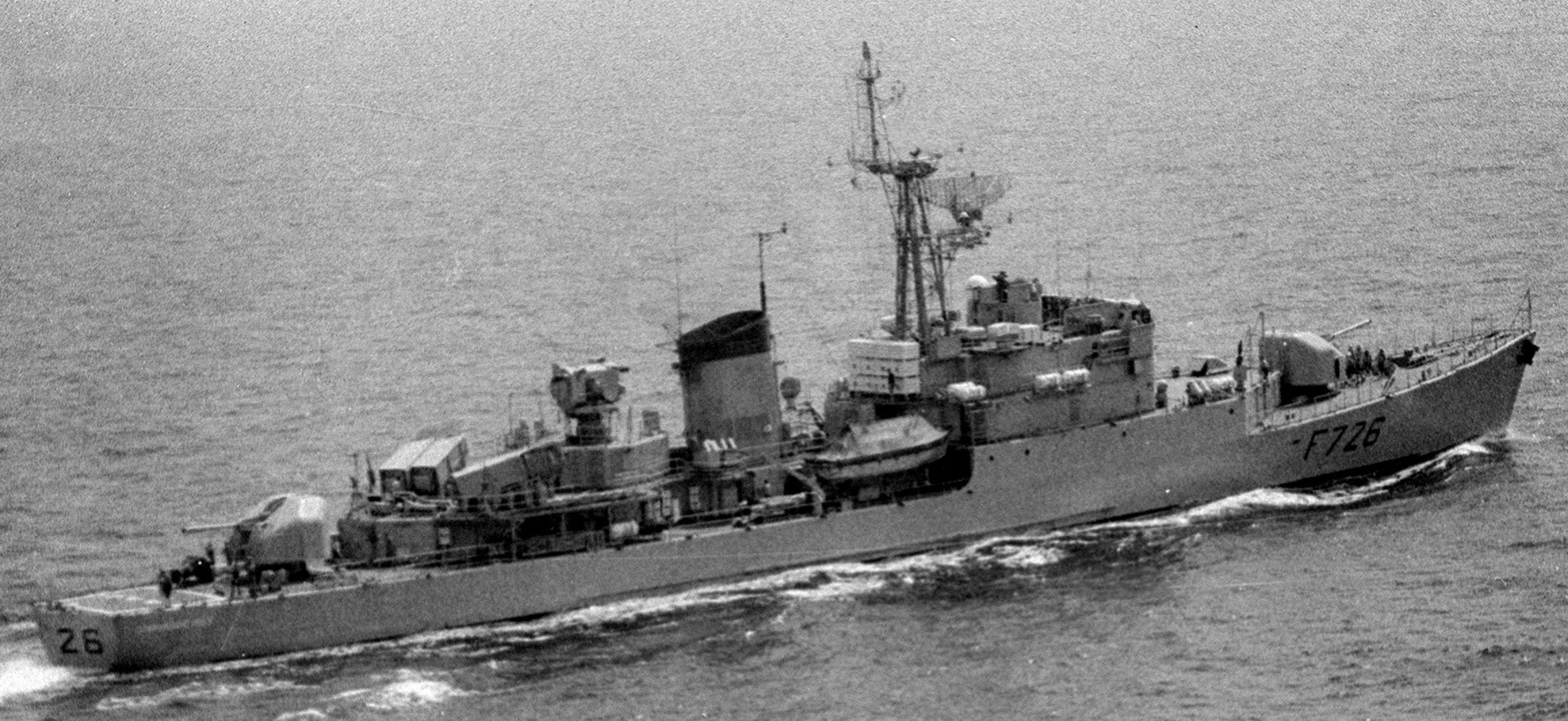 F 726 FS Commandant Bory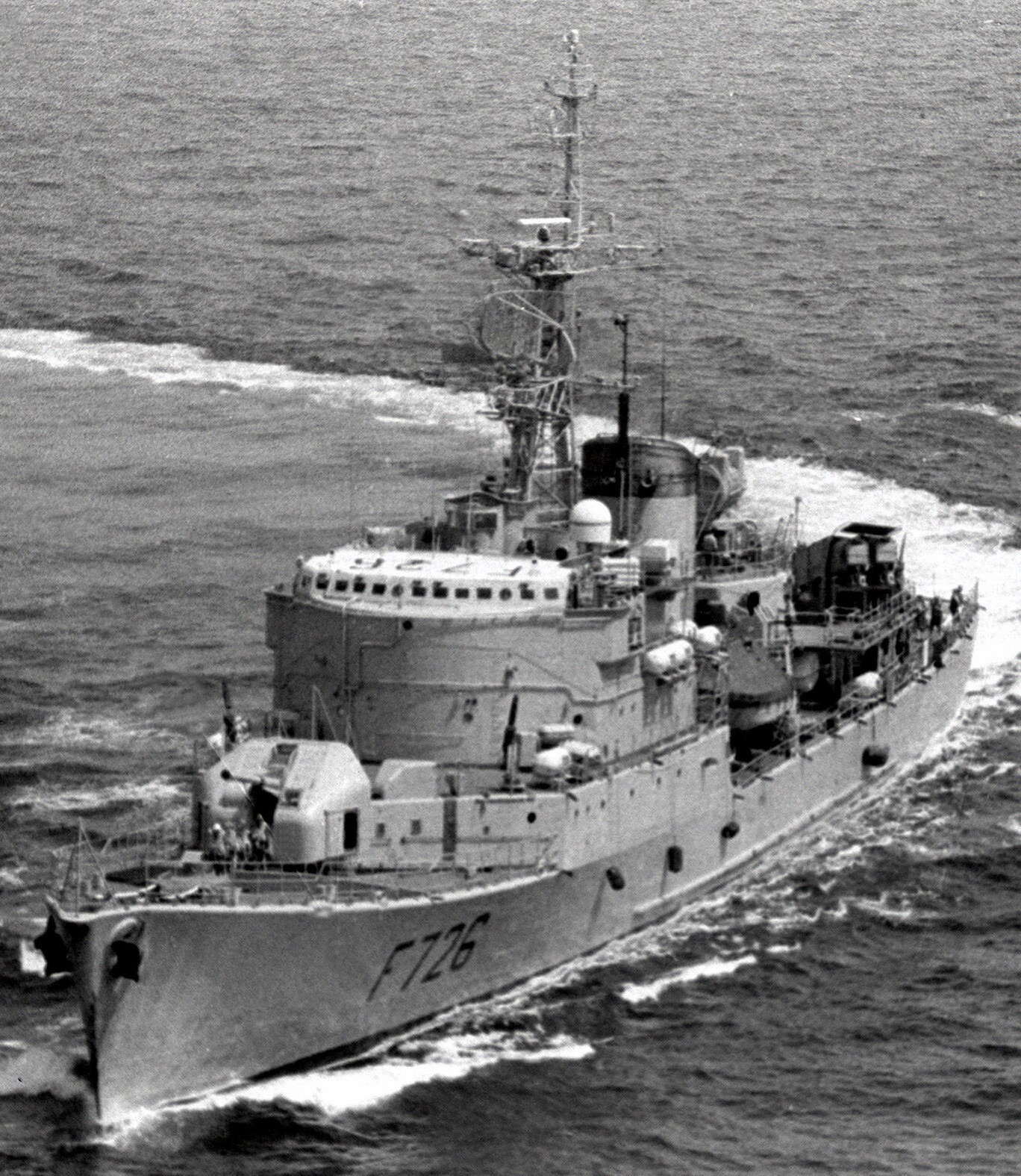 F 726 FS Commandant Bory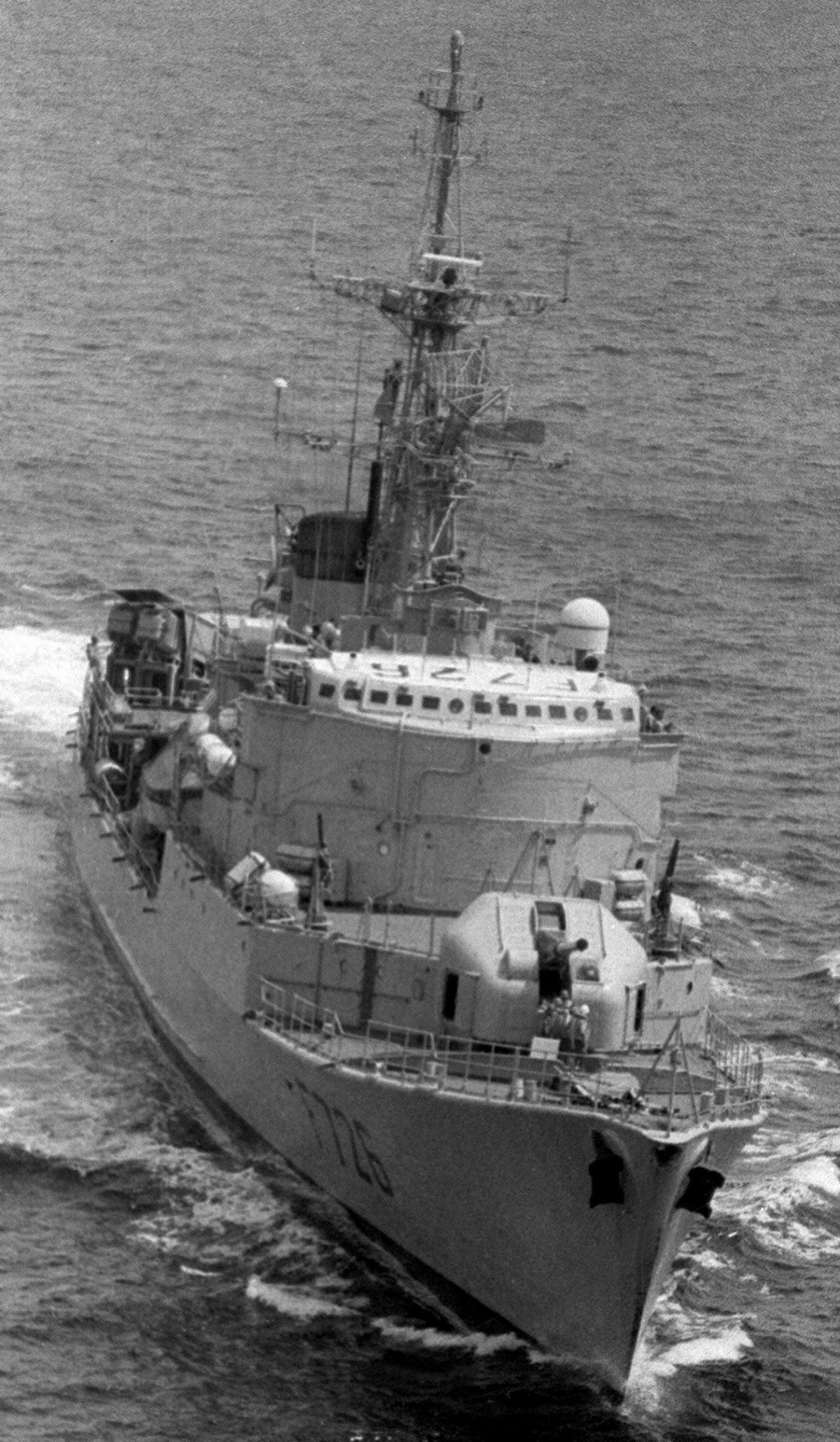 F 726 FS Commandant Bory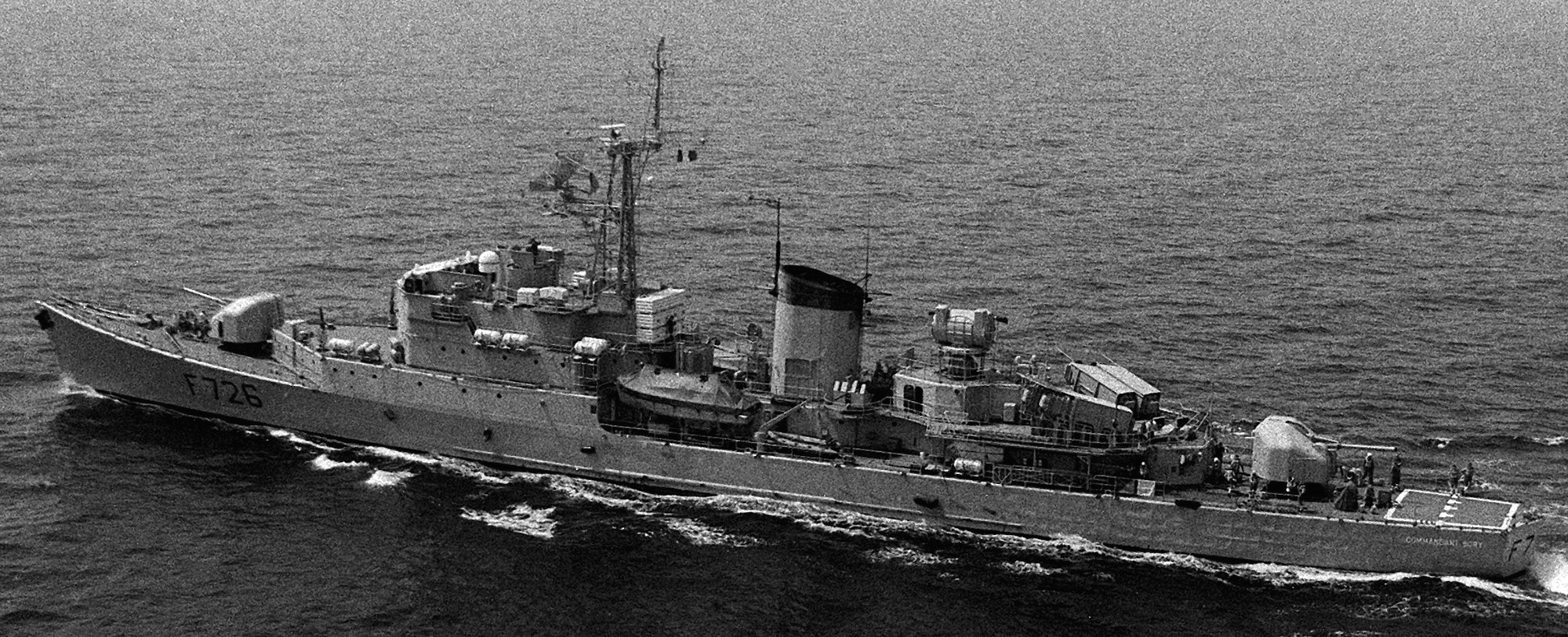 F 726 FS Commandant Bory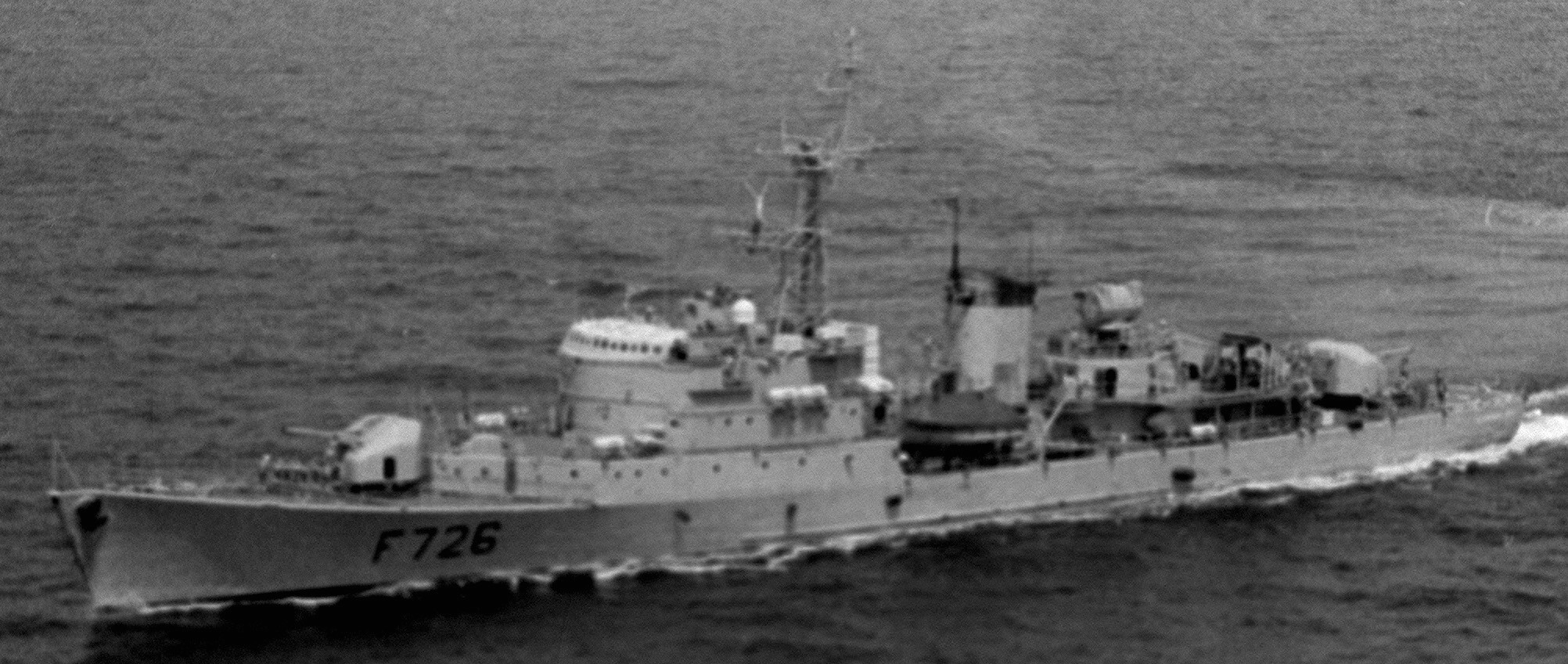 F 726 FS Commandant Bory





F 728 FS Doudart de Lagree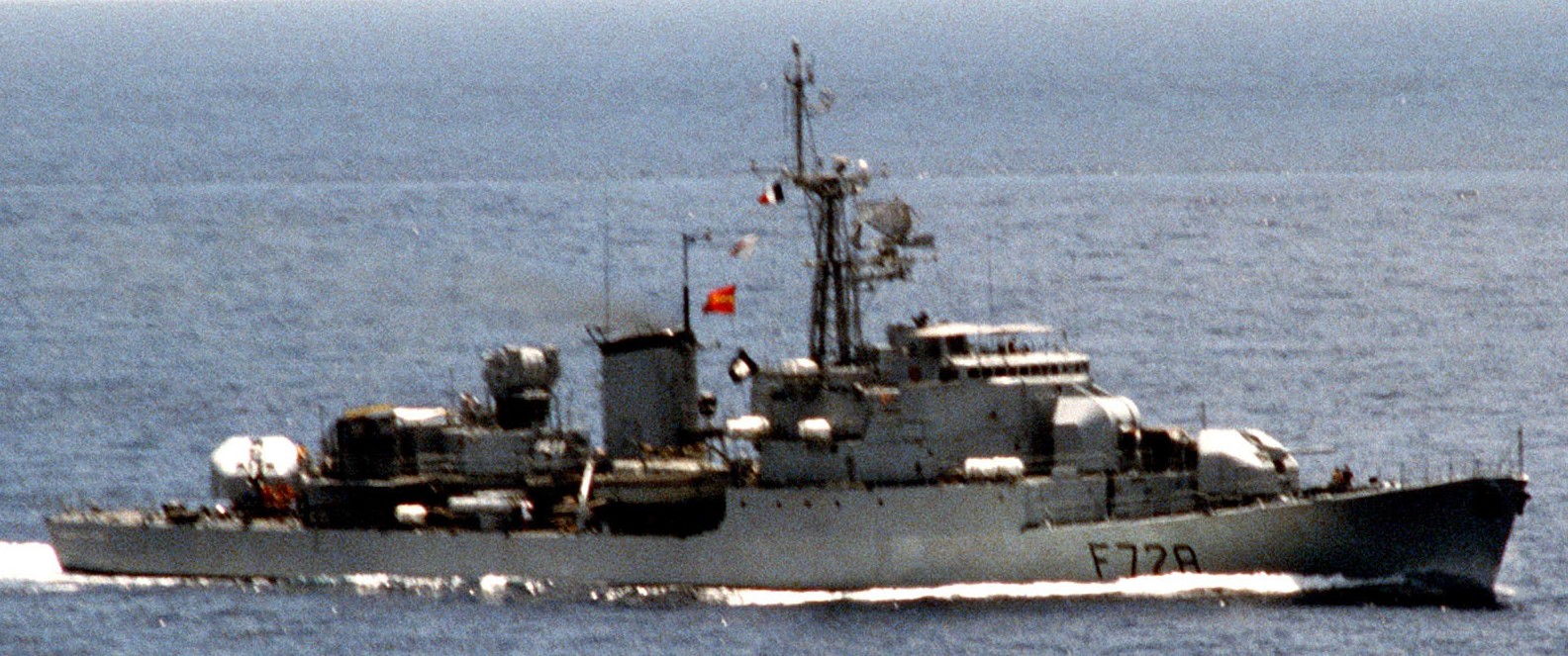 F 728 FS Doudart de Lagree




F 729 FS Balny




F 729 FS Balny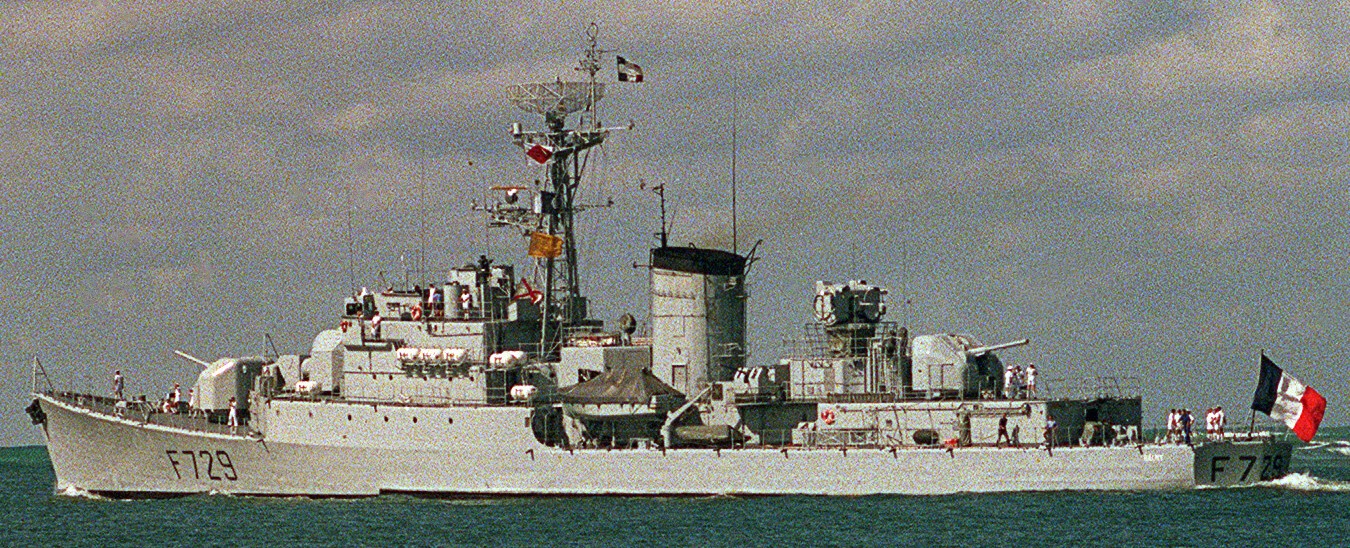 F 729 FS Balny



F 729 FS Balny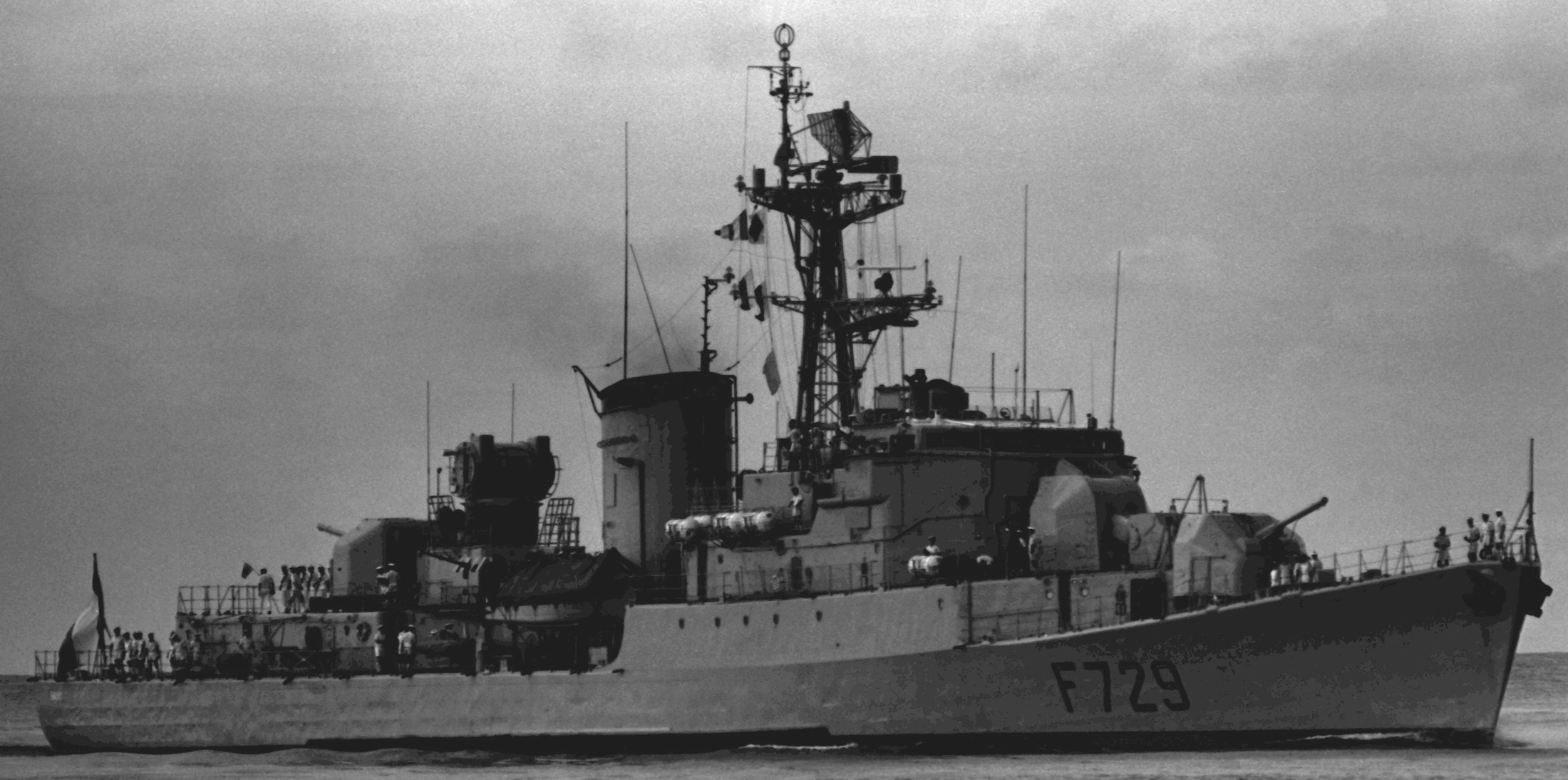 F 729 FS Balny





F 749 Enseigne de vaisseau Henry


|
seaforces.org
|
French Navy start page
|