HOME | US Navy - ships | US Navy - air units | USMC - air units | International Navies | Weapon Systems | Special Reports
French Navy / Marine Nationale
- Anti-Submarine
Frigate
D 645 FS La Motte-Picquet
03/22
Type, class: L

arge Anti-Submarine Frigate; Georges Leygues (F70 AS) class
Builder: Arsenal de Brest, Brittany, France
STATUS:
Laid down: February 12, 1982
Launched:

February 6, 1985
Commissioned: February 18, 1988
Decommissioned: October 30, 2020

Namesake: Count Toussaint-Guillaume Picquet de la Motte (1720-1791)
Technical Data: see INFO > Georges Leygues (F70 AS) class Anti-Submarine Frigate
images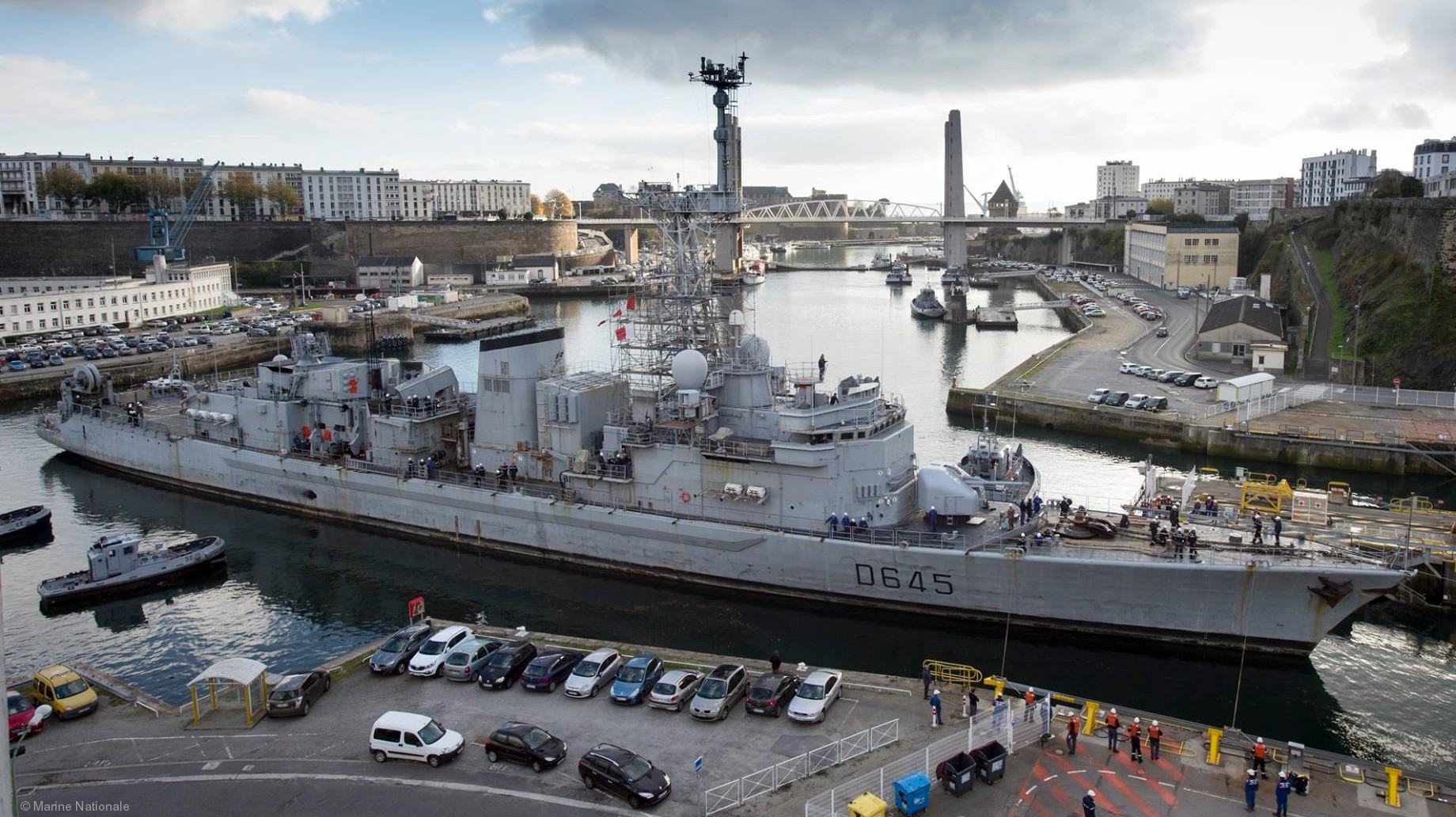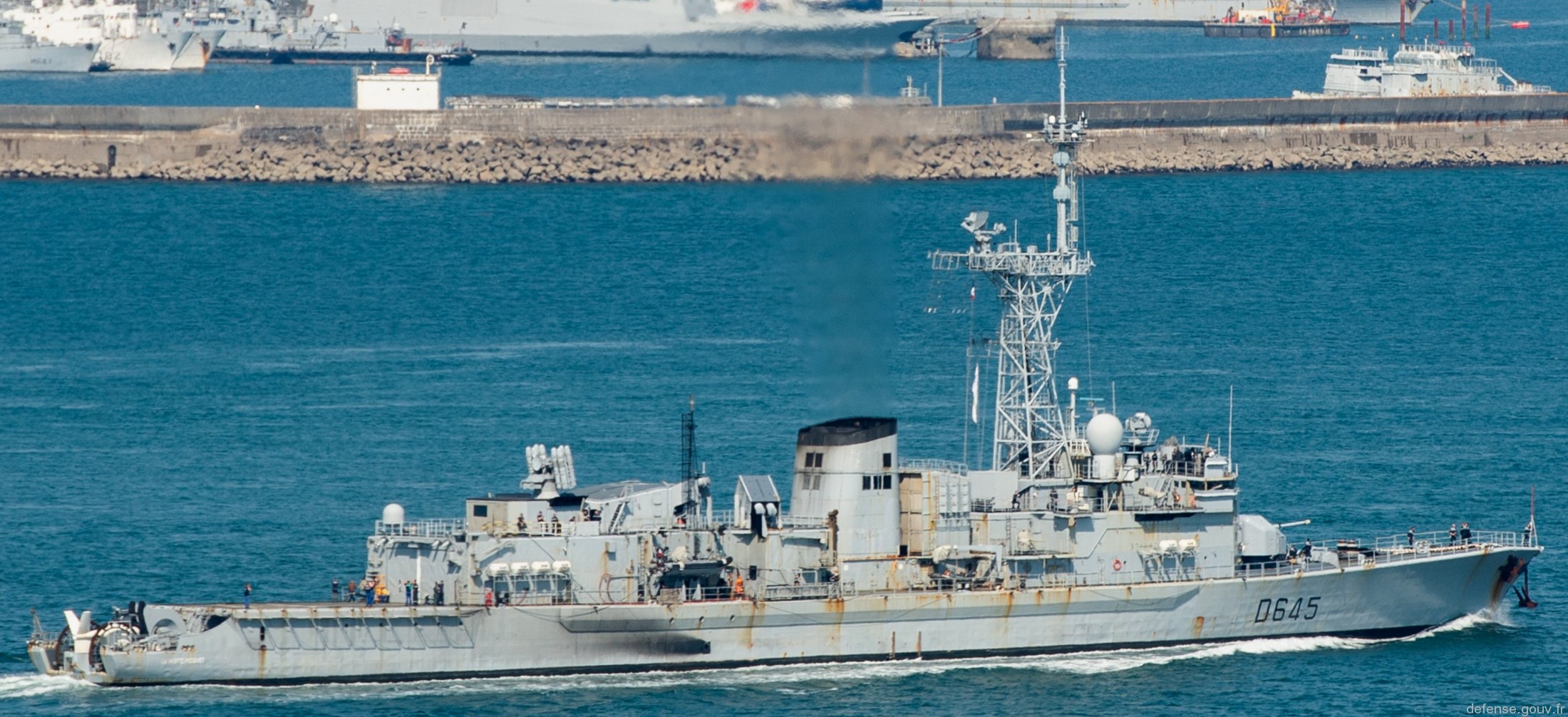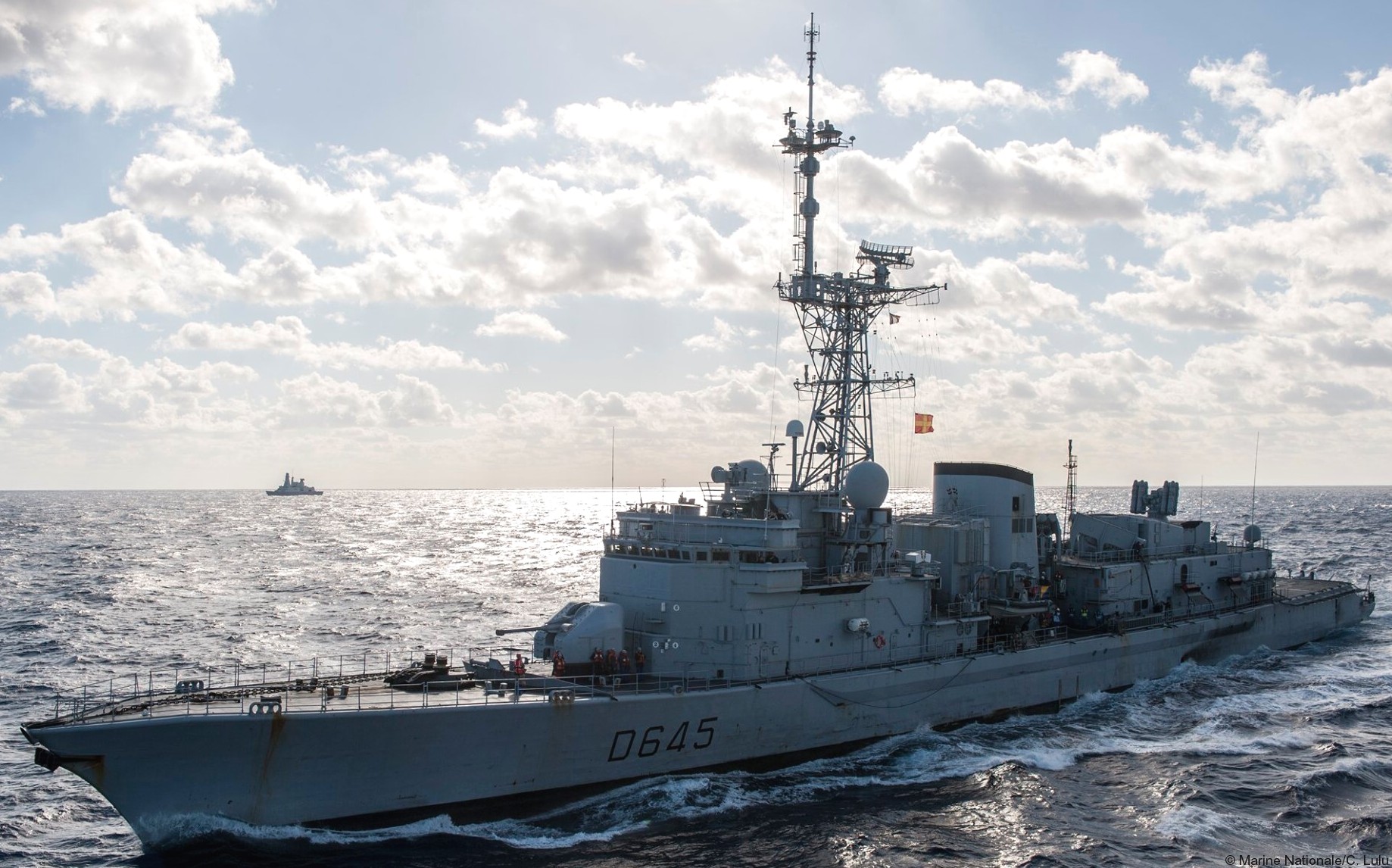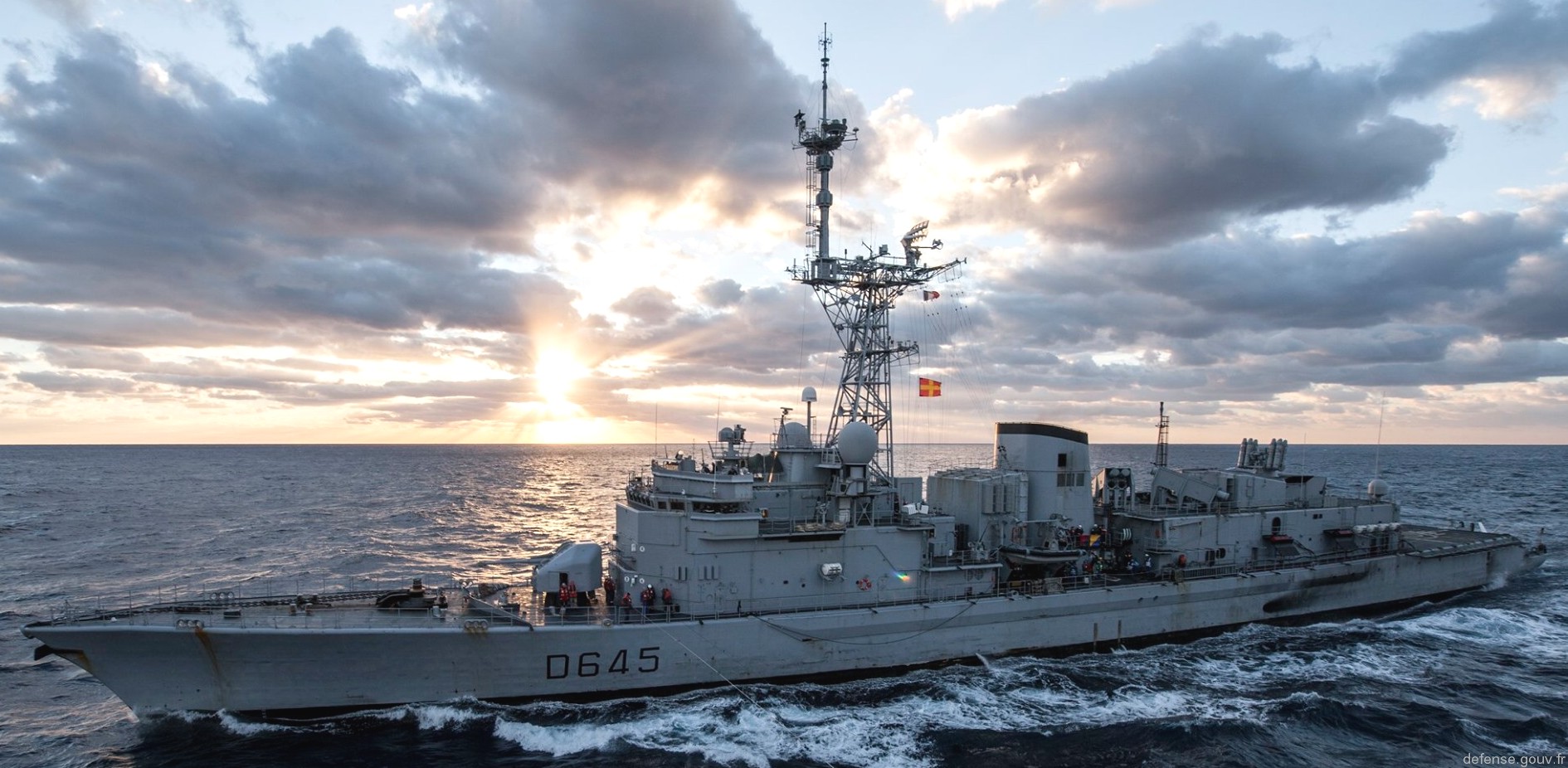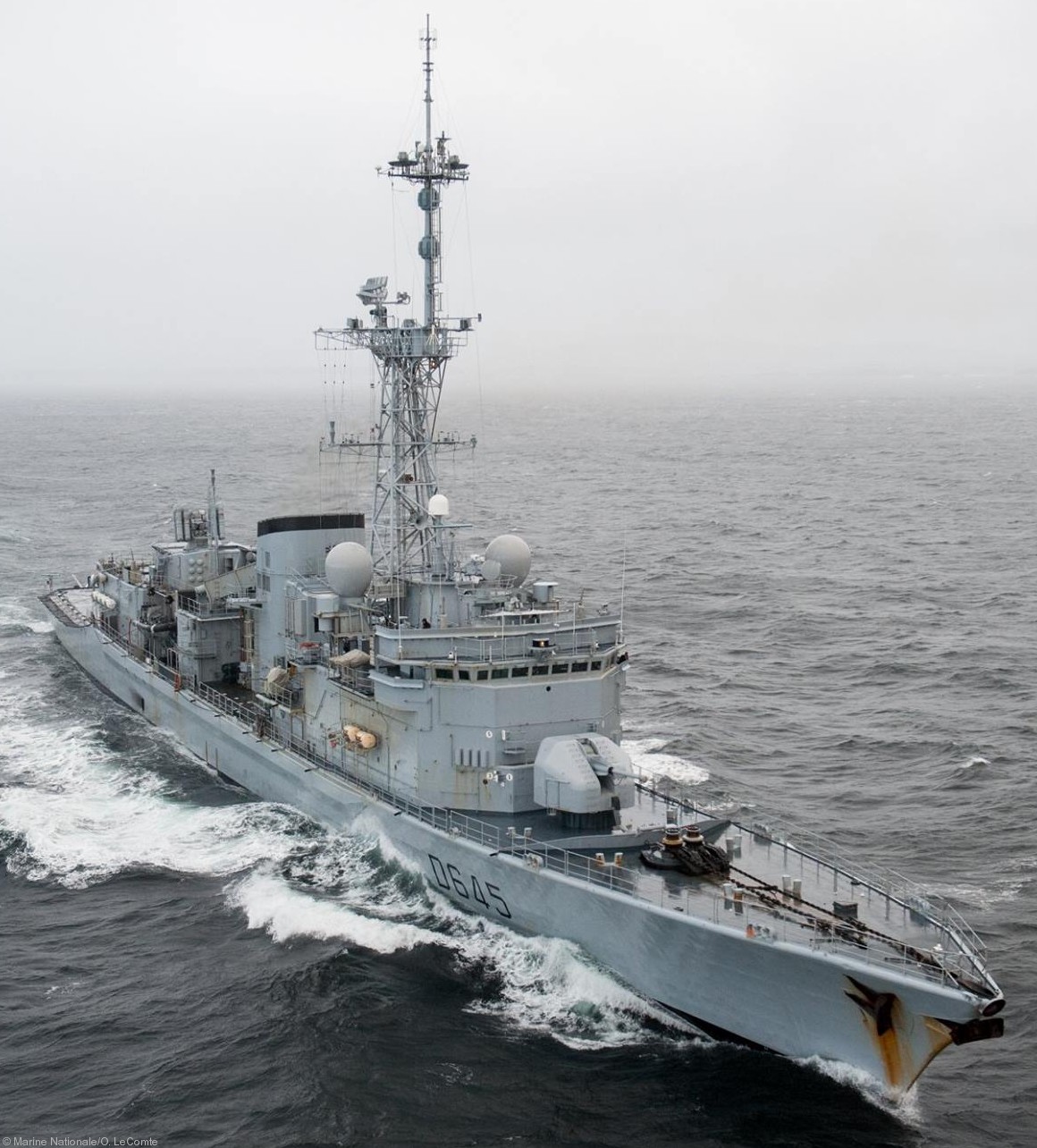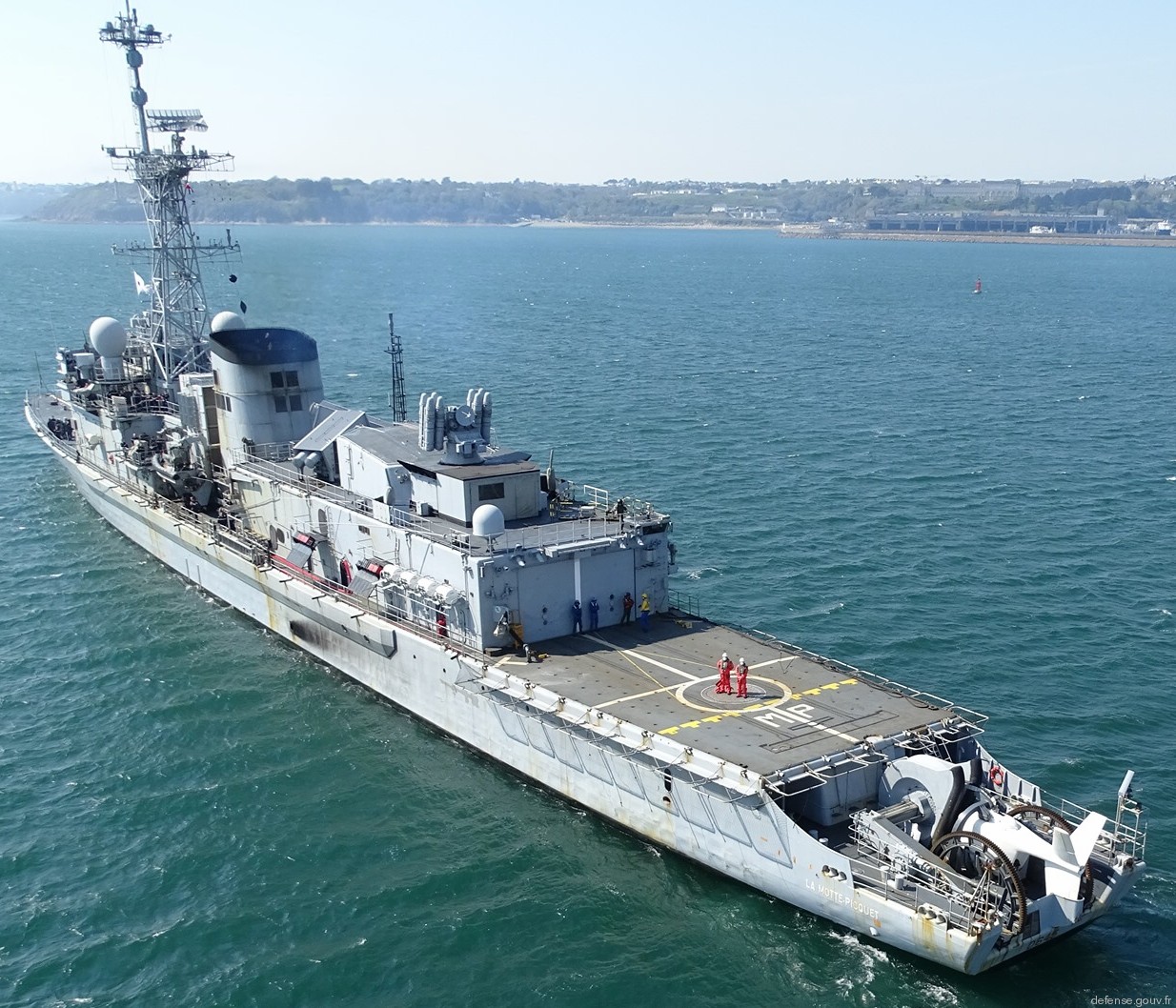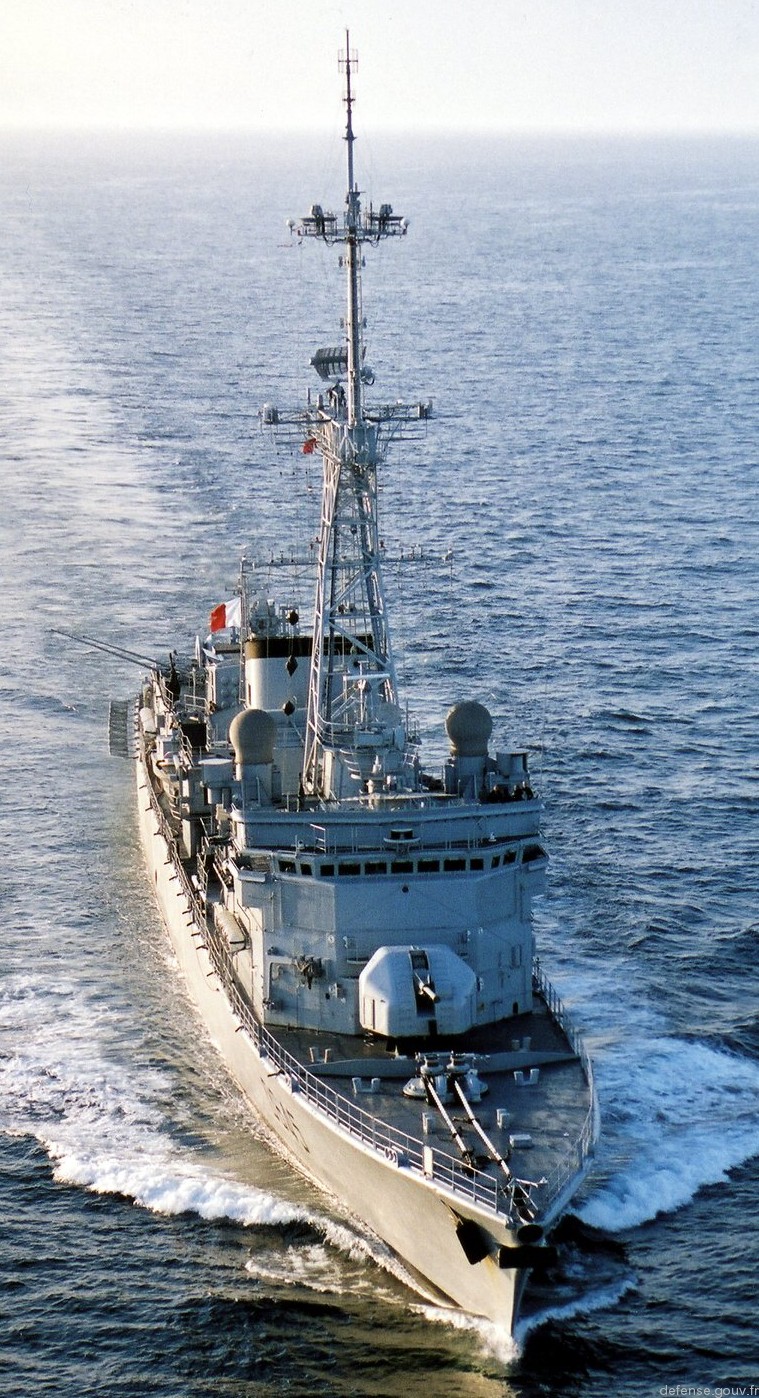 FS La Motte-Picquet fires a MM38 Exocet SSM missile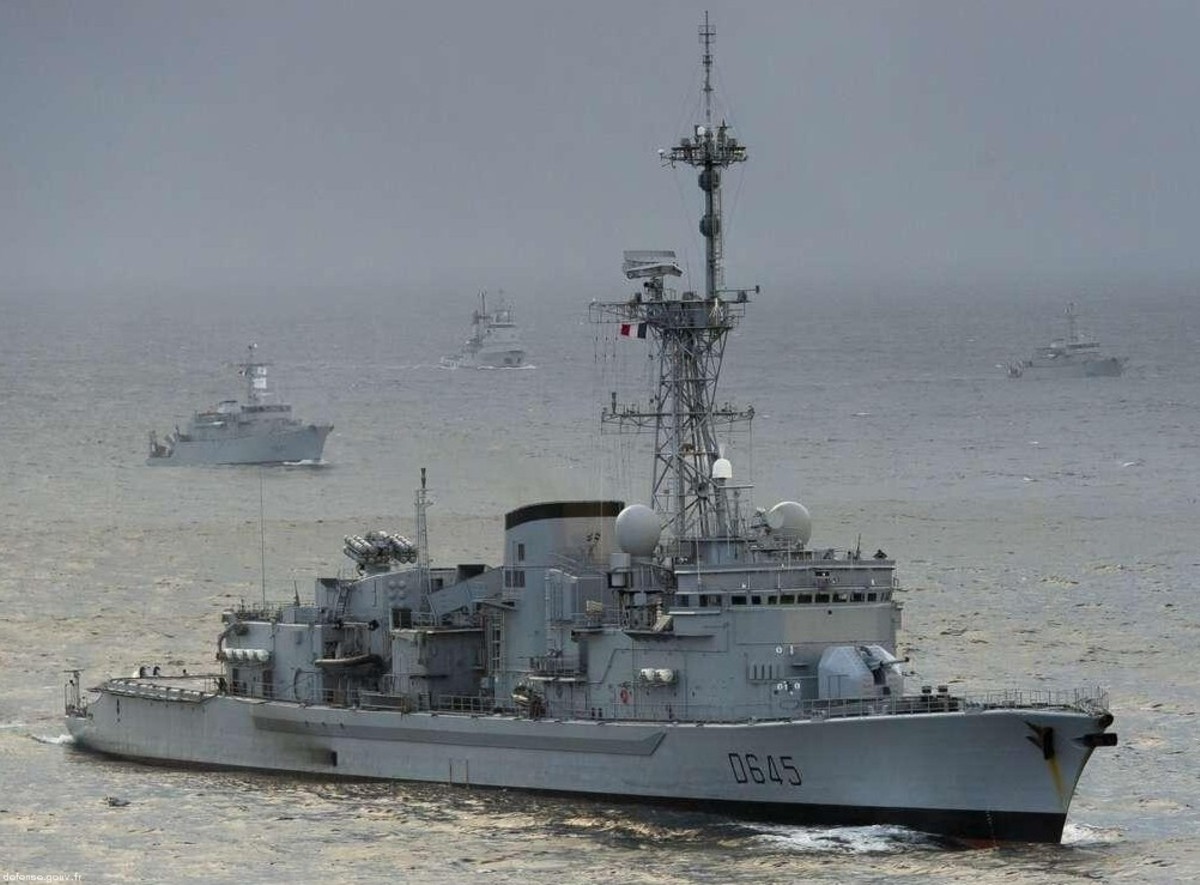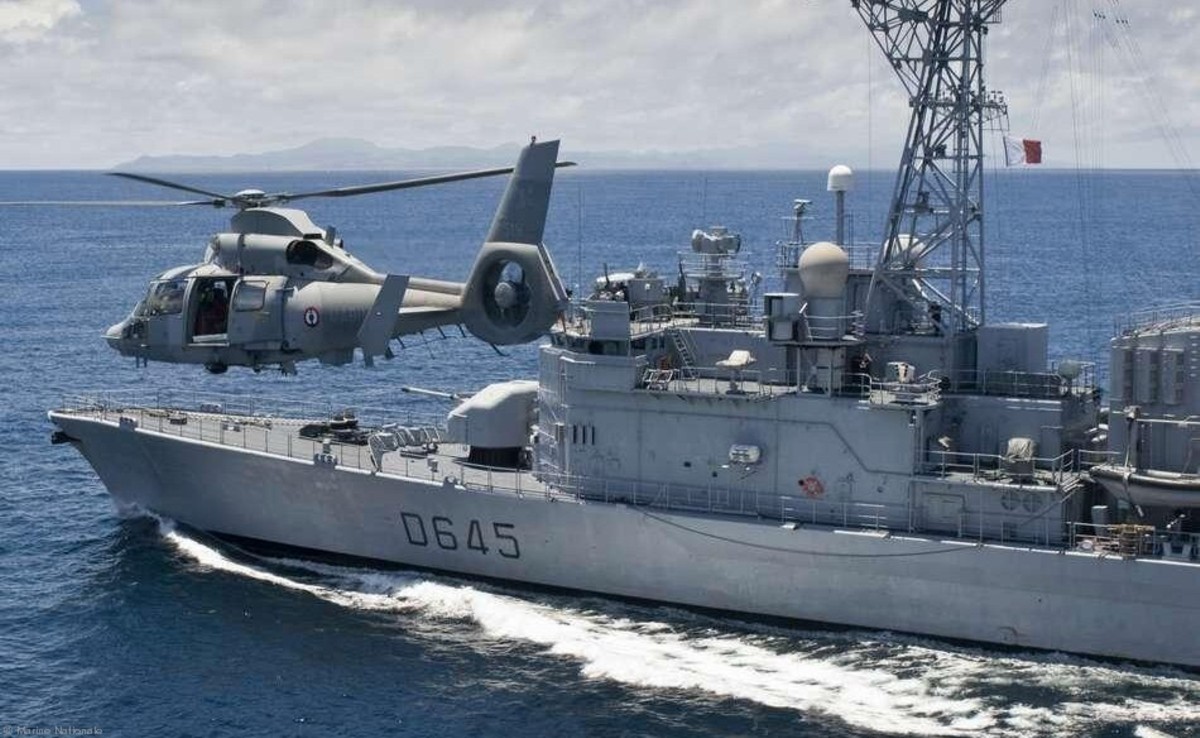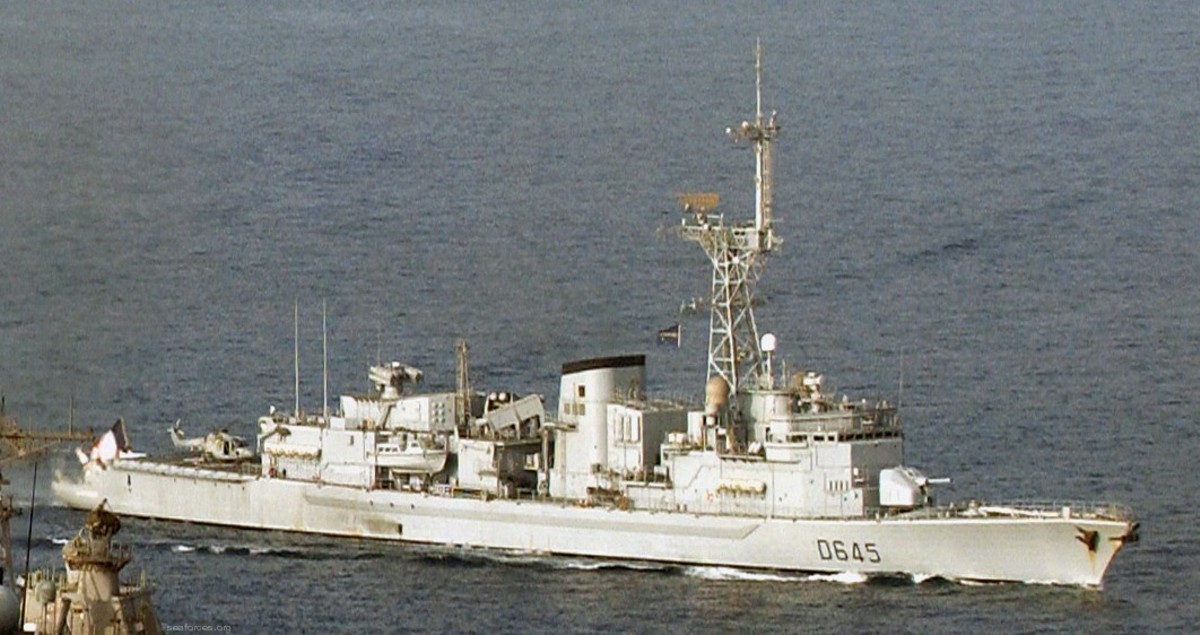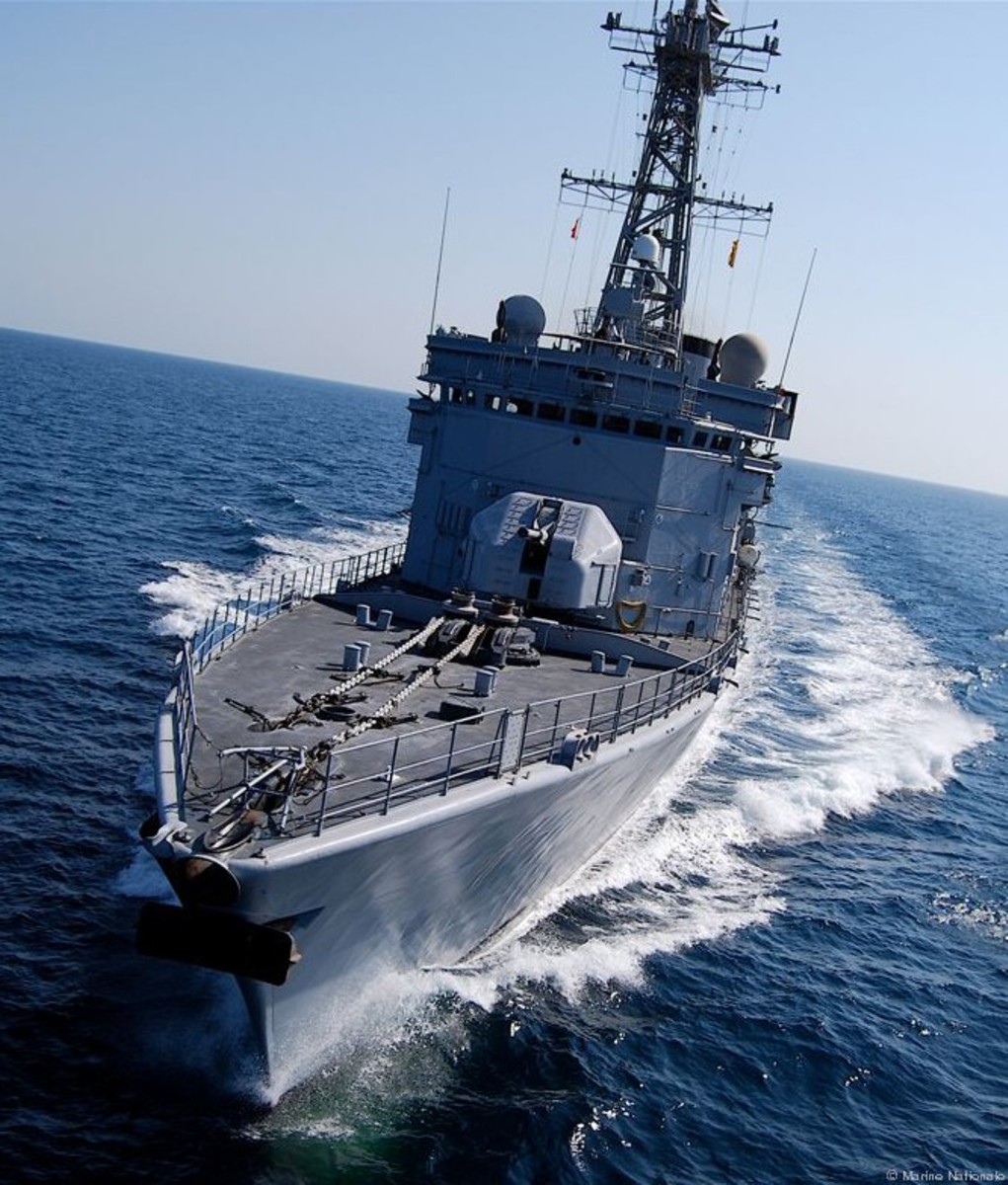 FS La Motte-Picquet (D 645):

On 22 August 2007, she took custody of the Danish freighter Danica White which had been captured by pirates on 3 June.



2011/12 tour:


She left Brest on 9 November 2011 for active duty in the Indian Ocean and was refuelled by the US replenishment ship USNS Patuxent on 10 January 2012. On 22 January she passed through the Straits of Hormuz with the British frigate HMS Argyll and a US battlegroup centred on the aircraft carrier USS Abraham Lincoln.



Oprration Chammal:


In November 2015, a French Navy press release stated that La Motte-Picquet will be part of the Charles de Gaulle task force launching strikes against the Islamic State of Iraq and the Levant starting January 2016.



Tracking Russian warships:


In March 2016, La Motte-Picquet shadowed the Russian destroyer Vice-Admiral Kulakov, an oiler and a tugboat as it passed near French waters.

<![if !supportEmptyParas]> <![endif]>
Count Toussaint-Guillaume Picquet de la Motte (1 November 1720 (Rennes) - 10 June 1791 (Brest))

... was a French admiral.

Aged fifteen, he joined the navy as a midshipman and served in Morocco, the Baltic Sea, the Caribbean Islands and in India. Noted for his strategic skills, he was called to Paris in 1775 to help the Secretary of State prepare the order to reorganise the Navy. In 1778, as a Squadron Commander, he took part in the Battle of Ouessant on the Saint-Esprit, and then cruised the English seas. During one month, he captured thirteen ships.

During the American Revolutionary War, Picquet de la Motte distinguished himself as a member of Admiral d'Estaing's squadron in Martinique, during the Battle of Grenada, and the Siege of Savannah.

On 18 December 1779, he attacked a British squadron under the command of Admiral Hyde Parker that was attempting to blockade a French convoy; such was the success of his "Combat de la Martinique", that Hyde Parker sent him a letter of congratulation:
"The conduct of your Excellency in the affair of the 18th of this month fully justifies the reputation which you enjoy among us, and I assure you that I could not witness without envy the skill you showed on that occasion. Our enmity is transient, depending upon our masters; but your merit has stamped upon my heart the greatest admiration for yourself."

In 1781, as commander of a nine-vessel squadron that included three frigates, Picquet de la Motte intercepted the fleet of Admiral Rodney en route from St. Eustatius which the British had captured in February 1781. Picquet de la Motte captured 26 British ships, along with Rodney's plunder in the amount of 5 million sterling. Soon afterwards he was promoted to Lieutenant General of the Naval Armies.

Picquet de la Motte died in 1791, after fifty-two years of service. Four vessels of the French Navy have been named in his honour, the most recent being the first-rank frigate Lamotte-Picquet. The Paris Métro station La Motte-Picquet - Grenelle in the 15th arrondissement of Paris was also named after him. Lastly, there is a street in the 7th arrondissement of Paris named after him, l'Avenue de la Motte-Picquet.



source: wikipedia




patches + more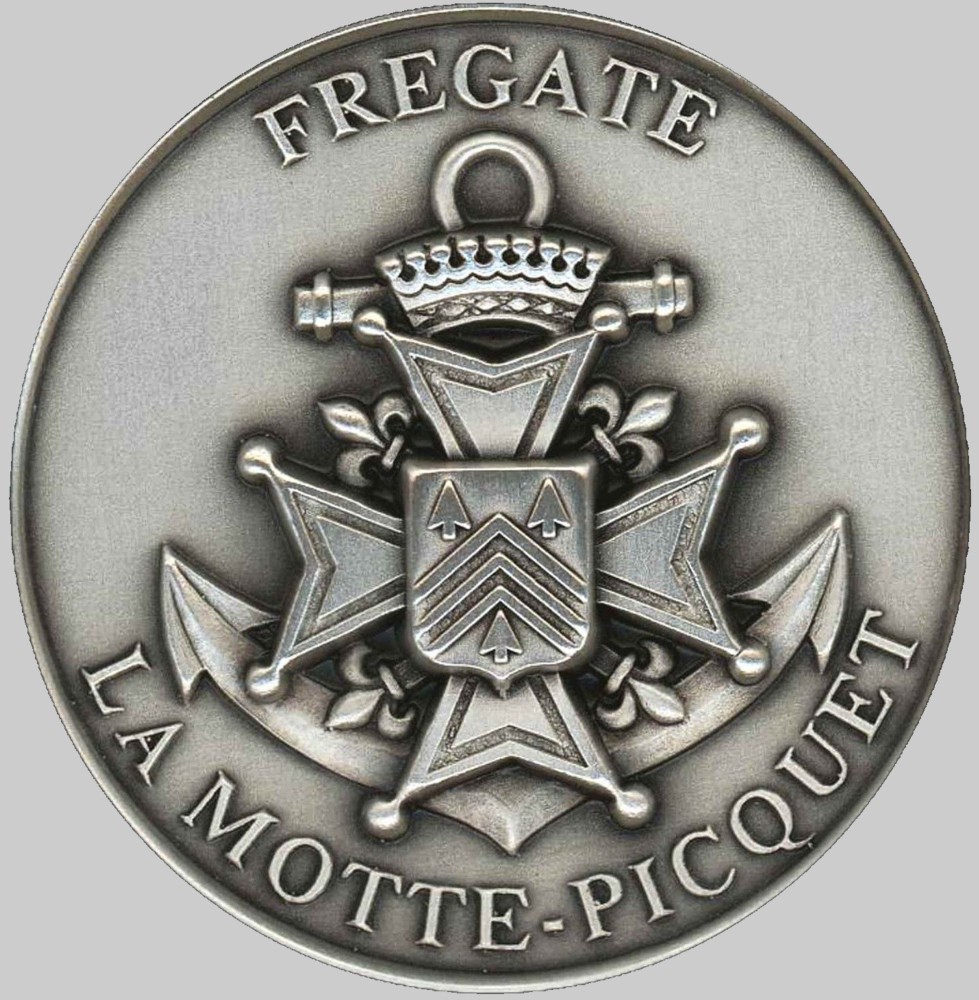 |
seaforces.org
|
French Navy start page
|