HOME | US Navy - ships | US Navy - air units | USMC - air units | International Navies | Weapon Systems | Special Reports
French Navy / Marine Nationale
-
Amphibious Landing Ship
L 9077 FS Bougainville
06/22
Type, class:

Amphibious Landing Ship - LPD (Bâtiment de Transport et de Soutien / BTS); unique unit
Builder: Chantiers Dubigeon, Nantes / completion at Chantiers de l'Atlantique, Saint-Nazaire
STATUS:
Laid down: January 28, 1986
Launched:

October 3, 1986
Commissioned: June 25, 1988
Decommissioned: 2008
Fate:
dismantled in Ghent, Belgium
Namesake: Louis-Antoine, Comte de Bougainville (1729-1811)

Technical Data:
Displacement: 3600 tons (standard) / 5200 tons (full load)
Length: 112.8 meters (370 feet)
Beam: 17 meters (55 ft 9 in)
Draft: 4.34 meters (14 ft 3 in)
Speed: 15 knots (28 km/h), max.
Range: 6000 NM (11100 km) at 12 knots (22 km/h)
Complement: 52 + 30 technicans

Propulsion:
2 x SACM-Wärtsilä UD33 V12 M6 diesel engines (4800 hp / 3528 kW)
2 shafts / 2 propellers

78 x 11.5 m well deck for up to 2 transport craft
38-ton crane
470 m2 platform for 2 helicopters

images
FS Bougainville (L 9077):

Ordered on behalf of the management of nuclear experimentation centers (DIRCEN), its construction began on January 28, 1986 at the Dubigeon shipyards in Nantes and it was launched on October 3, 1986. It was the last ship built by Chantiers Dubigeon, which subsequently closed in 1987. The ship was then completed at Chantiers de l'Atlantique in Saint-Nazaire.

Built for transport missions for nuclear tests in Polynesia, it was transformed in 1998 into an intelligence collection vessel, then in 2006 it became a transport and support ship (BTS) again.

The ship took part in several major operations such as the fight against the Chikungunya Virus in 2006 and the Mission Corymbe-91 in 2007.

Bougainville was withdrawn from active service in 2008.

In 2013, it served as a breakwater for the dry dock of the aircraft carrier Charles de Gaulle (R 91).

It left Toulon on May 17, 2018 for dismantling in Ghent, Belgium.

Louis-Antoine, Comte de Bougainville (12 November 1729 - August 1811)
... was a French admiral and explorer.
A contemporary of the British explorer James Cook, he took part in the Seven Years' War in North America and the American Revolutionary War against Britain.
Bougainville later gained fame for his expeditions, including a circumnavigation of the globe in a scientific expedition in 1763, the first recorded settlement on the Falkland Islands, and voyages into the Pacific Ocean.
Bougainville Island of Papua New Guinea as well as the Bougainvillea flower were named after him.
patches + more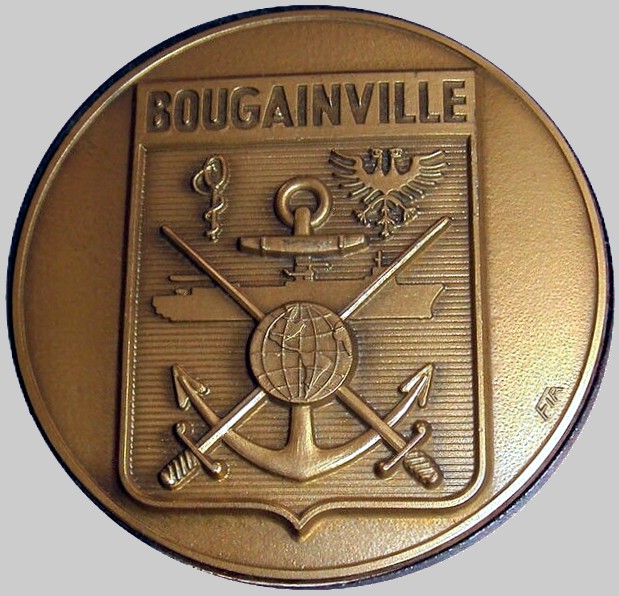 |
seaforces.org
|
French Navy start page
|