HOME | US Navy - ships | US Navy - air units | USMC - air units | International Navies | Weapon Systems | Special Reports
French Navy / Marine Nationale
-
Aircraft Carrier
R 99 FS Foch
11/20
Type, class: Aircraft Carrier / Clemenceau class
Builder: Chantiers de l'Atlantique, Saint-Nazaire, Brittany, France
STATUS:
Laid down: November 15, 1957
Launched:

July 23, 1960
Commissioned: July 15, 1963
Decommissioned: November 15, 2000
Fate: sold to Brazil / renamed

NAe Sao Paulo (A 12)
Namesake: Marshal Ferdinand Foch (1851-1929)
Technical Data:


Lenght:

265 meters (869 feet)
Beam: 51,2 m (168 ft)
Draft: 8,6 m (28 ft)
Displacement: 32780 tons (full load)
Speed: 32 knots (59 km/h)
Range: 7500 NM (13900 km) at 18 knots (33 km/h)
Complement: ship 1340 / air wing 580

Propulsion:
6 x Indret boilers / 4 x steam turbines / 94 MW (126000 shp)
2 shafts / 2 propellers

Armament:
8 x GIAT 100mm/55-caliber Naval Guns


4 replaced in the 1990's by


2 x SACP Crotale EDIR SAM systems

(52 missiles)


2 x SADRAL launchers for Mistral SAM

(added in 1994)



Aviation:
full flight deck / angled landing area (165 x 29 meters)
hangar: 152 x 22 meters, height 7 meters / 2 aircraft elevators

up to 40 aircraft:
Dassault-Breguet Super Etendard
Dassault Etendard IVP
Vought F-8E(FN) Crusader
Breguet Alize
Aerospatiale/Eurocopter AS365 Dauphin
Aerospatiale SA321 Super Frelon

Systems:
DRBV 23B air search radar
DRBV 50 low altitude or surface search radar (replaced by DRBV 15)
NRBA 50 approach radar
DRBI 10 3D air search radar
DRBN 34 naviagtion radars
DRBC 31 fire direction radars (replaced by DRBC 32C radars)
images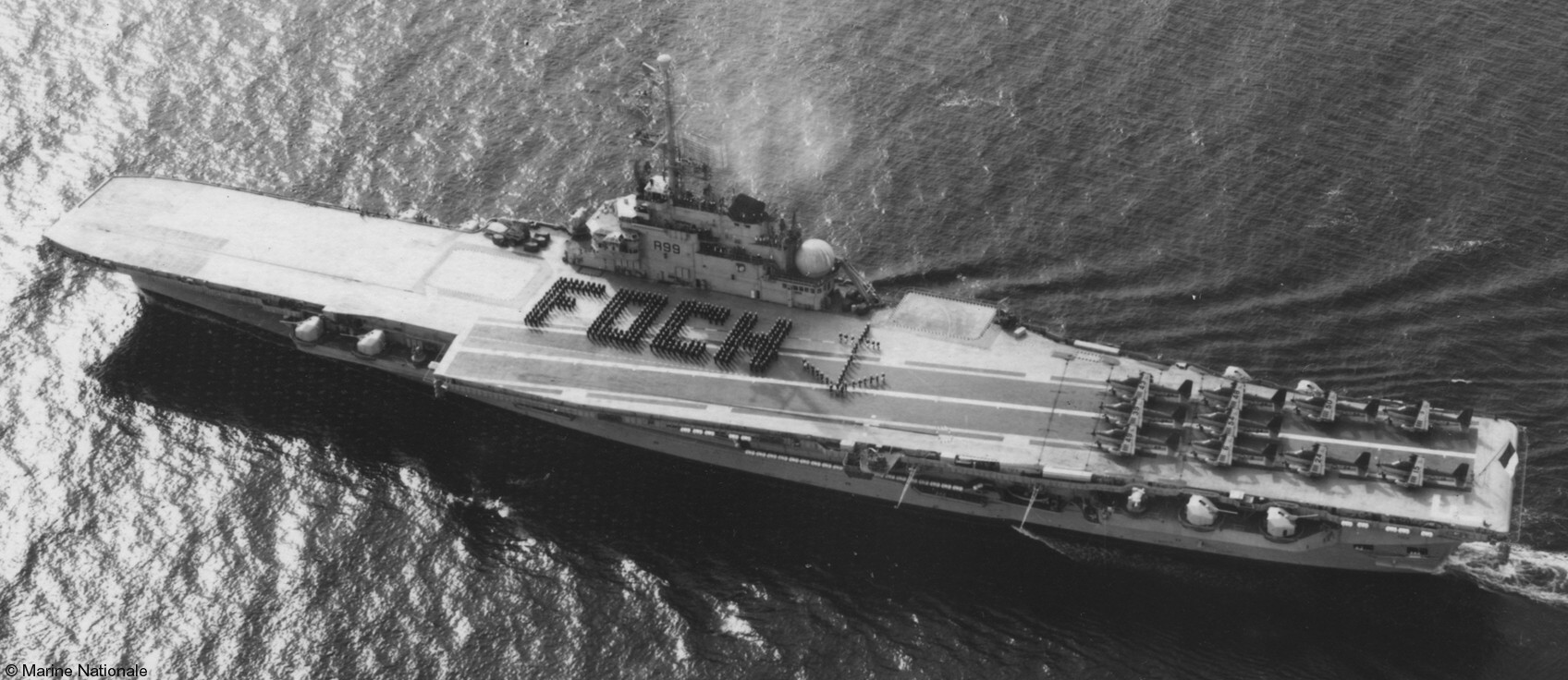 1992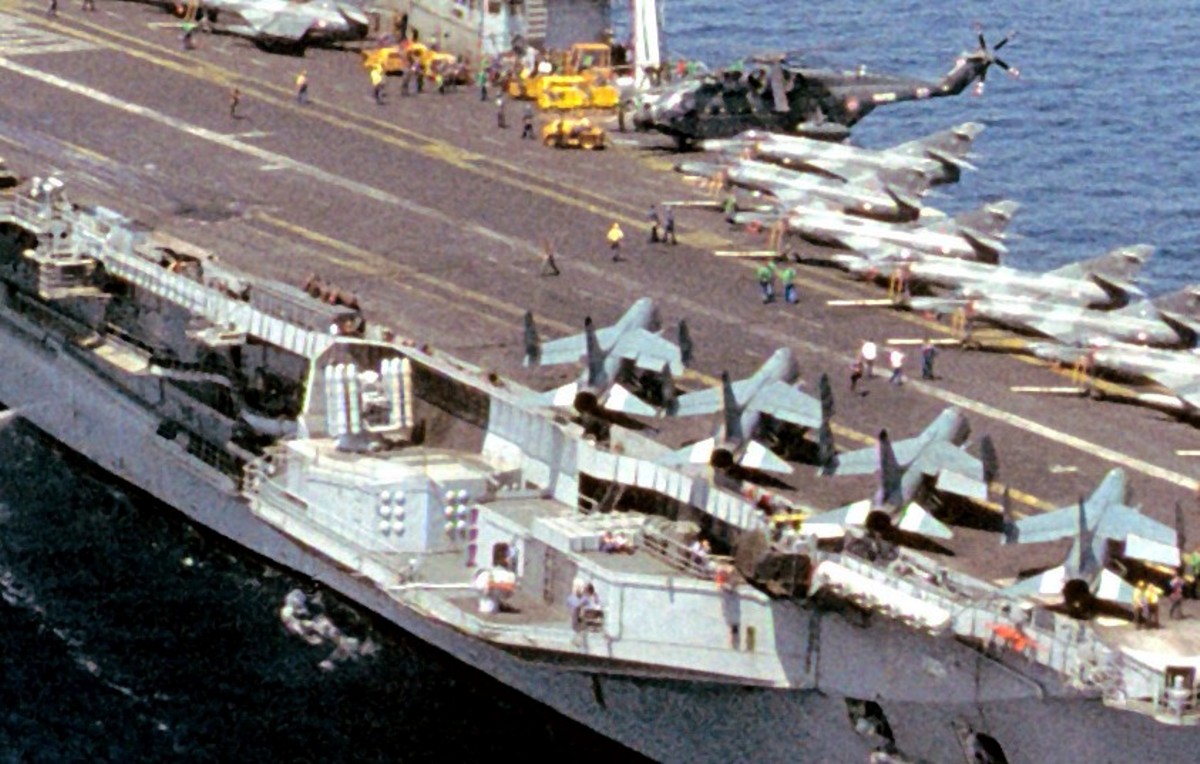 excerpt from above - note the Crotale SAM missile system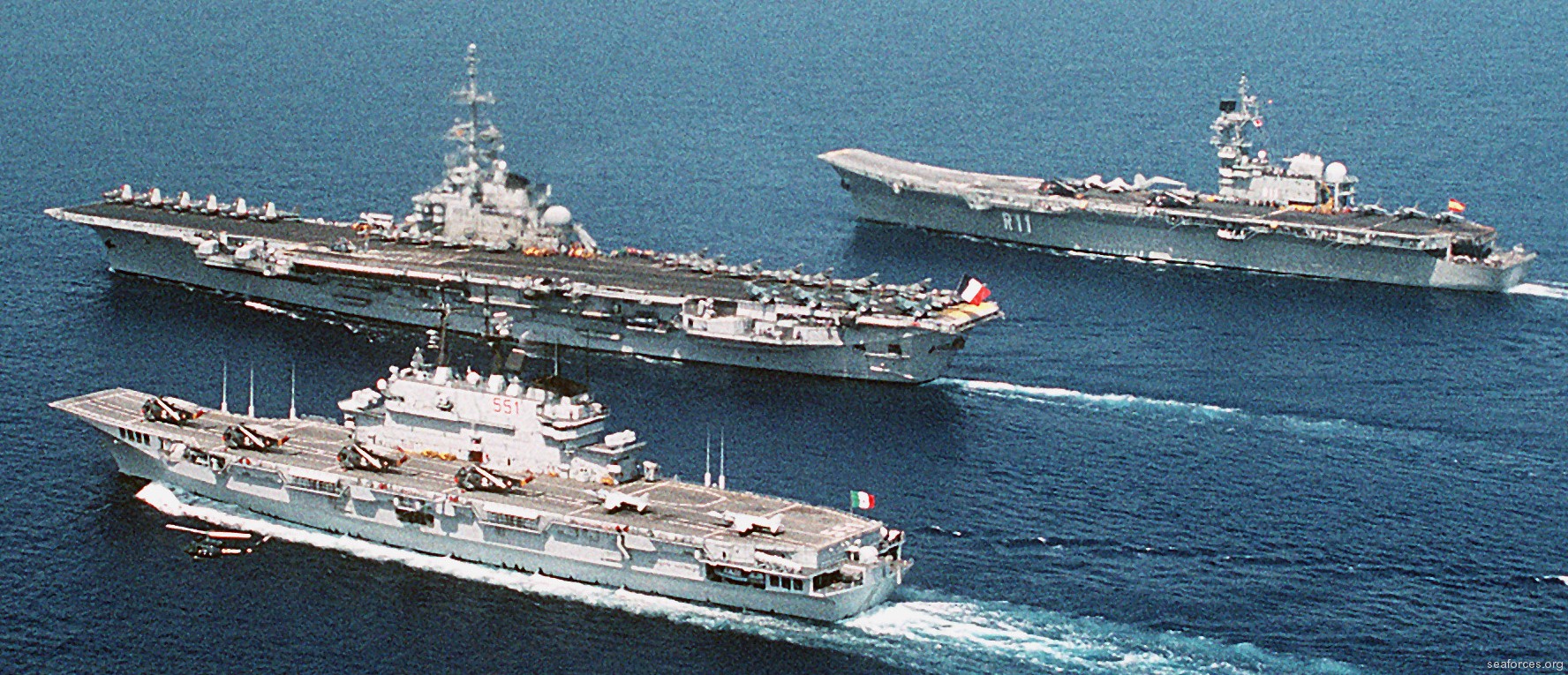 with ITS Giuseppe Garibaldi (C 551) and SPS Principe de Asturias (R 11) during exercise DRAGON HAMMER 1992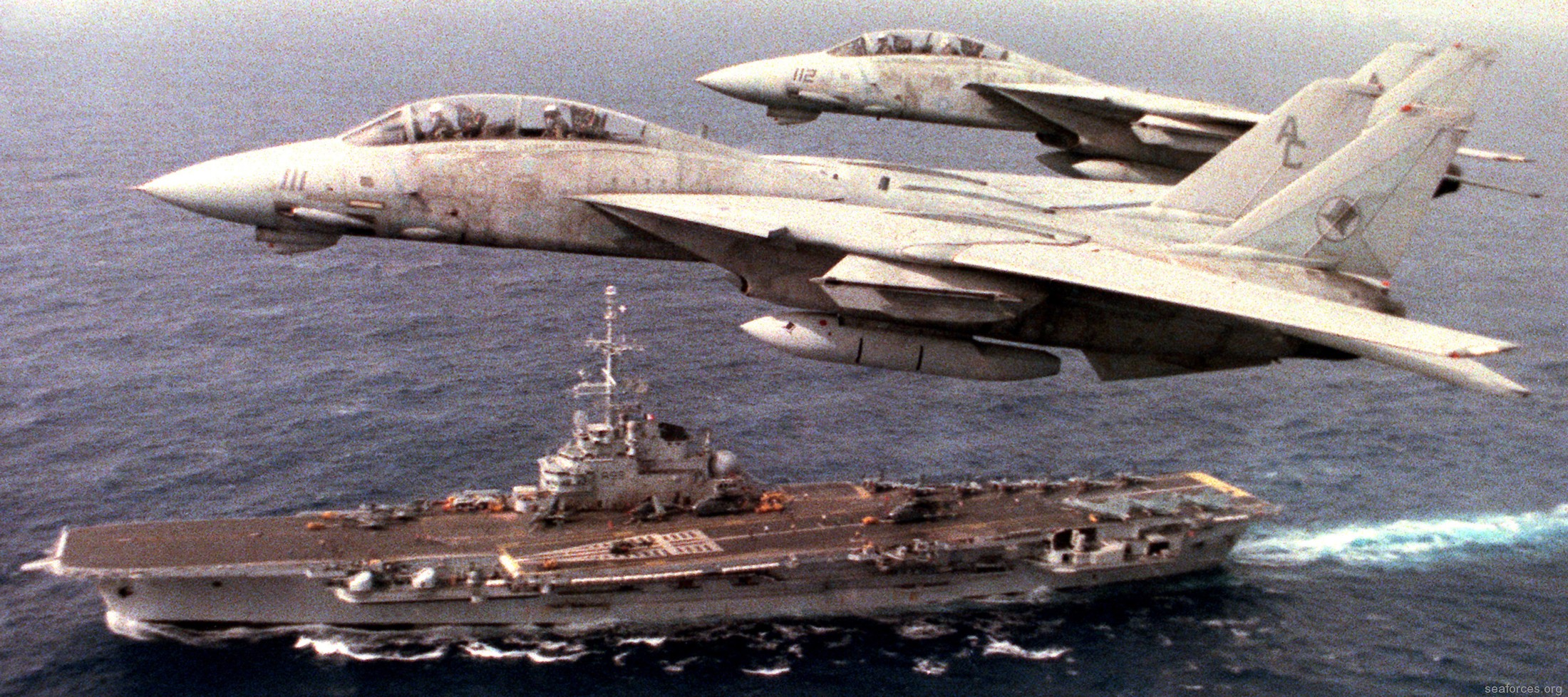 US Navy F-14A Tomcats over FS Foch (R 99) - 1990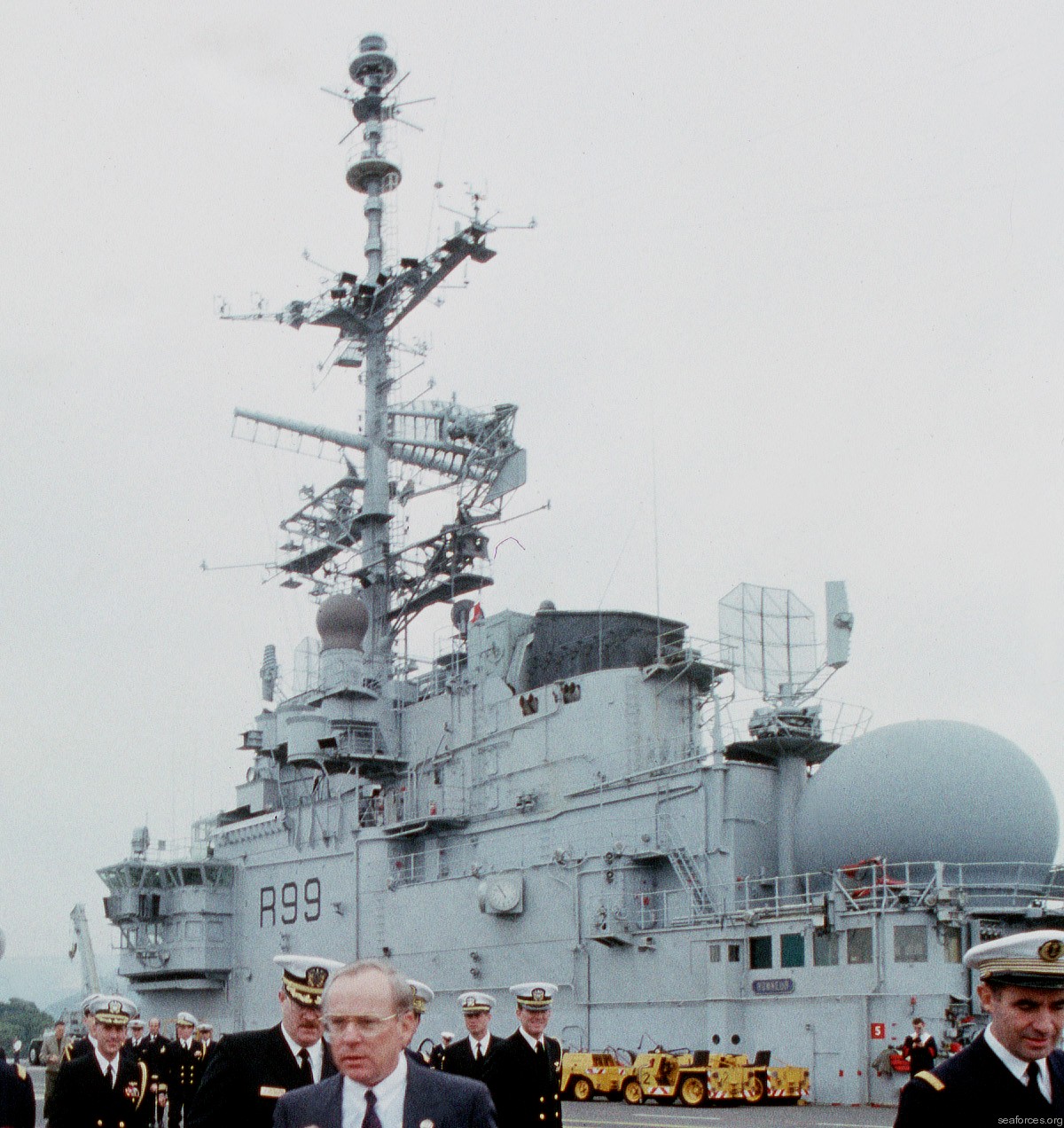 1990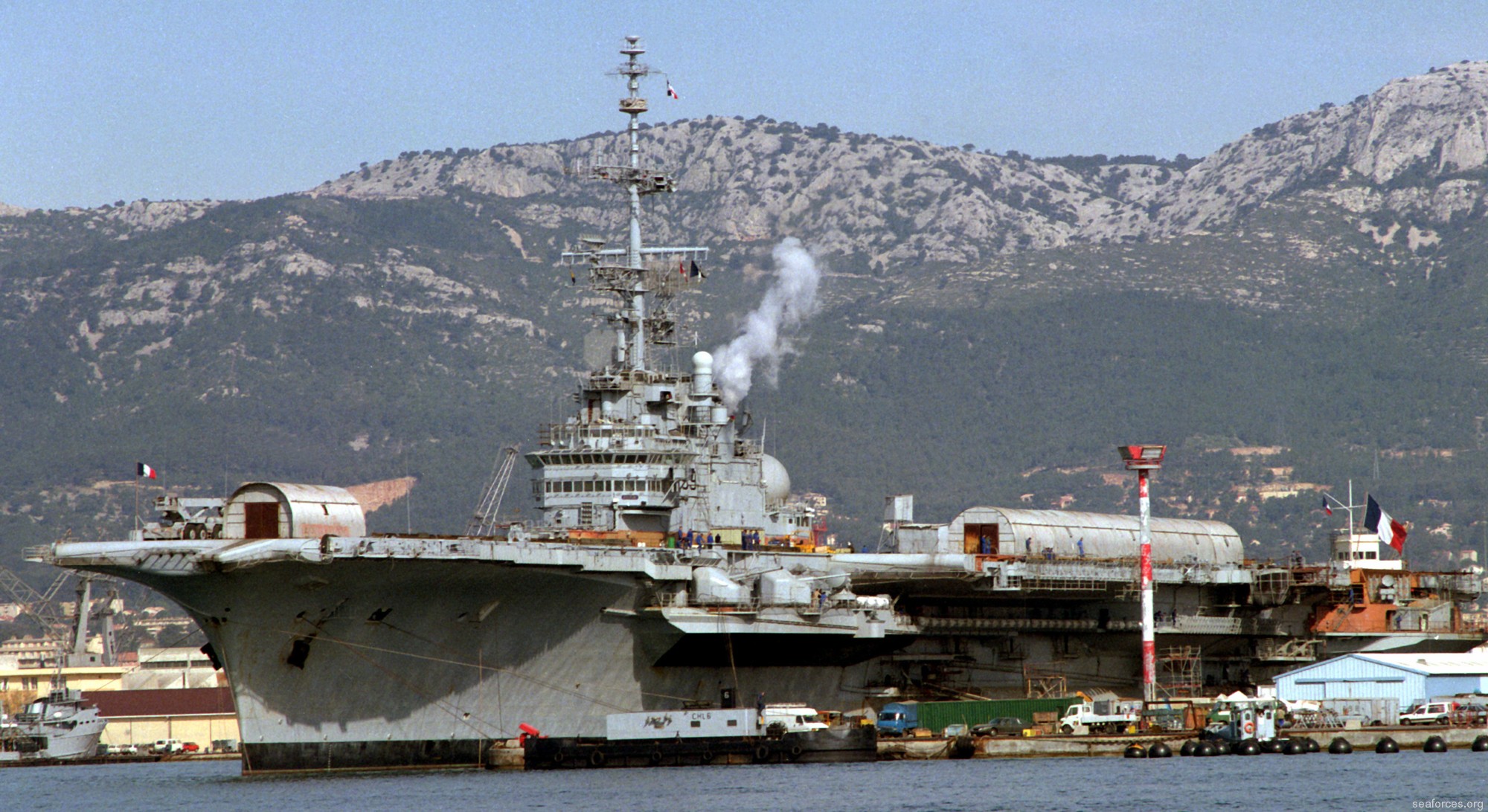 refit - Toulon - 1988
refit - Toulon - 1988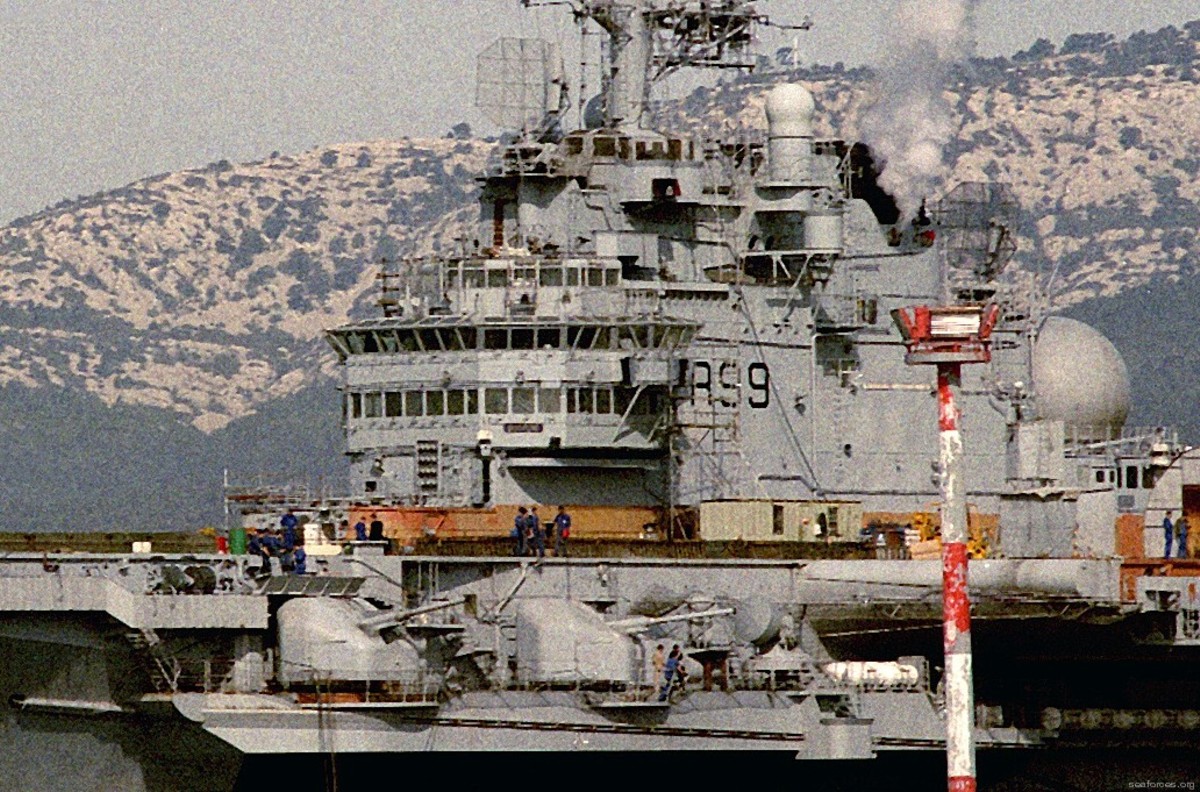 excerpt from above - note the 100mm/55-caliber guns
1988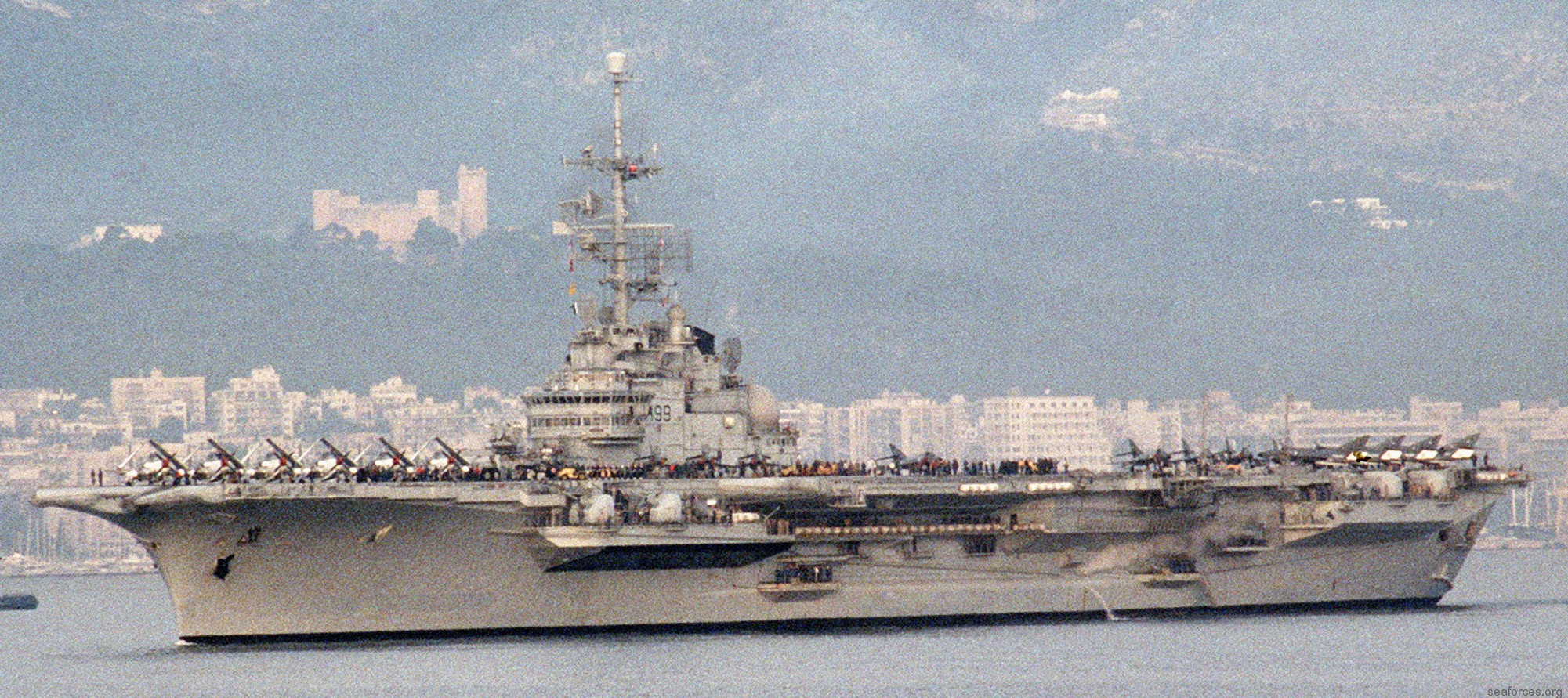 1986
1983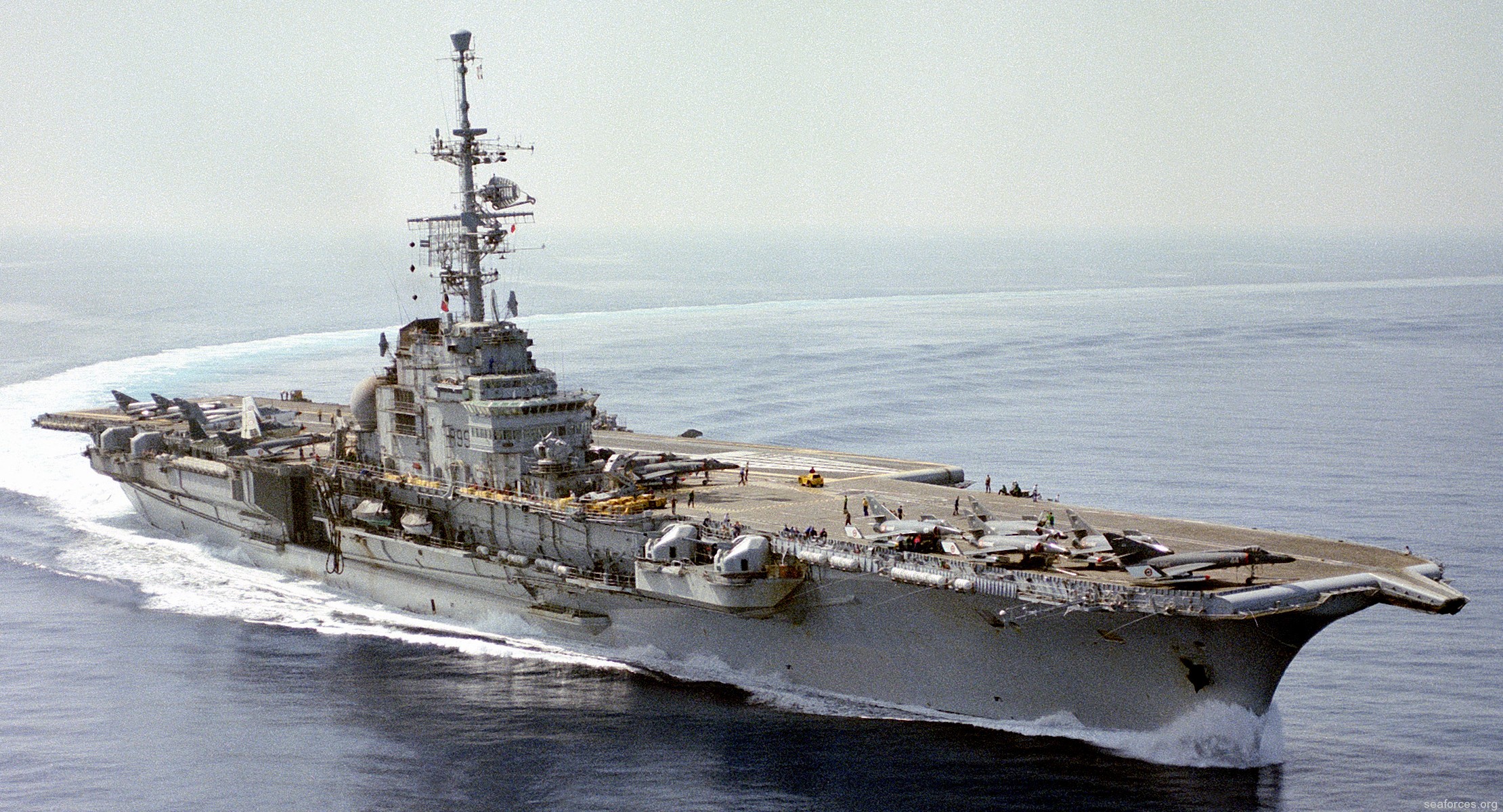 1983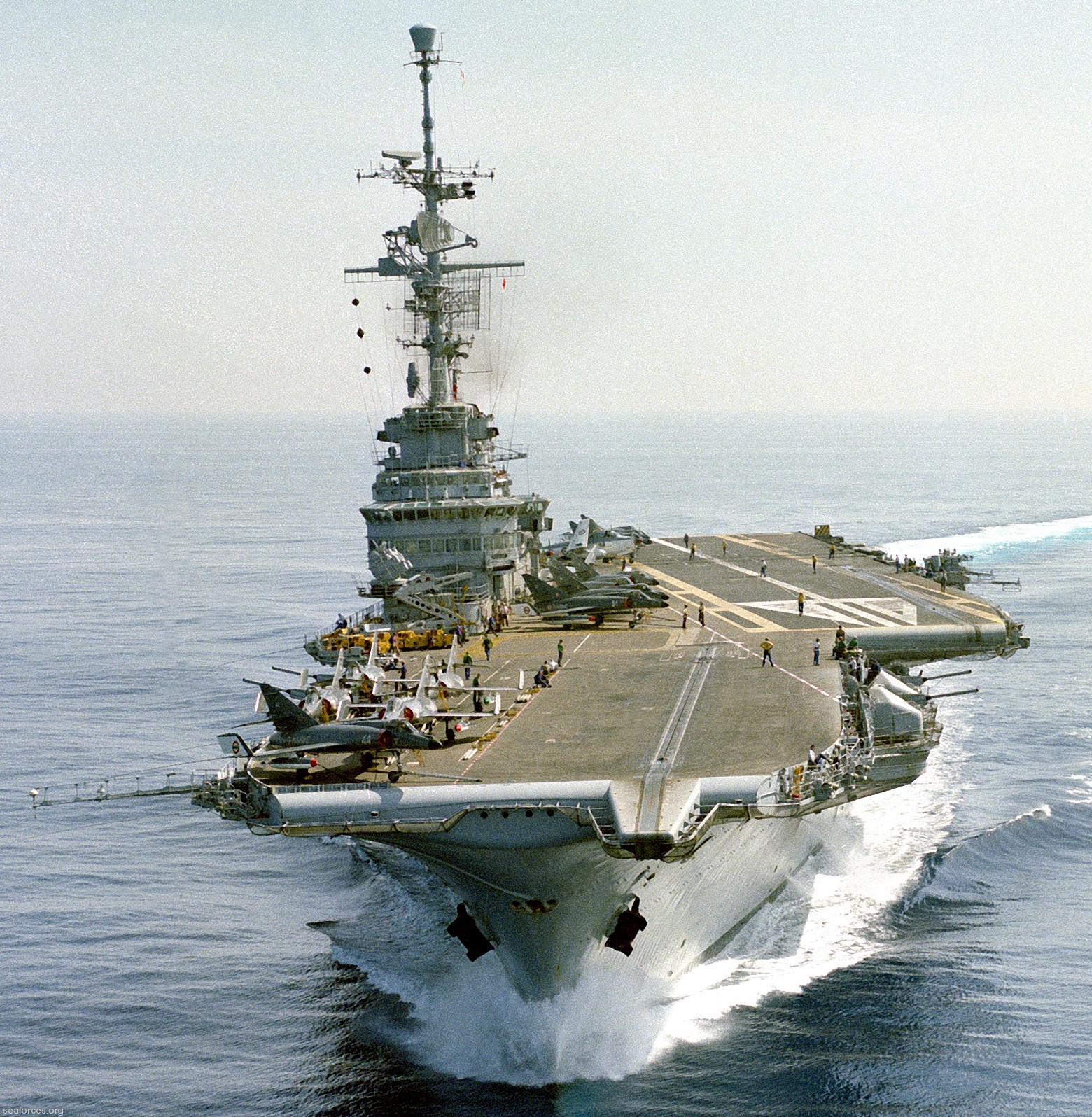 1983
1983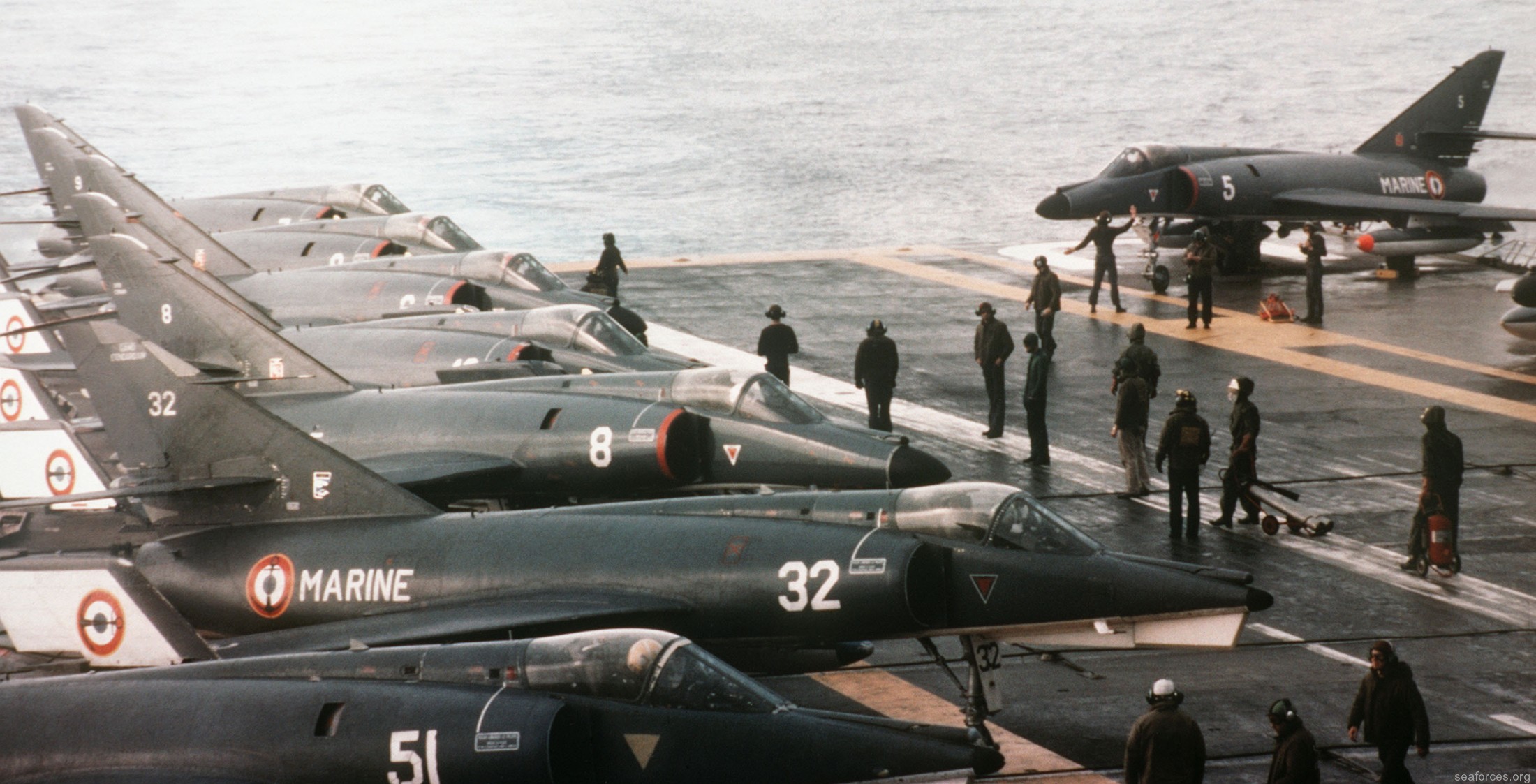 Six Dassault Super Etendard ant two Etendard IVM (32 + 51) fighters aboard FS Foch (R99) off the coast of Lebanon - 1983
1982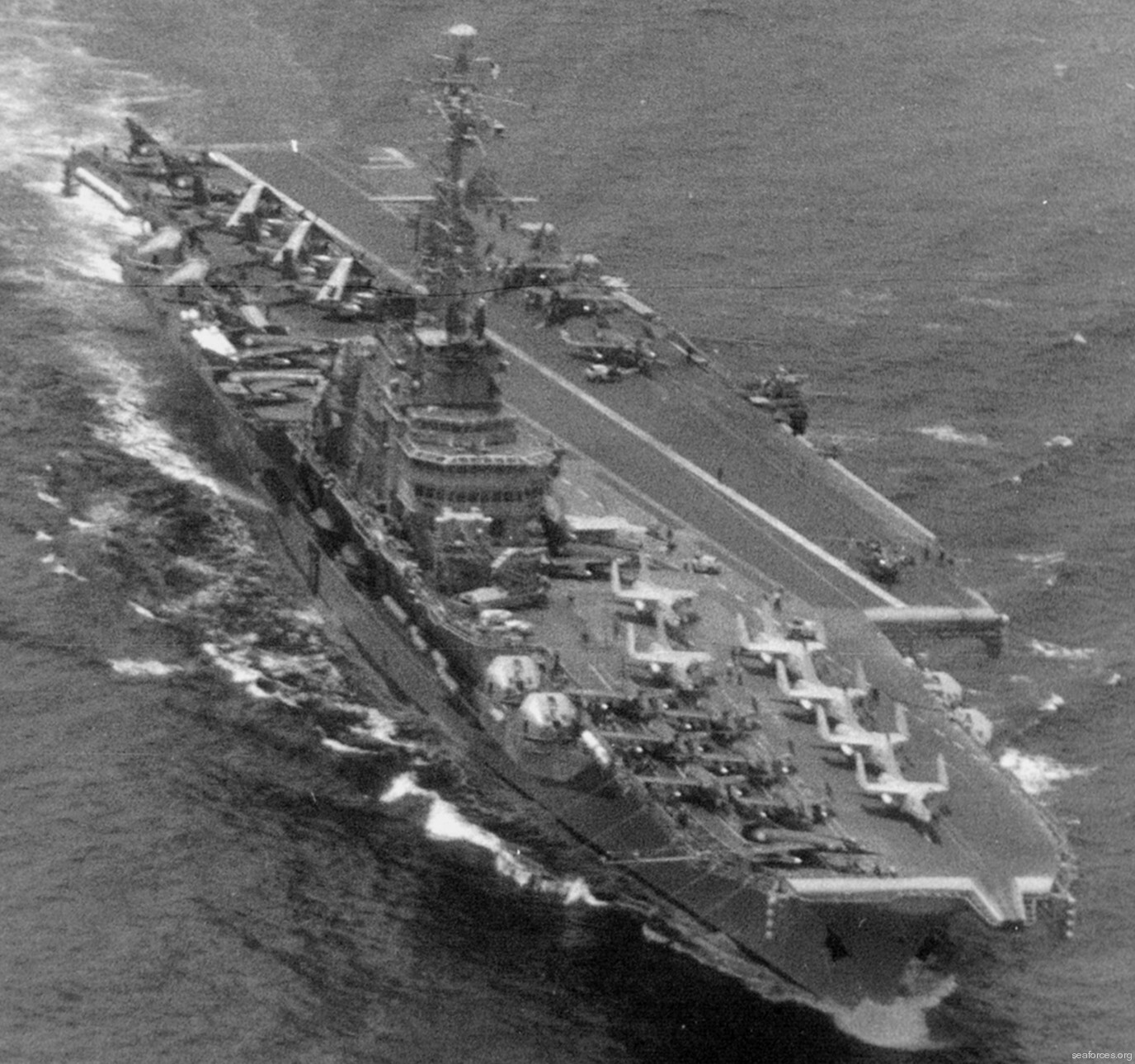 1973
FS Foch (R 99):

The draft statute, prepared by the Naval General Staff in 1949, asked for four aircraft carriers of 20,000 tons to be available in two phases. At its meeting of 22 August 1949, the Supreme Council of the Navy was even more ambitious, where they proposed a six aircraft carrier fleet. On 15 July 1952, the French Navy still wanted two to five for the French Navy(not available to NATO). According to RCM 12, the final document of the Lisbon Conference of 1952, France should make available to NATO an aircraft carrier on D-day, two on day 30, three on day 180.

But from 1953, the Navy had to revise its ambitions downwards, with a target of three aircraft carriers.

The PA 54 Clemenceau, budgeted in 1953, was delayed until November 1955, the PA 55 Foch, budgeted for 1955, was delayed until February 1957. Between 1980 and 1981, she underwent a study to certify the platform before catapulting aircraft, carrying missiles, bombs, AM-39 Exocet and tactical nuclear bombs. Like her sister ship Clemenceau, Foch underwent a modernization and refit, replacing four of her eight 100-millimetre (3.9 in) guns with two Crotale air-defense systems. Unlike Clemenceau, Foch also received in 1997 two Sadral launchers (for 6 Mistral missiles each); those launchers were purchased by France in 1994.

The Dassault Rafale was test flown from Foch (but not Clemenceau) after deck modifications in 1992 and operated from this carrier after further 1995-6 deck modifications.

After a 37-year career in the French Navy, on 15 November 2000, the carrier was sold to the Brazilian Navy, and renamed NAe São Paulo. In the French Navy, she was succeeded by Charles de Gaulle (R 91).


Main naval operations for the époque were conducted by the twin carrier Clemenceau.
Foch was engaged in the following:

• 1966: Foch participated, with Alfa Force (French: Force Alfa), to the campaign of French nuclear experimentation in the Pacific.

• 1978 : during the Independence of Djibouti, Foch deployed in the Red Sea in Operation Saphir II.

• 1983 : Foch participated to the support of the French contingent deployed in Lebanon within the cadre of the Operation Olifant missions. The carrier would rotate with Clemenceau providing constant on station air support to French peacekeepers in the Multinational Force in Lebanon FSMB and the United Nations Interim Force in Lebanon UNIFIL.

• 1993 - 1999 : Foch was regularly engaged in Operations Balbuzard, Salamandre and Trident in the Adriatic Sea during the engagement of France in ex-Yugoslavia within the cadre of FORPRONU and the SFOR and KFOR. The carrier ensured the security of French elements deployed on the ground, and conducted aerial raids under the command of the United Nations and NATO.


Combat history:
In 1977 F-8 Crusaders from 14.F squadron from Foch participated in the Saphir missions over Djibouti. On 7 May 1977, two Crusaders went separately on patrol against what were supposedly French Air Force (4/11 Jura squadron) F-100 Super Sabres stationed at Djibouti. The leader intercepted two fighters and initiated a dogfight as part of the training exercise, but quickly called his wingman for help as he had actually engaged two Yemeni MiG-21 Fishbeds. The two French fighters switched their master armament to "on" but, ultimately, everyone returned to their bases. This was the only combat interception by French Crusaders.

In October 1984, France sent Foch for Operation Mirmillon off the coast of Libya, in response to tension in the Gulf of Sidra.

She was involved in the Yugoslav Wars between July and August 1993, in February and March 1994, and in February and from May to July 1994 in support of UN operations. She also was part of NATO's Allied Force operations with Super Étendards flying strike missions over Serbia in 1999. She was forced to withdraw early four months into her deployment, the longest in her service history, due to problems with her catapult system and other issues.

In 2000, Foch made her last deployment by leading Task Force 473 on a four-month around-the-world tour.



source: wikipedia
Ferdinand Foch (October 2, 1851 - March 20, 1929):

... was a French soldier, military theorist and the Allied Généralissime during the First World War.

At the outbreak of war in August 1914, Foch's XX Corps participated in the brief invasion of Germany before retiring in the face of a German counter-attack and successfully blocking the Germans short of Nancy. Ordered west to defend Paris, Foch's prestige soared as a result of the victory at the Marne, for which he was widely credited as a chief protagonist while commanding the French Ninth Army. He was then promoted again to command Army Group North, in which role he was required to cooperate with the British forces at Ypres and the Somme. At the end of 1916, partly owing to the failure or stalemate of these offensives and partly owing to wartime political rivalries, Foch was removed from command.

Recalled as Chief of the General Staff in 1917, Foch was ultimately appointed "Commander-in-Chief (Généralissime) of the Allied Armies" in the spring of 1918. He played a decisive role in halting a renewed German advance on Paris in the Second Battle of the Marne, after which he was promoted to Marshal of France. Addington says, "to a large extent the final Allied strategy which won the war on land in Western Europe in 1918 was Foch's alone."

On 11 November 1918 Foch accepted the German request for an armistice. Foch advocated peace terms that would make Germany unable to pose a threat to France ever again. After the Treaty of Versailles, because Germany was allowed to remain a united country, Foch declared "This is not a peace. It is an armistice for twenty years". His words proved prophetic: the Second World War started twenty years and 65 days later.

| | |
| --- | --- |
| | |
| Foch (left) and Clemenceau (r) ca. 1919 | 1919 |
| Field Marshals Haig (UK) and Foch (FRA) - 1918 | King George (UK) and Ferdinand Foch (1916) |
patches + more
|
seaforces.org
|
French Navy start page
|