Eurocopter EC225 Super Puma (now Airbus Helicopters H225)

... is a long-range passenger transport helicopter developed by Eurocopter as the next generation of the civilian Super Puma family. It is a twin-engined aircraft and can carry up to 24 passengers along with two crew and a cabin attendant, dependent on customer configuration. The helicopter is marketed for offshore support and VIP passenger transport duties, as well as public service missions.
The civil-orientated EC225 has a military counterpart, which was originally designated as the Eurocopter EC725; it was rebranded in 2015 as the H225M. In 2015, the EC225 was formally renamed to the H225, in line with Eurocopter's corporate rebranding as Airbus Helicopters.
The EC225 is based on the Eurocopter AS332L2 Super Puma, improving upon the design with a five-blade main rotor incorporating a new airfoil shape to reduce vibration and noise levels. The blades of the rotors feature a composite spar and parabolic blade tips; they can also be equipped with an anti-icing system to enable the aircraft to operate within very cold climates. The helicopter is powered by two Turbomeca Makila 2A1 turboshaft engines mounted over the cabin; these engines are capable of providing 14 per cent more engine power and feature a redundant dual-channel full authority digital engine control (FADEC) system for high reliability, a further backup system is present in the event of both FADEC systems failing. The FADEC system ensures that engine power is always kept within the limits of the gearbox. Many of the mechanical components, particularly of the engines, were designed to be modular to ease maintenance, and composite materials were used where possible to reduce the aircraft's weight.
A key safety feature of the aircraft's main gear box (MGB) is an emergency oil spraying sub-system present in the lubrication system; this is designed to exceed the JAR 29 Standard's requirements of a 30-minute running time in the event of the loss of MGB oil pressure, and has demonstrated up to 50-minute running time. The engine also incorporates a "blade shedding" system to ensure engine integrity during an overspeed instance. Energy absorbent self-sealing fuel tanks are contained in the aircraft's sponsons, along with other equipment such as downward-facing illumination and navigation lighting fixtures. The transmission can accommodate more power than the maximum output of the engines; however two aircraft were lost in 2012 due to the cracking of the bevel gear shaft, a gearbox component. In response, the design of the transmission was modified in 2013, and the onboard health and usage monitoring system (HUMS) was upgraded to provide real-time monitoring of the bevel gear shaft against the threat of crack formation.
In terms of cockpit equipment and avionics, the EC225 is equipped with a full glass cockpit with active-matrix liquid crystal displays; these include four 6-inch by 8-inch multi-functional displays as the predominant instrumentation for key flight information, two 4-inch by 5-inch monitors for displaying aircraft parameters, and a 3-inch screen for backup. The advanced helicopter cockpit and avionics system is described as serving to reduce pilot and crew workload, being used to display flight management and sub-systems information and is complete with a four-axis digital autopilot. During a typical flight, the pilot programs the route into the aircraft and then monitors it, as opposed to direct continuous control of the flight; the need for paper charts has been eliminated by these systems. Under autopilot, the automatic flight control system acts to prevent pilot actions from exceeding the established flight envelope; the EC225 remains flyable with all automatic systems disabled. From initiating the startup sequence to being ready to takeoff only takes three minutes, however if the authorised Airbus checklist is used it take approximately 7 minutes.
There are currently a total of four principal configurations designed by Airbus Helicopters for the EC225. The passenger transport version has a crash-worthy seating arrangement for up to 19 passengers with a high-density seating arrangement accommodating up to 28 passengers available to be fitted. The VIP transport version has a large lounge with seating for up to 12 passengers and a cabin attendant. The emergency medical services (EMS) configuration has medical units for six stretchers and four seats for medical workers. The search and rescue (SAR) configuration allows space for search and rescue equipment with an operator seat, hoistman seat and up to eight rescue seats and three stretchers. While a single pilot is capable of controlling the aircraft under visual meteorical conditions, two pilots are used in a typical crew compliment and, dependent on role, a cabin attendant or flight engineer may also be present.


Eurocopter EC725 Caracal (now Airbus Helicopters H225M)


... is a long-range tactical transport military helicopter developed from the Eurocopter AS532 Cougar for military use. It is a twin-engined aircraft and can carry up to 29 seated troops along with two crew, depending on customer configuration. The helicopter is marketed for troop transport, casualty evacuation, and combat search and rescue duties, and is similar to the civilian EC225.

The EC725 was developed to meet a French Air Force requirement for a specialist helicopter for Combat Search and Rescue operations. The AS 532 A2 Cougar model was examined and rejected for this purpose following extensive trials between 1996 and 1999. The primary improvements desired by the French Air Force were more powerful engines, greater flight endurance and improved combat durability. Eurocopter opted to pursue development of a more ambitious derivative of the AS 532 to meet this need, which was later designated as the EC725. The EC725 was initially named Cougar Mk II+ due to treaty reasons. The new aircraft also featured new mission equipment and autonomous avionics, along with other changes to meet the French specification.

On 27 November 2000, the first EC725 prototype performed its maiden flight at Marignane, and on 15 January 2001, the first public presentation of the new helicopter took place. In concurrent development of the military-orientated EC725, Eurocopter also developed a civil-orientated counterpart, which was designated as the EC225. The French Air Force subsequently ordered an initial six EC725s to perform the Combat Search & Rescue mission, the first of these was delivered in February 2005. A follow-on order for eight more EC725s was placed for the French Armed Forces in November 2002; a total fleet of 20 EC725s in French service was envisioned in 2004.


Specifications:
EC225 Super Puma
EC725 Caracal
Crew:
2 (pilot + co-pilot)
2 (pilot + co-pilot)
Capacity:
24 passengers + 1 cabin attendant
28 troops + 1 cabin attendant (or 5670kg / 12500 lb payload)
Length:
19.5 m (64 ft 0 in)
19.5 m (64 ft 0 in)
Height:
4.97 m (16 ft 4 in)
4.6 m (15 ft 1 in)
Empty weight:
5256 kg (11587 lb)
5330 kg (11751 lb)
Gross weight:
11000 kg (24251 lb)
11000 kg (24251 lb)
Max takeoff weight:
11200 kg (24692 lb)
11200 kg (24692 lb)
Powerplant:
2 x Turbomeca Makila 2A1 turboshaft engines
1776 kW (2382 hp) each
2 x Turbomeca Makila 2A1 turboshaft engines
1776 kW (2382 hp) each
Main rotor diameter:
16.2 m (53 ft 2 in)
16.2 m (53 ft 2 in)
Main rotor area:
206.15 m2 (2219.0 sq ft)
206.15 m2 (2219.0 sq ft)
Maximum speed:
275.5 km/h (171 mph; 149 kn)
324 km/h (201 mph; 175 kn) in level flight
Cruise speed:
260.5 km/h (162 mph; 141 kn)
285 km/h (177 mph; 154 kn)
Range:
857 km (533 mi; 463 nmi)
857 km (533 mi; 463 nmi)
Ferry range:
985 km (612 mi; 532 nmi)
1325 km (823 mi; 715 nmi)
Service ceiling:
5900 m (19400 ft)
6095 m (19997 ft)
Rate of climb:
8.7 m/s (1710 ft/min)
7.4 m/s (1460 ft/min)

NOTE:
Flottille 32F used both aircraft types
EC725 Caracal (December 2008 - April 2010 and the EC225 Super Puma (April 2010 - June 2016)
after decommissioning of the unit (2016) the aircraft were overhanded/returned to the Air Force (Armée de l'Air)

source: wikipedia
EC225 Super Puma (Marine Nationale)
EC225 Super Puma (Marine Nationale)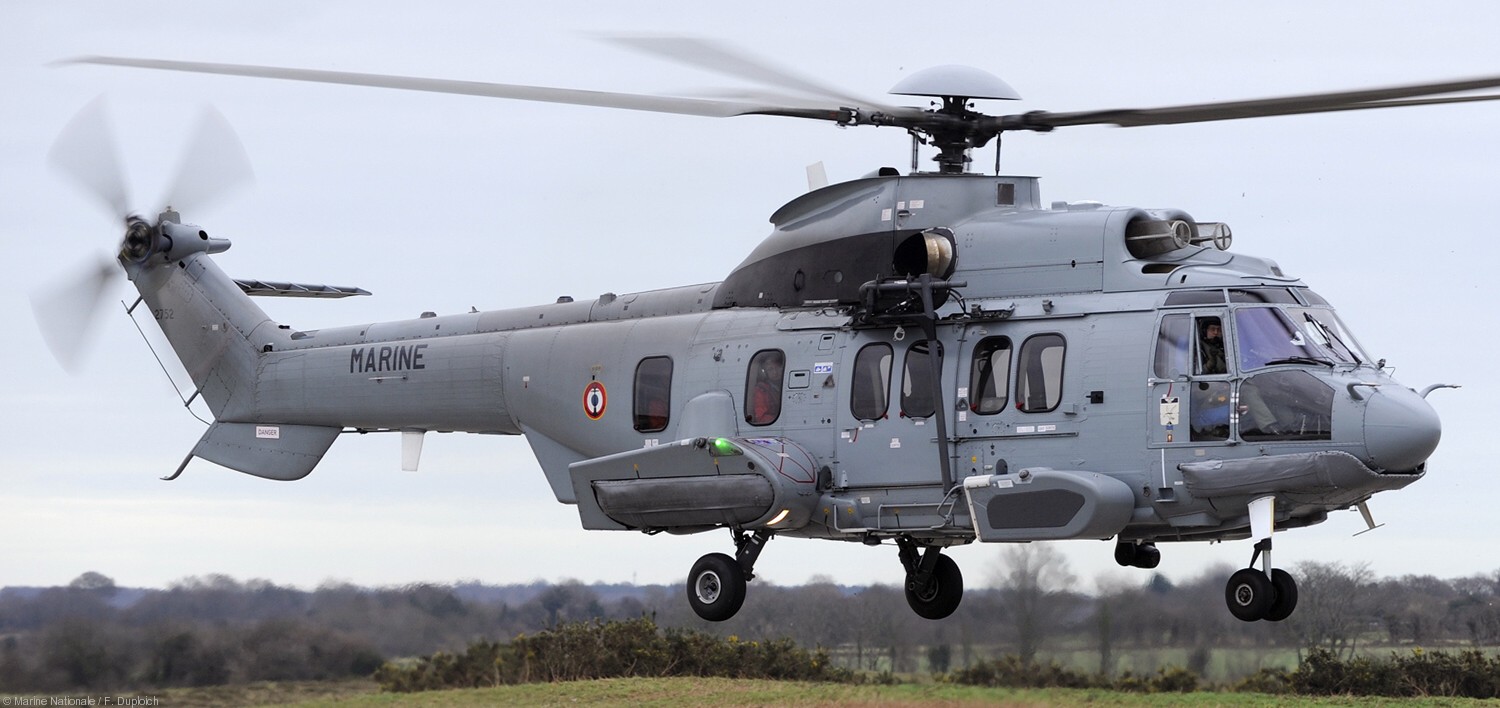 EC225 Super Puma (Marine Nationale)
EC225 Super Puma (Marine Nationale)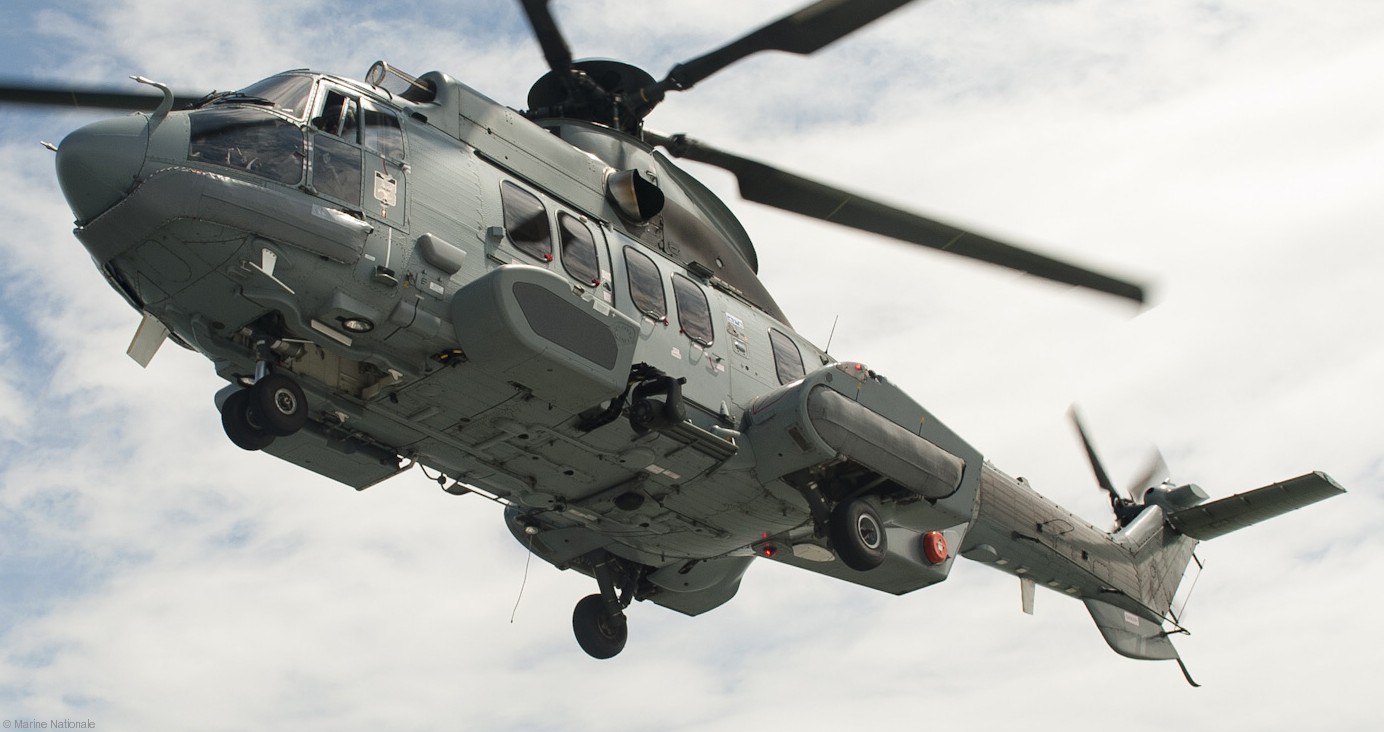 EC225 Super Puma (Marine Nationale)
EC225 Super Puma (Marine Nationale)
EC225 Super Puma (Marine Nationale)
EC225 Super Puma (Marine Nationale)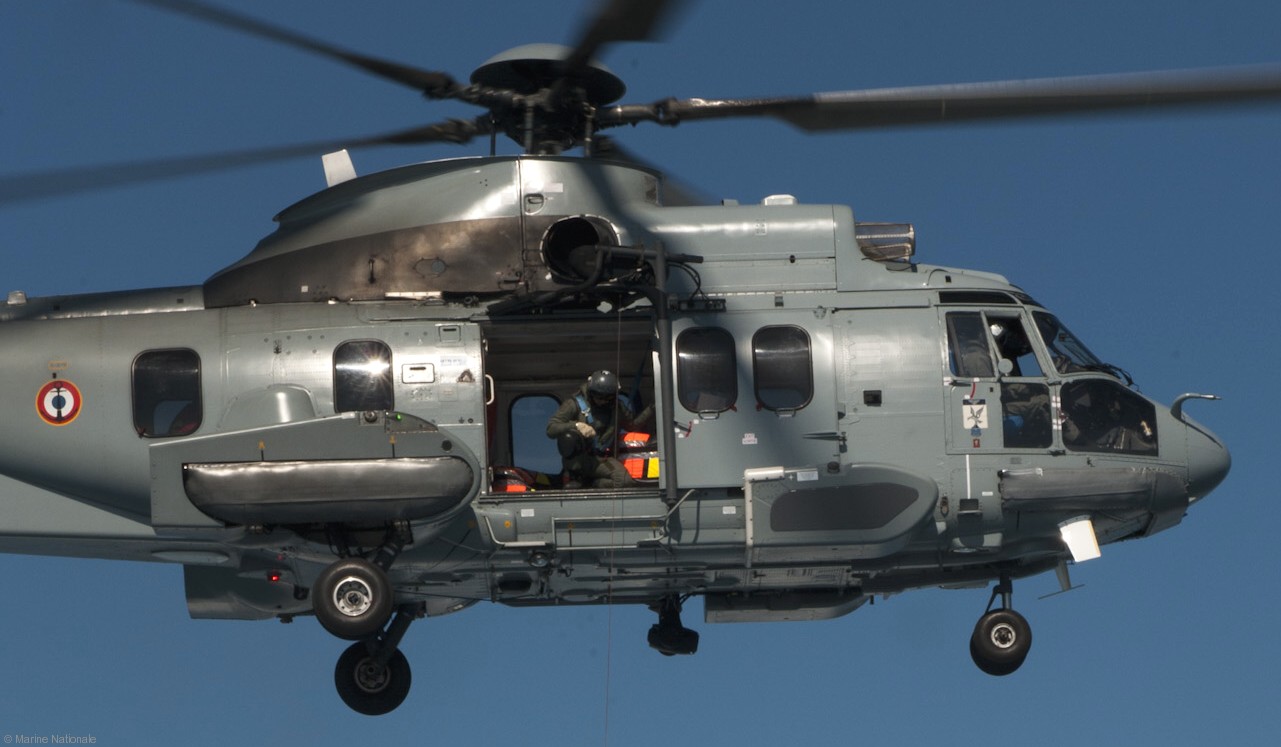 EC225 Super Puma (Marine Nationale)
EC225 Super Puma (Marine Nationale)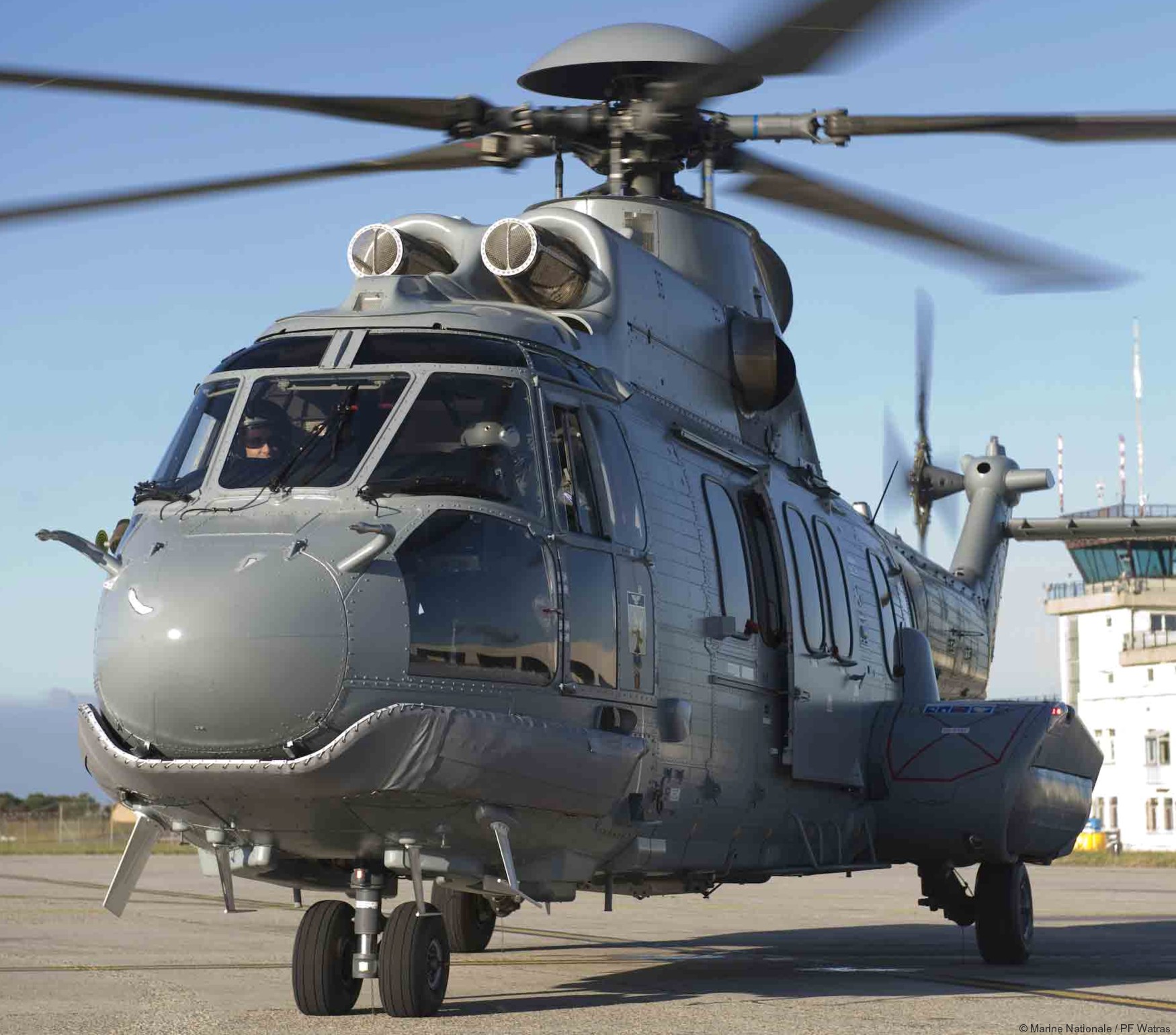 EC225 Super Puma (Marine Nationale)
EC225 Super Puma (Marine Nationale)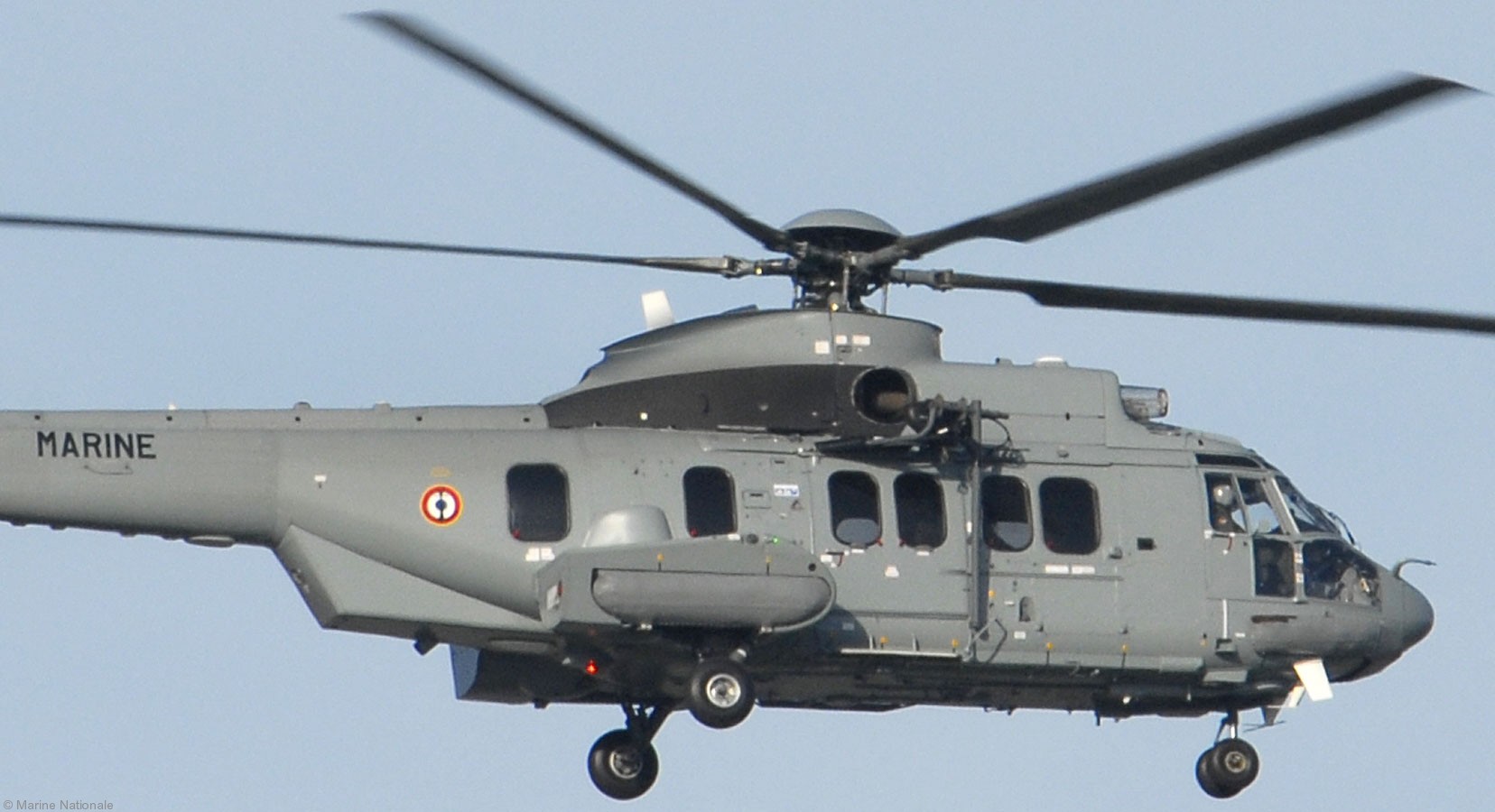 EC225 Super Puma (Marine Nationale)
EC725 Caracal (Armée de l'Air)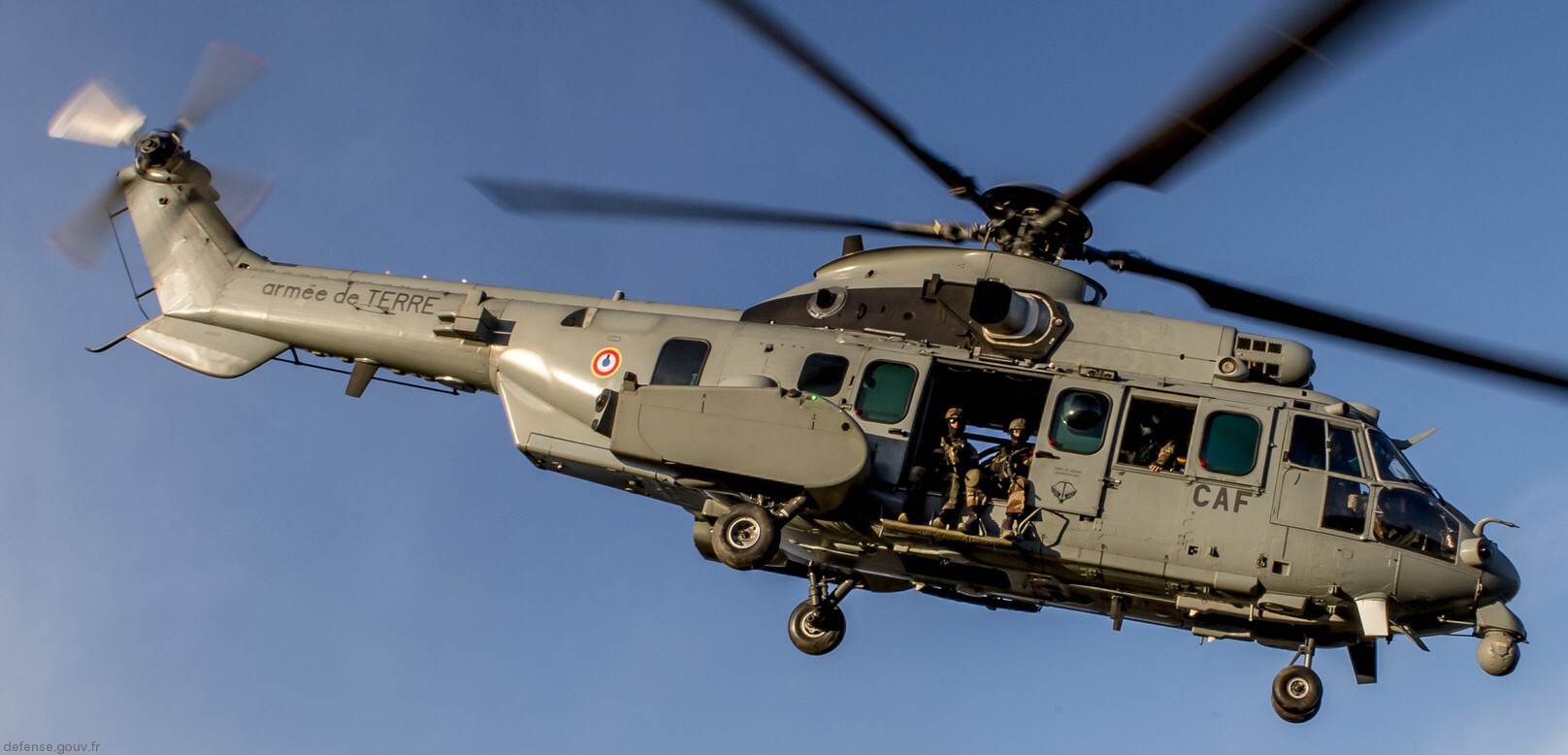 EC725 Caracal (Armée de Terre)