HOME | US Navy - ships | US Navy - air units | USMC - air units | International Navies | Weapon Systems | Special Reports
China - People's Liberation Army Navy
Type 053H2G Jiangwei I class Frigate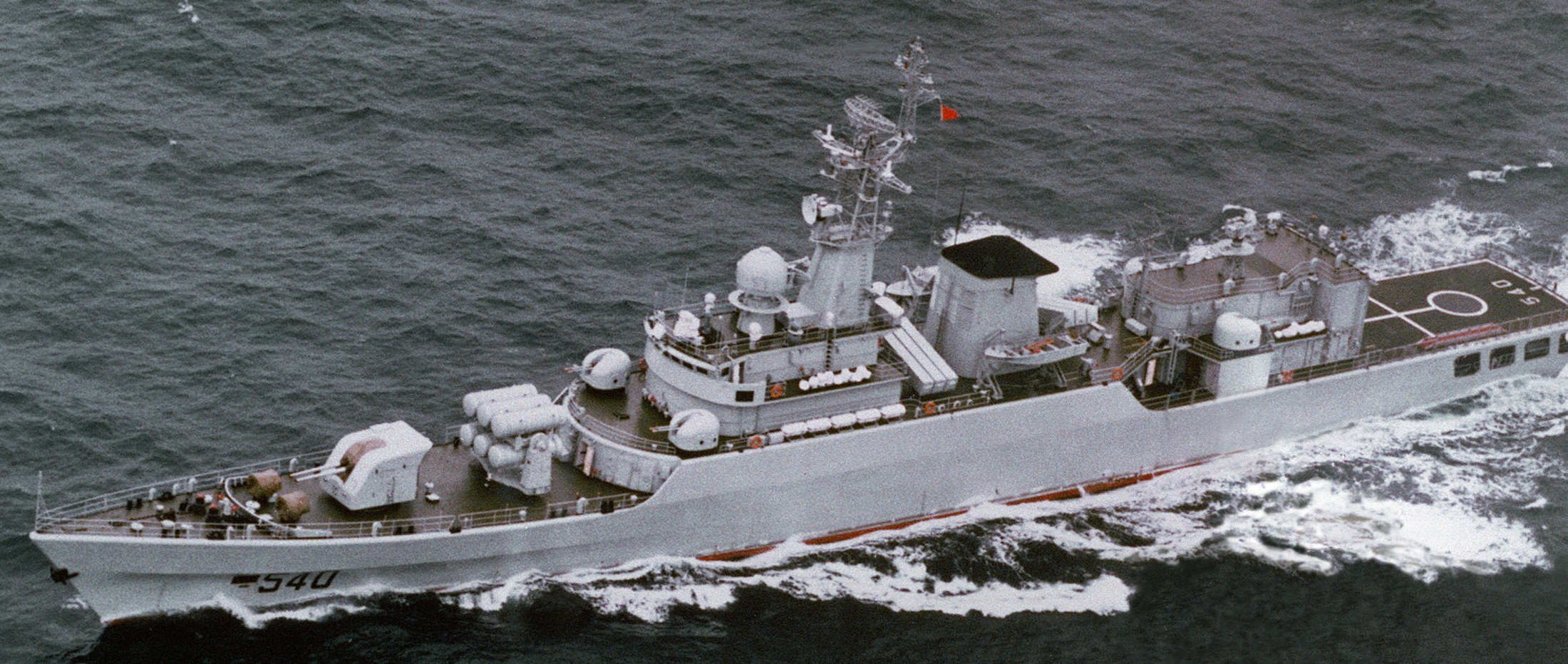 02/22
Ship
s:
Unit / Name
Name (Han)
Builder
Launched
Commissioned
STATUS

FF 539

PLANS Anqing
安庆
Hudong
June 1990
July 1, 1992
decommissioned
2015

FF 540

PLANS Huainan
淮南
Hudong
December 1990
December 1, 1992
decommissioned
2015

FF 541

PLANS Huaibei
淮北
Hudong
December 1992
July 1, 1993
decommissioned
2015

FF 542

PLANS Tongling
铜陵
Hudong
December 1993
July 1, 1994
decommissioned
2018
FF 539 PLANS Anqing:
transferred to Chinese Coast Guard as Coast Guard Patrol Ship #31239

FF 540 PLANS Huainan:
transferred to Chinese Coast Guard as Coast Guard Patrol Ship #31240

FF 541 PLANS Huaibei:
transferred to Chinese Coast Guard as Coast Guard Patrol Ship #31241

FF 542 PLANS Tongling:
transferred to Sri Lanka in 2019 > renamed
P-625 SLNS Parakramabahu
Specifications:
Builders:

Hudong-Zhonghua Shipbuilding, Shanghai, China

Displacement:
2250 tons (standard) / 2390 tons (full load)
Length:
112 meters (367 feet 5 inches)
Beam:
12.4 meters (40 ft 8 in)
Draft: 4.3 meters (14 ft 1 in)
Speed:
28 knots (52 km/h)
Range:
4000 NMI (7400 km) at 18 knots (33 km/h)
Complement:
168
Propulsion:
(Combined Diesel and Diesel - CODAD)
2 x 12E390VA diesel engines (14000 hp / 10000 kW)
2 x MTU diesel engines (8840 hp / 6590 kW)
2 shafts / 2 propellers

Armament:
2x3 box launchers for YJ-8A anti-ship missiles (SSM)

1 x 6-cell tube launcher for

HQ-61 short-range anti-air missiles (SAM)



1 x
Type 79 100mm twin gun
4 x
Type H/PJ-76 37mm twin AA guns
2 x
Type 3200 6-tube ASW rocket launchers

2 x
depth-charge racks
Aviation:
flight deck and hangar for 1 helicopter

Systems:
Type 360 Radar (SR60) Surface Search, E/F band
Type 517H-1 (Knife Rest) 2D long-range air search, A-band
Type 345 Radar (MR35) Surface-to-air missile and 100 mm gun fire-control, J-band
Type 352 Radar (Square Tie) surface search and SSM fire control, I-band
2 x Type 347G/EFR-1 (Rice Lamp) dual 37 mm AA gun fire control, I-band
2 x Racal RM-1290 Navigation radar, I-band
HN-900 data link (Chinese equivalent of Link 11A/B, to be upgraded)
SNTI-240 SATCOM
ZKJ-3C Combat Data System
RWD-8 (Jug Pair) intercept
Type 981-3 EW Jammer
SR-210 Radar warning receiver
Type 651A IFF
2 x Type 946/PJ-46 15-barrel chaff/decoy launchers
The Type 053H2G (NATO reporting name: Jiangwei I)

... were Chinese frigates that entered service with the People's Liberation Army Navy Surface Force in the 1990s. They were later variants of the Type 053 frigate family, and were the PLAN's first multi-role frigates. Only four units were built before the class was superseded by the more capable Type 053H3 (Jiangwei II) class.

In the 1980s, the PLAN ordered Shanghai-based Hudong Shipyard (now Hudong-Zhonghua Shipyard) to build a replacement for the Type 053K air defence frigate. The new class was based on the Type 053H2 frigate and designated Type 053H2G. Development was carried out under Project 055.

The Type 053H2G was slightly larger than the Type 053H2, and equipped with HQ-61B surface-to-air missiles (SAM).
images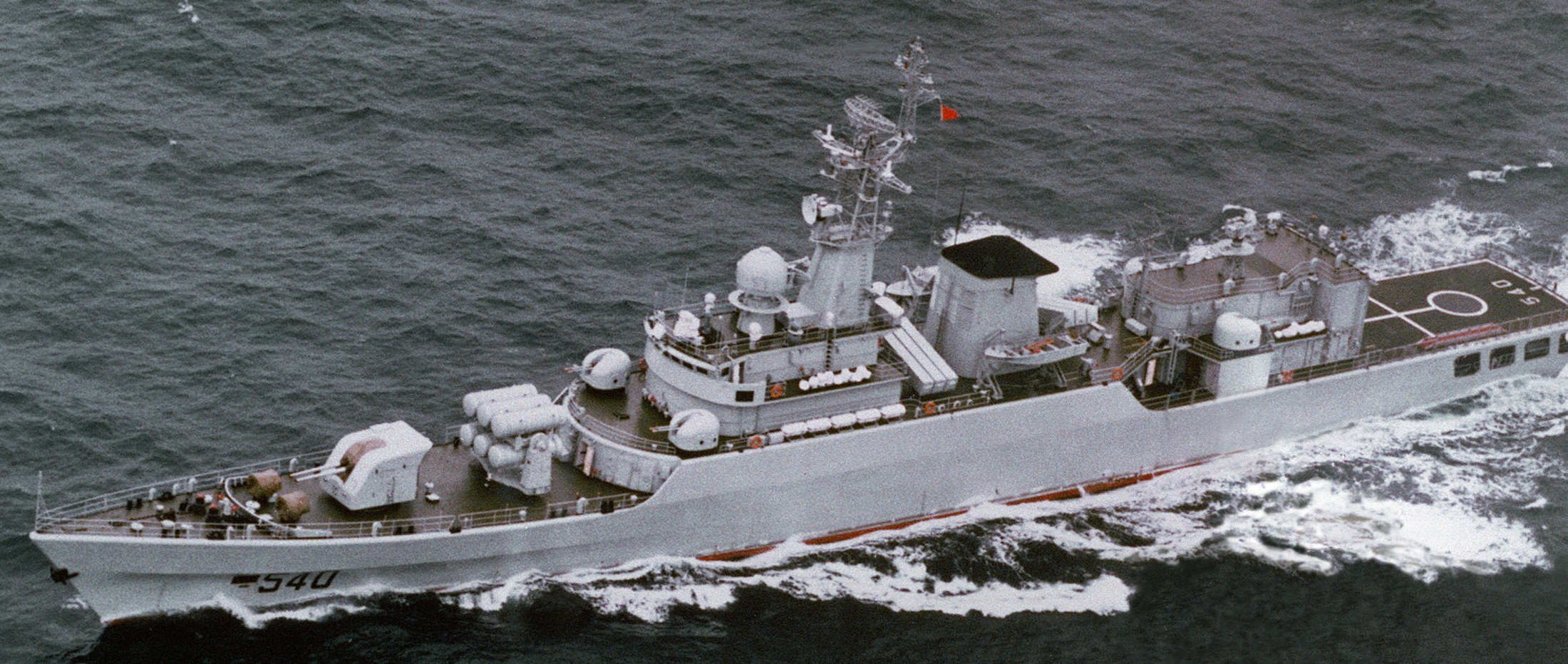 FF 540 PLANS Huainan




FF 540 PLANS Huainan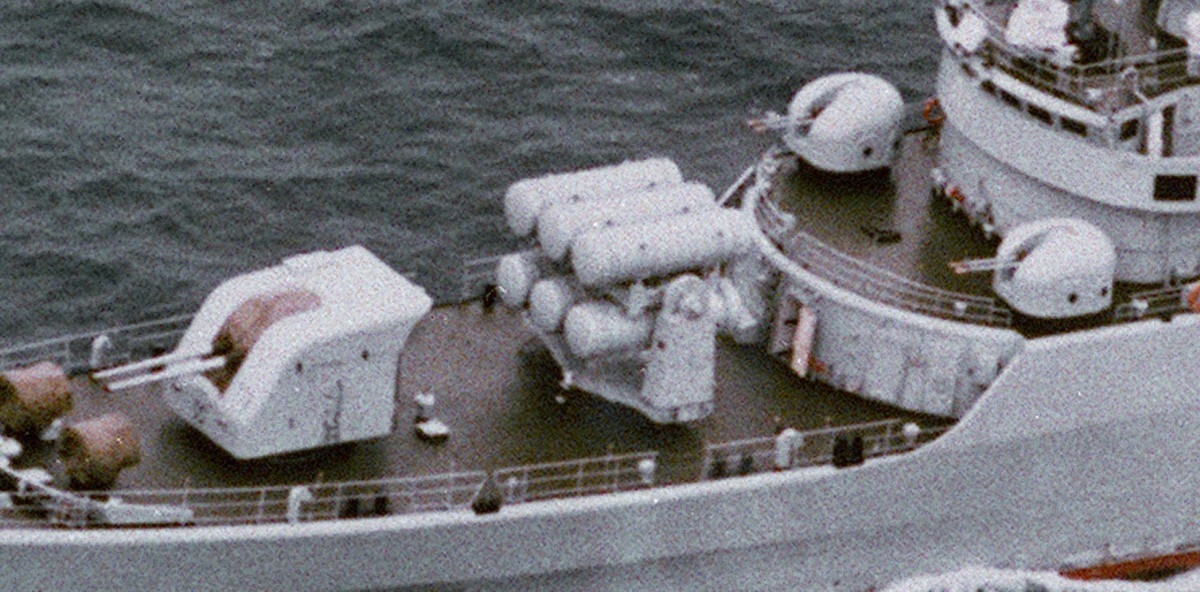 Type 79 100mm twin gun / 6-cell tube launcher for HQ-61 short-range anti-air missiles (SAM) / Type H/PJ-76 37mm twin AA guns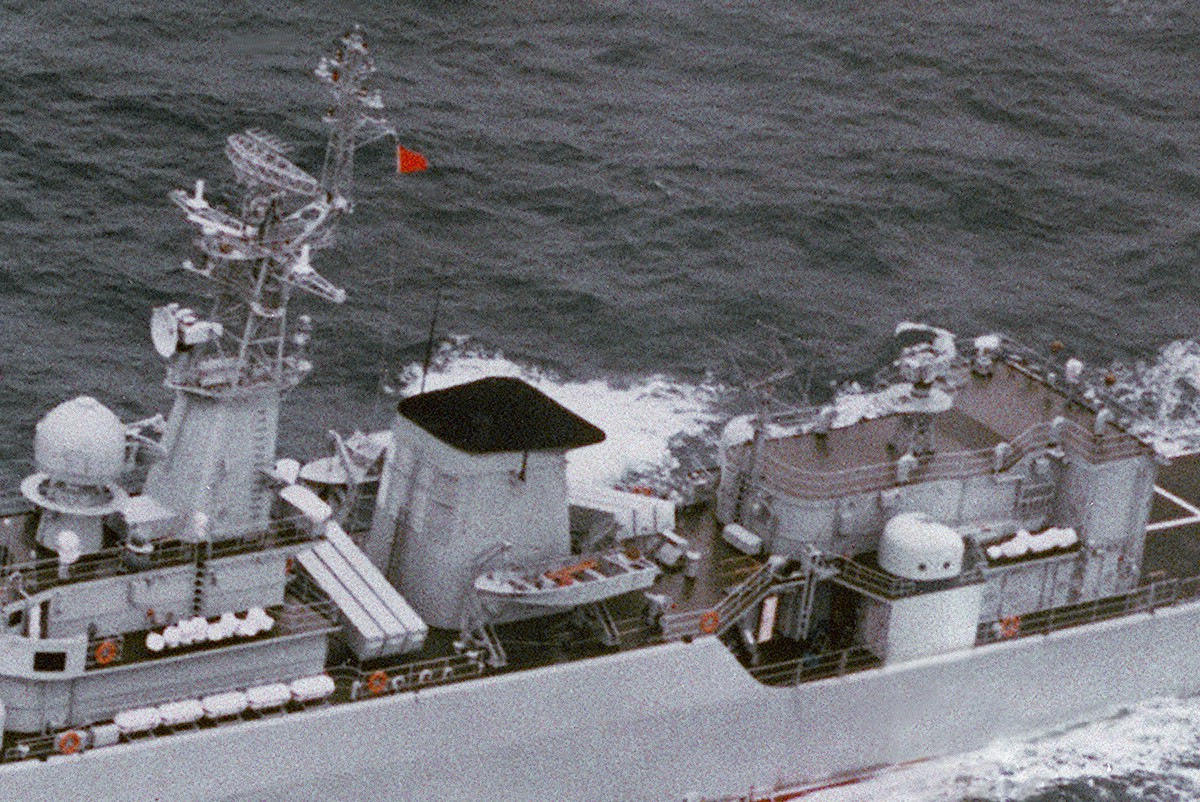 2x3 box launchers for YJ-8A anti-ship missiles (SSM)

|
seaforces.org
|
China - People's Liberation Army Navy start page
|