Builder:
Jiangnan Shipyard (Group) Co. Ltd., Shanghai, China

Displacement:
4800 tons (full load) - (5000 tons after modification)
Length:
144 meters (472 feet 5 inches)
Beam:
16 meters (52 ft 6 in)
Draft: 5.1 meters (16 ft 9 in)
Speed:
31+ knots (57+ km/h)
Range:
5000 NM (9260 km)
Complement:
230
Propulsion:
(Combined Diesel or Gas - CODOG)
2 x GE LM2500 gas turbines (41,000kW / 55,000 shp)
2 x MTU 12V 1163 TB83 diesel engines
2 shafts, 2 propellers


Armament:

1 x

Missile Launcher

for 8 x
HQ-7 surface to air missiles (SAM)
(+ 16 reload)
8 x
YJ-1 anti-ship missiles (SSM)
- replaced by >
16 x (4x4)

YJ-83 (C-803) anti-ship missiles (SSM)




1 x

Type 79B (H/PJ-33B) 100mm twin naval gun



6 x (2x3)

Type 7424 324mm torpedo tubes
for

Yu-7 torpedoes



4 x

Type H/PJ76A 37mm twin AA g
uns
- replaced by >
2 x

H/PJ-12 Type 730 close-in weapon system (CIWS)




2 x

Type 87 6-cell ASW rocket launchers

- replaced by > 2 x

Type 75 12-cell, 240mm ASW rocket launchers



2 x

Type 726-4 122mm 24-tube decoy launchers
Aviation:
flight deck and hangar for 2 helicopters
Systems:

Type 363 air and surface search radar
Type 362 3D air search radar
Type 517 air search radar
Type 345 fire control radar (SAM)
Type 347G fire control radar (SSM and gun)
Type 349 fire control radar (CIWS)
SJD-8/9 active/passive hull mounted sonar
RJZ-726 ECM system

Designed by the China Warship Design Institute (formerly the Seventh Academy of the Ministry of National Defense), both ships were built at Jiangnan Shipyard - No. 112 Harbin was the first Luhu destroyer followed by No. 113 Qingdao. The chief designer was academician Mr. Pan Jingfu. The class is said to be the first indigenous Chinese warship design approaching modern standards, a significant improvement over the earlier Luda class. The Luhu class made extensive use of foreign technologies that were accessible to the PRC prior to the Tiananmen Square incident of 1989. These included French-made radars and fire-control systems and the General Electric LM2500 gas turbine engines from the US, two of which power each ship. The Type 052 became the first Chinese destroyer design to use gas turbine engines, and also the first equipped with an integrated combat system.
Even with incorporation of Western technology, the chronic lack of adequate shipborne air defense systems has had great impact on PLAN operations. Equipped with a small number of surface-to-air missiles with visual-range only and guns with limited range and performance, Chinese warships have historically limited their operations to the area covered by their land-based aircraft due to a lack of fleet defense capability. To rectify this trend, the Luhu destroyers (and the smaller Jiangwei class frigate) were fitted with the HQ-7 SAM that gives them much better air defense capability than other previous Chinese designs, although they are still limited to within visual range (WVR).
The HQ-7 SAM system is reported to be equipped with 8 ready to fire missiles, plus 16 stored in a semi-automatic reloader system. The same system is also used on the upgraded 051G Luda Destroyer.
In spite of the advances, the 052 Luhu-class destroyers still suffer in some areas such as electronic warfare and electronic counter-measures.
The operational capability of the Luhu-class destroyers has been called into question by naval analysts. Ship visits in 1997 allowed US Naval officers to board and inspect Luhu Destroyer No. 112 Harbin and to take numerous photographs. Analysis of these photographs and reports by officers present strongly suggested that the Luhu destroyers were mainly intended as technology demonstration vessels rather than serious naval combatants. For example, the large amount of foreign-supplied equipment onboard was still labeled in the language of the country of origin; this was also the case with most of the onboard manuals and other documentation, calling into question the ability of the crew to operate efficiently under stressful circumstances when called upon to deal with equipment labeled in English, French, or Italian, as well as Chinese. Furthermore, the various European systems installed were not originally designed to operate together and as a result were not well integrated - a problem the Chinese could not overcome owing to their lack of familiarity with the underlying technology. The Chinese attempted to address these problems with the introduction of an improved Luhu design, the Luhai-class. This follow-on, essentially an enlarged Luhu, features some improved electronics from foreign suppliers as well as more advanced weapons. However, in some cases, the designers appear to have opted for less capable indigenous designs to ease the system integration issues suffered by the Luhu-class destroyers. The PLAN was reportedly unhappy with the design of the Luhai-class destroyers and production ceased after a single unit was completed.
According to Chinese media and internet sources, the Luhu-class is mainly used as a technological demonstrator to compare and evaluate different foreign systems, and the two ships initially did not have identical equipment. The first unit had a licensed production of Raytheon AN/SQS-56 sonar, the Italian DE-1164 integrated sonar system, which consists of DE-1160 hull mounted sonar (HMS) and DE-1163 variable depth sonar (VDS), and these were later replaced by domestic copy, SJD-7 sonar system. The second unit had French Thomson-CSF DUBV 23/43 HMS/VDS, which were subsequently replaced by domestic copy SJD-9 sonar system. the combat data systems for the first unit was ZKJ-3 (ZKJ-III), a Chinese equivalent of the Italian IPN-10 combat data system. ZKJ-3 is developed from the export version of IPN-10, SADOC 2, (SADOC = systema dirizione della Operazioni di combattimento). SADOC 2 was sold to China in 1985 and it differs from IPN-10 in that it lacks the data link the latter has. Incorporation of a domestic data link is the main improvement of Chinese ZKJ-3, making it the Chinese equivalent of IPN-10. The combat data system of the second unit is ZKJ-4, which is the Chinese version of French Thomson-CSF TAVITAC combat data system, two of which were sold to China in 1985 and delivered 2-3 years later. These combat data systems were later replaced by more advanced follow-on equipment such as ZKJ-4A/B series during upgrades. Experience gained in handling these foreign systems has helped subsequent development of similar Chinese systems.
2011 upgrade:
Both of the Type 052 destroyers were upgraded in 2011. The four Type 76A guns were replaced by two Type 730 CIWS on top of the helicopter hangar. The Crotale/HHQ-7 short-range SAM may have been replaced by the newer model (FM-90?) which provides better interception against sea-skimming AShMs. Two Type 726-4 decoy launchers were installed on the sides of the forward bridge for better self-protection. Various onboard systems were integrated together (to a certain degree) by a Thomson-CSF TAVITAC combat data system which is thought to have been replaced by a new indigenous C3I system (ZJK-4B or a newer model). The Thomson-CSF Sea Tiger air/surface search radar was first replaced by an indigenous Type 518 Hai Ying radar and is now replaced by a Type 517M long-range air search radar. The Type 362 air/surface radar installed on top of the aft mast has been replaced by a Type 364. A pair of SATCOM antennas has been installed on top of the helicopter hangar as well.
source: wikipedia
DDG 112 PLANS Harbin

DDG 112 PLANS Harbin

DDG 112 PLANS Harbin

DDG 112 PLANS Harbin

DDG 112 PLANS Harbin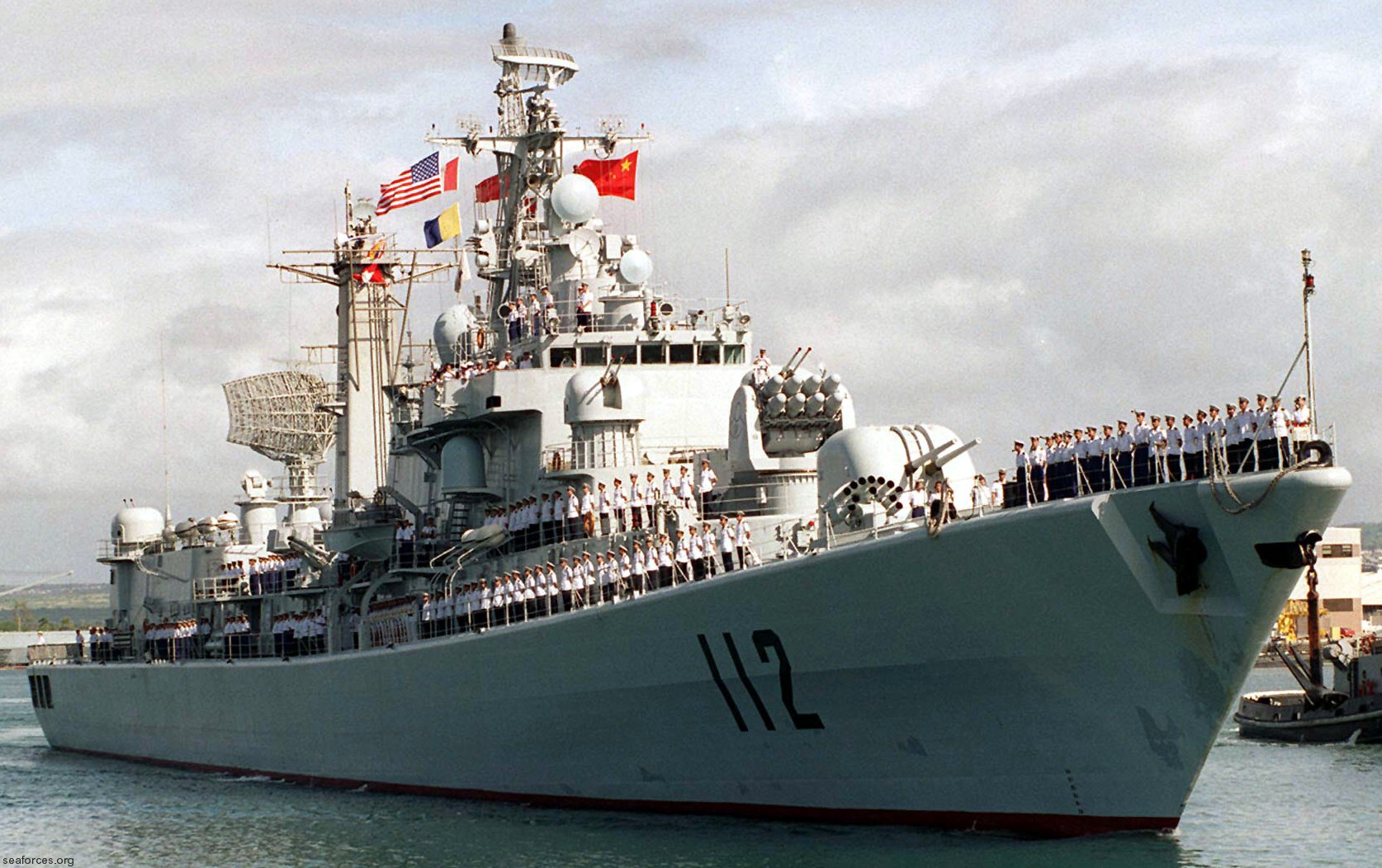 DDG 112 PLANS Harbin

DDG 112 PLANS Harbin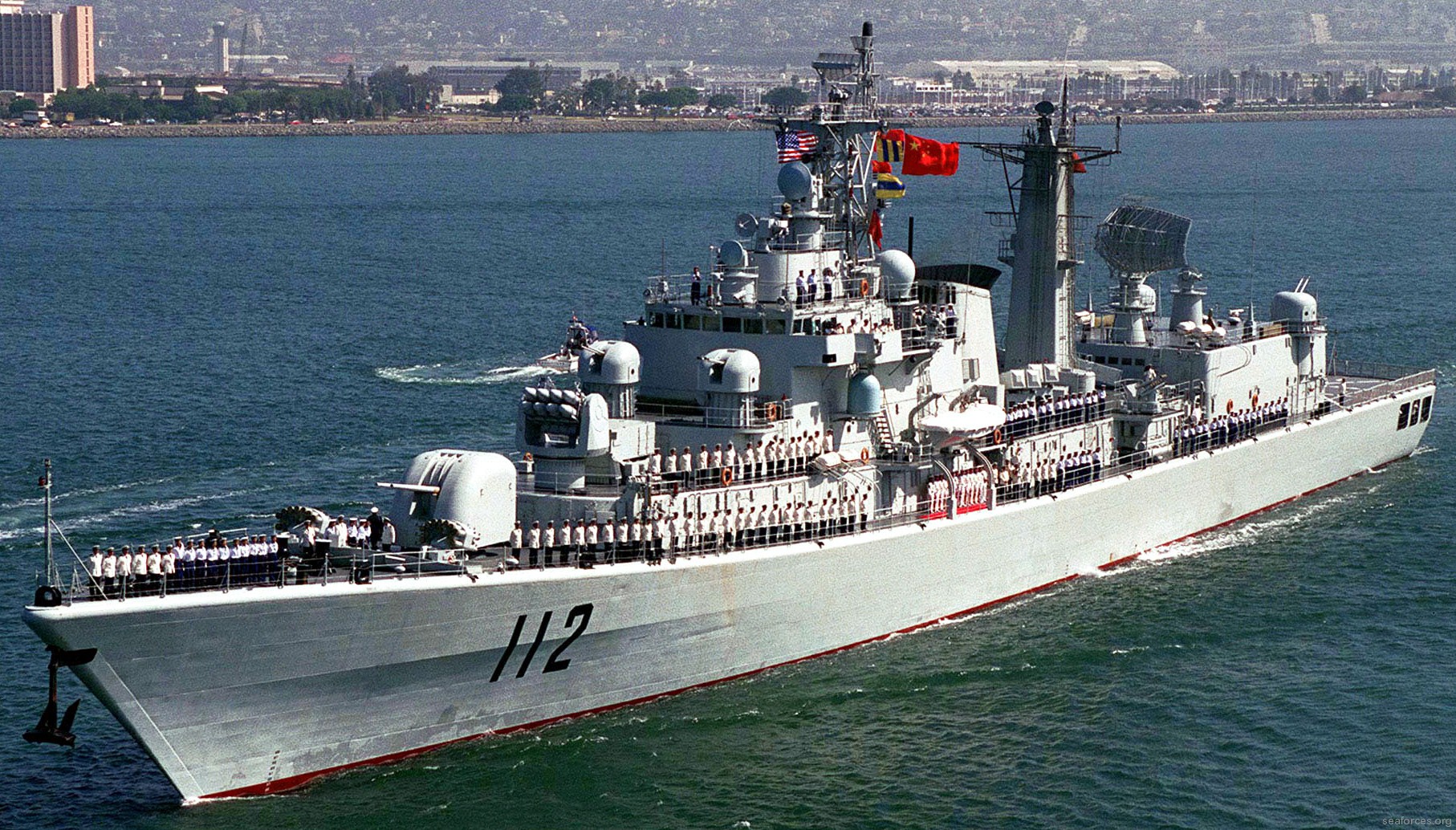 DDG 112 PLANS Harbin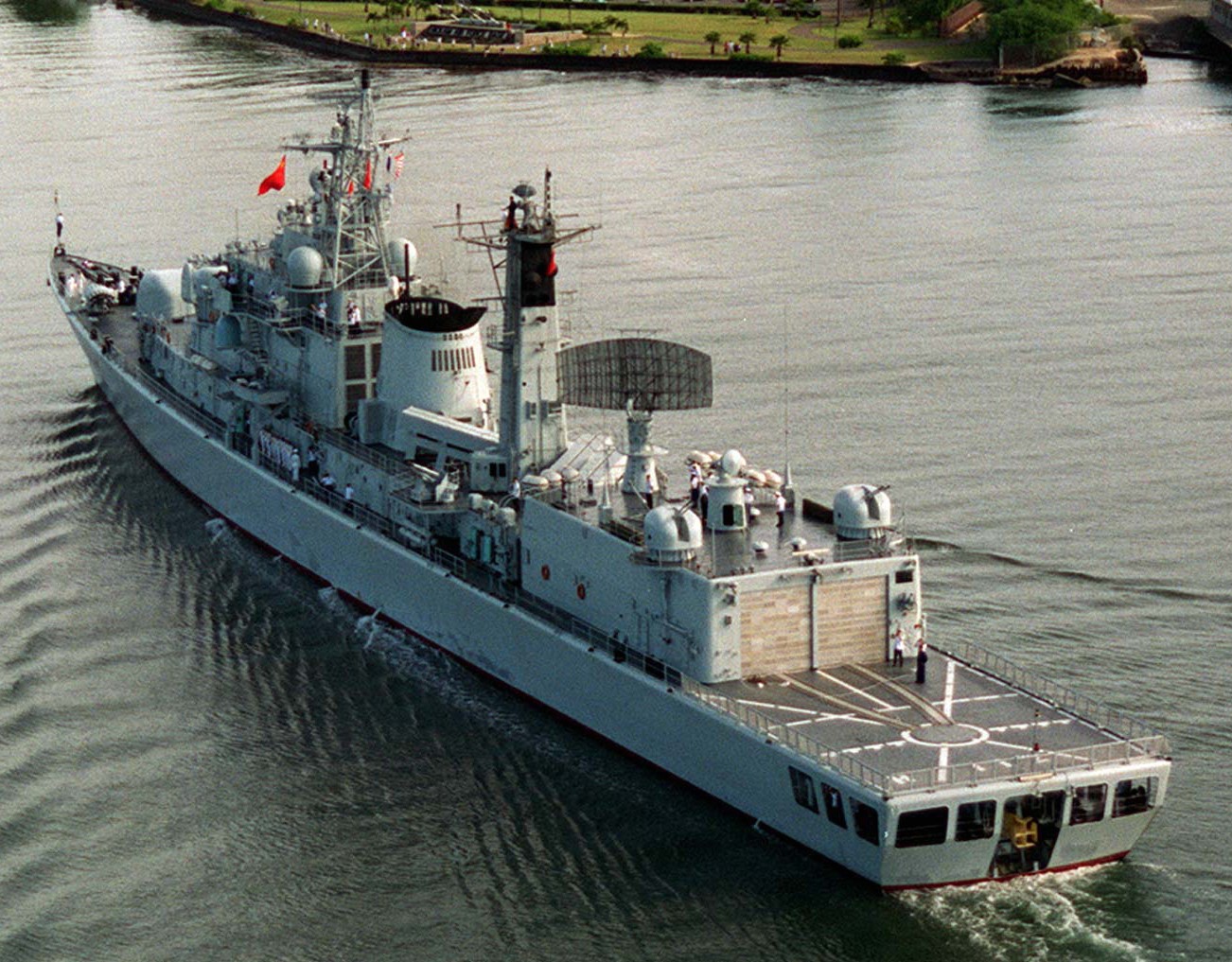 DDG 112 PLANS Harbin

DDG 112 PLANS Harbin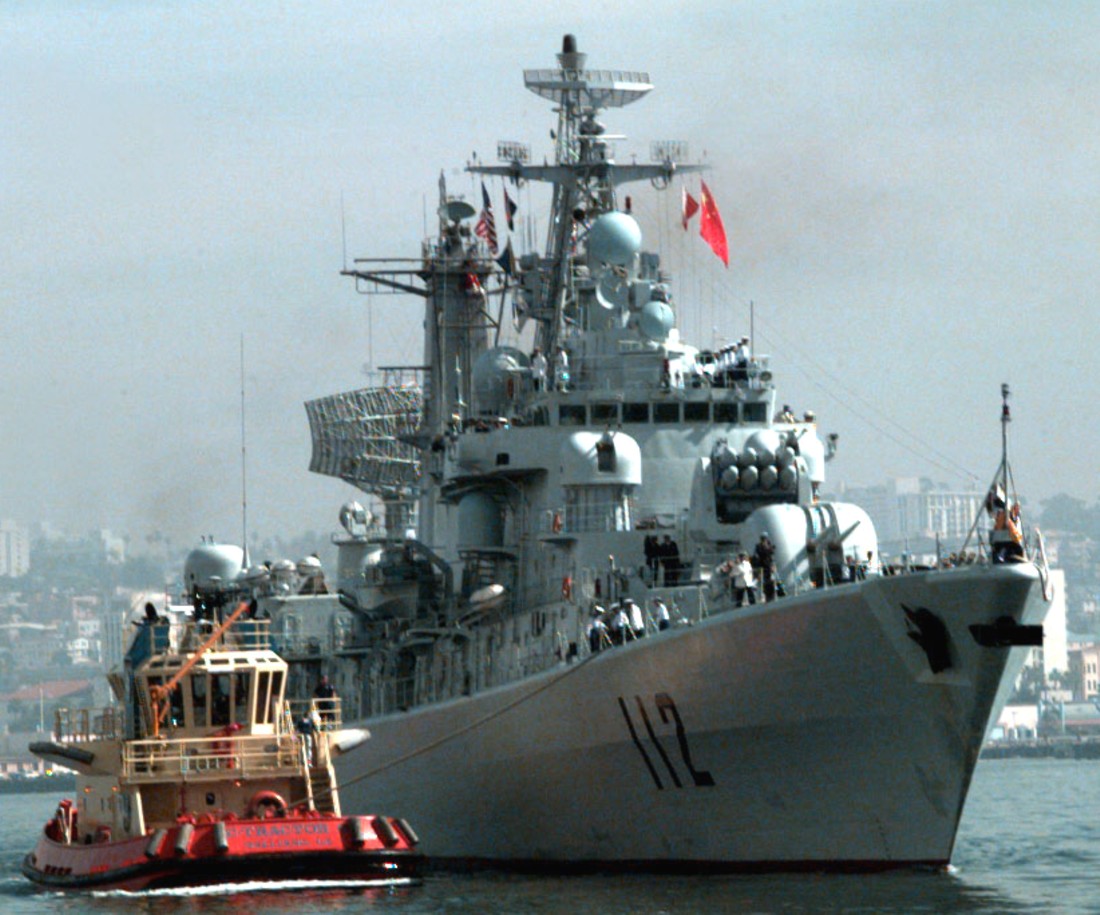 DDG 112 PLANS Harbin

DDG 112 PLANS Harbin

DDG 112 PLANS Harbin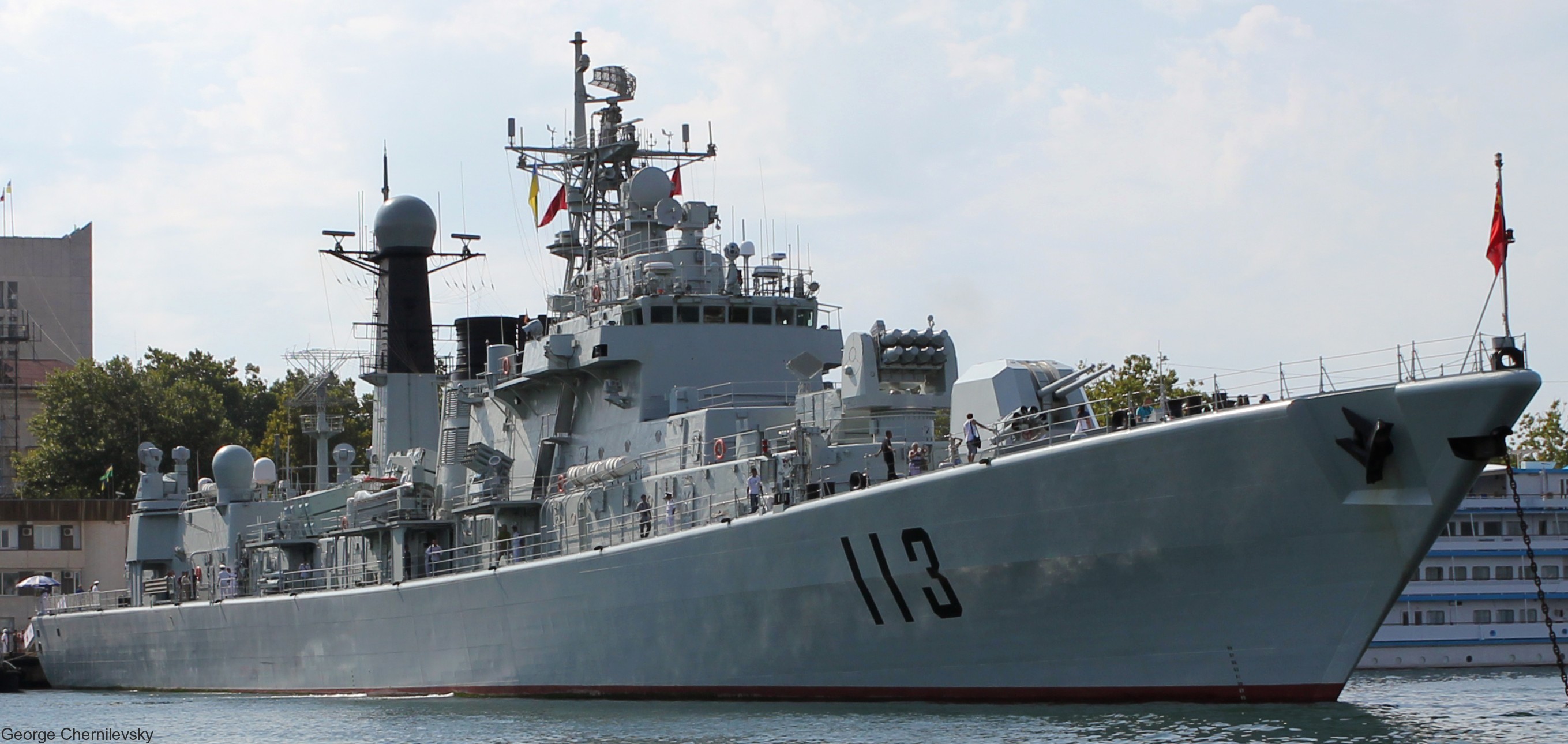 DDG 113 PLANS Qingdao

DDG 113 PLANS Qingdao

DDG 113 PLANS Qingdao

DDG 113 PLANS Qingdao
DDG 113 PLANS Qingdao
DDG 113 PLANS Qingdao

DDG 113 PLANS Qingdao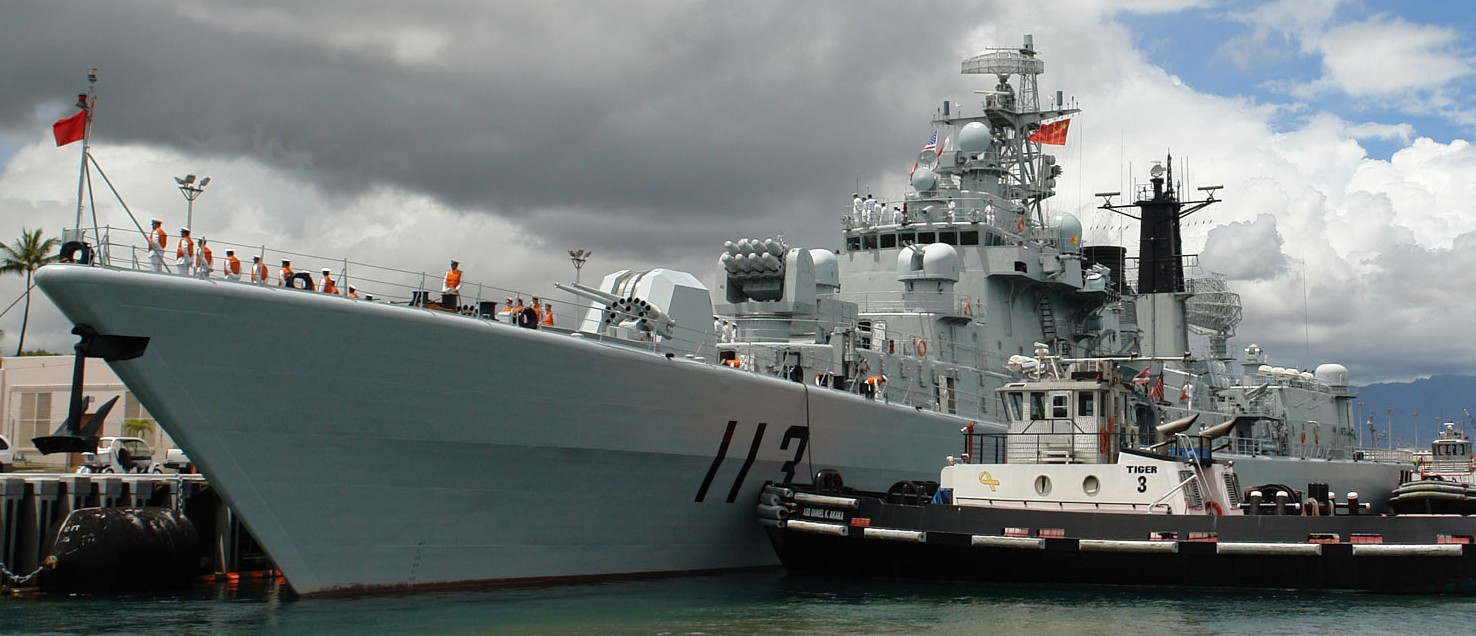 DDG 113 PLANS Qingdao

DDG 113 PLANS Qingdao
DDG 113 PLANS Qingdao
DDG 113 PLANS Qingdao
DDG 113 PLANS Qingdao

DDG 113 PLANS Qingdao
ARMAMENT + DETAILS
after refit

as built
Type H/PJ76A 37mm twin AA guns - Missile Launcher for 8 x HQ-7 surface to air missiles (SAM) - Type 79B (H/PJ-33B) 100mm twin naval gun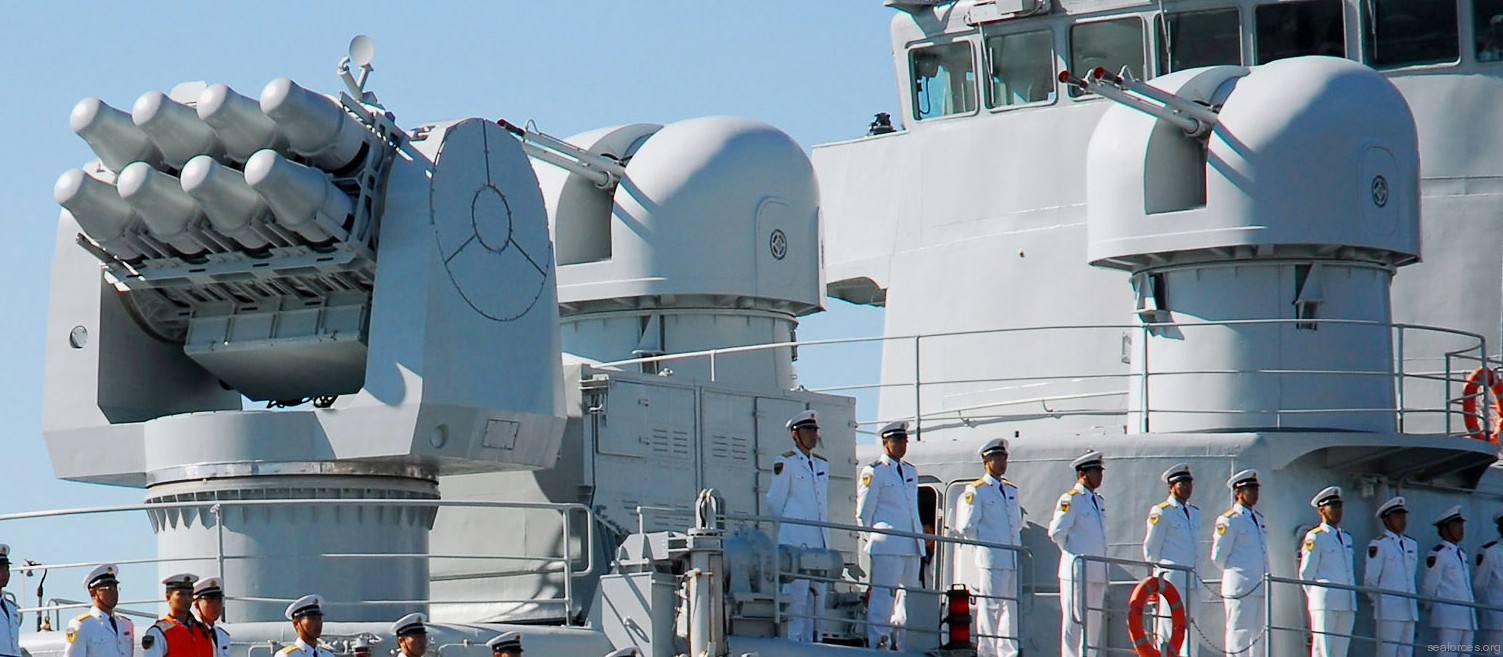 Missile Launcher for 8 x HQ-7 surface to air missiles (SAM) - Type H/PJ76A 37mm twin AA guns
Type 79B (H/PJ-33B) 100mm twin naval gun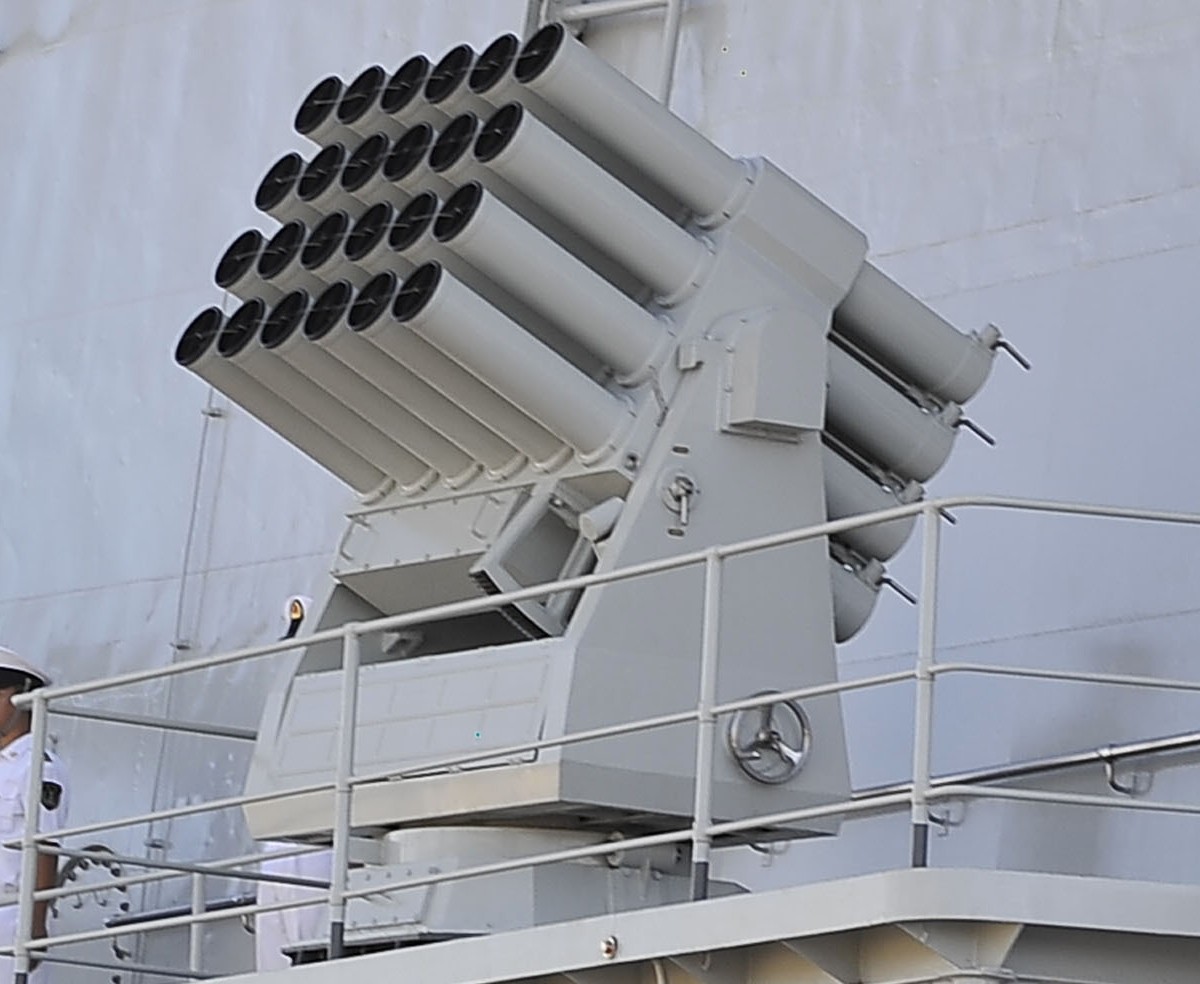 Type 726-4 122mm 24-tube decoy launcher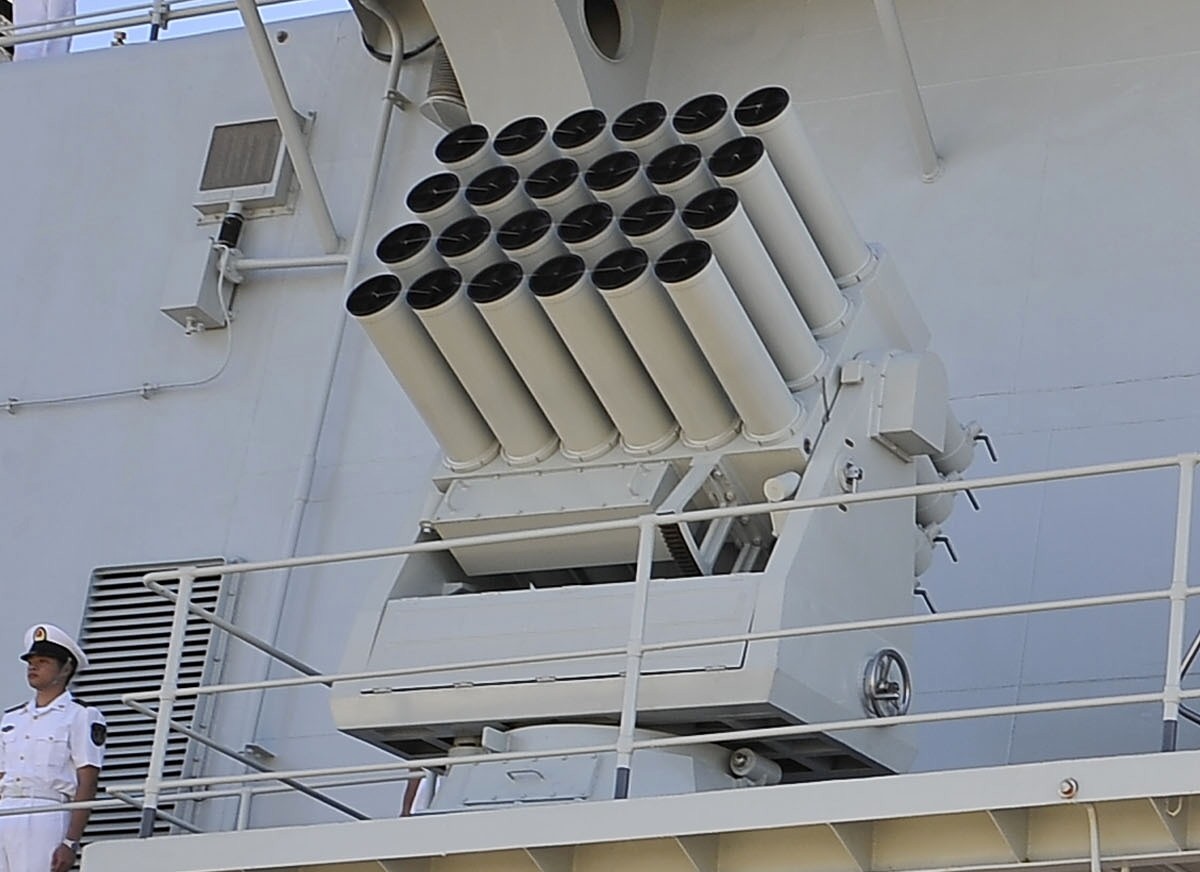 Type 726-4 122mm 24-tube decoy launcher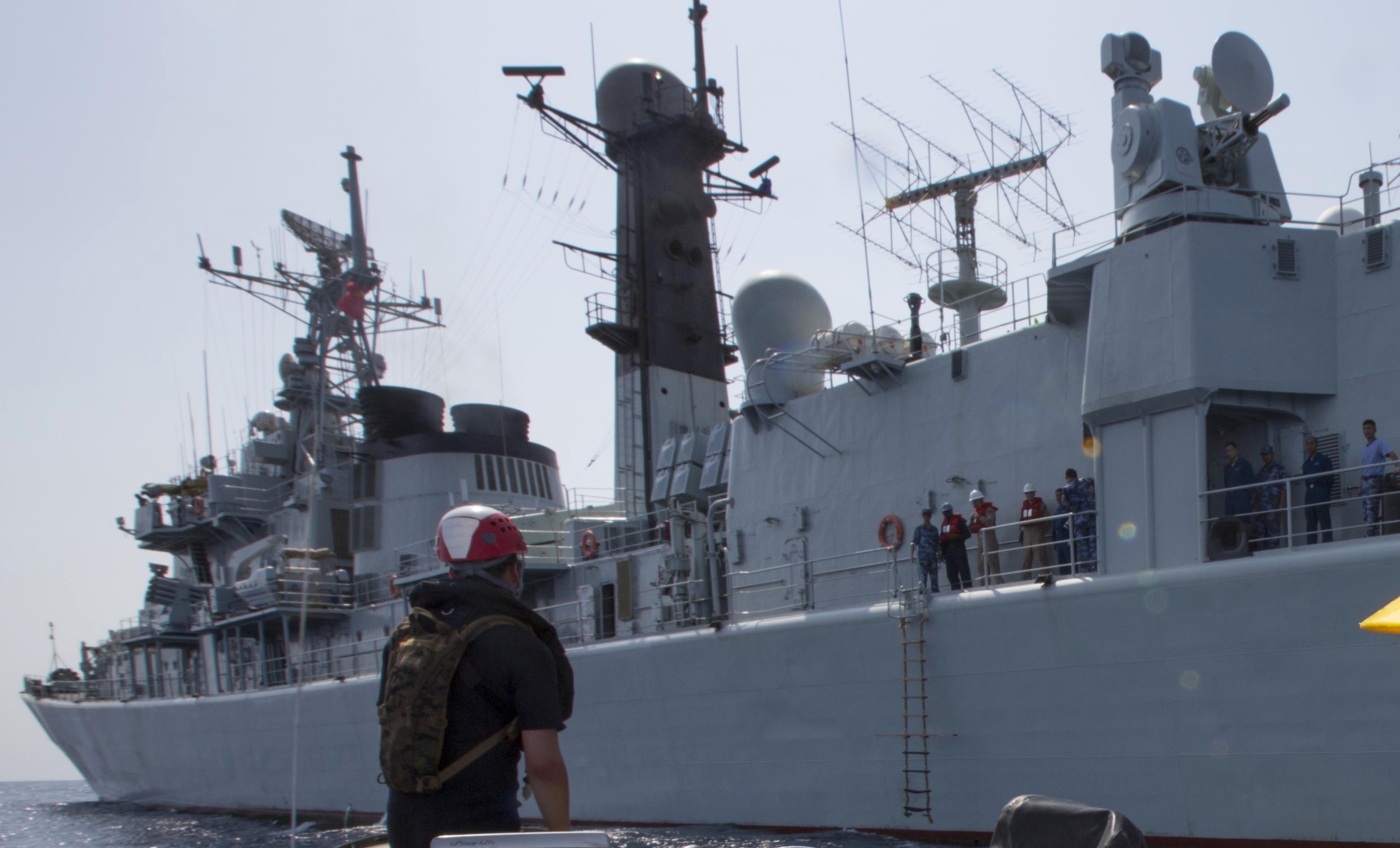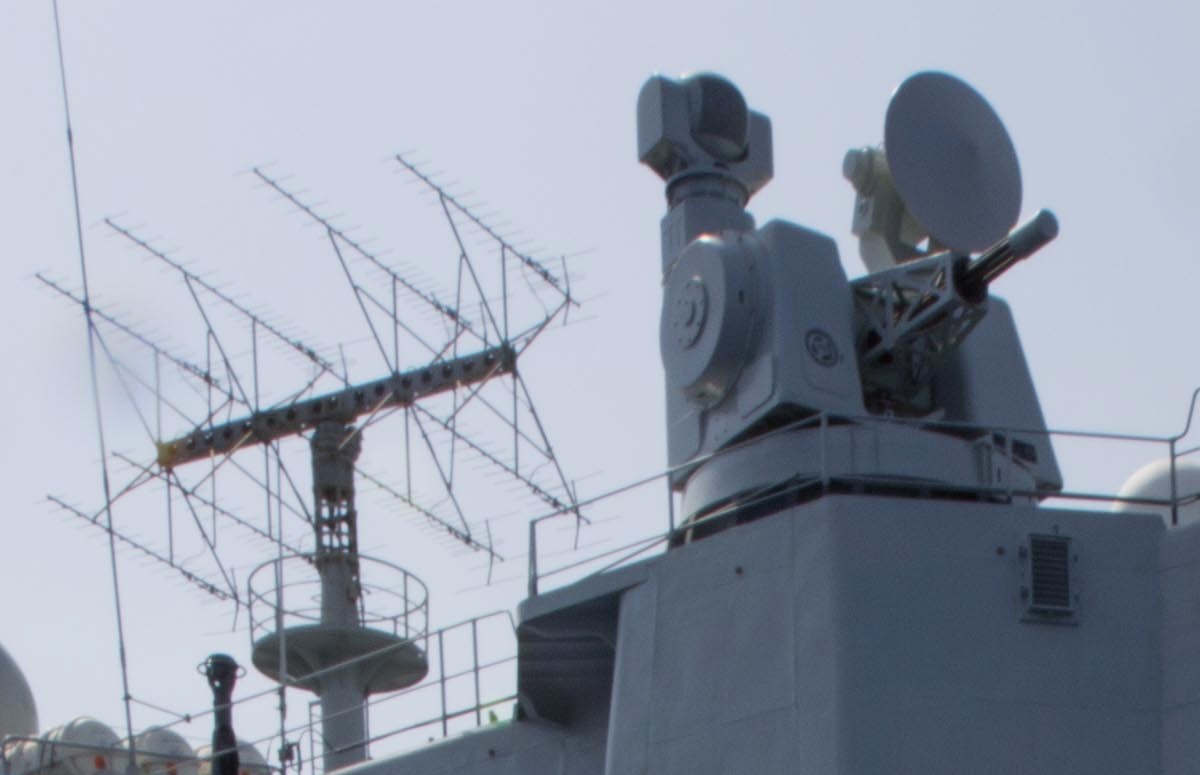 Type 517 air search radar and Type 730 close-in weapon system (CIWS)