Ship data:
HMAS Kanimbla (L 51)
Builder:
National Steel and Shipbuilding Company, San Diego, USA
US Navy (USS Saginaw / LST 1188):


Laid down:
May 24, 1969
Launched:
February 7, 1970
Commissioned:
January 23, 1971
Decommissioned:
June 28, 1994
sold to Australia

Royal Australian Navy:


Commissioned:
August 29, 1994
Decommissioned:
November 25, 2011

Fate:
sold for scrap, broken up at New Orleans, USA

Ship's motto:
CRY HAVOC
HMAS Manoora (L 52)
Builder:
National Steel and Shipbuilding Company, San Diego, USA
US Navy (USS Fairfax County / LST 1193):


Laid down:
March 28, 1970
Launched:
December 19, 1970
Commissioned:
October 16, 1971
Decommissioned:
August 17, 1994
sold to Australia

Royal Australian Navy:


Commissioned:
November 25, 1994
Decommissioned:
May 27, 2011

Fate:
sold for scrap, broken up at New Orleans, USA

Ship's motto:
IN WAR AND PEACE

In the early 1990s, the RAN initiated a procurement project to replace HMAS Jervis Bay with a dedicated training and helicopter support ship. Meeting the vague specifications of the project required a purpose-built vessel at an approximate cost of A$500 million. The high cost of the project led to its cancellation by the Minister for Defence in 1993, with the instructions to find a cheaper alternative. At around the same time, the United States Navy (USN) began plans to decommission fifteen of their twenty Newport-class tank landing ships, offering them for purchase by various countries.
In 1994, the RAN elected to purchase two Newports: US Ships Saginaw and Fairfax County for the combined price of A$61 million (US$40 million), with the intention of converting each into a combined pocket helicopter carrier and amphibious warfare transport. Saginaw was to decommission in the US and be immediately recommissioned into the RAN as HMAS Kanimbla, and be sailed to Australia by a RAN crew, while Fairfax County was to travel to Australia with a USN crew before decommissioning and recommissioning as HMAS Manoora. Prior to Saginaw's decommissioning, a RAN crew was sent to Norfolk, Virginia for training aboard the vessel.
Saginaw was decommissioned on 28 June 1994, but instead of being immediately recommissioned as HMAS Kanimbla, it was announced at the decommissioning ceremony that the United States Congress had decided not to release the ships into foreign service. This last-minute move was part of a sale blockage for the fifteen surplus Newports to nine nations, and was caused by the United States Senate Committee on Armed Services in an attempt to pressure US President Bill Clinton on the perceived running-down of the USN's amphibious warfare capability, as well as the concerns of one Senator over human rights in Morocco (one of the other nations slated to acquire a ship). The sale to Australia was not approved until the start of August and Saginaw commissioned as HMAS Kanimbla on 29 August 1994.
Conversion and capabilities:
After transferring into the RAN and arriving in Australia, Kanimbla and Manoora spent two years docked at Fleet Base East before they were moved to Forgacs Dockyard at Newcastle, New South Wales in June 1996, where they underwent conversion from tank landing ships to amphibious warfare transports. The conversion required the main features of the Newport class, the bow doors, derrick, and tank ramp, to be removed. A hangar for three Sea King or four Blackhawk helicopters was added, while the aft helicopter deck was reinforced. Chinook helicopters were able to land and take off from the aft deck, but could not be carried for prolonged periods. The deck forward of the superstructure was converted to carry two LCM-8 landing craft, which were launched and recovered by a single 70-ton crane. When the LCM-8s were not aboard, the area functioned as a third helicopter landing spot. Accommodation was provided for up to 450 soldiers, while improved medical facilities and an upgraded galley were also installed. Each ship had 955 square metres (10,280 sq ft) of deck space for vehicles and cargo.
Following the conversions, the ships had a displacement of 8,534 tons, a length of 159.2 metres (522 ft), a beam of 21.2 metres (70 ft), and a draught of 5.3 metres (17 ft). Propulsion was provided by ALCO V16 diesel engines creating 2,750 horsepower (2,050 kW) each, with each of the two propeller shafts connected to three engines. Maximum speed was 22 knots (41 km/h; 25 mph), and each ship had a range of 14,000 nautical miles (26,000 km; 16,000 mi) at 14 knots (26 km/h; 16 mph). Shipboard weapons consisted of a 20 mm Phalanx Mk 15 close-in weapon system, supplemented by six 12.7 mm machine guns. Each ship's company consisted of 23 officers and 197 sailors, plus a permanently embarked army detachment of 2 officers and 18 soldiers.
The refit was planned to last from 1995 to 1996, with Manoora upgraded first. However, extensive corrosion was discovered in both ships. The refit cost for the two ships increased to A$400 million, with half of the funding taken from repair and refit allocations for other ships. The two ships did not enter service until the end of the decade.
In June 2012, the federal government offered Kanimbla and Manoora to the Queensland state government for scuttling as dive wrecks off the Queensland coast. However, the government chose not to go ahead with this, as it would cost $4 million each to prepare them for scuttling, and could provoke similar reactions to the contested sinking of the frigate HMAS Adelaide. Instead, it was announced in January 2013 that the two ships would be broken up, with an estimated scrap metal value of $2.5 million each. Because the two vessels were originally owned by the United States of America and were sold to Australia, their disposal had to receive US government approval and comply with International Traffic in Arms Regulations. Tendering for the disposal of the vessels began in June 2012, with the contract awarded to Southern Recycling LLC on 20 May 2013. The two vessels were towed in tandem to Gulfport, Mississippi, arriving on 3 October. The ships were then towed to Southern Recycling's facilities in New Orleans for scrapping.
source: wikipedia
HMAS Kanimbla (L 51) - ex USS Saginaw (LST 1188)
HMAS Kanimbla - Pearl Harbor, Hawaii - July 2010
HMAS Kanimbla during exercise RIMPAC '10 - July 2010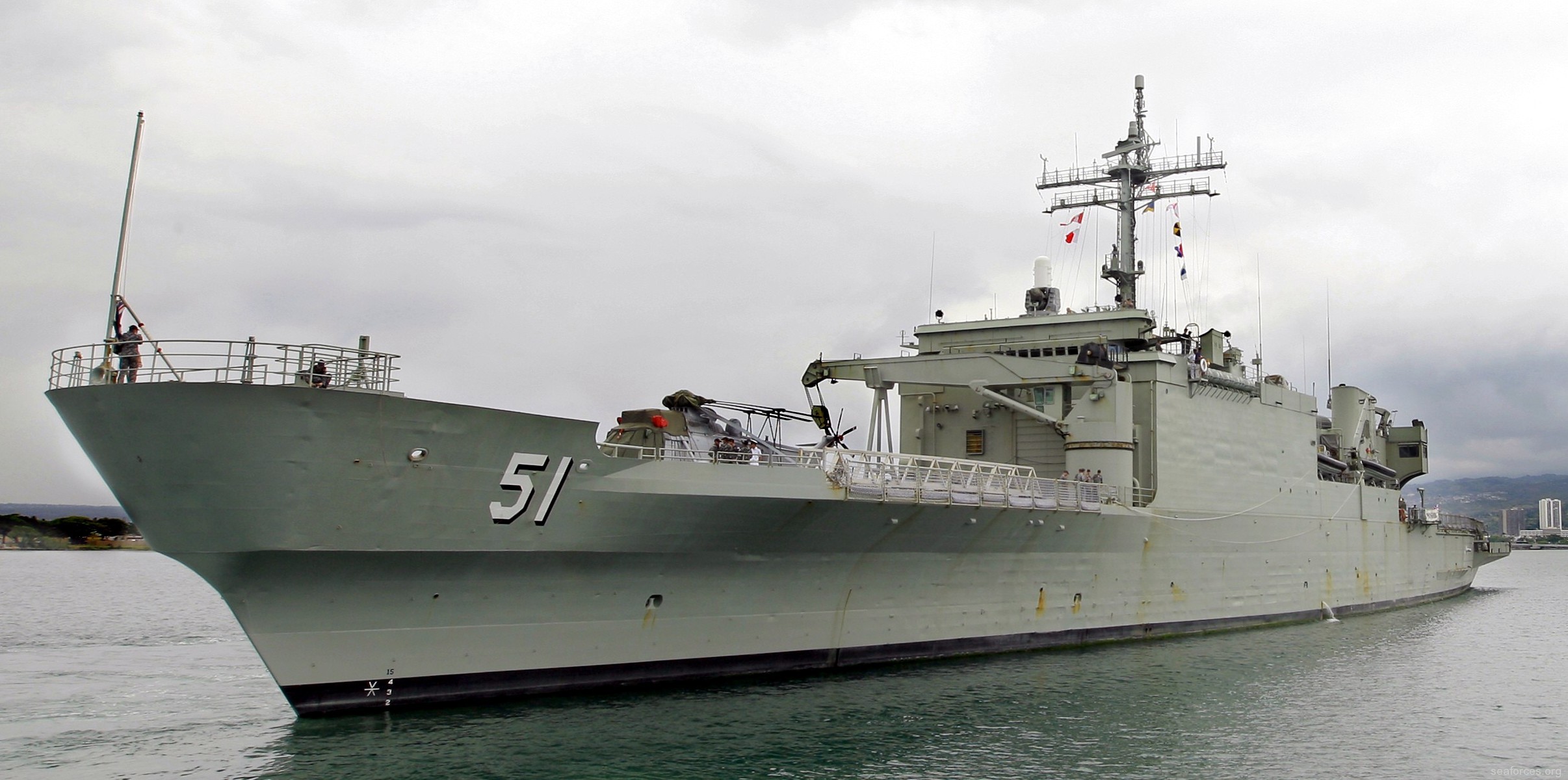 HMAS Kanimbla - Pearl Harbor, Hawaii - June 2010
HMAS Kanimbla - Pearl Harbor, Hawaii - June 2010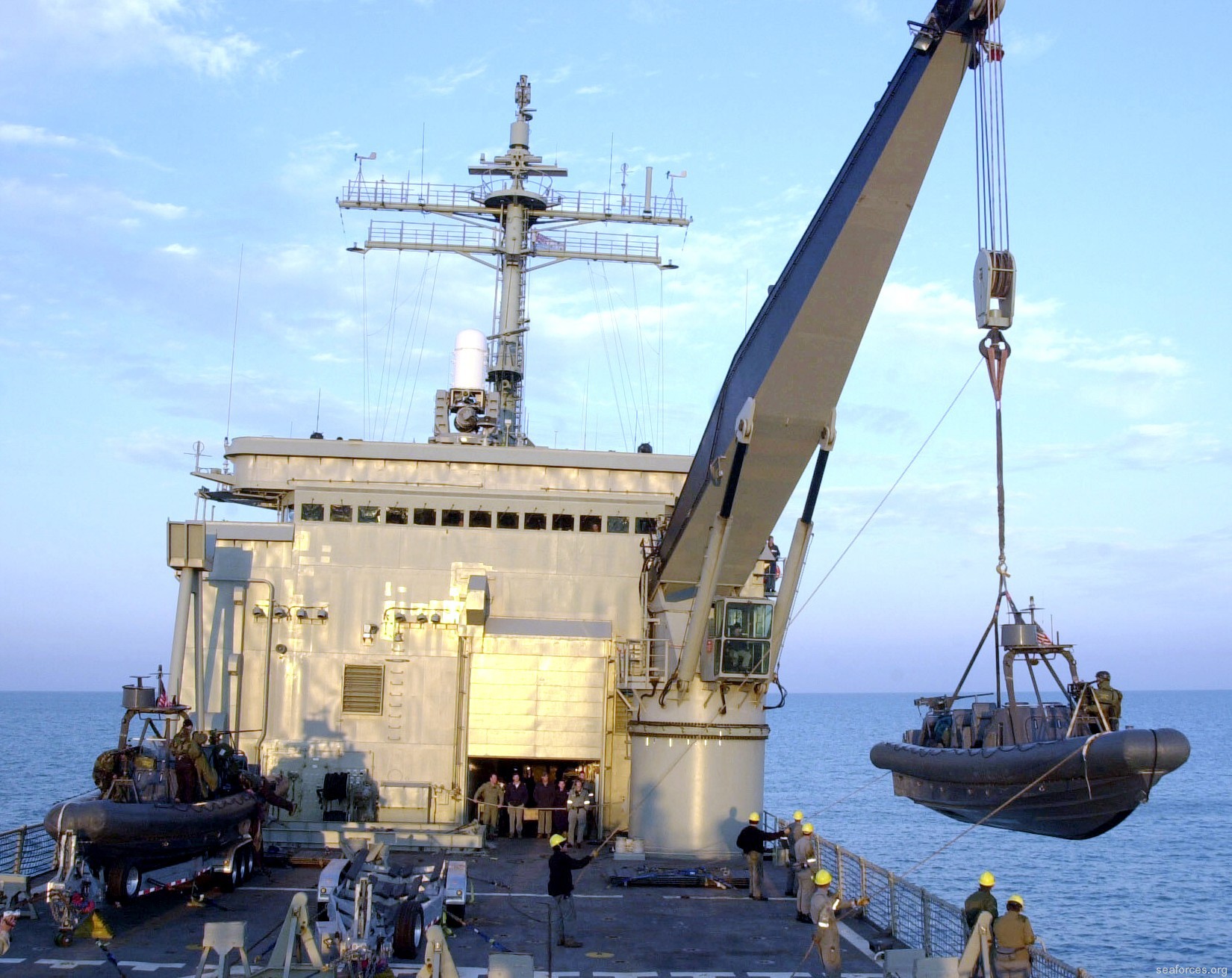 HMAS Kanimbla - January 2002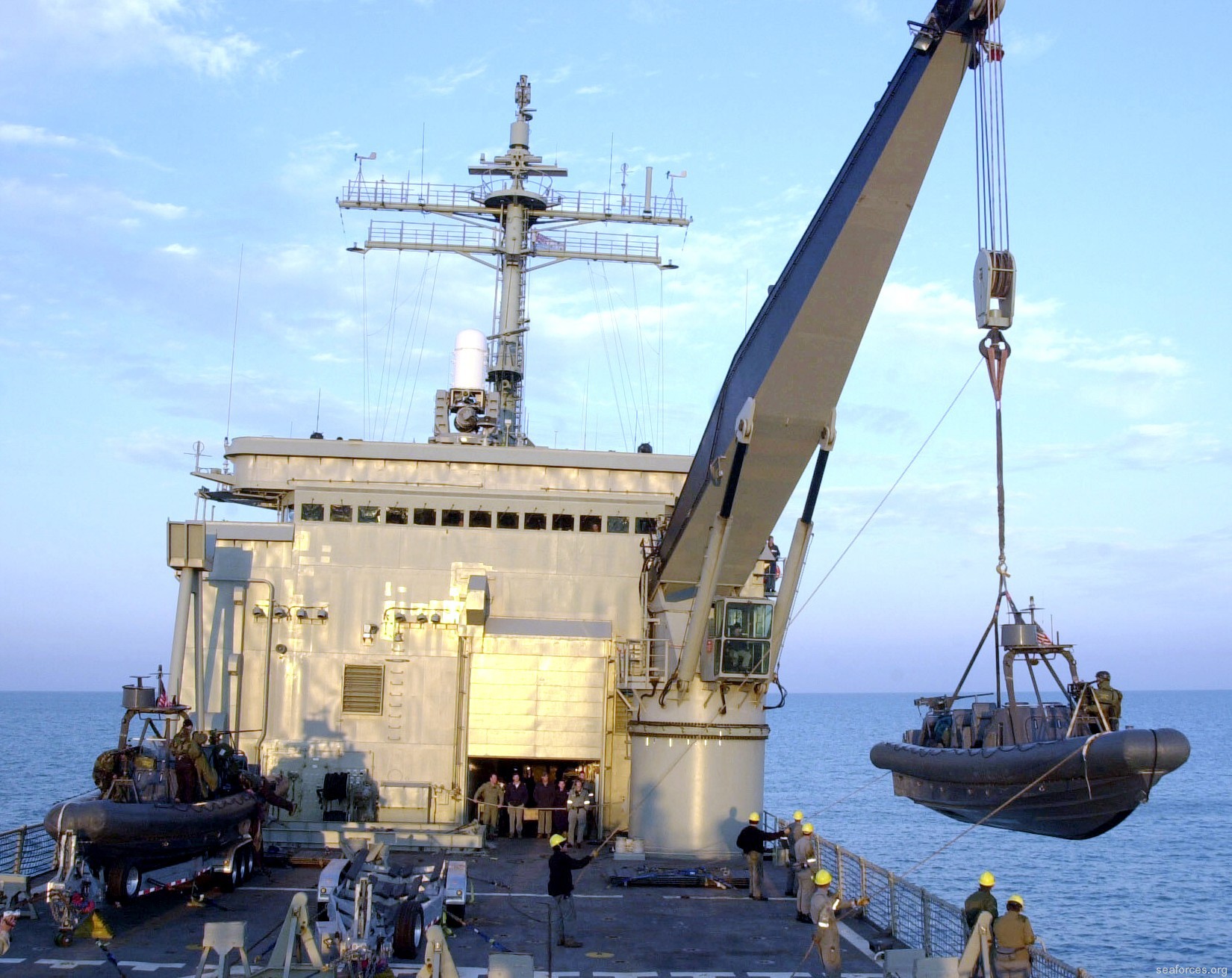 HMAS Kanimbla - January 2002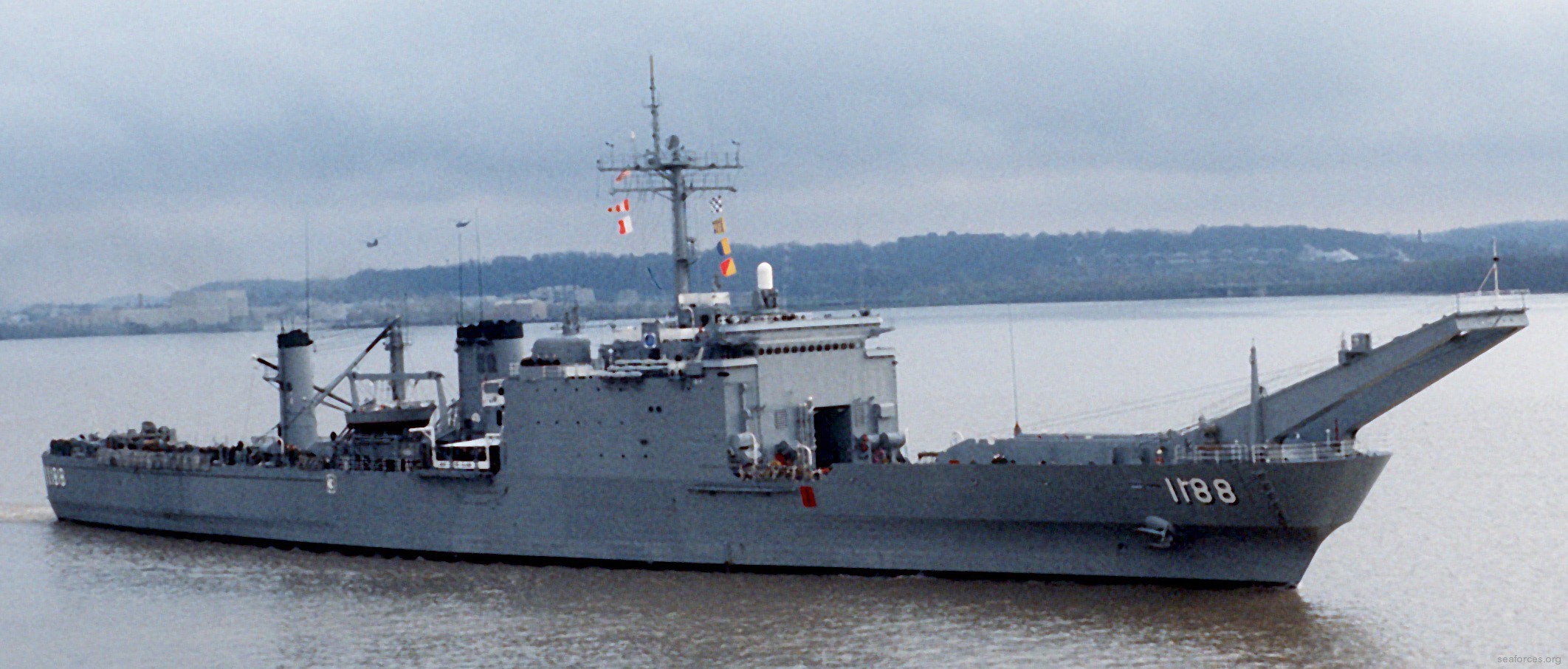 USS Saginaw (LST 1188) - April 1987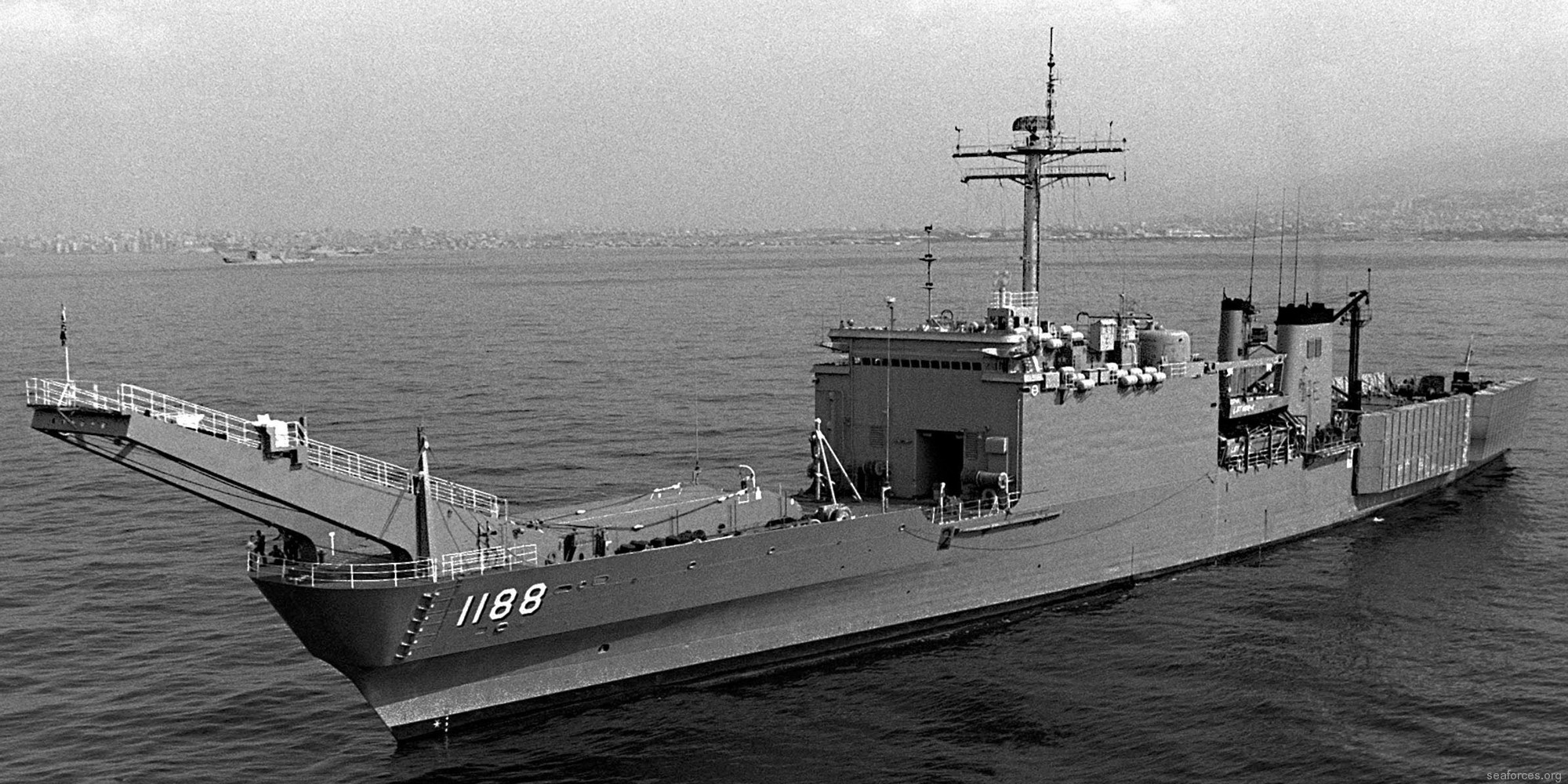 USS Saginaw (LST 1188) - September 1982
HMAS Manoora (L 52) - ex USS Fairfax County (LST 1193)
HMAS Manoora (L 52) - Pearl Harbor, Hawaii - June 2006

USS Fairfax County (LST 1193) - May 1993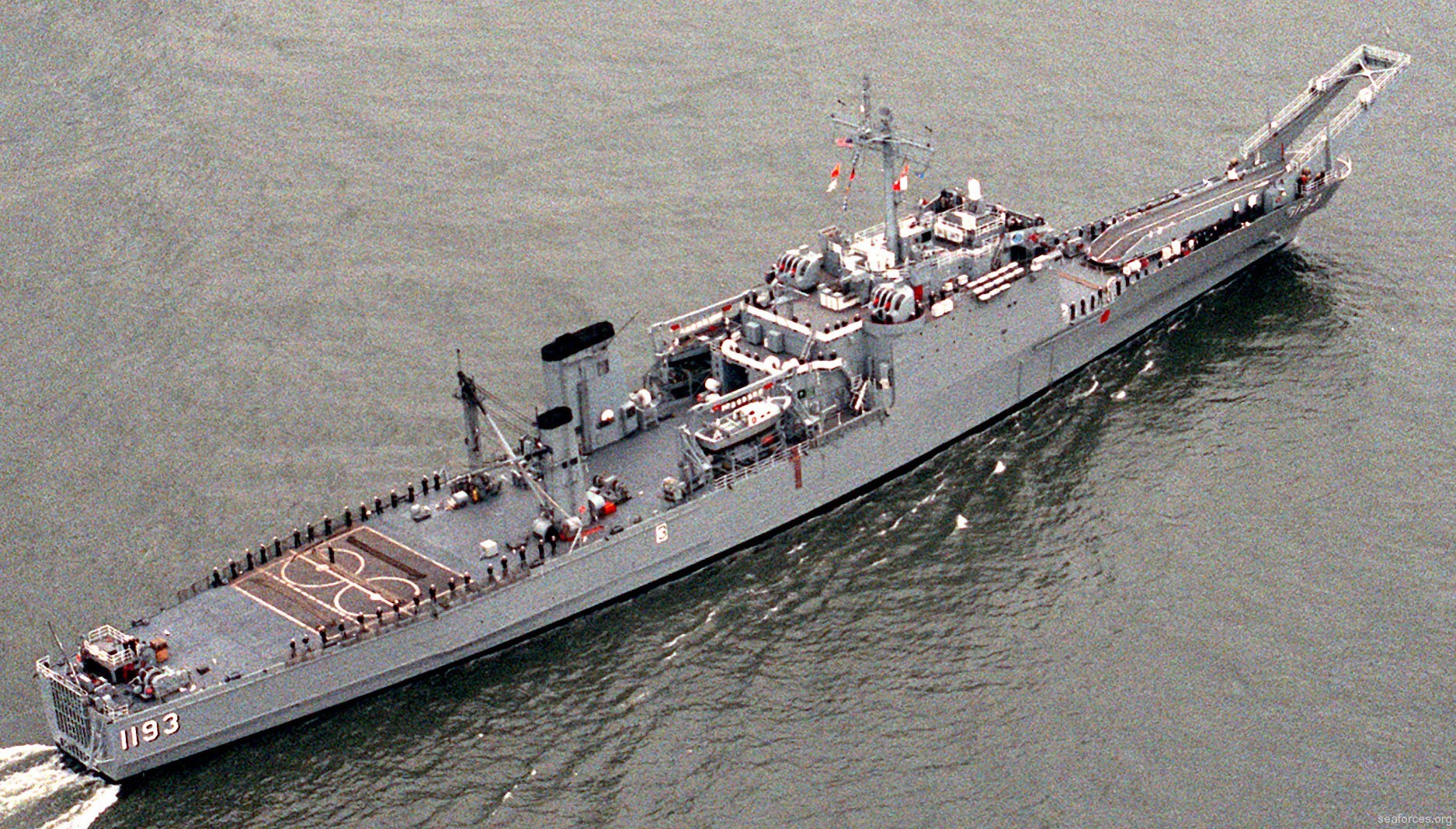 USS Fairfax County (LST 1193) - April 1989