HOME | US Navy - ships | US Navy - air units | USMC - air units | International Navies | Weapon Systems | Special Reports
<![if !supportEmptyParas]> <![endif]>
<![if !supportEmptyParas]> <![endif]>
US Navy -
Guided Missile Destroyer
DDG 114

- U

SS Ralph Johnson
<![if !supportEmptyParas]> <![endif]>
<![if !supportEmptyParas]> <![endif]>
Type, class: Guided Missile Destroyer - DDG; Arleigh Burke class, Flight IIA
Builder: Huntington Ingalls Shipbuilding, Pascagoula, Mississippi, USA
STATUS:
Awarded: September 26, 2011
Laid down: September 12, 2014
Launched: December 12, 2015
Commissioned: March 24, 2018
IN SERVICE
Homeport:
Namesake: PFC Ralph Henry Johnson / USMC (1949-1968)
Ships Motto: CELER SILENS MORTALIS
Technical Data: see: INFO > Arleigh Burke class Guided Missile Destroyer - DDG
<![if !supportEmptyParas]> <![endif]>
ship images
builders trials - Gulf of Mexico - July 2017
launching at Huntington Ingalls shipbuilding, Pascagoula, Mississippi - December 2015
<![if !supportEmptyParas]> <![endif]>
USS Ralph Johnson (DDG 114):

PASCAGOULA, Miss. (NNS) -- The U.S. Navy held a keel-laying ceremony for the future USS Ralph Johnson (DDG 114) at the Huntington Ingalls Industries (HII) shipyard September 23, 2014.

The keel was authenticated by ship sponsor and military wife Georgeanne McRaven, and 41-year veteran shipbuilder, Robert Boegner, Jr. The two traced their initials into the ship's keel plate after which they said, "We hereby declare that the keel of the future USS Ralph Johnson has been truly and fairly laid."

"I'm extremely honored to have Mrs. McRaven and Mr. Boegner here today to take part in this momentous event. Their participation demonstrates and celebrates the role that each individual involved in this vital shipbuilding program plays to help bring these warships to life," said Capt. Mark Vandroff, DDG 51 class program manager, Program Executive Office (PEO) Ships. "I'm very proud of and grateful to the men and women of Ingalls shipbuilding. Their hard work has allowed us to celebrate this major ship milestone today."

Ingalls shipbuilding has a long history in destroyer shipbuilding, beginning with the keel-laying of the USS Spruance (DD 963) in the same shipyard over 40 years ago, in 1972. Ralph Johnson is the 64th Arleigh-Burke class destroyer, and the 30th DDG 51 class destroyer built by the shipyard. HII is under contract to build an additional six of the 14 DDG 51 class ships currently under contract. General Dynamics Bath Iron Works is also under contract to build seven destroyers as part of the DDG 51 program restart.

DDG 51 class ships are integral players in global maritime security, engaging in air, undersea, surface, strike and ballistic missile defense. Ralph Johnson, a Flight IIA destroyer, will be equipped with Aegis Baseline 9 which incorporates Integrated Air and Missile Defense and enhanced Ballistic Missile Defense capabilities.

The ship is named for Marine Pfc. Ralph Henry Johnson, who posthumously received the Medal of Honor for his heroic actions during the Vietnam War. Johnson used his body to shield two fellow Marines from a grenade, absorbing the blast and dying instantly in March 1968.

- - -

The Navy will christen its newest Arleigh Burke-class destroyer, Ralph Johnson (DDG 114), Saturday, April 2, 2016 - during a 10 a.m. CDT ceremony at Ingalls Shipbuilding in Pascagoula, Mississippi.

The ship will be christened by the ship sponsor, Georgeanne McRaven. The Honorable Sean Stackley, assistant secretary of the Navy for Research, Development and Acquisition will deliver the principal address.

"The christening of the future USS Ralph Johnson represents yet another example of how our Navy's partnership with the highly-skilled shipbuilders of our nation continues to help us grow our fleet," said Secretary of the Navy Ray Mabus. "Because of the hard work of these men and women, the name Ralph Johnson, and the heroism this name embodies, will live on for years to come in the steel of this great warship and the deeds of the sailors and Marines who sail aboard her."

The future Ralph Johnson is the 64th Arleigh Burke-class destroyer. The ship will commission in 2017 and will be homeported in Everett, Washington.

<![if !supportEmptyParas]> <![endif]>
PFC Ralph Henry Johnson (January 11, 1949 - March 5, 1968):

Ralph H. Johnson, who was posthumously awarded the Medal of Honor for heroism in Vietnam in March 1968, was born 11 January 1949, in Charleston, South Carolina. He attended Sinemonton Elementary School and Courtnay Elementary School in Charleston.
He enlisted in the U.S. Marine Corps Reserve at Oakland, California, 23 March 1967, and was discharged to enlist in the regular Marine Corps, 2 July 1967.

Upon completion of recruit training with the 1st Recruit Training Battalion, Recruit Training Regiment, Marine Corps Recruit Depot, San Diego, California, in September 1967, he was transferred to the Marine Corps Base, Camp Pendleton, California. He underwent individual combat training with Company Y, 3d Battalion, 2d Infantry Regiment, and basic infantry training with the Basic Infantry Training Company, 2d Infantry Training Regiment, completing the latter in November 1967. He was promoted to private first class, 1 November 1967.
In January 1968, he arrived in the Republic of Vietnam, and served as a reconnaissance scout with Company A, 1st Reconnaissance Battalion, 1st Marine Division. On 5 March 1968, while on Operation Rock, deep in enemy-held territory near the Quan Duc Duc Valley, he was killed in action.

A complete list of his medals and decorations includes: the Medal of Honor, the Purple Heart, the National Defense Service Medal, the Vietnam Service Medal with two bronze stars, the Vietnamese Cross of Gallantry with Palm, the Vietnamese Military Merit Medal, and the Republic of Vietnam Campaign Medal.
<![if !supportEmptyParas]> <![endif]>
Ra
lph Henry Johnson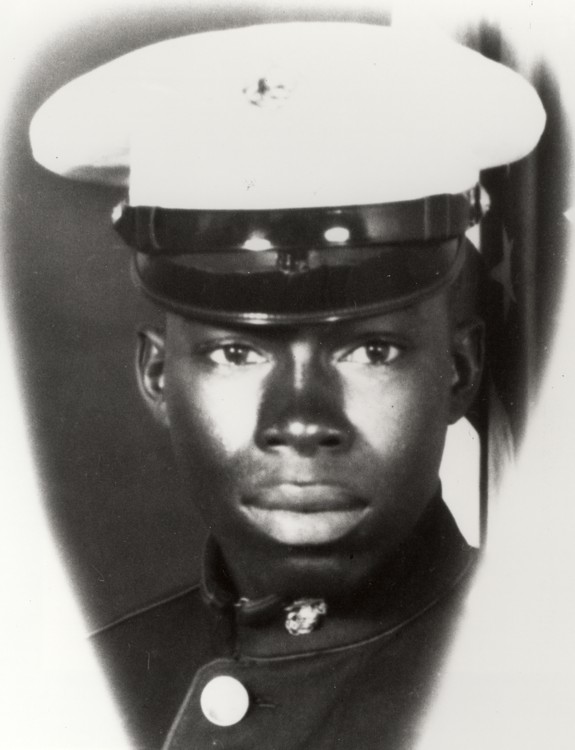 Decorations:


Medal of Honor citation:

The President of the United States takes pride in presenting the MEDAL OF HONOR posthumously to
PRIVATE FIRST CLASS RALPH H. JOHNSON, USMC
for service as set forth in the following
CITATION:
For conspicuous gallantry and intrepidity at the risk of his life above and beyond the call of duty while serving as a reconnaissance scout with Company A, First Reconnaissance Battalion, First Marine Division in action against the North Vietnamese Army and Viet Cong forces in the Republic of Vietnam. In the early morning hours of 5 March 1968, during OPERATION ROCK, First Class Johnson was a member of a fifteen-man reconnaissance patrol manning an observation post on Hill 146 overlooking the Quan Duc Duc Valley deep in enemy controlled territory. They were attacked by a platoon-size hostile force employing automatic weapons, satchel charges and hand grenades. Suddenly a hand grenade landed in the three- man fighting hole occupied by Private First Class Johnson and two fellow Marines. Realizing the inherent danger to his comrades, he shouted a warning and unhesitatingly hurled himself upon the explosive device. When the grenade exploded, Private First Class Johnson absorbed the tremendous impact of the blast and was killed instantly. His prompt and heroic act saved the life of one Marine at the cost of his own and undoubtedly prevented the enemy from penetrating his sector of the patrol's perimeter. Private First Class Johnson's courage inspiring valor and selfless devotion to duty were in keeping with the highest traditions of the Marine Corps and the United States Naval Service. He gallantly gave his life for his country.
/S/ RICHARD M. NIXON
patches
<![if !supportEmptyParas]> <![endif]>